This poll by Pew Research shows a startling affirmation of what many have alluded to over the years. Republicans and Fox news are in a parasitic relationship. Some may argue it is Symbiotic, but from my point of view it is parasitic as it is costing the rest of the US the truth.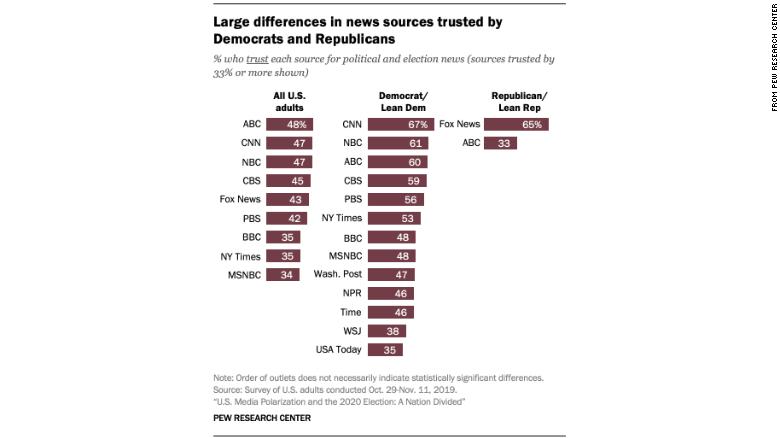 https://www.cnn.com/2020/01/24/politics ... /index.htm
The image above shows the Number of news sources trusted by more than 33% of political identities That Fox news so dominates the Republican side is scary . There aren't enough trusted sources by Republicans. They can be fed lies and groomed by this one network.
For those that are curious, the 30 outlets that were discussed are here, and they include many right wing sources.
https://www.pewresearch.org/fact-tank/2 ... s-sources/
.
The study results from pew are below .
https://www.journalism.org/2020/01/24/u ... n-divided/
There is also a study from 2014 to compare to. It shows the widening gap over time of Conservatives .
https://www.journalism.org/2014/10/21/p ... ia-habits/
So how long will Republicans continue to migrate towards Fox news ?
Is there any hope seen in the above image where of all adults Fox is trusted by less than half?
Is this why Republican Senators are so quick to attack CNN reporters ?
Martha McSally and Ted Cruz this week verbally attacked a reporter asking a simple question, and Trump has constantly attacked Acosta.
https://www.washingtontimes.com/news/20 ... -pissing-/