Most of us are aware of the recent tensions between Lithuania (and by extension the EU) and Belarus over the hijacking of the Ryanair flight to kidnap a journalist/political dissident, but now the situation is slowly becoming a migrant crisis. Lithuania has long been kind to victims of the Lukashenko regime - usually granting asylum to those who make it to the Lithuanian border, but now Belarus seems to be trying to stop Lithuania doing this by inundating them with migrants from father afield. Belarus appears to be helping illegal migrants - mainly from Iraq and Syria - get to the border with Lithuania with the intention of inundating Lithuania.
2021.06.17 13:07
Lithuania records rapid rise in irregular migration
The number of detained undocumented migrants in Lithuania after crossing from Belarus has increased to 397, including six Iraqi nationals stopped on Thursday.

In comparison, 81 people were detained in 2020, 46 in 2019, and 104 in 2018. Previously, Lithuanian Interior Minister Agnė Bilotaitė said allowing irregular migration was a conscious policy pursued by the Minsk regime against Lithuania, calling it a "hybrid war".

In response to the international uproar over the forced diversion of a passenger plane in Minsk, Alexander Lukashenko said Belarus would no longer stop "drugs and migrants" entering the EU.

Lithuanian officials then said Belarusian officers are complicit in facilitating irregular migration.
https://www.lrt.lt/en/news-in-english/1 ... -migration
2021.06.17 15:22
Lithuania asks Iraq, Turkey to step up border checks

Lithuania has asked Iraqi and Turkish governments to step up checks at their airports due to increasing irregular migration via Belarus.

"We asked the Iraqi government, the Turkish government to step up control of people departing via airports. We know the specific flights and therefore asked to take measures," Foreign Minister Gabrielius Landsbergis told BNS on Thursday.

According to the data from the Lithuanian State Border Guard Service, 397 people have been detained after crossing from Belarus this year. In comparison, 81 people were detained in 2020, 46 in 2019, and 104 in 2018.

https://www.lrt.lt/en/news-in-english/1 ... der-checks
June 18, 2021 19:43 GMT
Lithuania Says Lukashenka Is Flooding Baltic State's Border With Migrants
Lithuania says migrants have been pouring across the border from Belarus in recent weeks and has accused authoritarian leader Alyaksandr Lukashenka of organizing the influx, asserting that many have been lured from Iraq through a sharp increase in the number of flights from Baghdad to Minsk.

From the Belarusian capital, Vilnius contends, the migrants are moved to the border with Lithuania, where Belarusian border guards turn a blind eye as they cross into the European Union member state.

With the numbers of migrants stuck on the Lithuanian border rising fast, Vilnius has requested aid from the EU's border guard service, Frontex. "Lithuanian authorities have requested Frontex support at its external border. The agency is currently working closely with the national authorities to determine the scope of its assistance," the Frontex press office told RFE/RL in e-mailed comments.

"It is obvious that a hybrid war is being waged against Lithuania, and illegal migration flows are one of the means," Interior Minister Agne Bilotaite said on June 7. Lithuania said Belarusian border guards have been covering the tracks of the migrants, with Bilotaite contending this "shows that officials themselves might be cooperating." She said the Interior Ministry has consulted with Lithuania's armed forces on how to tackle the migration situation.
Baghdad To Minsk

Belarus has never been a major tourist destination, and the current situation there has further harmed its reputation. Since his arrest after the Ryanair incident, Pratasevich, has been paraded on state TV with marks on his face and wrists, delivering what are widely considered to be coerced confessions and words of praise for Lukashenka.

While flights in and out of Minsk International Airport are down, there have been more planes from Baghdad arriving in Minsk in recent weeks. Travelers from Iraq were reported to be taken to several hotels throughout Minsk on June 16, according to the popular Telegram channel Motolko Pomogi. That same day, RFE/RL's Belarus Service was on hand as some 100 people deplaned on June 16 following a regularly scheduled Iraqi Airways flight to the Belarusian capital.
The travelers, all male, were aided on arrival at a kiosk at the terminal by personnel from two travel agencies, Oscartur and JoodLand. According to Oscartur's Instagram and Facebook accounts, with about 300 and 3,800 subscribers respectively, the agency organizes tours from Iraq to Belarus
RFE/RL's Belarus Service contacted Oscartur by phone for comment and was told "Don't call here again!" in an expletive-ridden response. Joodland has a bigger social media footprint and offices in Baghdad. It says it organizes tours to a wider array of countries, including Russia.
Economic ties between Iraq and Belarus are not extensive, with bilateral trade so low the numbers are not included in the Belarusian state statistics agency's annual figures.

Iraqi Airways has been flying from Baghdad to Minsk since 2017, according to the state-run news agency Belta, with flights now operating on Mondays and Fridays. On April 26, Minsk National Airport said that the airline Fly Baghdad would also be serving Minsk, with Boeing 737-800 flights between the two capitals on Mondays and Thursdays.

Many of the migrants who have been stopped by Lithuanian border guards claim they have no documents, according to Lithuanian Deputy Interior Minister Arnoldas Abramavicius. "They say they are, mostly, from Iraq," as well as Syria, Iran, and Afghanistan, he told RFE/RL. "The main route they use is Baghdad to Minsk. A plane ticket only costs $400. Some are also arriving from Istanbul," Abramavicius said. He said Vilnius has sent an official request for assistance and information to the Iraqi Embassy in Warsaw, as Iraq has no diplomatic mission in Lithuania, but had not received a response.

https://www.rferl.org/a/belarus-lithuan ... 15267.html
I note that an Iraqi Airways 747-400 did a trip from Baghdad to Belarus a few days ago.....I can't think what a 747 load of people would be travelling from Iraq to Belarus for, especially in the middle of a pandemic.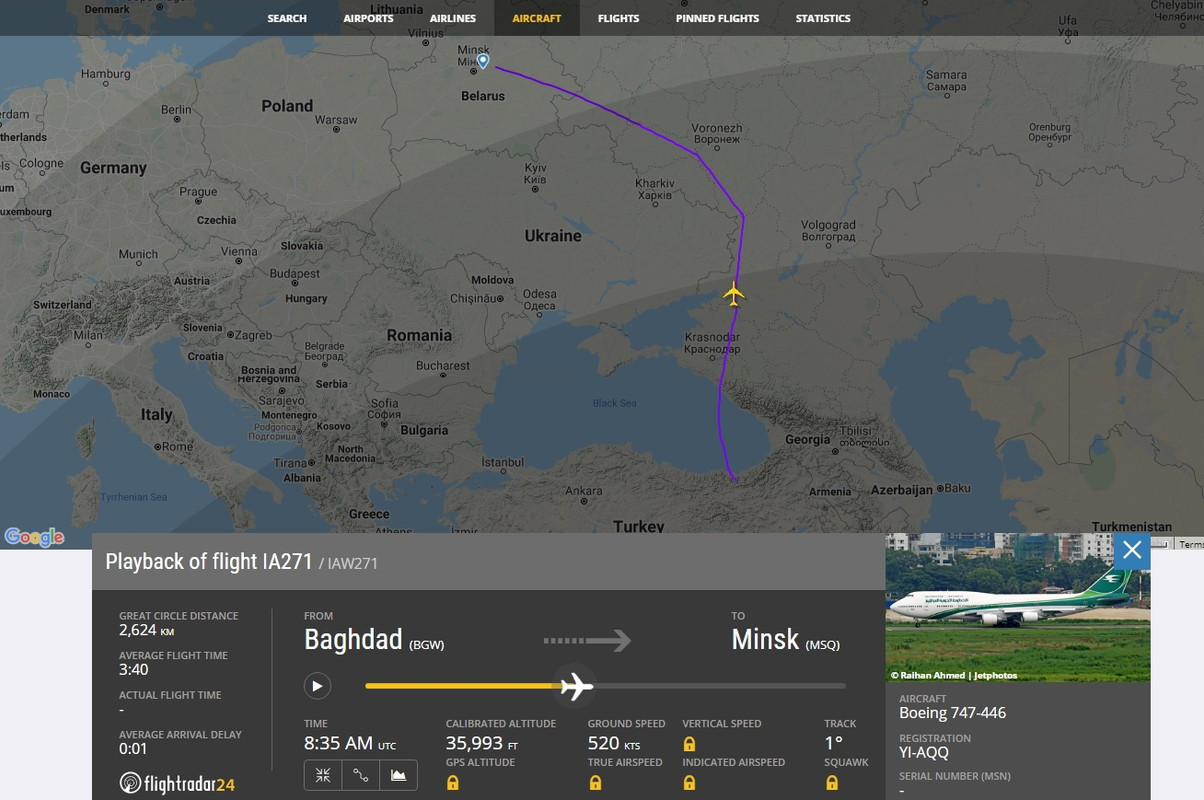 Estonia is now sending help
2021.06.22 15:06
Estonia to send guards to Lithuania's border with Belarus

Estonia is planning to send additional "officials and equipment" to Lithuania to help patrol the country's border with Belarus, the Estonian public broadcaster ERR News reported on Tuesday. "The European Border and Coast Guard Agency has indeed turned to the member states, including Estonia, to involve additional support in guarding the Lithuanian border. Support was requested in the form of additional officials and equipment, which Estonia, among others, is offering to Lithuania," Helen Neider-Veerme, from the Estonian border guards, told ERR on Monday.
https://www.lrt.lt/en/news-in-english/1 ... th-belarus
What a sad situation. It definitely appears to be direct retaliation for the EU stopping Belarus' airlines from using their airspace and for Lithuania offering refuge to the enemies of the regime in Belarus. I don't see the situation improving any time soon.
Russia did the same thing to Norway a few years ago when the Norwegian government criticised Russia too harshly (can't remember if it was in the wake of MH17 or the invasion of Crimea):
Oct. 9, 2015
Avoiding Risky Seas, Migrants Reach Europe With an Arctic Bike Ride

STORSKOG, Norway — Pelted by hailstones and buffeted by an icy wind, Yasir Arslanuk, a 55-year-old Syrian engineer, his wife and two young sons wobbled across the border from Russia into Norway astride bicycles last week, the latest migrants to complete an improbable new route to Europe. This Norwegian outpost, 250 miles north of the Arctic Circle, is hardly Lampedusa, an Italian island where migrants coming on rickety boats across the Mediterranean from Libya often land, or Lesbos, a Greek island that has become the primary transit point for refugees coming by rubber raft from Turkey.

But in recent months, refugees from places like Syria, Iraq and Afghanistan have started to flow in growing numbers through Russia into the northernmost reaches of Europe, making this remote crossing an increasingly popular back door for people fleeing war and persecution, or simply looking for a better life.

The trip, Mr. Arslanuk said after dismounting his bike and seeking shelter in a heated orange tent on the Norwegian side of the border, "is better than going by sea," the hazardous option chosen by most of the more than half a million migrants who have made it to Europe so far this year.

Many of the arrivals, Mr. Hansen said, seemed to have little idea where they were exactly and had bought no warm clothes. But, encouraged by a flurry of reports on social media about how well Norway treats refugees, they rushed through Russia to reach Europe's northernmost frontier. It is not snowing here yet, but temperatures have already dipped close to freezing.
https://www.nytimes.com/2015/10/10/worl ... rctic.html
And it happened to Finland too:
April 2, 2016
E.U. Suspects Russian Agenda in Migrants' Shifting Arctic Route

KANDALAKSHA, Russia — So many decrepit Soviet-era cars carried migrants into Europe from this frozen Russian town in recent months that border officials in Finland, who confiscate the rust-bucket vehicles as soon as they cross the frontier, watched in dismay as their parking lot turned into a scrapyard. To clear up the mess and provide some space for freshly confiscated cars, the Finnish customs service set up a separate dumping ground.

Then last month, as suddenly and as mysteriously as it had started, the parade of migrants in rusty old cars came to an abrupt halt, or at least a pause. "We don't know what is going on," said Matti Daavittila, the head of the ice-entombed Finnish border post near Salla. "They suddenly stopped coming. That is all we know."

But the stop-go traffic has added a hefty dose of geopolitical anxiety, not to mention intrigue, to a crisis that is tearing the European Union apart. It has sent alarm bells ringing in Helsinki, Finland's capital far to the south, and in Brussels, where European Union leaders, at recent crisis meetings on migration, discussed the strange and ever-shifting Arctic route through Russia.

The intrigue flows from a growing suspicion in the West that Russia is stoking and exploiting Europe's migrant crisis to extract concessions, or perhaps crack the European unity over economic sanctions imposed against Moscow for its actions in Ukraine. Only one of the European Union's 28 member states needs to break ranks for a regime of credit and other restrictions to collapse.

Unlike the flow of refugees and migrants into Greece by boat, in which the tempo is largely set by the weather in the Aegean Sea, the flow through Russia is almost entirely dependent on whether Russia's Federal Security Service, the successor agency to the K.G.B., opens or closes roads in a heavily militarized border region crammed with bases.

In the first two months of this year, nearly 800 asylum seekers crossed from Russia into Finland near Salla, a crossing point west of Kandalaksha in the Finnish region of Lapland, compared with none in same period last year.

Sayid Mussa Khan, a 31-year-old Afghan who had worked for an American security company in Kabul, made it to Finland on Feb. 28, just a day before the traffic suddenly halted after a statement by President Vladimir V. Putin of Russia to security service chiefs that Russia should "tighten monitoring of refugee flows."

Along with his family and around a dozen other asylum seekers, Mr. Khan set out at dawn from Kandalaksha in a convoy of old cars and, accompanied by Russian guides, breezed through three checkpoints to reach the Finnish border. Mr. Khan, who sat with his wife and baby son in the back seat of a wheezing Lada, said he had never even heard of Finland when he left Kabul in 2014 and, after two years in Russia and Belarus, still was not really sure where it was he was going. But he knew he wanted to get his family to Europe, and had been assured that he would get there once he had paid $6,000 to a facilitator in Moscow, who immediately arranged for the family to be issued with a deportation order by the Russian authorities.

"He asked me where I wanted to go and said: 'No problem. We will get you to Finland. Everybody is going there now,' " said Mr. Khan, who is now in Finland waiting for the authorities to review his asylum application.
https://www.nytimes.com/2016/04/03/worl ... veled.html