There are many pieces coming out this week on how analysts see the global terror landscape on the eve of America's significant commemoration. It's important to ask where we stand 20 years on with much treasure spent, blood spilled, and effort exerted. The consensus seems to be that the war on terror has yielded a mixed bag of results at best, and has indirectly expanded the reach of terror groups and given them new recruiting inspiration at worst. For Americans the prime threat concern was domestic, and that has been largely addressed via counterterror ops overseas and massively increased monitoring and disruption of communications.
In this analysis from the Wilson Center, one of the main concerns going forward is that conditions in countries conducive to producing active terror groups have basically not changed.
Twenty years after the 9/11 attacks, the global jihadist movement has more fighters in more countries than ever before..

...Salafi-jihadi groups globally have proven to be resilient since the Global War on Terrorism began in 2001. All groups have been able to recover from key leadership losses. They have increasingly embedded in local conflicts, which has required them to respond to shifting dynamics within insurgencies. This adaptation as well as the targeting of externally oriented terror cells by the United States and its partners has degraded the components of groups focused on the global jihad.

Salafi-jihadi groups have achieved some of their objectives despite pulling back from the far war. They have retained the ability to reconstitute even in theaters where counterterrorism campaigns have weakened them. Groups have held together because the political and socioeconomic conditions that originally drove recruitment remain in place. Moreover, they have capitalized on popular grievances and local instability worsened by the coronavirus pandemic.
https://www.wilsoncenter.org/article/al ... -after-911
One example of this is that Al Qaeda has maintained a foothold in the Arabian peninsula thanks to the Yemen civil war:
https://www.cbsnews.com/news/al-qaeda-2 ... threat-us/
Research on public opinion in the US now compared to the years just after 9/11 shows there is basically no further appetite for foreign interventions due to how Afghanistan and Iraq campaigns went.
https://www.pewresearch.org/politics/20 ... y-of-9-11/
Most interestingly, surveys say Americans want terrorism to continue to be a high priority for the US government, but they no longer see it as among significant problems of national focus.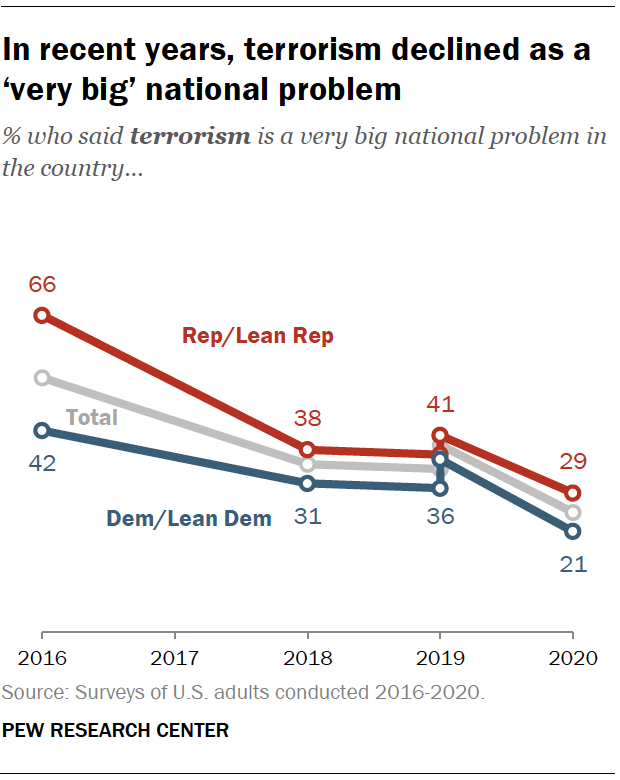 Image source: Pew Research
On the one hand this suggests the US government has been very effective at keeping the domestic population safe. On the other, it indicates a sense of complacency in the public may urge politicians to deprioritize prevention.
Where do we go from here? What do you think the next 20 years brings on this front?