PRRI, a nonpartisan religious organization that does public opinion research, has put out their 2021 study on division in the US. Their statistical methods are well-regarded and the American Values Survey has been an interesting data mine for several years running to watch stable and emergent trends. I thought it would be interesting to explore their results and discuss what they might mean for us on various topics. As always it is interesting if forumers outside the US also contribute their external observations or comparisons to views in their own country.
The first thread topic is immigration. I should note the study was conducted in late September so these are quite recent results.
https://www.prri.org/research/competing ... er-attack/
Right off the bat a huge concern for the Biden WH is this response, as they are totally underwater on immigration handling with independents and the 'all Americans' cohort: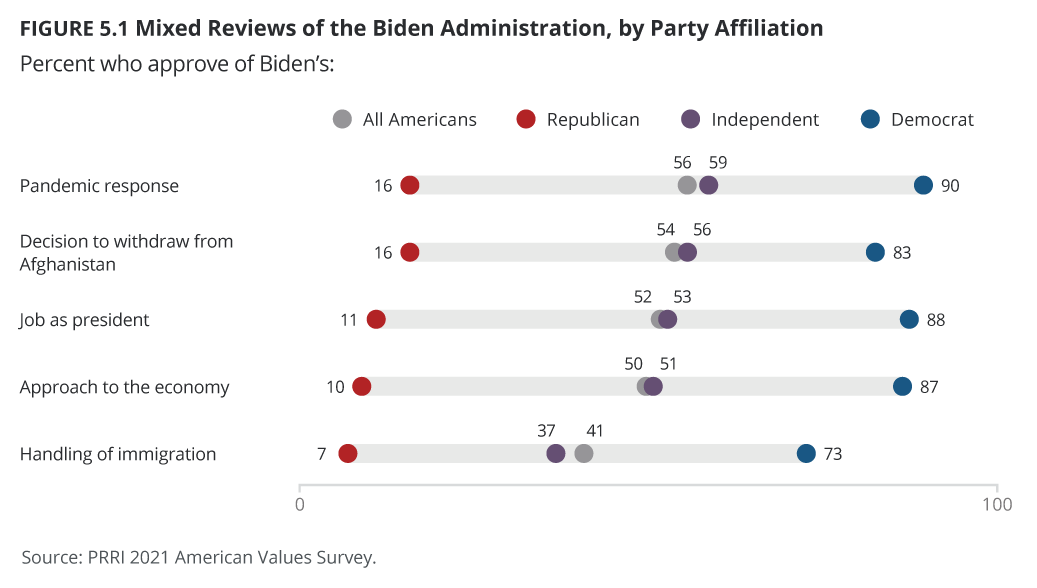 Clearly, the current WH management of the immigration system is out of step with what independents want to see.
Some other interesting key takeaways:
1. Regarding the border wall:
Americans who live in the West (34%) and in urban areas (34%) are less likely to support this policy than those who live in the Northeast (49%), the South (48%), the Midwest (47%), suburban areas (46%), and rural areas (60%).
2. Regarding legal status for Dreamers:
Support for this policy has remained stable since 2019. Republicans (44%) are less likely than independents (70%) and Democrats (79%) to favor this policy.
3. Regarding whether immigrants strengthen the country or not:
One-third of Republicans (32%), two-thirds of independents (65%), and more than eight in ten Democrats (82%) say that immigrants strengthen the country because of their hard work and talents.
A huge concern for the GOP is that independent and Democrat support for undocumented immigrants having a pathway to citizenship is very stable since 2016, whereas in that time it has had two periods of decline in the GOP: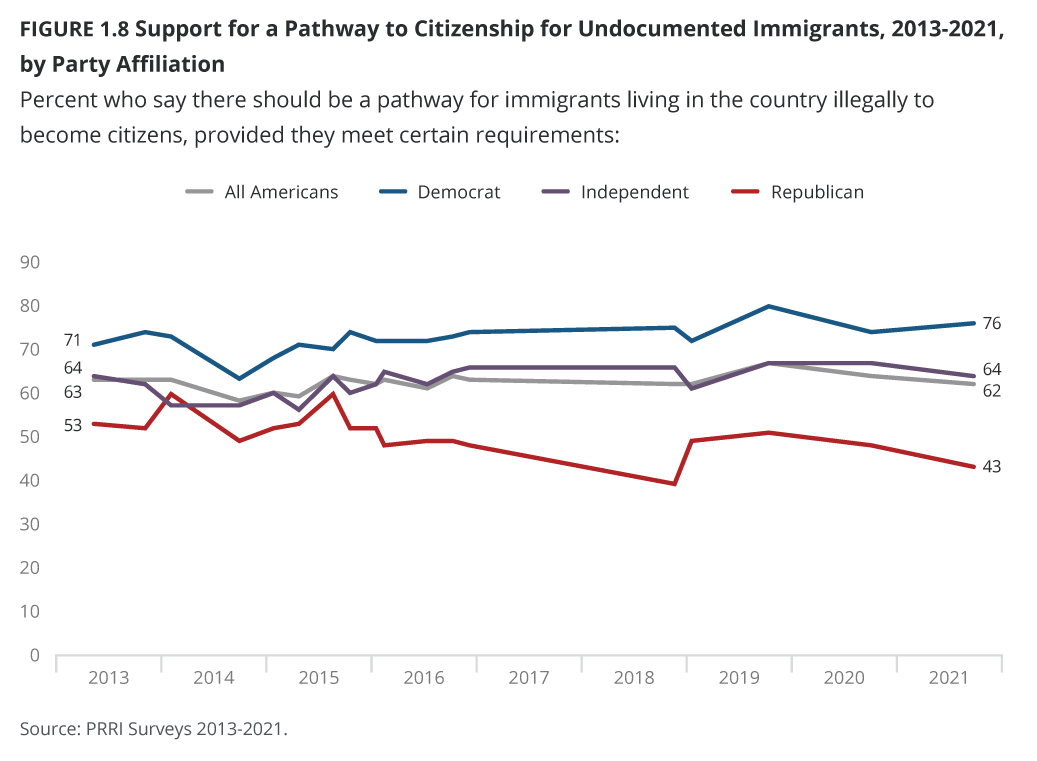 Source PRRI 2021
I think the key here is that mainline conservative viewpoints are out of step with independents on most of these issues. These results seem to mirror viewpoints on diversity in general:
More than eight in ten Democrats (82%), compared to less than half of Republicans (47%), say that diversity makes the country stronger. Indeed, Republicans are five times more likely than Democrats to say that diversity makes the country weaker (16% vs. 3%). Independents closely resemble the general population, with two-thirds (67%) saying diversity makes the country stronger.
Since immigrants demonstrate a desire to be part of American life in some way, shape, or form, it's interesting to consider how a person's view of what 'American' means can influence their view of immigration. The survey had some results to mine on that as well, on the question of what are important traits to be 'truly American':
Most Republicans (62%) say it is important to be born in America, compared to 44% of independents and 43% of Democrats.
and
Republicans (63%) are more likely than independents (37%) and Democrats (35%) to say that being Christian is important to being truly American.
So basically, to sum up, the two major parties have some real work to do if they want to bridge gaps and capture all-important independent voters on this issue. Liberals need to show they can effectively manage enforcement challenges while conservatives need to exhibit more openness to newcomers and acknowledge their value.