ZK-NBT wrote:

PR operated their first MNL-AKL non stop today using an A343. Operates 3 weekly.
Thanks...any info on the number of passengers?
PAL announces their A359's delivery schedule.....

http://philippineairspace.blogspot.com/ ... mment-form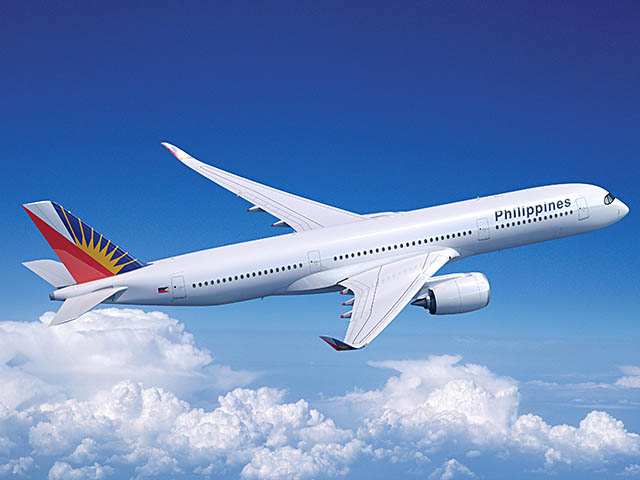 https://pbs.twimg.com/media/DIeeQOLVAAANFXL.jpg
Quote:
"Flag carrier Philippine Airlines (PAL) has announced that it will take delivery of the A350-900 ultra-long haul aircraft beginning June 2018 with first flight bound to Toronto, Canada.

The changed plan was brought by regulatory delays which prompted the airline to defer inaugural Manila to New York direct flight which is tentatively set as early as August 2018 coinciding with the delivery of the second A350.

The airline will take delivery of four 295 seater Airbus A350-900 with 3 class configuration in 2018 with the first frame arriving in June, according to PAL President Jaime J. Bautista.

'We will receive another one in August, September and December,' Bautista remarks.

In the meantime, two new Boeing 777-300ER planes will be arriving in the Philippines on December 16 and 19 according to PAL for rotations to North America and London."
So.....no livery tweaks.
Meanwhile, tycoons signal their interest to bid for
NAIA
's upgrade and renovation.....

http://business.inquirer.net/242132/tyc ... -rehab-bid
Quote:
"Seven of the country's biggest conglomerates confirmed they were looking at rehabilitating and redeveloping the Ninoy Aquino International Airport— the strongest signal yet from the private sector on the pressing need to upgrade the country's busiest air gateway.

The companies included Andrew Tan's Alliance Globe Group Inc., Ayala Corp., Aboitiz Equity Ventures Inc., Manuel V. Pangilinan-led Metro Pacific Investments Corp., Gotianun-led Filinvest Development Corp., Gokongwei-led JG Summit Holdings Inc. and Lucio Tan's LT Group.

Two of those groups, JG Summit and LT Group, own the country's two largest commercial air carriers, Cebu Pacific Air and Philippine Airlines, respectively.

[.....]

They confirmed their potential participation in separate, similarly worded statements. Without confirming talks with each other, each group said discussions were still exploratory and no formal agreement had been signed.

A source noted that the groups were bound by confidentiality agreements.

'It is exciting and will benefit the Filipino people and the economy significantly,' the source said.

The groups are expected to submit an unsolicited offer, which would later require a competitive challenge."
Not a moment too soon!