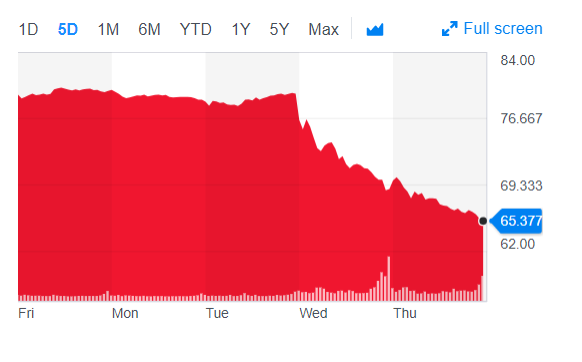 "Alaska Air chief commercial officer Andrew Harrison cited Los Angeles-Boston seven-day-advance fares dropping from $239 to $104, and the seven-day-advance fare from L.A. to San Francisco falling from $160 to $99."
"Delta and Southwest are pressing Alaska in Seattle and those carriers plus American, United and JetBlue are adding fare pressure in California."
"Alaska's Chief Financial Officer Brandon Pedersen told Keay that "we are more frustrated than you about this whole thing."
"There's a lot of anxiety around here, there's been a lot of tough conversations in the last few weeks about this," Pedersen said."
""We are being challenged today in the marketplace and I expect these challenges are going to get more intense in the months ahead."
"revenue per available seat per mile flown — a closely watched measure of an airline's efficiency — dropped to 13.12 cents from 13.97 cents a year ago, down 6.1 percent. This metric was actually flat on the legacy Alaska routes, but down on the legacy Virgin routes."
"
Tilden said his team is studying the inherited Virgin routes closely and may reduce frequencies on some and make other changes
."
https://www.seattletimes.com/business/b ... rizon-air/
Thoughts?