As mentioned in the title the inaugural Qantas MEL-PER-LHR will take flight this Saturday the 24th of March, Sunday arrival in LHR. The return flight will depart LHR Sunday and arrive in PER and then MEL on Monday
Just to recap the schedule is
QF9 MEL1620-1720PER1850-510+1 LHR
QF10 LHR1315-1300+1PER1430+1-2055+1 MEL
The launch of PER-LHR will be the first time that there is a regular direct non-stop air service between Australia and Europe. PER-LHR at 7828nm will be the longest flight operated by a 787 family aircraft and will also be the current longest flight in the Qantas network
Over the years we have seen aircraft capabilities improve, before WW2 in 1938 the journey from Perth to London took 10 days with 37 stops, in 1957 a flight took 2 days and 8 stops, in 1965 the journey took 27 hours and 5 stops, in 1989 the journey time was reduced to 22 hours and 1 stop and in recent years we have seen the one stop flight reduced to about 19-20 hours. The original Kangaroo Route (SYD-LHR) began in 1947 and took 55 hours with 8 stops.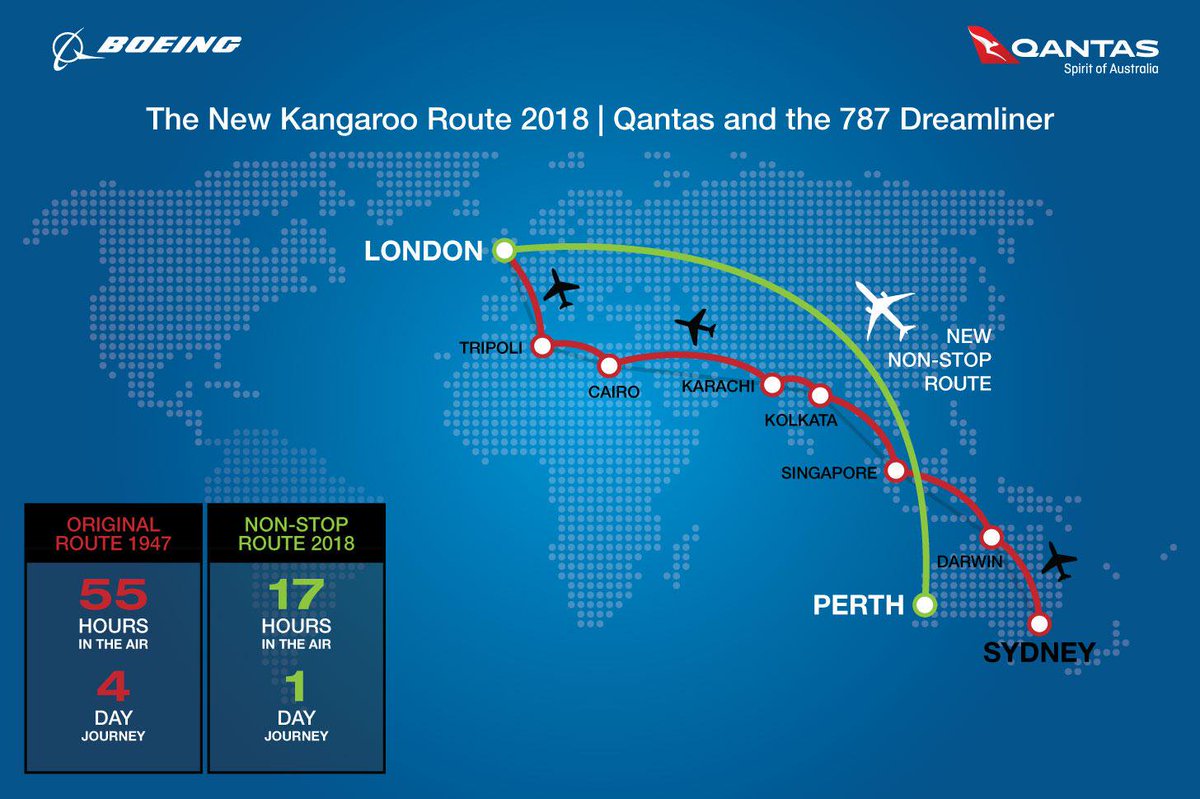 https://twitter.com/speedbird020/status ... 5176112134
With the launch of nonstop PER-LHR travel time is reduced to 17-17.5 hours. For more on the history on Perth to London flights refer to
https://sevenwesttravelclub.com.au/stor ... -to-london
Recently we have had a few news stories here in Australia relevant to PER-LHR which I will share below
Back in late November QF opened a dedicated lounge at LHR
https://www.qantasnewsroom.com.au/media ... ow-lounge/
Qantas began planning for PER-LHR back in 2015 which involved flying the route on planning software on a daily basis for over 2 years with a near full payload and using the winds of the day
Qantas has been flying the new nonstop Perth-London route for more than two years — on computers.
The service begins on March 24. According to Qantas chief technical pilot Alex Passerini, planning for what will be the longest 787 flight began in 2015 when sophisticated strategic planning software was used to examine the route's viability.
That process involved "flying" the 787 from Perth to London with a near full payload every day using the winds of the day to see what was the optimum flight path and build a database of experience on the performance.
"That allows us to build an archive of data — how the aeroplane performs, the weather conditions that we encounter and that sort of thing," Capt. Passerini said.

https://thewest.com.au/news/wa/qantas-f ... b88763630z
New menu has been launched for PER-LHR. Combined research from the University of Sydney Charles Perkins Centre along with Neil Perry, the Director of Food, Beverage and Service for Qantas has designed menus that increase hydration and help reduce jetlag along with creating dishes that encourage sleep at certain times during the flight
Included in the menu
Probiotic Bc30 infused Botanica cold pressed juice shots
A bespoke herbal tea, which encourages relaxation developed especially for Qantas by Dilmah, made from lemon verbena chamomile and lemongrass
Dishes which feature ingredients that promote hydration such as green leafy vegetables, cucumber, strawberries and celery
Tailoring specific ingredients (such as chilli) to particular times of the day
Lighter meal options (e.g. tuna poke salad bowl)
A hot chocolate bedtime drink with the combination of warm milk and chocolate containing the sleep inducing amino acid Tryptophan to help prompt the body's sleep cycle
Organic kombucha by Remedy: a live cultured, sparkling drink full of natural probiotics that assist with digestion.

https://www.qantasnewsroom.com.au/media ... l-flights/
For pictures of the new menu refer to
https://www.dropbox.com/sh/f9y062r50tsr ... y6yAa?dl=0
Final touches being put on new international lounge at T3 in Perth, Qantas will reveal on Friday 23rd March. The lounge will be used exclusively for PER-LHR flights. Other QF international flights such as PER-SIN passengers will be required to use the domestic lounge.
https://www.perthnow.com.au/news/travel ... b88769370z
First look at upgrades to T3 including customs and immigration facilities, duty free and new food outlets
https://thewest.com.au/business/aviatio ... b88771891z
https://www.ausbt.com.au/qantas-reveals ... l-terminal
After checkin (for those checking in at Perth) passengers will go through security at T4 joining domestic passengers. After security passengers will make their way through thw Qantas Terminal Precinct from T4 to T3 and go through passport/international security checks.
As mentioned prior when the route was announced swing gates would be used in T3 of which the terminal will be used for International flights for part of the day and domestic flights The Swing area has a long secure sliding glass door from Gate 17 in T3, essentially the dedicated area when the swing gates are used will involved roughly 75% of T3. There is one door to enter Border Force security just prior to the swing gate and another located near the toilets, Further down from the toilets on the righ hand side are the shops/food outlets and the QF International lounge is located at the end of T3, near gate 20, 21-25
For map of T3/T4 refer to
https://www.perthairport.com.au/-/media ... -floor.pdf
https://www.perthairport.com.au/-/media ... el-one.pdf
For those who live in Perth I am told there will be a spread put in the West on Wednesday, if there is an online version I will add it here
For those travelling on the inaugural flight or those who have photos and/or videos of the flight departing/arriving please share below