Widerøe Embraer E190-E2
Today, a new era for Widerøe starts

Acquires new aircraft type as the first airline in the world.

For the first time in 14 years, Embraer delivers a new passenger aircraft type, namely the second generation E-jet.

The launch customer is Widerøe, as with the E190-E2, it has acquired a high-tech tool to bite off in the aviation competition and also enter new markets.
It was in January last year that Widerøe ordered three E190-E2 and at the same time signed an option agreement for another 12 aircraft. 15 months later, the aircraft type is certified and ready for delivery.

The actual reception flight lasted over two hours and was completed on Monday afternoon.
10 o'clock local time Wednesday (15 o'clock Norwegian time) is the solemn ceremony ceremony at Embraer's plant and airport in São José dos Campos, about 80 kilometers northeast of São Paulo. Later in April, the aircraft will complete the first scheduled flights in Norway.
Widerøe currently has a fleet of smaller turboprops and will for the first time use aircraft with turbofan engines. While the aircraft currently have 39-78 seats, the new aircraft seats 114 passengers and reaches Europe.
"Being a launch customer is an honorable assignment, and it is also a lot of hard work. This is a big step for us to take, but we as a company have the tradition of taking a challenge, "says Widerøe chief Stein Nilsen.
Widerøe's first scheduled flights with the E190-E2 will take place on April 24th ( Bergen - Tromsø )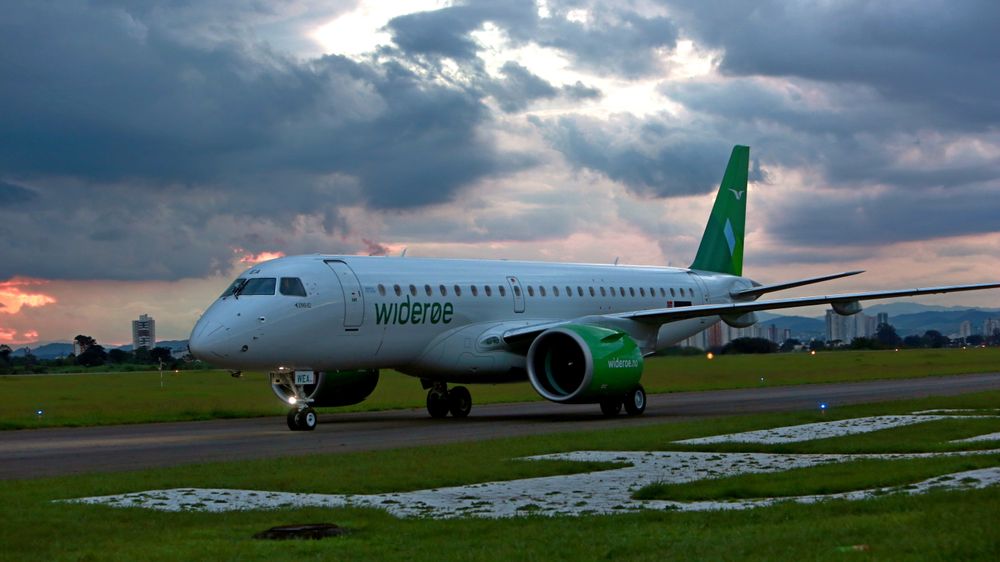 Photo by Per Erlien Dalløkken
Excerpts from article translated from Norwegian to English:
https://www.tu.no/artikler/i-dag-starte ... roe/433975
Widerøe's Flyveselskap AS, trading as Widerøe, is the largest regional airline operating in the Nordic countries. The Norwegian airline was founded in 1934.