The airline confirms that on September 24, an aircraft had hit the birds shortly before landing from Vienna to Riga (YL-CSB).
The collision occurred over the Gulf of Riga during the BT432 flight. After the incident, the airplane continued to land at Riga airport in accordance with standard security procedures, informs Alise Briede, the head of the corporate communications company of the airline.
After landing at the airport, the company decided to deploy an in-depth technical inspection of the airplane.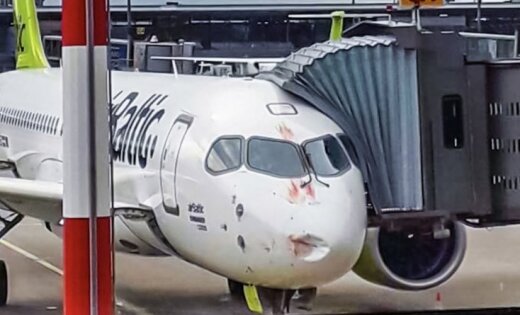 another bird-strike occurred with YL-CSC on 25th of September "performing flight BT-629 from Riga (Latvia) to Milan Malpensa (Italy), was in the initial climb out of Riga's runway 18 when the crew requested to stop climb at 4000 feet advising they had receivd a bird strike. Soon after the crew decided to return to Riga to have the aircraft inspected. The aircraft landed on Riga's runway 36 about 15 minutes after departure.
"
Lot of migrating going on here in last days- cranes, geese, swans, possibly cows from Finland as well