Leeham today publsihed a status analyses of Boeing's commercial airplane product strategy.
Despite Boeing's long-standing PR that everything is fine, it's not.

Boeing has, since 2011 with the launch of the MAX, been the follower, not the leader or innovator that its storied history demonstrated.

Airbus took over the leadership role with development of the A320neo, the A350-1000, The A350-900ULR, The A321LR and A321XLR. Boeing responded in defensive moves with the 737 MAX and the 777X.

Boeing dithered launching the New Midmarket Airplane (NMA) or, alternatively a single-aisle Future Small Airplane, both concepts discussed since 2012. Once the MAX crisis erupted, any new airplane program launch is on hold until the MAX returns to service.
https://leehamnews.com/2020/01/20/ponti ... -strategy/
Scott sees challenges in different areas and fears "Boeing might become McDonnell Douglas" and wither away..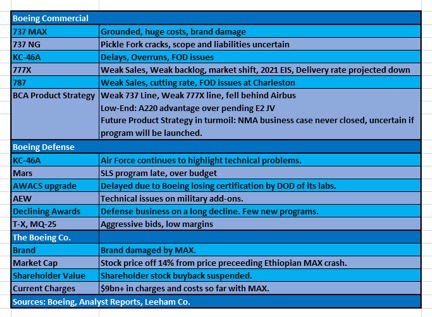 His conclusion (and probably not only his) is "The 737 MAX must return to service and Boeing Co. should return
to be an innovator and a leader." That would seem a break from the current conservative, "no moon shots" strategy.
https://www.seattletimes.com/business/m ... -new-jets/
I think the big question is if they have the muscle to achieve that within the next decade.
Or that unconventional intervention, re structuring of US Civil Aerospace is required.
More of the same, don't worry, everything will be ok, seems to be reaching it's expiry date.
It might be worse than it looks, instead of better than it looks.
Waiting creates addition damage itself. Specially for the huge, domestic supply chain.
Collins UTC, GE, Spirit and hundreds of smaller ones, are starting to push their representatives.
https://www.barrons.com/articles/boeing ... 1578408447
Time to move ahead & build that new cashcow. Maybe accept a little government is
required, communications will take care of the marketperceptions.
https://aviationweek.com/aerospace/boei ... er-concept