Airbus has some significant financial challenges in 2020.
There are layoffs planned in Germany, UK, Spain France and other locations announced in February.
European plane maker Airbus said Wednesday that it plans to cut more than 2,300 jobs at its defense and space division by the end of next year, spreading the cuts across several countries.
https://www.marketwatch.com/story/airbu ... 2020-02-20
Airbus also posted a 2019 loss of 1.4 Billion Euros compared to a 3.1 Billion Euro profit the prior year
The Toulouse-based company had to set aside €3.6bn last month to cover settlements with authorities in the US, France and Britain after admitting it had paid huge bribes on an "endemic" basis to secure contracts in 20 countries. The penalties amount to the largest-ever corporate fine issued for bribery.
https://www.theguardian.com/business/20 ... ss-of-14bn
Production is temporarily being halted due to Coronavirus
On Tuesday, Airbus said it was halting production at French and Spanish plants for four days after French President Emmanuel Macron announced new measures to restrict people's movements.
https://www.reuters.com/article/us-heal ... SKBN2141SA
There is speculation that Airbus will need government support
Europe's Airbus (AIR.PA) has signaled that some government support may be needed if the coronavirus crisis lasts for several months, three people familiar with the matter said.
Stock performance is way down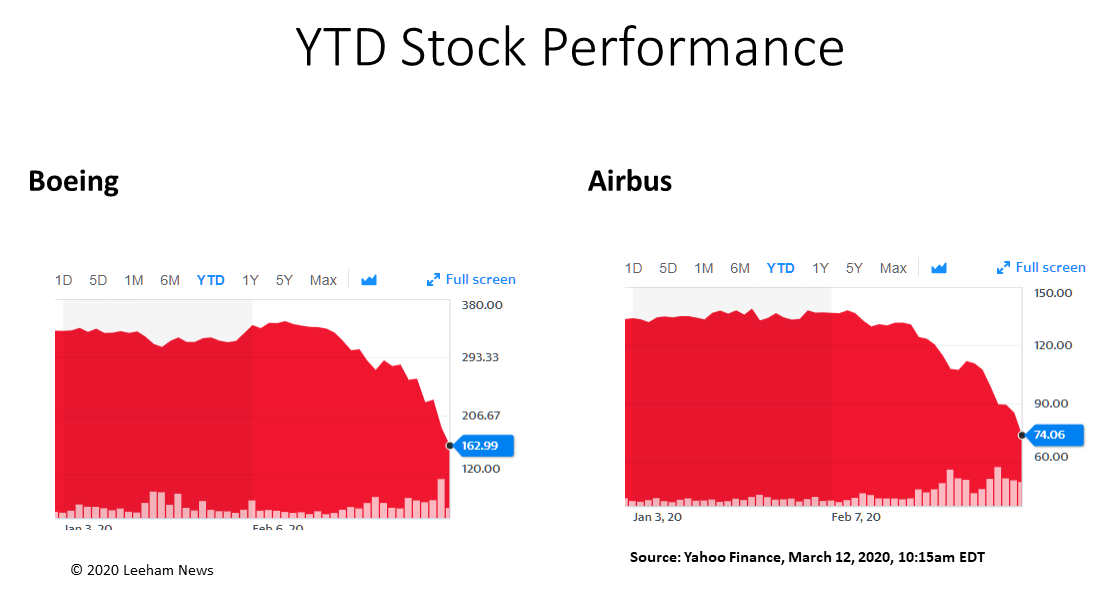 https://leehamnews.com/2020/03/12/boein ... more-32862
Just a month ago Guillaume Faury said the following.

In 2019, we made good progress despite industrial challenges and complex geopolitical environments. In Commercial Aircraft, we delivered a record 863 deliveries, ramping up our production by approximately 8%. Also, we adjusted the deliveries guidance during the year. We demonstrated strong underlying financial performance in 2019, we delivered on EBIT adjusted at 6.9 billion up 19% year-on-year and free cash flow before M&A and customer financing at 3.5 billion up 21% year-on-year.

...

Taking this into account together with good prospects in 2020 we proposed a dividend of EUR 1.8 per share, which is plus 9% versus 2018. In 2019 we had again a strong finish to the year, thanks to a tremendous team effort. But we generally satisfied again with the back-loaded delivery profile.


https://seekingalpha.com/article/432515 ... transcript
While 8% production increases and a back-loaded delivery portfolio allowed an increasing dividend, all that may change. Airbus' defense business is shrinking at the same time that commercial business is also at risk.