morrisond wrote:

keesje wrote:

Even an A322, if you put a long haul 3 class cabin in it, would be able to do transatlantic.

https://lh3.googleusercontent.com/-bcgI ... Boeing.jpg

But regional/ domestic 250 seats, comfy 19 inch wide, 31-32 inch pitch seating would be the focus markets. Up to 6-7 hour flights for leisure carriers flying to Caribbean, Mediterranean, Malaysian destinations. And low cost between big cities. All at a production speed, price, risk and time to market that seems hard to beat by anything new competitor this decade.

Also aircraft being assembled locally (Europe, China) is something Boeing might need to address on any future program, being it NSA or NMA. An aircraft being fully developed, build and locally assembled might make local people happy and proud, but maybe not Ma Xu Lun.

I wonder if Airbus would do a new wing without a new fuselage. For XLR/possible A322, they decided strengthening, new fuel systems, flaps were good enough as a "new wing"

A bigger, more capable, heavier, more expensive, 2026 wing would probably make the XLR less attractive for shorter flights, loosing operational flexibility. And waste the time to market

advantage on any Boeing product. Maybe later on?

https://lh3.googleusercontent.com/-w0yv ... 320NEO.jpg

If Boeing launches a new NB, it should make sure it has selling points that can't be matched by the NEO family. Technical, operational, political and financial.

How do you get 6-7 hours 3,000-3,500NM with 250 seats when the A321XLR will struggle with that and by your assumption the A322 will have 1,200NM less range?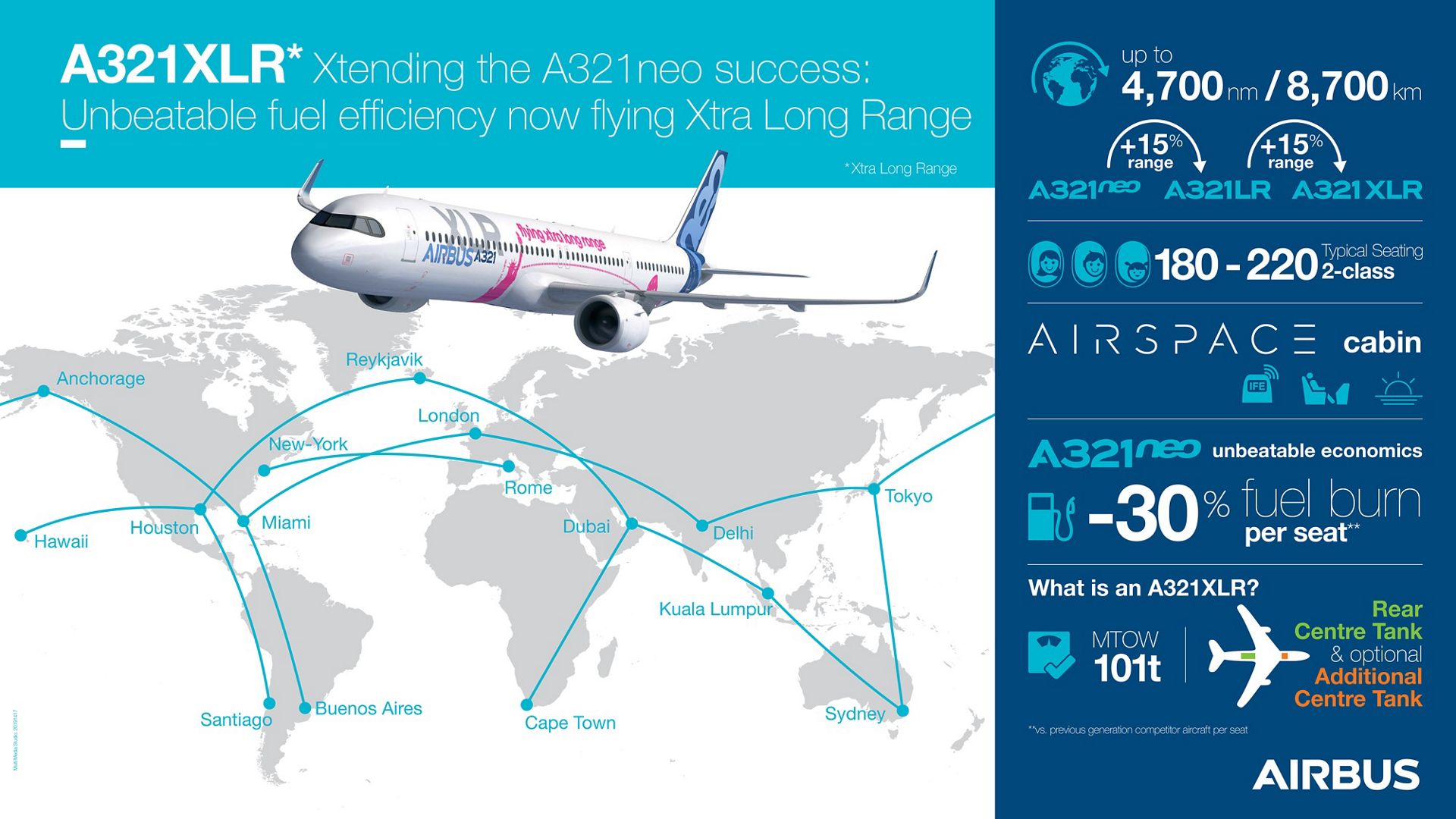 Source:
https://www.airbus.com/newsroom/stories ... pdate.html
Compared to the A321 XLR specification, an A322 would need a few tons for the extra fuselage, 2.5t for payload (4 rows). For the same wing, MTOW that will reduce fuel capacity ~4 tonnes reducing the range significantly. An A321NEO burns 1.9 - 2.5t per hour, dependent on lots of things. 4t Less fuel will on A322 reduce flight time by ~2 hours. Add catering, a lavatory extra etc. 2 hours, maybe more, 1000NM less than a same MTOW A321XLR. But it also makes one ACT (3k ltr) that the XLR would need redundant, saving 400kg in OEW, that helps on the other end.
The A322 is a option Boeing marketeers / engineers probably put in their xls's, the same day they heard of the new A321XLR's 101t MTOW and fuel capacity. You can discuss if it should be a 3,4 or 5 row stretch, might it need 35k lbs engines or 37k lbs> Or should MTOW be upped a bit after all. But that's details, it's "low hanging fruit", aerospace guys can see.
source: Flightglobal / keesje

(I assumed a NMA 72t OEW, because Boeing send out an RFQ for 45-52k lbs engines. The 3900NM, 767-200 weighed 80t.. 72t OEW is an ambitious assumption.)