As a preface to the topic I'd like to say hello. Just a thirty something aviation enthusiast joining your ranks from Sweden. Hello!
My interest in aviation is broad. After reading the excellent "Speedbird - The complete history of BOAC" by Robin Higham I became very curious about passenger converted bombers. It's obvious that early post-war Britain (airlines across the globe really) scrambled to fill civilian needs with bomber conversions. While plenty know of the Avro York, this aircraft mated a new fuselage to the wings of a Avro Lancaster, making it more of a new plane than a conversion.
Below are a few examples. I'd love to know more about how they were perceived by passengers and crew and what they looked like outside and in. In most cases pictures and stories are incredibly hard to come by. These planes were not seen as glamorous and served a stop-gaps. Therefore information is scarce; nothing more than slightly expanded footnotes.
BOAC Lancastrian
The BOAC Lancastrians were given rounded noses and converted the bomb bay into passenger accommodations. The slim fuselage posed challenges though, and the high fuel consumption made them incredibly uneconomical. They were used by BOAC and QANTAS for express services post-war until purpose built aircraft could be sourced. Plenty of other airlines used them as well, both for passengers and cargo.
Pictures below courtesy of
https://travelupdate.com/sideways-seating-avro-lancastrian/
. The article is well worth the read.
Outside
Interior of BOAC - Interesting sideways seating
Interior of BSAA - Slightly more conventional
Handley Page Halton
The Handley Page Halton is a slightly more shy beast. It never got quite the sales I'm assuming. I have precious little info about her and I'm very curious. So if you fine folks have more info I'd be delighted to hear it. It seems as though there was more space in the passenger cabin than the Lancastrian. Commonly a pannier was also added to the bottom of the fuselage. The purpose of which is unknown to me, possibly freight? Again, if you know more about her interiors and/or service and what passengers and crew thought about her it would be very valuable to me.
Exterior picture courtesy of Wikipedia
I have no interiors, but this cut-away courtesy of
http://www.aviationancestry.co.uk
shows it to be an interesting layout.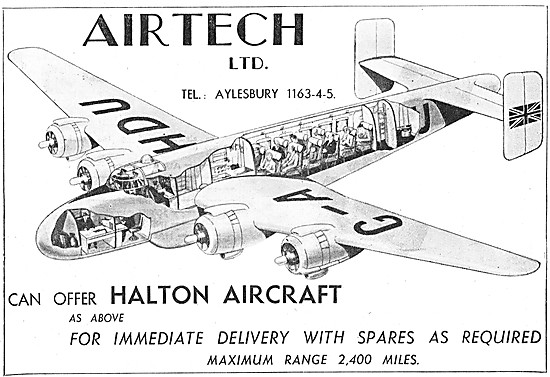 Consolidated C-87
The passenger liberator was, according to wikipedia, not a terribly pleasant aircraft for crew to fly. With many vices. Interiors that I've come across have also been incredibly sparse, with naked metal interiors and toilets with a "privacy curtain" in lieu of a proper door for a lot of them. BOAC had at least one in service, and I've got to wonder if the intriors of this example weren't better. Looking at the Lancastrian there seems to have been actual effort put into making it as nice as possible. I would love to see their Liberator interior. As a side note: I do love the fact that the faired nose looks a bit like a sperm whale or moomin (if you're familiar with the Finnish children's figures).
Exterior view courtesy of wikimedia
I've sourced the following picture from Reddit, there is no attribution as to actual source I'm afraid.
Boeing B-17 conversions
Boeing did have both an "official" conversion called the C-108, as well as other conversions. This might be the beast I know the least about that carried passengers. Boeing has an interesting article on their own Boeing Frontiers magazine about the Scandinavian examples which you can read more about here:
https://www.boeing.com/news/frontiers/archive/2006/february/i_history.html
A picture from the same article
Discussion
There were other conversions, some I simply don't know about (so please do chip in), and others were converted for freight. And as interesting as freight handling is, I'm personally more interested in the trickier passenger conversions.
In a few cases I wonder why the likes of BOAC didn't adopt more conversions at the very end of the war years. The York is the only real effort to make a quick and easy "proper" airliner out of a bomber. There were also plenty of conversions of flying boat Short Sunderlands, and these airframes were eminently suitable and easy to convert. But it seems as though both the Halfords and the Liberators could have been lengthened and pressed into service for short to medium haul routes as well, though it would have required more effort.
Of course, the DC-3, DC-4, and Constellations were purpose built and better suited. But especially Britain suffered heavily from a debt burden. They didn't want to spend dollars which were necessary for other national interests. The economy working differently then than it does now means that dollar reserves were exceptionally valuable in a way that they aren't today in the same way. Which should have made how grown conversions economically viable propositions.
If BOAC would have accepted them is a different matter. BOAC had to compete with American and European airlines and had a sense, true or not, that bomber conversions would be donkeys racing stallions. And the storied Brabazon committee made no recommendations for bomber derived stop-gaps. Instead focusing wholly on new ventures in order to let British aircraft manufacturers catch up technologically. The Hadley Page Hastings military transport derived Hermes was the only one, and it was delayed far too much to be useful. Converting the unpressurised Hastings to a DC-4 competitor was too radical to be done in a timely manner as it turned out. I propose that had production of Yorks and lengthened/enlarged Haltons been done before wars end the need for the Hermes would never have arisen. Then again, had the Avro Tudor been persevered with the entire question would be moot. But what is the British aircraft industry but a huge list of depressing what-ifs?
What's evident is that they and others DID use bomber conversions. The stories of which are few but oh so tantalising. What was it like to fly on a SILA B-17? The Halford? A BSAA Lancastrian to South America? How were they used and why in airliner networks? It's simply a bit of a forgotten part of aviation history in my opinion. A small but important one.