Fokker NG jet, an unique opportunity for Boeing?
Now I know I will risk my credibility with a lot of people here (if there was any), but sometimes I just like to launch a left field idea, so hear me out.
https://www.ngaircraft.com/
- The lightest and most durable airframe in its class.
- Extremely quite cabin (low power GTF engines mounted in the back), but also very low environmental noise profile.
- The cost of synthetic fuel will in the future require even more optimized airframes. Better not use 3.500Nm planes on 1.000Nm missions.
- London City capable.
- Roomier and less draggy 5-abreast cabin, with more scope to grow than the most direct competition.
- Limited range and thus flexibility, but that just helps to offset it against the A220 with reduced acquisition and operation cost.
- Limited range, also means that future engine developments will increase its range and keep it relevant and economical going forward.
- Extremely low trip and seat-mile costs.
- Rear mounted engines make it more futureproof for future larger diameter propulsion developments (open-rotor/RISE, hybrid). Inline with Boeing synthetic fuel vision.
- Design team, still existing tooling (except wings) and current fleet support organization under one owner.
- High mounted engines help on rough runways.
F130NG compared to the 717:
- Same range.
- ±12 more seats at equal comfort.
- ±3.300 kg lower MTOW.
- ±650 kg lower OEW.
- A smaller variant to aid commonality and share cost base.

Fokker NG compared to the Embraer E2:
- 700 Nm less range.
- ±10 more seats at equal comfort.
- ±10.000kg lower MTOW.
- ±5.000 kg lower OEW.
- 20% lower OEW/seat.
So if it's so great, why does it not get off the ground?
- It has no (European) political support
- It lacks funding/credibility.
- It lacks manpower to finish the design, production and sales materialization.
Now that's where Boeing could come in. Their only airframe they have left that will most likely still exist past the current generation is the 787. In the narrowbody segment they are completely out manoeuvred by Airbus and are a few (potential) steps behind the curve.
- Political
Under Biden, a new high profile US-EU economic corporation would be an important symbolic political signal that the EU and the US stand shoulder to shoulder in the changing world order. So that's the political support.
- Credibility
The Boeing umbrella would provide the necessary credibility.
-
Funding
Although funding is never easy, it would be much easier for Boeing. It would almost be small change for them.
- Manpower
Boeing has enough manpower to shift towards such a program to guide it to market.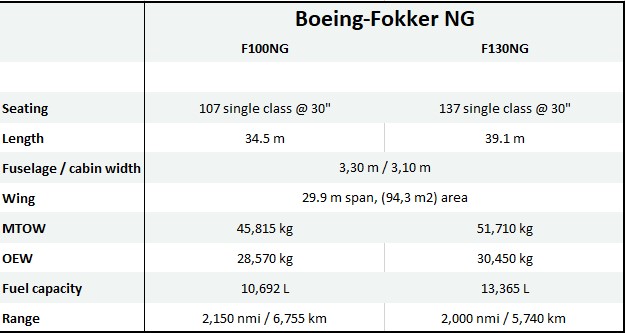 For Boeing this could be a cheap entry back into the 5-abreast segment, so they can subsequently focus on a 6-abreast replacement. The Fokker NG currently lacks a bit of range to be very flexible. However future open rotor options would move it in the right direction where other designs would become overly capable and perhaps lacks clearance. As said, it's a bit left field, but I reckon it's a nice idea.