Lovely In-The-Cabin Scenery Aboard GOL Airlines
Posted: Sun Sep 21, 2003 9:27 am
An upcoming October DVD program features GOL Airlines of Brazil.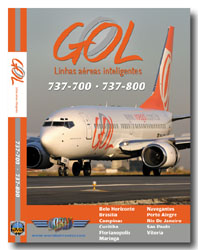 And it appears that the price of this video product just might be worth it for this reason alone.
......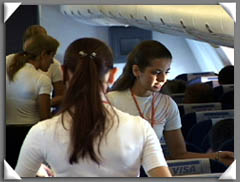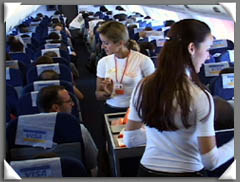 Ahhh......Young, attractive flight attendants donning snug T-shirts aboard a cramped transportation tube device known as a Boeing 737-700. That's the life!!
(Any old farts here that still can remember the fabulous "Hot Pants" era of "stewardesses"/"hostesses"??
.... Now THOSE really WERE the days! hehe.)
"1970s: Southwest Airlines experiences a dramatic jump in ticket sales when its flight attendants start wearing white go-go boots and hot pants. The airline adopts a new motto to match ("Sex sells seats") and begins serving in-flight drinks with names like Passion Punch and Love Potion. Not to be outdone, TWA follows suit in 1971, sending its attendants into the air wearing Valentino-designed hot pants."