from Randy's Blog:
Randy Baseler Blog
Basically Randy's 'Big Airplanes' entry talks about the difficulty of building airplanes, and answers some questions regarding that all too famous 787 fuse as well as his (and Boeing's) insight into the recent a380 delay.
"You may have read media reports about a recent challenge with one of the composite fuselage barrels we've built during the development phase of 787 Dreamliner. We built eight test fuselage barrels successfully, and with improving quality...."
"This ninth finished barrel was found to be unacceptable, due to some excessive porosity, or trapped gas or air in the fuselage material.Our study of the root cause clearly points to differences between tools and processes used on this barrel compared to the eight others."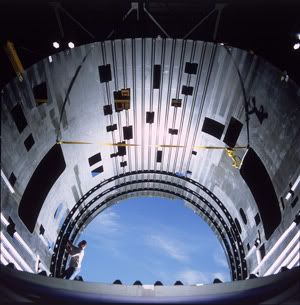 "Now, you may also have read about some problems with Airbus' production and delivery schedule for the A380. They've hit a tough patch. But Airbus has a long history of achievements. They'll work through it and will continue to be a formidable competitor."
Edited for content.
[Edited 2006-06-24 00:21:49]