The largest airline in the world, American Airlines also operates one of the largest triple seven fleets. Second only to United Airlines (52 frames) but ahead of British Airways and Emirates (43 frames each), American currently operates a fleet of 47 virtually identically configured B777-200 aircraft. Yet unlike some of its main competitors, American operates these aircraft according to a rather intricate multi hub and spoke operational system, through which the airline's flagship B777 aircraft constantly zips from one corner of the world to the other.
In this article, I plan to take an in depth look at American's B777 operational models and compare them with those of some of its main competitors. This report is a further installment in a series of operational research topics, during which I earlier discussed
KLM Longhaul Operations
,
Emirates Dubai Hub Performance
, and, likely most relevant for the topic at hand,
A Comparative Study of B777 Operations at BA, AF and KL
.
The data used for this article are as up to date as possible. They pertain to the week of Monday, December 04 until Sunday, December 10. As airline operations are incredibly dynamic and changes are constantly undertaken, these data might no longer be accurate in a month from now, yet the overall picture is very likely to remain valid.
American Airlines B772 Network
No more than 17 airports in the world are currently seeing regularly scheduled B772 service by American Airlines. These airports are at Dallas (DFW), New York (JFK), Chicago (ORD), Miami (MIA), Los Angeles (LAX), Boston (BOS) and Raleigh Durham (RDU) within the United States as well as at London (LHR), Tokyo (NRT), Buenos Aires (EZE), again London (LGW), Sao Paulo (GRU), Frankfurt (FRA), Delhi (DEL), Shanghai (PVG), Rio de Janeiro (GIG) and Santo Domingo (SDQ) outside the airline's home country.
Not all of these airports are equally important as to the B772 operation, and a close look at the following diagram gives somewhat of a better perspective on the status of each of the B772 stations within the airline's operational system.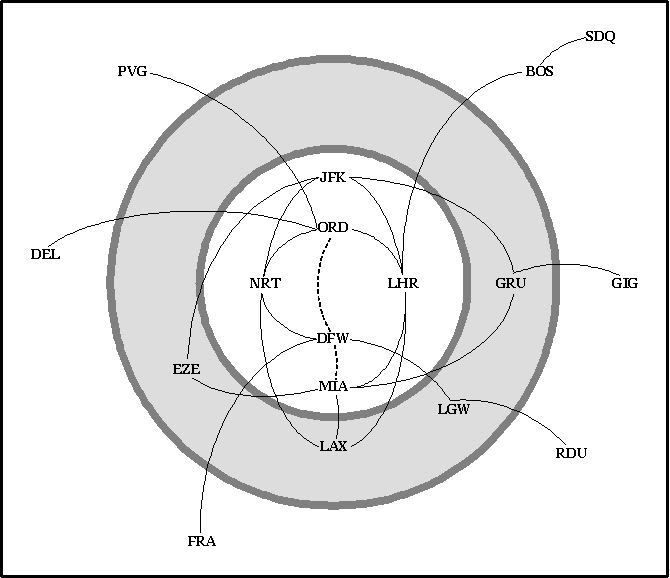 Central Zone 1 – Operational Hub
Middle Zone 2 – Operational Periphery
Outer Zone 3 – Remote Stations
The central zone of the diagram depicts the B772's core operational stronghold. All of the airports included in this zone act as operational hubs. Note that the term Operational Hub should not be confused with the traditional interpretation of an airline hub as an airport where passengers connect between flights. An operational hub may not offer any such connectivity and might merely serve as the end of a spoke in a traditional passenger hub and spoke model where the airline is attracting mainly O&D traffic.
The operational hub offers the airline – rather than the passenger – maximized degrees of freedom and flexibility in organizing its daily operation. The operational hub is able to do so because a multitude of flights operated by a particular aircraft type arrive and depart at the hub airport, allowing the airline flexibility in solving any operational irregularities that inevitably arise. Operational hubs are the territory of aircraft substitutions and, often, maintenance operations, as they allow for certain aircraft to be taken out of the active operation for a certain amount of time without causing a knock on effect within the airline's network.
Many traditional network carriers structure their operation so as to include just one or two operational hubs, which are often the airline's home base(s) and act at the same time as passenger and/or cargo hubs. American carriers, which have traditionally operated multiple hub systems, have often catered for a larger number of operational hubs in order to guarantee a stable operation, and American Airlines is no exception. Apart from the traditional suspects DFW, ORD, JFK and MIA, which also act as the airline's main passenger hubs, American is also operating two of very few overseas operational hubs, at London's Heathrow International Airport and at Tokyo's Narita International Airport. As said, very few other such overseas operational hubs continue to exist: United and Northwest at Tokyo are other examples, as is Qantas at Singapore.
Just outside the central zone, with the airline's core operational hubs, is the Operational Periphery. Airports located in this category are seeing a somewhat regular flow of scheduled B772 traffic, yet lack the flexibility to overcome operational instabilities should they occur because the potential for aircraft swaps is limited or non existent and there is often no possibility at all to take an aircraft out of the active operation for a while. Any irregularities occurring within the operational periphery will potentially ripple throughout the network, yet the vicinity of operational hubs makes that these irregularities can often be easily neutralized.
American Airlines' operational periphery stations include LAX within the homeland as well as LGW, EZE, and GRU overseas. A thorough discussion of all of AA's important B772 stations and their functions within the airline's operational model will follow later.
Zone 3 in the above diagram, finally, represents the so called remote stations, where no operational flexibility, which has the potential of supporting the airline's operational model in case of delays and other irregularities, whatsoever exists. Aircraft moving through remote stations often make immediate turnarounds with limited ground time so any instability which occurs at such stations is likely to have a knock on effect in the rest of the airline's network. American Airlines operates remote B772 stations at BOS and RDU within the US and at FRA, PVG, DEL, GIG and SDQ outside of there.
American Airlines B772 Flights
American's B772 operations take place within 4 different geographical sectors: Europe, Asia, South America and the US, in order of importance. On Mondays through Fridays, AA operates 17 B772 roundtrips between the US and Europe, 7 such roundtrips between the US and Asia, 5 roundtrips between the US and South America and 3 roundtrips within the US. Most of AA's B772 flights are daily with very few changes in the weekend. SDQ is served just once weekly from BOS on Saturdays because on that day one of the airline's Heathrow flights from BOS is not operating.
In order to operate the above flights, American Airlines commits 20 aircraft daily to its transatlantic operation, 10 aircraft to its South American operation, and 9 aircraft to its Asian operation. 3 aircraft daily are scheduled for an overnight stop at DFW, while 2 are doing so at ORD and 1 each at JFK and BOS. As such, the current American Airlines B772 Operation calls for 46 active frames out of a total fleet of 47. A more thorough discussion of the above numbers is to follow later.
Here is what AA's entire B772 flight schedule currently looks like (all flights are daily, unless mentioned otherwise):
Europe
142 JFK LHR 0830 2025
100 JFK LHR 1815 0625
122 JFK LHR 1845 0655 – 5 weekly
104 JFK LHR 1935 0740
132 JFK LHR 2110 0905
116 JFK LHR 2345 1140
156 BOS LHR 0900 2030 – 6 weekly
108 BOS LHR 1910 0635
182 MIA LHR 1700 0625 – 2 weekly
056 MIA LHR 2020 0950
090 ORD LHR 0910 2235
086 ORD LHR 1715 0650
046 ORD LHR 2015 0945
098 ORD LHR 2150 1130
136 LAX LHR 1905 1325
050 DFW LGW 1705 0755
174 RDU LGW 1845 0700
070 DFW FRA 1440 0710
115 LHR JFK 0820 1105 – 6 weekly
101 LHR JFK 0955 1245
105 LHR JFK 1200 1445
131 LHR JFK 1635 1930
107 LHR JFK 1830 2125
141 LHR JFK 2000 2250 – 6 weekly
109 LHR BOS 1030 1255
155 LHR BOS 1755 2020 – 6 weekly
113 LHR MIA 0805 1250 – 2 weekly
057 LHR MIA 0945 1430
087 LHR ORD 1015 1255
067 LHR ORD 1215 1500
047 LHR ORD 1415 1700
091 LHR ORD 1630 1915
137 LHR LAX 1130 1450
051 LGW DFW 1025 1440
173 LGW RDU 1240 1615
071 FRA DFW 1030 1430
Asia
175 DFW NRT 1010 1445
061 DFW NRT 1205 1640
169 LAX NRT 1140 1640
153 ORD NRT 1105 1525
167 JFK NRT 1125 1545
292 ORD DEL 1920 2135
289 ORD PVG 1055 1525
176 NRT DFW 1325 0930
060 NRT DFW 1900 1515
170 NRT LAX 1700 0935
154 NRT ORD 1925 1545
168 NRT JFK 1905 1735
293 DEL ORD 0055 0515
288 PVG ORD 1745 1705
South America and Caribbean
955 JFK EZE 2210 1040
909 MIA EZE 2040 0720
943 MIA EZE 2320 1000
995 MIA GRU 2320 1020
951 JFK GRU 2130 1000
951 GRU GIG 1155 1255
2087 BOS SDQ 1105 1550 – 1 weekly
956 EZE JFK 2140 0610
900 EZE MIA 2155 0440
908 EZE MIA 2255 0540
906 GRU MIA 2350 0500
950 GIG GRU 2025 2140
950 GRU JFK 2330 0605
2084 SDQ BOS 1715 2005 – 1 weekly
Domestic
0436 DFW MIA 1750 2135
1945 MIA DFW 1620 1830
0066 DFW ORD 1330 1545
0067 ORD DFW 1700 1930
1520 LAX MIA 1205 1945
0383 MIA LAX 0815 1050
American Airlines B772 Operational Statistics
The above mentioned flight schedules call for the daily deployment of 46 of the airline's 47 B772 frames throughout the network (details for Mondays through Fridays only, minor changes or Saturdays and Sundays) as follows:


a total of 20 frames are dedicated to the airline's European transatlantic operation; these frames are to be counted as 17 roundtrip flights (14 LHR, 2 LGW, 1 FRA) plus 3 overnight spare frames, which are parked at London's Heathrow airport because the late arrival times from the daylight eastbound sectors out of JFK, BOS and ORD preclude a same evening return to the US ;


a total of 9 frames are deployed in the Asia sectors for 5 roundtrips to NRT (5 frames), 1 roundtrip to DEL (2 frames accounting for a double overnight rotation), 1 roundtrip to PVG (1 frame) as well as one frame which is parked overnight at NRT ;


10 further frames are deployed for the South American operation in order to secure just 5 roundtrip flights, as all of these flights require the investment of a double overnight rotation because of geographical considerations ;


a final 7 airframes are used for 3 daily roundtrips within the US as well as for overnight spare capacity at DFW (3 frames), ORD (2 frames), JFK (1 frame) and BOS (1 frame). The overnight spare capacity at ORD, JFK and BOS is a direct result of the airline's early morning daylight transatlantic departures to London ;

All in all, the airline's current B772 flight program calls for the active deployment of 46 out of a total of 47 frames, leaving space for heavy maintenance operations on the single remaining aircraft. The 46 active frames are however not so stretched in utilization as to preclude any incidental maintenance or overcome the inevitable operational issues: extensive ground times at several hub airports provides large levels of operational flexibility so as to make American's B772 some of the more stable in the industry.
American Airlines includes a remarkably large amount of overnight spare capacity in its schedules. At any given night, no less than 11 active frames are parked in airports around the world. Obviously, the airline is using this spare capacity as a catalyst to stabilize its B772 operation so as to incur a minimum number of operational irregularities with its flagship aircraft, which is deployed in the airline's highest yielding sectors. Nevertheless, 11 out of 46 overnight spares must be close to an industry record.
All of this spare capacity has, quite obviously an effect on the utilization rates of the AA B772 fleet, which are as follows (the numbers used are valid for weekdays only, yet there are only very minor changes on weekends):
B772 Daily Utilization Rates
Europe – 277 hours 20 minutes – 48.0% of total utilization
South America – 93 hours 20 minutes – 16.2% of total utilization
Asia – 181 hours – 31.3% of total utilization
Domestic – 25 hours 55 minutes – 4.5% of total utilization
Total Daily Utilization – 577 hours 35 minutes
Average Daily Utilization per frame – 12 hours 17 minutes
American's average daily utilization rates are remarkably low for today's industry standards. Obviously, the relatively large number of overnight inactive frames plays a major role in this low utilization rates. The airline likely has very cogent arguments for parking these frames overnight, and one should not forget that the B772 is AA's flagship aircraft, which carries by far the greatest number of premium seats in the entire AA fleet. As such, the airline likely puts a premium on commercially viable scheduling, despite its pernicious effect on utilization rates.
Other elements that might account for part of the low utilization rates are slot restrictions at such airports as LHR, LGW and NRT as well as the fact that American is operating a multi hub and spoke model which typically leads to lower utilization rates than those achieved at single hub operators. The geographical location of the South America region relative to the airline's passenger hubs, finally, has a negative impact on utilization rates as well, as the airline parks its aircraft for extensive periods of time at certain South American airports in order to cater for overnight flights. A further discussion of utilization rates and a comparison with some of AA's main competitors is to follow later.
A comparison of total investment of frames per sector and relative share of the total utilization for each of those sectors gives the following result: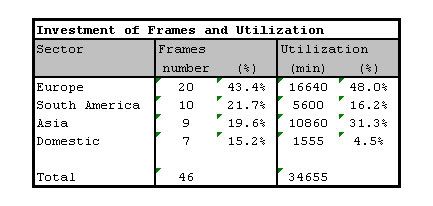 The data above indicate that the airline's Asia Operations are by far the most efficiently organized with a relatively high utilization rate compared to the relative number of airframes invested in this sector. The reason for this efficiency is of course the fact that, at American, ground times in Asia are typically shorter, with immediate turnarounds in most cases and just one overnight spare parked at NRT.
The South American operation, on the other hand, turns out to be the least efficient with a relatively large investment of frames but a lower return on utilization. The main reason for this seemingly unfavorable picture is the earlier mentioned long ground time at South American airports, which are a typical annoyance for many longhaul North-South operations.
The unfavorable position of the domestic component in these data is of course skewed by the fact that the airline's main operational hubs are located in this area and that the airline caters for operational stability by parking a number of frames at key airports, which do contribute to the frame count but have no contribution at all to the utilization count.
Operational Characteristics of American Airlines B772 Stations
In order to get a better insight in the exact flow of aircraft through the airline's operational model, a somewhat closer look at each of the most important B772 stations – both Operational Hubs and Operational Periphery Stations – is necessary.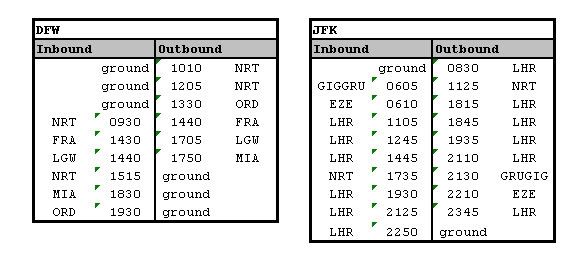 DFW – Dallas Fort Worth International Airport
Operational Characteristics:
Movements: 12
Overnight Spares: 3
Average Ground Time: 10 hours 54
DFW is American Airlines' home base, and although it does not see as many B772 movements as some other stations in the network, it is arguably the airline's most important B772 hub. The schedule at DFW is set up with a lot of flexibility as no less than 3 inbound flights are not scheduled for a departure on the same day. The above diagram illustrates one of many operational patterns, although three overnight stopovers are absolutely necessary to keep this schedule operational.
As this airport is an important maintenance base for the B772 fleet, it is within the line of expectations to see the airline scheduling the kind of flexibility and ground time apparent in the current operational setup. DFW is working as a stabilizing factor in the airline's B772 operation and it is also used as a hub to recall certain frames to the home base through domestic links to both ORD and MIA, which serve no other purpose than to guarantee adequate flow of aircraft through the system, while positioning other frames at both ORD and MIA.
JFK – New York John F Kennedy International Airport
Operational Characteristics:
Movements: 18
Overnight Spares: 1
Average Ground Time: 6 hours 29
New York JFK is an Operational Hub for American's B772 operation. Although it is mainly linked to London Heathrow, it features sufficient operational flexibility to cater for aircraft substitutions in case of irregularities. One aircraft is parked overnight at JFK because the last Heathrow arrival of the day is too late for this aircraft to still be scheduled for another departure. The above diagram indicates a typical flow of aircraft through JFK, although several alternative options exist.
New York JFK is not linked to any of the airline's other domestic operational hubs, and aircraft flow between JFK and those hubs, in particular DFW, through international hubs. This is a typical phenomenon for multi hub and spoke networks of international airlines: certain cities may only be linked to the airline's home base by way of international intermediate stations. Within the AA B772 setup, for instance, the RDU station is fed through LGW only.
ORD – Chicago O'Hare International Airport
Operational Characteristics:
Movements: 16
Overnight Spares: 2
Average Ground Time: 7 hours 06
Another Operational Hub, Chicago O'Hare plays a major role in American's international operations, with daily B772 departures to Europe and Asia, as well as a daily positioning flight to and from the DFW home base in order to inject new equipment into the system. Some of the airline's longest flights are leaving from this airport and when considering the strength of the airline's domestic feed at ORD, it is absolutely clear that this airport is a key element in American's operational model.
American keeps two overnight spares available at ORD and links the airport to many parts of the B772 network, allowing for both optimal flow of airframes through the operational system as well as a beneficial impact of the airline's operational stability.
MIA – Miami International Airport
Operational Characteristics:
Movements: 12
Overnight Spares: 0
Average Ground Time: 7 hours 28
Miami is American Airlines' most important gateway to South America, and the airport features three daily B772 departures to that region. Because of the geographical location of South American airports and the perceived preference of premium passengers for overnight longhaul flights, all of American's B772 departures to that region operate according to a double overnight operational pattern, which typically includes a long ground time at the outstations, in AA's case GRU and EZE. Flights return very early in the morning and face again long ground times because no departure schedules are immediately available.
In order to somehow make good use of the parked airframes, American is operating a daily LAX roundtrip with its B772 aircraft. Otherwise the aircraft would anyway just be sitting in MIA. The airline has the operational potential to operate other such domestic or regional roundtrip, but apparently does not find any beneficial use for doing so.
The above included flow chart indicates a typical traffic flow at MIA, although, considering the long ground times of certain frames, a lot of alternative options exist. Obviously, the long ground times work as a stabilizing factor, keeping the operation relatively free from knock on delays, yet have a negative effect on the airline's utilization rates.

LAX – Los Angeles International Airport and BOS – Boston Logan International Airport
Operational Characteristics LAX:
Movements: 6
Overnight Spares: 0
Average Ground Time: 2 hours 31
Operational Characteristics BOS:
Movements: 4
Overnight Spares: 1
Average Ground Time: 7 hours 30
LAX and BOS are airports located in the operational periphery and the operational remote area for the B772 operation respectively, as indicated by the smaller number of movements here, which do not cater for a lot of flexibility in terms of eliminating effects of operational irregularities. At LAX, all of American's three daily flights make immediate returns to the airport of origin, while BOS is only linked to London Heathrow on workdays (Boston's SDQ connection operates only on Saturday when the daylight Heathrow departure doesn't operate) and as such has no direct link with any of the airline's domestic operational hubs. BOS has nevertheless one overnight spare aircraft, which arrives late in the evening from LHR and is deployed again the next morning for the daylight Heathrow departure.
LHR – London Heathrow International Airport
Operational Characteristics:
Movements: 28
Overnight Spares: 3
Average Ground Time: 6 hours 56
Although located outside the airline's home country, London Heathrow is American's Operational Hub which features maximum flexibility and allows for lots of aircraft changes and substitutions, thus minimizing any disruptions to the operational model. LHR thanks its status not only to the large number of flights there, but also to the slot restrictions the airline is without any doubt facing and which might preclude it from scheduling its flights with shorter ground times. This somewhat increased ground time of airframes passing here allows for increased flexibility in dealing with delays and other irregularities.
American Airlines keeps 3 frames parked overnight at Heathrow, because they arrive too late from daylight transatlantic flights from JFK, ORD and BOS, to still be scheduled for an evening departure. LHR is without any doubt one of American's highest yielding stations and the airline can afford to lose somewhat on utilization in favor of commercially viable schedules and frequencies.
Above is a typical overview of an American Airlines operational day at Heathrow, although many alternatives are feasible. As a matter of fact, the operation at LHR is so flexible that, in case of technical issues with one of the aircraft, AA can keep this frame on the ground at LHR for several days without canceling a single flight and without other severe irregularities in its operational setup.
NRT – Tokyo Narita International Airport
Operational Characteristics:
Movements: 10
Overnight Spares: 1
Average Ground Time: 6 hours 32
Apart from LHR, American Airlines also operates an Operational Hub at Tokyo's Narita International Airport, and although the airline has recently reduced flights to NRT with the closure of its San Jose connection, the airport keeps its operational hub status and has the potential to mitigate operational irregularities through aircraft substitutions and other operational flexibility.
The above diagram clearly indicates the need for an overnight spare frame to be parked at NRT, and also shows how the aircraft typically flow through this operational hub, although several variations are possible.
Other B772 Stations
Operations at other B772 are far less extensive as those at some of the airports described above and offer very little, if any flexibility to the airline in terms of mollifying the effects of operational irregularities. Frankfurt, Delhi, Shanghai, for instance, are remote stations with a single daily flight linked to one of the airline's operational hubs, and feature an immediate turnaround of the inbound frame.
London Gatwick, although in the operational periphery, receives but two daily flights and acts as a intermediate point in feeding Raleigh Durham from Dallas. Although the airport has the option of interchanging its two daily flight, its effect on the rest of the B772 network is relatively minimal.
In South America, both Sao Paulo and Buenos Aires are located within the operational periphery, but since ground times in South America are, for geographical reasons, very extensive, there is very little interaction with the rest of the worldwide B772 operation. Both GRU and EZE act, however, as buffers in absorbing in inbound delays through extensive ground time.
Analysis and Personal Comments
Any operational analyst looking at some of the numbers mentioned above and analyzing American Airlines' B772 Operation is likely to be struck by the relatively low utilization rates of this flagship fleet of 47 aircraft. Indeed, a utilization rate of just 12 hours and 17 minutes per day is low by any of today's industry standard, as is obvious from the following comparison of operational statistics of a couple of major B777 operators around the world, the details of which may be found in
this article
.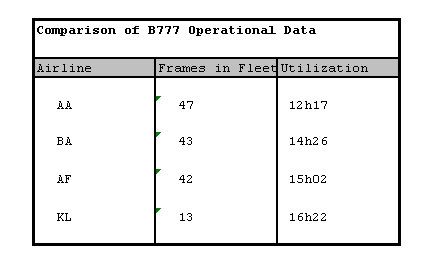 The main reasons for the relatively low utilization rates have been discussed before and are mainly to be linked with extensive scheduled ground times and the provision of 11 overnight operational spares for a fleet of 47 aircraft. Nevertheless, American Airlines has likely very compelling arguments for keeping the utilization rates at the levels they currently are:


the B772 (configuration 16F/35C/194Y or 18F/35C/194Y) is the airline's most premium aircraft, with a particularly large number of very high yielding International First Class seats. In order to attract the kind of traffic to fill these seats, the airline has to make every effort possible to cater to the needs of its premium customers. As such, American schedules its flight according to commercially viable patterns, which include a maximum of overnight sectors, even where other alternatives exist. Such commercial scheduling, while beneficial for attracting premium traffic and as such impacting the company's bottom line positively, tends to have a deteriorating effect on utilization rates, because the airline faces longer ground times at outstations than operationally necessary. Nevertheless, the airline has likely quantified that the negative effect on the utilization rates is outstripped by the benefit of attracting additional premium traffic;


American Airlines seemingly puts a premium on keeping its operation stable. Operational issues are inevitable and delays will occur, but the airline's schedule clearly indicates its desire to minimize network wide effects of operational irregularities. As it goes, most stations in the B772 network have the operational tools to neutralize any irregularities, and those stations that don't have these provisions are directly linked to other stations which have such tools and provisions so that any negative effects can be mitigated the furthest one step down the operational system. Very few airlines feature an operational setup which is so clearly designed to immediately overcome instabilities as the one of American Airlines. As such, other airlines may have to cope with knock on effects of previous delays which may ripple through the system for several days. It is clear that the AA model is once again designed from a perspective of pleasing its most valued customers with a very stable operation, which is relatively insensitive to delays. The airline seems to be more than willing to invest in a stable operation through a utilization pay off;


the American Airlines B772 operation routes through some of the world's busiest airports and many of these airports are severely congested and slot restricted. Congestion may lead to undesirable delays, which should be eliminated as soon as possible, and for which American organizes a system of extended ground times and overnight spare capacity as discussed before. Slot restrictions, on the other hand, might force the airline into schedules which are less desirable from an operational perspective and which might further eat into the airline's utilization rate. Yet the advantage of operating into such premium airports is obvious: the airline is able to attract larger amounts of higher yielding traffic and should compromise on any operational annoyances for the sake of being able to operate there;


unlike many of its non-US rivals, American Airlines operates a multi hub and spoke operational system, which tends to spread out the airline's operational resources of multiple geographically separate locations. This spreading of resources and operational bases, which necessitates the provision of minimum operational flexibility at each of those bases, has a deteriorating effect on utilization rates. Yet, the United States is a very large country and although there has been a move to close smaller hub operations over the past decade or so, there is a limit as to the number of passenger hubs an airline can reduce itself without losing essential business and negatively impacting its bottom line. As it goes, there is really no further rationalization American Airlines could possibly undertake in the number of passenger hubs it operates. The airline may try to move away B772 operations from smaller stations, but the beneficial effect of such an move is likely very limited;

It is as such clear that the operational setup of the American Airlines B772 Operation has been very well considered and that the limited utilization rate is a clear decision by the airline with its ultimate goal to attract premium traffic and keep the operation as stable and free from irregularities as possible.
The question remains, however, as to any potential ways of improving utilization rates without compromising the balances that have been carefully included in the current operational setup. I believe increased utilization is indeed possible without negatively impacting any of the sensitivities which are obviously important for the airline. The question is then, obviously, whether American Airlines is interested in adding such utilization. Considerations of yield management and protection of yields may very well preclude the addition of capacity to certain of American's core routes.
The perception that American's B772 fleet is stretched to the absolute limit – an observation that has repeatedly arisen in here – is however no more than a myth. When taken at face value, utilization rates are low, full stop. It is only when factoring in some of the boundary conditions which the airline has been imposing on itself that the B772 operation gives the impression of being packed. Many of the limitations which American Airlines has been setting are obviously valuable and serve a clear purpose, yet it is clear that the airline is somewhat under-using its 47-strong B772 fleet. Whether this is the optimum situation in terms of optimal utilization of available resources in terms of effect on the company's bottom line is a decision which only the airline can make.