Background of this new short haul twin
As discussed in other threads EIS of new narrowbody Aircraft is not foreseen before 2013-2015 and Embraer expressed ambitions to enter this segment. High fuel prices and pressure to reduce cost level are making the airlines look for aircraft that provide significantly lower operating costs while satisfying changing environmental and public acceptance requirements.
A trend towards bigger regional aircraft becomes visible in the various models under development by Embraer, Bombardier, Sukhoi, AVIC and Mitsubishi.
Enlarge: http://www.kaktusdigital.com/images/large/LRJ_02.jpg
Boeing - Embraer Joint Venture
In a unique joint venture Boeing decided to team up with Embraer. Embraer is market leader in the 70-120 seat segment and decided to become a 30% risk sharing partner along with Pratt & Whitney (20%), ILFC (15%) and Boeing
(35%).
Position within Boeing product portfolio
Boeing decided to focus on the 150-250 seat short/ medium range market better fitting their market positioning, as discussed in another thread. The overlap of the new twin with Boeings new 797 narrowbody family is limited because of the very different markets / pay load range performance.
Some basic specifications
- Max cruising speed: Mach.7
- Max range with full passenger load: 2200 nm
- Operating Empty Weight: 22,000kg ( 50.000lb)
- 70% Advanced materials CRFP / Alu-Li
- Capasity: 110-165 seats in single class 32 inch pitch
2200nm ranges from DFW, FRA and HKG.
Engine Technology
New engine technology includes a 1:12 BPR, a GTF optimized for Mach 0.7 cruise and light carbon fanblades / engine cowling. Other engine technology includes noise absorbing materials, scarfed inlets and noise
reducing exhaust pipes.
Cabin Comfort
The wide cabin is dimensioned for a comfortable 2-3 + 2-2 lay-out with every seat having two individual armrest. On top of this the aisle is 30inch wide, allowing passengers to pass each other / cabin staff with trolleys. A first are the small roof top windows that spreads a friendly natural light in the cabin, giving every passenger a perception of space. Large windows and luggage bins further enhance passenger comfort.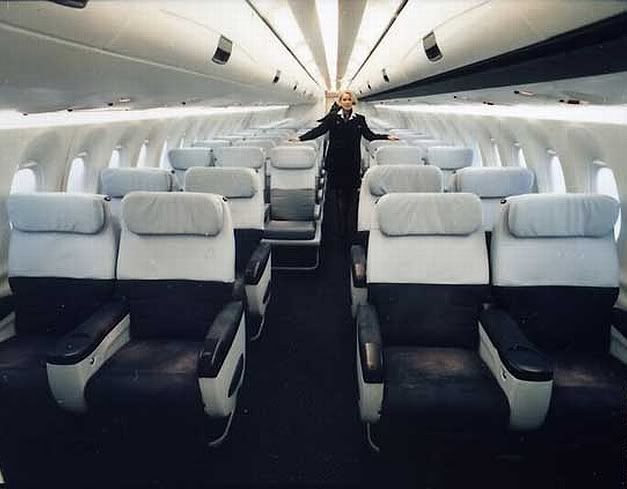 Stability and Control
Original designs included digital flight controls programmed to fly without a vertical stabilizer (B2, F117 etc) reducing weight and height. Later on it was decided to ad 2 vertical stabilizers for passive lateral stability and noise deflection. Differential thrust provides any missing directional stability.
Enlarge: http://www.kaktusdigital.com/images/large/LRJ_01.jpg
Market Potential
Among the string of undisclosed launch customers are two very large Texas based 737 and MD80 operators. Boeing and Embraer are considering setting up additional assembly lines in Asia and Europe.
Entry into service is estimated to take place in 2012 / 2013.  
alt="Wink"> Just playing around folks. Some time ago Henry Lam created a Large Regional Jet design based on my idea. A lot of usefull comments here on a.net required a LRJ mark II. It´s a stretch from the old design with some of the flaws corrected. Henry has a studio down under
www.kaktusdigital.com
and helped me out with some quick and excellent artist impressions of existing & non existing aircraft liveries / designs for various purposes.