travelsonic wrote:

Maybe my memory is fuzzy... a few times in the early-mid 2000s, I was lucky to fly JFK-LAX (and back), and JFK-SAN (and back) in J on the 767-223ERs in the early-mid 2000s, but didn't these seats (the ones that replaced the "Woolly Mammoths" in J, I mean) once have reading lights between seats? I seem to remember one flight with them, and another where they weren't there later on.
I thought the reading lights were only on the 777 in J and F. J had 2-3-2 and F had 2-2-2 on the 777 (1 extra seat per row per cabin)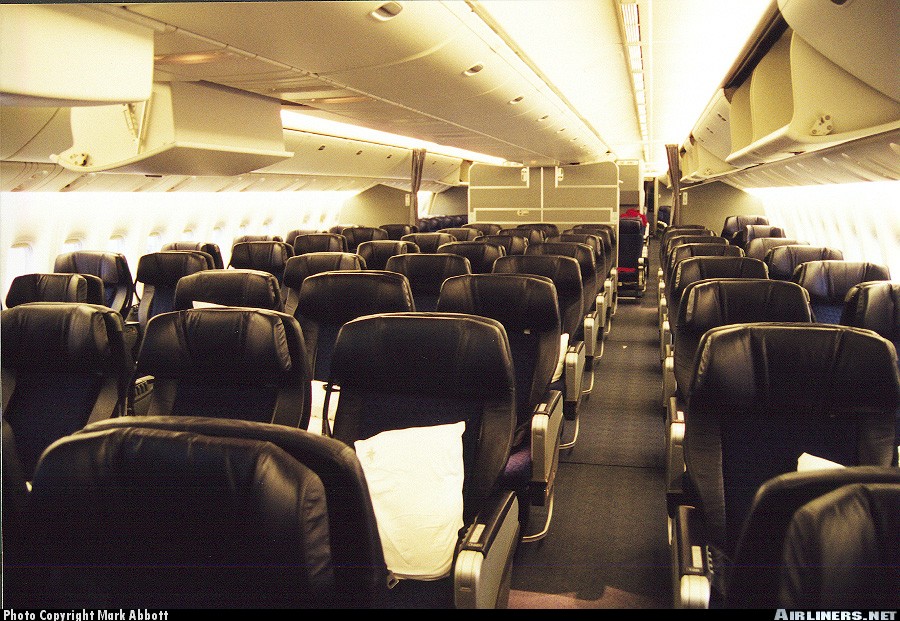 travelsonic wrote:

My favorite memory was flying in F on a flight from St. Louis to Kahului, Maui (STL-OGG) in March 2002. The aircraft was an ex-TWA 767-300, still in TWA's last livery, and with all the furnishings (which was to be expected, of course) - the seats appeared to be a variation of the Weber 7502s, only with the Ambassador Class cloth coverings instead of sheepskin/leather. Didn't they used to have VHS players built in that allowed you to play tapes? I seem to remember that being a thing with those seats...
This is all I have on the TWA 767 in my files- This was once it was converted to sleepers, and I was on the hunt for a used chair
travelsonic wrote:

Looks like a ... mockup, but of what type? DC-10 was my initial thought, but upon looking closer, the windows look more 767-esque... but were 767s without the blue wall paneling being delivered by then? Either way, interesting perspective of the J (?) cabin legroom.
Here's an image from a 1994 timetable, ad for American's transcon Flagship Service with an image of the seat, and what looks like a mockup of the DC-10's F or J.
I think those are both mock-ups. The windows don't have shades and don't resemble any identifiable model right off the bat.
travelsonic wrote:

Also, it looks like the 24-seat F lasted on American's 767-200s through **AT LEAST** 1992 (and check out the 757-200's configuration from that time period!)
My parents got a time share in St. Martin (when the carribean was all the hype in the late 80s) and we flew the AA 757-200 every spring direct from JFK to St. Martin for 15 years before they sold it off. The cabin of the AA 757 remained unchanged from the time I was born in 1992 and flew in first class on my parents lap, until we stopped going 15 years later in 2007. I ended up flying to St. Thomas with friends in 2009 on a 757-200 and that also had the same interior. It became somewhat of an expectation! I always hated that they wanted you to use the seat cushions as flotation devices in coach (my parents would fly first class and throw us in coach a la home alone) when first class got life jackets!
On another note, I did some digging and came across some AA safety cards from the 80s. There is one from the 747SP (just to show the main deck blue seats), one from a 767-323 (which has the normal weber 6003 leather seats and is certainly a 767 due to the windows), one from an MD11 (which is the 6003 seat with sheepskin- but no way to tell if it is truly an MD11 as it is just the seat), and then the interesting one that caught my eye.
The fourth pic is from the original 767 luxury liner safety card from 1982/3. You can see the windows are clearly 767 with the silly blue splash and distinct shape, but the leather seats are so strange. I have never seen them before. They do not touch at the top when in the upright position like the weber 6003 seats do. They also have many leather tufts/layers on the seat back unlike the distinct 5 layers on the 6003. I am wondering if these are the seats that were delivered on the 767, or if they were just used for mock-ups until the initial 767s were delivered. I have seen last minute changes to cabins a hundred times, but I am unclear on this now..