Not sure how to word the title, so it won't hurt my feelings if someone can suggest a better title, please do.
Both Southwest and Alaska (Horizon) fly SAN-ELP, and Volaris flies TIJ-CJS.
http://www.gcmap.com/mapui?P=SAN-ELP%2C+TIJ-CJS&DU=nm&SU=kts&RS=best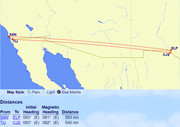 Is there any other such parallel domestic border city to domestic border city example?
Could Volaris market themselves in the U.S. as a cheaper alternative to WN or AS?
It's just kind of a mind blower for me today.