To my mind, there are three: STL, CVG, and PIT. All three of these spent many years as a hub for an airline, unlike places like CLE, BNA, and RDU, which although an attempt to open a hub was made, the logistics simply didn't lend themselves to a long-term operation.
Borrowed from Wikipedia (I know, I know, but at least a start):
STL: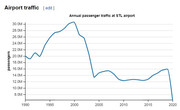 PIT: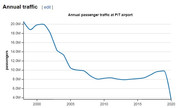 CVG: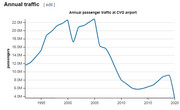 I get that you are looking for aircraft movement rather than capacity, but to me, the two are completely intertwined, as great amounts of the traffic that USED to be at these airports is no longer there - these airports are now relying almost solely on O&D passengers rather than vast quantities of connections, so I would assume the numbers would correlate.
Of the three biggest, my guess would be that STL has the biggest capacity drop.