The following picture is a photo of my TV screen of a stock image in an episode of Lucifer (season 5, episode 11, "Resting Devil Face"):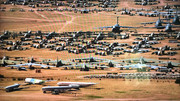 And a close-up of the civilian planes:

My apologies for the atrocious quality, but it's the best I could do.
Four questions:
1) Although the script tells us that the characters were supposedly driving to a location relatively close to Los Angeles, the terrain and ground isn't indicative of southern California. I'm guessing Arizona, but I'd love to know for sure. I don't know military airplane graveyards well.
2) Am I really seeing two Boeing 707's STILL proudly showing their Trans World Airlines logos? Can it be that the airline still exists, even if only in this limited form?
3) Can anyone identify the airline of the blue & green airliner?
4) The two TWA 707's look surprisingly small next to "Global International" and the unidentified airliner. They all appear to be 707's, but the perspective is messing with me. Thoughts?