The title is not mine but is courtesy of an article from the fall that was in Fast Company....
Quote:
If a flight attendant told me that I couldn't bring my roller bag onto the plane, I might throw a fit. But when the same idea comes from Teague—the preeminent air travel design studio that's designed the interiors of Boeing planes since 1946—I'll hear them out.

Recently at the Airline Passenger Experience Association (APEX) conference, Teague principal brand strategist Devin Liddell presented the company's radical concept for Poppi, an idealized, modern airline. "Our scenario was, what if we created a startup airline, in the mode of Airbnb or Uber?" Liddell explains. "If we started an airline from scratch, what would we do?"
Below is the summary of the 3 ideas and here is the link to the article:
3 Radical Ideas To Totally Disrupt Air Travel
1. BAN CARRY-ON LUGGAGE
Running boarding simulations, Teague found that ditching all these roller bags would expedite boarding by 71%.
2. MAKE MIDDLE SEATS FEEL EXCLUSIVE
Make the middle seat feel exclusive as a "promotional class." Invite companies like Uniqlo, Nike, or Adidas to take that seat over—paying airlines for the privilege of a captive audience—while the corporations woo passengers with a special gift box or experience.
3. ENCOURAGE AMAZON PRIME-STYLE MEMBERSHIPS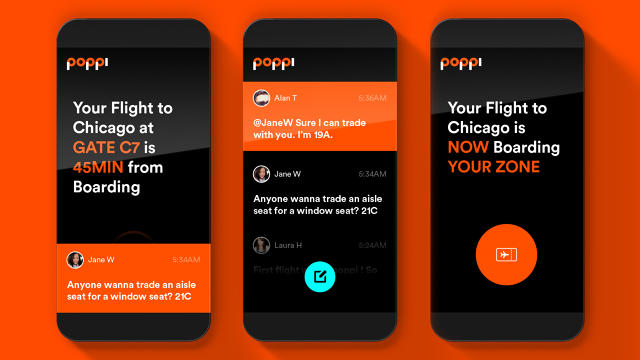 Starbucks has 9 million My Starbucks Rewards members who preload their accounts with gift cards, allowing the company to earn hundreds of millions of dollars a year just from the interest on cups of coffee yet to be sold. Amazon Prime members are notoriously loyal to the company, and spend $400 million a year for perks like free two-day shipping.

Teague proposes something deeper than just offering passengers miles on credit cards. What if they could become yearly members to an airline, prepaying for certain privileges or number of flights? It would be something like crossing an NFL season ticket with Starbucks and Amazon loyalty programs.