I came up with this idea maybe last week, please criticize. I have not done any CFD analysis or anything, this is fresh out of my mind and mainly done with thought experiments and MS paint. 
I will make many suppositions.  
From what I'm reading here, one of many problems with making planes large like A380 (or whatever Y3 ends up being) is their wake vortices. Here's my proposal: I called it a stepped wake wortex wing.
Take a gander at the picture below: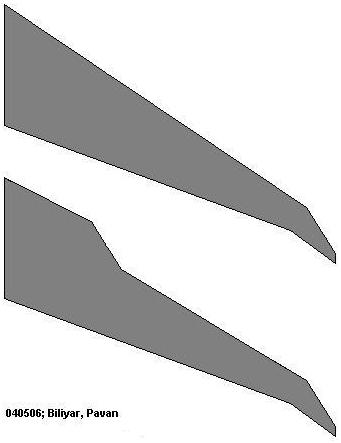 Both wing sections are supposed to have the same half-span, reference area and aspect ratio with respect to each other. The first wing piece is supposed to represent a generic slender wing with a raked wingtip device.
The spanwise flow leads to the tip swirls (vortices), that is, the entire wing "pushes" that air out over the tips. The amount is less than 20% but significant, its turbulent. I'm wondering if some of this flow were allowed to "leak" mid-span, what will happen to the remainder? I figure the resulting spanwise flow will act as if it were supporting less weight, as if it were a smaller wing.
The second wing scetion is supposed to imply that approximate half of the wake leaks over the top of the wing while the other half swirls around the wingtip. I theorize that, in effect, the vortex at the outboard wingtip has less strength.
In a real airplane application setting, instead of having two large wake vorticies, we have four smaller ones. One immediate problem that came to mind waas vortex wing interaction issue with the tailplane. Since vortices do stick to the surface due to being spools of lower pressure, maybe the downwash may carry them underneath, I don't know for sure.
Engine placement however gave me a headache. It seems whether they would be place inboard or outboard of the raked step in the wing, they would have to be oriented such that the intake aims more down and inwards than they are on airplanes now. I'm not certain about sticking the engines in the rear, a la DC-9. Issues may be similar to the tailplane discussed above.
My personal preference, without doing any airflow analysis, I'd place the ngines underwing and inward of the step. I.e. for the right wing pictures the engine would be left of the step, like the pylon would be right at the corner.
[Edited 2006-04-06 05:45:24]