Good day to all,
I've been meaning to combine my day job (software engineering) and my passion of aviation for some time. Finally last week I had the time to start building what I hope will become a reasonably complete glass cockpit / flight management / autopilot etc to emulate as many systems as possible as closely as possible.
There are already several products on the market that almost do this, but they are proprietary in that they do not expose all the simulation variables (which indicator lights are on, which dials read which values and many more) that you would need if you wanted to integrate your own flight deck into the sim (rather than flying a virtual cockpit). There are also one or two that do the latter, but not in the way or as well as I would like. Finally my motivation is the building and problem solving as much as it is the final product.
So.... over the next weeks, months and, hopefully years, I'll have lots of questions that need answering. These might be along the lines of:
1.) Spoileron to aileron deflection gain
2.) Oswald values
3.) Engine performance (both CFM and IAE)
4.) Flight characteristics (many many questions about real A320 performance / flight model)
5.) The nuances of Airbus aileron / spoiler / rudder / elevator and all trim controls while in managed mode.
6.) PID controllers and other methods of driving towards desired values.
7.) Many, many more.
The software will be Windows based and only target Prepar3D, at least in the first instance. The areas where I am likely to need most help are flight dynamics and A320 specific systems, although the latter is relatively well documented.
Here is a sample of what is possible in a relatively short period of time (just over a week):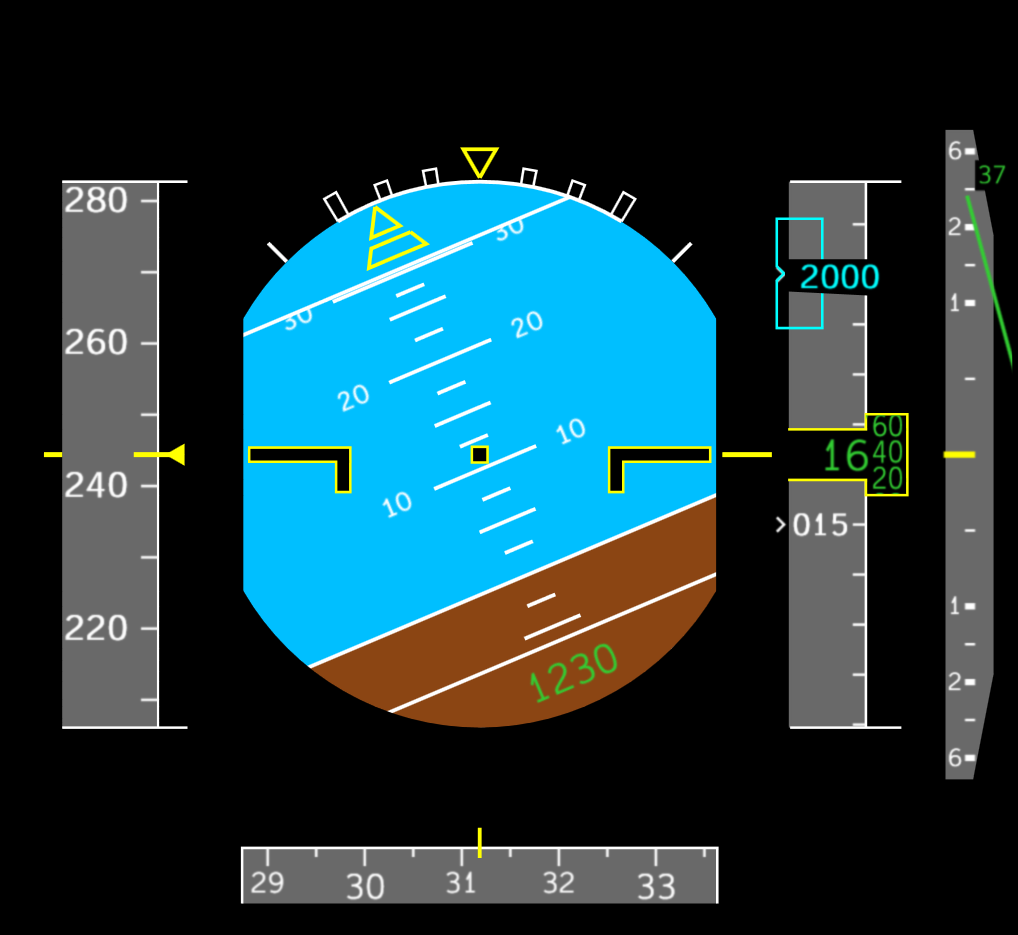 This is of course the PFD. There is lots missing, but everything you see works well. I've also started on a rudimentary autopilot with basic heading and vertical speed management. It is this area that will need most work. I would like to use real world values and then modify them / work around them to get as close to realism as I can. What I don't want to do is copy someone else's work, not only because of legal implications, but because I don't know what trade-offs they may have made in the values used.
Again, to be clear, I will not be modelling the physical model of an A320 (in the sim you will just see the outside world, no virtual cockpit, no exterior views). This software will be for people who have build their own flight decks and want to drive the glass cockpit displays and the logic for their own overhead panels, pedestals etc.
If you like to help me or join me in this journey, please do give me a shout.
Many thanks,
V