This is my first post on Airliners.net, although I have followed the forums for a couple of years now. My favorite aircraft manufacturer is McDonnell Douglas, so I thought I'd start off with a report from a trip taken back in 2013, when I took the opportunity to fly on one of Delta's last DC-9-50 aircraft before their retirement in January 2014. Please forgive any formatting issues that may arise through unfamiliarity with the Forum Software. Information regarding aircraft age and delivery dates have been obtained from airfleets.net
31st August 2014:
A 04:00 wakeup call was necessary in order to make it to Boston Logan airport in time to check in for a 07:00 departure for Atlanta. Luckily, however, this meant that there was little traffic to speak of, and I arrived at the airport in a little under an hour. Delta operates out of Terminal A at Logan. The check-in hall is modern and easy to navigate, so it didn't take long to check in using the self-service kiosks and print out boarding passes for both Delta flights.
My Flight was scheduled to depart from Gate A15. For those unfamiliar, Terminal A at Logan is divided into two parts: The main terminal and the satellite terminal. Gate A15 is located in the satellite terminal, and can be accessed by means of an underground walkway. There are plenty of shops and other facilities in both parts of the terminal, so with a copy of 'Time' magazine in tow, I sat at the Gate to wait for boarding to begin.
Delta Flight 1501: BOS-ATLDeparture:
07:00
Seat:
21F
Aircraft Type:
Airbus A320-200
Aircraft Registration:/b] N345NW
[b]Date of Delivery:
9th March 1993, to Northwest Airlines
At 06:35, right on time, boarding began. I was in Zone 2, so I waited until called and then boarded the aircraft. The Cabin Crew were not welcoming passengers at the door, which was a shame, but nothing to really complain about. The cabin was looking a little tired, but my seat was comfortable, with an excellent view out of the window.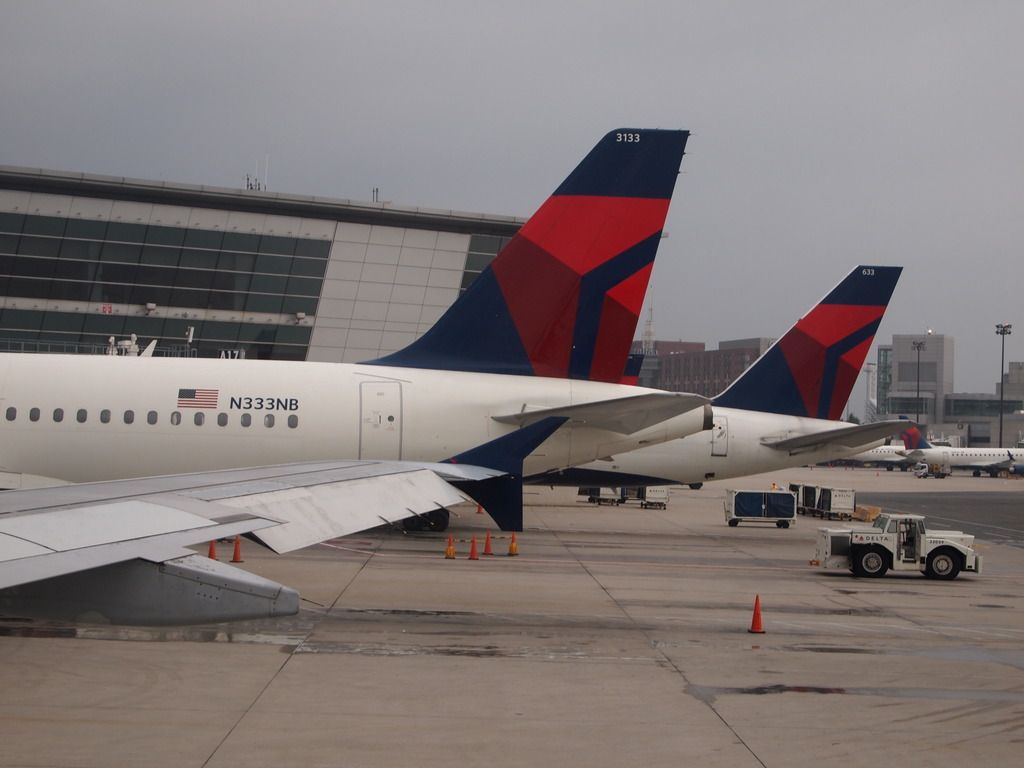 [/URL][/img]
Company A320 and Boeing 757
With boarding completed, the flight attendants welcomed us all onboard and performed a manual safety demonstration as we pushed back from our gate. There were two female and one male flight attendants on this flight, and one of them managed to inject some humor into the safety demonstration, which was much appreciated at such an early hour! After having taxied to the runway, the Captain announced that takeoff would be delayed following a reported bird-strike. Once the runway had been inspected, the takeoff queue was shuffled and we had to wait for a few other planes which had been behind us, to take off ahead of us.
Takeoff was fairly powerful, followed by a steep climbout into the clouds over Boston Bay. Upon reaching cruising altitude, the ride remained rather bumpy, which meant that the seatbelt sign was illuminated for the majority of the flight. Nevertheless, the crew sprang into action and began serving passengers. When the friendly Flight Attendant reached my row, I asked for Coca Cola and some of Delta's famous Biscoff Cookies, which were delivered with a smile. With the beverage service completed, I perused 'Sky' Magazine and then sat back to enjoy the view out of the window to the changing landscape below.
[/URL][/img]
The View from Seat 21F
Our flying time was significantly shorter than the 2hr45 advertised, so in spite of the earlier delay, we landed on time in Atlanta. The approach to Atlanta afforded good views towards the city itself, but also of other aircraft arriving and departing the airport. After a smooth arrival, the Taxi to Gate E30 took us past the iconic "Fly Delta Jets" sign, which has welcomed so many travelers to Delta's hometown. We parked next to a company Boeing 737-700 at Gate E31, and disembarkation began. People always seem to be in such a rush to leave the aircraft, so I decided to wait for the bulk of people to hurry off before gathering my things, thanking the cabin crew and making my way into Concourse E.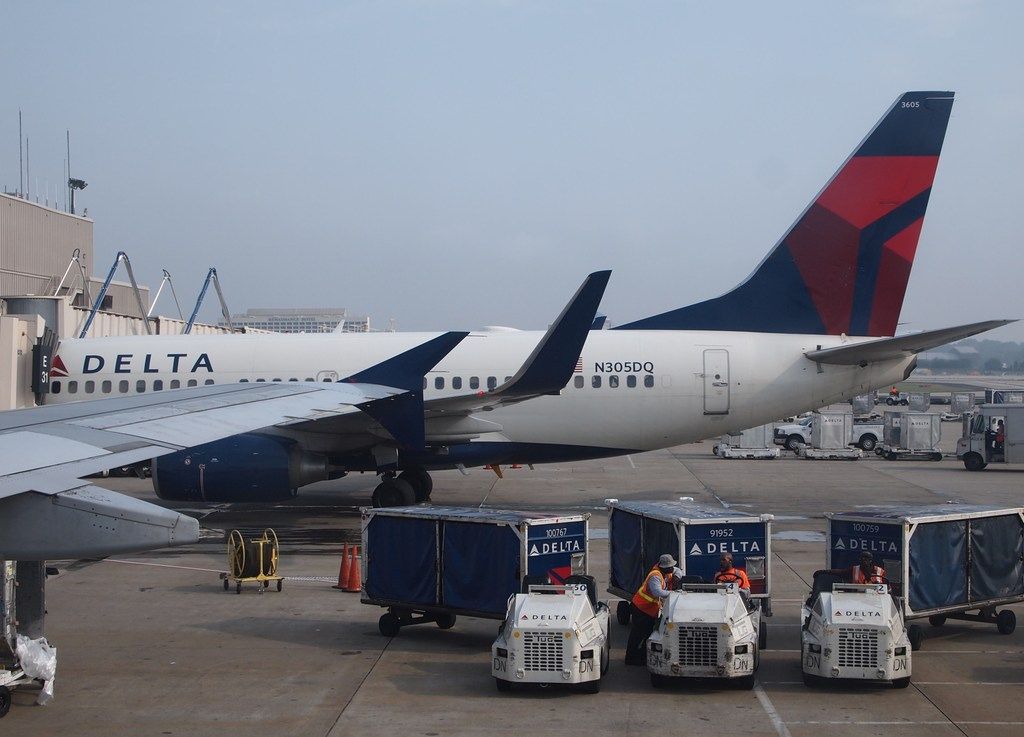 [/URL][/img]
Company Boeing 737-700 at Gate E30
[/URL][/img]
N345NW after arrival from Boston, being turned around to operate a flight to Haiti
With pictures of N345NW in tow, I caught the 'Plane Train' to Concourse A ahead of the main attraction of the day - my DC-9 Flight to Chicago. Atlanta may not be the most modern airport in the world, but it is logically laid out and thanks to the 'Plane Train', it is very easy to cover seemingly long distances in a short amount of time. After arriving in Concourse A, it was time to get a proper breakfast. Unfortunately, I made the mistake of going to McDonald's, where the service was slow and the food horrible, with the highlight being the Hash Brown.
With breakfast over, I made my way to Gate A26 well in advance of the scheduled departure time in the hope of seeing my vintage aircraft arrive. In the meantime, I contented myself by photographing another McDonnell Douglas product, the MD-90, at an adjacent gate.
[/URL][/img]
Delta MD-90 Pushback
Soon, my DC-9 arrived. For me, there was a sense of excitement as I watched this beautiful, classic airplane pull into the gate in front of me. This would be a once in a lifetime opportunity to fly on a plane which revolutionized regional travel in the USA. Just hearing the two JT8D engines spooling down noisily was an experience to be savored.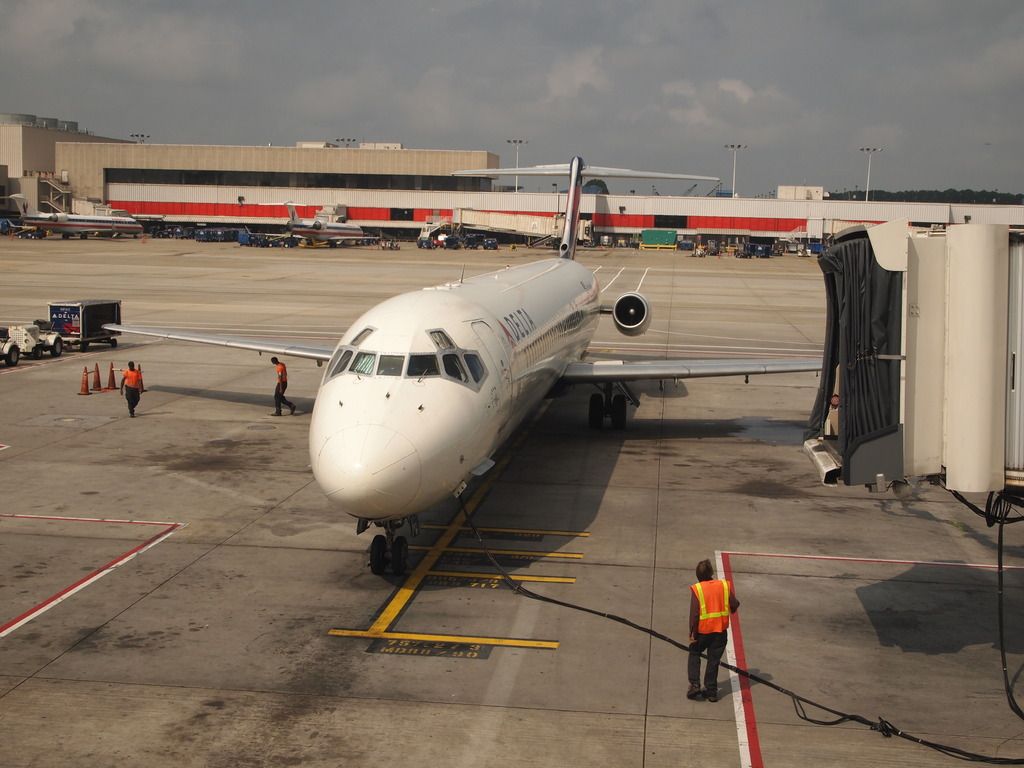 [/URL][/img]
N784NC at Gate A26Delta Flight 912: ATL-ORDDeparture:
12:15
Seat:
18A
Aircraft Type:
McDonnell Douglas DC-9-50
Aircraft Registration:/b] N784NC
[b]Date of Delivery:
20th February 1980, to Republic Airlines
At 11:35, boarding began. I was again in Zone 2, so I soon found myself being welcomed onboard my first (and last) DC-9 Flight by the very friendly crew. I soon settled into Seat 18A. For such an old aircraft, it would have been difficult for the casual observer to determine the age, such was the quality of the cabin refurbishment. The only clues were
1) The controls, as visible through the open cockpit door, and
2) A vintage "Exit" sign, from which condensation was steadily dripping
As the registration suggests, this particular aircraft was ordered by North Central Airlines, but delivered to Republic Airlines, which was formed by a merger between North Central and Southern Airways. My research suggests that the aircraft had, in 1979, already made test flights and already been painted, so it was delivered in something of a hybrid livery, bearing the livery of North Central Airlines, but the name of Republic. In 1986, Republic Airlines was acquired by Northwest, though the registration of the aircraft remained unchanged. In 2008, Northwest itself was acquired by Delta Air Lines, with whom I was flying on this occasion.
[/URL][/img]
DC-9 Safety Card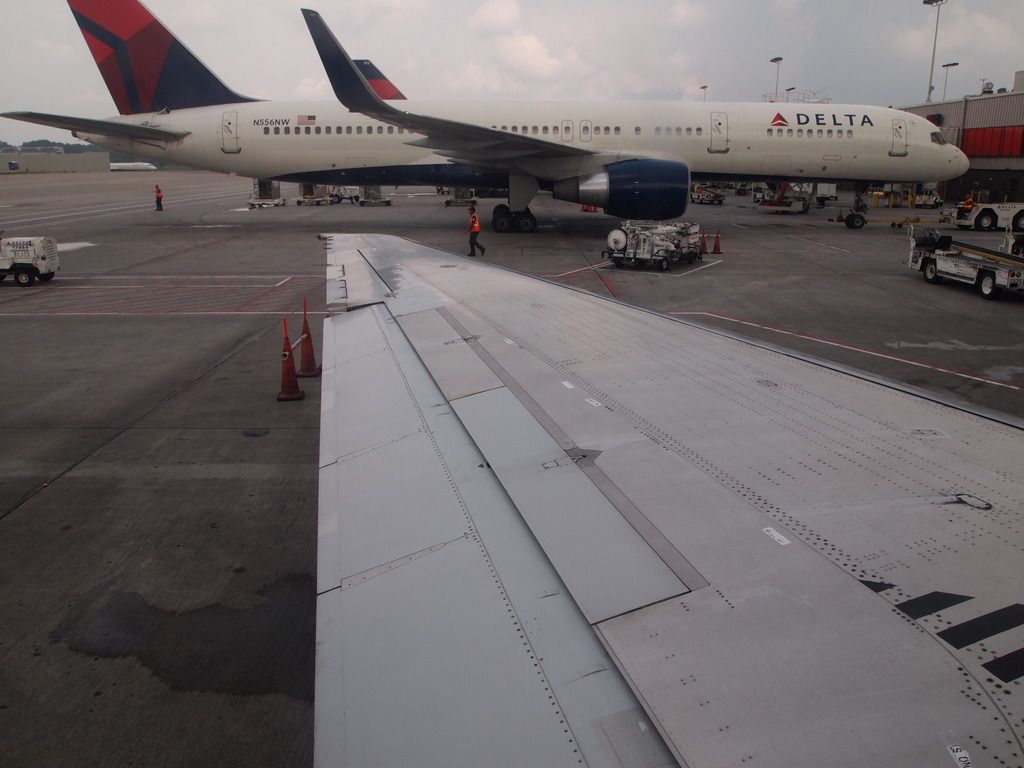 [/URL][/img]
Company Boeing 757 N556NW at Gate A25, a former Northwest Aircraft
Soon, boarding was completed and we pushed back from our gate. The two JT8D engines were started one by one and came to life with a distinctive wail. With flaps extended, we taxied to the active runway, where we were treated to a very powerful takeoff. Once at the runway threshold, there was something of a two-stage acceleration – we first began to accelerate and then, after a couple of seconds, the engines spooled up to full power and propelled us down the runway for a surprisingly long distance. The plane then proceeded to take off like a rocket during which it creaked a little as we climbed out.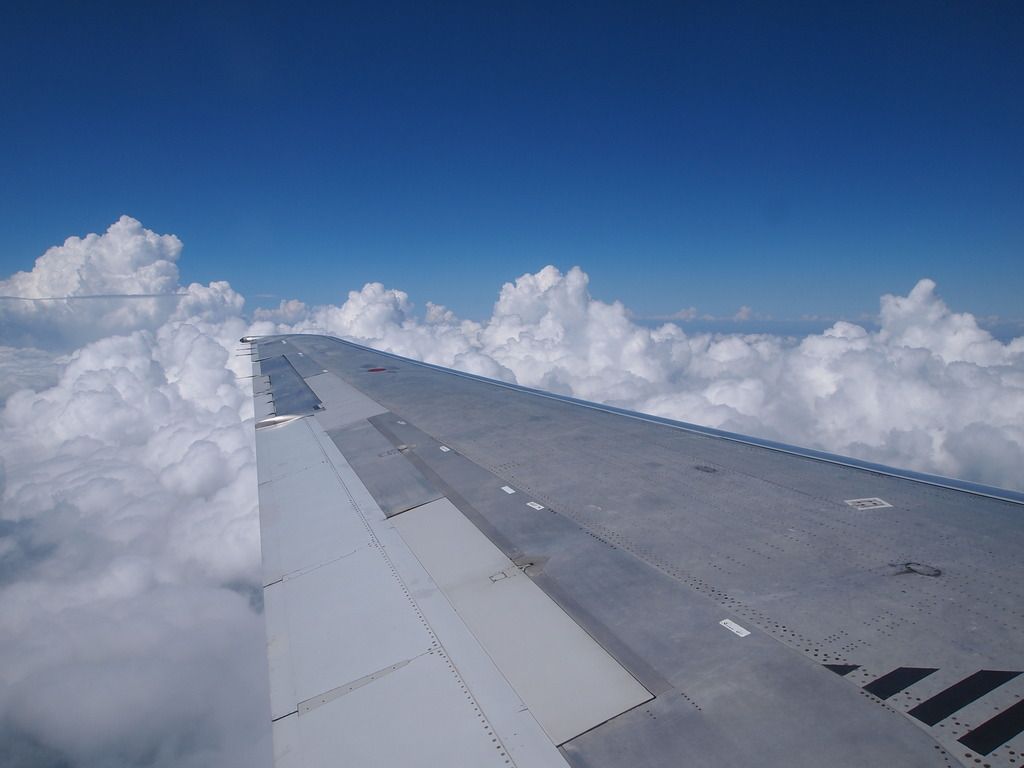 [/URL][/img]
Climbing above the Clouds
An announcement from the cockpit confirmed that the flight time would once again be shorter than advertised, at 1 hour and 27 minutes. We reached our cruising altitude very quickly, partly because of the steep climb rate, but also because of our low cruise altitude for this flight - we skimmed the top of the clouds all the way. I have to admit that it was a little surreal to think that the plane was well over thirty years old, yet here I was, flying in it to Chicago.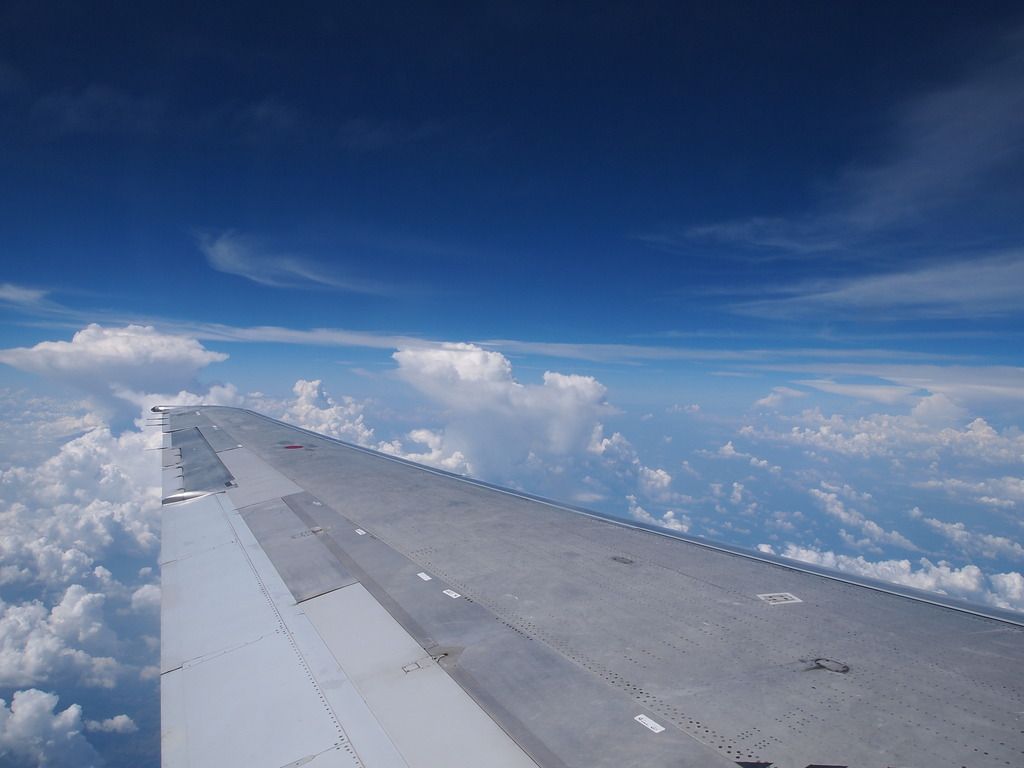 [/URL][/img]
The Classic DC-9 Wing
The flight was smooth for the most part, with some isolated pockets of turbulence. I was soon served Coke and Biscuits by two very friendly flight attendants, who, after I explained about my trip and asked whether I could visit the cockpit on landing, were only too happy to spend a little bit of time talking to me about the aircraft and their careers; one of them had been a flight attendant for 25 years, and had started working on the DC-9, and evidently was still working on it, while the other joined Delta when the airline acquired Northwest in 2008. The two Flight Attendants seemed pleasantly surprised that I had made the effort to fly on the DC-9 before its retirement and made arrangements for me to visit the cockpit on landing.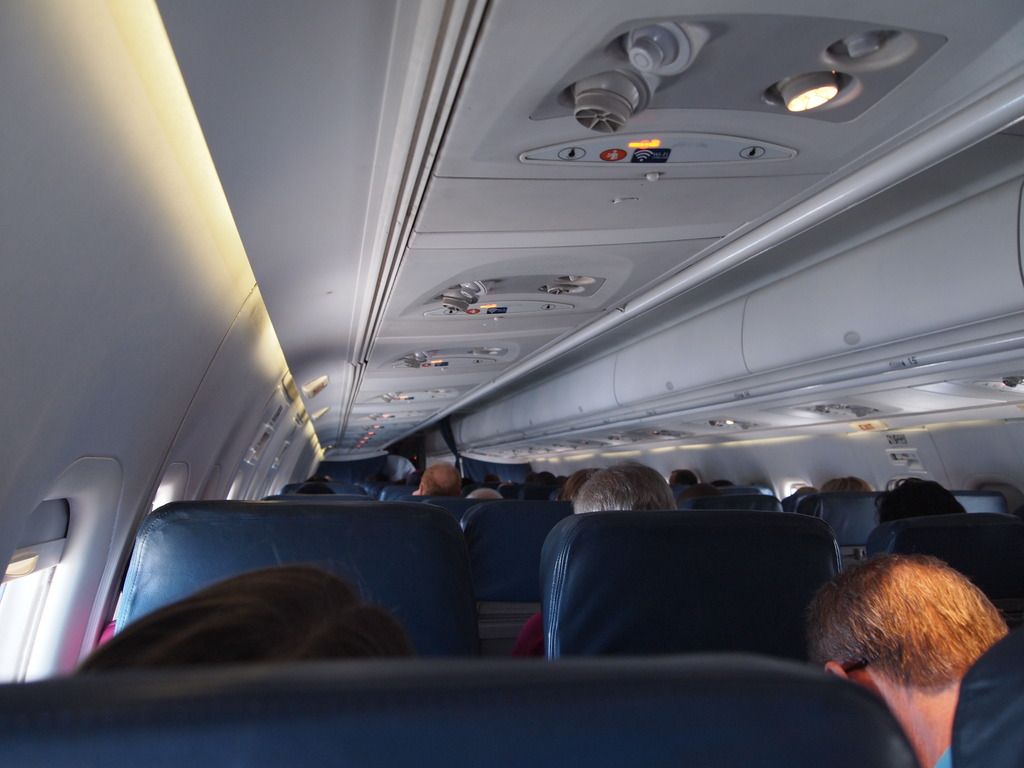 [/URL][/img]
View of the Cabin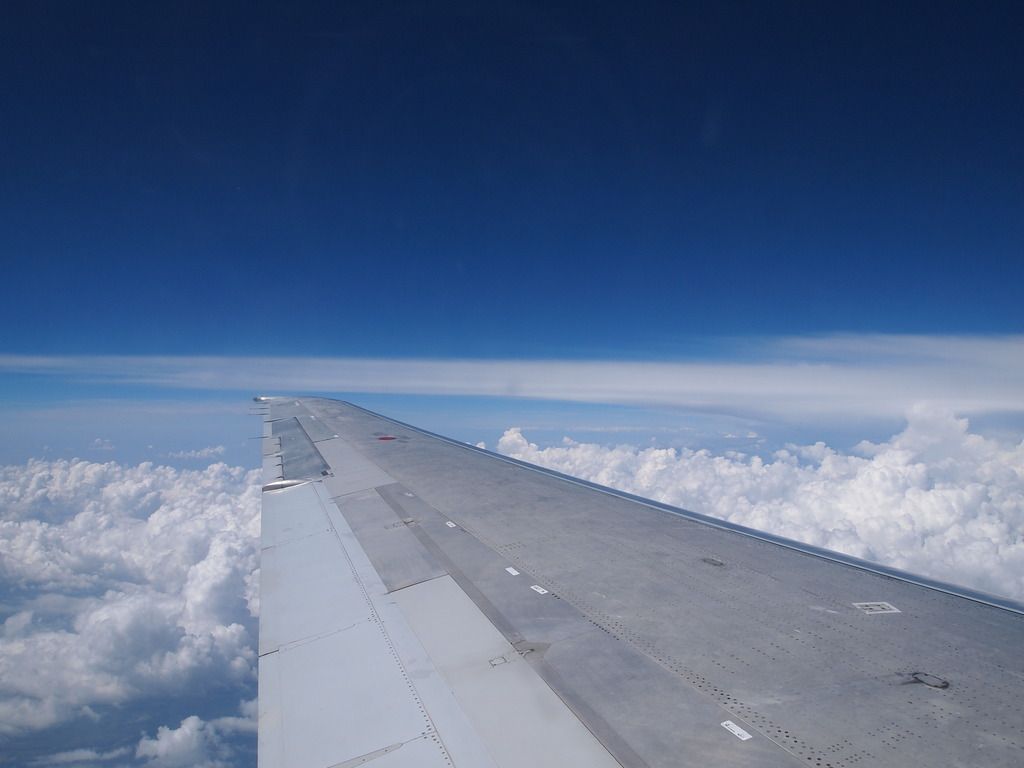 [/URL][/img]
A final Wing View
All too soon, we began our descent into Chicago. We made a pleasant approach to the airport, first descending through some clouds, before flying out and turning over Lake Michigan, before a smooth landing, followed by a very abrupt and ferocious deceleration. This can be explained by the fact that the "reverse thrust" on the DC-9 consists of nothing more than clam shells mounted on the rear of the engines, meaning that they are either on or off. On this occasion, they were very much on, the nose of the aircraft was visibly forced downwards and I was thrown forwards in my seat. A short taxi to the terminal then followed. Upon arrival, people stood up immediately to disembark, but with a cockpit visit arranged, I waited a while for the crowd to clear before standing up and moving towards the front of the aircraft.
Here, I was introduced to the Captain and invited into the cockpit. I was rather surprised by how small the cockpit was - I had expected it to be bigger, but in reality it was very small indeed. The controls themselves were quite clearly from another decade – there were no computers to be seen, only a multitude of dials and switches.
[/URL][/img]
DC-9 Throttle Controls
Before I left, I asked the Captain whether there was a lot of hand flying involved – he confirmed that this was the case, and showed me the rudimentary autopilot system that cannot be used to land the plane (unlike some modern-day systems). He also explained that he used to be a co-pilot on the Boeing 767 before moving up to DC-9 Captain. With the visit over, I thanked the Captain and the excellent crew before leaving the aircraft, glad to have had the chance to fly on such an amazing, classic machine.
I hope you enjoyed the first part of my report. Part 2 is to Follow, including an afternoon in Chicago and a First Class experience onboard a United Boeing 737-900.