Hello dear readers,
today I am taking you on a journey with a lesser known airline. It does not have a first class cabin or a particular polished service, but for a european airline it is one of the more exotic ones and for sure a pleasant ride.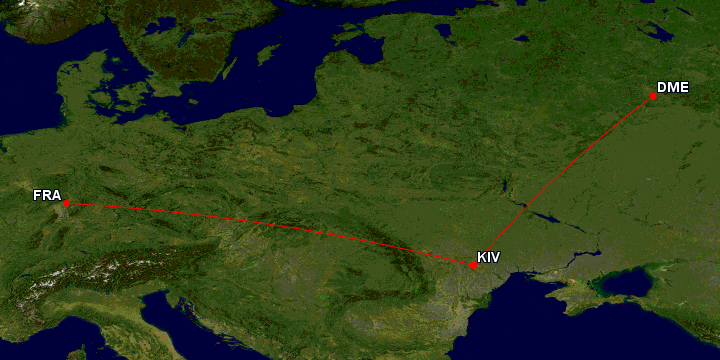 Air Moldova is the national airline of the republic of Moldova and currently has a fleet of two A320, two E190LR and one A319. Further on they also currently charter an A320 of the greek ACMI operator Olympus Airways. Currently they serve quite a few cities in Europe, but also some Russian and Turkish destinations from their hub in KIV ( Chisinau).
I took the route from Frankfurt to Moscow via Chisinau, as they used to offer quite attractive fares and perfect flight times.
So let's travel a bit!
To get to Frankfurt I have basically 4 options: To get there by car, but to pay a fortune for parking, no thanks! To catch a long distance bus, with their ever lasting delays, also no thanks. And then to take the train, either the regional one without transfer or the long distance ICE with a transfer. The ICE with a transfer is still half an hour faster and only 10 mins transfer time, sorted. Thanks to my Bahncard Discount card, the damage to the credit card was not so bad.
After spending some 2 hours on the rail we arrived on time in Frankfurt.
But thanks to the giant construction site, which Frankfurt airport is, the people mover which connects Terminal 1 and 2 was out of order today, so the slow transfer bus it was.
The check-in queue was fairly short and soon enough I could make my way airside.
Since the german customs opened their electronic immigration gates, it usually never takes longer than 3 mins and it is very comfortable in my opinion.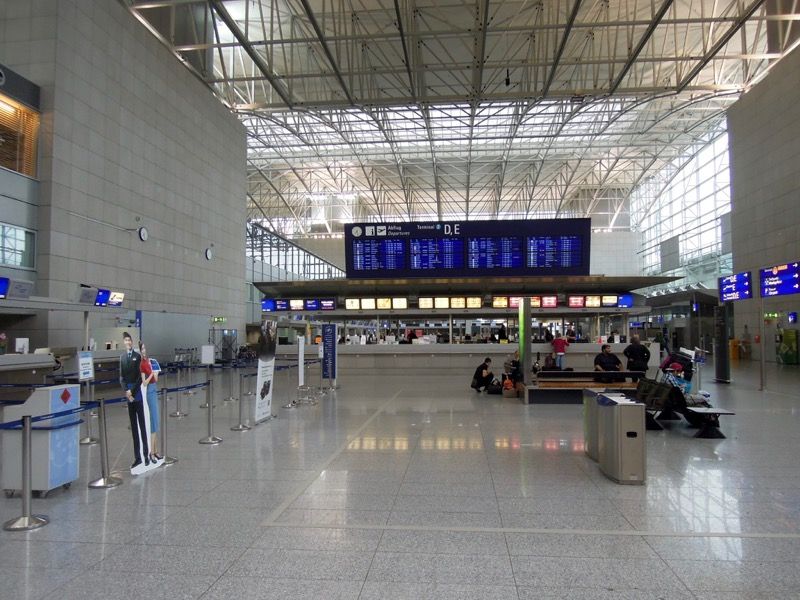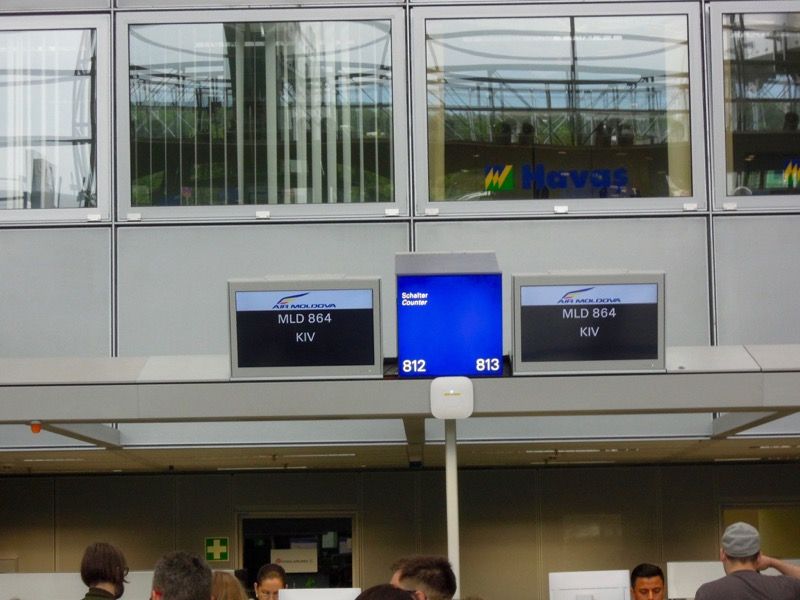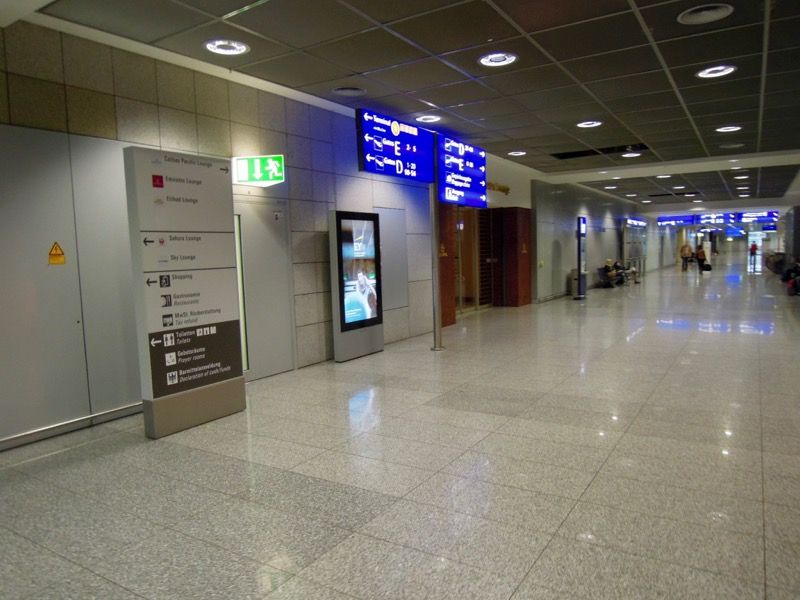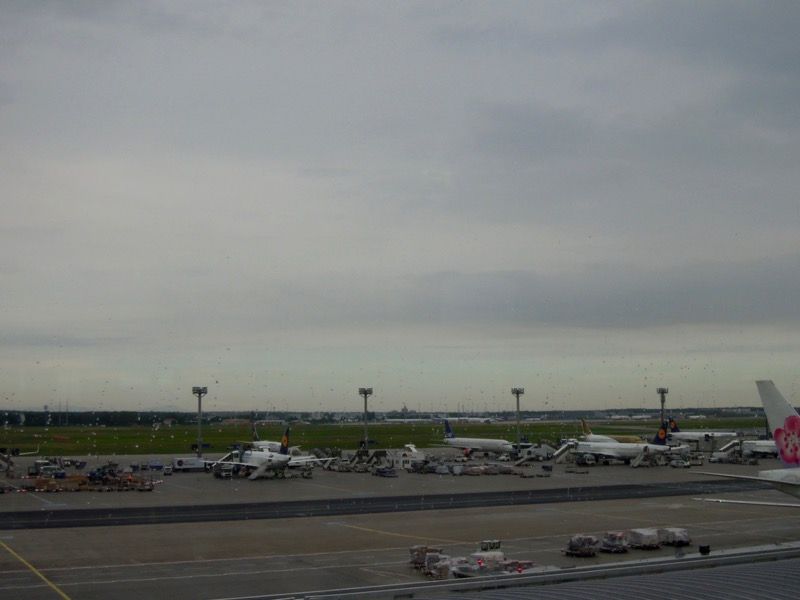 Airside there was not much to do, so after a bit of wait, the boarding was already announced. By bus. As always. With Air Moldova.
They seem to always have the furthest apron stand away from Terminal 2, which is nice because you get a free apron bus tour of 10-15mins, and the traffic in Frankfurt in the morning hours is interesting with all the widebodies arriving.
Boarding was rather quickly done, but after some time the Bundespolizei ( Federal State police ) brought a man onto the airplane. As I overheard in the conversation he was seeking asylum in Germany, but this was denied and he was sent back home.
Anyway the flight was about 70% full but unfortunately I had a seat mate.
Flight time was announced as about 2h30 and quickly we were on our way.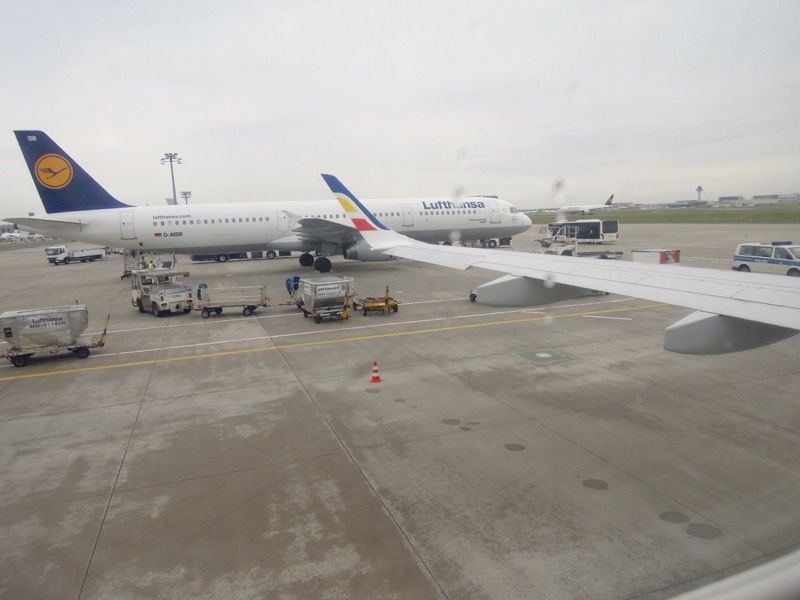 The cabin is rather comfortable on their E190s with enough space to spread out.
The service on this flight consisted of a drink run and a very tasty salmon sandwich, which was beating most other inflight sandwiches I had before.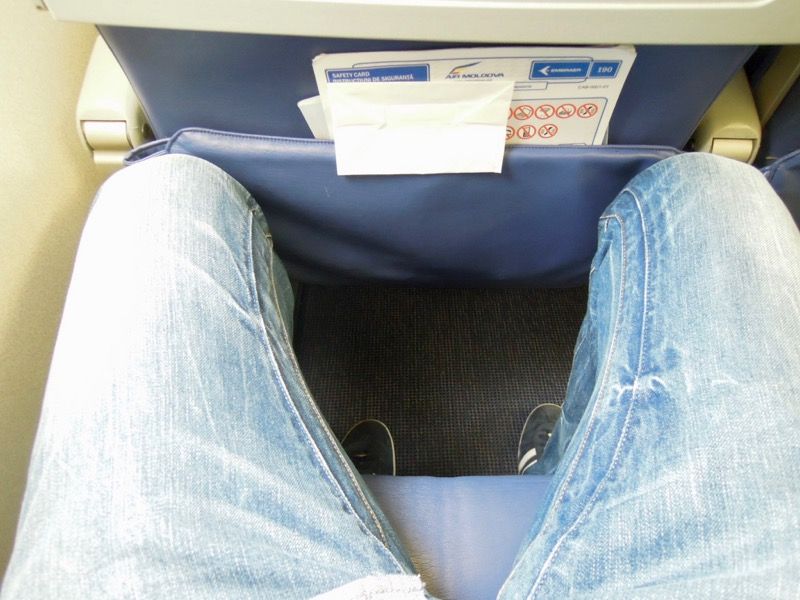 Seat pitch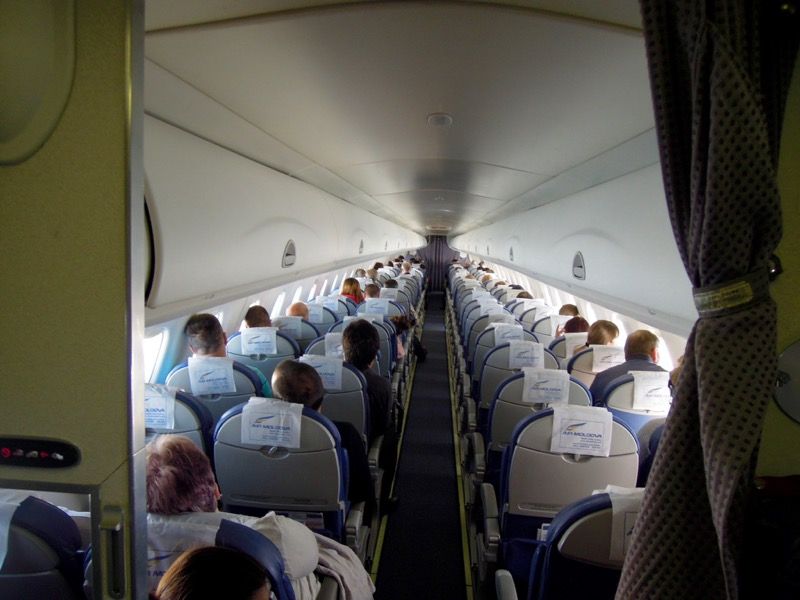 The cabin
After that I relaxed a bit with good music and simply enjoyed the view out of the window, which was particularly interesting when approaching Chisinau.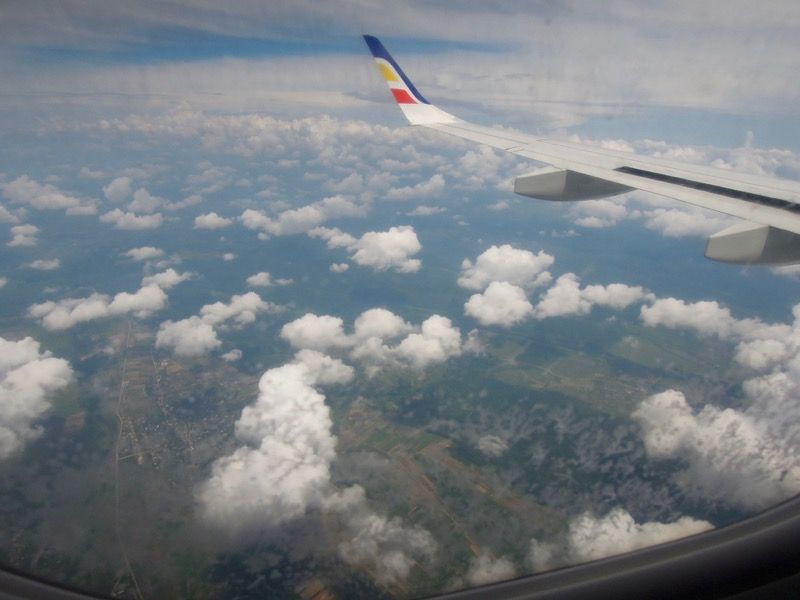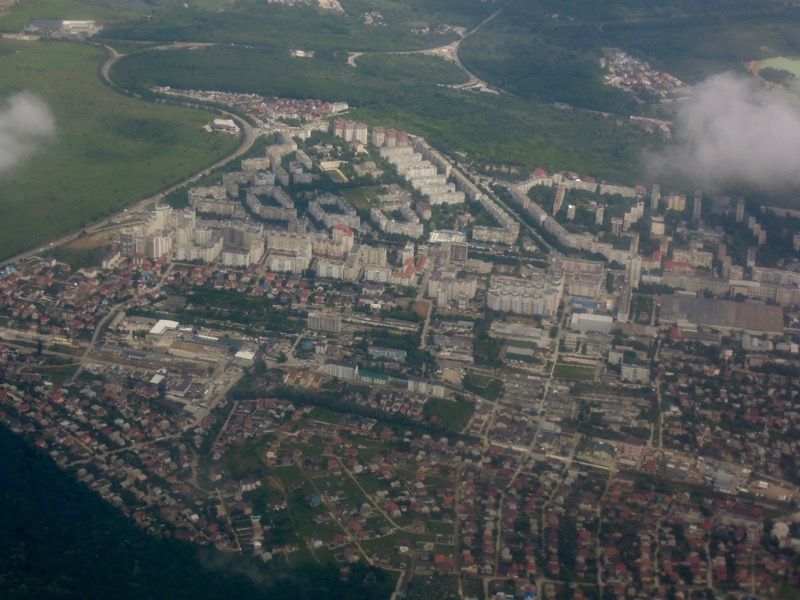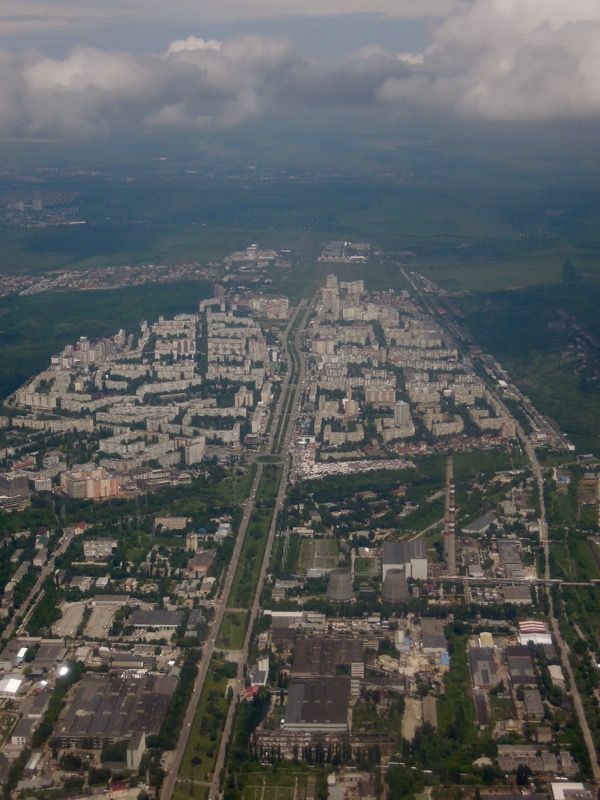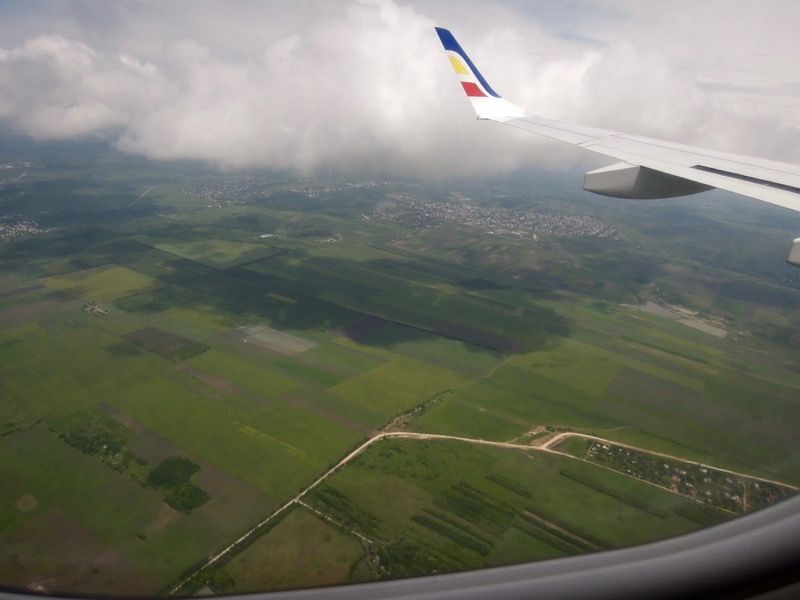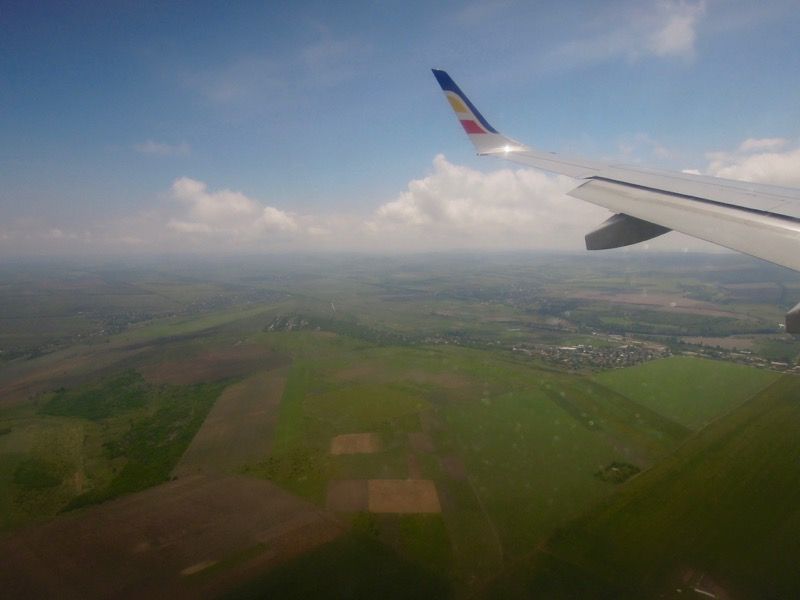 Nice church on final approach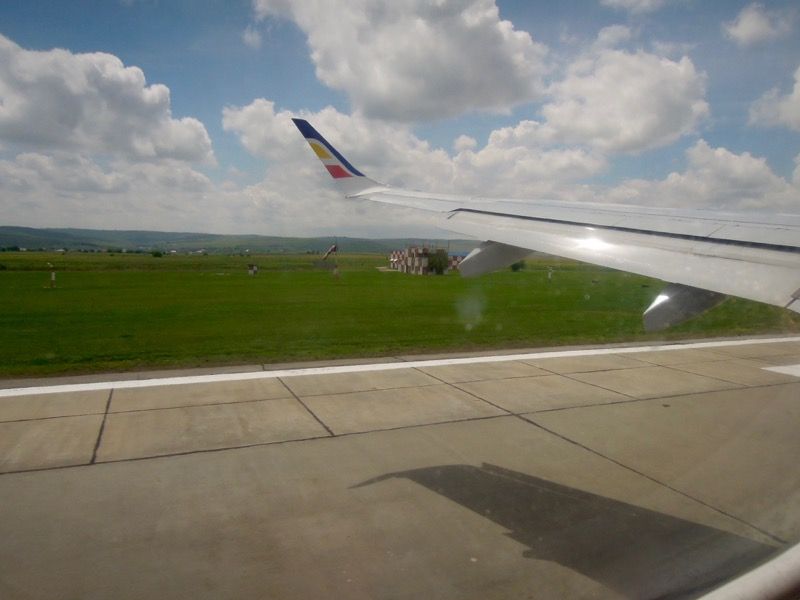 And touch down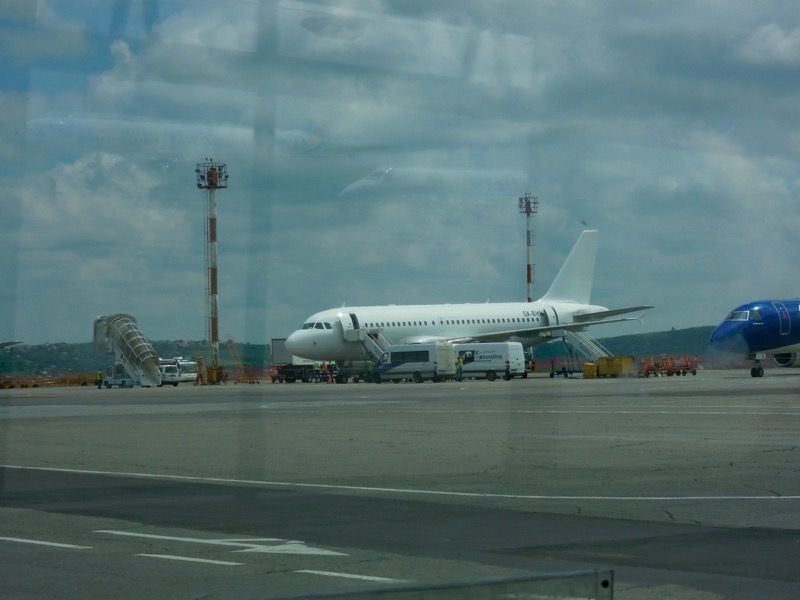 The leased A320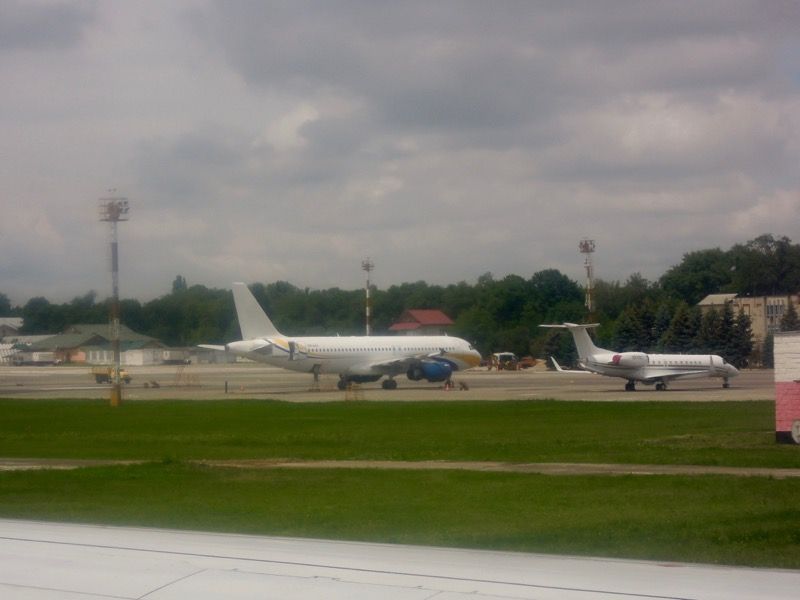 A320 for a new start up FlyONE
The ever present LH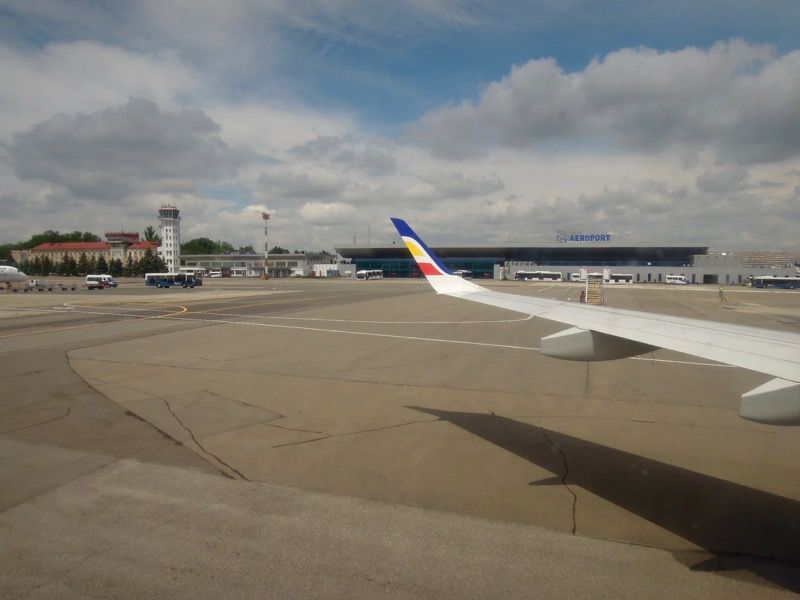 Terminal
The transfer in Chisinau is usually a very fast affair cause the airport is very small and the departure hall only has some 5 bus gates.
But to my surprise, since I have been here last they redecorated the whole departure area and now it is in fact a very nice small airport. ( Only downside that now you need to go through the duty free shop, but with their excellent moldovian wines, it could be worse).
The next flight to Moscow Domodedovo luckily changed from an A320 to their A319 which has a lot better seat pitch and general comfort.
My nearly private bus to the airplane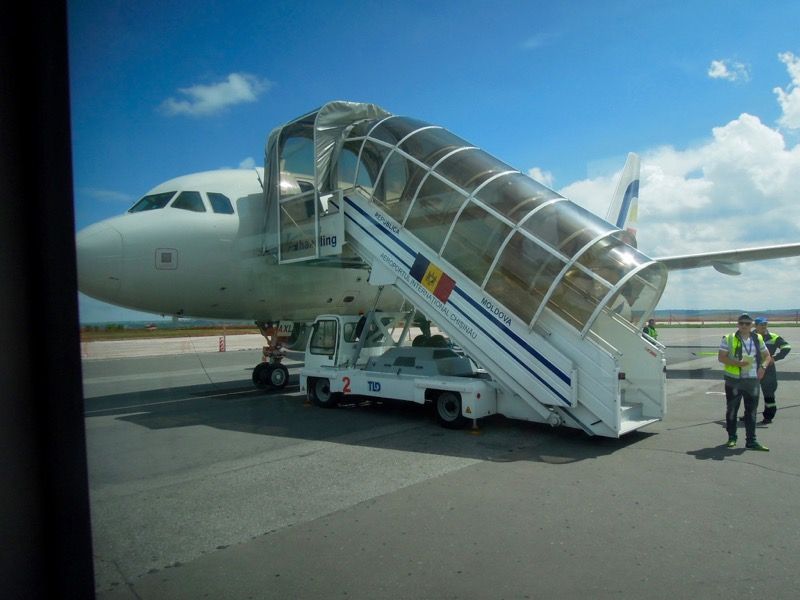 Our ride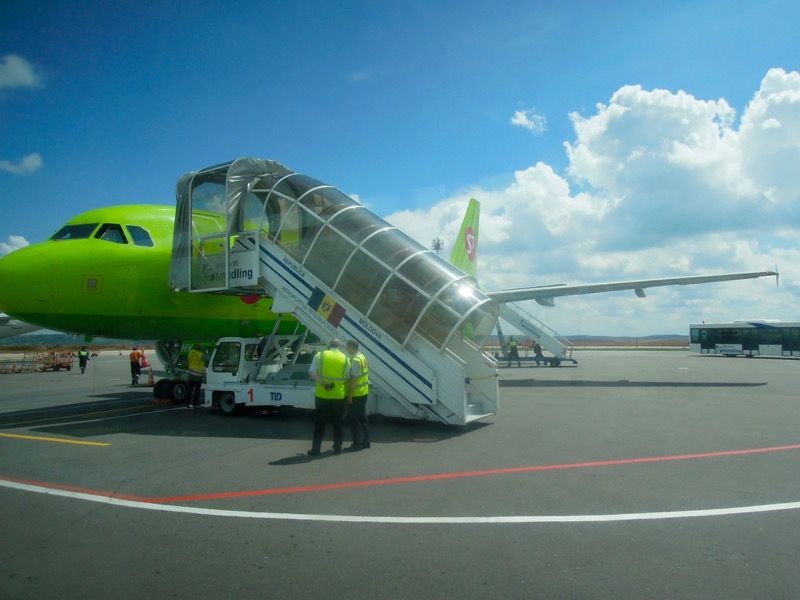 S7 also going to Moscow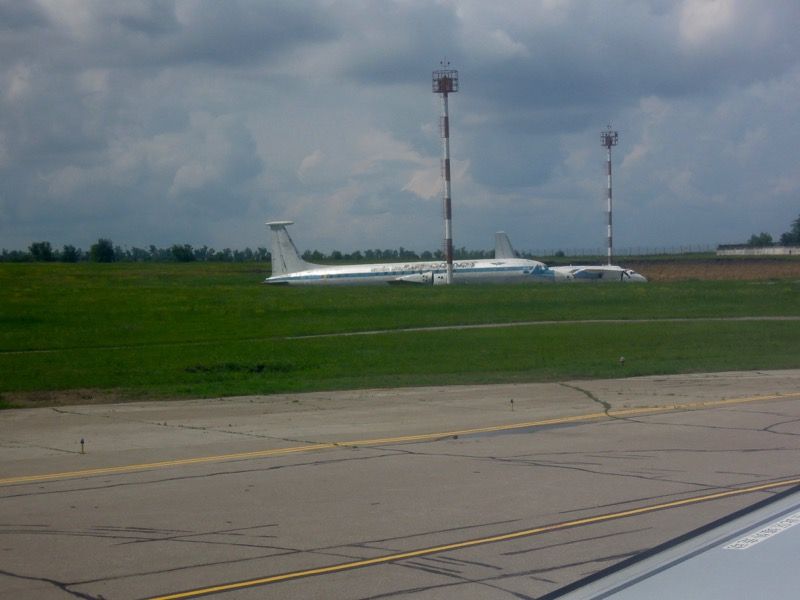 IL18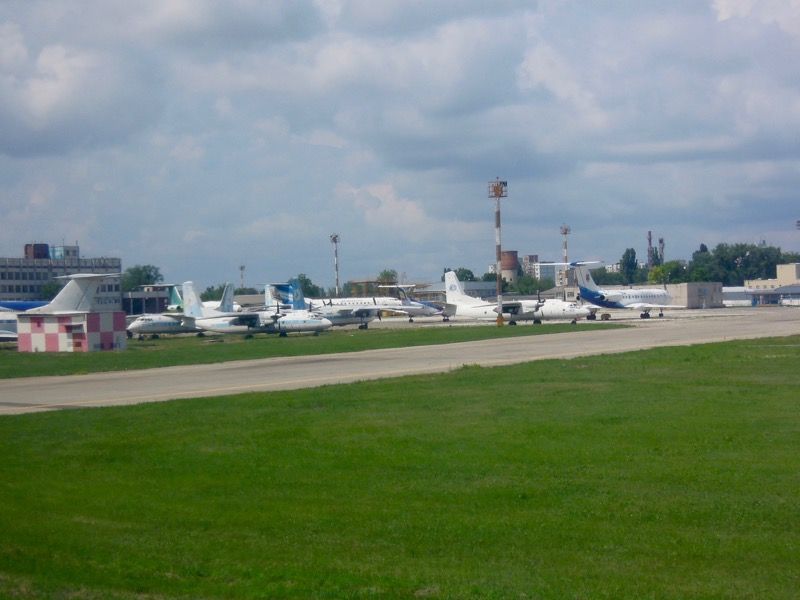 The KIV 2nd hand airplane flee market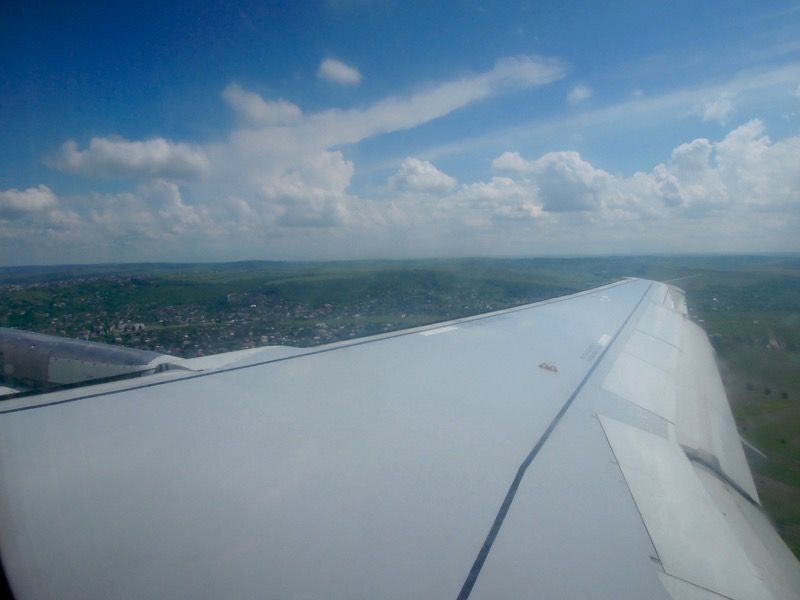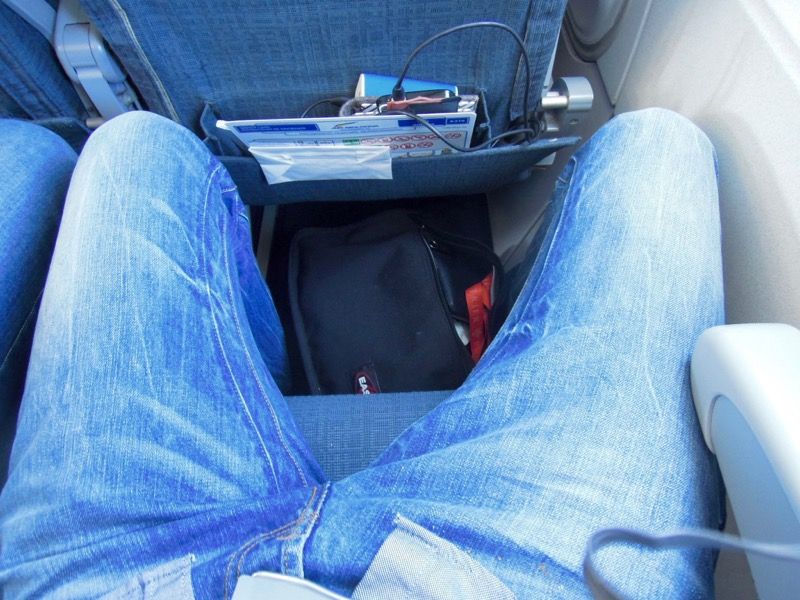 Seat pitch
The flight was very quick and service identical to the flight prior to this one.
After about 1h30 we landed in Domodedovo, where the chaos began.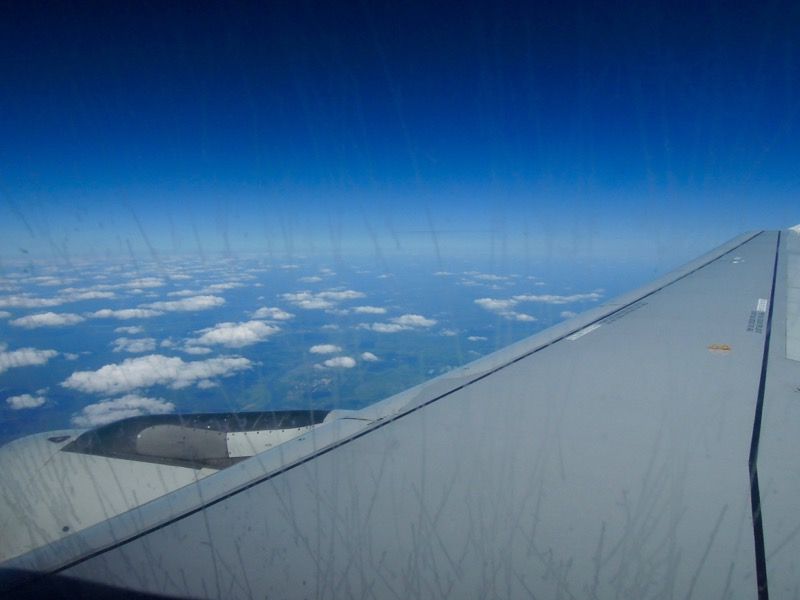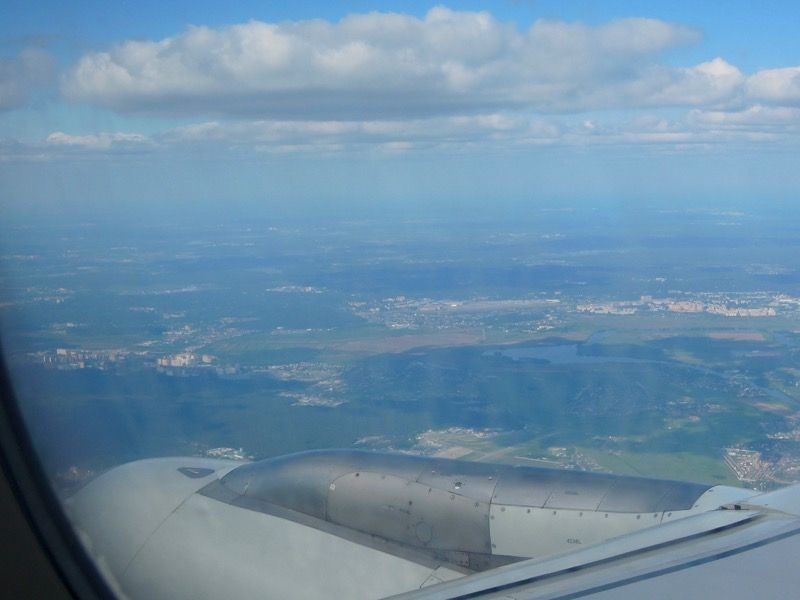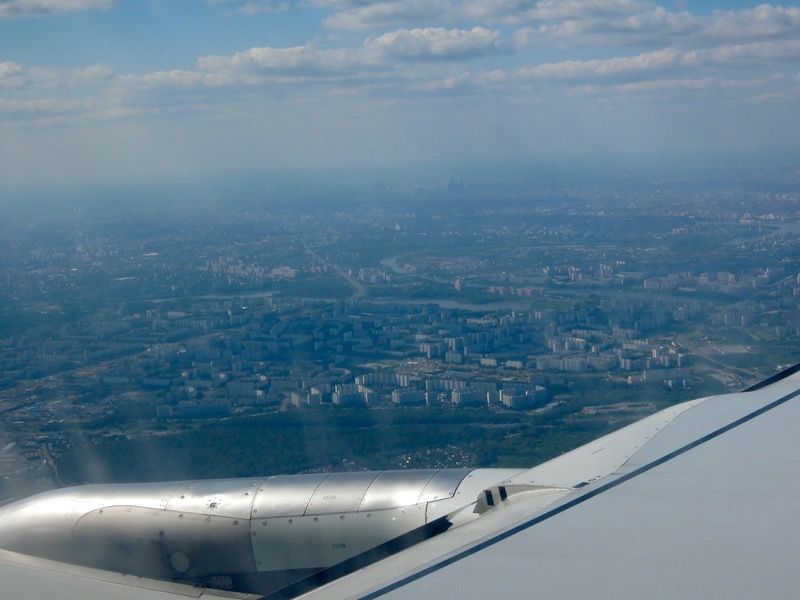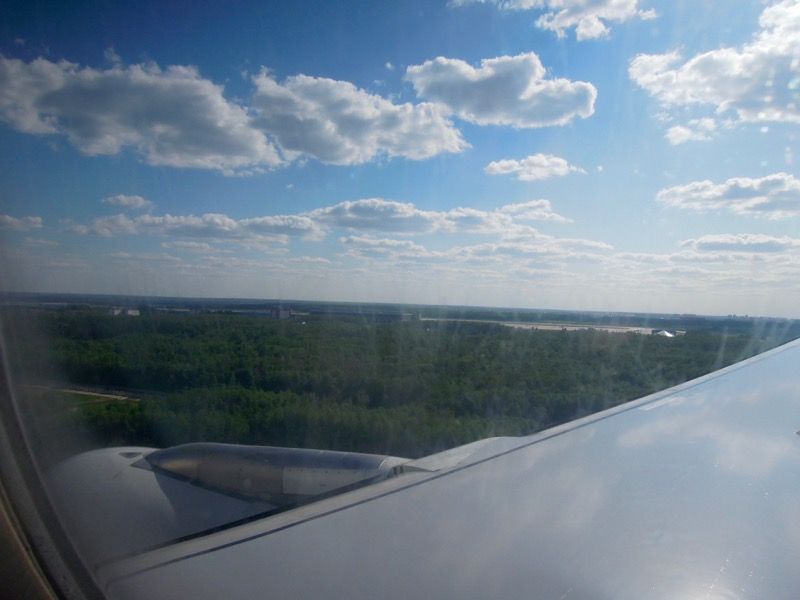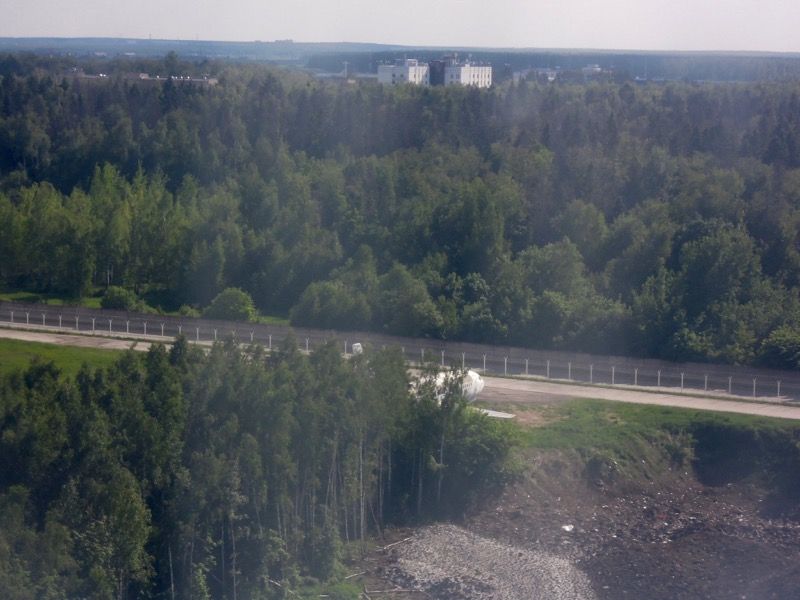 A 737 hiding
Graveyeard
The TY204 is still active
EK 77W from the UAE.
Domodedovo can be unbelievable crowded in the afternoons and today was no difference. Luckily many immigration counters were opened and it took only about 30mins to get through. By the time I was in the baggage hall, the suitcases were already doing their laps on the belt.
To get to the centre of Moscow I elected to take the bus, as first it only costs 80RUB and 2nd it gets me a lot closer, where I needed to go than the Aeroexpress train and the taxi on the same route isnt really faster than the bus anyway.
To conclude I can say that Air Moldova offered again a pleasant ride and in my opinion they are a nice small airline.
If you want to read more about Russia, please also visit my blog
https://russiainanutshell.wordpress.com
Thanks a lot for reading.
You are most welcome to leave some comments or ask questions.