A trip of the A320 extremes of Air India- by Peacejet
Background- Hello A'neters. Peacejet from India here. I have been lurking on this site reading trip reports and look at airplane photos since 2008, but I did not have anything to contribute until now because I have never flown on a plane until now. Though aviation industry has undergone a sea of change with the proliferation of low cost carriers since 2003 with Air Deccan leading the way followed by Indigo, Spicejet, Go Air etc and prices have come down, I remember seeing a one way Delhi-Chennai price in 1990's being quoted at around Rs.20000/- (approx 295 dollars) and has come down to around Rs.5000/- (approx 74 dollars) in all airlines because of the LCC's. But for an average middle class family like mine, it is still unaffordable to go on a vacation on an airplane even today because of the prohibitive cost.
So, the last vacation my family went was more than 10 years ago and I was pestering my parents to go on a vacation and I had a wish that I must take my parents on an airplane using my own earnings. I had started a job some time back and had saved some money. Now, seemed like a ideal time and I was pestering my parents to go on an airplane. The problem is, they are among the vast majority of people in India, who are scared of flying on a plane, because accidents will occur. I used to belt out statistics that travelling by plane is much safer than going by road blah blah blah. But they are unconvinced, and the MH370, MH17 and the recent MS804 crash doesn't help things either, along with the Indian media which hyperboles everything on the likes of "The nation wants to know!" and "The Nation demands answers" (Indian readers will know this all too well), and the media control by the companies which operate some private airlines. Air India is one such receiver of unnecessary slander from one media house in India.
I have a very particular interest in aviation since childhood; we all know who we grow up to be.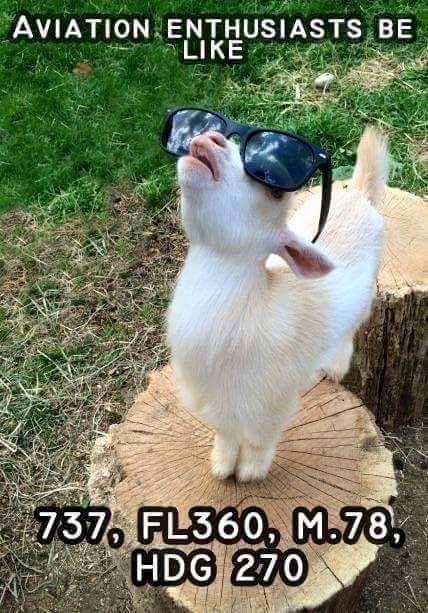 It is a hobby of mine to track all aircraft coming into Chennai(VOMM) airport, I can predict which plane will be operating which rotation today and I know many plane registrations and flight numbers and times by heart and the fact which helped me was for 3 months my office was located a few kilometres from the start of runway 7 which provided a ideal opportunity to see and capture photos of airplanes, which I posted on my FB(they were from a point and shoot camera, not worth posting here). Everyone were like, what is this VT-ANU and VT-ANT crap and VT-EXA and VT-EDE? All I see that you have posted a small plane, a large plane. Everything looks the same? But only we aviation freaks know that each plane is unique with its own personality and history. Yes, we are the few who are looked as crazy here, even by my parents.

Coming back to the point, since a vacation by flight was finally decided, we wanted to go on one of the longest possible flights on domestic sector. We decided on Delhi as the place and next came the search for flights. I was given freedom to book as per my wish. Being the Avgeek I am I knew what flights operated what time and there are quite options to go to Delhi, Air India, Jet Airways, Spicejet and Indigo are the options. I really despice the LCC's because of their operating philosophy and hence Air India and Jet Airways were the only option. I had booked my ticket on May 1st and Air India had 5 flights a day with a base fare of about Rs.4400/-, Jet Airways with a base fare of Rs.4200/- in the lowest economy fare. A point to note that Indigo being a LCC with around 13 flights a day to Delhi was quoting Rs.4700/- as the lowest price. Some, LCC eh?

I always wanted to fly Air India, because it is the flag carrier and the pride of my nation and I just love its new Flying Swan livery. It has to be the best in the world. So, Air India it was. I wanted to fly on different aircraft types and hence I booked AIC143 which is always operated by the VT-EDx series of the newer A320(usually VT-EDC,EDD,EDE,EDF and very rarely when equipment change occurs the flight will get delayed by one and half hours and will operate using VT-EXx series, yes I am such a avgeek folks) and the return was booked on AIC429 which operated using an A321(Delhi being one of the engineering hubs of Air India, aircraft rotations are difficult to predict), but lo and behold Air India known for its sudden equipment changes subsequently in the month downgraded my flight to a A320 and that too the flights were operated with the classic version which are approximately 23 years old and are of the rare double bogey landing gear type and are slated for retirement next year. I did not mind that, as I would get to fly on the double bogey which will not be in the skies in the future. In my opinion, Air India receives unnecessary negative slander. Yes, the merger of Air India and Indian(erstwhile Indian Airlines) was a fiasco, but it has been turned around a lot, it is almost always on time and the services have also improved.
Another point worth mentioning is that Air India allows 25 Kgs of baggage allowance per person and free seat selection at the time of booking which can be subsequently changed at the time of check-in. Other carriers offer only 15 Kg and no free seat selection. Indigo charges Rs.300/- for selecting a window seat and Rs.100/- for Aisle seat, the same too with Spicejet, and food is buy-on-board which is exhobirantly priced as usual. But, Air India has no charges for seat selection and seat change and food is complimentary, no other airline will be this customer friendly.
I was excited about my first flight journey and was counting the days to my first ever flight journey.
Please do note that all photos were taken using a Lumia 640XL phone, a Canon Powershot A490 P&S, and a Sony DSC-H400 P&S with 63x zoom which I purchased exclusively for the flight trip. Please note that the take off and landing images was taken from a 720p video on the H400 which did not turn out be as expected, so kindly excuse those images.
Flight details-
Flight Operator- Air India
Flight No- AI143/AIC143
Flight Date-15-06-2016
STD-08:45, ATD-09:02
STA-11:45, ATA-11:23
Aircraft Registration-VT-EDE
MSN- 4236
First Flight-19/02/2010
Age-6.3 years
Seat- 18 D,E,F
I knew VT-EDE will be operating the flight, because the aircraft starts the journey the previous day afternoon from Delhi as AIC142 to Chennai, then as AIC 967 to Thiruvananthapuram with continuing service to Sharjah in the evening, it returns from Sharjah to Thiruvananthapuram in the night and continues to Chennai early in the morning as AIC968 and then goes to Delhi as AIC143 in the morning.
Arrived at Chennai airport at 06:45 in the morning. Chennai Airport, when it was constructed, was located outside the city and now it is well within the city limits and has reached its capacity and has no place to expand surrounded by residential areas on all sides.
Air India has the concept of International Connectors. Flight nos upto 399 and 900 above are international connectors, which is essentially an international flight with a domestic leg. My flight is a international connector with onward connection to Paris using a Dreamliner. The reason why Air India has introduced this that passengers travelling aboard can clear immigration at their origin airport itself for any international flight, instead of clearing immigration at the connecting airport which in this case is Delhi. Saves time and tension. Domestic passengers will be allowed to bypass immigration and go to security check directly by showing the boarding pass.
So, being an international connector, we had to board from the International terminal which is the newly constructed T4.
Chennai Airport is one of the scenic airports in the world located adjacent to the Pallavaram Hills, while you get down at departures, both domestic and international, you get a good view of the hills.
A view of the Pallavaram Hills-
Entering the Terminal-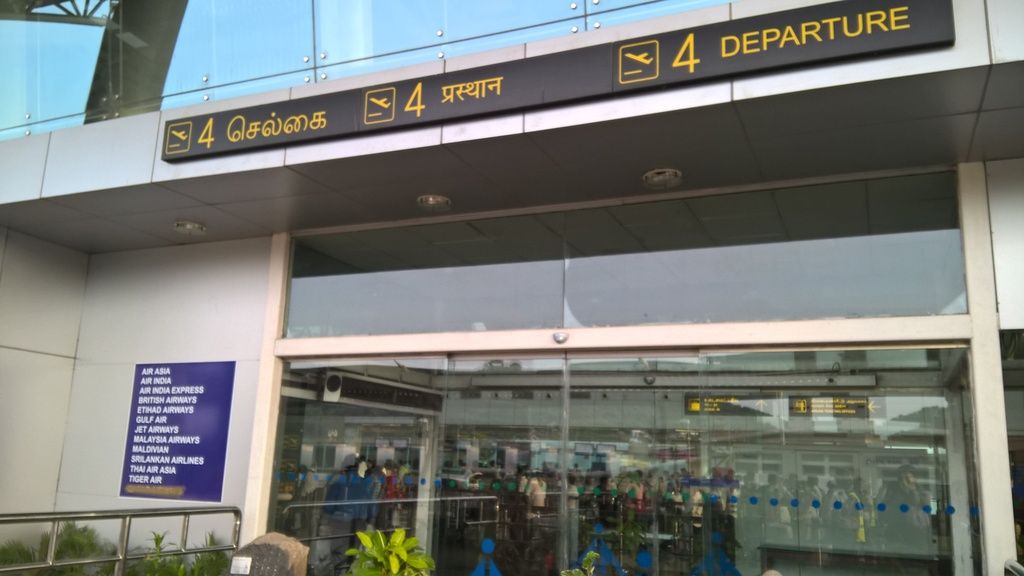 Indian Airports have the rule that you have to show the ticket along with an identification proof before you are allowed to enter the airport. Airport security is handled by CISF(Central Industrial Security Force) who speak hindi only and being a non-hindi speaker I am there were some funny moments before entering and during security check as it was my first time flying after all. So, after the security scrutinizes you with the photo on the ID proof and eyes you from top to bottom, you are waved in. The fresh AC air hit me. It was a welcome relief from the humid conditions outside.
Today check in was at Row-32 to 62. So, off we went.
Check in area-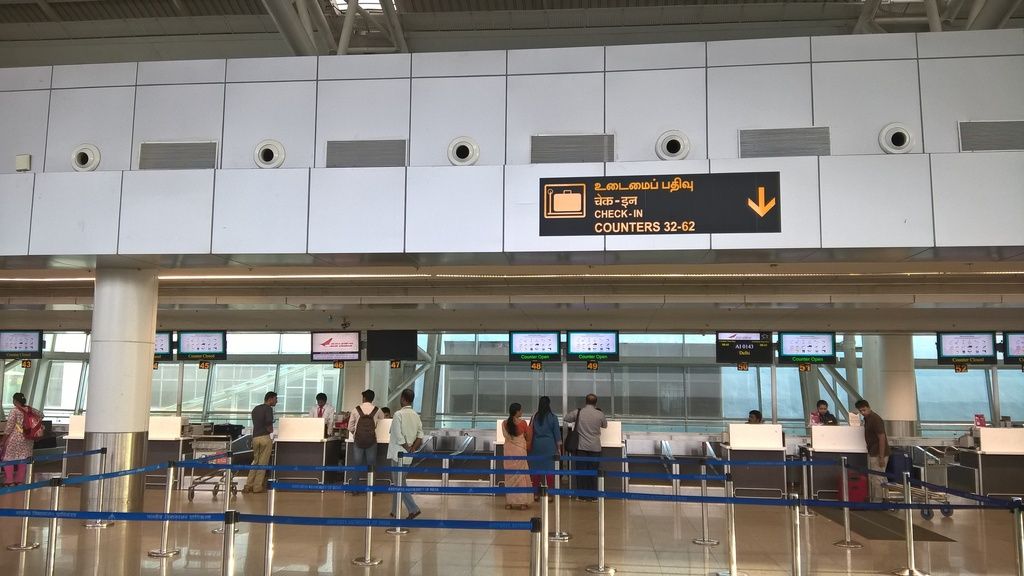 Air India Maharaja Welcoming us-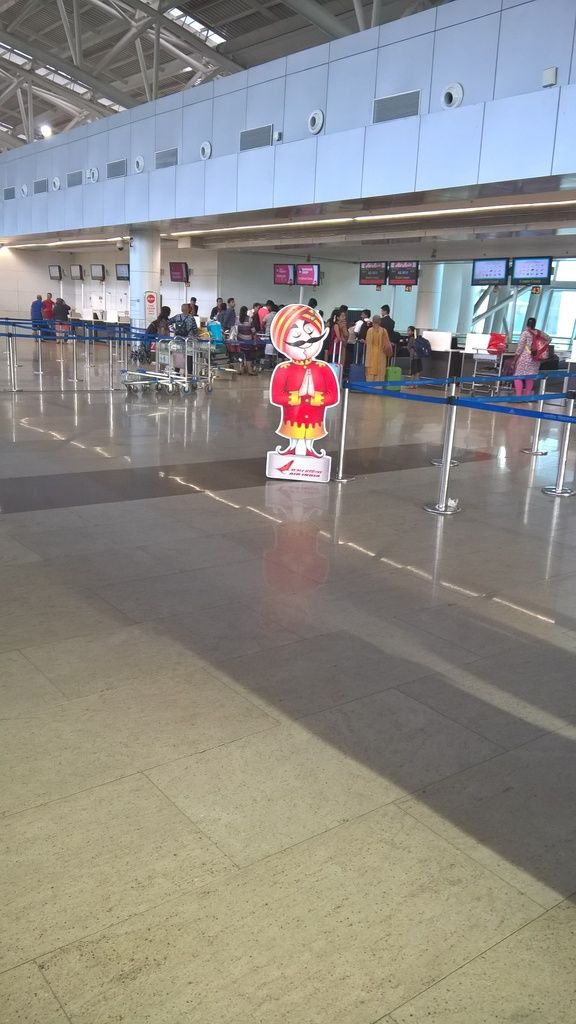 Yes, AI143 it is-
Oh, on a side note, I forgot to mention this, VT-EDE operated the previous day AIC142 as usual, but then, as you know, life is full of surprises, VT-EDE was sent back to Delhi as AIC539 in the evening and an A319 VT-SCK operated the flight to Thiruvanathapuram and the subsequent flights, this had never happened since I first started tracking planes. I was heartbroken, and my seat selection was at stake, I had particularly selected those seats because, they were away from the engines and behind the wing which will give me a good view of the ground and runway 25 will be operational at airport at that time. Yes, everything we do is because of a reason for us Avgeeks, as you will find out later.
VT-EDE later returned back to Chennai the previous night as AIC42 and was scheduled to operate AIC569 to Mumbai the next morning at 06:30. I was devastated.

Coming back to our point, our entire luggage weighed only 18 KG. An aweful waste of 75 Kg luggage allowance. All process complete, boarding card received, I asked the check in agent whether the aircraft was downgraded to A319. Then he with a very serious face(the business like face which pilots have) typed something into the system and said no, A320 is only scheduled, though he could not find the registration. I was dumbstruck, how is it possible? Then, only later during boarding, I realized the masterstroke of Air India.

The boarding card shot,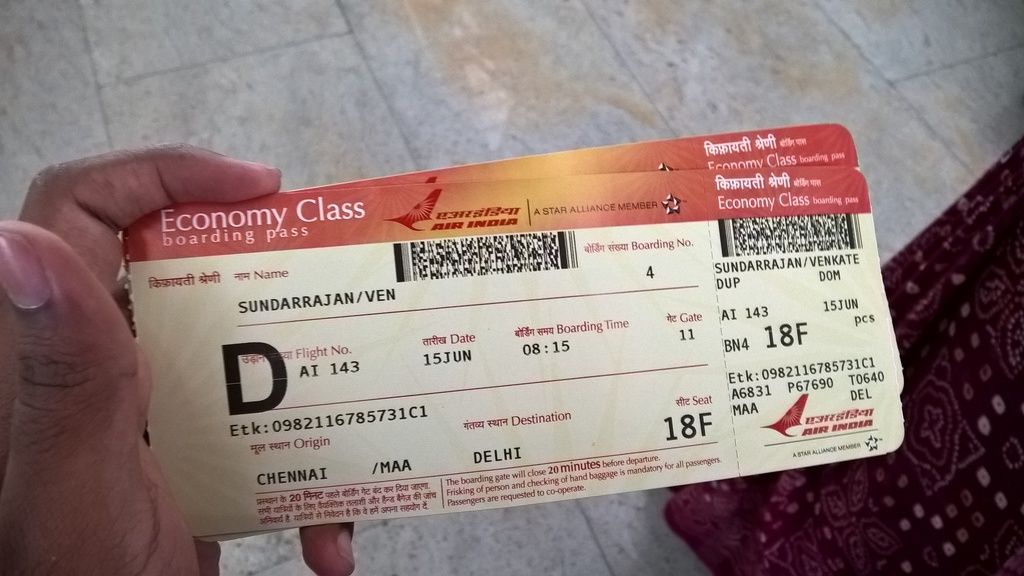 See the "D" on the boarding card? That means the domestic flight departs from the international terminal.
Went to security next, bypassing immigration because we were domestic passengers and after clearing security with some guffaws of course being first time traveller(did not keep the cellphones and cameras in bag, did not stand at the yellow line for my turn etc. The language barrier with the security people did not help either, and fellow people in the line helped us). Women have a separate line with closed areas for security and the crowd was lesser there and she was on the other side in no time.
After clearing security, we arrive in front of the large glass view area, where we can see outside, and this beauty was just arriving.
Saudi Arabian airlines-HZ-AQE-arriving from Dammam
Our gate No was 11, which is the first gate in the International Terminal and is located in the Old International Terminal.
The connecting corridor to the old terminal
A common lounge for all airlines near gate 11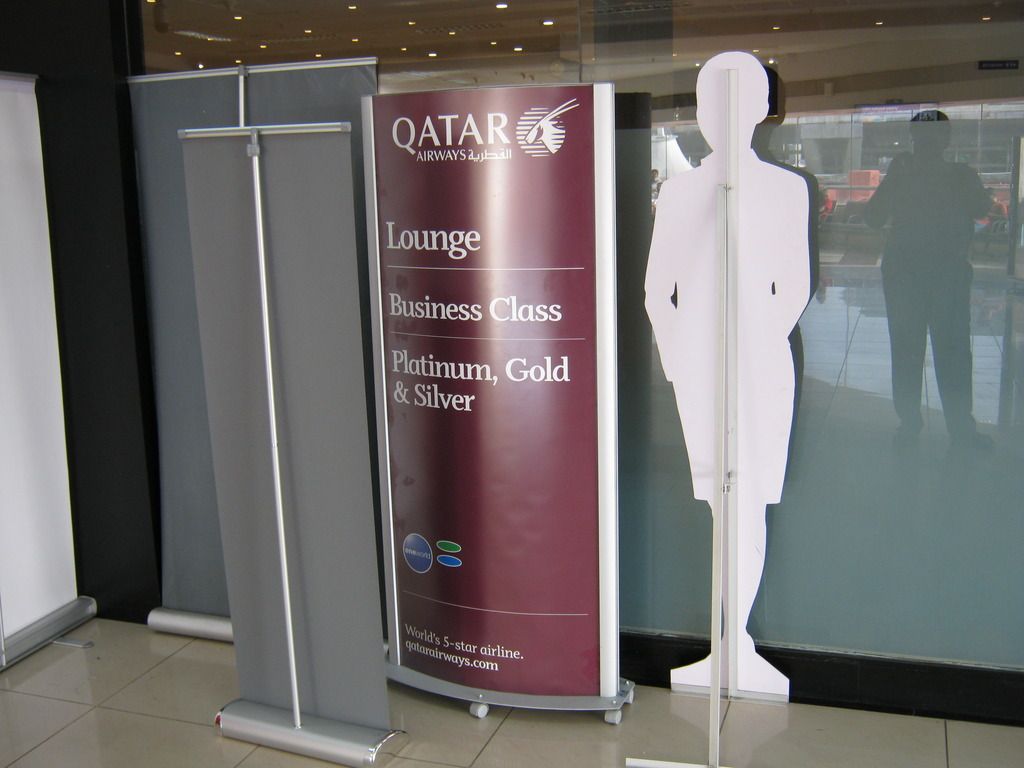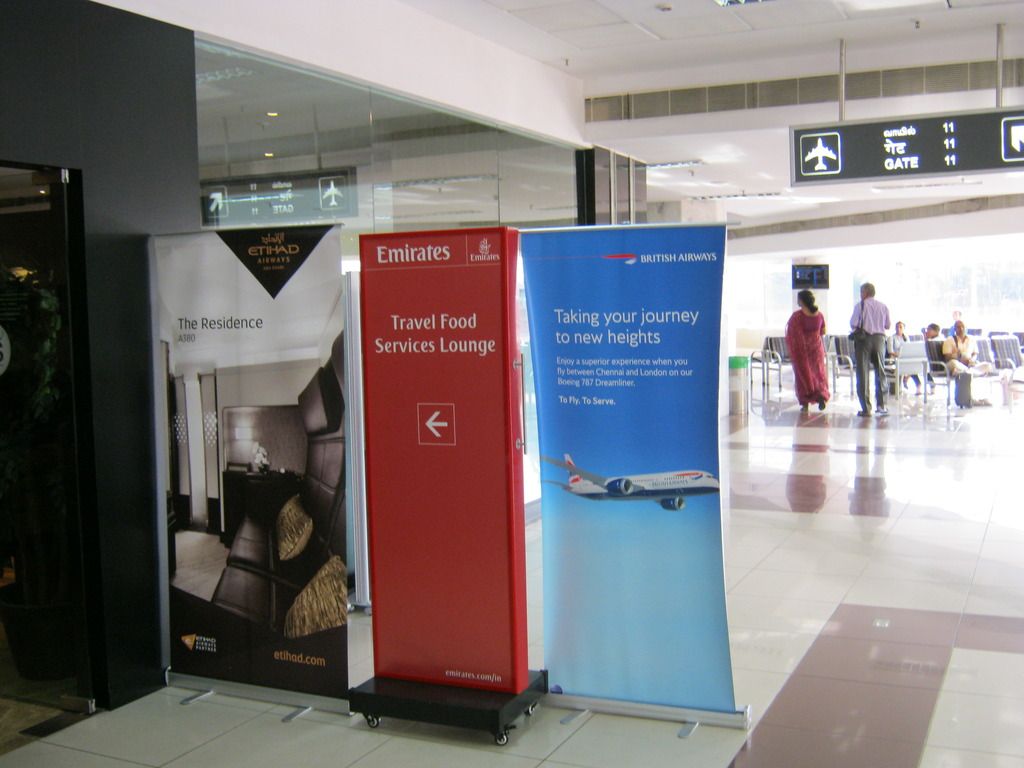 This is view of the gate from the seating area. No outside view unlike the new terminal.
Now look at this display board, remember that I mentioned the masterstroke of Air India.
See flight AIC263 to Trivandrum/Thiruvananthapuram, it is an onward connector to Male. It was delayed because the A319 aircraft VT-SCO supposed to operate it operated AIC569 to Mumbai at 06:30AM and VT-SCK returned back to Trivandrum as AIC263. That means VT-EDE was still in airport. I was excited like a kid now. I then knew it would VT-EDE operating today, and I told this to my parents and they were like, we get a plane to sit and go right? I was like yeah, you wont understand this.
08:20 came, boarding did not start and there was no one at the gate, I knew VT-EXC was coming in from Hyderabad and hence if VT-EDE was not there, it would operate our flight at around 10:00AM if we were delayed. But then suddenly at 08:30 there was a flurry of activity at the gate, and everyone queued up and our boarding stubs collected and we were made to hurry to the gate.
We crossed G-ZBJA and the British Pilots who would be operating the flight to London and when I turned the corner. I saw her, VT-EDE.

Love at first sight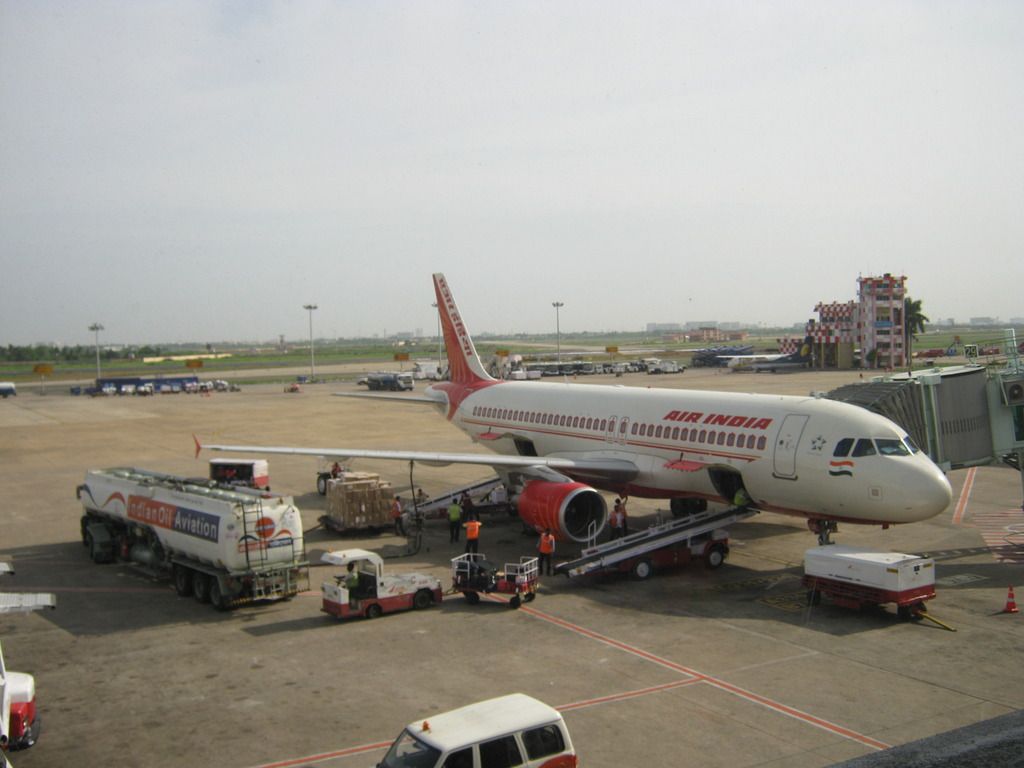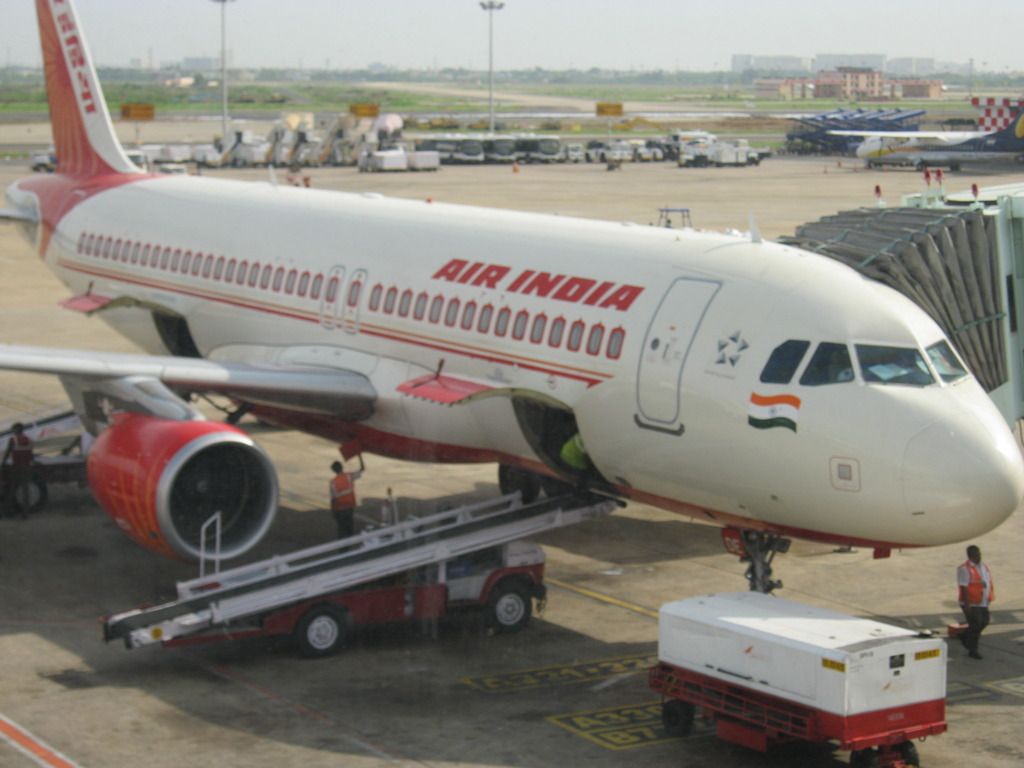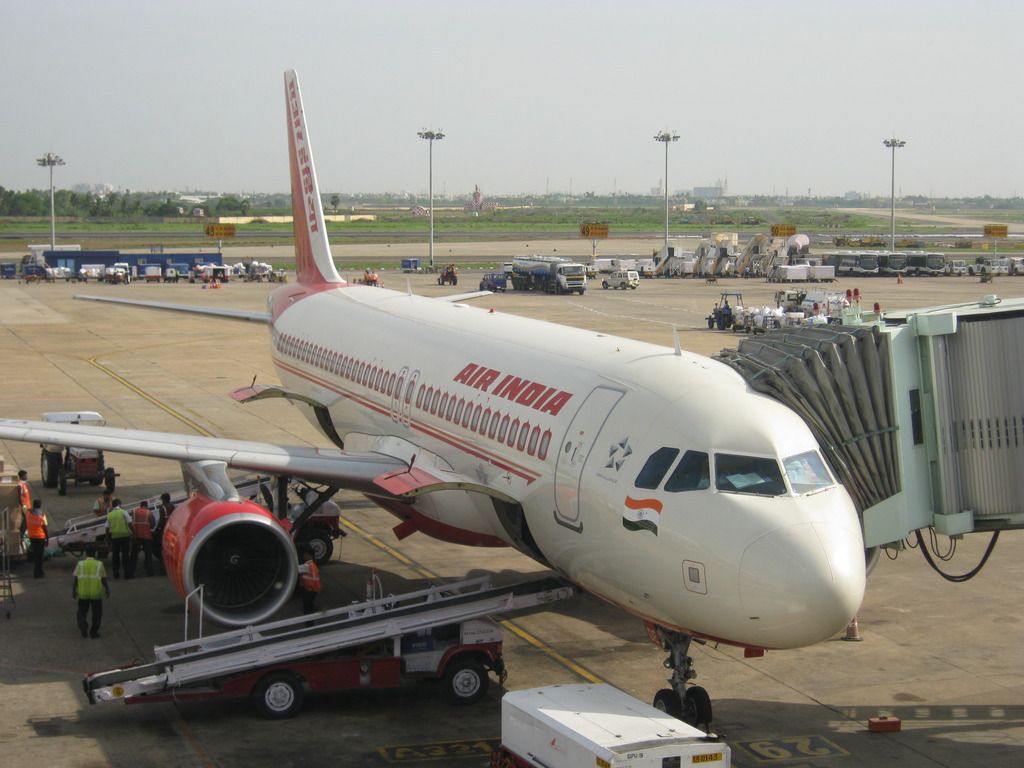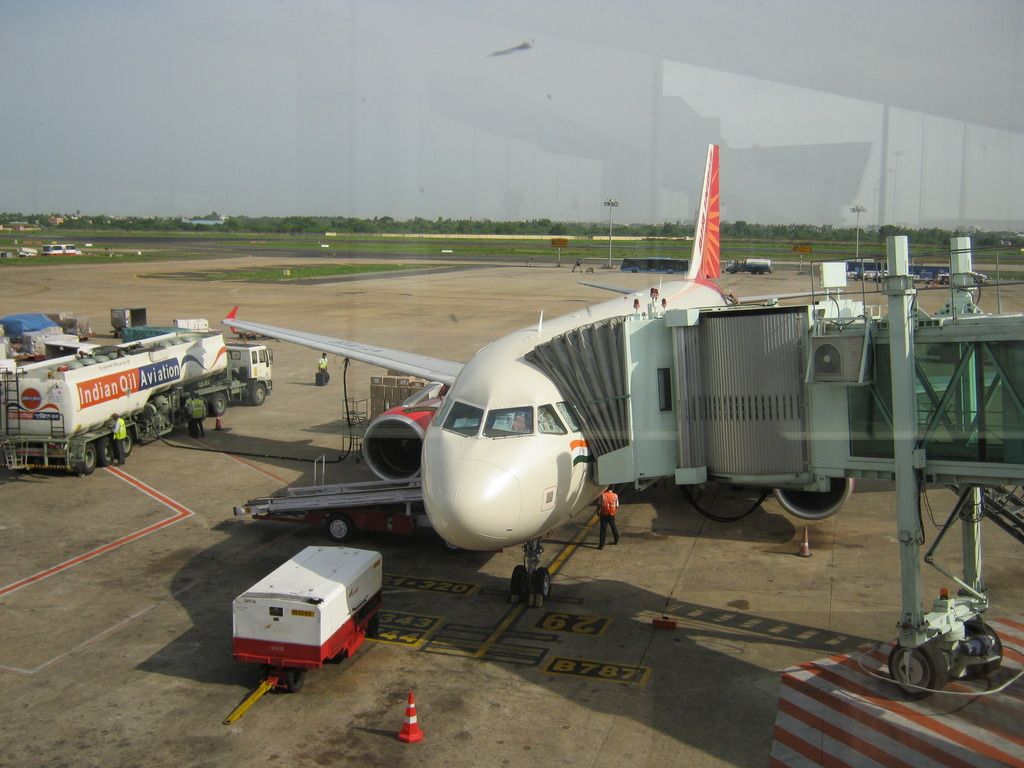 She overnighted at Chennai just to operate our flight.
Gate neighbour. G-ZBJA
Quickly running down the gate, we went in the aircraft. Man, it was spotless almost like a new plane even the seat fabrics looked new. I did not see VT-EDE for three weeks prior to this flight. Maybe she underwent maintenance.
The business class seats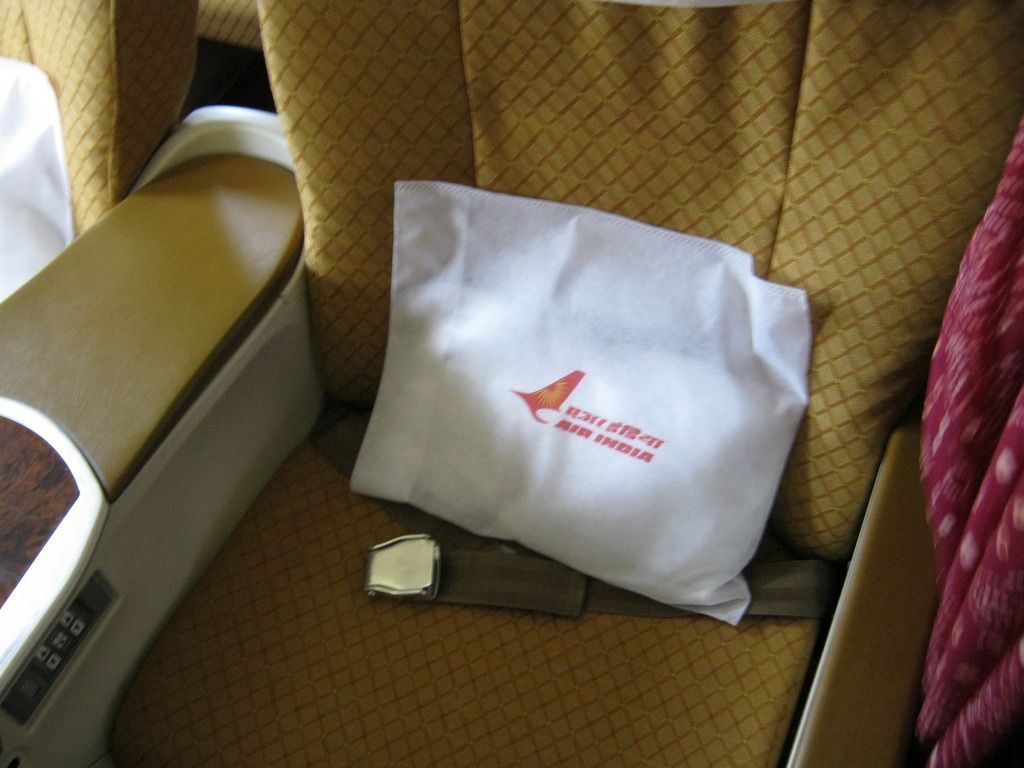 The separator between Business and Economy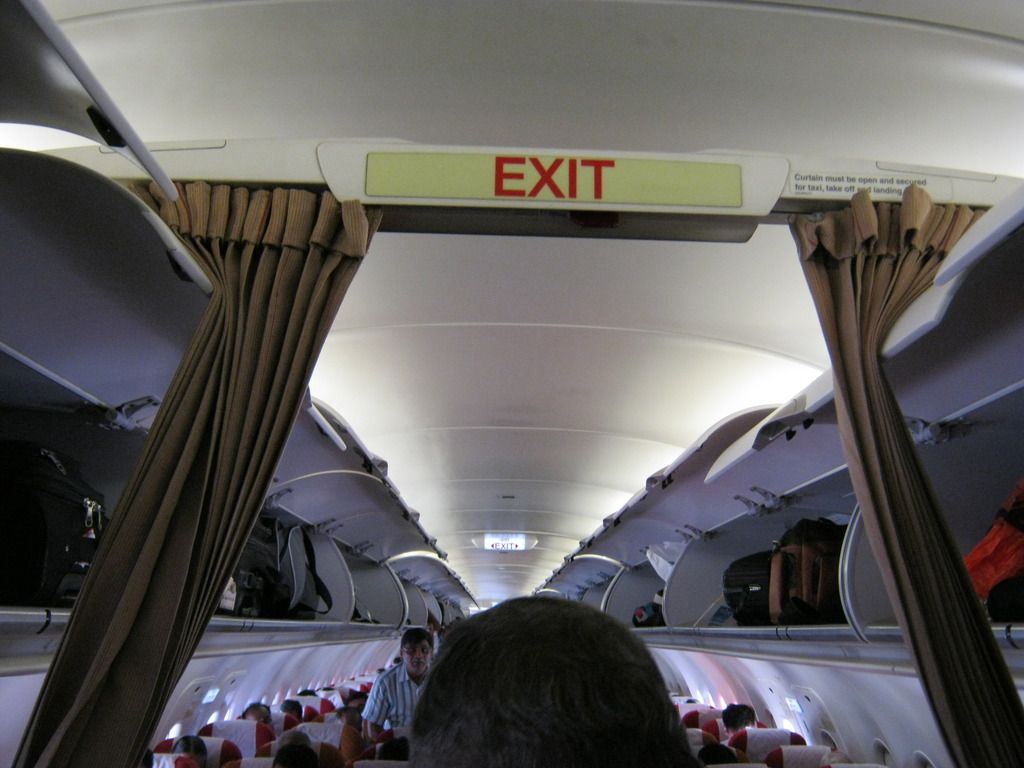 Seat view
I knew that the A320s did not have IFE, but the seat arm rests had IFE controls and I could feel the IFE monitor behind the seat cover in front of me. Why Air India? I just want flight map after all.
View from my seat- Cargo being loaded and fuel truck loading fuel along with gate neighbour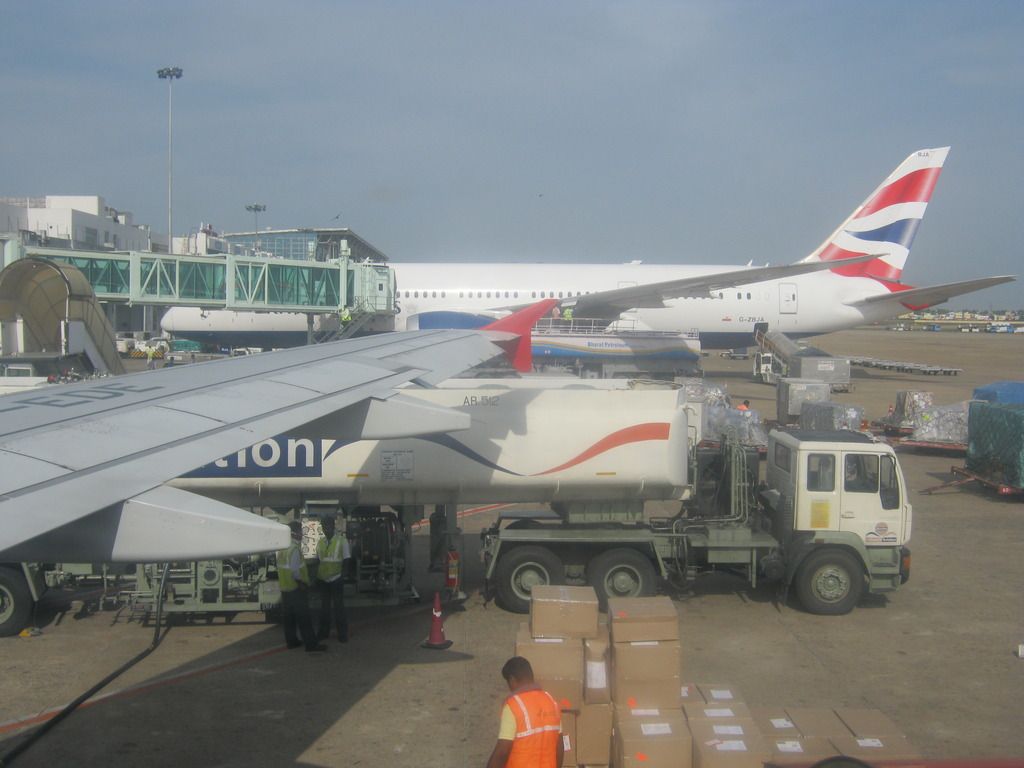 The cargo bay door
Close up of ZBJA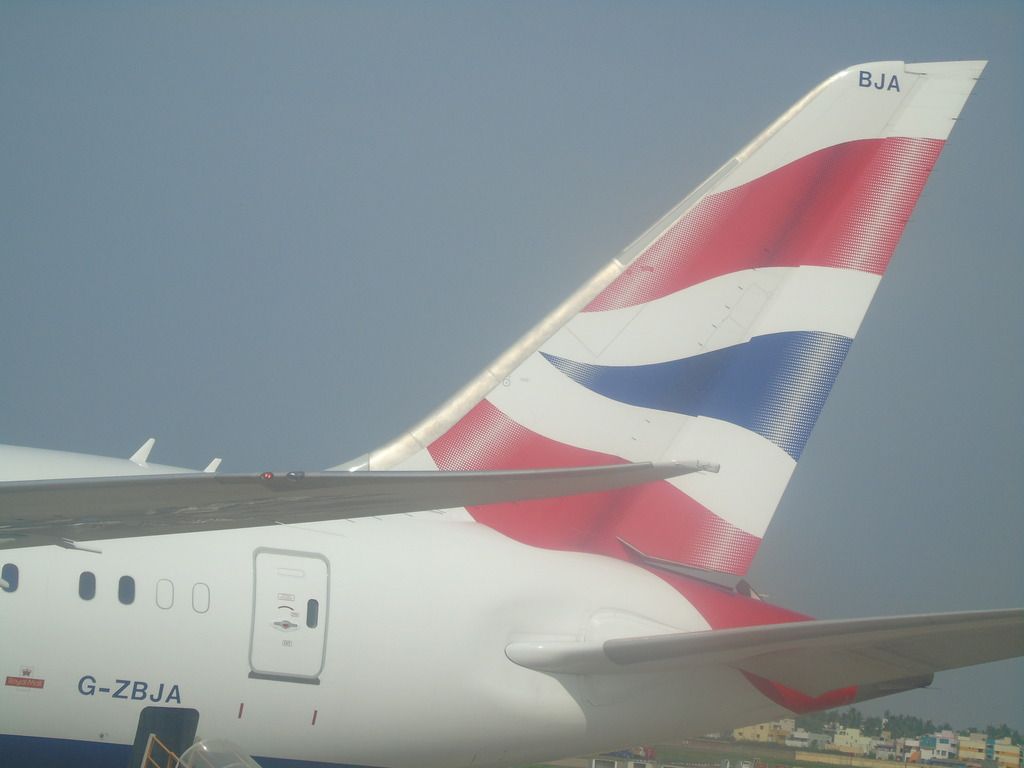 We started pushback at around 08:55. Safety announcement was made in hindi and English during pushback and startup.
The morning International ops-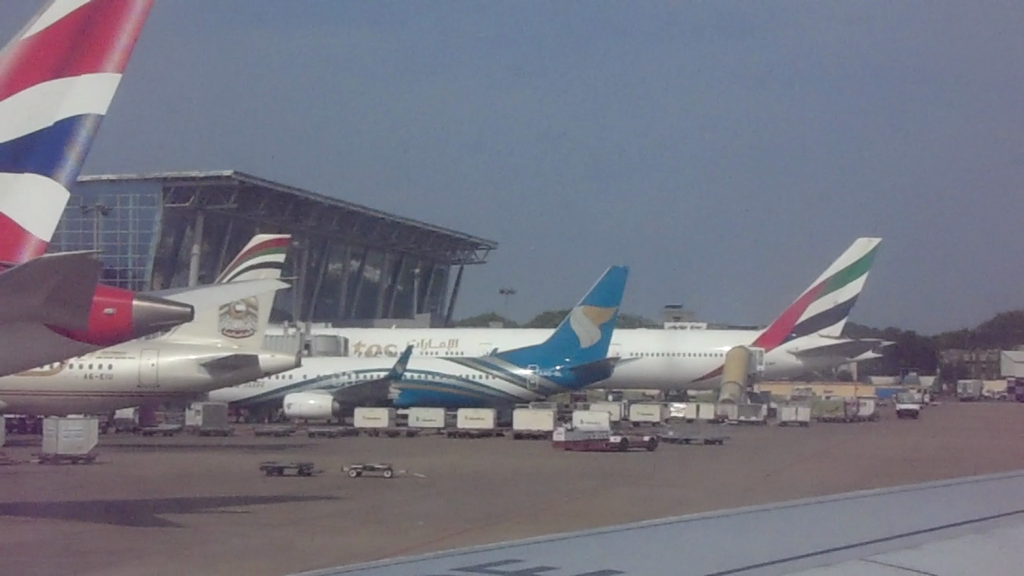 This VT-TMK of Trujet Airways a regional carrier based in the state of Andhra Pradesh. This flight will be operating to Hyderabad.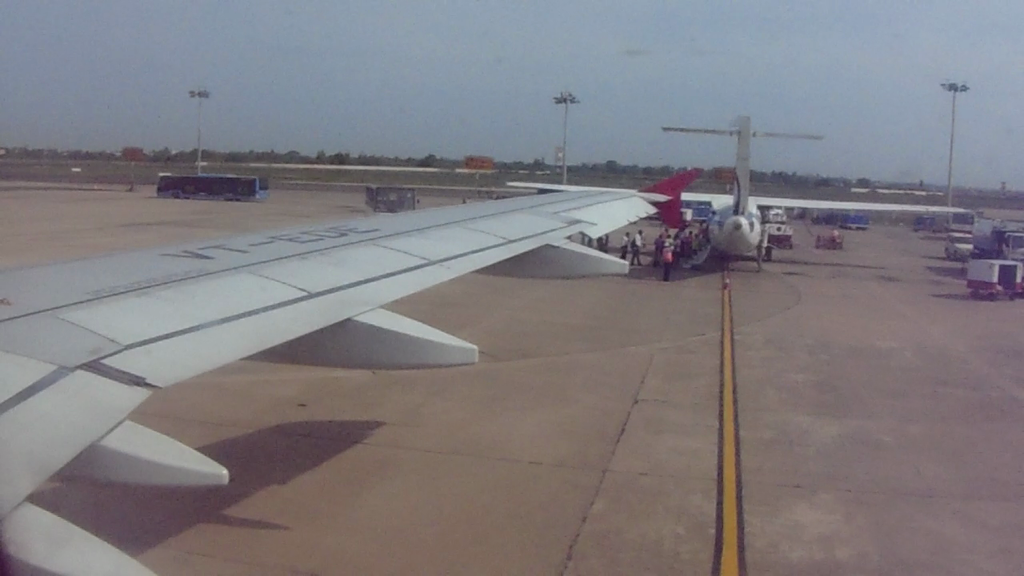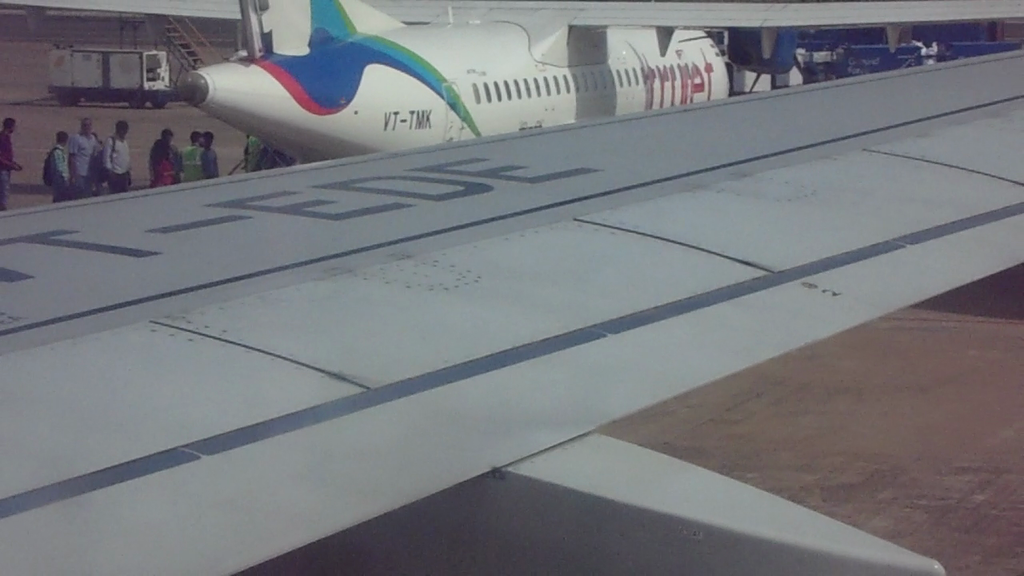 Saudi had also pushed back just ahead of us
Just then VT-BDO, a Boeing 757 Cargo of Blue Dart aviation landed.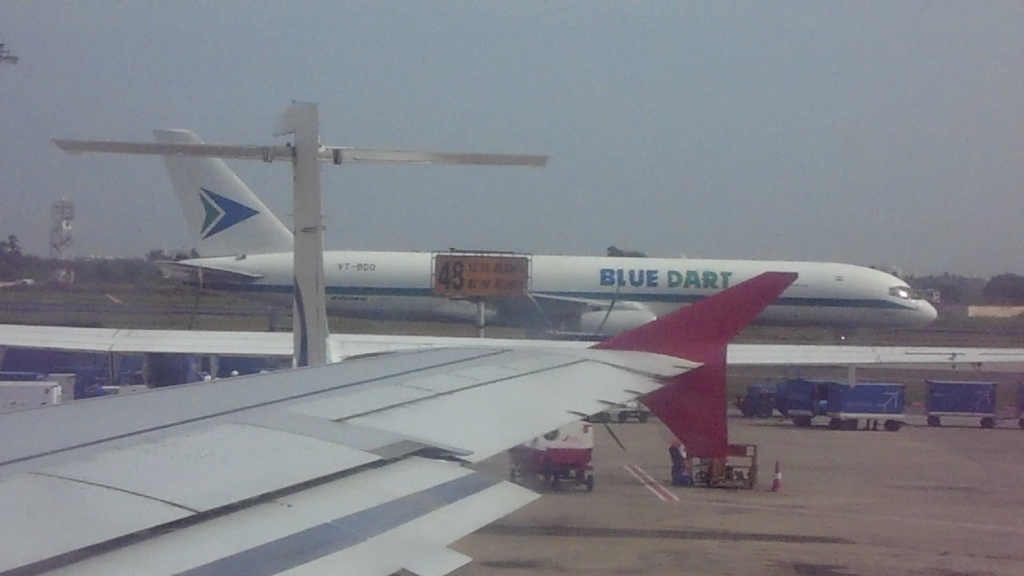 Saudi taxing behind Blue Dart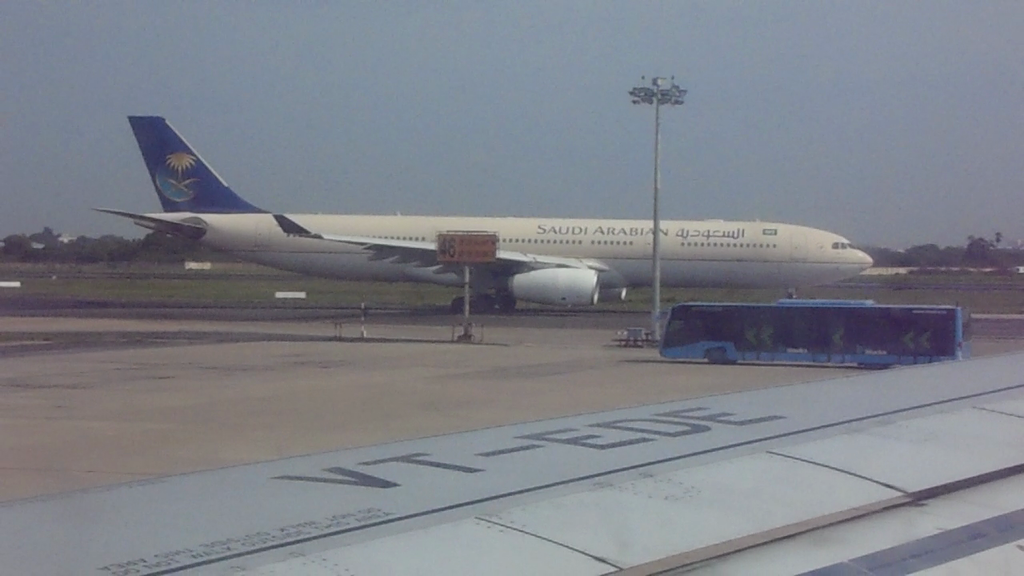 We are taxing behind Saudi
It was a rather fast taxi to Runway 25
This is where all the fuel for aircraft is stored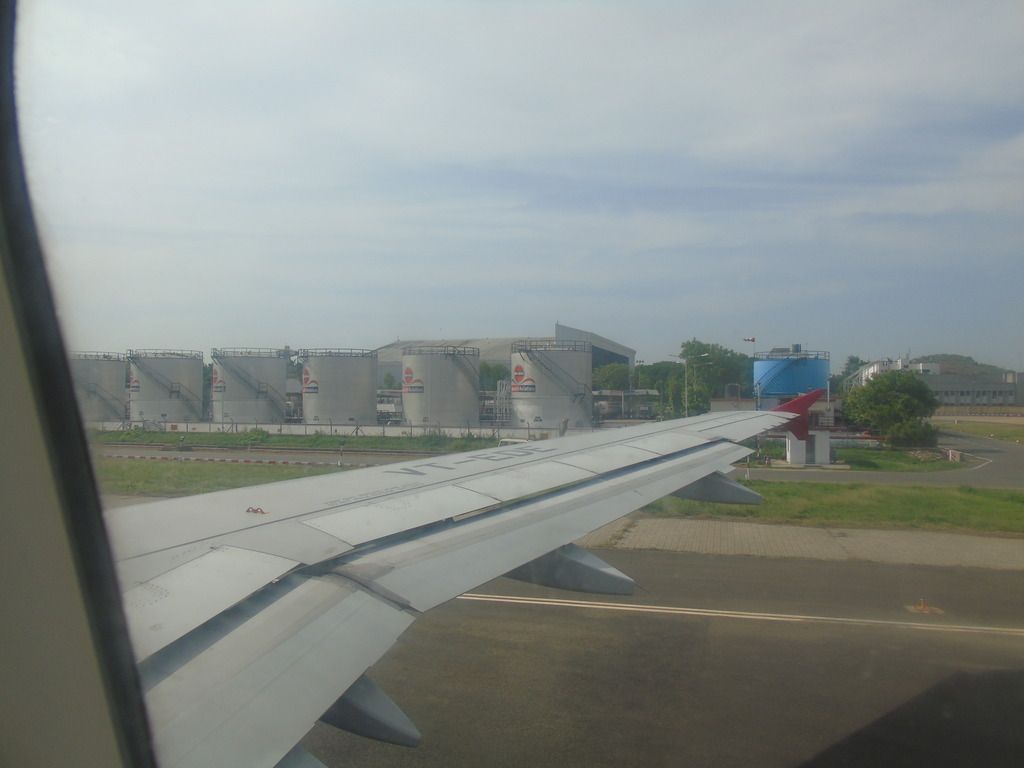 The most crucial building in the airport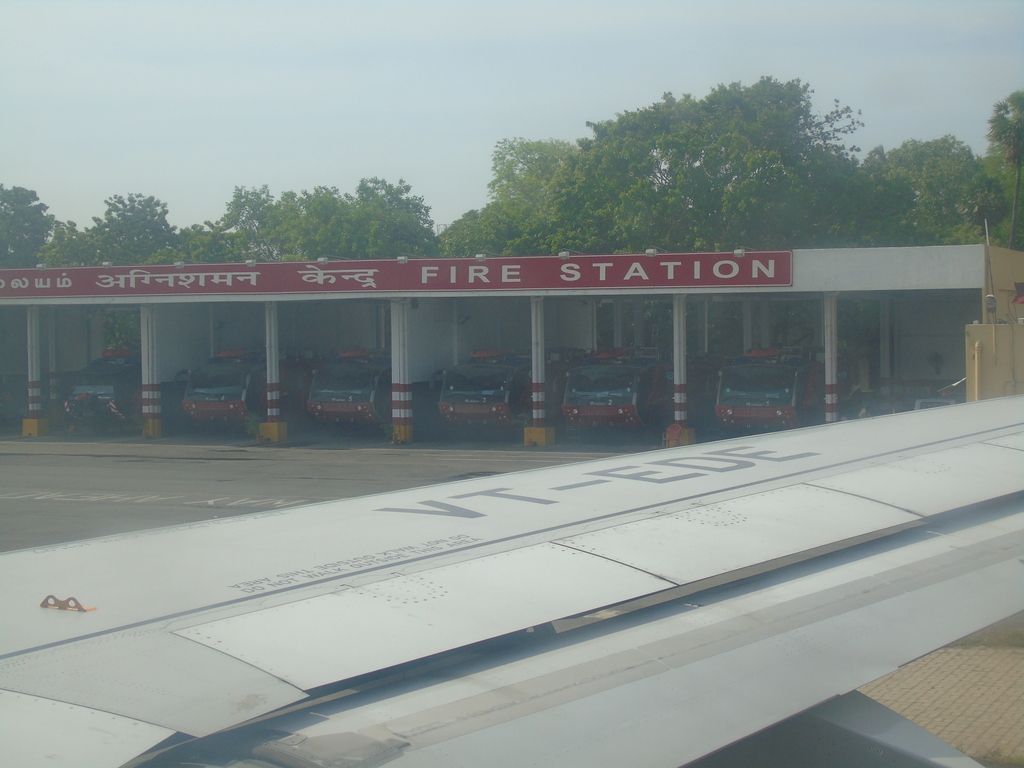 Cargo Terminal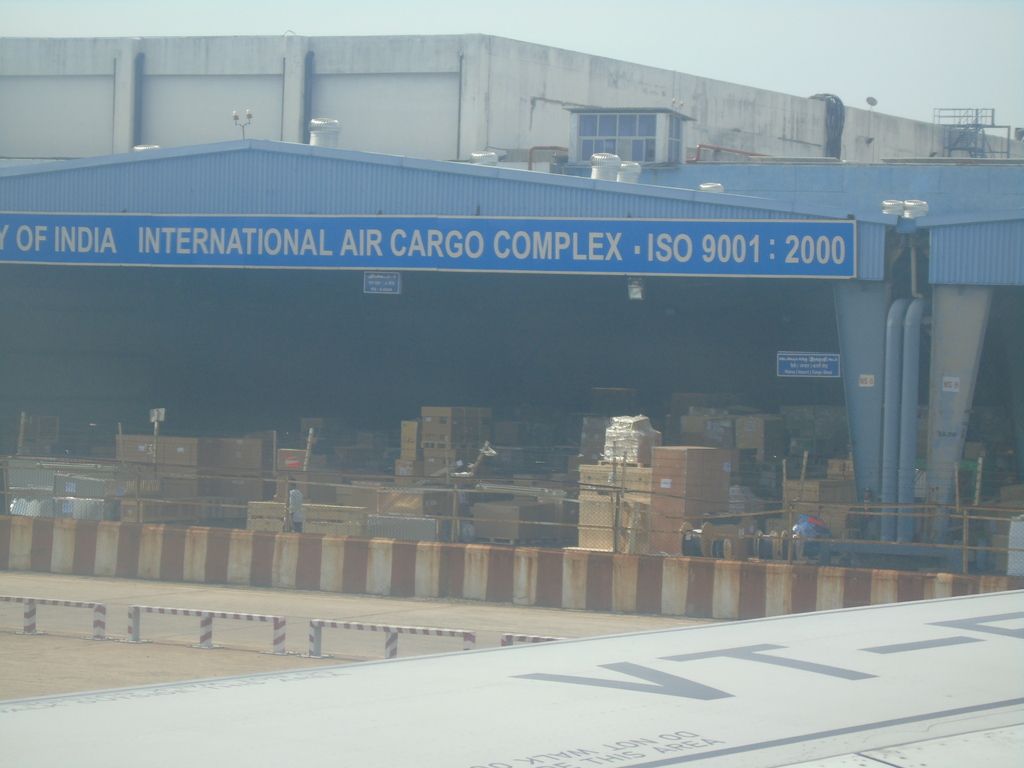 LX-VCV- Cargolux cargo which came in from Muscat
A6-DDC- Ethiad Cargo B777 which came in from Shangai, it will continue to Abudhabi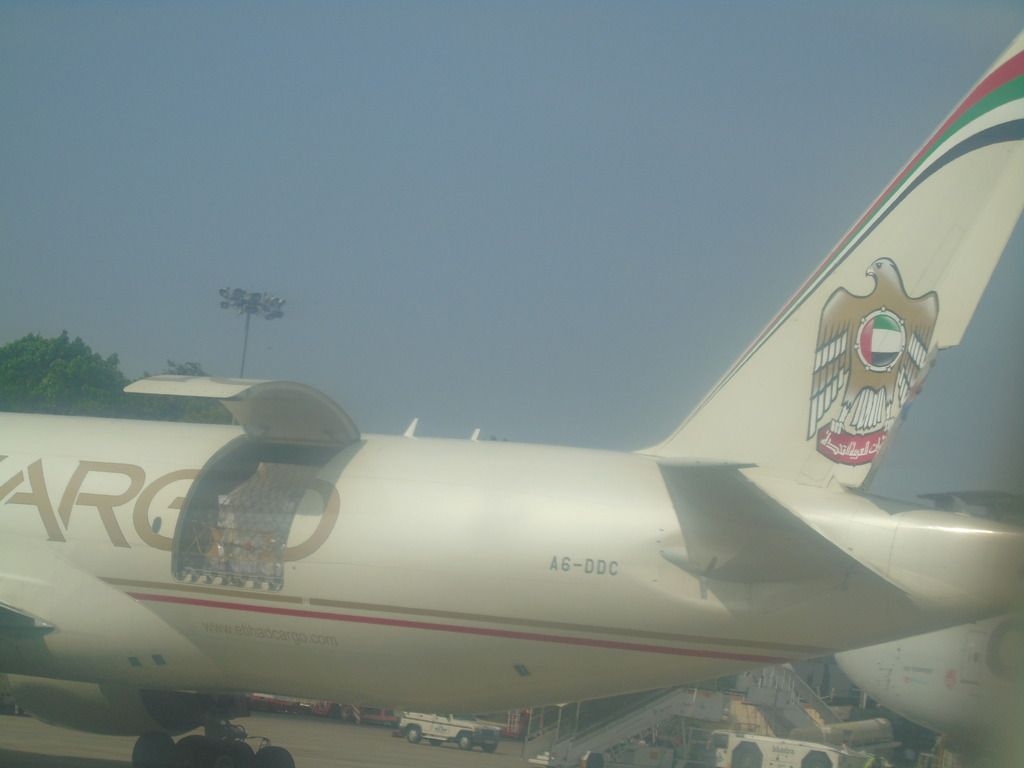 Holding short of the runway, taxiway Juliet and Runway 25 it is,
The wind sock. The wind is from the south in the morning and hence we are taking off towards the south.
Saudi took off ahead of us and the sound of the A330 engines vibrated everything in our plane.
Then we taxied onto the runway. Held for some time and in typical Airbus style the flex systems did the job of the engine spool up and I was pushed back into my seat. Being first time, I was amazed at the acceleration.
Airborne
The Adyar River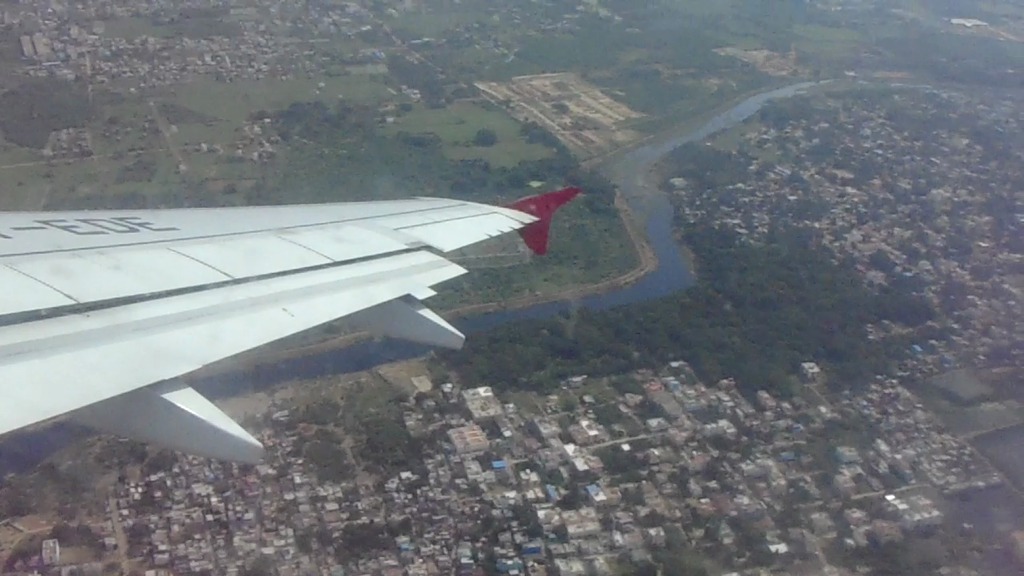 The reason why I chose starboard side seating
The view of Chennai airport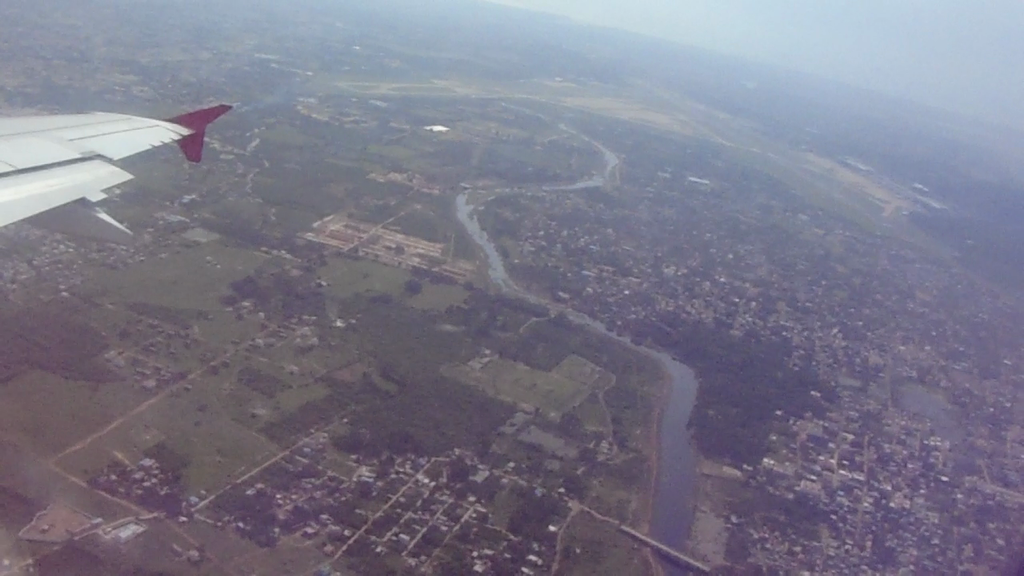 Crossing Ambattur lake
It was a hazy day, otherwise taking off at 09:00AM Chennai has the best view ever. With the sea on one side, and land on the other.
Crossing the Tamil Nadu-Andhra Pradesh border.
Lake Pulicat which marks the border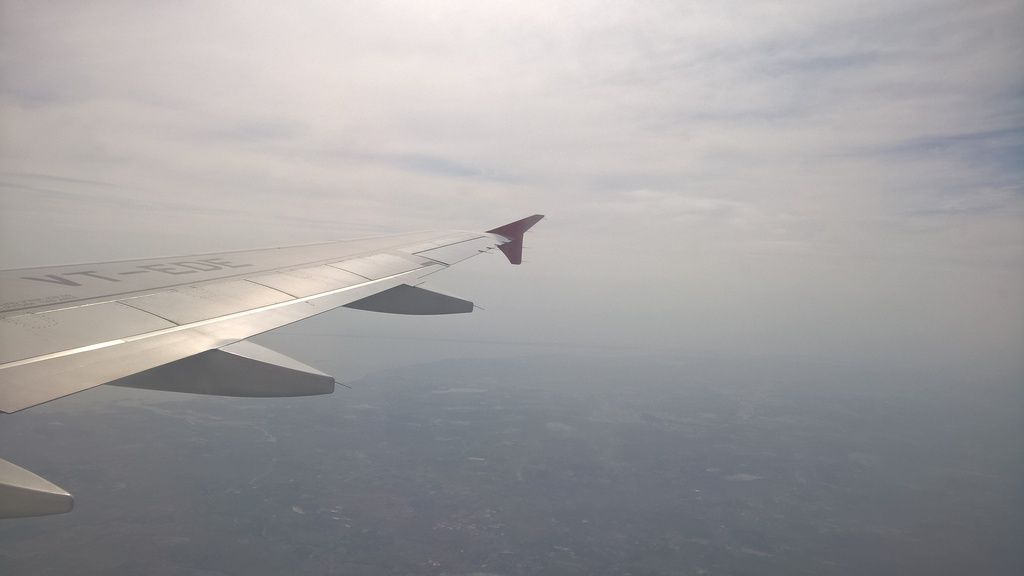 Lake Pulicat and the sea in the distance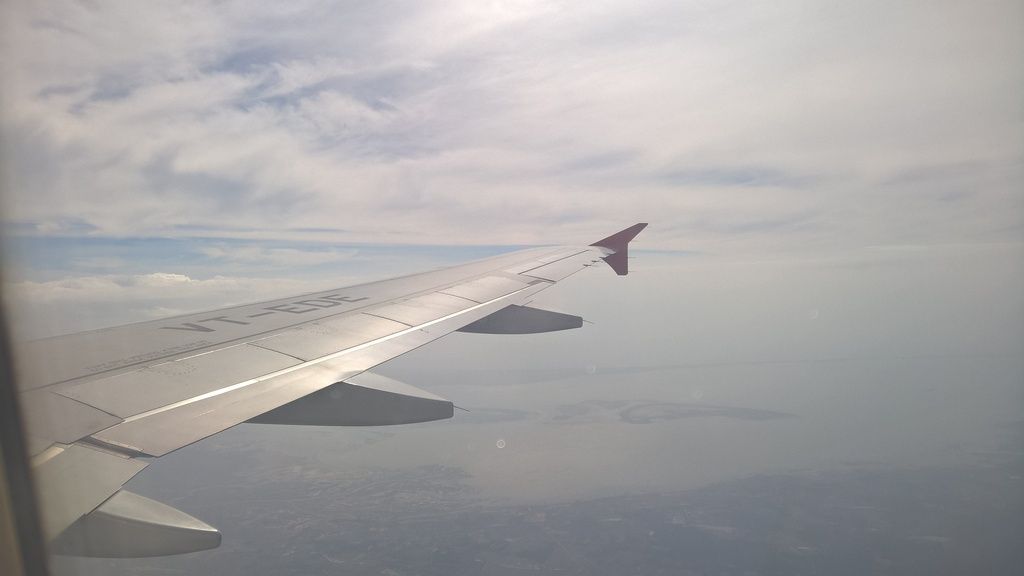 Inside Andhra
There was a Low Pressure Area in the Sea because of the South West monsoon near the cost of Andhra. The clouds associated with that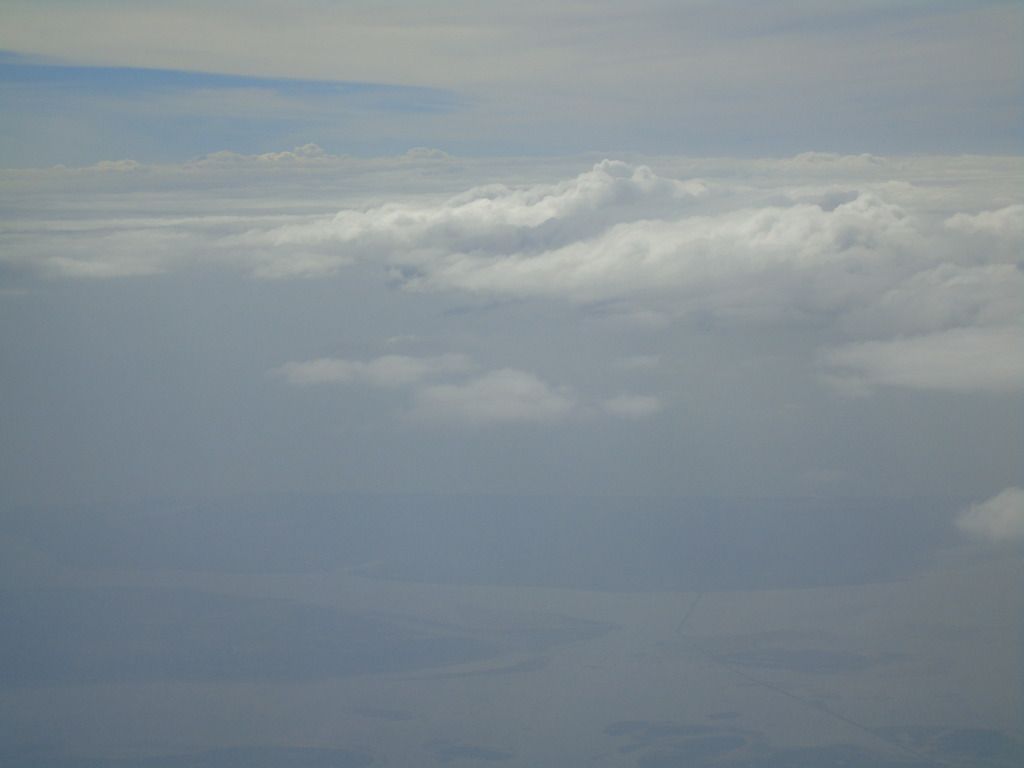 Penna River with Nellore town to the right(not in image though)
Starting to see some blue sky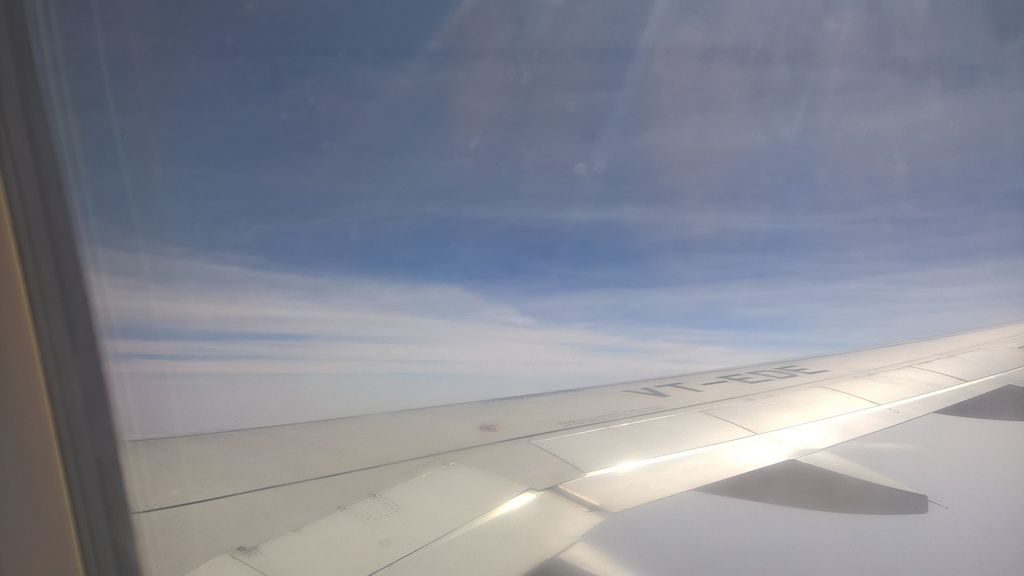 Yes, my favourite plane, coincidentally my family whatsapp group photo was VT-EDE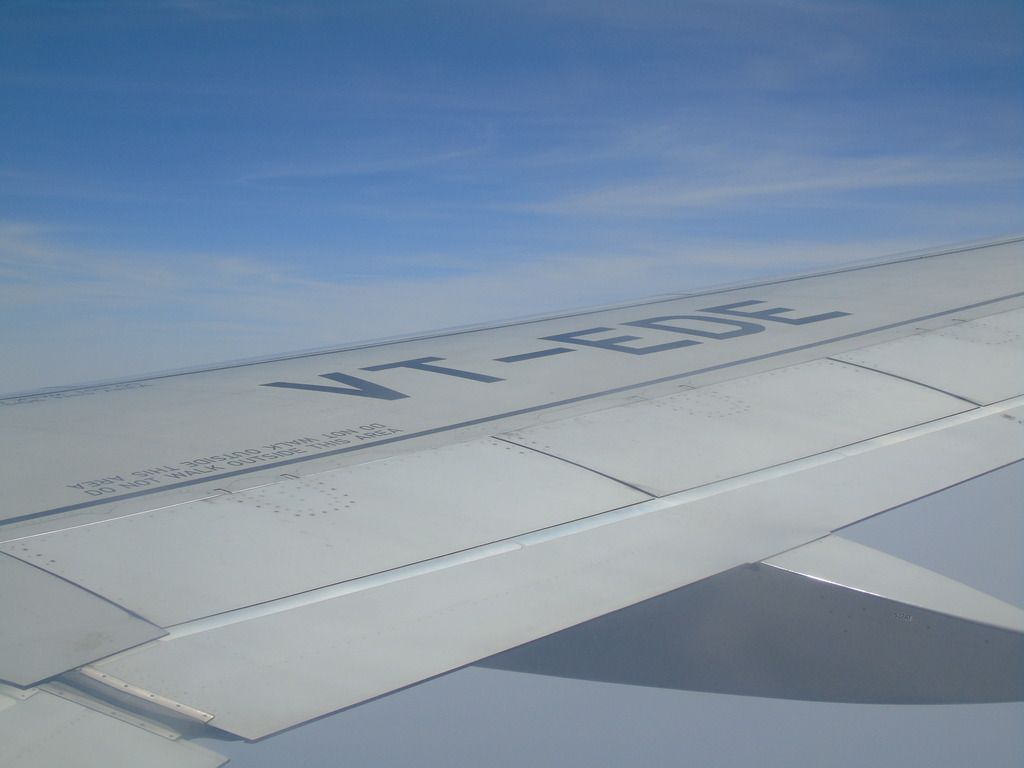 Another seat view. Seat back contents were the Safety Card and todays newspaper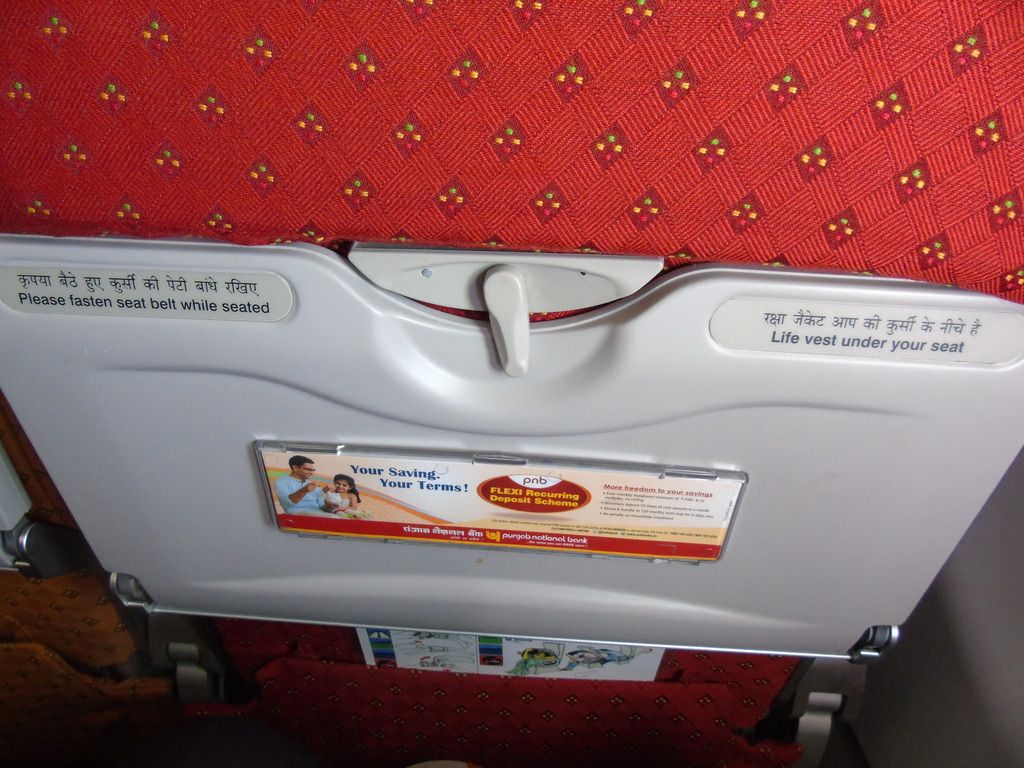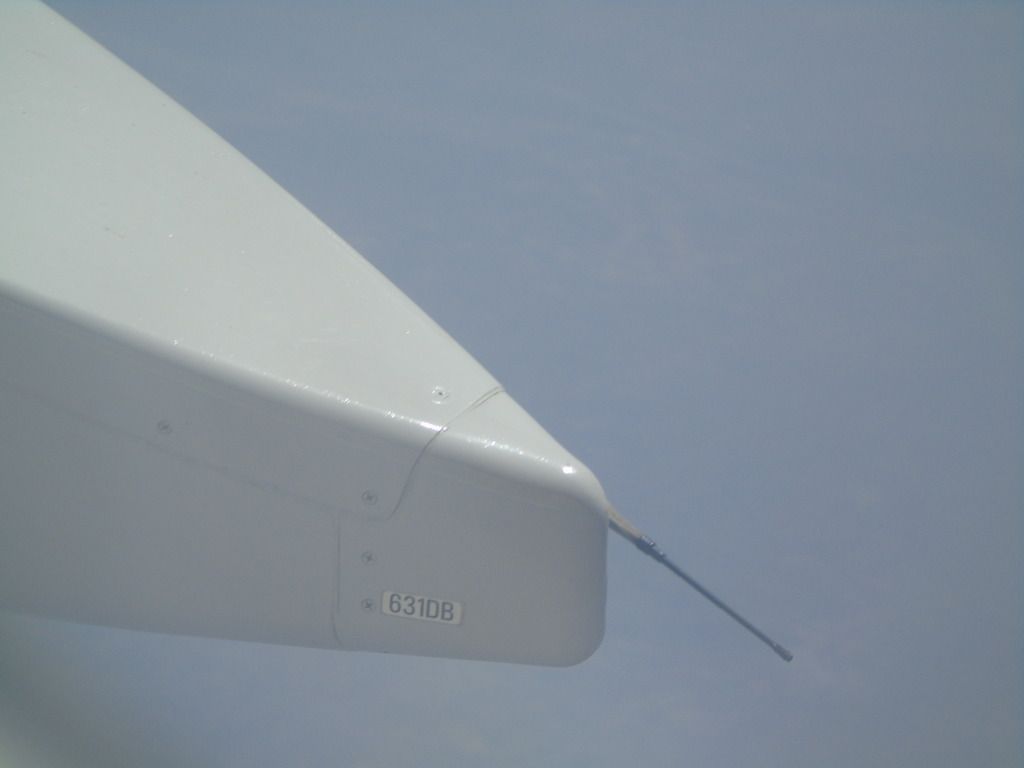 A close up of the winglet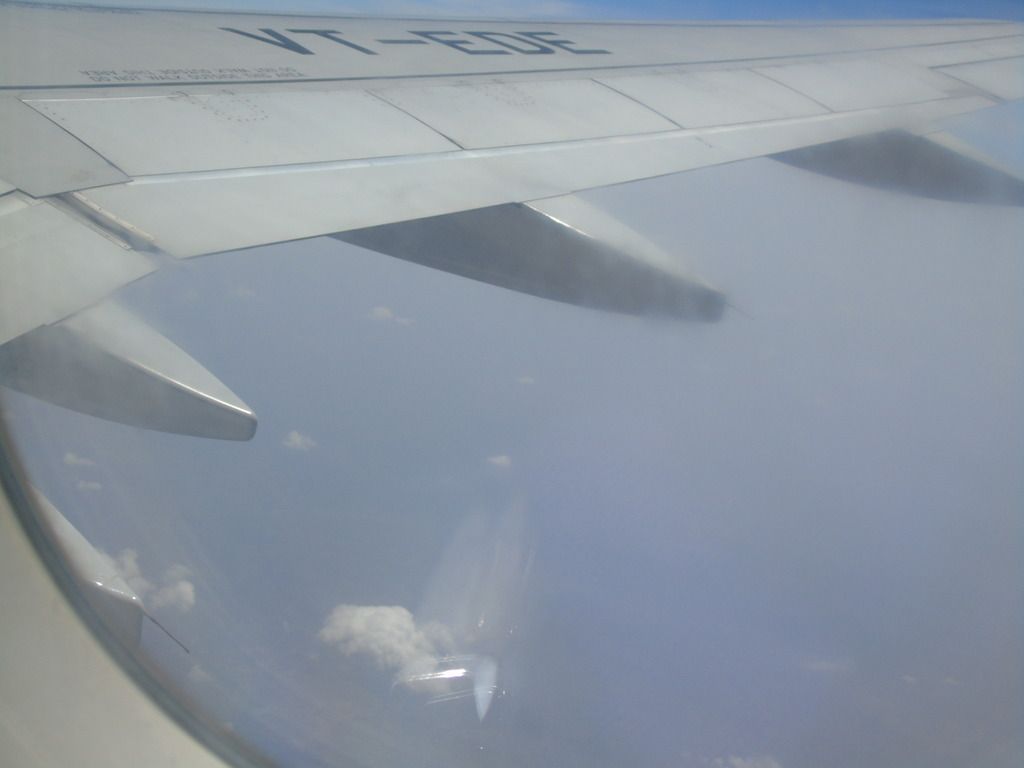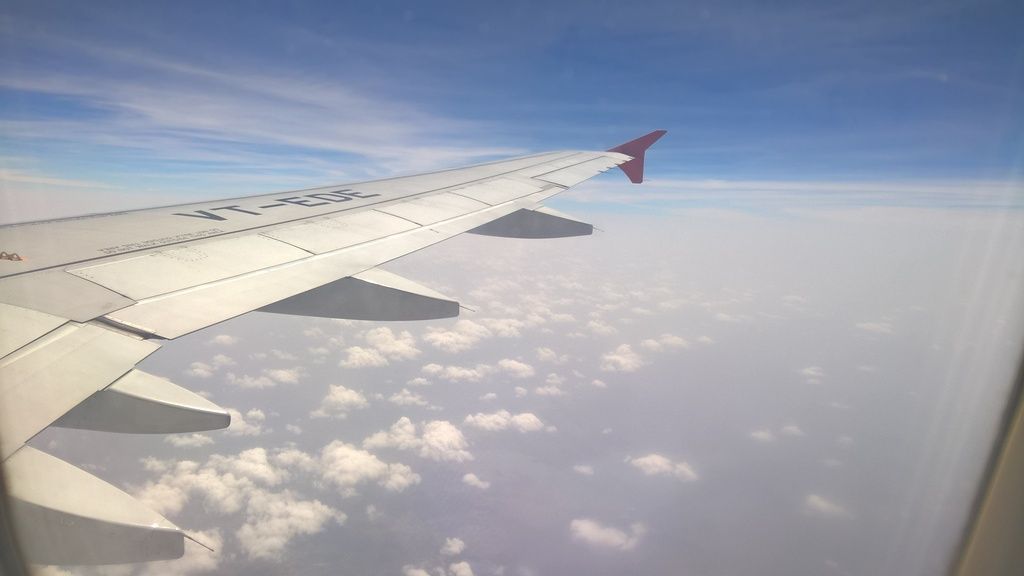 The land below became hazy. Eventually we settled at 34000ft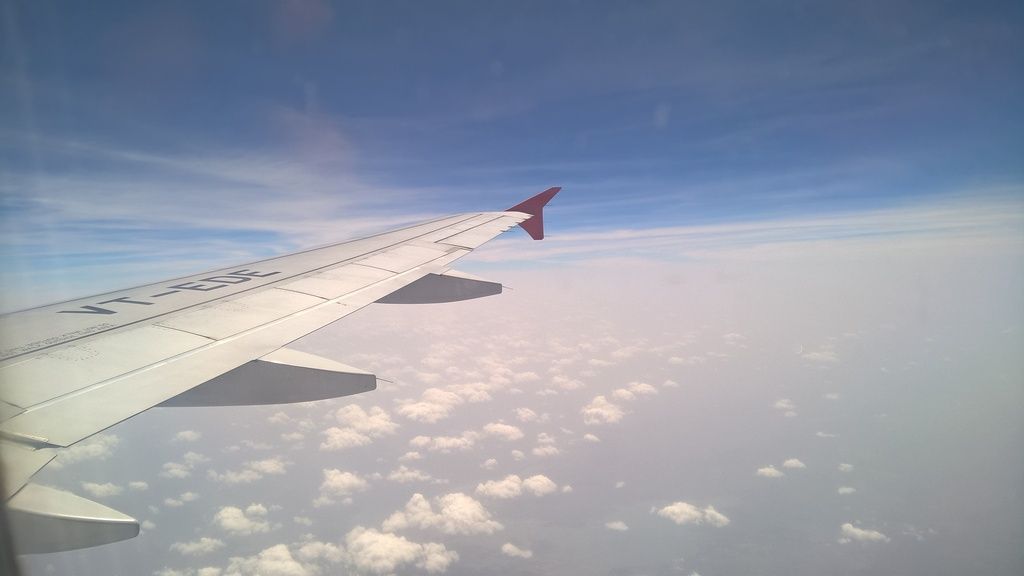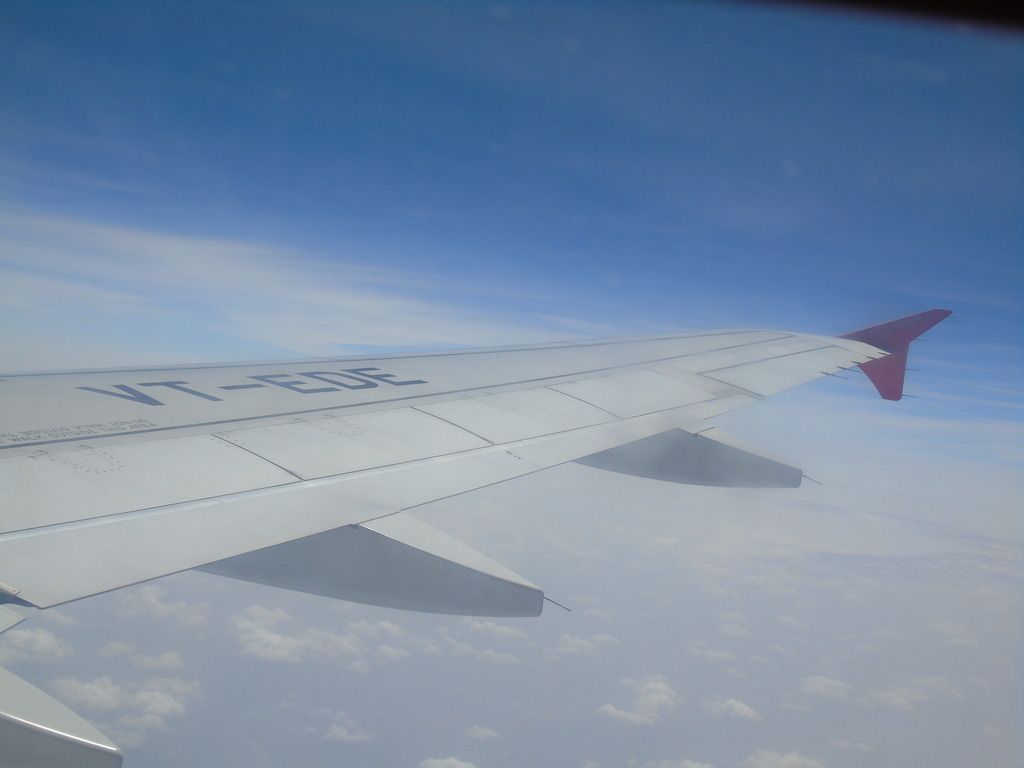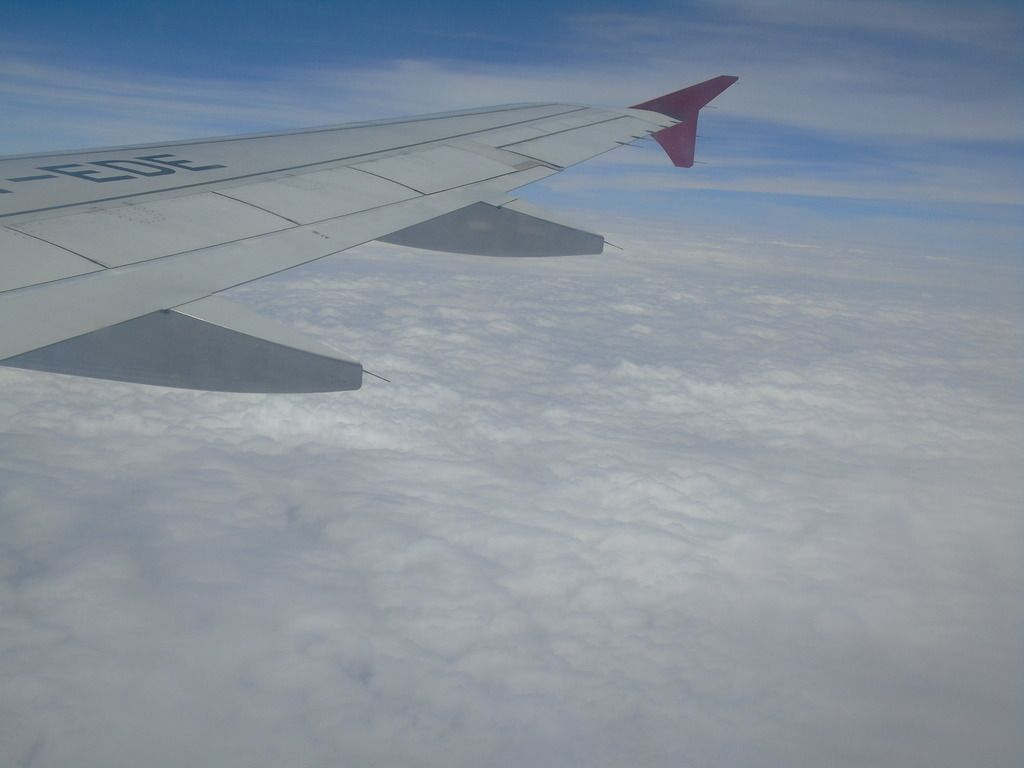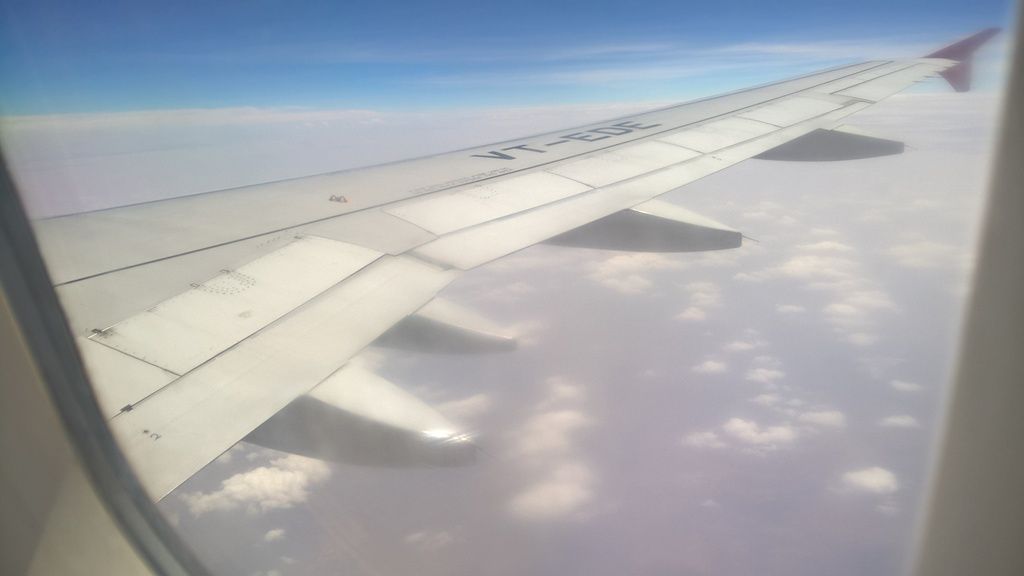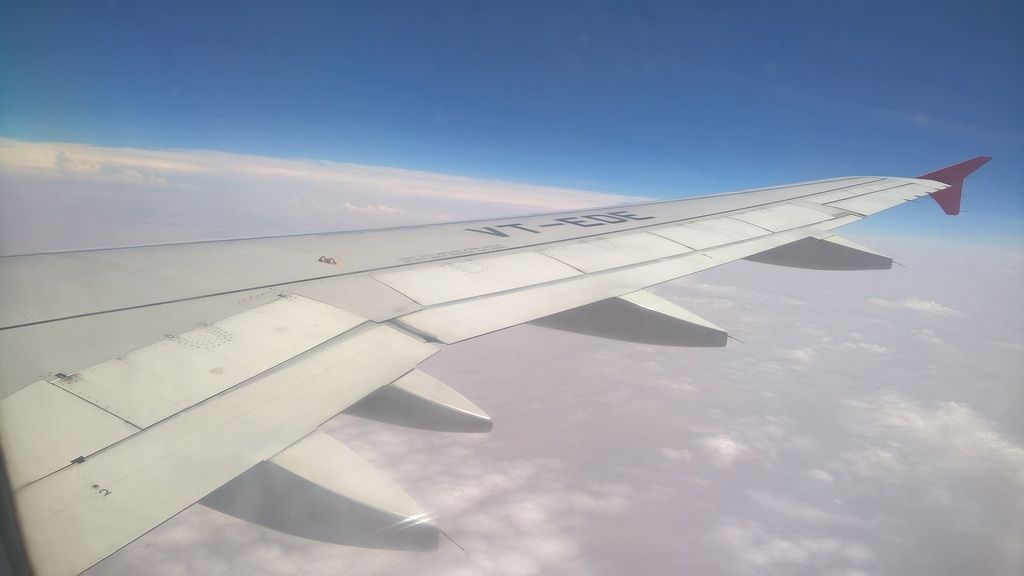 An interesting point to note is that Chennai ATC is one of the most technologically advanced ATC's in India and has Performance based navigation(PBN) and has Hyderabad, Bangalore, Nagpur & Thiruvananthapuram, Mangalore ATC under its control, that means Chennai controls majority of Bay of Bengal, Indian Ocean and Arabian Sea Oceanic regions and airspace upto central India, all planes more or less fly a direct route unless weather plays a factor. Our flight was more or less straight north after take off. On landings, planes need not do step descent, PBN software ensures Continuous Descent approach and landing for all aircraft, which saves fuel for aircraft.
Breakfast service was started shortly after the seat belt signs were switched off.
The Vegetarian breakfast tray-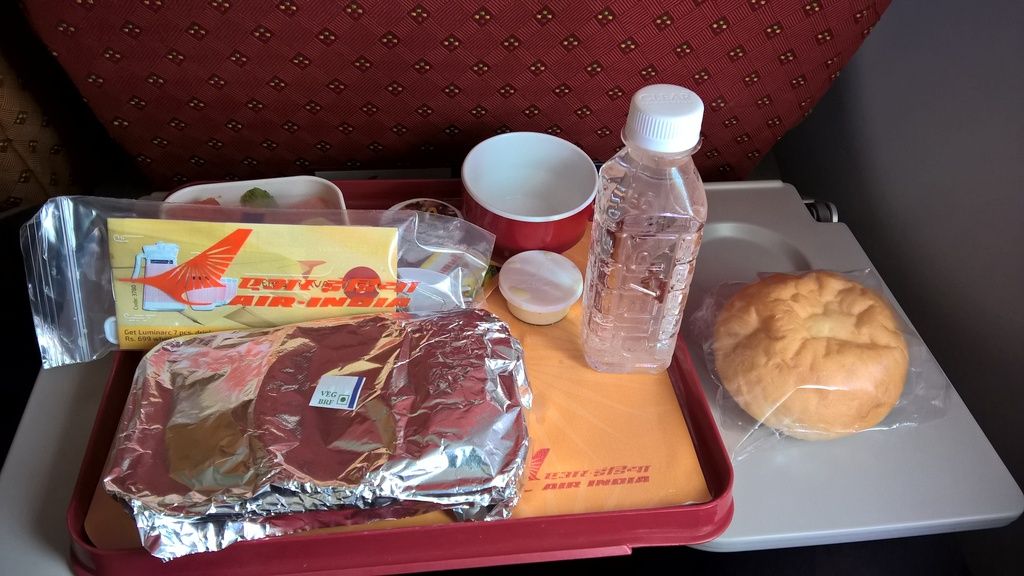 The contents-
Upma(a wheat based dish) on the left, Masala Dosa on the right(a rice lentil fermented dish, stuffed with potato), and sambar(a side dish) in the middle, and then the usual fruit bowl, bun, butter jam, and creamer with sugar for coffee or tea which was served afterwards.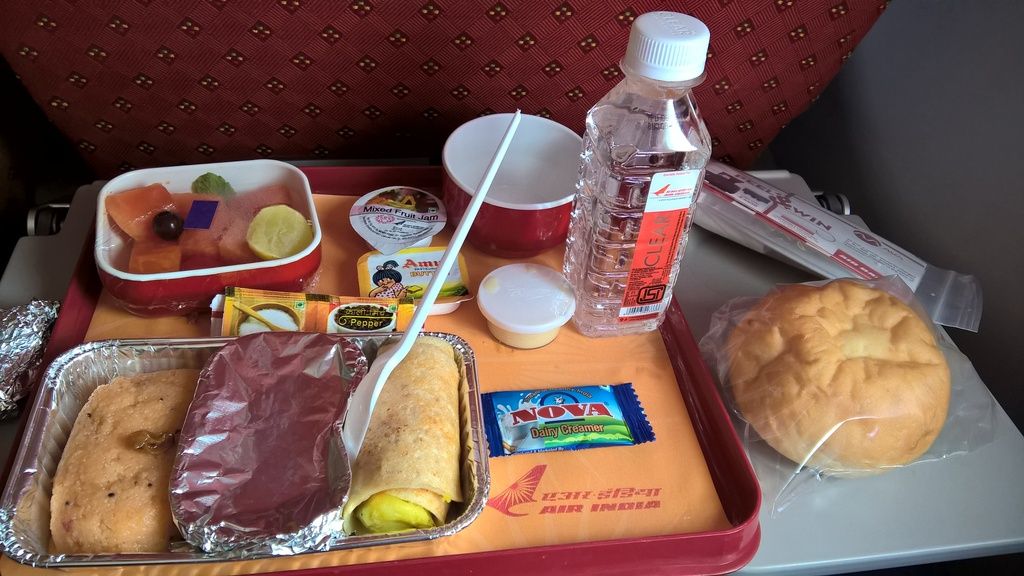 Air India branded water bottle-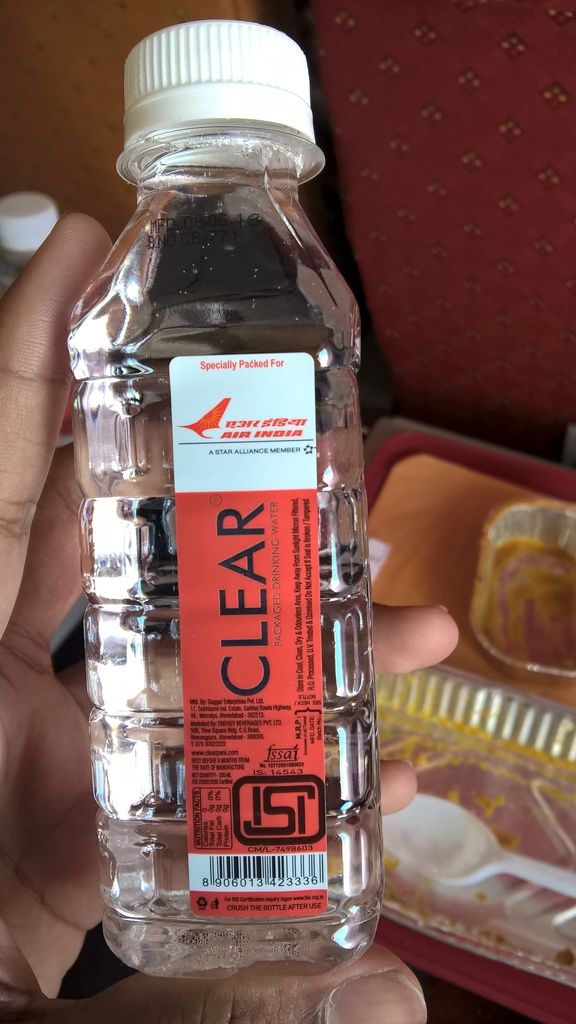 After having coffee the crew retreated to the galley and came back whenever passengers pressed the call cabin crew button.
The rest of the flight flew by literally, I was looking out the window and seeing the clouds rolling by and I could see the ground colour change from brown to blackish brown in central India and finally yellow as we flew over the deserts of Rajasthan.
The landscape slowly turning to yellow as we progress north,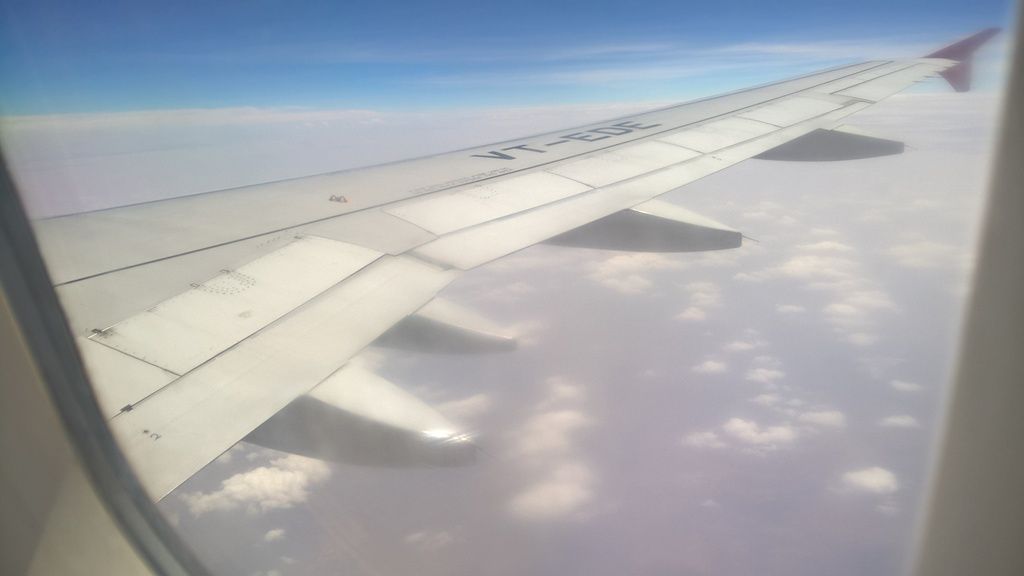 Then suddenly the engines spooled down, and we felt the push down to earth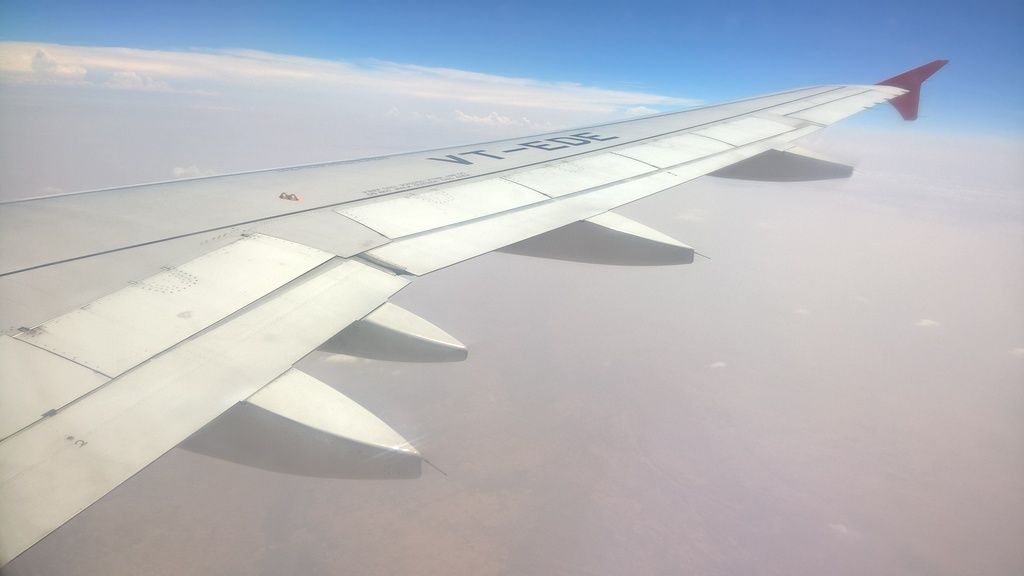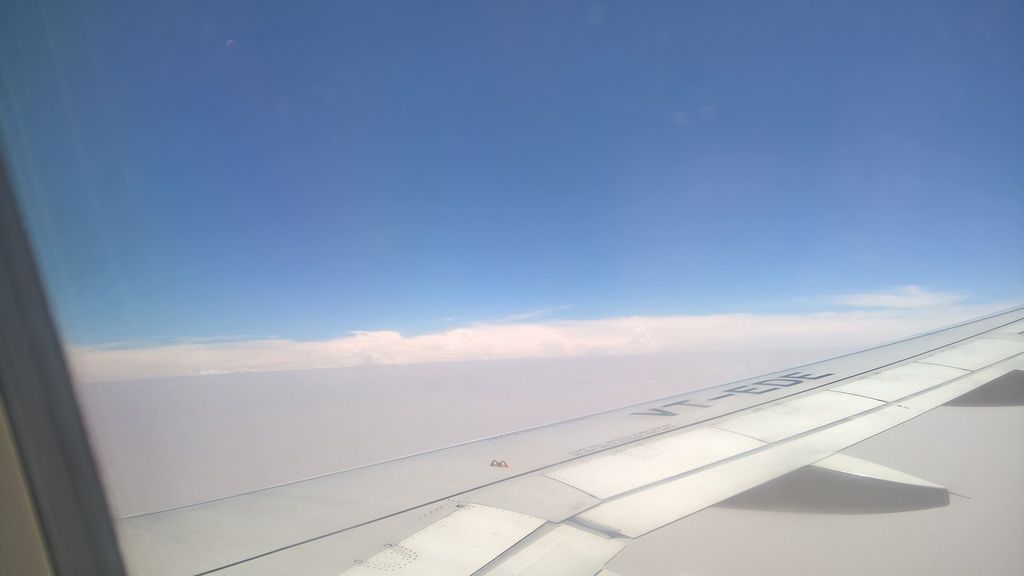 We descended through the clouds
Descending over Faridabad-
We landed on Runway 29.
Coming up over the runway threshold-
We flared for some time before a firm landing-
Vacating from the runway-
Jet Airways A330 next to Air India Regional ATR-42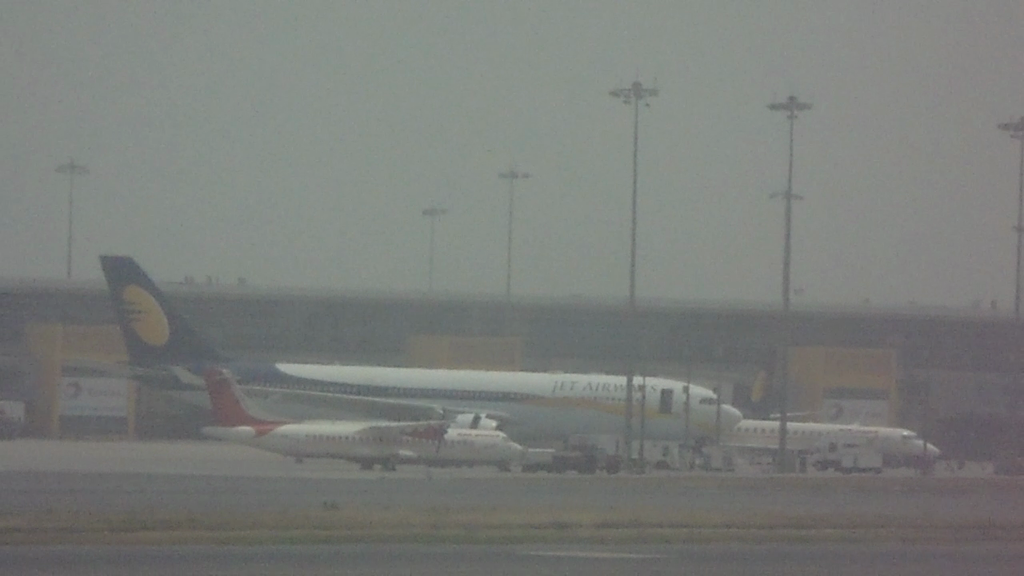 VT-ESF- A320 of Air India in Star Alliance livery and a double bogey variant
An unseen bird for me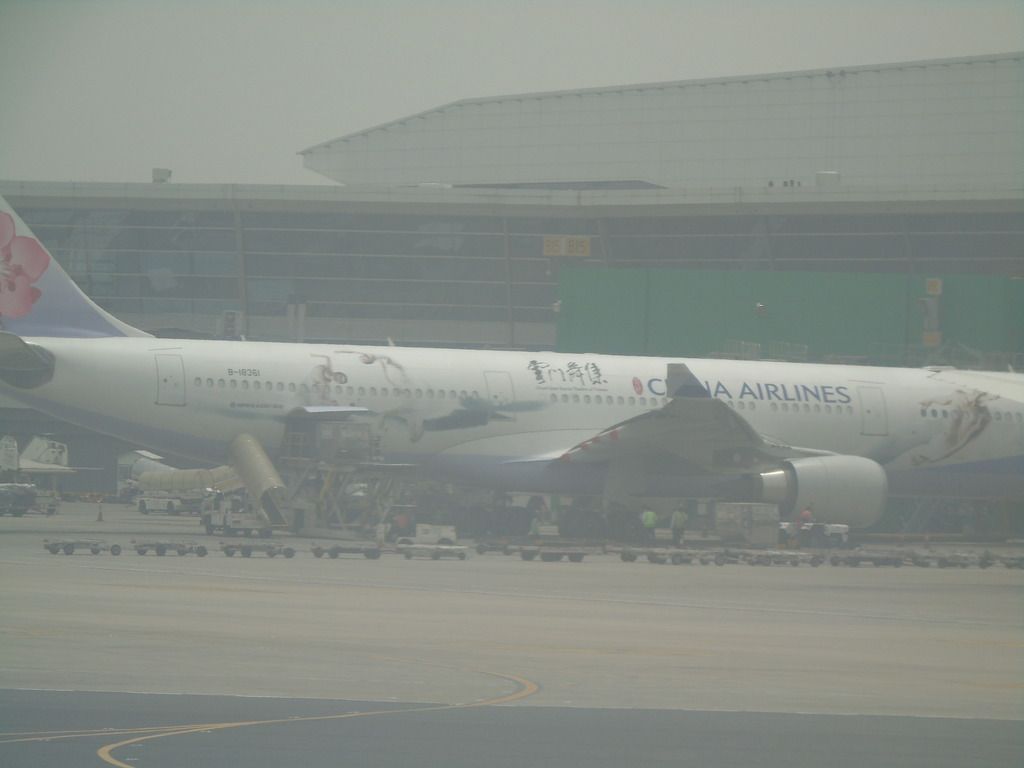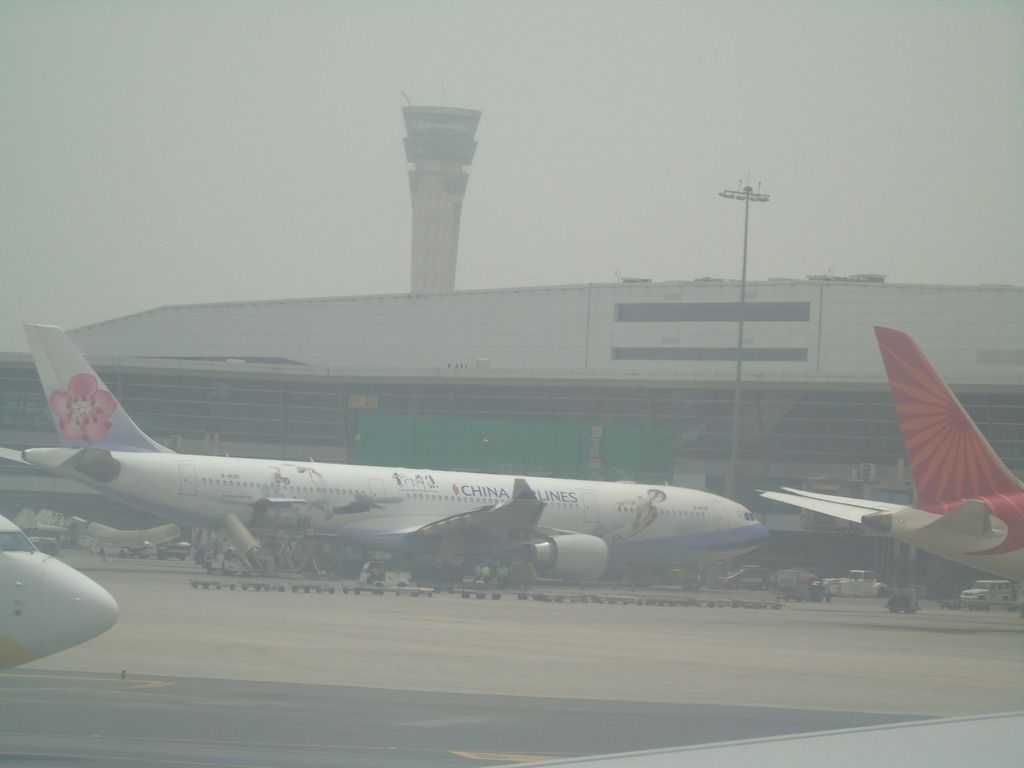 BA in remote stand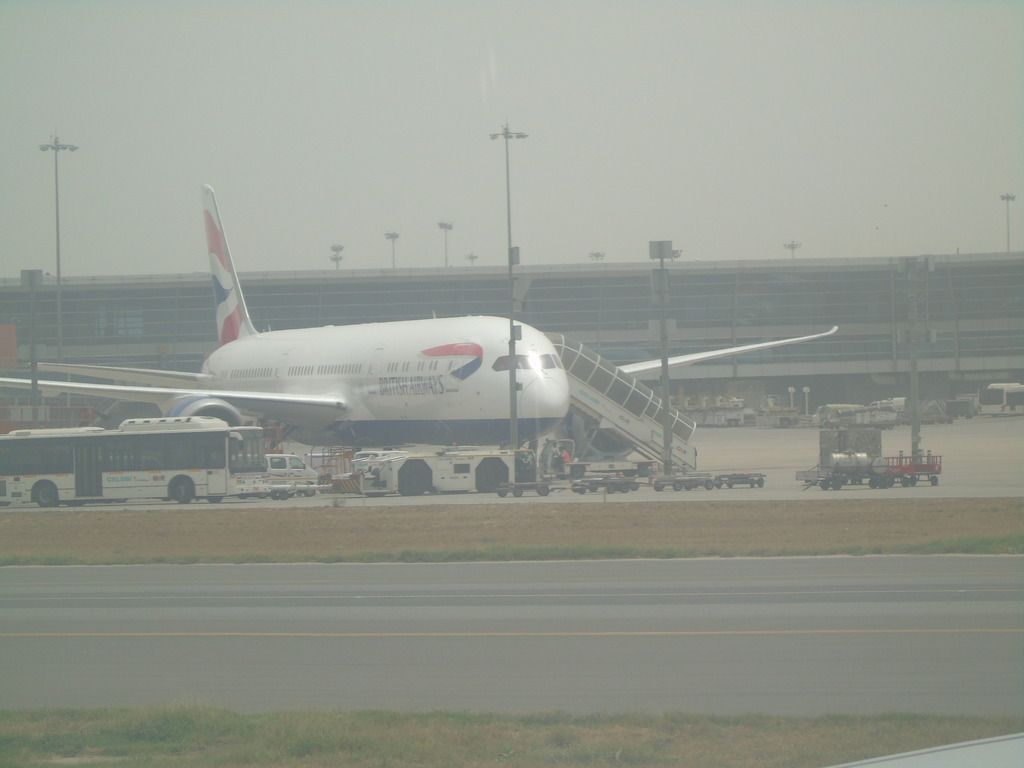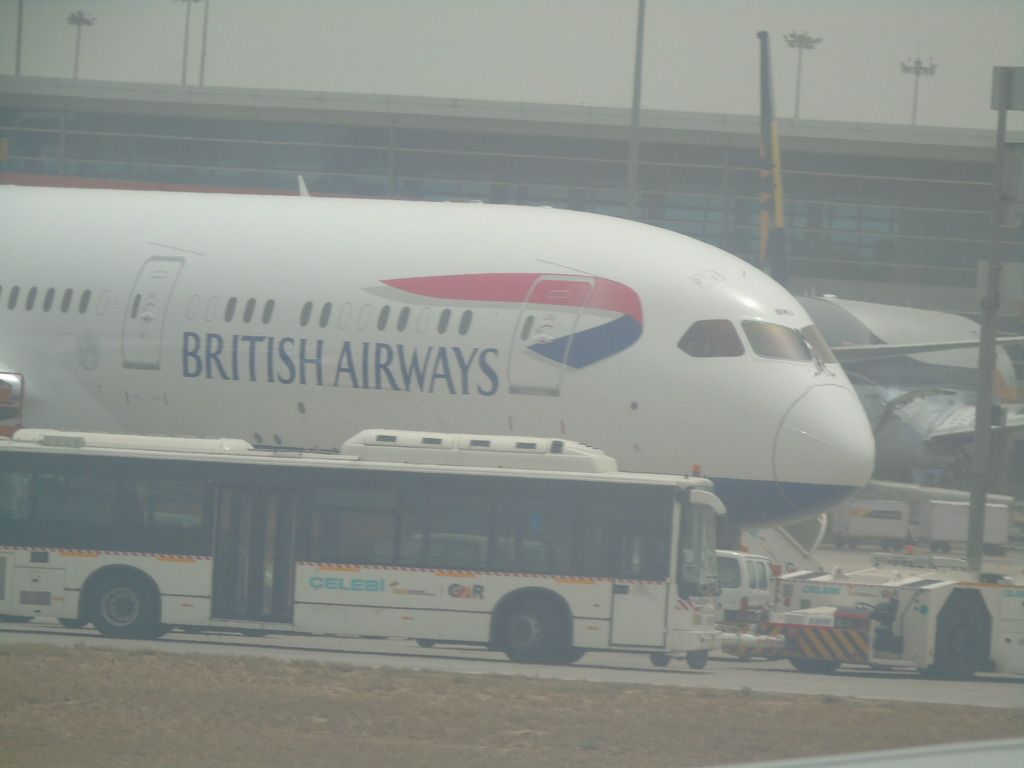 The Captain stopped on the taxiway and came on the PA and informed that the gate was occupied by another aircraft and it would be ten more minutes, but a few seconds later he started taxing to the gate.
When our plane was turning towards the gate, I saw this beauty behind
VT-PPK- A321 coming in from Colombo as AIC282
Now, co incidence part, as I was entering Chennai airport in the morning I was her taking off as AIC273 to Colombo(yes, she was late taking off from VOMM). She had trailed behind us all the way from Central India where the airway from Colombo merges with the airway we took from VOMM. Such a small world isn't it?
We parked at the gate and PPK parked adjacent to us,
Mandatory engine shot of the CFM engine on exiting
Gate neighbour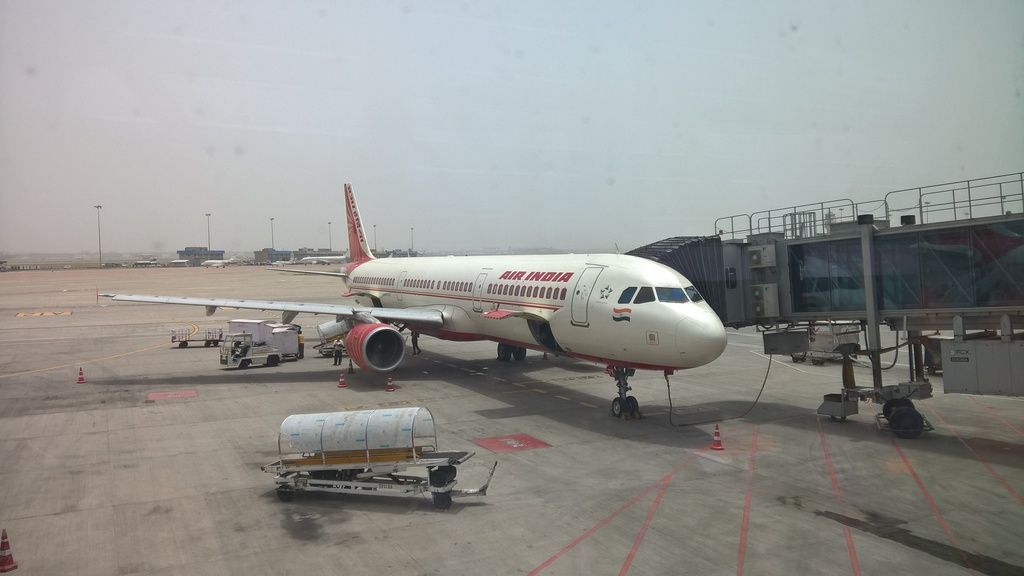 Rare birds which I will never see
Air Astana and China southern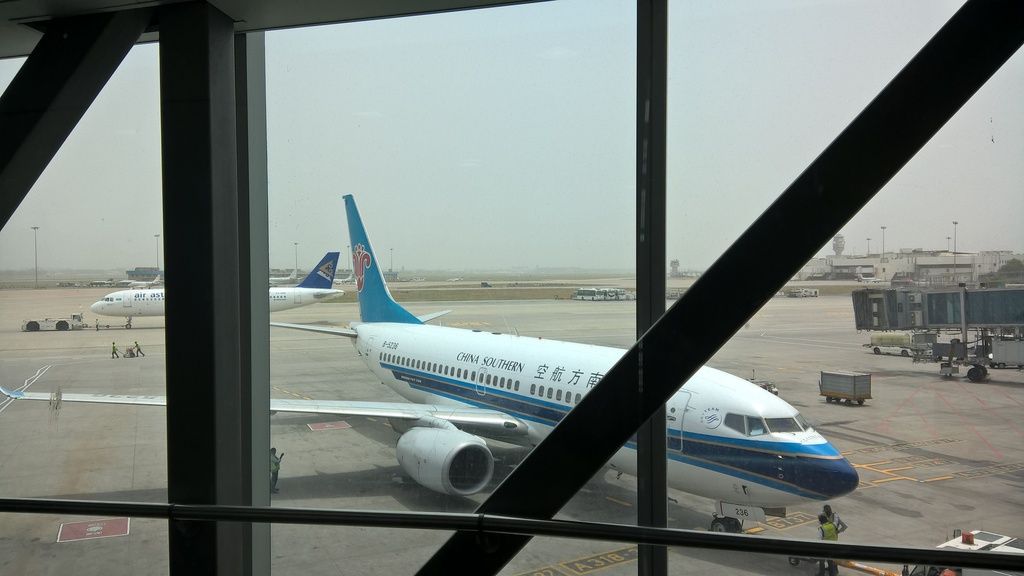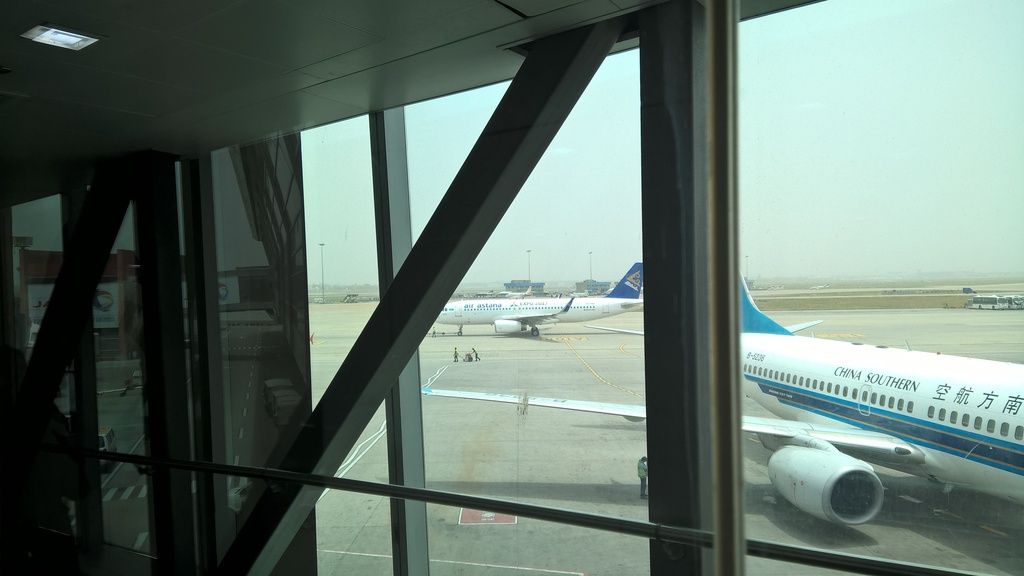 We deplaned last as we did not want to stand among the crowd, and by the time I finished with the photos, the pilots and cabin crew had also deplaned and walked by and man, they are well groomed, All the pilots I saw were well groomed as if they were going for a modelling assignment with spotless uniforms, is it a rule or a unwritten norm or what?
Since it was International connector flight, we deplaned in the International part of the airport, and AI ground staff were asking everyone walking by whether you are connecting anywhere and guiding passengers accordingly.
We were parked at the end of the terminal and it was a long walk.
Arrivals on the left and International transfers on the right
Coming down on the escalators with a view of the famous Mudra's
Domestic passengers have to walk to the end of the immigration counters and show their boarding passes and can walk out into the "shopping mall" and then onwards to baggage claim.
Never seen these many flights before. Belt 8 for us.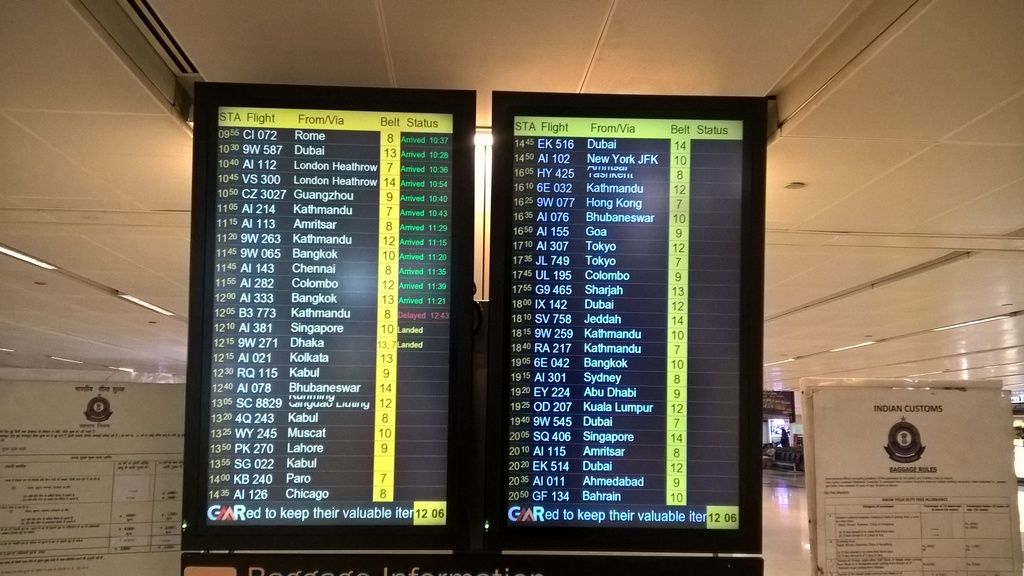 We picked a pre paid taxi at the airport to our hotel.
Then, it was all set for our return flight after a relaxing vacation.
Continued below