What's up?
This trip report chronicles my first two Boeing 747 flights. Of all the birds I've logged over the years, somehow the B747 has always eluded me. The details of this early-May daytrip between Ontario, CA (ONT) and Chicago, IL (ORD) for only $207.60 on United Airlines are as follows.
Note: All pics were taken using the camera on my phone so please excuse the quality.
Pre-trip
As usual, I got my hopes up this year thinking Southern California would have a decent snowboarding season. I love the sport and all the hype about the 15/16 El Niño wasn't helping matters. Come January, things were looking promising at the local mountains (Bear/Summit). I got some solid early-season sessions in but they didn't suffice and I was considering going to Mammoth (MMH) for a quick birthday boarding trip at the end of April. Well, turns out the thought of a long drive for mediocre late-spring conditions wasn't a very exciting proposition. Once I read about UA operating a B744 both ways between SFO and ORD during certain spring dates the focus of this trip quickly shifted from snowboarding to flying. Nothin' wrong with that!
It didn't take long to identify the B744 culprits for the dates I selected. After looking at departures from SAN, CLD, SNA, LGB, LAX, BUR, and ONT, I found a great round-trip fare out of ONT for $207.60, all same-day travel. I'd consider that a sweet fare on any aircraft, let alone two 744s and two connecting CR2s! The ONT segments were also of interest to me since I've never flown out of there before. I figured that would at least ease the pain of a drive to the Inland Empire from my place at 4 in the morning.
Very conveniently for me down in So Cal, UA620 leaves SFO at 8:40 am and gets into ORD at 2:43 pm. The return service, UA1213, departs ORD at 4:25 pm and arrives SFO at 6:54 pm. Perfect!
As for fares, I scored United Economy (N) on all segments and booked the flights using the UA website roughly a week before on April 23rd. Unlike some folks, on short B744 flights like these I wouldn't spend the extra to sit up front. I chose back of the bird seats 60J and 60B for the east- and west-bound flights, respectively. It had nothing to do with seat availability; back here noise, thrust, and contrails reign paramount!
Here we go!
I wasn't expecting to have a good night's sleep the night before given both how early I was leaving for ONT as well as all the excitement leading up to the trip. I think I might have gotten a couple hours at best. My alarm clock sounded at 3:15 am which gave me enough time to shower and gather my things before the planned 4:00 am drive out to ONT from my apartment in OC.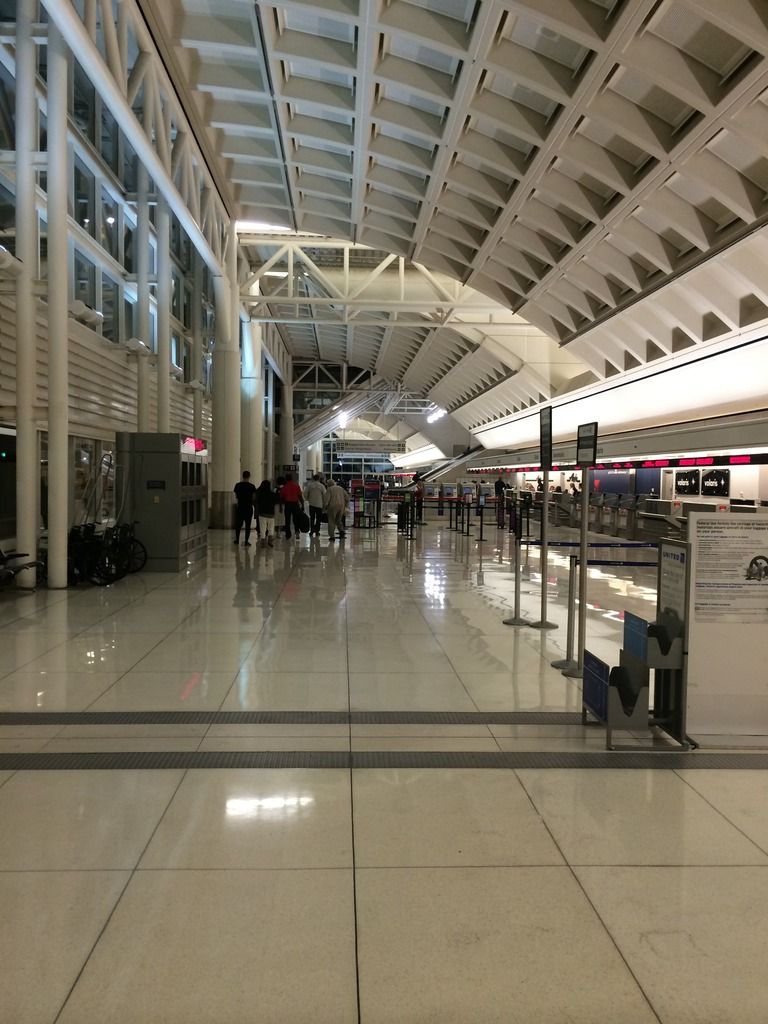 Having never flown out of ONT, I immediately noticed T2's resemblance to SNA. The terminal was nicer than I expected given the fact it's operated by LAWA. I know that the times I was there (very early am, late pm) wasn't the busiest part of the day but the overall condition of T2 was above expectations.
Having printed out my boarding passes the night before I skipped the check-in counters and went straight for security. I miss the old days when UA printed out boarding passes on gold or blue ticket stock (can anyone confirm if they also did so in silver? IIRC I saw a silver one once in SEA around 2007). If that were still the case I'd have requested a reprint once I got to the airport, but these days they're mostly all white (yawn) so I never visited these counters.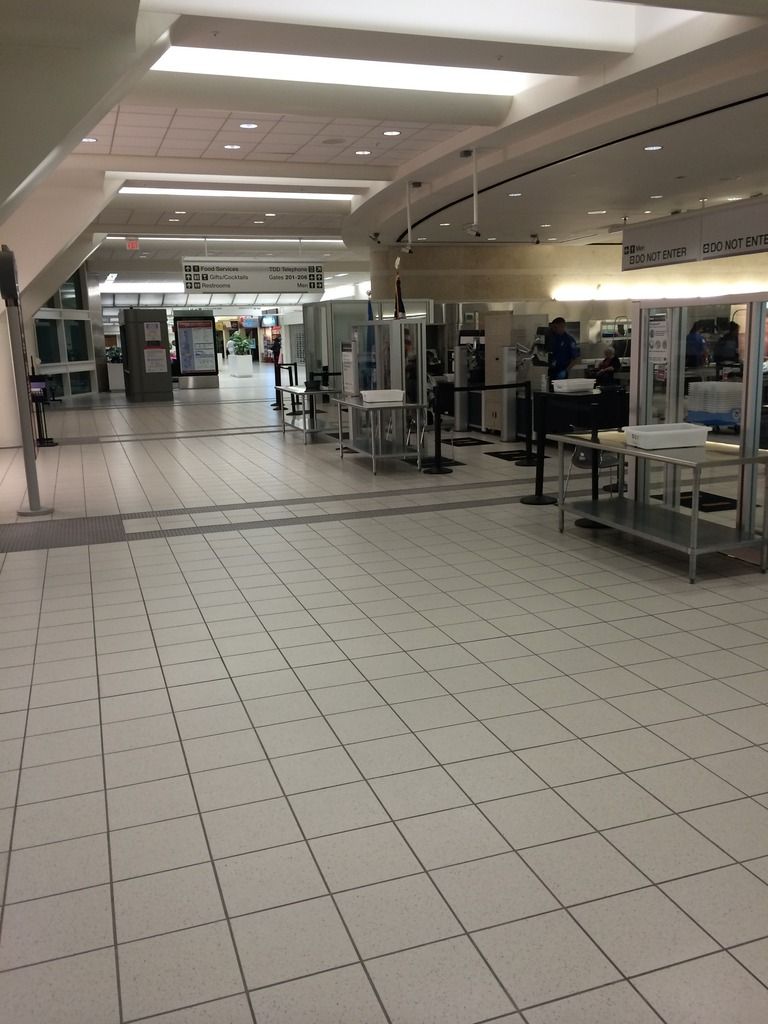 Security was a breeze and I was airside in no time.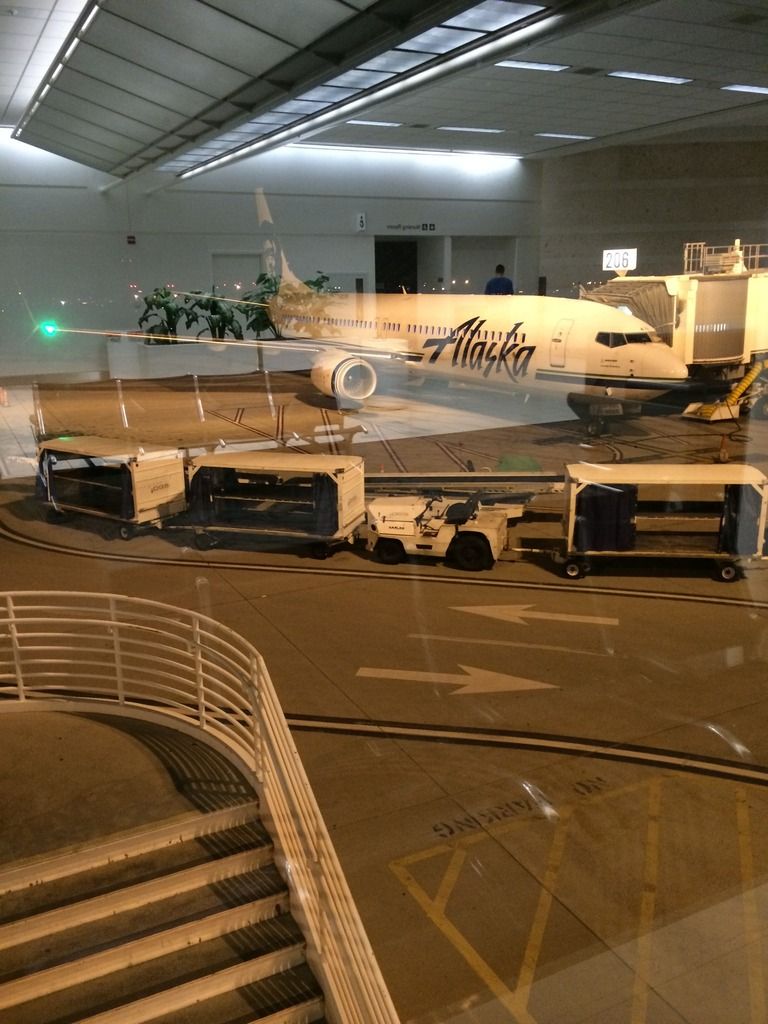 I couldn't do anything about the window glare at that hour of the morning but I still had to capture this AS B739. I can't wait to see her wearing the new livery!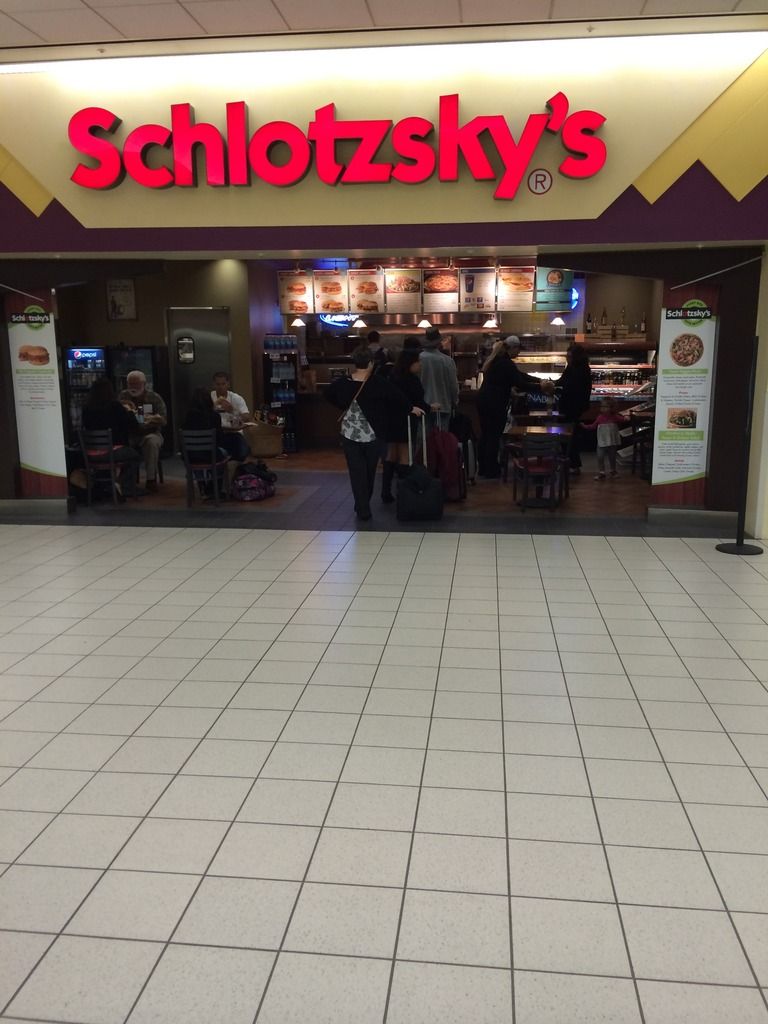 I was a bit let down by the lack of early-am dining options at ONT. Despite this, I picked up a newspaper and had a delicious bacon & egg breakfast sandwich at Schlotzsky's.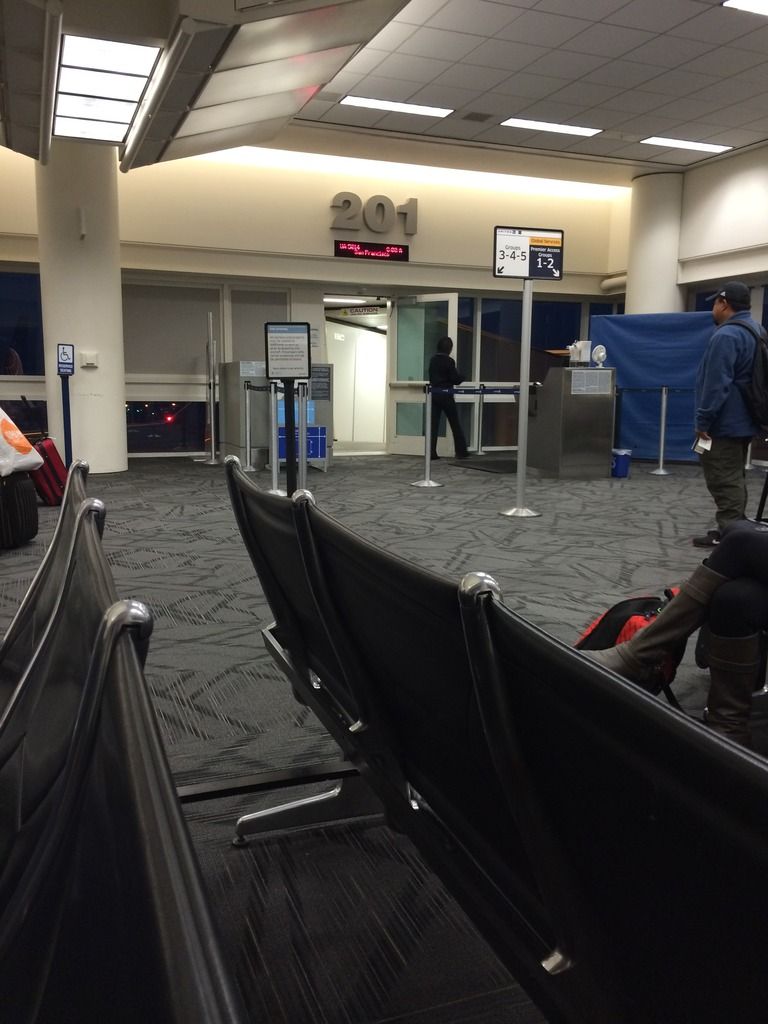 The UA CR2 operating the early-morning service to SFO left from gate 201. Boarding commenced on-time and was executed using a Jetway. I moved from exit row seat 8D to the last row in 13A during online check-in the night before thinking I'd not have a seatmate there. Turns out, I ended up sitting next to a very nice lady who was heading up north to Oregon.
Obligatory legroom shot.
We stayed on the ground for slightly longer than usual to let the ground crew resolve a weight and balance issue in the cargo hold. Once ok, we booked it over to runway 8L. The sun was rising above Mt. San Gorgonio which created for some very picturesque lighting conditions.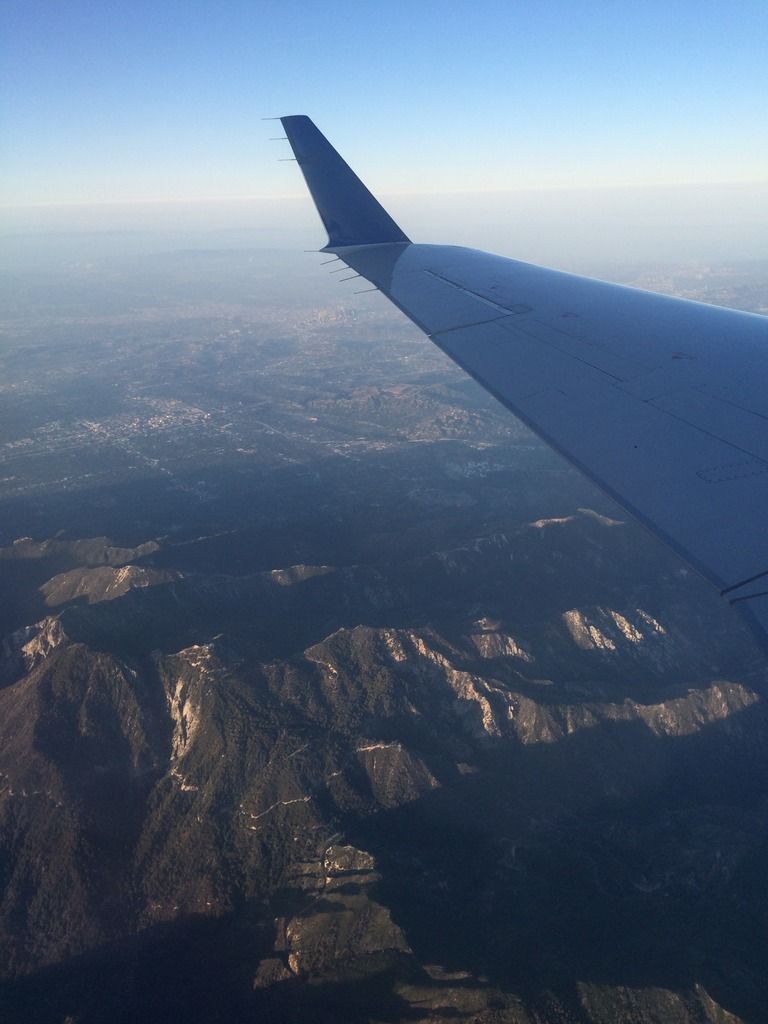 Downtown LA under the winglet.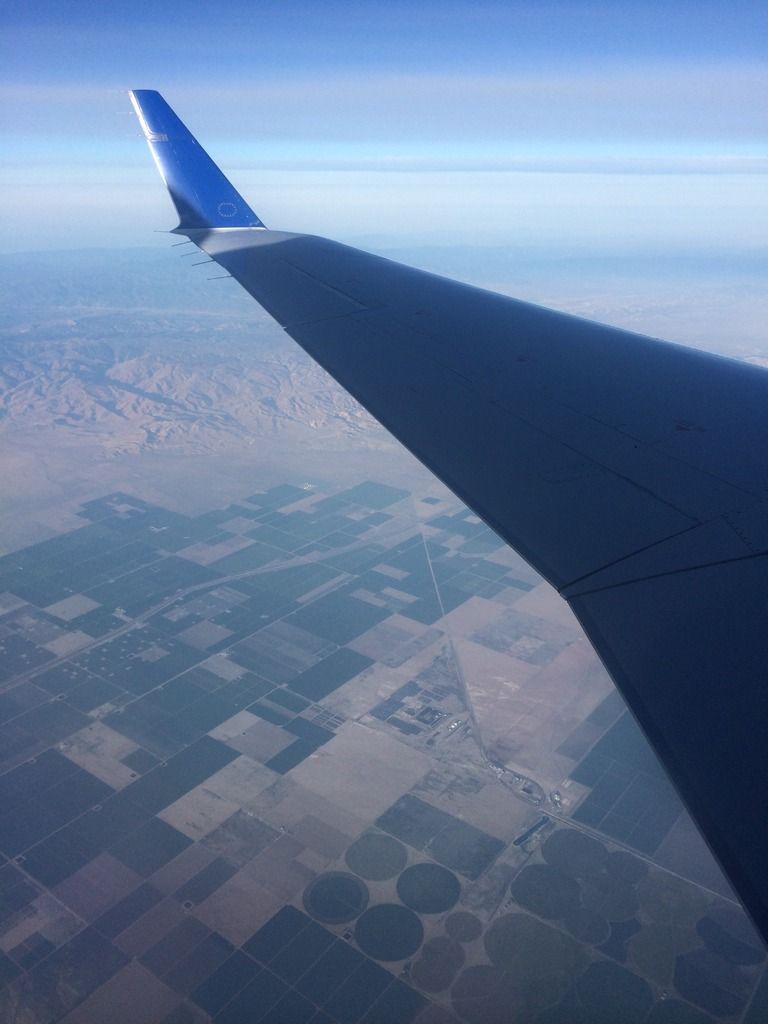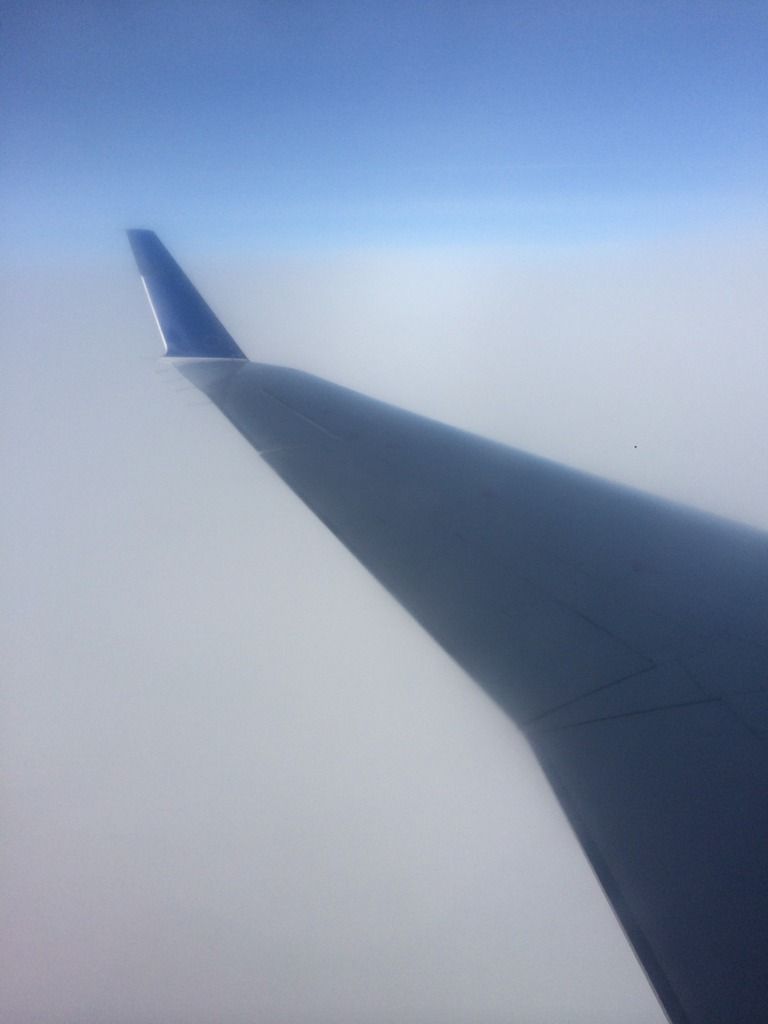 The flight was smooth, entirely uneventful, and featured a beverage service. I had a fun time explaining to the lady next to me why ONT was technically my final destination. As we neared the Bay Area on this hour-long flight the skies below turned from clear to overcast.
After an average landing on runway 28L we made our way over to gate 77C. Once off the aircraft and into the terminal I checked the departures monitor to see where UA620 was leaving from. I'm not overly familiar with SFO but when I saw that I needed to head over to the International Terminal and spotted a B747-422 over there I knew I was at the right place!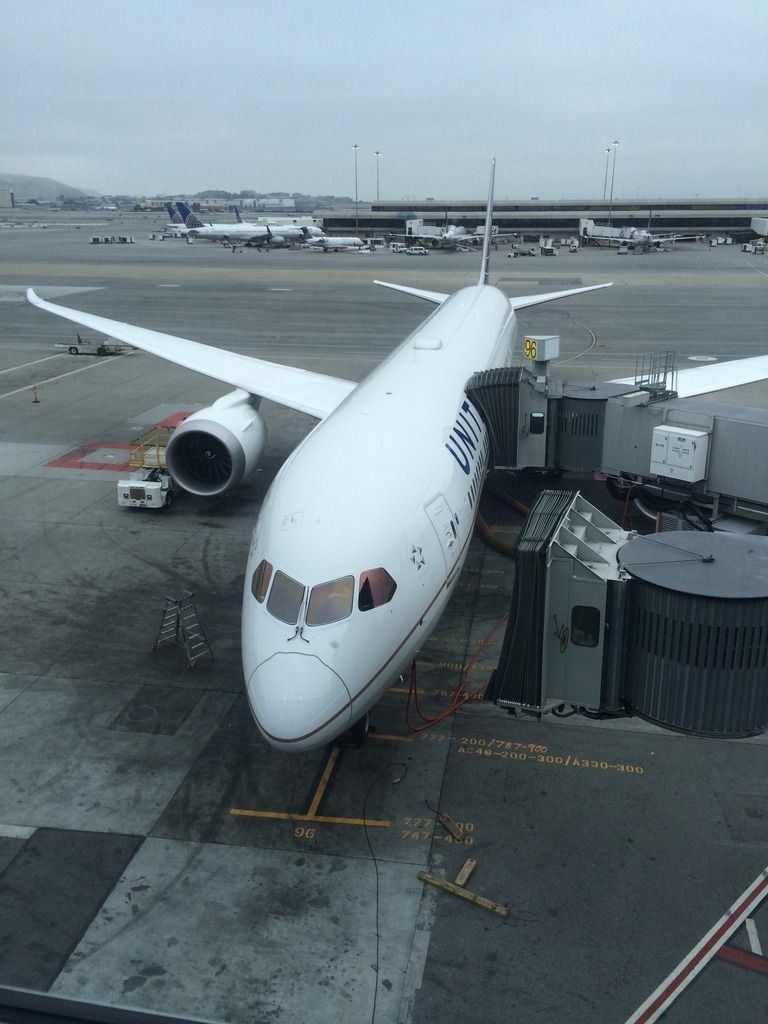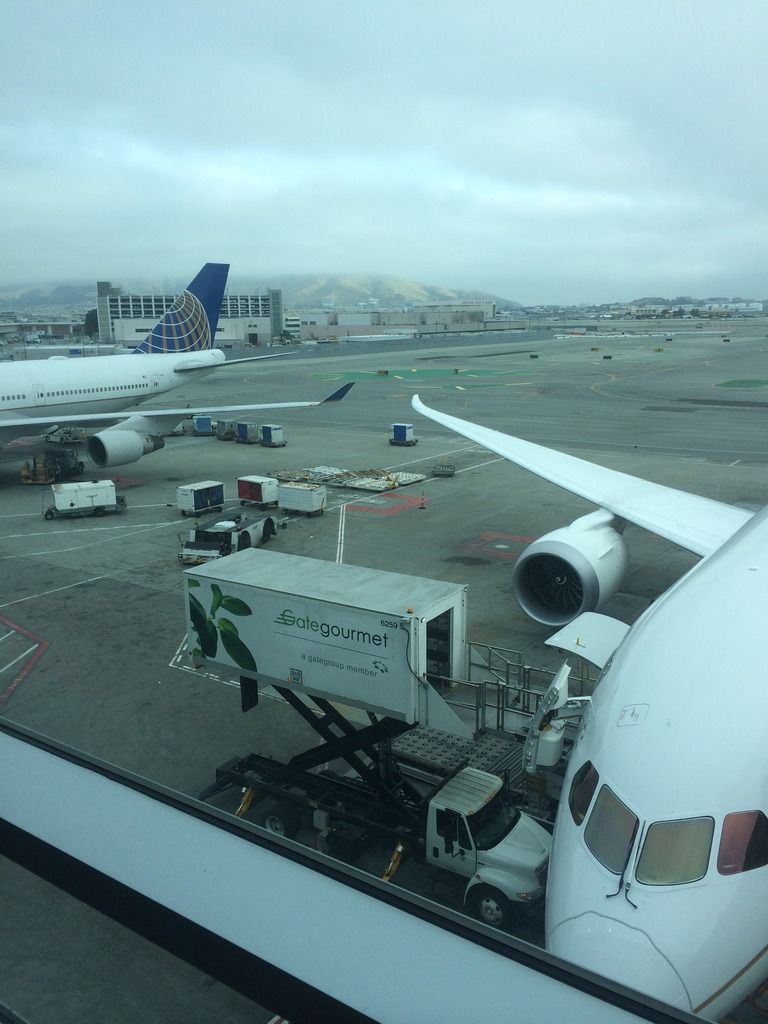 I love the contrasting wings here.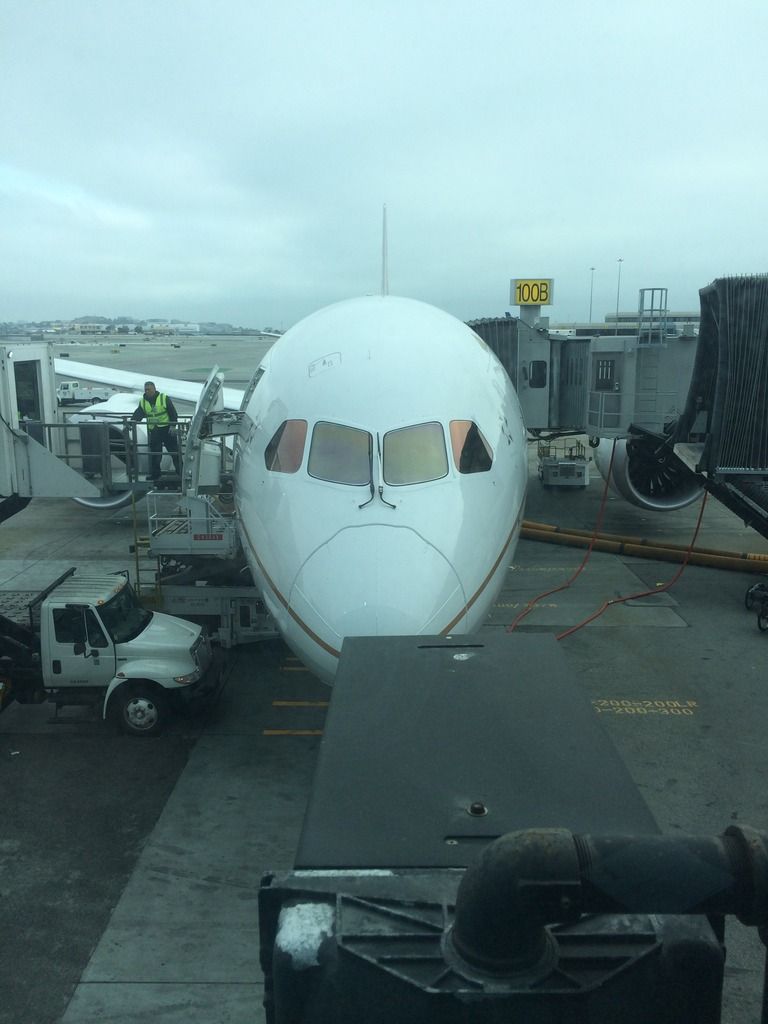 What a sleek looking aircraft the Dreamliner is! The captivating windscreen has always reminded me of a high-speed train. After strolling through SFO's International Terminal I headed down the gate-specific escalators to G102a/b. This was a cool experience for me as the majority of my flights are narrowbody and don't feature an elaborate multi-level gate area like some of the big birds have at SFO, and other international cities.
Prior to this flight my largest aircraft logged was a company B77E. As for widebodies, I've logged some L1011s (TW), A332s (LX) and B762/3s (many carriers) but never anything this big! Aside from a random GVA-PRG Avro RJ100 4-holer on LX, this was my first real quad-jet experience. So stoked!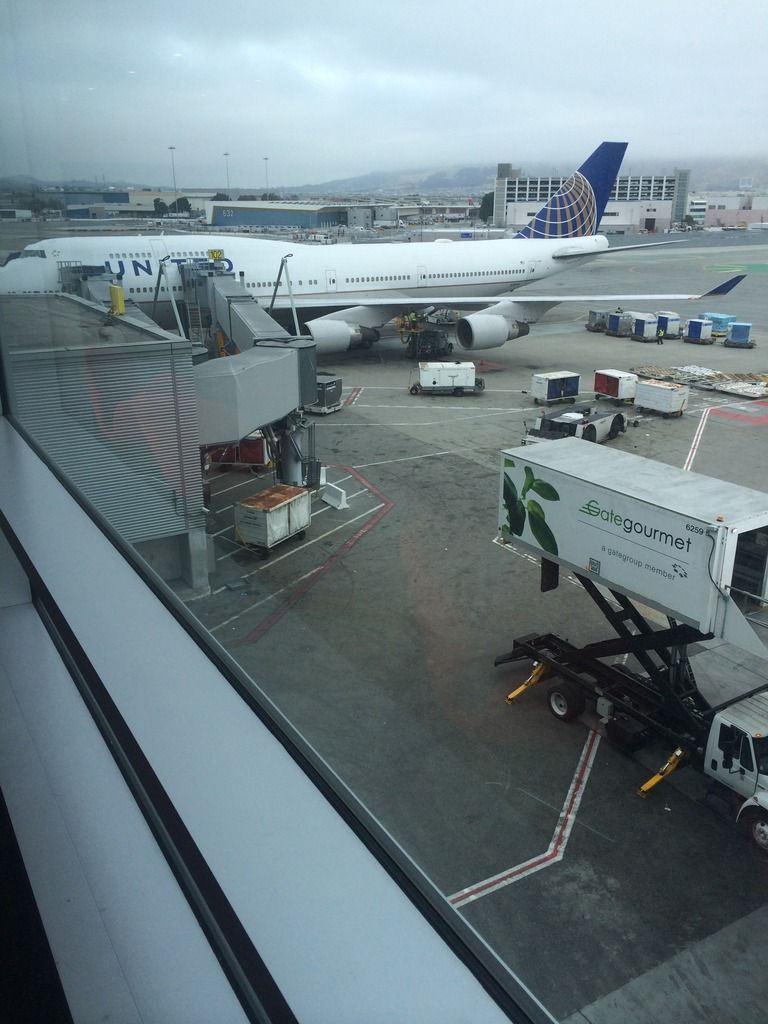 This is the first close-up I took of our beautiful B744. The height of the terminal rendered me unable to identify the tail number while on the ground. Later into the flight I came to learn that she was ship 8141, tail N181UA, a 24-years-young Queen who's first flight was on October 3, 1991 (MSN 25278).
Not surprisingly boarding took some time. Once onboard I couldn't keep it in and told the F/A at door 2L, "this is my first Boeing 747 flight and that's the only reason I'm on this." She laughed and pointed me across the center galley toward the right aisle. I finally caught my first real-life glimpse of the 8 abreast C-cabin seating on the UA B744. Yikes, looks tight for business class!
I settled into 60J, the last starboard window row on this aircraft. Just like the previous flight my seatmate chuckled when he discovered why I was onboard today. The F/A in the jumpseat behind me was also intrigued by my trip and later turned out to be one of the most gracious hosts I've ever had the privilege of flying with.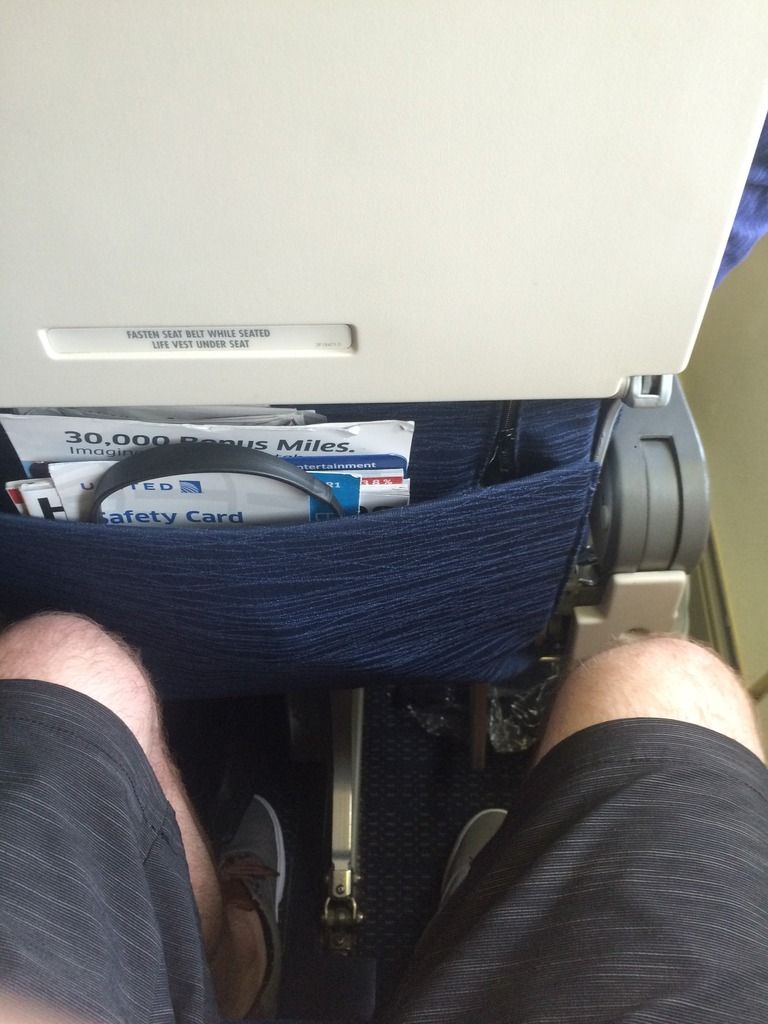 Legroom was about the same as the CR2 which is embarrassing given the long-haul legs this aircraft flies.
We soon made our way over to runway 28L and experienced a relatively short takeoff for an aircraft of this size. Our flight to Chicago burned 80K lbs. of fuel (or about 11,700 gallons) and I'd estimate we had roughly a 95% load factor across all four classes, with: (F) Global First 100%, (C) Business First 100%, (Y+) Economy Plus ~95%, and (Y) Economy ~85%.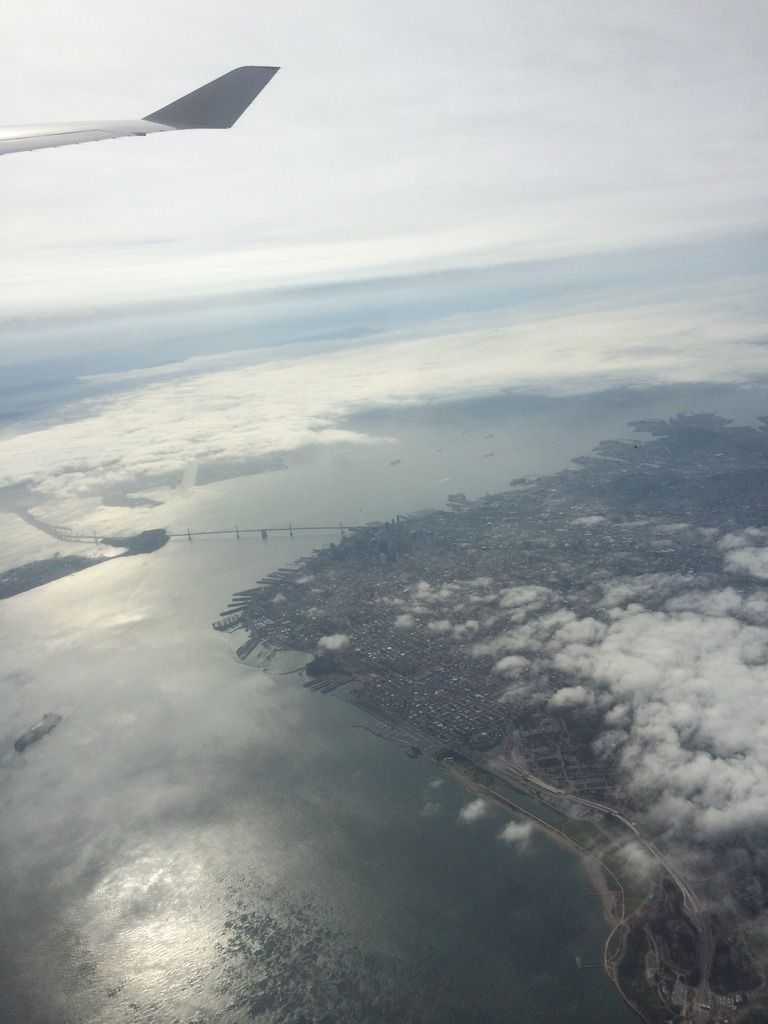 Climbing out of SFO we made a slow right turn which afforded those on the starboard side some spectacular views of San Francisco, including the Golden Gate Bridge. It was great to witness both Los Angeles and San Francisco in such mystical morning light.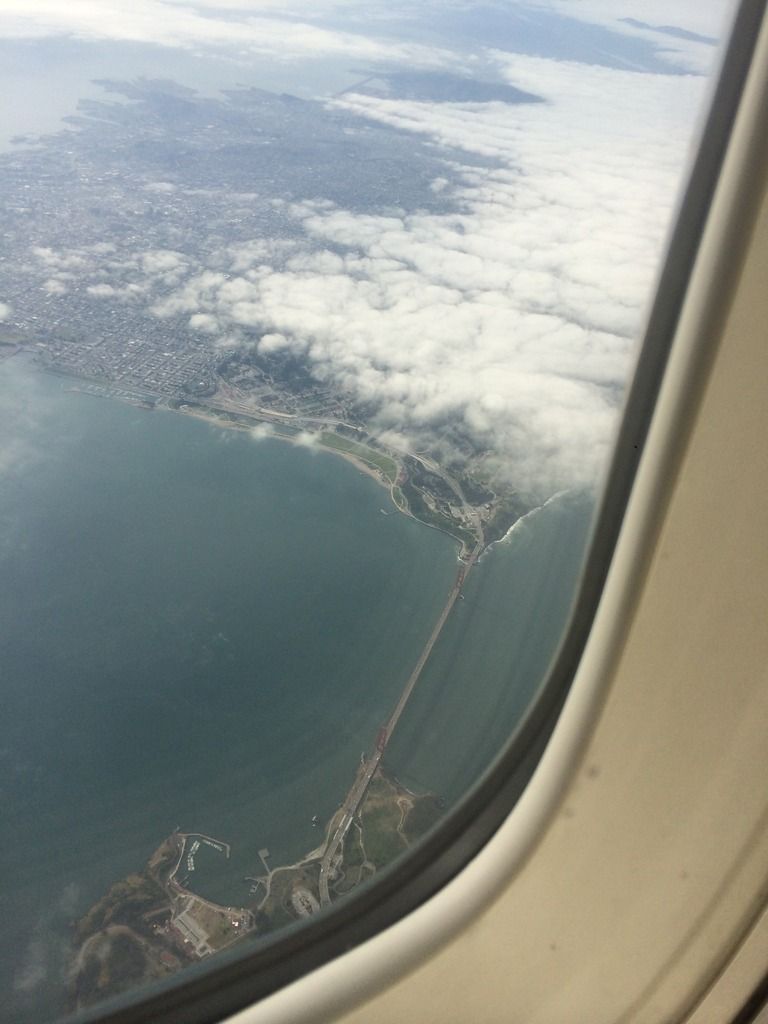 El Niño's been kind to Nor Cal!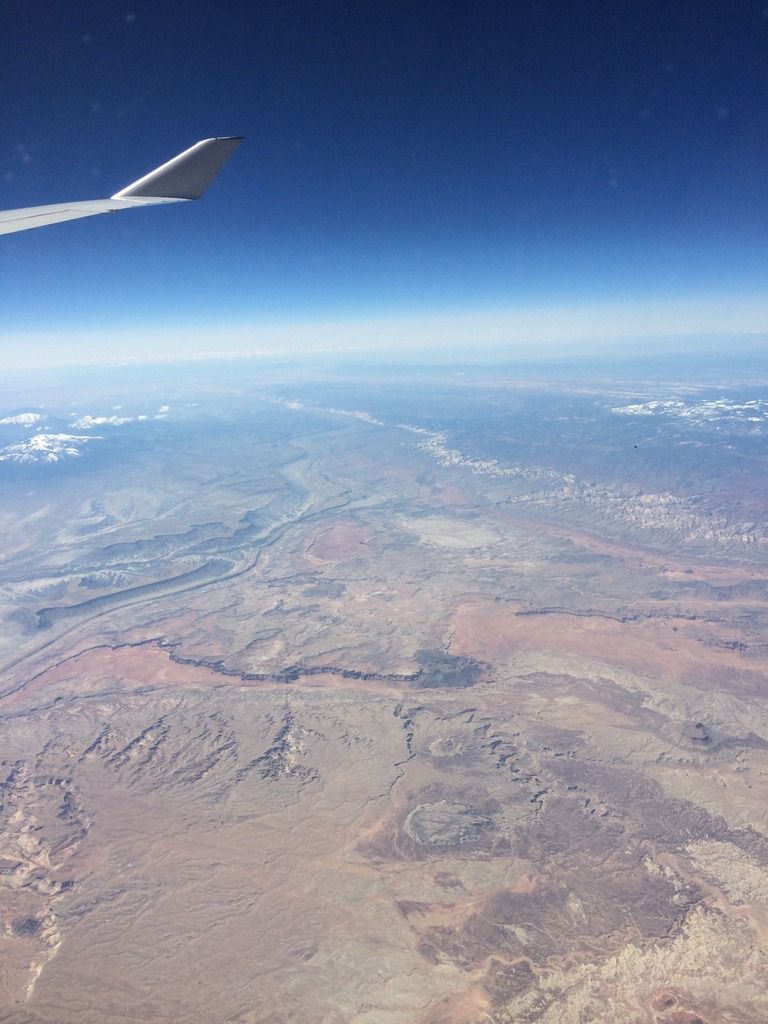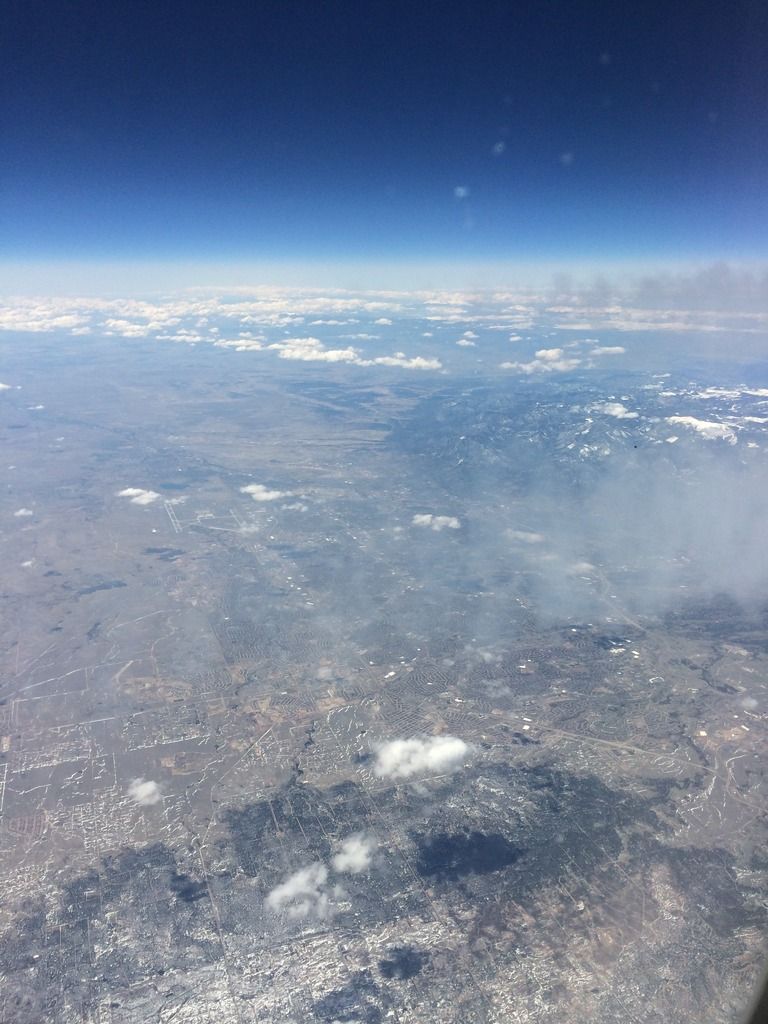 This is simply awesome; in lieu of the curvature of the aft cabin combined with how far behind the engines I was seated, I was able to witness the contrails forming! I can't recall ever seeing this before (at least not this pronounced). By this point in the journey the four Pratt & Whitney PW4056 turbofans were lulling me to sleep. We surpassed FL400 (!) before I dosed off completely.
Shortly thereafter I was tapped on the shoulder which woke me up. I opened my eyes and there stood about five F/As surrounding my seat. Guess what? One had an unopened bottle of sparkling wine that was wrapped in a white cloth. Another held two pre-filled glasses that my seatmate and I split. What a nice way to celebrate a first 747 flight!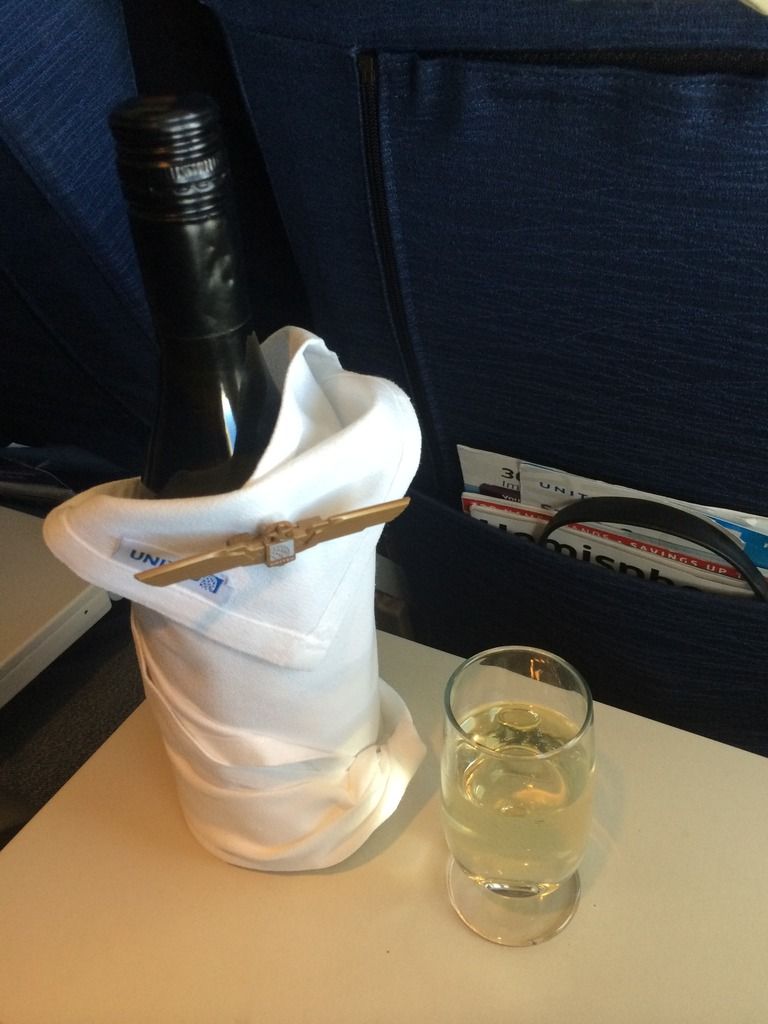 Descending through clouds into the Windy City.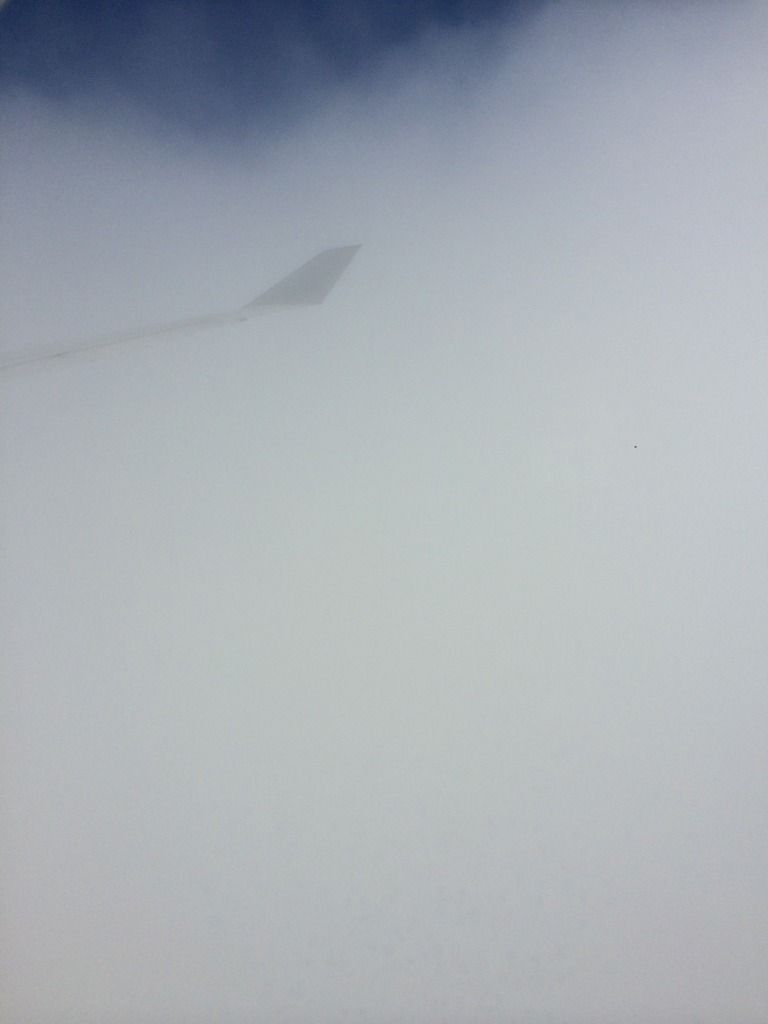 We overflew downtown Chicago and headed out across Lake Michigan. As we made a left turn back towards ORD, I spotted this company B772 off the winglet.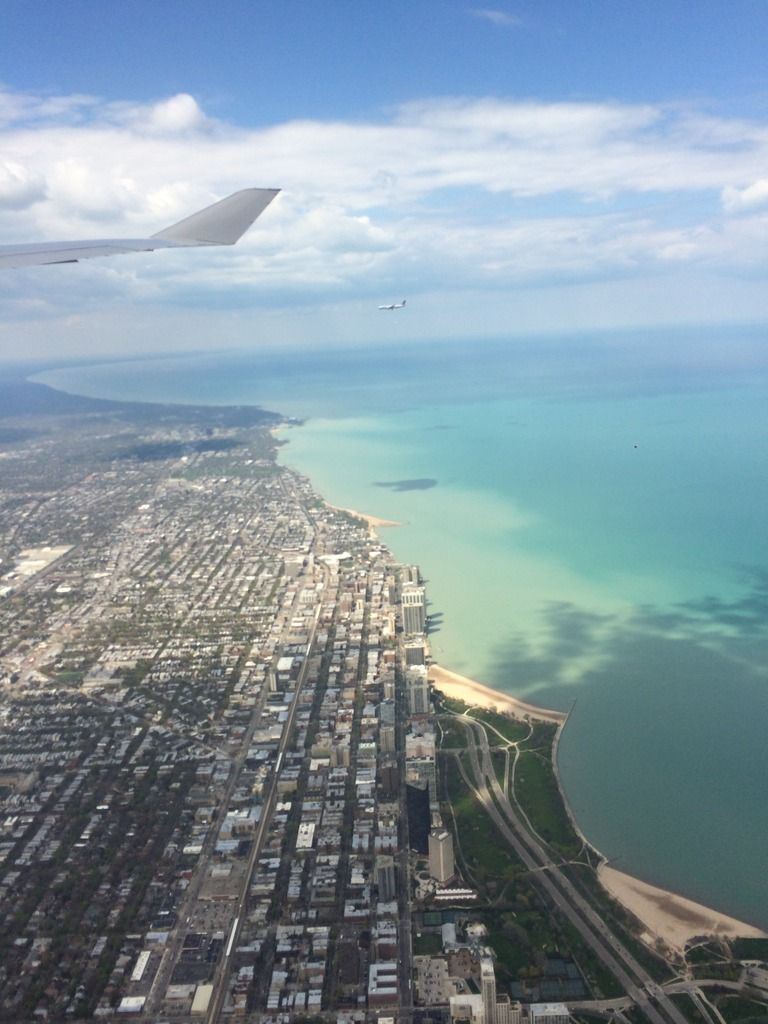 Touchdown was on runway 28C. Kudos to the two up front for such a smooth landing. After vacating the runway we headed over to gate C16. Our arrival was on-time, and as expected for an aircraft this big it took quite some time to let everyone disembark. While doing so I chatted with two F/As working the rear Y-cabin, one of whom offered to let me peek inside the rear crew rest area.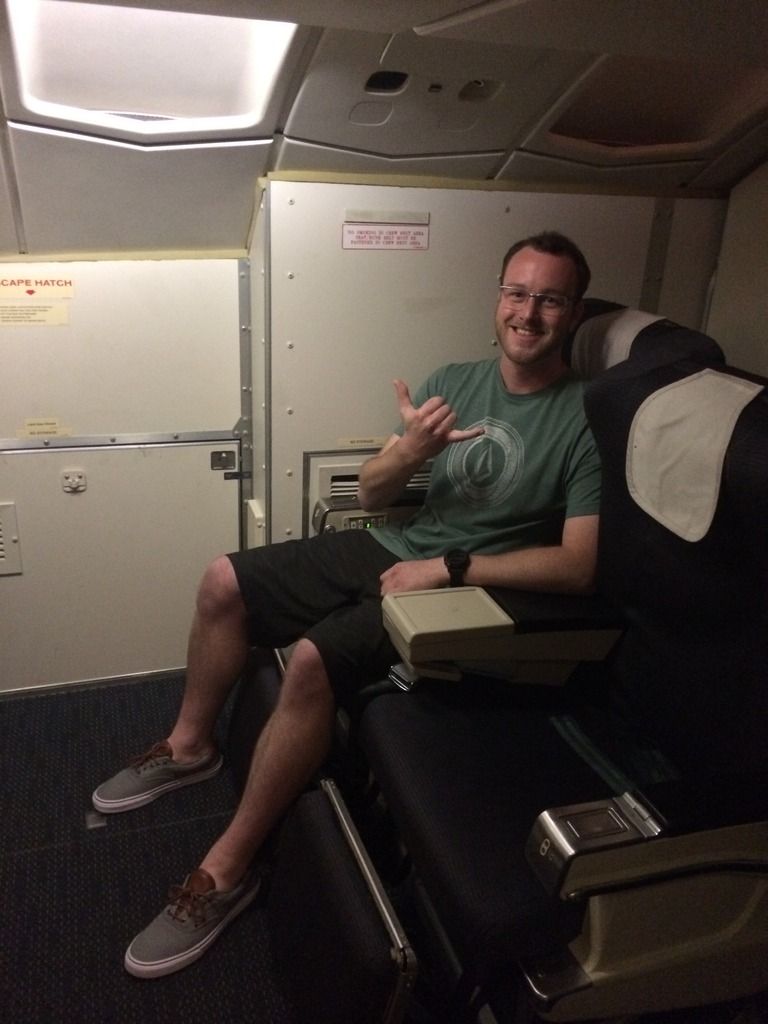 This was so cool to see! On my way back down the spiral stairs I was told the pilots up front were expecting me. Could this get any better?!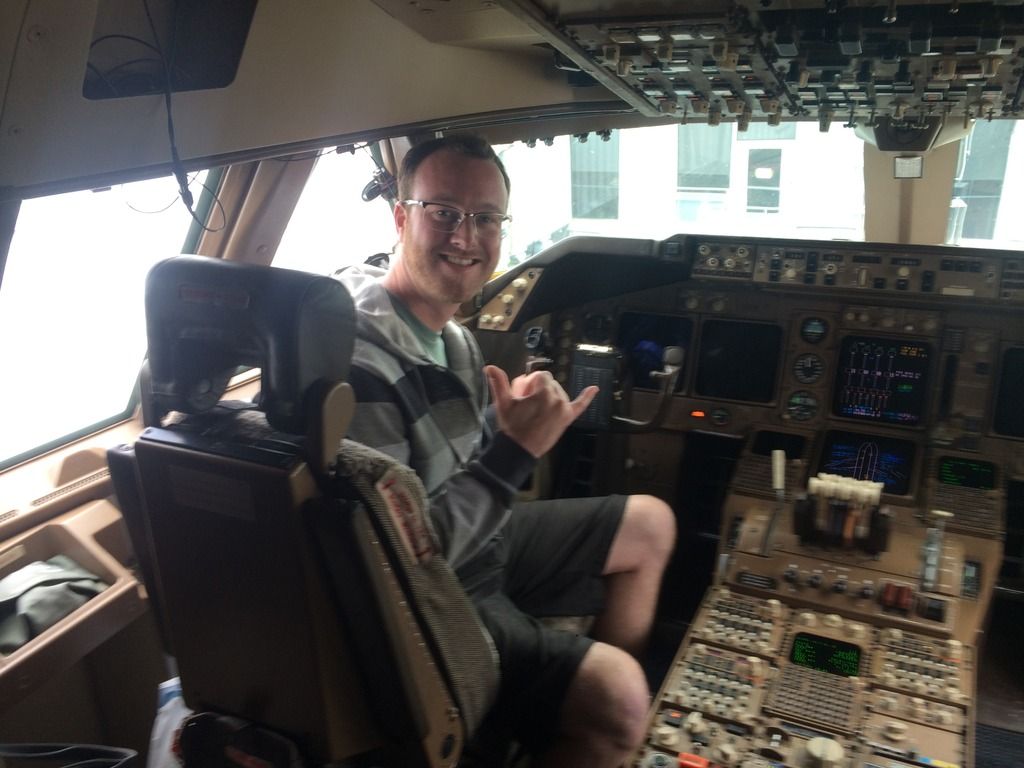 Once upstairs I had a brief yet engaging exchange with Captain Gomez. He explained to me how the reversers are applied in addition to some small chat. I learned that although the flight attendants on this flight were heading elsewhere, both pilots would be taking ship 8141 back to SFO. It came with mixed feelings; while I was happy to fly with both pilots back to SFO, it would have been nice to log two different tail #s. Oh well, first world problem.
I had a look around both the upper and lower deck C-cabins and have to admit I'd prefer the lower deck. Upstairs is still great, it just felt more like a narrowbody aircraft with side bins. Additionally, the 3'' less seat pitch on the upper deck doesn't help matters. As I started down the stairs a F/A in the lower galley offered to take a picture of me and a few of the crew members. During this time I came to learn that another one of the F/As was also excited about the domestic B744 run and took a couple pics on her phone which she sent to me: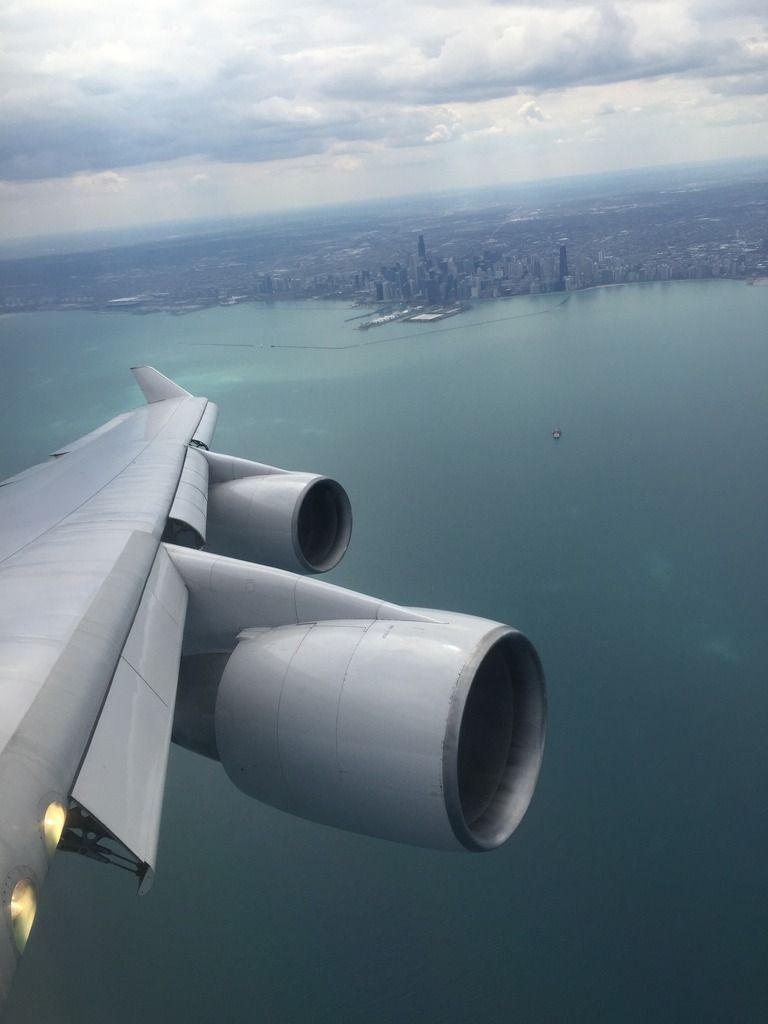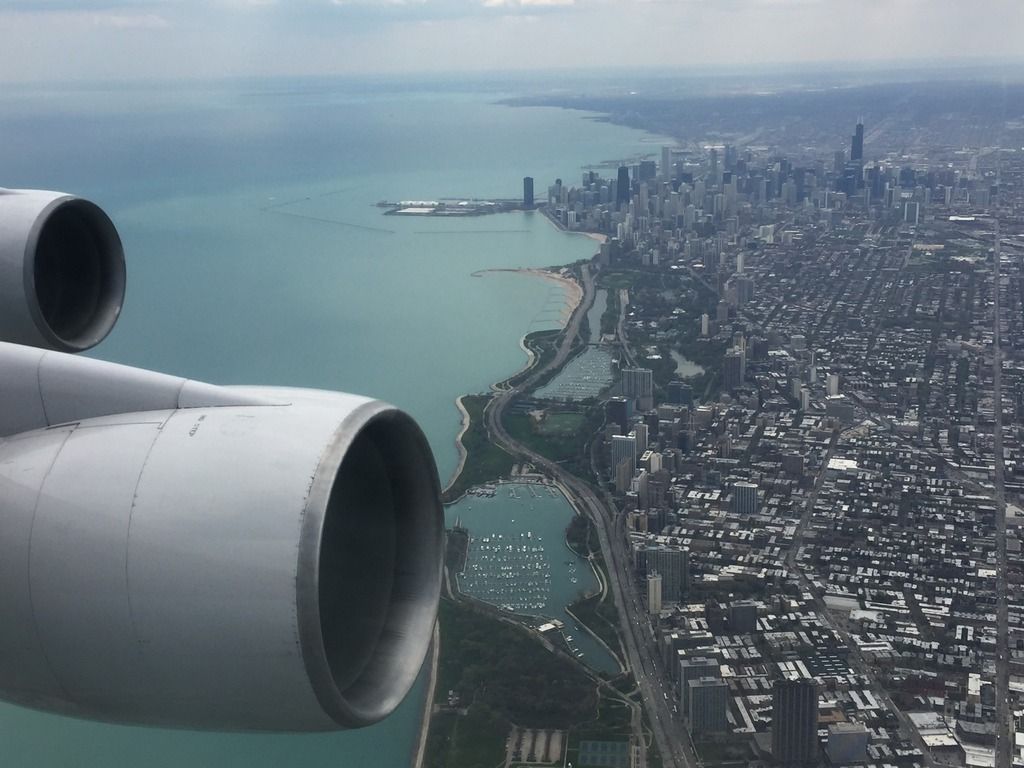 After thanking the crew for such a memorable flight I made my way into the terminal. I knew ship 8141 would be ready for boarding back to SFO within an hour so I looked for a place to grab a quick lunch.
I managed to get a better shot while on the ground in ORD. Before long boarding was called and I chose to be one of the last to step forward, as is usually the case when I don't need overhead bin space.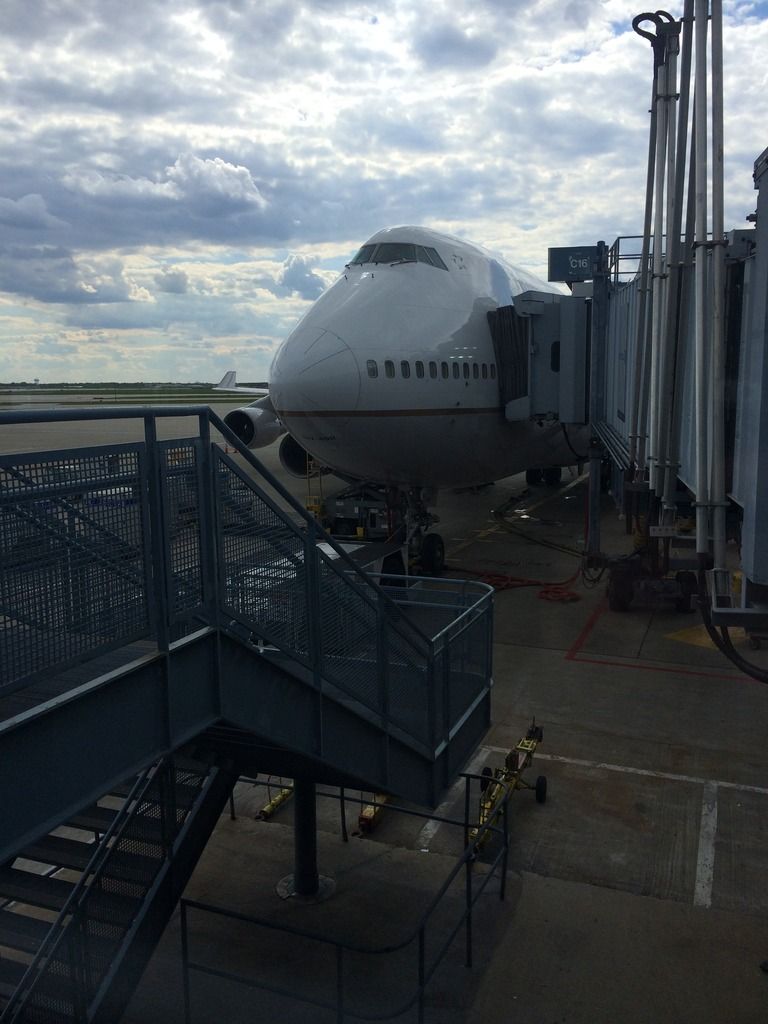 I settled into seat 60B which was also the last main deck window row, just on the port side this time. Once I heard that the doors were closed and noticed seat 60C next to me empty I moved my backpack over and was able to stretch out a bit more. The BC and HJ pairs in rows 58-60 are ideal for parties of two on UA's B744 fleet. I liked the fact that nobody was behind me in row 60 and I could still fully recline. Additionally, row 60 is better suited for window viewing as rows 58 and 59 are quite some distance from their windows. For these reasons I humbly disagree with Seatguru's comments about seats 60B and 60J.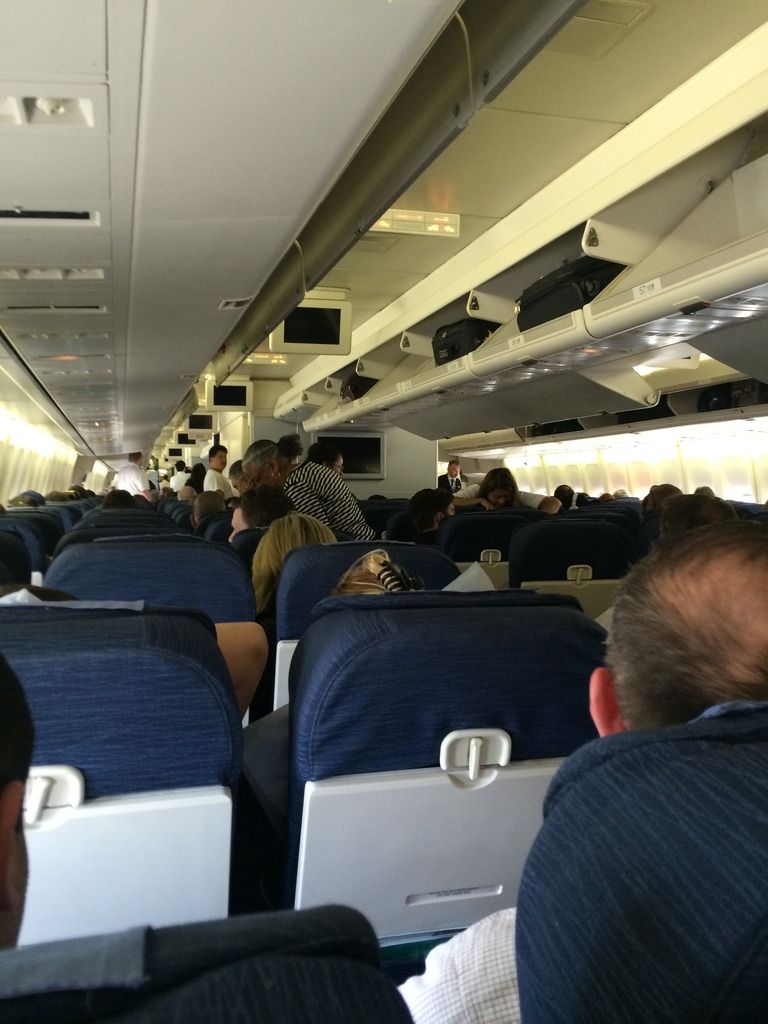 Enjoyed spotting this NH B77W wearing one of the Star Wars liveries.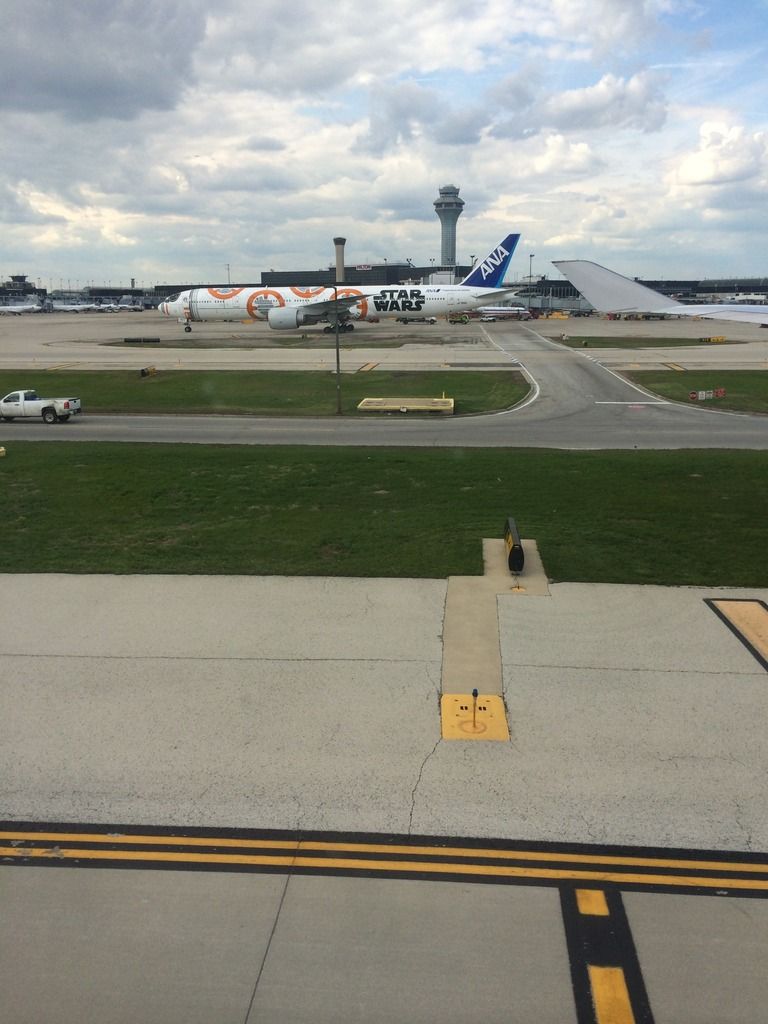 Note the RJ B788. One of the better airline liveries IMHO.
Again, it was a relatively short takeoff roll for a B744. Channel 9 wasn't available on the outbound flight (at least not the three or so times I tried it) but was on the entire way back to SFO. I took full advantage of this and spent a good chunk of the flight back to SFO listening in. This is, and always has been, my definition of great IFE. I give UA a big thumbs up for offering live ATC and hope this feature doesn't go anywhere anytime soon!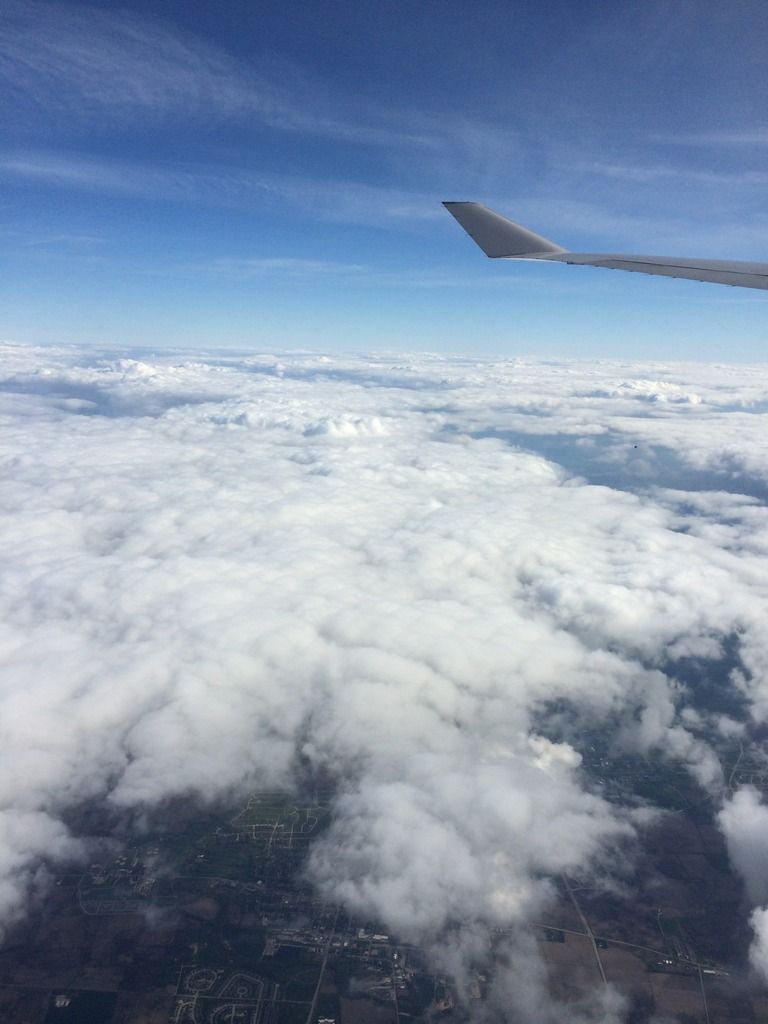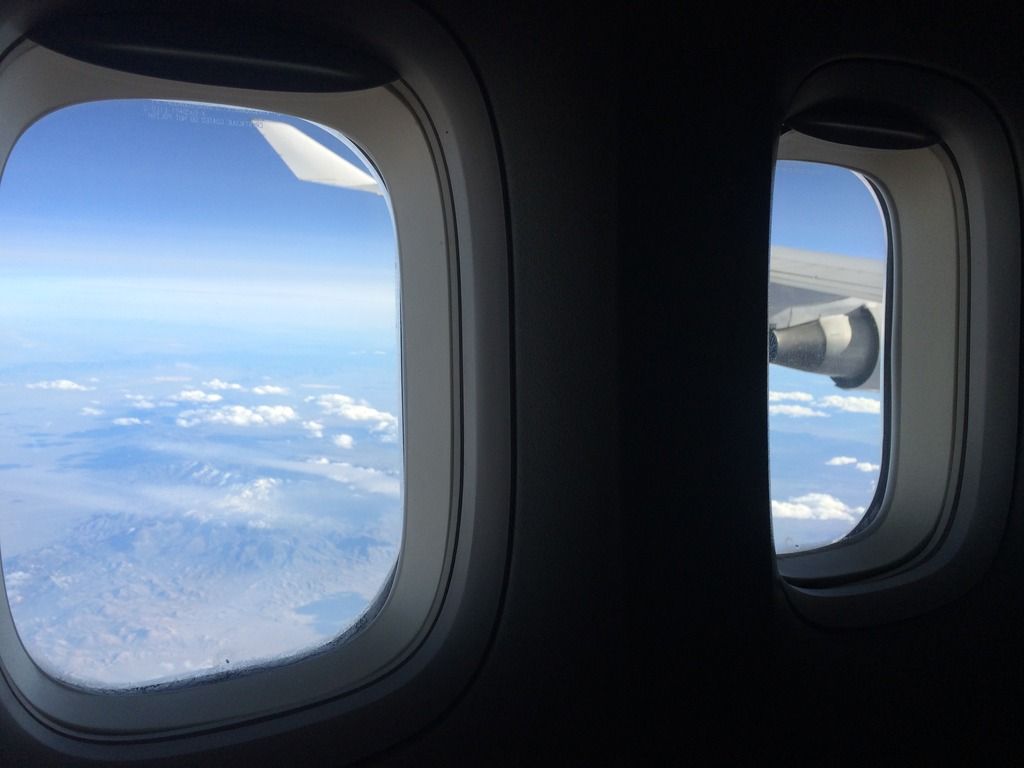 UA1213 to SFO was relaxing and smooth for the most part. I met a blogger next to the aft center galley who was also taking the flight to log a B744. We enjoyed a nice conversation and recollected on UA's good ole days (well, 1990s at least

). A couple F/As also chimed in to offer their thoughts on the B744 and it was fun to hear how special this aircraft is to so many folks. Unfortunately unlike flight 620, the F/As on 1213 seemed more distant. Despite this the service was satisfactory and there wasn't anything to complain about.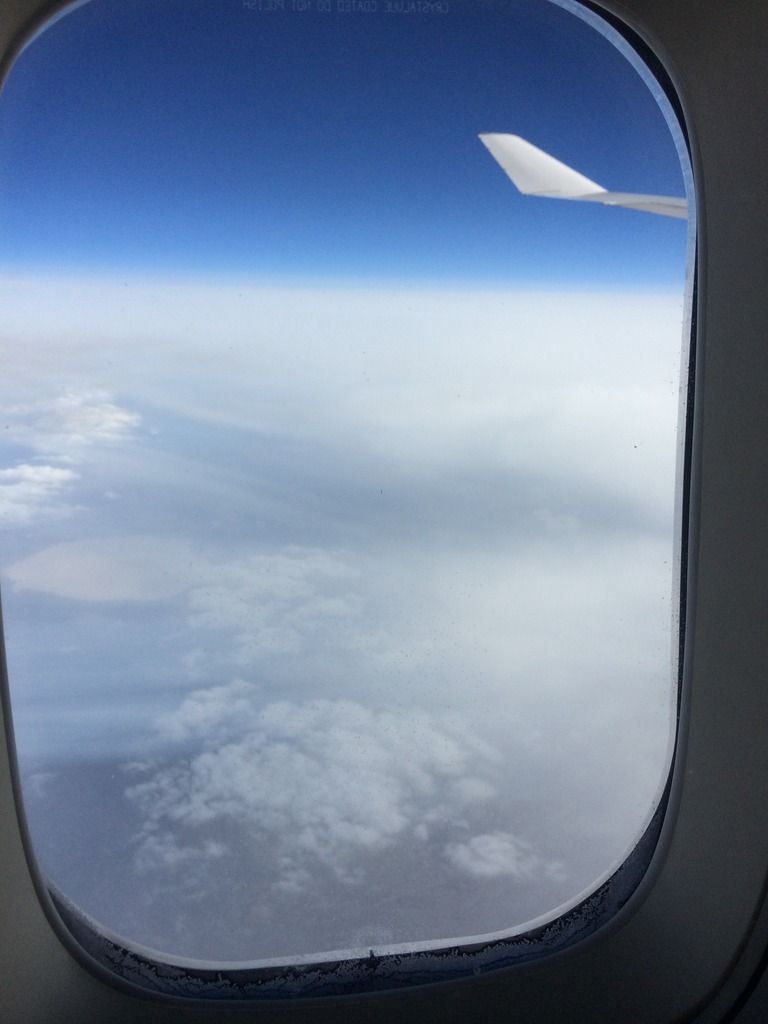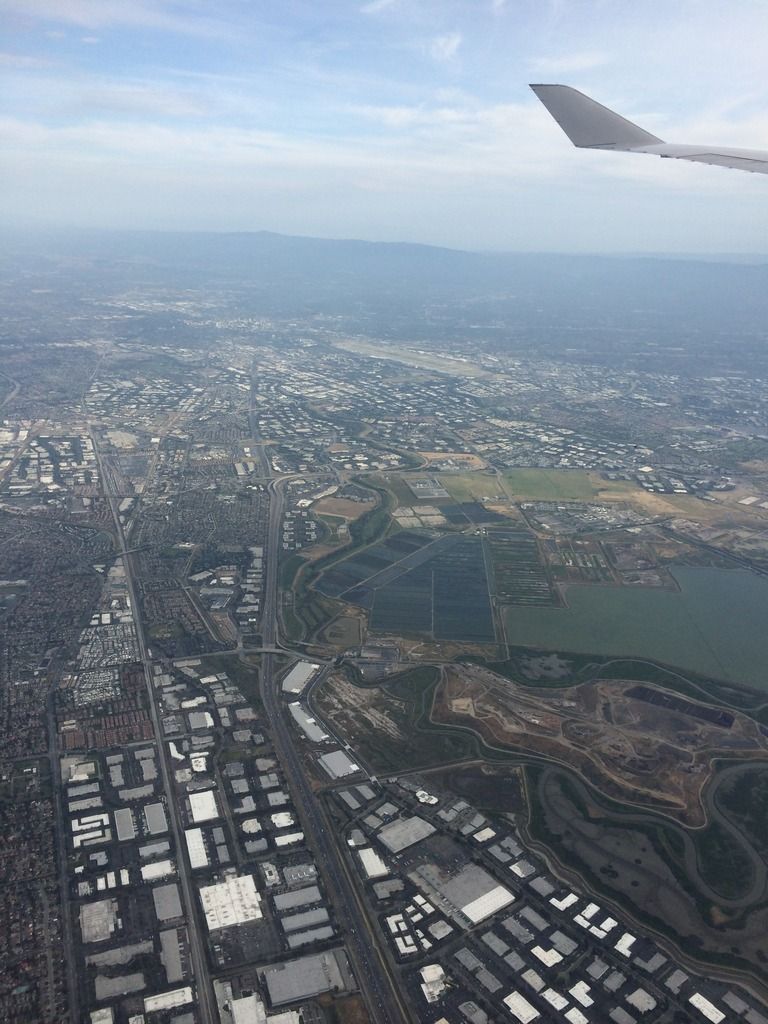 Mineta Airport off in the distance.
Our 6:20 pm landing in SFO was one of the finest I've ever felt. We landed on runway 28R and were informed that we'd be idle on the taxiway for a few brief moments to allow for a tug to hook up and tow us into the gate. Once complete and on my way forward to disembark I took a quick sit in rear-facing business class seat 9B to check out the legroom and space. After that I moved all the way forward into first class and again briefly tried suite 1K. Both premium cabins are lightyears ahead of what is offered in the back which unfortunately came as no surprise to me.
A messy F-cabin after the flight from ORD.
I said my goodbyes to ship 8141 with a heavy heart. This was unmistakably one of the best travel days I've ever had. It was a sincere privilege to be a part of the Boeing 747 legacy and I certainly hope that it's not my last flight on a Queen.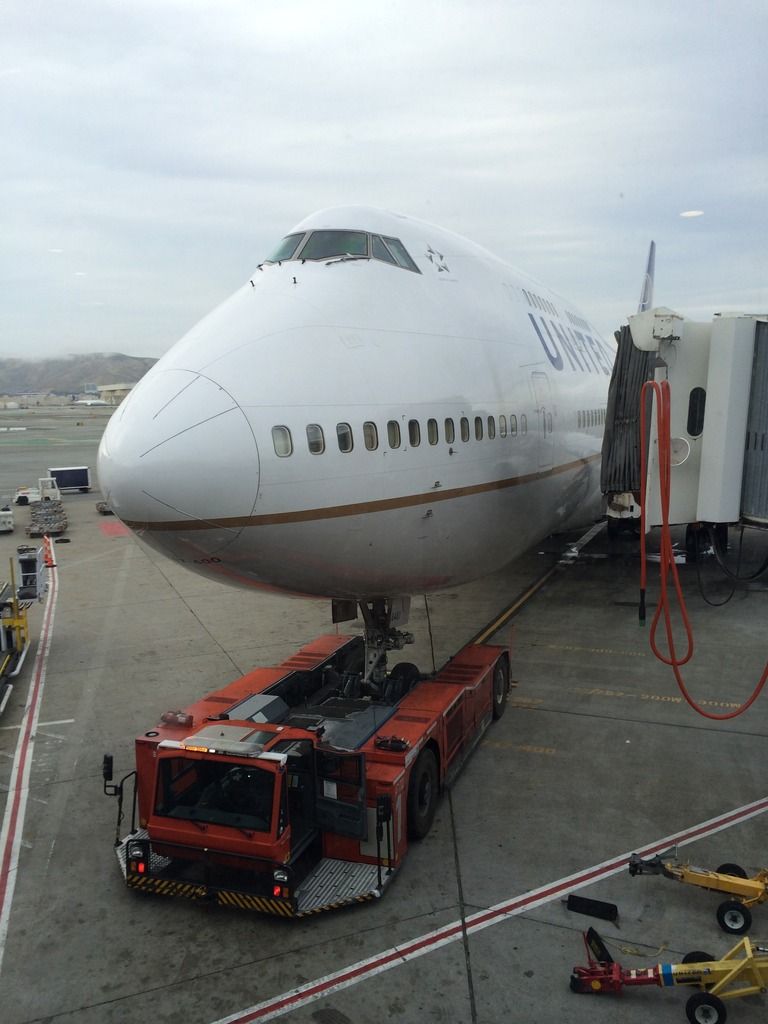 I checked the departures monitor to see where I needed to go to catch UA5151 back to ONT. Turns out, the CR2 that our B744 parked next to was my flight. I was relieved to know that I'd have enough time to grab some dinner before the scheduled 7:25 pm boarding. I walked all over Terminal 3 to stretch my legs and in doing so, soaked in all the aviation scenery around me which was just sublime. Boarding to ONT was called on-time and once down the stairs it was noticeably brisk outside the confines of the terminal.
Just like the ORD-SFO segment I didn't have a seatmate on this flight.
Around 7:50 pm the main cabin door was closed and the F/A demonstrated the safety features. Despite the whimsical clouds and beautiful sunset light it wasn't easy on my neck to lean so far downward to peer out the window. It's always nice to fly on widebody aircraft since the windows are more at eye-level compared with smaller CRJs and B737s, for example.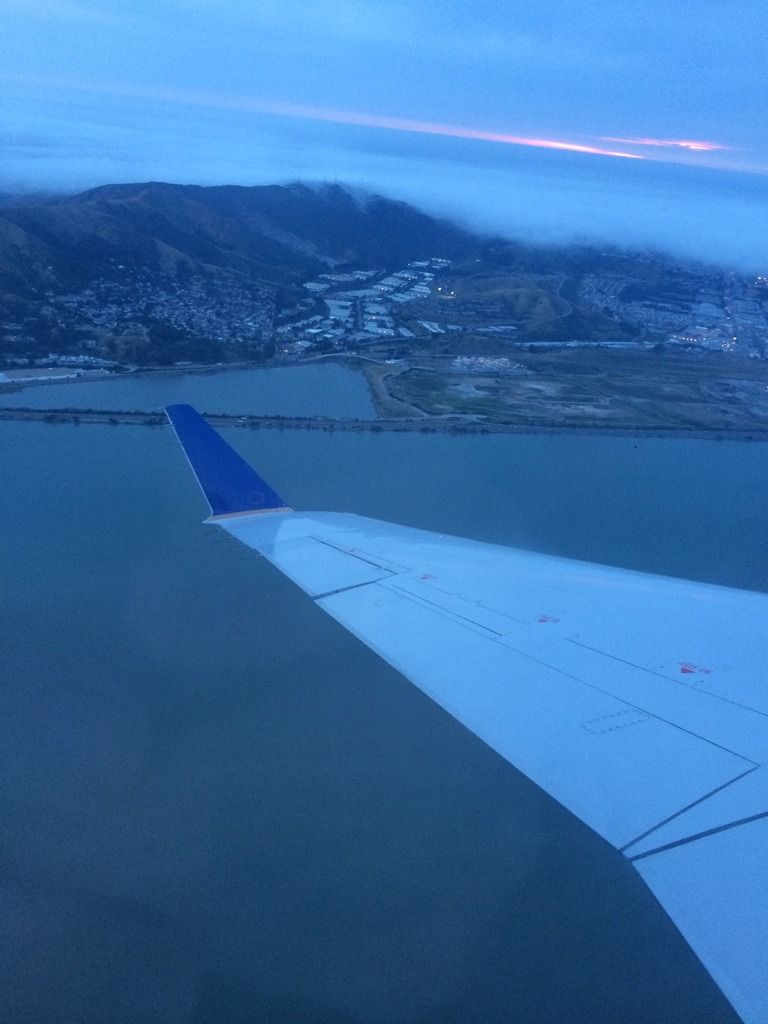 We made a sweeping left turn a few minutes after takeoff and overflew SFO on our way southeast.
The day's last rays of sunlight. Just like UA5014 to SFO earlier this morning, UA5151 was calm and encompassed nothing to write home about. After a lengthy travel day this was entirely fine by me!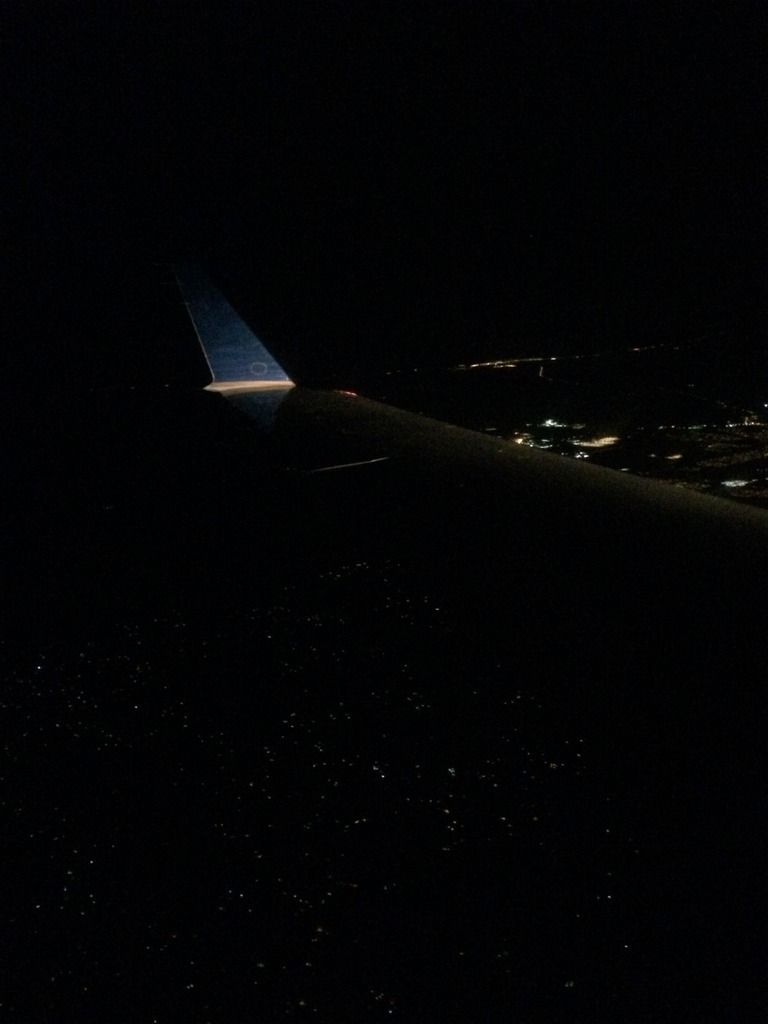 Here I was again back in darkness at ONT. I bid the crew farewell and made my way through a relatively empty terminal out to the parking lots. Just as fast as it had begun, my trip was over.
Post-trip
I've still yet to conjure up a better way to spend $208. Well ok maybe I've come up with a few, but nothing quite this special. Most of my non-aviation-obsessed friends can't figure out why I'd take a trip like this, but for those of us in the know, it's enough said. All in all I really couldn't have asked for a more seamless travel experience. All the flights arrived on-time and I never had any airport-specific issues.
I am thrilled to have had the opportunity to lose my B747 virginity with UA. I am well aware that it's not the most popular airline out there but truly I wouldn't have wanted it any other way. Carlsbad-Palomar Airport (KCRQ) has always been my hometown field. It's a shame we don't currently have airline service (with the OO E120 retirement) but as a kid growing up I can't count the number of times my parents and I flew OO/UA from CLD via LAX to the Midwest and East Coast to visit relatives. Even when SAN or SNA were the departure points, more often than not we flew UA. I even managed to rack up Premier Silver status with them flying to and from boarding school back in the day. Needless to say UA has always been my "hometown" airline so it only seemed natural to fly my first B747 with them.
I hope you enjoyed reading!
Peace,
KLM11