Beijing time my flight was to depart at 10:00 which corresponds to 08:00 in Urumqi time. Things here can get a little confusing due to the fact that both times are often used! However to ensure I didn't miss the flight I left the city centre at 05:00 (or 07:00) arriving at the Urumqi's terminal 3 with around two hours and a quarter before my flight.
Urumqi Airport is rather well connected with 31 airlines connecting the city to most other cities in China as well as to Afghanistan, Azerbaijan, Georgia, Iran, Kazakhstan, Korea, Kyrgyzstan, Russia, Taiwan, Tajikistan, Turkey, Turkmenistan, the UAE and Uzbekistan. In terms of passenger numbers it was the 15th busiest airport in China in 2015 (17th by aircraft movements). Just looking out the terminal windows for a minute or two it is clear that CZ essentially control URC!
After passing through a security check I arrived inside the CZ's hub, terminal 3. That morning the airport appeared to be the starting point for many passengers' journeys across China resulting in a cornucopia of queues. I joined one which led to the CZ domestic check in desks. At the time the queues weren't too alarming as I still had over two hours before my flight departed and glancing over the shoulders of my fellow queuers it appeared most passengers were departing on flights before mine. After fifteen minutes or so I arrived at the check in desk only to be interrupted by a gentleman who had come running towards the counter. Presumably he was in a far greater hurry to check in and so I took no objection to him pushing in.
Despite the check in assistant not really speaking any English I checked in without any trouble and I made my way to the ID check and security area. At the entrance to this queue one staff member checked by boarding pass and allowed me to join the long, snaking queue out of Urumqi. I reached the front in around 20 minutes although as I reached the front I saw two desks solely for the use of CZ6901 passengers, both virtually without a queue. I'm not too sure why the staff member hadn't pointed me in the direction of these in the first place but it was too late to do anything about it.
Upon my arrival at the desk I had my boarding pass stamped before the officer informed me I needed to go back. I wasn't too sure where I needed to go and she didn't really speak any English so I headed in the general direction of her pointed finger and made my way to the gaggle of CZ staff around the check in counters. The staff here couldn't really understand my explanation of the situation and thus told me to join the check in queue again which by this time was considerably longer. After five minutes of queuing, convinced I was in the wrong place, I saw the checked luggage inspection counter out the corner of my eye and decided to head there where, in front of a scrum of people I saw my luggage. By this point I was delighted that I had most likely found the right place, after waiting for ten minutes I reached the front where the inspector pointed at my bag and said 'battery', after taking these out I gave her my bag and was given the OK to go back to security. Whilst this was largely an inefficient procedure, I can't blame anybody else for my failure to remove my batteries!
By the time I reached security for the second time the CZ6901 lines had grown significantly although were still shorter than the general queues. After about fifteen minutes I was finally airside and had relatively little time before boarding was scheduled to commence. Outside, one could see a sea of CZ aircraft consisting of 737s, Embraers, 752s, A320s and our sole 772 waiting at gate 39. Terminal 3 is rather modern and appeared to be fairly clean with an omnipresent army of cleaners, post security there was no lack of places to eat and drink as well as a few shops however I didn't really have time nor was I greatly bothered about visiting any of these.
FLIGHT
From – Urumqi Diwopu Intl, ZWWW
To – Beijing Capital Intl, ZBAA
Aircraft – B-2051, Boeing 777-21B
Flight no – CZ6901
Dep time (Sched/Act) – 10:00/10:16
Arrival time (Sched/Act) – 13:25/13:23
Flight time – 3H07
Our aircraft rocketing us eastwards to Beijing would be Urumqi based veteran Boeing 777-200, B-2051. According to data online, this aircraft was the 20th Boeing 777 to be built, the first delivered to China Southern and the 16th oldest still flying today having made its first flight in November 1995.
The first view of our aircraft
At 09:10, ten minutes before our scheduled boarding time, boarding was announced and an orderly queue of passengers began to form. This queue moved fairly quickly and before I knew it I was receiving a warm greeting at the door after which I made my way towards the rear of the aircraft to 58K. For some reason I had expected the aircraft to be in an Air China 772 style 2-5-2 configuration however it turned out that it was in a 3-4-3 configuration. As expected, the aircraft was a little old fashioned and was a little worn although the seats were comfortable and the legroom seemed to be better than that of their A332 however that may just appear to be the case due to the lack of a footrest. Headphones were provided in the seat pocket along with the CAAC magazine, a warning card in Chinese and Russian about what animals and foods can and cannot be brought into China as well as the usual sickbag and safety card which was interestingly in Uyghur first then Chinese and English.
The view inwards complete with classic projector
The view outwards
Boarding was completed by 11:40 and the flight appeared to be 100% full. After a safety demonstration, welcome messages from the captain and from the cabin crew we pushed back just after 11:50. Our taxi seemed to last quite a while and took us past the other terminals and CZ maintenance area. At 10:16 we rocketed down runway 25 and into the Xinjiang sky. Almost immediately after departure we banked eastwards bringing smog covered Urumqi into view. Beneath us the urban land sores transformed into green fields which quickly transformed to sandy desert then to rocky desert and snow capped mountains.
Some snaps from the climb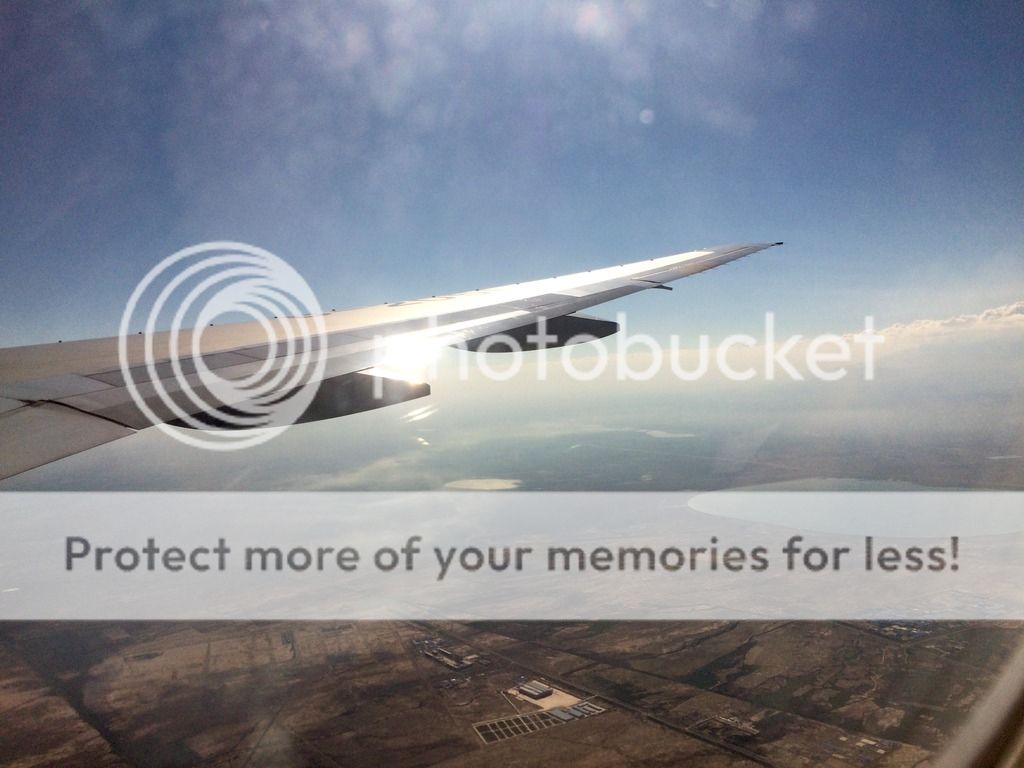 As on my other CZ flights, the seatbelt signs were kept on for the duration of the climb and around thirty minutes after takeoff we were served drinks. Not only were we served one round, but two in the space of around 20 minutes! By the time we had crossed the border from Xinjiang to Gansu the skies had clouded over and it was time for a late breakfast/early lunch. Fish and beef were on the menu, I opted for the latter and this was handed to me in a foil tray along with a CZ branded box. The beef dish consider of delicious thick oily beef noodles and the box contained (amongst other things), picked vegetables, a chicken salad, a bread roll and yoghurt as well as cutlery, a serviette and a wet wipe. I was mightily impressed with CZ's offerings on this three hour flight with the meal consisting of more food than I have received in one meal on a flight!
Today's offerings
Back over the desert
Within the space of twenty minutes the remains of the meal were collected and outside the skies were beginning to clear, revealing that once again we were over a sandy desert. It was at this point, around an hour and a half into the flight that I fell asleep. I woke up to find a man sleeping on my shoulder and that we had started our decent. Beneath us, China could not be seen for the clouds. Several turns later and we were on finals to Beijing Capital's runway 36R, it wasn't until this point that we fell beneath the clouds revealing a rain soaked largely industrial area beneath us which turned into the sprawl of airport related buildings. At 13:23 we made a smooth landing and made our relatively short taxi to terminal two, pulling in next to Xiamen 788. Not too long after the doors were opened and the scrum to disembark began. By the time I reached the baggage carousel our bags were beginning to arrive.
Heading downwards
Nearing PEK
Pulling in to our rain soaked stand
SUMMARY
China Southern's 772 seemed to offer a more comfortable ride than their domestic A332 aircraft, probably simply to do with the fact that there isn't an intrusive footrest on the seat in front. On board the food offered was plentiful and delicious so no complaints there although the crew's service seemed to be a little cold and unwelcoming.
The ground service at URC was rather disappointing, although I realise that this is also down to the officials and not solely CZ staff. Had I arrived at the airport half an hour later I would have been cutting things incredibly fine. Things at PEK ran smoothly and I received my bag quickly and in one piece, so no complaints there.
Would I fly CZ again? Yes, definitely. In fact I have done since.