During my time in Taiwan, one of my goals was to fly on one of FAT's vintage MD-80s which plough the domestic air routes of Taiwan on a daily basis. After doing some research and considering prices I decided to fly with them on their Taipei Songshan to Makung route. Makung is a city located on Penghu Island.
Far Eastern Air Transport, or FAT is a pretty old airline that commenced services in 1957. Today they operate four MD-82s and four MD-83s however sadly these are soon to be replaced with Boeing 737-800s. A quick search online reveals the airline has been suffering recently, in fact the airline was forced to take a three year break in operations between 2008 and 2011, however fortunately since then things appear to be going slightly better at the airline.
To any non Chinese speaking person wanting to fly in Taiwan, the chances are they are not going to fly with Far Eastern Air Transport. The reason being their website is only offered in Chinese, when attempting to book with the help of Google Translate I reached some hurdles. Had I not been determined to fly on an MD-80 I would've most likely given up then however I emailed their ticket reservation office and through them I was easily able to book a ticket and pay for this at TSA.
Unlike TPE, TSA is virtually in the middle of Taipei and is well linked to the rest of Taipei by subway and so it wouldn't really make sense to get here by any other means. I didn't want to spend a great amount of time at the airport so after purchasing my ticket I proceeded to check in. It was a Sunday evening and so I was a little surprised to see seats available to Penghu on with most airlines. After heading to the check in desks I was informed to go back to the ticketing desk to check in and so I did so. After asking for a window seat I was given 1A, honestly I'd wanted to sit a little further back however I can't really complain. I found the ground staff here to be very pleasant and friendly and spoke English well.
Afterwards checking in I headed straight through to the airside area after passing through security. With few places to go, I decided to sit at gate 9 which was completely empty. As I waited more and more passengers began to show up however there certainly was not a full MD-80 load of passengers. Outside a heavy thundery downpour was occurring, this didn't seem to disrupt movements in any way. TSA is quite a nice airport; it is certainly very convenient and is clean and with good free wifi although if you plan on charging any devices I found that there was a notable lack of plug sockets.
A BR A321 operating a Uni Air flight to Kinmen
Waiting to board
FLIGHT
From – Taipei Songshan, RCSS
To – Makung, RCQC
Aircraft – B-28021, McDonnell Douglas MD-82
Flight no – FE27
Dep time (Sched/Act) – 17:10/18:17
Arrival time (Sched/Act) – 17:55/18:51
Flight time – 0H34
As our boarding time of 16:50 rapidly neared there was absolutely no sign of our MD-80 outside which was a clear sign that our flight would be delayed, a quick check of the screens confirmed this. Announcements were also made however these were only in Chinese. Ten minutes before our scheduled departure time our two pilots showed up, giving us hope that we would indeed be flying in the near future. Ten minutes after our scheduled departure time, our MD-80 pulled into gate 9 and finally at around quarter to six we began boarding.
The trusty MD-83 that would be taking us over to Penghu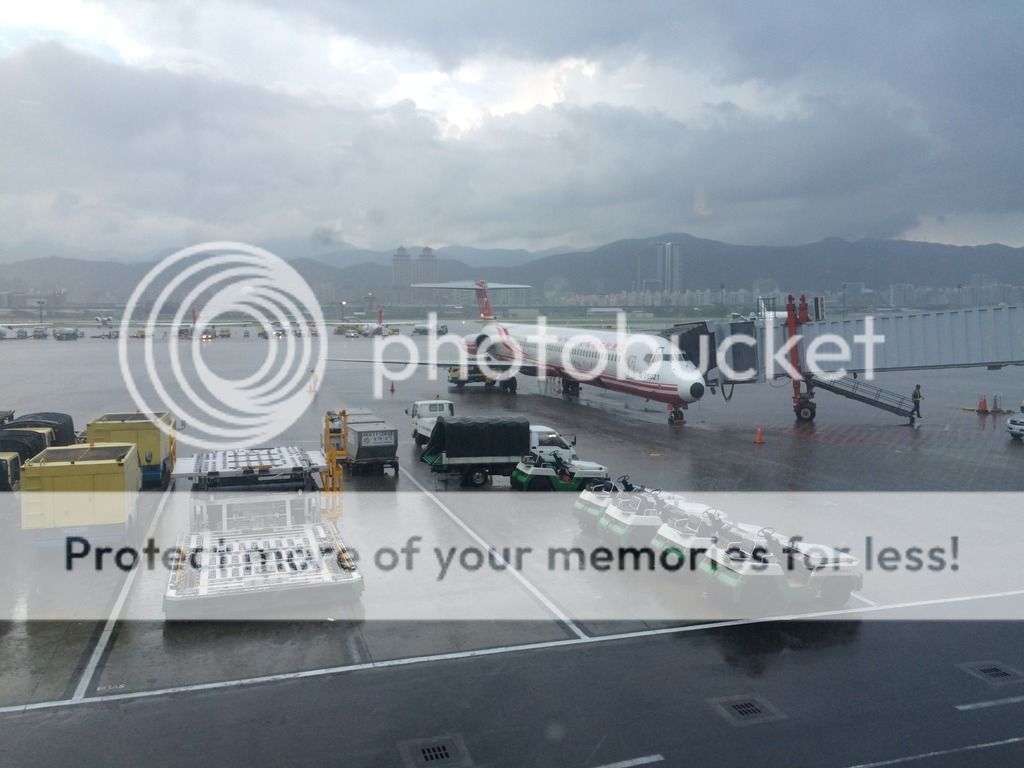 Our aircraft would be B-28021, 165 seat MD-83 built in Long Beach in 1993. The aircraft was delivered to USAir that year and flew with them for two years before being transferred to FAT. As with the rest of the FAT fleet, the aircraft was stored at TSA between 2008 and 2011.
I was one of the first to board the aircraft and sitting in 1A, I didn't have too far to walk! The crew gave a pleasant welcome at the door however it was rather obvious they were rushing people to board. The seats on this MD were large and well padded, a far cry from those of my previous flights with VJ and AK! After a quick boarding we began our pushback as the crew performed the safety demonstration. I was the only non Taiwanese passenger on the flight as thus a cabin crew member turned to me and performed an English safety demo.
We made what seemed to be a slow and cautious taxi to the runway before speeding up as we neared the threshold. On the runway our engines were spooled up with the brakes still on before these were released sending us flying down the runway, shooting off into the thundery skies. The quietness of the MD-80 at the front is remarkable. It was as if I was in a glider!
Heading up into the stormy skies
We made our way up through the bumpy clouds to our cruising altitude of 16000 feet; one advantage of our late departure was that we were treated to a beautiful sunset on our journey southwestwards. Shortly after the service was started, this consisted with a face wipe, warm cup of tea and a packet of wafers. Having read previous reports about this flight I was only really expecting the tea and so the wipe and wafers were a pleasant surprise to my journey.
Not the best photo in the world
Offerings on this evening's flight
As we neared MZG an ATR appeared and we overtook this before commencing into Makung. By the time we touched down it was almost dark however we were still treated to some nice views of the island which in all honesty reminded me of a smaller version of the Korean island of Jeju! After a soft touch down we made a short taxi to gate four where de boarding commenced very soon. Not having any luggage meant I was able to leave the airport within a couple of minutes or so after leaving the aircraft.
Making a scenic approach
Overall, ignoring the delay and booking process, flying on them had been a pleasant experience. However had they not flown the MD-80, the chances are I wouldn't go to that much effort just to fly on a 'normal' airliner.
THE RETURN JOURNEY
Apparently it is possible to take a bus to the airport however most locals recommended I take a taxi and thus I found myself speeding to the airport in the midst of a Monday evening thunderstorm in the company of a venerable taxi driver. We arrived in no time at all and I proceeded straight to the Mandarin Airlines check in desk where I checked in with ease. The only thing I found a little surprising was the fact that the gentleman who checked me in informed me that the departure time had been rescheduled from the original time. Well, I thought this was obvious seeing as I had turned up ten minutes before my original scheduled departure time!
MZG seemed to be a little more worn that TSA however it was still clean and pleasant, airside it also seemed to have more facilities than the latter which I was pleasantly surprised about. After checking in I proceeded up the stairs to security where I found a small queue, however despite this I didn't have to wait for too long before I was in the departure area. Here I intended to charge my phone and use some wifi before the flight however unfortunately I could not find any places to do the latter and the wifi was a little sporadic. However I didn't have too long before my flight and so I don't have too much to complain about.
A standard Monday evening in Makung Airport
The problems began to occur as we neared our scheduled departure time, it was obvious something was wrong, the passengers at our gate looked a little disgruntled however the announcements regarding their source of disgruntlement were solely in Chinese and thus I was unsure of whether I too should feel disgruntled. That was until I looked out from the large gate side porthole and discovered a Transasia ATR 72 instead of out Mandarin Embraer. Had there been a gate change? Or had our flight been delayed?
Several minutes later a member of the ground staff came to our gate and shouted messages at the passengers, in order to find out the relevance of this meaning to my travel plans I approached her and asked her if there was a problem, she looked at my boarding pass, scribbled out the gate number before realising her mistake and scribbling out the new number and writing on the original gate number. It turned out there were two TSA bound Mandarin flights that evening and she came to catch out any passengers waiting at the wrong gate. Eventually the ATR departed and our Embraer 190 pulled into gate 5. At 21:35 an announcement was made in Chinese before crowds of passengers flocked to the gate. Assuming this meant we had been given the OK to board I also headed to the aircraft.
FLIGHT
From – Makung, RCQC
To – Taipei Songshan, RCSS
Aircraft – B-16822, Embraer 190AR
Flight no – AE368
Dep time (Sched/Act) – 20:10/21:25/21:50
Arrival time (Sched/Act) – 20:55/22:10/22:27
Flight time – 0H37
Upon boarding I was given a friendly unrushed welcome and made my way to the rear of the cabin. Unlike on my previous Embraer flight (on BE), this cabin seemed modern, clean and in a much better condition despite the fact that both aircraft were produced in 2007. The seats took the form of Embraer's classic style with covered in grey leather/faux leather and featuring Accutex sponsored headrest covers. Despite the load being around 80% boarding was completed in an incredible eight minutes and by 21:43 we were pushing back. Congrats to Mandarin for such a quick yet welcoming process. After a short safety demonstration the lights were dimmed and we were off on our way to the runway. The occasional flash of lightening illuminated the cabin and highlighted the looks of terror on some people's faces.
Clean and comfortable, nothing to complain about
We shot off like a rocket. The turbulence hit us very soon after departure and continued to do so throughout the climb. During the later stages of this one of the crew members conducted a speech informing us of the drinks offered on today's flight. Shortly after this the crew conducted their service from both the front and rear of the aircraft and thus this was completed fairly quickly. I opted for an orange juice and this was served with a wet wipe. This had an advantage over FAT in that I could choose the drink yet a disadvantage in that no food was offered. Yet for such a short flight I could not complain.
Offerings on this flight
Before I knew it the captain came on over the speakers and was announcing our descent into TSA. She announced our flight time as 22:25 which was a little surprising given the 50 minute flight time stated by the cabin crew!. At 22:27 we made a soft landing on Songshan's runway 10 before some incredibly heavy breaking which did not manage to get us off the runway until near the end. TSA appeared to be pretty full that night and so we pulled into a remote stand before being bussed a short distance to the terminal.
Nearing TSA
Post disembarkation
In terms of the flight itself, I have nothing but good things to say about AE. The crew were friendly and got their job done well. However in terms of their on ground service this was rather poor. Whether this was just a unique experience is not known however it does not put me off flying with them in the future.