Video Reports of this leg of the trip
BA 7 - London to Tokyo Haneda - Boeing 777-300ER (G-STBF)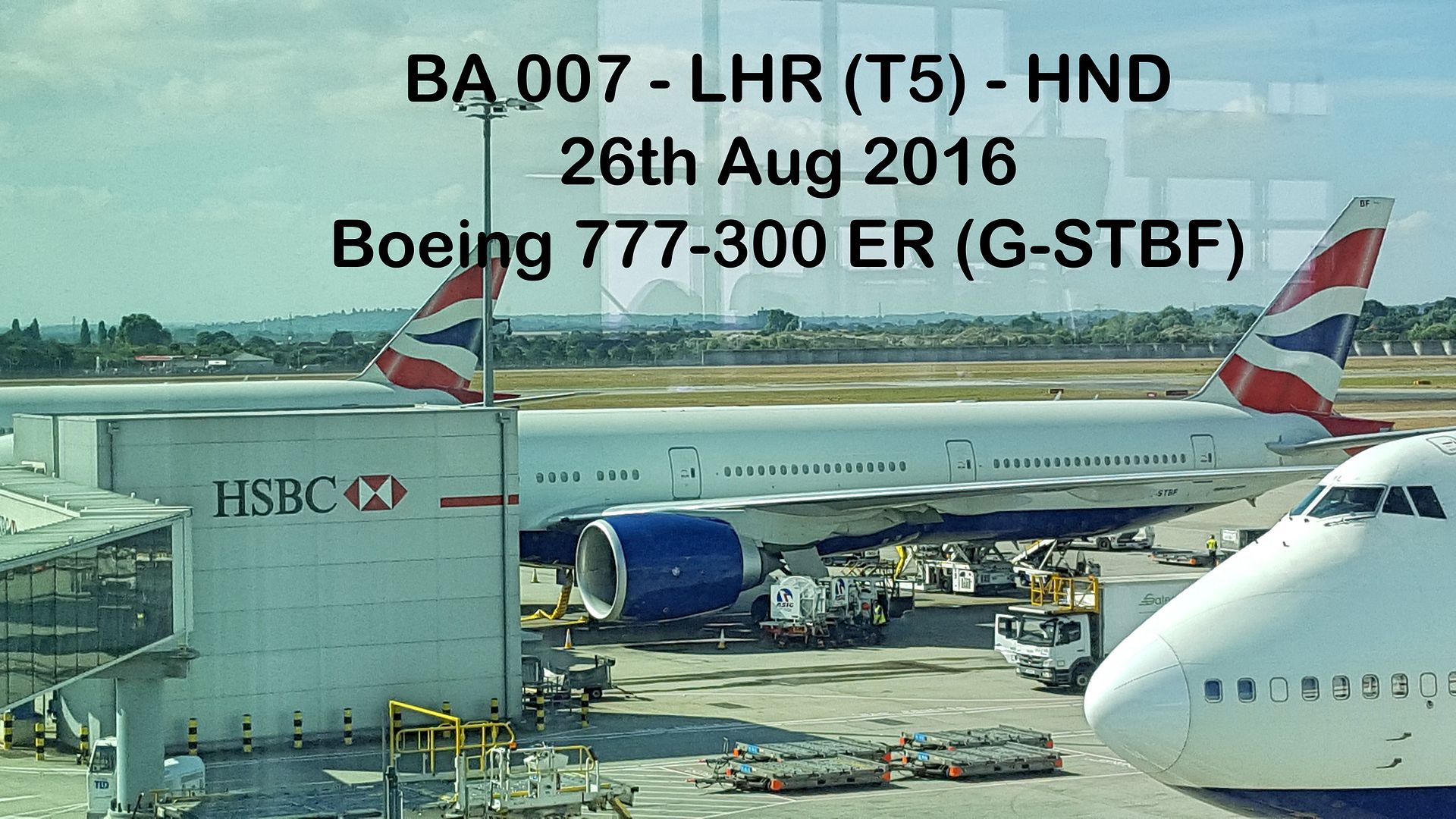 Background
Hello anetters. It's been a while since my last trip. In fact this is the first trip report since the website overhaul. So hopefully the formatting and the look of the report looks the same or even better. So here goes.
This had been a year in planning and was looking forward to our trip for a while. Japan had always been in my bucket list and was super excited to fulfil one from the list.
We booked out tickets nearly 10 months ago and had decided to go onward in WTP while the return was to be from Beijing in club.
Our itinerary included onward to Tokyo Haneda. 4 days in Tokyo, followed by a flight from Haneda to Nagoya on JAL. Another 3 days in Nagoya and Kyoto, before flying from Nagoya to Beijing on Etihad (interesting 5th freedom route). Overnight in Beijing before taking a noon High speed train to my wife's place (Shijiazhuang). Spending the weekend here and then heading to Xi'an (Shijiazhuang to Xi'an on high speed train), for days, before flying back into Beijing (China Eastern) and then back to London (BA, Club World)
I have started using a GoPro to shoot videos of the trips, which means that I have lesser photos for this report, unfortunately. Wherever possible I shall try and take snapshots of pictures from the GoPro video.
Thanks to GCMaps for the map illustrations below:
British Airways – BA 7
Route: LHR - HND
Flight Reg:G-STBF; Delivered to BA Feb 2012.
Aircraft Type: Boeing 777-300 ER
Seat: 22K
Flight time: 11:45 - 07:15 (12:35 - 07:06)
Actual flight time:10Hr 31 min
Distance: 5966 Miles
Load: Almost full in all cabins
26th August 2016
My Log book: 15th Flight on BA / 5th flight on Boeing 777-300 ER/ 115th Total overall flight
Online checked in the previous day. The only window seats available were the exit row ones. Although ironically these are the seats with no windows.

The day of the flight, checked flight radar to be told that it was a 4 year old Boeing 777-300ER (G-STBF).
Drive to the airport was painless and quick. Parked the car and got dropped at T5. Check in was quick and tried to amend seats to no avail. Hopefully better luck at boarding or perhaps on the aircraft itself as I was eagerly waiting to try my new GoPro with the suction cup mount.
Security were very good on this busy day. We were airside within 25 minutes of dropping the car at the car park. Fantastic.
Boarding was orderly and on time. Once on board we managed to switched seats only to find out that my wife's IFE screen was missing a bolt and hence dangling. Given that the cabin was full we had to return to our original exit row seats which meant that I would not have a chance to play with the GoPro suction mount.

There was delay as the aero bridge was refusing to budge.
Disembarked 30 minutes behind schedule and airborne by 12:30. Captain guaranteed for an on time arrival. Once again top marks for BA in terms of announcements from the flight deck. Regular and concise.
Welcome Sir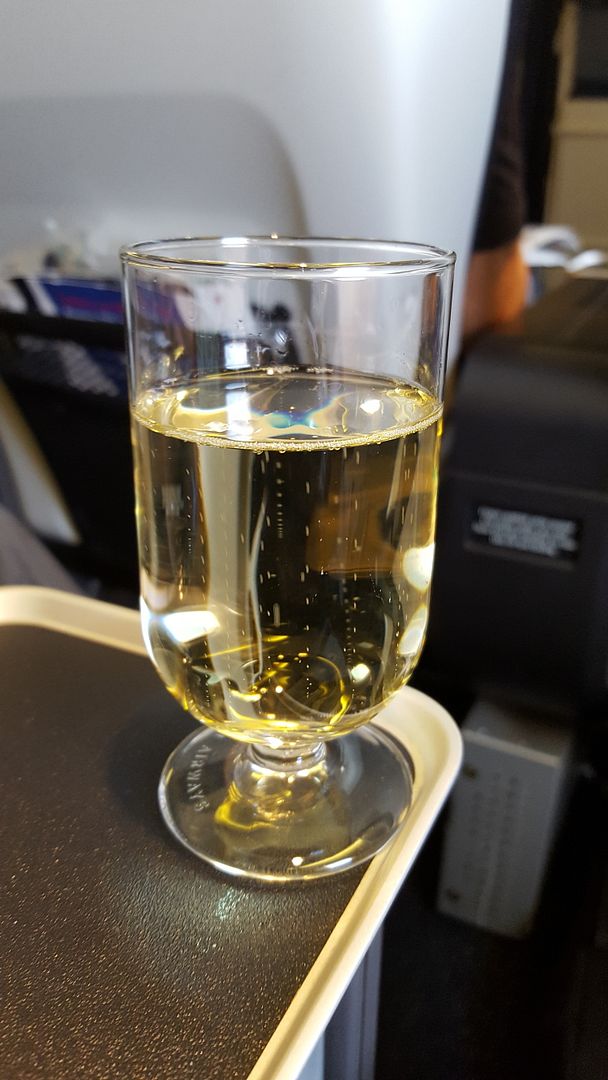 Decent headphones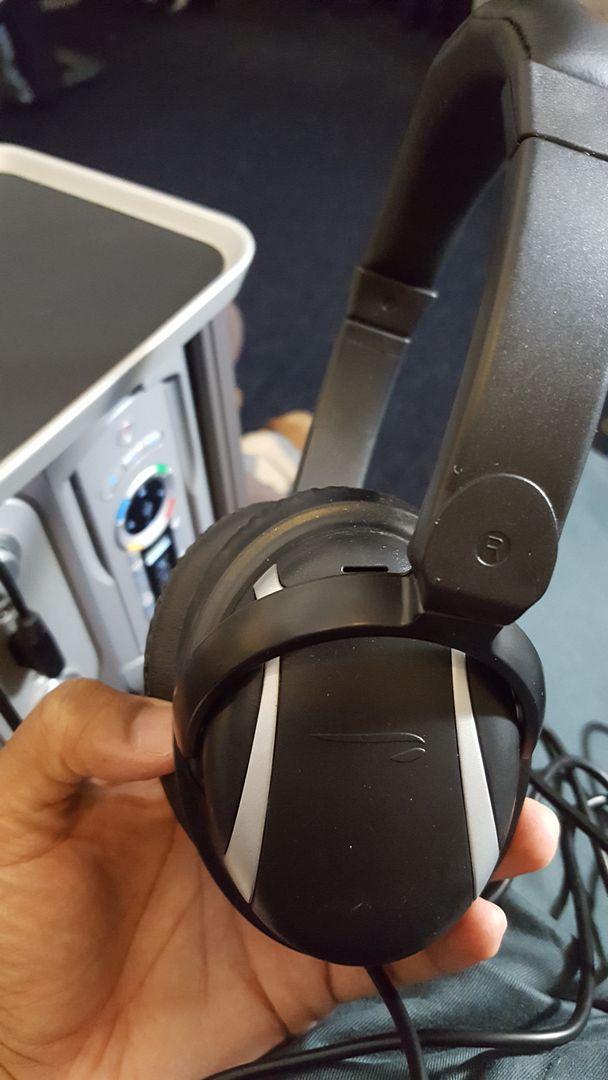 Stats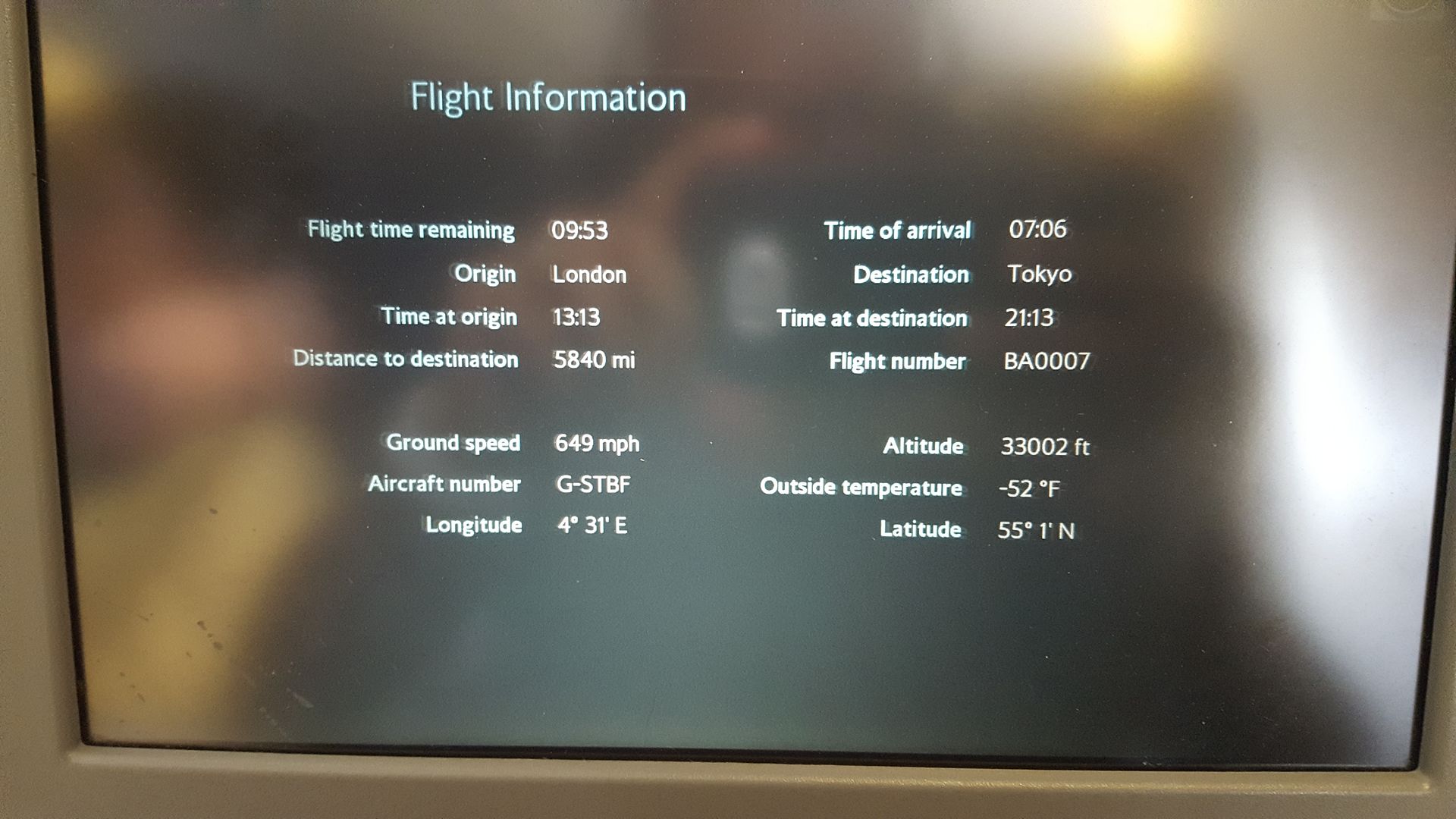 During take-off we had a Japanese member of the crew sitting front of us on the jump seat. Very smiley and a very pleasant crew member. She saw me video shoot the take off and was intrigued.
Drinks round started after 30 minutes being airborne. They had a very good Chilean cabernet sauvignon. Enthusiastic crew have me two bottles.
30 minutes after the first drinks round the lunch service commenced. The mains for WTP consisted of beef or baked salmon. Trying to be health conscious I had pre-ordered the gluten free option. By me saying it was very poor, I'm being generous. The meal consisted of gluten free bread roll and a boiled chicken breast dish with a side of boiled vegetables. In terms of taste and presentation was sub-standard. Health wise it was alright.
WTP Cabin
Eager crew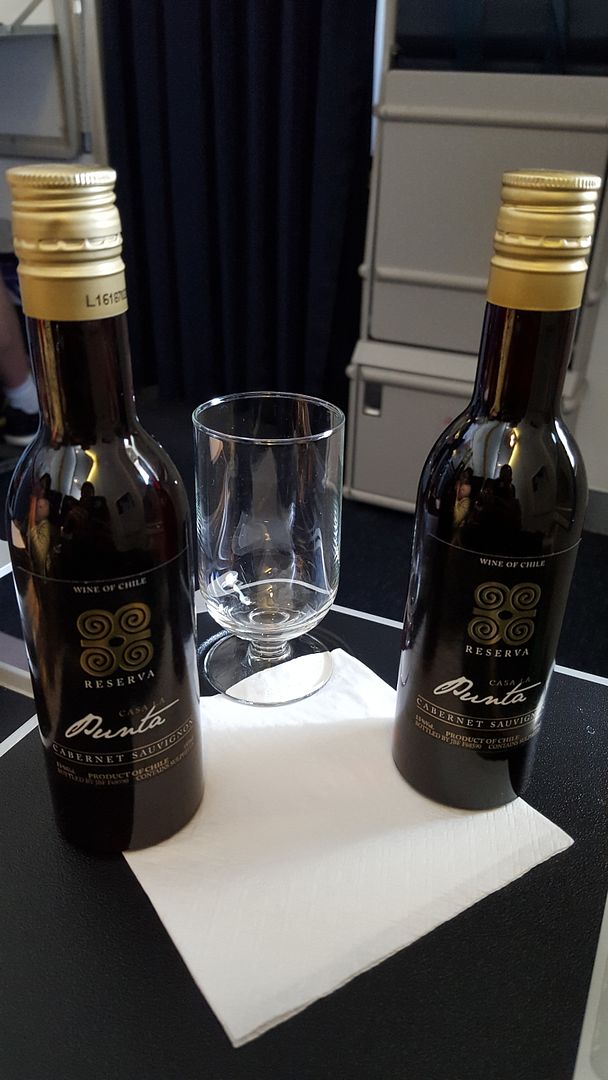 Watched money monster. During dinner. Pretty alright, was expecting more though.
Middle of the road movie
Probably the worst Bollywood movie I've watched. Not even possible to watch it after having a couple of bottles of wine.
Hell, Yeah!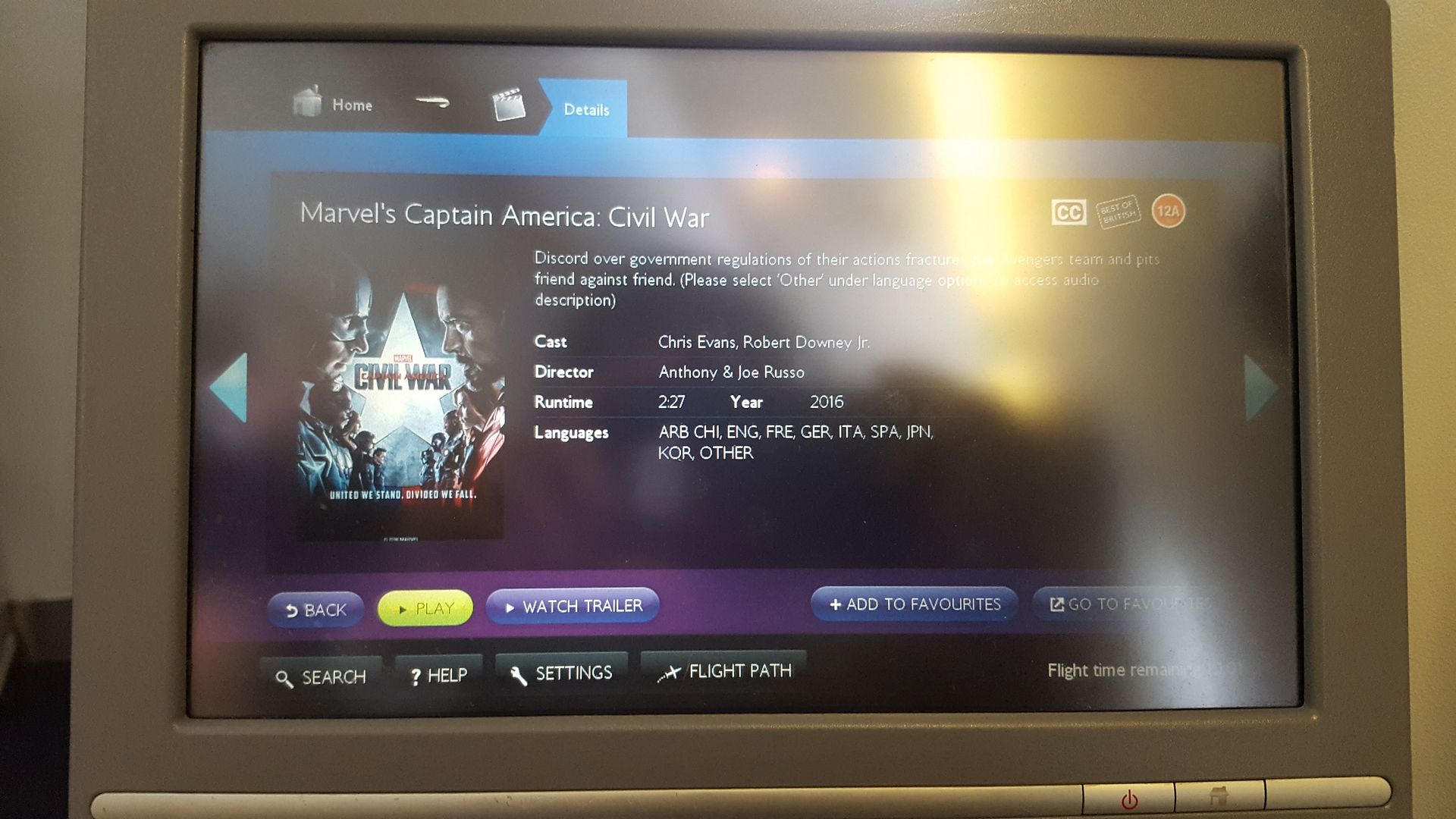 Lunch - Salmon dish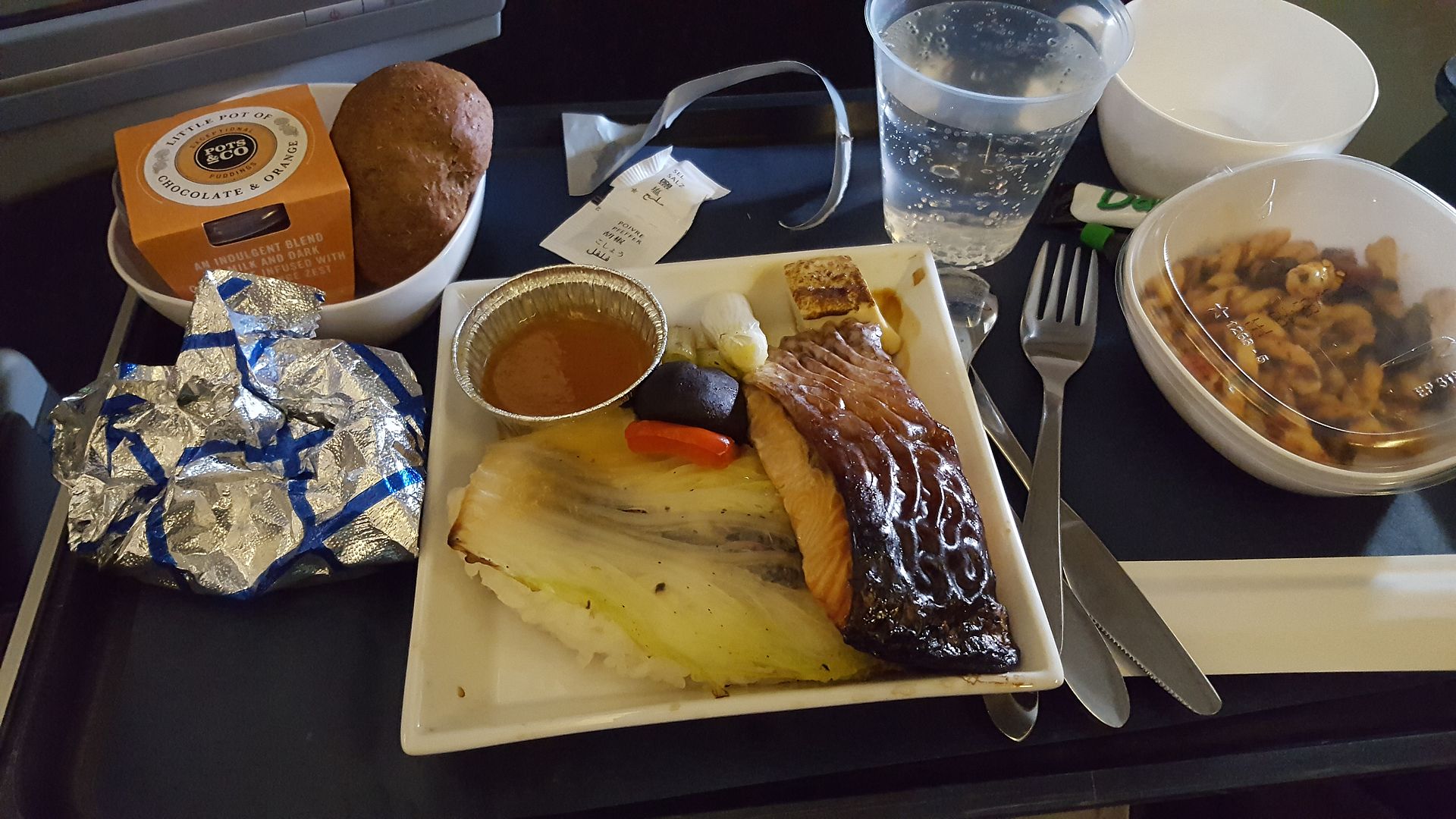 Service wise the crew did quite a few drinks round. Throughout the flight there were quite a few crew members who kept coming and checking on us. Good effort by the team.
Was speaking with the head purser. Looks like BA have changed their snacks policy. no more are the nibbles and snacks available in the galley. Although they do have pot noodles on the Chinese and East Asian routes.
The toilets were spotless for the entire duration of the flight. That being said, the club world toilets were being used by WTP passengers too. They tried to block it with a barrier but it was loosely enforced.
The exit row was good in terms of leg space. But not really sure about the WTP seating. I think it's just alright and given that BA have the world traveller cabin in a 3-3-3 layout it doesn't make much of a difference.
Great headwinds during this route as we were constantly clocking over 610 mph.
IFE. Decent size screen. The noise cancellation headphones did it's work although after a couple of hours it starts to hurt against your ears. But not bad. Decent movie and TV options.
World traveller cabin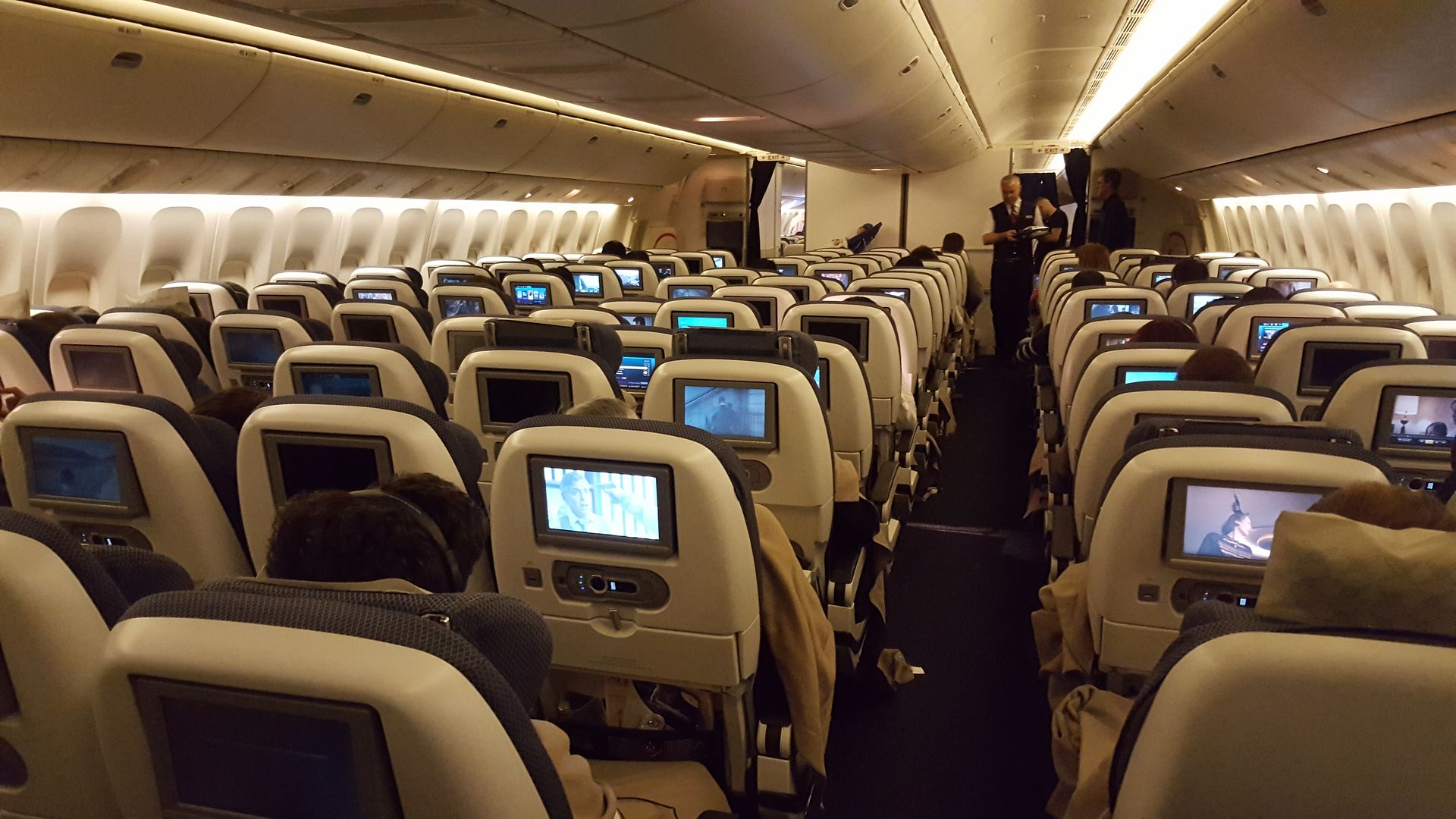 Did a Big Bang Theory binge watching towards the end of the flight.
The second meal was more edible. Was kind of a full English minus the sausages, eggs and hash browns. The standard meal once again looked better.
Snacking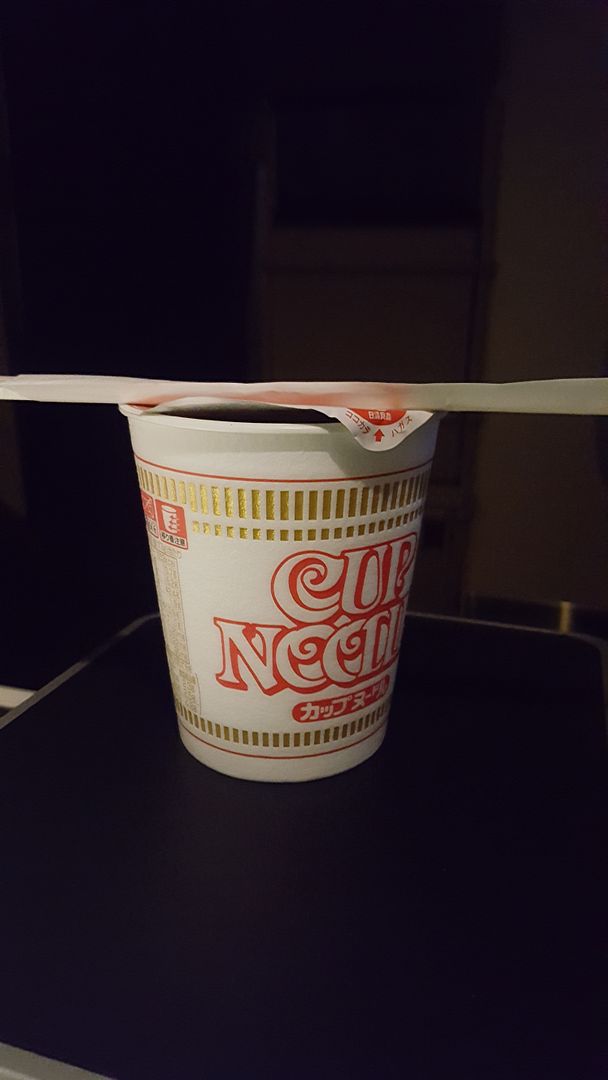 Gluten free breakfast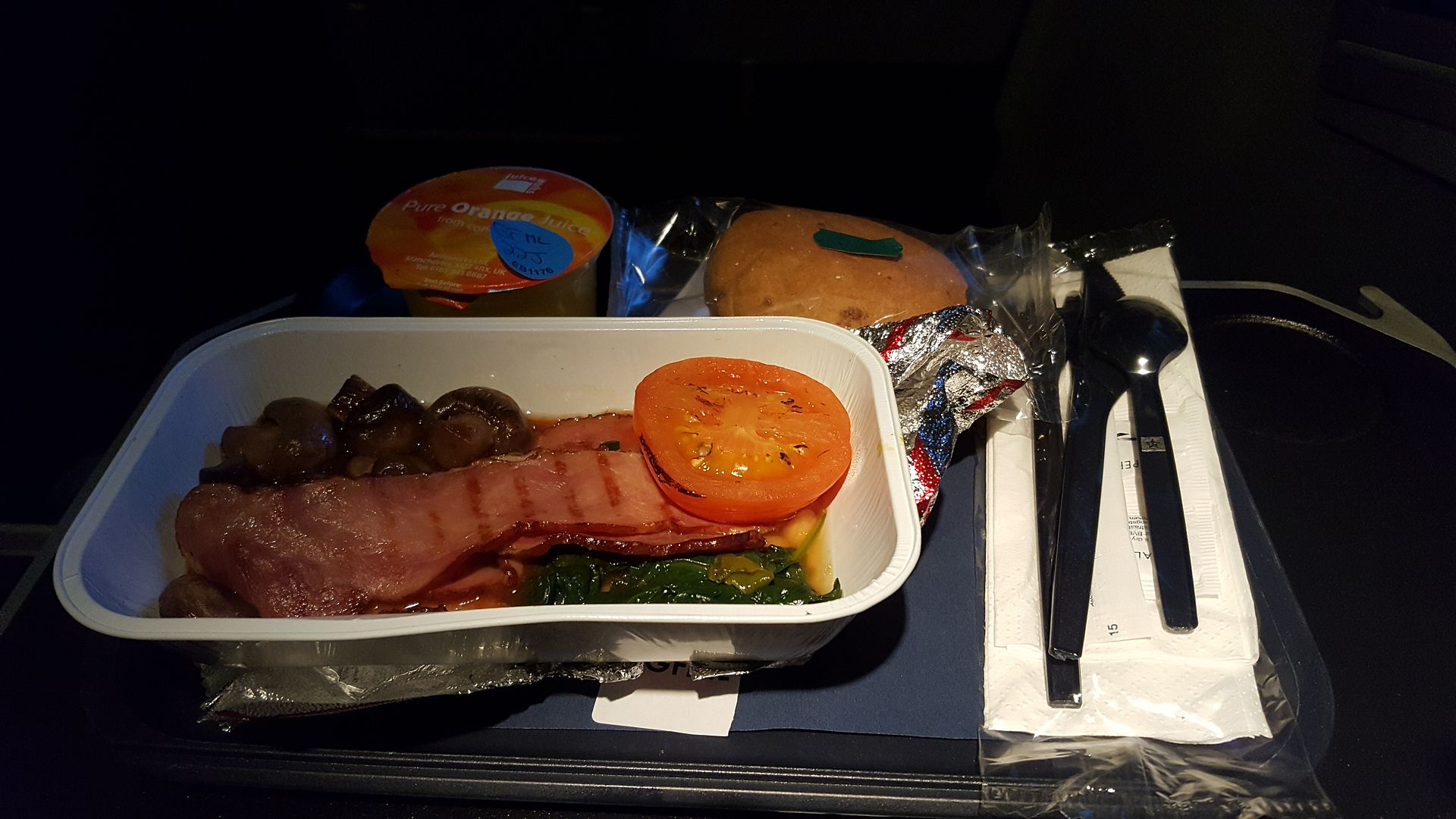 Rest of the flight was uneventful. The triple 777 is rock steady and barring a few turbulent patches over the north Sea the rest was silky smooth.
As expected we landed 10 minutes ahead of schedule.
On the whole a decent flight and a good way to reach Tokyo. Liked the timing of the flight since you have the entire day in Tokyo.
Immigration and baggage collection was quick.
We used the Haneda showers to freshen ourselves before exploring the rest of Tokyo.
Probably one of the cleanest public showers I've ever seen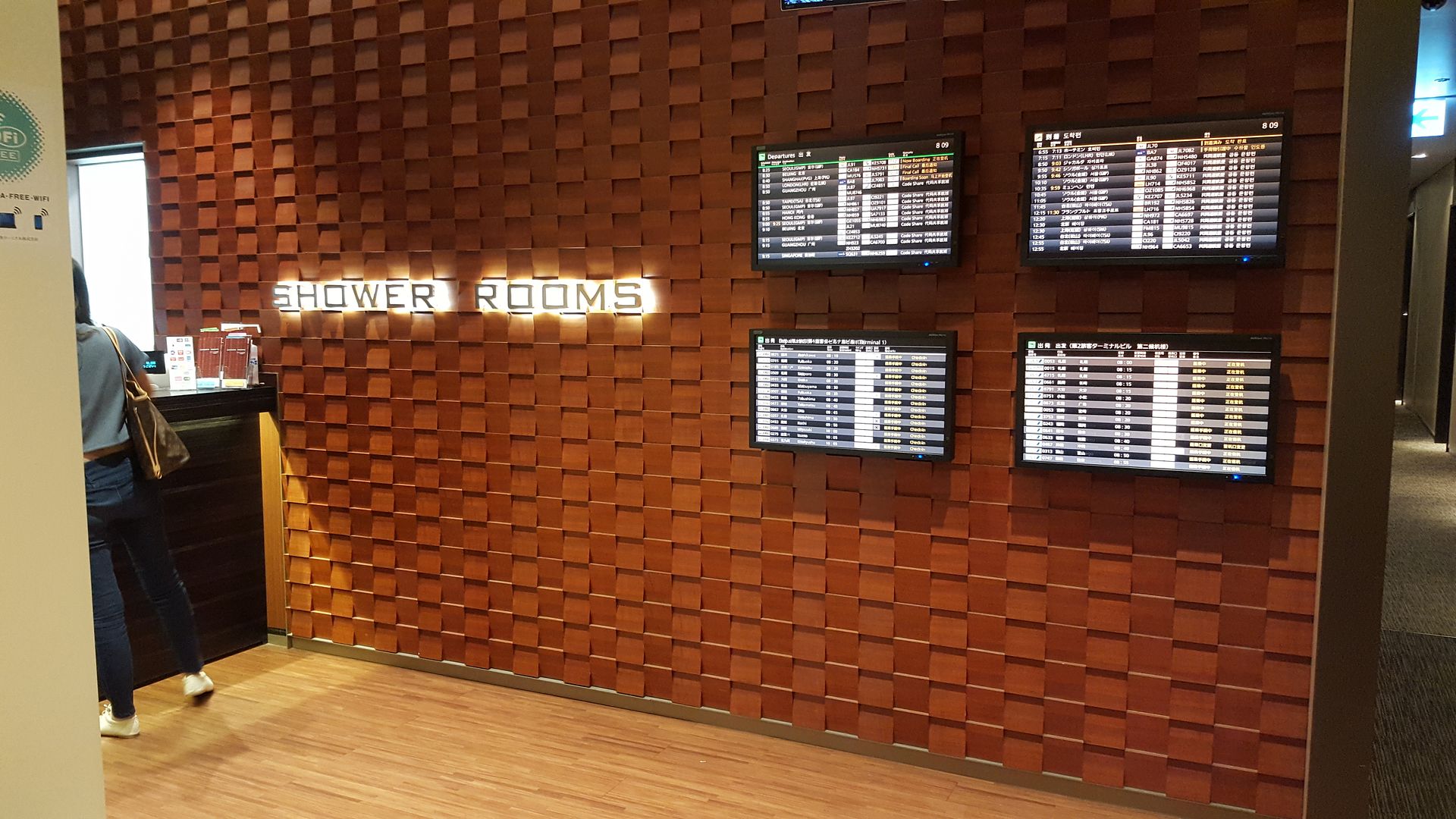 Verdict
Overall it was a decent show by BA. Not a big fan of the WTP cabin. Very good crew on board. Below average GF meal. Decent IFE options but nowhere close in terms of quality of Qatar or Emirates.
This concludes Part 1 of this Trip report. Few more to come in this series. Until then, keep the comments coming and safe flying.
Adios.!