Singapore Airlines "Capital Express" Inaugural SIN-CBR-WLG-CBR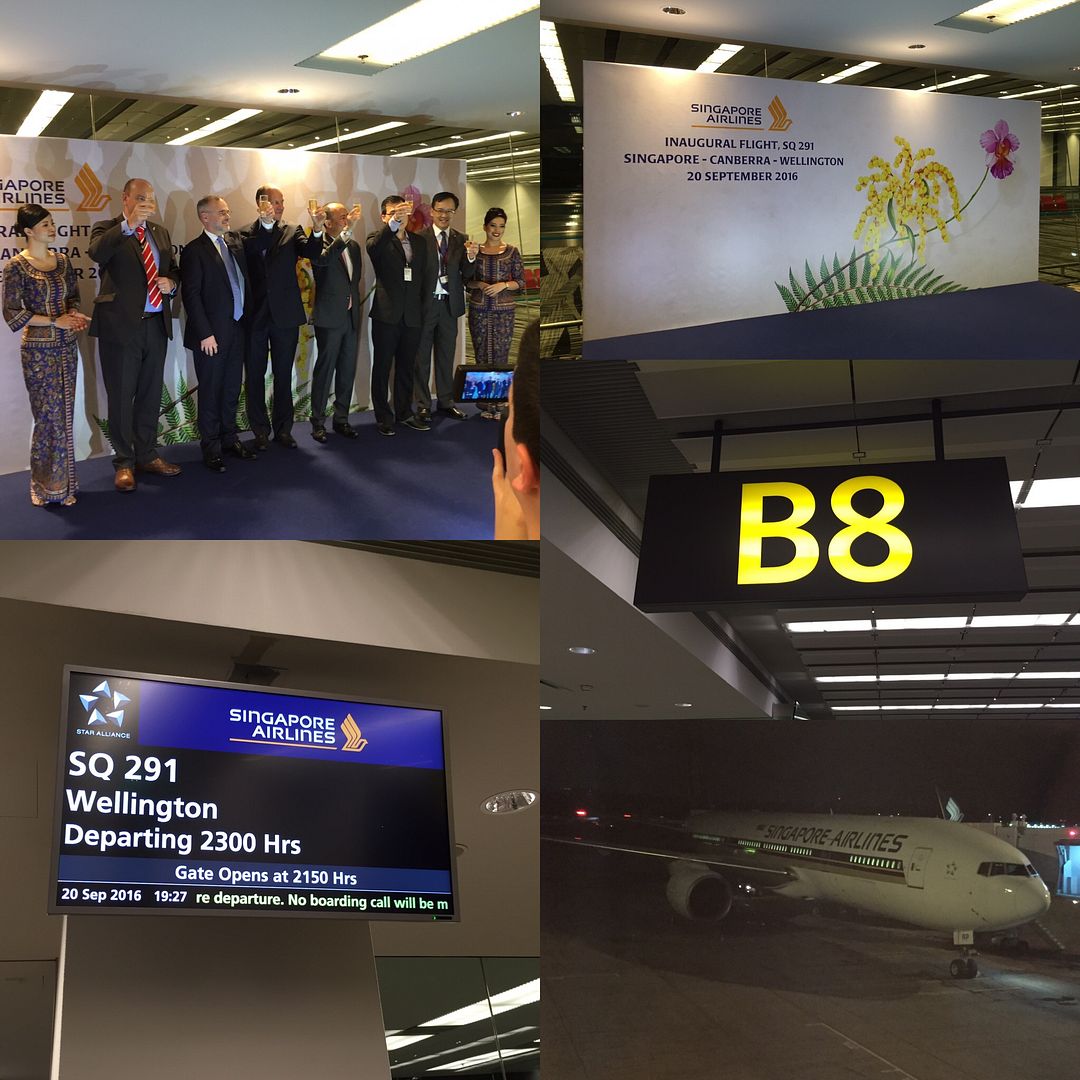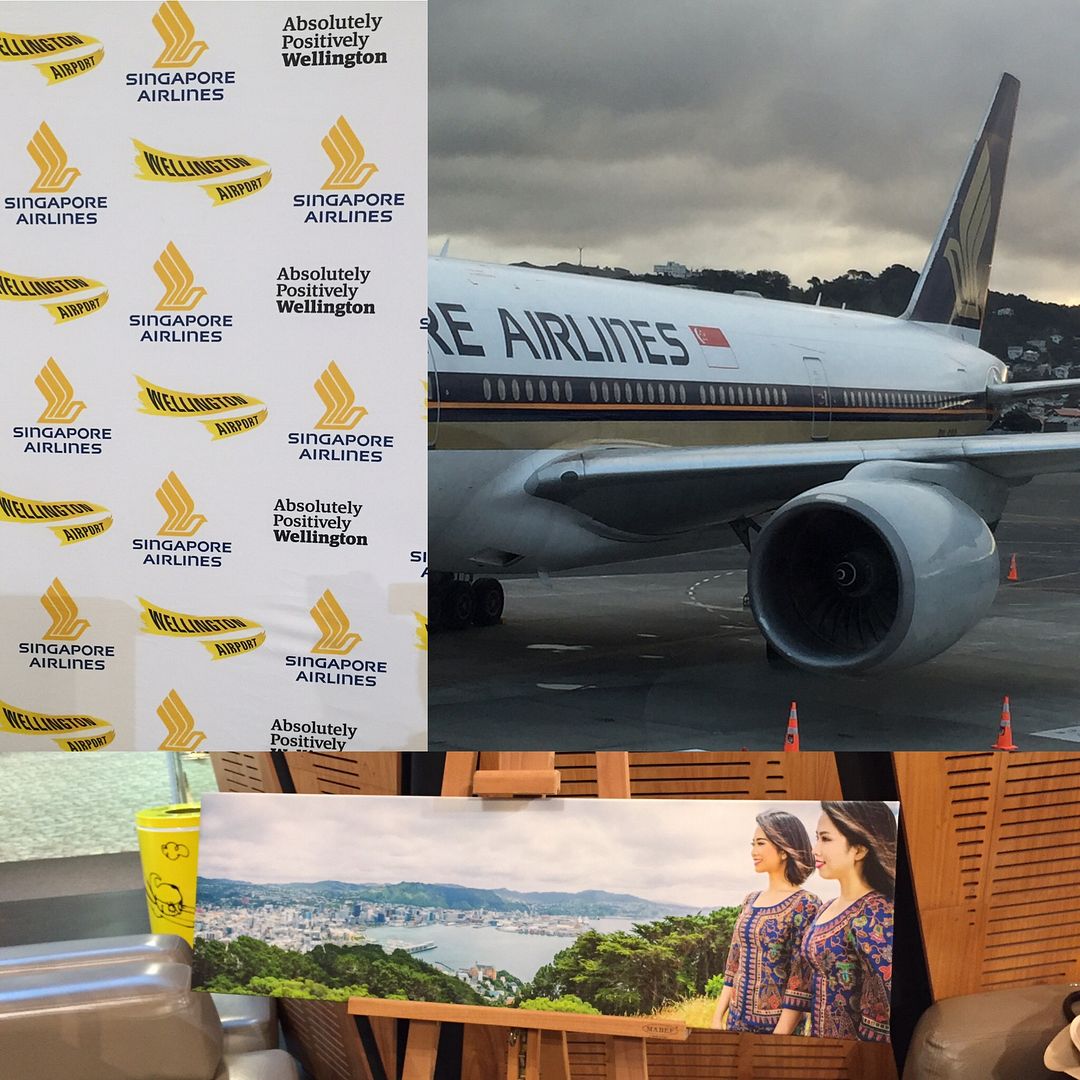 Singapore Airlines is one of the few airlines, which treat inaugural flights as special occasions. Who can forget about Singapore Airlines' first A380 commercial flight, as well as multiple A380 firsts towards multiple destinations, as well as the "747 Farewell" flights? I still recalled my Singapore Airlines' first A380 flight to Tokyo Narita, which was diverted to Nagoya, and the wonderful mandarin duck gift bag in business class. When Singapore Airlines announced this interesting "Capital Express" flight linking Singapore with the two capitals in Australia and New Zealand, I was interested in giving it a try. I had debated multiple times, as the fares are quite high, and of course, the late departure time will guarantee the dreaded "sleeper service" flight, which is truly as bad as it sounds, and I almost feel the embarrassment of the F/A asking if business class passengers want supper OR breakfast. I got more food on the three hours Trans-Tasman segments than the seven hours segments. Most importantly, Singapore Airlines not only employ the regional business class seats, which is okay with me, but those slightly older Boeing 777-200ERs with the old entertainment system. I also feel that this will be a perfect A350 flight, but not sure if the short runway at Wellington dictates some of these decisions. In the end, I decided to fly one way from SIN to WLG via CBR and coming back to CBR from WLG, so I will get three inaugural flights. Doing all four segments seem a bit much, even in business class. I actually felt that Wellington threw the best party out of all three segments that I took, but Canberra shared the most excitement, as this Singapore Airlines' new service will be the only airline using these nice international facilities. I am still a bit surprised that there is no nonstop service between Canberra and Auckland, and the economics of A320 should work. Anyway, here is the full report.
Photo link to the full album for those who don't want to read: Please be warned about this huge photo album!
http://s1213.photobucket.com/user/Carfi ... sInaugural
September 20, 2016
SQ 291 Singapore Changi to Canberra International Lv2300 Arr0835+1 Boeing 777-200ER 9V-SRP
I arrived from Bangkok around 7pm and I stopped by gate B8 first.
9V-SRL to Singapore – this travel day begins and ends with Singapore Airlines' Boeing 777-200ER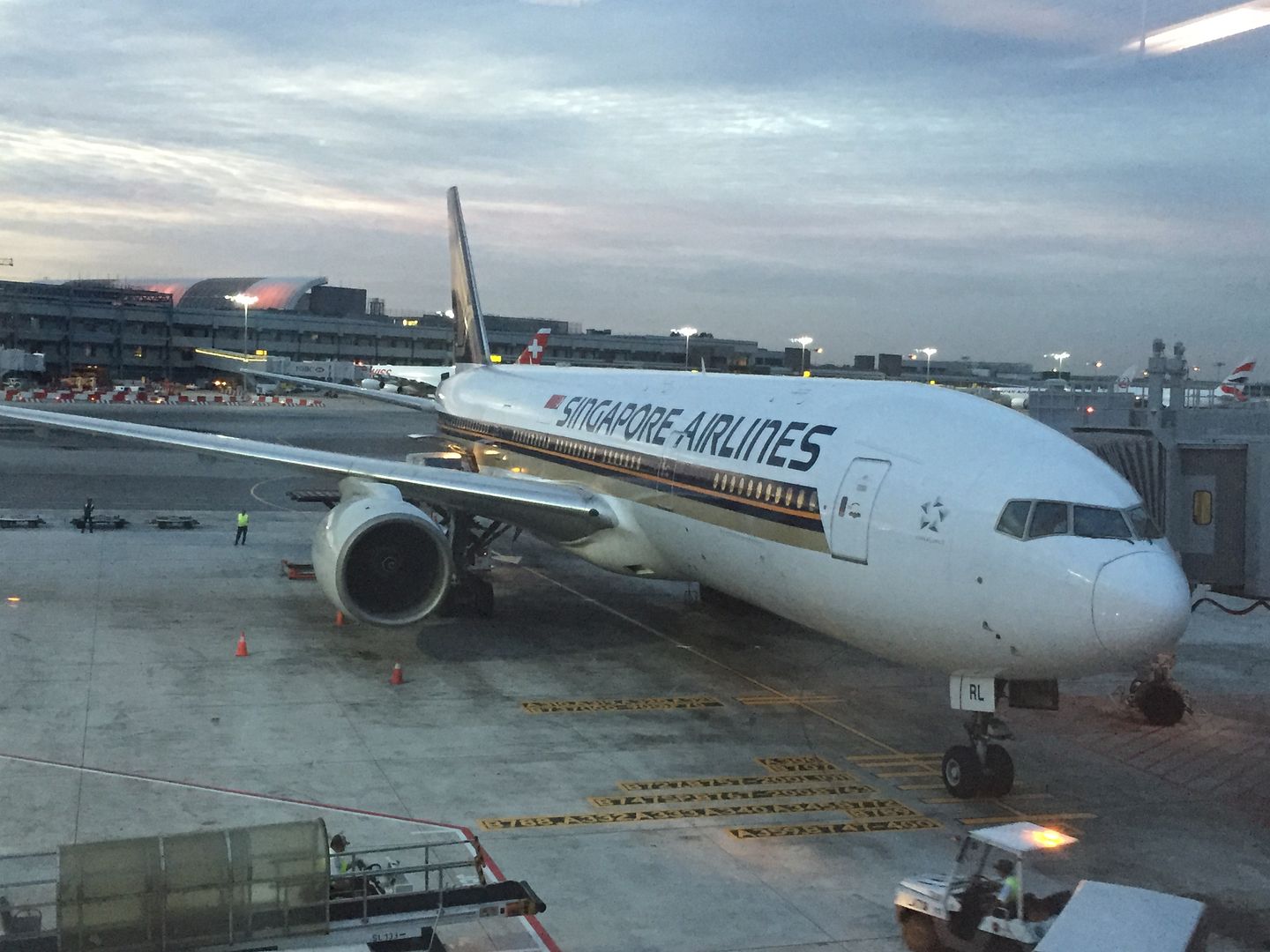 The staffs were already setting up the gate, and I have already spotted 9V-SRP being parked at gate, after arriving from Tokyo Haneda around 5pm.
Then I proceeded to the Silver Kris lounge, which was fairly busy as it was during the first wave of flights heading "Down Under" and the last wave to other Asian destinations. I am not going to write too much about it, but Singapore Airlines really needs to play catch-up games in terms of lounges, especially in the Asian-Pacific regions. Cathay Pacific can't even compared to SQ these days, but in terms of lounges, CX is league ahead especially in the home base.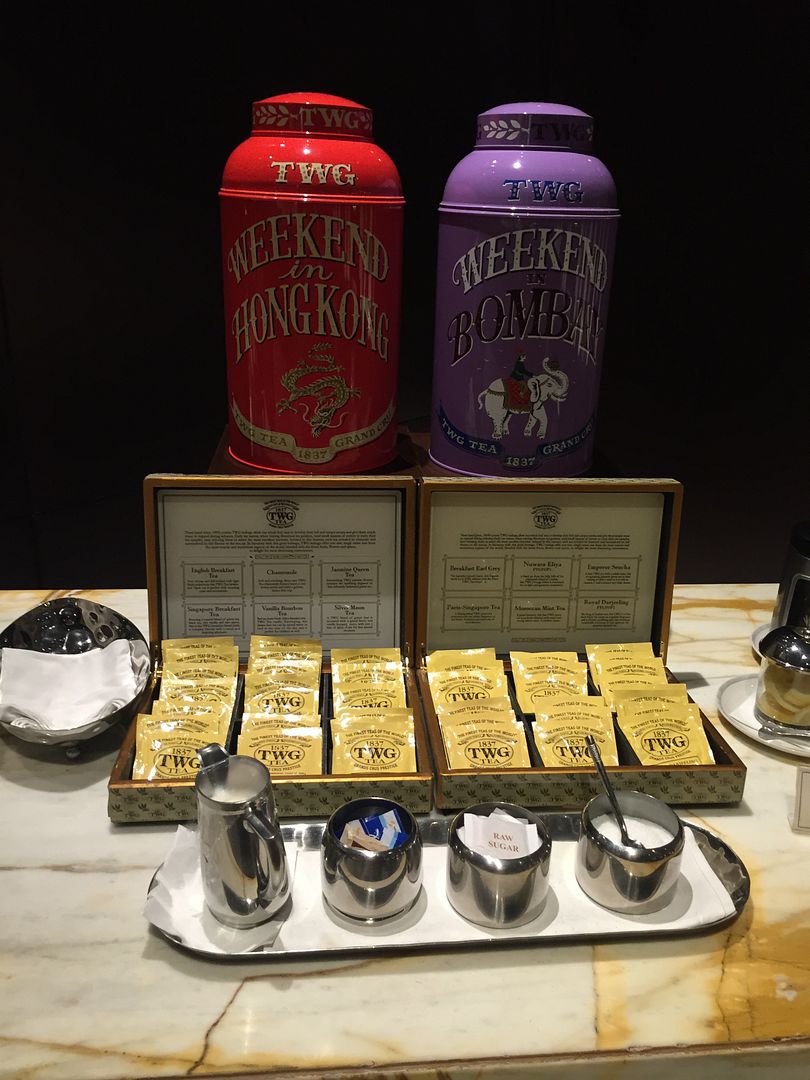 I noted some Capital Express designed dishes and actually loved the carrot based seafood soup.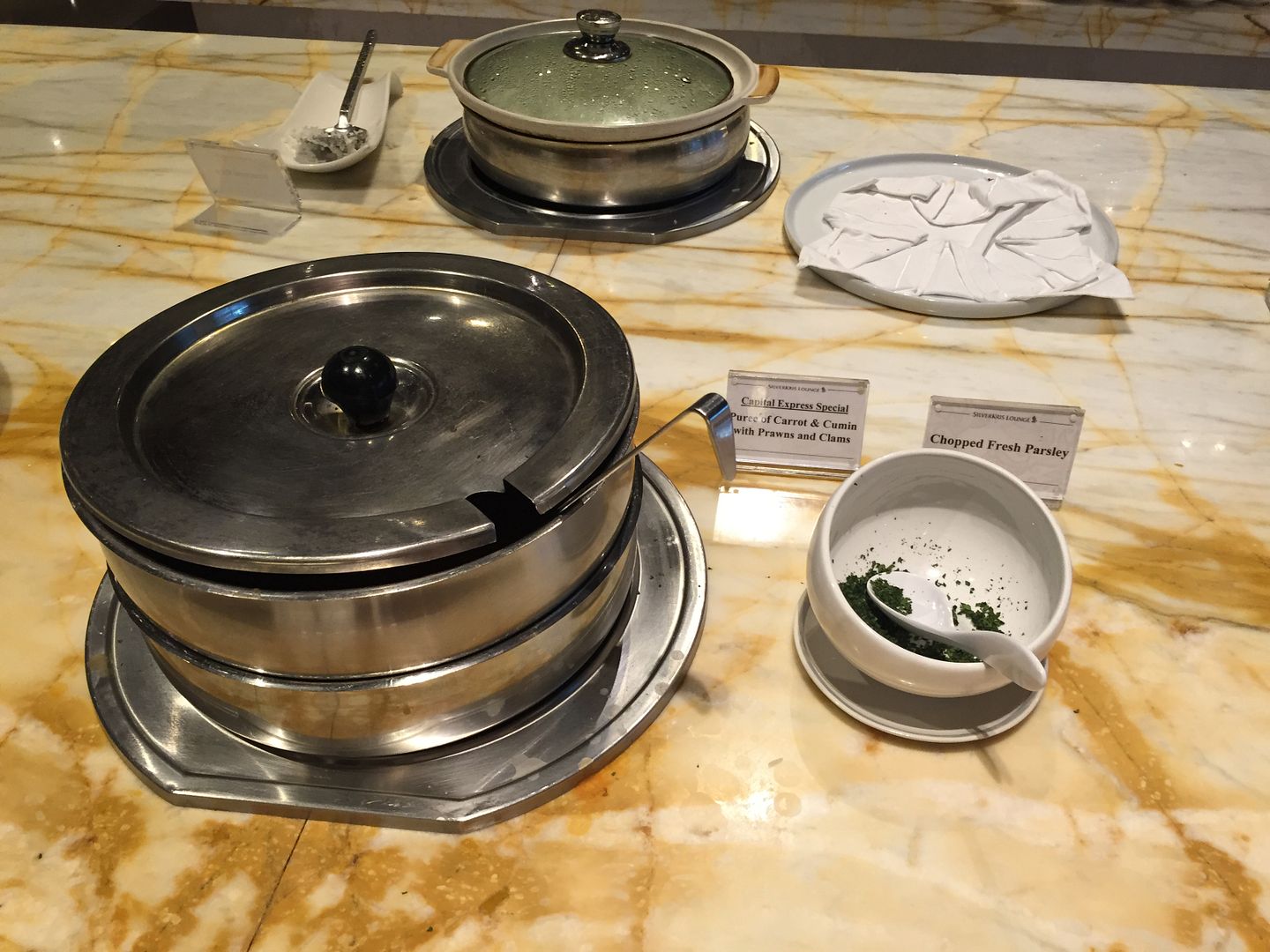 I went back to gate B8 around 8:50pm, and have already noted a loud Mainland tourist group, who was getting anxious about getting inside the gate, as they had already spotted the buffet. Many of them regretted eating earlier (as I presume out of their own pockets), and at Canberra, I found out that there was a group of 80 Mainland Chinese tourists visiting Canberra. The gate was finally opened around 9pm, and it was a struggle to get into the lounge. Two Singapore Airlines girls were greeting passengers after they went through security, and two other Singapore Airlines girls were stationed in two different booths, which were basically the ambassadors today and taking pictures with passengers. Two SQ staffs were snapping Polaroid for passengers.
DJ
Waiters and waitresses were going around the room constantly with water, juices, and champagne. There was a beverage station featuring sodas, hot drinks, and champagne.
There was a buffet featuring the usual Asian and Western dishes. I personally like the chicken satays, as well as the min shepherd pies, as well as the desserts. It was nothing fancy but a decent spread.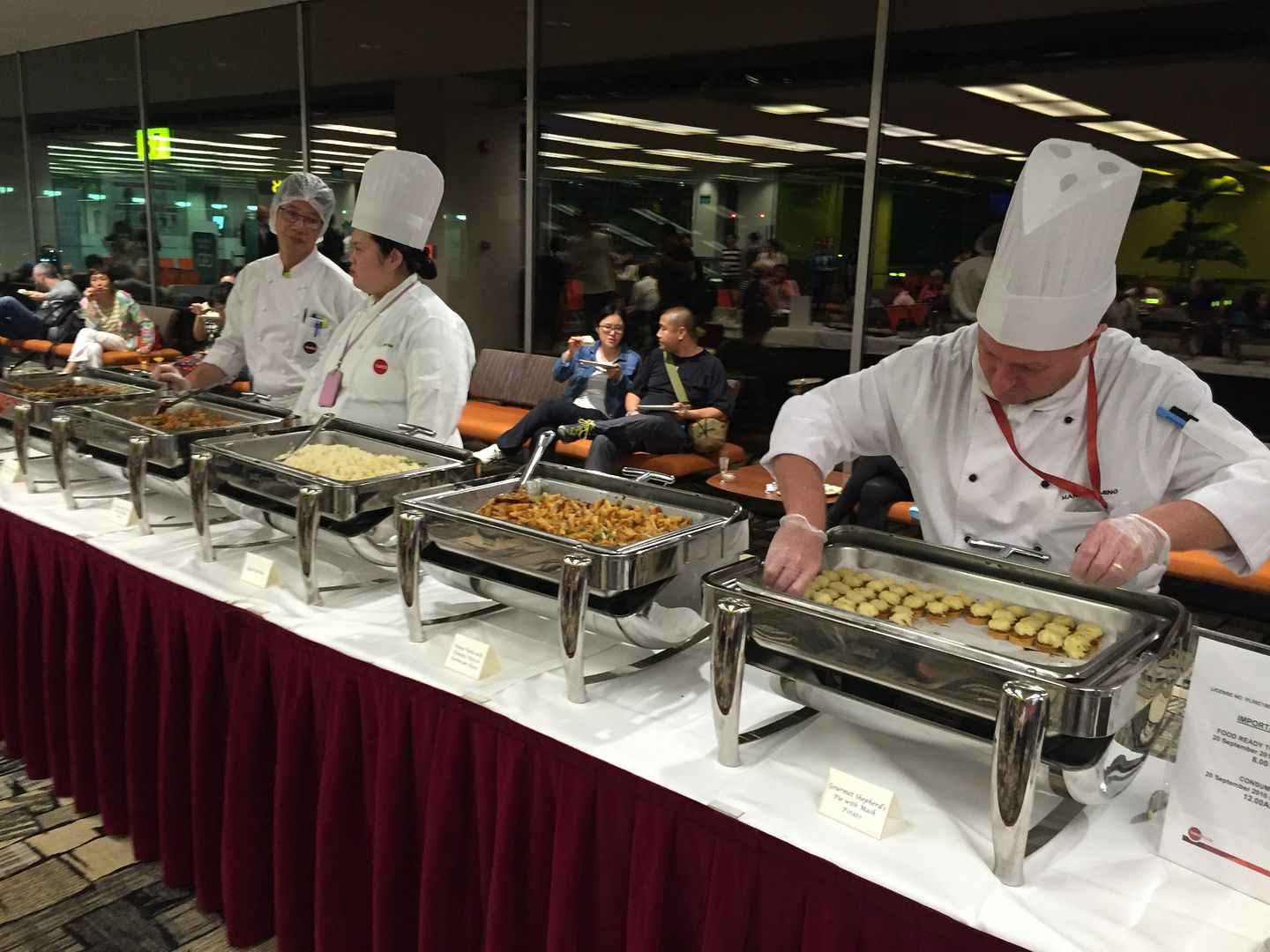 Mini Shepherd pies
Desserts
Then there were the usual formal speeches by officials from Singapore Airlines, high Commissioners from Australia and New Zealand, along with a ribbon cutting ceremony.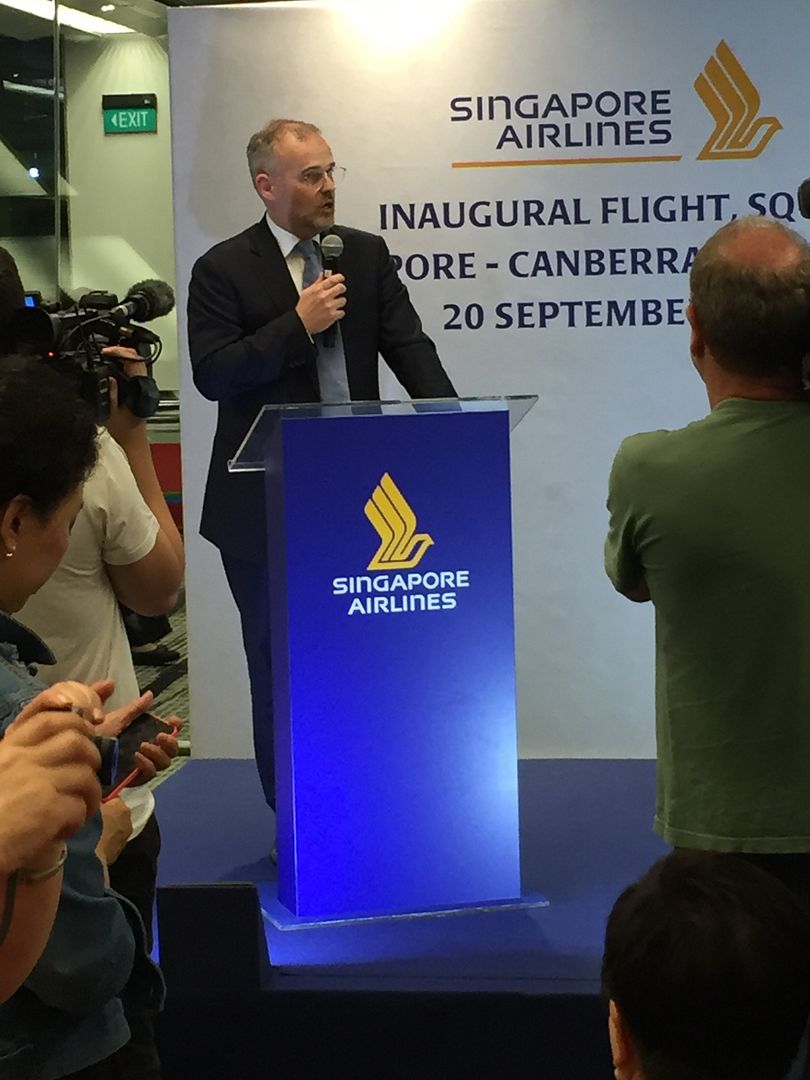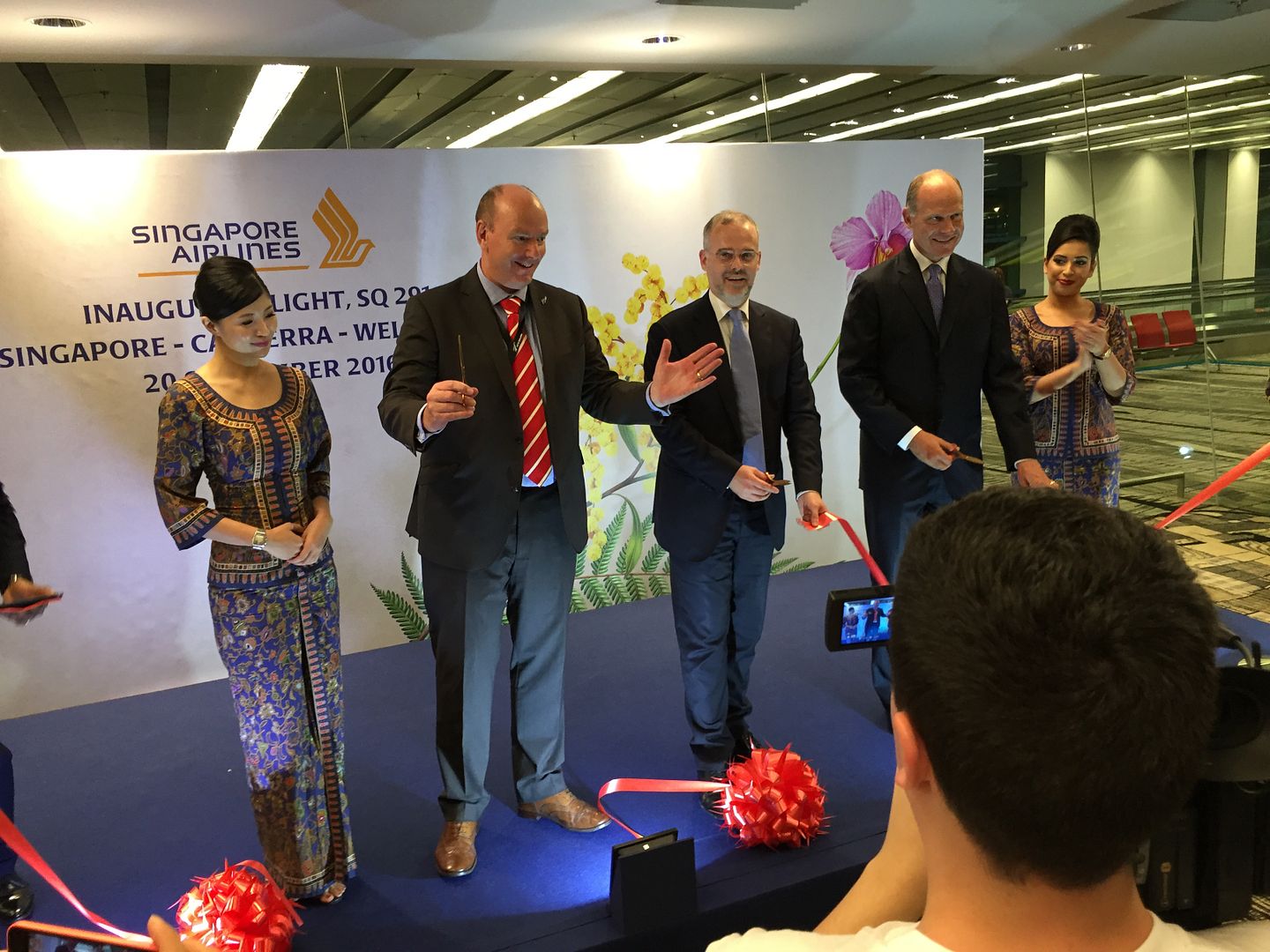 Then a singing group formed by Singapore Airlines F/As performed a few songs, and then there was a game show between the host and the audiences.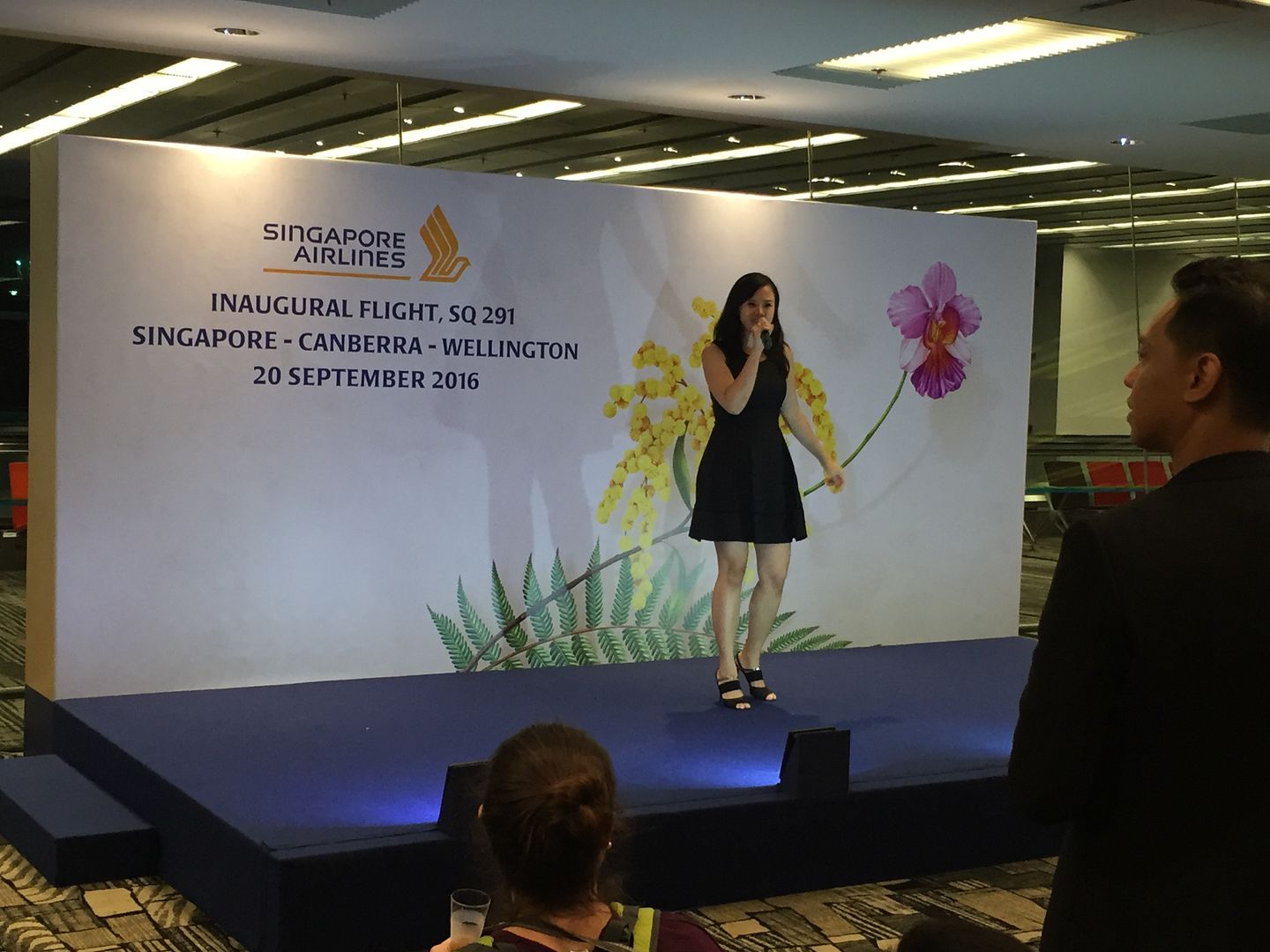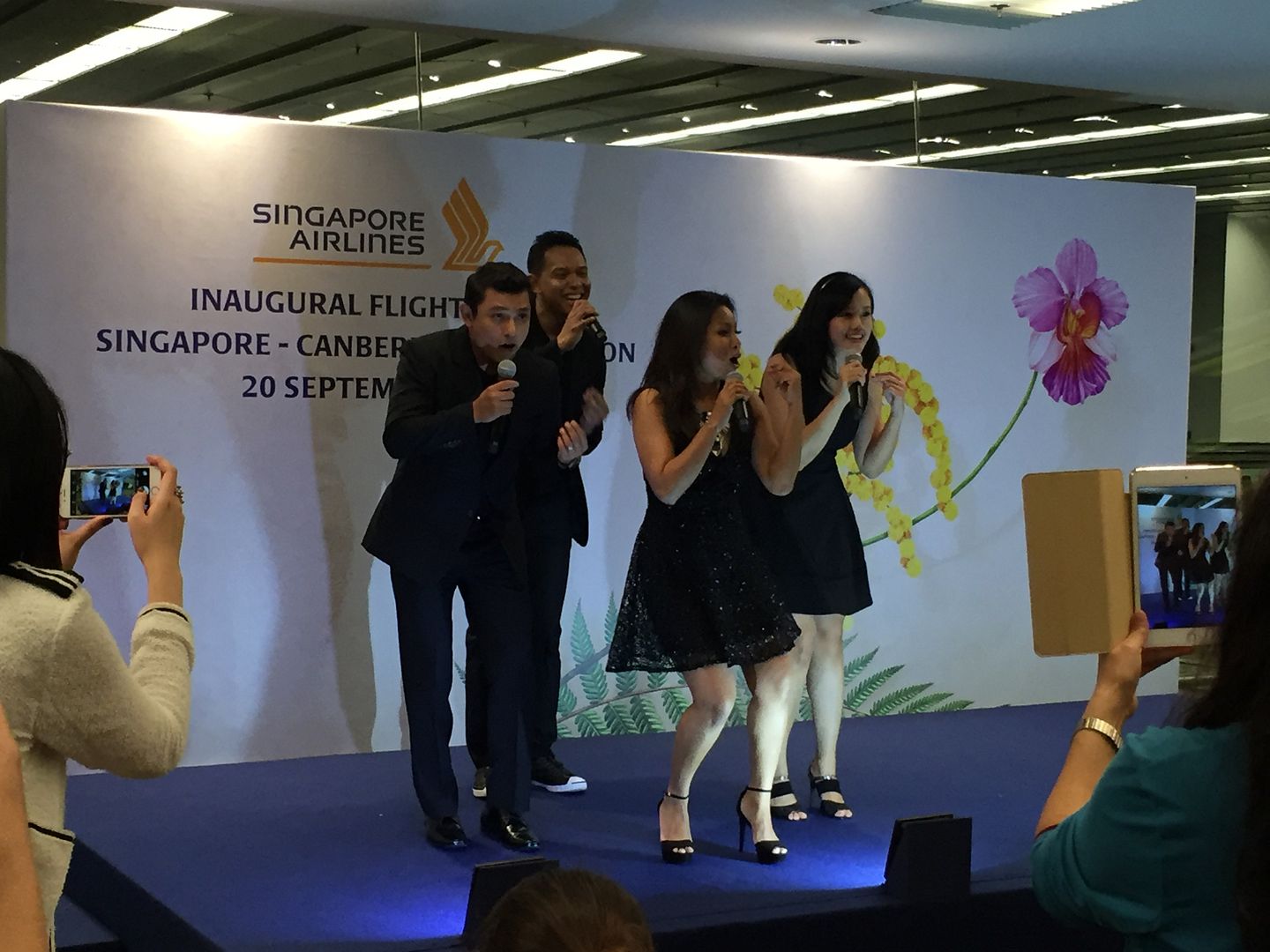 However, I had one major complaint, which was the lack of air conditioning in the gate. I guess it would be okay normally without the crowd, but when the speeches continued, the room was worst. I felt bad for the guests and performers, who were wearing suits. Someone has not given me too many thoughts or reminded the airport authority to turn up the air conditioning.
Pilots boarding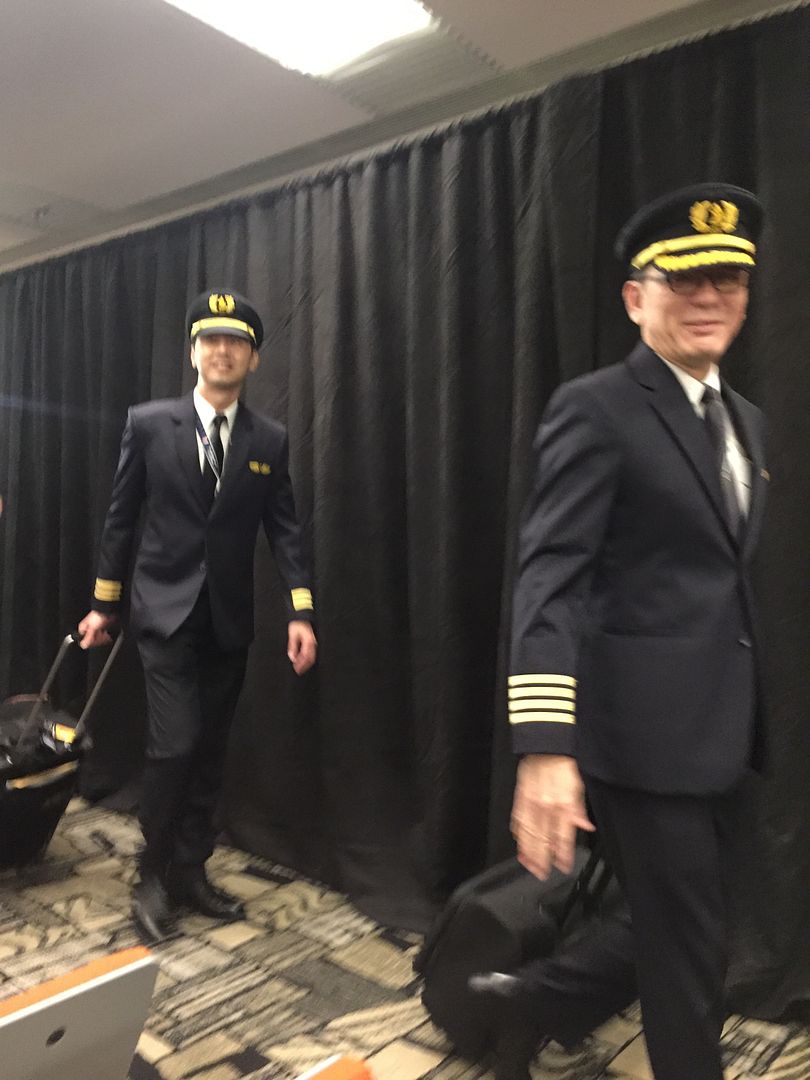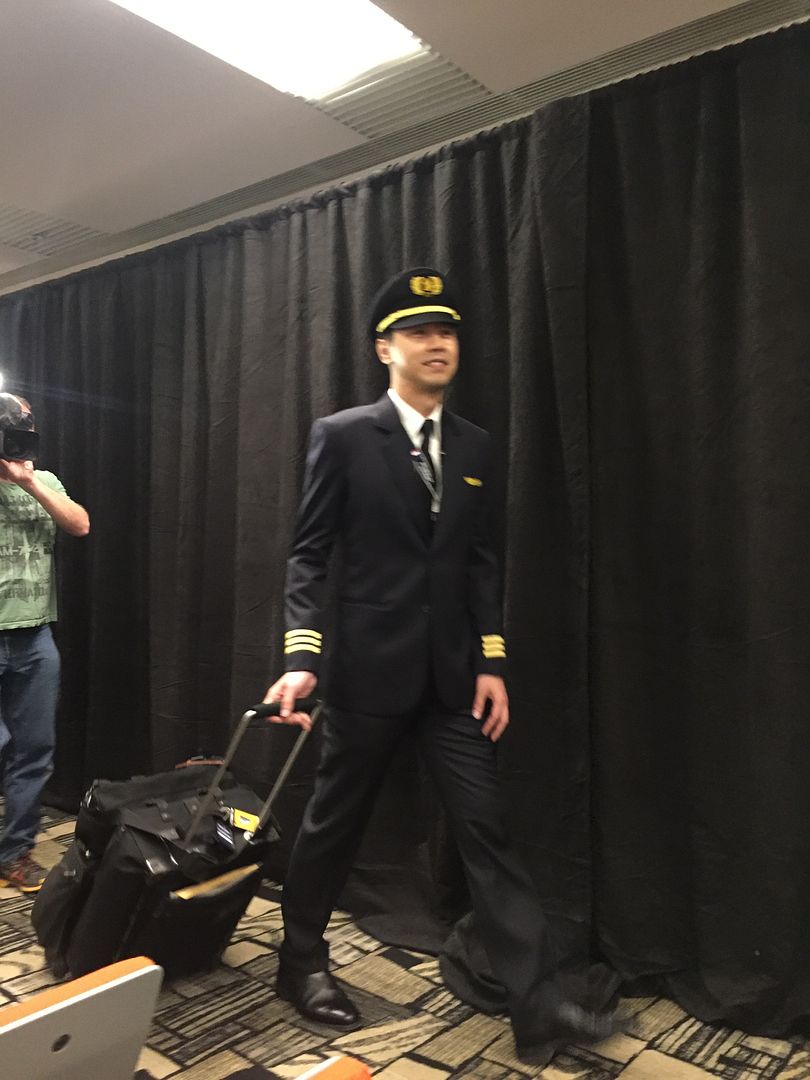 Then I saw two F/As standing by the entrance and there were tons of gift bags. Some of the Mainland Chinese passengers tried to grab the bag, and thankfully, one of the girls spoke mandarin and told them they would get them, as they would board the flight. Those girls handled the situation gracefully. Sometimes you got to give credits to SQ for how they trained their front line staffs.
(No need to worry… there were plenty of gift bags for everyone!)
The gift bag was a bit disappointing with only one notebook with some recognition of this inaugural, along with a baggage tag (regular one with no mention of the inaugural except that leaflet on top). However, the first to fly certificate was still here. I guess they don't really have too many sponsors for these less exciting flights.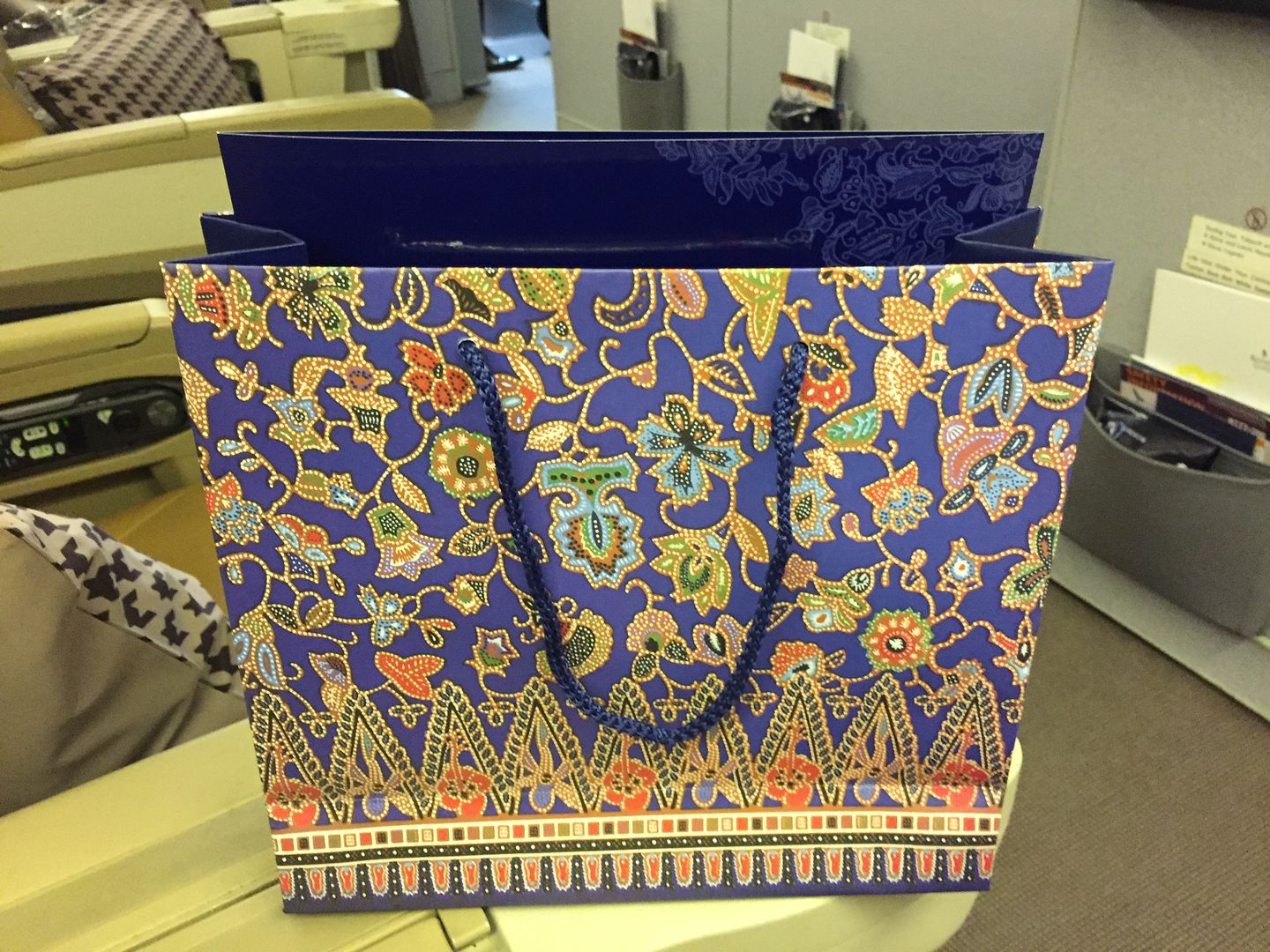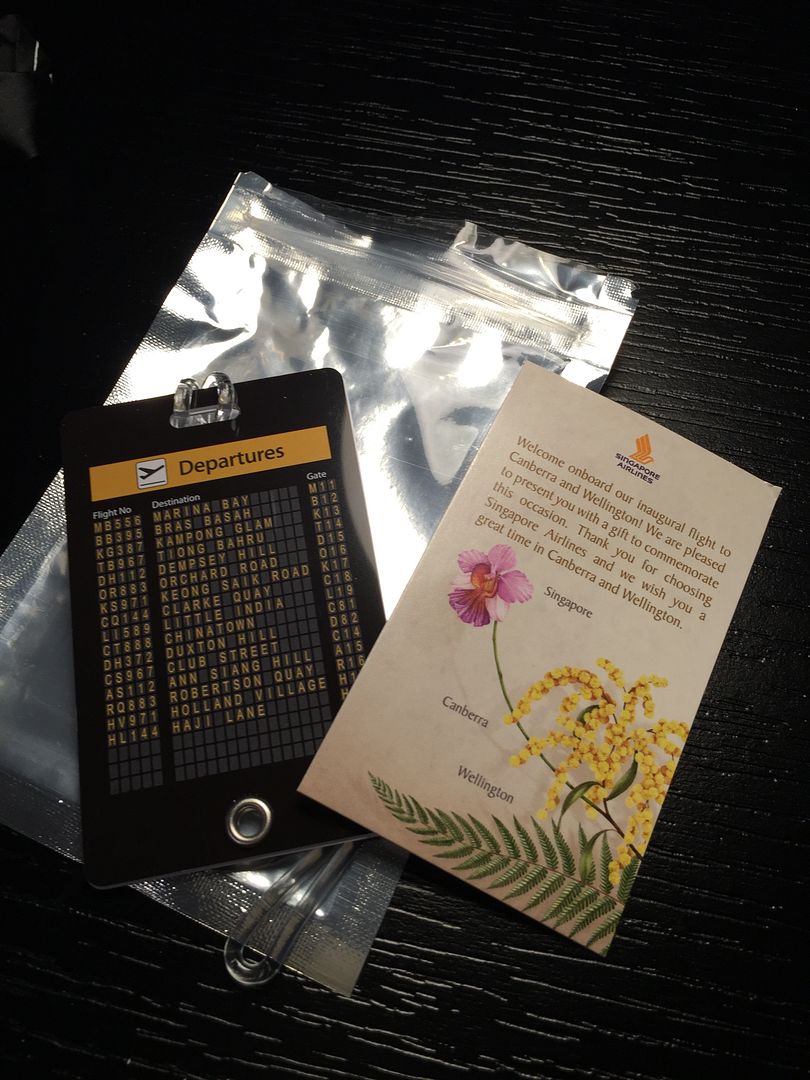 9V-SRP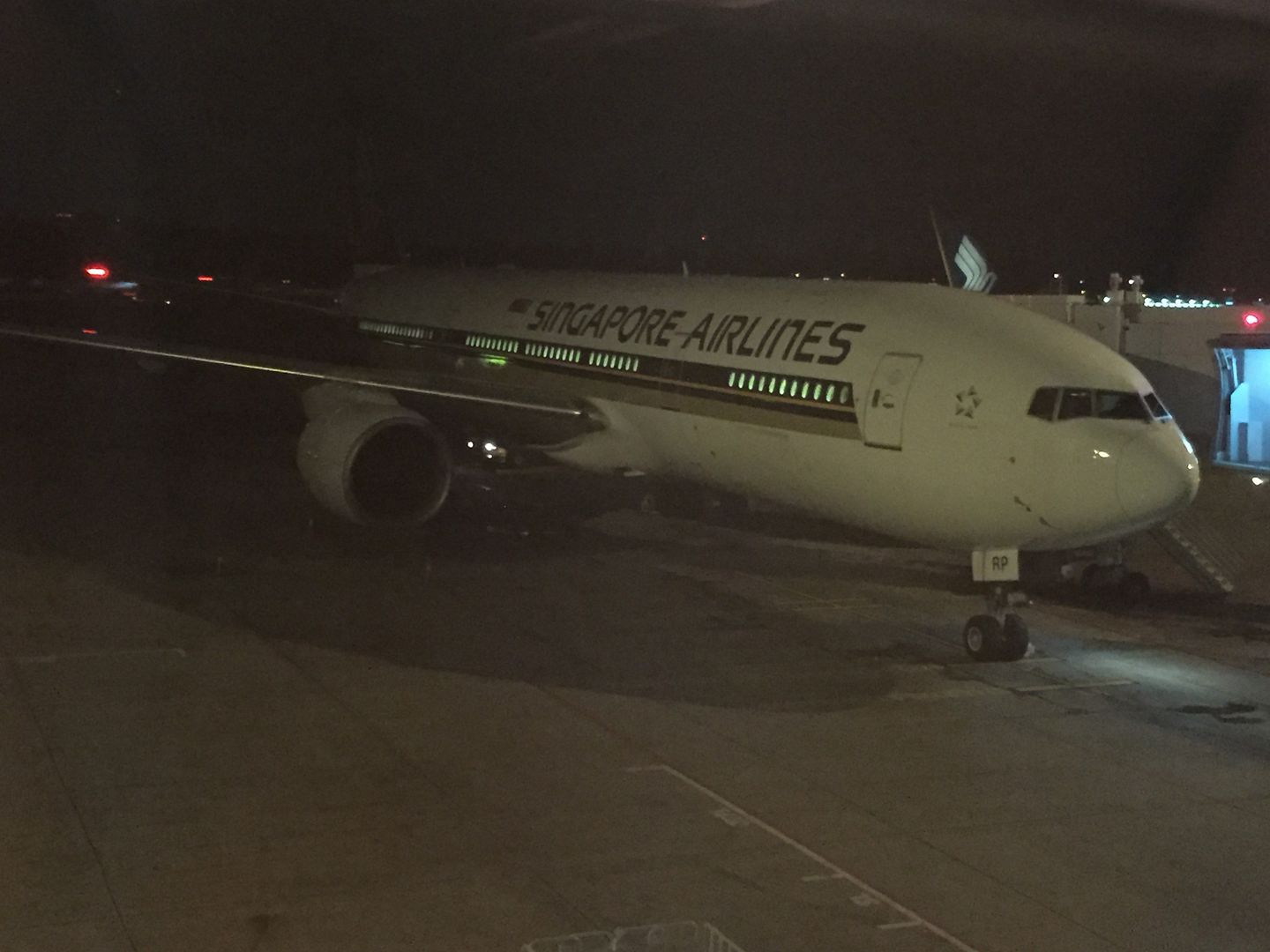 Boarding began at 10:26pm and I was among the first one to board and managed to get a few pictures.
First Business Class cabin
Second Business Class cabin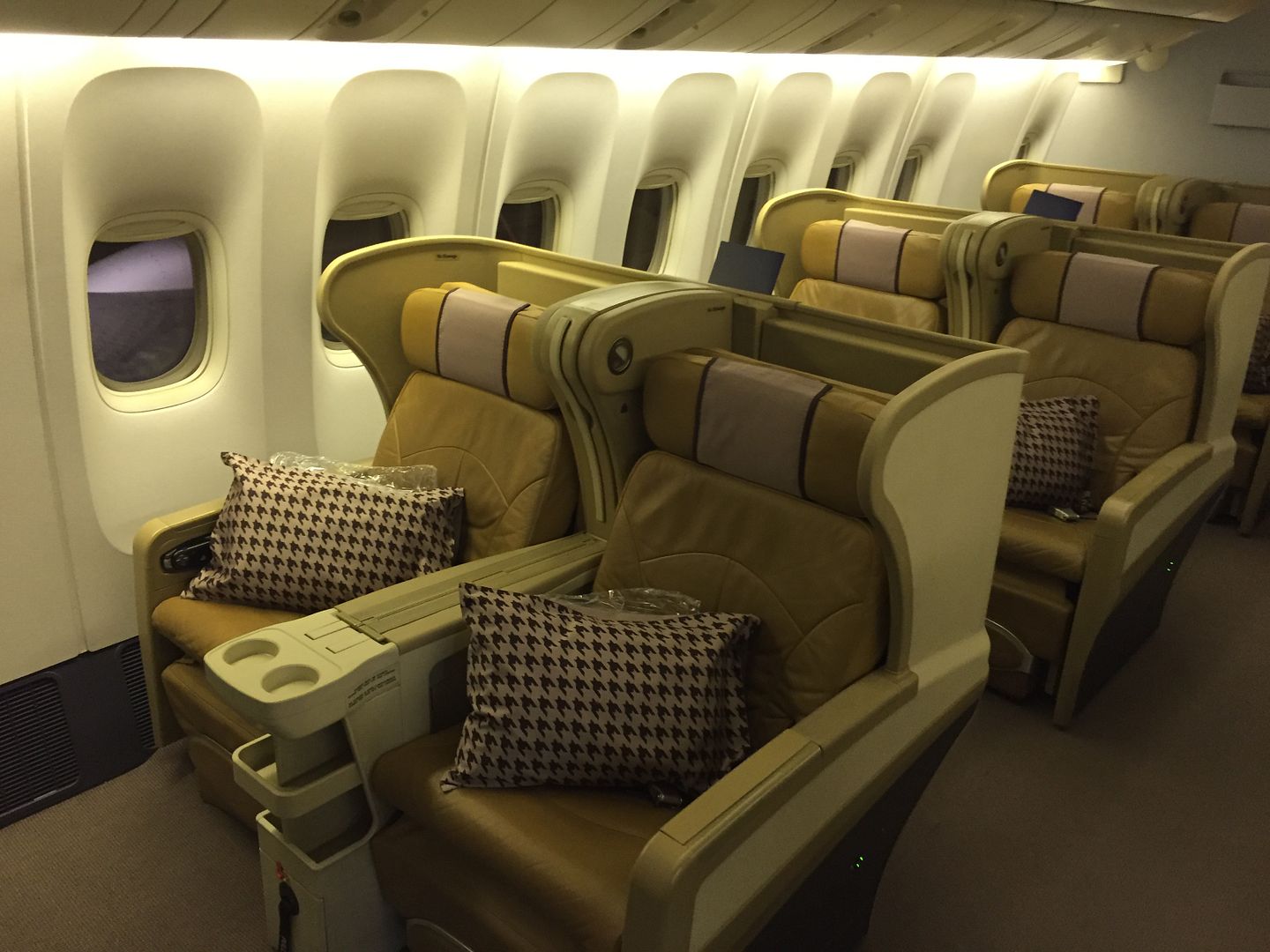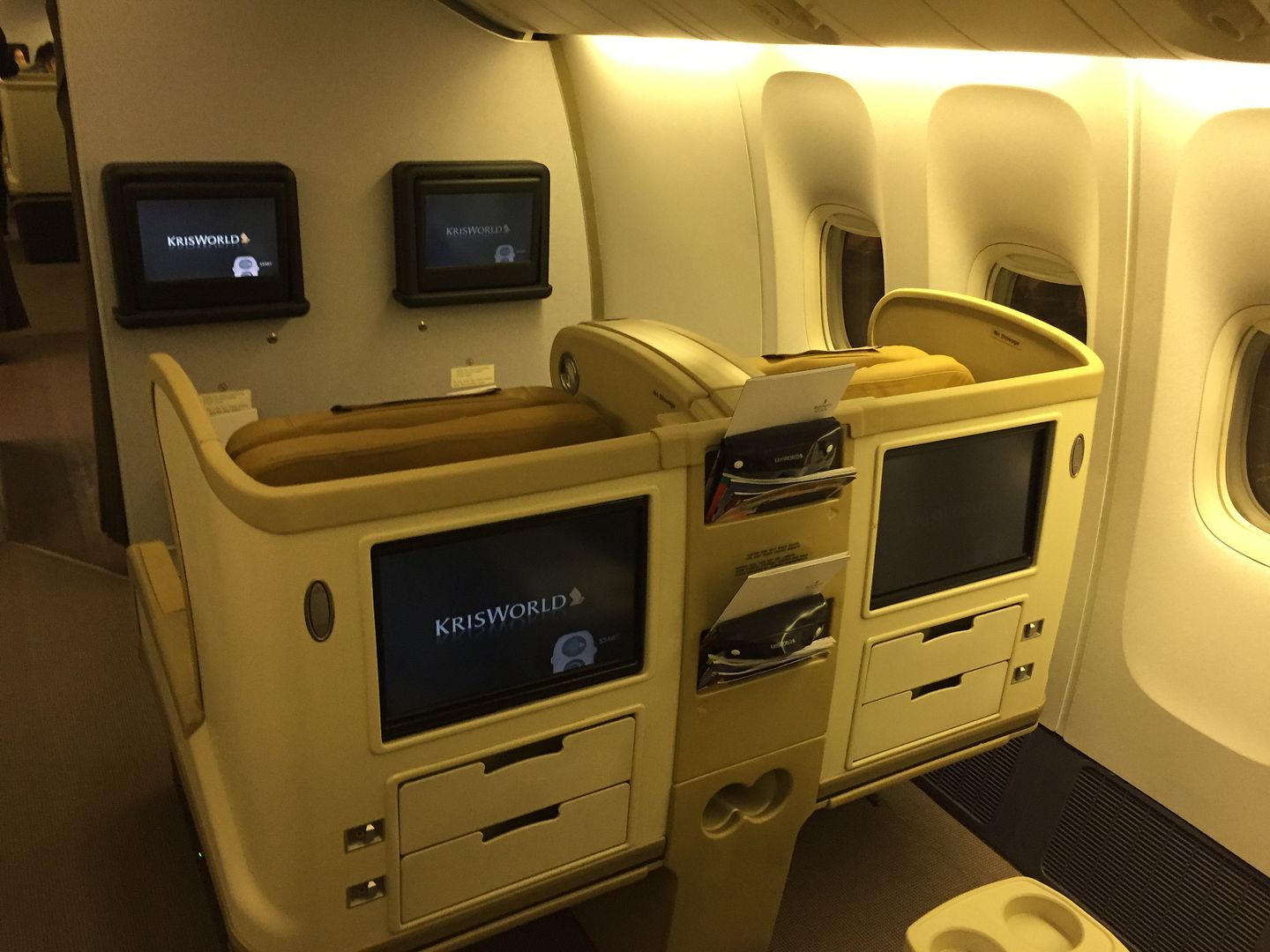 My choice: 17K – I was a bit worried about the window situation, but I still had two full windows, so I was happy.
I picked these same seats for all three flights, because I like being in the bulkhead window seats, so I could at least get out of my seat in the middle of the night easily.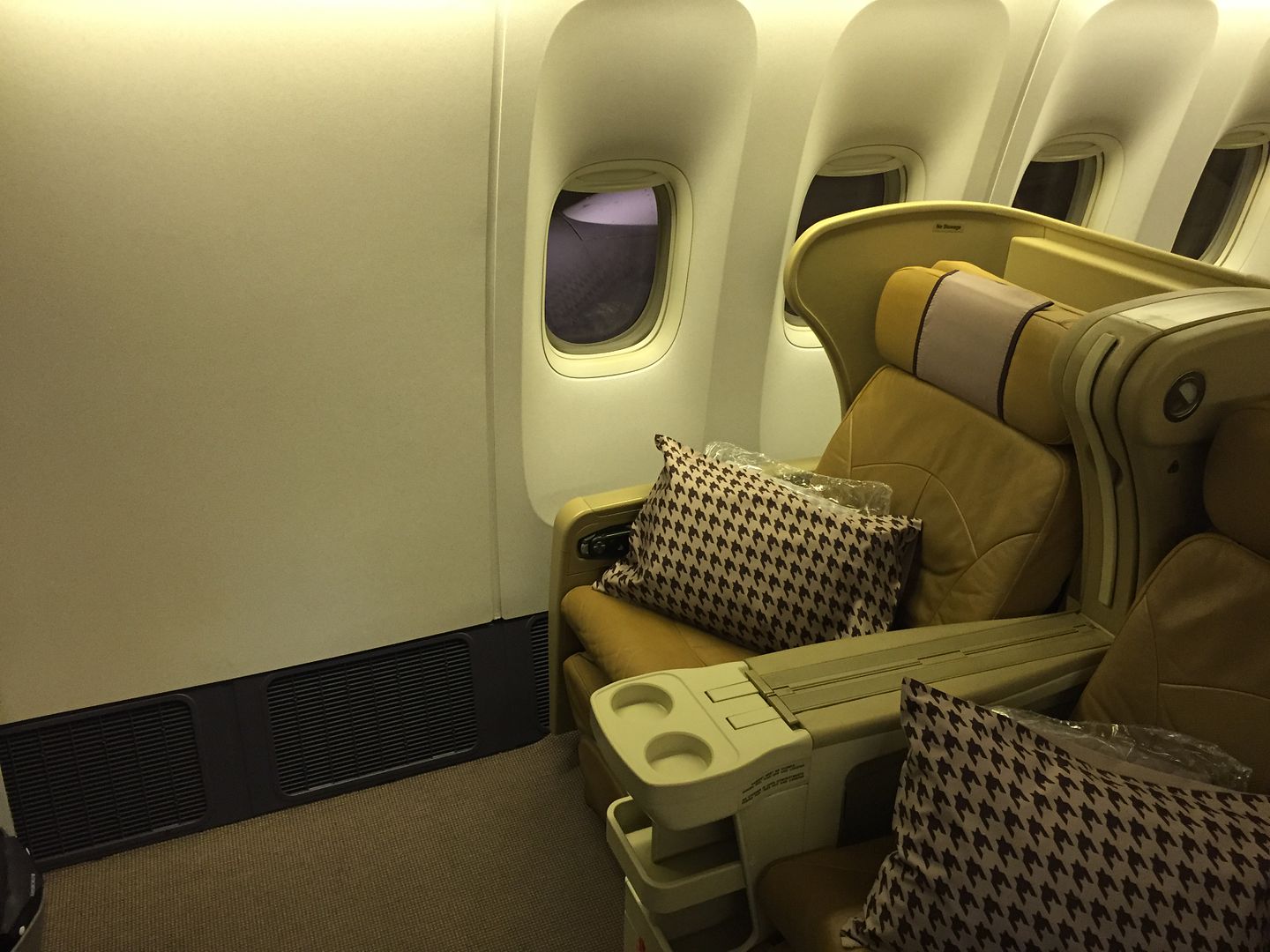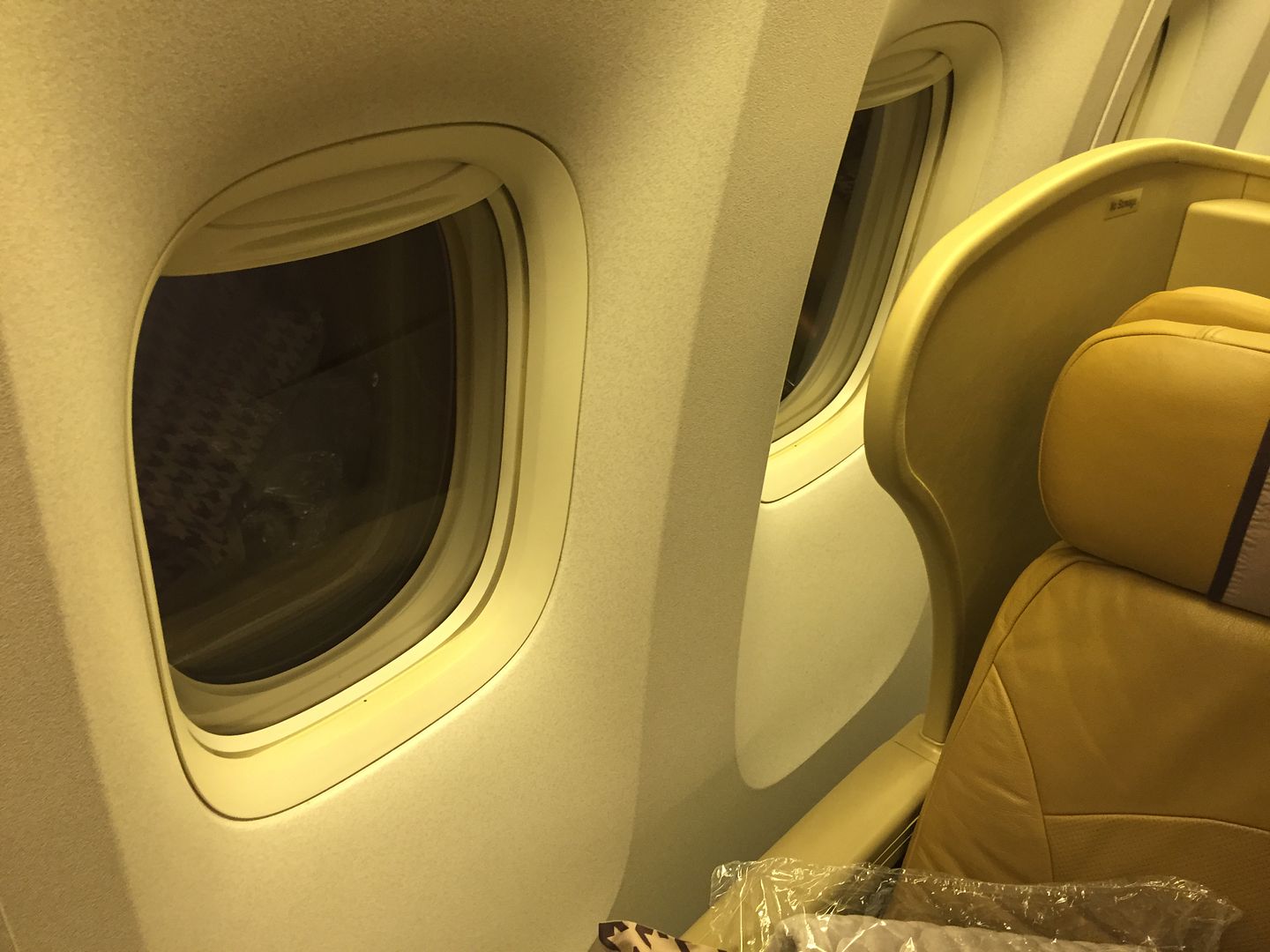 Economy Class cabin behind business class
The service was the best on this segment, and all the F/As were cheerful and efficient, despite the late hours. They were definitely some of the best among the SQ rank. They would get a serious test later in the flight, which they showed nothing but professionalism and cares.
The menu – Special "Capital Express" recognition, but not sure about special dishes, as the menu itself looks fairly typical… As expected, the abbreviated "sleeper service" was offered. I did not realize that I managed to avoid the sleeper service till now, so I did not make the right decision when I chose to have the supper. My original strategy was to have the supper, which was a Hokkien noodle soup that I pre-ordered, and then slept till landing, so I could have energy for the long day ahead. But things did not work out that way.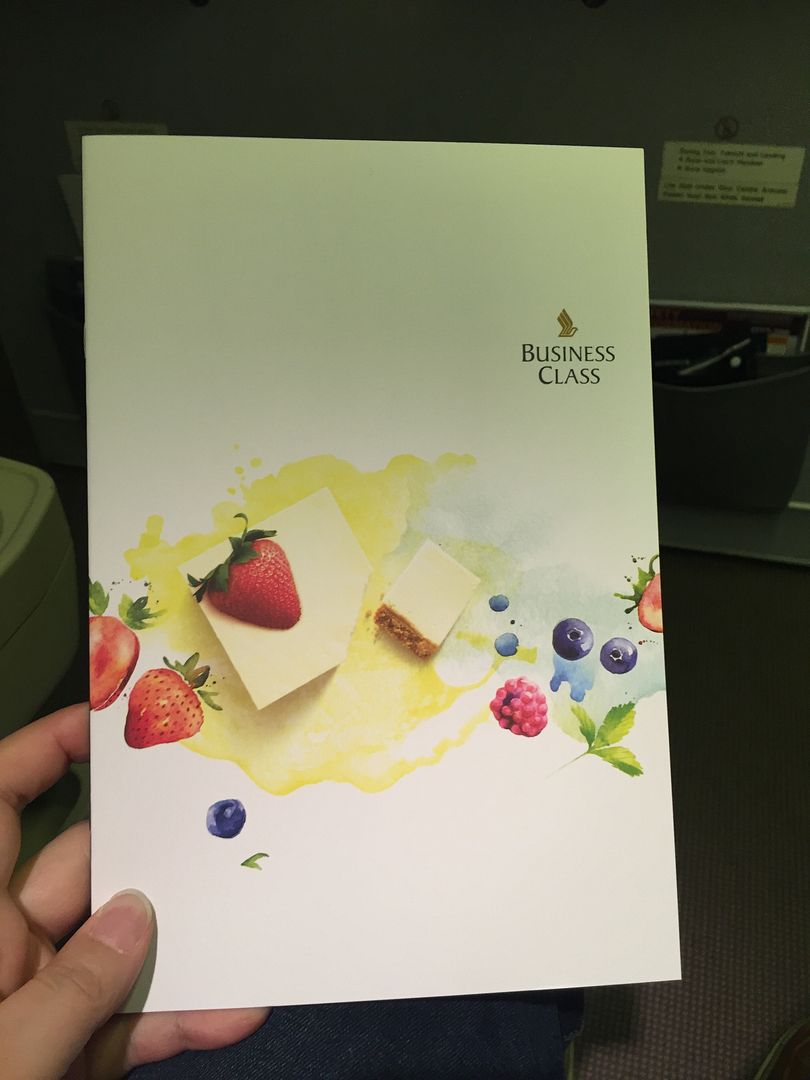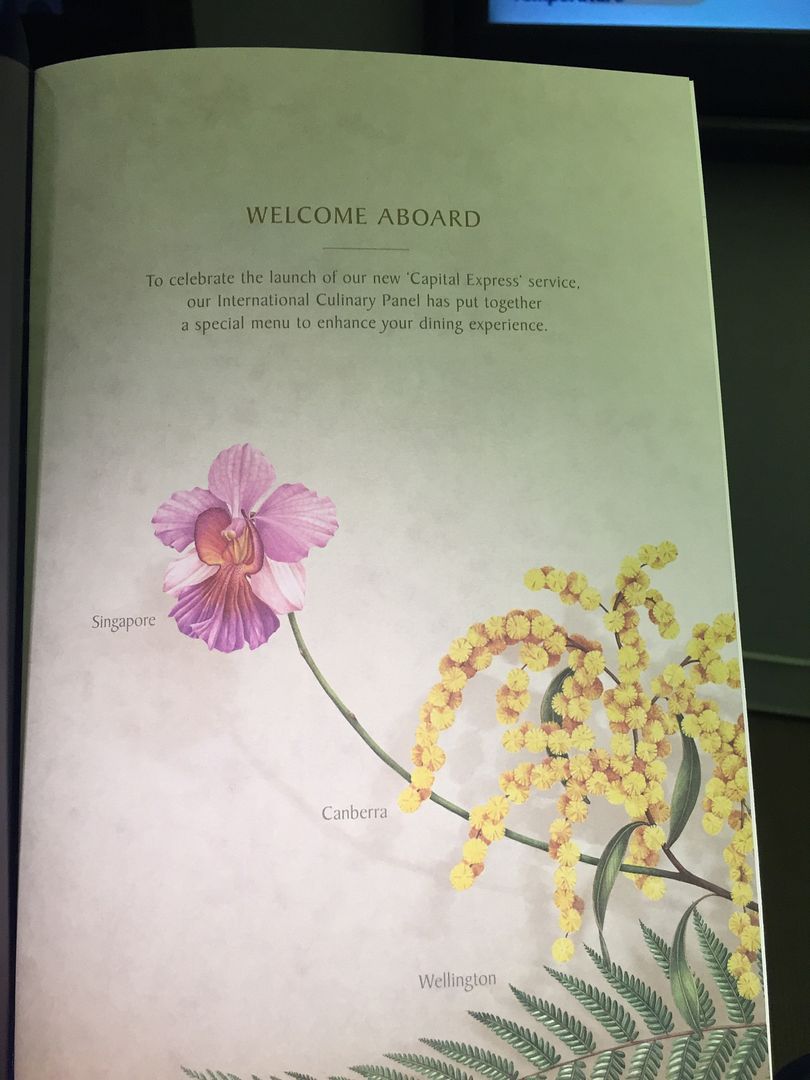 SQ Drinks of the Month
Door was closed at 10:50pm and the F/As took all the meal orders after the safety demonstration was completed. As expected, business class was 100% full and most of the seats were given to the media team from Australia and New Zealand news media team. I sat next to a NZ Herald reporter.
We pushed back on time at 11pm and following an Air France's Boeing 777-300ER F-GSQF, we took off from R/W20C at 11:12pm for our six hours and fifty-six minutes flight to Canberra. The routing took us towards Batam and we climbed to 37,000ft as we passed Java Sea. Then we headed towards Sumener and Denpasar before climbing to 39,000ft. We entered Australia by passing the city of Derby and Curtin Airport, and then towards Alice Springs and its airport, before reaching 41,000ft. We then passed cities of Tibooburra and Cubba before reaching Canberra.
After takeoff, the F/As passed out amenities, such as slippers (which were super nice), socks, and eyeshades. These amenities are available on all three segments.
Other than a little bit of media activity, things were relatively quiet. Some of the media shot some videos of SIA F/As working, as well as conducing a few interviews before going to sleep. Many passengers went straight to sleep after a quick beverage and mixed nuts service.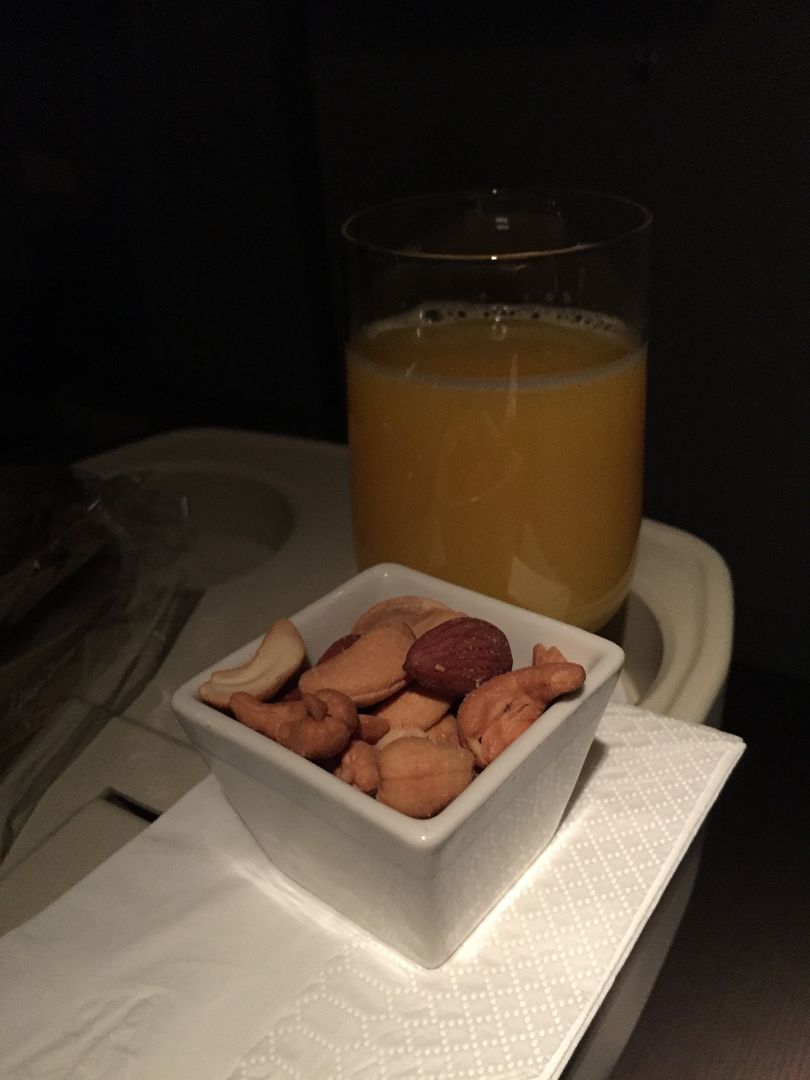 Here is the wine list for all four Capital Express segments!
Wine List
Champagne
Charles Heidsieck Brut Reserve, Champagne, France
White Wines
2014 Selbach Riesling Kabinett Feinherb, Mosel, Germay
2014 Devil's Lair Hidden Cave, Margaret River, Australia
Red Wines
2012 Chateau Belle-Vue Cru Bourgeois Haut Medoc, Bordeaux, France
2013 Robert Oatley Shiraz, McLarren Vale, Australia
Port
Dow's Ten-Year-Old Tawny Port, Portugal
Here is the menu for this segment!
Sleeper Service
Main Course
*Beef Hor Fun
Chinese style work-fried rice noodles with beef and gravy
A popular local fare dish
*Roasted Chicken Breast
With apricot and pistachio sausage, green peas, chicken veloute
Exclusively created by Matt Moran of Aria Restaurant, Sydney
Griddled Chocolate Chip Pancakes
With wild cherry compote, honey and ricotta cheese
American Breakfast
Crepe with scrambled eggs, pan-fried pork sausage
Marinated tomato, sautéed mushrooms and roasted potatoes
Bread Selection with preserves and yogurt
Continental Breakfast
Assorted Breads with preserves
Fruit
Selection of sliced fresh fruits
From the Bakery
Assorted Bread Rolls and Breakfast Pastries
Served with butter and fruit preserve
Hot Beverage
Coffee and Tea
A wide selection of flavors is available in the beverage section
SQ291 (CMJ-LZJ)-3.1 JCL
The menu was really confusing but I did not realize that the supper service came with no side dishes, fruit or dessert. You were just served your choice of main courses, and there were no breads or fruit bowls.
I did the "Book the Cook" and enjoyed my Prawn Noodle Soup, but could really use a bowl of fruit or a small dessert.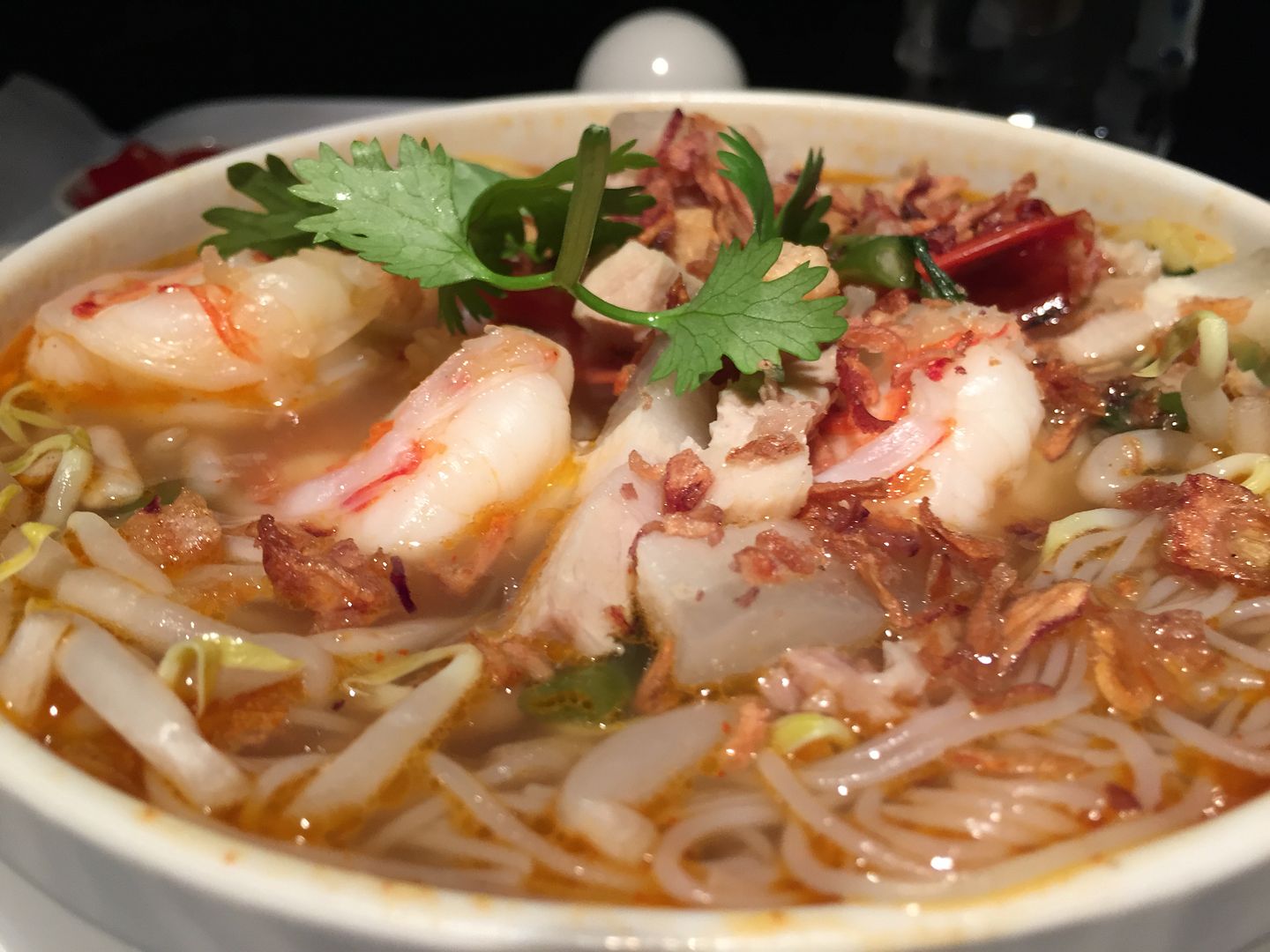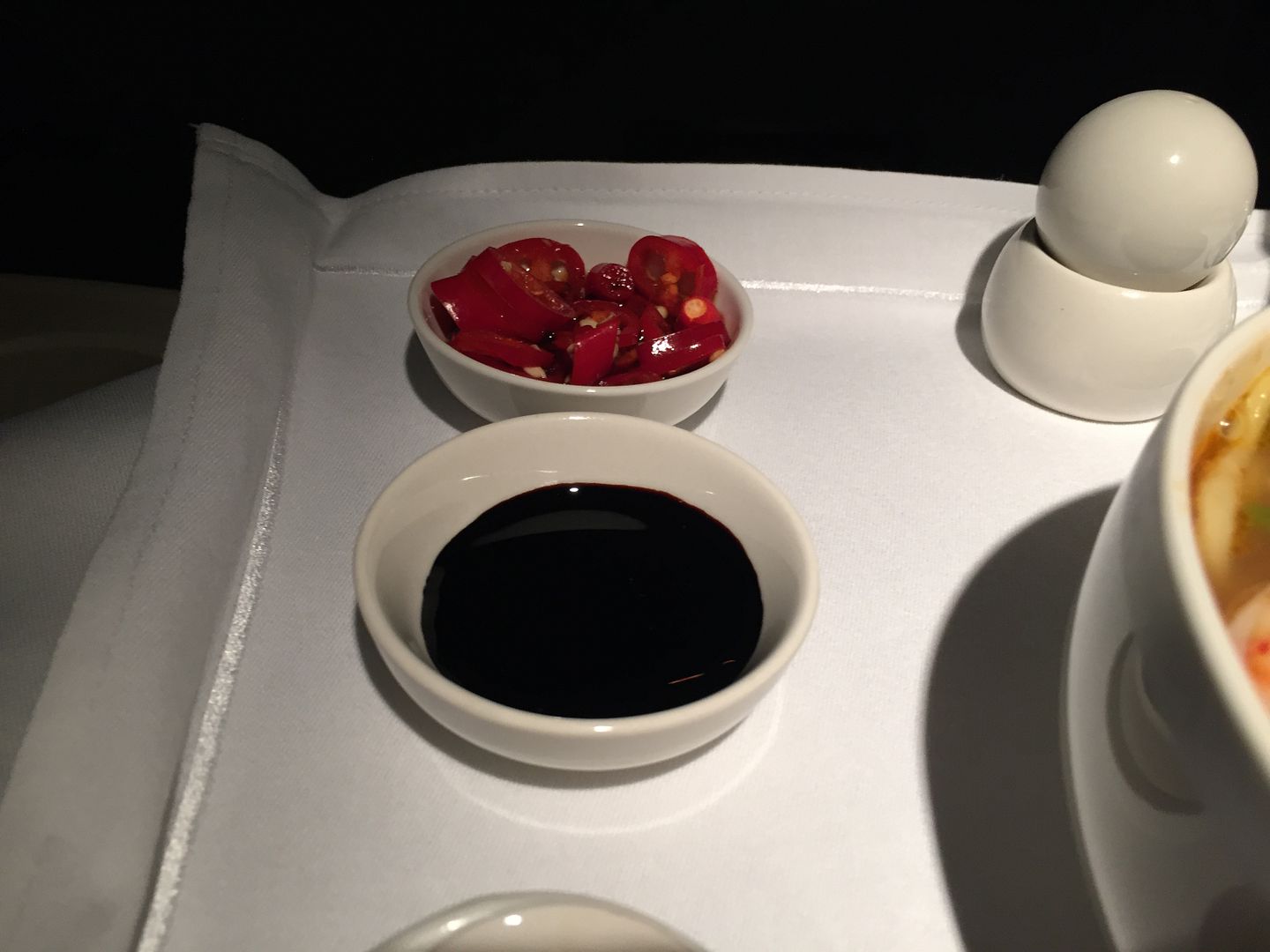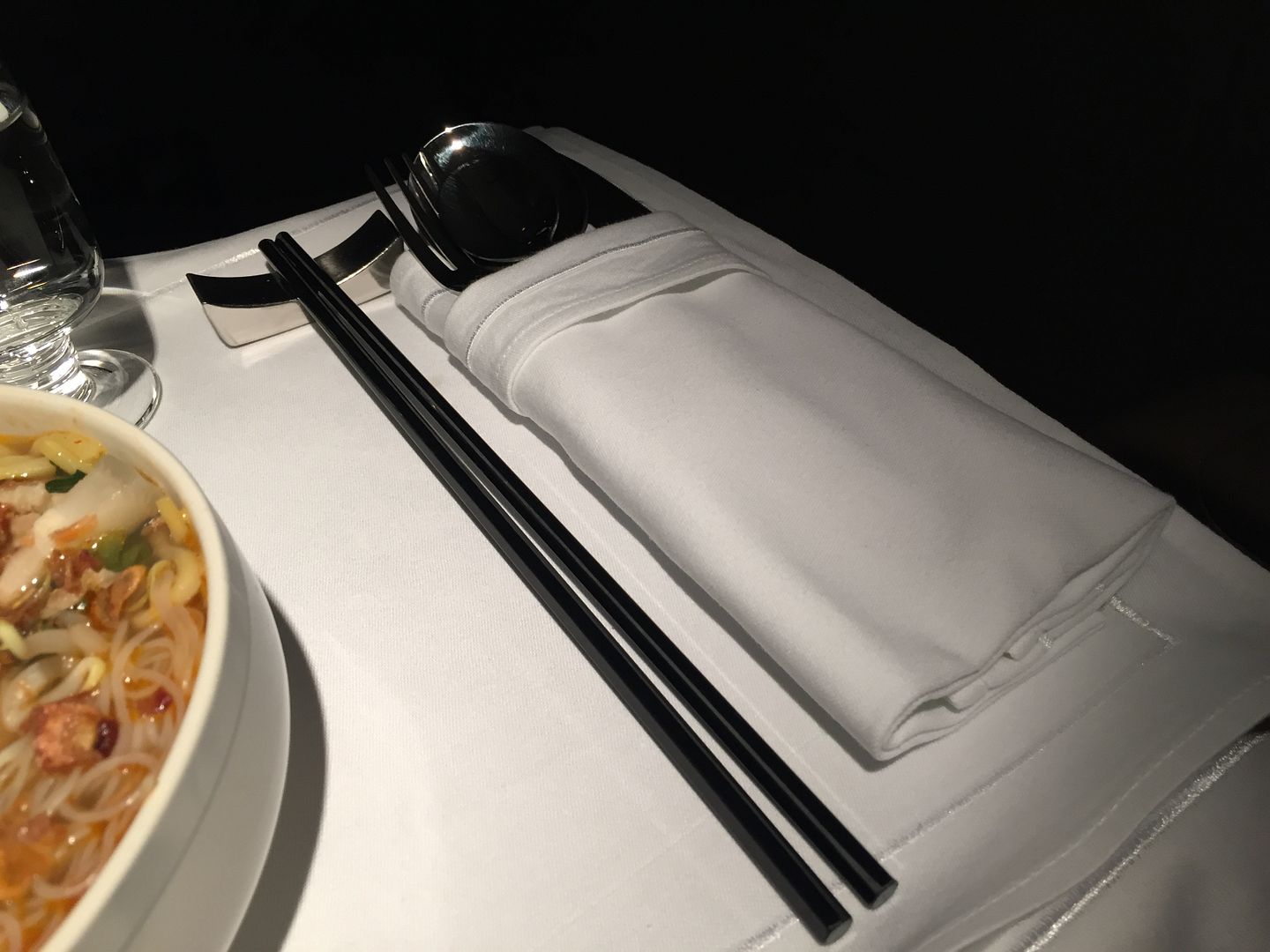 I went to sleep after the supper service, and we hit a couple bumps as we headed towards the equator and passing Indonesia, but things smoothed out once we entered the Australian air space. I did not have a deep sleep, but took naps in between bumps.
Since it was a long segment, I manage to ask the whole team of F/As, as well as the very handsome first officer to sign my inaugural certificate. I wanted to do the same for the other two segments, but those flights featured a full meal service and they were busier.
Since we were on the topic of F/As, I overhead a conversation between a reporter and a F/A regarding their crew patterns. I was surprised to hear that they had a different set of crews working on each segment. The F/As would have two nights at Canberra before heading to Wellington with one quick night, and then another two nights before going to Singapore. It was like an eight-day trip for the crews. This might have to do with the facts that the flights did not operate daily, but the F/As could not work a same day turnaround between CBR and WLG, due to the long turnaround time at CBR. Anyway, the service was top notch, as the crews were well rested.
Sunrising
Around 4:30am Singaporean local time/6:30am Canberra local time, the F/As switched on all the lights. I was not expecting that, as I presume it would be a more discrete breakfast service. It turned out to be a full two-course breakfast service. As I did not have my eyeshades on, I woke up to the light and could not fall asleep again. Then something happened…
After the usual hot towel and juice rounds, one of the colleagues of my neighbor suddenly fainted and passed out near my neighbor, as he was heading to the toilet. In the beginning, I was not sure what was going on, as I was quite abruptly awaken too. Soon things went pretty bad, as this poor guy continued to go between passing out and waking up. The leading F/As were immediately called and a male F/A was immediately assisting the guy to the seat next to me, and the high ranking female F/As immediately came to assist. They offered professional advice, but at the same time, they were comforting him, as he was quite embarrassed and having a panic attack. They called for a doctor, which thankfully there was one sitting in the first J cabin. Things looked pretty bad and so I just grabbed a few things and moved out from my seat so the doctor and the F/As could assist him. The other F/As went on with the breakfast service and other J passengers were not aware of the drama behind. The F/A serving my aisle immediately offered me a jump seat, and even offered me a continental breakfast, but I declined. There were plenty of foods ahead. It was an interesting experience, as the SQ F/As were so organized that everyone knew what they were doing. The leading F/As were helping with the sick passengers, while the rest of the F/As continued their meal service. When someone ever said that F/As from Asian Airlines only knew service, I would tell them "no" and they were very professional and obviously knew where all the equipments were. The pilot even came out to check on the sick passenger, and also determined what services to call upon arrival. The doctor finally administered a drip while we began our descent. My neighbor sat next to him and I moved to his seat in the back. Things worked out well. I hope Singapore Airlines will send a thank you gift to the doctor, and the F/As were simply amazing. They were nothing but top notch. Being safe does not mean you have to compromise your service standard. But I felt bad for one of the female F/As, as she basically had to write up a long report.
Here is the news link:
http://m.nzherald.co.nz/nz/news/article ... d=11713998
Back to the flight
Pralines/Truffles were passed out after descent began at 7:29am local time.
Weather was bad throughout the day at Canberra and we landed on a very wet R/W35 at 8:08am.
Did you spot all the enthusiasts waiting for our arrival?
Pictures for next day's The Canberra Times feature a much better landing shot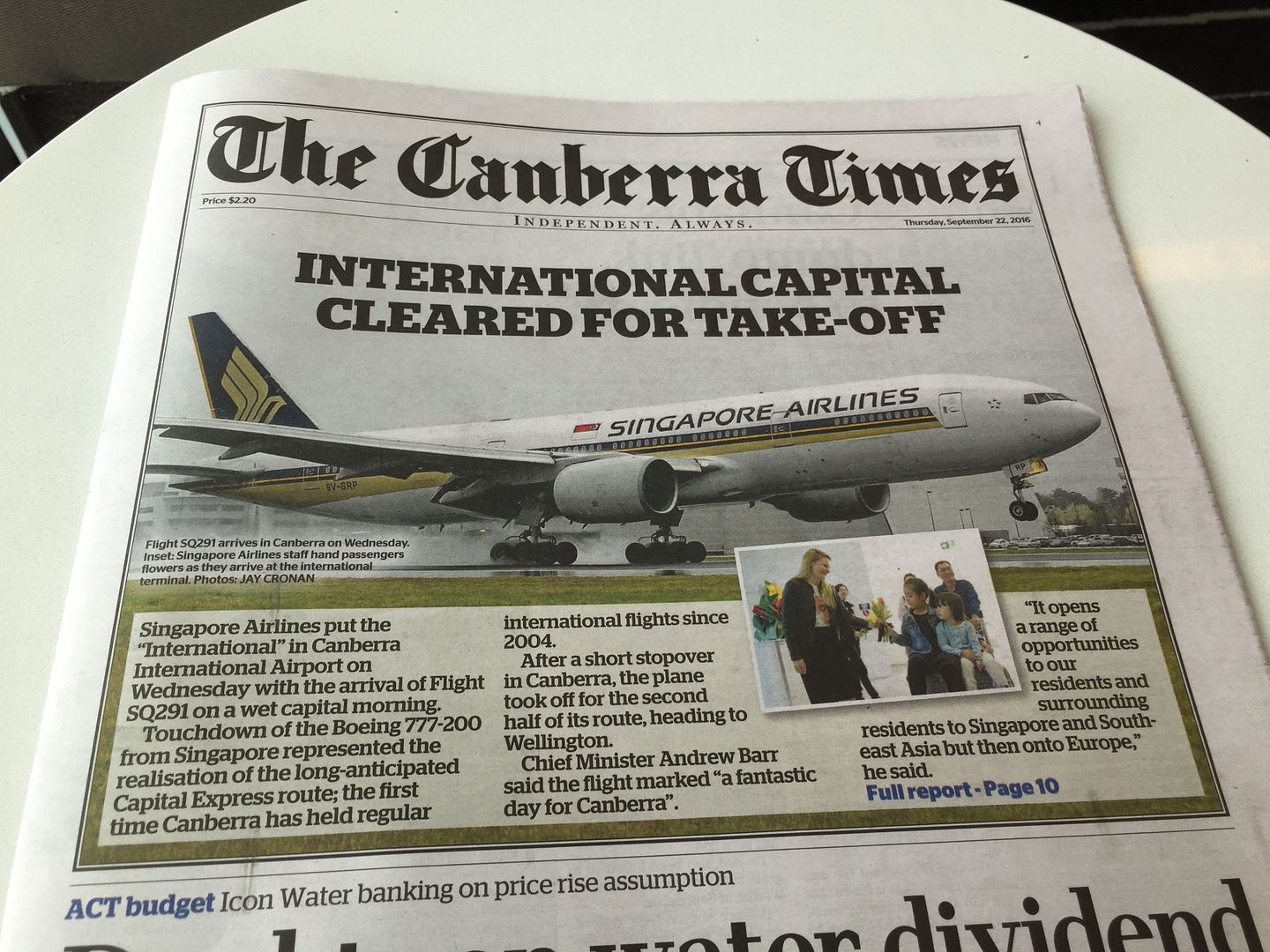 Link to news
http://www.canberratimes.com.au/act-new ... rkwm7.html
http://www.abc.net.au/news/2016-09-21/s ... ra/7863774
Video
https://www.facebook.com/singaporeair/v ... 661593679/
Despite of the rain, we got a water canon salute and at least I managed a few good pictures!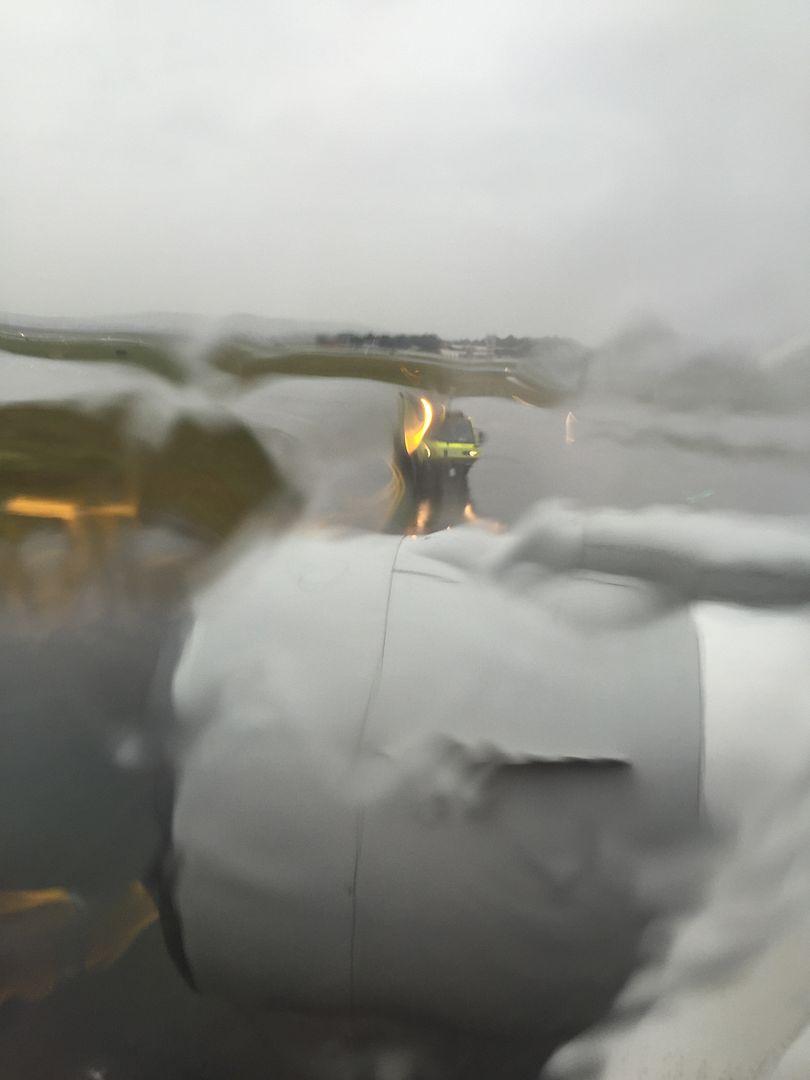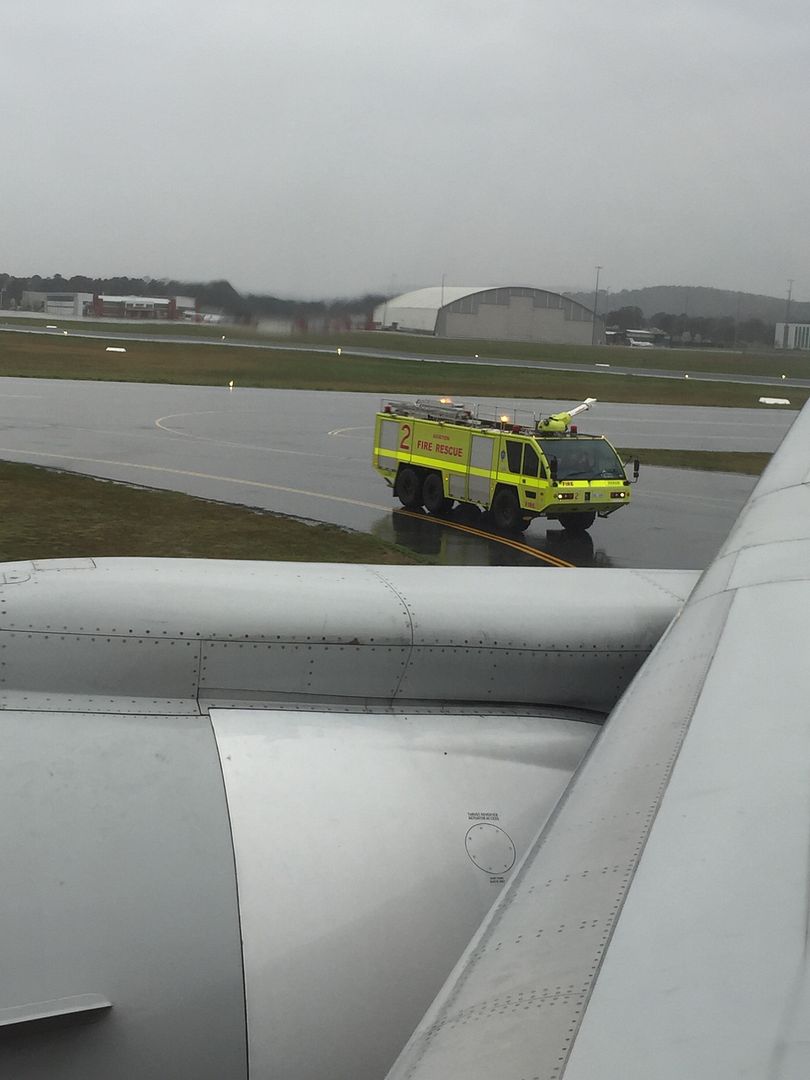 We parked at gate 5, which is the designated international gate for now. It can convert to domestic use, as the international departure lounge is located upstairs and arriving passengers go downstairs to the new immigration and custom area. We arrived at gate 5 at 8:17am but were being held in the flight for obvious reasons. The paramedics immediately boarded the flight and examined the patient. They need to make sure that it was not something contagious before letting everybody off. It took a while too, as it was also their first day of operation. There was also some quarantine issues.