Hong Kong Airlines Long Haul Business – not quite ready for Prime time
Gold Coast to Hong Kong via Cairns in Hong Kong Airlines business class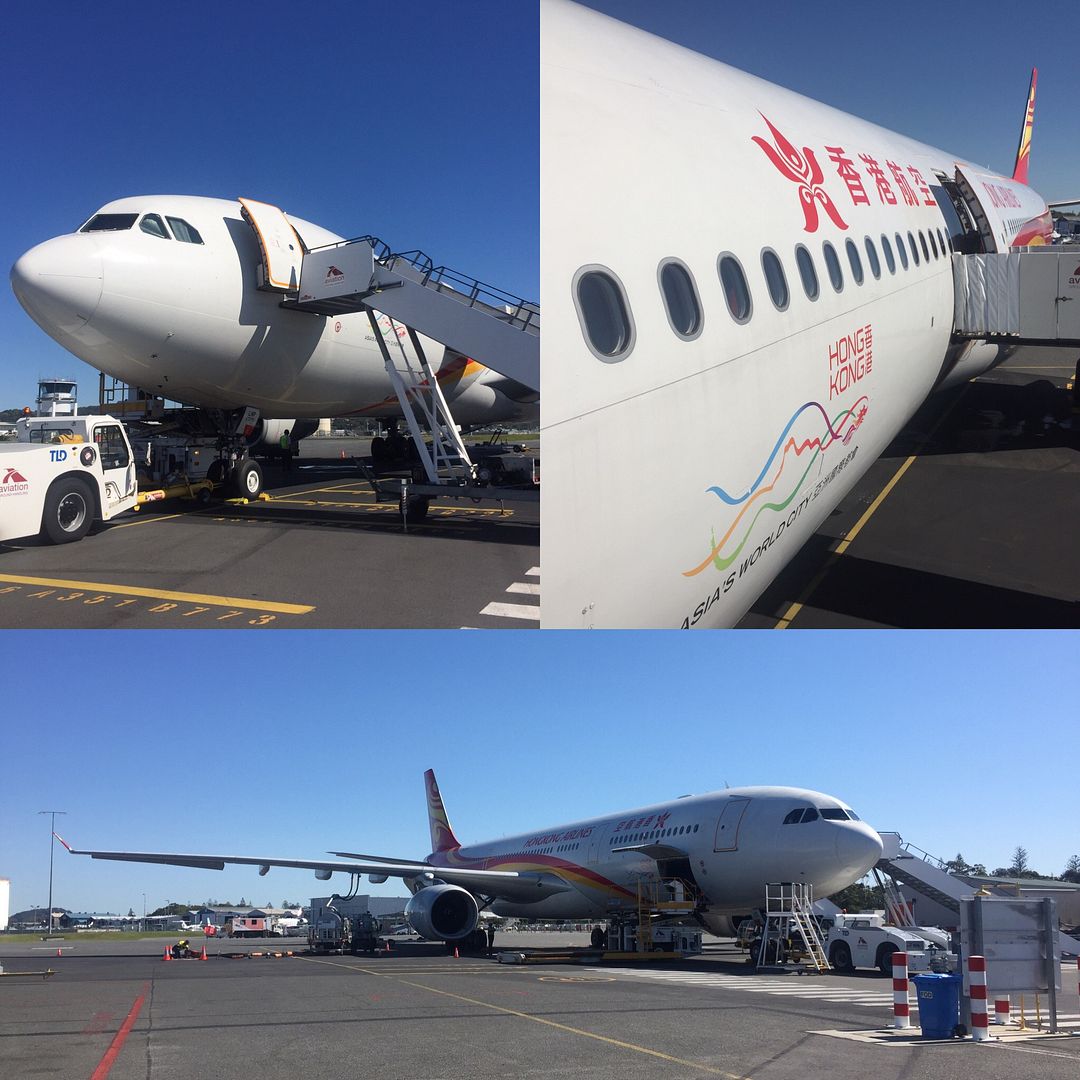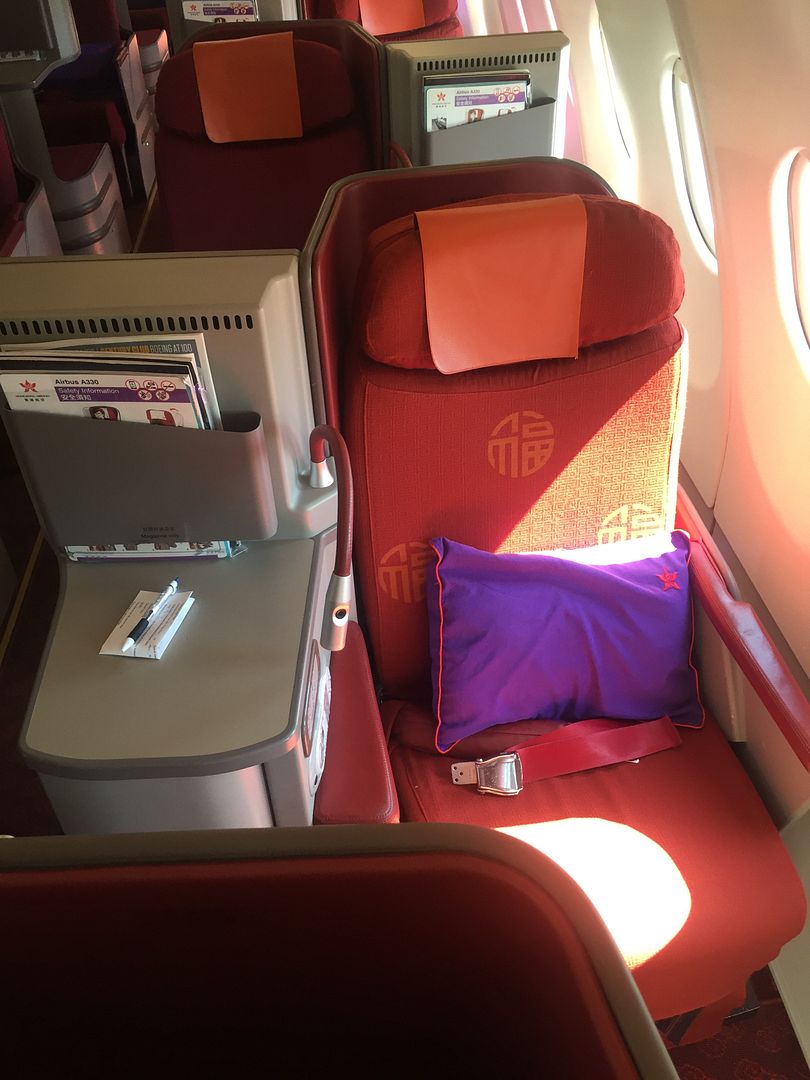 I think this is one of the first trip reports written on Hong Kong Airlines' current solo long haul service, which will soon be joined by Auckland in late October and Mauritius in January 2017. Hong Kong Airlines has been a major competitor in the Hong Kong market and after Hainan Airlines purchased 45% of its share in 2006, Hong Kong Airlines has become a major force. With the new Midfield Concourse opened earlier this year, HX is ready to expand its network with its fleet of A320s and A330s. A350s will arrive in May 2017 and HX will definitely focus on more long haul flights. Despite being called Hong Kong airlines, many of HX passengers are Mainland Chinese passengers, which are good for the airlines, but make some of the local passengers hesitate to fly it. Hong Kong Airlines also faces major disadvantages in terms of slots and flying rights, so in some ways, it can only compete with prices. It offers really very attractive business and economy class fares. For Gold Coast, a RT business class ticket (advanced purchase) is $9000HKD, which is around $1200USD, compared to triple the prices on CX or Qantas. In some ways, I lower my expectation and you obviously have to look past certain aspects. However, after flying this Gold Coast service, HX really has some major works ahead of it. Hong Kong Airlines had tried a normal 2-class A330 flight to Moscow, which did not work and even CX cut that flight, and then once more with an all-business class service to London Gatwick, which lasted for three months, as many flights often went out with more crews than passengers. Compared to Gatwick, this Cairns and Gold Coast service are more conservatively planned with only twice to thrice weekly flight, and HX offers a regular two class A330s, which also feature lie-flat/all aisle access business class seats – some of the old seats used on the all-business class A330s to Gatwick. In some ways, I felt that the all-aisle business class seats are major plus and perhaps the only selling points. I am generally fine with HX F/As, which are younger but also less experienced and well trained. HX has hired many former CX F/As to be pursers, but many F/As are still very inexperienced, especially in J cabin. But lounge access (or the lack of lounge access at both Cairns and Gold Coast), catering and many ground related operations are still really under-par, especially a 77 minutes wait for baggage delivery in Hong Kong. There are potentials but even with this low price, it is hard not to look through these major shortcomings and while I am okay with HKG to Australia, but doubt that I will like to fly its return service from OOL or CNS. I hope planning for Auckland is a bit better.
Full album
http://s1213.photobucket.com/user/Carfi ... G09232016J
September 23, 2016
HX 16 Gold Coast Coolangatta to Cairns Lv0940 Arr1215 Airbus A330-300X B-LNP
For some reasons, schedule for this morning's flight was a bit different and it was possibly due to crew rest hours. The inbound aircraft from Hong Kong actually arrived really early at 6am (it ran late that morning) but with more than three hours ground time at OOL, my flight was on time and early. But I felt bad for those passengers continuing to Cairns, who had to wait for three hours in a really small international area. For those who have been to Gold Coast airport, I am sure you are aware on its regional airport status and really small international area with only a few shops and a café.
Check in:
Hong Kong Airlines Check in counters – three main counters including one for priority passengers – Hainan Airlines/Fortune Wings Club elites, and business class passengers, and two for economy class passengers. I don't think online check in is available from Australia. I didn't receive an online check in notice like other HX flights to Bangkok and Japan.
I arrived two hour prior to departure, and the counter was empty. The J agent checked me in efficiently, and handed me the departure form. She was friendly but when I asked about lounge access, she told me that there was no lounge available for use by Hong Kong Airlines' premium guests. Not even coupons for J passengers!
Then I asked a follow up questions – what is check in desk closing time? She told me 40 minutes prior to departure, so for future premium class passengers, I recommend arriving at OOL about 60 to 75 minutes prior to departure. You have no lounge access despite both Qantas and Virgin Australia actually operates lounges here in OOL. I hope with the Hainan Airlines Group's investment in Virgin Australia, lounge access to Virgin Australia will hopefully be on the agenda.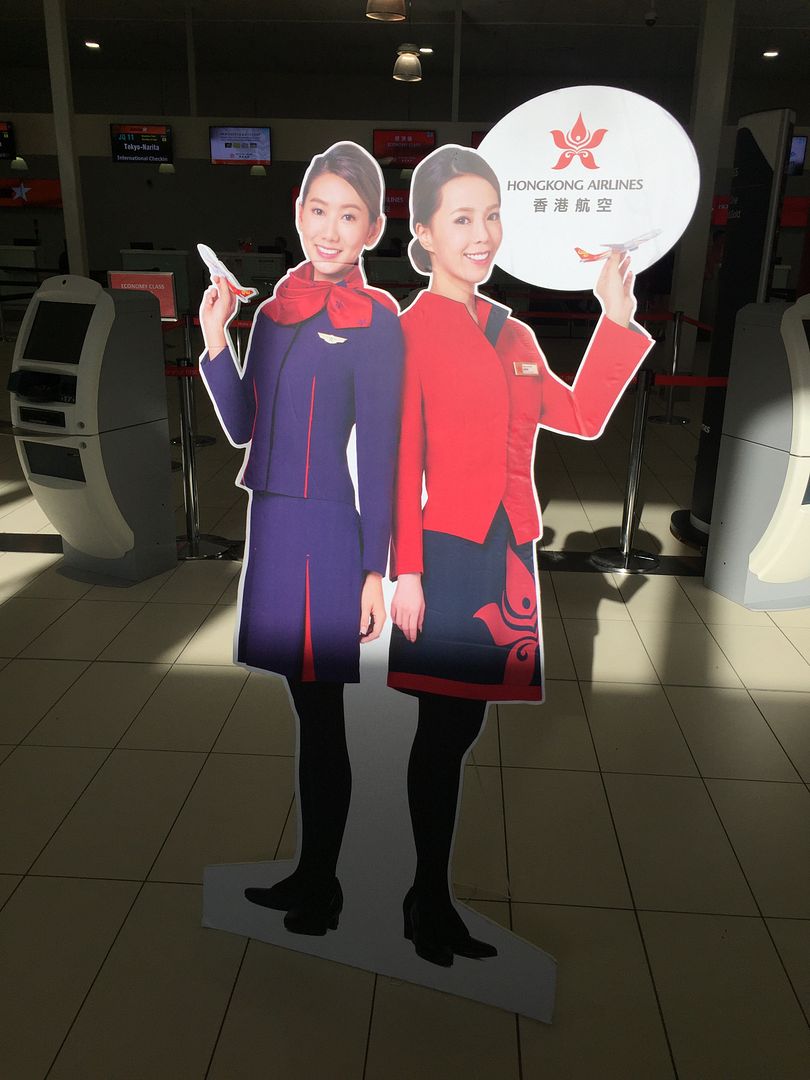 Just missed out the Mainland Chinese tour group
There is priority service, but Hong Kong Airlines is not party of it. However the queues were short for security this morning anyway and the priority lane was sort not being used, but HX should negotiate these kinds of minor details with OOL when they launched flights earlier this year.
Gold Coast is a pretty busy regional airport and there are plenty of low cost carriers such as Jetstar, Air Asia X, and Scoot flying in and out of the airports, along with major airlines like Qantas, Virgin Australia, and Air New Zealand.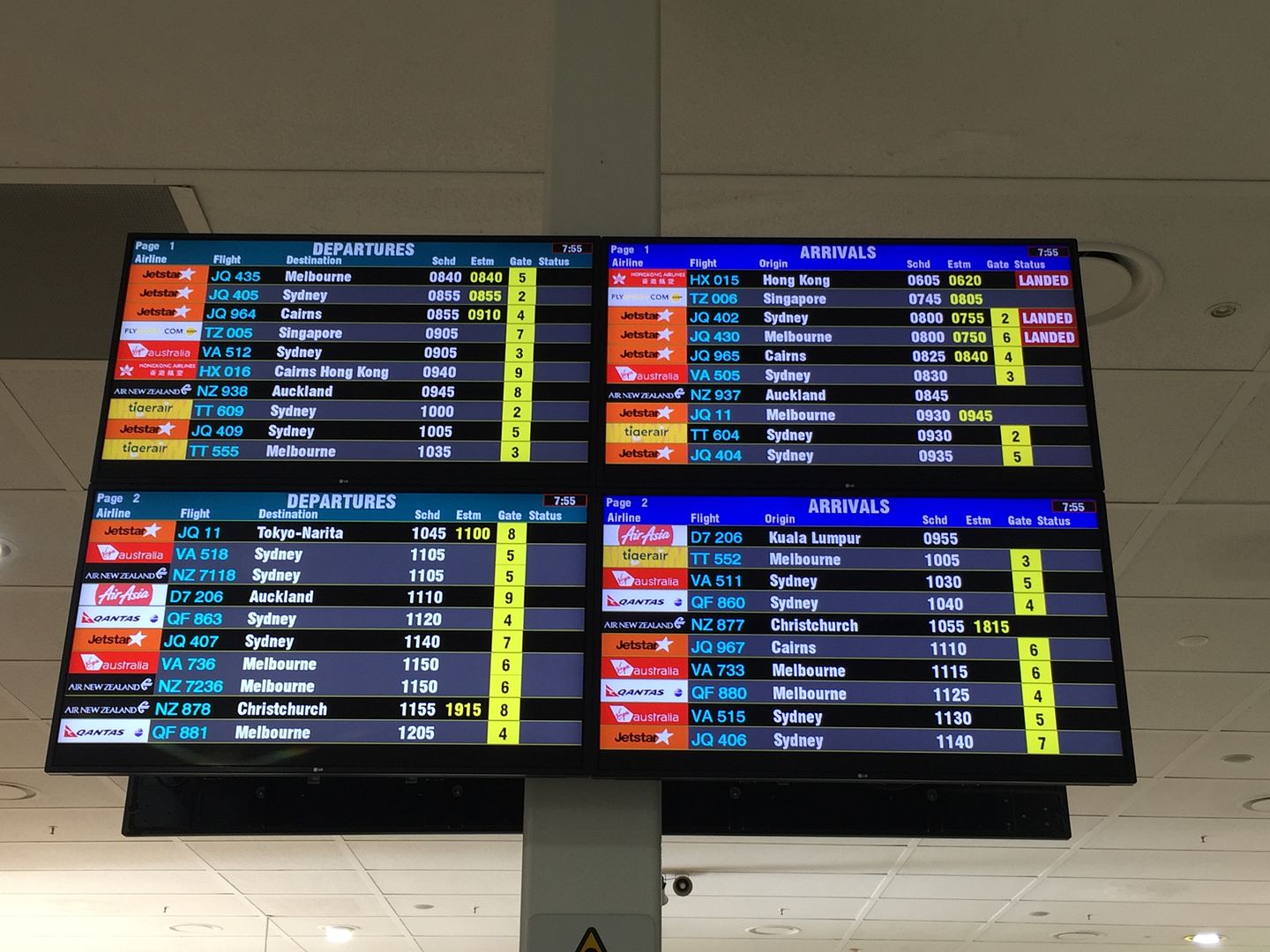 After going through the first security check, you have access to the domestic part of the airport with plenty of food outlets, restaurants, cafes, and shops. I recommend shopping and eating here before heading to the international area. There will be another security checkpoint (only bags will be scanned though), and there is also another immigration check. For some reasons, the smart gate did not like my look today, but manual check was easy too. The international area was much smaller and occupied mainly by a duty free shop, a café/food outlet, a newspaper shop and a currency booth. There are some seats but don't really come here till the agents make the announcement, until you need many times at the duty free shops.
Gate 9 was our gate this afternoon
Separate boarding lanes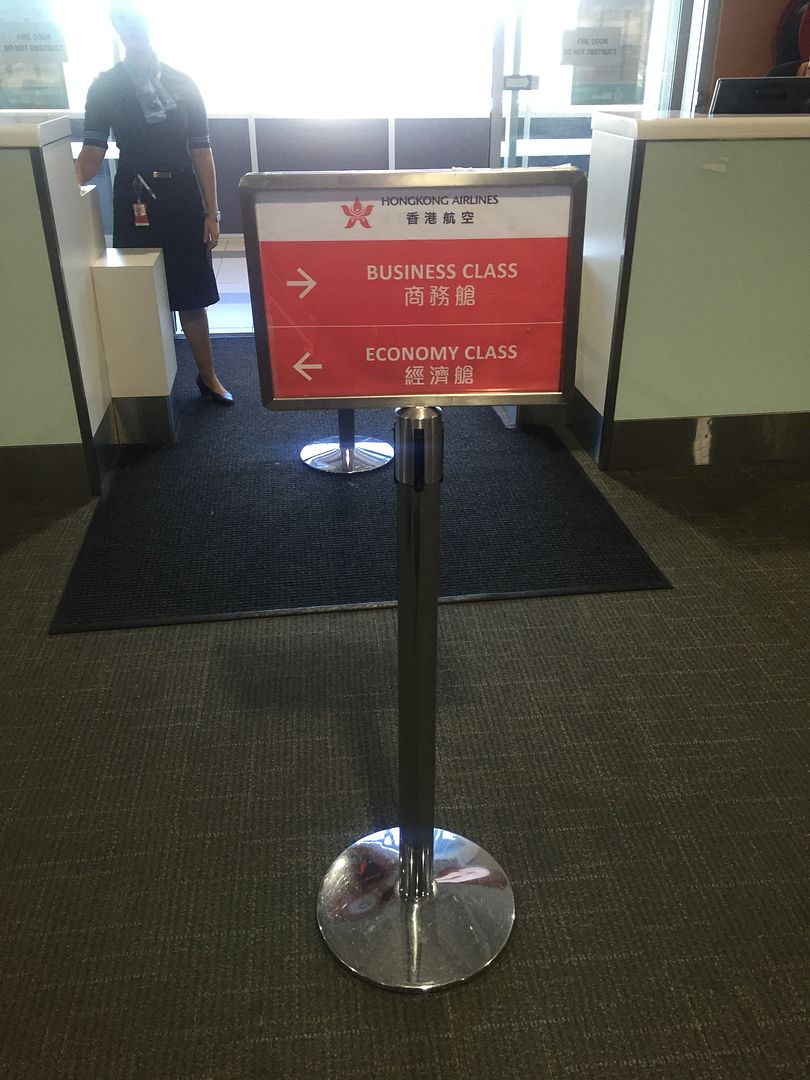 Boarding began at 9:08am and the lane was never busy due to our light load. There were no jetways here in OOL and HX was parked at the furthest stand 16 today.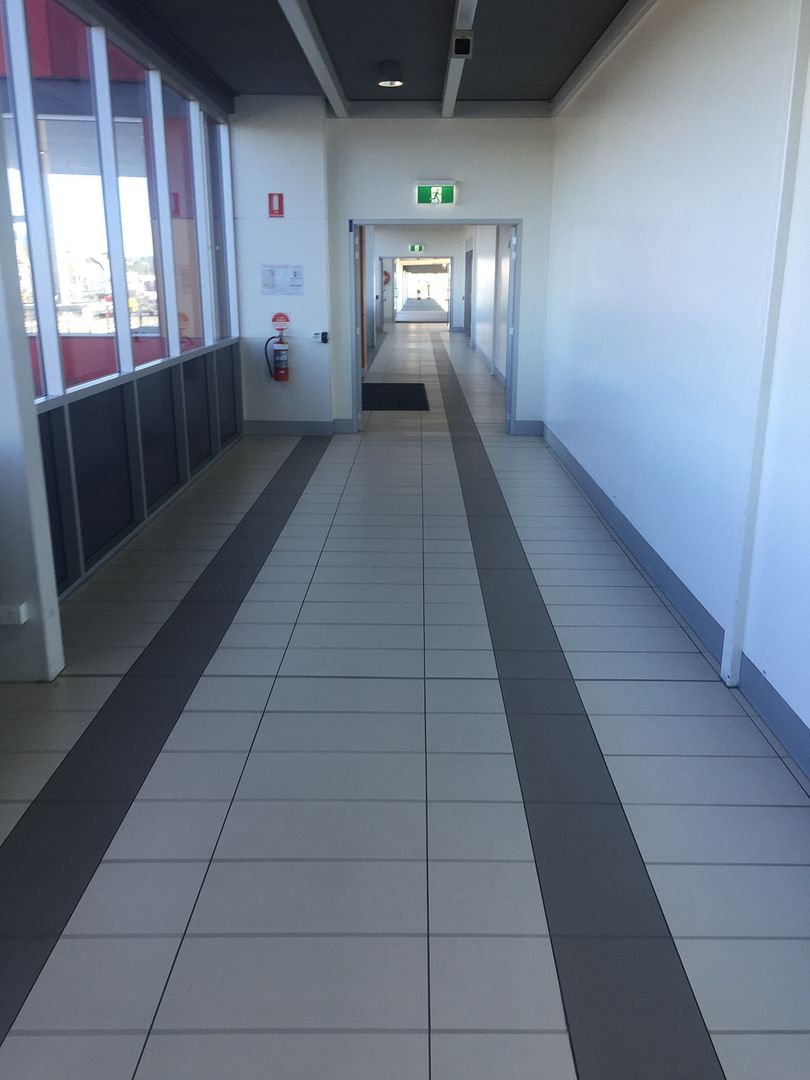 Despite two doors were being used, no one really bothered telling passengers which door to use. I think better signs are needed here.
Zoe, the purser, and her team were greeting passengers upon boarding. Given their long layover here at Gold Coast (yes the crews overnight at Gold Coast), everyone was in a good mood.
Business class cabin
Loading in business class was four paying passengers including me, which all seated in the forward part of the cabin, with the non-revenue passengers (only a few of them) in the aft part of the business class cabin. No more revenue passengers joined us in Cairns, but there were a more non-revenue passengers joining business class cabin, but the J cabin really had no more than ten passengers.
A pre-takeoff drink of orange juice and bottled Evian waters were passed out.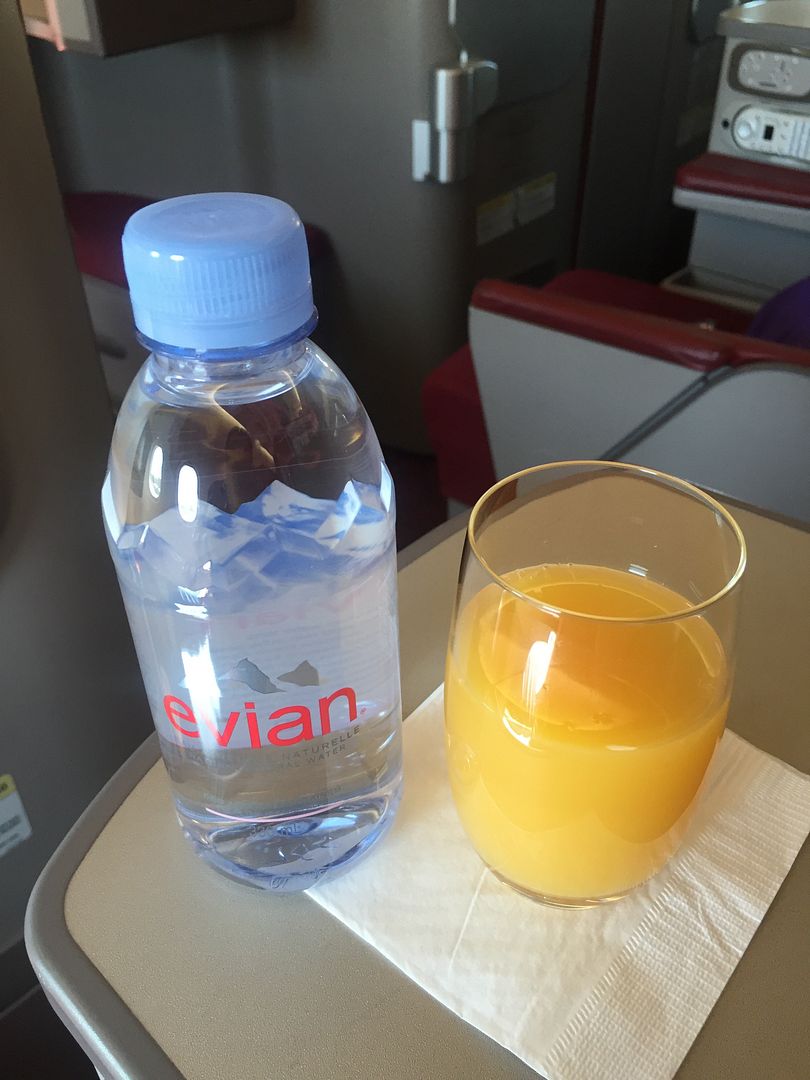 The cabin was quite warm and I did not take the F/A offer for a fresh blanket.
Despite a light load, we had to wait for a few late Mainland duty free shoppers, but door was still closed early at 9:33am. We pushed back two minutes later and headed towards R/W32.
Air New Zealand A320 to Auckland (and the poor Christchurch flight was delayed from the morning to evening)
Along with Scoot Boeing 787-8 9V-OFG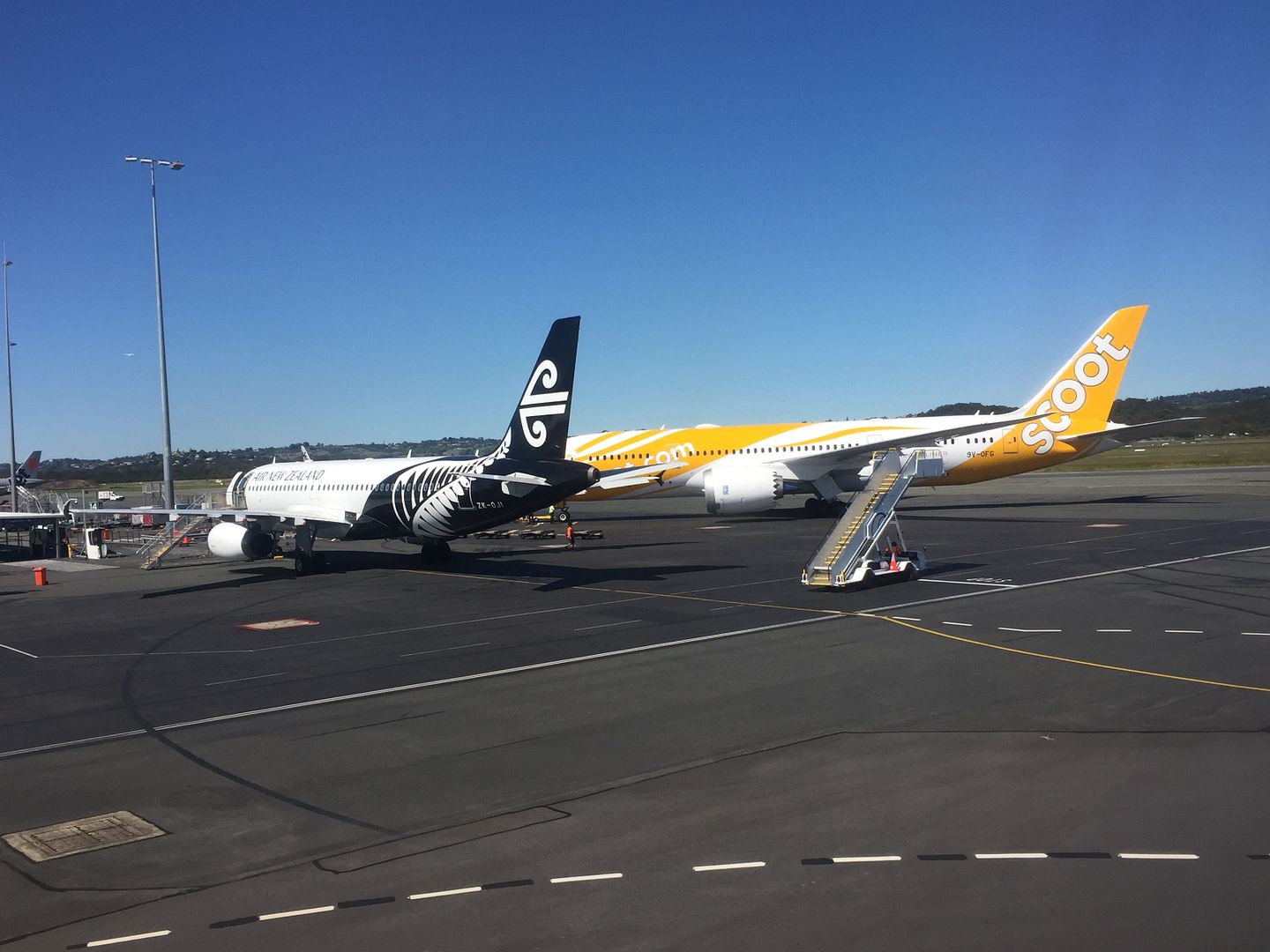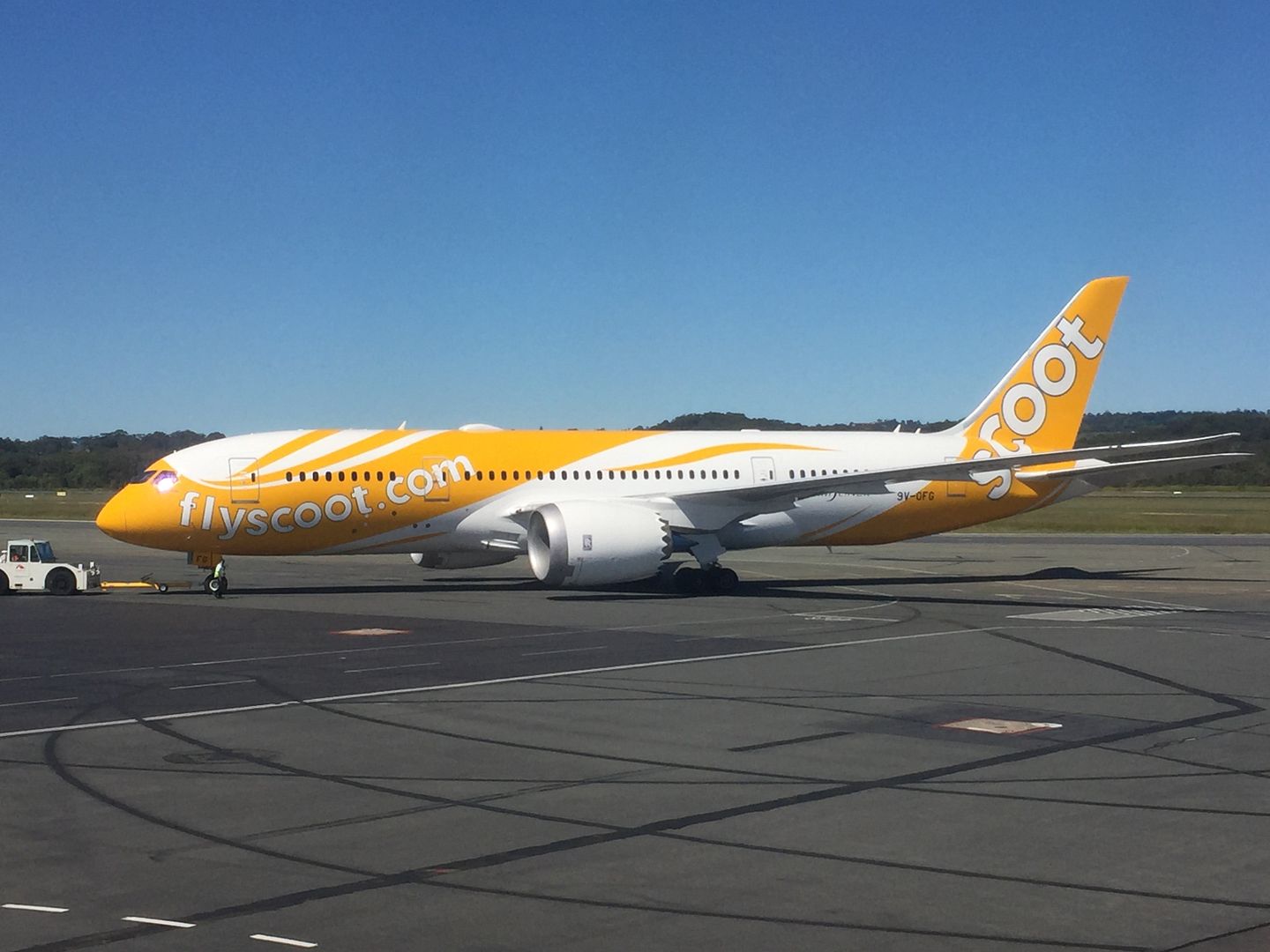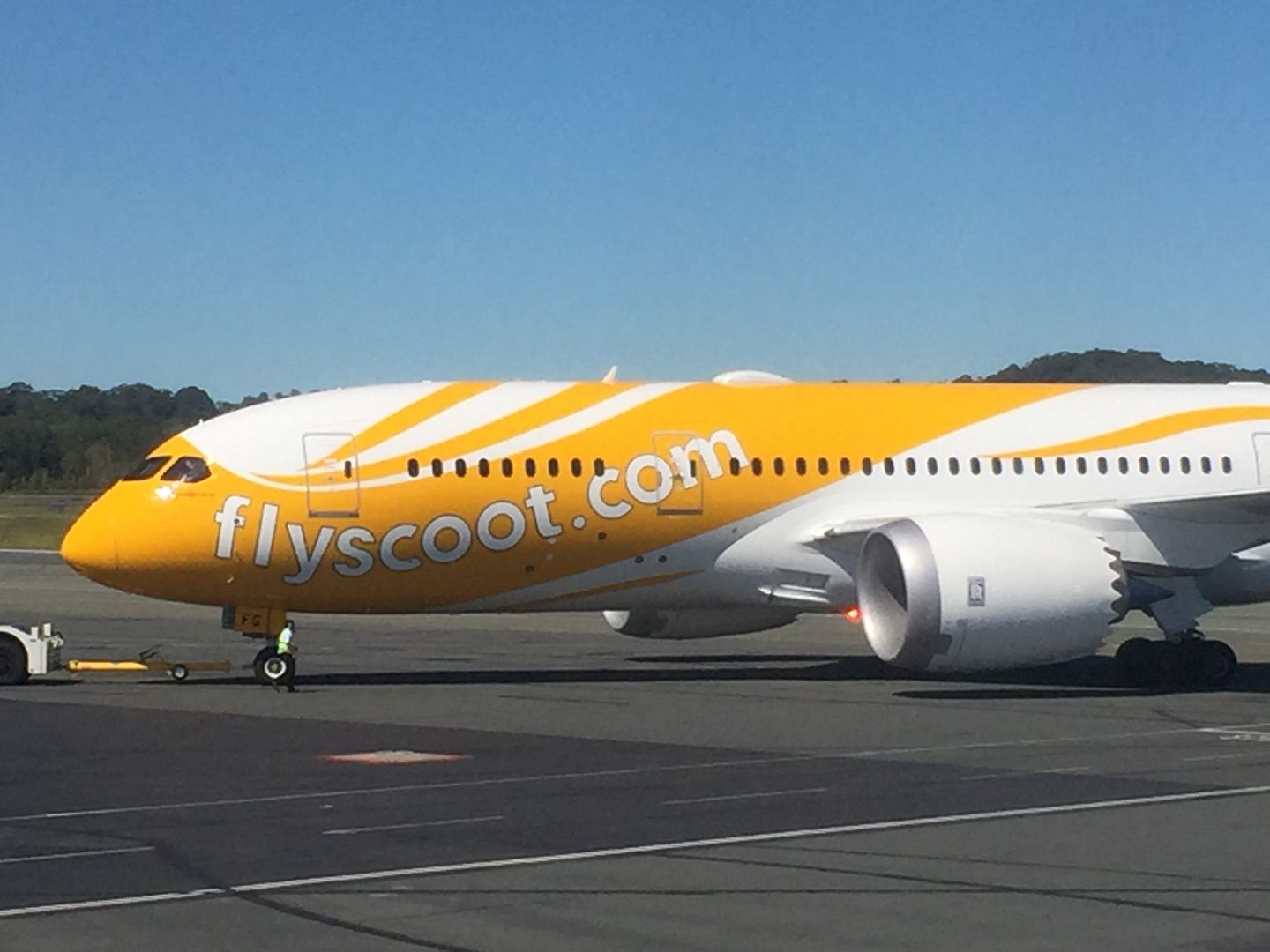 We took off at 9:51am for our one hour and fifty-seven minutes flight to Cairns.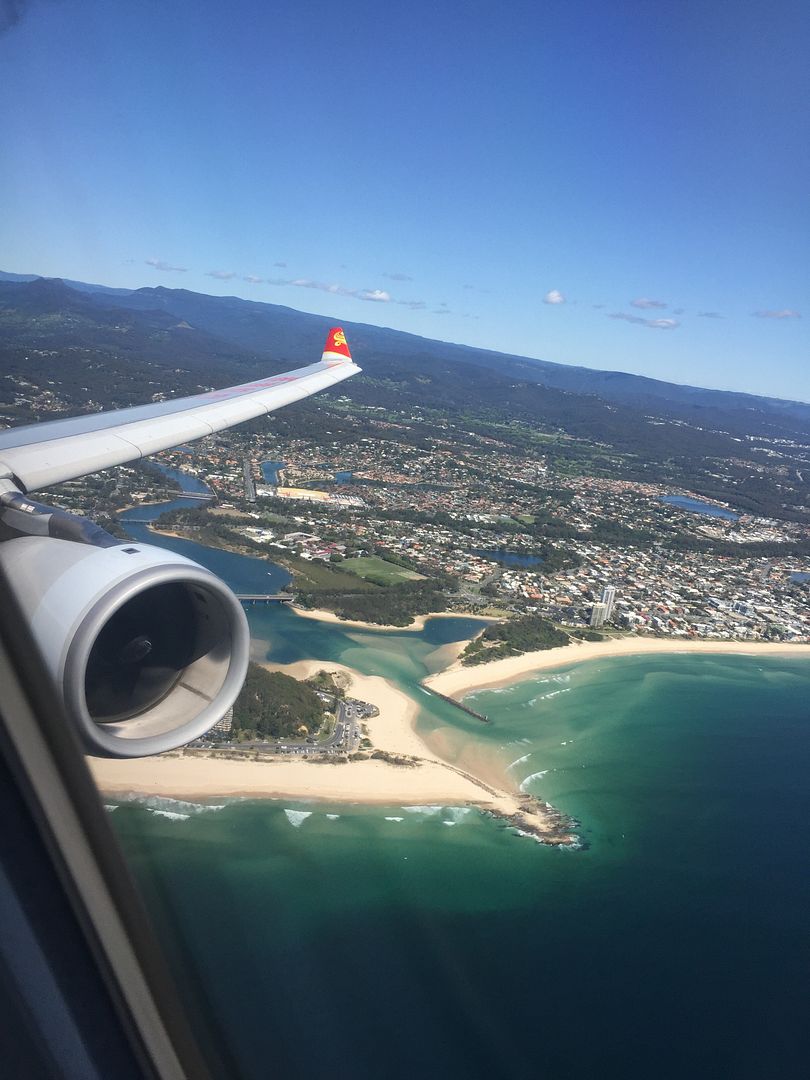 In-flight service was unfortunately downright lacking on this flight – I would be screwed if I did not eat breakfast at the hotel this morning – there was no printed menu, and only a choice of blueberry OR chocolate muffin with offered to business class passengers along with your choice of beverage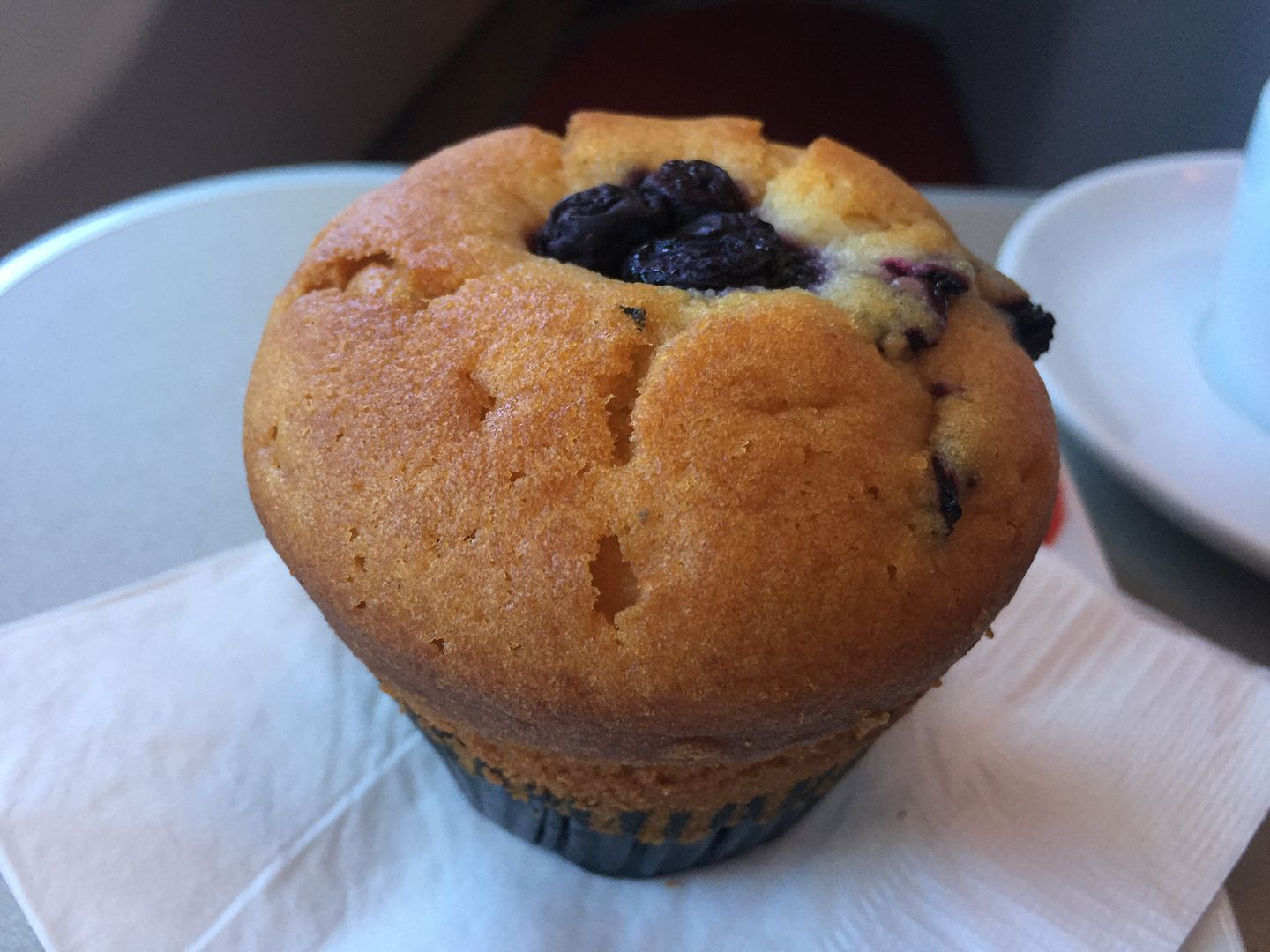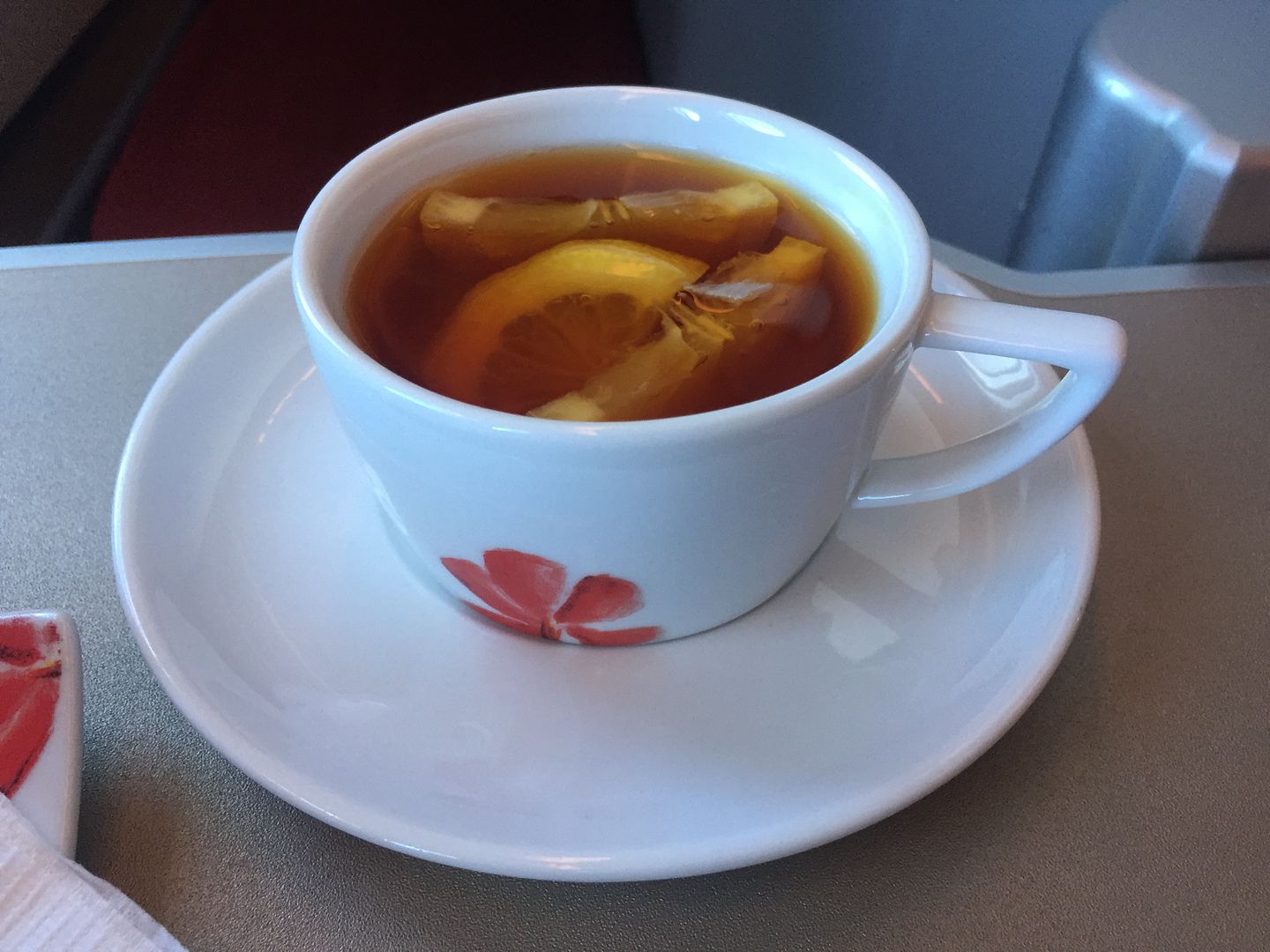 Despite the lack of food, hot towel was still offered on a tray
It was pretty unacceptable catering given business class passengers had no lounge access in OOL and were not offered any food voucher. It was clear, and later confirmed by the crew, that HX did not have catering here in OOL. Everything was loaded from Hong Kong the previous evening. There was really nothing much that HX could offer because the food could get easily spoiled especially the plane could sit under the sun for three to four hours in Gold Coast airport. I am not sure why HX decides to cater from Cairns instead of Gold Coast. I knew on CX's circular route on Cairns & Brisbane, CX always caters from Brisbane. I guess it might have to do with the lack of catering facilities at OOL or HX will have to bring food from Brisbane. I also know Australia has strict regulations regarding food, but will it hurt so much to upload some continental breakfast trays at least for business class in OOL. It is really pathetic. But for future OOL fliers, you are warned about the lack of food in both J and Y cabin on this route.
There was on demand personal TV with typical Hollywood and Asian movies and very limited selection of short television programs. A cheap pair of noise-canceling headsets was offered but I did not use them at all.
Side storage bin
Entertainment console
Seat control panel – lots of scratches
Limited storage under footrest – mainly for shoes and Hong Kong Airlines slippers
Seats in various recline position and flat position – honestly they were relatively comfortable and I had a nice nap on both segments. They were good for overnight flights. I still prefer the reverse herringbone seats, but this is really good especially for a second-tier airline.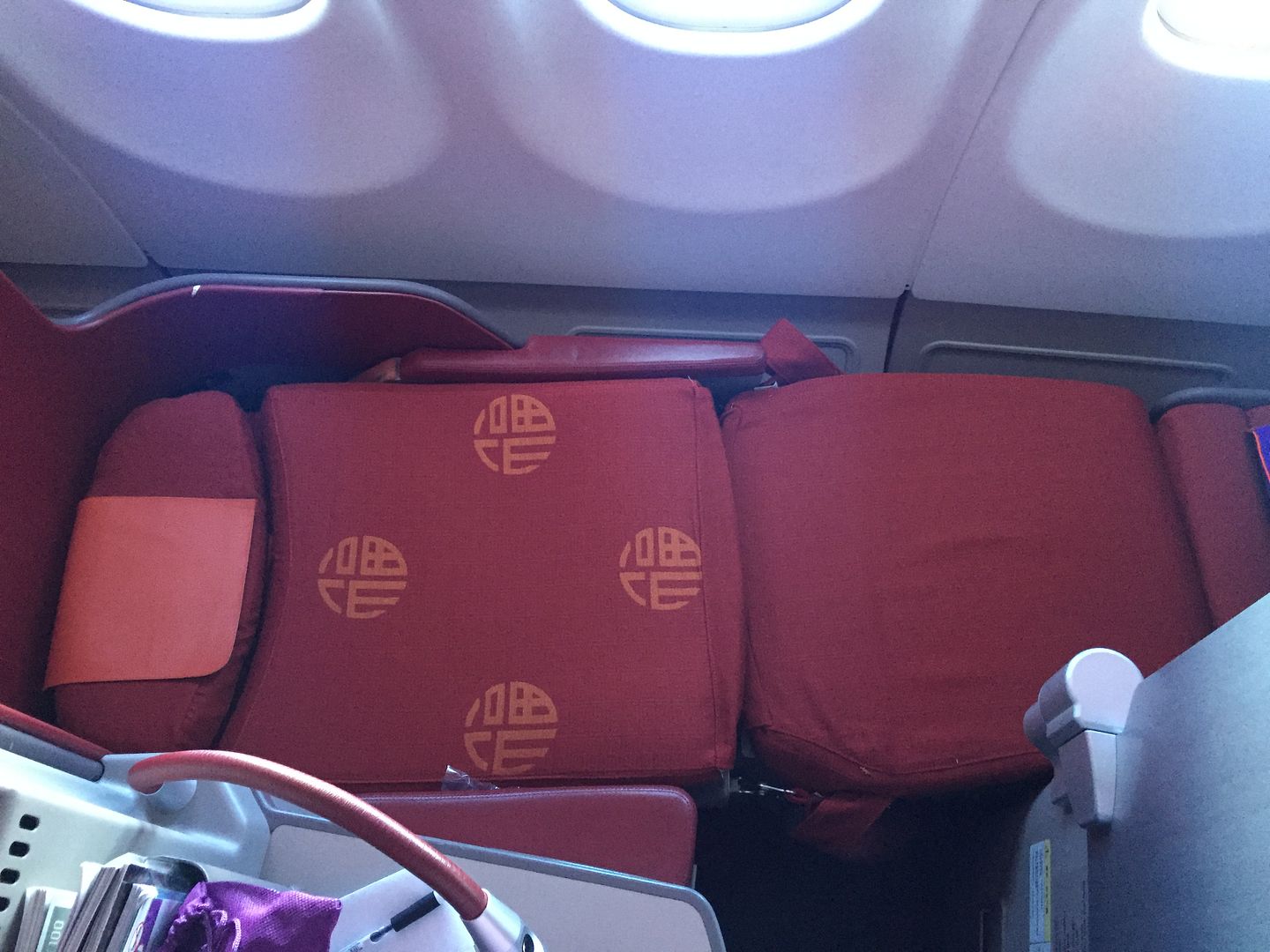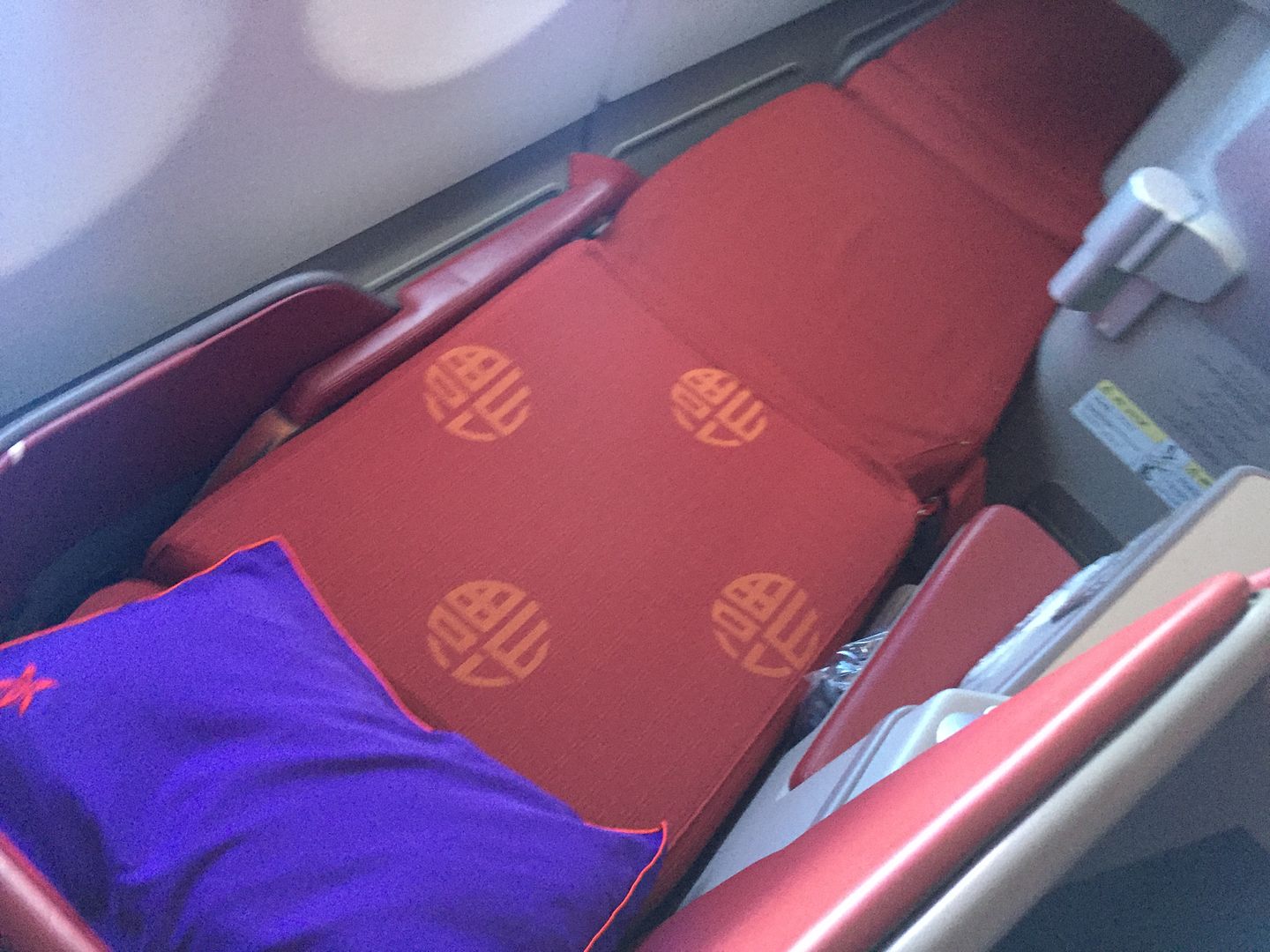 Sufficient room for footrest
Descent soon began at 11:20am local time.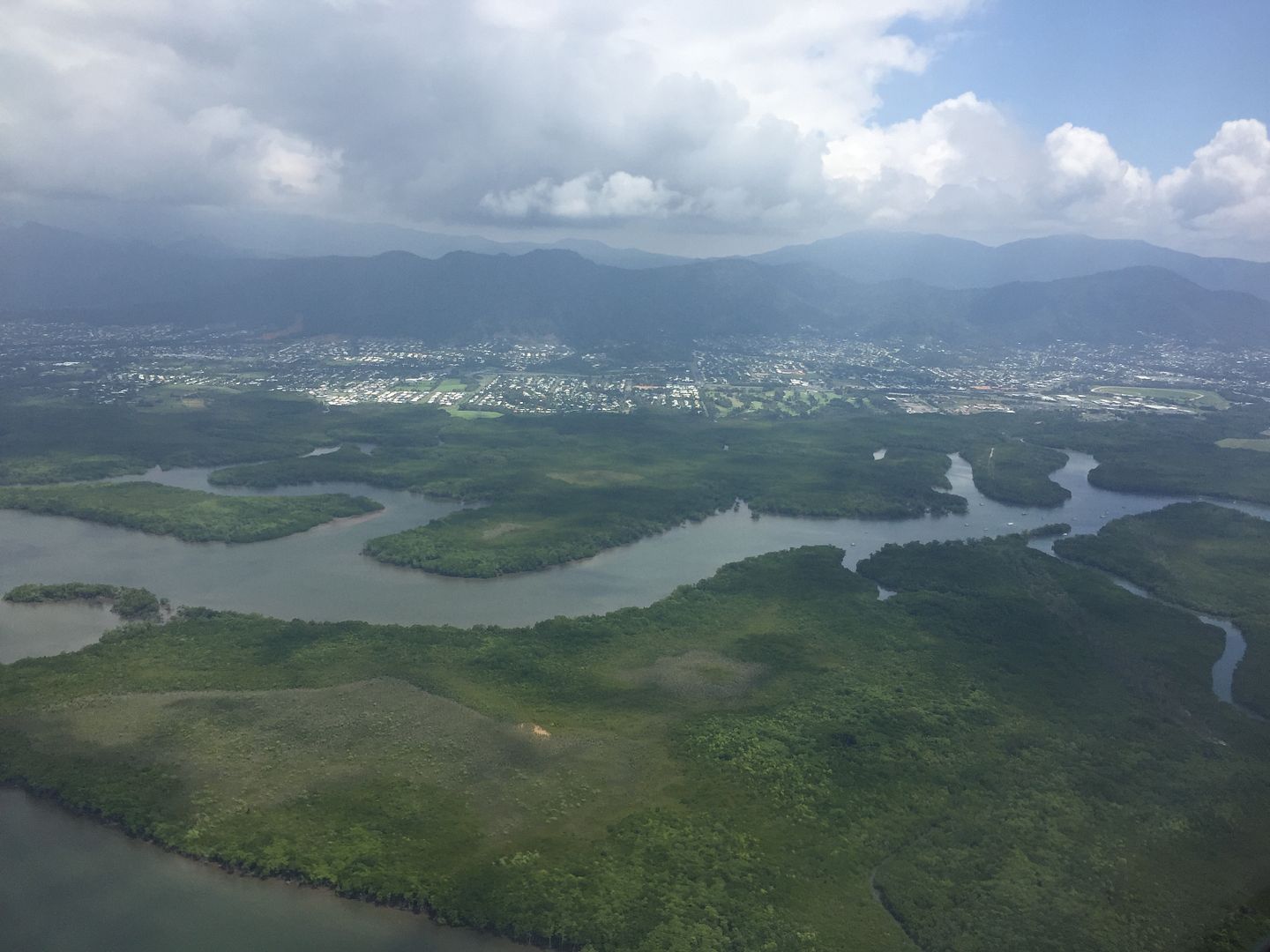 We landed on R/W33 at 11:48am.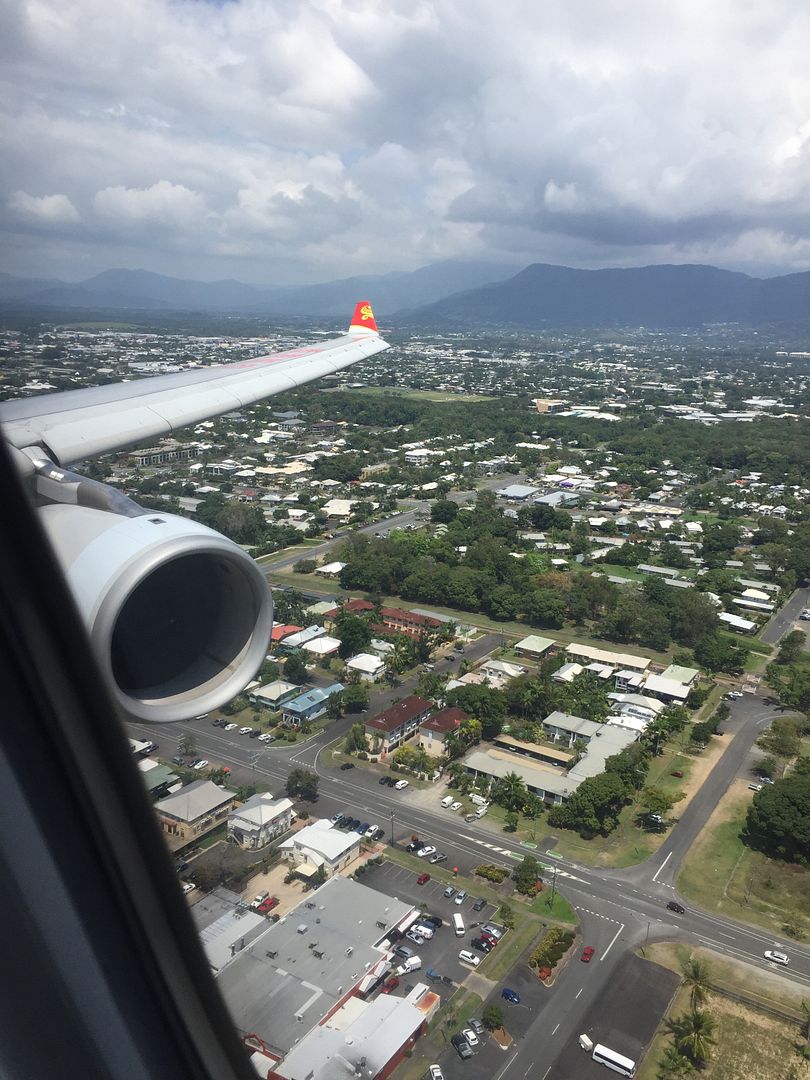 Qantas Link's Dash 8-400 VH-LQL to Port Moresby later in the afternoon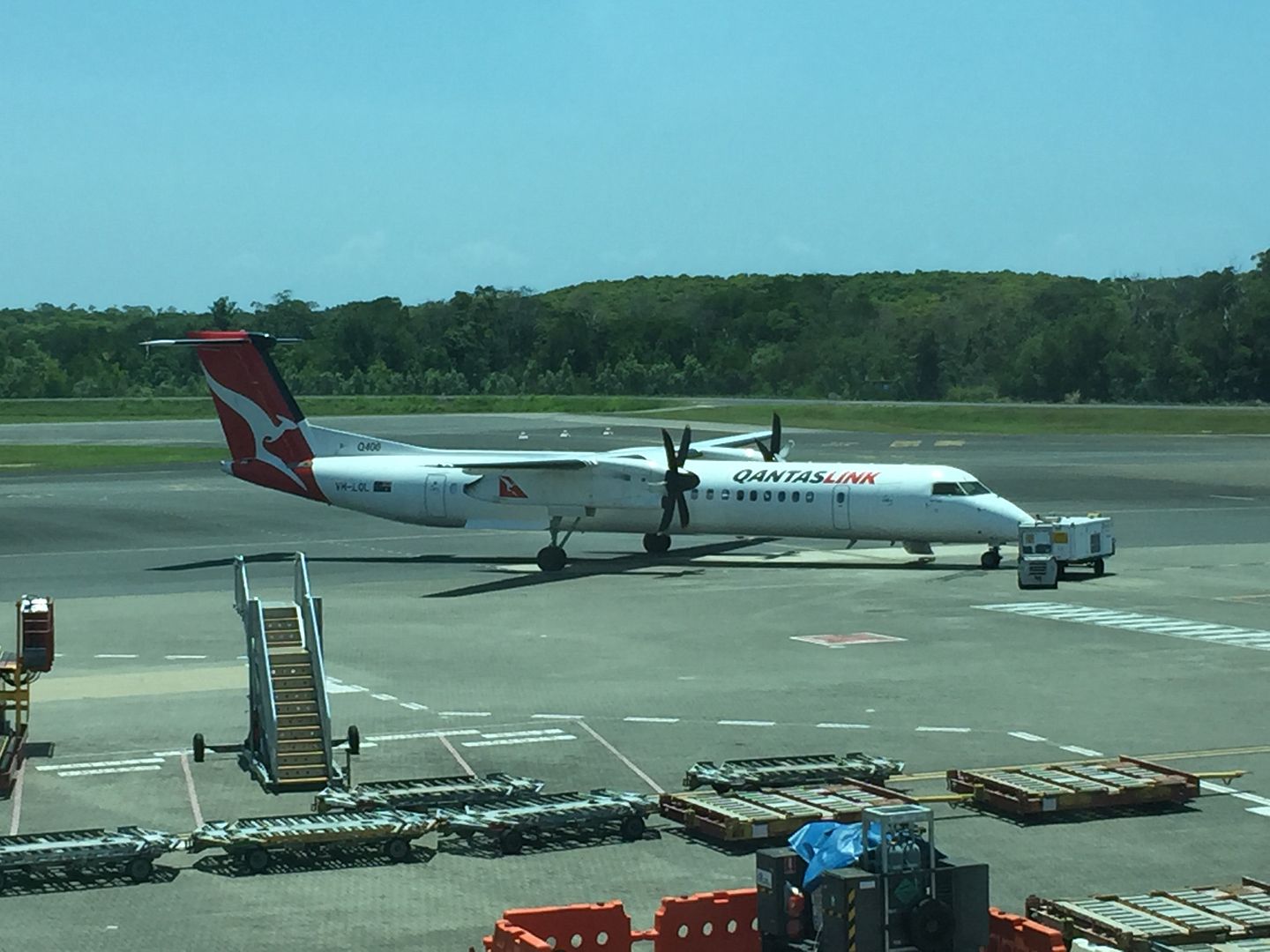 VH-VKB Jetstar 787 to Narita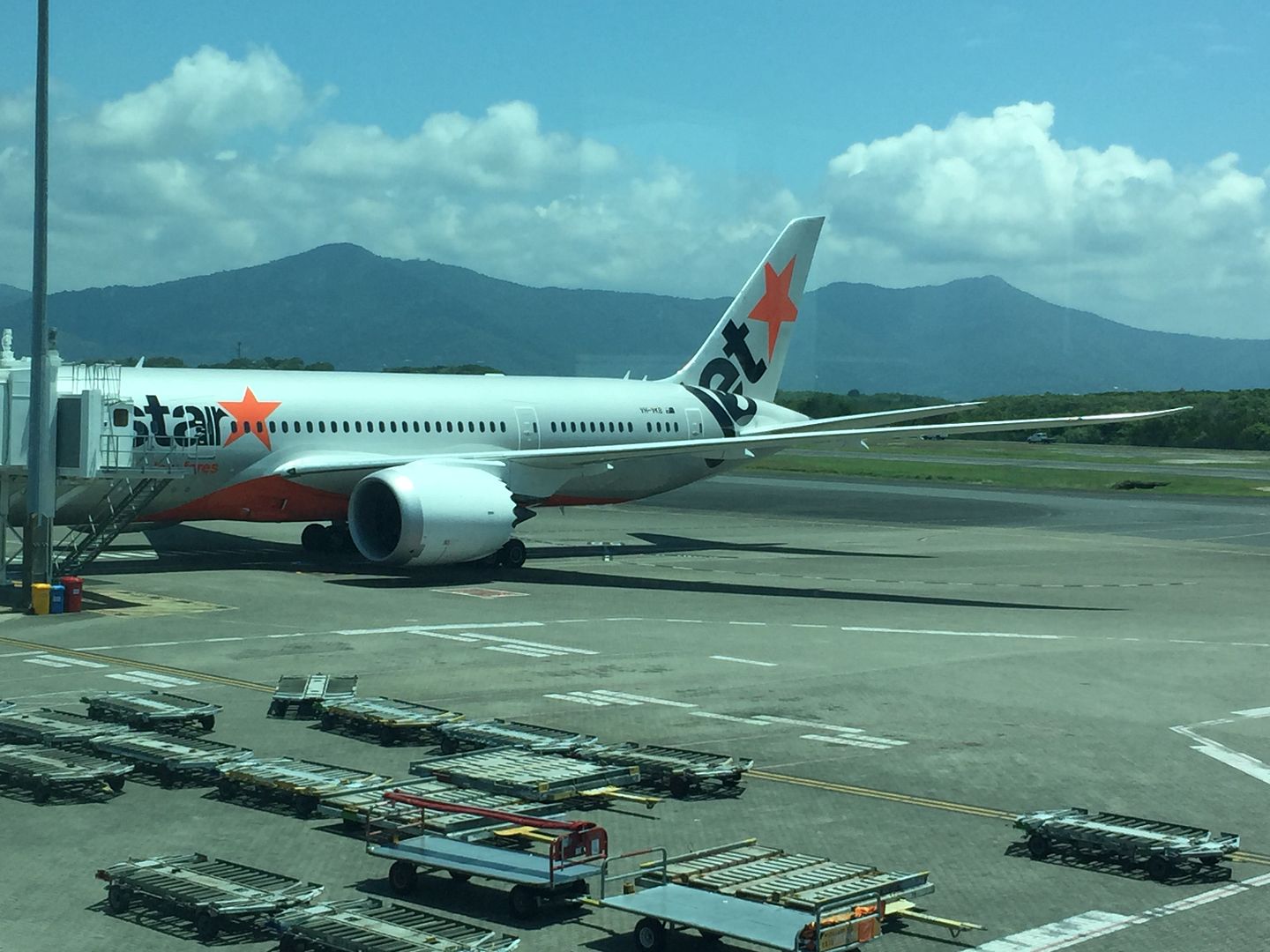 Transit passengers went straight to the gate area, and were given transit cards after boarding passes were checked. There was no more security check.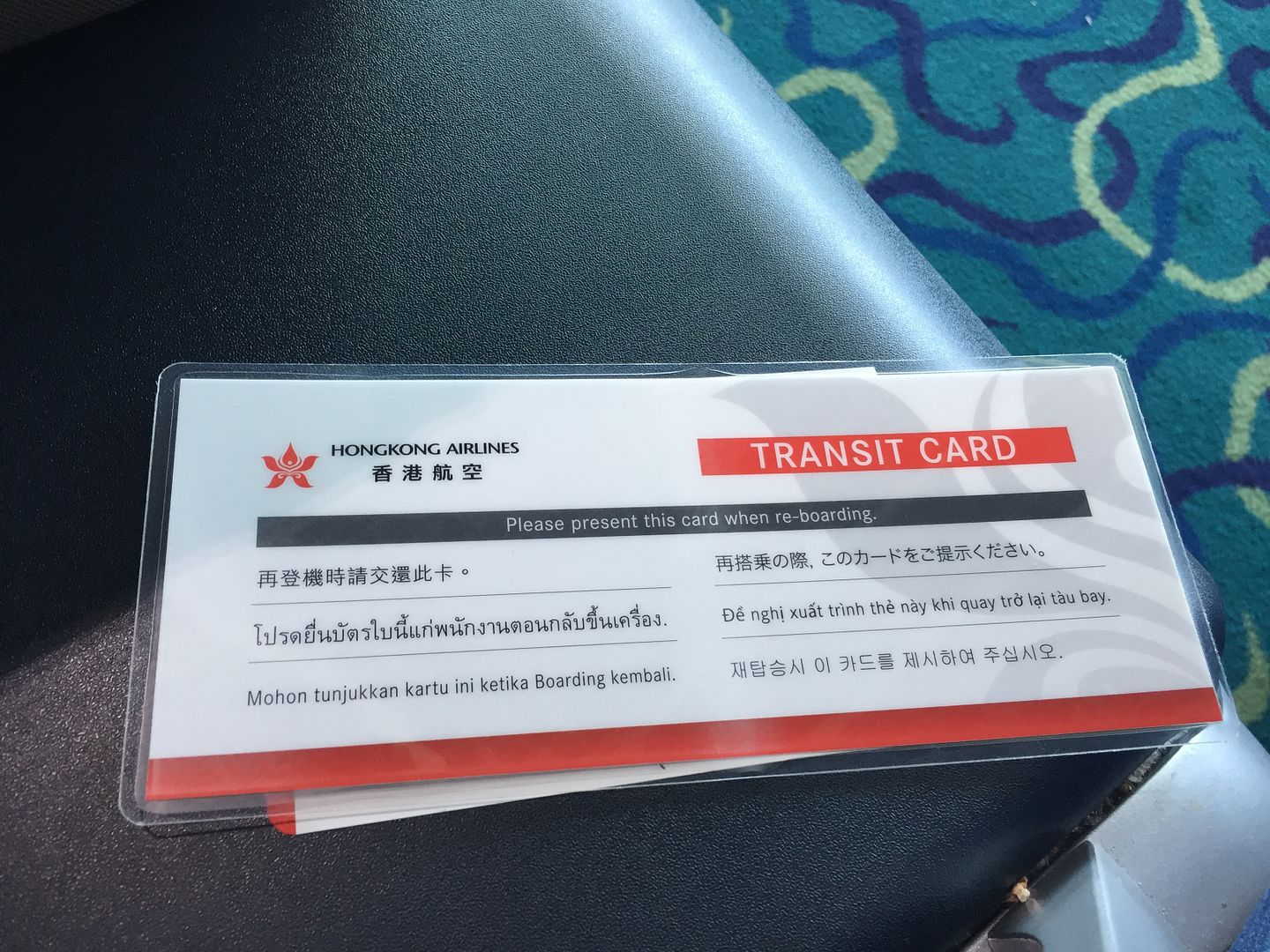 Arrival passengers went the other way
The international terminal in Cairns went through some changes, and it was much nicer than before. There were the usual shops, but one café/food outlet.
In the secured international area, there was one single lounge – Reef Lounge. Once again, HX J and elite passengers had no access. In this case, I am more understanding because Cathay Pacific operates this lounge. I honestly can't see CX letting HX using this lounge, but if you are priority pass holder, the lounge actually welcome you. But the problem is that the lounge has sporadic opening hours depending on the schedule of all other airlines, other than Hong Kong Airlines. On this particular day, we were the only afternoon departure, and Qantas' flight to Port Moresby would not depart till late afternoon. Thankfully there was free reliable and not to mention, fast wifi, but only for an hour, which was fine.
B-LNP – getting a major clean up here – catering is finally getting uploaded here.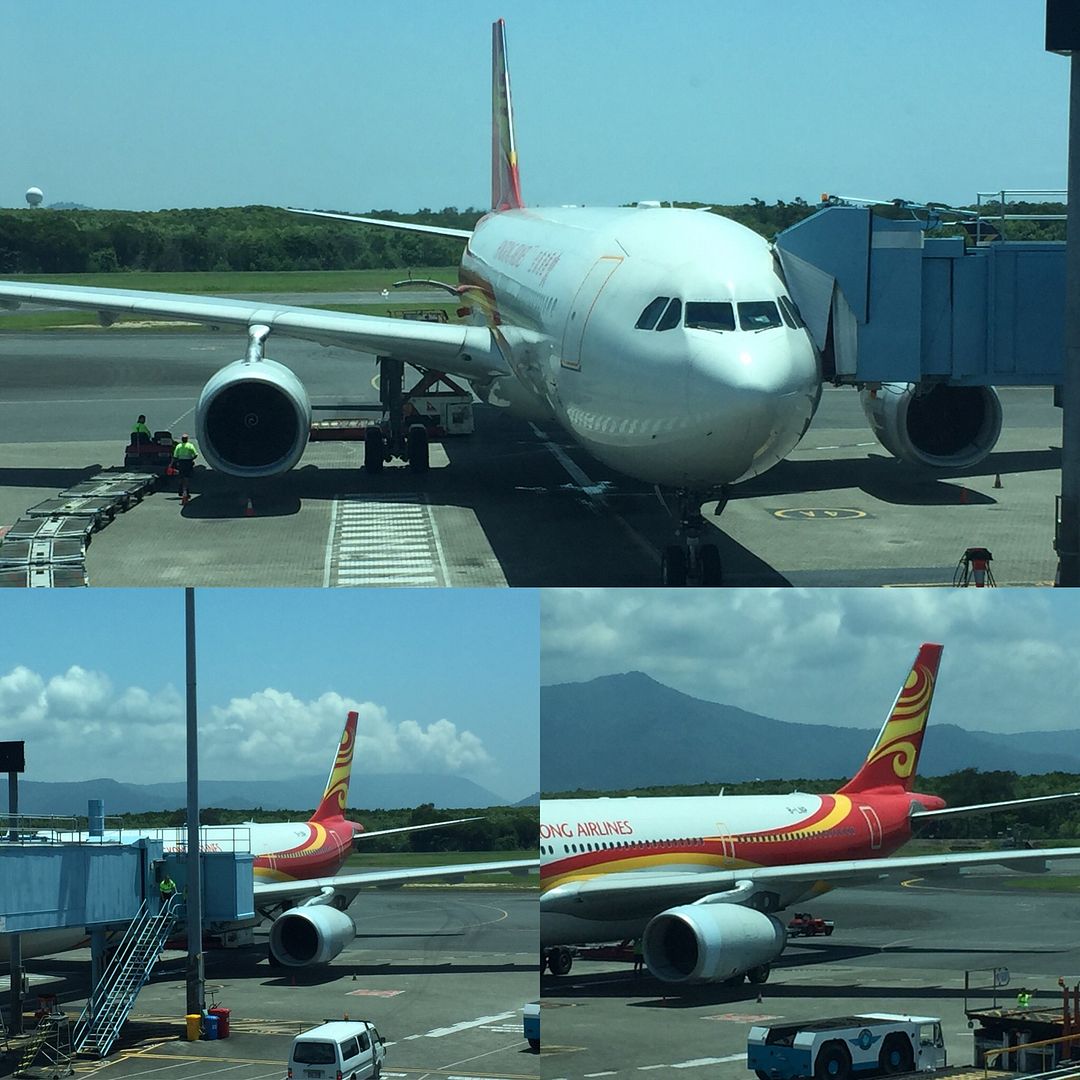 HX 16 Cairns to Hong Kong Lv1345 Arr1915 Airbus A330-300X B-LNP
Boarding began at 12:50pm and I spotted our loading to be 89 passengers this afternoon. The staffs (QF) were going around the shops and sitting area, and to remind passengers boarding had already begun. I took my time wrapping up work in my laptop.
Cabin was refreshed with pillow and fresh blanket at each seat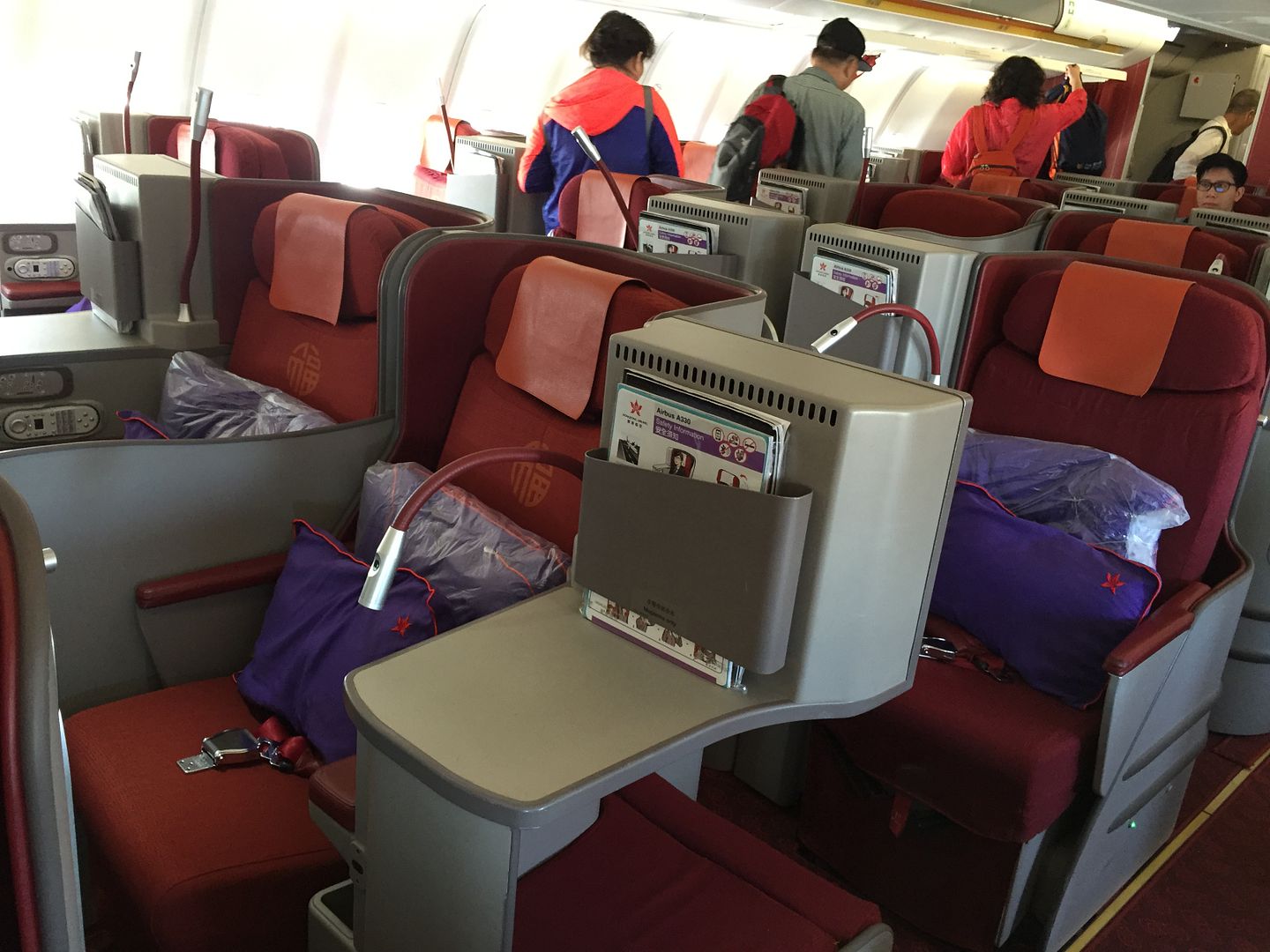 Orange juice was offered again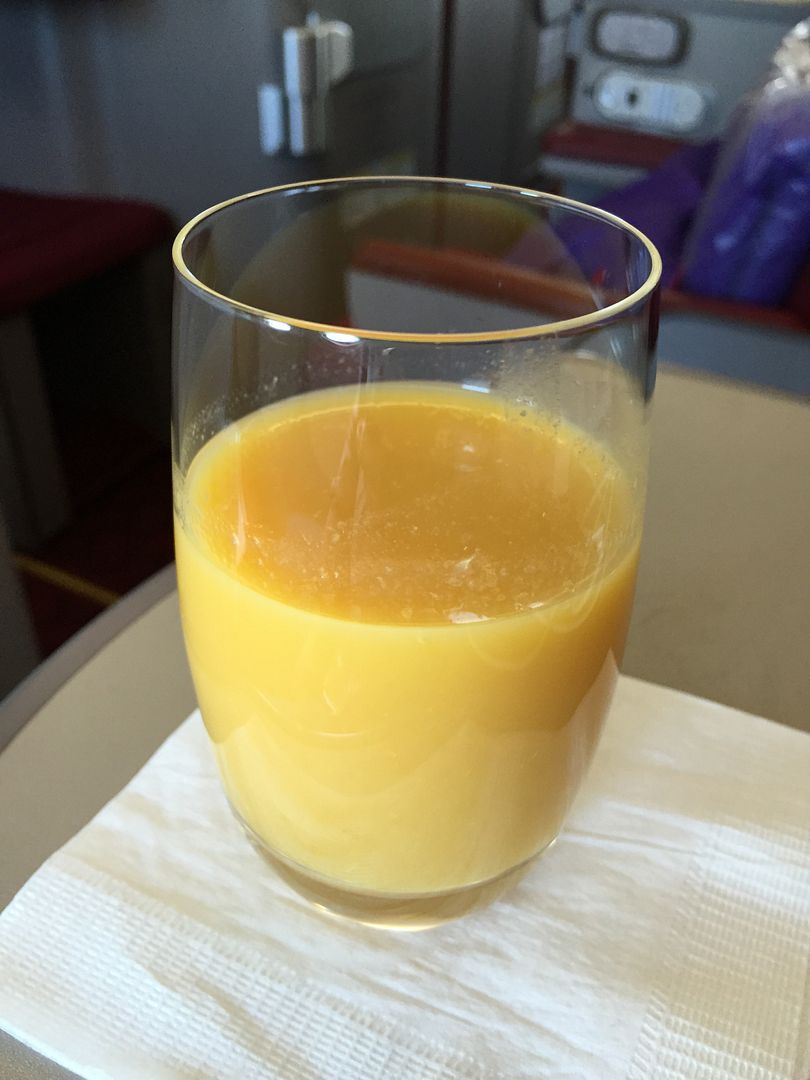 Door was closed early at 1:23pm and we pushed back three minutes later.
Quiet international terminal
Scenes along taxing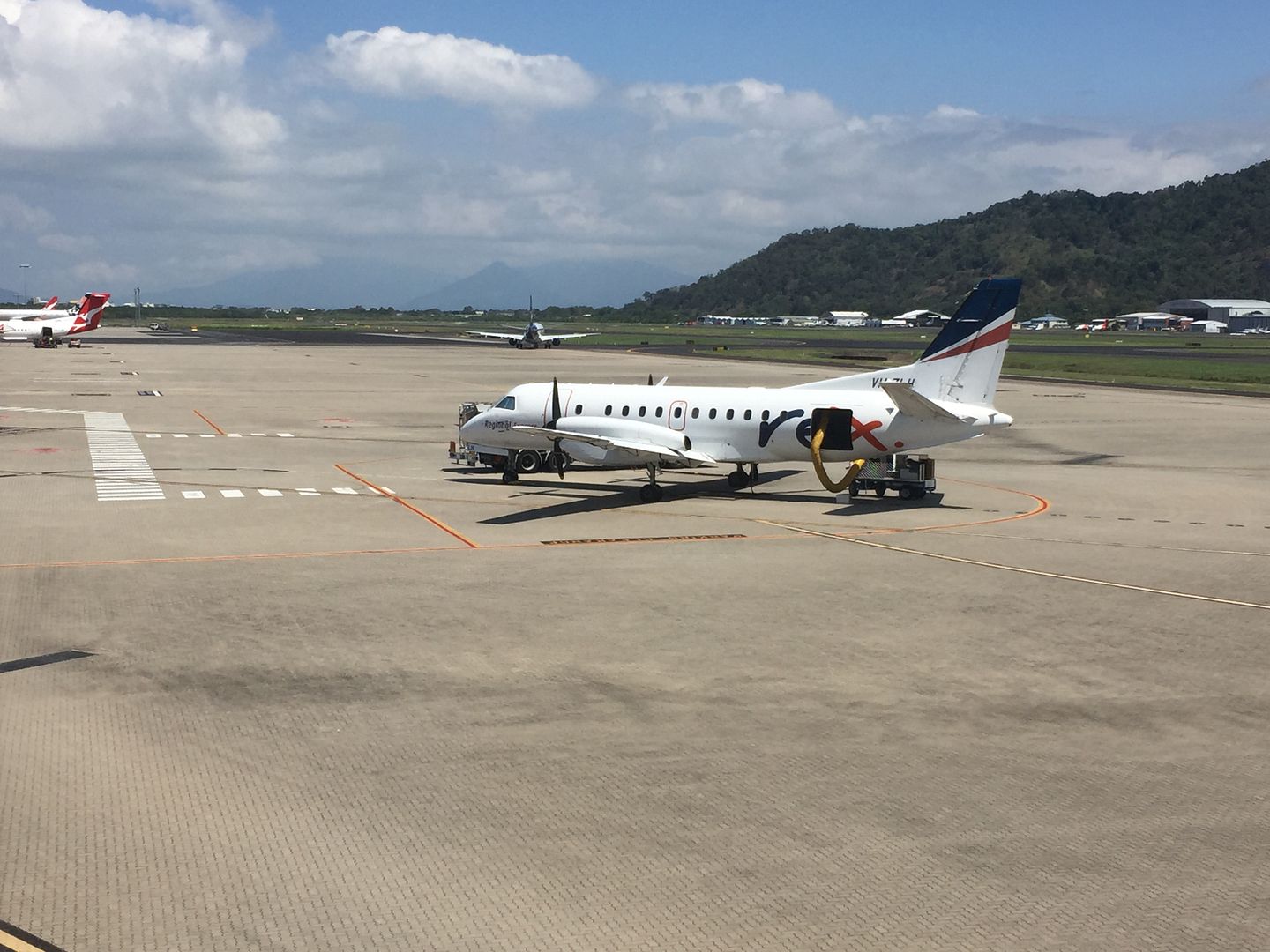 We headed to taxi down to R/W33 and did a 360 turn to line up
We took off at 1:43pm for our six hours and fifty-nine minutes flight to Hong Kong.
Routing this afternoon – Port Douglas-Daintree-Lakeland-Coen-Archer River-38,000ft-Weipa-Nanum-Yos Sudraso-40,000ft-Berapi-Kumurkek-38,0000ft-Davao/DVO-Cagayan de Oro-40,000ft-Iloilo/ILO-Sablayan (Mindoro Island – 7th largest Island in the Philippines)-HKG
Catering is much better on this flight, and while the meal is not as elaborate as CX and other first and second tier Asian airlines, it is much better than premium economy. Given the price of the ticket, the catering is acceptable. I appreciate a full hot pre-arrival meal. The flying time is 7 hours, but given the schedule of this flight, it hits both lunch and dinner time.
Wine List
The wine list is much better than its usual regional version. At least there is a real champagne service, which is Lanson Black Label. Nothing fancy, but at least a somewhat acceptable brand!
There is a bowl of mixed nuts going with champagne.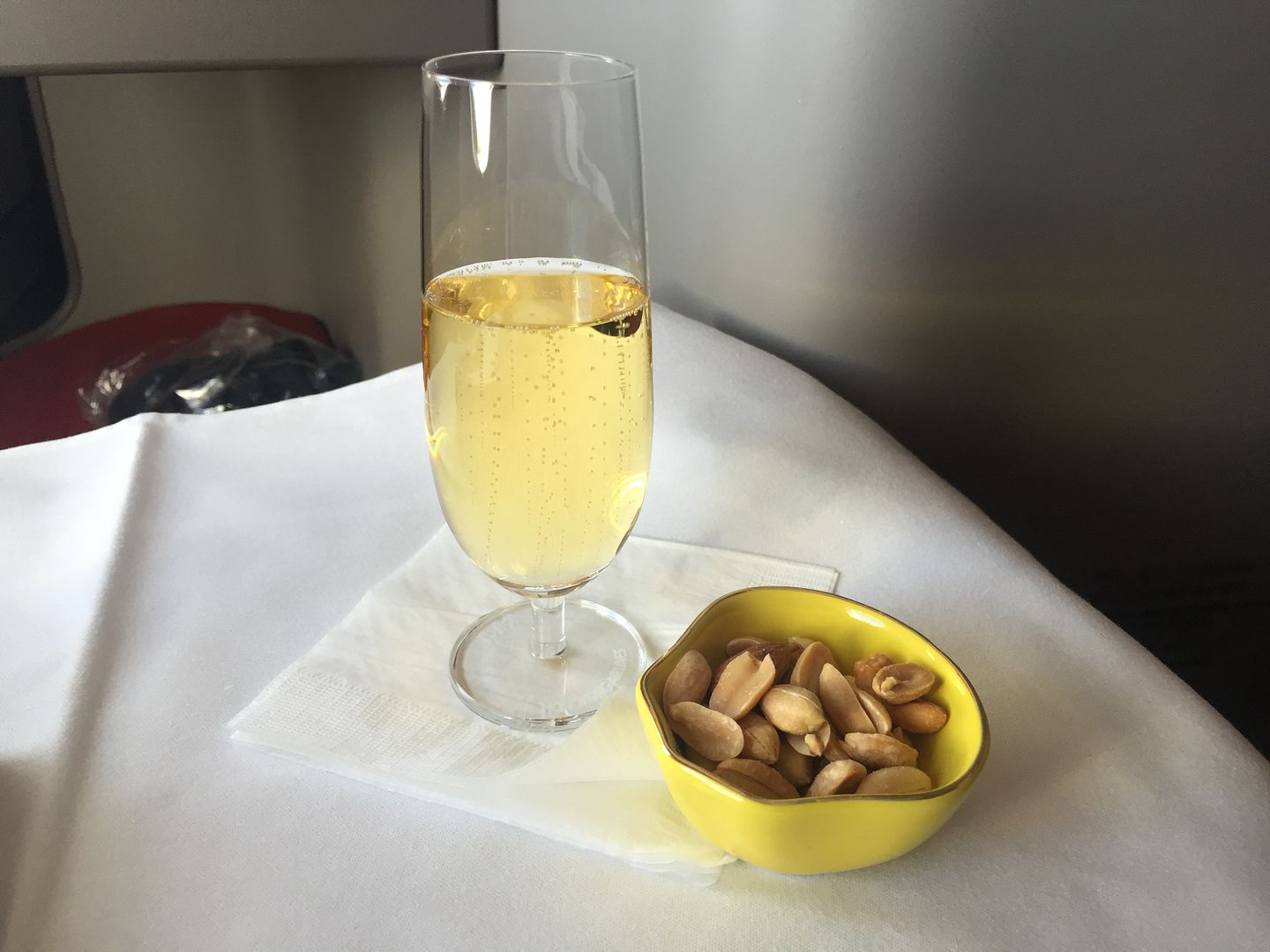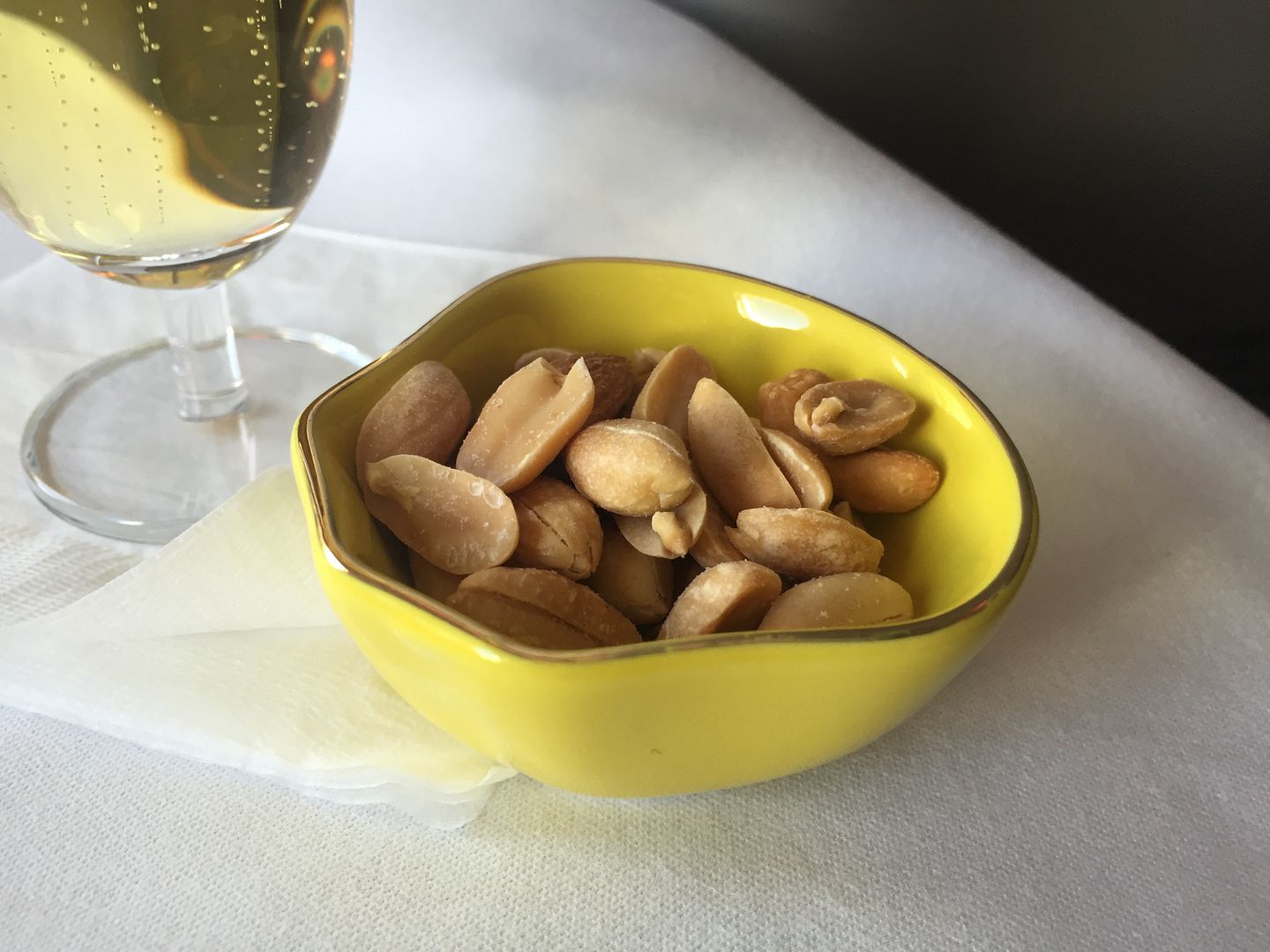 Menu
The lunch service was served in three courses – appetizer with fruit and breads, followed by main course (casserole dish), and a dessert choice (choice of cheese plate or dessert). The food quality is above HX average, especially compared its regional catering – those nasty fried rice. I will say the food is on par with CX regional business class meals five years ago. Of course, it can still use some refinement in terms of quality and quantity.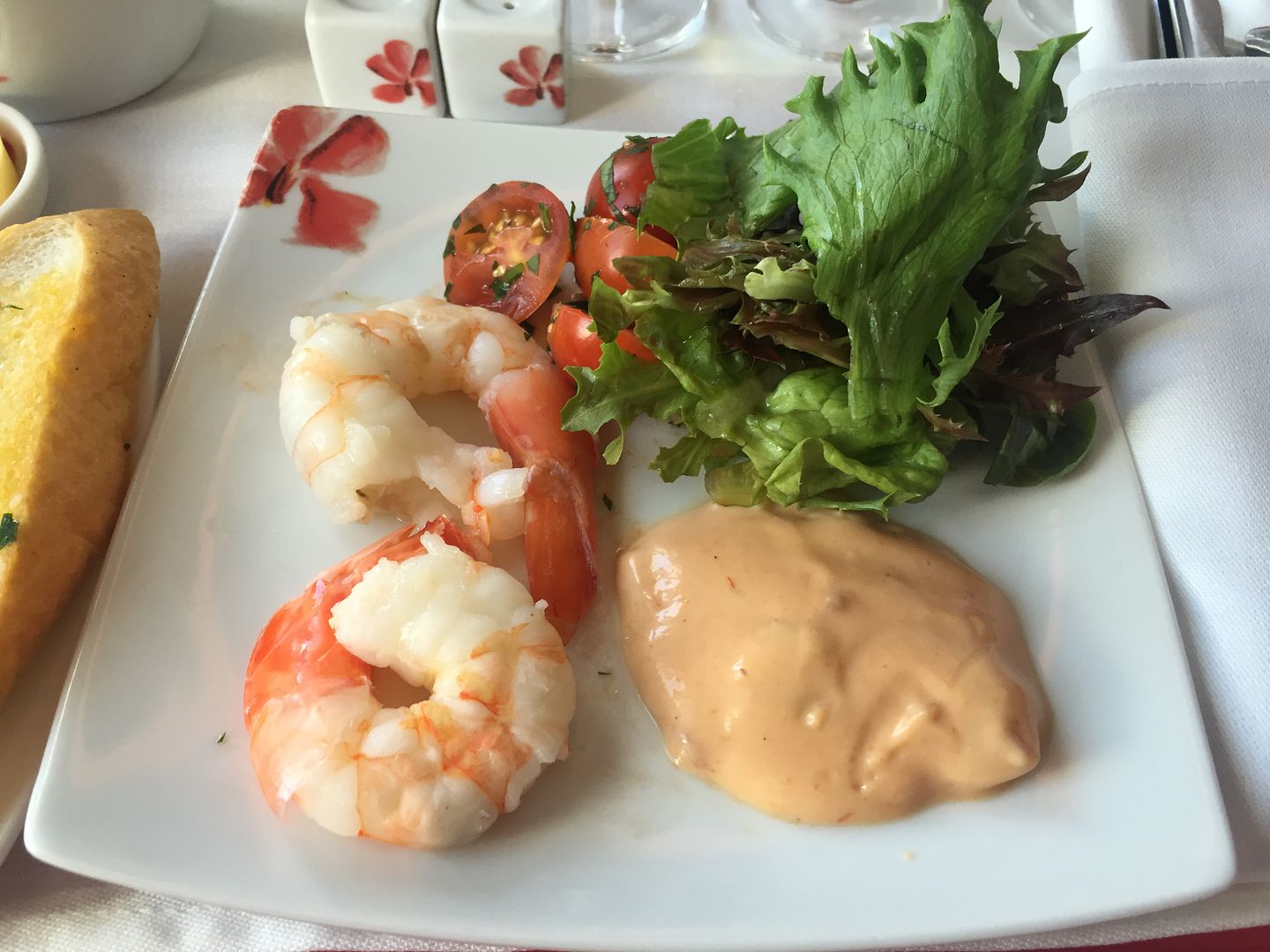 Definitely could use a few more prawns
And a more proper salad instead of random veggies thrown together
Bowl of fruit – all sweet and ripe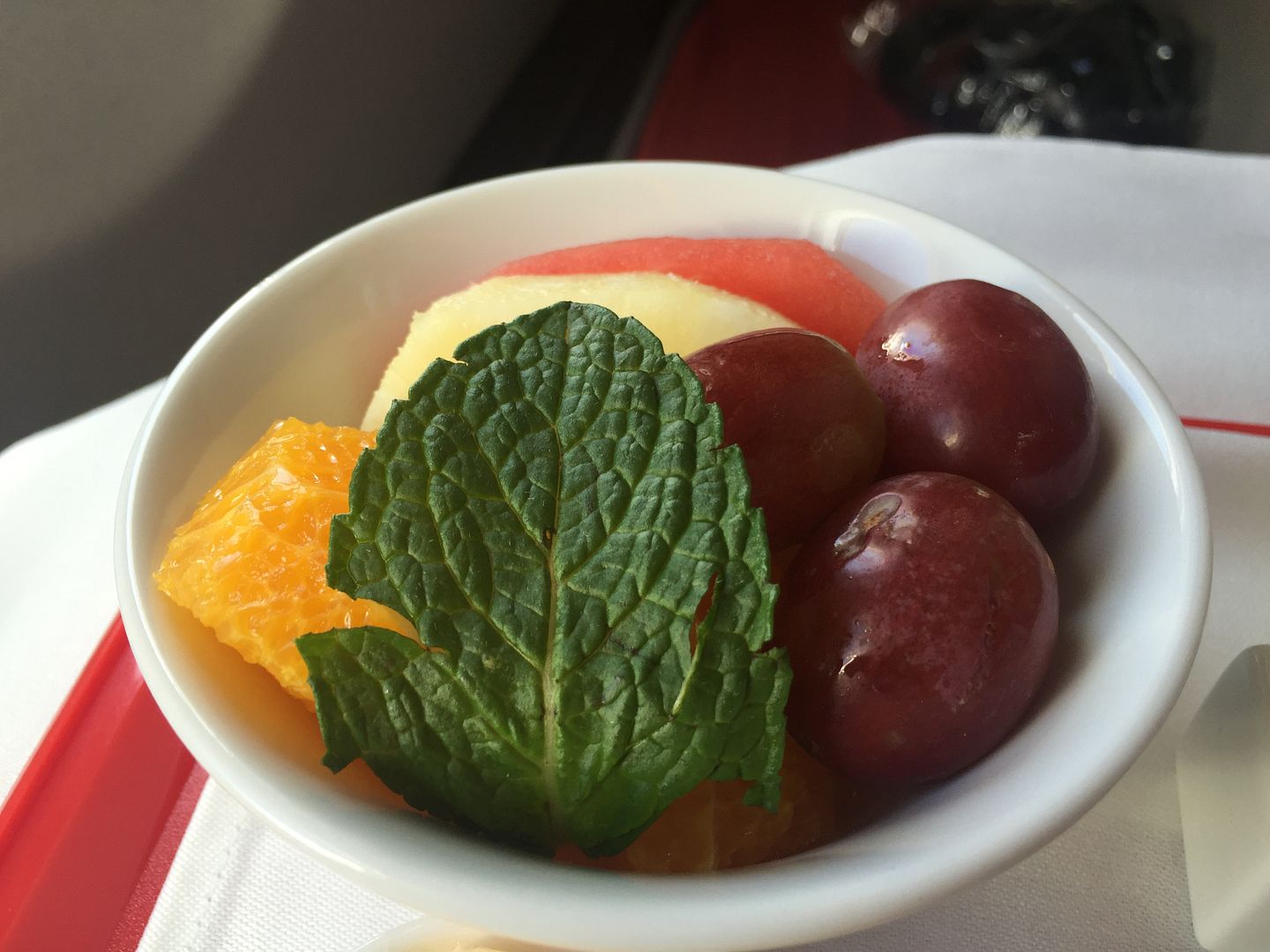 Breads – a nice selection and the F/As made a few passing of breads
Beef tenderloin – typical airline beef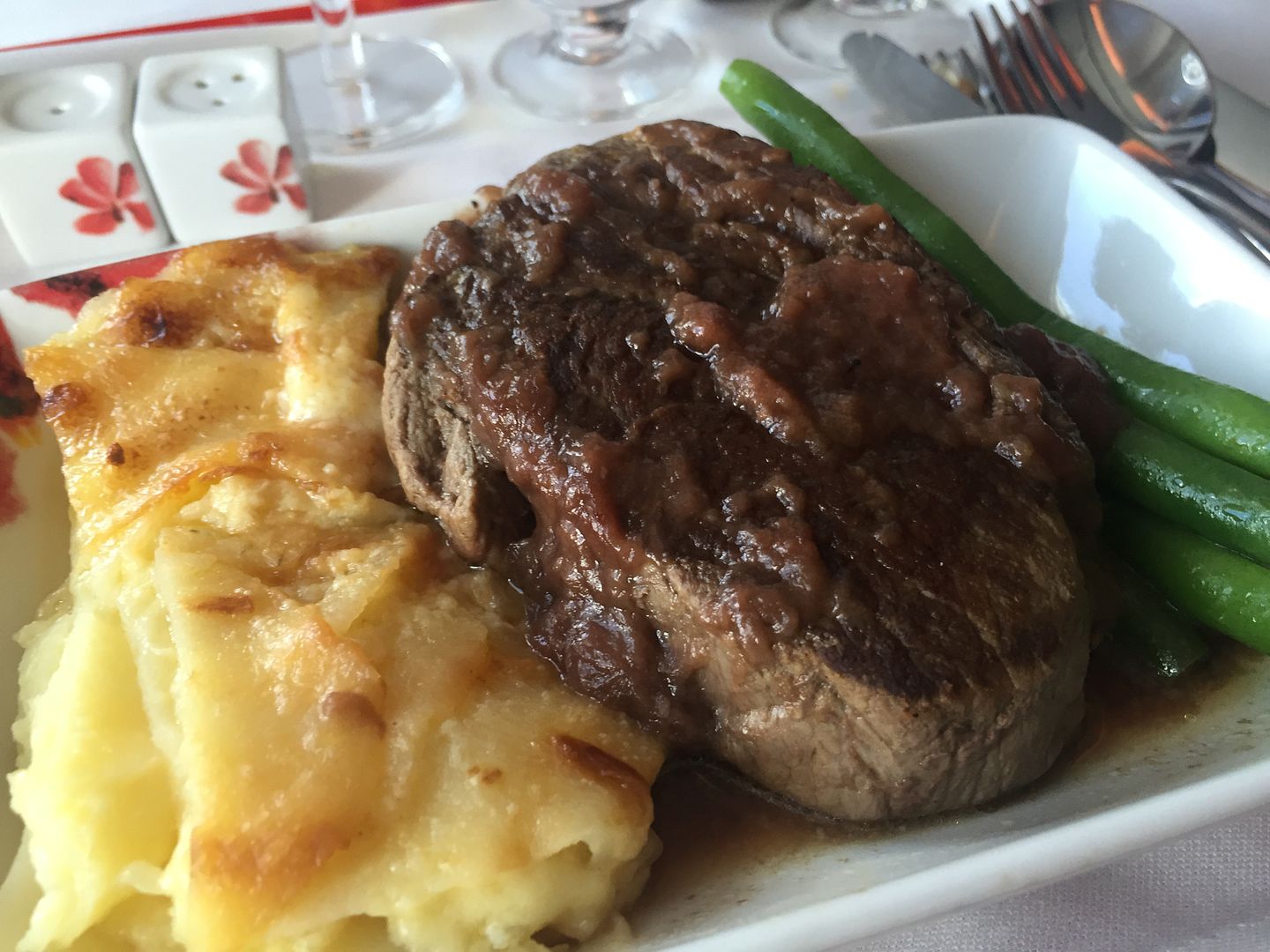 Choice of cheese plate or ice cream – a good airline always serves both, but honestly I can't imagine the crew saying now if I ask for both. I love this Maggie Beer's Burnt Fight, honeycomb and caramel ice cream.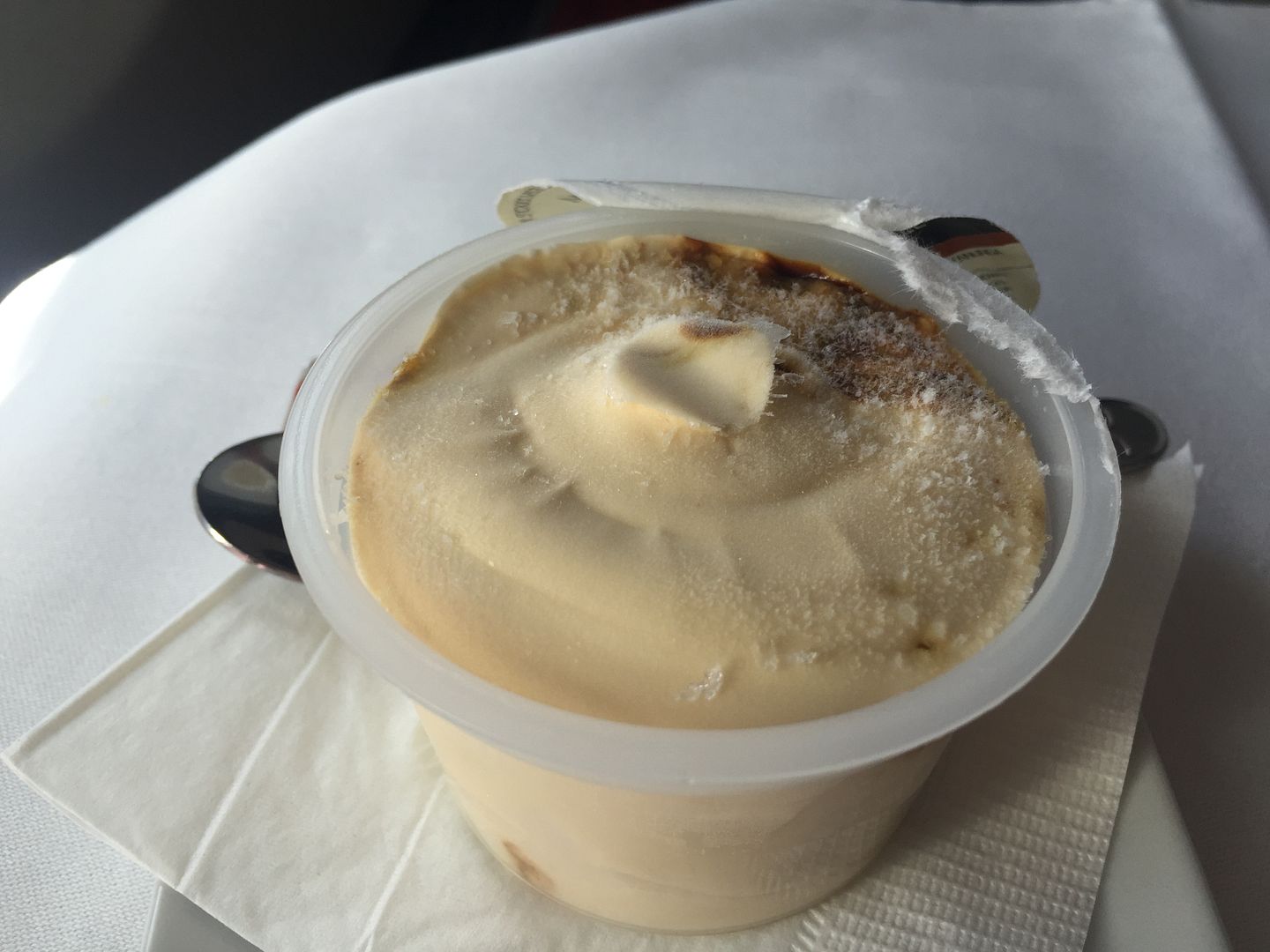 Amenity kits were available after lunch, or as I politely put it, after I complained about it on the survey, which I would discuss next. Clairins
After lunch, the F/As passed out a survey to all four revenue passengers in business class. However the survey was poorly planned. It was not sealed like the CX ones. They were basically questionnaires and F/As could read them. I felt that many passengers (not me though) would be more honest if it was more detailed and actually a sealed questionnaire. I pretty much gave them a pretty poor score and the purser Zoe and I had a chat afterward. That was how I found out how the food was catered (catered in HKG and Cairns only), and Zoe gave me a polite apology for the rather underwhelming ground experience. Honestly it had nothing to do with them, but it was nice of her in writing a report to the company. The service was fine on the previous segment, but felt that the crews were a bit more active after reading the questionnaires. I have a feeling that amenity kits were stocked but F/As did not always remember especially the return segment was a day flight. However given its light load, they have plenty of amenity kits to pass around. Anyway, please remember to request one, if you are on the long haul flights. You have to always remind yourself that most F/As only fly regional flights, and HX long haul flights are only limited to Cairns and Gold Coast, and soon Auckland.
I went to sleep after lunch and worked on the rest of my Capital Express report during the flight.
About two hours prior to landing, which is around 6:43pm Australia local time (4:43pm Hong Kong time), another hot meal was served. It was an one tray meal, and I surprisingly like the chicken lasagna and am really happy to see a real dessert instead of ice cream. BTW, HX F/As took meal orders for all the meals after takeoff and would recollect the menus. But I was granted one with no issue when I asked for it. However, I hate when airlines did that especially HX menus were rather basic. Top airlines don't do that and HX is not serving restaurant style food either.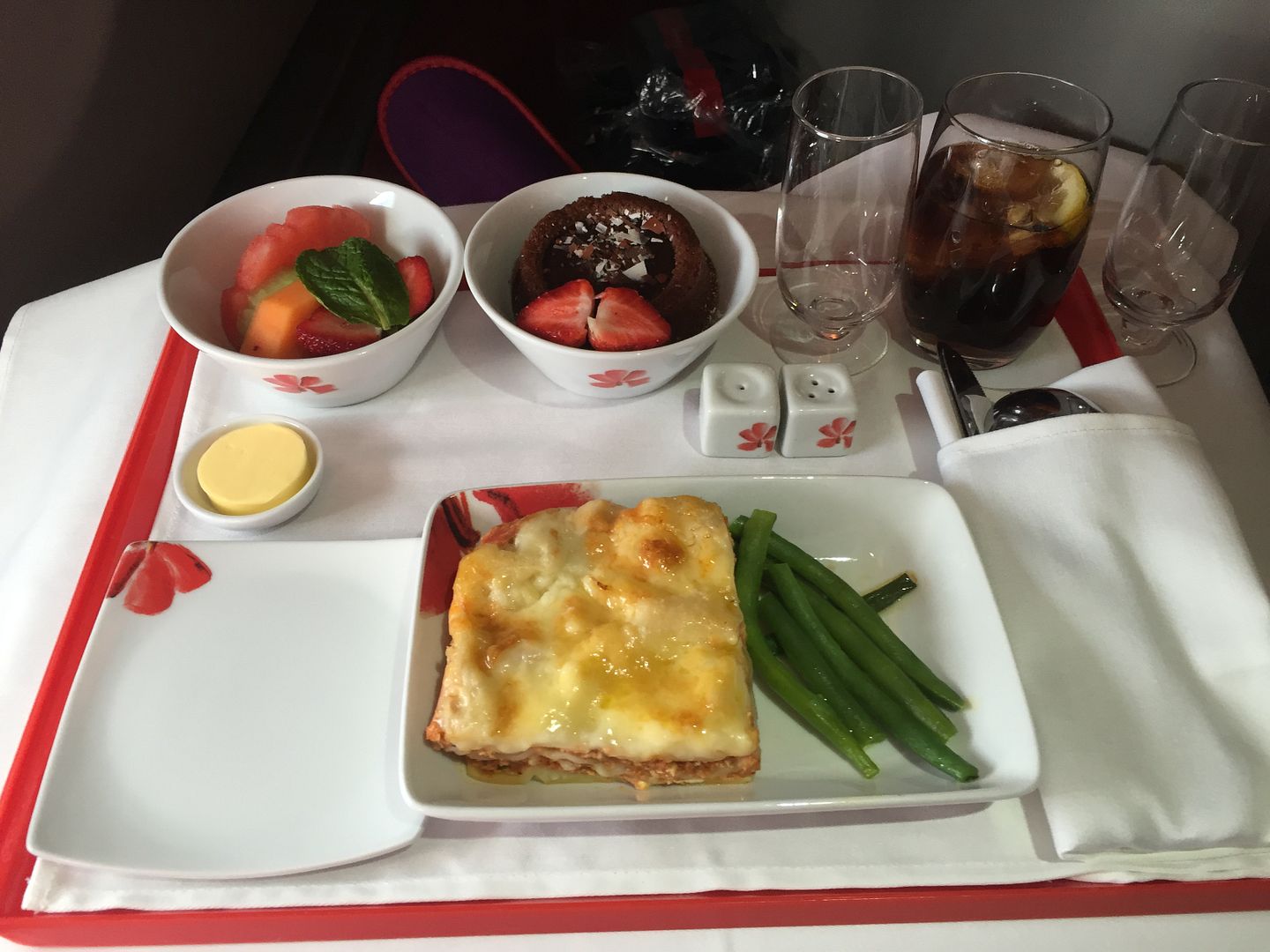 Hot towel service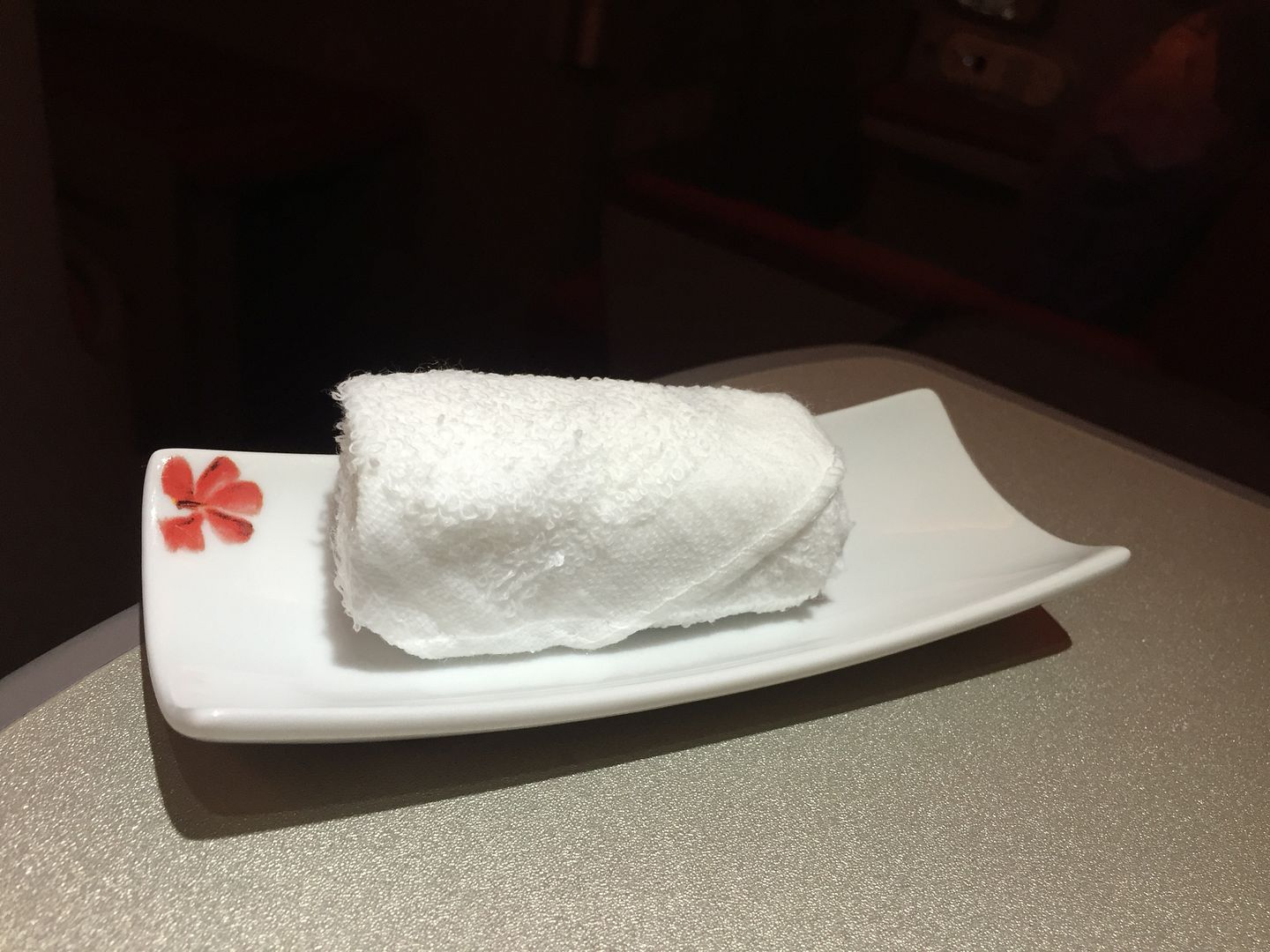 Descent soon began at 5:54pm Hong Kong local time, but due to ATC traffic control, we were vectored a bit over the South China Sea. However, we were still early because of our early departure time and lack of head wind.
We finally landed on R/W7L at 6:42pm and parked at the new Midfield Concourse at 6:46pm at gate 207. There was some confusion over the door being used for deplaning. Unlike most other flights in and out of HK, only door two was used. Zoe was caught off guard, but things were okay given our light load.
Unfortunately, Hong Kong Airlines really failed miserably on this last part of the journey – baggage delivery. I had read about baggage delivery delays and my sister, who flew HX from Narita, told me about her 45 minutes baggage delivery. HX blames HK Airport for the lack of help and HK Airport blames HX for not hiring enough people especially given its recent rapid expansion. I don't care what is happening behind the scene, but it looked really bad for the airline.
As you notes from my picture, SQ 872 and TG 608 share our baggage belt.
SQ flight parked at gate at 7:16pm and the TG flight parked at gate at 7:27pm.
At 7:25pm, 39 minutes after we were parked at gate 207, crew bags showed up. Yes it took HX more than 30 minutes to deliver crew bags. Soon SQ priority tag bags came out, and then all the SQ economy bags were delivered at 7:43pm. Then TG priority bags came out, along with regular bags. The bags from our flight finally showed up at 8:03pm. I waited an hour and seventeen minutes for my bag. It was a big deal for Hong Kong International Airport and even with US airports especially United, I have never waited more than 50 minutes for baggage to be delivered to the baggage belt. In HKG, most bags were delivered fifteen minutes after arrival.
Honestly HX offers a very affordable business class product. While it is not priced as low as LCCs like Air Asia X and Scoot, passengers should have reasonable expectations. This is not going to be Cathay Pacific, Singapore Airlines, and ANA, or even Korean Air, Asiana, China Airlines and EVA Air level. The best parts of the journey are the all-aisle access business class suites and the F/A service. However, it really needs to step up its ground game, if they want return passengers.
Lounge – it is unacceptable not to have lounge access especially both Qantas and Virgin Australia have lounges in the domestic departure area at both Cairns and Gold Coast. As Hainan Airlines Group grows closer with Virgin Australia, there are really no excuses at all. If there is capacity issue at OOL, and for transit passengers in Cairns, especially CX will definitely not give HX passengers access at the Reef lounge, there are still things that HX can do. How about a meal voucher for AUD15-20? Or even work out a deal with local café for one free beverage and one free snack for all business class passengers. There is no excuse for not having lounges.
Catering – I am unsure about the catering situation at OOL, but the current situation of serving a dried out muffin is not acceptable on this two hour long segment. First, you need to tell business class passengers that they will only get a light snack or a muffin on this flight when they book the ticket and when they check in at OOL. Second, HX can work with a local caterer for some continental breakfast boxes that the F/As can plate after takeoff from OOL, or just simply give out a voucher to all J passengers. But for long term, they really need to start thinking doing catering out from OOL, not Cairns.
Baggage Handling – it is not acceptable for any passenger to wait more than 20 minutes for luggage especially for a top notch airline like HKG. There is something definitely happening and HX needs to hire more ground handlers and with the HKG Airport authority for a long-term solution. The Midfield Concourse has been in use for more than six months now, and teething issues are not longer acceptable excuses.
I feel that HX needs to put many of this information on its website, which is simply poorly setup, with no substantial information regarding airlines check-ins and lounges used at each cities. I was already aware of the no lounge and muffin service, so I was prepared, but many of the passengers were surprised how little food was served, especially a full hot meal will be served on a similar length flight in business class. I got more food on my Qantas economy class flight from SYD to OOL the day before. HX needs to put out detailed information on its websites and there is NO EXCUSE.
HX still has a long way to go, but I hope this report will give you a preview on what to expect on HX long haul flights, and I certainly hope they are more ready for the new Auckland service (especially lounges for J passengers) and Mauritius in 2017. I hope you enjoy reading about a relatively unknown airline.
Carfield