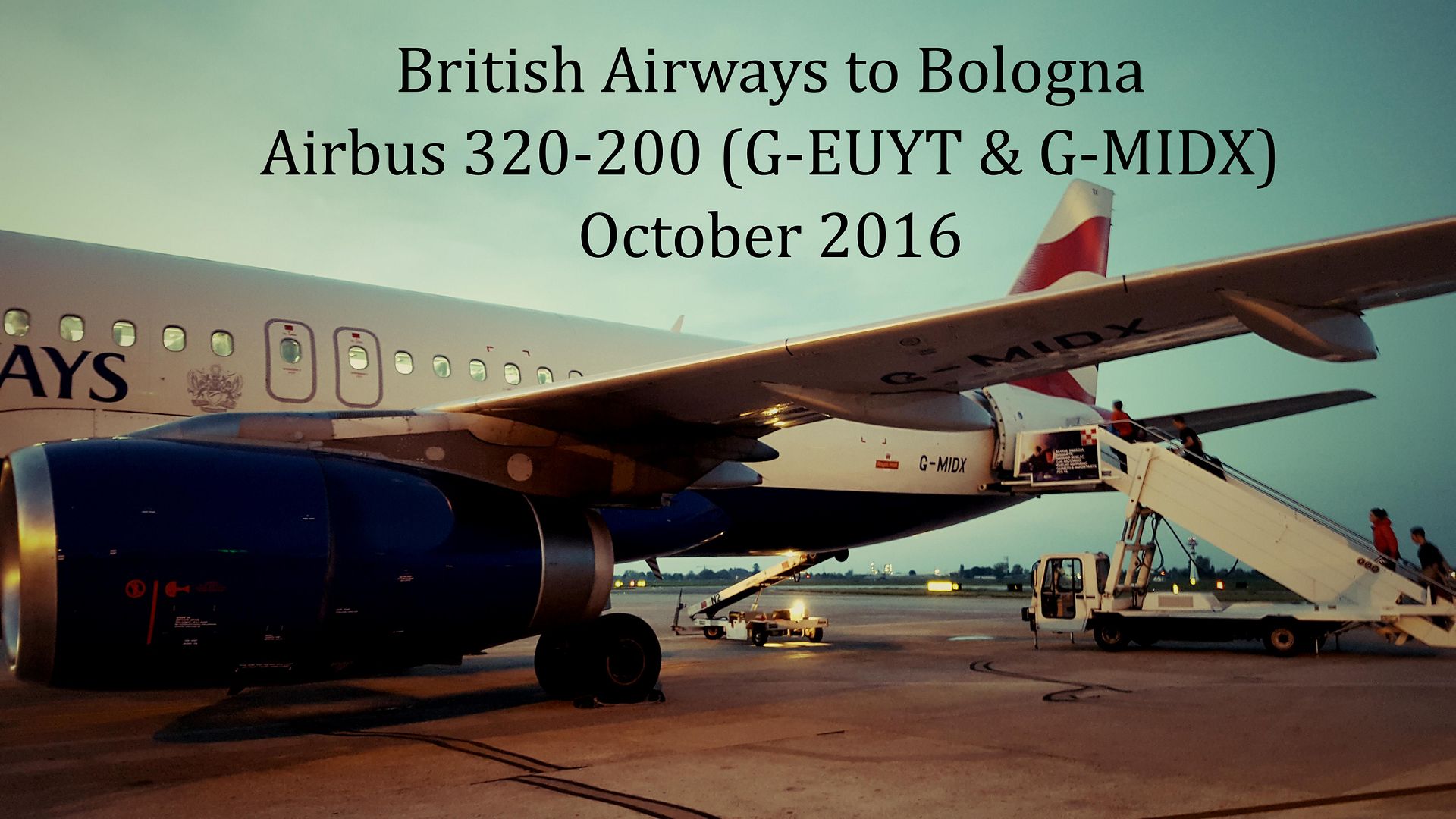 Background
Hello Anet'ters. We had an economy companion voucher with Avios and needed to use it soon. Cinque Terre was a choice of destination for a while and it so happened that the flight to and from Bologna had redemption availability as well as great timings. So here we go.
15K points (since this was peak time) + GBP 70 (tax) for 2 return tickets. So net discount was for 15K points.
Thanks to GCMaps for the map illustrations below:
Online Checking in was as usual - slick and easy.
British Airways – BA544
Route: LHR - BLQ
Flight Reg:G-EUYT; Delivered to British Airways on Feb 2014.
Aircraft Type: Airbus 320-200
Seat: 13A
Flight time: 20:20 - 23:25 (20:50 - 23:41)
Actual flight time: 1 Hr 51 Min
Distance: 724 Miles
Load: 70% load
14th October 2016
My Log book: 17th Flight on BA/ 23rd flight on Airbus 320-200/ 120th Total overall flight
Drive into Heathrow wasn't too bad considering it was a Friday evening. Took an hour in spite of a minor accident on the M25. We used the pod parking and it was brilliant! Using it the first time and this has to be the best way to park at Heathrow. More details in my video (more details about my video later on. Sad story

). But overall the experience was flawless and seamless.
Our ride from the Pod Parking to T5 - The Awesome PODS!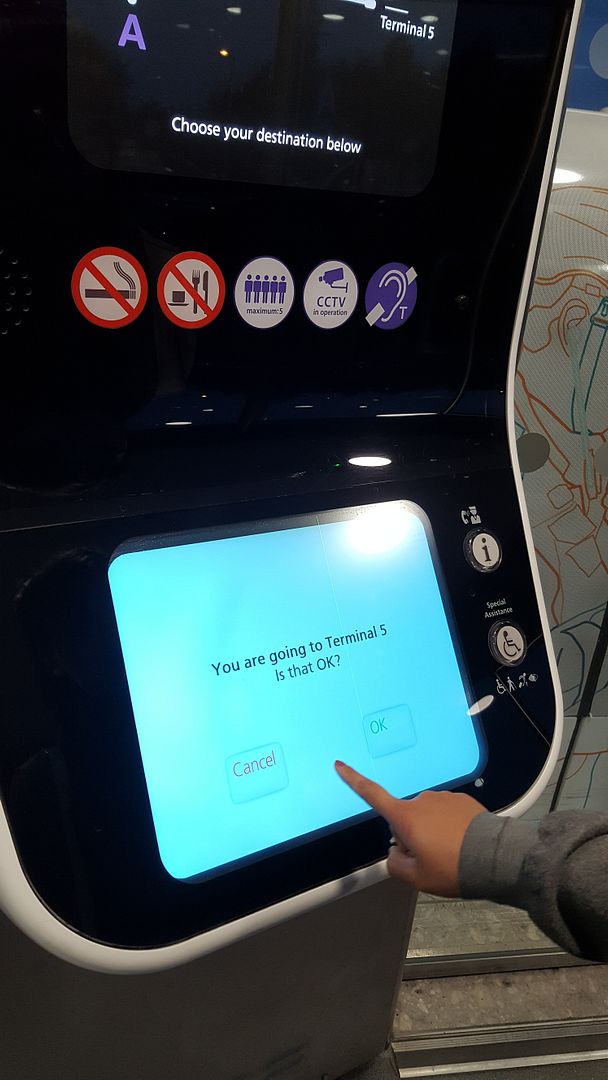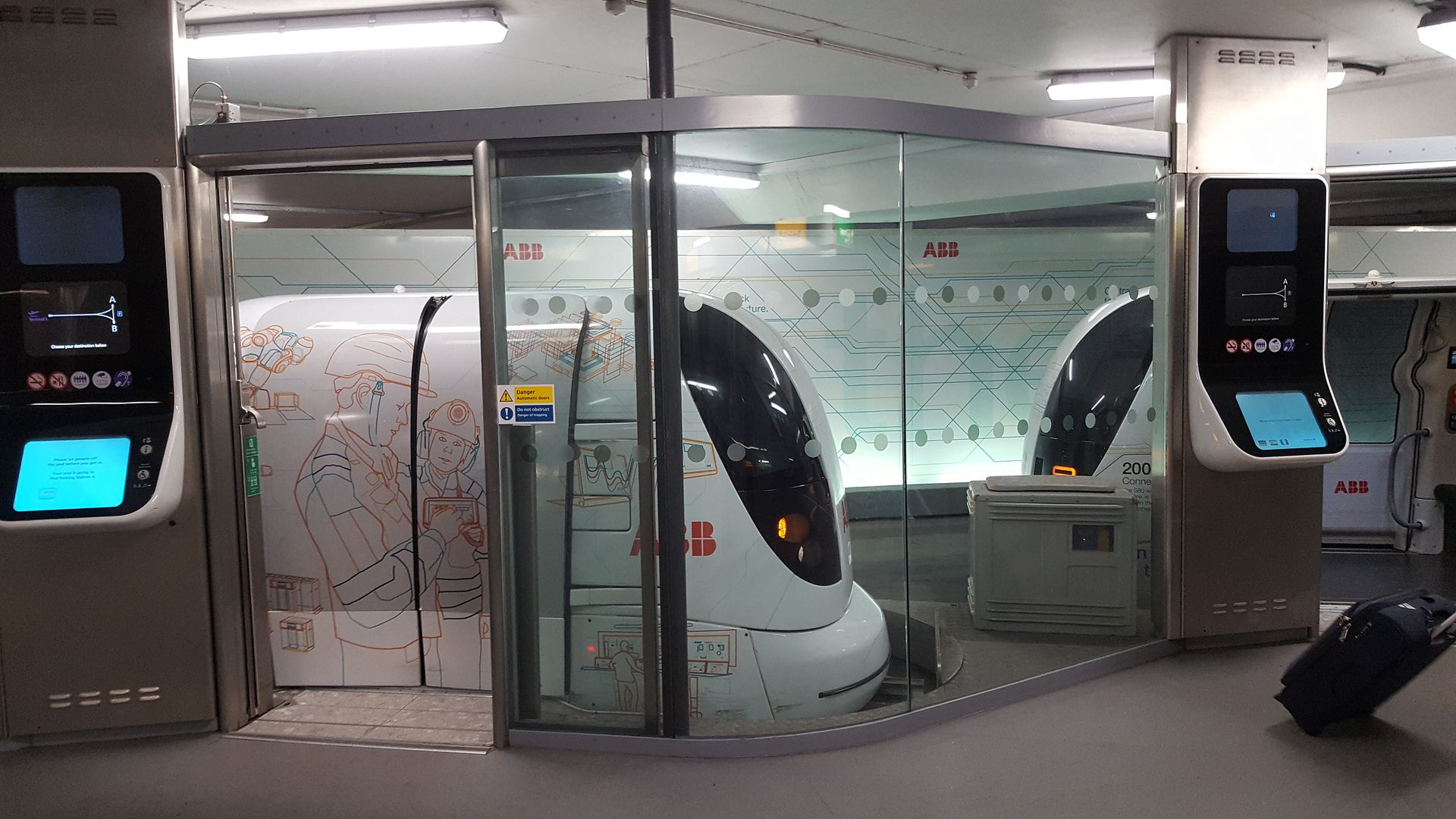 T5 was relatively quiet. Check-in was quick and courteous although the self-check in did not work since our passport details on our file was our previous nationality passport. Strange. Nevertheless, post check in security was done in 5 minutes. Airside with over an hour to spare.
T5 Check-in gates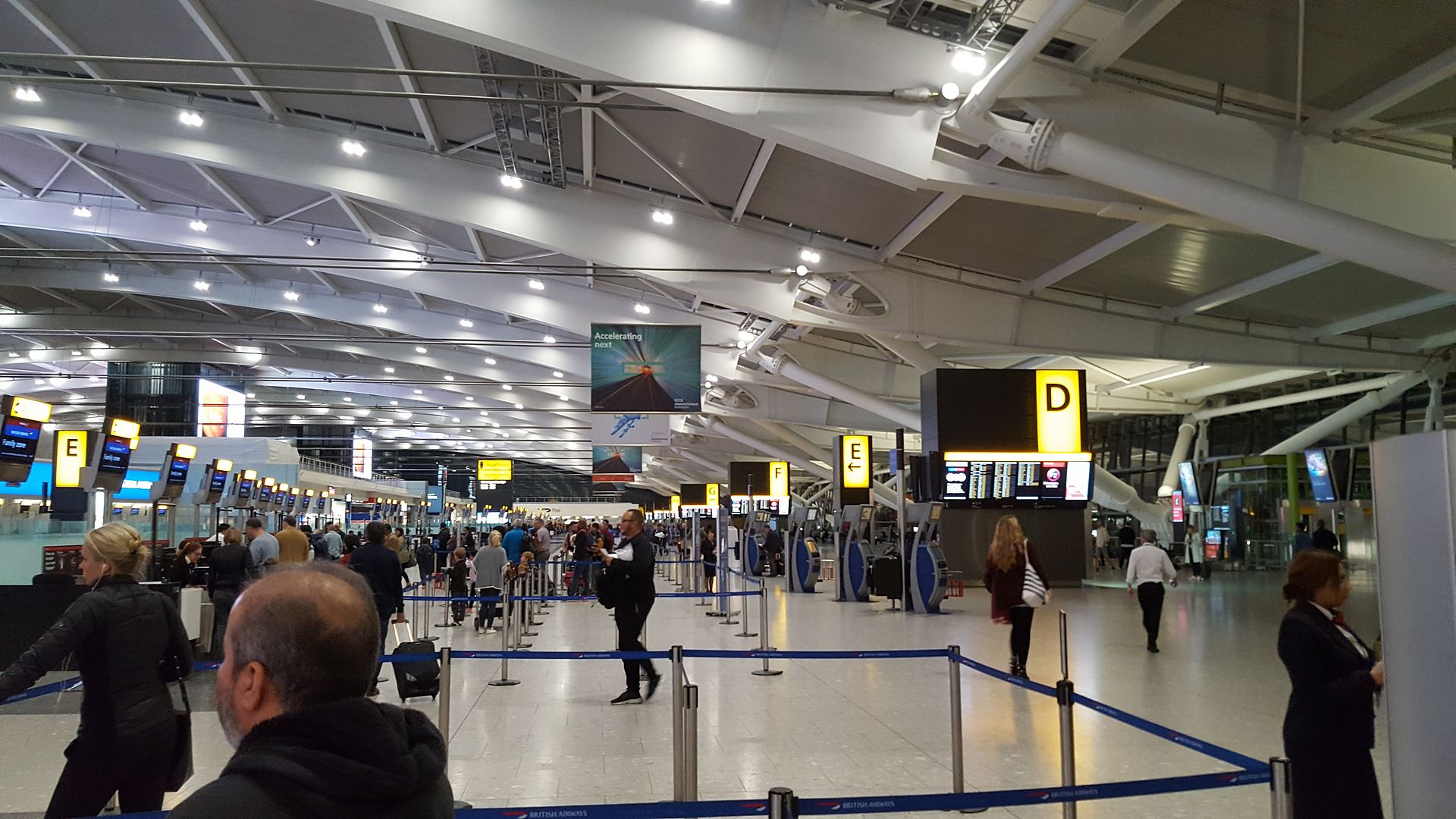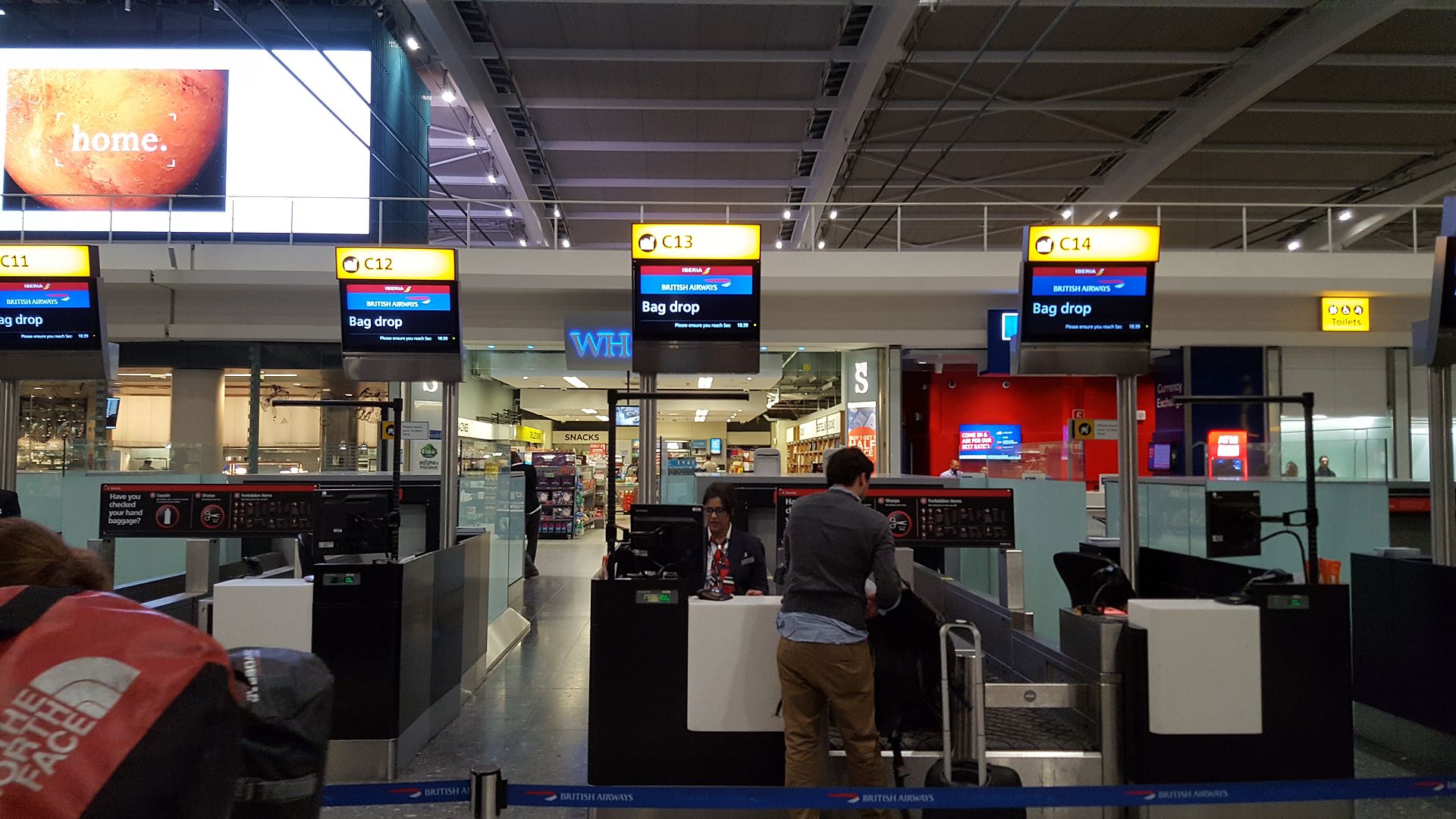 Self-Check-in - did not work properly as oour passport details on file were incorrect
Is it busy today?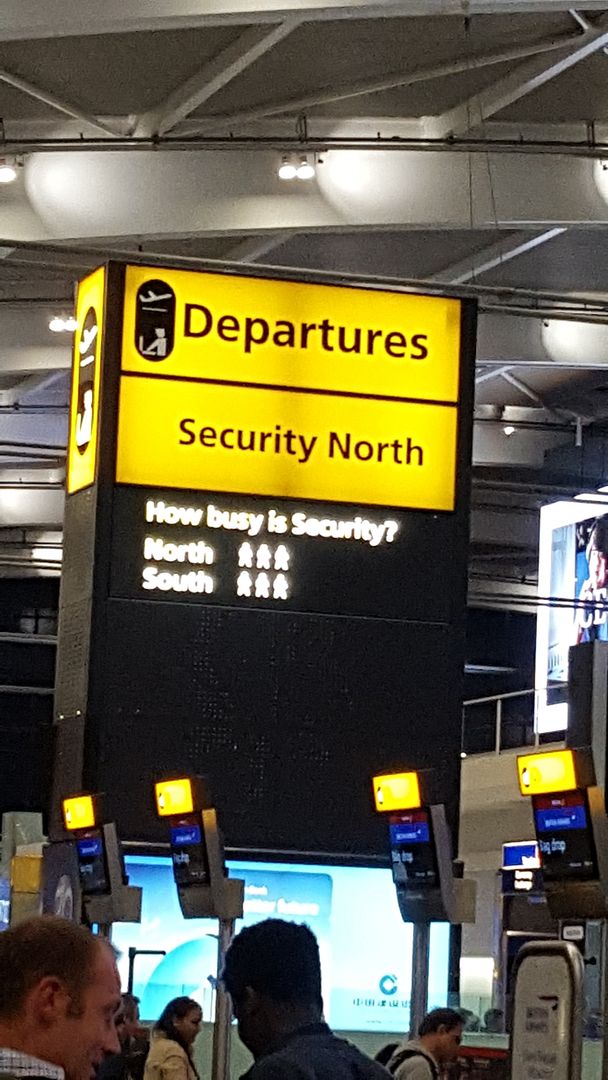 Checking the fids our flight seemed to be delayed by 20 minutes. New departure time 20 40.
T5 on a Friday Evening
FIDS at T5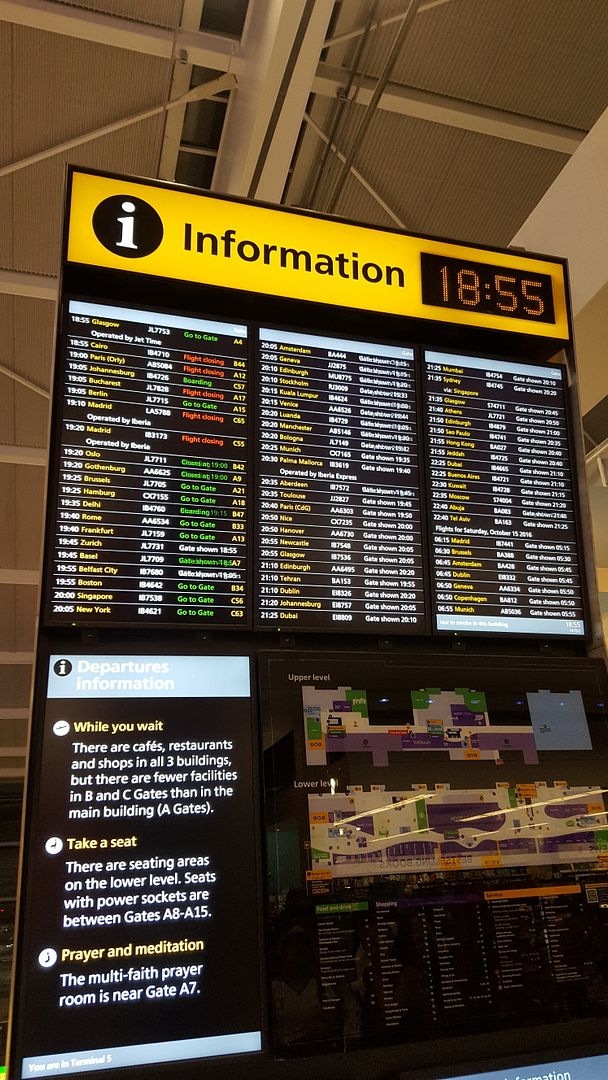 I like this new bottle re-filler at T5. Not seen it before
Flight delay stated due to late arrival of the aircraft from Copenhagen.
Quick dinner before boarding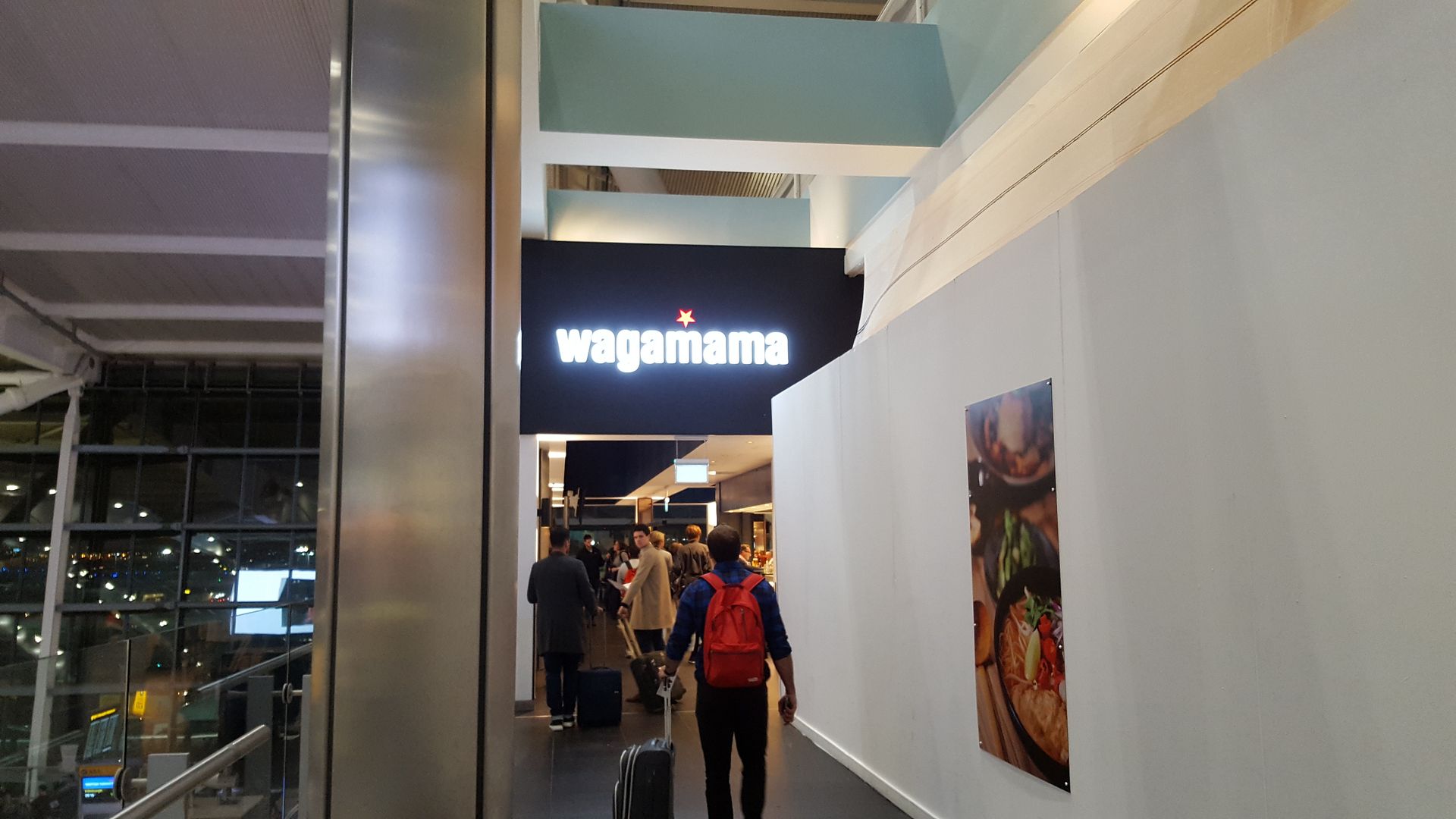 Once boarding commenced it was quick and efficient. There were quite a few priority boarding passengers.
Even with the delay boarding completed by 20 25. Great work by the ground staff.
Boarding gates at T5 for our flight to Bologna
As expected exceptional announcements from the flight deck. Apologising for the slight delay and explaining that the delay was due to "special handling of a passenger on the previous flight to Copenhagen, creating a domino effect." Hmmm. Wonder what that might've been.
Once on board, the aircraft was spotlessly clean. Once great effort by the team for a swift turnaround.
Decent leg room for a 2 hour flight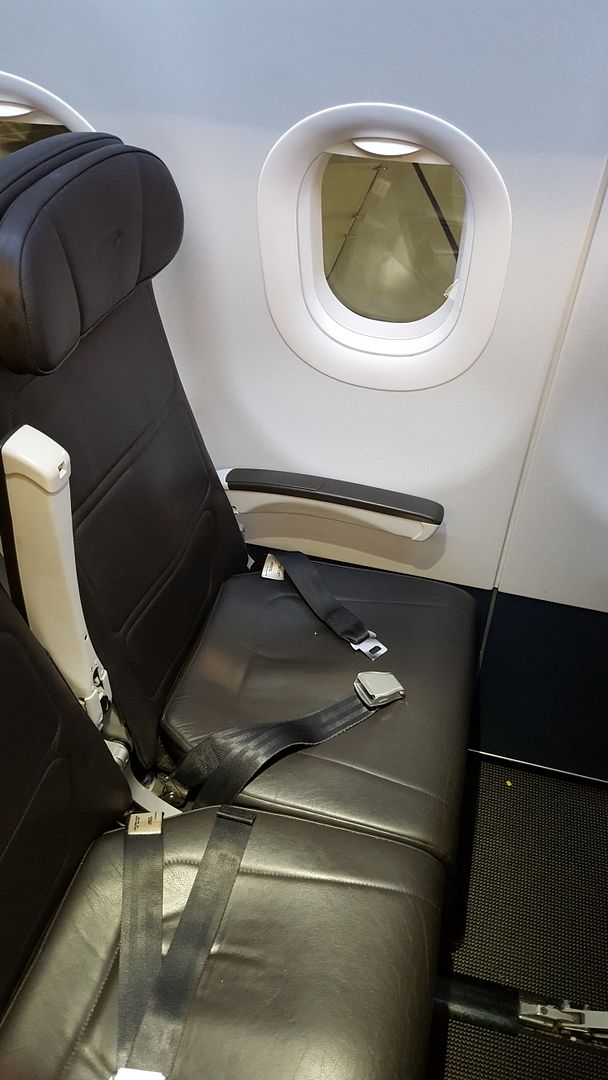 View from the seat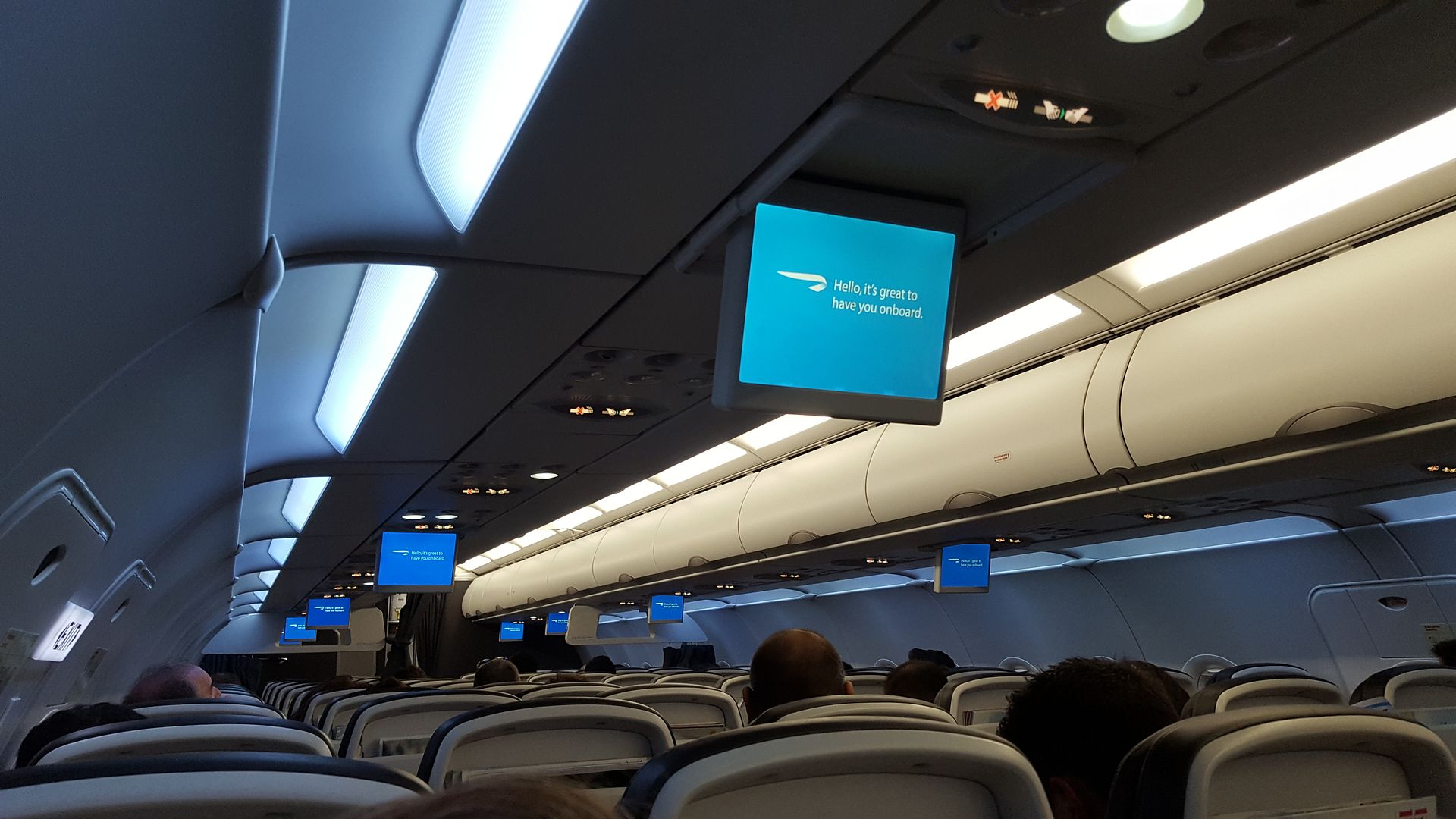 Disembarked the gate at 20 31. Airborne at 20 50.
Pretty light load today to bologna. Around 70%.
Flight time of an hour and 50 minutes announced.
Once airborne, drinks and snacks service commenced in 30 minutes. Full bar service and snacks on this flight to bologna. Small perks but we'll appreciated. Not sure for how long though.
Just after take off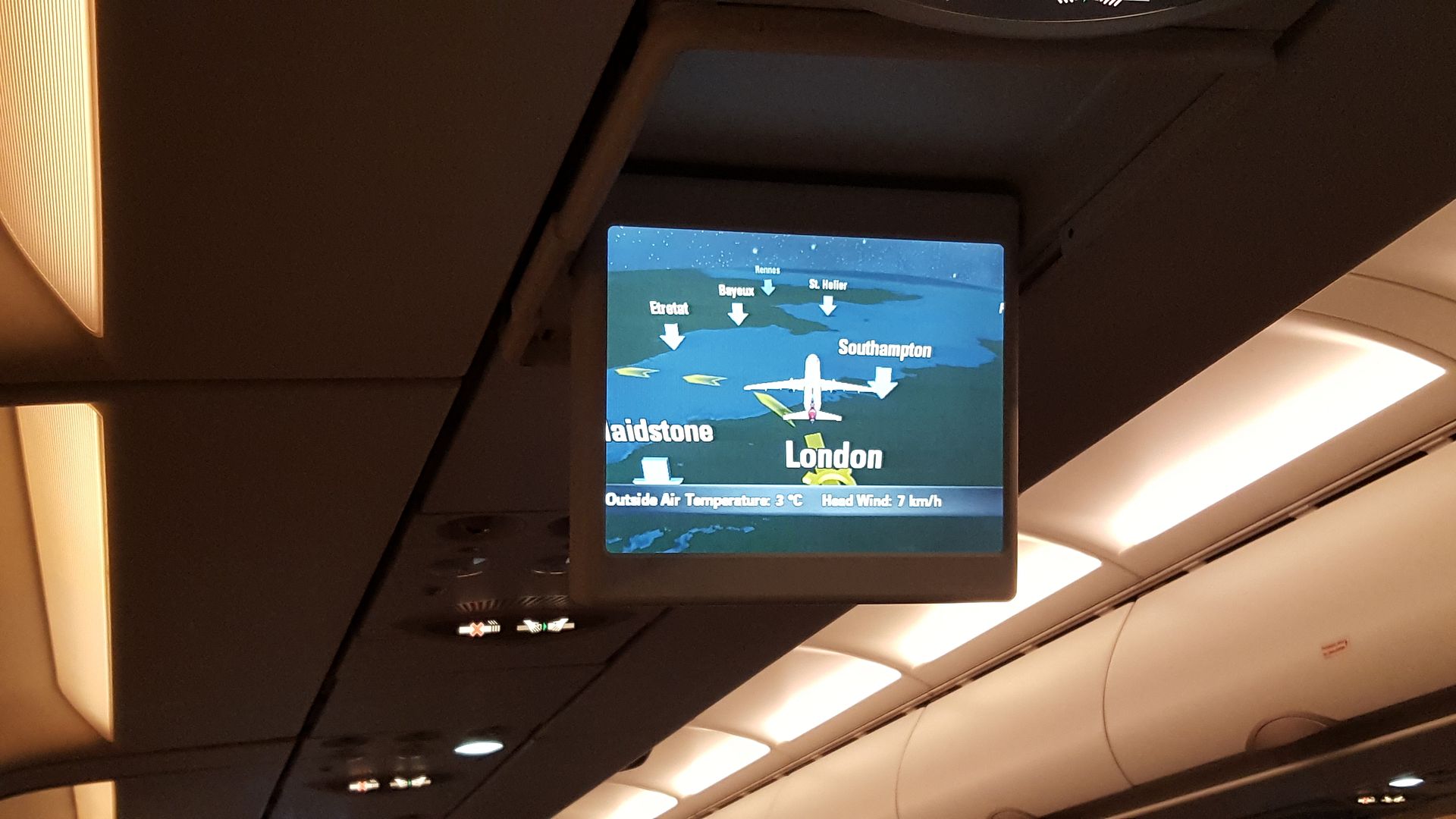 Interior shot of G-EUYT
Cabin crew once again were eloquent. Courteous and warm.
Rest of the flight was uneventful barring a few spots of turbulence. But towards the last 10 minutes, just before landing, it took a turn to the worse with some terrible turbulence. The little A320 did well and special mention to the crew from the flight deck. Ace job!
F&B On board to Bologna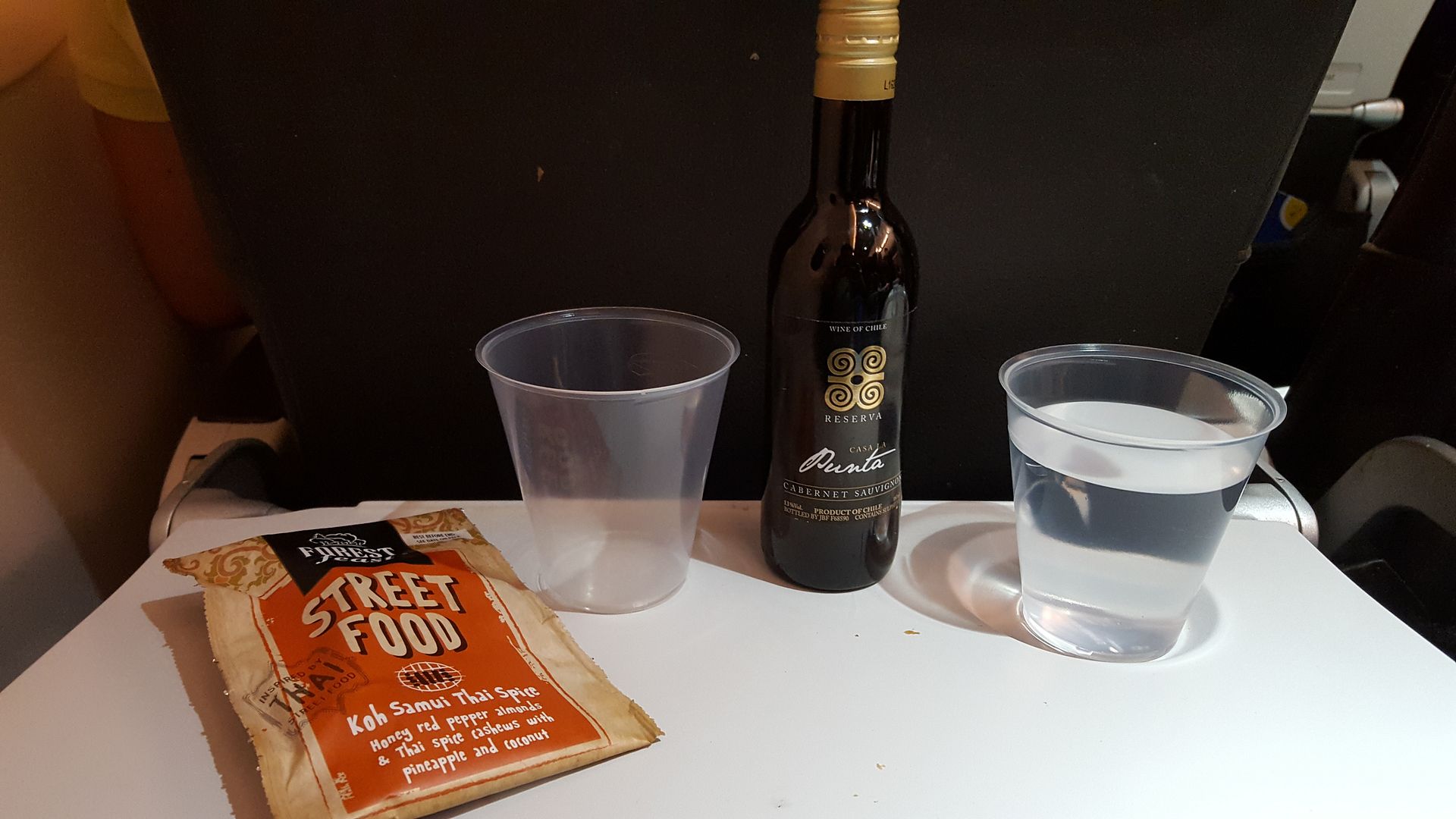 Just before the start of the turbulence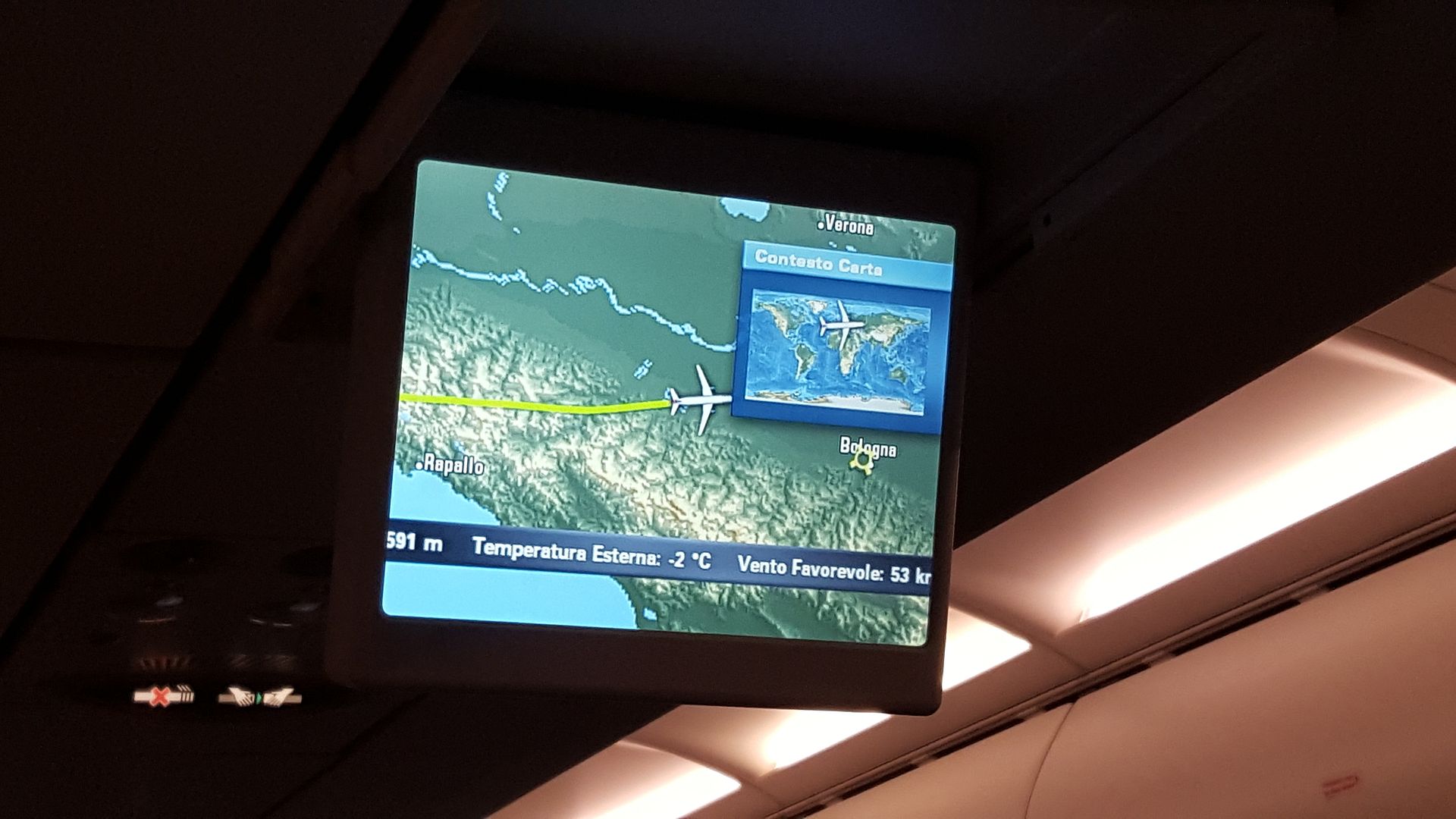 Landed at 23 41.
After a turbulent 10 minutes before landing, finally landed and greeted to wet and windy weather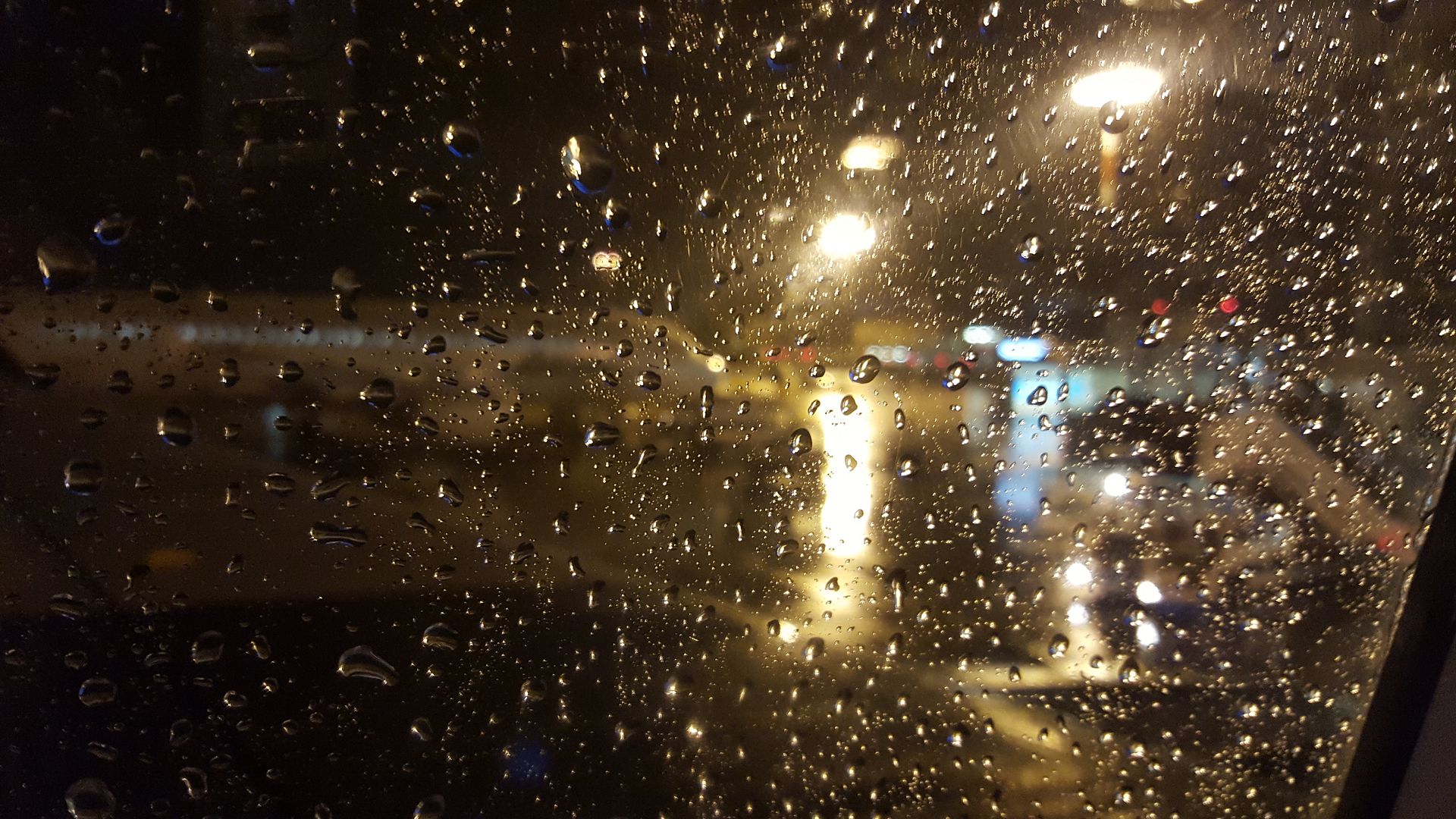 Baggage collection at Bologna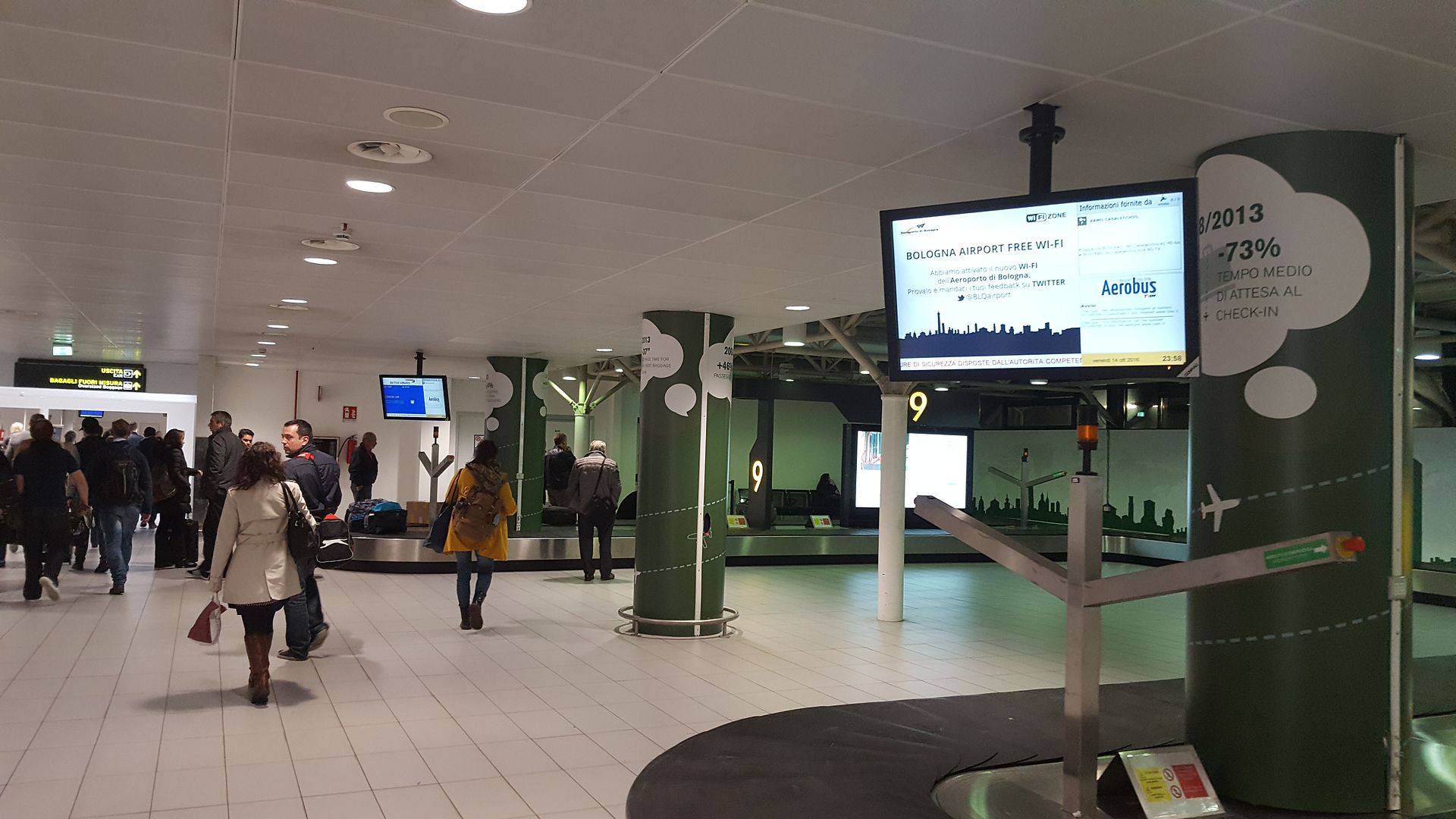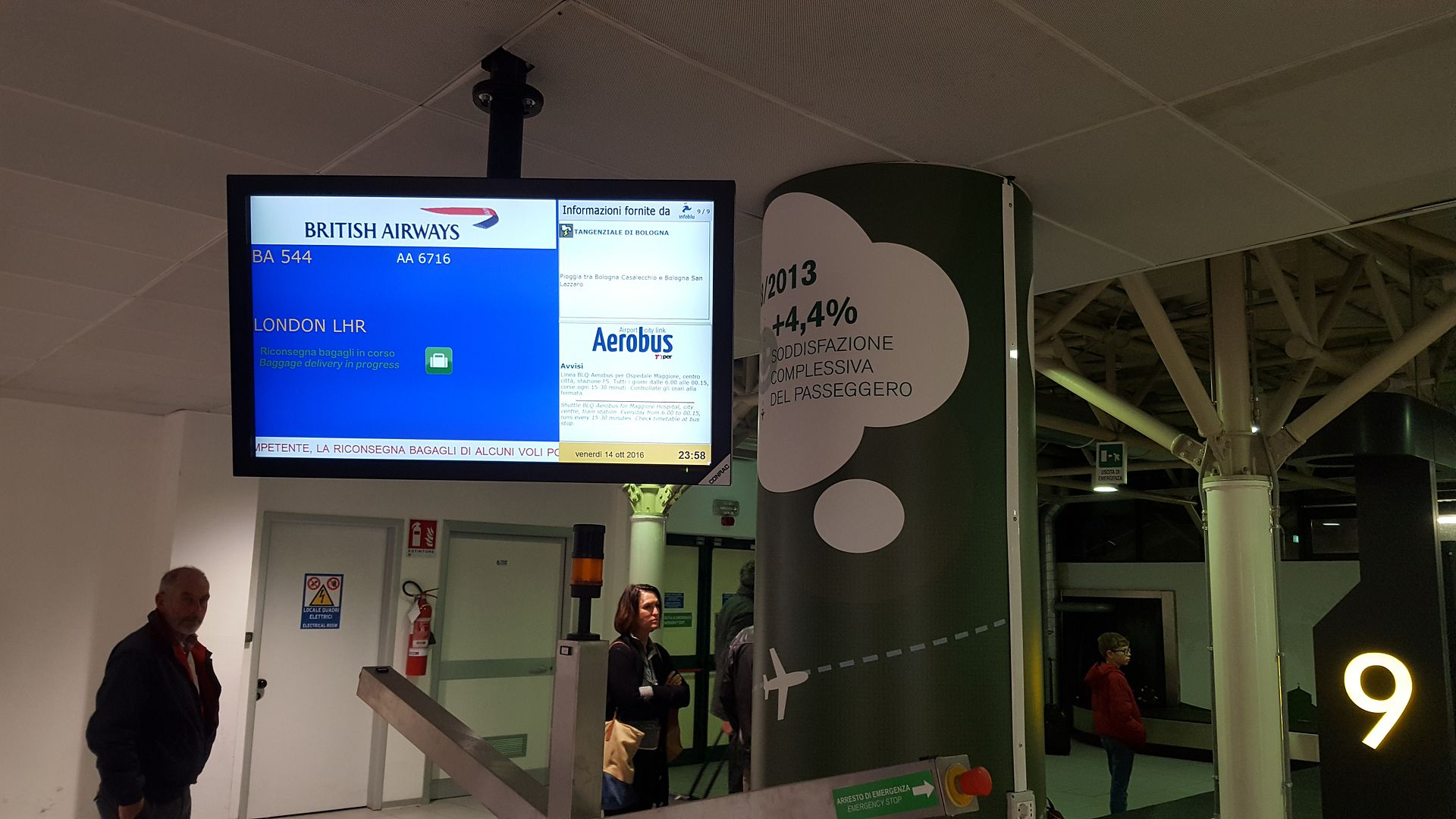 Long queue at immigration. But seemed to move quite quickly. We were out of the airport and into our rental car within 30 minutes of landing. Looking forward to our weekend at Cinque Terre.
Just before exiting Bologna Airport - Welcome to Italy!
The weekend was short, but sweet, and before we knew it, it was time to get back to London.
British Airways – BA545
Route: BLQ - LHR
Flight Reg:G-MIDX; a 16 year old Airbus 320-100, An Ex-BMI Aircraft. Transferred to BA in Nov 2012
Aircraft Type: Airbus 320-200
Seat: 17A
Flight time: 19:00 - 20:20 (19:19 - 20:04)
Actual flight time: 1 Hr 45 Min
Distance: 724 Miles
Load: Full load
16th October 2016
My Log book: 18th Flight on BA/ 24th flight on Airbus 320-200/ 121st Total overall flight
Checked in online the previous day. As previous experiences, seamless and hassle-free.
Bologna Airport on a bright autumn day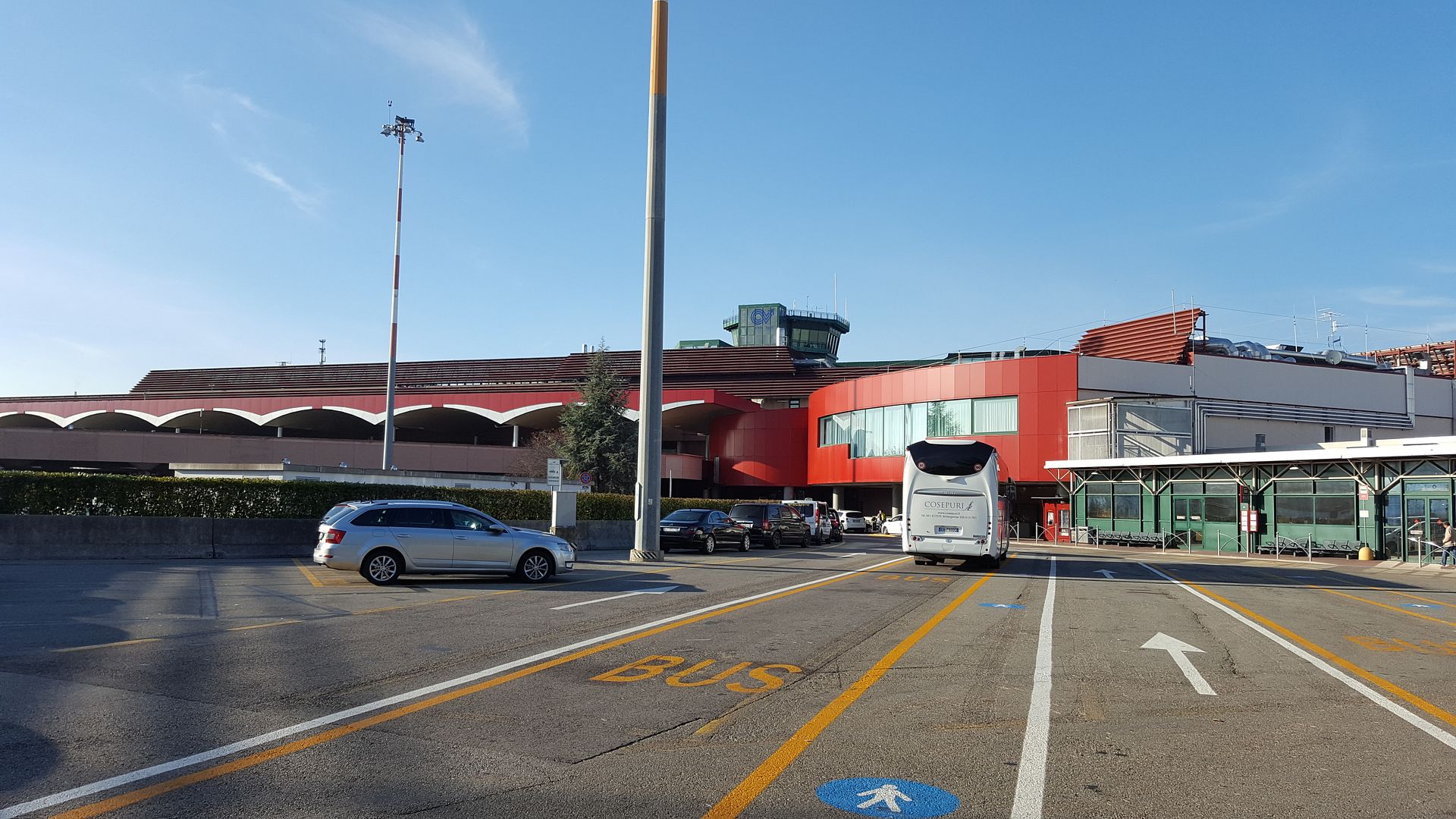 Few options to eat and drink at the airport.
Bag drop at check in desks lasted exactly 30 seconds. Was very quick. Security was quick too. Airside in less than 10 minutes.
Bologna airport was fuming. Don't think they were expecting it to be warm and hence the air conditioning seemed to be turned off
BA Check in counters at Bologna
Touch screen airport info at Bologna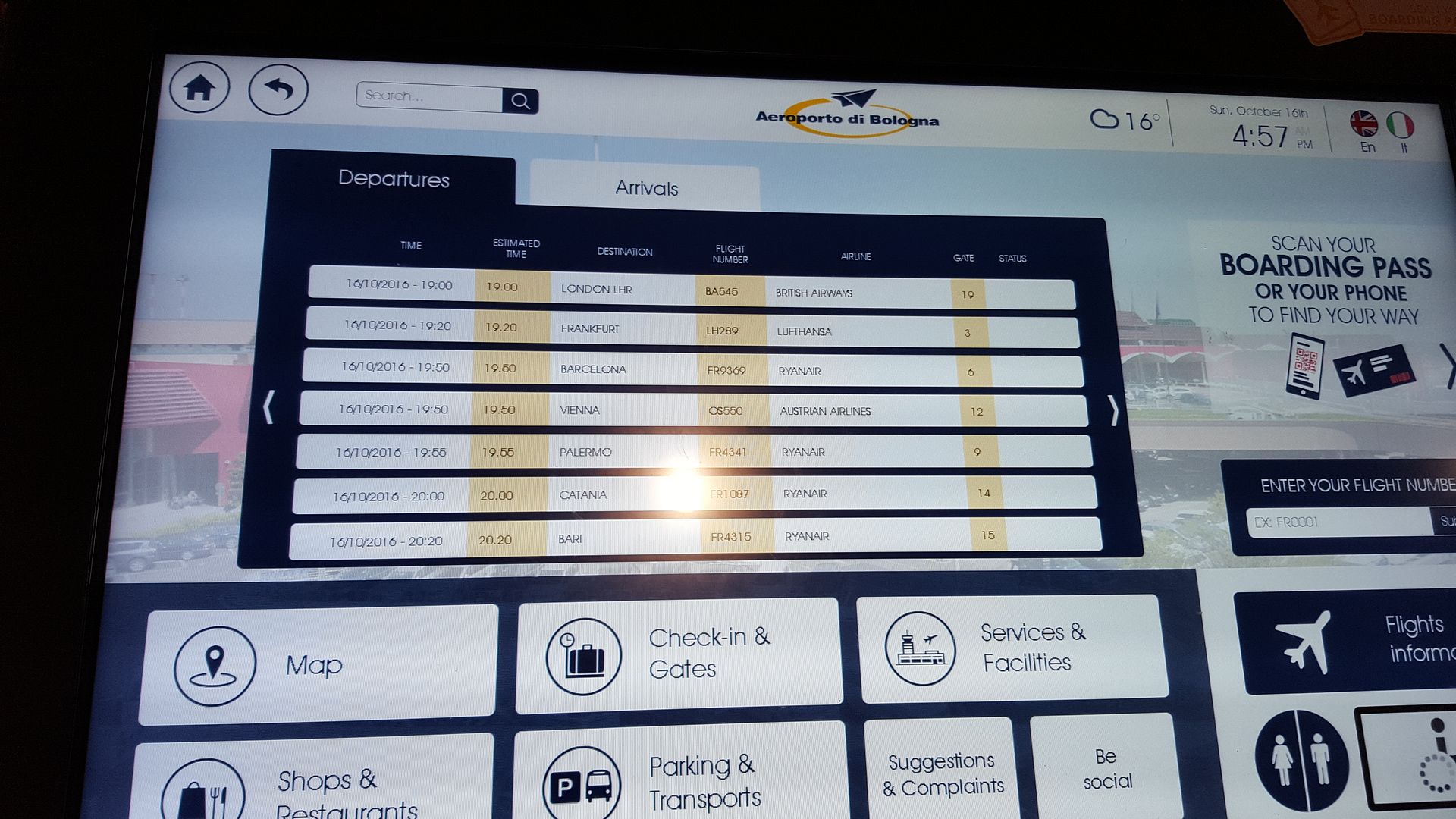 About to enter security check at Bologna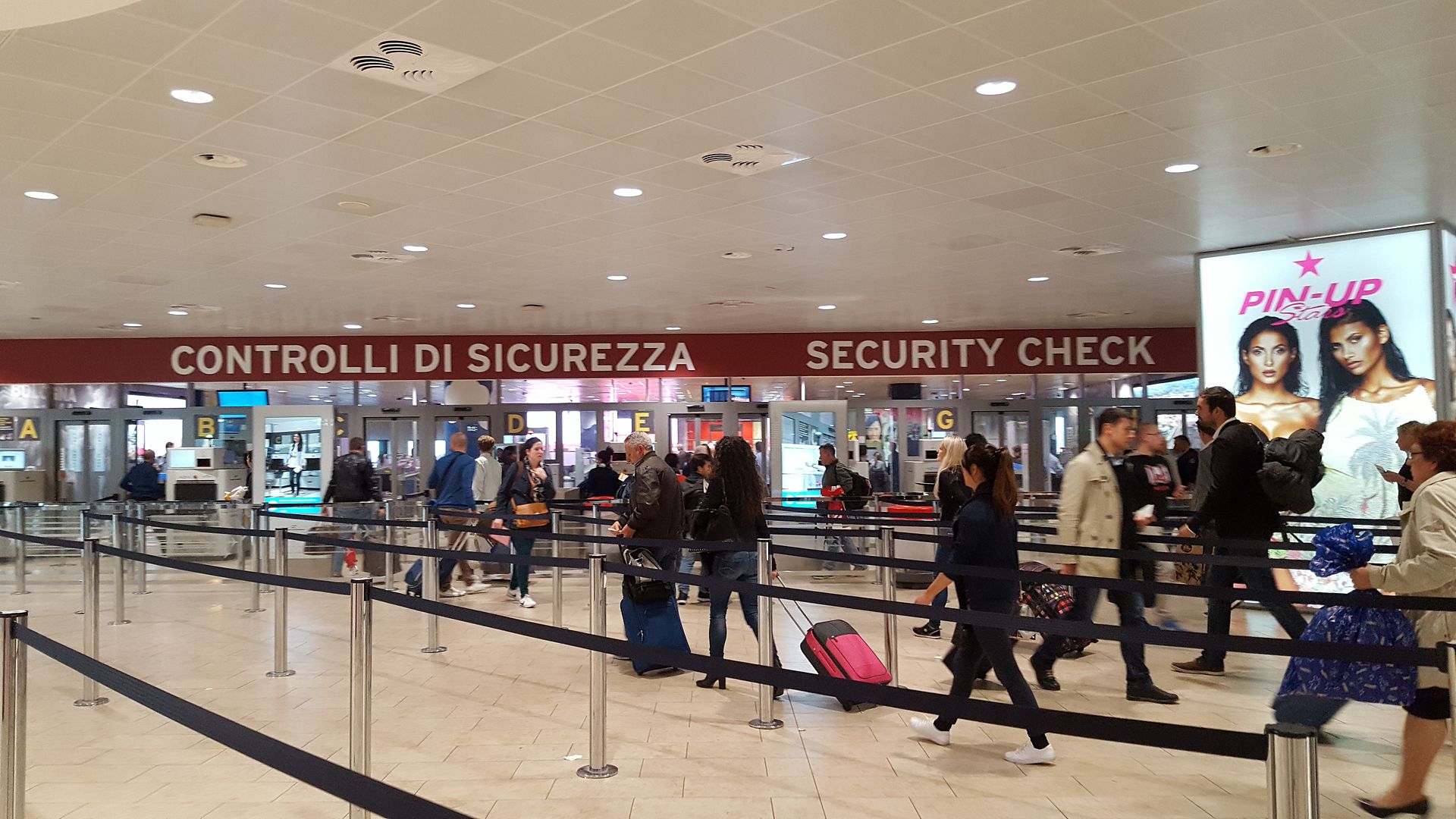 Bologna Duty Free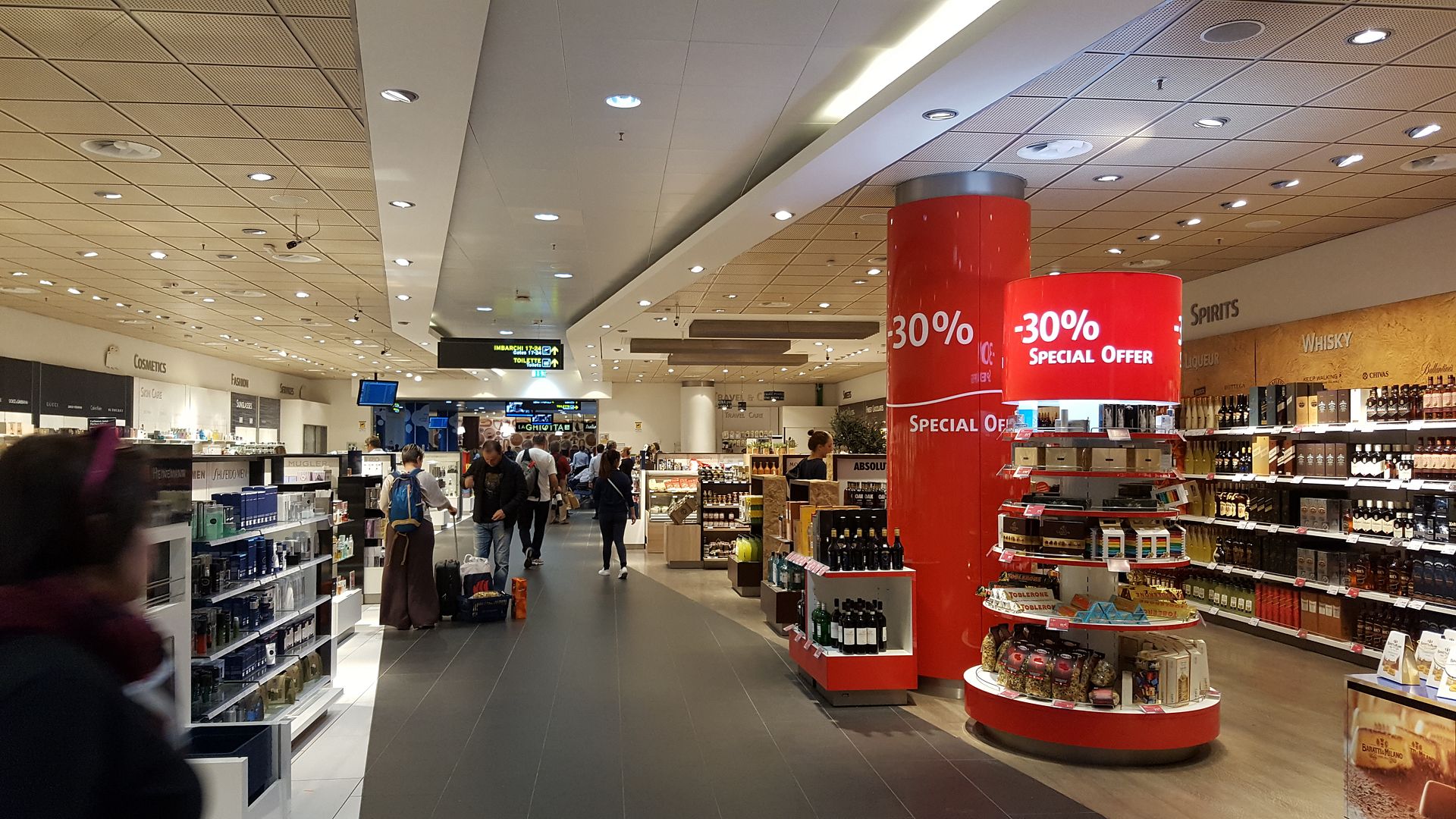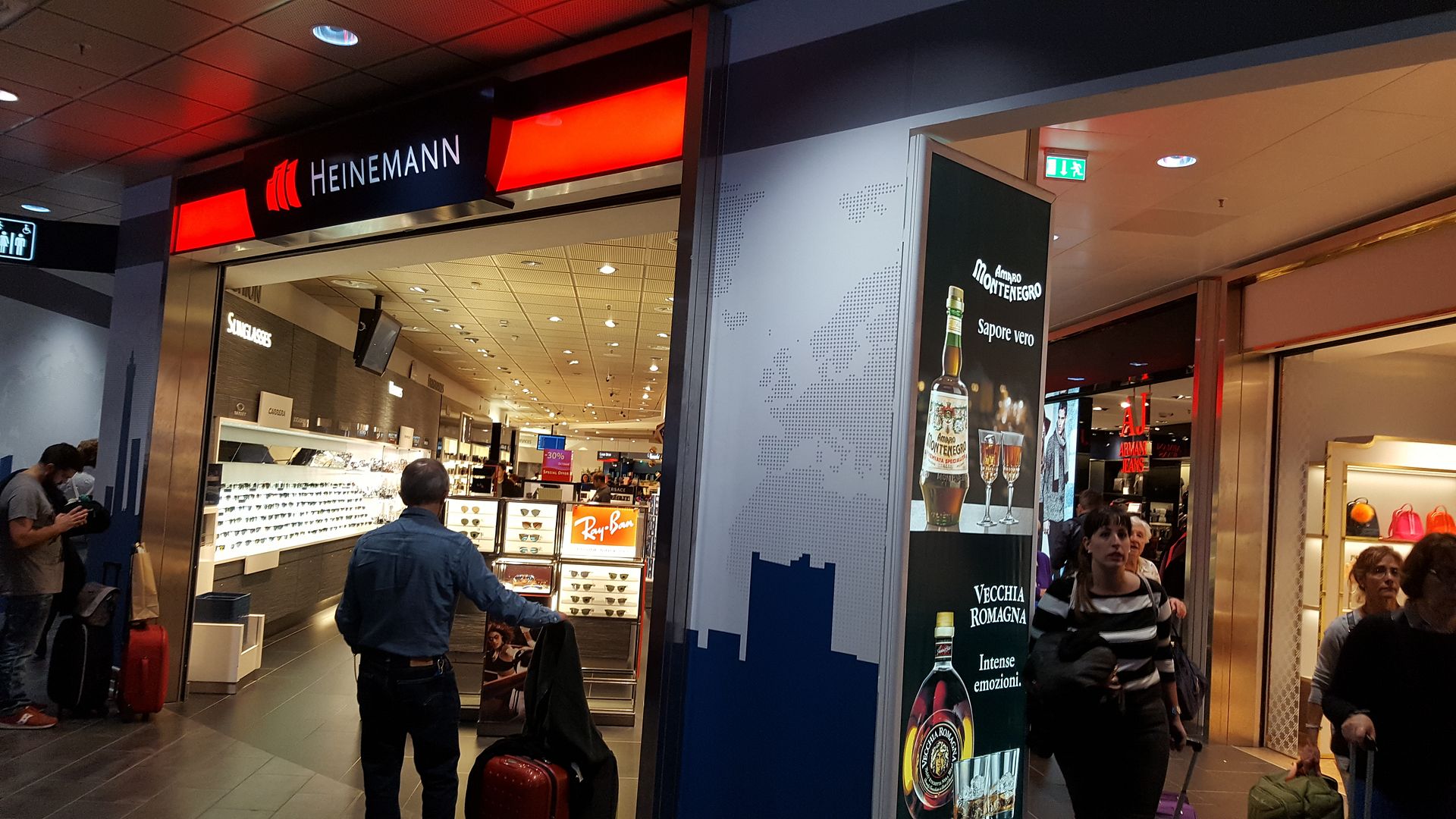 G-MIDX - Almost reached Bologna
There is our ride back to London - A 16 year old Ex-BMI Airbus 320-200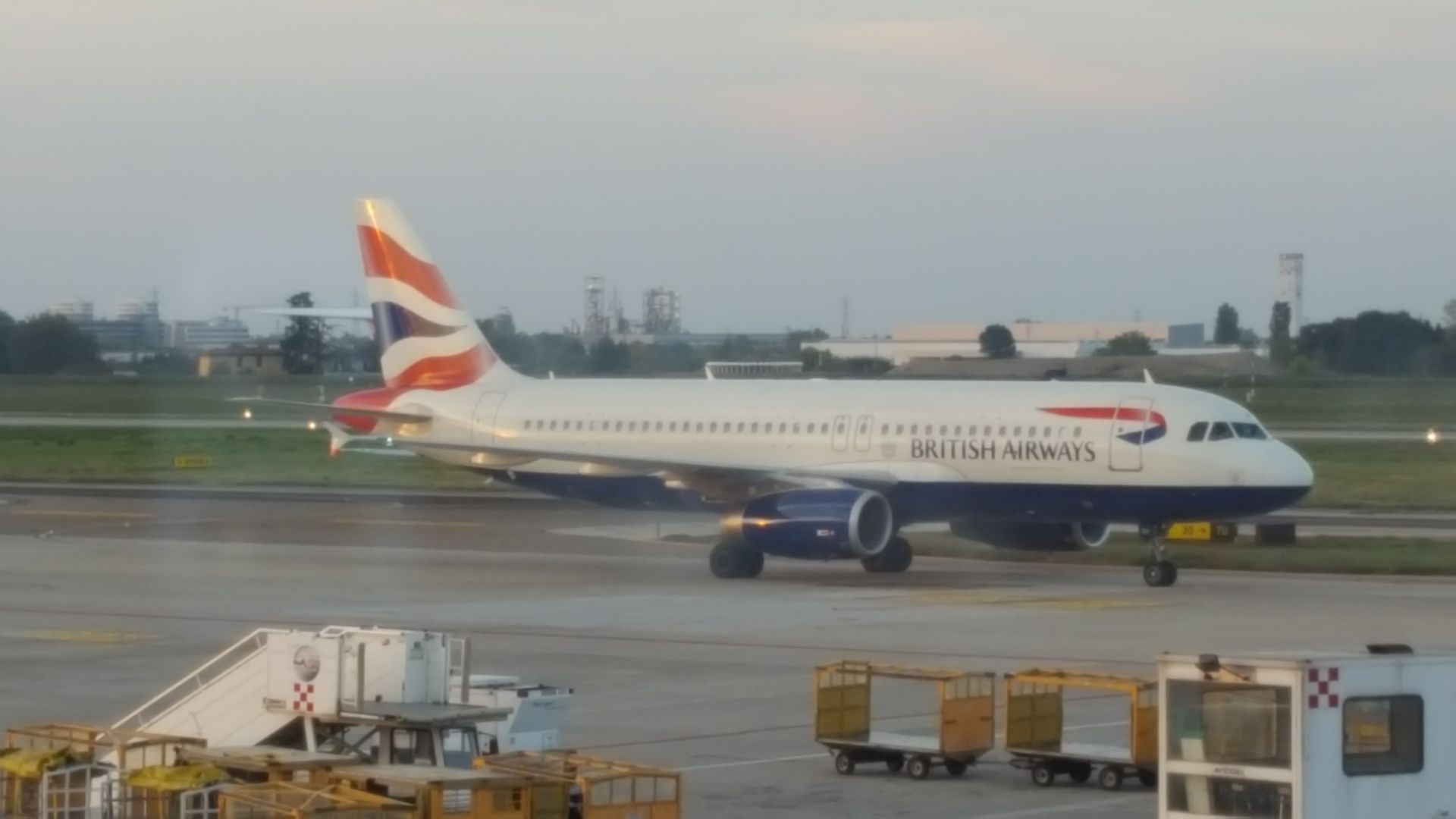 Plane spotting at Bologna
Turkish A321-100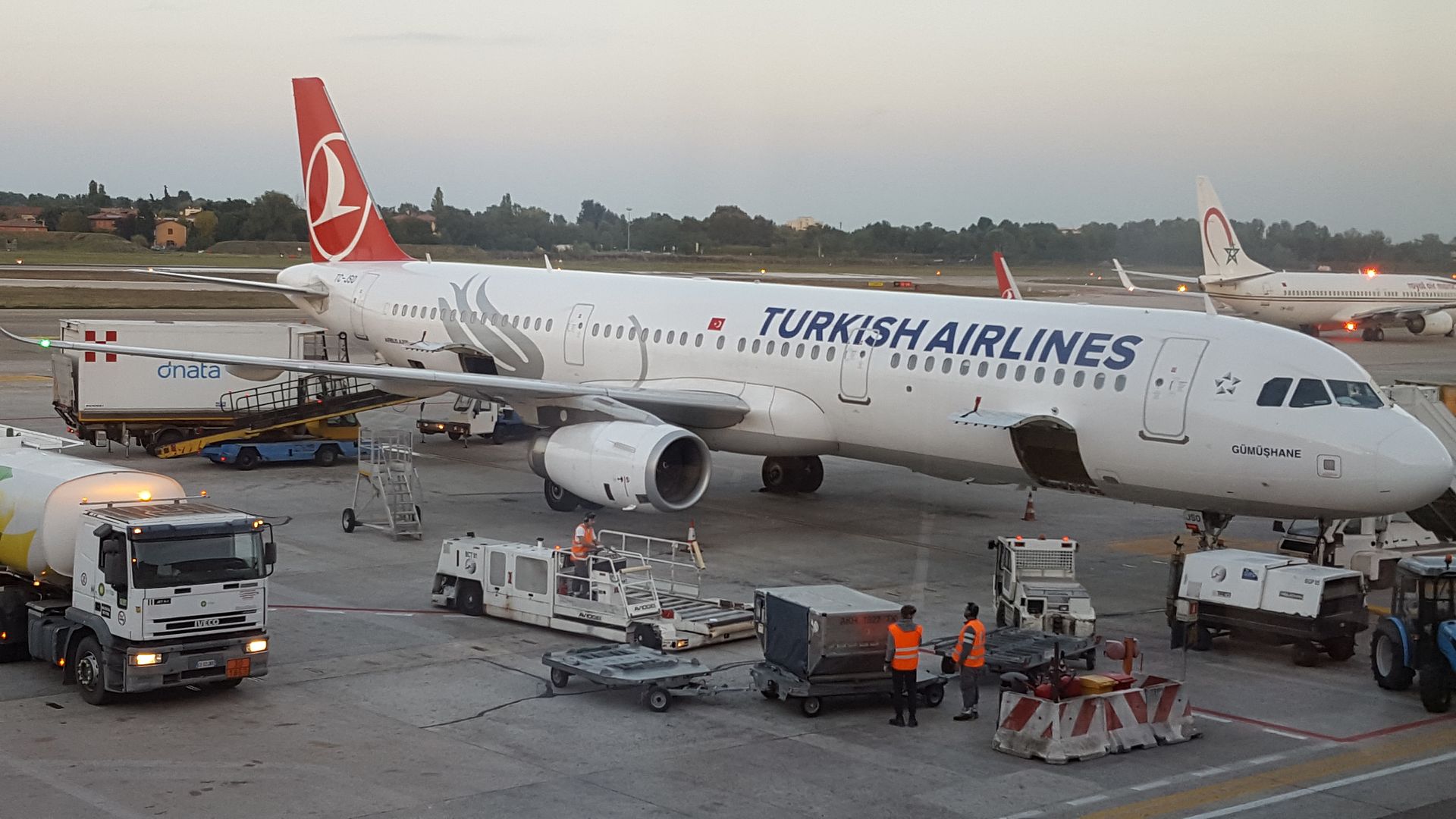 Meridiana Mad Dog MD83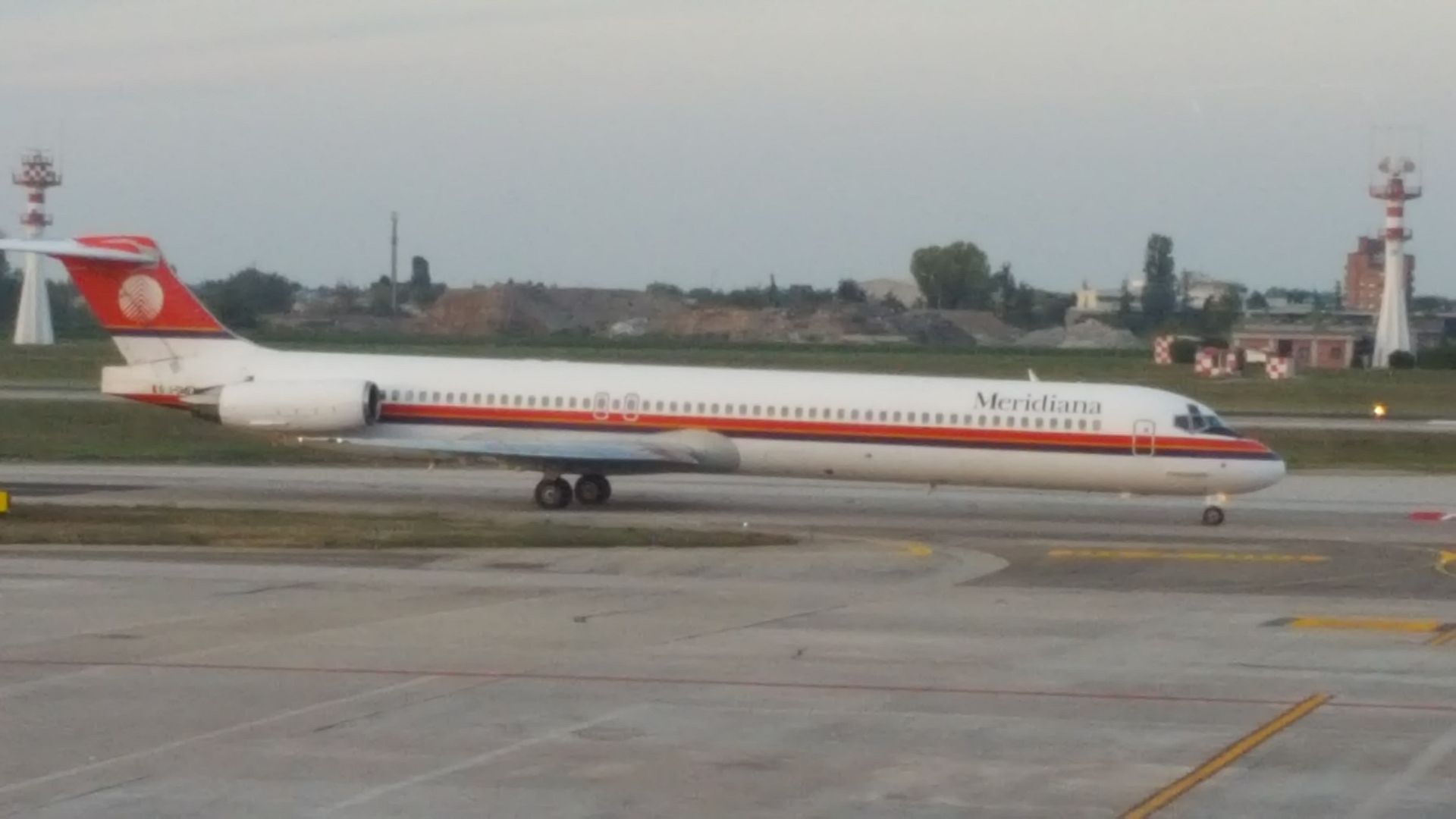 Time to Board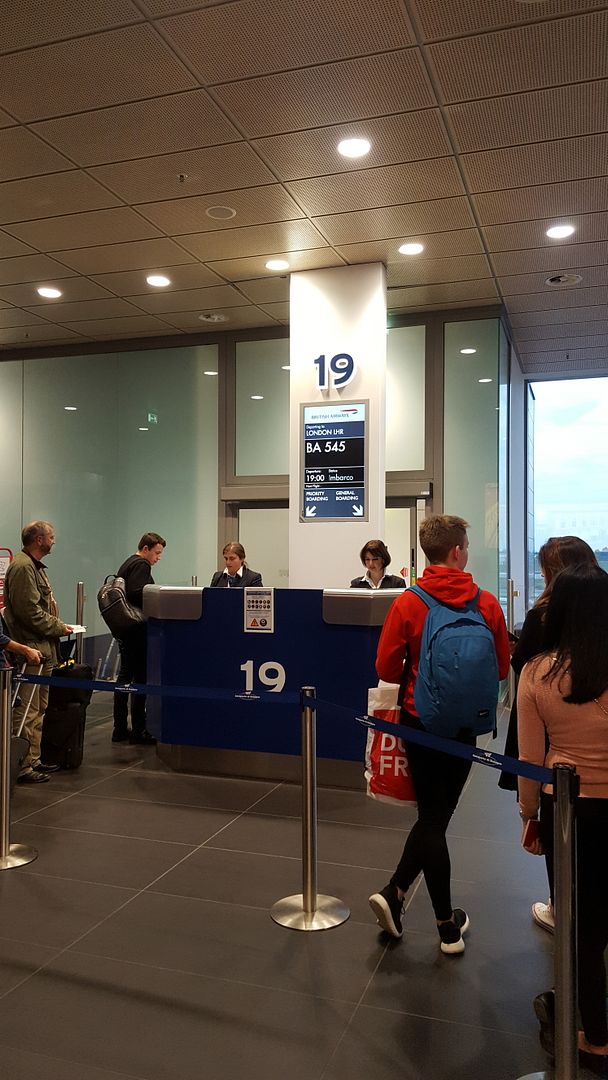 Boarding commenced at 18 30 but was quite slow. The usual gold premier members boarded first followed by the rest of the passengers. Boarding completed at 18 55.
Full flight to Heathrow. Bit of a scuffle for hand luggage space.
Boarding G-MIDX
Before boarding
Flight deck announcements. An hour and 55 minutes flight time reported. A bit of a delay at ATC at bologna. Disembarked gates at 19 08.
Airborne at 19 20.
Once again top marks for a clean aircraft, warm welcome and succinct announcements.
G-MIDX - Interior shot
FnB on the way back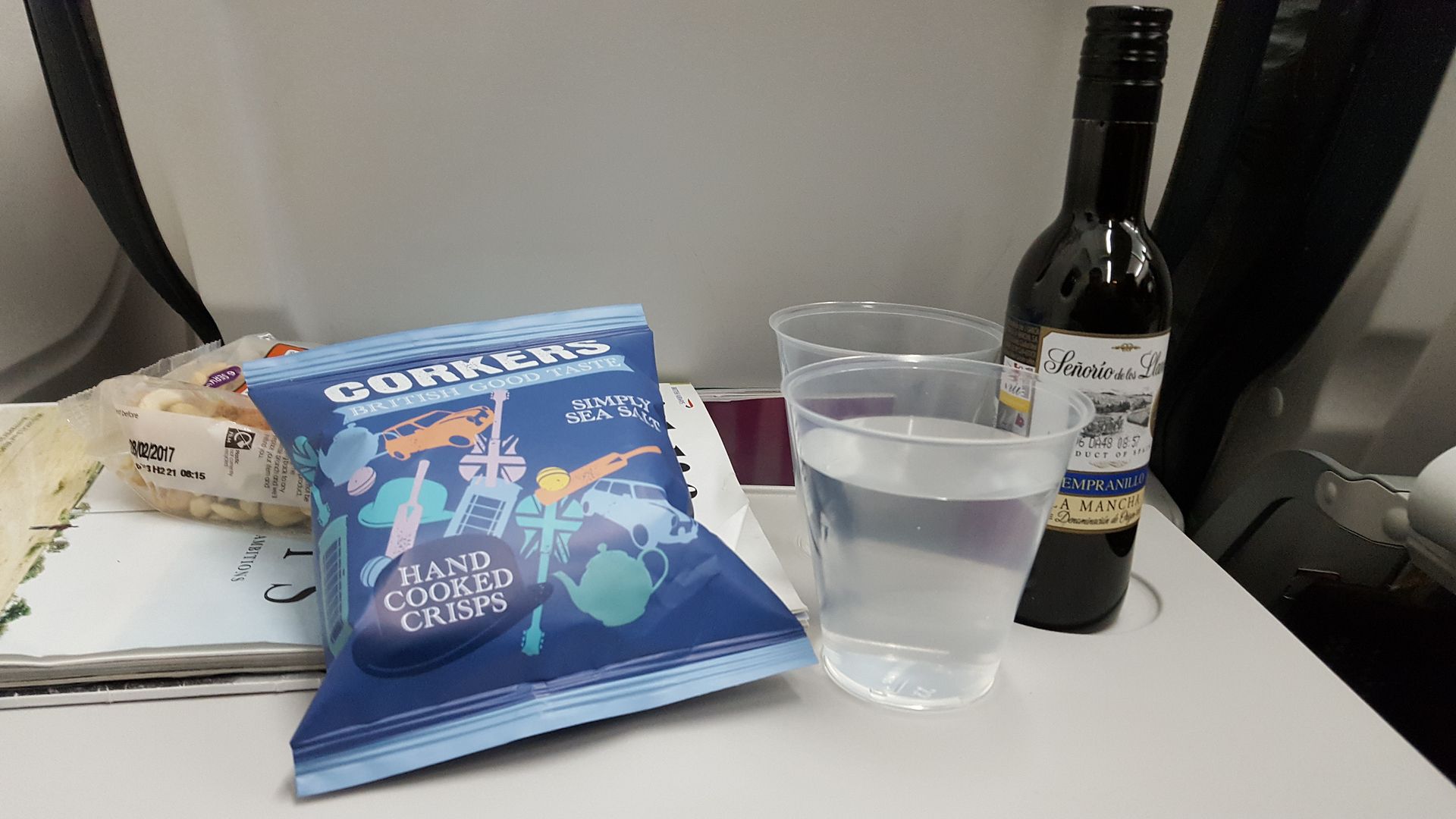 As the flight into bologna, drinks was served within 30 minutes of being airborne. Once again a full bar service (with fever tree tonic

) and snacks being served on this flight.
Being an older aircraft no overhead entertainment screen on this aircraft. I liked it with the flight map.
Rest of the flight uneventful in the best possible way. Continuously being updated by the flight deck. Very good smiling service. Not much they could've done on this short sector. BA might be one of the best intra Europe perhaps second to Aegean.
Landed at 20 05.
Parked in a remote stand. Bussed to the terminal.
Immigration and bag retrieval was quick and we were out of the airport in less than an hour.
Back home at T5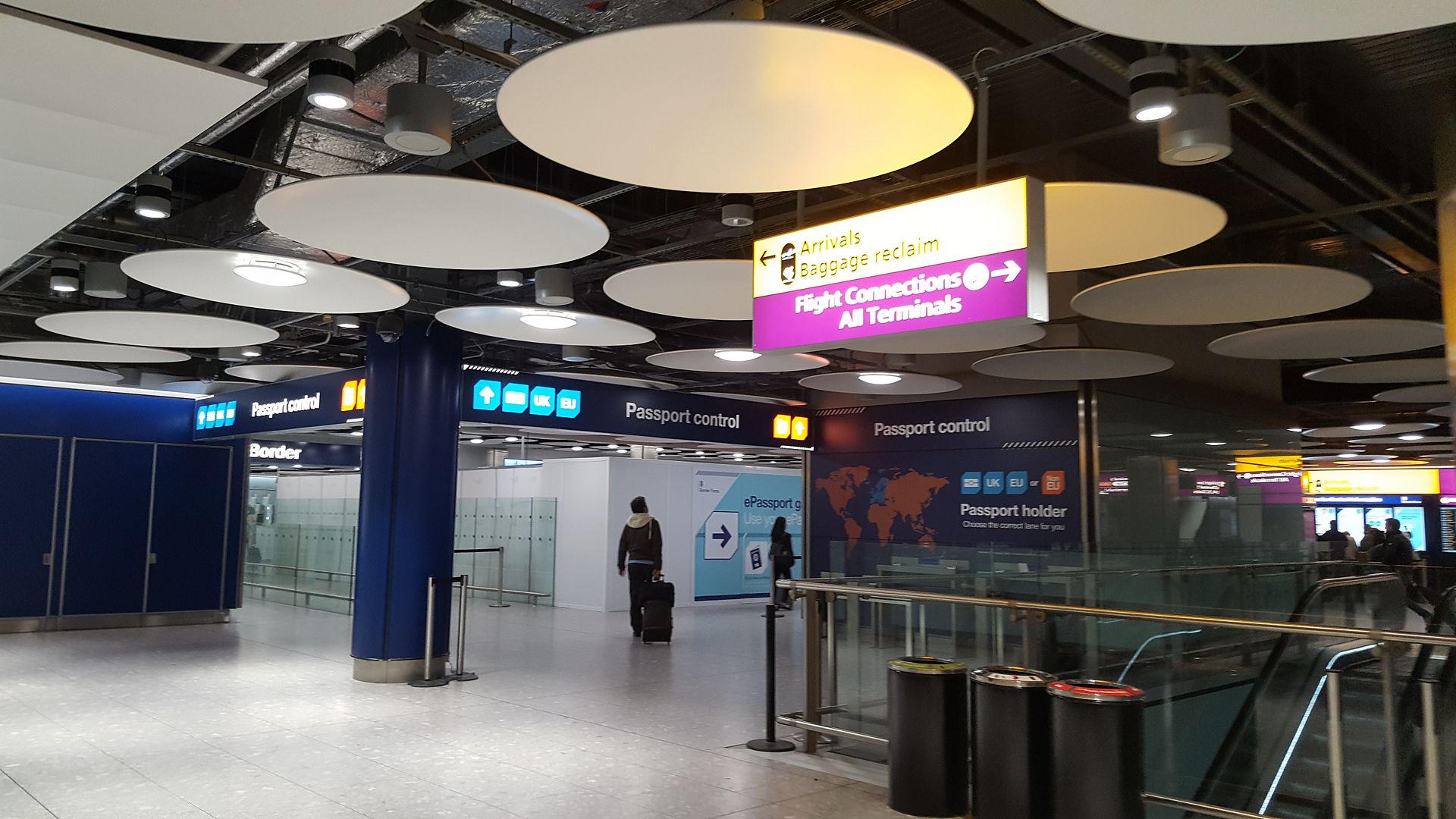 T5 Baggage Area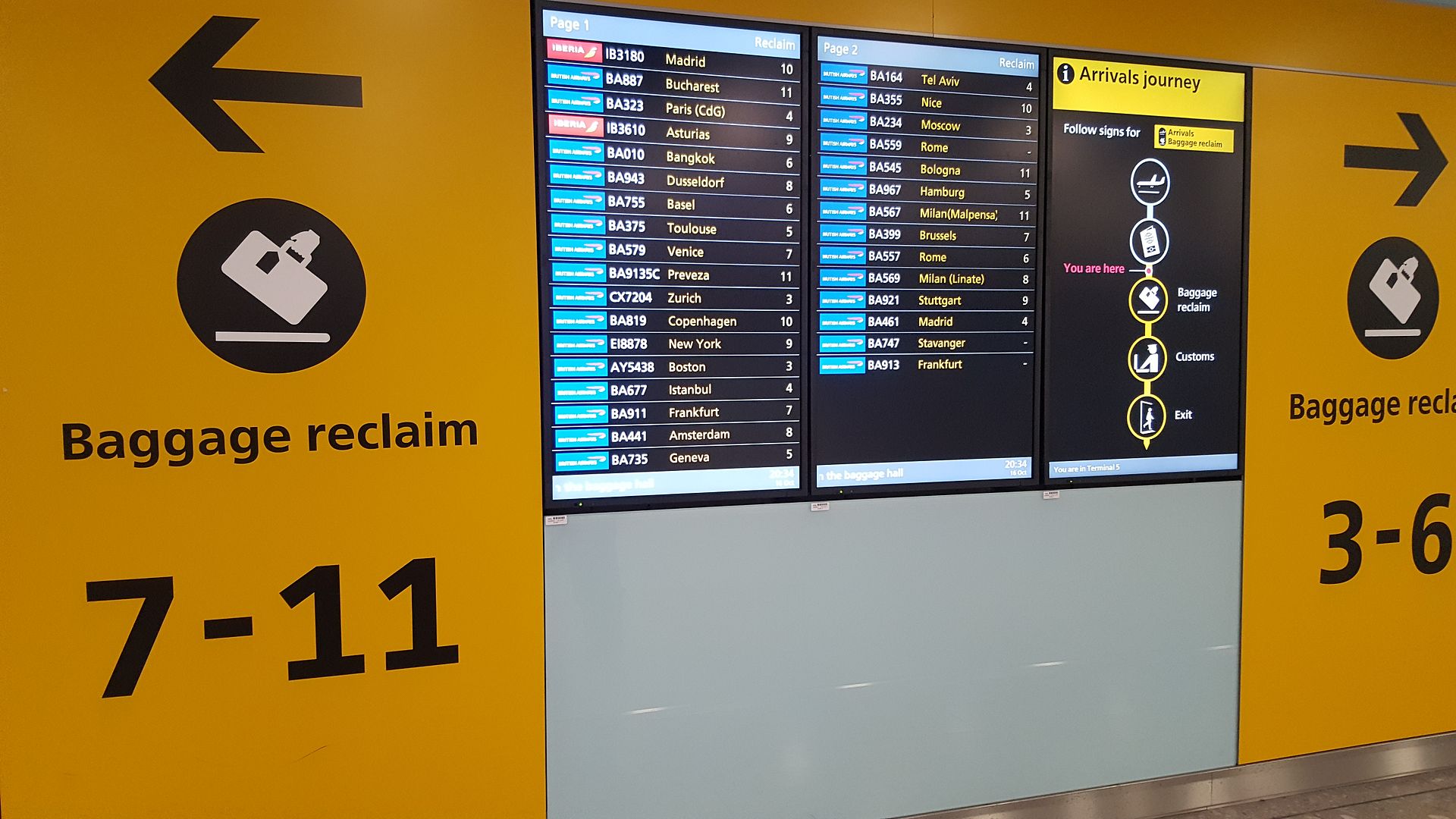 Once again took the amazing Pods to the car parking terminal. During the last leg of this trip, not sure what happened to me. I have NEVER ever lost anything to-date! And here I go,
I Lost my Go Pro at the Parking Pods

It was only 2 months old.
First time I've ever lost anything.! Totally gutted! Lost all the footage for the trip (Only flight and airport related)
Ah well. Lesson learnt.!

Verdict
Great show by BA on this short weekend trip. Could not expect more and all the flights were clean and well kept. I think the pilots did an exceptional job given how windy and rainy it was in Bologna the time we landed.
Except for the GoPro malarkey at the end, we had a great trip.
Hope you like the photos for the weekend. Keep the trip reports coming. Happy and safe flying.
Adios!
Sights and sounds of our trip
Our ride for the trip - the Little 500 - Cinqucento for Cinqueterre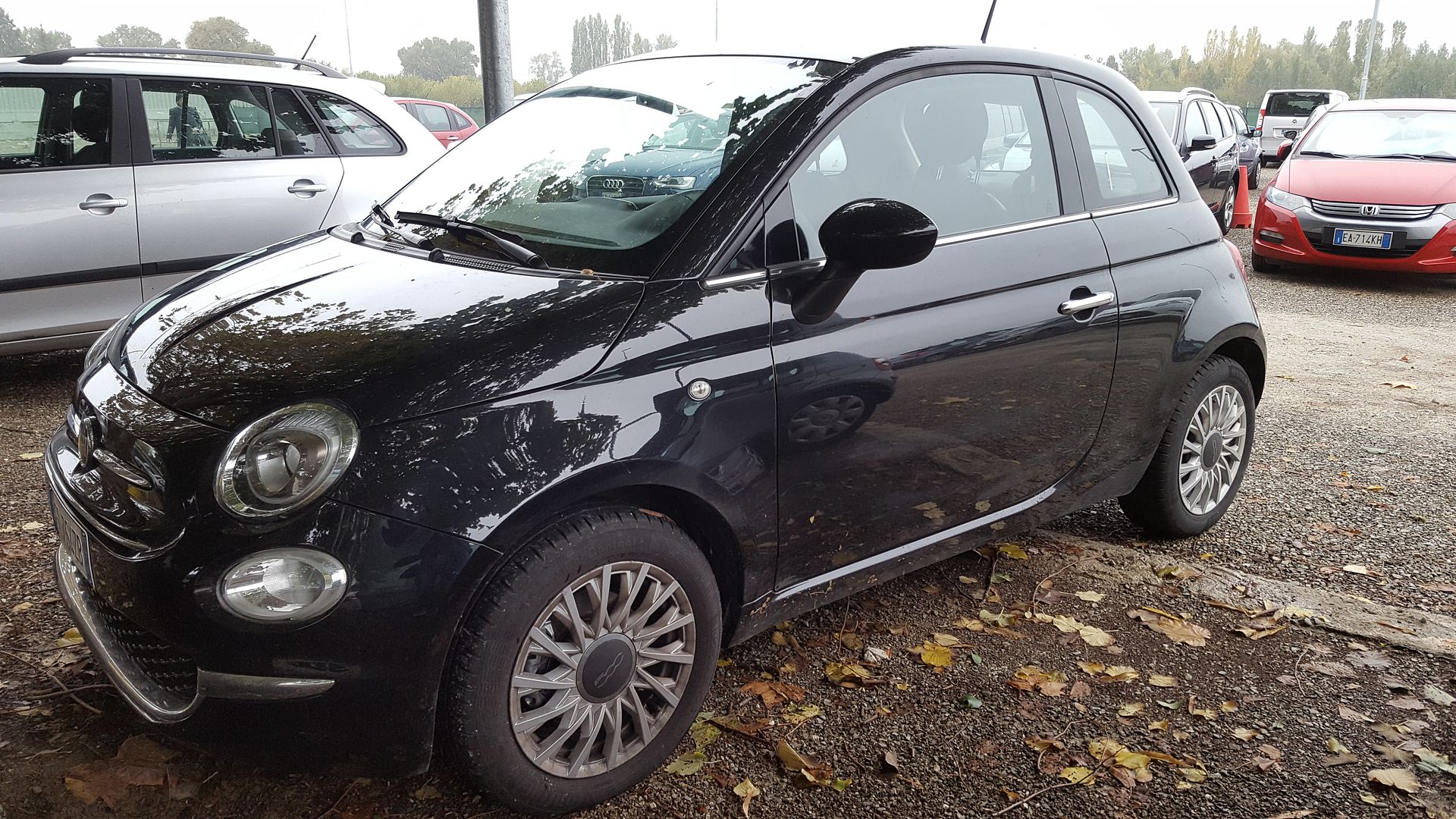 Riomaggiore - Cinque Terre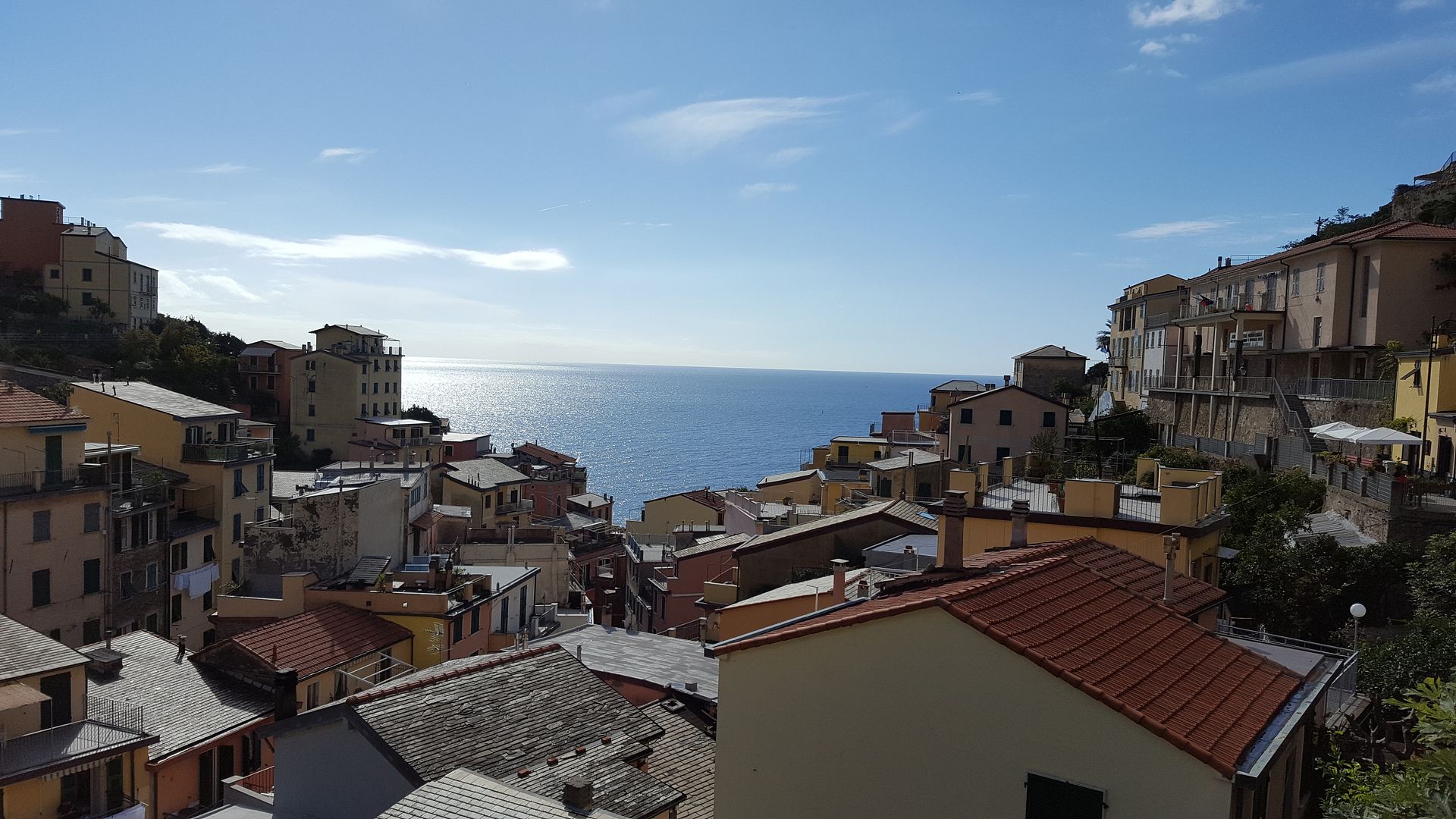 Vernazza - Cinque Terre
Vernazza
Sunset at Vernazza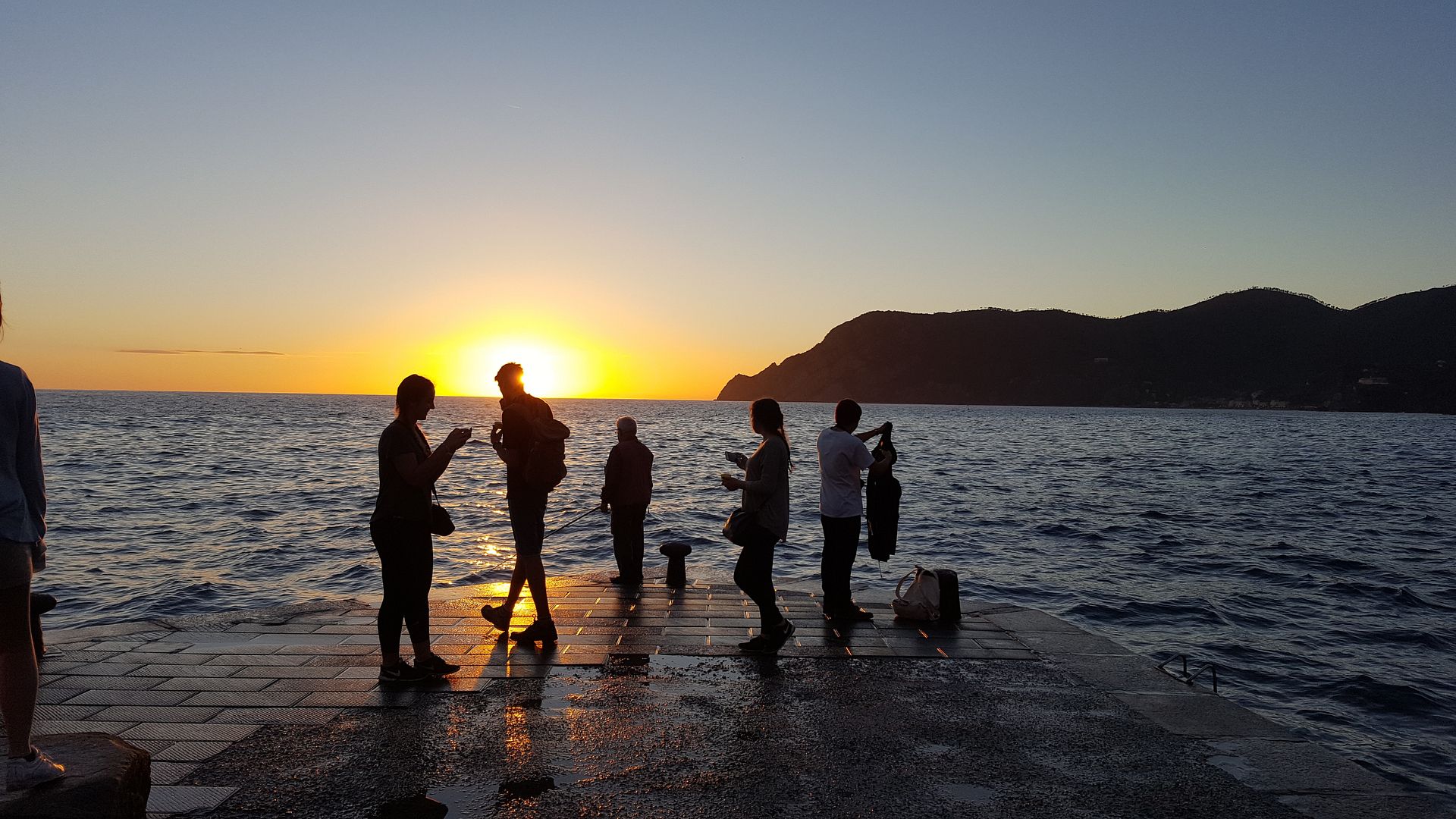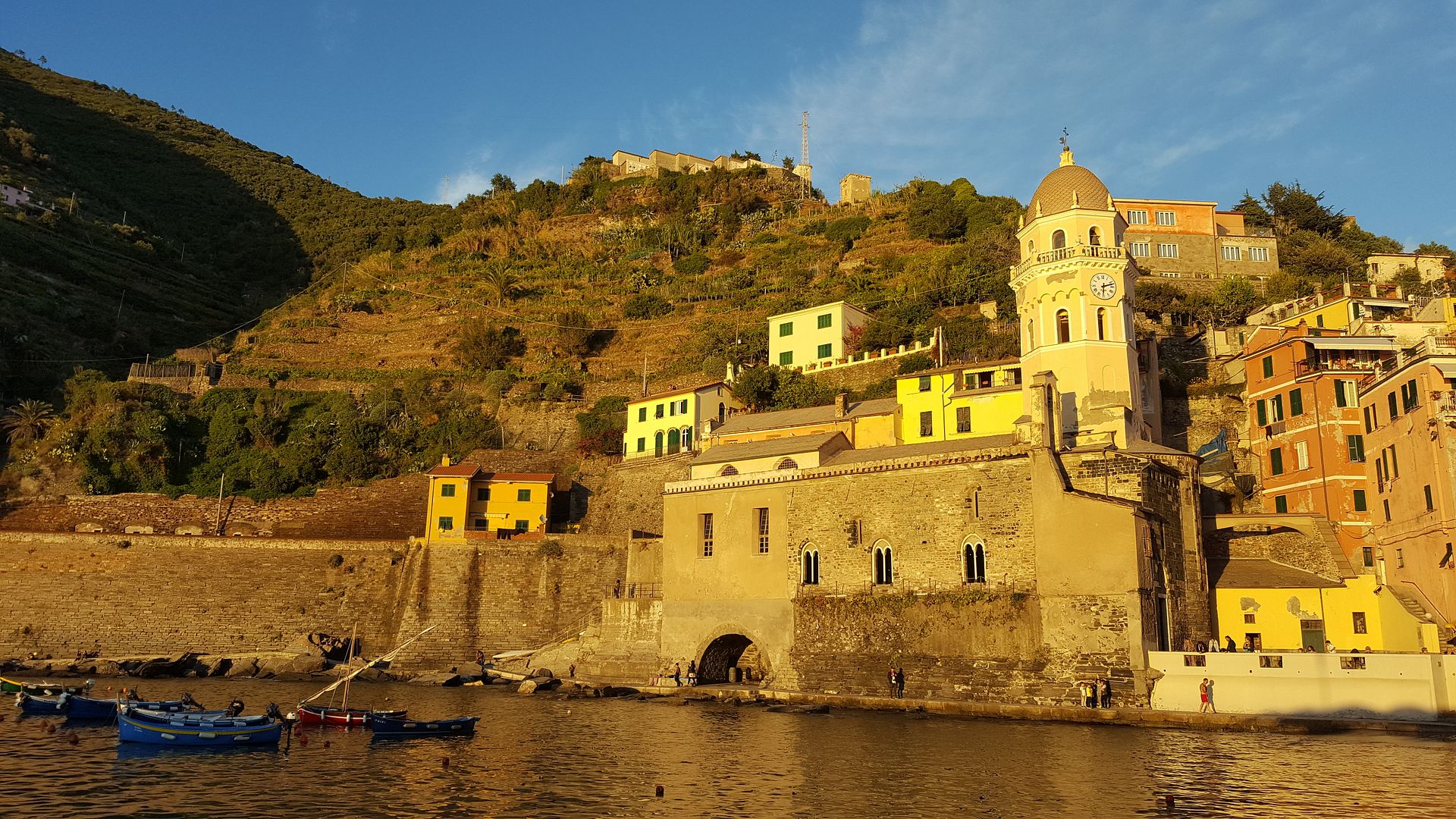 Views from Our stay at La Spezia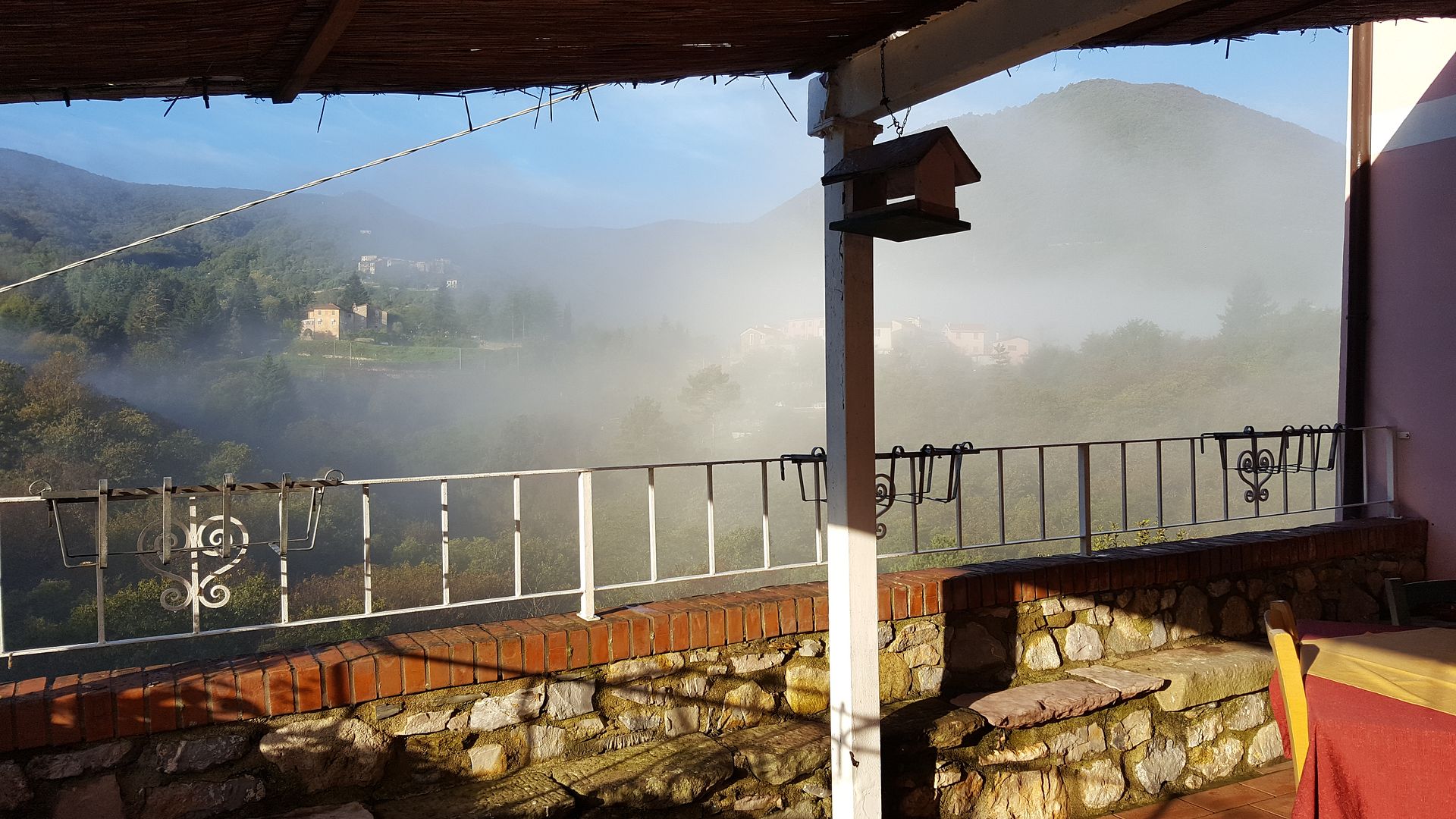 Cats:)
Ferrari Museum
Wowzers! Enzo!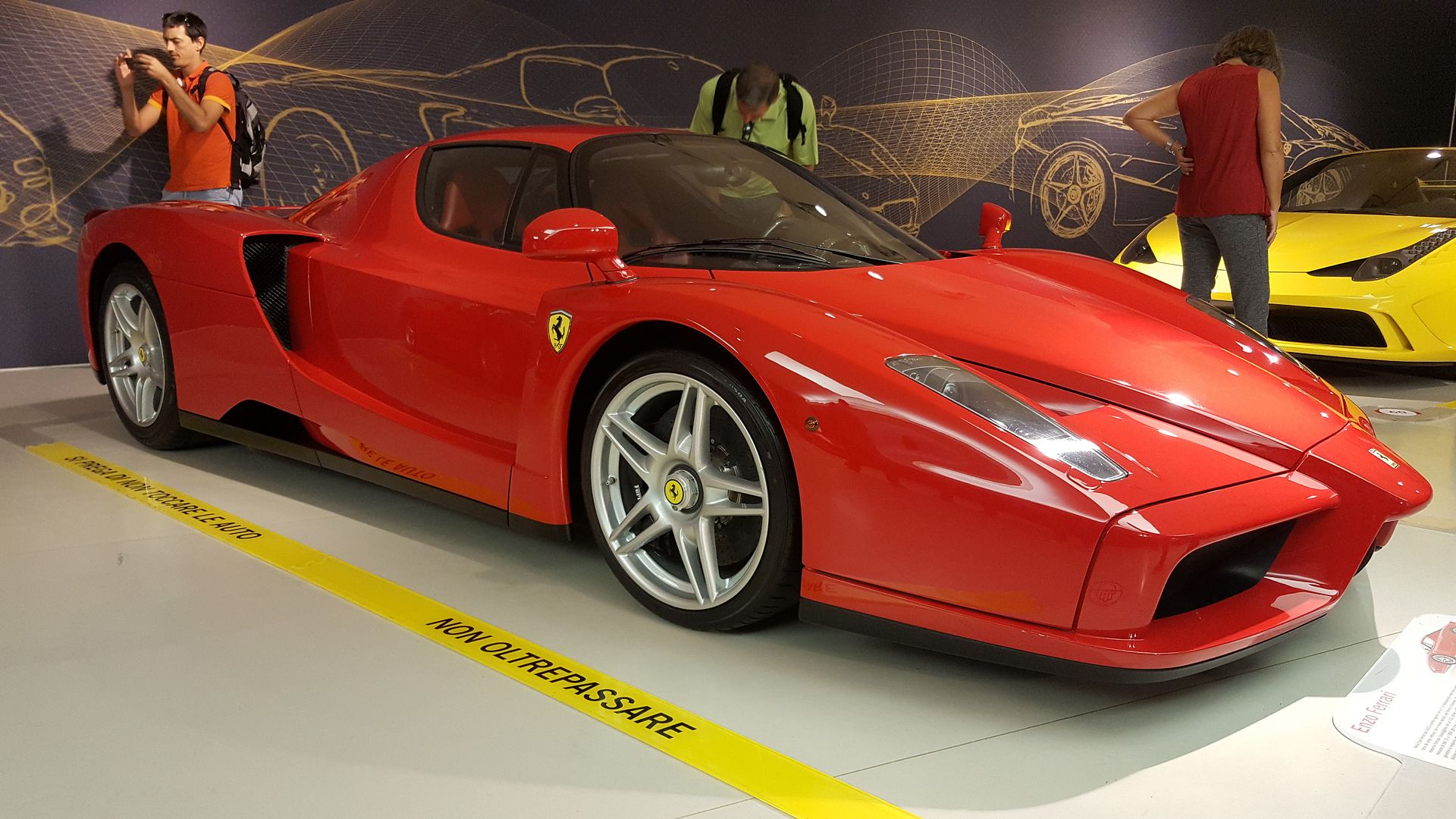 One day!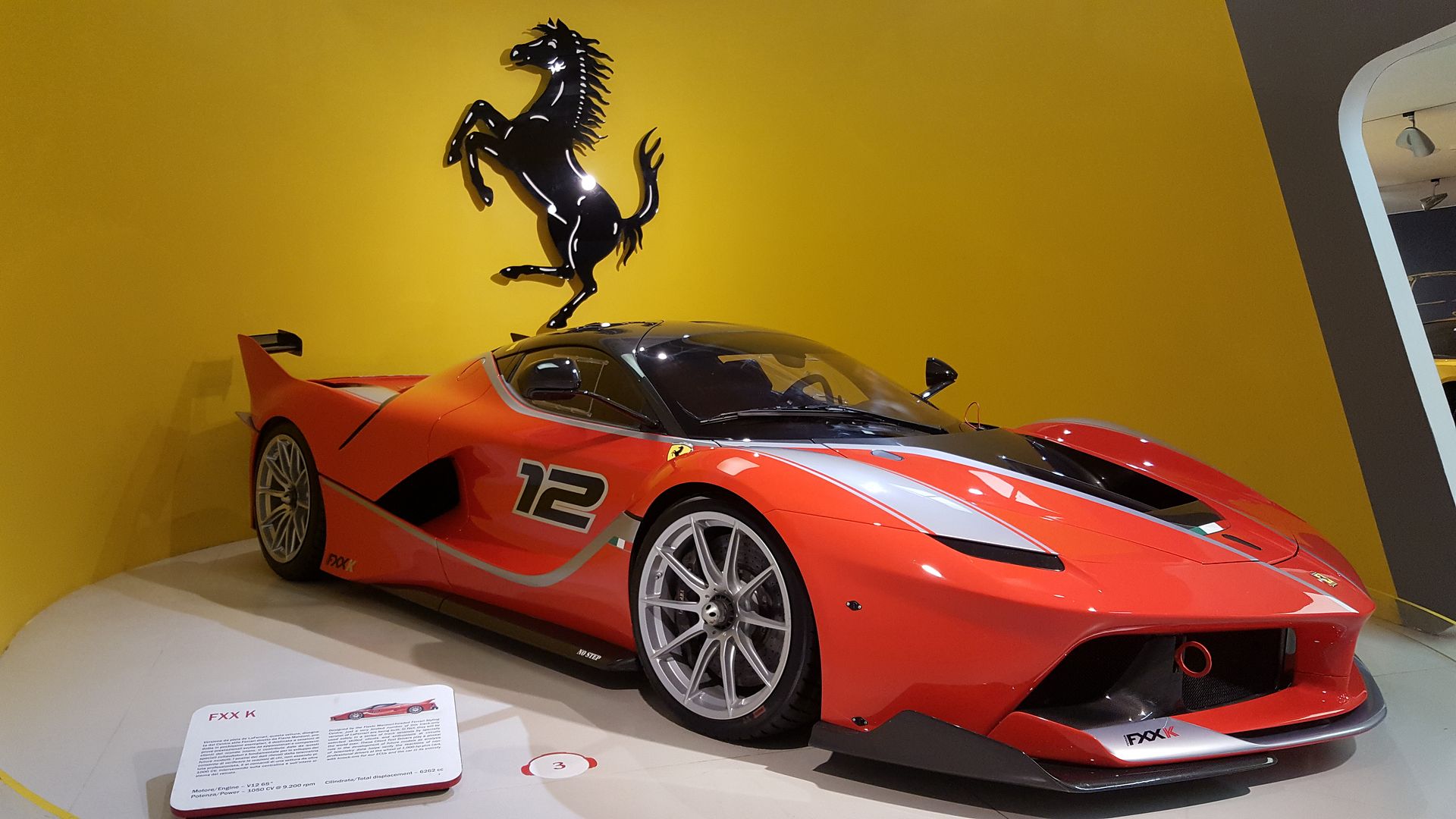 Dreary view from our dreary Bologna Airport Hotel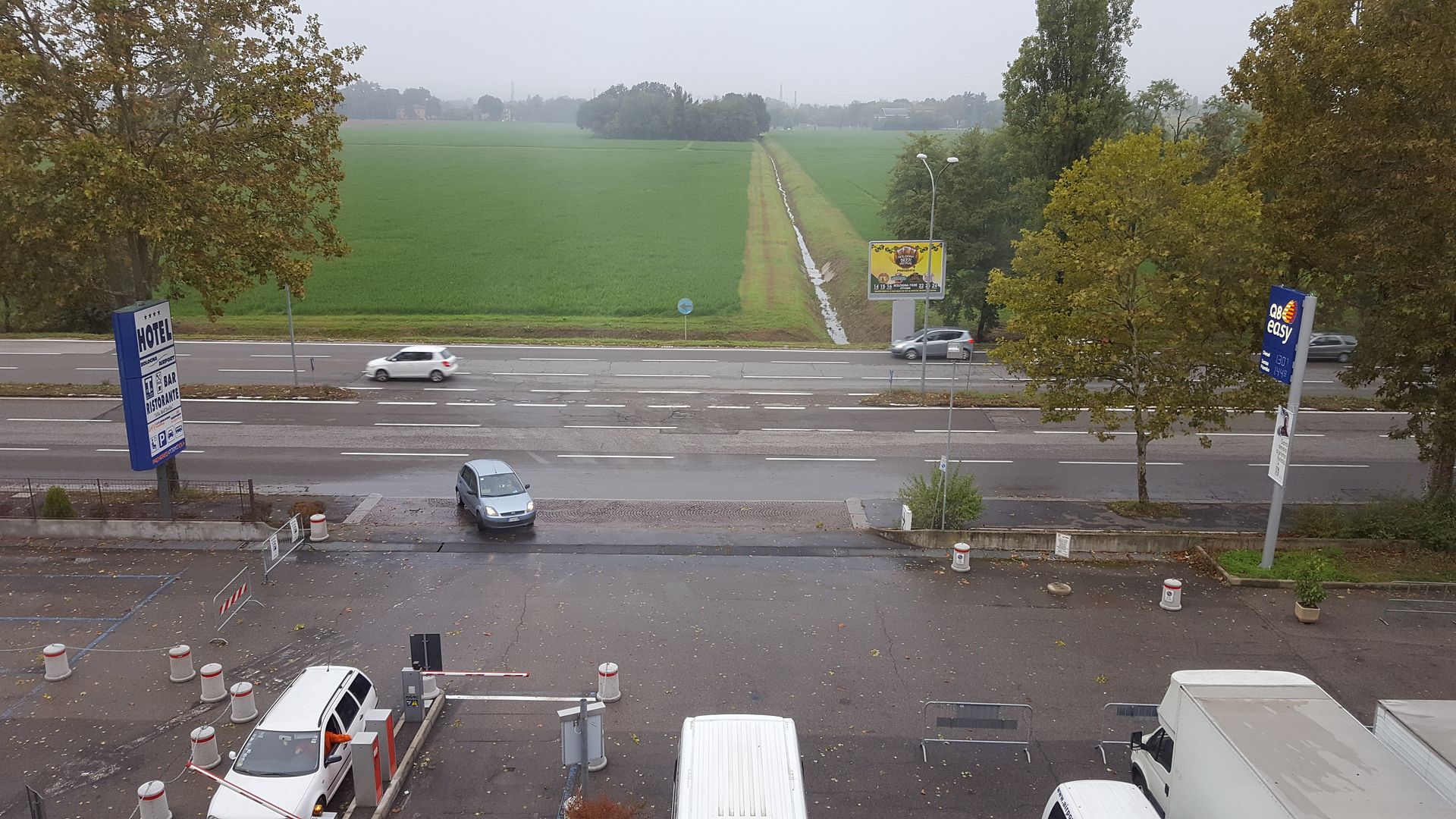 Previous Trip Reports
Weekend at Cinque Terre - BA to Bologna - Airbus 320-200
Journey to the East (Part 5, Final) - BA B747-400 (Club World)
Journey to the East (Part 4) - China Eastern A321-200
Journey to the East (Part 3) - Etihad 5th Freedom Route
Journey to the East (Part 2) - BA, JAL, Etihad, China Eastern
Journey to the East - BA, JAL, Etihad, China Eastern
Norwegian And Air Baltic To ARN And RIX
London To Muscat On Gulf Air - A332 And A320
Part 4:India Domestic-9W, AI, SG On A321,B737,Q400
Part3: Phuket To India - Bangkok Airways -A320-200
Part 2:Thailand Domestic -Nok Air And Thai AirAsia
Part 1:Qatar Airways - Thailand And India
Part 3:BA Club Europe - LCA-LHR - Boeing 767-300
Part 2:Blue Air - Athens-Larnaca - Boeing 737-400
Part 1: Aegean Air - LGW-ATH-JTR - A320-200
Ryanair London(STN) To Lake Como (BGY)
Weekend In Belfast - Aer Lingus A319-100
BA First - PEK To LHR - Mid J B747-400
BA CW - Upper Deck To Beijing - High J B747-400
China Railway (CRH) - Video Report - SJW - Beijing
LAN Dreamliner (J) Experience - MAD FRA
Baltic Escapades - VNO/TLL/RIX On W6,BT And OV
South France - EasyJet A320 BA A319
UK To India - The EK Way - B777-200/300 & A380
India Domestic–Jet Airways And Indigo–A320/ATR 72
BA A320/321 - LHR To Berlin TXL - Christmas Day
China Southern - LHR-CAN-HKT - B787/A321
Aloha! The United Way - B777-200 And B737-900
Mahalo Hawaii, Hello NYC - DL B767-300
Cool Blue To BOS And Got Blue? To LAS - E190 A320
VS Little Red To ABZ And EZY Return
24 Hours On A 787! - Final Leg CZ - AKL-CAN-LHR
Part 5 - BHE-WLG-AKL On NZ Beech1900D And A320
Part 4 - MEL-AKL-ZQN On QA And NZ B738\A320
Part 3 - CNS-MEL On JetStar A321-200
Part 2 - SYD - CNS On Virgin Australia E190
Canton Route Part 1 - LON-SYD - CZ DreamLiner/A332
DREAM(liner)ING Of Hainan - China Southern
Panda Calling - BA LHR To CTU - Club World
China - The Low Cost Way - Spring Airlines - SJW-CTU
China United Airlines (KN) - CTU - SJW - B737-700
Norwegian B737 - LGW-TOS-BGO-LGW
Jet Airways: LHR – COK
Barra Trip – that was not to be
LHR - KWI - BA 747 - Part 1 - Middle East -China
Part 5: PVG-LHR - BA - Economy - B777
Part 2: KWI-DXB - FlyDubai - Economy - B737
Part 4A&B - SHA-SJW-SHA - FM: Eco: B737
Part 3A&B : DXB-HKG-PVG: CX & KA :Eco: A333
Morocco Trip - LGW-RAK-TNG-LHR - EasyJet & Iberia
Dusseldorf Calling - BA & EZY - Club/Eco - A321