Video report of this trip
Swiss - LX339 - London Heathrow to Zurich - A320-200 (HB-IJQ)
BA 717 - Zurich to London - Club Europe - Airbus 320-200 (G-EUUW)
Background
Hello A'Netters. Hope you are well. It's been a month since our last trip and a trip report was overdue.

I had an Avios upgrade voucher I wanted to use and since we did not have any holidays left for the yea, we had to accommodate into a weekend trip. After much pondering, we decided on Zurich. We have been to Switzerland before but never to Zurich.
Looking at flight options, we needed a late flight out on the Friday and an evening flight back into London, on Sunday. After careful consideration we decided on Swiss onward to Zurich and use our upgrade voucher on BA on our way back to London. This would be my first time on Swiss and was looking forward to it.
Thanks to GCMaps for the map illustrations below:
Swiss - LX 339
Route: LHR (T2) - ZRH
Flight Reg:HB-IJQ; Delivered to Swiss on May 1997 (This is the oldest A320 I have flown)
Aircraft Type: Airbus 320-200
Seat: 26F
Flight time: 20:00 - 22:35 (20:47 - 23:00)
Actual flight time: 1 Hr 13 min
Distance: 491 Miles
Load: around 50% load
18 November 2016
My Log book: 1st Flight on Swiss/ 25th flight on Airbus 320-200/ 122nd Total overall flight
Price: £150.22 (price for 2 tickets, including taxes and 1 checked in luggage)
Online checked in on the day and it was a fairly streamlined process. I had to fill in all the necessary passport details, seats chosen and done. One point to note was, in my boarding pass, it said that 'No checked in baggage allowed' . A quick call to the courteous Swiss call centers confirmed that, it was based on the ticket type, and any additional checked-in baggage paid for would not be reflected in the boarding pass. Slightly misleading and confusing. But not a deal breaker.
Drive to Heathrow was hassle free. The usual Friday traffic. Reached pod parking in an hour and 15 minutes. Pretty normal for Friday. Pod ride to T5 followed by a quick tube ride to T2. Reached check in desks with 90 minutes to spare. Wife forgot her phone at home. Uh oh.
Taking the POD from our parking to T5 and then an onward tube to T2
Getting into Terminal 2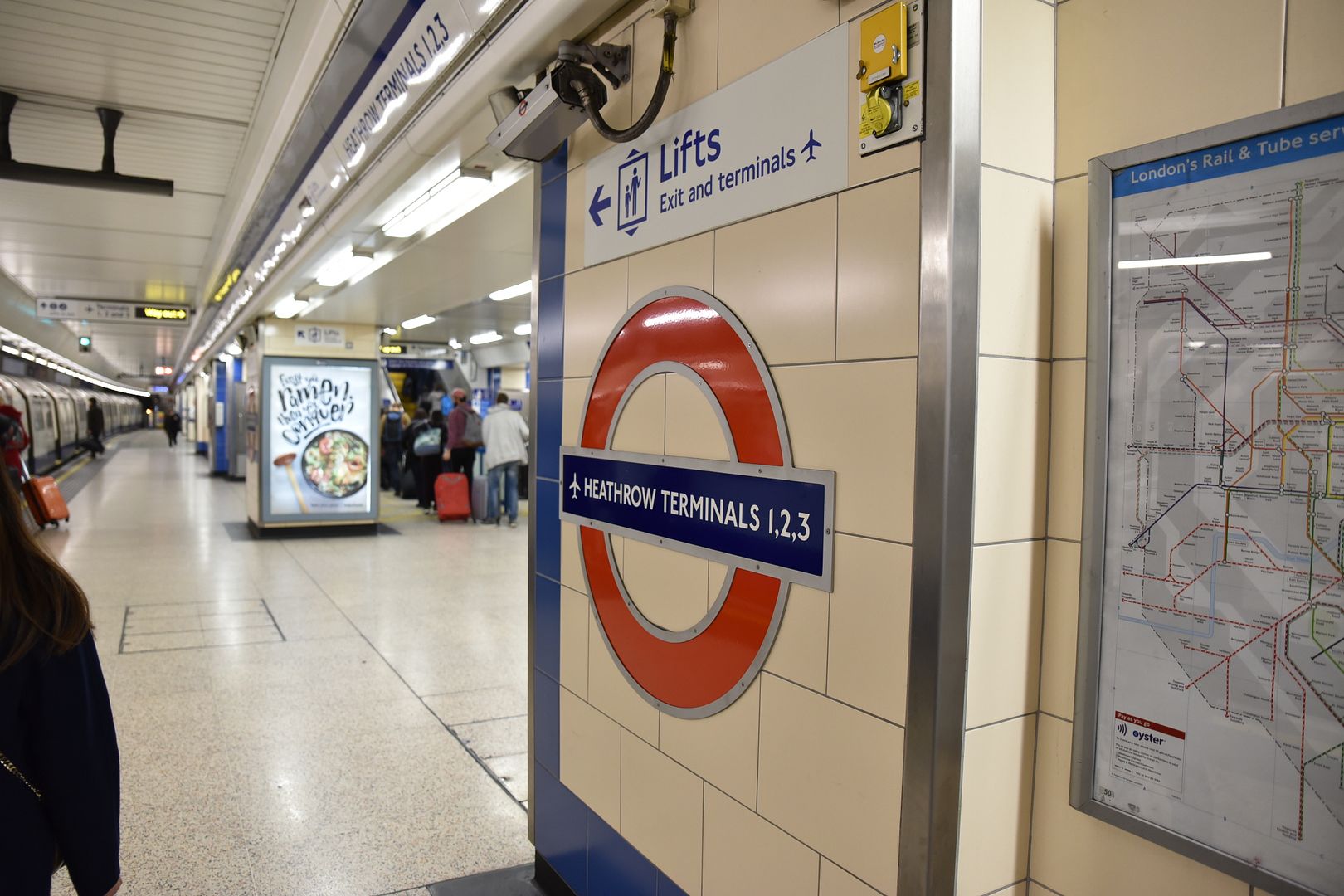 Check in was over in 30 seconds.
Check in zone B for us today
Check in Kiosks for Swiss
Slipstream at T2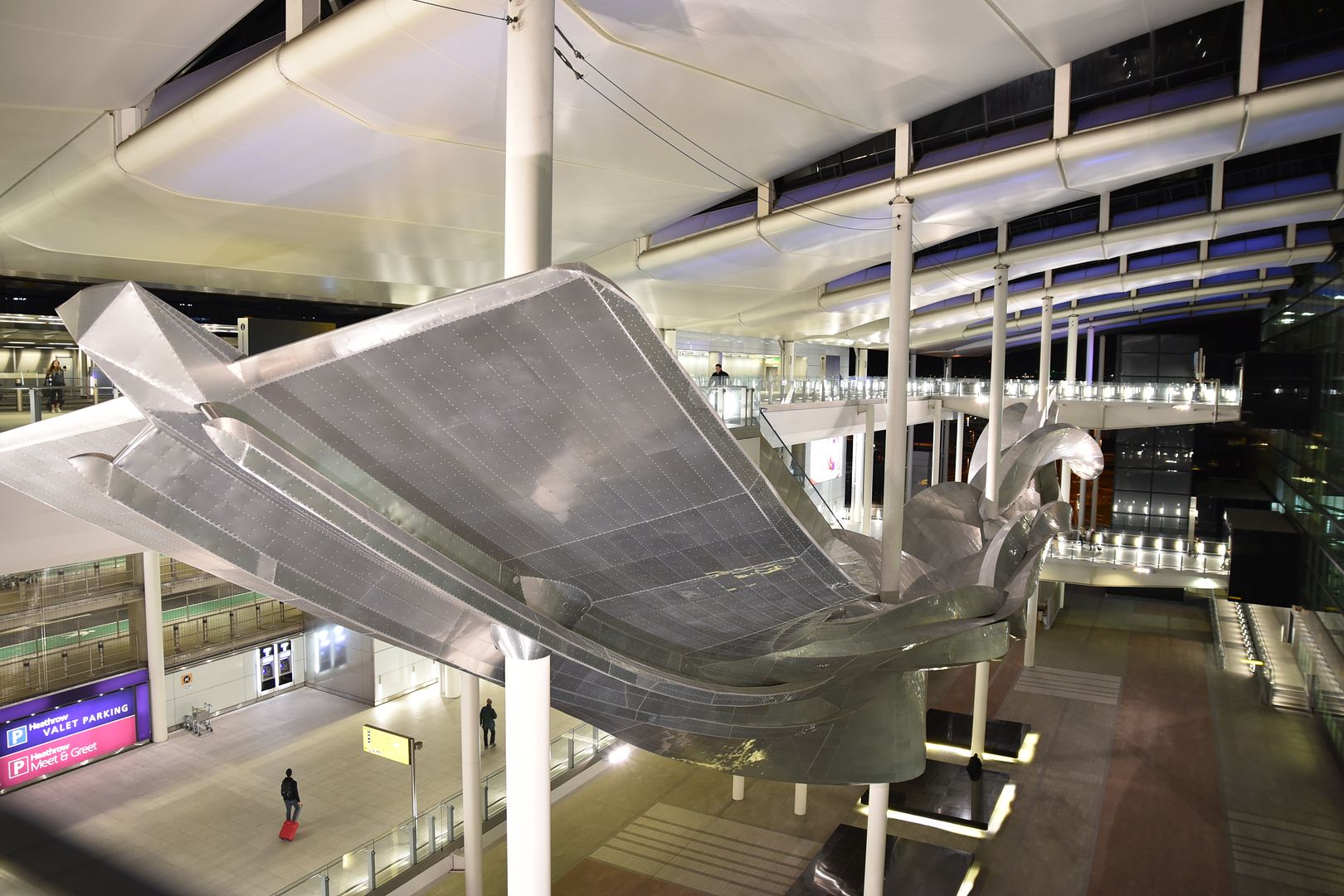 Terminal 2 on a Friday evening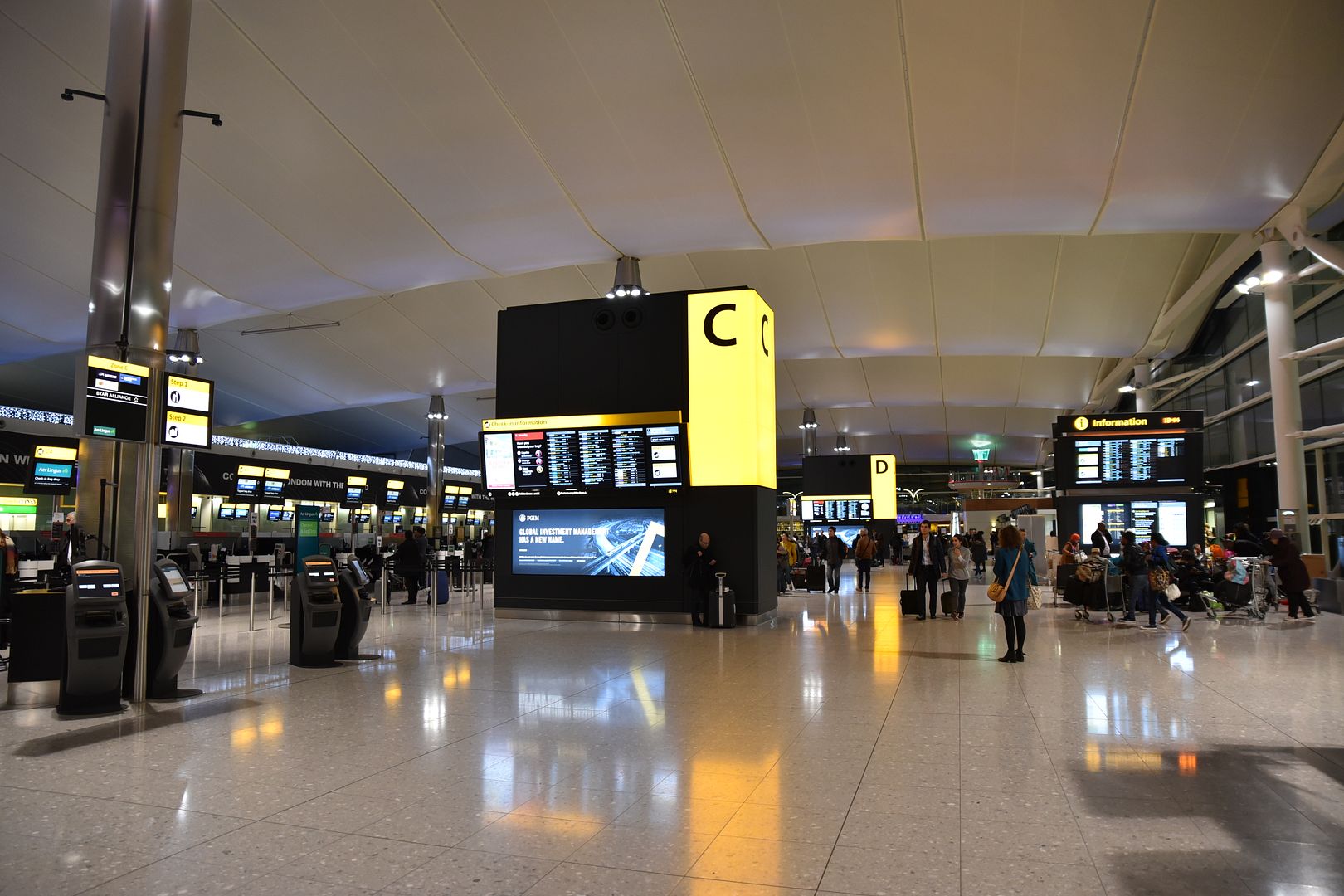 Busy time at the security. Airside by 1900. Stopped by the perfectionists cafe by Heston. Our incoming flight seemed to be delayed by 15 minutes subsequently delaying our flight by the same amount.
Very festive at T2
Terminal 2 Airside
Got to know from flight radar that it was a 19 year old A320.
Did a quick browse of the duty free before heading to our gates. A26.
Boarding commenced only at 2005. Very orderly. Not many business class or senator card holders. The late boarding meant that even the expected 2015 departure would now be missed.
Boarding Gates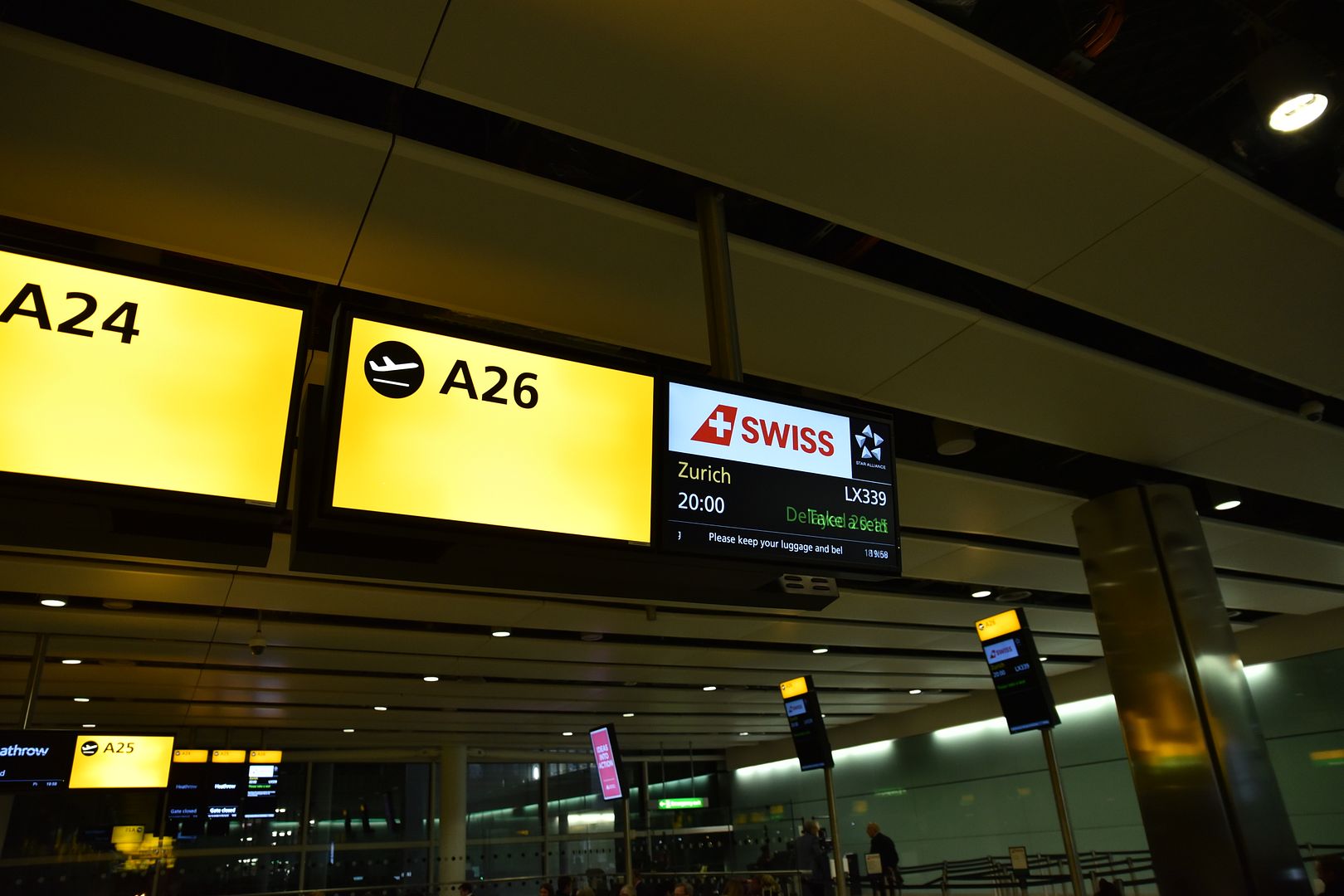 Our ride to Zurich - A 19 year old Airbus 320-200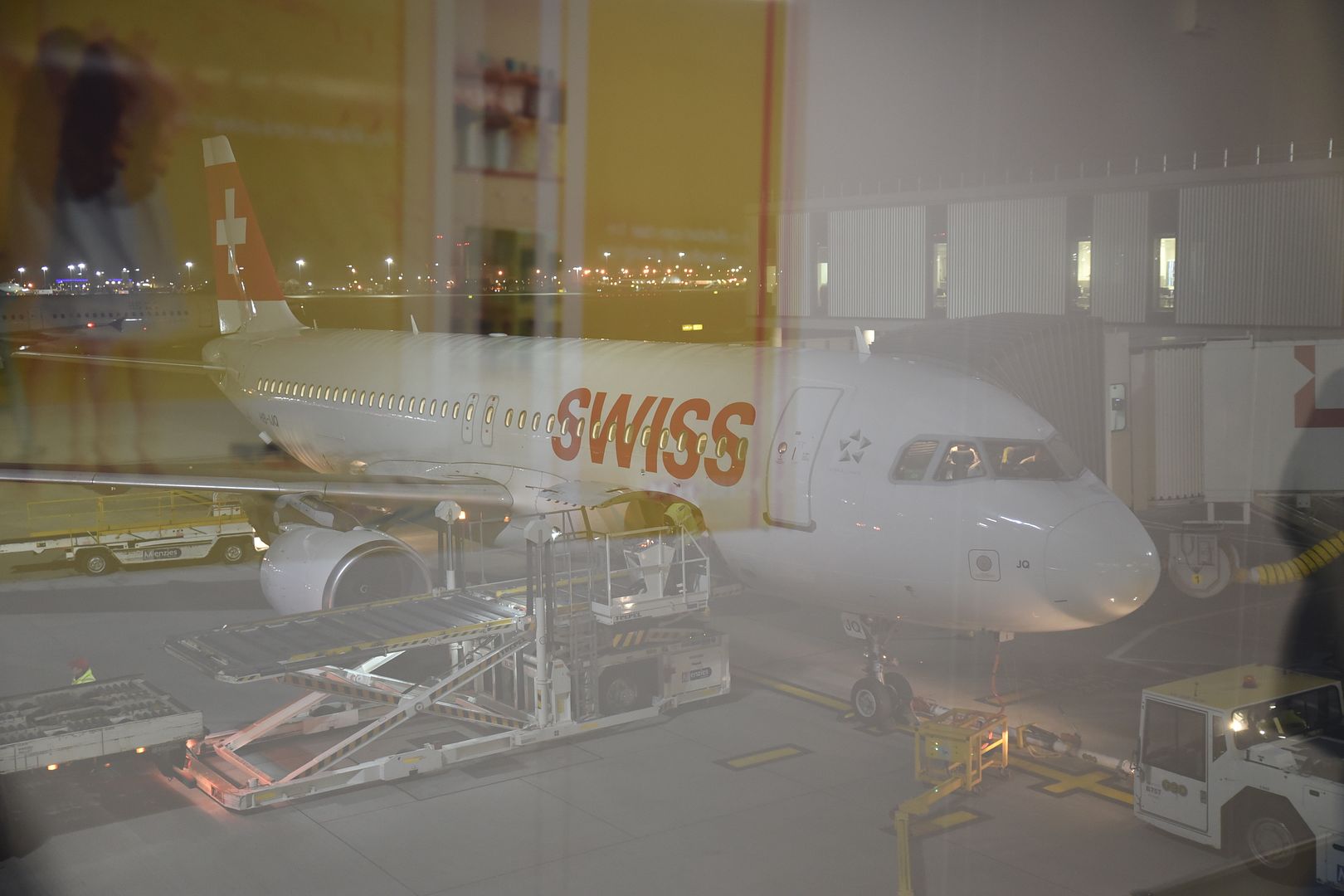 First impressions of the aircraft. Extremely neat and well kept. Could not realise that this was a 20 year old aircraft. Calm music being played upon boarding along with some videos about Switzerland.
On board LX 339 -Swiss Airbus 320-200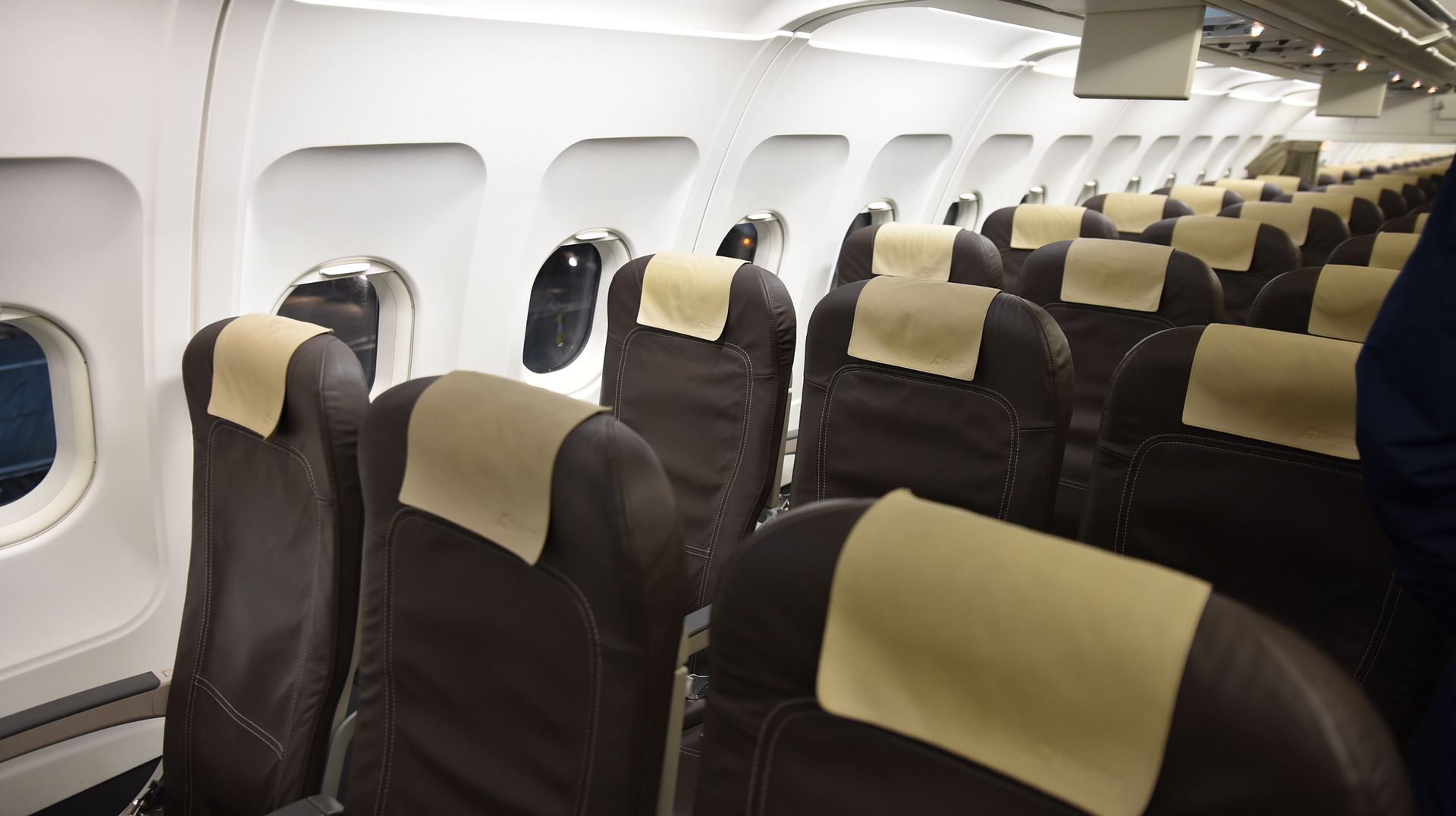 Cramped seats
Neighbours at LHR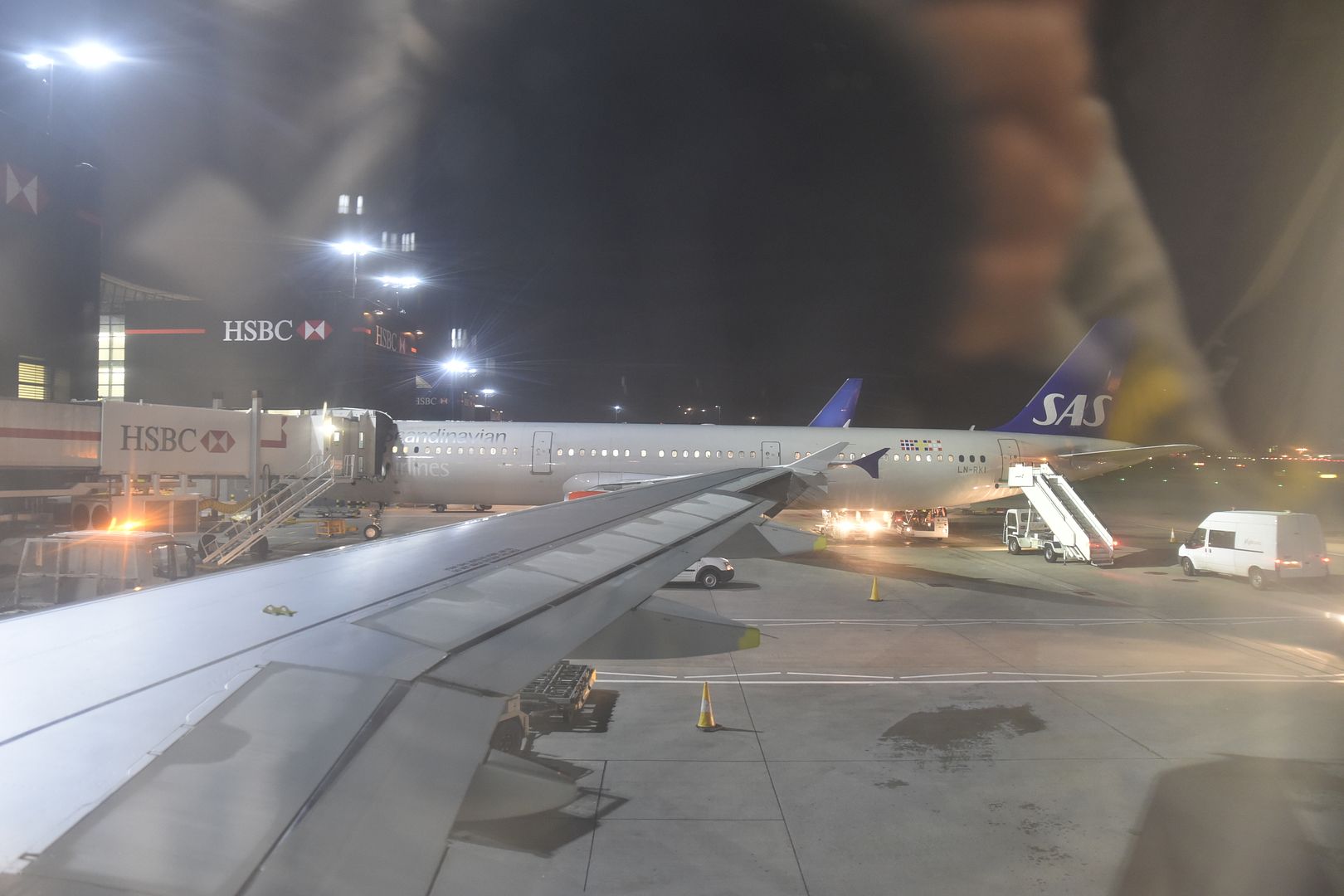 Announcement from the flight deck apologising for the delay with reasons being given as the late arrival of the aircraft from Zurich. Boarding complete at 2020. New estimated time of arrival is now 2300. A half an hour delay. Not looking good.
Disembarked the gates at 2025. Flight was around 50% load. Quite a light load on this flight.
Seats were the normal A320 seats. Similar to any A320 within Europe. Quite cramped and narrow. The issue was magnified when there was a rather large man sitting near my wife's seat who took up almost half of my wife's seat. What do you do on such a situation? Do you go and sit somewhere else? Do you ask the person to use his own space? It is an ongoing issue given that human beings are getting larger and plane seats are getting narrower. It doesn't add up.
Few Shaun and the sheep were playing in the overhead screen. Followed by moving maps.
Food consisted of an inedible rock hard baguette with rock hard cheese and some relish. It would've been better without it.
FnB on board - the baguette was inedible!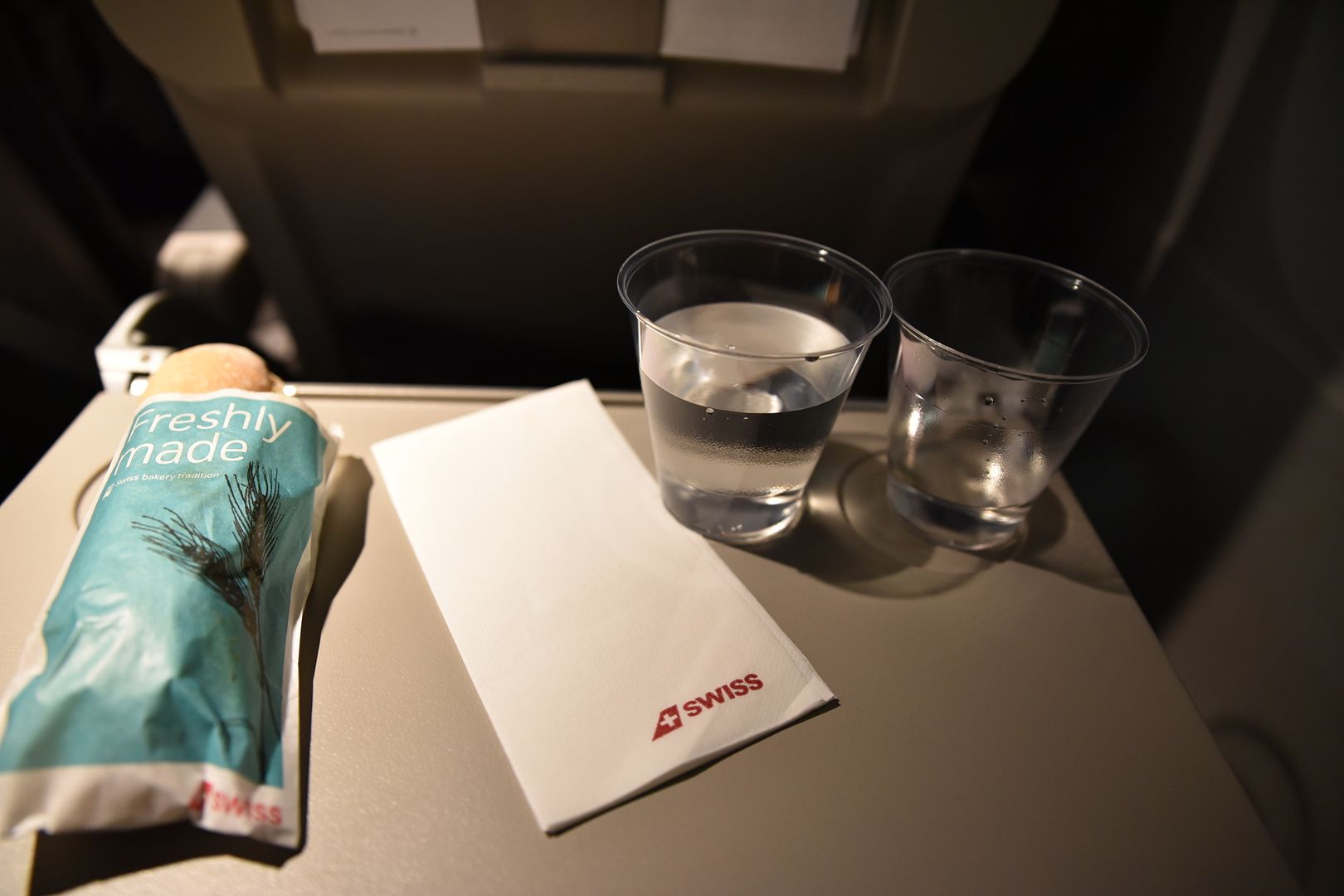 Episodes of Shaun and the Sheep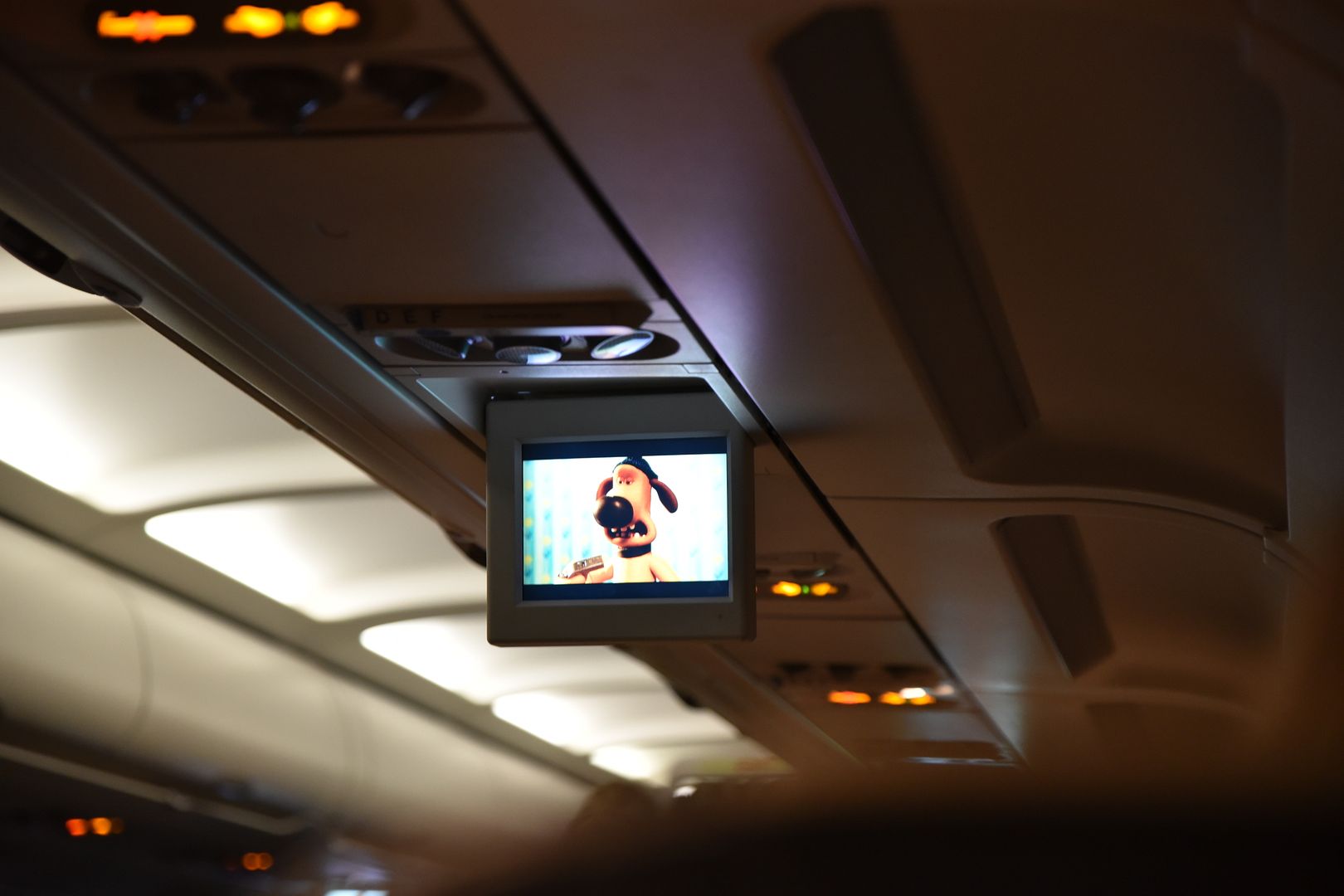 Swiss chocolates

Crew were decent on this flight. Stylish , elegant and professional.
The toilets were the new slimline ones. Very neat and stylish but horribly small.
Towards the end of the flight the overhead screen were displaying terminal information along with belt number and other useful info. Quite a good initiative.
Useful terminal related information at the end of the flight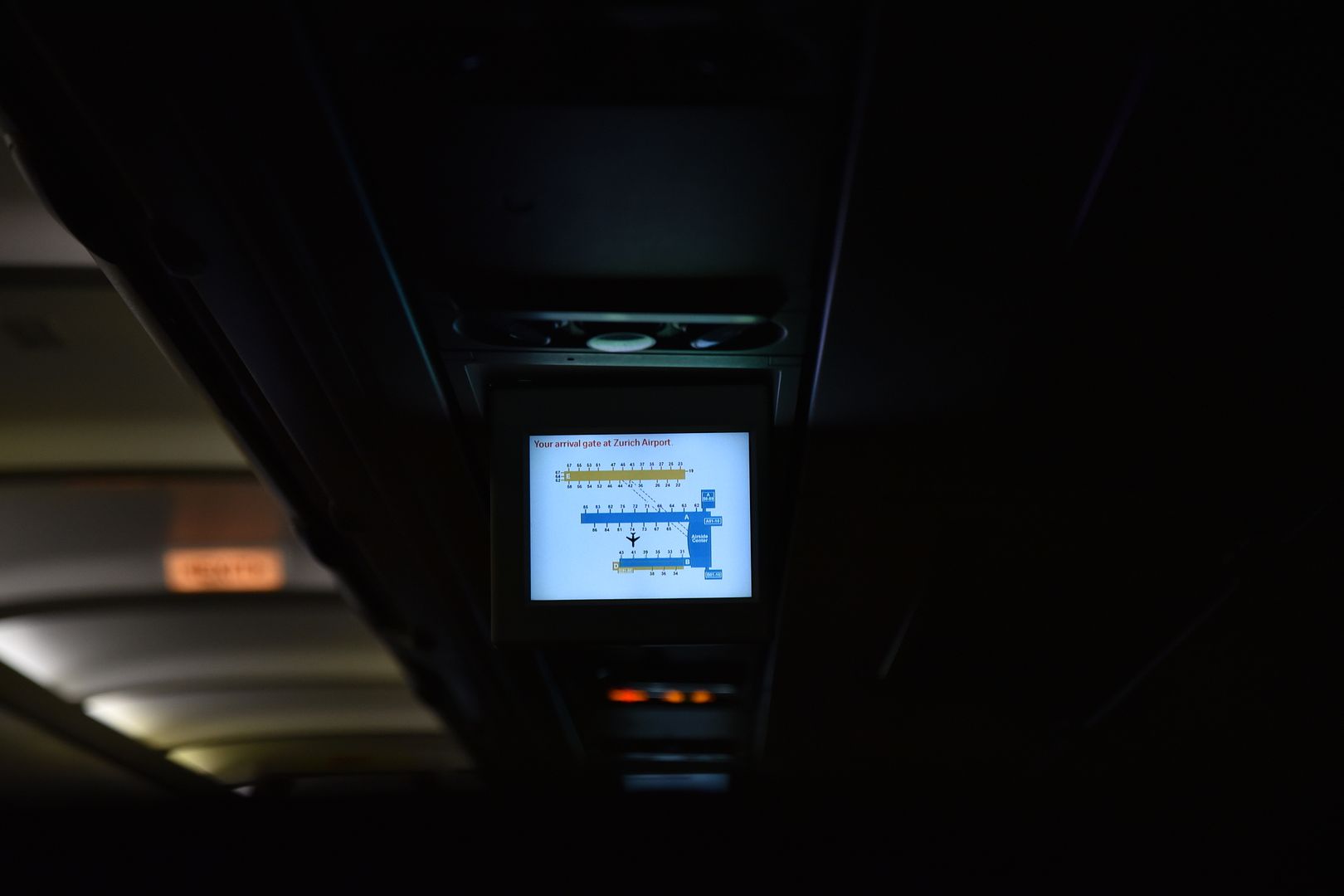 Announcements from the cockpit were excellent on this flight. Constant flow of information about the flight. Very good.
Upon disembarking got asked by the cabin crew whether I write a report and which website was it for. If any of you were in that flight, hello! Very interesting to note that they were aware of airliners.net.
Final shot of the cabin before exiting the aircraft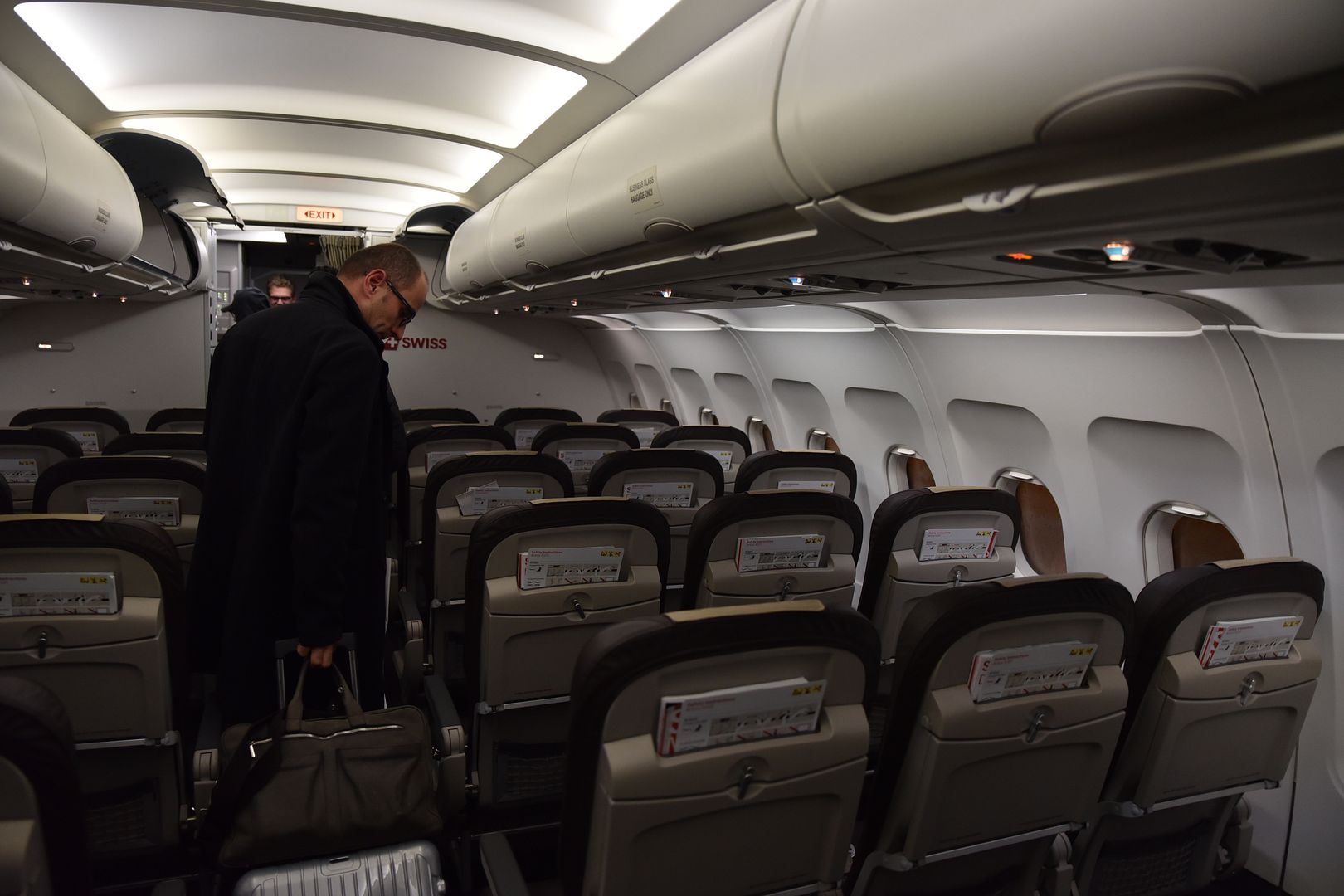 Rainy evening at Zurich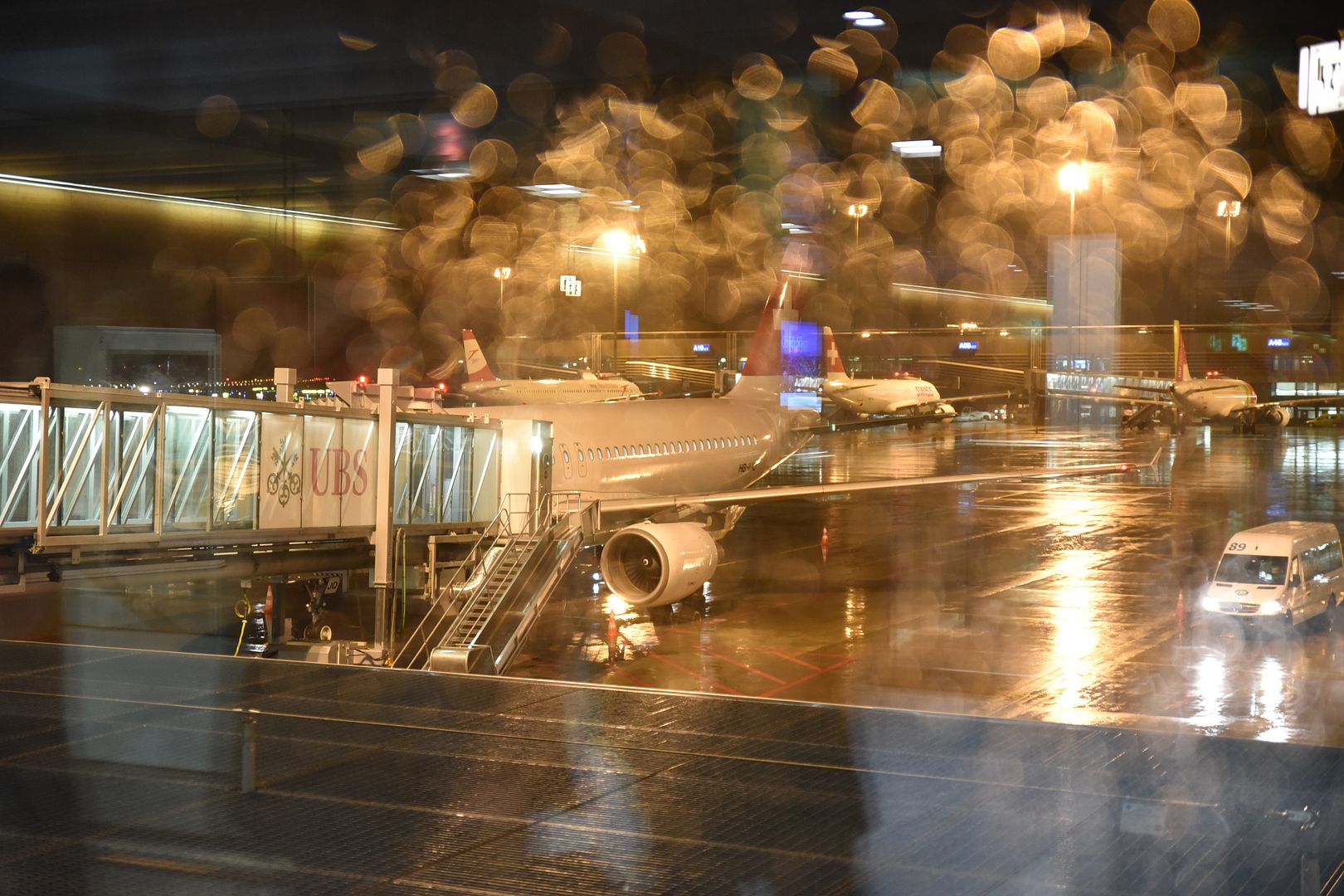 Beautifully elegant Zurich Airport
Zurich airport is very stylish. Looks very sophisticated and the ease of disembarking the airport was noteworthy. Immigration checked, bags collected and we were out of the airport in less than 20 minutes, took the S24 Swiss Bahn train to our hotel.
Verdict
I was expecting quite a lot from SWISS. Stylish interiors with decent crew. Apart from that nothing special. It's as cramped as any other LCC intra Europe carrier. They were few good bits and a few not so. Would definitely prefer EasyJet over Swiss intra Europe for the price paid. It didn't help that the flight was delayed too.
On the whole, given that this is not the best example to rate an airline, but since I have nothing else to fall back on, nothing special about this flight. I maybe a bit critical here, but my expectations of Swiss was extremely high. It just did not meet it unfortunately. Overall I'd like to give another chance (perhaps on a long haul) and hopefully get to fly them soon.
Baggage claim at ZRH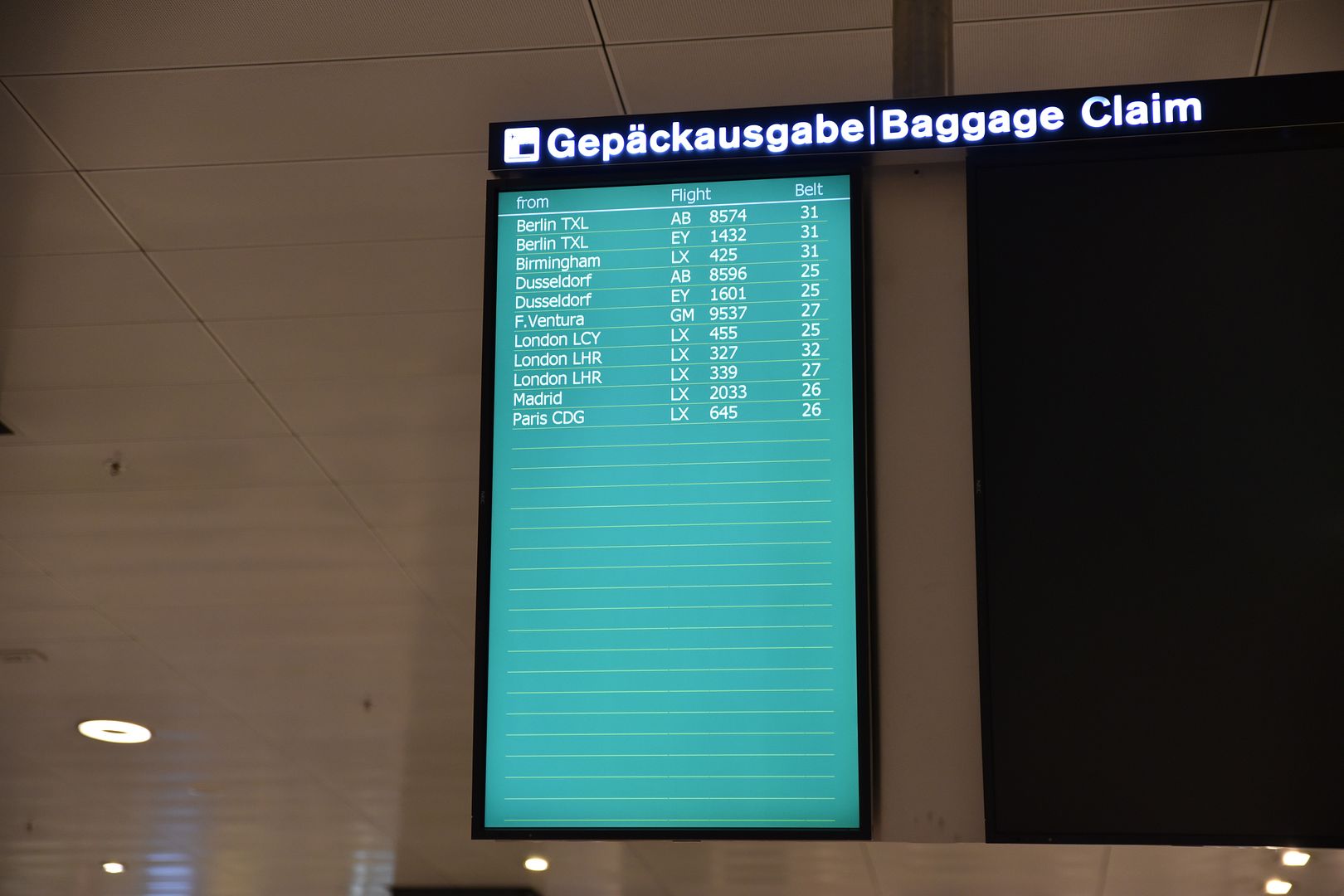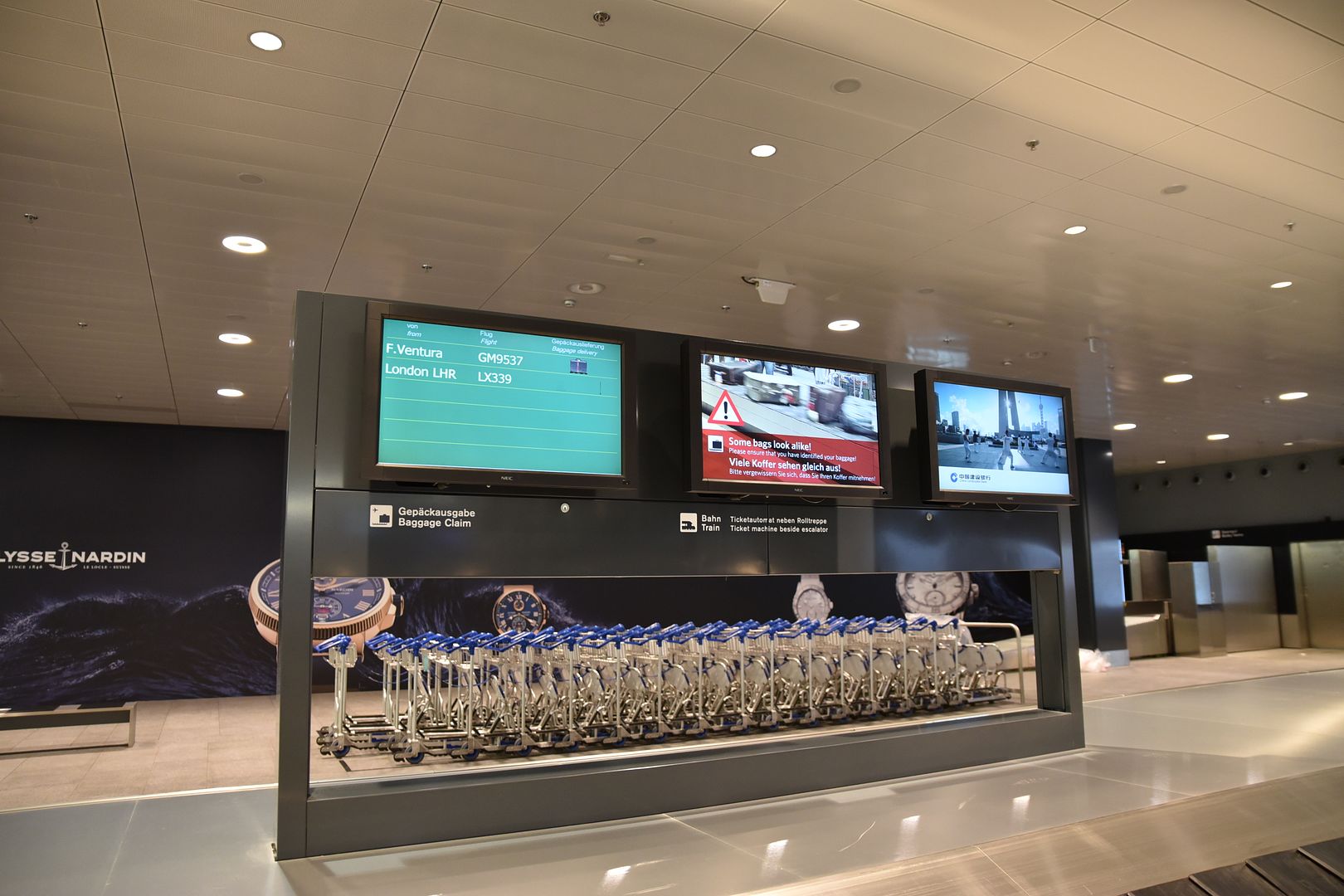 Exiting ZRH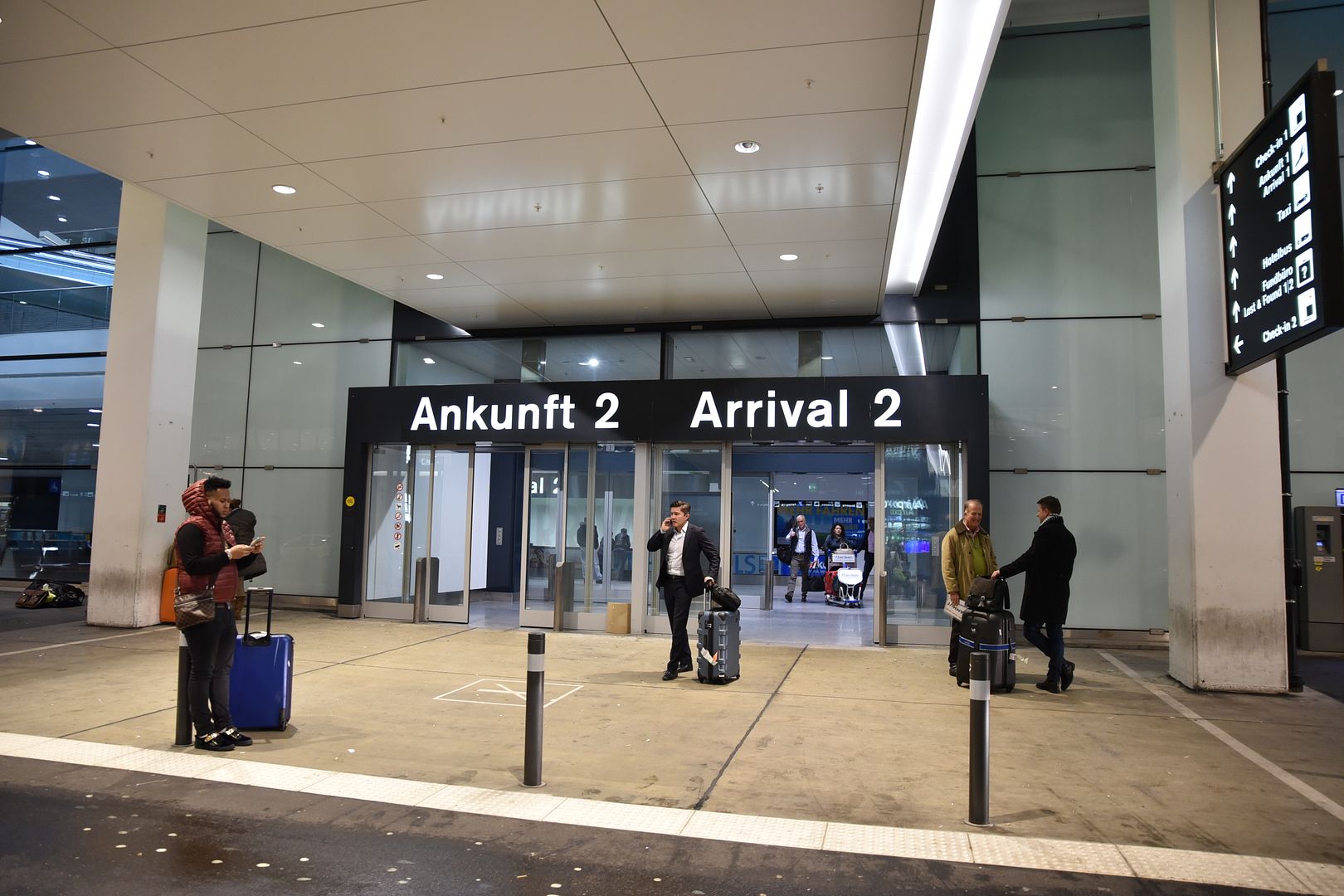 After a fun weekend, it was now time to head back. The weather gods have been kind to us and we got some decent weather over the weekend.
Sights around Zurich
Paradaplatz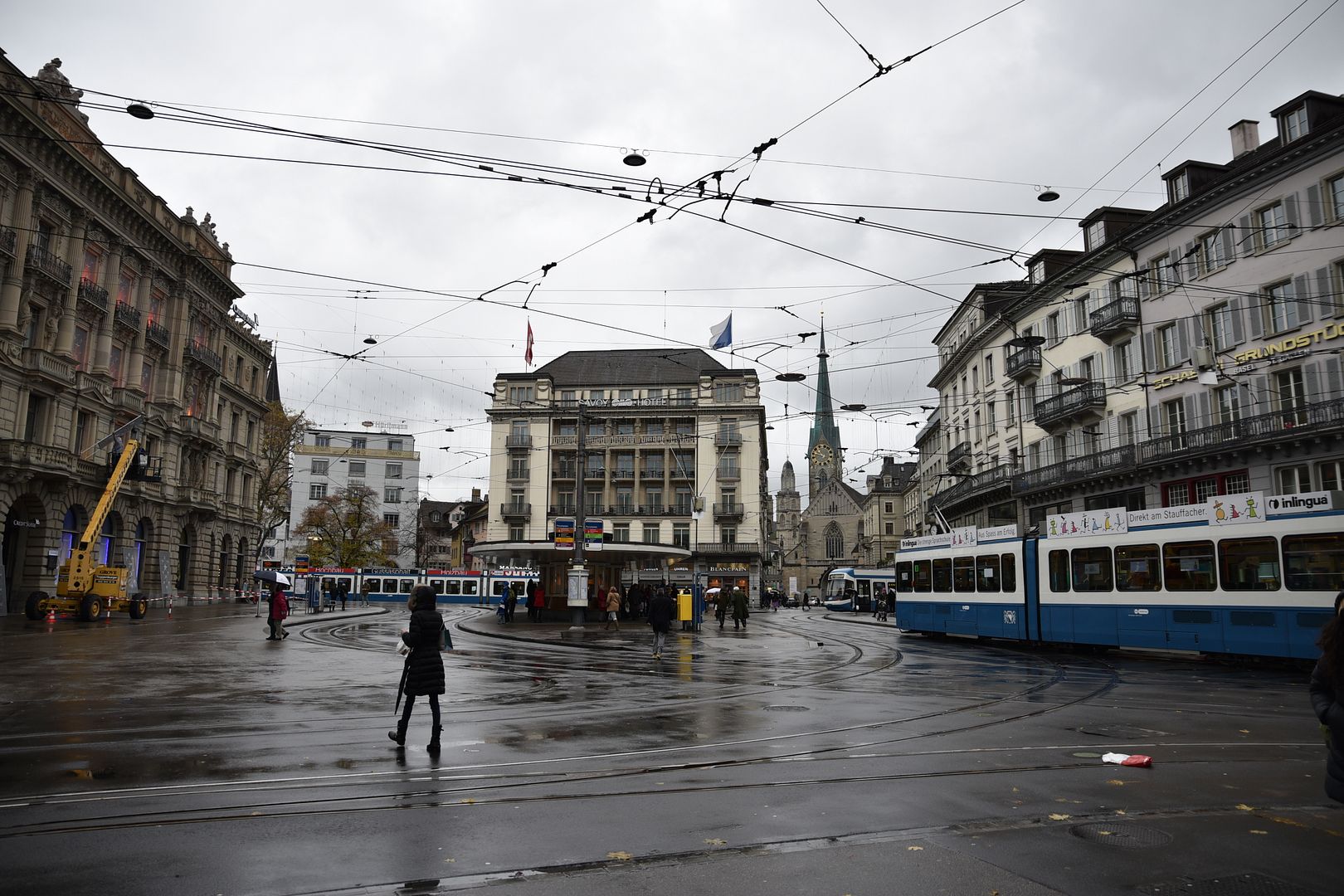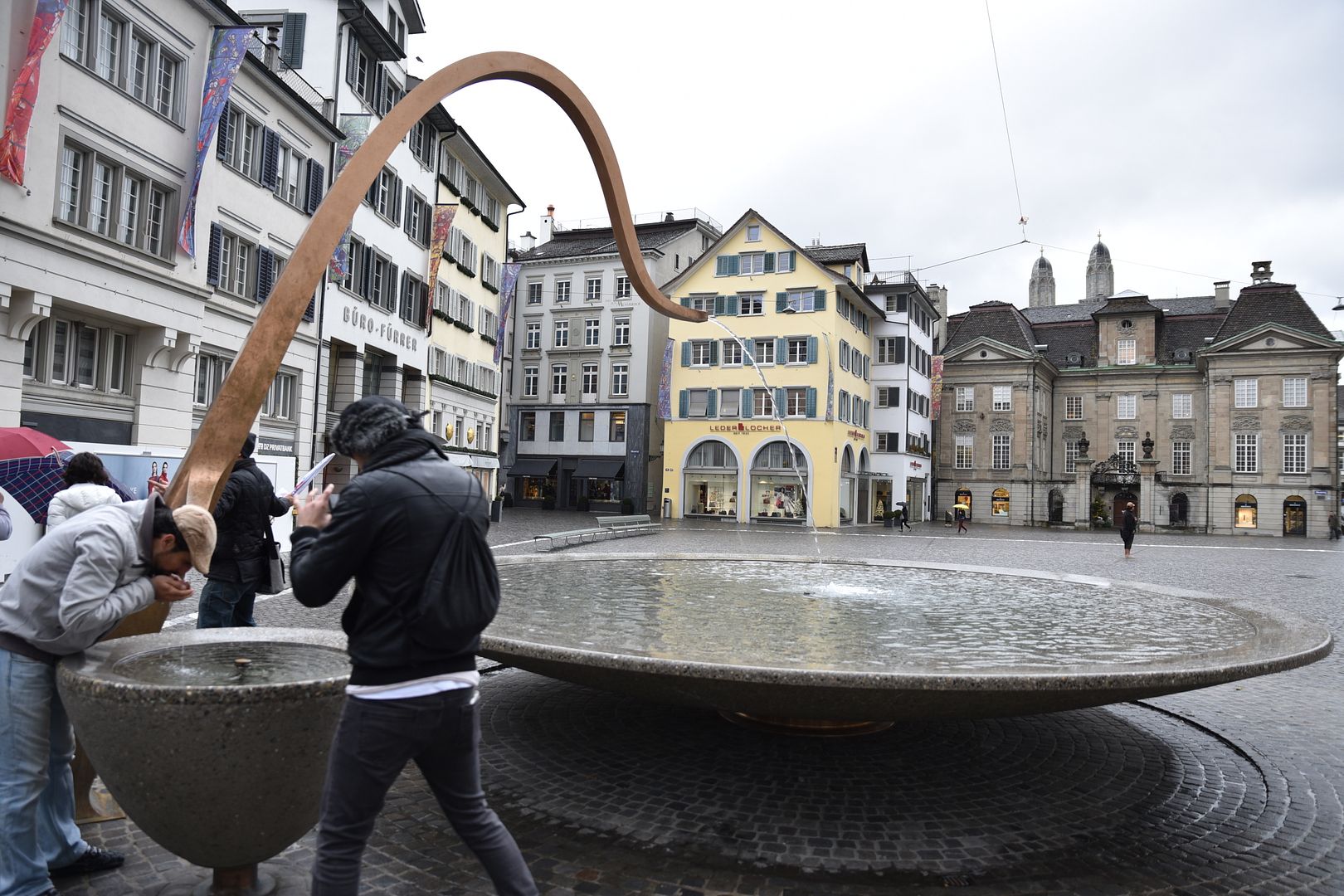 On time on Swiss Trains
FREITAG Flagship Store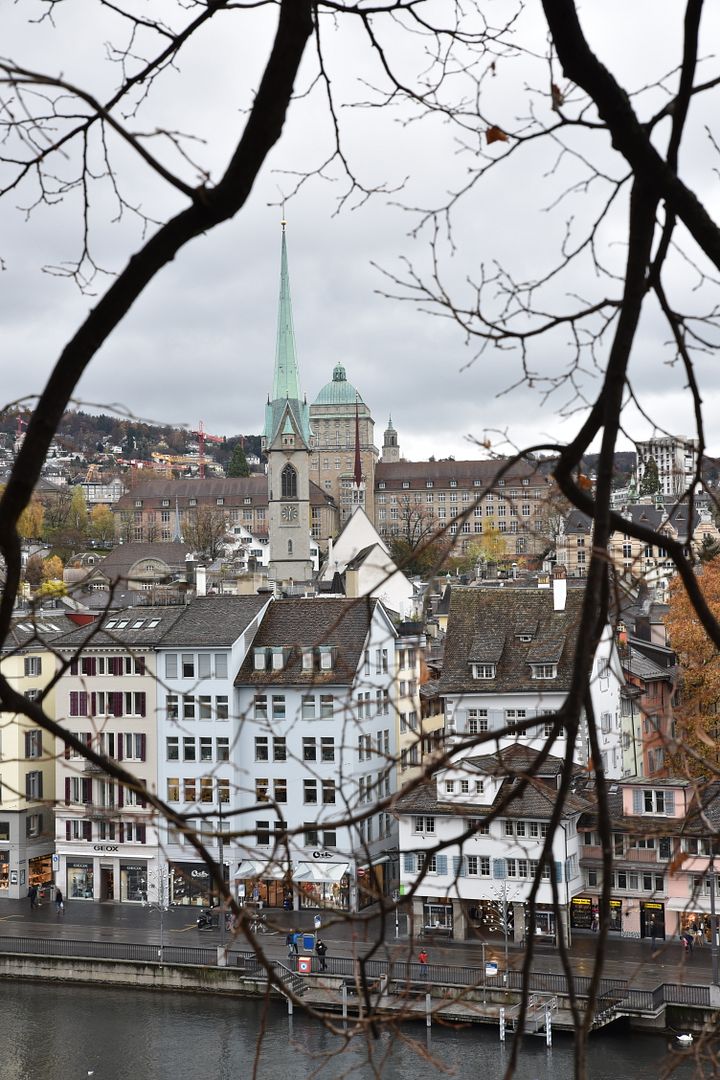 Badminton and a Beer anyone?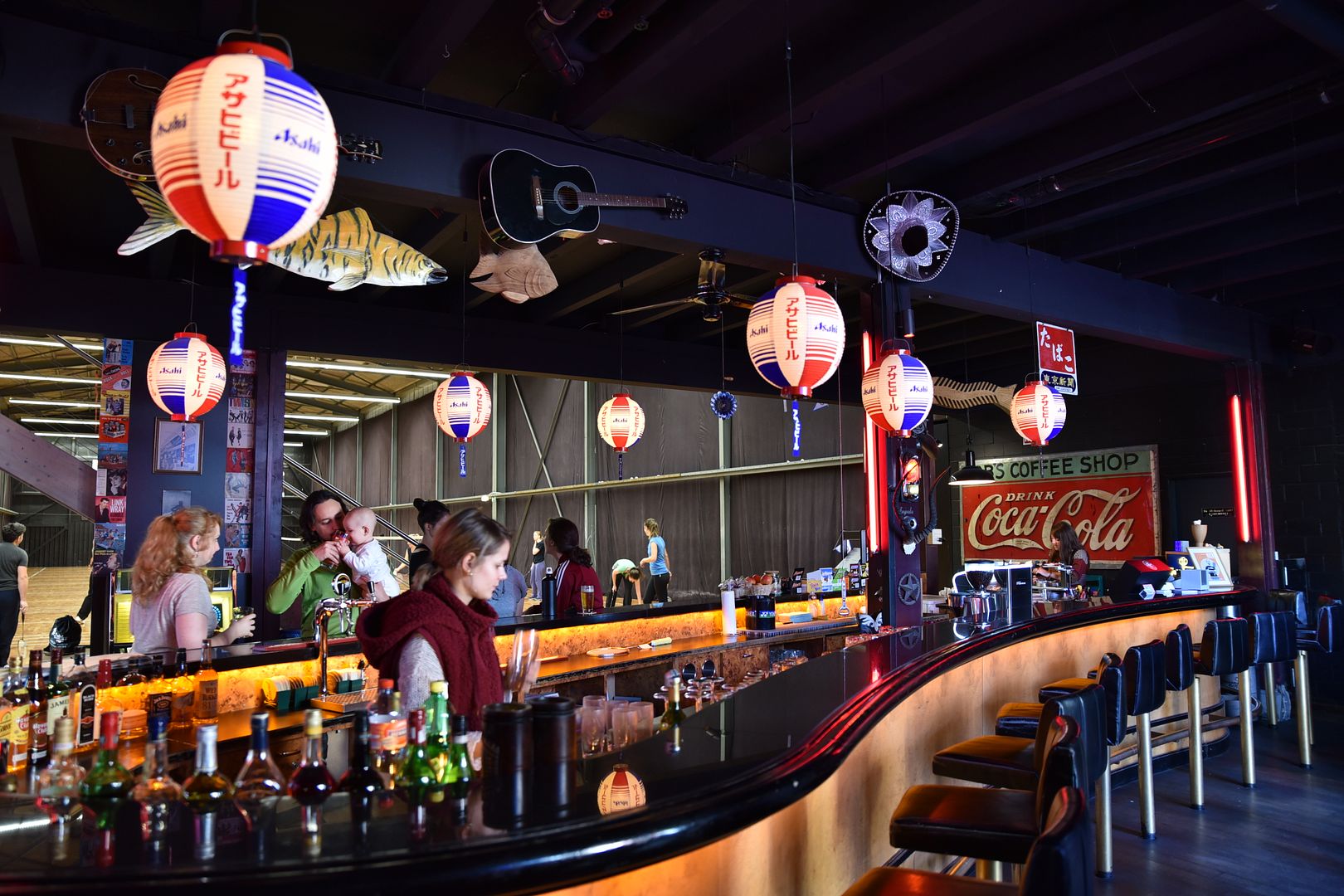 View from uetliberg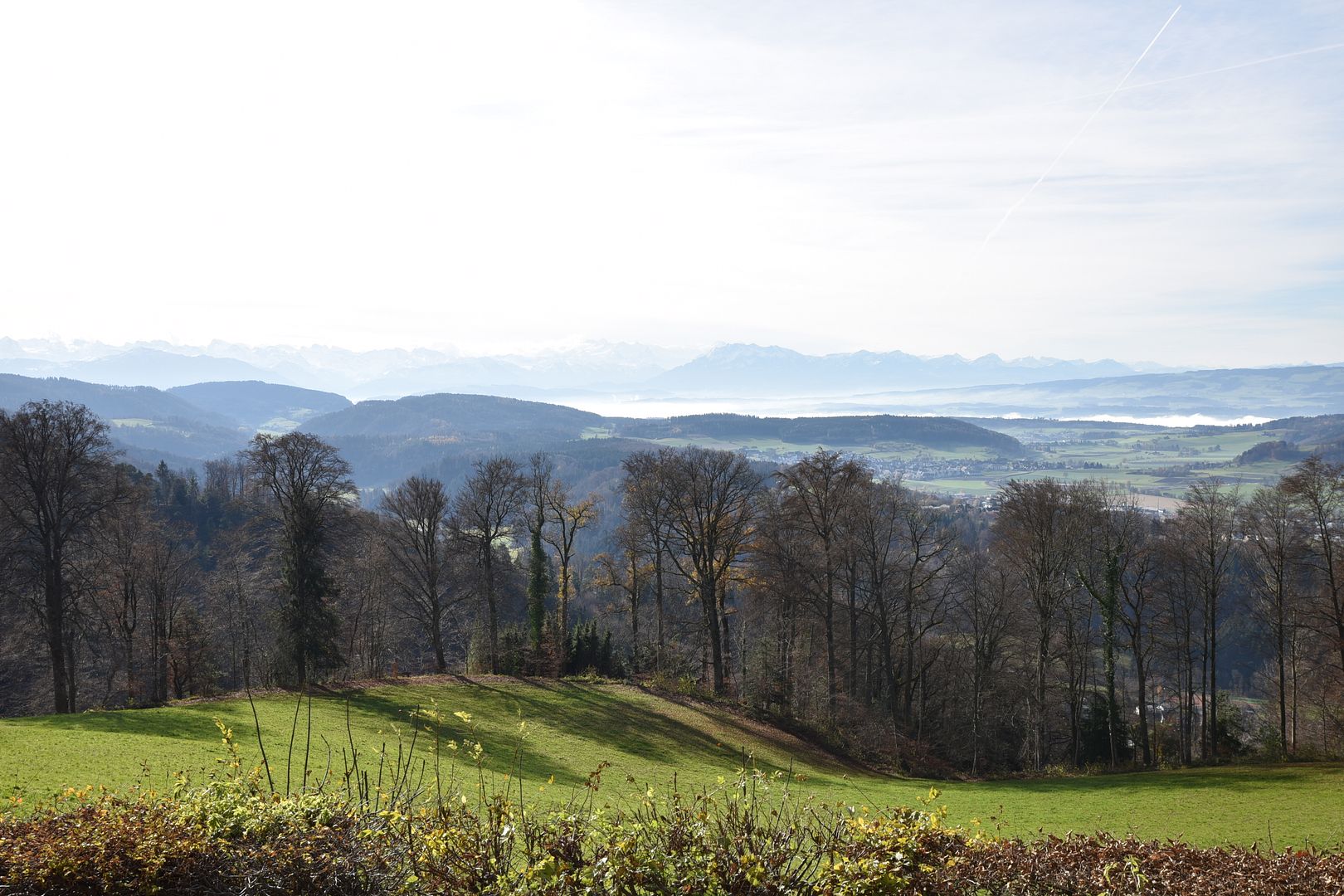 British Airways - BA 717 ( Club Europe)
Route: ZRH - LHR T5
Flight Reg:G-EUUW; Delivered to BA on May 2008
Aircraft Type: Airbus 320-200
Seat: 7F
Flight time: 16:35 - 17:25 (16:38 - 16:55)
Actual flight time: 1 Hr 17 min
Distance: 491 Miles
Load: 100 % load
20 November 2016
My Log book: 19th Flight on BA / 26th flight on Airbus 320-200/ 123rd Total overall flight
Price: 8000 Avios points + £50 (Club Europe)
Checked in online the previous day using a mobile device. As always seamless and hassle free. Looked like a full club Europe flight since we got the last seats in the last row. Row 7.
On the day of the trip back, Zurich airport is extremely easy to reach from the city. Takes around 10 to 12 minutes on any of the many s-Bahn plying between the city and the airport.
Zurich airport train station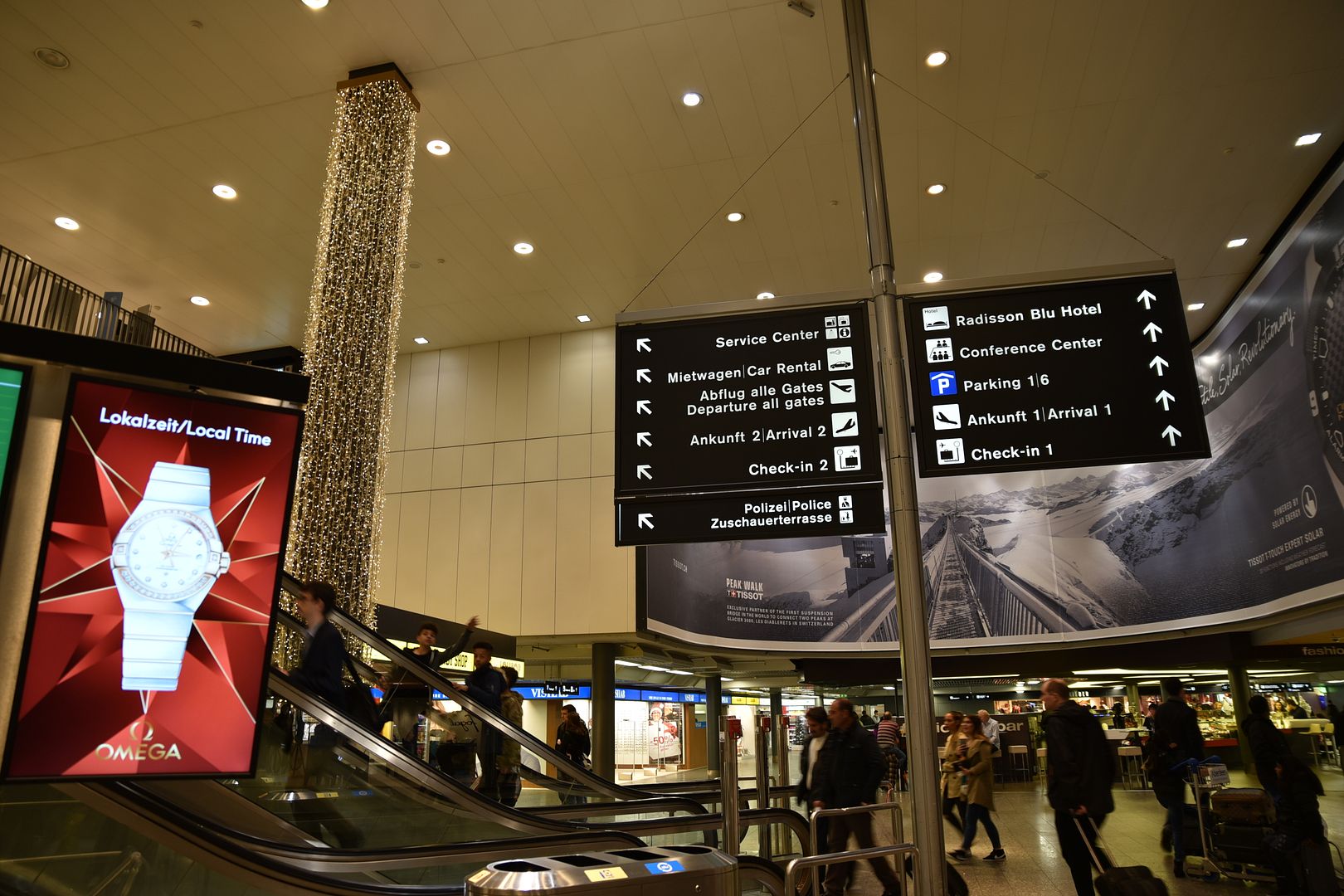 Really like the style of Zurich airport. Very calming yet stylish. Check in was quick. We were boarding from satellite terminal E. Which meant a sky train ride.
BA Check in counters at ZRH
Zurich on a Sunday evening
Before entering Security at ZRH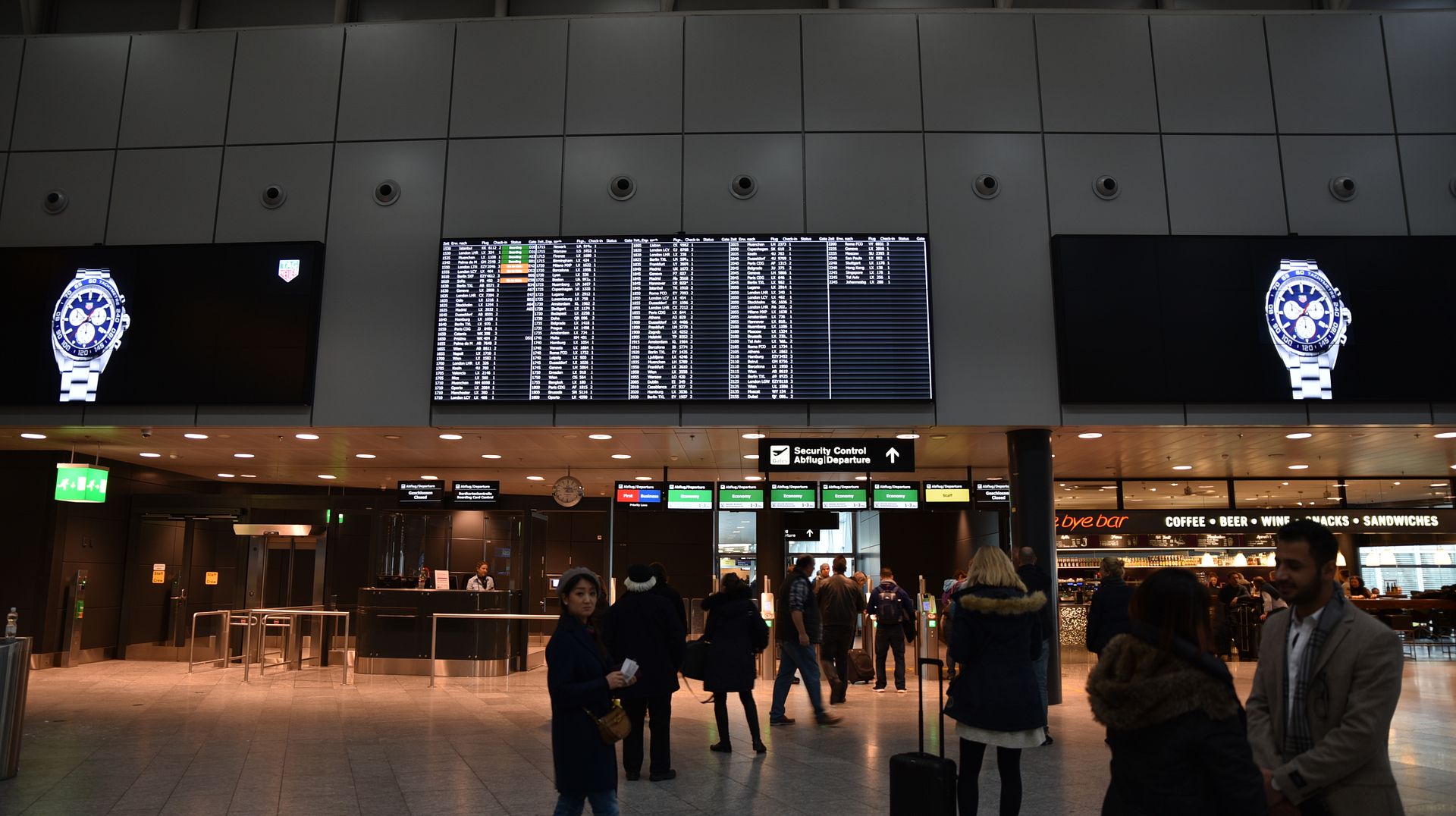 ZRH Duty Free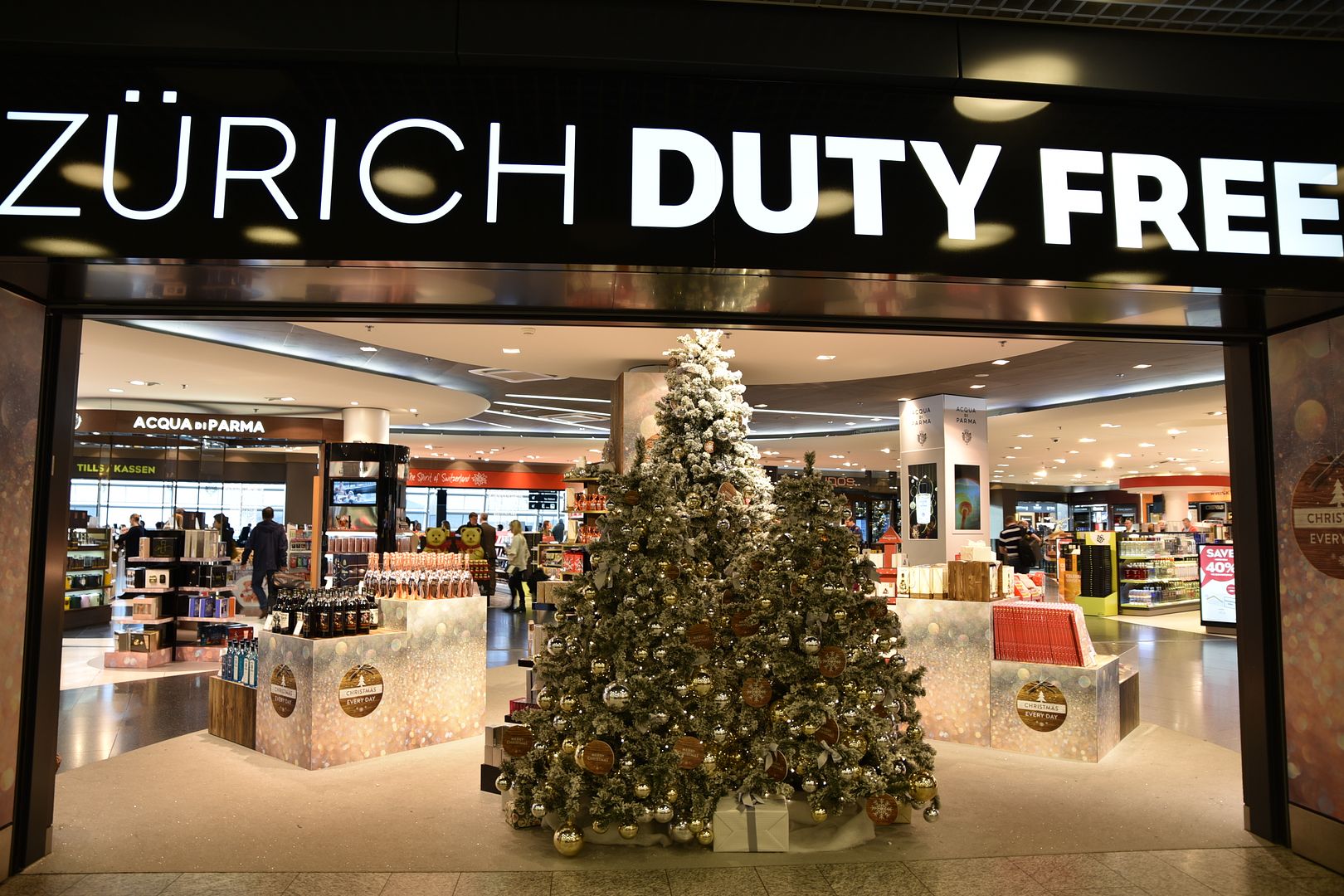 ZRH Airside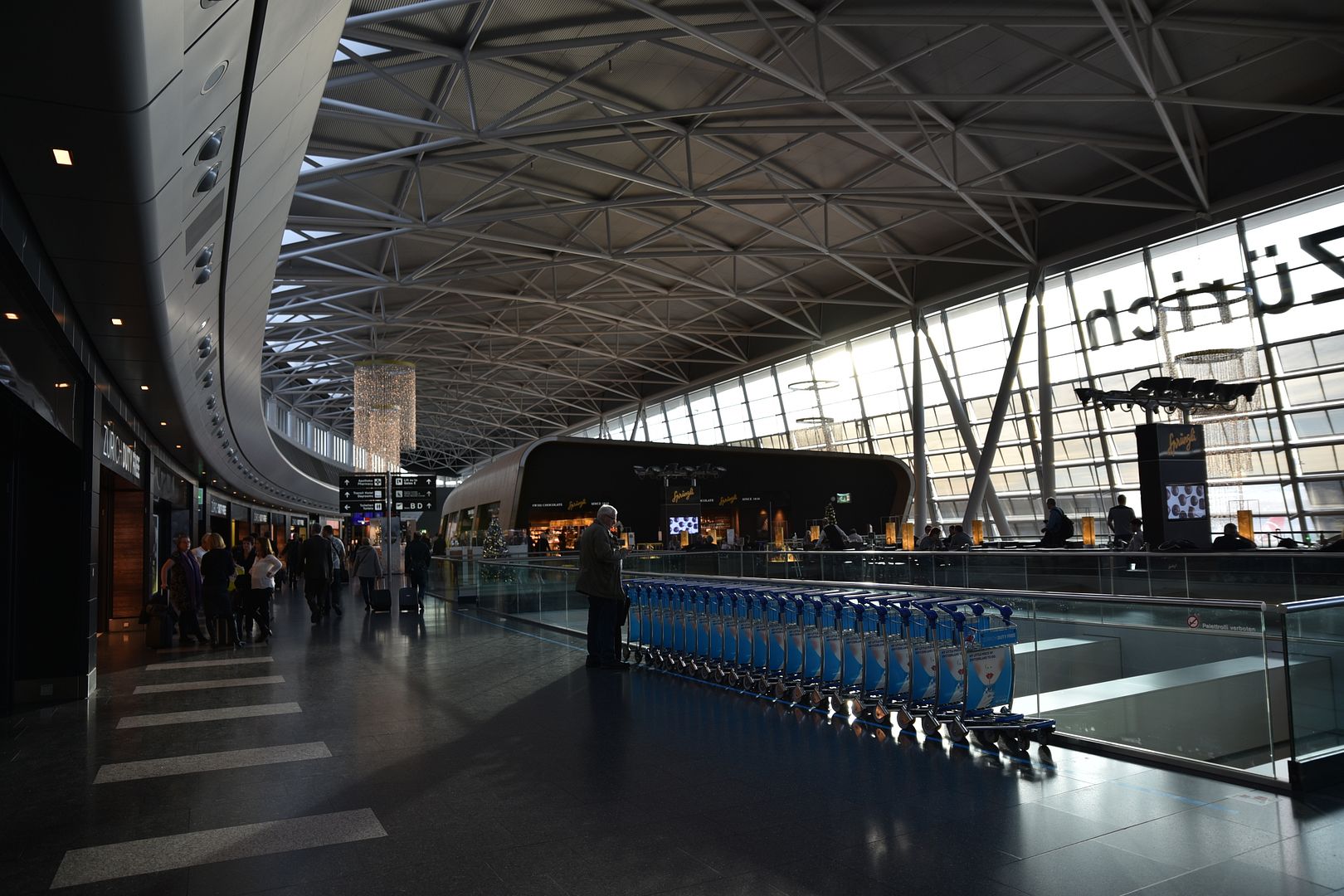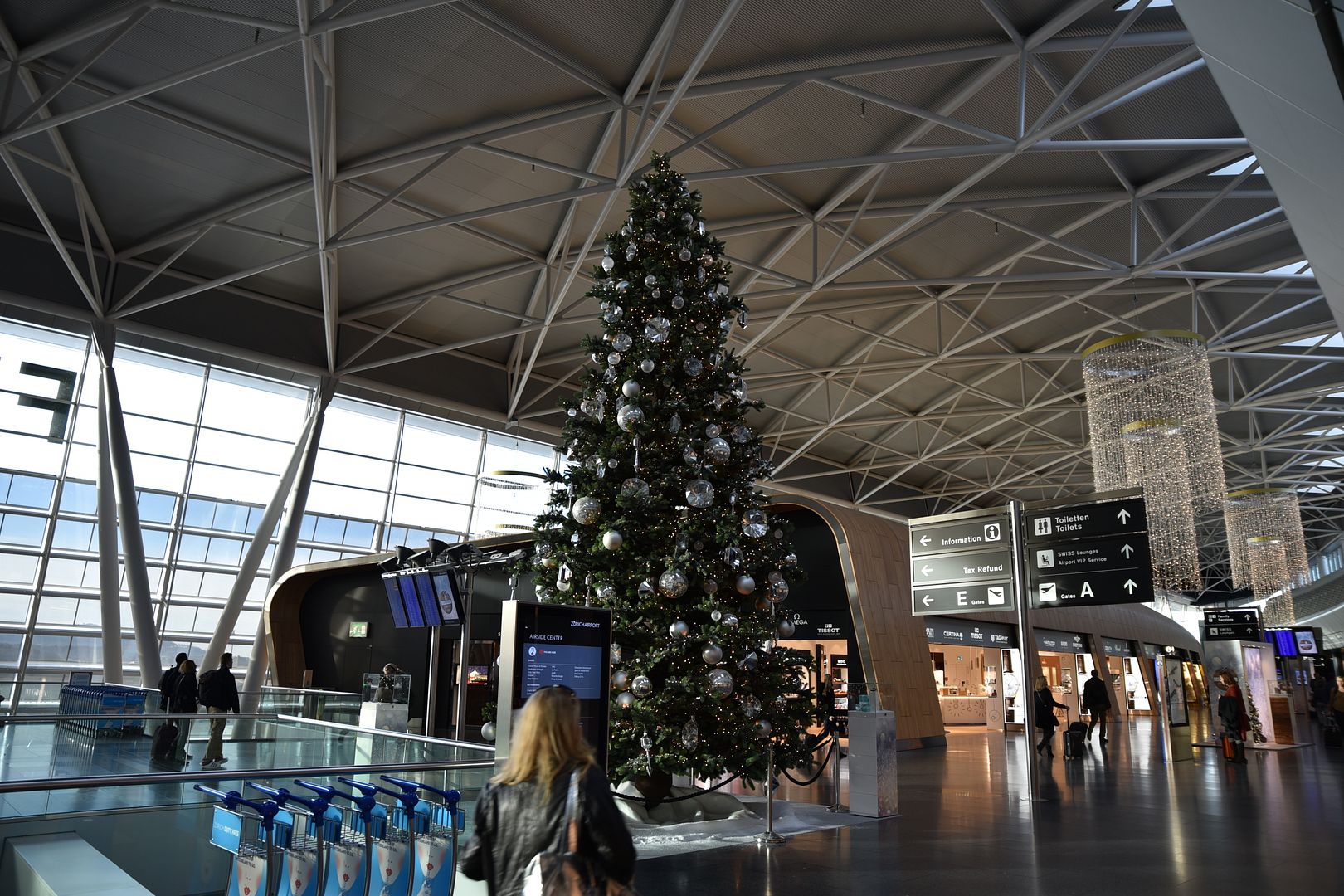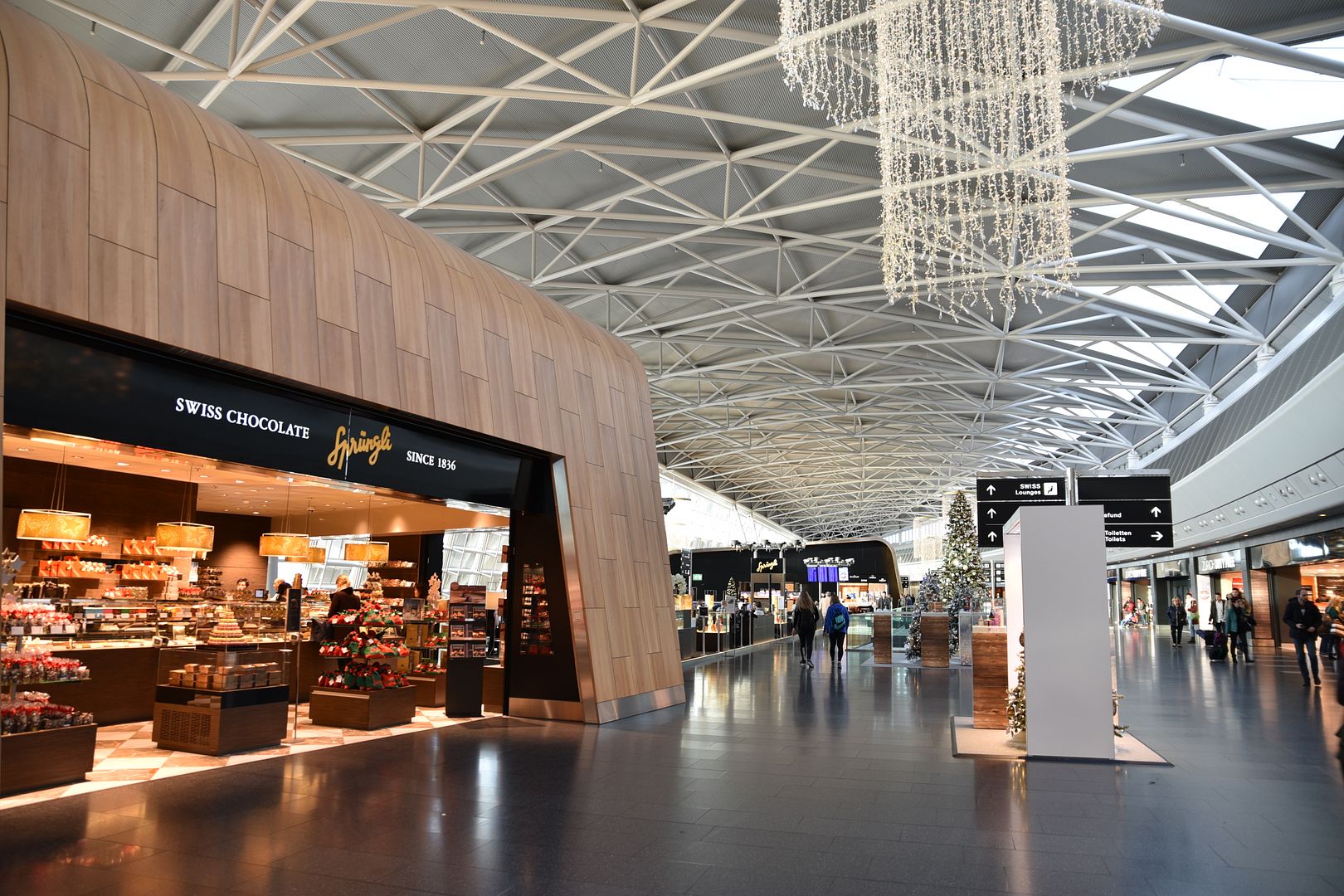 Flights on Time
Security was quick. A quick duty free shopping spree ensued. Bought my customary magnet and luggage sticker.
Tool the sky train to terminal E and headed straight to the lounge. It was 15 45. So we had around 15 to 20 minutes here.
Heading towards Satellite terminal E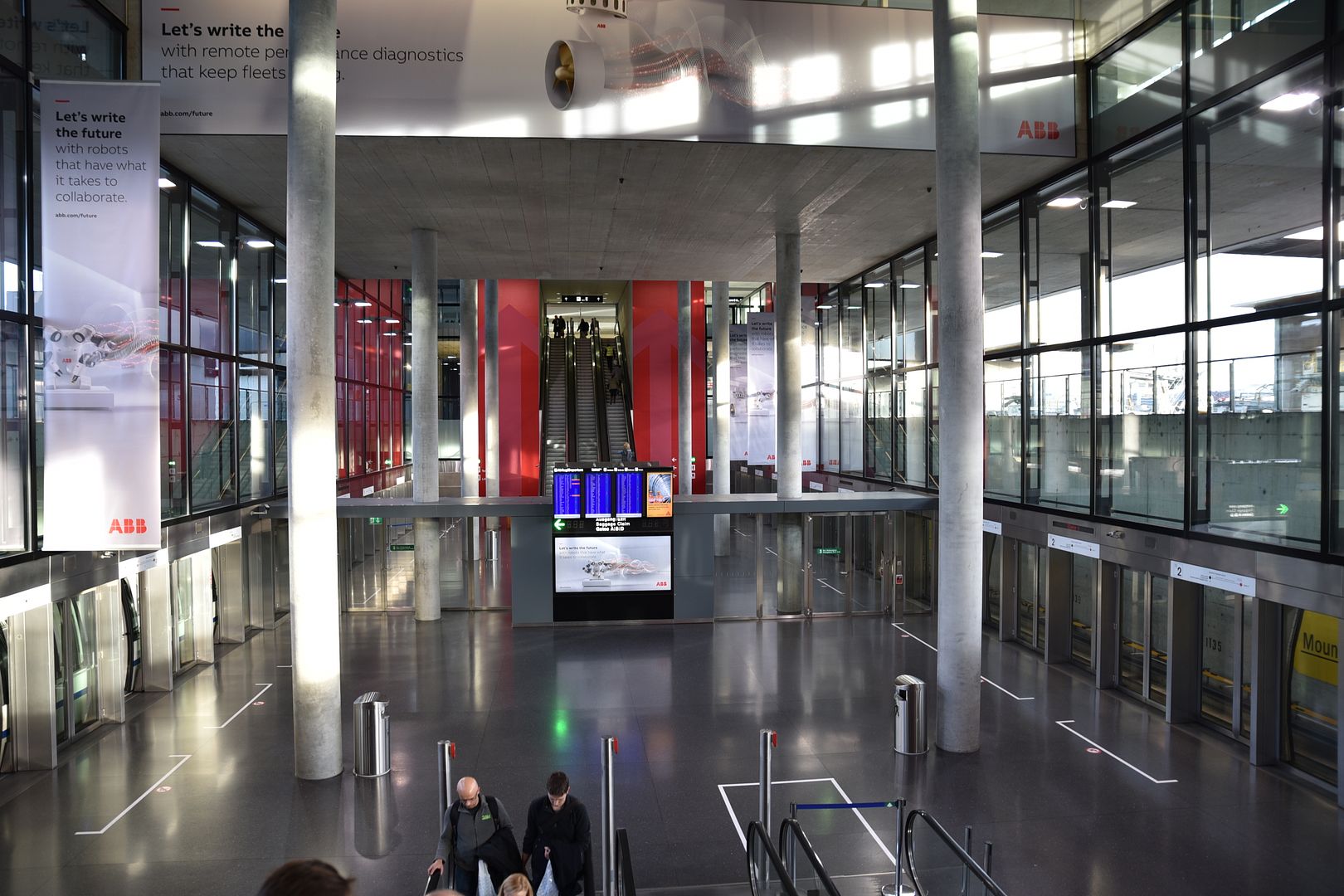 Plane Spotting at ZRH
Qatar Dreamliner
Our ride to LHR - An 8 year old Airbus 320-200 (G-EUUW)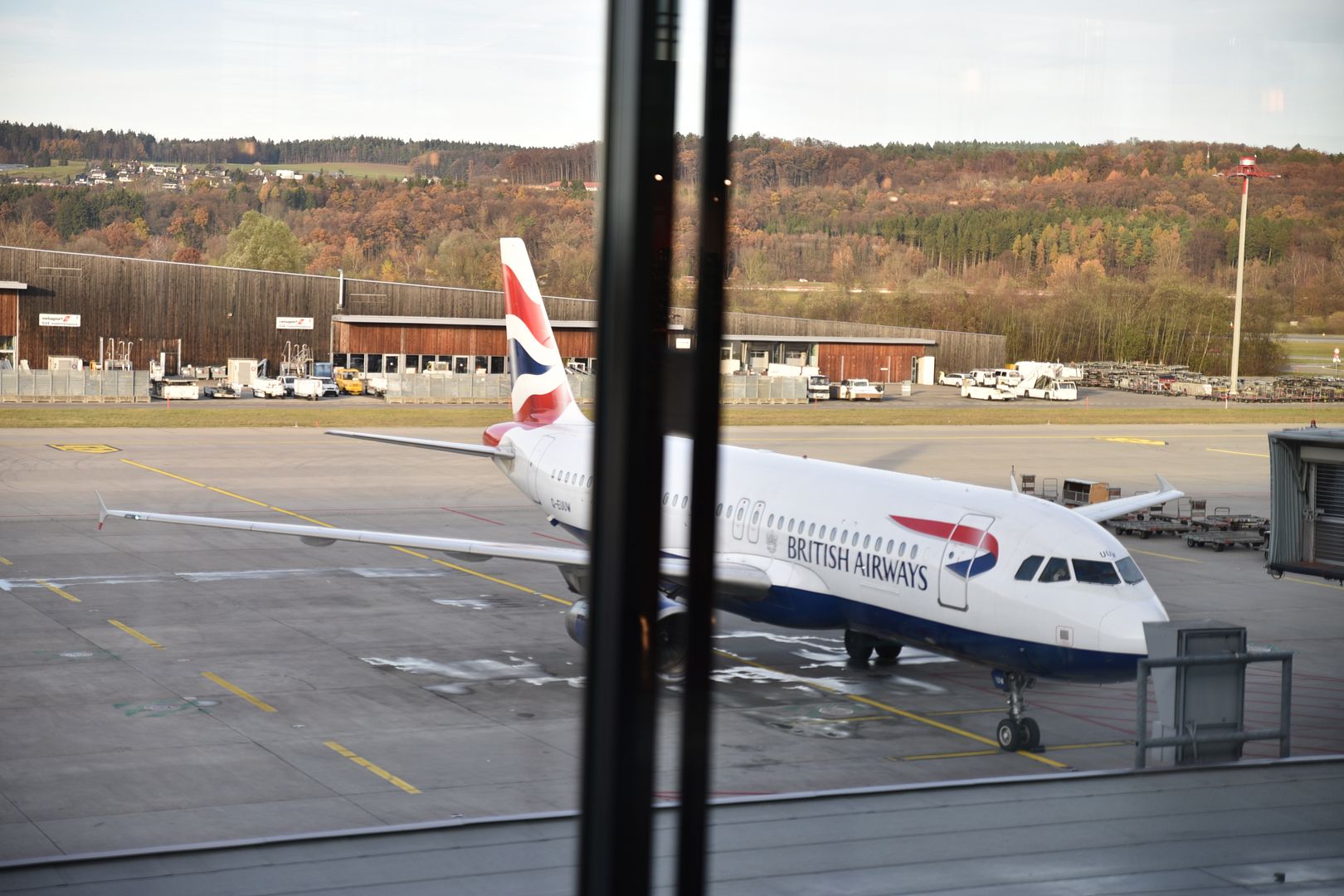 Etihad Air Berlin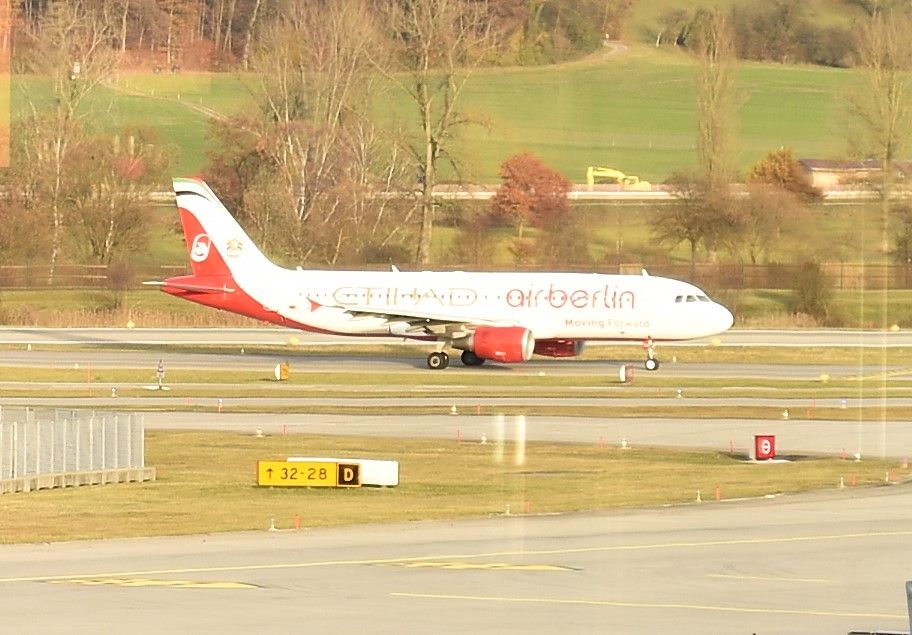 Heading to the Aspire lounge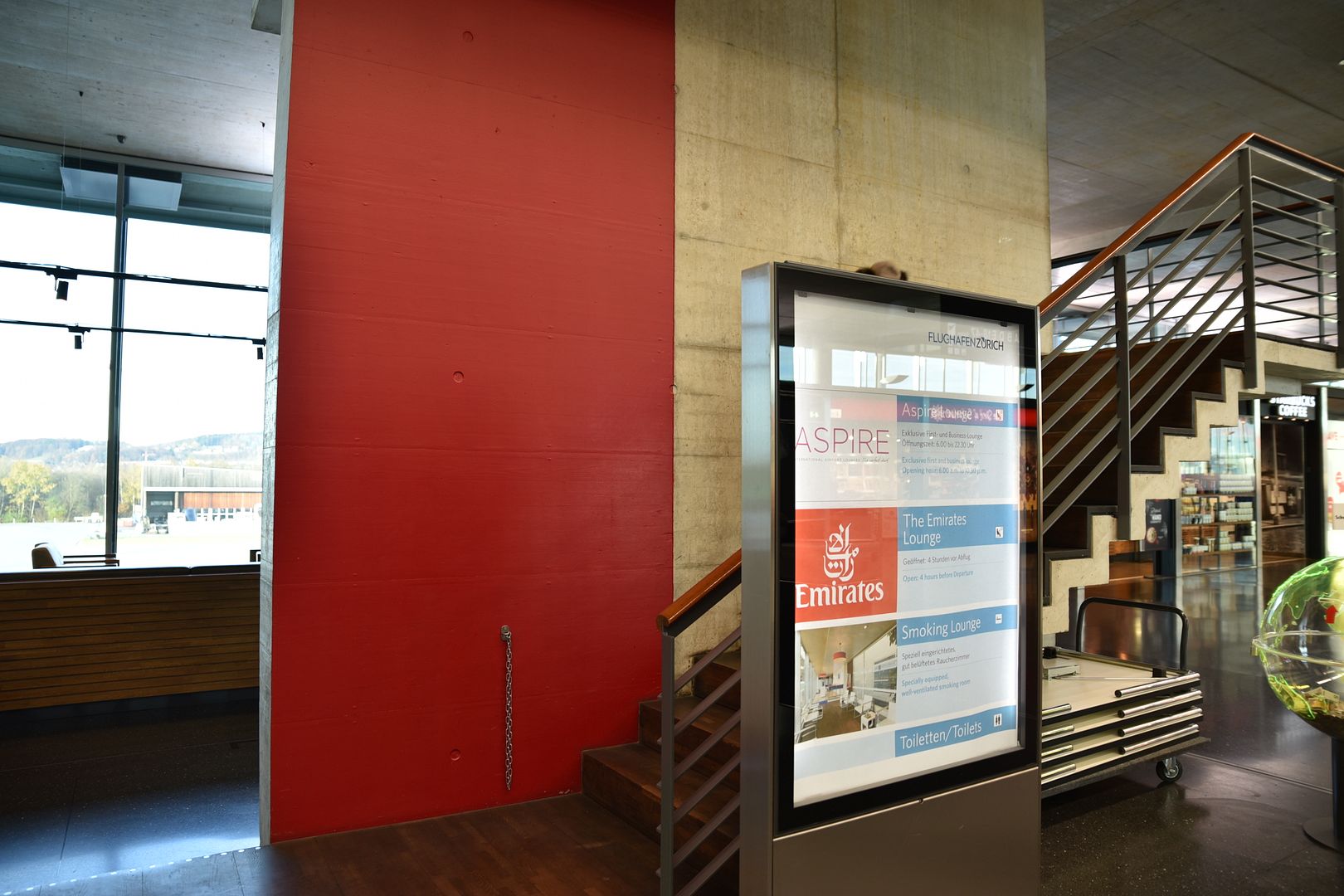 The aspire lounge in terminal E is brilliant. Mainly for its awesome views of the activity down below. Love the open air balcony. Got some decent activity below and tried to capture it the best I could. Food and beverage was adequate. Their sausages were very good and had a south African pinot to quench my thirst. A very satisfactory 20 minutes would've liked to spend some more time here.
Aspire Lounge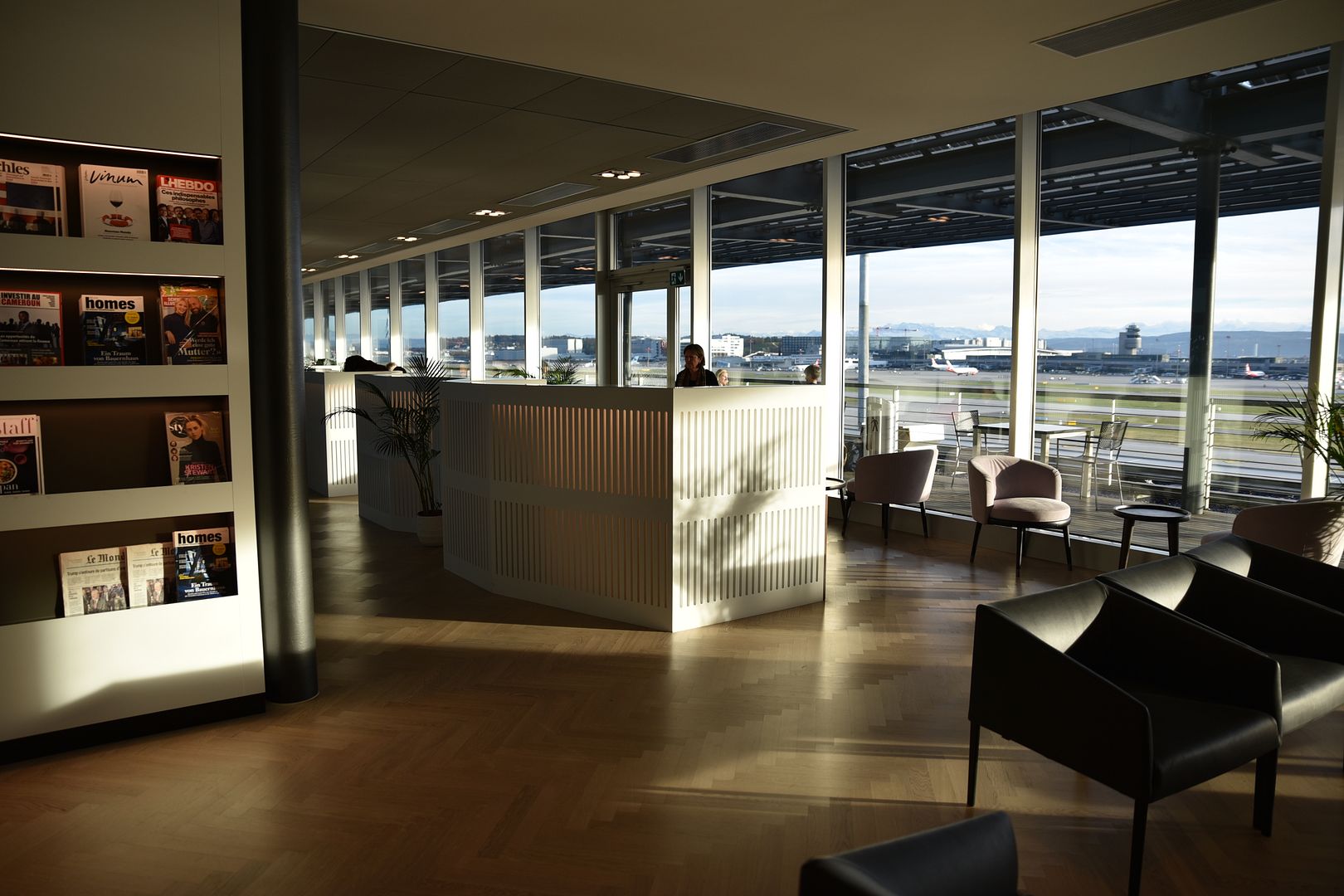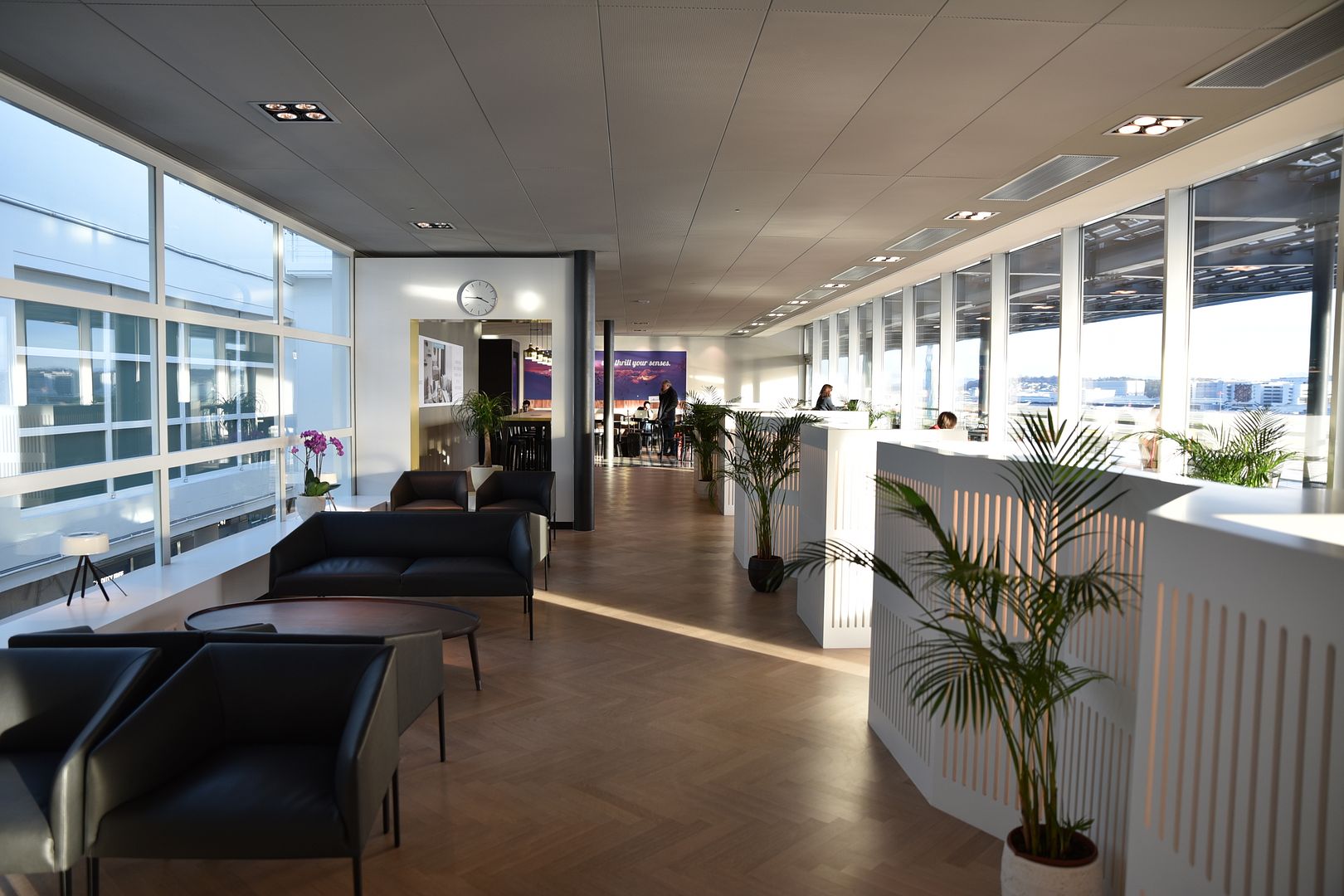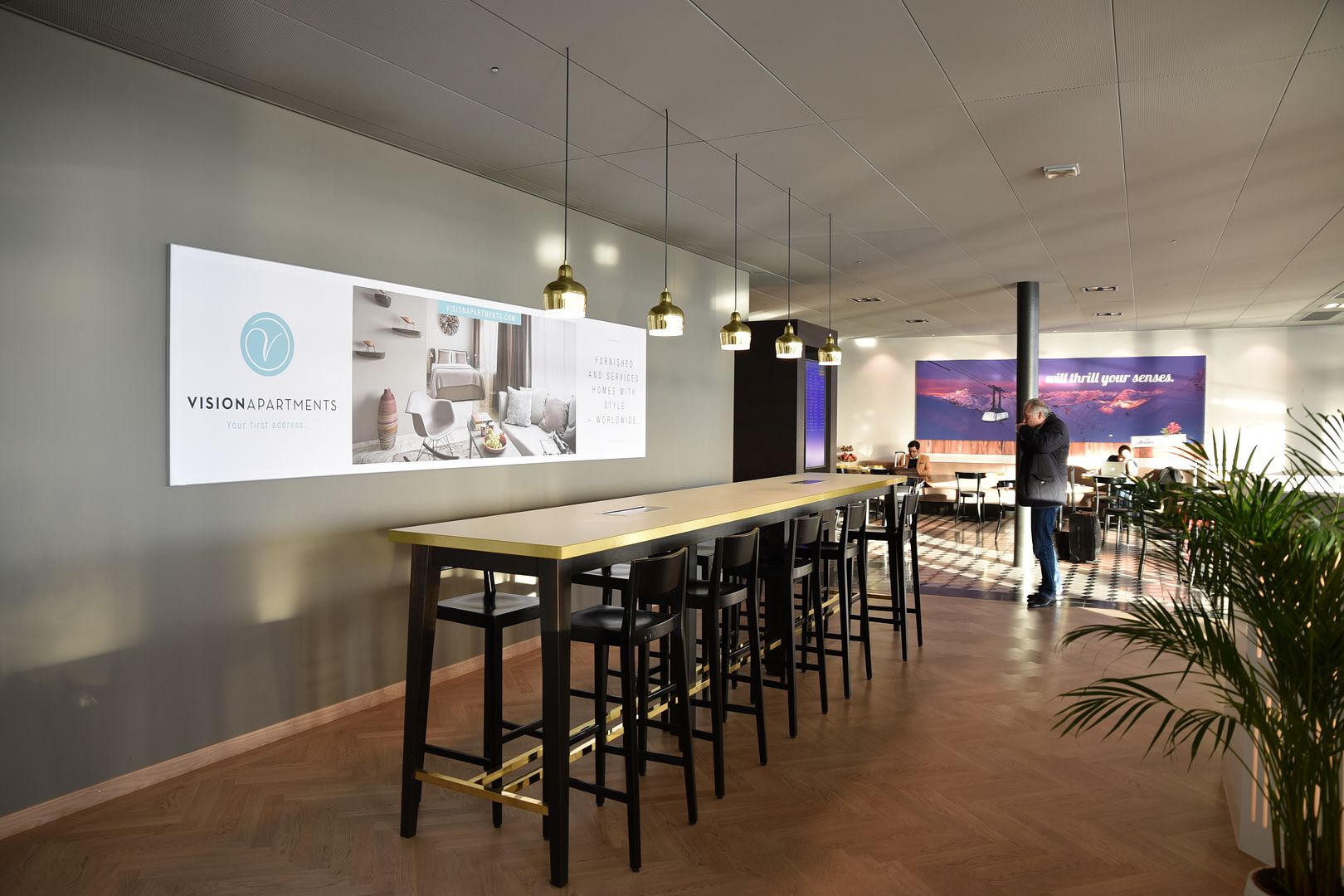 Pre-snack before the flight
Another chance for great Plane spotting from the lounge Balcony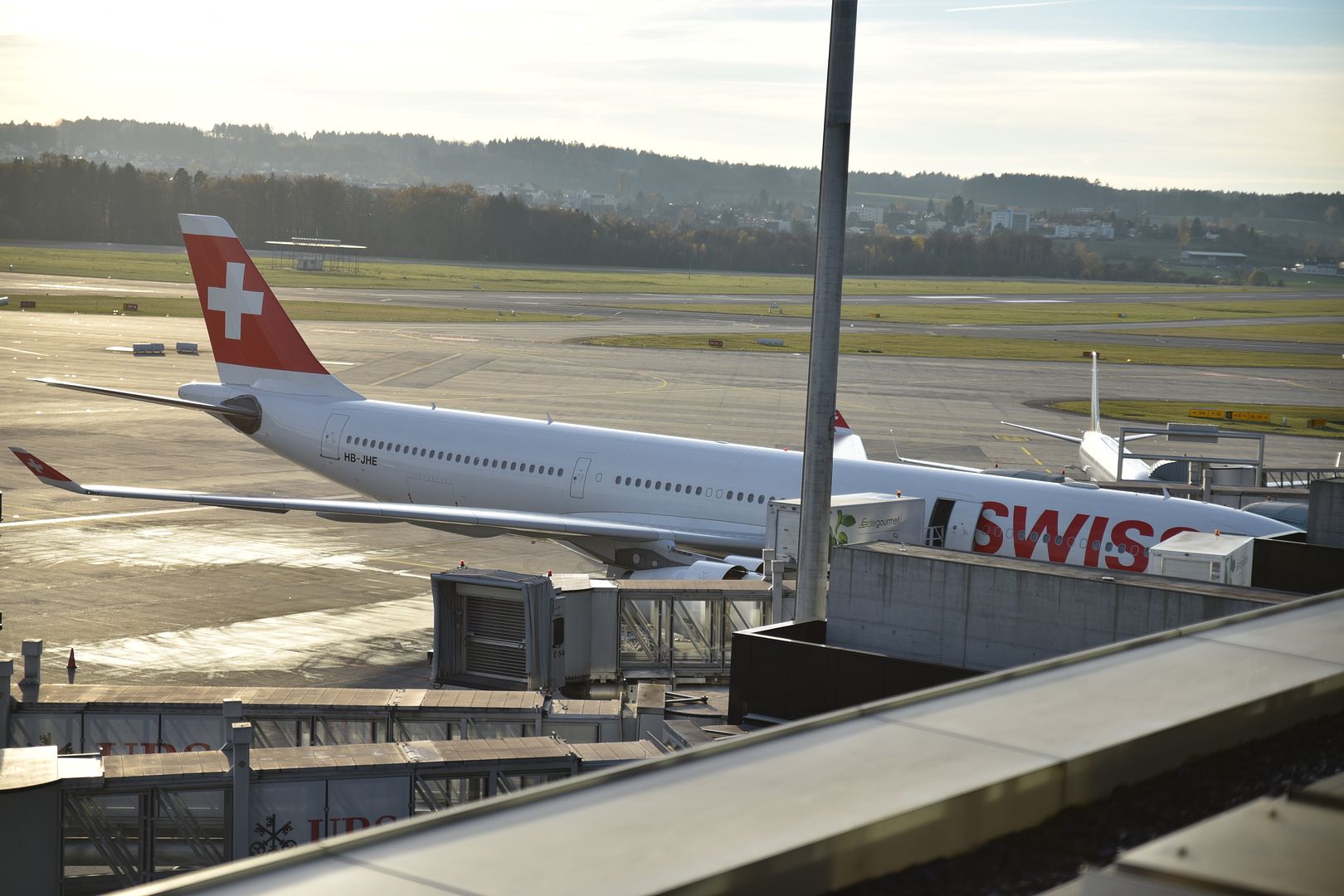 Gorgeous!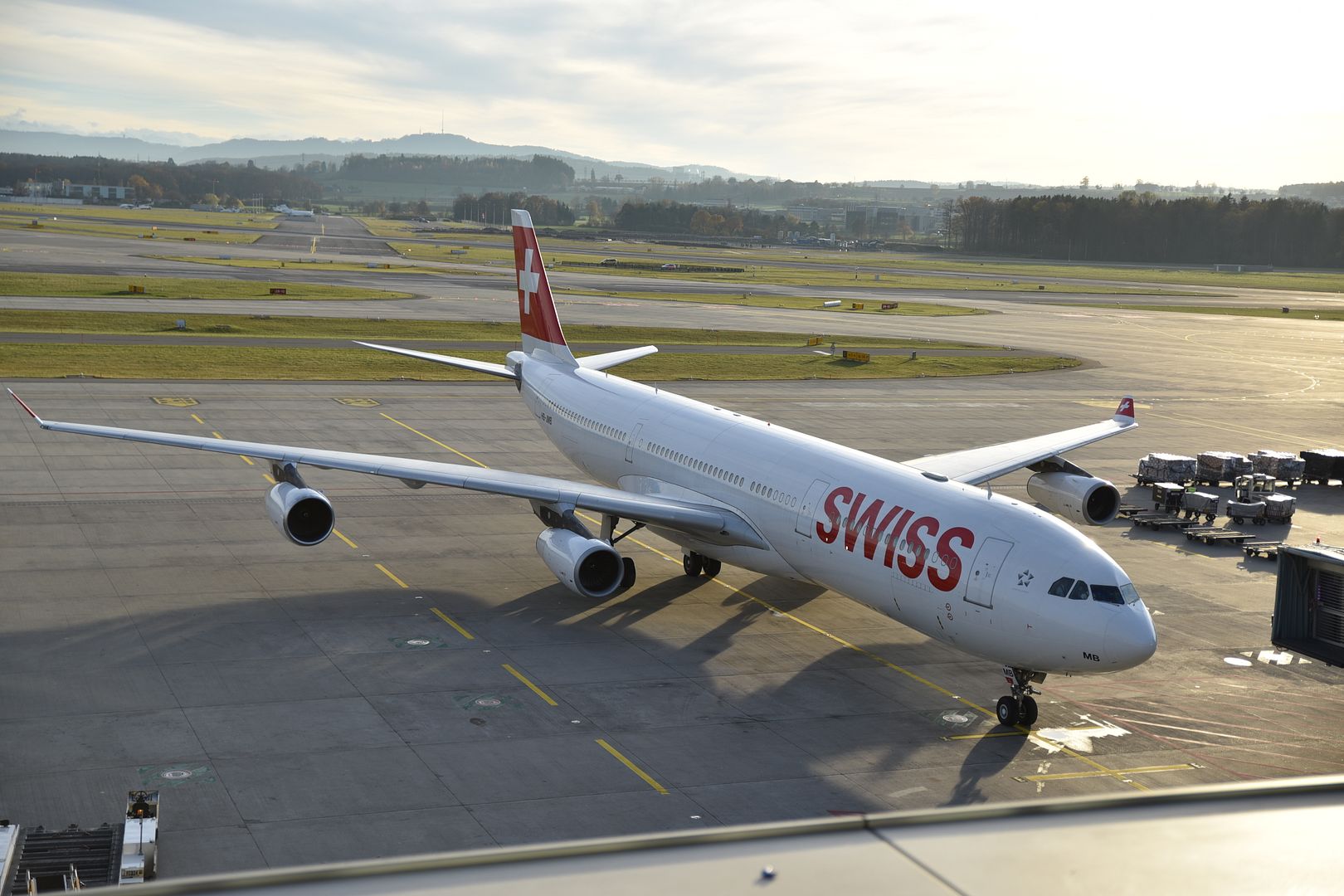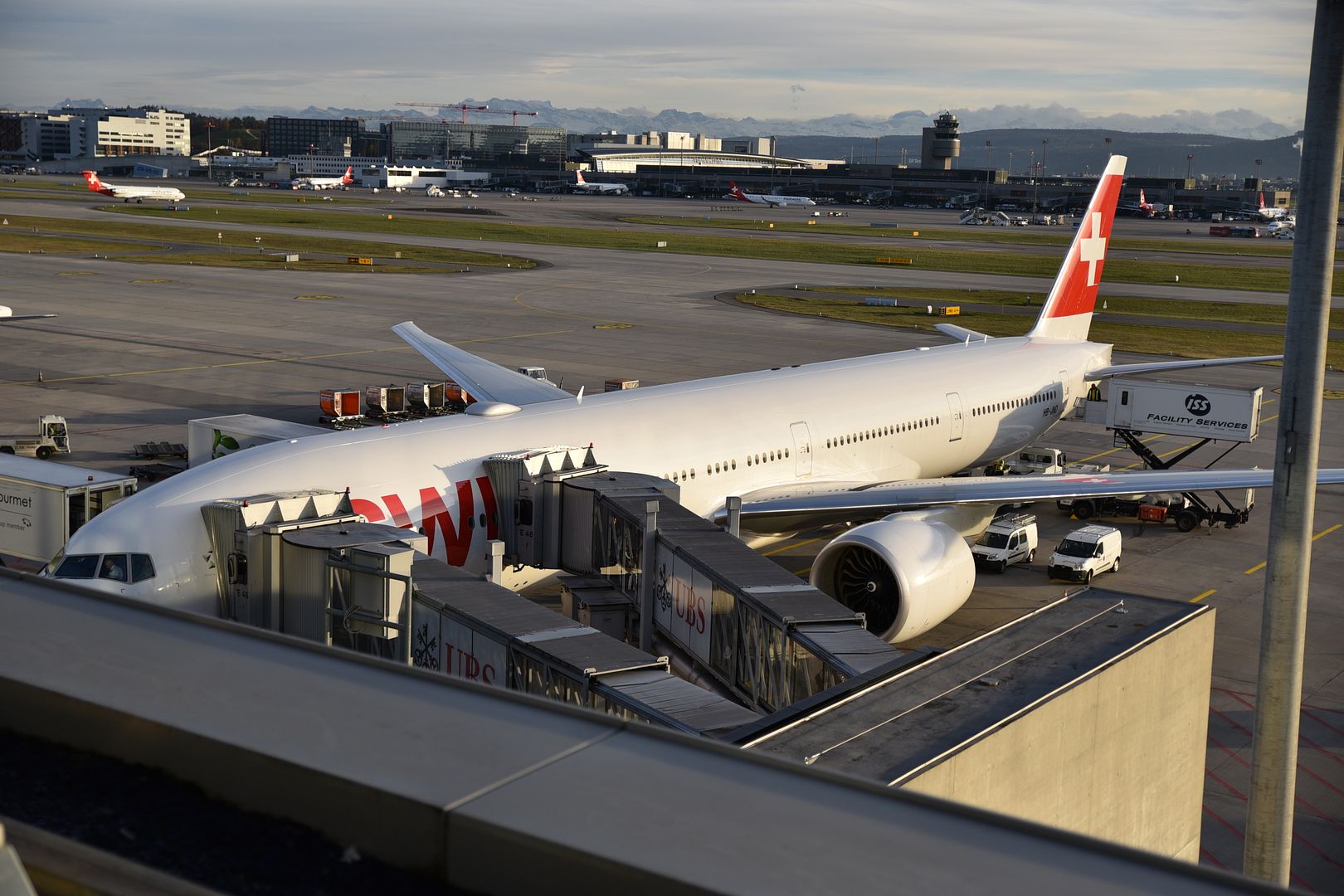 Boarding began to 1600 and complete by 1625. We were slightly delayed to reach the gate and hence had to stand at the back of the line. We missed the initial club Europe boarding. Boarding was a bit slow.
Time to board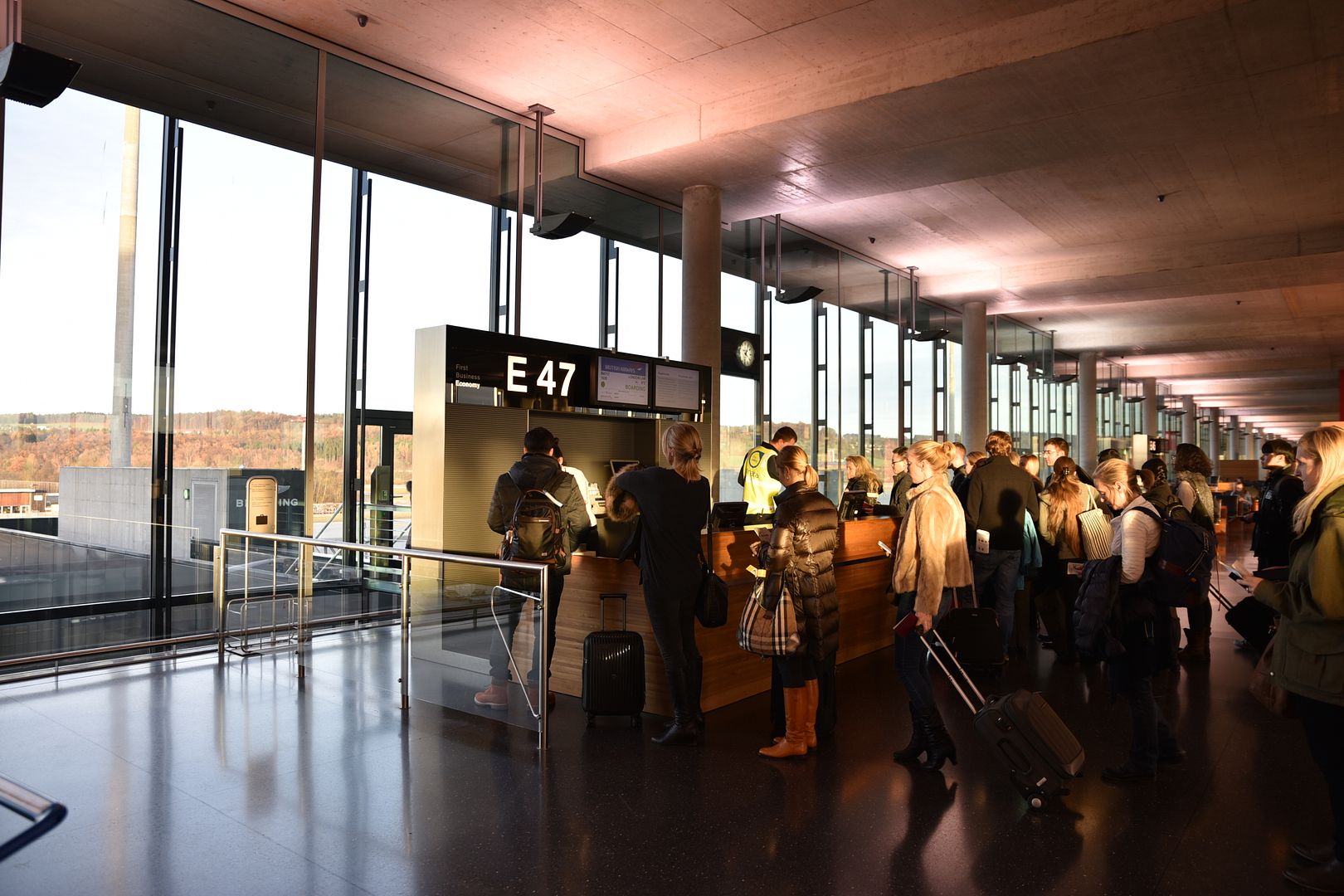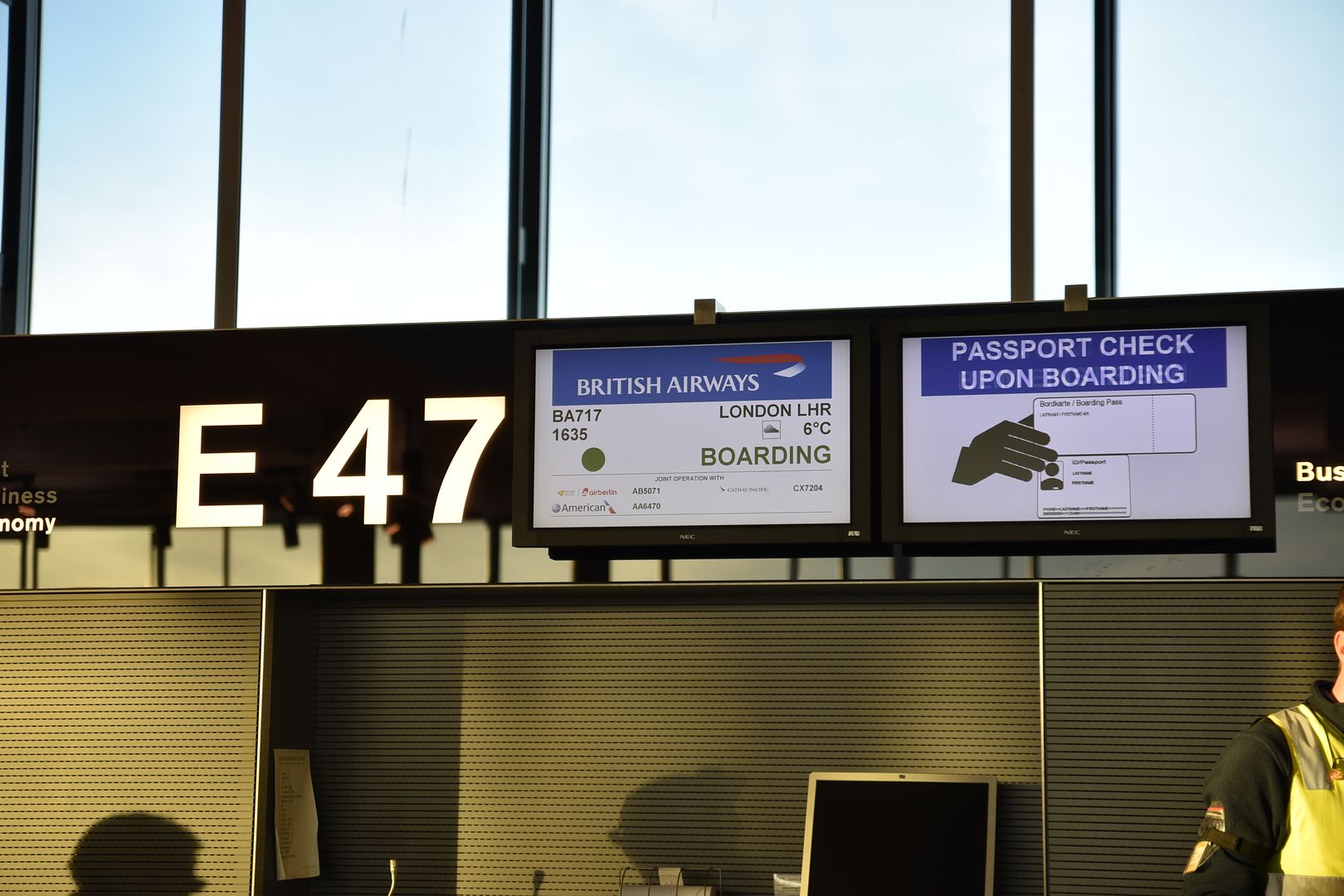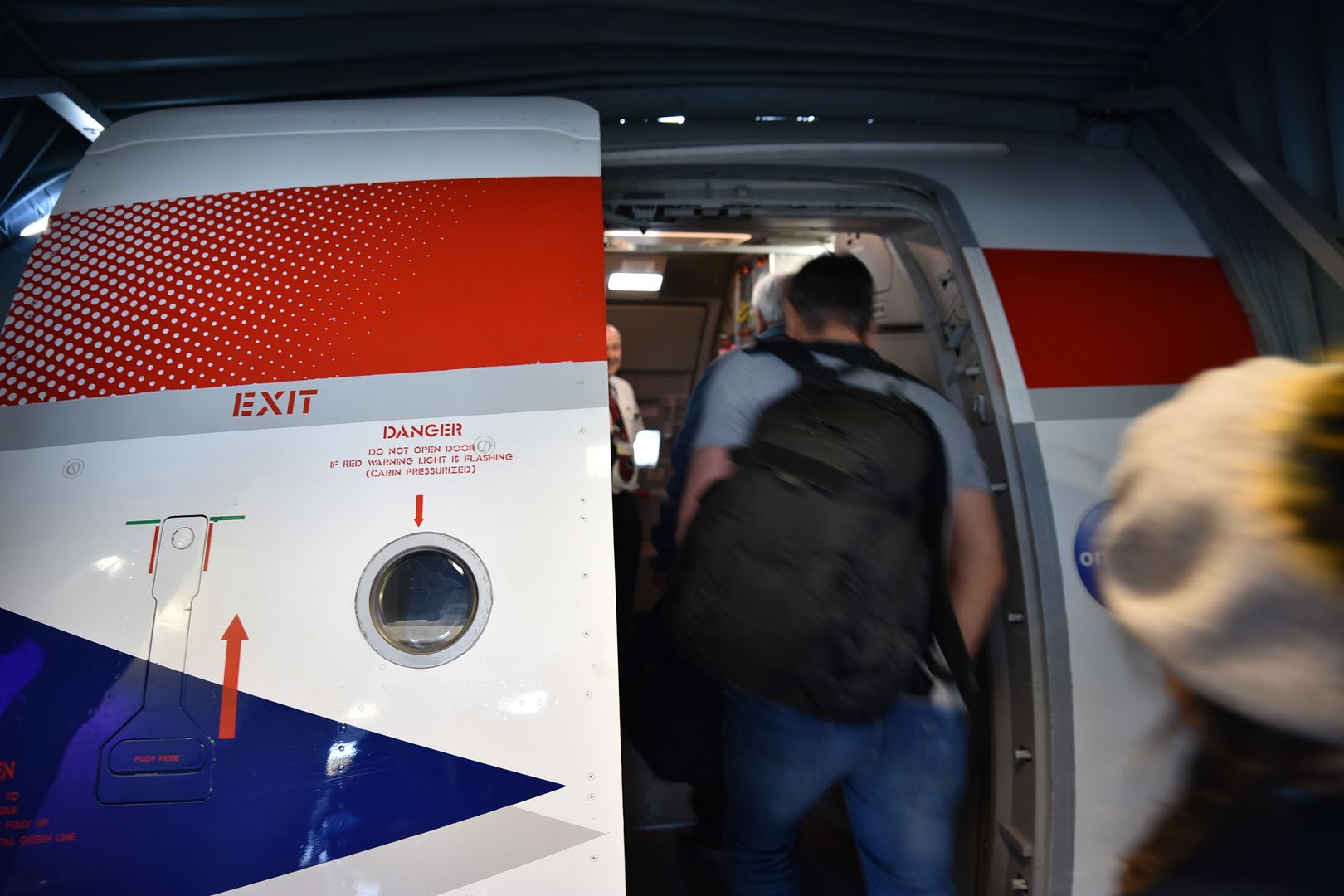 First impressions of the aircraft. Usual BA affair. Spotlessly clean and cabin looked fresh. Warm and cheery welcome by the cabin crew.
On board BA A320 in Club Europe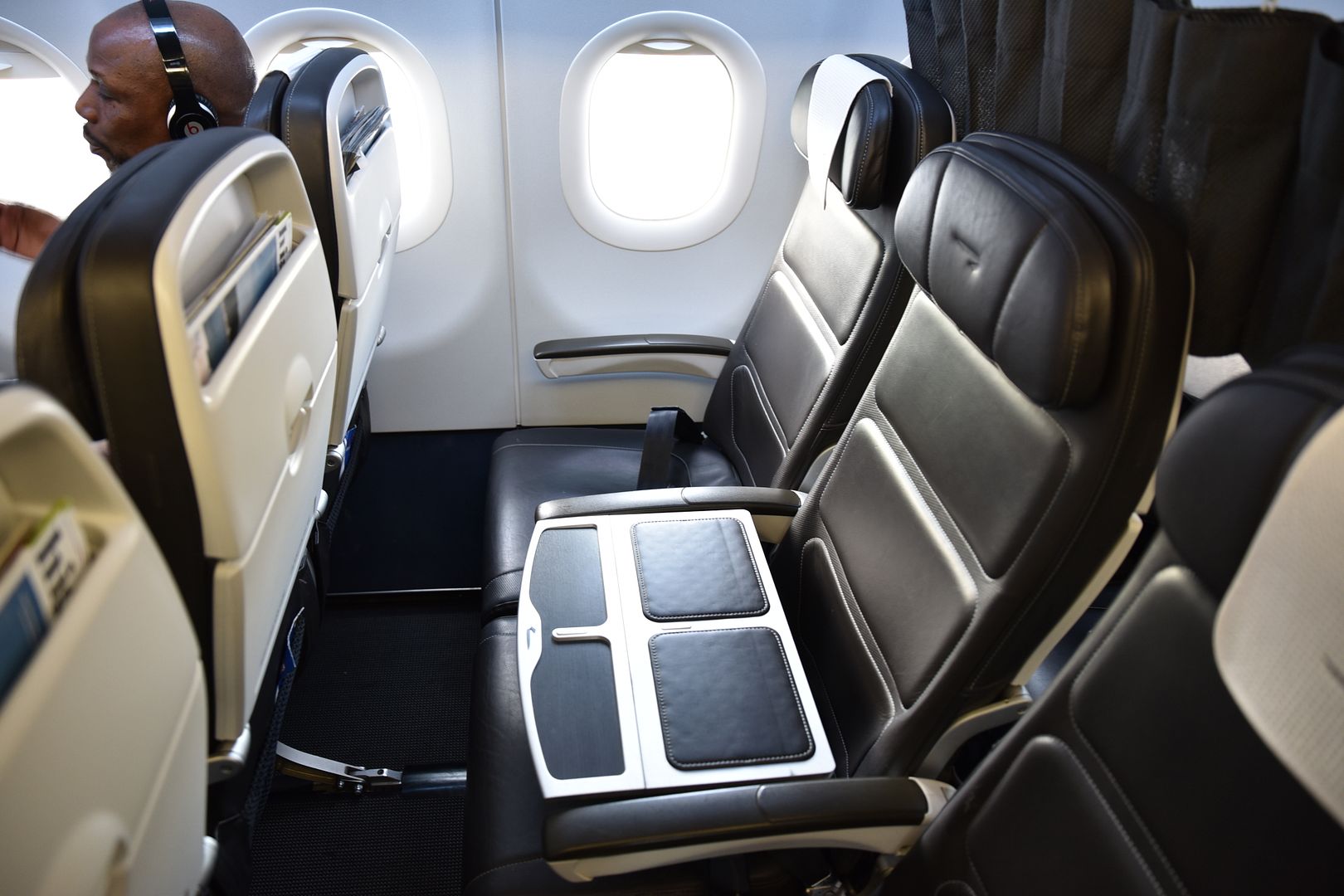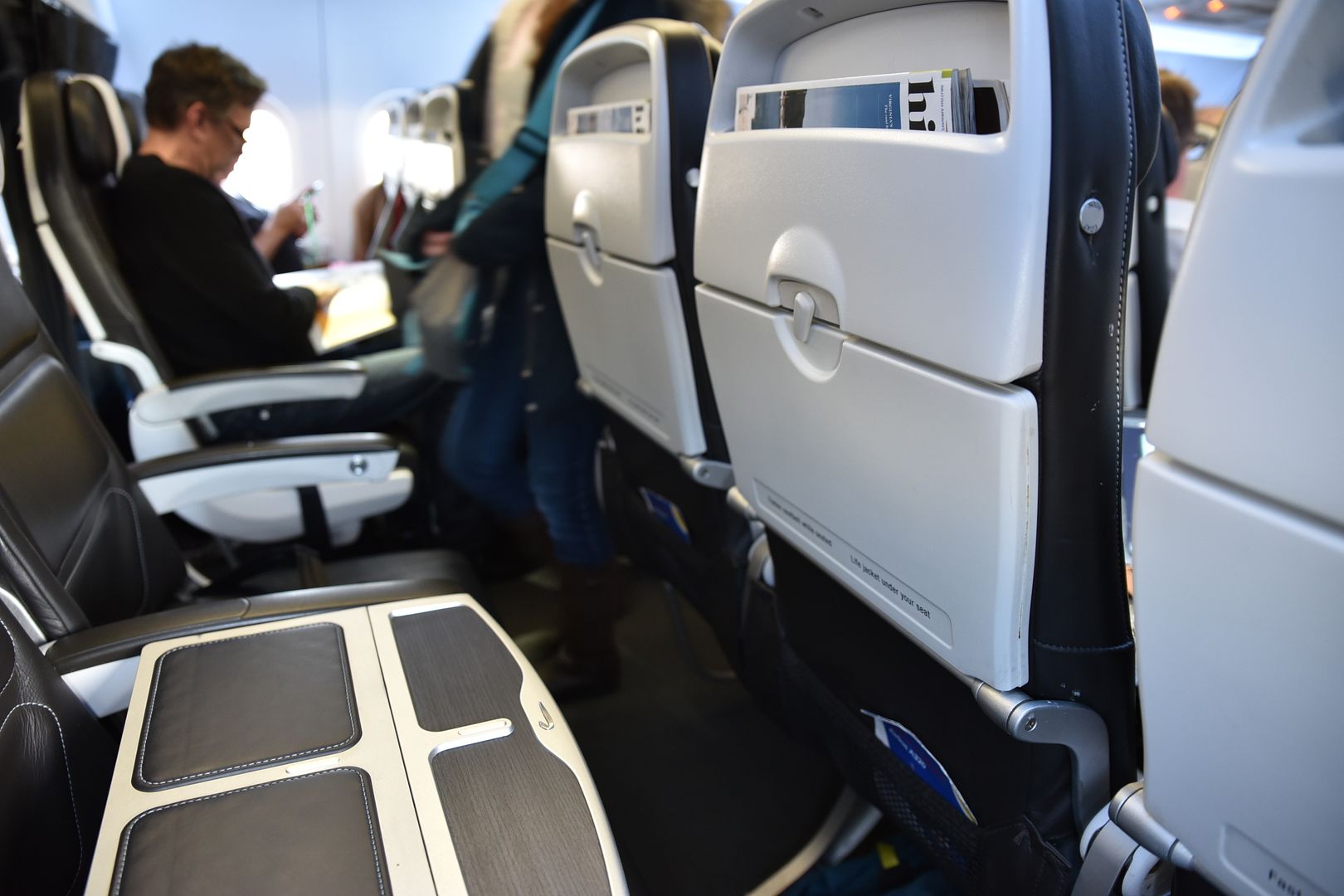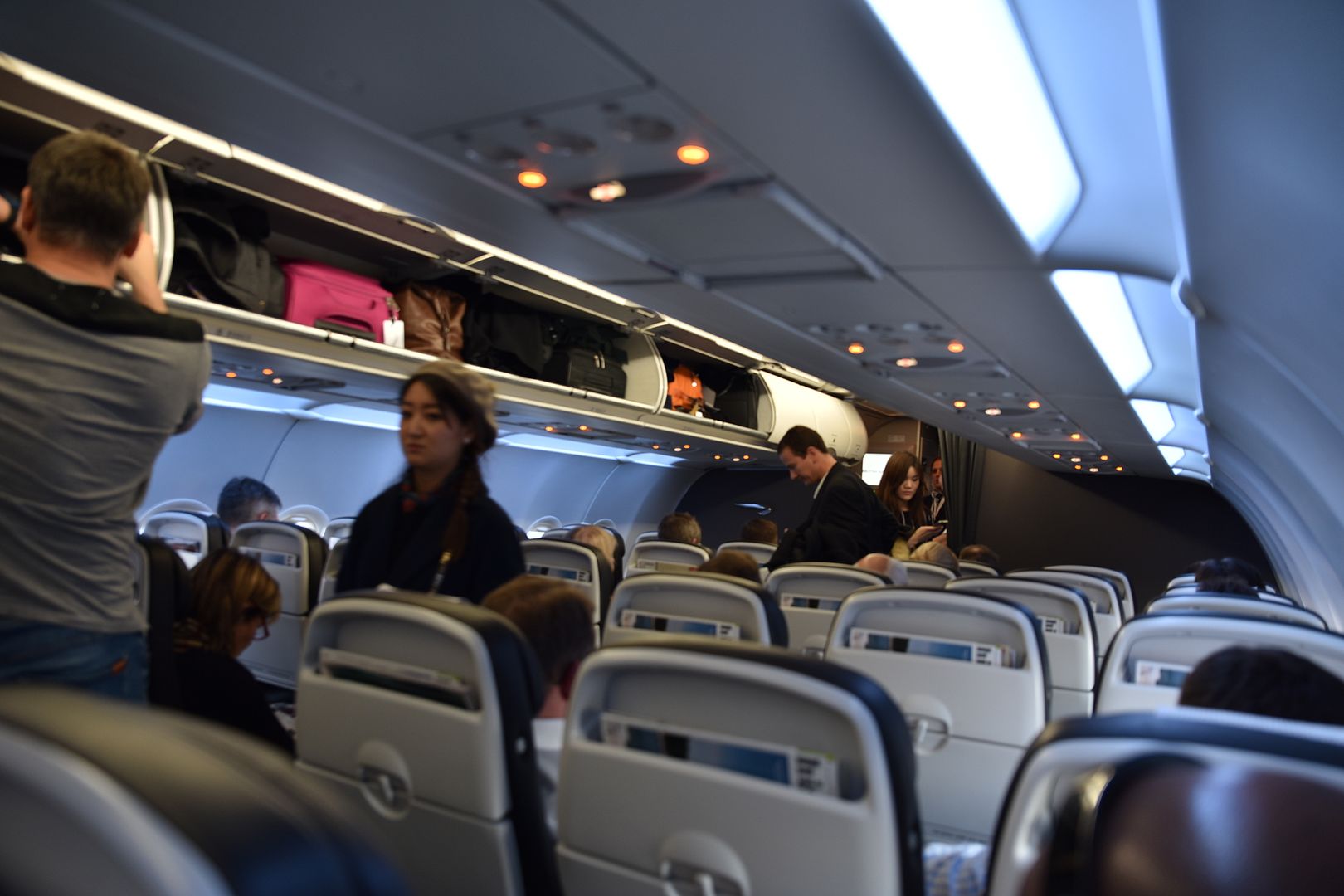 Neighbours at ZRH
Disembarked the gates at 1630. Airborne by 1638.
Taxiing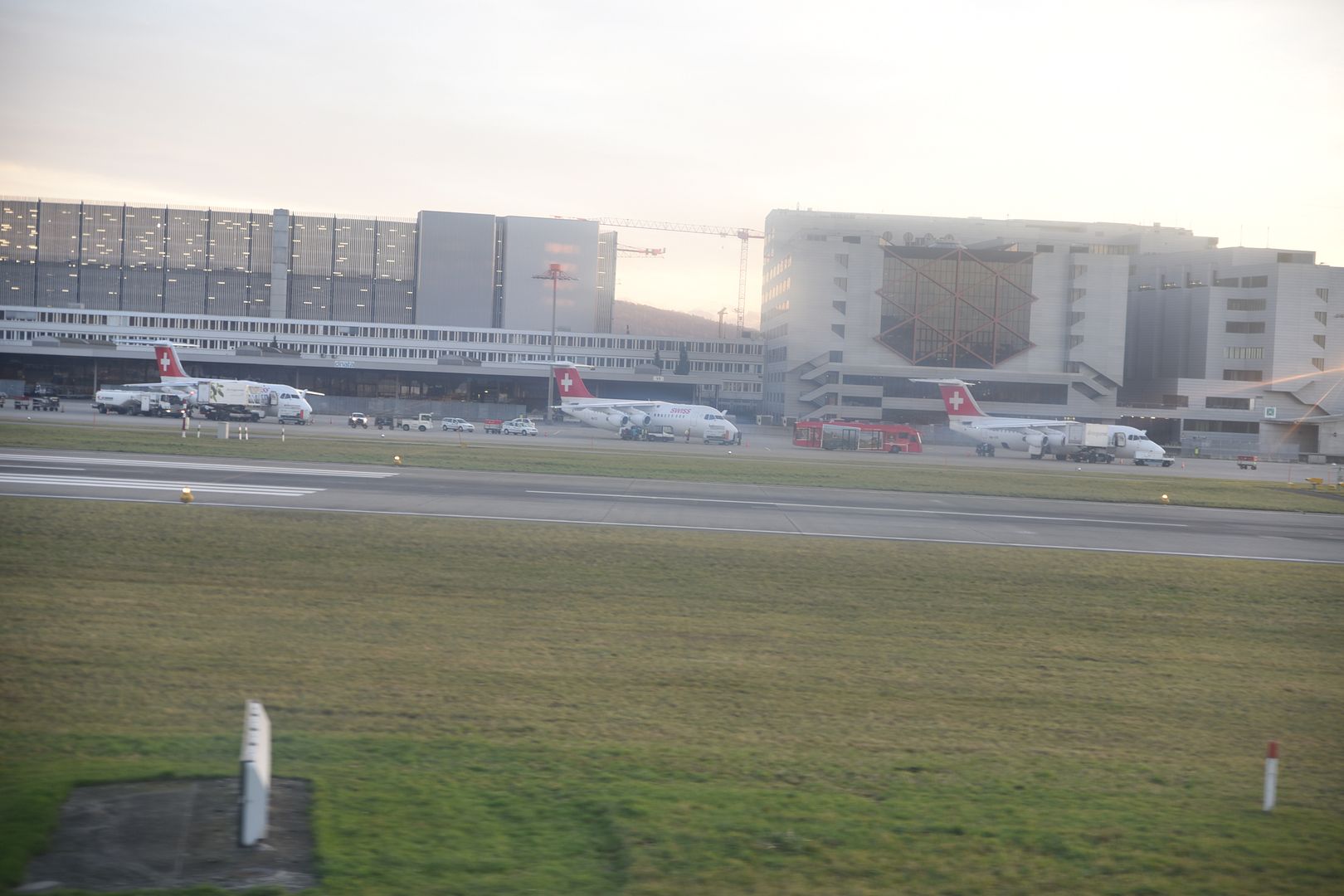 As always excellent announcements from the flight deck. A flight time of an hour and 20 minutes announced which meant that, along with the early departure we would be at Heathrow way before the scheduled arrival of 1725. Looks like good news. Flight path announced to be turbulent free and smooth.
En-route to LHR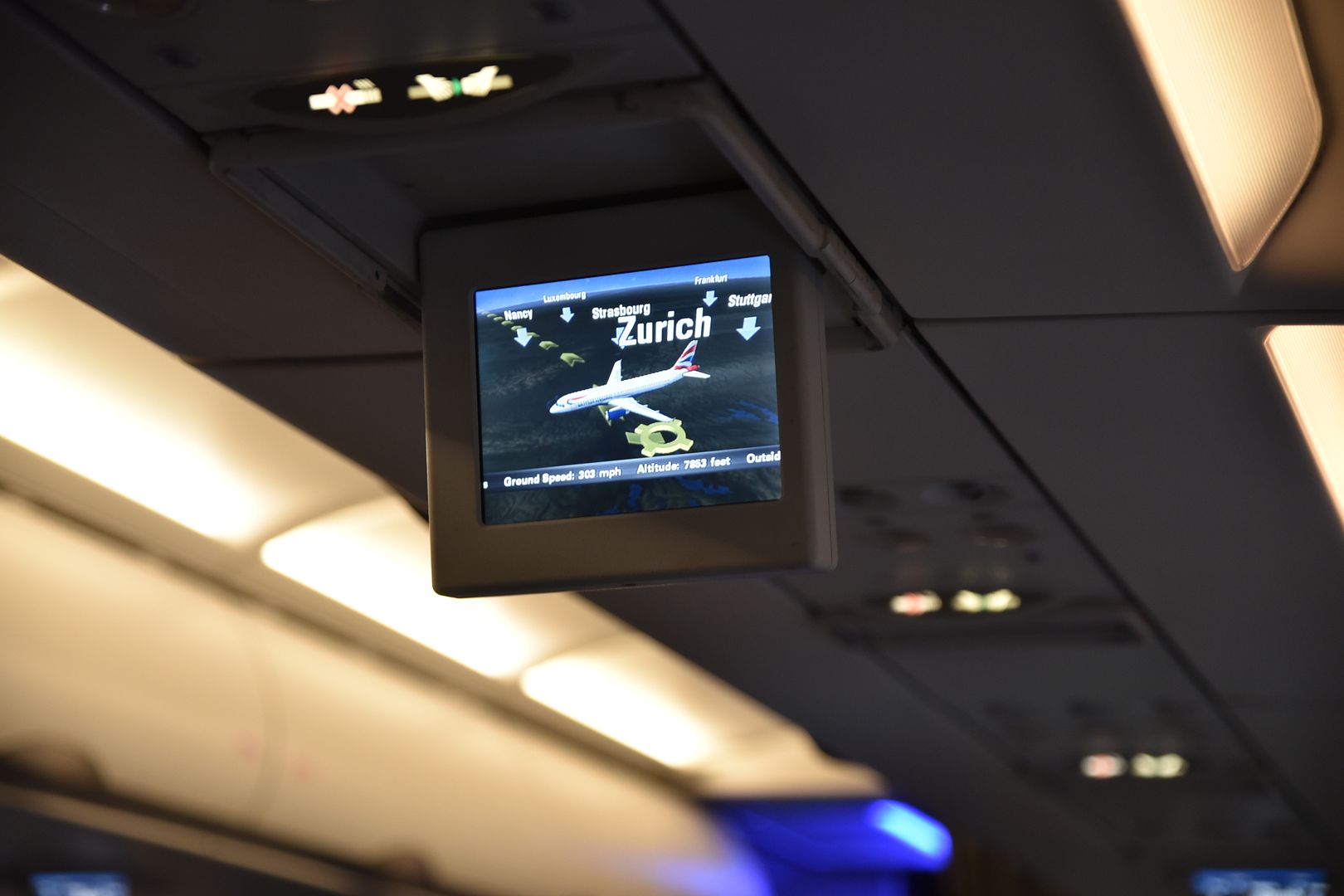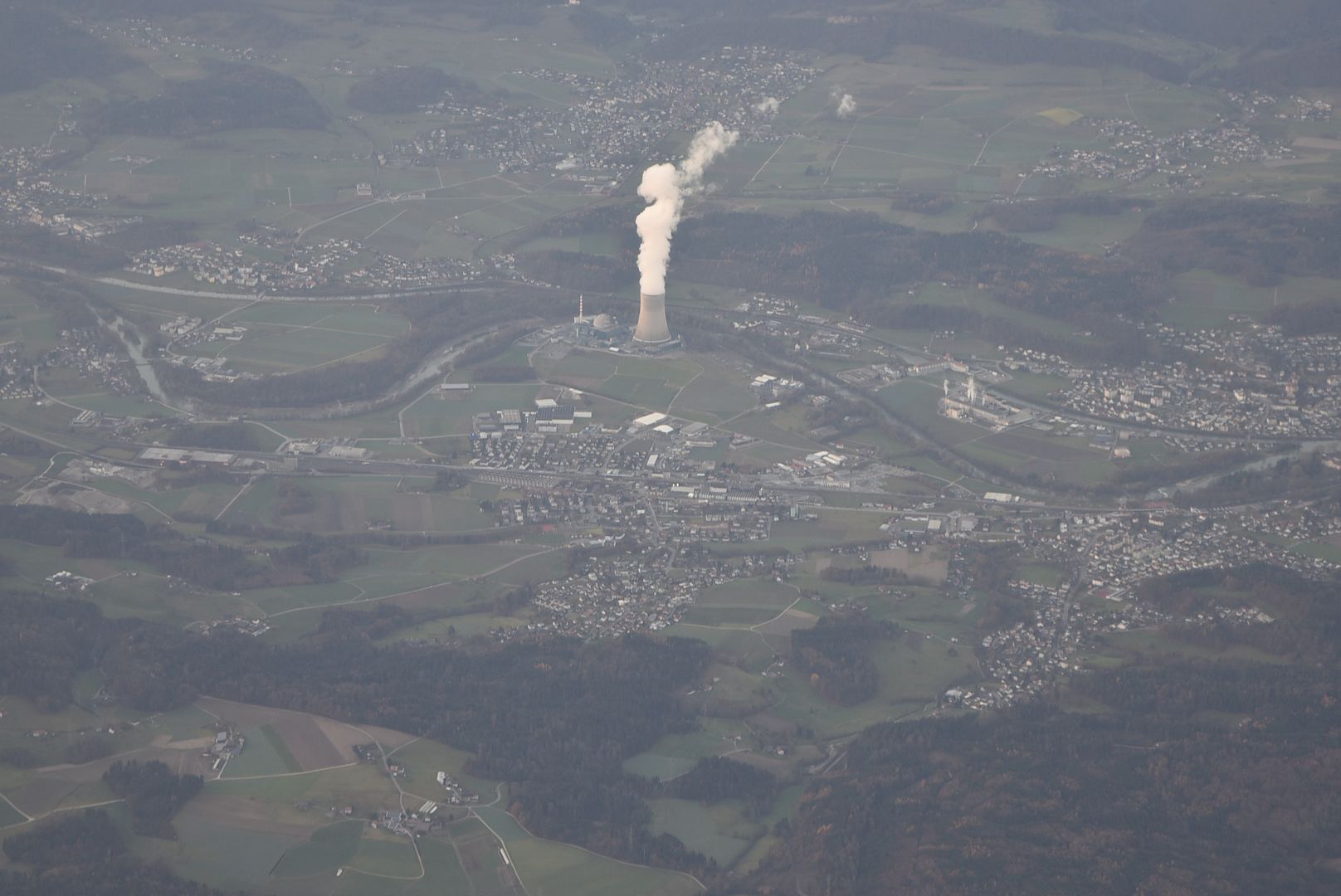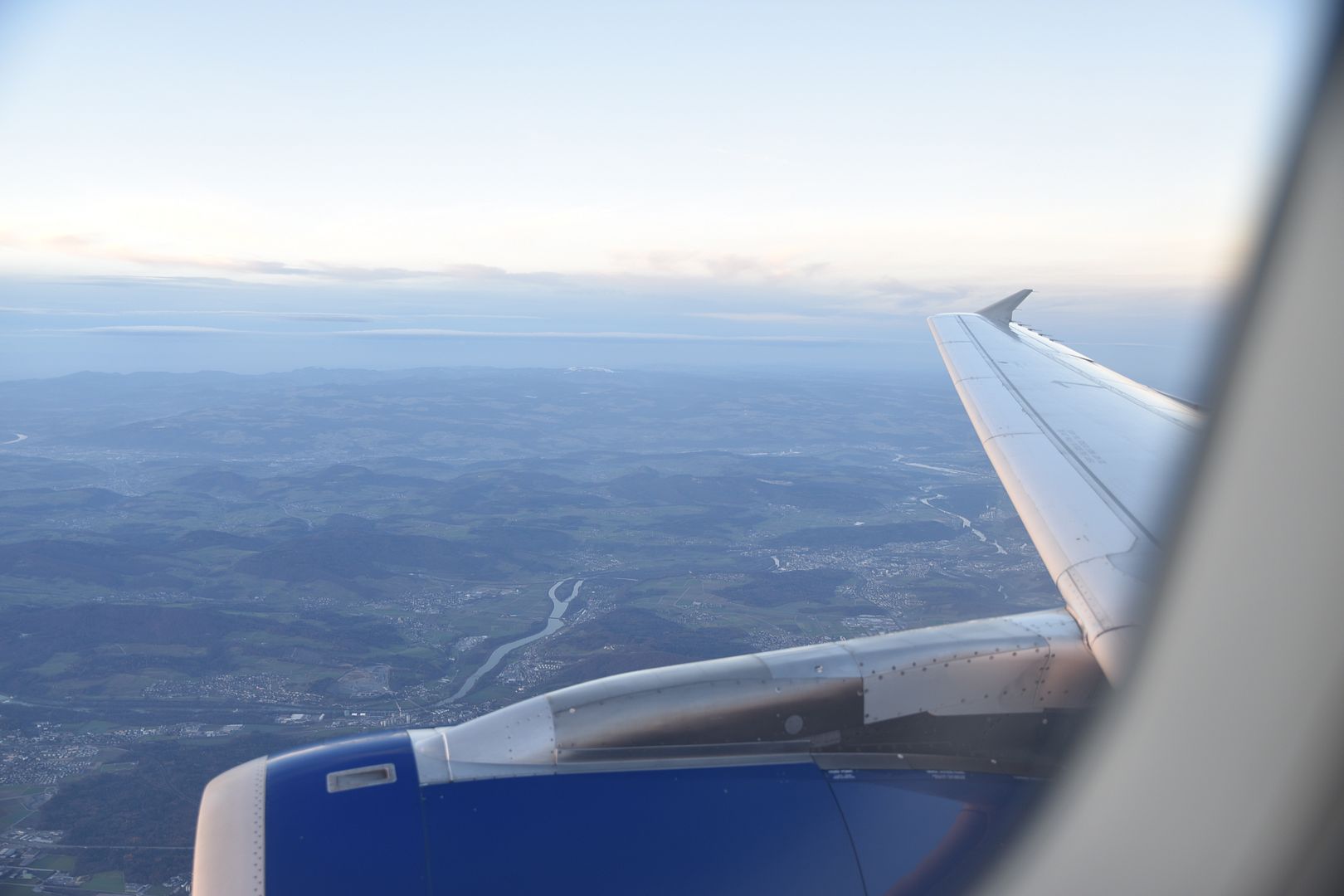 We were served afternoon tea on this flight. It was fabulous, especially the warm scones. I have been on a fairly strict low carb diet but the scones too precedence over my diet.
The crew were exceptional on this flight. Courteous and smiling all the time.
Afternoon Tea on board - Lovely Scones!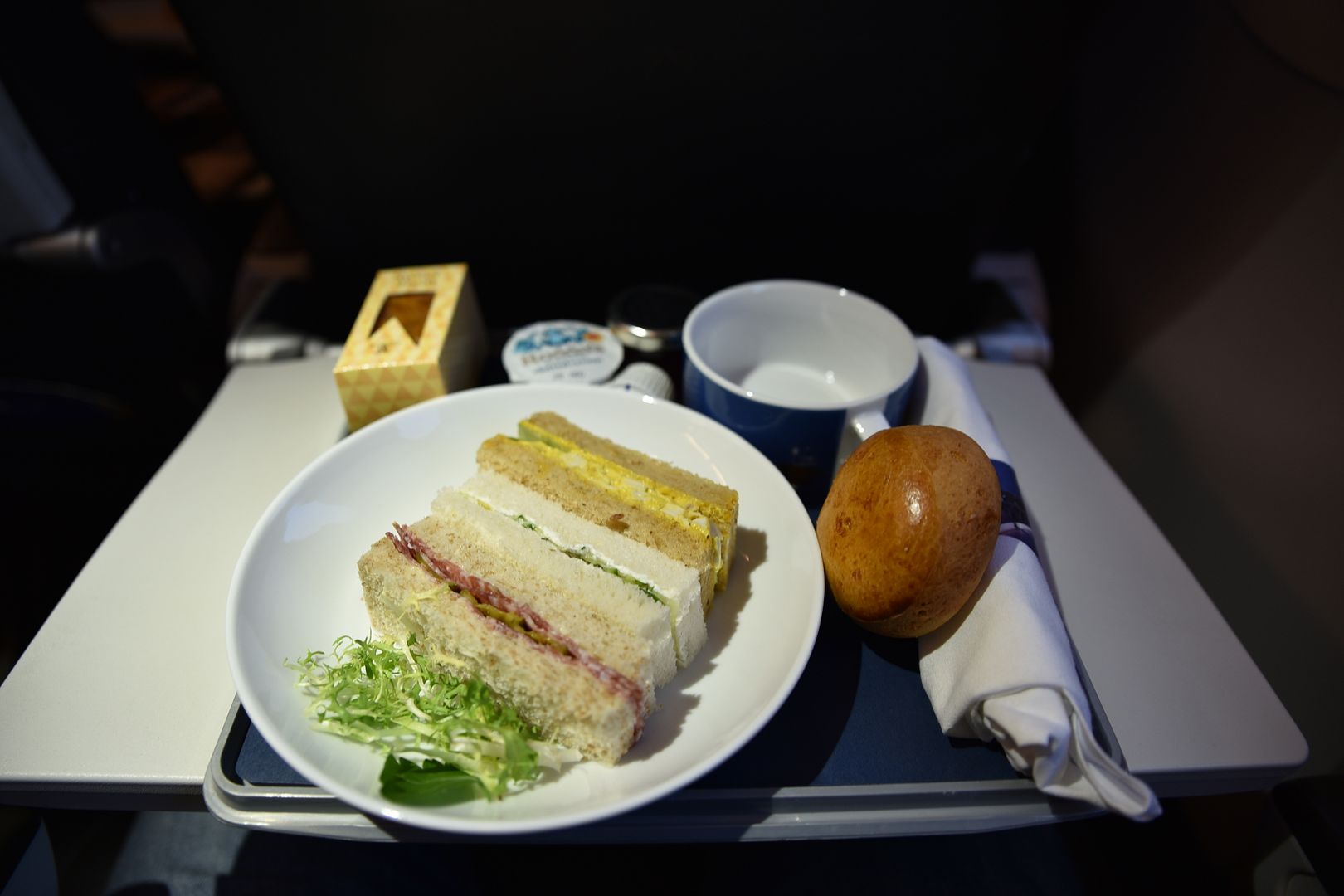 Wine to cleanse the pallet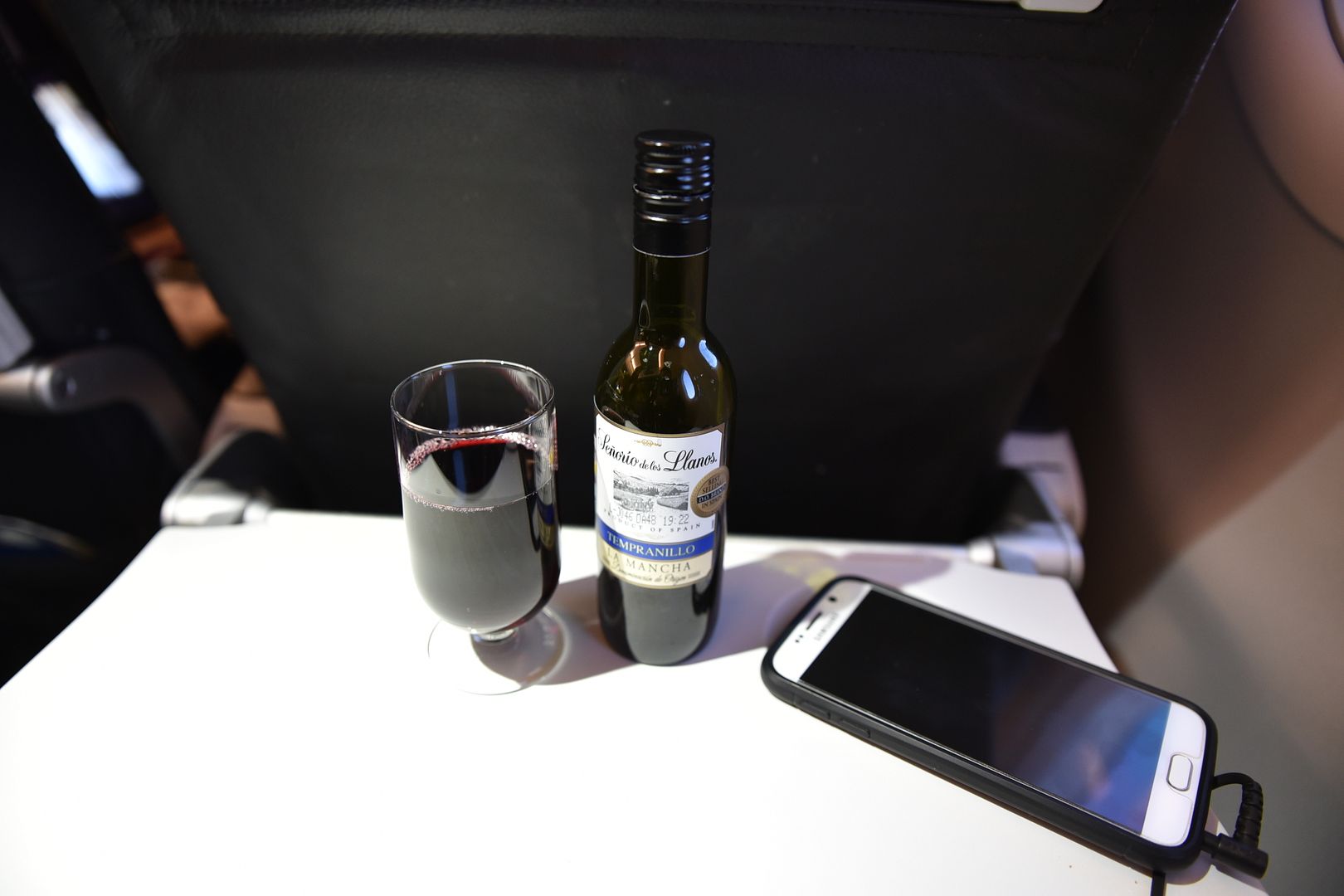 Soon after the afternoon tea tray was cleared we began our descent. Landed 30 minutes ahead of schedule. Good on BA for an early flight.
Immigration was super quick. Although Bags took a while to arrive and they were not prioritized. A lot of non-priority bags before our bags arrived. It was all mixed.
Disembarking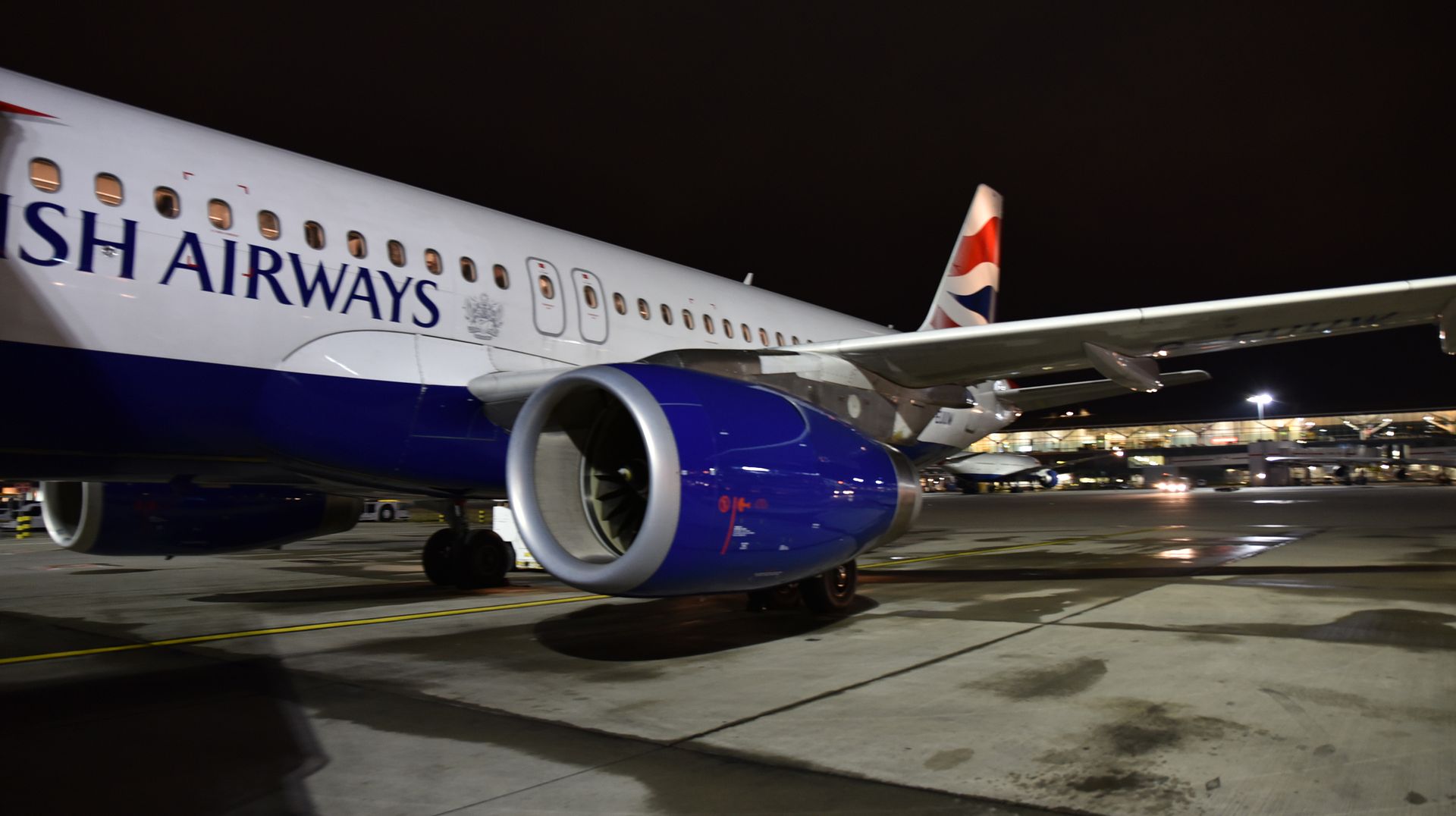 Back Home!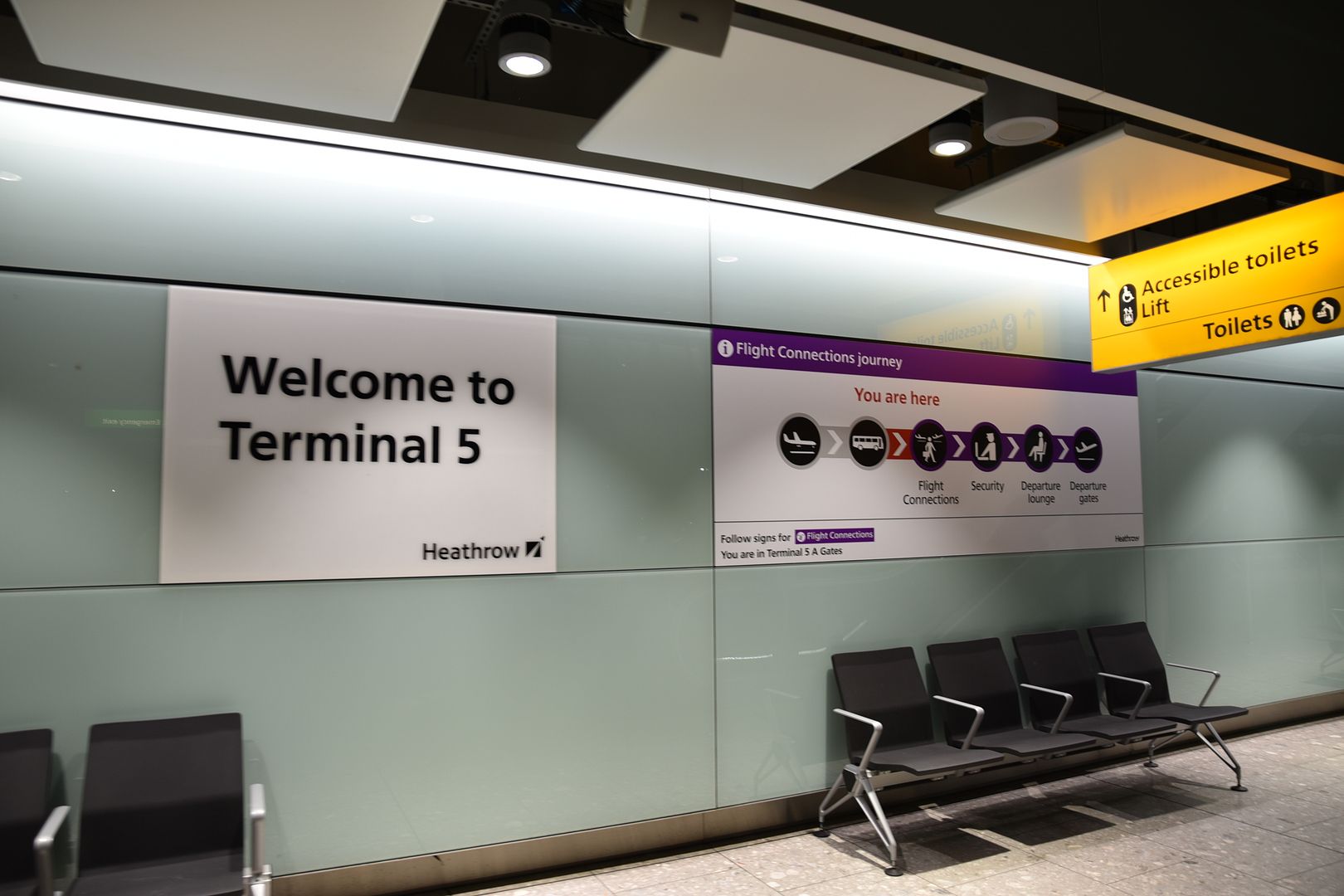 Baggage collection
Overall a very enjoyable club Europe experience. Quick check in. Excellent lounge. Fantastic warm scones. Decent seats with the middle seat used as a divider. Fantastic cheery crew and ahead of time arrival. A very good flight indeed. Thank you BA.
Hope you enjoyed this edition of our weekend trip to Zurich. I don't envisage any more air travel until the new year.
Here's looking forward to the new year, more trip reports, more travels and more flying!
Cheers!
Previous Trip Reports
Weekend at Cinque Terre - BA to Bologna - Airbus 320-200
Journey to the East (Part 5, Final) - BA B747-400 (Club World)
Journey to the East (Part 4) - China Eastern A321-200
Journey to the East (Part 3) - Etihad 5th Freedom Route
Journey to the East (Part 2) - BA, JAL, Etihad, China Eastern
Journey to the East - BA, JAL, Etihad, China Eastern
Norwegian And Air Baltic To ARN And RIX
London To Muscat On Gulf Air - A332 And A320
Part 4:India Domestic-9W, AI, SG On A321,B737,Q400
Part3: Phuket To India - Bangkok Airways -A320-200
Part 2:Thailand Domestic -Nok Air And Thai AirAsia
Part 1:Qatar Airways - Thailand And India
Part 3:BA Club Europe - LCA-LHR - Boeing 767-300
Part 2:Blue Air - Athens-Larnaca - Boeing 737-400
Part 1: Aegean Air - LGW-ATH-JTR - A320-200
Ryanair London(STN) To Lake Como (BGY)
Weekend In Belfast - Aer Lingus A319-100
BA First - PEK To LHR - Mid J B747-400
BA CW - Upper Deck To Beijing - High J B747-400
China Railway (CRH) - Video Report - SJW - Beijing
LAN Dreamliner (J) Experience - MAD FRA
Baltic Escapades - VNO/TLL/RIX On W6,BT And OV
South France - EasyJet A320 BA A319
UK To India - The EK Way - B777-200/300 & A380
India Domestic–Jet Airways And Indigo–A320/ATR 72
BA A320/321 - LHR To Berlin TXL - Christmas Day
China Southern - LHR-CAN-HKT - B787/A321
Aloha! The United Way - B777-200 And B737-900
Mahalo Hawaii, Hello NYC - DL B767-300
Cool Blue To BOS And Got Blue? To LAS - E190 A320
VS Little Red To ABZ And EZY Return
24 Hours On A 787! - Final Leg CZ - AKL-CAN-LHR
Part 5 - BHE-WLG-AKL On NZ Beech1900D And A320
Part 4 - MEL-AKL-ZQN On QA And NZ B738\A320
Part 3 - CNS-MEL On JetStar A321-200
Part 2 - SYD - CNS On Virgin Australia E190
Canton Route Part 1 - LON-SYD - CZ DreamLiner/A332
DREAM(liner)ING Of Hainan - China Southern
Panda Calling - BA LHR To CTU - Club World
China - The Low Cost Way - Spring Airlines - SJW-CTU
China United Airlines (KN) - CTU - SJW - B737-700
Norwegian B737 - LGW-TOS-BGO-LGW
Jet Airways: LHR – COK
Barra Trip – that was not to be
LHR - KWI - BA 747 - Part 1 - Middle East -China
Part 5: PVG-LHR - BA - Economy - B777
Part 2: KWI-DXB - FlyDubai - Economy - B737
Part 4A&B - SHA-SJW-SHA - FM: Eco: B737
Part 3A&B : DXB-HKG-PVG: CX & KA :Eco: A333
Morocco Trip - LGW-RAK-TNG-LHR - EasyJet & Iberia
Dusseldorf Calling - BA & EZY - Club/Eco - A321