[Full Written Report] Etihad Airways | Business Class | Chennai to Chicago | + Premium Lounge Reviews
Posted: Sat Dec 03, 2016 6:52 am
Hello and warm welcomes,
Thank you for opening this trip report up and I hope you find it useful, educational, or at least entertaining. Join me as I describe my journey home from Chennai, India. The journey is filled with luxury, challenges, relaxation, exhaustion, and of course airplanes. I traveled from MAA - HYD, HYD - AUH, and AUH - ORD. The 1080p video version of this trip report is located here
https://youtu.be/41jJ4mUqAgk
if you prefer that format. However, without further adieu, let's begin.
After a nearly two week business trip to visit a team that I work with in India, I find myself half asleep in the back of the van that drove me around personally across Chennai, India. It was a relatively pleasant day in Chennai, rather humid though, and we are crammed in morning traffic with bright auto rickshaws all around and horns making their normal blasts. My mind is at ease as I imagine my relaxing business class trip with Etihad Airways.
My flight was set to leave at 13:50, so typical me, I set out to arrive at the airport 12:00—having departed the Hilton Chennai at 11:30. Yes, probably way overkill, but I don't like being late.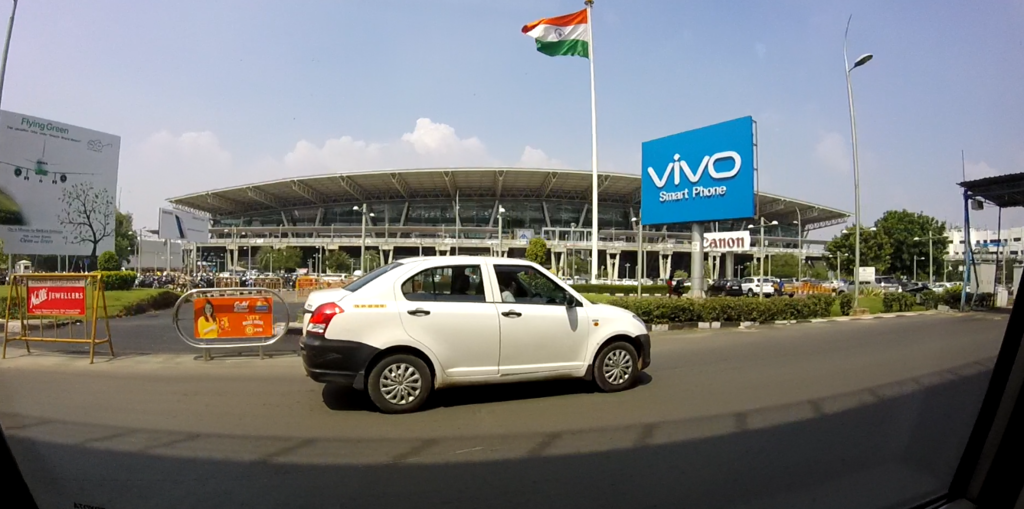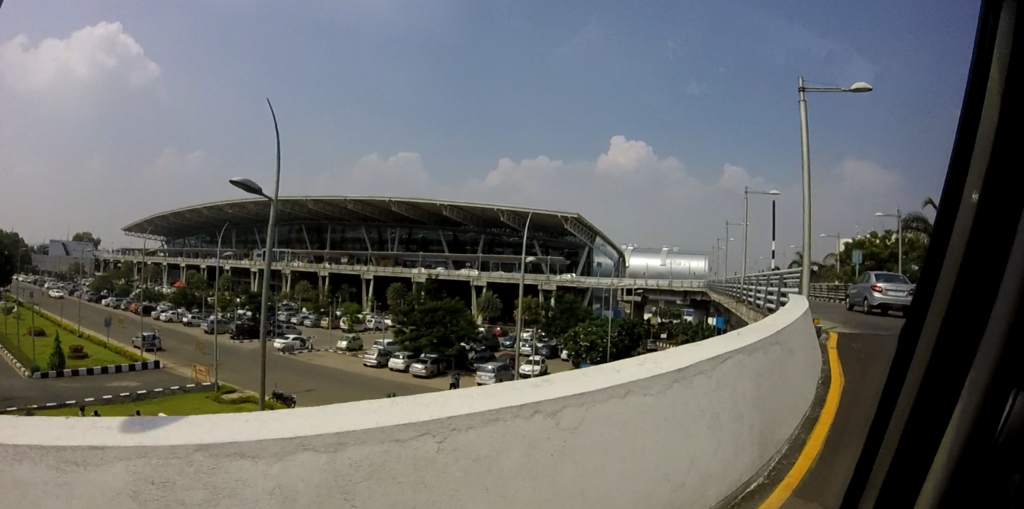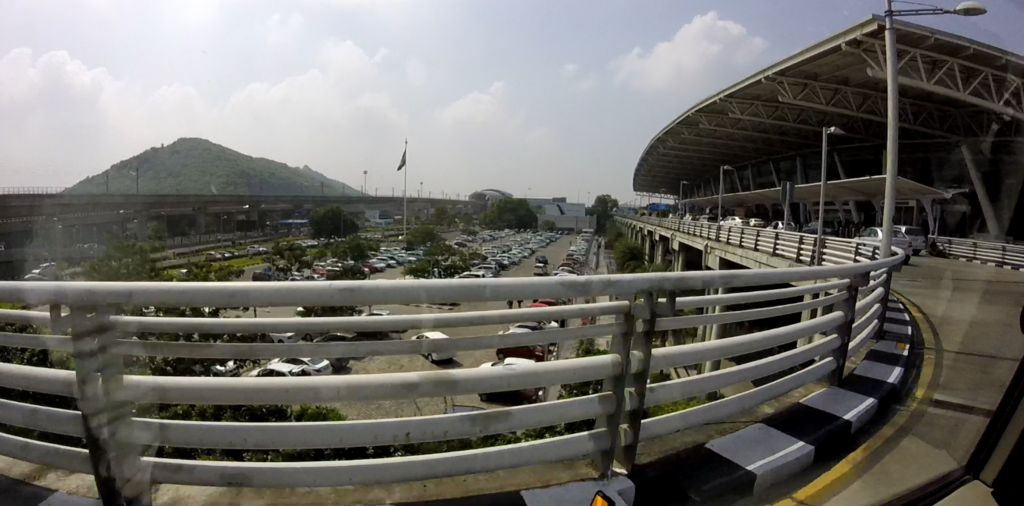 We arrive at Chennai International airport—I'm finally waking up enough to continue vlogging—almost exactly at 12:00 as planned. My driver in Chennai was one of the most pleasant and helpful people I ever met and I remembered this as I tipped him and hauled both my suitcases into the airport.
Upon arrival, the Chennai International airport greets its visitors with a grand awning and modern exposed beam architecture. The entry was crowded with travelers and family members saying farewell alike. I had my cell phone opened to the email confirmation containing my IndiGo ticket to Hyderabad. When traveling in India, most airports there require that you have either or paper or electronic copy of your airline ticket or travel itinerary to even allow you to enter the lobby.
After a short five to eight minute wait in the lobby security line, I made my way straight to the IndiGo Airlines ticket counter.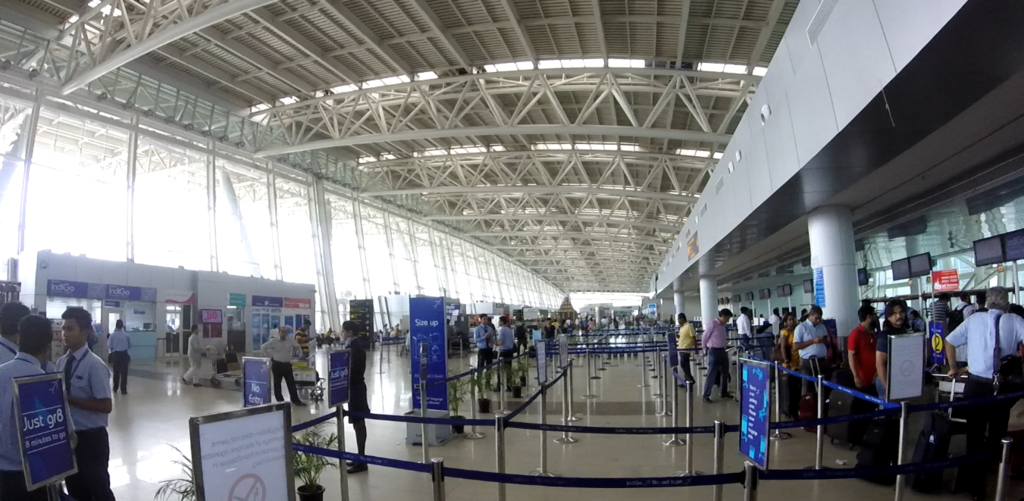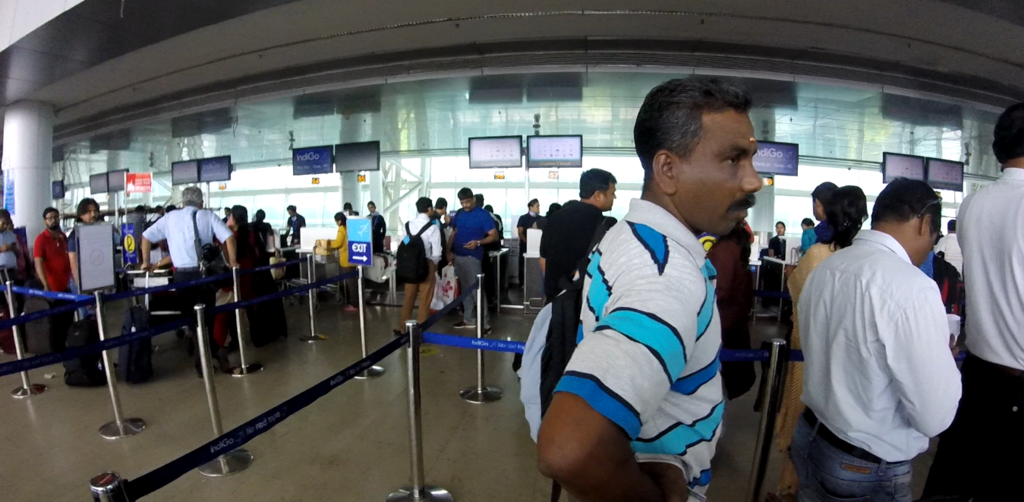 The inside of the Chennai International airport was pretty clean, and the modern architecture continued into ticket area with more of the exposed structure design making up the very high ceilings. I also enjoyed IndiGo's simple yet pleasing branding and catch phrases. The check in line was actually relatively speedy, and in about 15 minutes I was being served by the next available clerk.
Just one problem—I was too early to check in. "Too early?" Let me know if you guys have ever been too early to check in before. I found it rather ironic. I had purposefully arrived to be on time and expect no worries, breezing into the terminal to enjoy a lunch at an Indian Pizza Hut express.
Instead I was asked to what another 45 minutes before reattempting check in. R.I.P. the dream.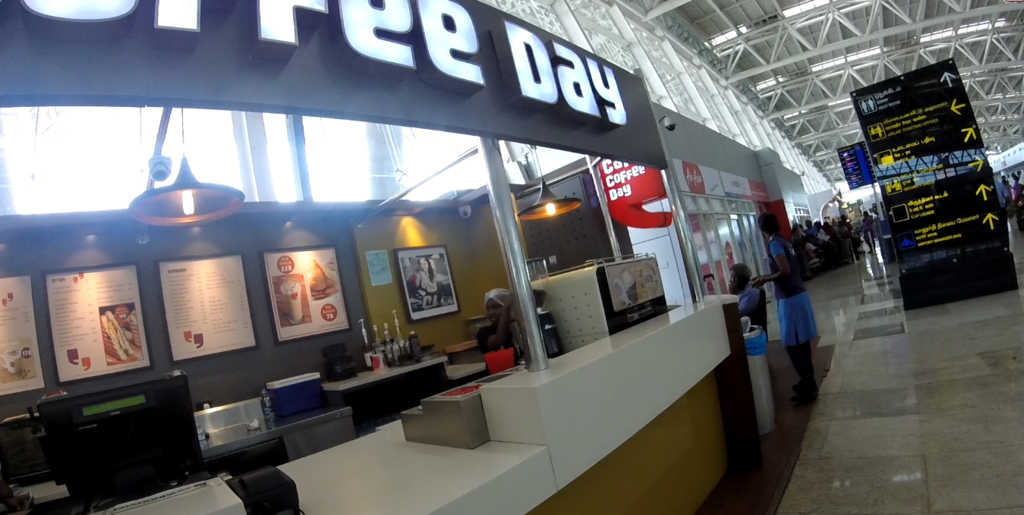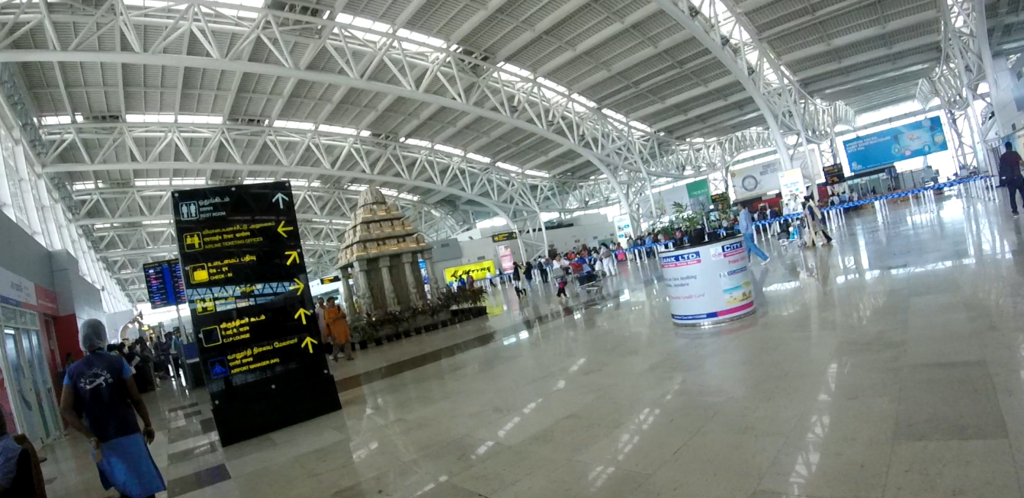 After walking around the lobby for a while I bumped into a Cafe Coffee Day and decided that black coffee with cream and sugar would need to suffice instead of awesome airport pizza.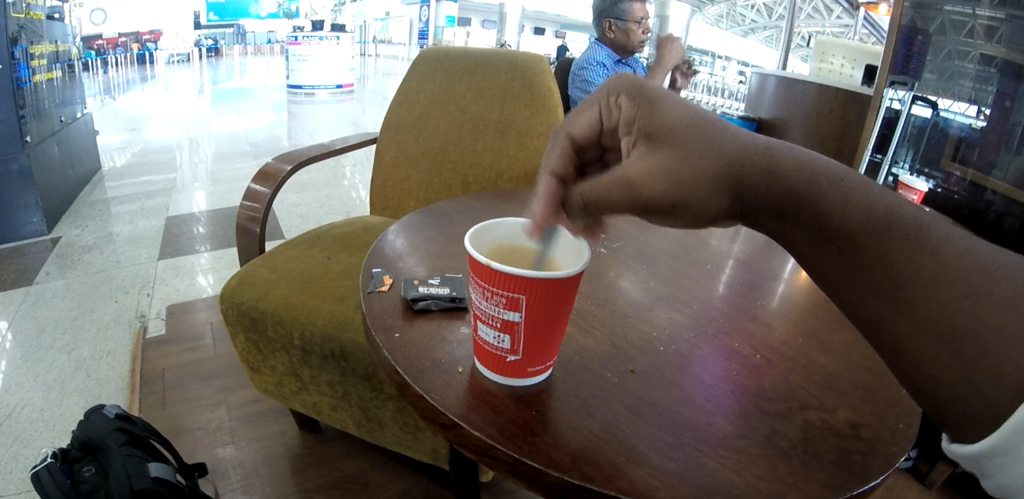 I found some plush and available seating in the cafe's dining area and started enjoying my caffeine rush. I decided to watch some videos saved on my iPad and before I knew it it was time to reattempt check in. After waiting another 15 minutes in line, I get to the counter to discover that my 13:50 flight to Hyderabad was cancelled due to "technical issues." Fantastic. I am immediately rushed over to IndiGo's purchase counter and spend the next 40 minutes following around a personnel manager as they attempt to rebook me and four or five others' tickets with Jet Airways coincidentally as they are Etihad's actual partner in India.
Around 14:50 an airline clerk emerges with my ticket and says "run." As any knowing traveler would, I sprint immediately to Jet AIrways counter to check my bags in. At the first chance I get, I stop and take a look at the ticket and notice the 15:20 departure time. Before too long I get my baggage checked in and at no cost as IndiGo must have settled the balance as a courtesy. Through security I went and down to the shuttle to take me to the tarmac with 11 minutes to spare before takeoff. Piece of cake.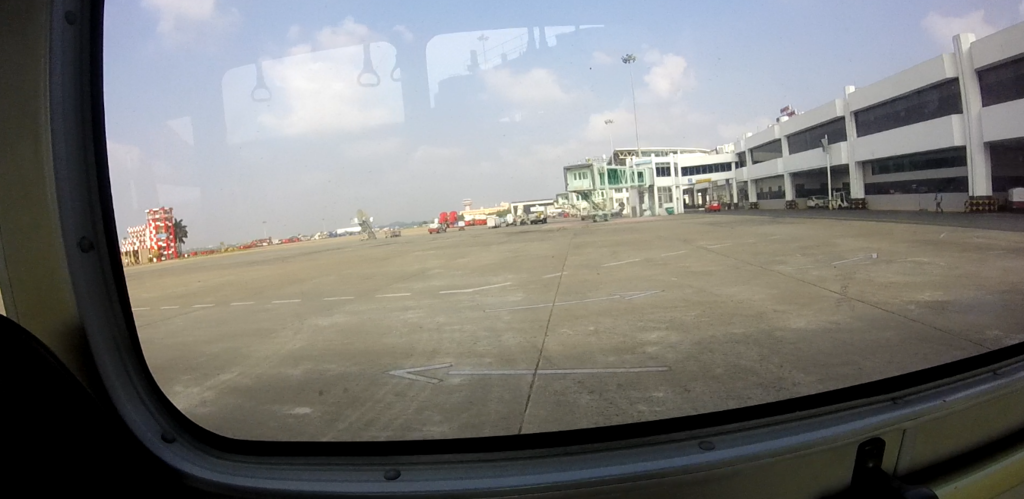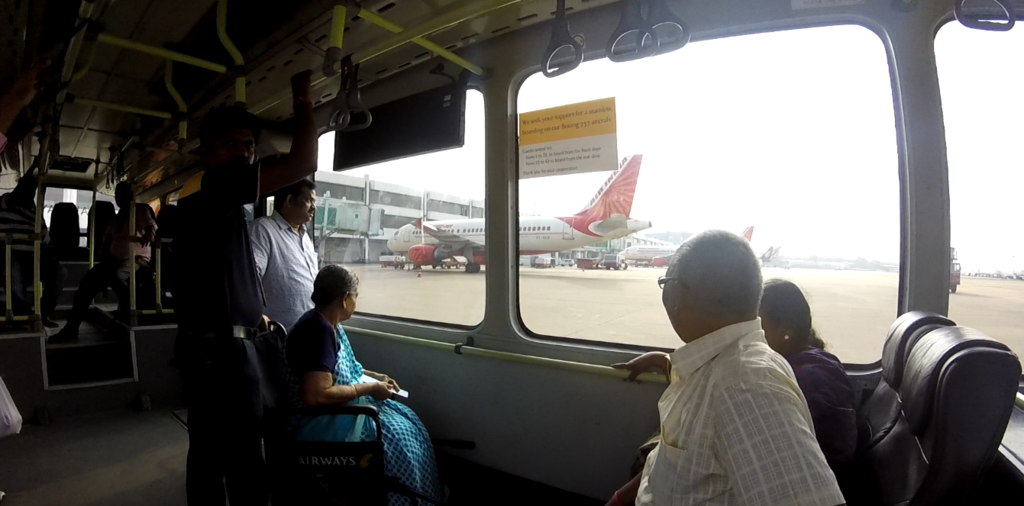 I calmed down as I saw no one else panicking and decided to enjoy being an avgeek instead. I spotted a pair of vibrant Air India Airbus A320s in the distance as the shuttle pulled away from the terminals.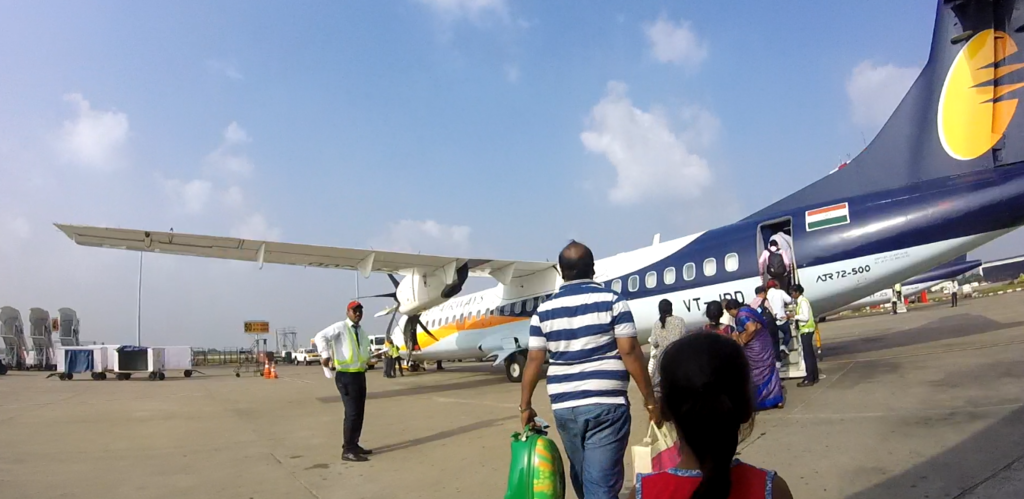 The shuttle pulled up to the Jet Airways ATR-72 which was ready to go and blasted us with hot air from the turboprop. No matter, I was actually excited to fly in a commercial turboprop as I hadn't done so in years.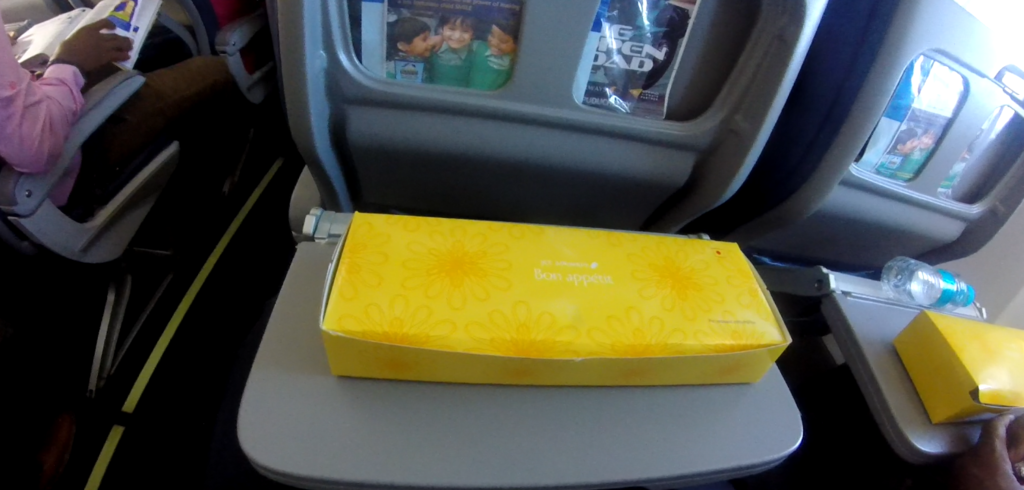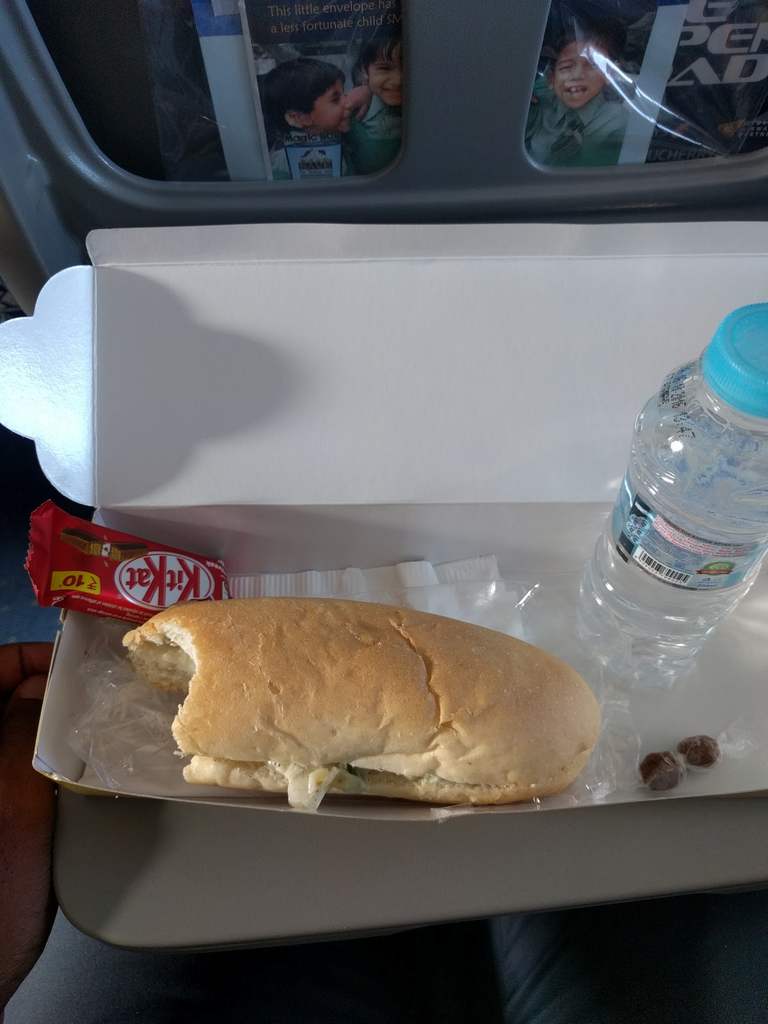 A complimentary boxed lunch was served to the passengers and consisted of a chicken sandwich, water, and a Kit Kat. The flight was actually pretty smooth to Hyderabad. I enjoyed my chicken sandwich and chocolate and dosed off. India suffers from quite some intense haziness and I didn't have a window seat so I wasn't able to snap any pictures of our approach to Hyderabad. However, things did seem fairly direct as the pilot took a nearly straight in approach to the runway with no hold.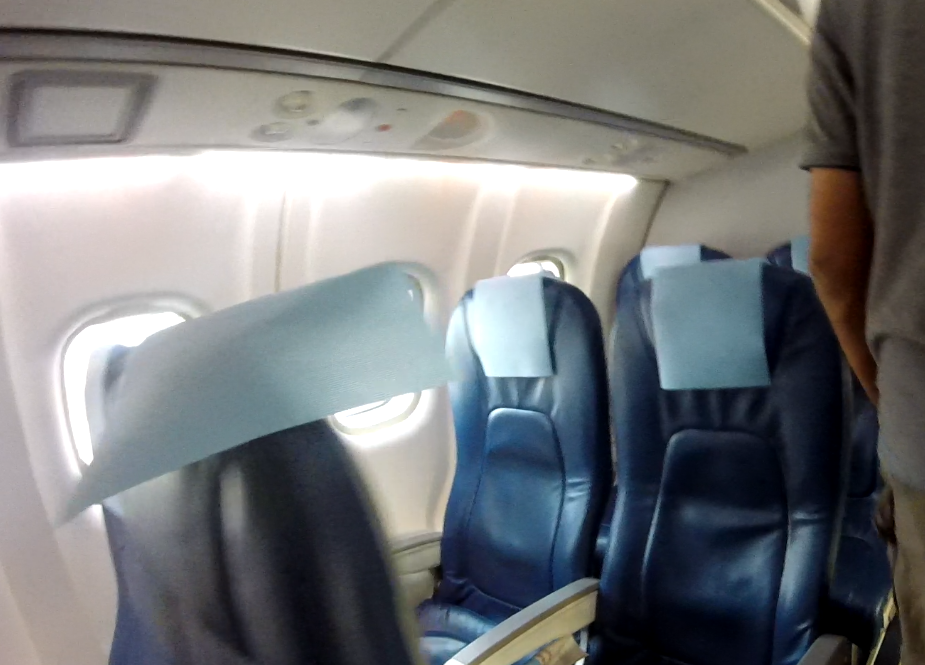 A shot of the passenger seats as we deboard the ATR.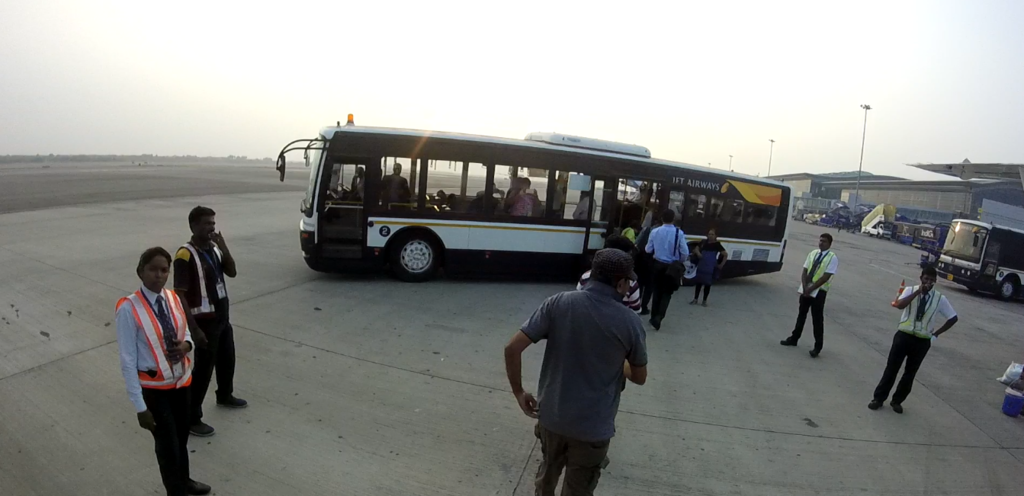 Back out on the tarmac to board the shuttle to take me to the Hyderabad International airport baggage claim. With such a rush onto the little ATR, keep your fingers crossed for my bags to show up safely at baggage claim.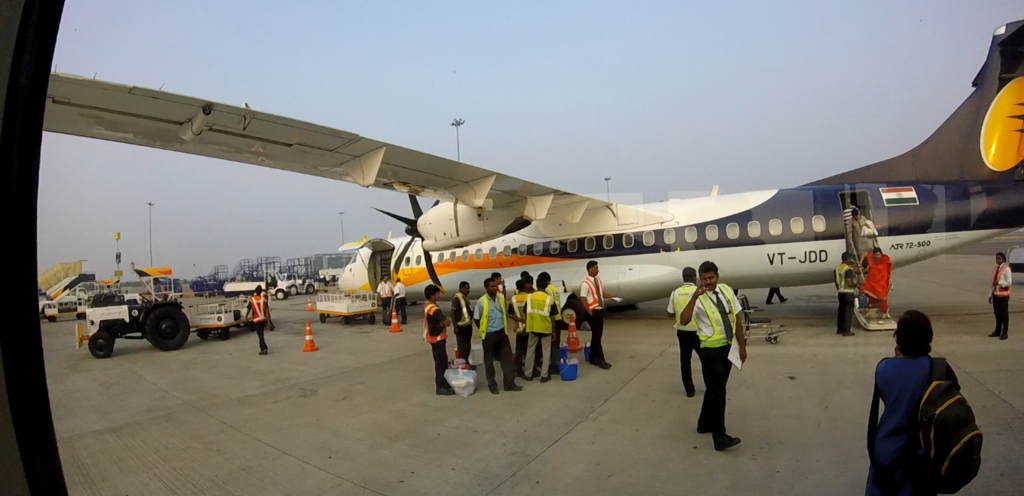 As I board the shuttle and take my seat and some more shots of the ATR, I'm told to stop taking photos of the plane by a Jet Airways worker. At least for then anyways.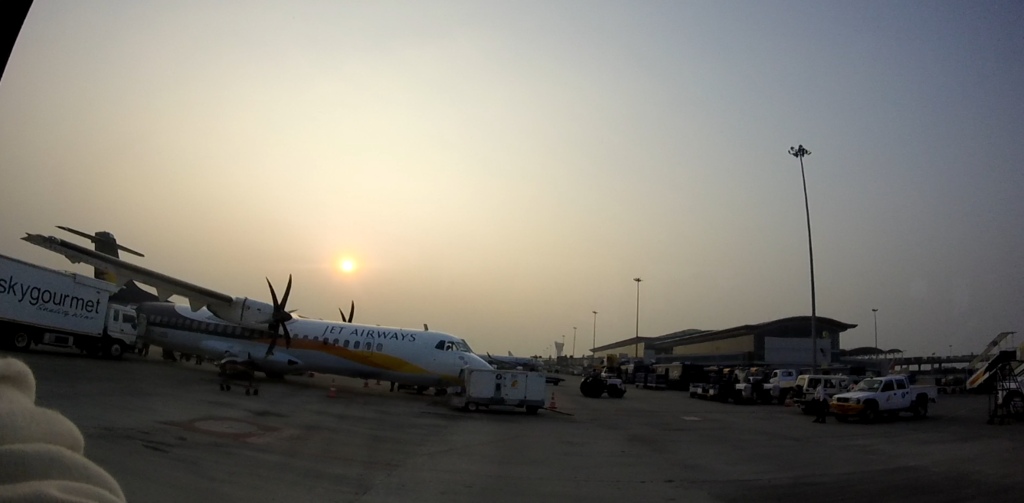 Despite the haze, the sunset was still enjoyable.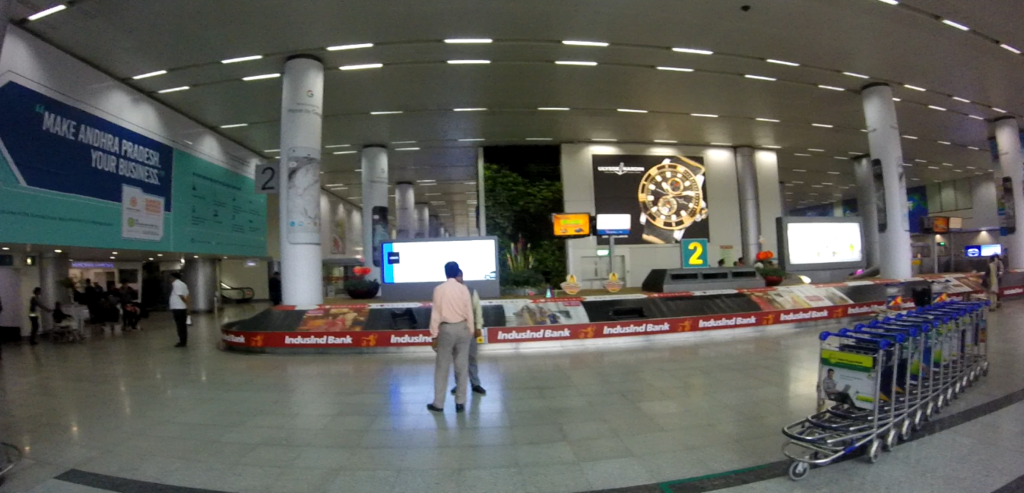 I hopped off the shuttle and strolled into the Hyderabad International airport baggage claim. My bags did show up and I exited the airport to have to turn right back in to attempt to check into Etihad airways. After waiting a couple hours for the Etihad counter to open up, I was the first and only one in the speedy business class line. The team at the Etihad counter was extremely cordial, a great testament the Indian culture I experienced during my stay.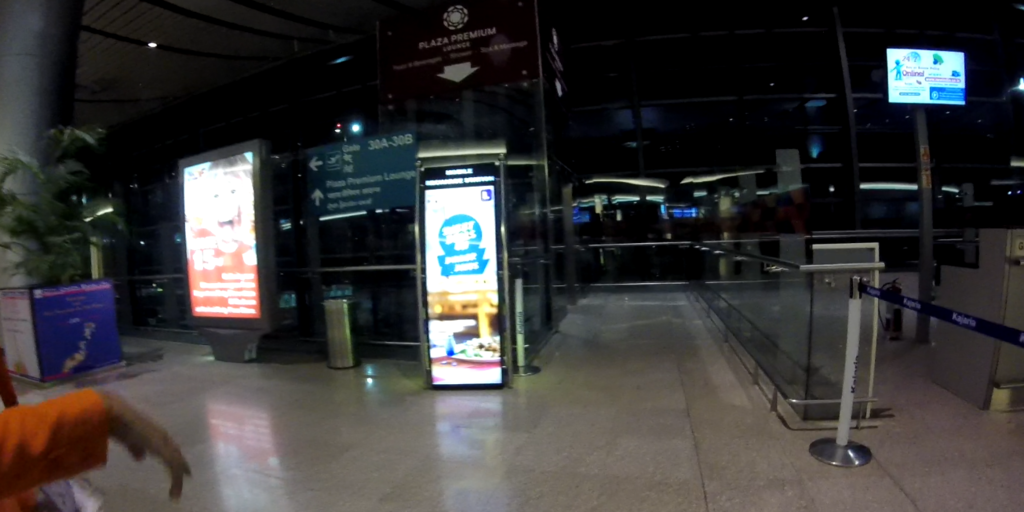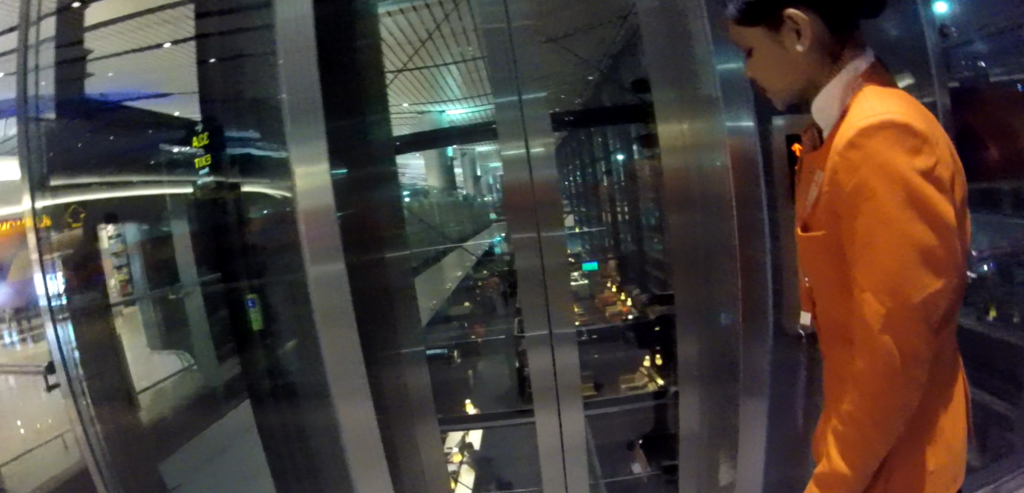 An orange jacketed Etihad airways employee escorted me from the check in counter, through security, and to the Plaza Premium Lounge at Hyderabad International Airport. I'm not entirely sure why I got this courtesy, maybe it was the empty business class line or the fact that the counter had just opened. Regardless, the staff member was really nice and she really sped up the process through security—not cutting corners, but being really efficient. A quick descent in a clean glass elevator brought me to the lounge.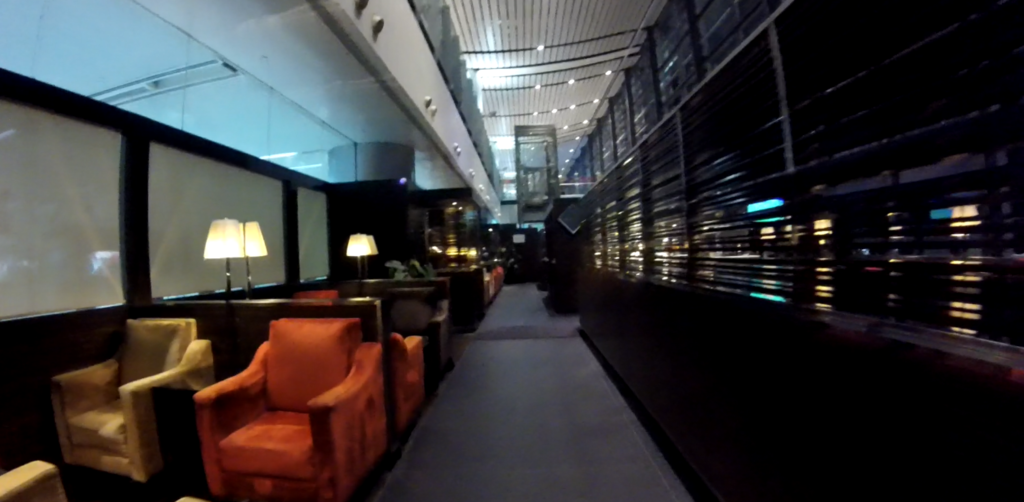 Welcome to the relaxing and well decorated Plaza Premium Lounge at the Chennai International Airport. Jazz music played lightly over the sounds of wine glasses knocking against each other as the bartenders prepare drinks. The entire lounge is surrounded on three sides by very appealing dark wood and plush lounge chairs in colors that play well with the chocolate colored wood.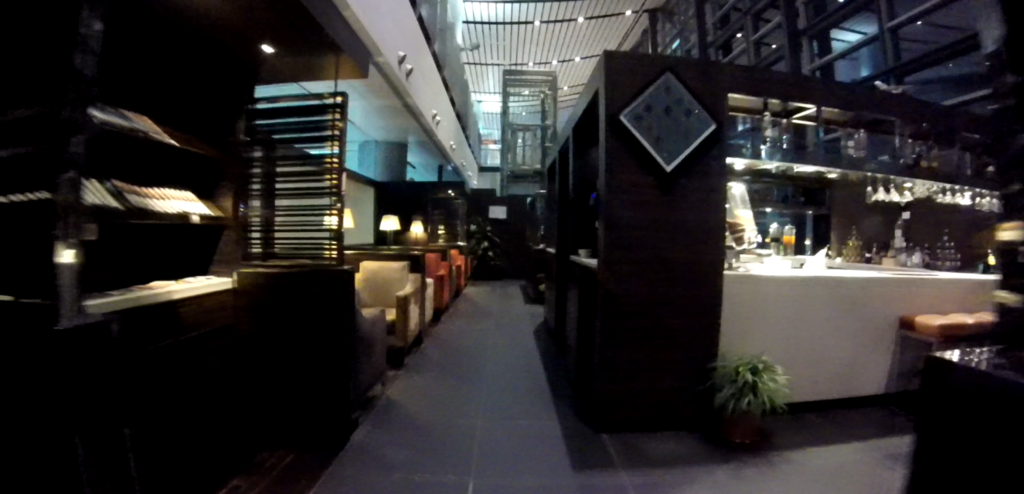 Complimentary magazines and newspapers were available across from a well lit walk up bar.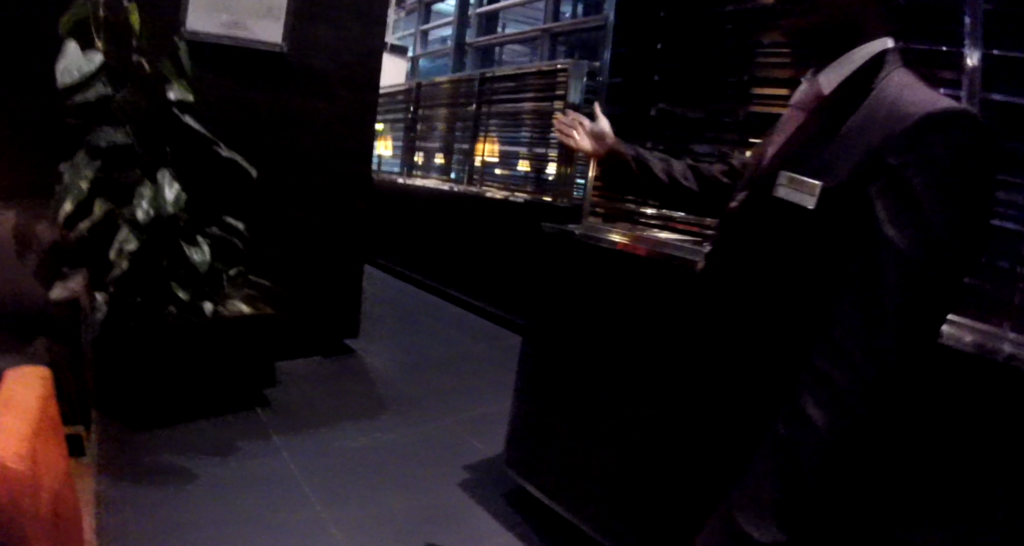 The lounge staff was very polite and showed me to the hot and cold dinner buffet almost as if he knew all I had to eat all day was coffee, a chicken sandwich, and a Kit Kat.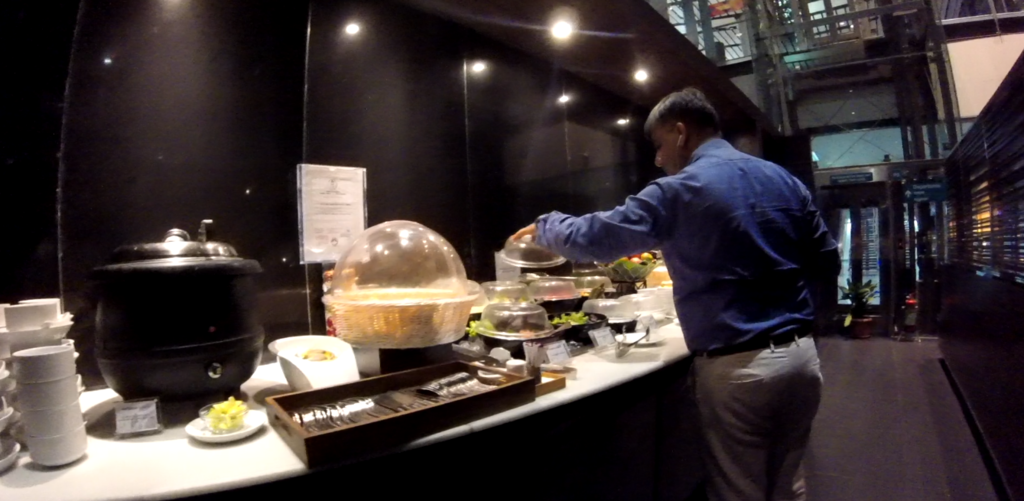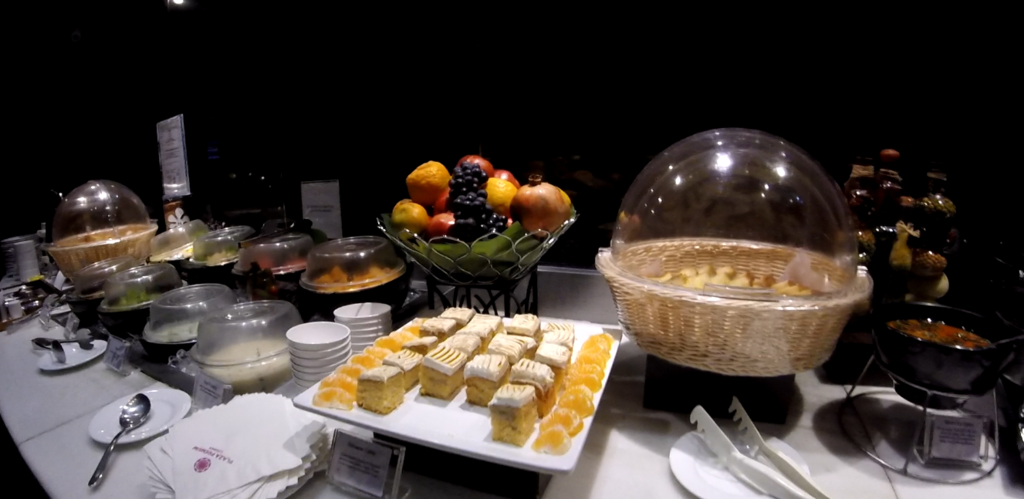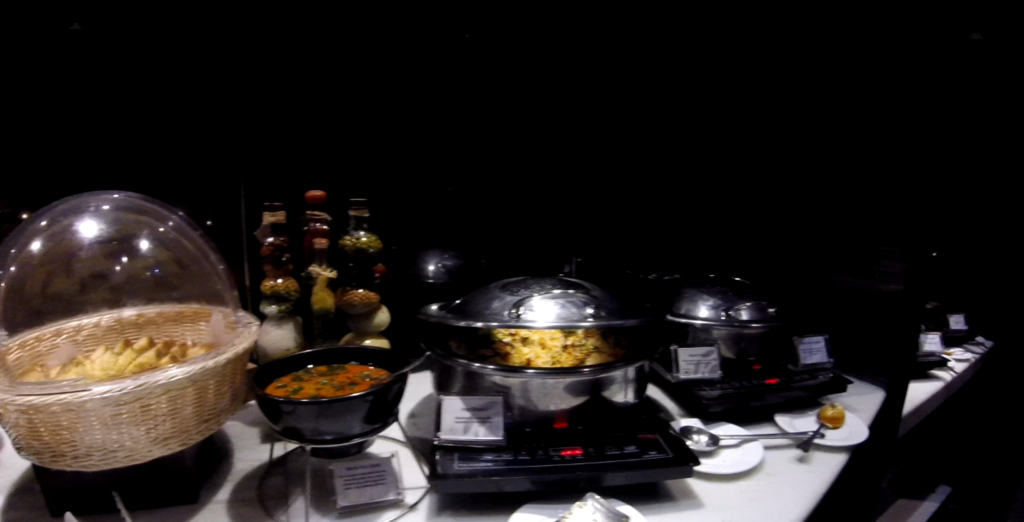 Bon appetit. The dinner buffet featured a wonderful selection of Indian cuisine, complete with basmati rice, veggie biryani, masala, curries, and event western desserts. After grabbing my first of three plates, I headed back to my cozy lounge area.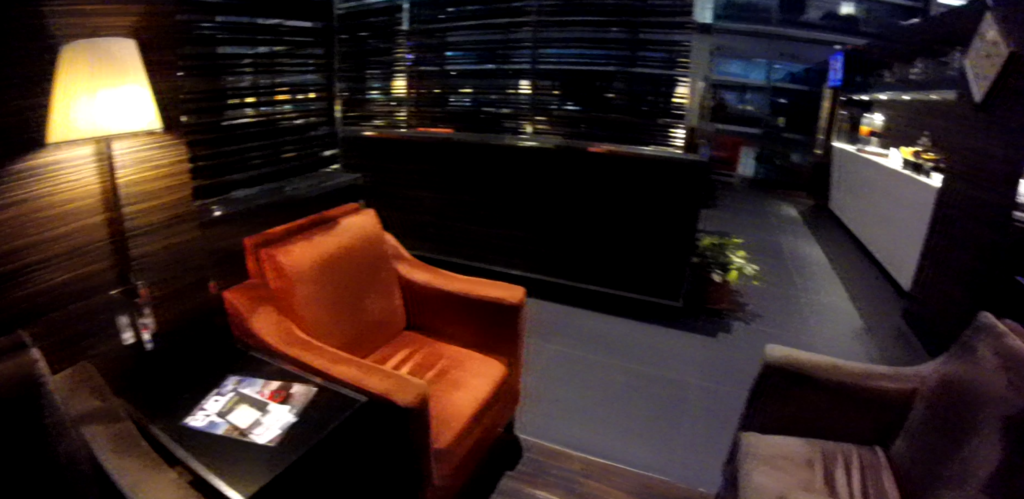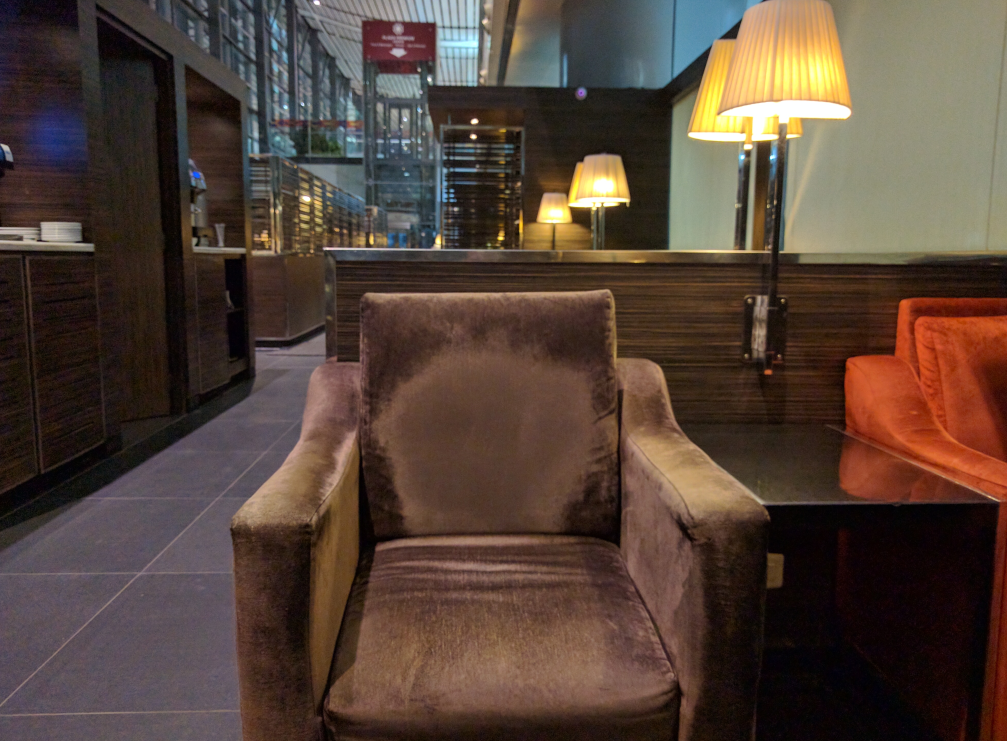 The lounge area I chose was the area that was a bit more private with orange and brown opposing faux velvet chairs. The pair of chairs had a nice reading table and lamp between them which made for a good reading or work area.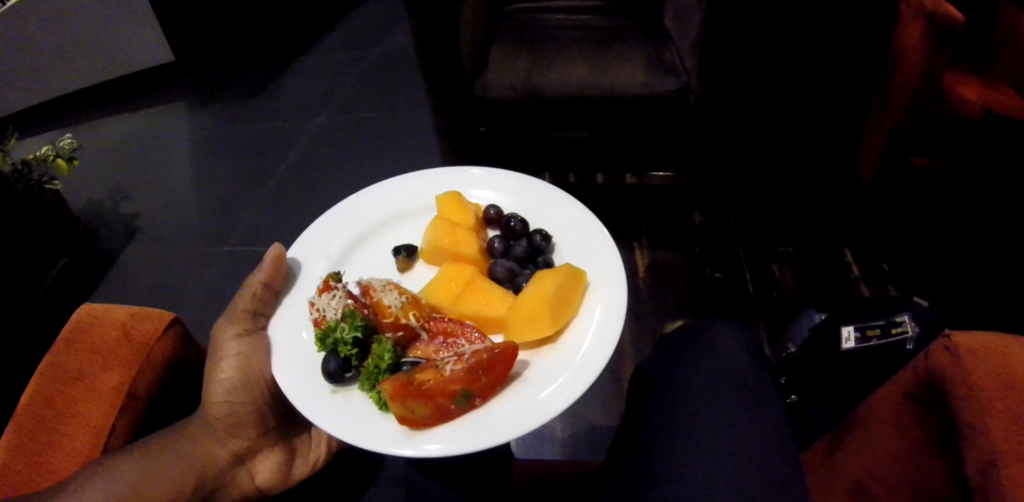 I ate some fresh vegetable and fruit to start and then headed back for some plates of biryani. With my plane from Hyderabad to Abu Dhabi leaving at 21:50, I waited a couple of hours and passed some time answering emails before walking over to the gate.
Time seemed to pass quickly as I waited for the business class line to the jet bridge to open.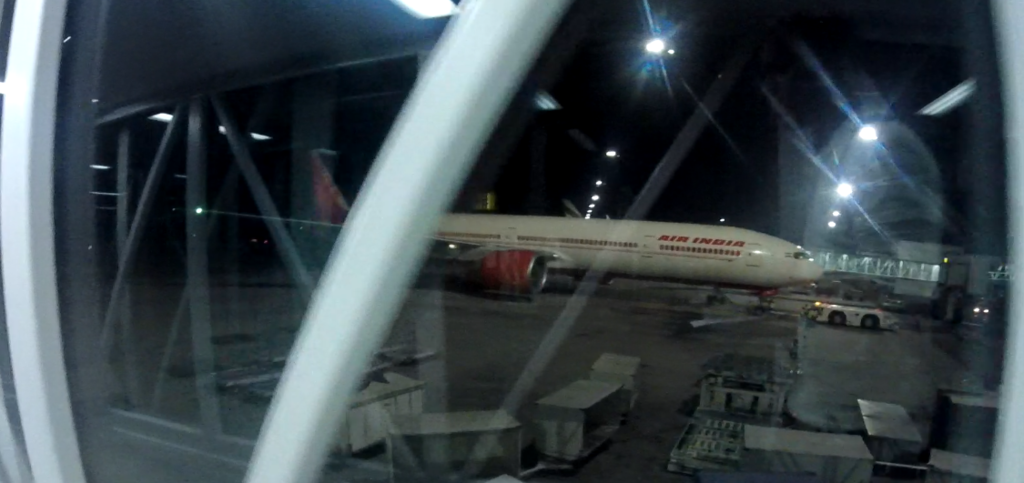 Walking across the jet bridge I spotted another Air India aircraft, this time a white and reddish orange Boeing 777.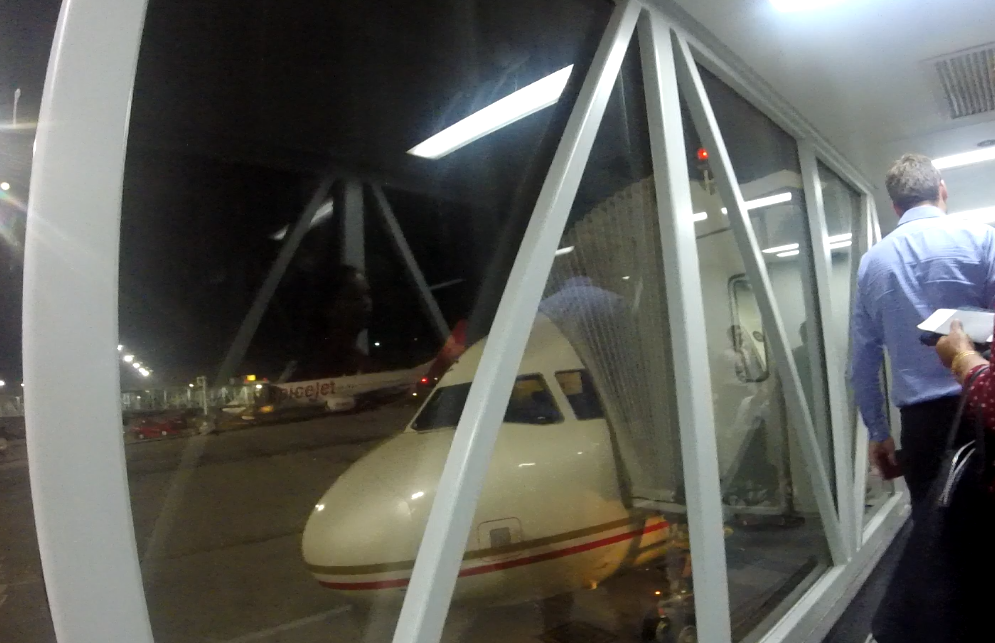 As we approached the Etihad airways Airbus A321 that would take us to Abu Dhabi, I noticed a Spicejet aircraft as well. It was hard to tell the type with its extended jet bridge in the way. I was very unlucky to not fly on a single Etihad aircraft painted in the new livery named the "Facets of Abu Dhabi" on any of my flight legs. Oh well, maybe next time.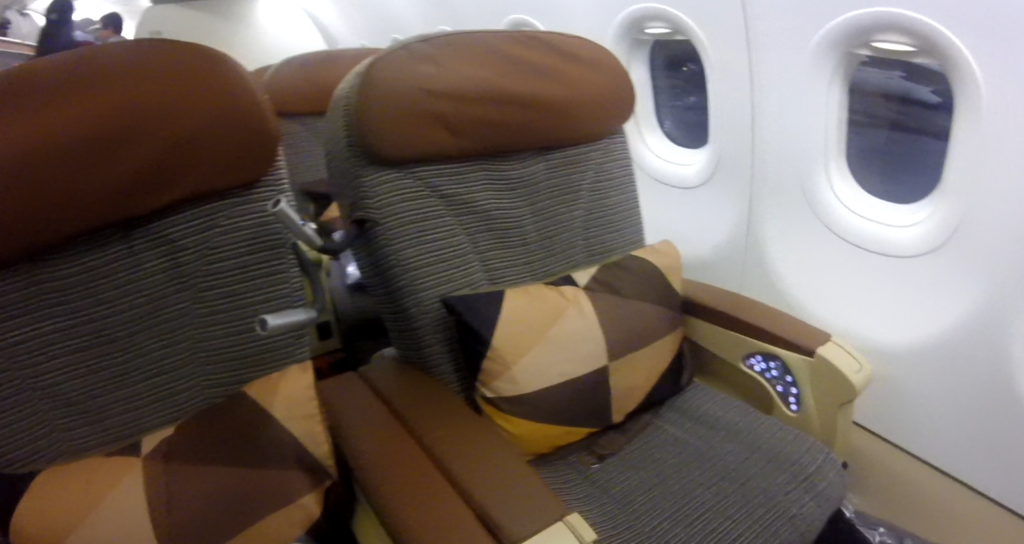 The well designed cabin interior of the business class on the A321 makeup for its lack of exterior paint. Well mostly. The pillow design blends well with the upholstery of the seat and when the plain is painted, will match the Facets of Abu Dhabi geometric shapes and color. The seat was comfortable and spacious for a short haul aircraft. I was actually able to recline the seat a good bit and spread out as my adjacent seat was vacant. Winning.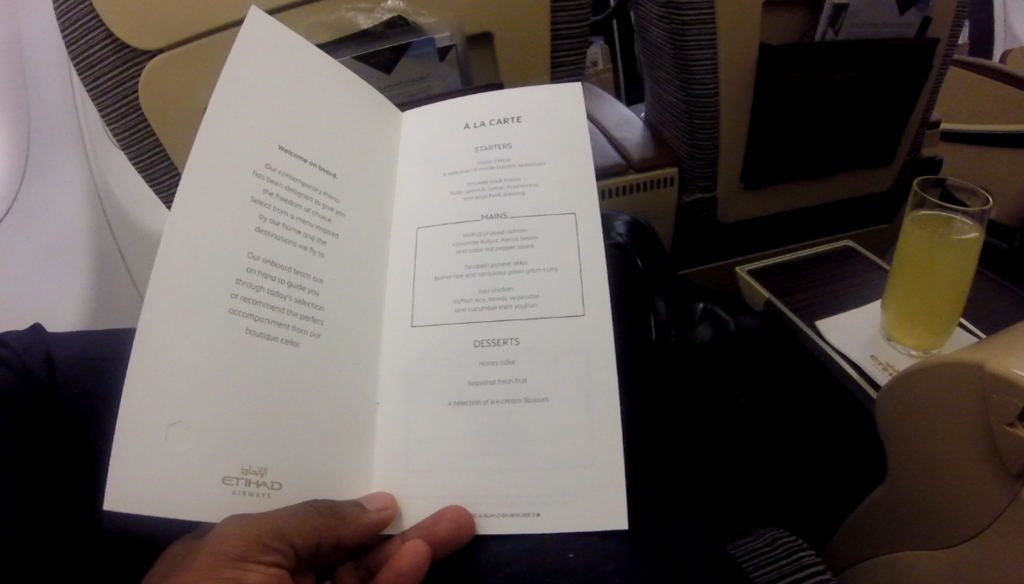 I peruse the lengthy menu and wine list while I sip some refreshing mint lemonade. I and the rest of the passengers enjoy a brisk taxi and short departure lineup as we say goodbye to Hyderabad. Once at altitude, it is time to eat.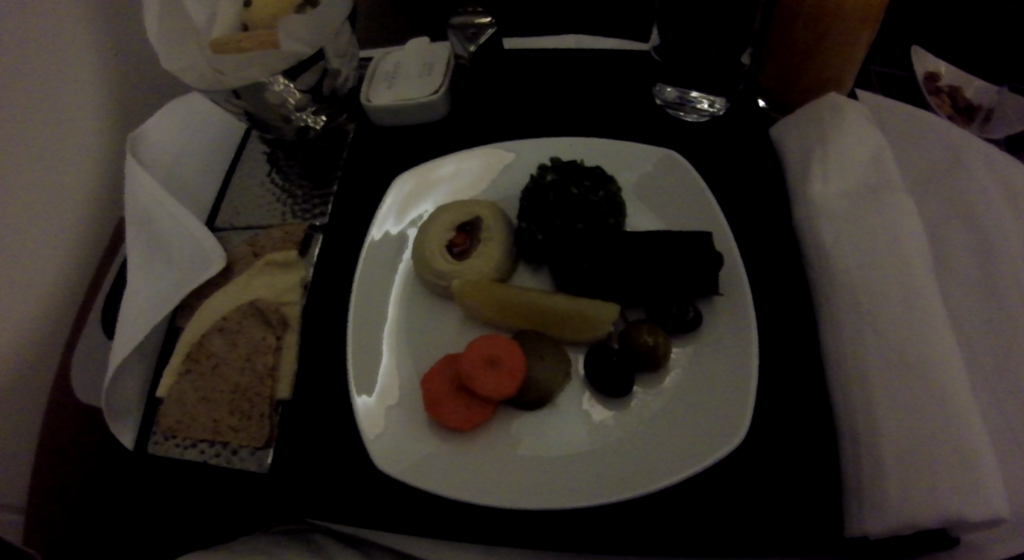 I enjoyed my go-to meal—really an appetizer—on Etihad, the Arabic Mezze. Yum.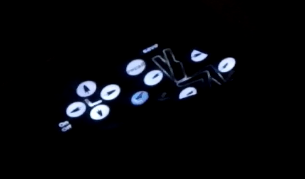 The business class seat featured the standard controls that were well lit in the dark cabin during our night time journey.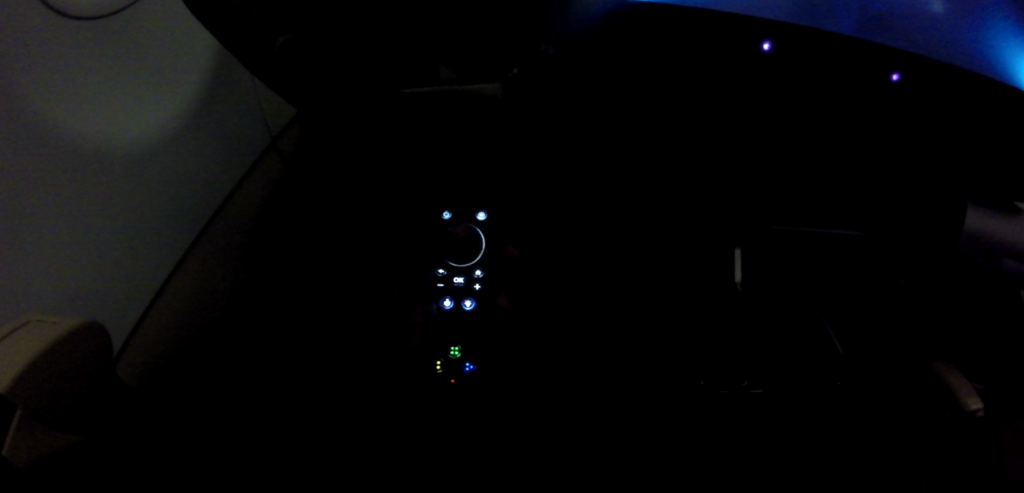 IFE featured a sleek black remote with well lit and functional keys. The remote was clean and didn't have any gunk of stick keys. Always a sign of good cabin maintenance.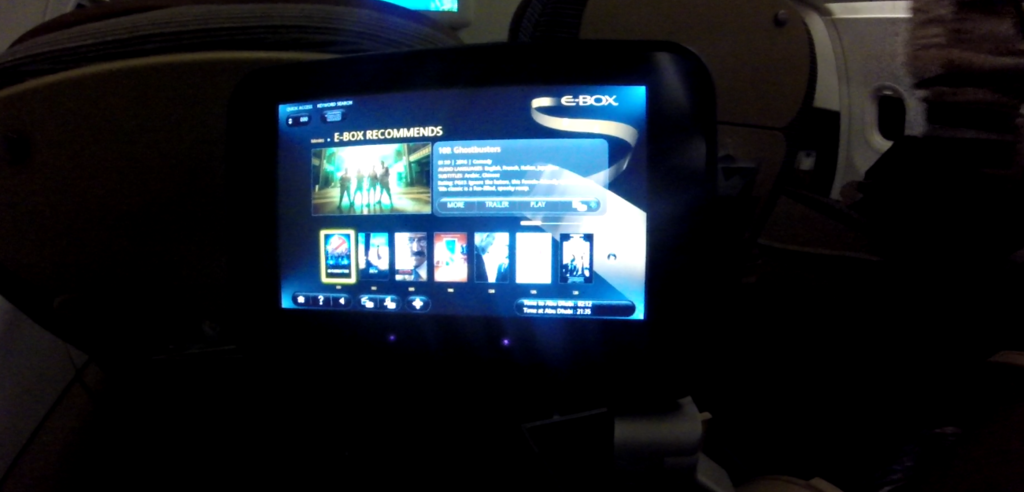 The IFE screen pulled out of the arm rest and was touch enabled. The touch interface worked well and was responsive.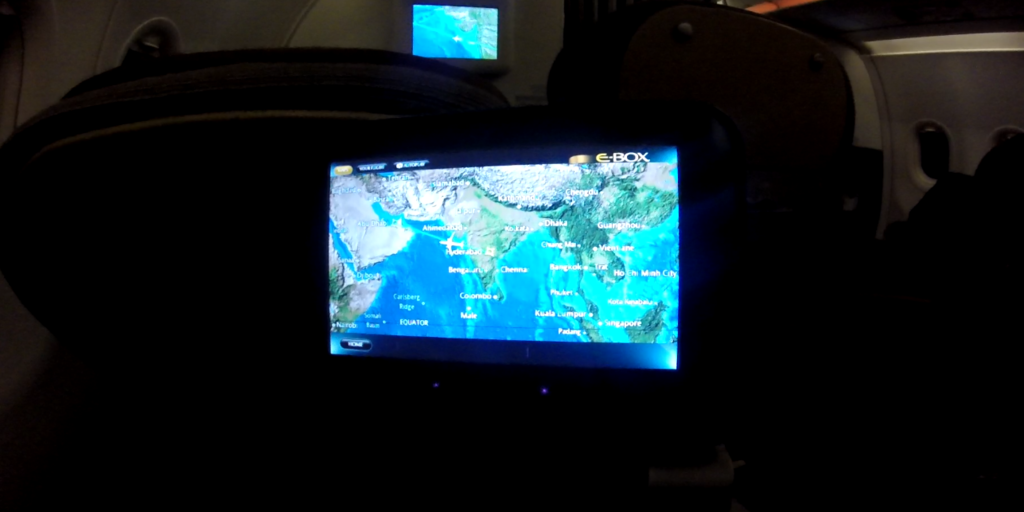 Checking our progress over the ocean to the Arabian peninsula and then to Abu Dhabi. As I looked at the moving map on the screen, I drifted off to a comfortable sleep. I awoke to the cabin being prepped for landing and the airline stewards opening window shades. Welcome to UAE airspace.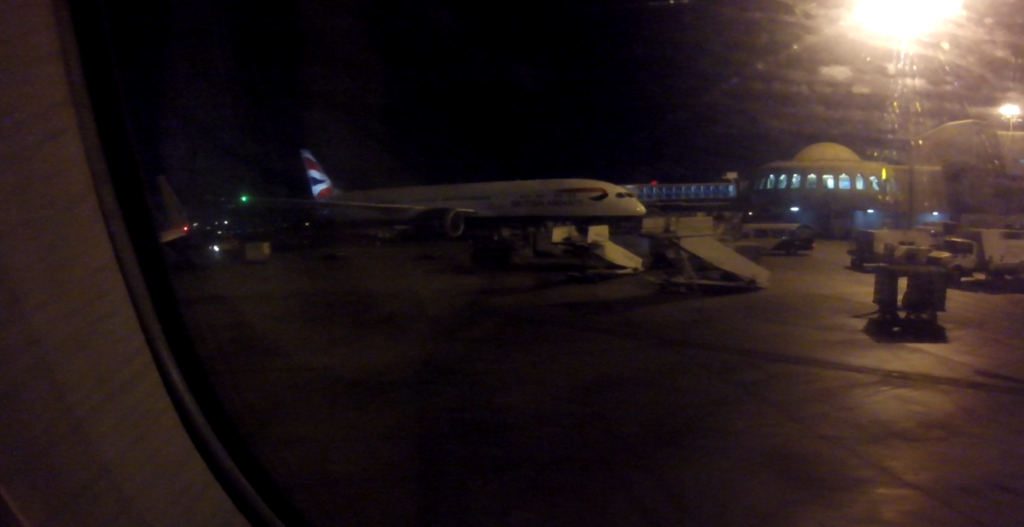 Welcome to Abu Dhabi where the local time was 00:28. As we pull into the gate after a brief taxi, I spot this lovely British Airways 787. The Dreamliner is always nice to look at, even at night. The cabin was quickly prepped for departure and we deplaned and I begin my speedy walk to find and begin the US customs process.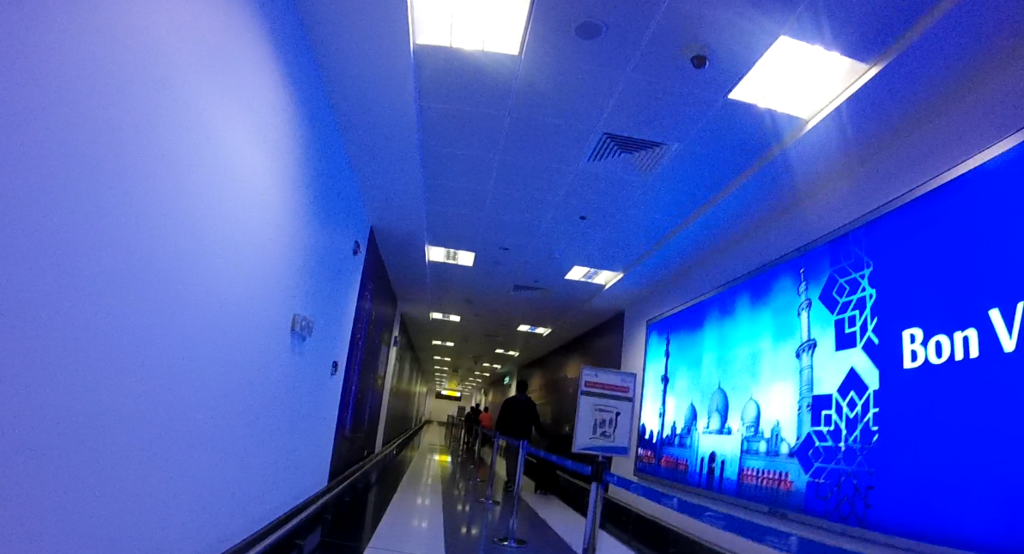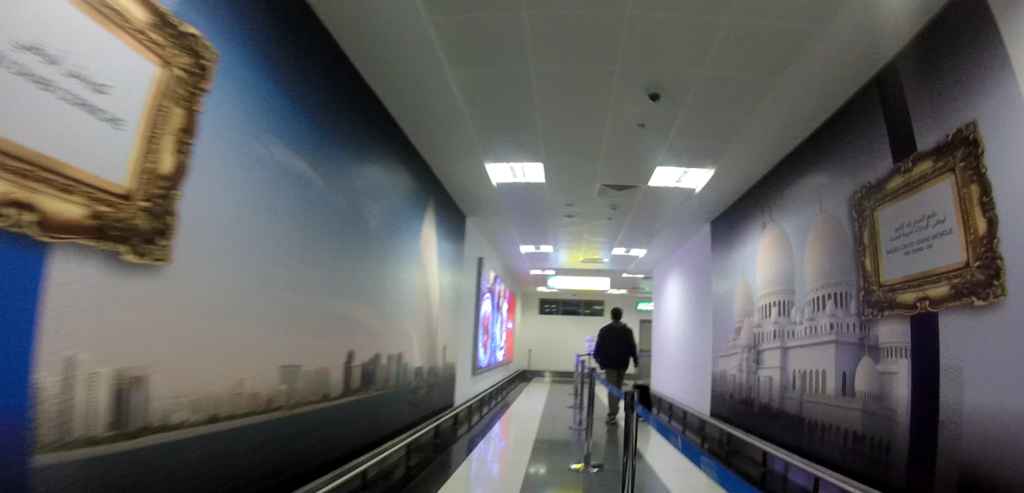 Here is a shot of the long walk down the hallway to customs. One nice thing about making a stop in Abu Dhabi is that you can clear customs there and not have to worry about much when you land in the US. I get through customs in less than an hour and rush to go relax in the Etihad Business Class lounge.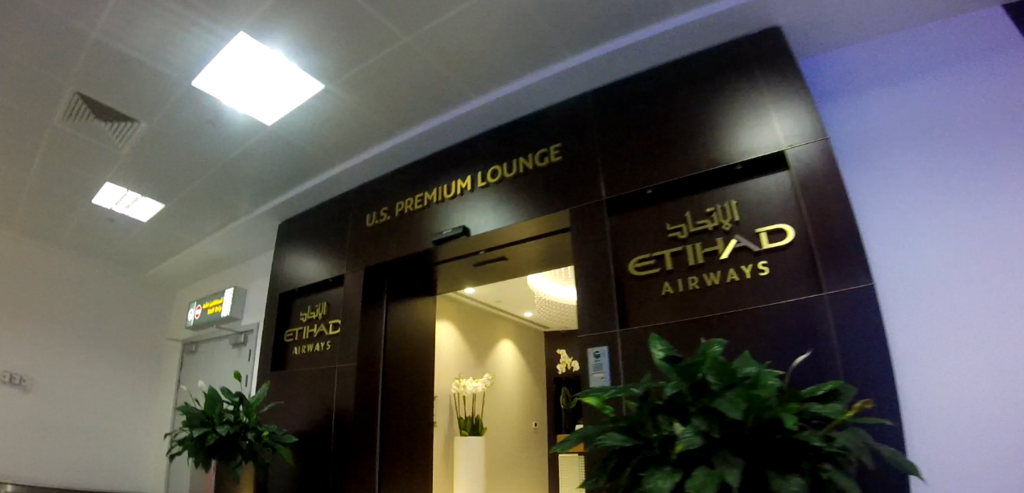 Found the lounge with 1 hour and 40 minutes or so to spare before my 03:55 flight to O'Hare International.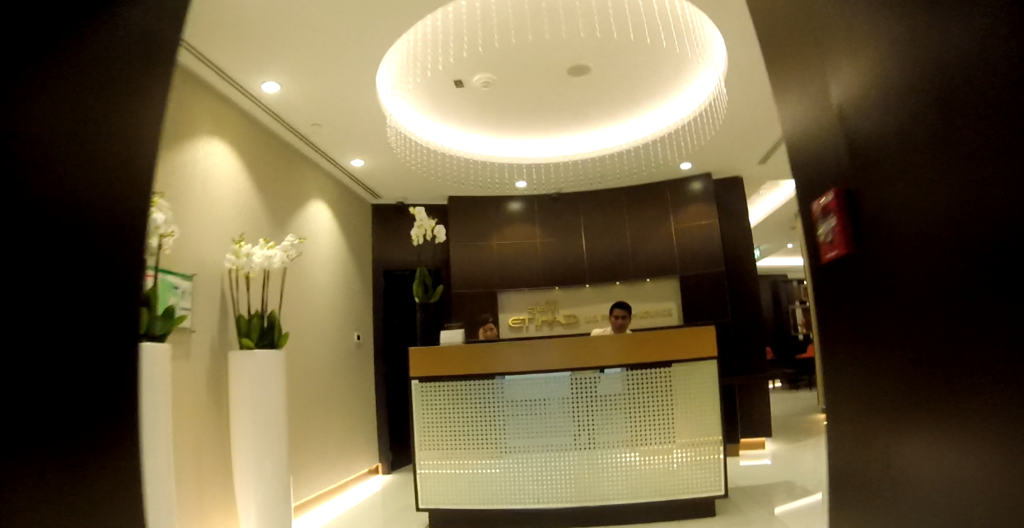 Welcome to the eye catching entrance to the Etihad U.S. Premium Lounge at Abu Dhabi International airport. The welcome desk sure does have a great "wow" factor when you walk in. The staff quickly checks me in and let's me know they will announce when it is time to leave the lounge and board my flight.
Time to find a place to rest and recharge my devices.
Similar to the larger lounges at the Abu Dhabi International Airport, this one past US customs features the signature Etihad decor of deep browns, orange, and light blues. Wherever possible, white LED lights offer a nice accent to various levels of trim and molding.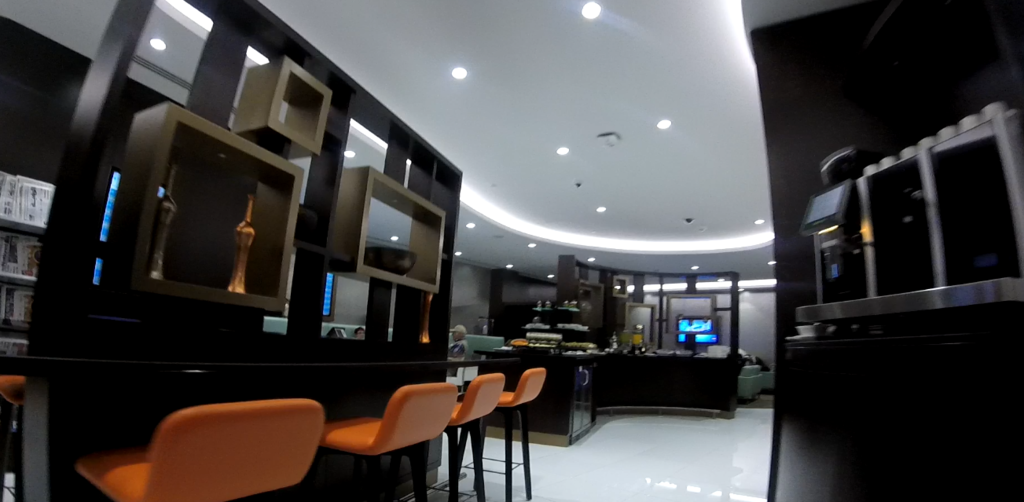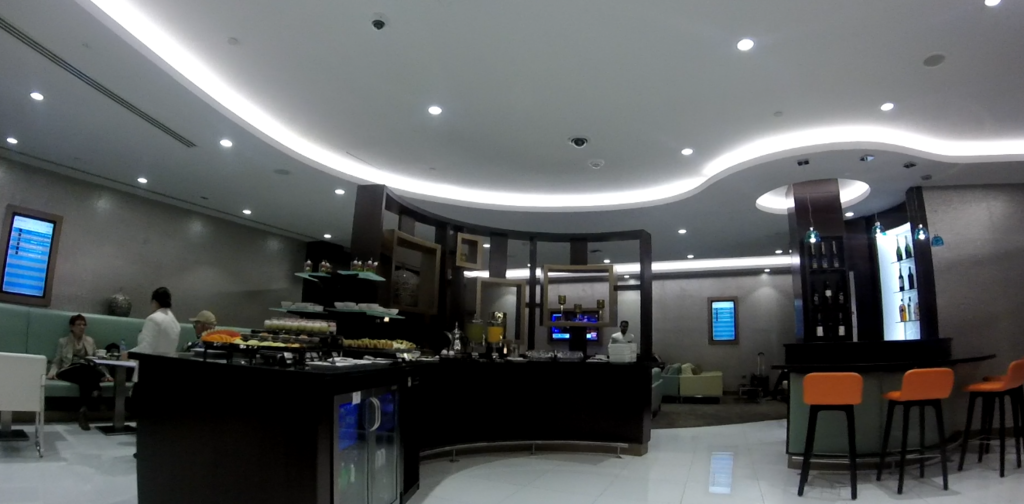 I was pretty full from my late dinner on the plane so I skipped the dinner buffet. My wife calls such a move business travel blasphemy.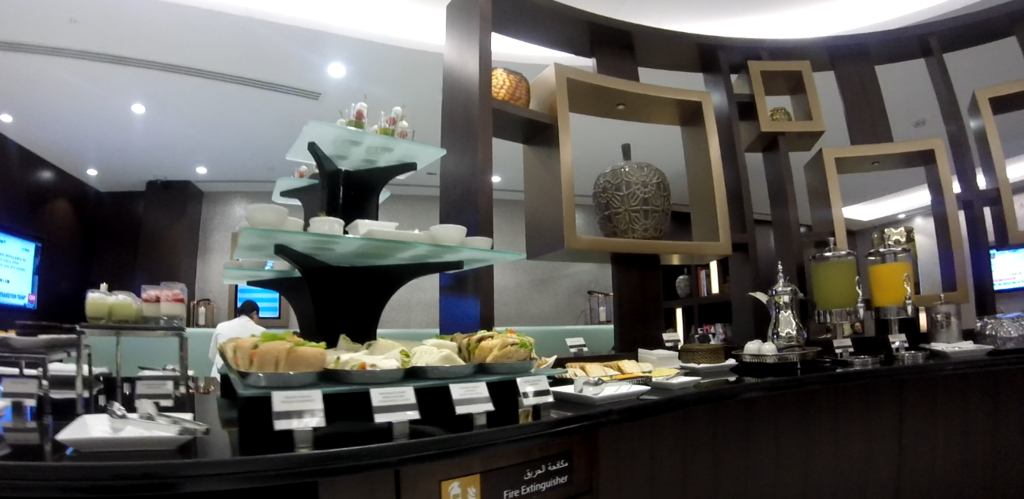 The dinner buffet had primarily cold items. However, they all looked delicious and well prepared. All the surfaces and dishes were clean and well kept. Well done Etihad.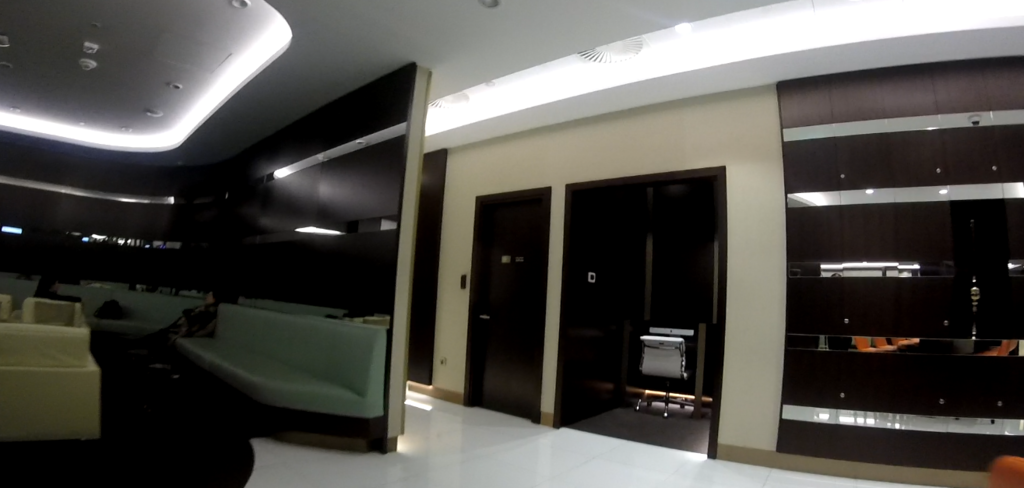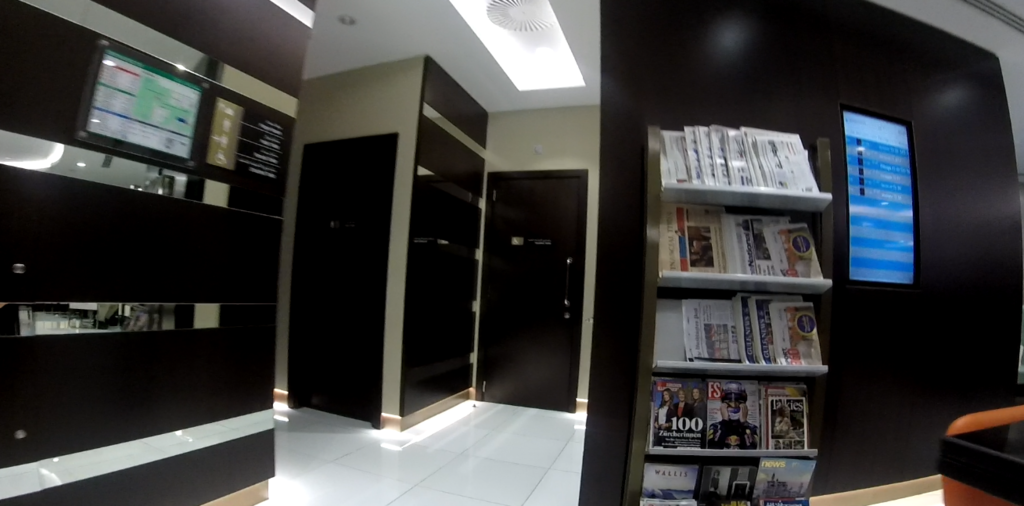 Here are some more shots of the lounge and more complimentary news and periodicals. I find a cozy barstool at a counter, plug up all my technology into the plenty power and USB ports and listen to some music. After checking some more email and reading a little, the Etihad lounge staff announced my flight to Chicago would be boarding in 10 minutes or so. I packed my things up and headed out the lounge and to the gate where the massive 777-300ER was waiting to haul us around the world and back home.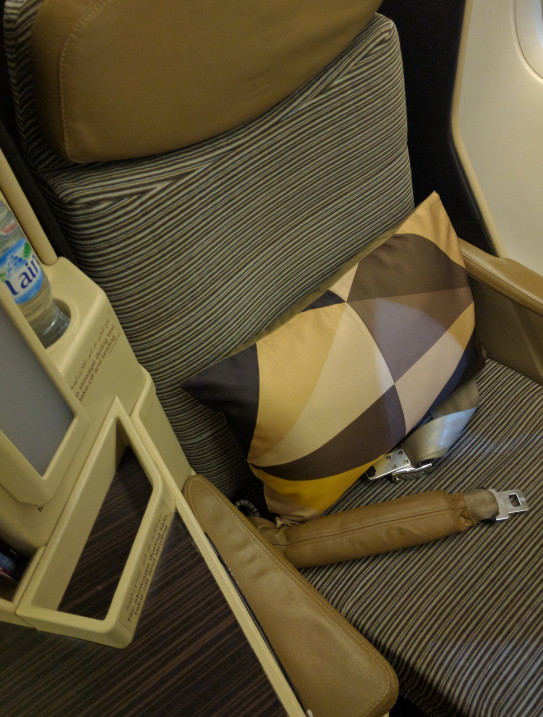 The 777-300ER's business class seat is very spacious and rather cozy. The seat design was a little dated but not noticeably by most people. The upholstery and pillow cushion were matching the Etihad redesign and fit the rest of the cabin well. Yet again, the 777 I flew on to Chicago was not in the new Etihad livery.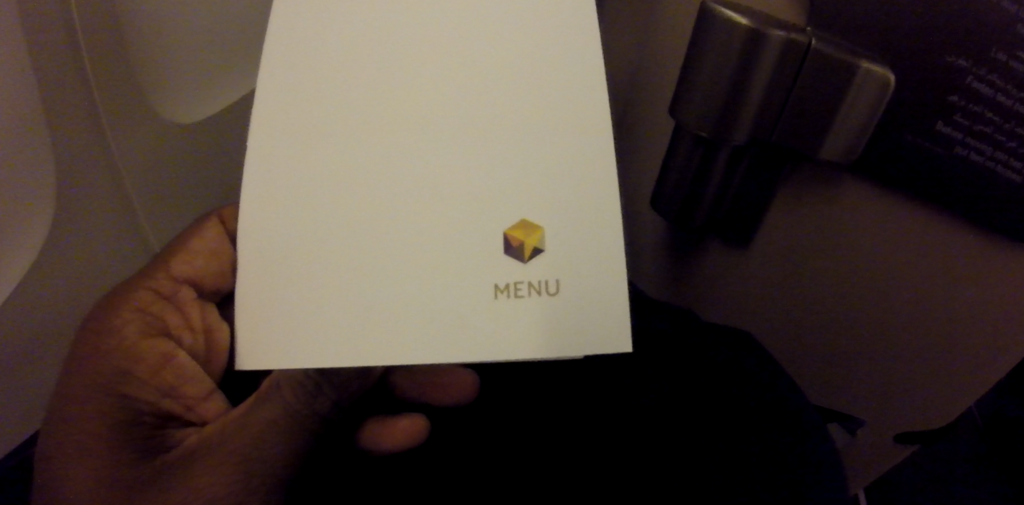 After receiving my welcoming glass of champagne, I opened the dinner menu in vein and ordered the Nile Perch—which I do recommend. I ordered in vain because I was fast asleep before it came and the stewardesses were kind enough to let me rest.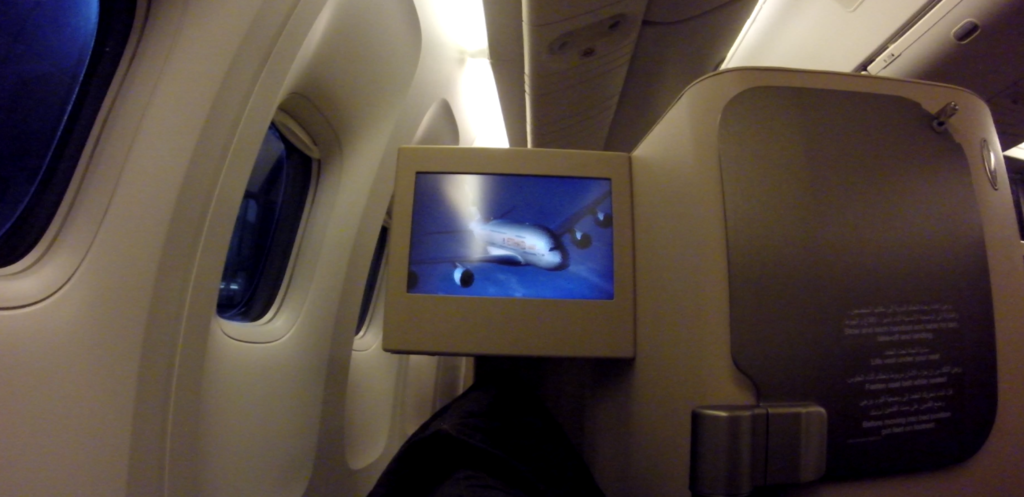 Plenty of legroom for me being a comfortable 5 feet 10 inches tall. The IFE screen was well placed and clear. As always, the screen was effected quite a bit when viewing dark pictures in high cabin light.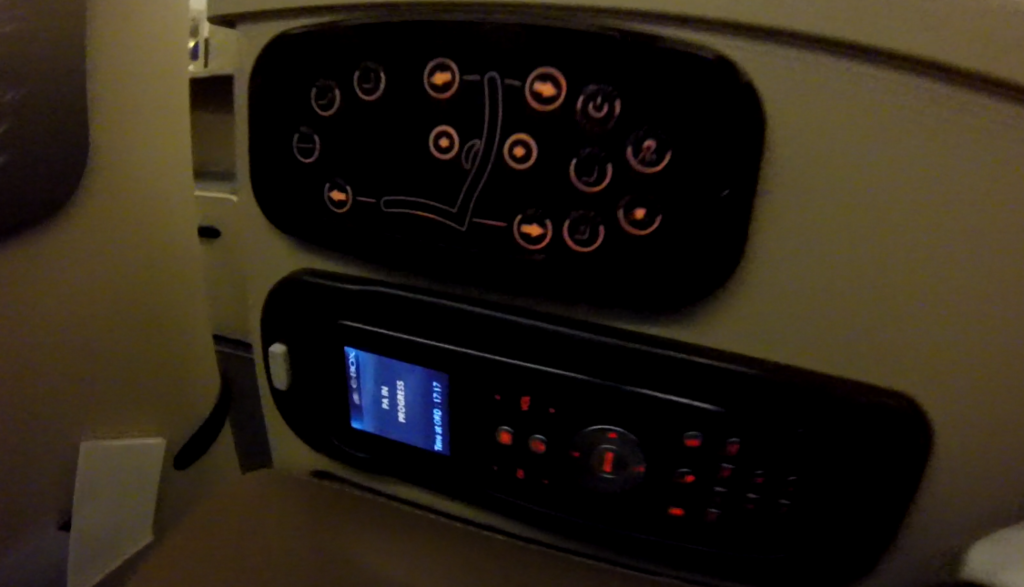 Here is a shot of the seat and IFE controllers. The text and symbols of the keys were well lit but surprisingly not as well as those on the A321. However, both controls were cleaned and functioning well.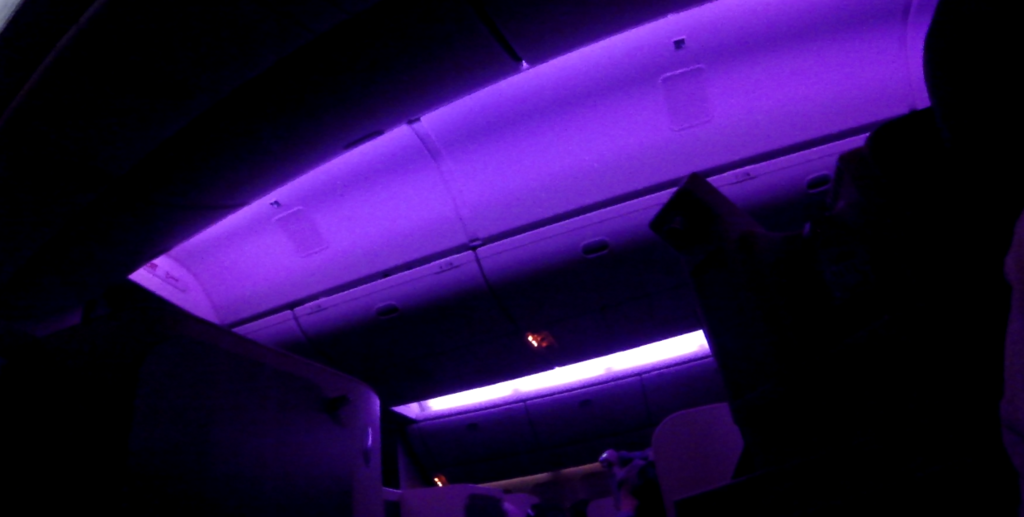 I really liked the neon lighting as they dimmed the cabin. I wonder if they choose purple o mimic a sunset?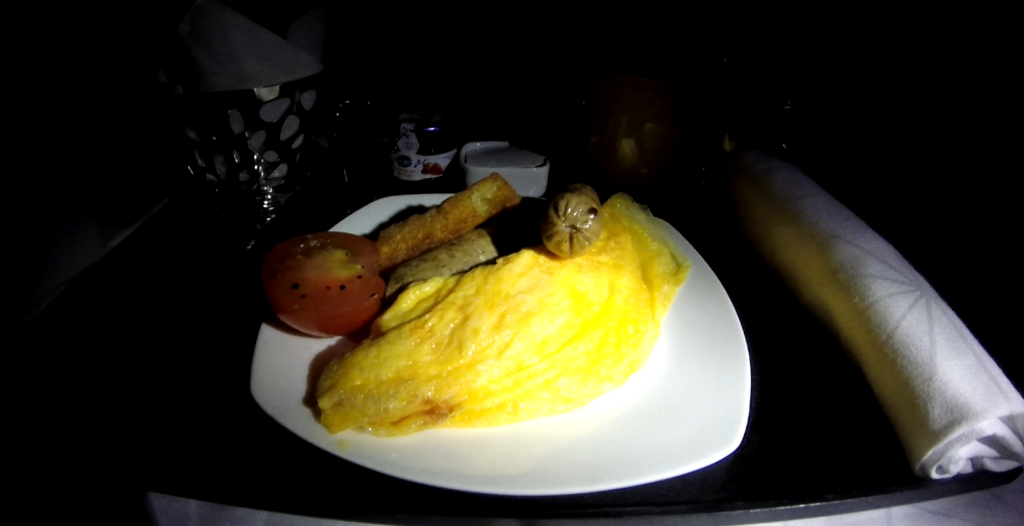 I woke up about five hours into the flight and a steward noticed within minutes and asked if I cared for a meal since I missed dinner. I ordered a well prepared breakfast that suited my appetite well. I ordered the Etihad mango juice, which is amazing and refreshing to go along with the meal.
After my meal I chose a few good movie from Etihad's decent movie selection. Mid way into the third movie I fell back asleep.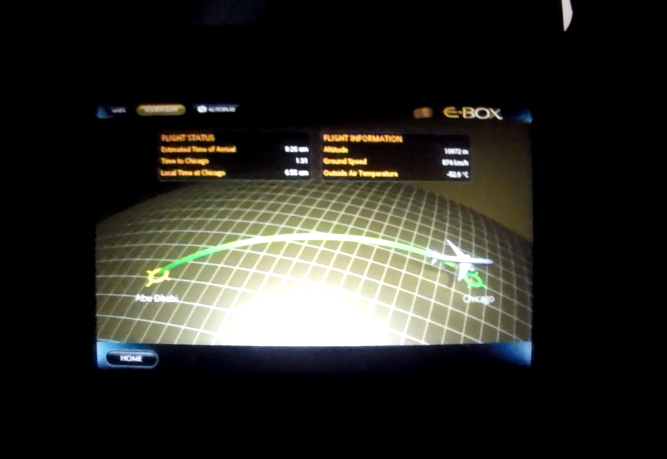 I awoke to the welcomed sight of sunrise peeking in around the cabin. I checked the moving map to see that we were nearing Chicago.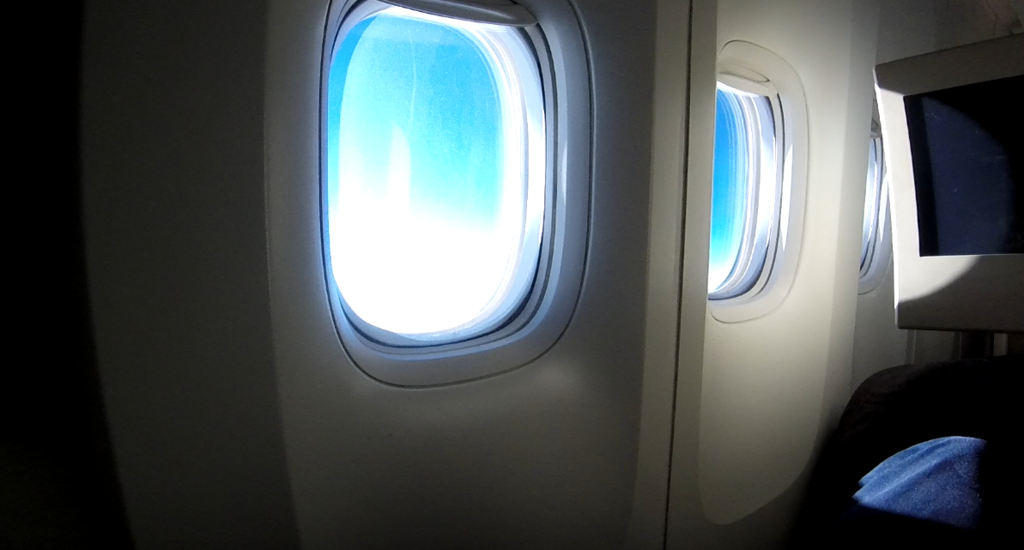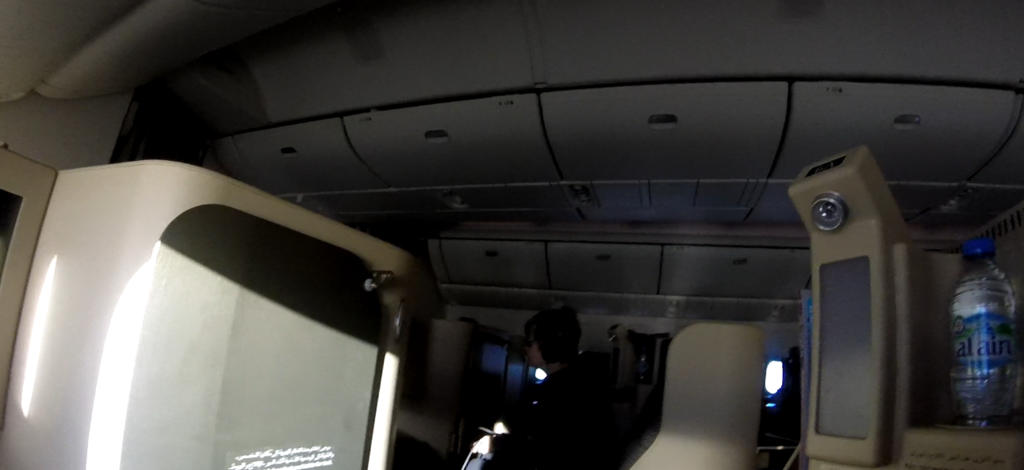 The rest of the business class passengers slowly wake up as well.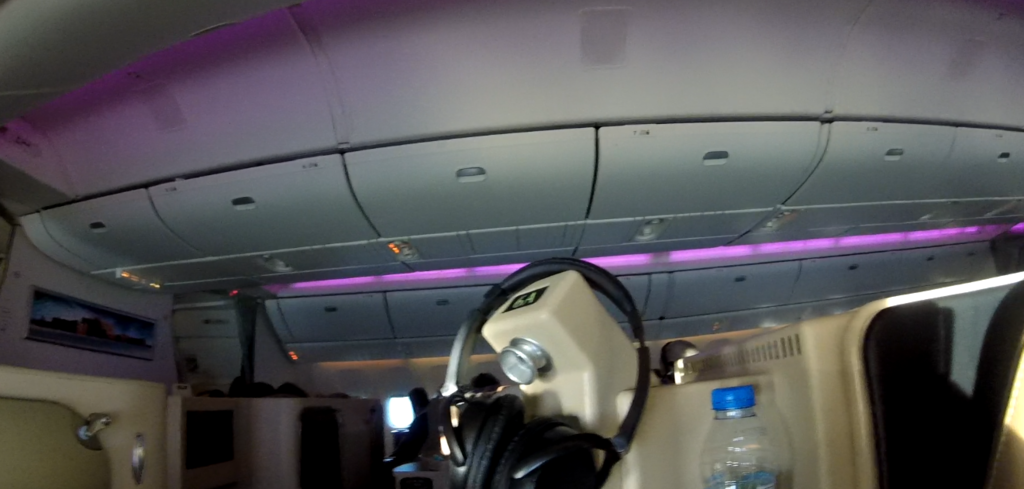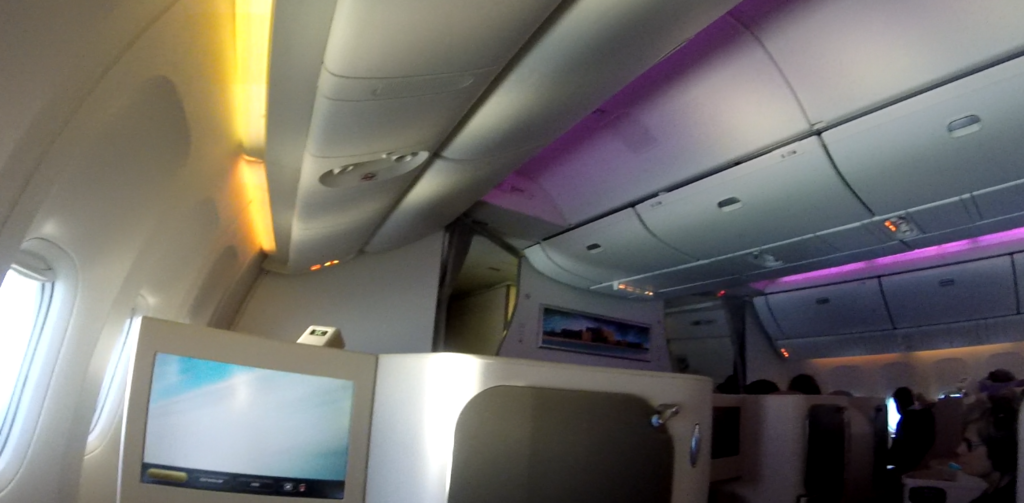 As we awake, we are greeted with more attractive and soothing lighting.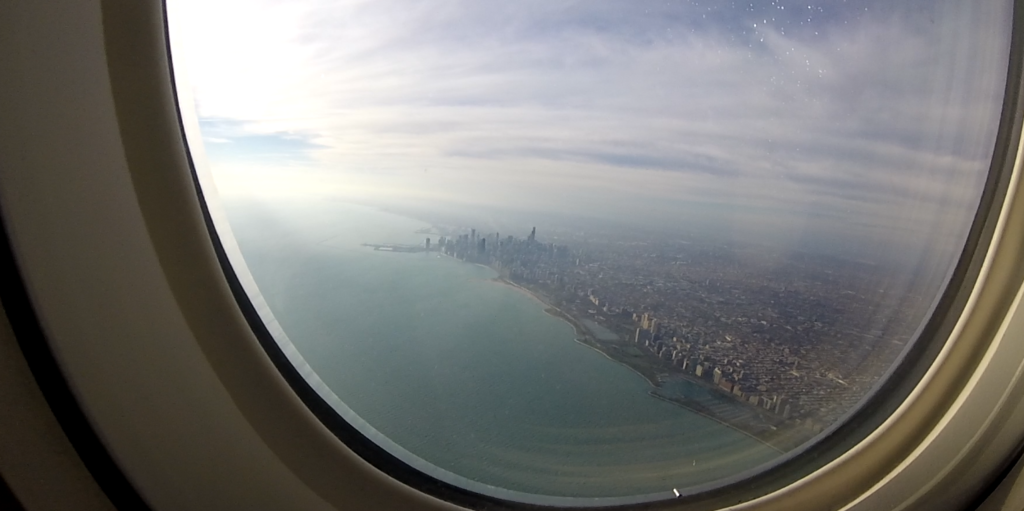 Here is a shot of Chicago being hit my wonderful sunrise.
The approach to O'Hare was straight into the runway and I am sure we followed the typical caravan of aircraft on approach. The captain finished the enjoyable flight with a smooth touchdown and taxi to the gate.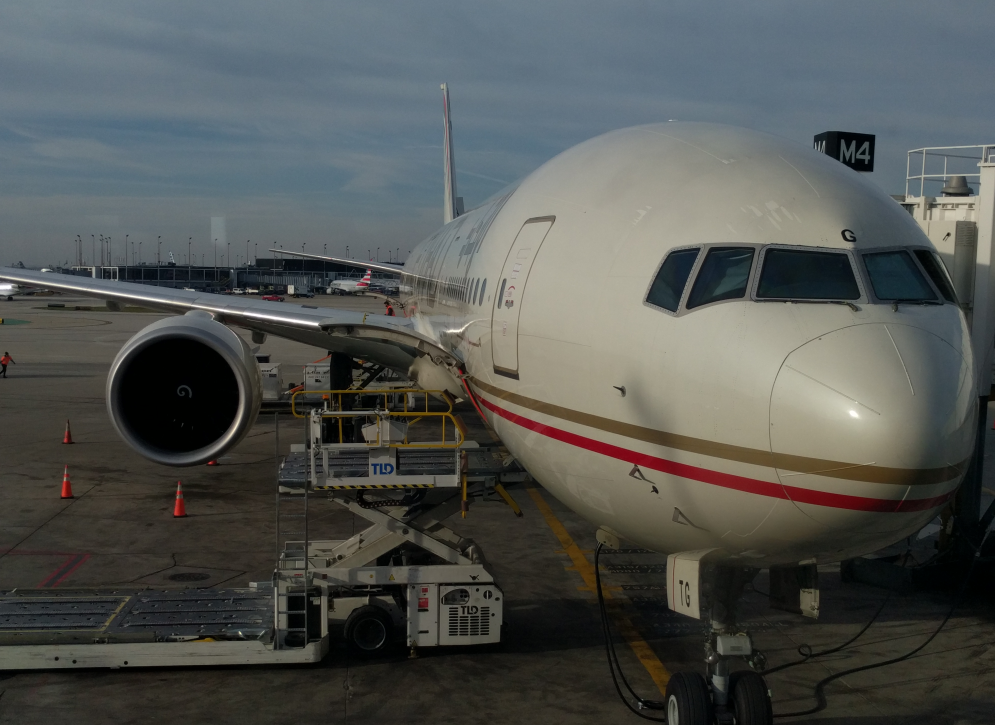 Here she is, the mighty Etihad Boeing 777-300ER that brought me back home. I am always fascinated at how massive the 777's power plants are. What a marvel in engineering. As my journey ends I was both saddened and relieved as always. Sad that the journey full of convenience and flight was over but happy to see my wonderful family. Who knows where my next journey will take me.
Thank you so very much for reading, skimming, or browsing through this trip report. I know you are all busy, so I do appreciate you taking the time to share in my passion for travel, aviation, and business. Please feel free to view and share the video version of the trip report here
https://youtu.be/41jJ4mUqAgk
Please also leave comments and questions below as there is nothing more that I love about traveling than exchanging stories and experiences with others.
Safe travels until next time all!
Shaun