BACKGROUND
There is no shortage of flights between Korea and the UK. However considering that I didn't have much time in the UK I wanted to fly to Manchester to prevent wasting time travelling in between my hometown and LHR (at least a four hour journey). Wanting a reasonably short journey, my options were limited to the ME3, KLM, Air France, Finnair, Lufthansa and British Airways. I have flown quite a lot with EY and QR from the UK to Korea and whilst they offer a good, solid product I wanted to try something new. Emirates would've been nice but their prices were a little too high for my liking. As was the case with AY, BA and LH. Combined with the fact that I've been trying to collect mileage on my KE Skypass card KLM/AF seemed to be the logical choice.
KLM's booking engine is pretty impressive and offered me a cornucopia of ways of flying to Manchester on Air France, Asiana, China Eastern, Flybe, KLM and Korean Air. I had commitments in central Seoul until half ten, which ruled out the 00:55 KLM flight and the 09:45 Air France service. Fortunately for me, ICN-CDG-MAN was being offered for the same price. This would enable me to take my first long haul Korean Air flight, not only this but I would also be flying on board one of their A380 which I have been wanting to fly for a long time.
I intended to catch a ride on a KLM 747 combi back to Korea and I intended to fly on a KLM 737 from MAN to do this, however after some researching I found that for virtually no extra cost instead of a relatively plain 737-700, if I flew from Humberside I would be able to fly on the elusive Fokker 70 before flying on the 747 combi. Had I not wanted to take the latter, for no extra cost I could have opted to fly on a Korean Air A332 back to ICN from AMS. For a small extra fee, it would have been possible to fly from Humberside-Amsterdam-Osaka-Incheon, this would have enabled me to fly on the new KLM 789 from AMS-KIX however in the end, seeing how these will probably be around for quite a while I opted for the vintage 747.
Booking was easy, with my outbound flights not being on KLM, I was unable to reserve a seat however I later found out I could do this for the Korean Air ICN-CDG flight on the Air France website. I was surprised about having to have to pay to reserve a seat on the return journey which I ended up doing.
That morning, it was a chilly -5 degrees outside. Even the thought of thundering across the world on an A380 had a hard job motivating me to get my sick body out of bed. In the end, I decided to get up and face the world albeit 30 minutes later than I had intended.
After packing my bags and having a quick shower it was time for me to head to university. After sitting through an hour's worth of pretty boring stuff I headed to Hongdae to catch the all-stop airport express train to Incheon Airport. In my opinion, I would never travel to/from Incheon and Gimpo any other way. The express train is overpriced and doesn't actually cut an awful lot of time off the journey whilst the buses are also overpriced and aren't as quick as the all-stop train.
I managed to arrive in a fairly deserted Incheon at around 11:30, giving me plenty of time to relax before my 14:00 flight. After queuing for about 2 minutes at the Korean Air check in counters I reached the front. Here I got a bit of a surprise, despite having booked the entire journey through KLM with both the Korean Air and Flybe flight being operated under an Air France flight number, it turned out that I would not be able to check in for the CDG-MAN BE leg of my journey. I was scheduled to have two hours and twenty minutes at CDG, I didn't have any checked baggage and the Flybe flight was departing from the same terminal as the one in which I was scheduled to arrive. Therefore I wasn't too worried although being at the rear of an A380 load of passengers at immigration was a slight worry. It did also cross my mind that I could just head to a transit desk after arriving and seeing what they could do, assuming I had plenty of time.
A pretty empty check in hall circa 1145
Security and immigration were a breeze and in no time I was in a slightly busier airside area. Having a sore throat, I was dying for something to drink. Unfortunately, if wanting to purchase anything at ICN expect to pay relatively high prices. I ended up buying a grape juice for 2000 won (double convenience store price) and a Korean style potato hot dog for 3000 won (triple street food stall prices). Don't get me wrong though, I am a massive fan of Incheon Airport. It's clean, modern and attempts to offer a slice of Korea to those who are only passing though. After taking a stroll, I took a seat and watched the constant stream of departures starting heading off across the world.
One of only a handful of Korean Air passenger 744s still flying. On a side note, a KE 739 is being readied for its 'international' flight to Busan. International as passengers are only able to fly on this ICN-PUS-ICN flight if they are arriving/departing from ICN on Korean Air (and I think their Skyteam partners). Those passengers clear immigration in Busan.
Can you spot Korea's newest airline?
The area around gate 17 wasn't too busy however I just assumed that more people would come closer to the departure time, as the number of passengers didn't even look enough to fill a 738 let alone the largest passenger aircraft in the world. When I booked the tickets, I was a little sceptical that the flight would be busy as it doesn't correlate with any holidays in either Korea or France. However that day the Lufthansa flight to Munich was cancelled due to the LH pilot's strike and so I assumed we would be taking on some stranded passengers although I guessed that fellow Star Alliance airline Asiana would be taking most of these. I was also a little surprised that boarding for our flight began at 13:30, considering we were scheduled to depart at 14:00. By 13:25 announcements were being made inviting priority passengers to board before inviting all other economy passengers. The aircraft for my flight was HL7613, the 59th A380 built. It had made its first flight from Toulouse in February 2011 and in the past week had made trips to both New York and Los Angeles.
Our mighty whale being readied for its long flight to France
FLIGHT
From – Seoul Incheon Intl, RKSI
To – Paris CDG, LFPG
Aircraft – HL7613, Airbus A380-861
Flight no – KE901
Dep time (Sched/Act) – 14:00/14:23
Arrival time (Sched/Act) – 18:30/18:25
Flight time – 12H02
After having my boarding pass checked I made my way down one of the three bridges connected to the aircraft. I received a warm greeting in English before being pointed to my seat. Despite being in the last portion of passengers to board the cabin looked relatively empty. As I made my way down the aircraft the blue seats changed to brown indicating I was nearing my seat. On a side note, in my opinion whilst I've only had good experiences with Korean Air, their cabin colours feel cold and almightily uninspiring. I found my aisle seat beside two empty seats. A minute or so later a gentleman appeared to take the window seat. However in the end, the two rows in front of me remained completely empty and thus I moved to the window seat on the row in front. Probably the best situation I could have found myself in, a window seat complete with a couple of empty seats next to it. A bottle of Hanjin Jeju water was placed on each seat along with a cushion and blanket. Headphones and amenity kits were also given out before pushback. Despite the boring colours, the seat itself was rather nice and comfortable, well-padded and with impressive leg room with USB ports and plug sockets. The IFE seemed to be fast and responsive. In terms of content, this was largely good with plenty of TV programmes, films and music. One thing that I did think was a little strange was the fact that there were only four Korean films, there are a wealth of good and internationally famous Korean films they could show and yet they only show four, fairly internationally unknown recent releases. Single socket headphone sockets are located in the arm rests allowing for passengers to use their own headphones.
An almost completely empty jetbridge
No fantastic views could be had of this mega jet as we boarded
My initial view, until I moved to the row infront
My new view
The amenity kit and headphones
And the Hanjin Jeju water
Don't even think about it
Doors were closed and the cabin crew gave a speech in Korean and English informing us our flight time would be a long 12 hours as well as the usually safety notices. Following this a pre-recorded message in French also played. We pushed back at 14:05 as the safety video played and made a slow taxi to runway 34 where we took off 14:23. After taking off we turned Eastwards in order to avoid the airspace of our neighbours to the North before turning North again. During the later stages of the climb the crew came around with nuts (in packets – although I didn't make a fuss) and drinks. I opted for a Jeju orange juice and a red wine which I consumed as Captain Jang performed his speech concerning the usual flight time, turbulence and route messages.
Beginning our taxi
Almost ready to depart
Round 1
A quick look at the IFE
Our initial route out of ICN
Cruising high above NE China, note the visible contrails from our engines
About half an hour after the drinks it was time for the first meal of today's flight. The choices today being bibimbap (obviously) or chicken salad. I couldn't travel on Korean Air and miss out on this infamous offering from Korean Air. This was served with pickled cucumbers and miyokguk (seaweed soup) along with a rice cake desert. In my opinion you can never really go wrong with a bibimbap, the taste is often consistent no matter where you eat it (unless you're in Jeonju) and Korean Air certainly didn't go wrong with theirs. Although it did seem to be significantly smaller than one you might eat on the ground. After a tea and coffee round and having our trays taken away, the cabin crew came around commanding everyone to shut their window blinds. Whilst I like looking outside at the scenery that's passing beneath us, I complied. I do find it pretty interesting that they should do this as by forcing the passengers to sleep they are ensuring the passengers suffer from jetlag once they arrive in Paris. Surely the best option would be to take a short nap of maybe a couple of hours during the middle of the flight and then ride out the tiredness until it's time to sleep in Paris.
Round 2 – beef bibimbap
Which obviously wouldn't be complete without KE branded gochujang
Post lunch mood lighting
Most of the passengers seem to fall asleep however unable to sleep during the day, I decided to do some work and watch a couple of films instead. Outside the sun sets and we remain in an almost permanent dusk until we near Western Europe. Five hours into the flight the crew come around with small rectangular pizza slices, shrimp flavoured crisps, nuts and drinks. Those who woke up for this service seem to fall asleep pretty quickly again and I get back to work. Not much happens after this until we are about four hours away from Paris. At this time the cabin lighting comes back on and the crew came around with hot towels before conducting the final meal service of the flight. The options for this were pork bulgogi with rice, Chinese style chicken with rice and fish pasta. The portion sizes for this meal seemed to be considerably smaller than the first, that said, I'm not complaining! Korean Air seemed to feed their passengers well throughout the flight.
The infamous KE A380 duty free shop – a crew member seemed to be on duty at the desk throughout the flight
Outside the sun set fairly early and we remained flying at this constant dusk
Round 3 – pizza and snacks
Round 4 – Chicken
After this service, the lights were turned back off and many passengers seemed to fall asleep again. Admittedly, the timing of the final meal was a little awkward. Surely it would make sense to serve this closer to Paris. It was at this point I drifted in and out of sleep until the captain announced we would be landing in CDG in 40 minutes as we crossed the German-French border, north of Luxembourg and south of Maastricht. Here we experienced the first turbulence of the flight which was pretty strong, not the strongest I've felt but it certainly did cause some worried looks amongst my fellow passengers.
We began our descent and without any holding we glided into CDG's 08R where we made a smooth touchdown at 18:25. After that we made a slow taxi to gate E30 where it didn't seem to take too long to get off the plane.
Almost down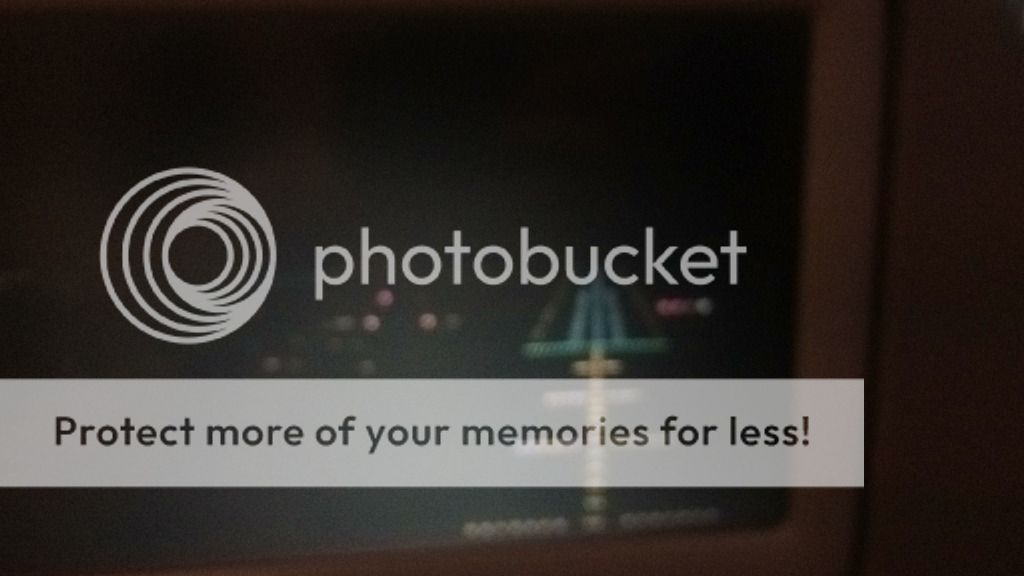 Finally in Paris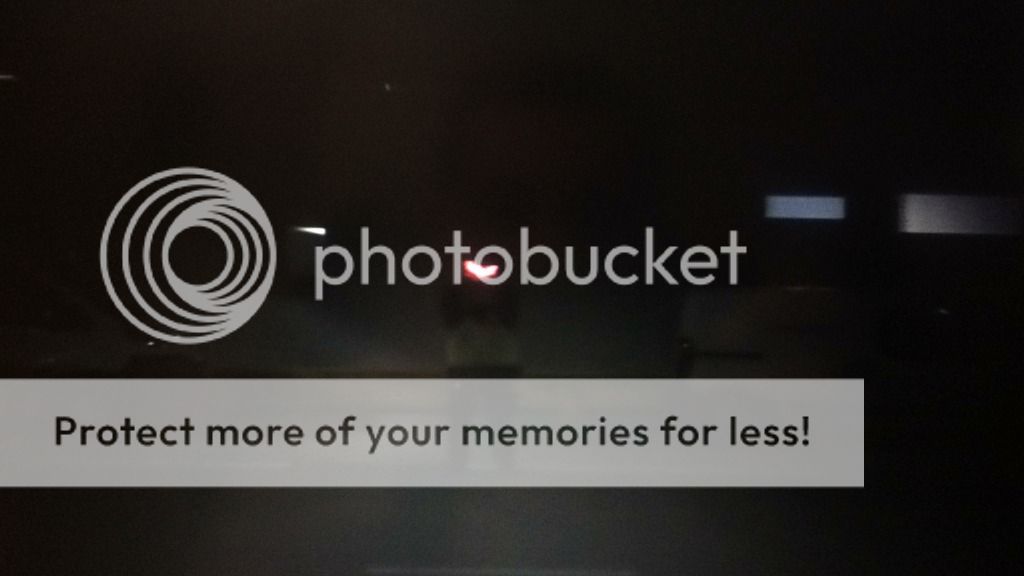 My next flight departed from E35, a gate almost opposite E30, although not having a boarding pass I had to take the train to immigration, check in again and then take the train back to the pier and go through security. Surprisingly, it seemed like the majority of the passengers from the flight were transferring which was good news for me as it meant an empty immigration hall. After a quick passport check I walked straight through the baggage claim hall, customs and out into arrivals. I headed straight upstairs to the mostly empty check in desks where check in was underway for the Korean Air flight back to Incheon and Flybe flights to Manchester and Birmingham. After checking in I went through immigration which was slightly busier than the queues for entering France and took the train to the E pier. All was going pretty smoothly until I reached security. Here we were met by a row of unmanned scanners and a long queue of angry passengers. I was rather surprised that only one scanner was being used. As a result, it took 25 minutes to pass through security.
After passing through security I took a seat at the far end of the pier, here I discovered that my inbound flight was late and boarding would not commence until 21:00. The Korean Air flight backed to Incheon looked a little busier than the inbound flight, however there was definitely not enough passengers to fill an A380. Perhaps it would make more sense to copy Air France and Asiana and use a Boeing 777, ideally a 77W on the route in winter. Meanwhile there was no sign of any activity outside around my gate, although I tracked the flight as it descended over northern France. The neighbouring Flybe Embraer 195 bound for Birmingham seemed to make an on-time pushback and departure. Paris CDG's E pier was an okay place to wait, however it wasn't fantastic. The lack of flights meant there was plenty of place to sit down, the terminal was clean and modern and there were adequate facilities. Although the terminal's sporadic wifi did cause a few problems.
Eventually our aircraft turned up and the turnaround process seemed to happen in a flash. Before I knew it, we were heading out into the cool evening air for our flight northwards. Tonight's flight seemed to be 100% full with a range of passengers onboard including business people, tourists and people connecting off long haul flights from Asia such as myself. The aircraft taking us to Manchester that evening would be Embraer 195, G-FBEK. This aircraft was delivered to Flybe in April 2008 and had been kept in storage at Newquay and Exeter from January 2014 to February 2016.
My ride for the short flight to Manchester featuring an Ethiopian 777
Inside, the aircraft looked like the Flybe EMB 195 I had flown on from Cork to Cardiff earlier in the year, worn, battered and slightly dirty. There were some issues on board as there didn't seem to be enough space for everyone's carry-ons. There were two cabin crew members on board, sitting in the 4th row I was served by the one stationed at the front. That crew membered clearly didn't want to be working that evening! After a welcome message from the captain in which he detailed the route, we pushed back and made a quick taxi to runway 08R where after a short time holding for a Tokyo bound JL 788 and an Iberia Express A320 to depart we blasted off into the night sky. Shortly after departure the BoB service commenced and UK landing forms were offered. I slept for most the flight and was awoken by the first officer's pre-descent announcement. Our touchdown in Manchester was smooth and after a short taxi we arrived at terminal 3's gate 44, I used the automatic immigration machines and not having any baggage I was out of the airport within about 12 minutes of the aircraft arriving.
CONCLUSION
Korean Air offered a good, long haul product and I wouldn't hesitate to fly them again if they offered reasonable prices. Their economy class seat was comfortable and spacious, even if the flight was full I'm sure I would have still been reasonably comfortable throughout the flight. Their IFE was up to date, good and responsive. The crew were pleasant, friendly and attentive. Whilst the food was good and plentiful, the timing of the final meal seemed a little awkward, perhaps the only comment here would be that perhaps it would be slightly better if this meal was served closer to landing. The only other negative was the inability to check in for both flights at Incheon, even though they both had an Air France flight number however this didn't cause too many problems in the end.
I used to be quite a fan of Flybe, however my past few flights with them haven't been all too good. As mentioned the cabin crew did not seem warm or friendly and it was rather obvious that they did not want to be on the flight. The aircraft seemed to be old, worn and dirty. That said, if I was paying low prices for the flight I wouldn't be so critical however as this was codeshared with Air France, with many passengers paying full service airline prices for this flight then perhaps it is only right for Flybe to put in a little more effort.
Thank you for reading and sorry that a couple of the pictures seemed to flip the wrong way round!
Other Trip Reports
Korea Domestic
Asiana Boeing 767 Gimpo-Jeju
Air Busan A320 Busan-Jeju
Jeju Air Boeing 737-800 Busan-Jeju
Jin Air Boeing 777-200ER Jeju-Gimpo
Korean Air Boeing 747-400 Gimpo to Jeju
Korean Air Airbus A330-300 Jeju to Busan
Short Haul
Cityjet Avro RJ85 London City-Cork
Far Eastern Air Transport MD-80 Taipei Songshan-Makung
Thai Airways Boeing 777-300 Bangkok-Phuket
Ukraine International Airlines Boeing 737-800 Kiev-Istanbul
V Air Airbus A320 Taipei-Busan
Medium Haul
China Southern Boeing 777-200 Urumqi-Beijing
Vietjet Airbus A320 Ho Chi Minh City-Taipei
Long Haul
China Southern Airbus A330-200 Istanbul-Urumqi
Oman Air Airbus A330-300 and Boeing 787-8 Heathrow-Muscat-Bangkok
Thai Airways Bangkok-Karachi-Muscat
Vietnam Airlines Airbus A350 and Boeing 787-9 Heathow-Hanoi-Seoul Incheon