Video report of this trip
Sky Angkor Airlines - ZA 136 - Sihanouk to Siem Reap - A320
Background
This is part of our trip to Cambodia from the UK. The trip report to Cambodia and back to London, will be done separately.
We had a domestic flight between Sihanoukville and Siem Reap. We had a few options in Angkor Bayon Airlines, Cambodia Angkor Airlines or Sky Angkor Airlines.
Cambodia Angkor Airlines had the snazziest website of the three and seemed to be the best option. In conjunction to that, they had the highest prices too, around $115 per ticket. They fly the A320 daily on this route and on some days even have two flights a day. This was later changed to twice daily ATR's plying this route.
Our second option was the interesting Bayon Airlines. They had a very suspicious website, although they respond to email queries very quickly. But the most interesting aspect of this Airline is the aircraft they used on this route - The Chinese built MA60! It was my one and only opportunity to fly in it. That being said I was slightly nervous about the flight safety record as well as they were not very cheap ($95 per ticket)
The third option seemed the most viable - Sky Angkor Airlines, who fly the A321 (later changed to A320) on this route and price wise seemed a bit more reasonable at $30 per ticket. Although they only opened booking for their January schedule only in November.
They opened this booing towards the end of October. Got a great deal. 6 adults and 1 child for $288. I think that's a great saving compared to over $700 with the other two airline. Excited to try a new exotic airline.
Thanks to GCMaps for the map illustrations below:
Sky Angkor Airlines – ZA 136
Route: KOS - REP
Flight Reg:XU-715; Delivered to Sky Angkor Airlines on Nov 2016. A lot of previous carriers have used this aircraft, first of which was LAN Chile; it even had Spanish exit signs.
Aircraft Type: Airbus 320-200
Seat: 11F
Flight time: 09:15 - 10:05 (11:10 - 11:50)
Actual flight time: 40 min
Distance: 195 Miles
Load: Less than 50% load
27th Jan 2017
My Log book: 1st Flight on Sky Angkor/ flight on Airbus/ 126th Total overall flight
On the day of the flight I noticed that the aircraft had just arrived from Chengdu, this was at 6 am. I assumed that this would mean an on time flight.
Checked out of the hotel by 7 30 and reached the airport before 8 am. It was here we realised that the flight had been delayed by 2 hours! The reason for the delay was stated as late arrival of the flight from China. Odd given that the aircraft had arrived at 6 AM in Sihanoukville.
En-route to the airport
Sky Angkor living up to its reputation of delaying/cancelling flights. A mate of mine had a similar issue during new year's. Same flight got cancelled and was forced to pay up for a more expensive ticket on Cambodia Angkor airlines.
Sihanoukville international airport is basically a small shed. Not much to do there. Hardly any seats to sit too. Hired a tuk-tuk to take us to the nearby ream beach to spend some time.
Check in desks
Airport interiors
Seating area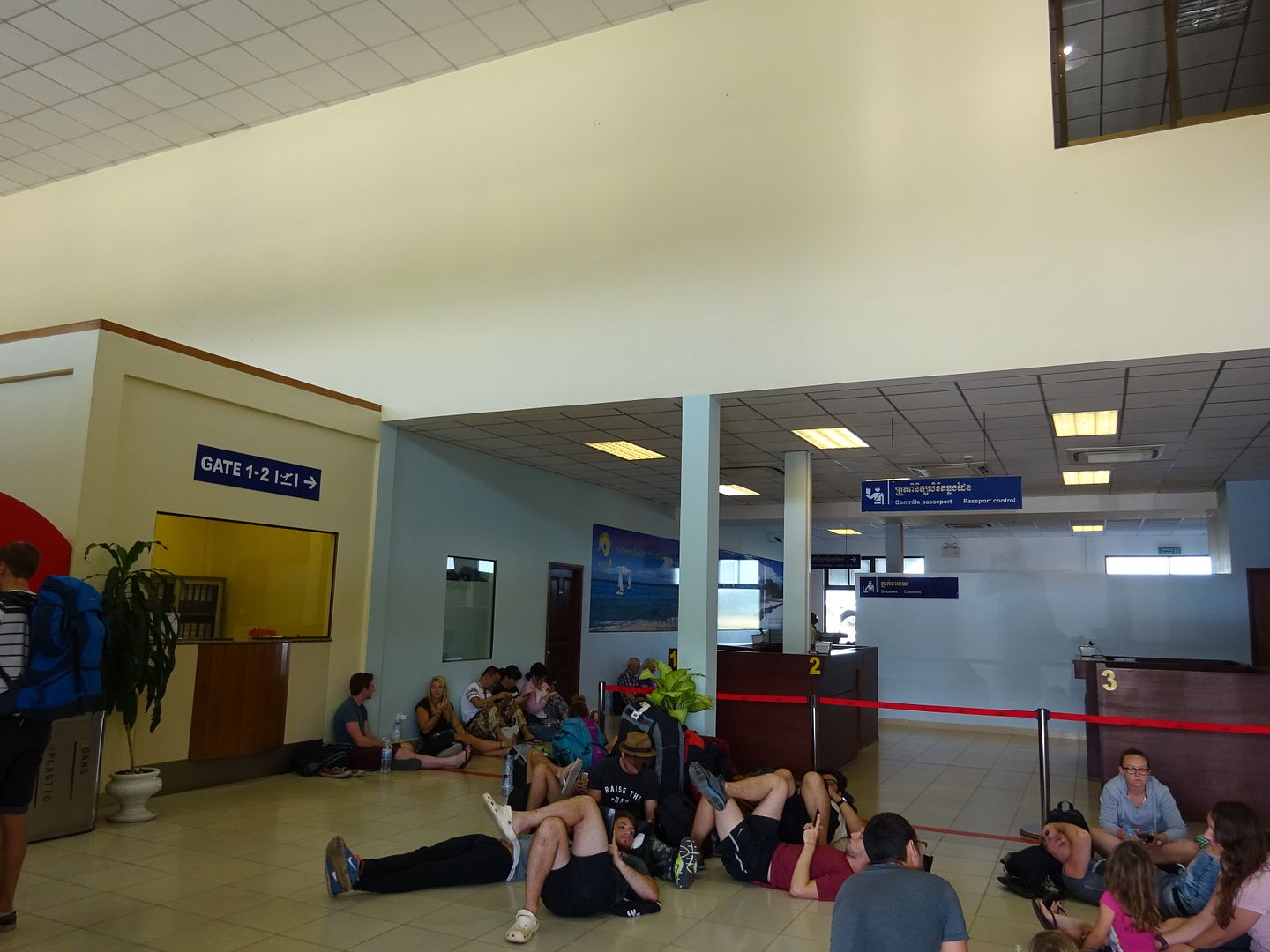 Came back in time to board. It just meant we had to move into the next hall. Security was a farce and it was all over in less than 30 seconds.
Plane spotting at KOS - a 7 year old ATR 72; off to Siem Reap
A busy day at KOS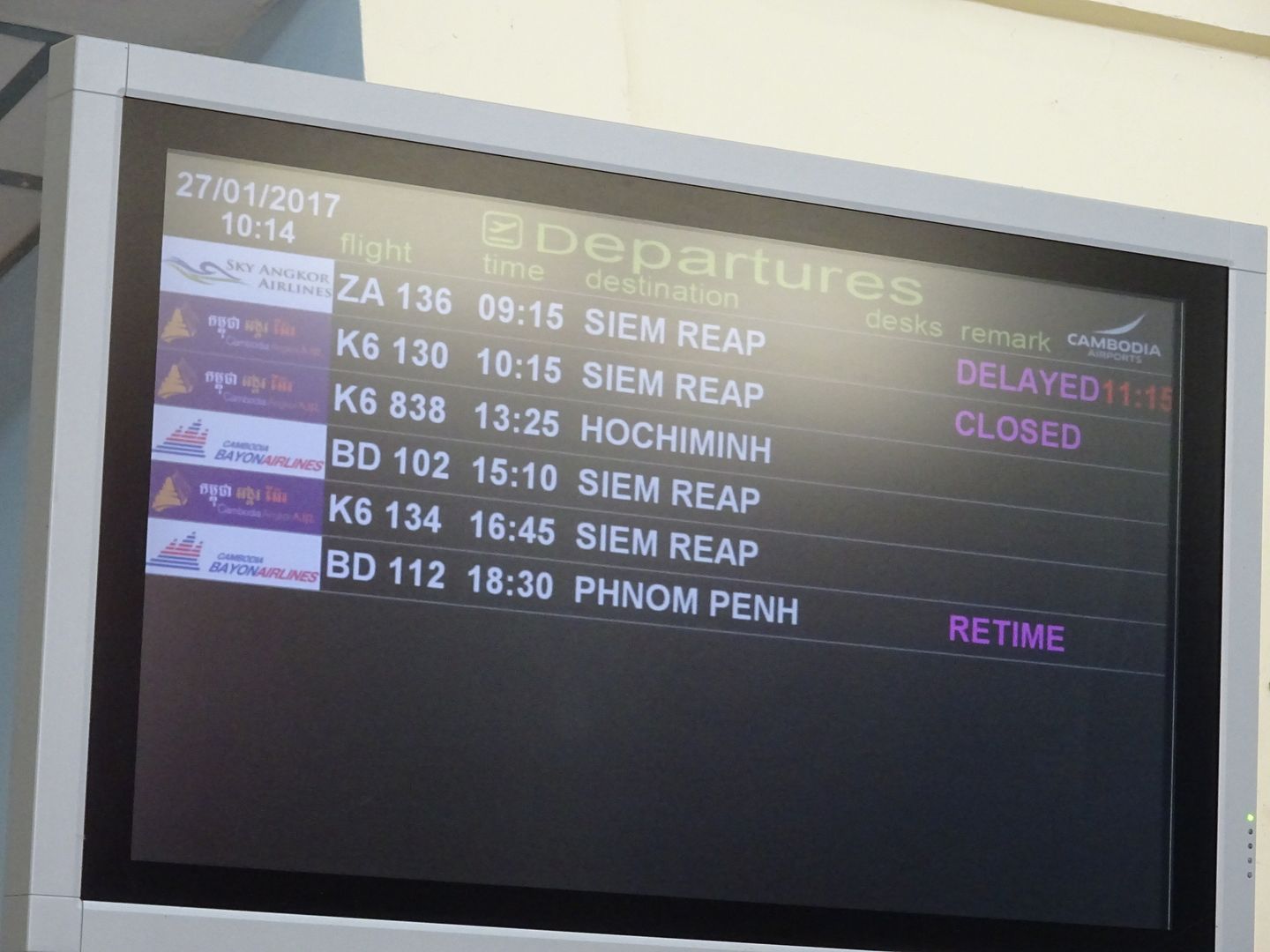 Snacks? are there any left?
Boarding commenced at 10 30 and completed by 10 50. The aircraft looked relatively lightly loaded today for our flight to Siem reap. Less than 50%.
Boarding gates 1 of 1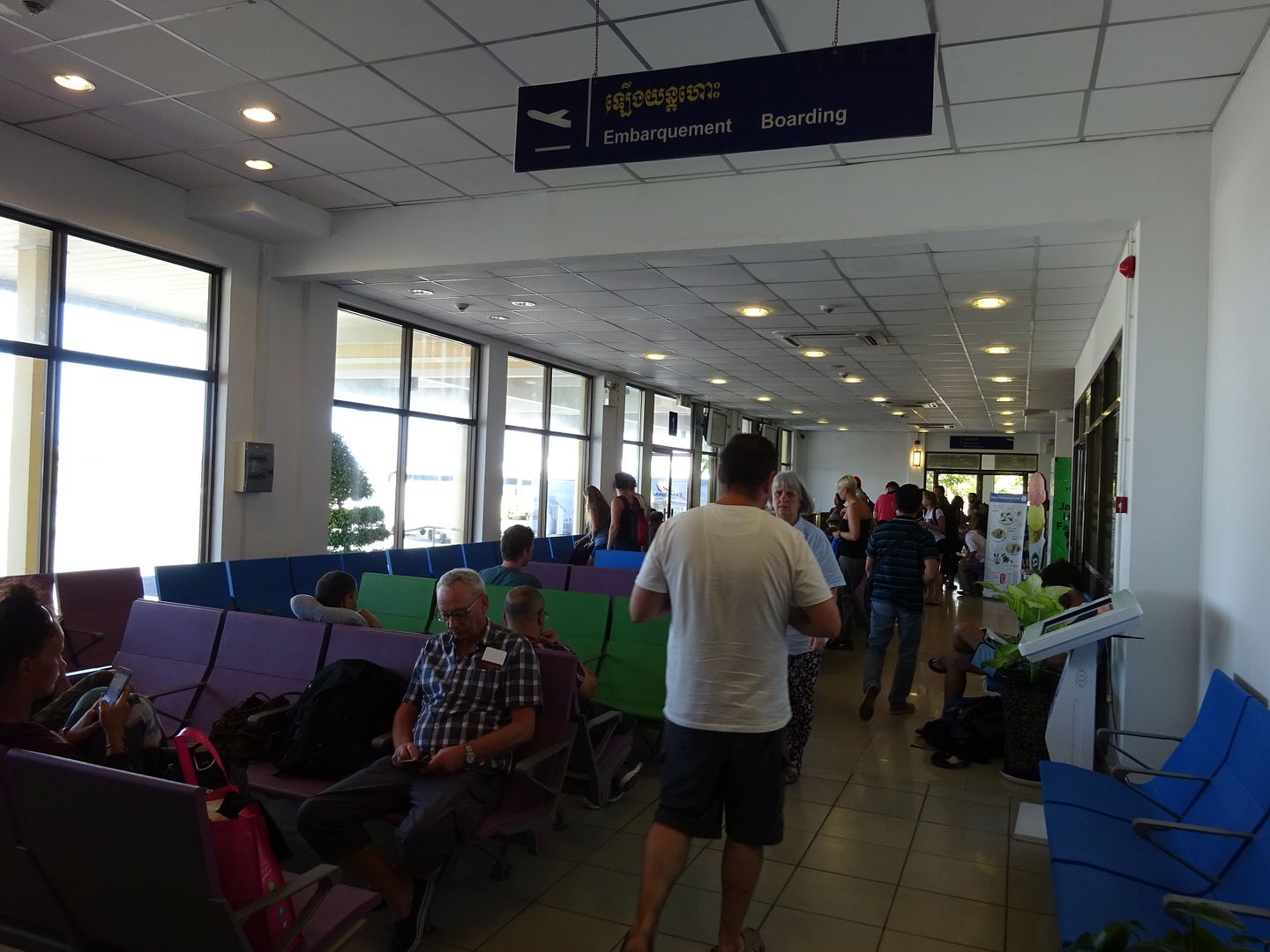 Time to board
While walking to our aircraft - nice time to plane spot, if there are any. I wish they let us walk to our aircrat at Heathrow

Bye Sihanouk
Our ride to Siem Reap - a 15 year old A320, been part of many airlines in the past, started off its life with LAN Chile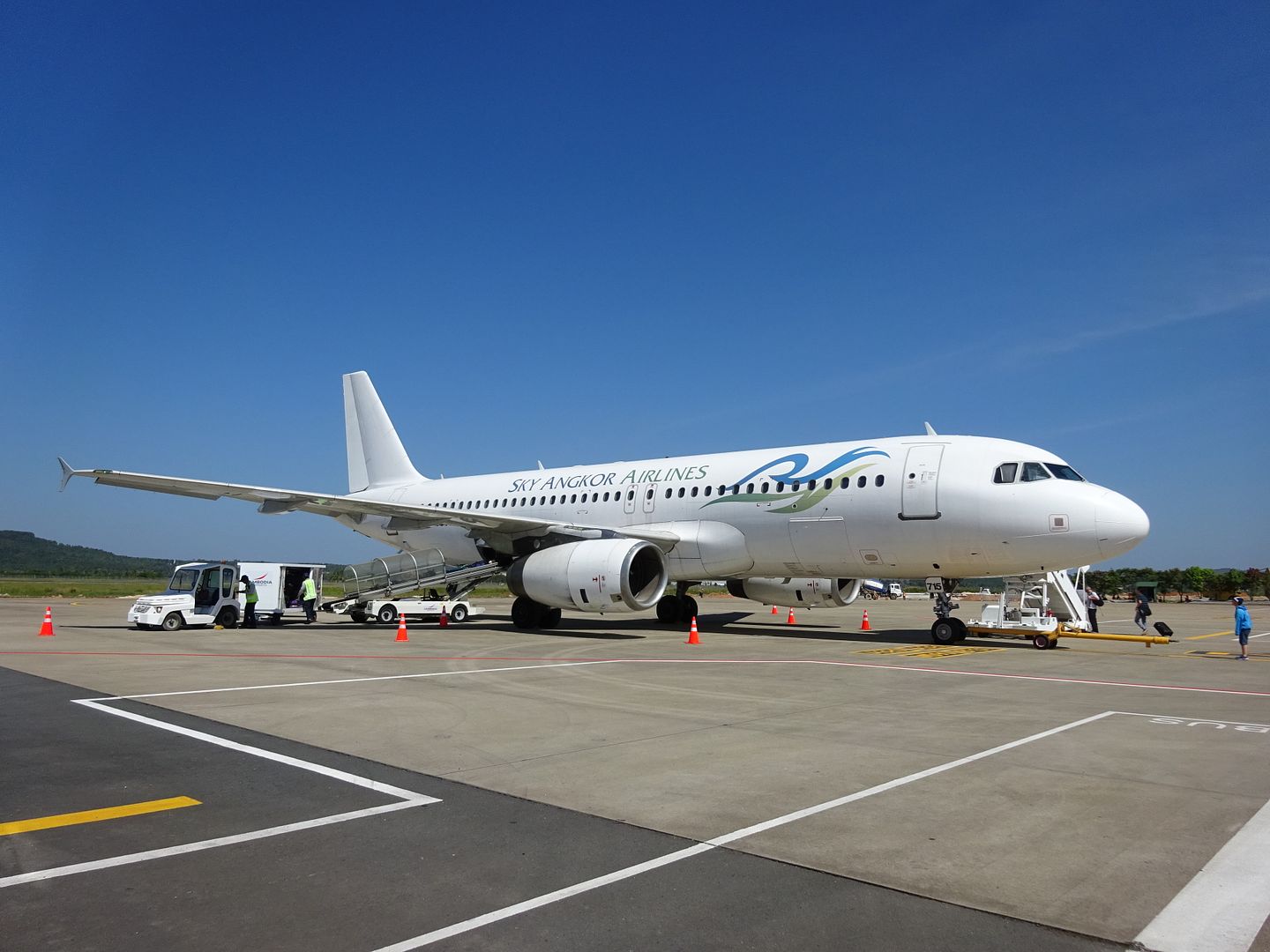 This was one of the latest addition to the fleet. The tail had not yet been painted.
First impressions. Neat and clean. It did not show its age. Seats a bit cramped but should be alright for a 40 minutes flight.
First Impressions
Our seats - Row 11
View from the seat
Neighbours
Quite a tight fit
Their reading material (Arun) was very good and informative. Particularly for information about Cambodia and information about visa procedures in mandarin. Quite specific for the Chinese market.
We had 4 flight attendants for this flight.
Various reading material - 'Arun' was particularly informative.
Empty row in front of us
We Disembarked at 11 am and was Airborne by 11 10.
Flight time of 35 minutes announced from the cockpit.
En-route announcements from the cockpit regarding flight path and distance, speed and altitude. That's a good initiative and wasn't expecting that, with an Arrival time of 11 49 announced.
Fresh wipes and feedback form during flight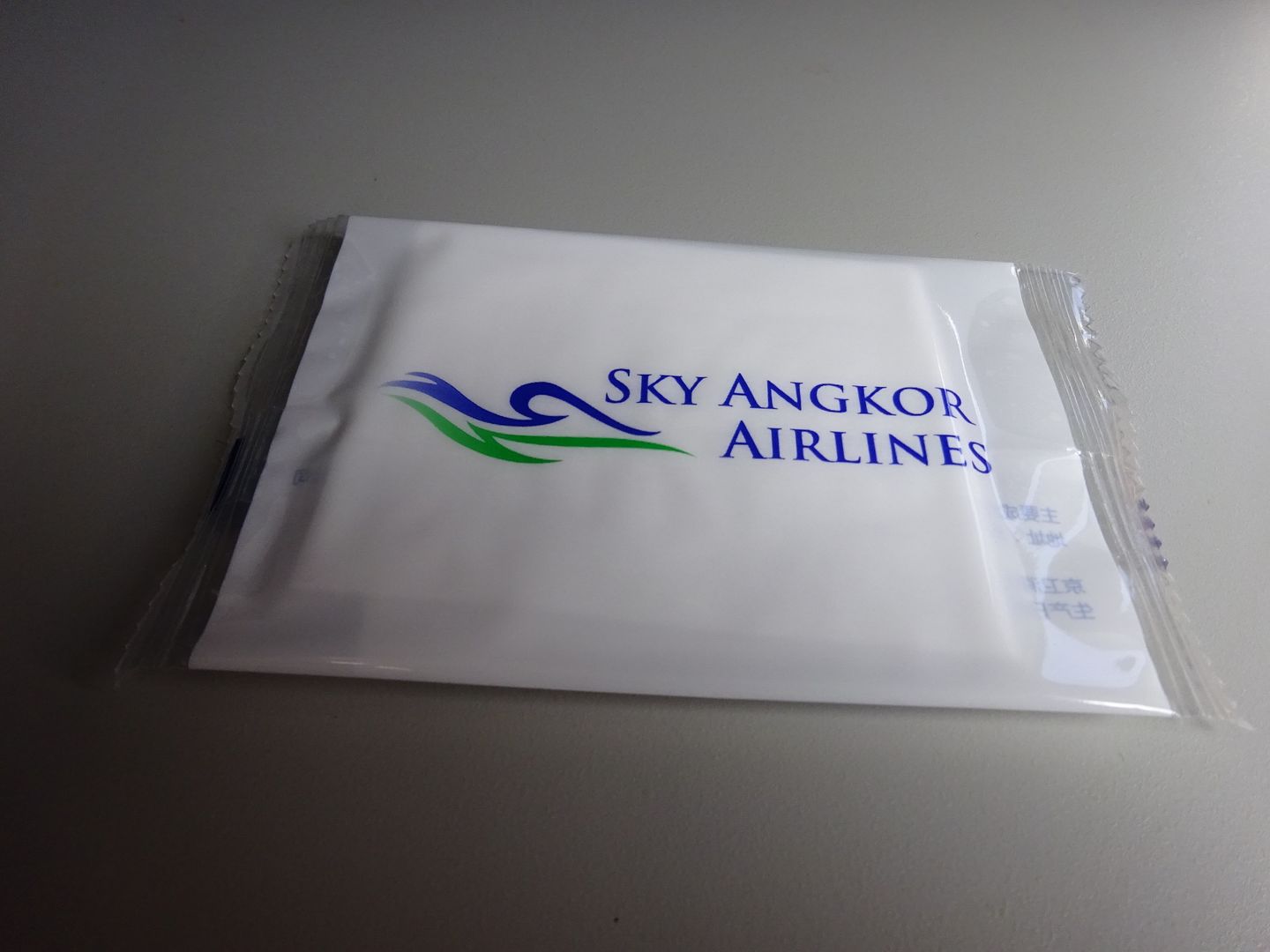 Interior view
As expected, we landed at exactly 11 50.
Siem reap is quite a small and compact airport. Bags arrived on time and out of the airport 20 minutes after landing.
Neighbours at Siem Reap
Clues still showing that it belonged to a Spanish airline in the past
Bus ride to the terminal building
Welcome to Siem reap
Domestic baggage hall
Our ride to the temples
Verdict
Except for the 2 hour delay, this was a very good ride to Siem Reap. Their service is pretty decent and there seems to be considerable effort to try and make themselves a better airline. They have a long way to go, but it looks to be in the right direction.
Right from check in, until we departed at Siem Reap, the staff were apologetic and always had a smile.
It was a decent experience and at the end of the day, the delay was not too bad and we reached safely; more importantly got to try a unique and rare airline

Hope you liked this edition of the report. The main report from London to Cambodia and back, on China Southern to follow.
Until then safe and happy flying.
Adios.!
Sights around Sihanoukville
Relaxing at Otres Beach
Sunset over Otres
Chilling at Koh Rong Sanloem
Our ride in Sihanoukville

Previous Trip Reports
Weekend in Zurich - Swiss and BA (Club Europe) - Airbus 320-200
Weekend at Cinque Terre - BA to Bologna - Airbus 320-200
Journey to the East (Part 5, Final) - BA B747-400 (Club World)
Journey to the East (Part 4) - China Eastern A321-200
Journey to the East (Part 3) - Etihad 5th Freedom Route
Journey to the East (Part 2) - BA, JAL, Etihad, China Eastern
Journey to the East - BA, JAL, Etihad, China Eastern
Norwegian And Air Baltic To ARN And RIX
London To Muscat On Gulf Air - A332 And A320
Part 4:India Domestic-9W, AI, SG On A321,B737,Q400
Part3: Phuket To India - Bangkok Airways -A320-200
Part 2:Thailand Domestic -Nok Air And Thai AirAsia
Part 1:Qatar Airways - Thailand And India
Part 3:BA Club Europe - LCA-LHR - Boeing 767-300
Part 2:Blue Air - Athens-Larnaca - Boeing 737-400
Part 1: Aegean Air - LGW-ATH-JTR - A320-200
Ryanair London(STN) To Lake Como (BGY)
Weekend In Belfast - Aer Lingus A319-100
BA First - PEK To LHR - Mid J B747-400
BA CW - Upper Deck To Beijing - High J B747-400
China Railway (CRH) - Video Report - SJW - Beijing
LAN Dreamliner (J) Experience - MAD FRA
Baltic Escapades - VNO/TLL/RIX On W6,BT And OV
South France - EasyJet A320 BA A319
UK To India - The EK Way - B777-200/300 & A380
India Domestic–Jet Airways And Indigo–A320/ATR 72
BA A320/321 - LHR To Berlin TXL - Christmas Day
China Southern - LHR-CAN-HKT - B787/A321
Aloha! The United Way - B777-200 And B737-900
Mahalo Hawaii, Hello NYC - DL B767-300
Cool Blue To BOS And Got Blue? To LAS - E190 A320
VS Little Red To ABZ And EZY Return
24 Hours On A 787! - Final Leg CZ - AKL-CAN-LHR
Part 5 - BHE-WLG-AKL On NZ Beech1900D And A320
Part 4 - MEL-AKL-ZQN On QA And NZ B738\A320
Part 3 - CNS-MEL On JetStar A321-200
Part 2 - SYD - CNS On Virgin Australia E190
Canton Route Part 1 - LON-SYD - CZ DreamLiner/A332
DREAM(liner)ING Of Hainan - China Southern
Panda Calling - BA LHR To CTU - Club World
China - The Low Cost Way - Spring Airlines - SJW-CTU
China United Airlines (KN) - CTU - SJW - B737-700
Norwegian B737 - LGW-TOS-BGO-LGW
Jet Airways: LHR – COK
Barra Trip – that was not to be
LHR - KWI - BA 747 - Part 1 - Middle East -China
Part 5: PVG-LHR - BA - Economy - B777
Part 2: KWI-DXB - FlyDubai - Economy - B737
Part 4A&B - SHA-SJW-SHA - FM: Eco: B737
Part 3A&B : DXB-HKG-PVG: CX & KA :Eco: A333
Morocco Trip - LGW-RAK-TNG-LHR - EasyJet & Iberia
Dusseldorf Calling - BA & EZY - Club/Eco - A321