China Southern to Cambodia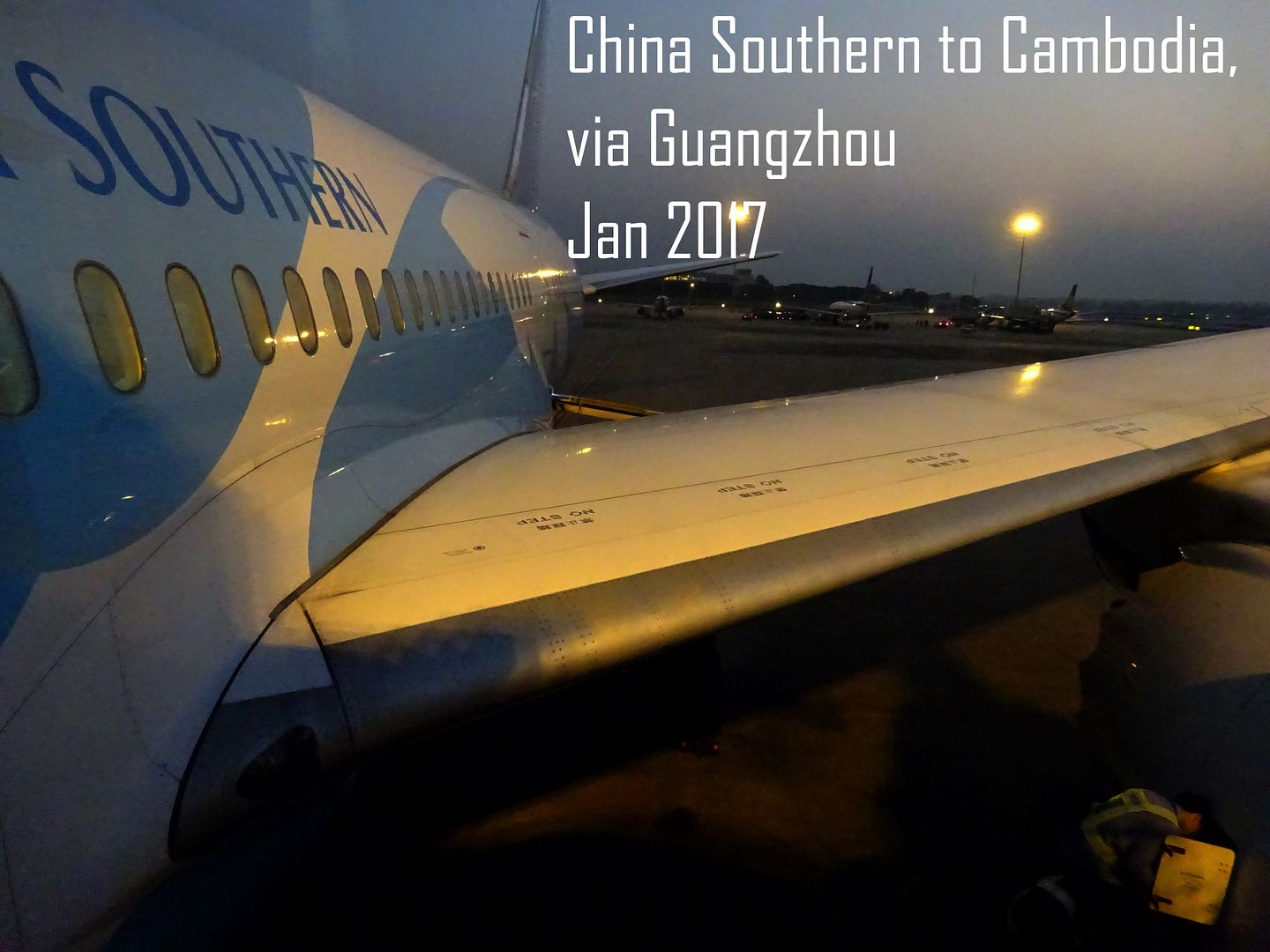 Video report of this trip
Sky Angkor Airlines - ZA 136 - Sihanouk to Siem Reap - A320
Overnight hotel accommodation at Guangzhou Baiyun International Airport
China Southern To Cambodia from London - Boeing 787 and Airbus 321
China Southern CZ3064 - Siem Reap to Guangzhou - A320-200
first part of the trip report
Domestic Cambodian Escapades - Sky Angkor - KOS-REP - A320
Background
Hello A'Netters. It's been a while since my last Trip Report. This edition of my Trip Report takes me to the land of the Khmer - Cambodia.
Its Chinese new year, and we usually try to do something with the in-laws over in Asia. It was Thailand last year, (
Journey to the East - BA, JAL, Etihad, China Eastern
) and we zeroed in on Cambodia.
Looking at flight options, China Southern seemed to tick all the right boxes --> Price, time and schedule. It also meant that we would get to meet with the family in Guangzhou where we would be transiting and be flying together to Phenom Penh.
Looking into CZ website, it has improved drastically.! English website, best prices and everything worked seamlessly. For the first time I was able to book online on CZ website. Only niggle was seat selection, although provided, did not work as the seat map would not load. But compared to my previous experiences on CZ website, this is marked improvement in the right direction!
After booking, tried going back to the website for manage my booking and then the seat selection worked. Albeit the amount of seats that had been released were very minimal, all towards the last few rows. May try again after a couple of months or at the airport. But credit where credit is due - great improvement to the look and feel of the website. It all works as expected and we are now even able to book from UK via their CZ UK website. Great work!
One month before the flight, we tried to see if we could book our transit hotel online (as we have an overnight transit on our way back from Siem Reap). This was not possible. But then we tried using the app (which is in mandarin) and the functionalities on the app is really very good. We were able to select a wide range of hotels and even book into one of them that we liked. Amazing! Just shows that CZ is a very local company and the differences in service between a mandarin speaker and not is vast.
Onward and beyond…
Thanks to GCMaps for the map illustrations below:
China Southern - CZ304
Route: LHR - CAN
Flight Reg:B-2732; Delivered to China Southern on Aug 2013.
Aircraft Type: Boeing 787-8 DreamLiner
Seat: 52A
Flight time: 22:30 - 17:50 (23:09 - 18:04)
Actual flight time: 10 Hr 55 Min
Distance: 5911 Miles
Load: 100% load
20th Jan 2017
My Log book: 13th Flight on CZ/ 11th flight on Boeing 787-8 DreamLiner/ 124th Total overall flight
Welcome to LHR T4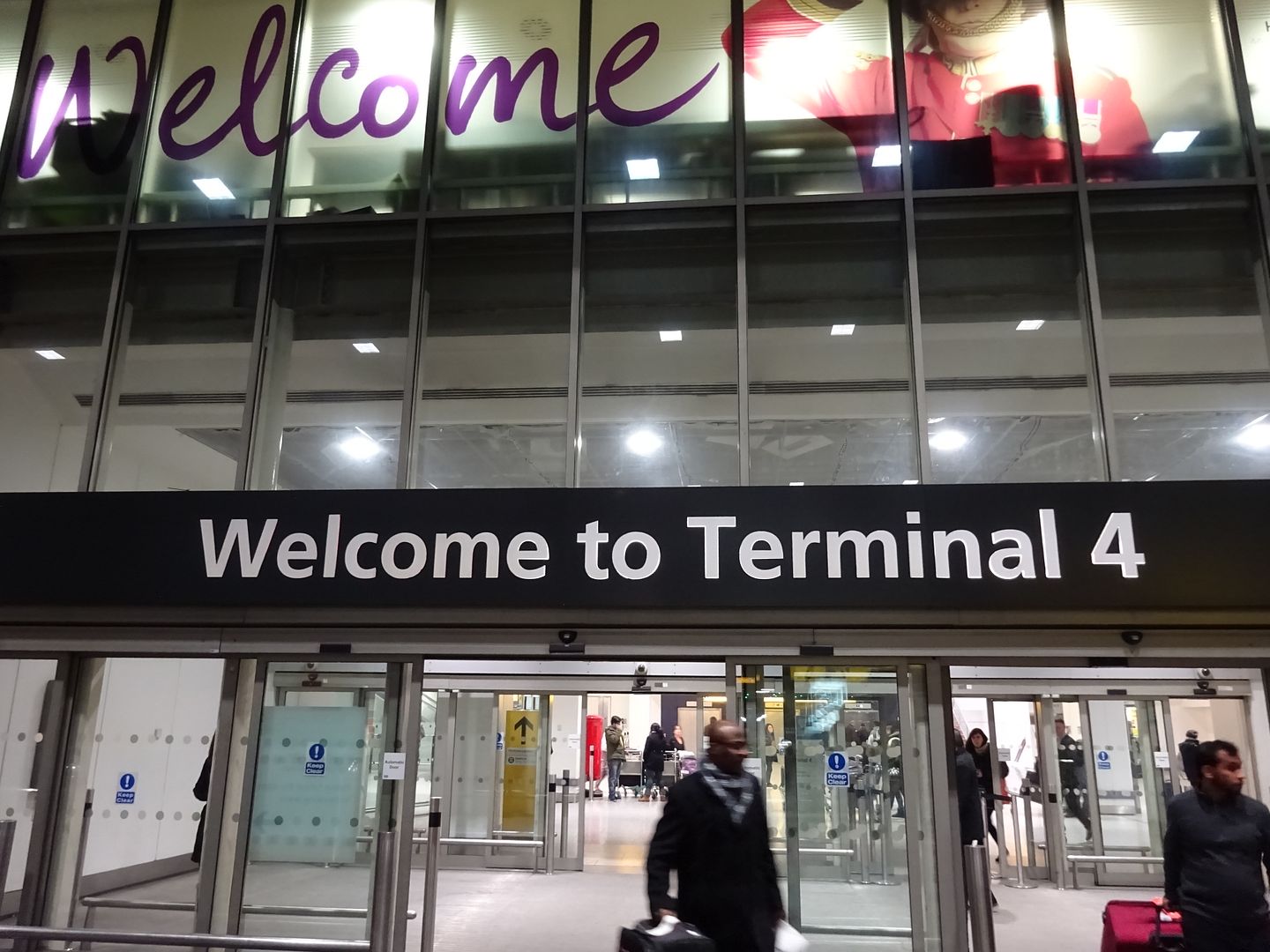 Online Check in worked well (For a change). Got the seats, although most of the seats were blocked/unavailable. Hoping to change them to the ones I want at the airport. Although, the printing of the boarding pass did not work as expected. It was a weird .air format file, which meant I could not even save the file locally and save it. Teething issues, but not a deal breaker.
Day of the flight, reaching the airport was quick. Parked at the premium purple parking for terminal 4. A 2 minute bus ride to the terminal. The fid said check in to open at 19 30. But there was already a queue and check in began by 1835. They had a separate queue for online check in and we were the first to be checked in. The check in agent was courteous but did not encourage the change of seat. Checked in in 5 minutes. While exiting I remembered seeing the supervisor (from our previous China southern flights) and he immediately said no problem and amended our seats to the 2 separate seats at the back. Result!
Check in gates for CZ at LHR T4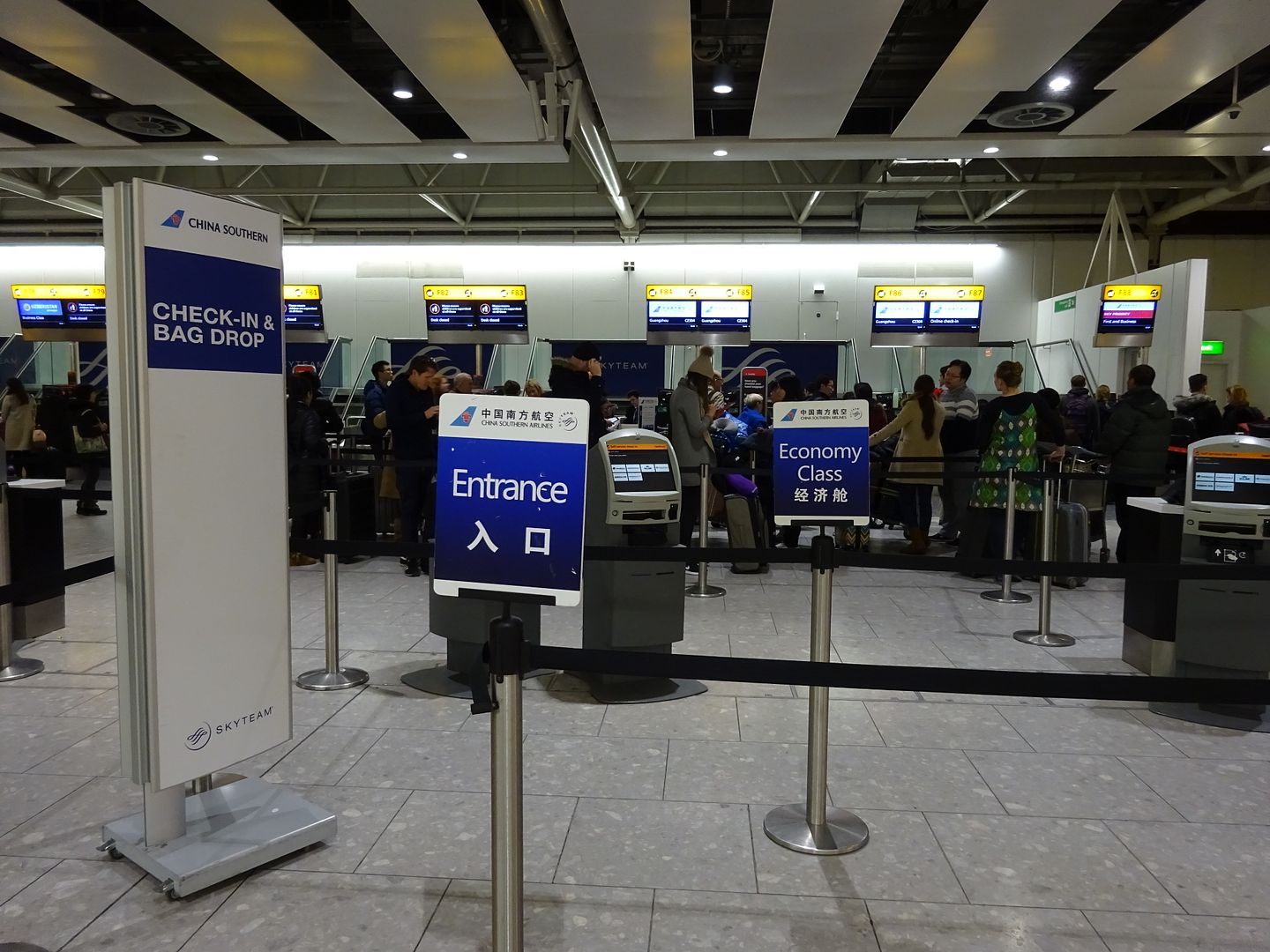 Time to head towards security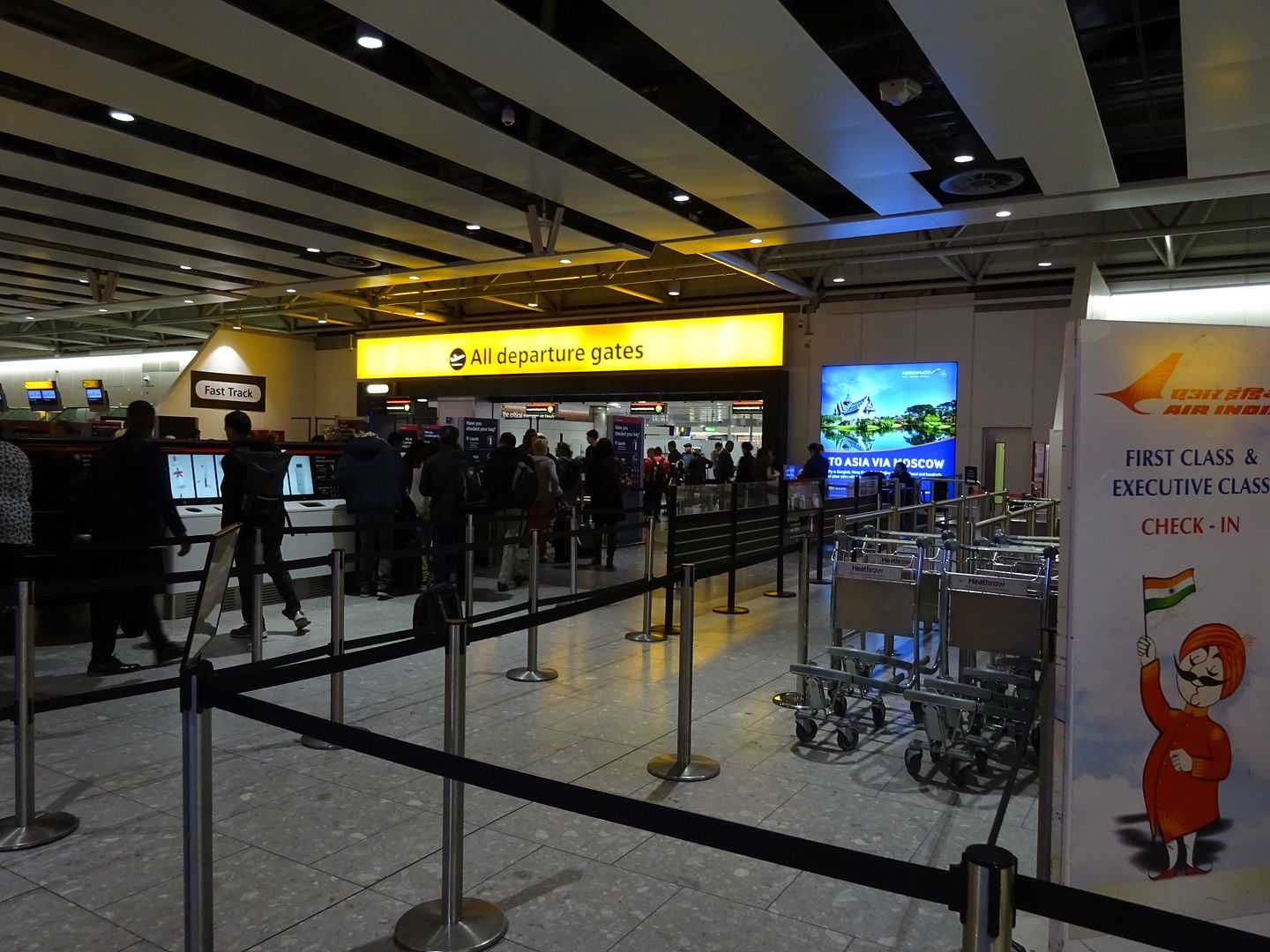 Security was quick and we were airside in 5 minutes. So far so good.
After some quick duty free shopping (splurged on a Mont blanc wallet

) we headed to a restaurant for a quick meal.
Duty free at LHR T4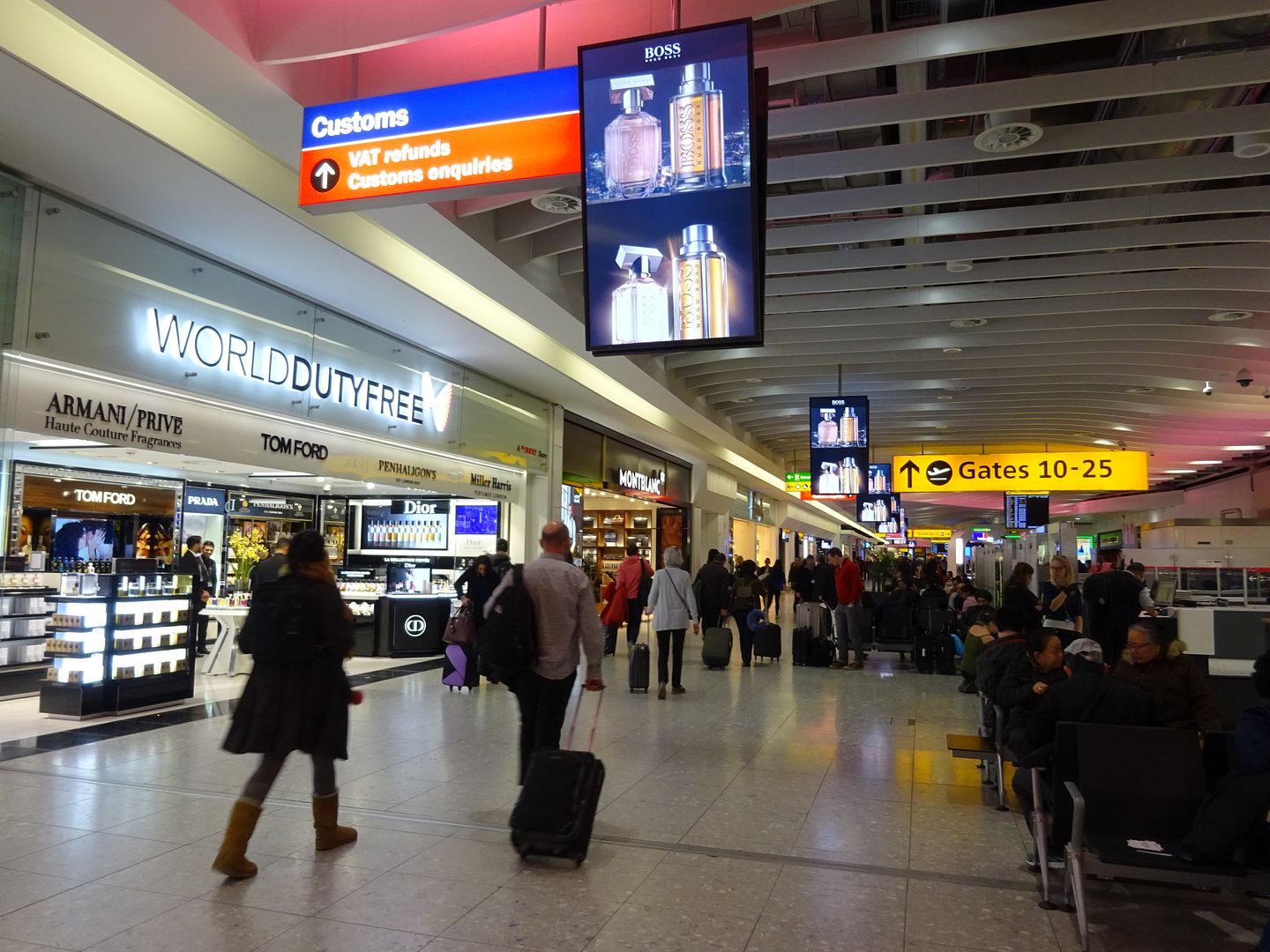 It was then when I realised that they had a new premium plaza lounge at T4 which allowed priority pass.
Premium plaza lounge.
It's situated near the Qatar and air india lounge. I thought it was a more than adequate lounge with a lot of quiet area, decent view of the runway, great food and and more than adequate bar. It looked upmarket and it was an ideal place to wind down before A long haul flight.
Experiencing the Premium Plaza T4 Lounge
A separate Bar area (not too many drinks though, quite a limited verity)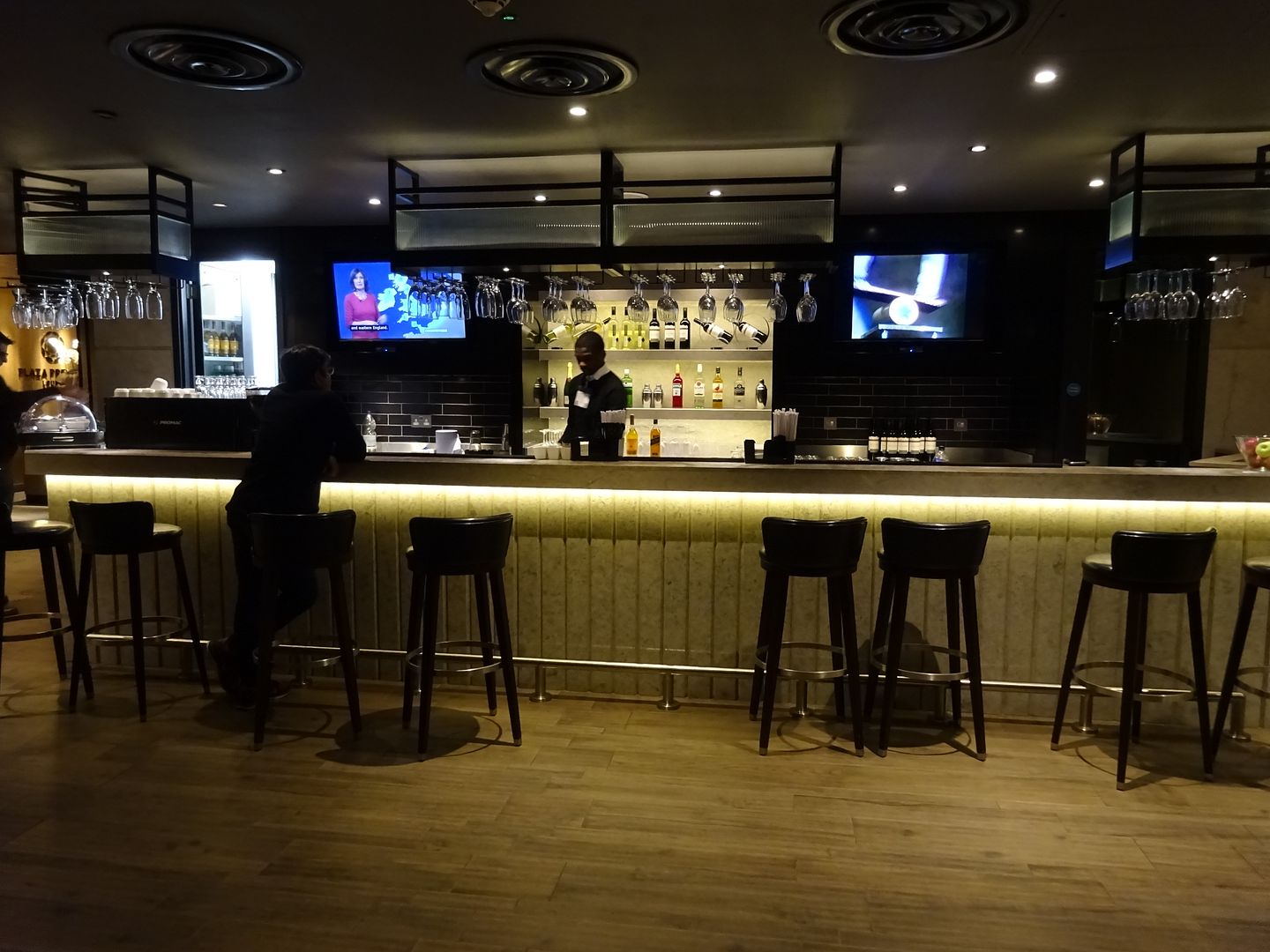 Seating area - decent space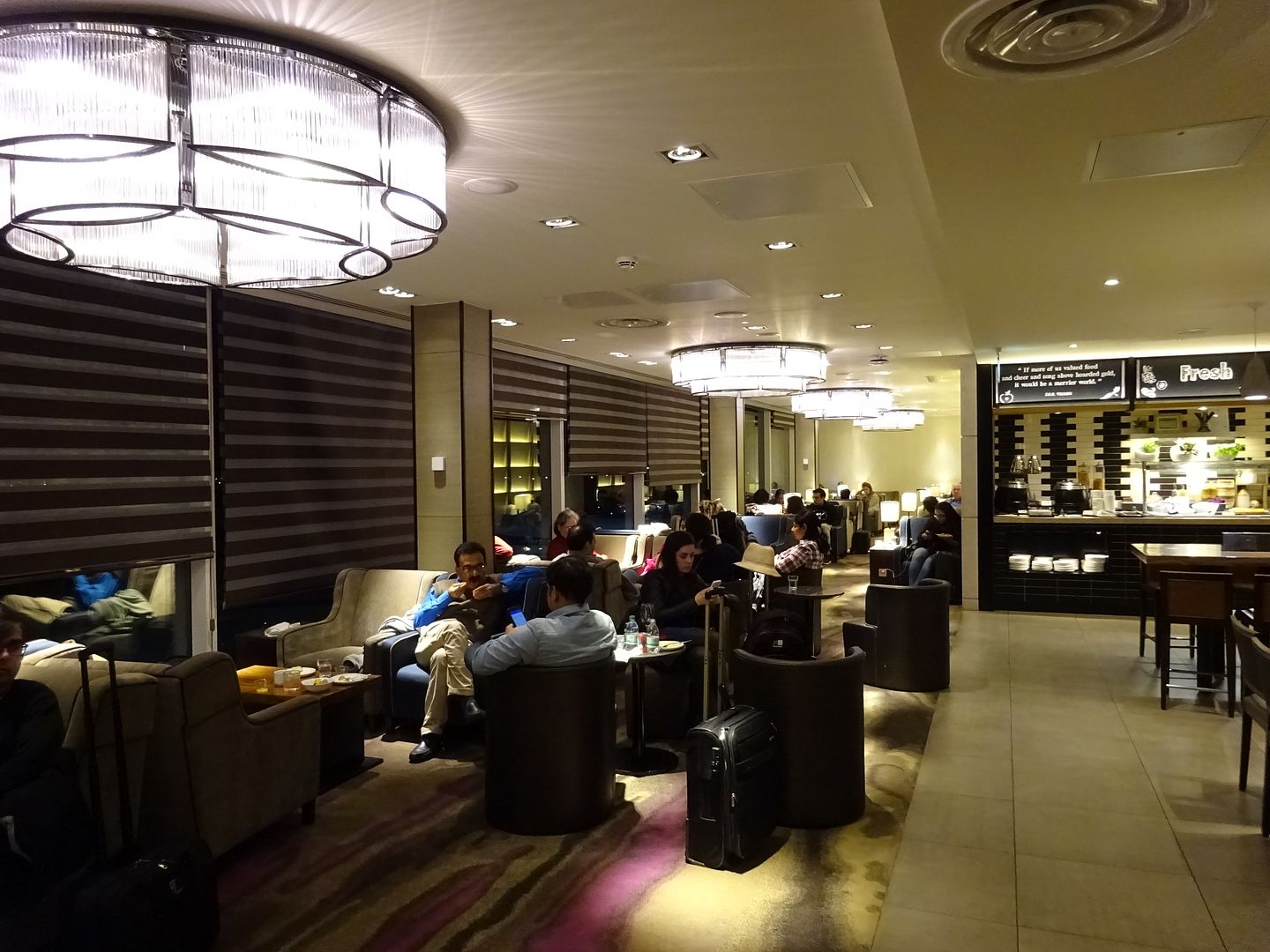 Food counters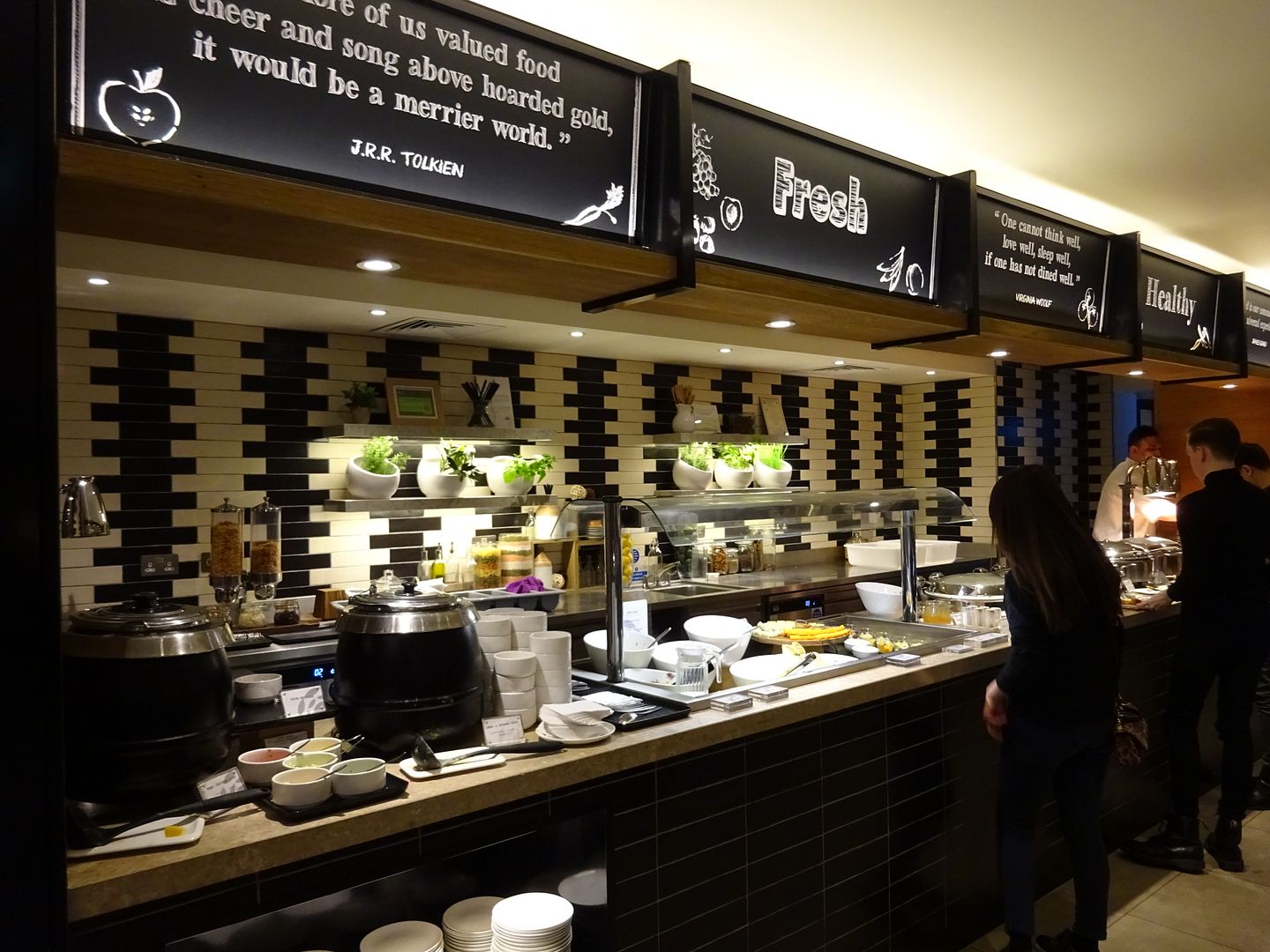 View from the lounge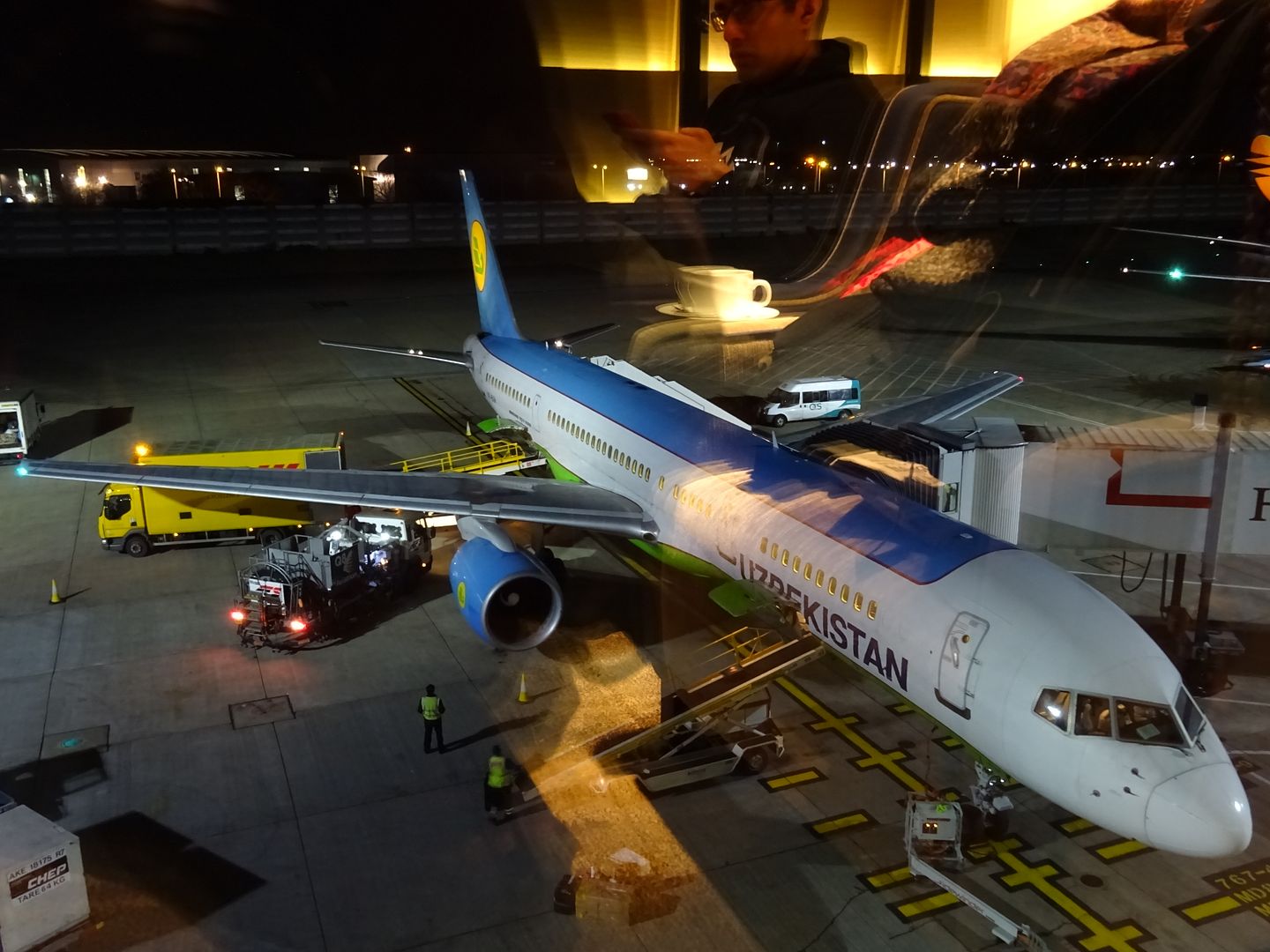 Various Chinese New year discount coupons
Boarding began on time. Around 21 45. Boarding was orderly with last rows being asked to board first.
Time to board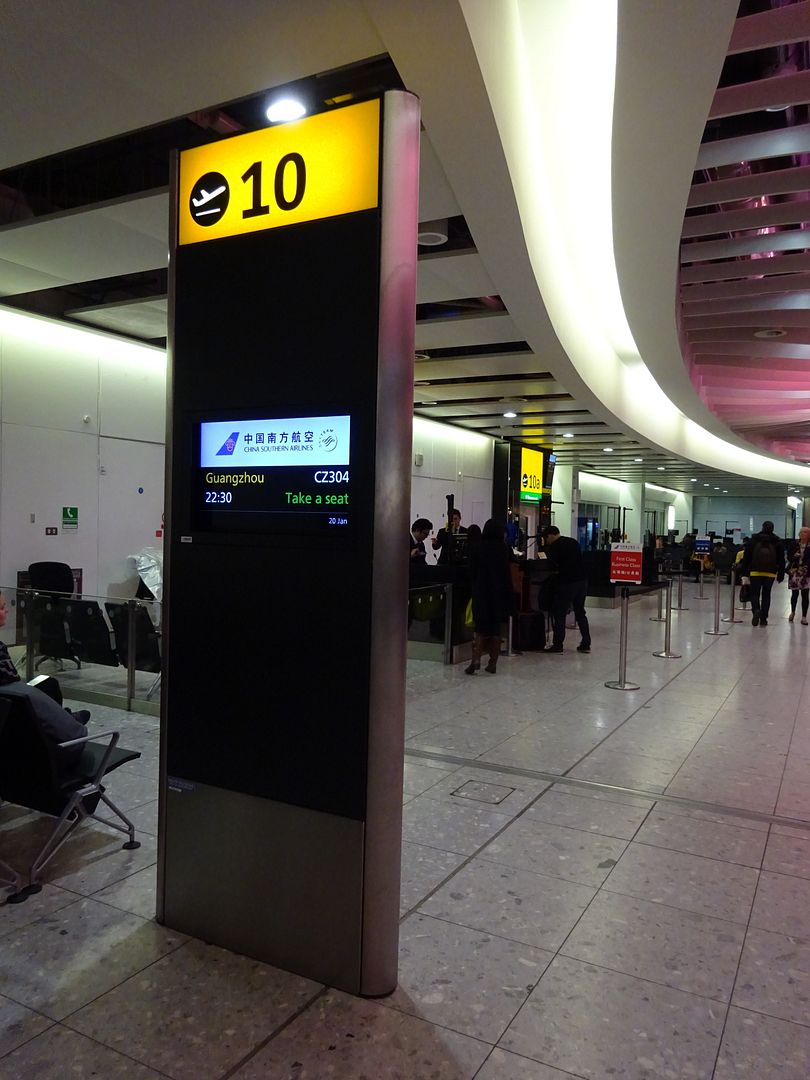 Sneak Peek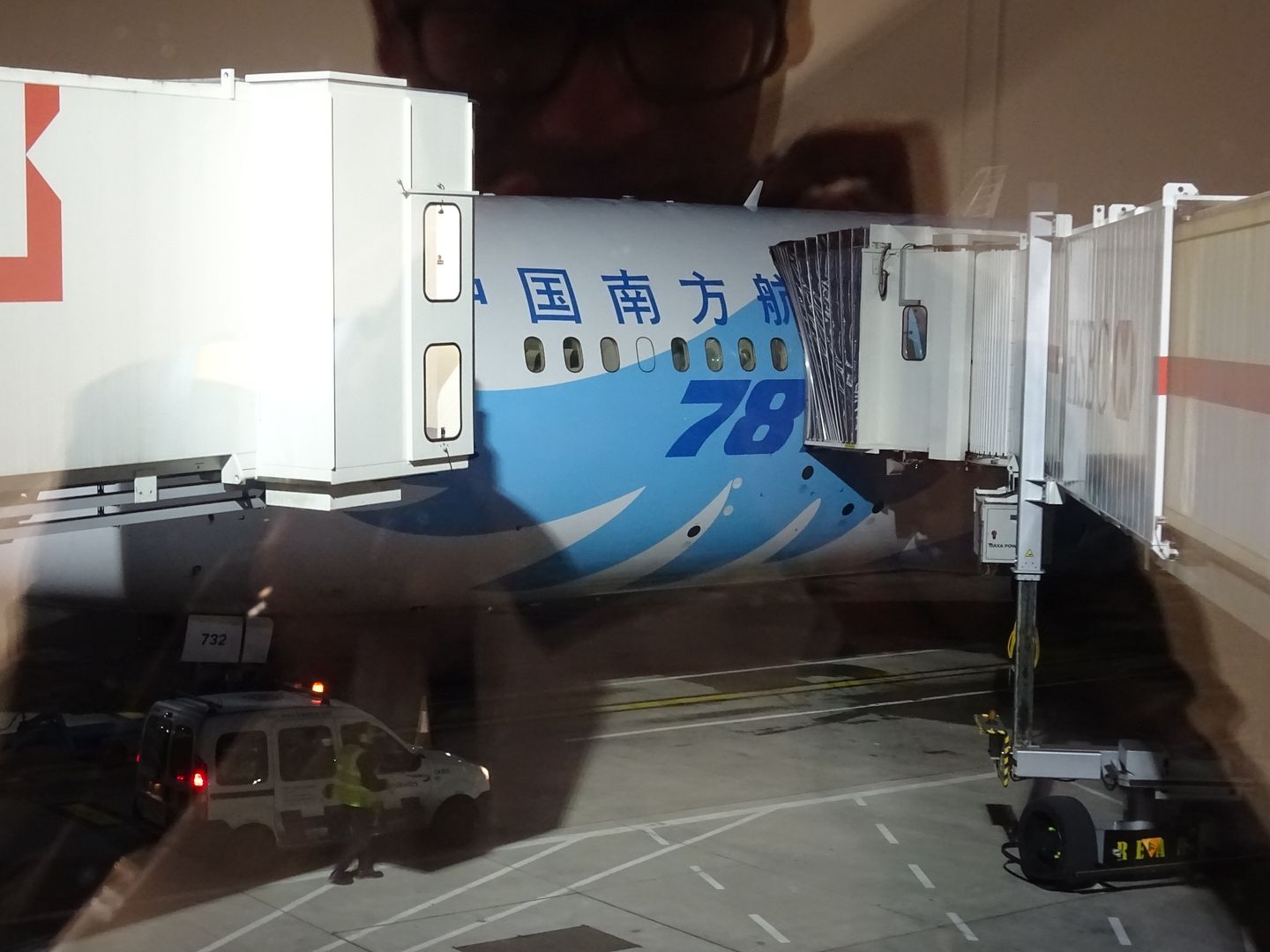 First impression. Been here before. It's always been clean. China southern have been taking a keen interest in how to welcome their passengers and seem to be proceeding in the right direction. The aircraft was spotless.
Having used the same seats previously, it's probably the best on the aircraft. Lots of personal space and an extra screen.
The seats like before, are quite hard and the pitch is fairly tight. Anyone above 6 feet would definitely struggle. But this is a well-known fact and China southern DreamLiner is no different. An absolutely full flight today.
First impressions
Business class cabin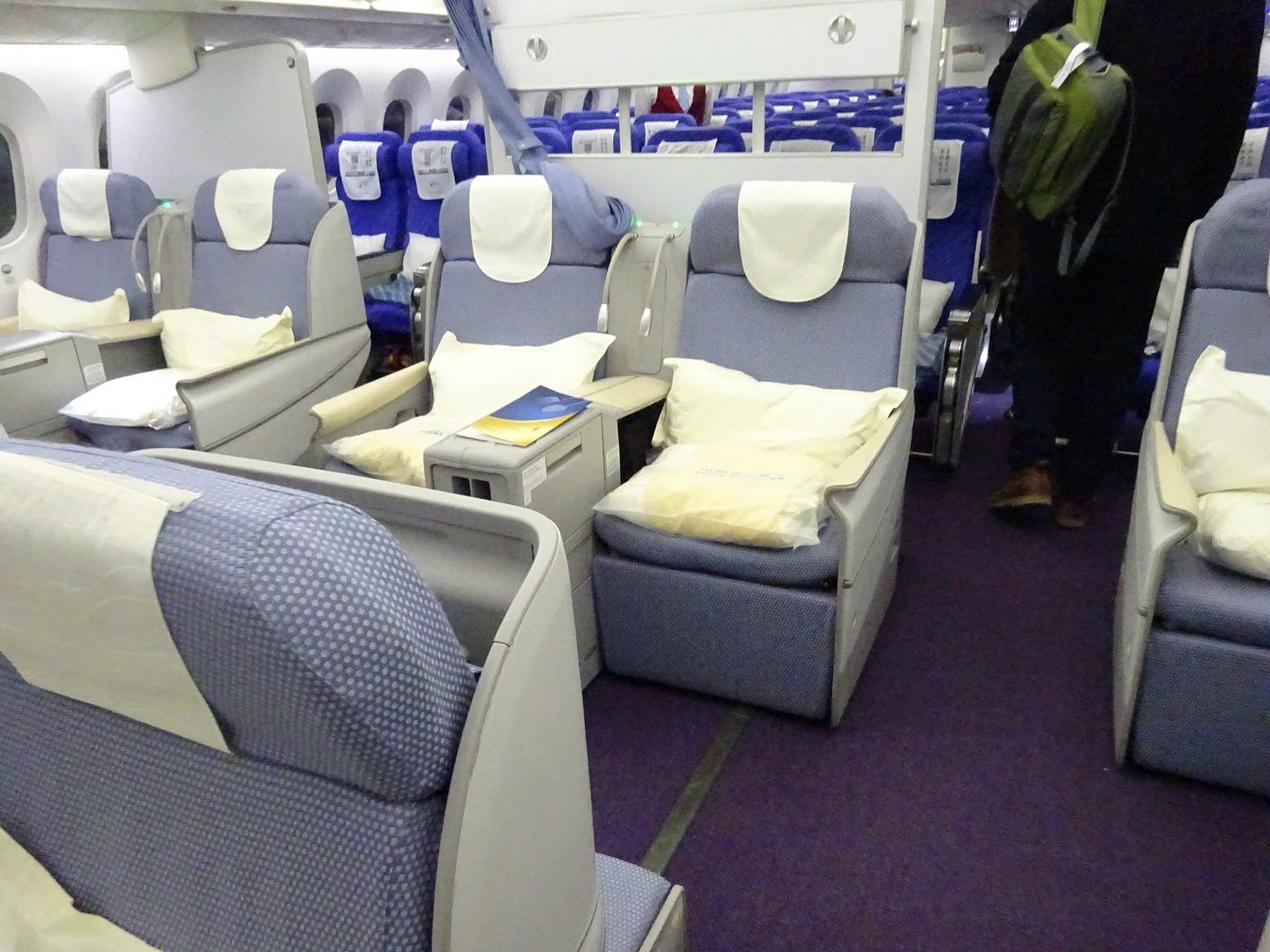 Always with a smile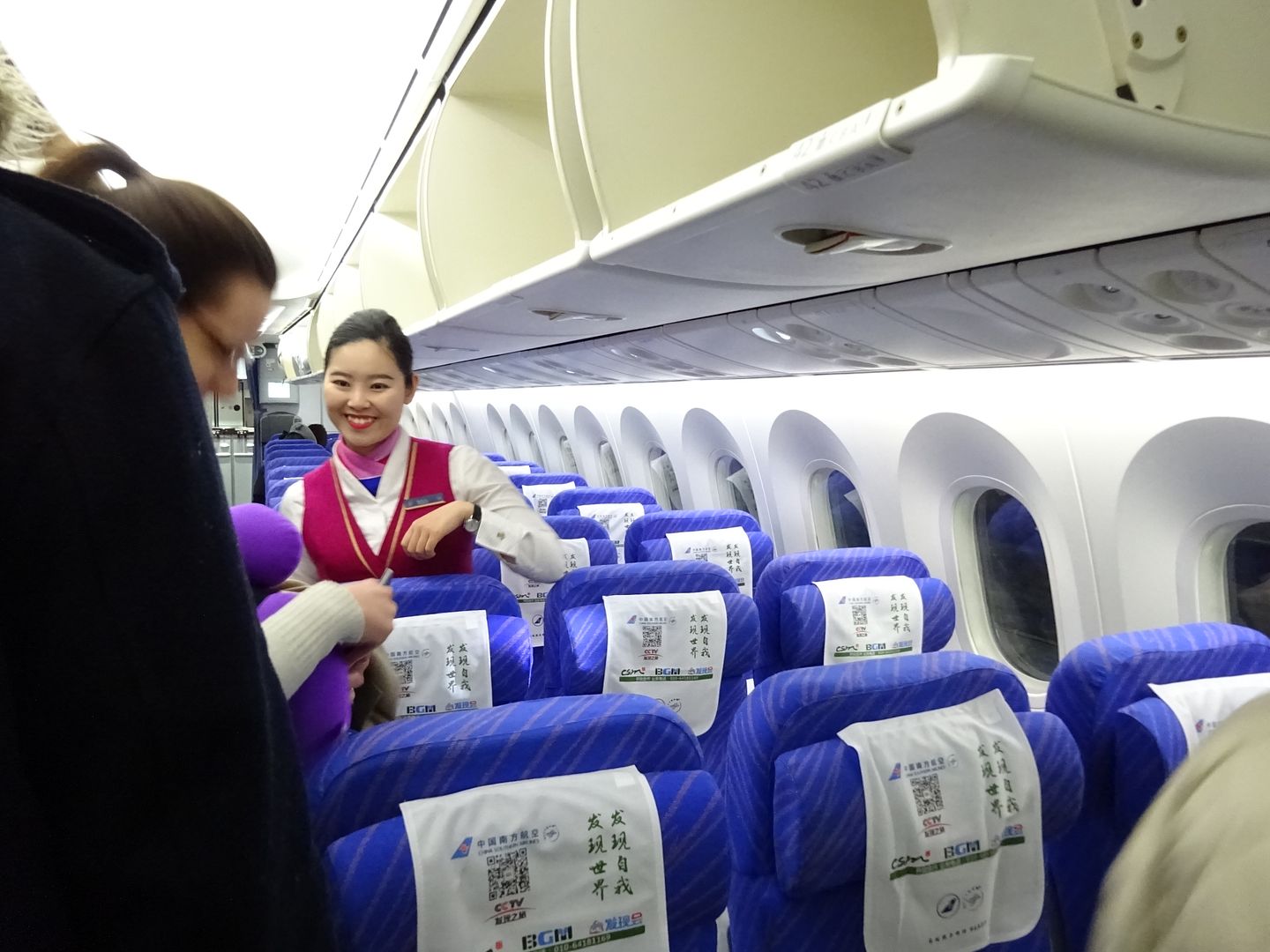 Economy cabin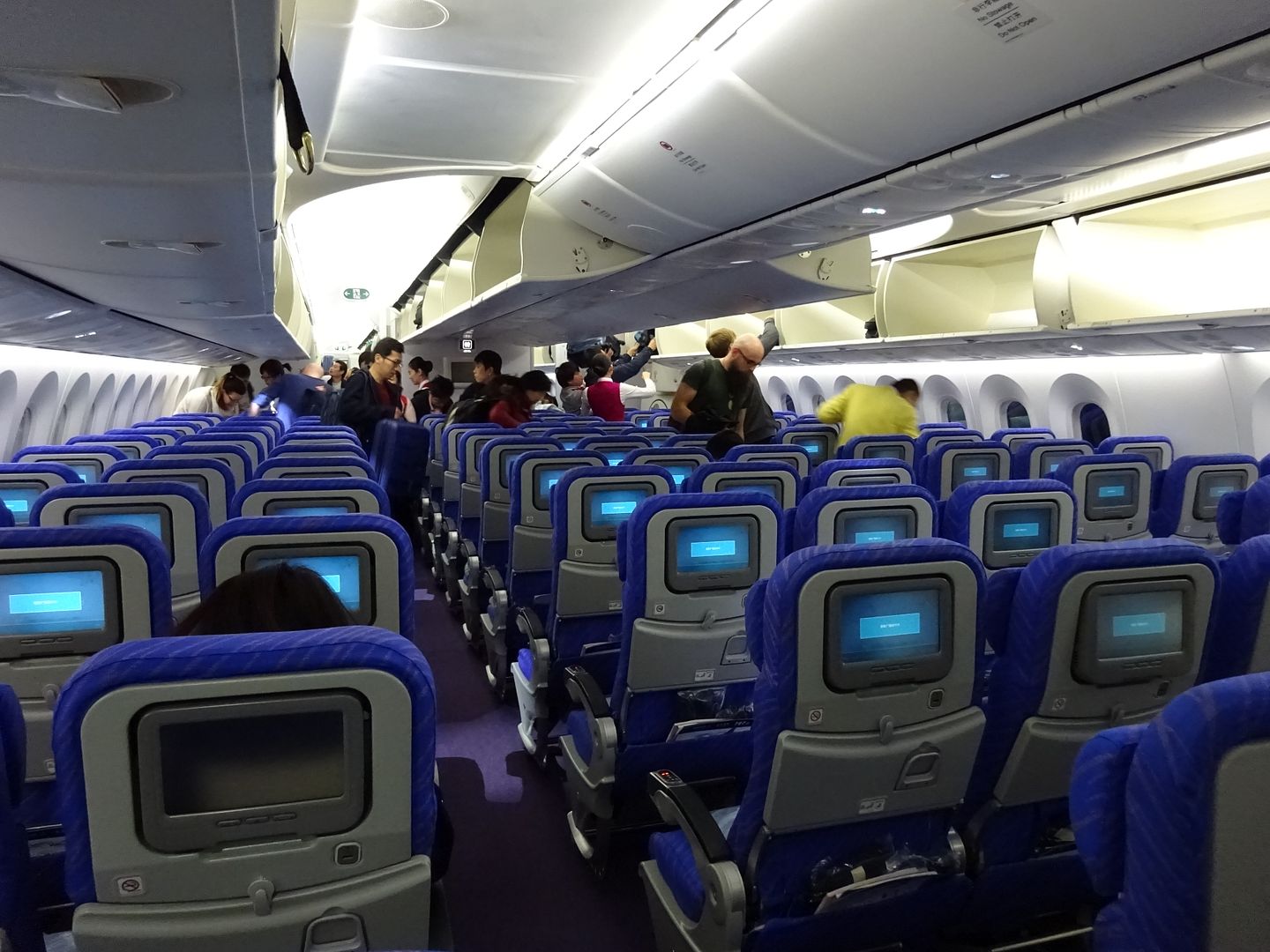 Row 52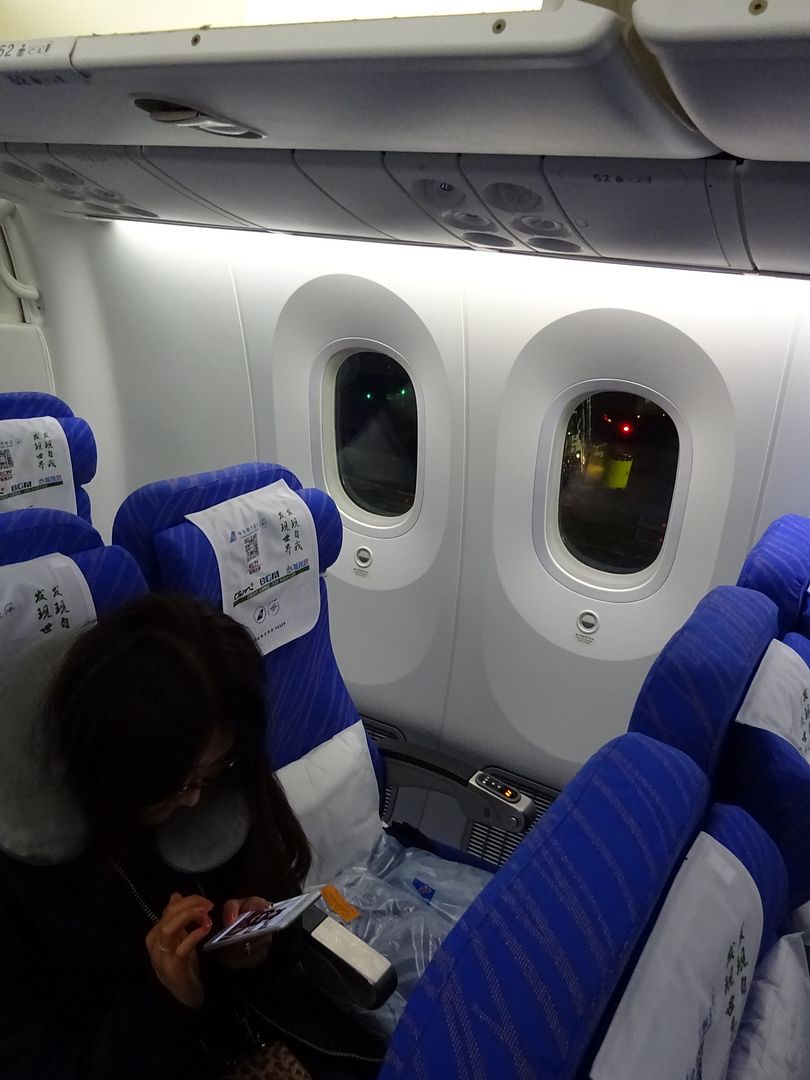 View from our seat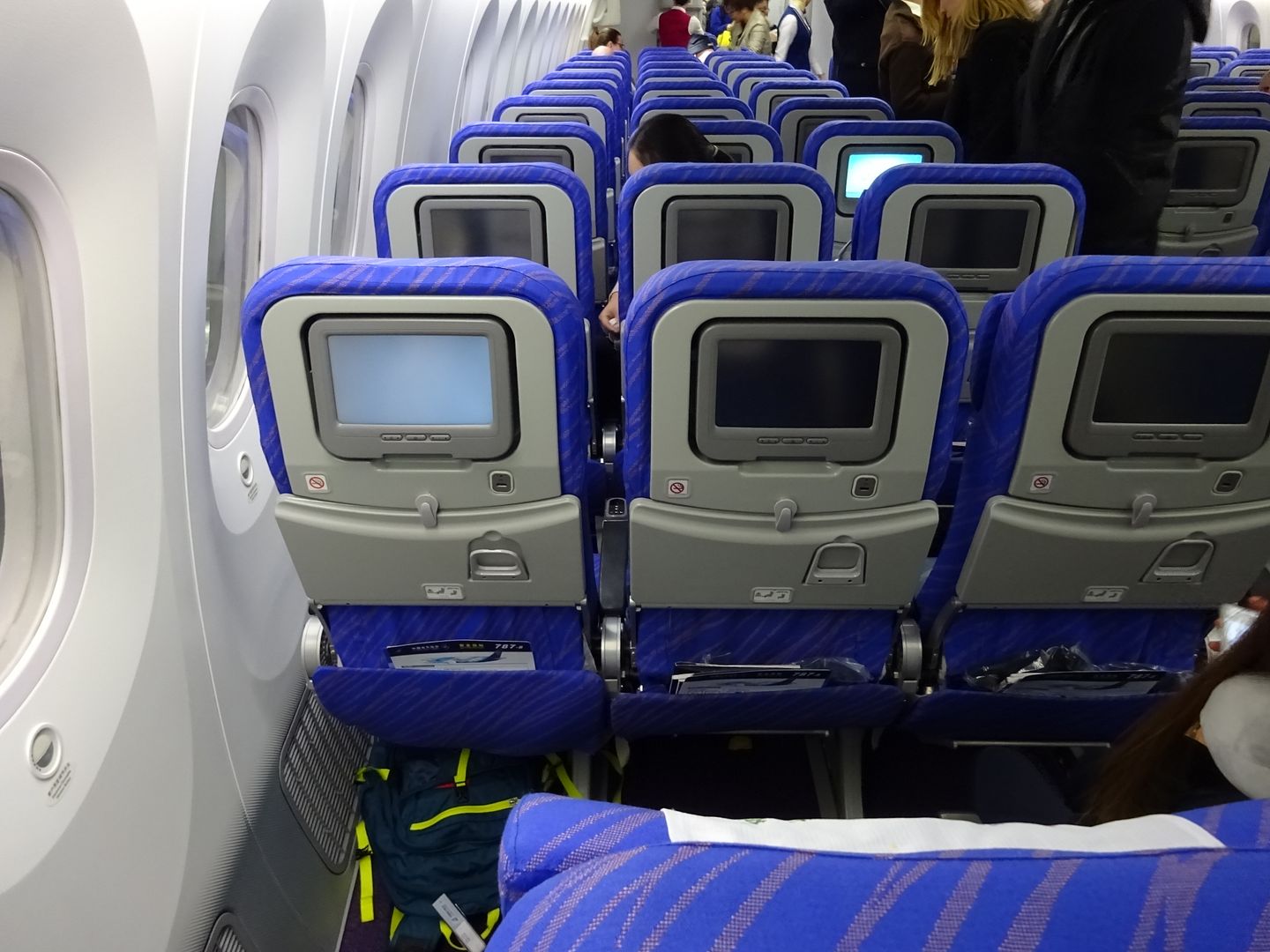 China southern seem to be doing great in attracting a wide range of tourists. There were very few Chinese passengers and a lot more non-Chinese using the airline.
Why do Chinese airline IFE consist of solely car advertisements? A plethora of various car brands from BMW to Lexus.
Delay in disembarking due to deicing of the aircraft.
Nevertheless we disembarked at 22 43 and airborne by 2300.
Neighbours at LHR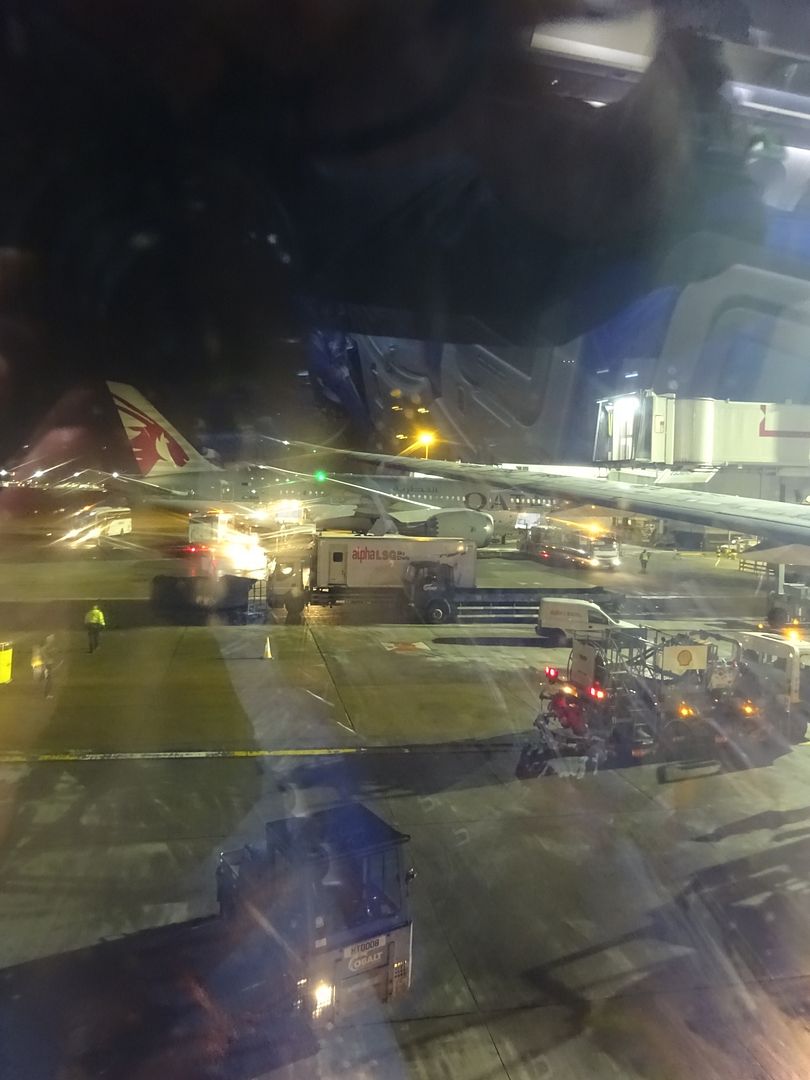 De-icing at LHR
Just noticed that the interiors have changed from green upholstery to blue - tight seat pitch
Reading material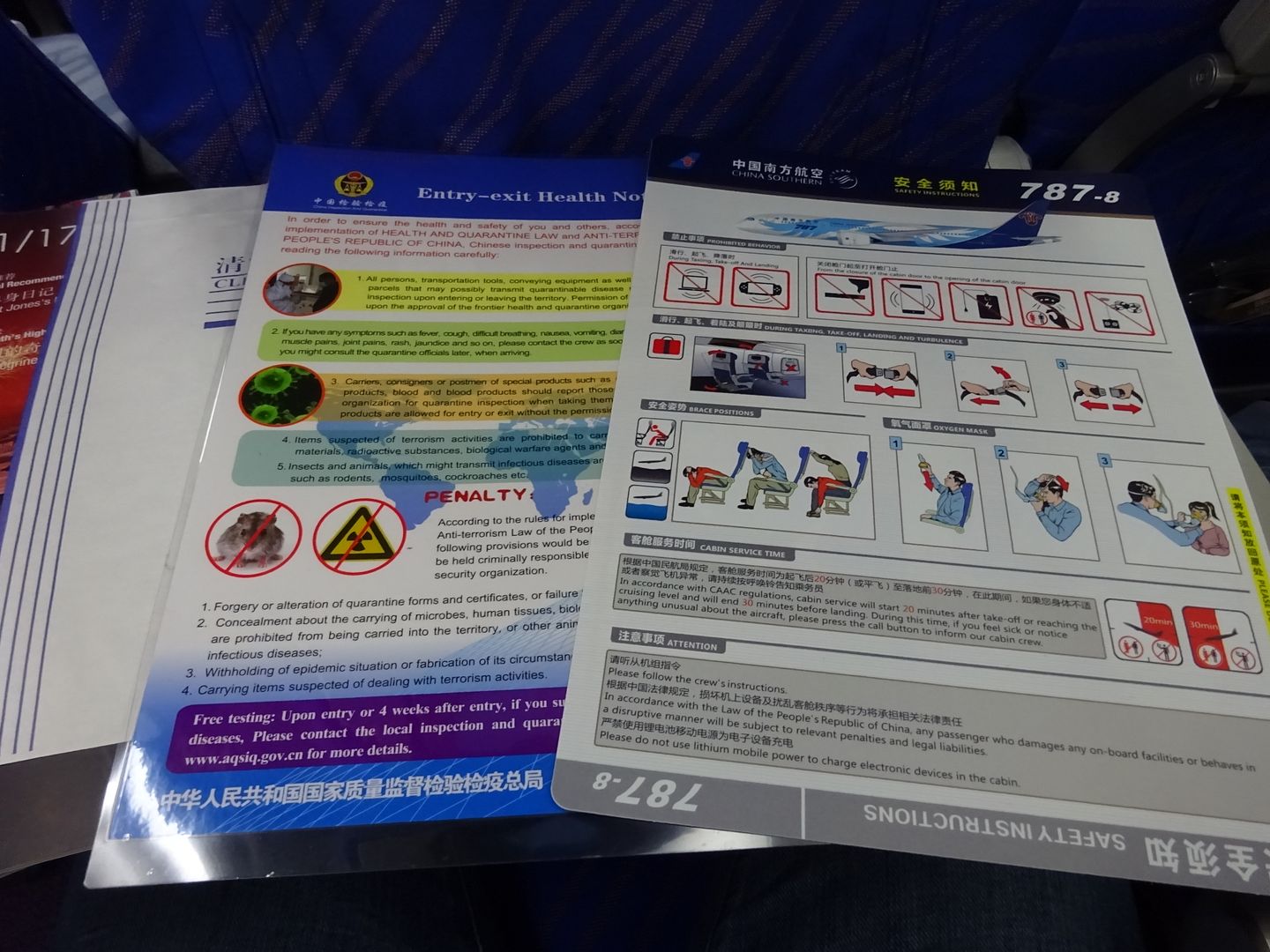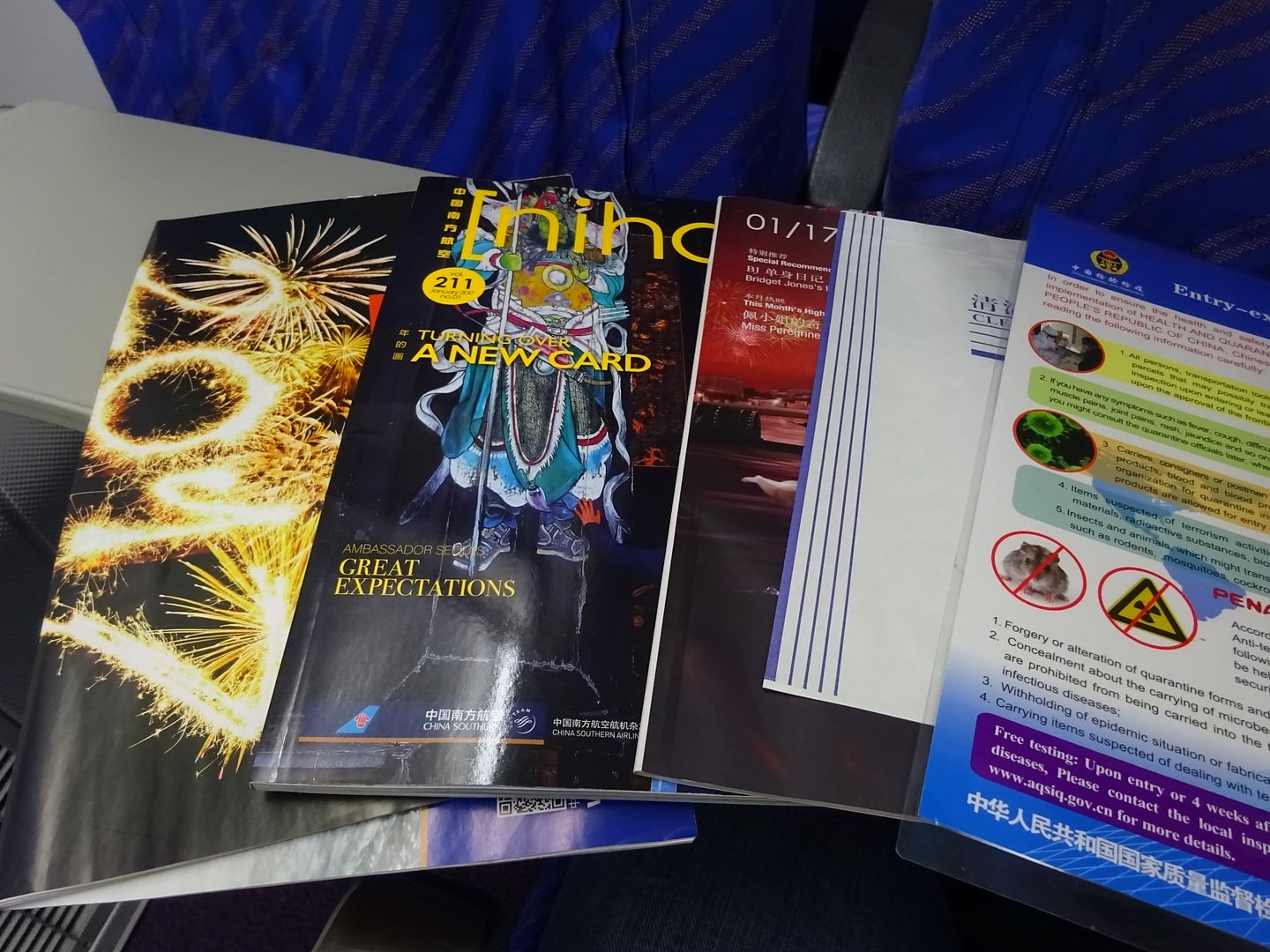 Amenity Kit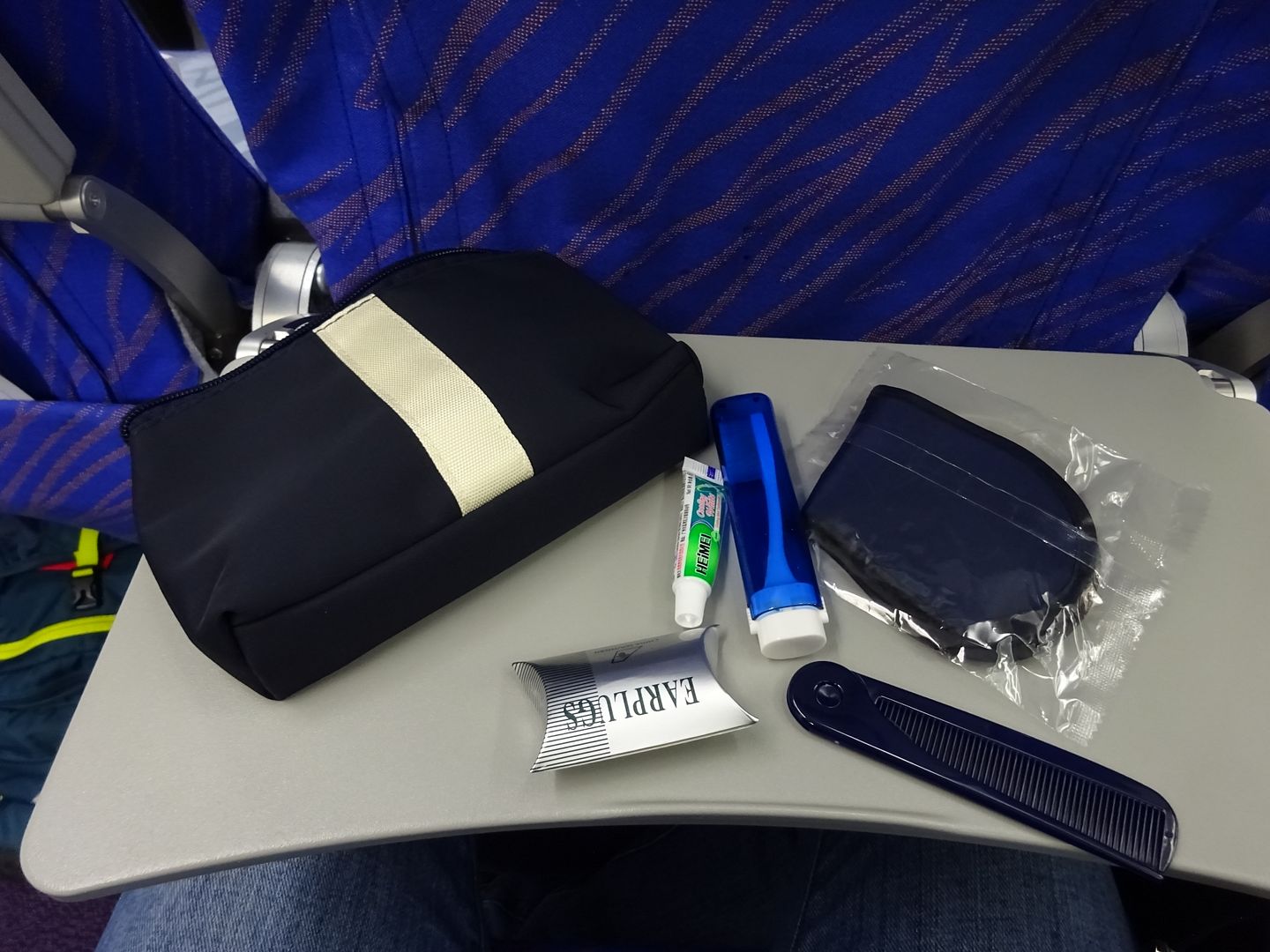 This screen did not work the entire journey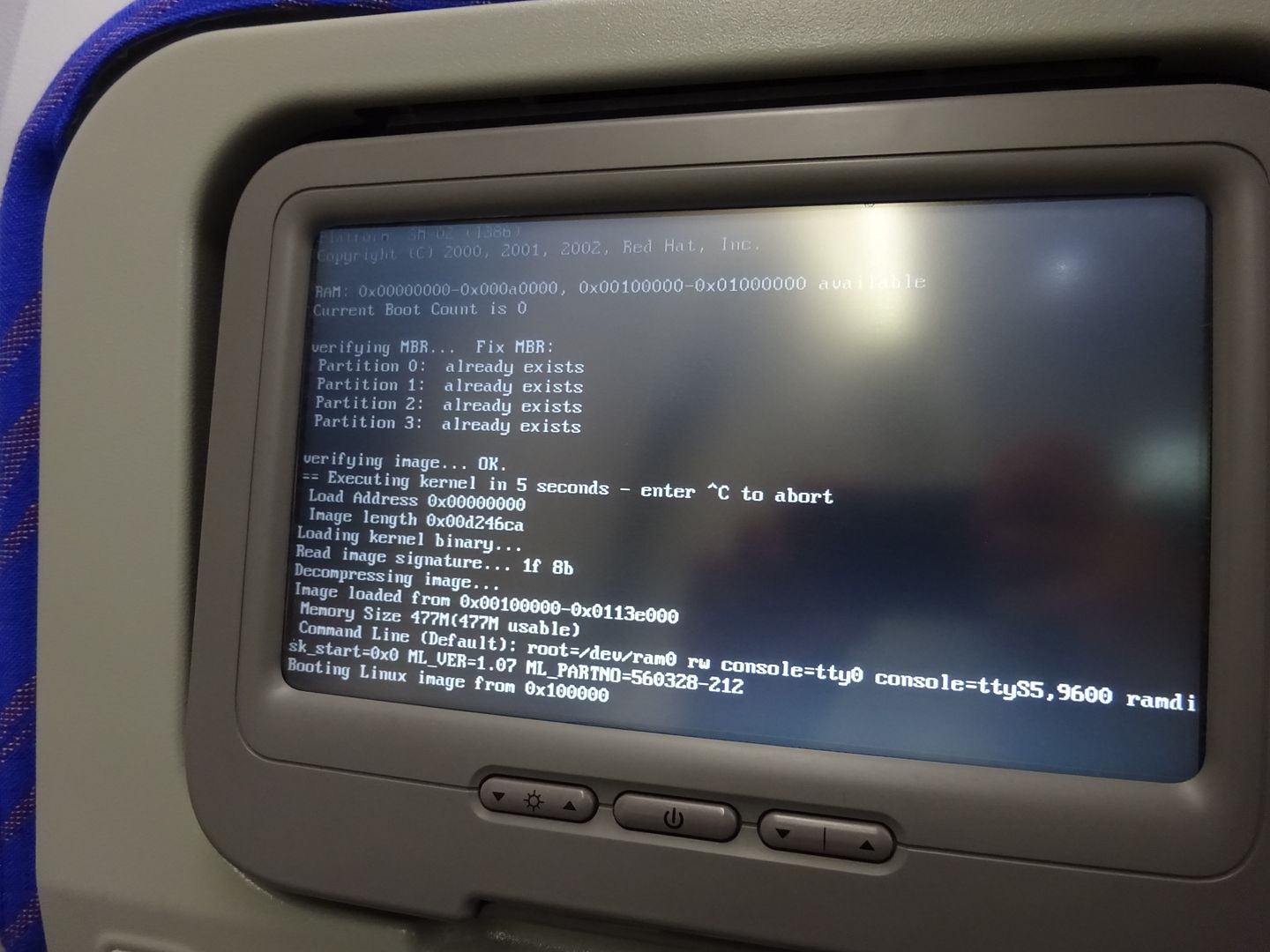 Within an hour after being airborne drinks and dinner was served. Drinks on offer was the usual soft drinks and beers and wines. I had the red wine which was pretty decent (did not find out which one it was)
Dinner consisted of pork with rice or fish and potatoes. The pork and rice was very good, served with Pak choi, a prawn salad and an chocolate toffee pudding. Overall a very satisfying meal.
Dinner - Pork with rice
Cabin with the lights switched off and the windows in the darkest mode
Service
This is where China southern misses the mark. Their flight attendants are a bit of a mixed bag. Few of them enthusiastic and always with a smiling face. Whereas at the other end of the spectrum you have fa's who'd rather be elsewhere. It could be due to a language barrier but for how long? Nevertheless they did their duty. I experienced both aspects of their service level. From one FA abruptly asking me to switch off the phone and standing next to me until I switched off. And another FA who went out of her way to get me a kids pack they were handing out as I said I wanted to take a photo of it for my blog.
IFE
Once again very middle of the road. Decent enough selection of movies. Not as slick as other carriers IFE but seem to do its job well.
Food.
This is where CZ do very well. Even though their presentation is poor, probably one of the better tasting economy meals.
Breakfast - Egg with sausage
They strictly enforced the phone to be switched off...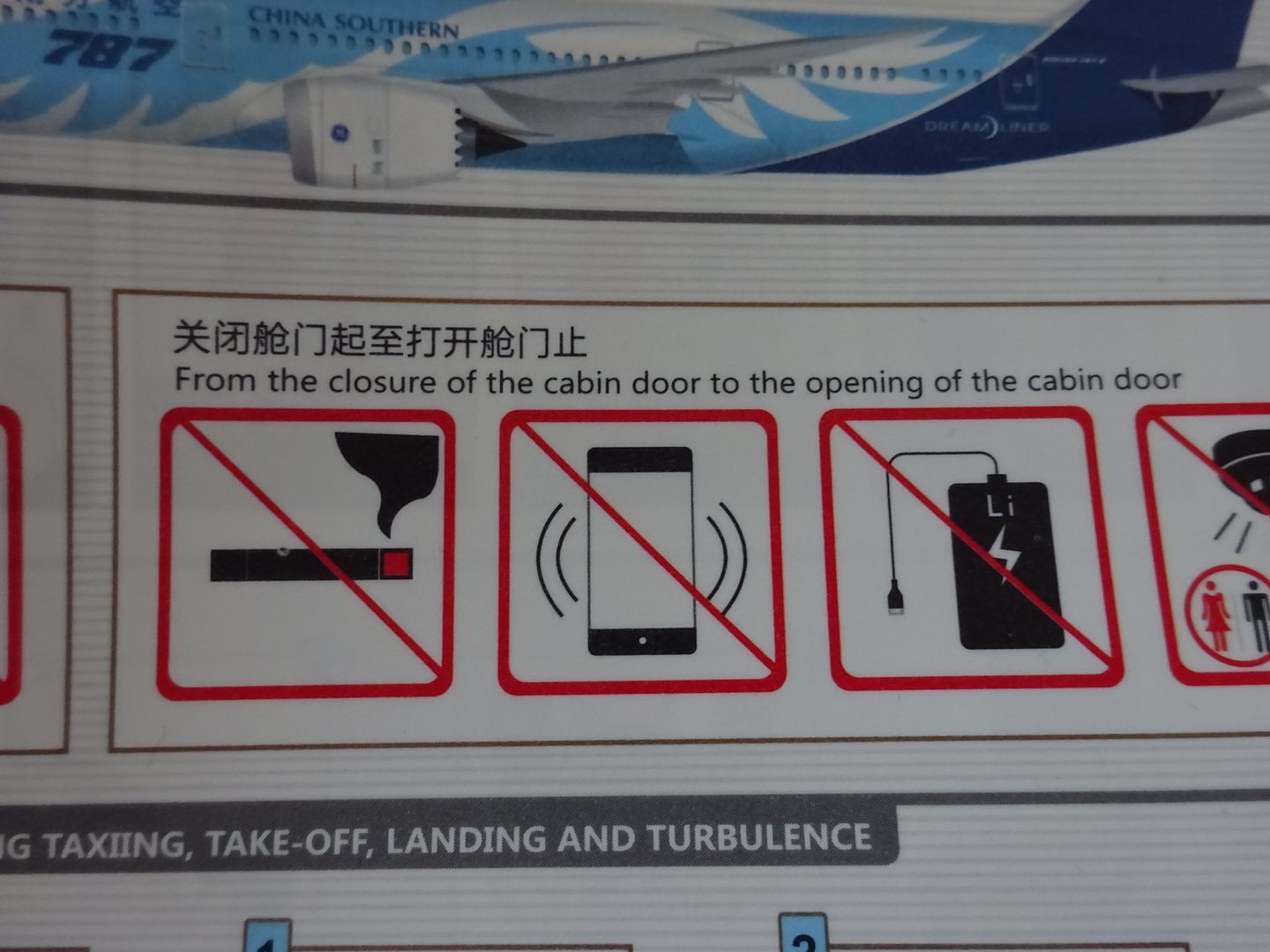 ....But they let you charge your phone.!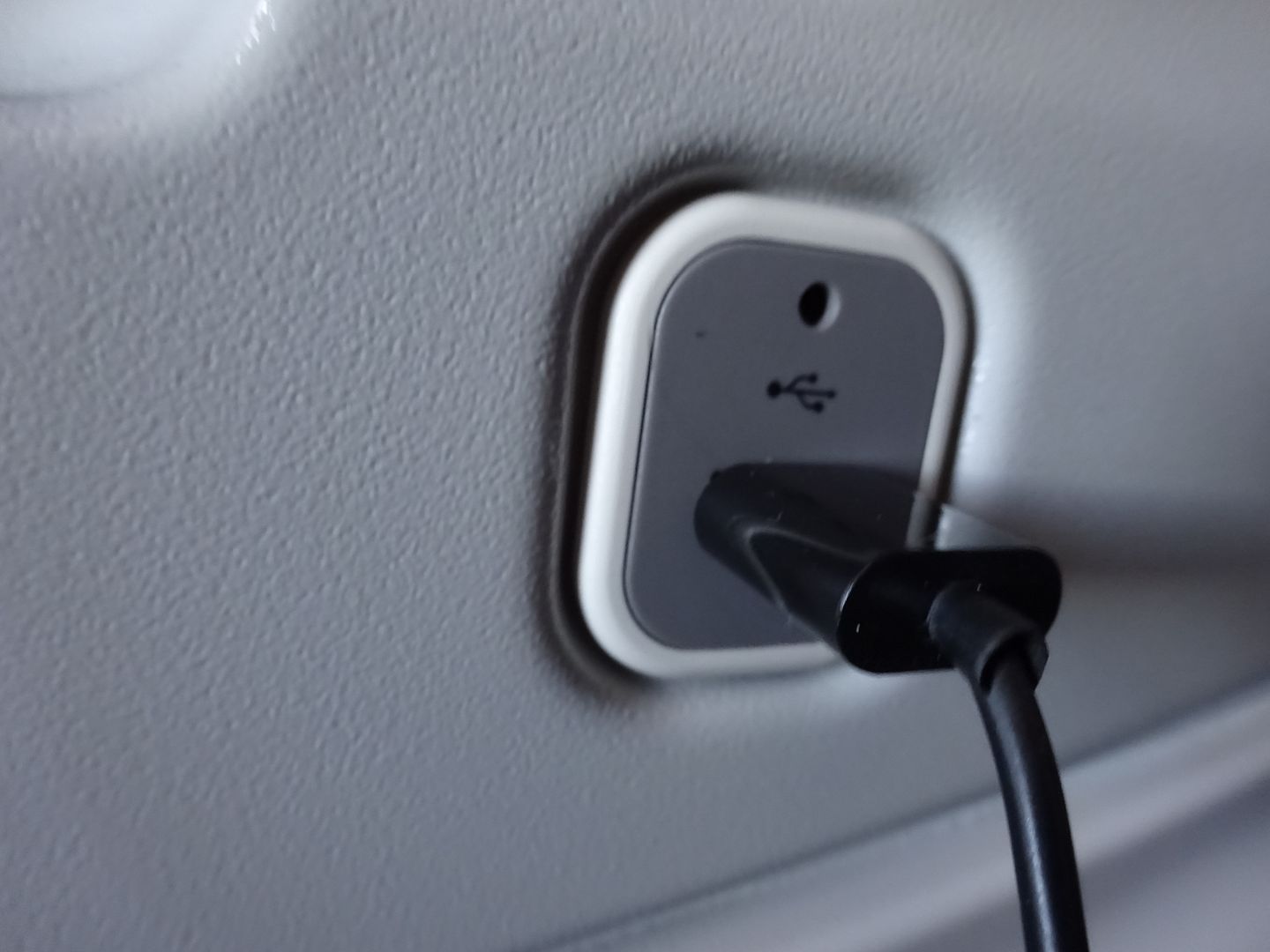 Toys given to all kids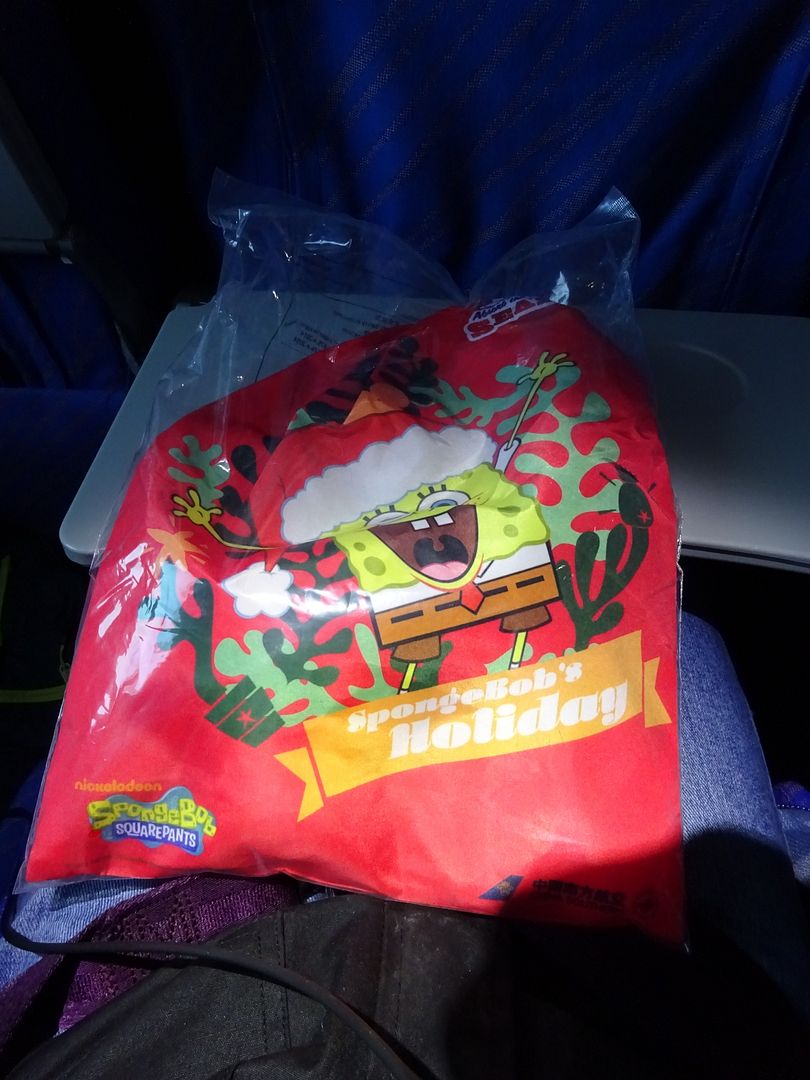 Rest of the flight was very good. Wife always tends to sleep the most on the DreamLiner. She doesn't even realise it but at the end of the trip she asked if this was a DreamLiner and that she slept well.
Almost reached CAN
Plane spotting at CAN
Exiting the aircraft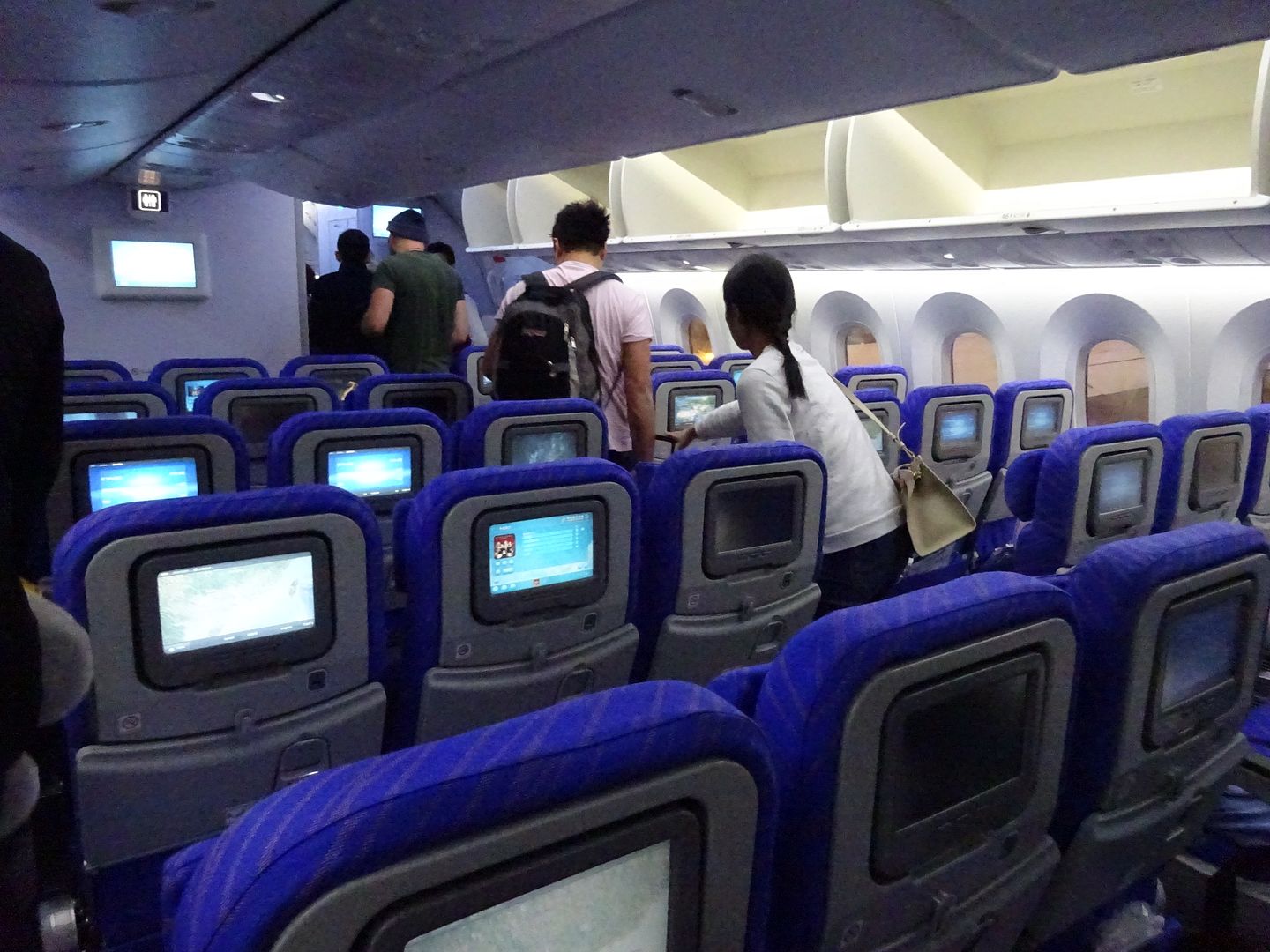 Final glance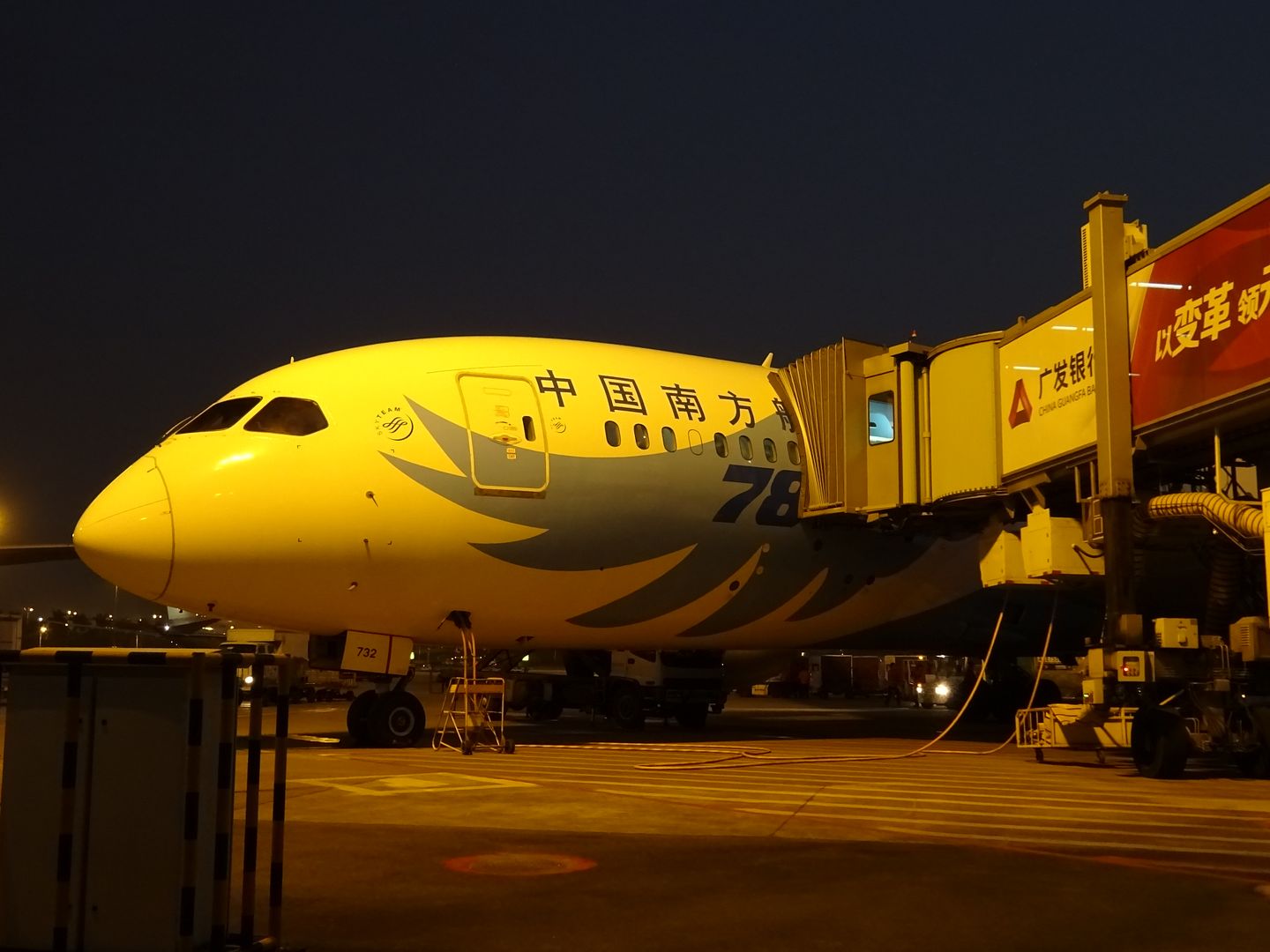 Bussed to the International Terminal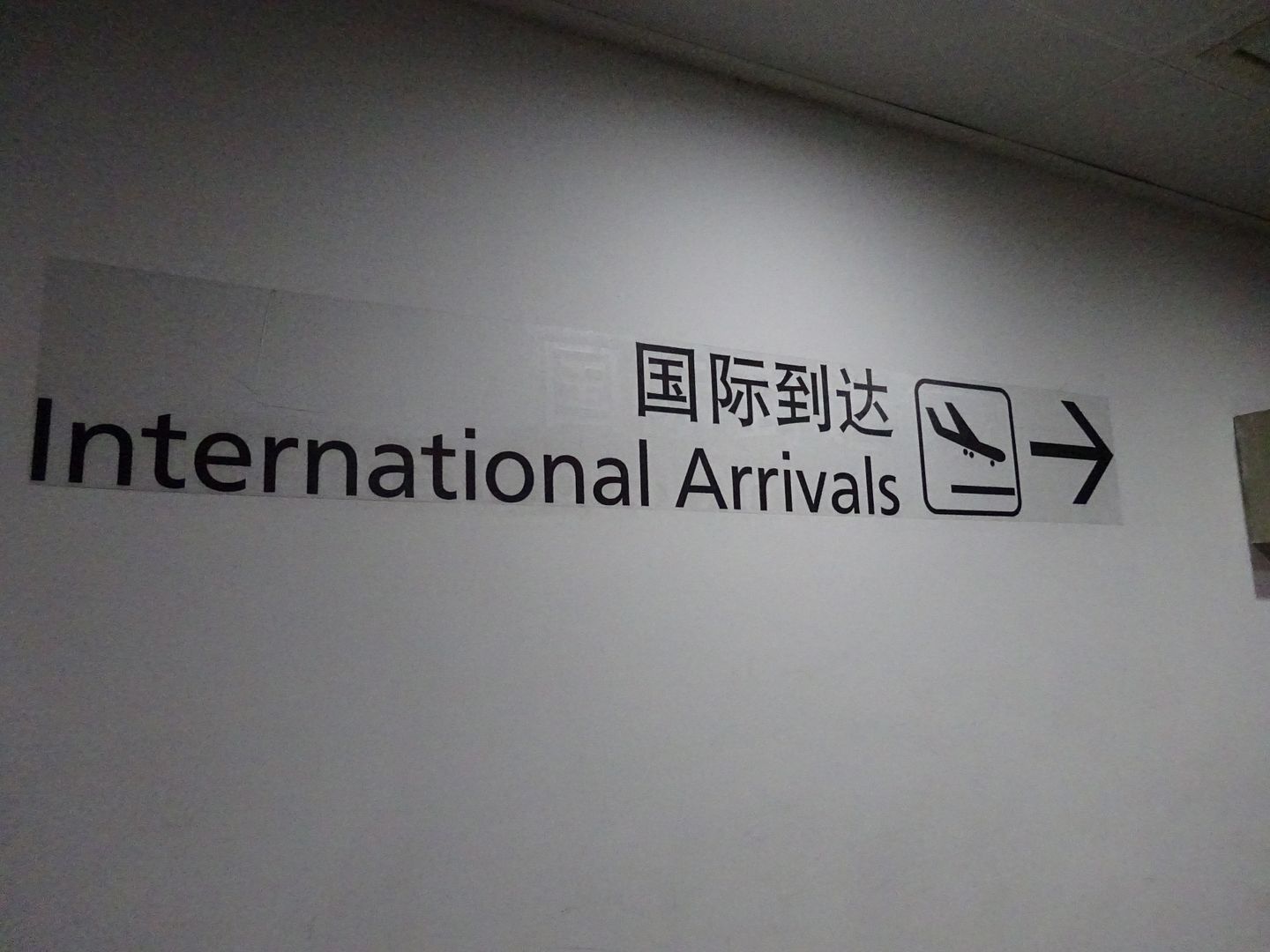 Transiting in Guangzhou is a seamless experience. It seems to have improved. Passed through passport check and into transit terminal in 5 minutes.
Transit at CAN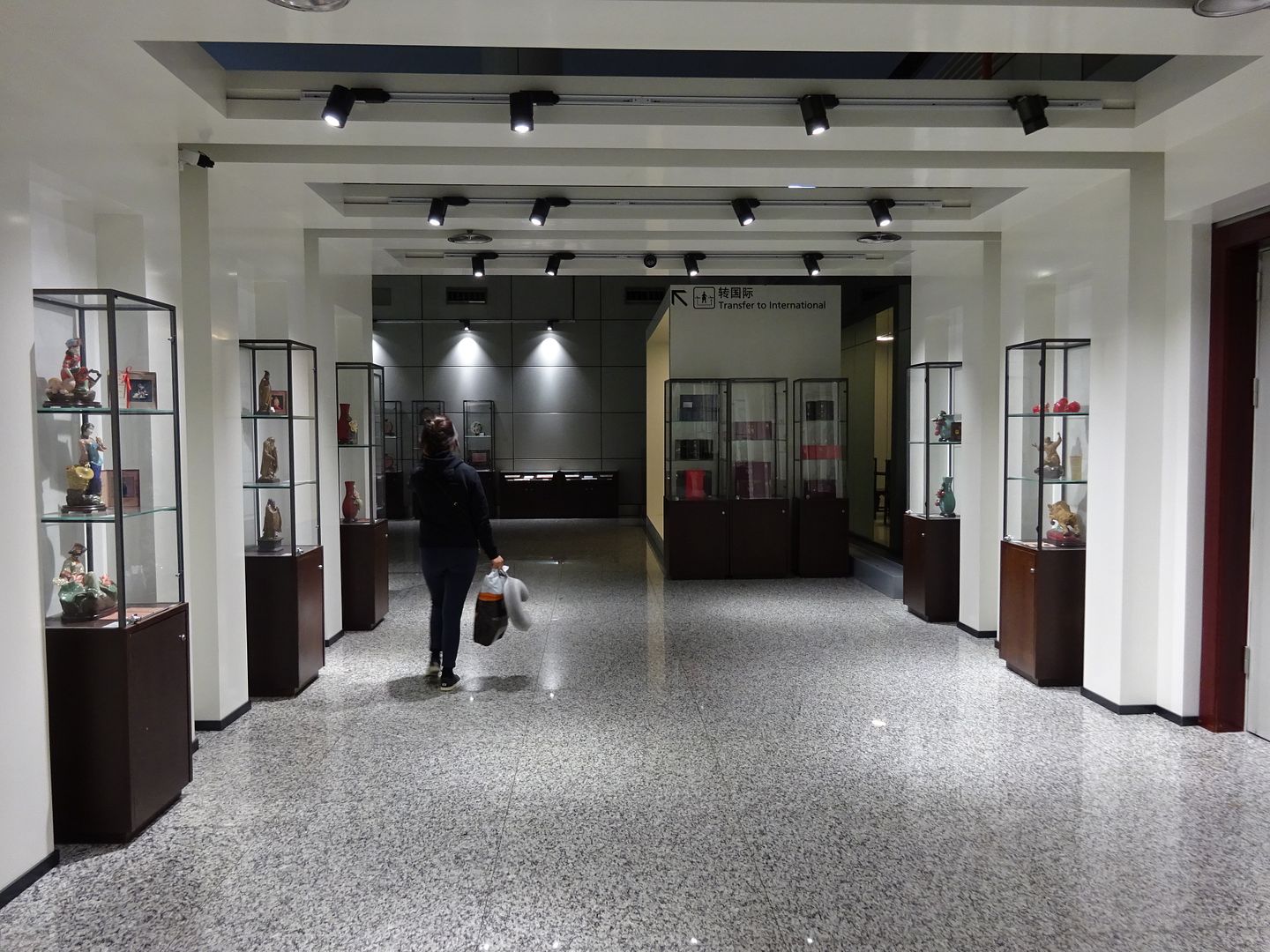 China Southern - CZ323
Route: CAN - PNH
Flight Reg:B-6578; Delivered to China Southern on June 2009. (Sky team livery)
Aircraft Type: Airbus A321-200
Seat: 32A
Flight time: 21:30 - 23:30 (21:50 - 23:16)
Actual flight time: 2Hr 26 Min
Distance: 987 Miles
Load: 90% load
21st Jan 2017
My Log book: 14th Flight on CZ/ 9th flight on Airbus A321-200/ 125th Total overall flight
Our scheduled aircraft arrived from Beijing. Glad to know that it was a sky team special livery aircraft. Quite rare to get special livery aircrafts in china.
FIDS at CAN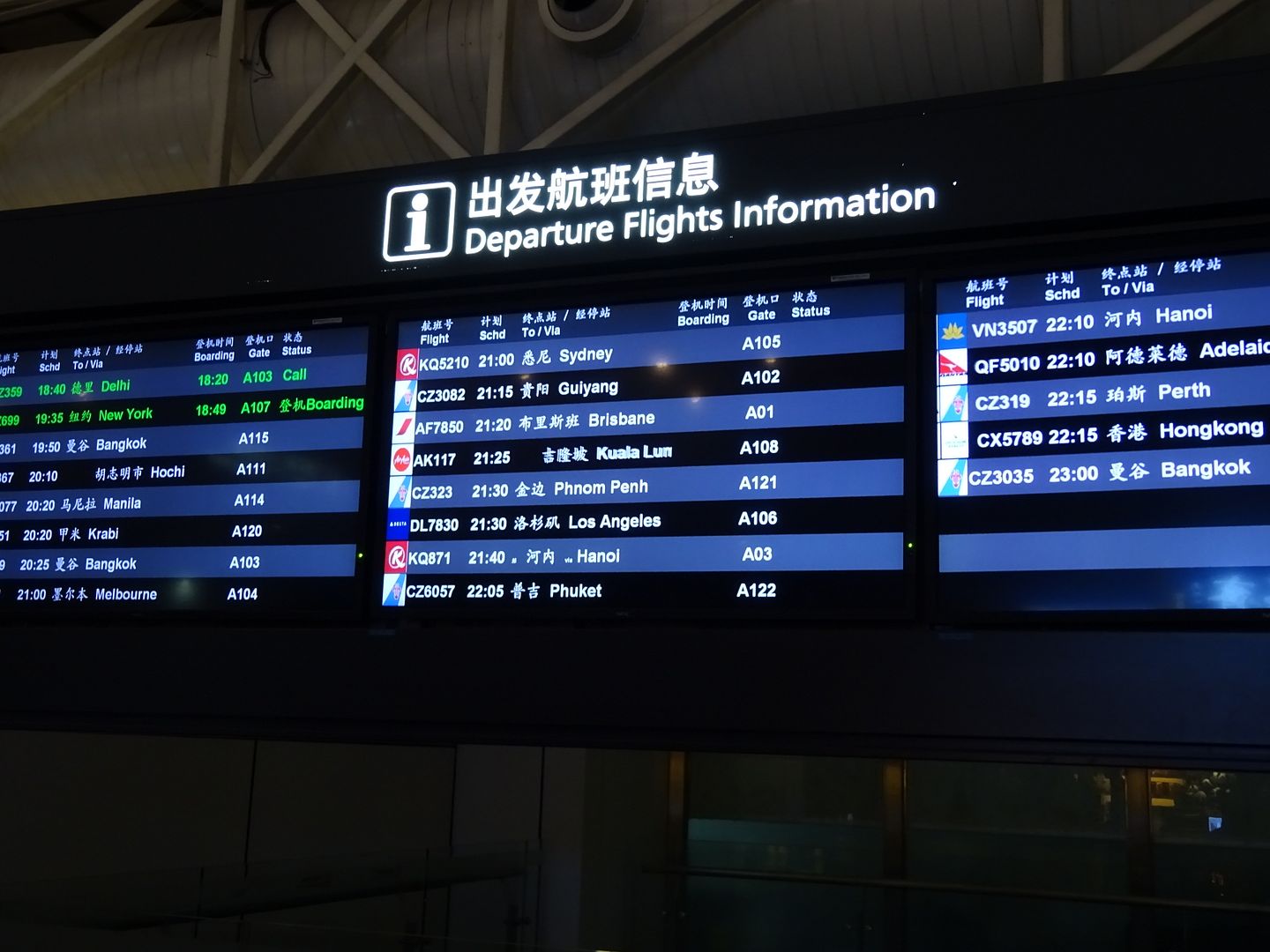 There is our flight - at Gate A121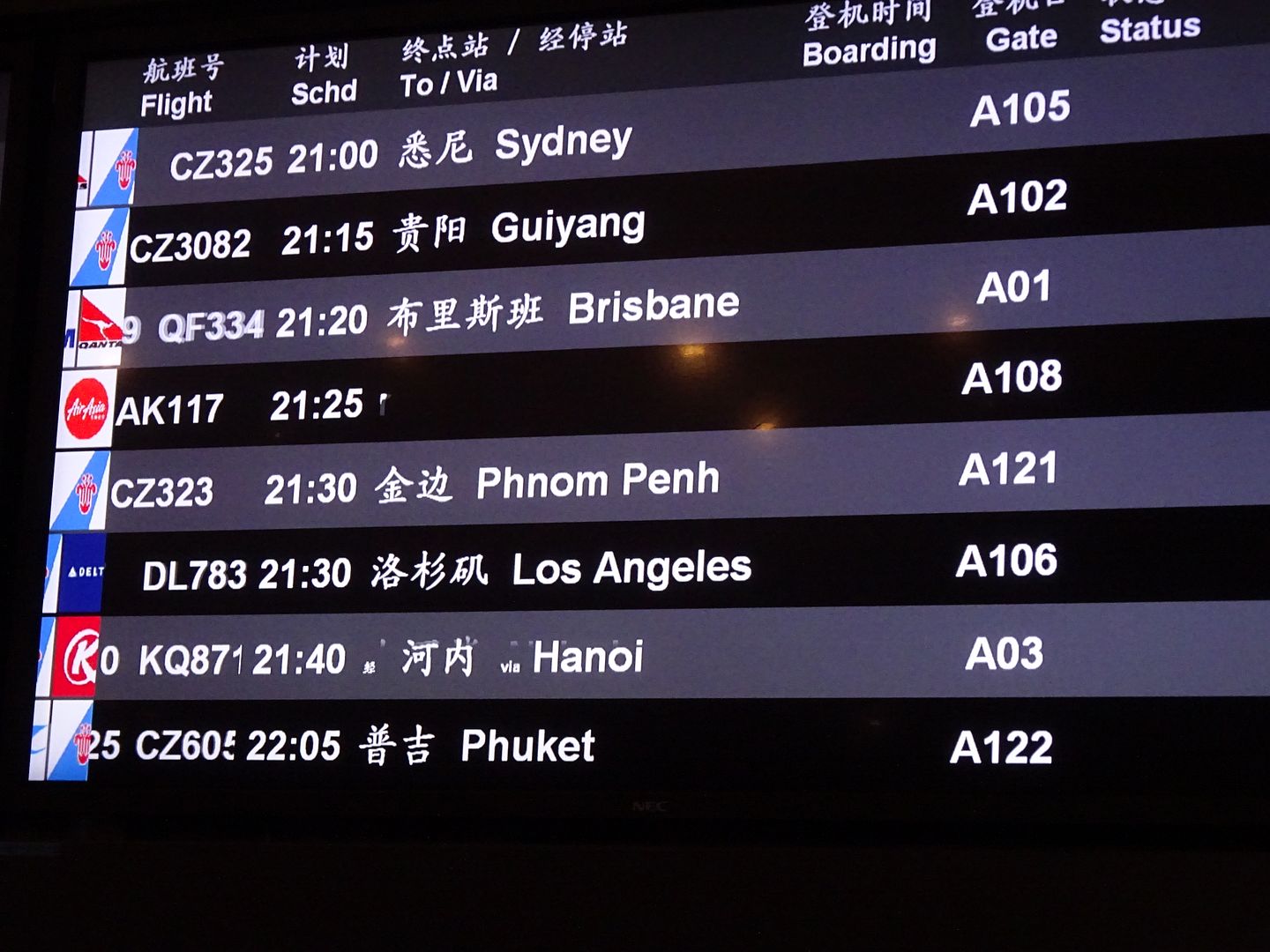 Baiyun means 'White Clouds'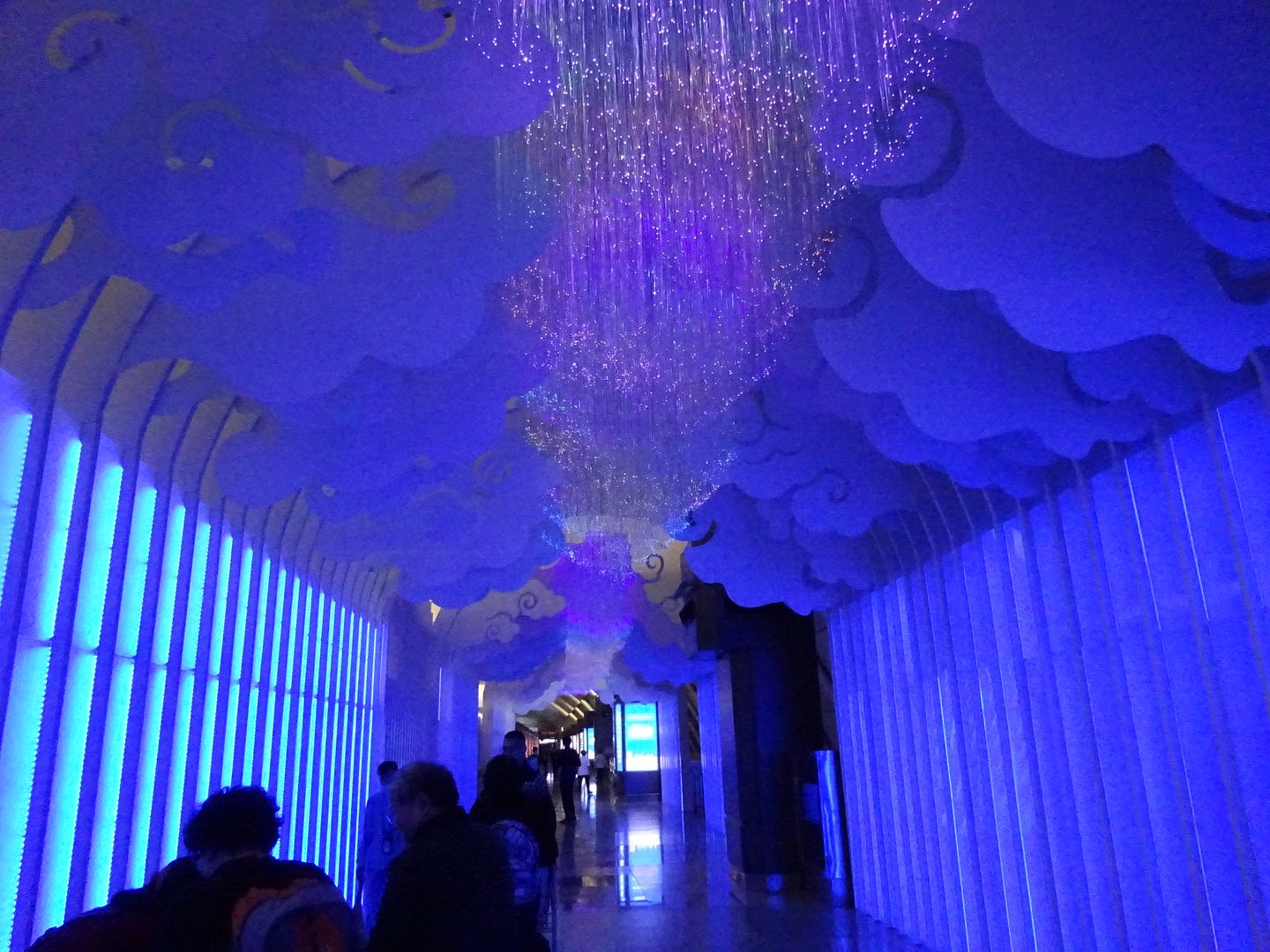 Heading to Gate A121
Did not realise that QR send their A380 to CAN. Do they have that much of traffic from CAN? Surprising!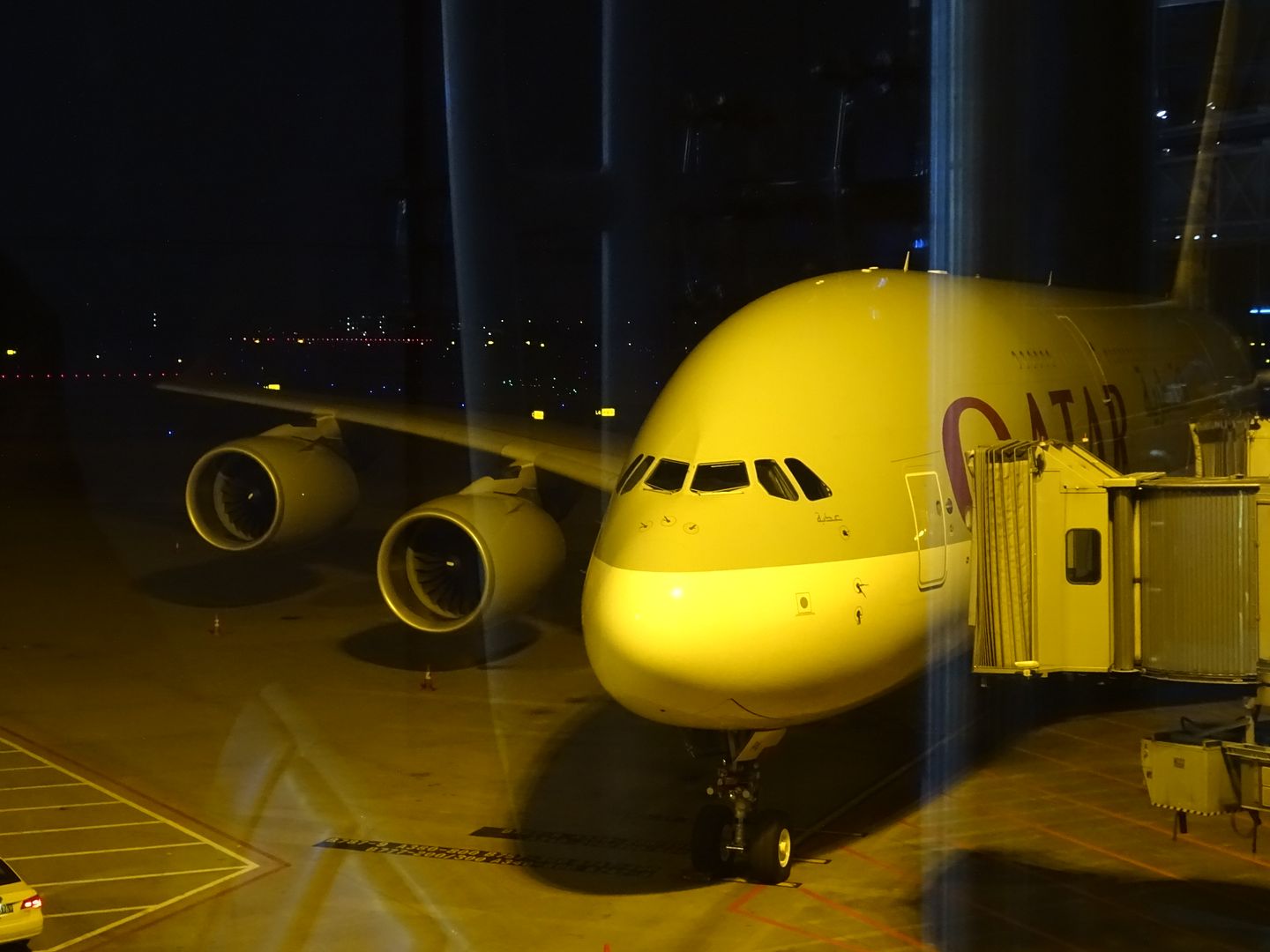 Our ride to PNH - A Sky Livery A321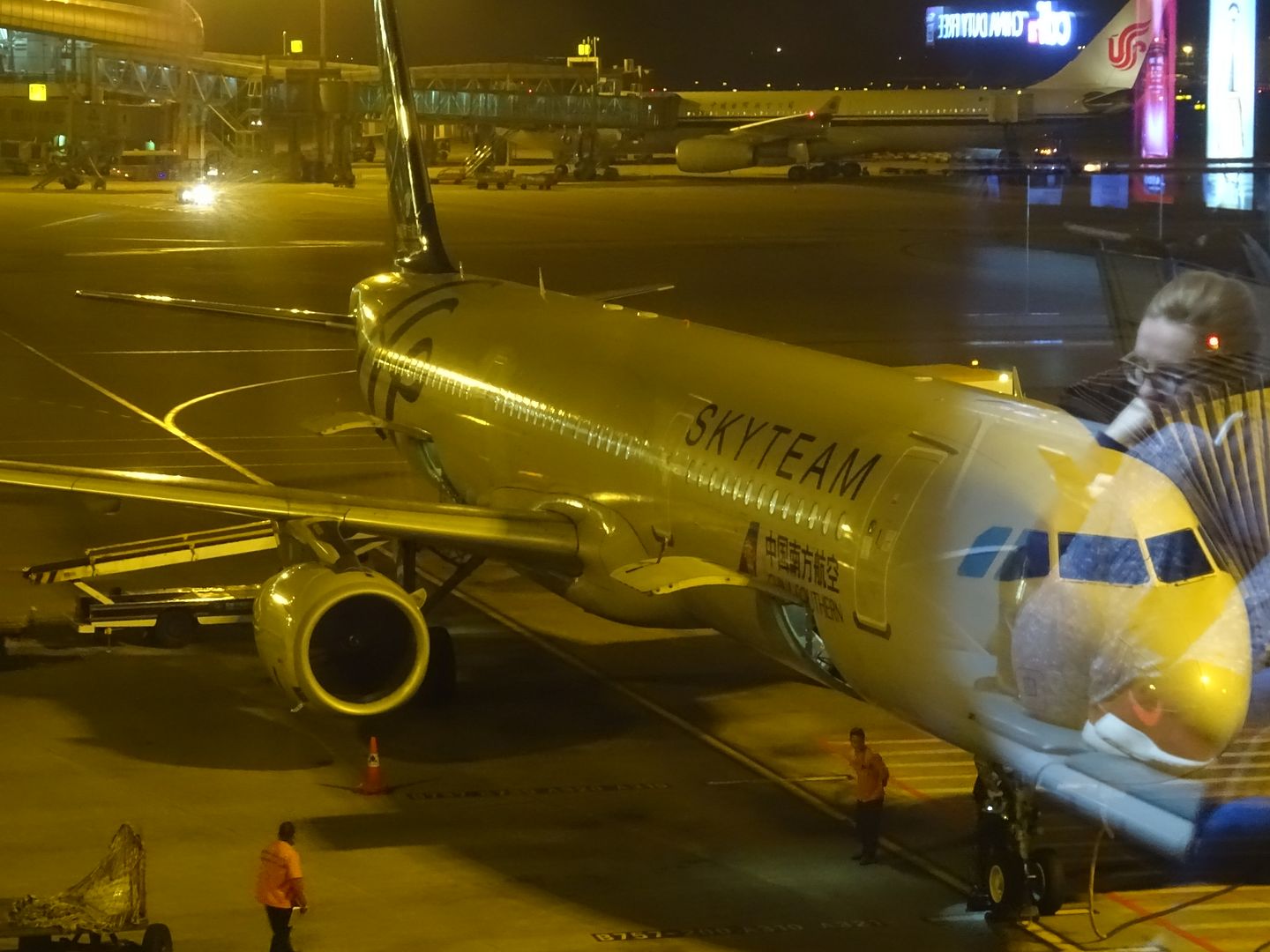 Boarding began on time. Upon boarding the aircraft we realised that CZ configure their A321 in a 3 class configuration. Business, an economy plus and economy. We seemed to have bagged seats in the economy plus cabin. Much larger seat pitches.
I like the configuration of China southern A321, especially if you're able to get seats in the small cabin between business and economy. There is even a separate toilet for this cabin.
First Impressions
Business cabin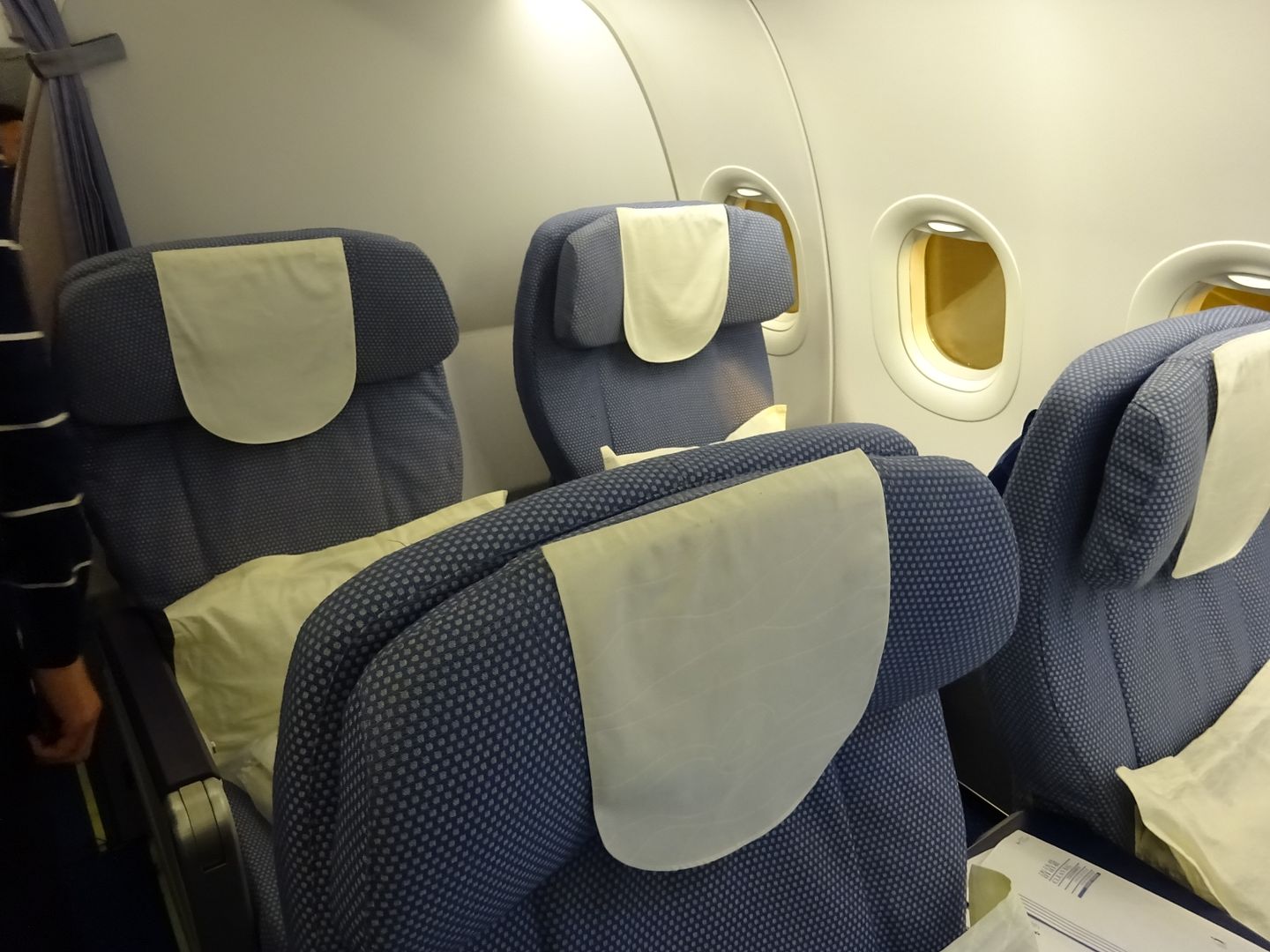 Ginormous leg space in their 'W' class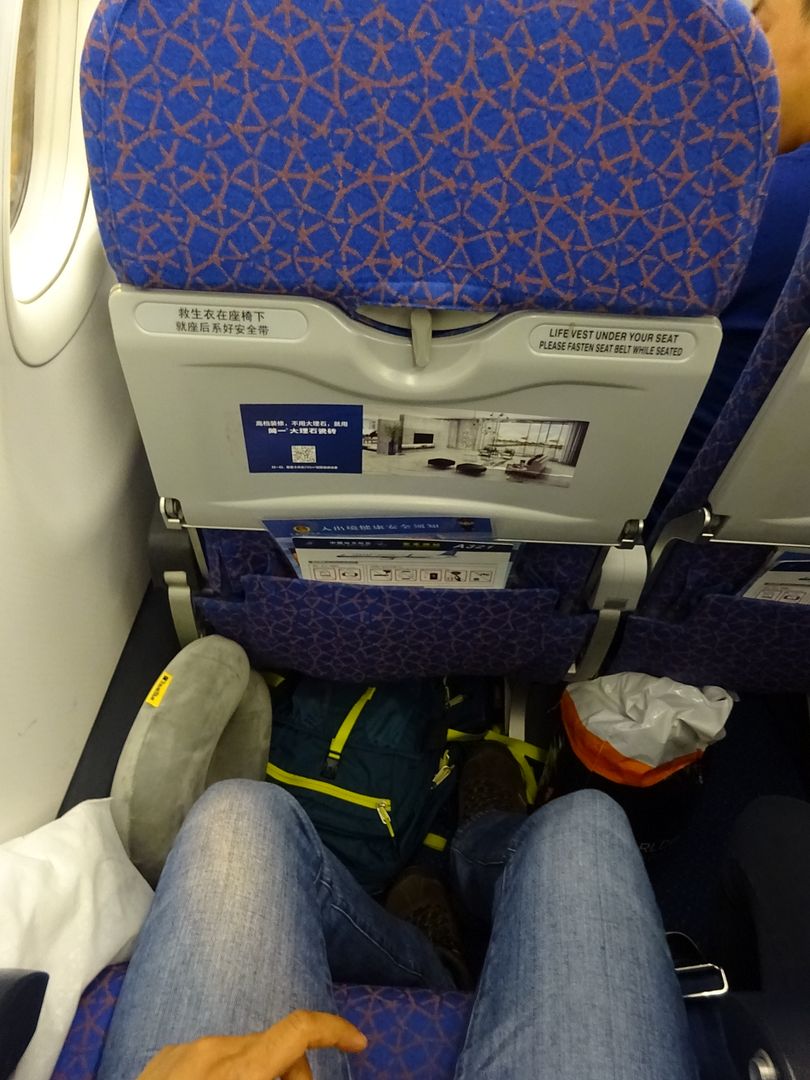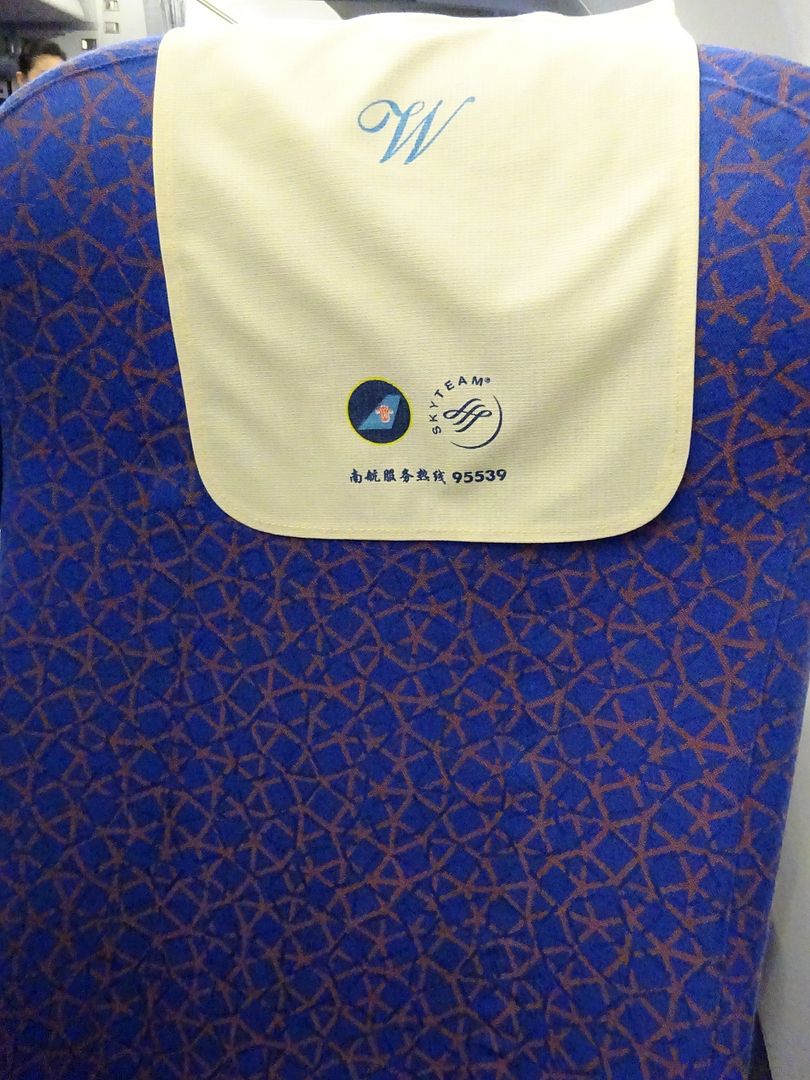 Just to put it in perspective
Reading Material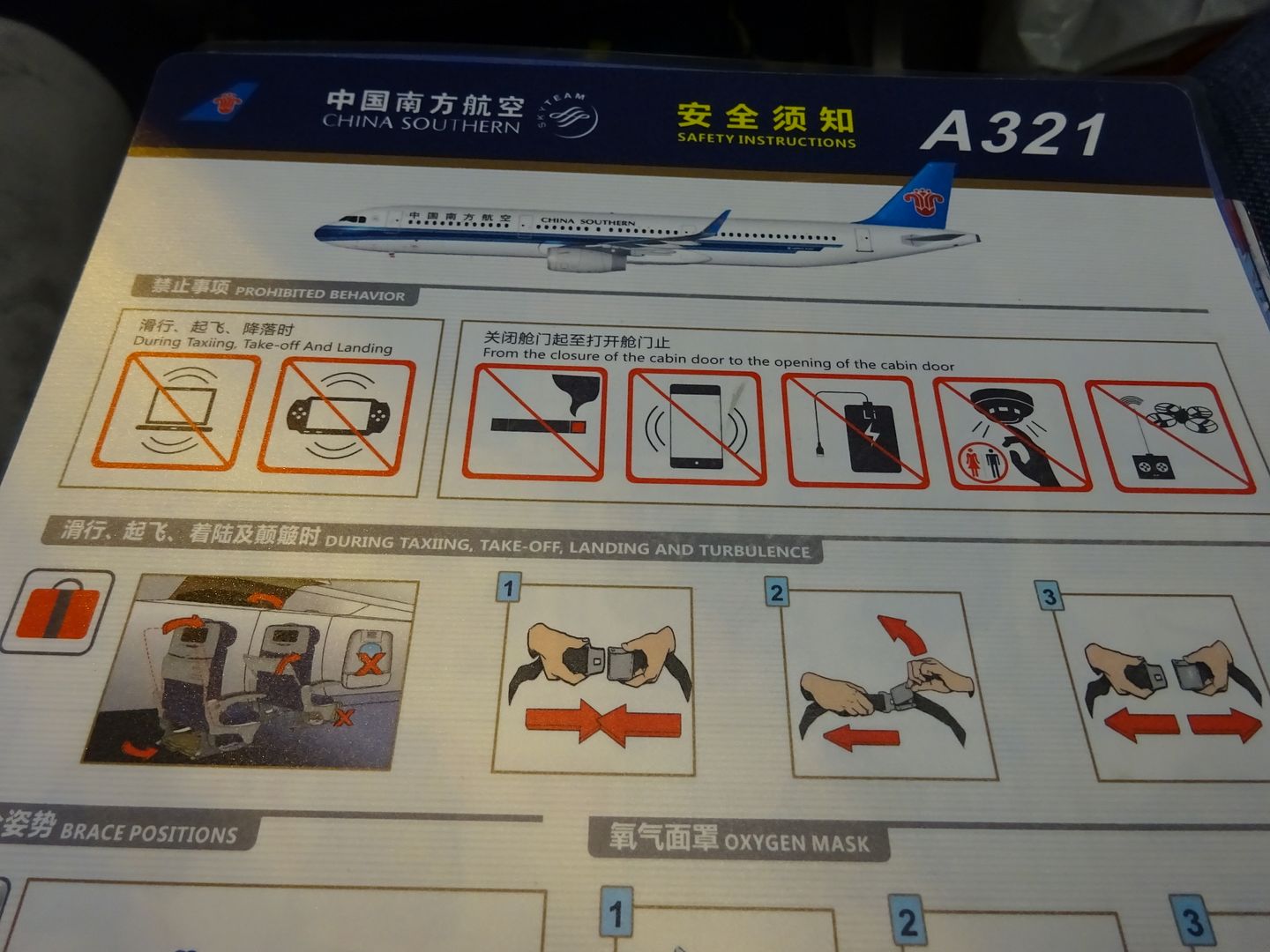 Neighbours at CAN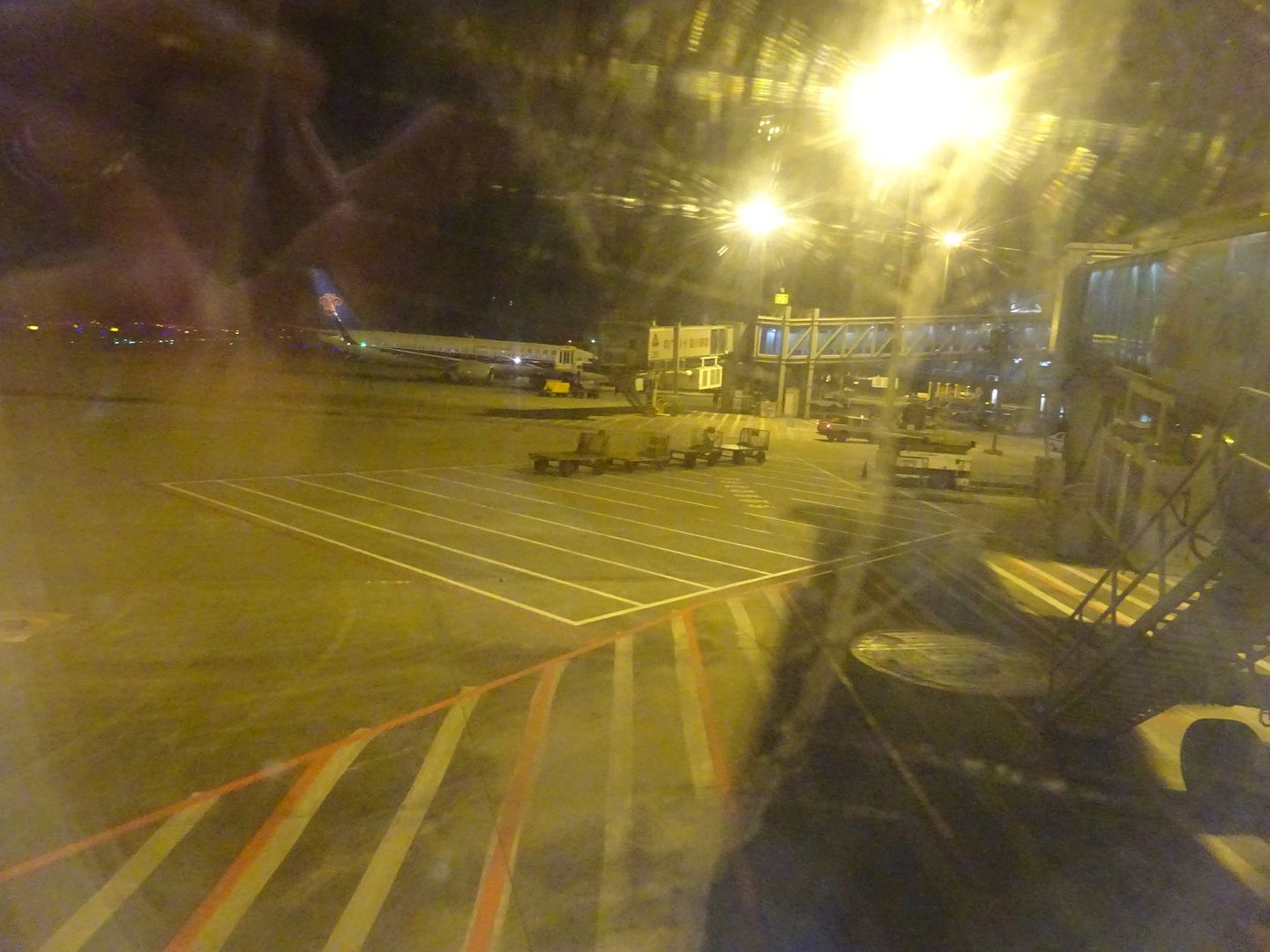 So OldSkool!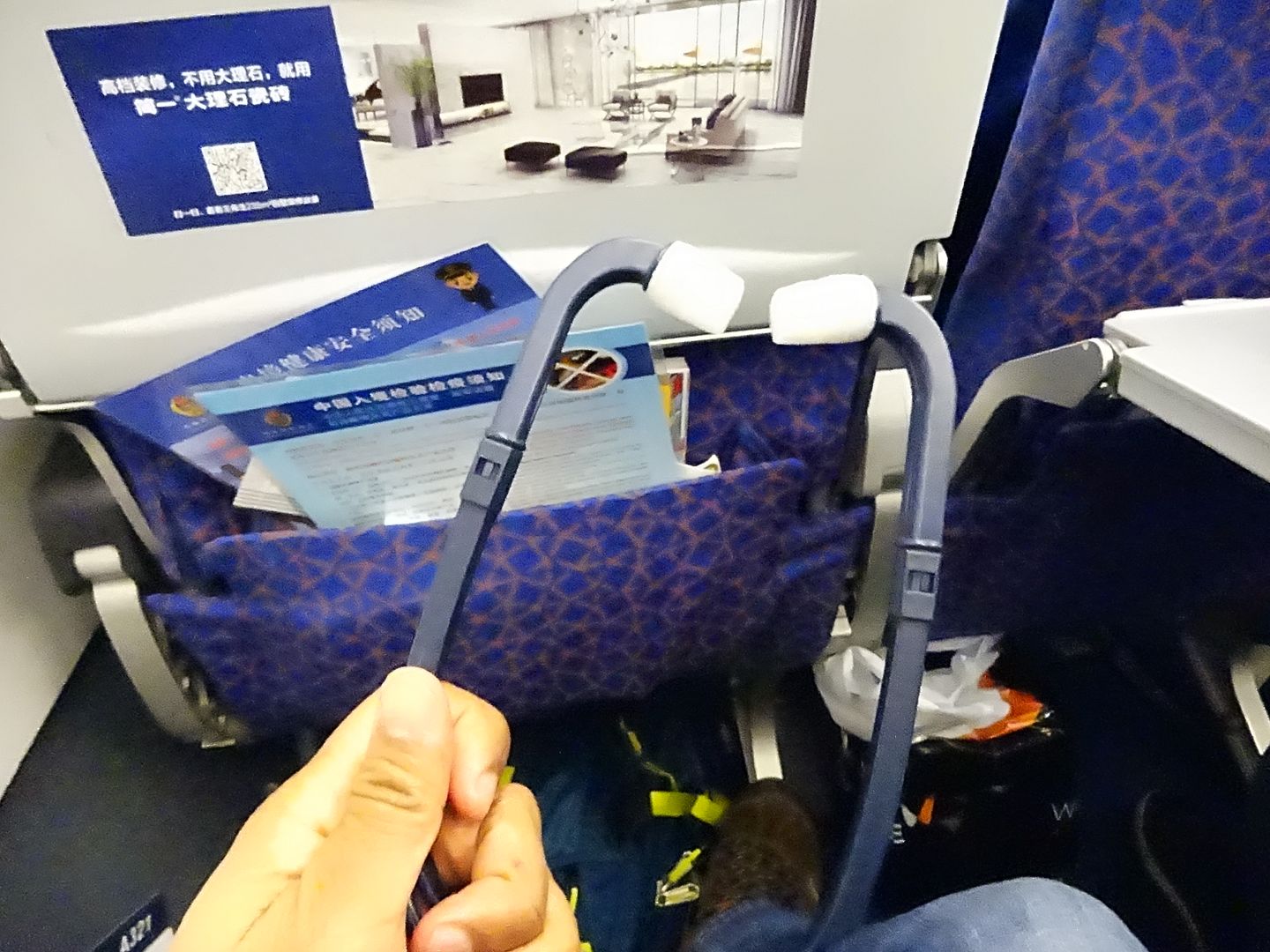 Disembarked on time and 20 minutes later we were airborne.
Drinks and meal service started within 30 minutes of being airborne.
The aircraft looked around 90% full.
Once again the China southern crew were adequate. Did their job efficiently. I tried to converse with one of the crew about the difference in cabin. But the general consensus was she preferred not to converse much and tried to reply very monotonous.
Meal for our flight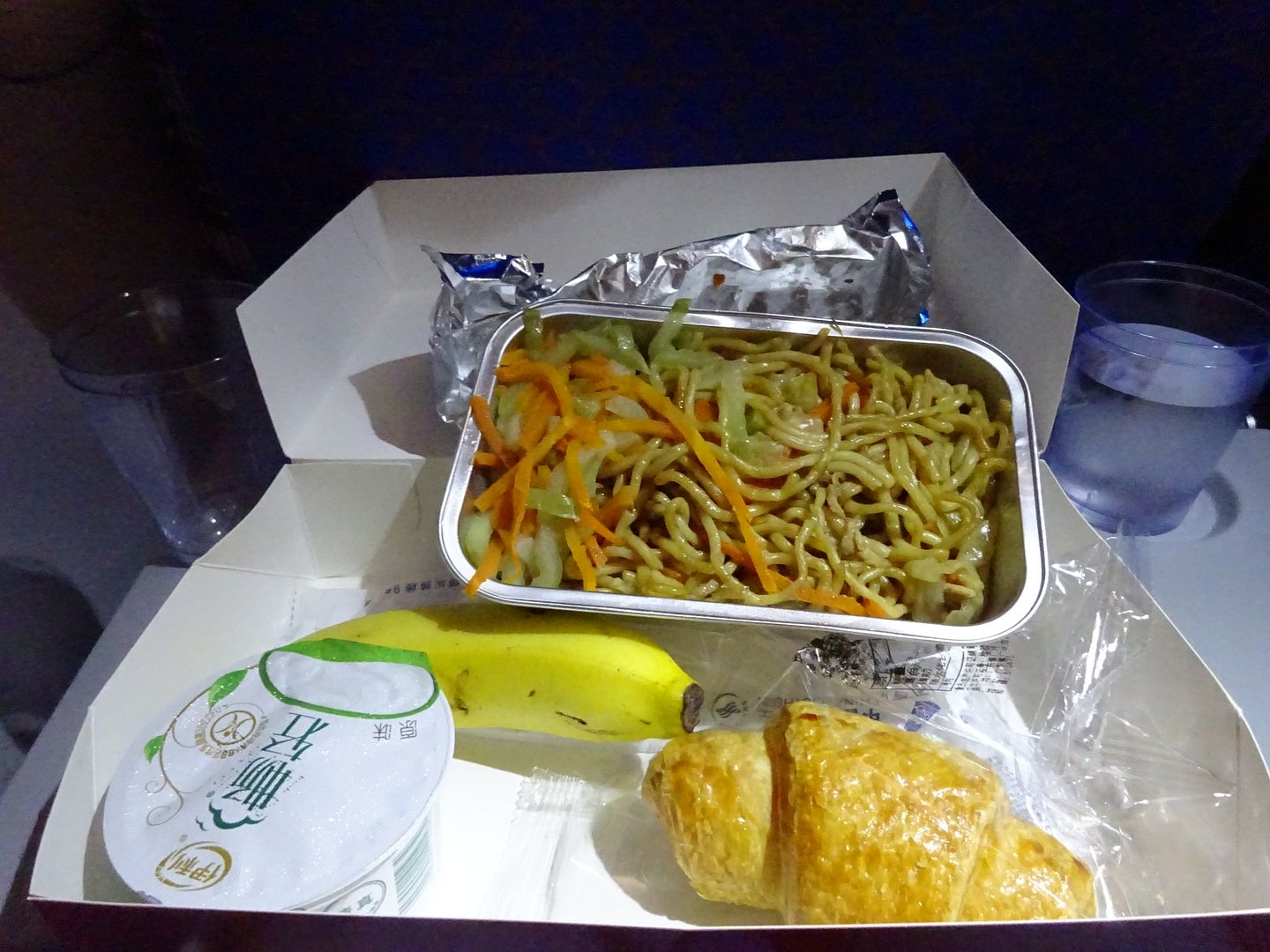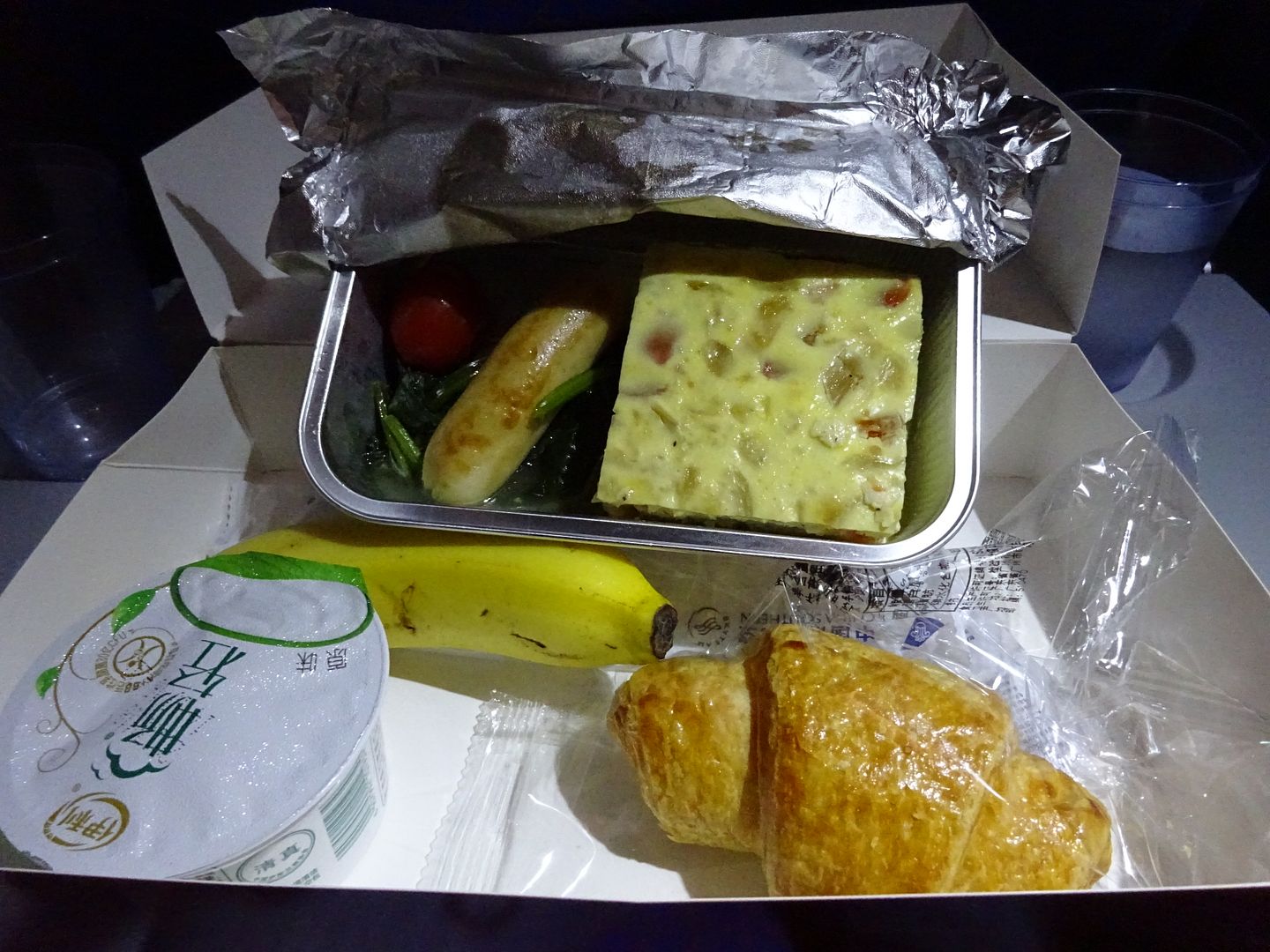 The 'W' Cabin - Cosy and niche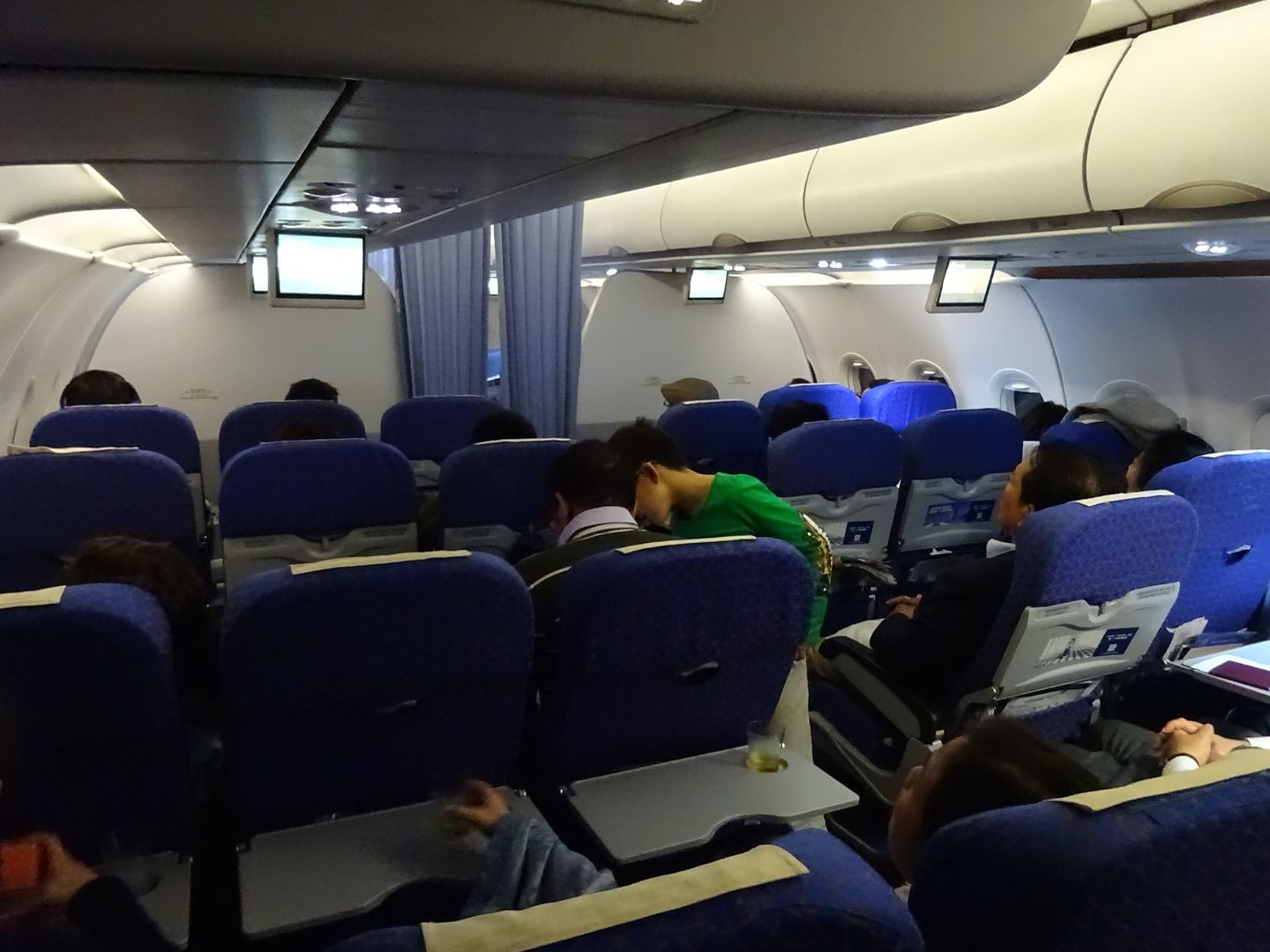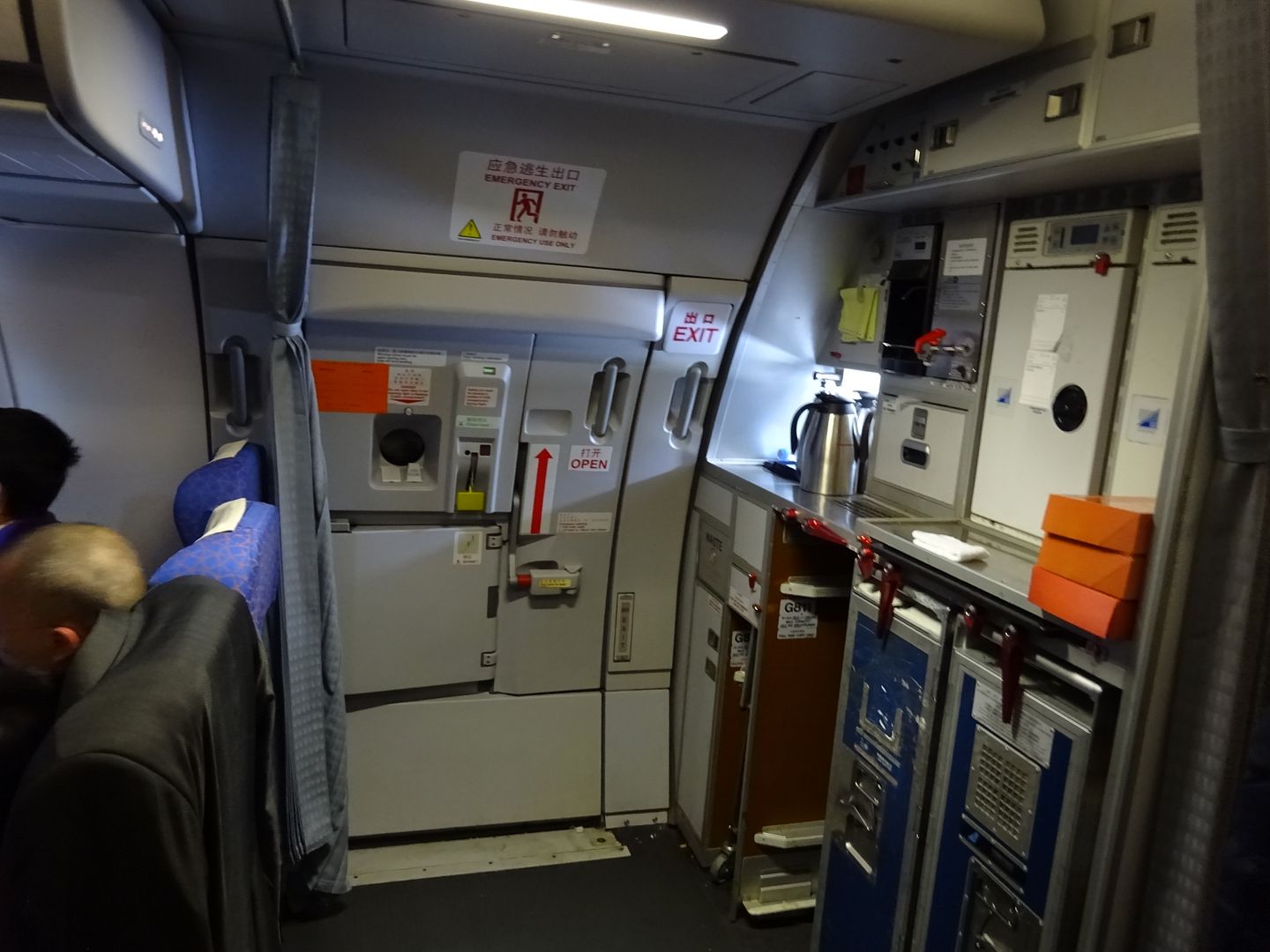 Probably one of the smoother rides in the recent past. Turbulent free and it was just perfect.
Phnom Penh airport at that time of the night is great time pass through. The only flight during that time means that immigrating and baggage collection is a breeze. You can technically be out of the departure area in 20 minutes after landing.
But the scene outside is a polar opposite of the calmness inside the airport. There seems to be over 10 times the amount of people outside than there were inside. Not sure who those people were waiting for? It was a scramble to push ourselves through the crowd and into the sim card kiosks. Bought a prepaid sim @$6 for 8 GB data and unlimited calls and texts. Good deal I thought.
It was quite easy to find out taxi driver from the crowd. I guess there is some order in this chaos.
Exiting at PNH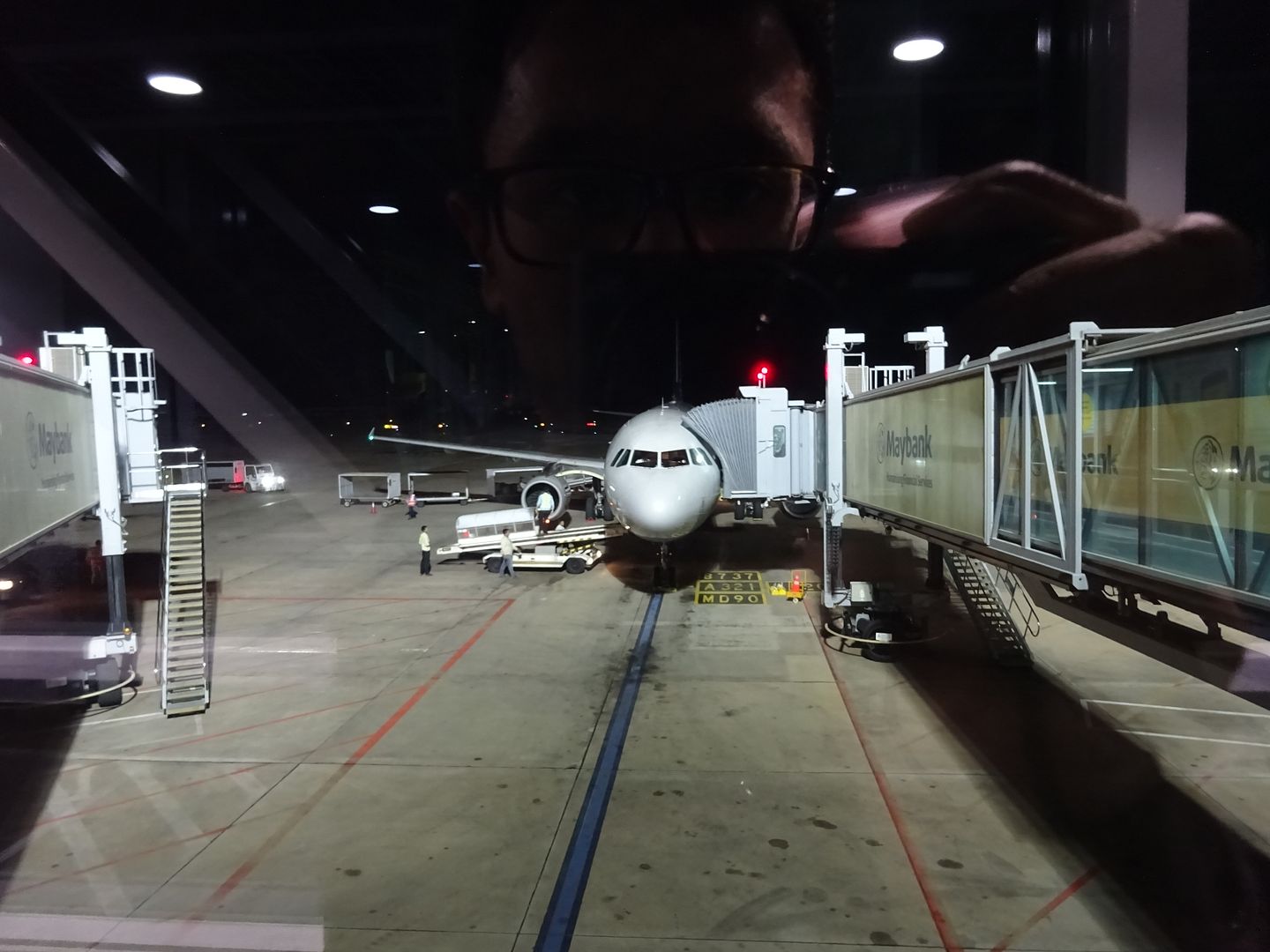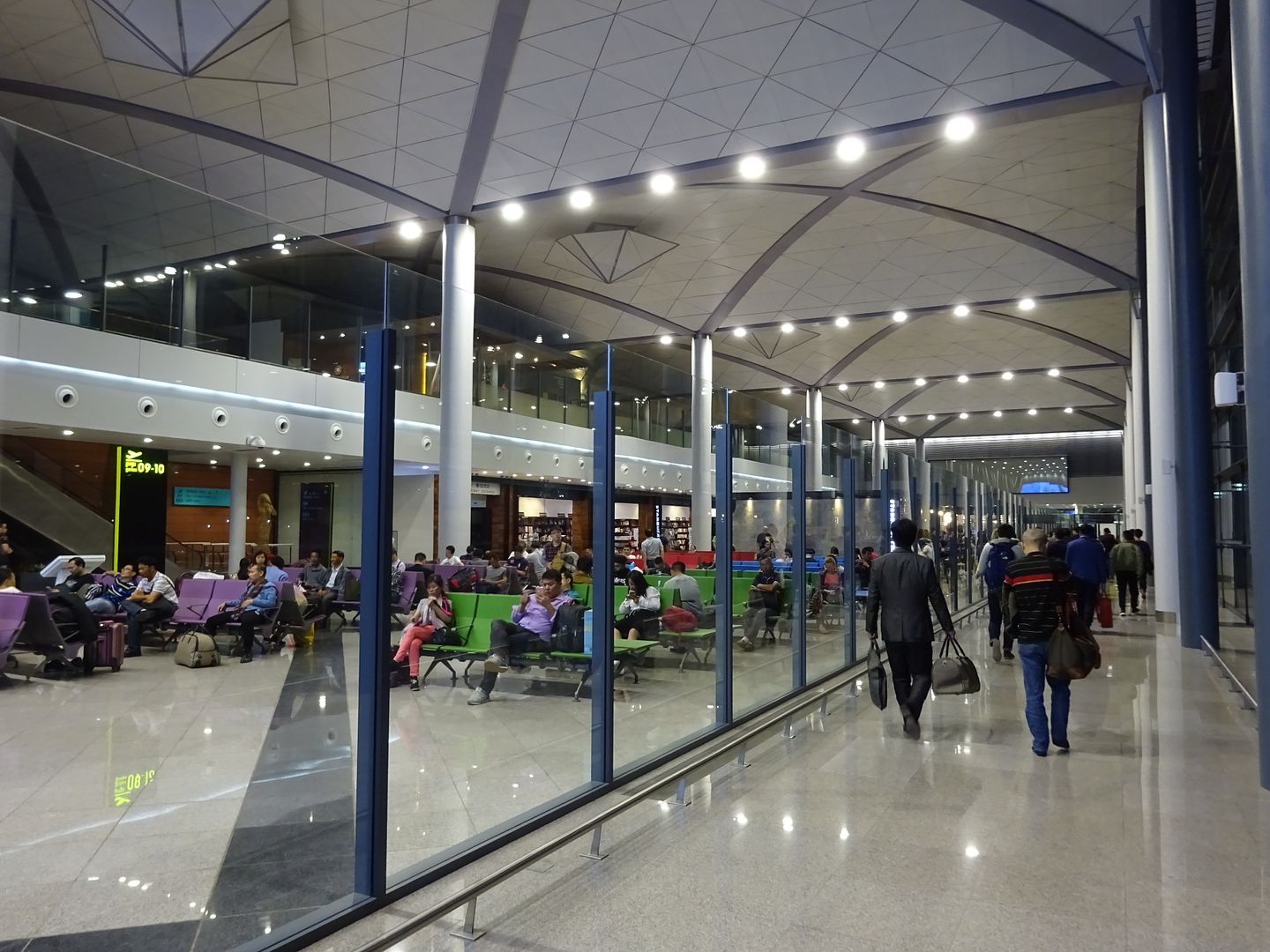 Baggage collection at PNH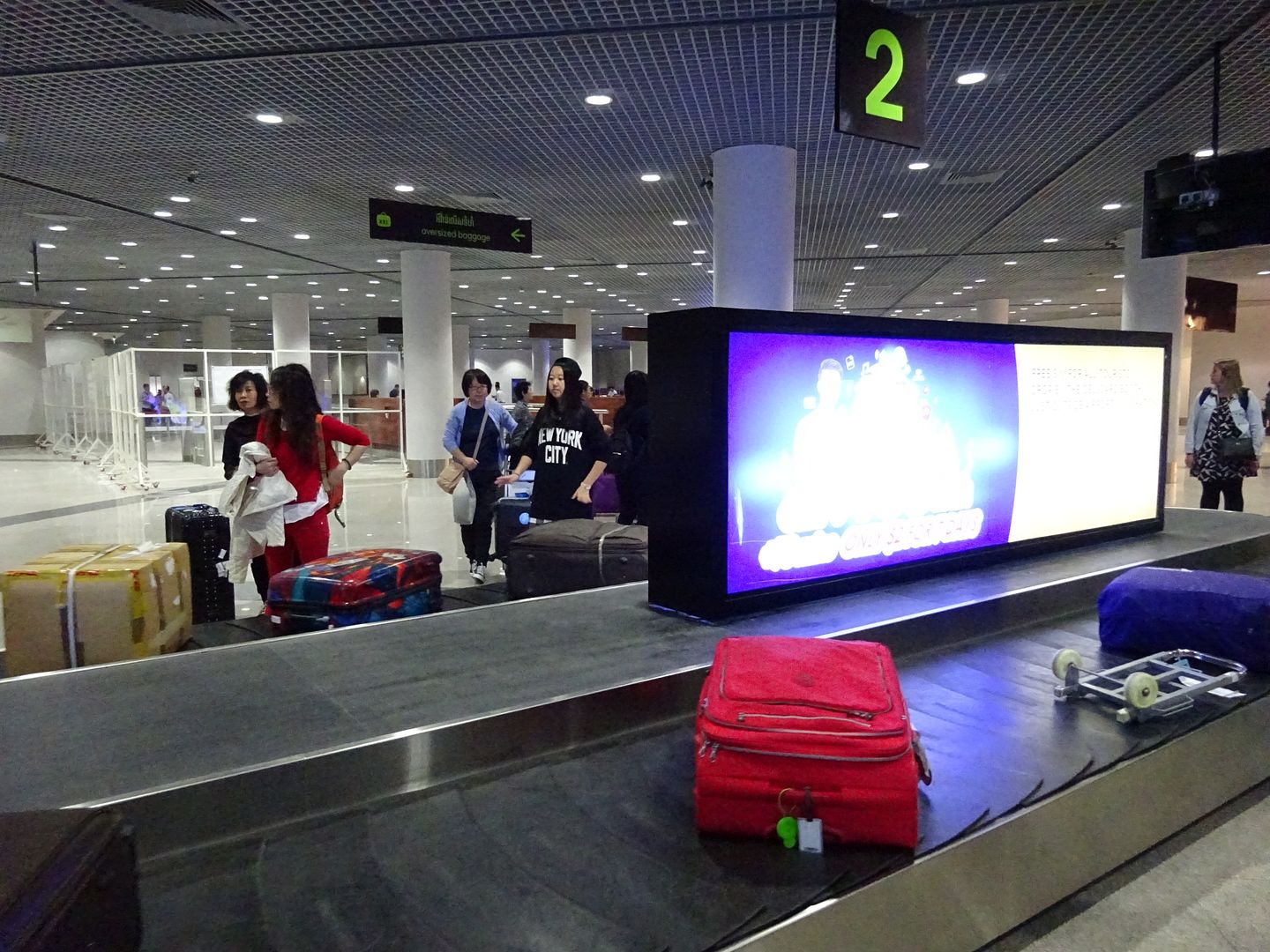 China Southern - CZ3064
Route: REP - CAN
Flight Reg:B-2408; Delivered to China Southern on Jan 2005.
Aircraft Type: Airbus A320-200
Seat: 33K
Flight time: 18:20 - 22:00 (18:21 -21:18 )
Actual flight time: 1Hr 57 Min
Distance: 927 Miles
Load: ~90% load
30th Jan 2017
My Log book: 15th Flight on CZ/ 28th flight on Airbus A320-200/ 127th Total overall flight
10 days later, it was time to get back and bid goodbye to this amazing country.
The previous day, online check in was only possible for the first leg of the journey from Siem reap to Guangzhou. Even though it was within 24 hours of the next flight from Guangzhou to London.
Drive to the airport was quick. Check in only opens 2 hours prior to the flight. We had an hour before the check in opens.
Heading to the airport
Siem Reap International Airport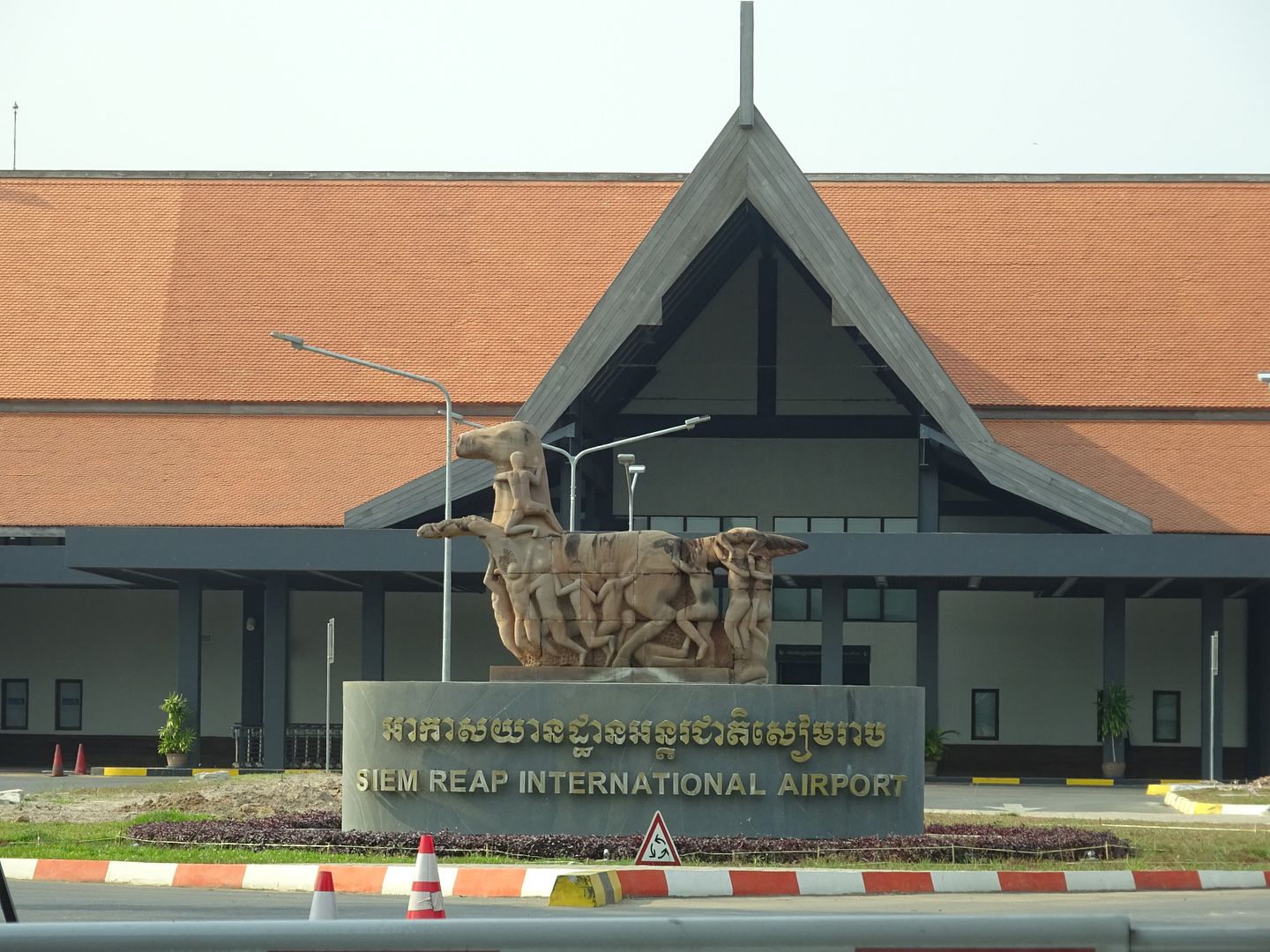 Very few seats to sit in the departure area of Siem reap international airport.
Upon checking in, we were given seats from Guangzhou to London too. However they were unable to change the seats. Would have to try our luck in Guangzhou.
REP International terminal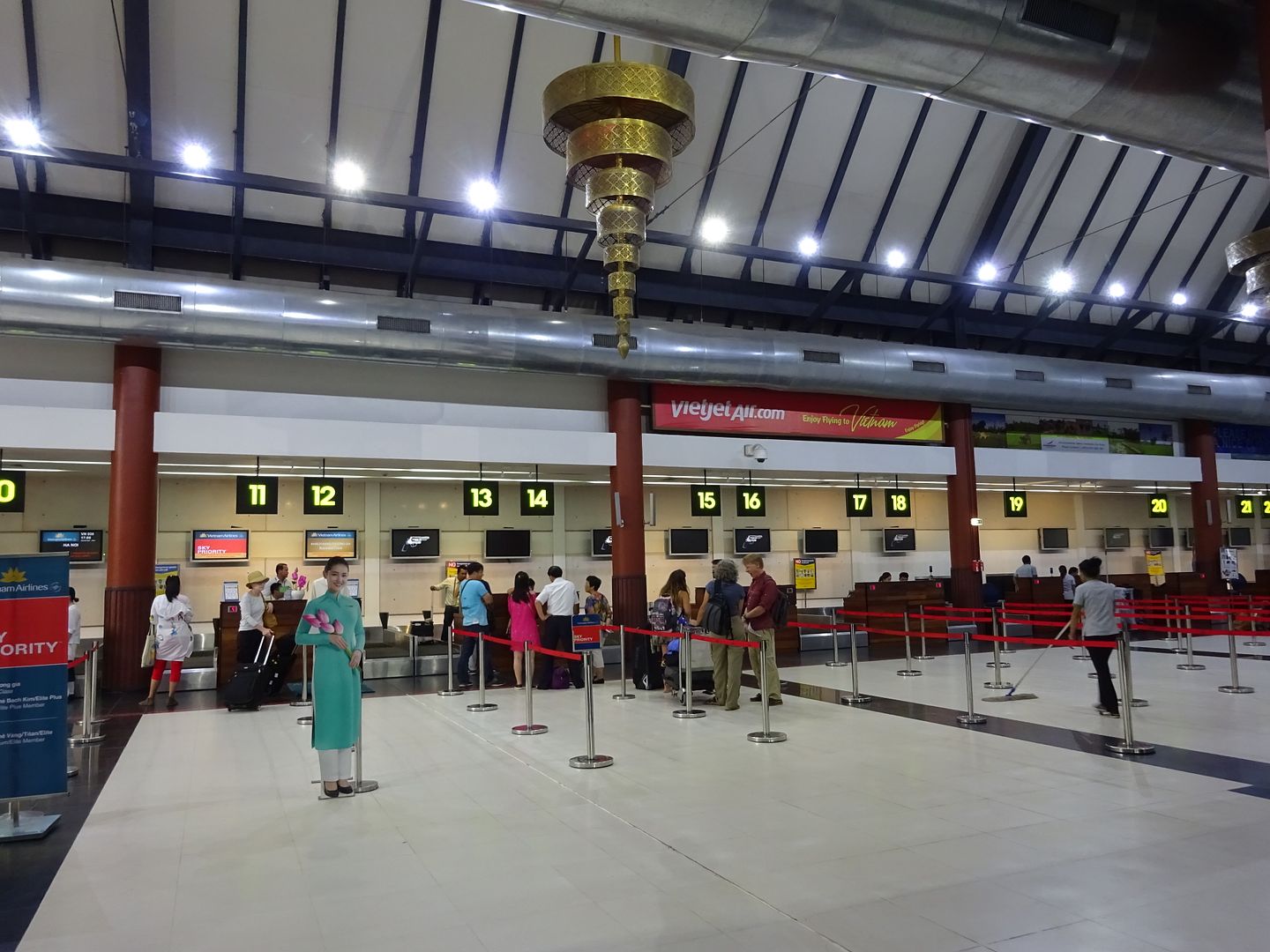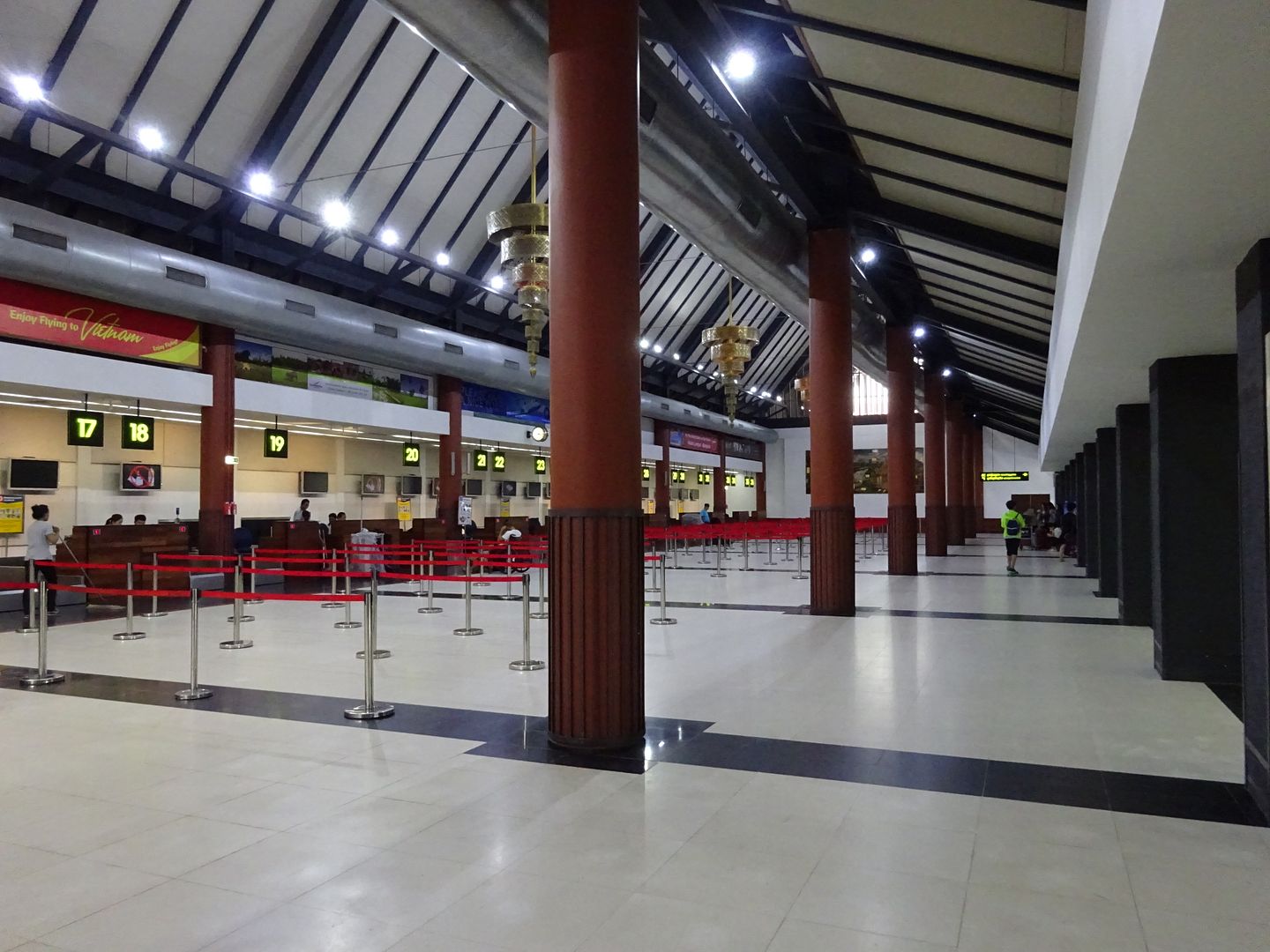 FIDS at REP
Checking in at REP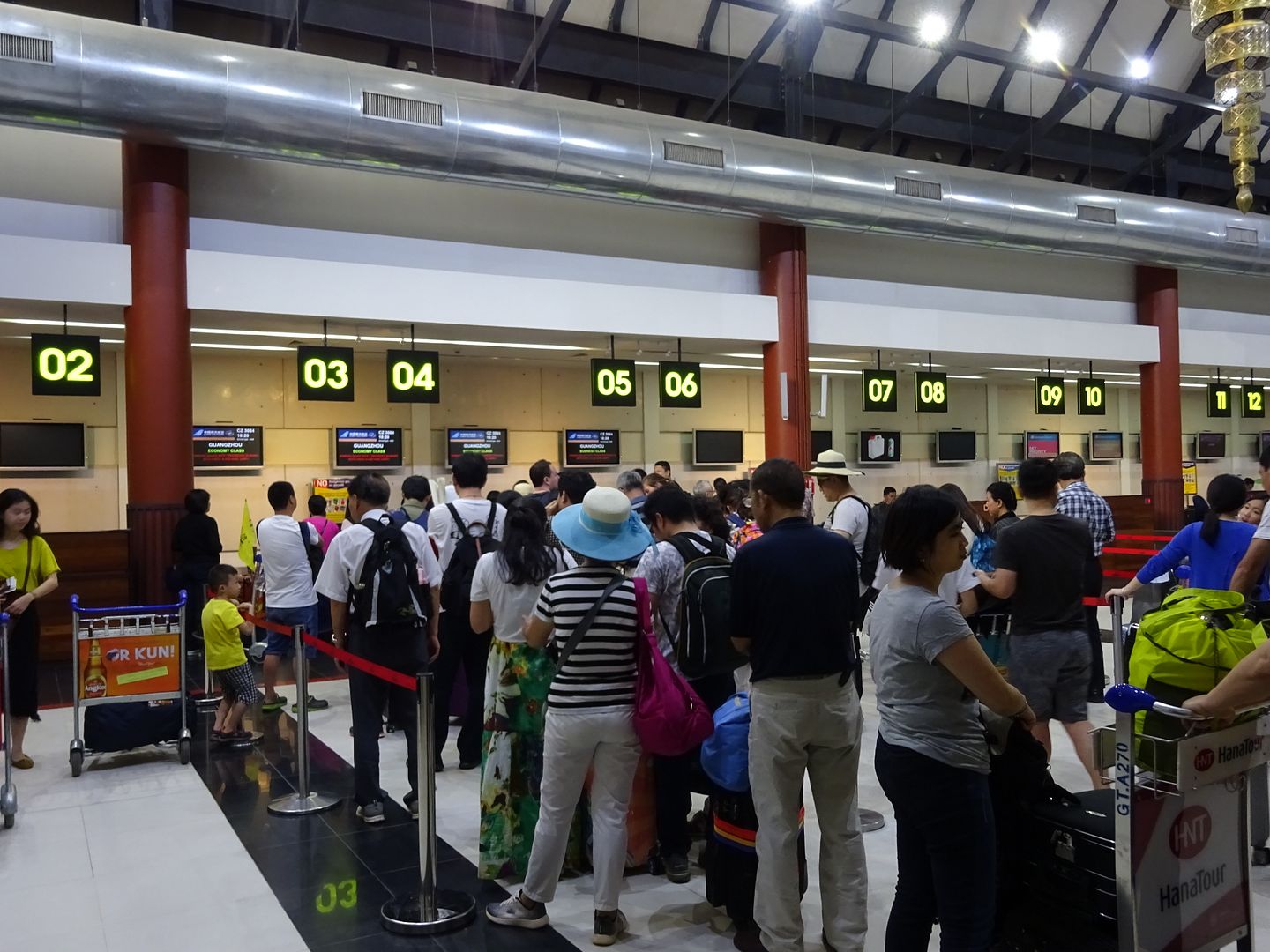 Note the Galaxy Note 7 comment
We were first in line for check in. Following check-in, immigration and security we were airside with an hour and 40 minutes to while away in the duty free area.
I noted there wasn't any priority boarding for sky elite members nor any for business class passengers. It was 3 queues and all of them for anyone.
Anecdote at the immigration. I was travelling with my Chinese in laws and the officers kept asking them for some tips.

Heading to security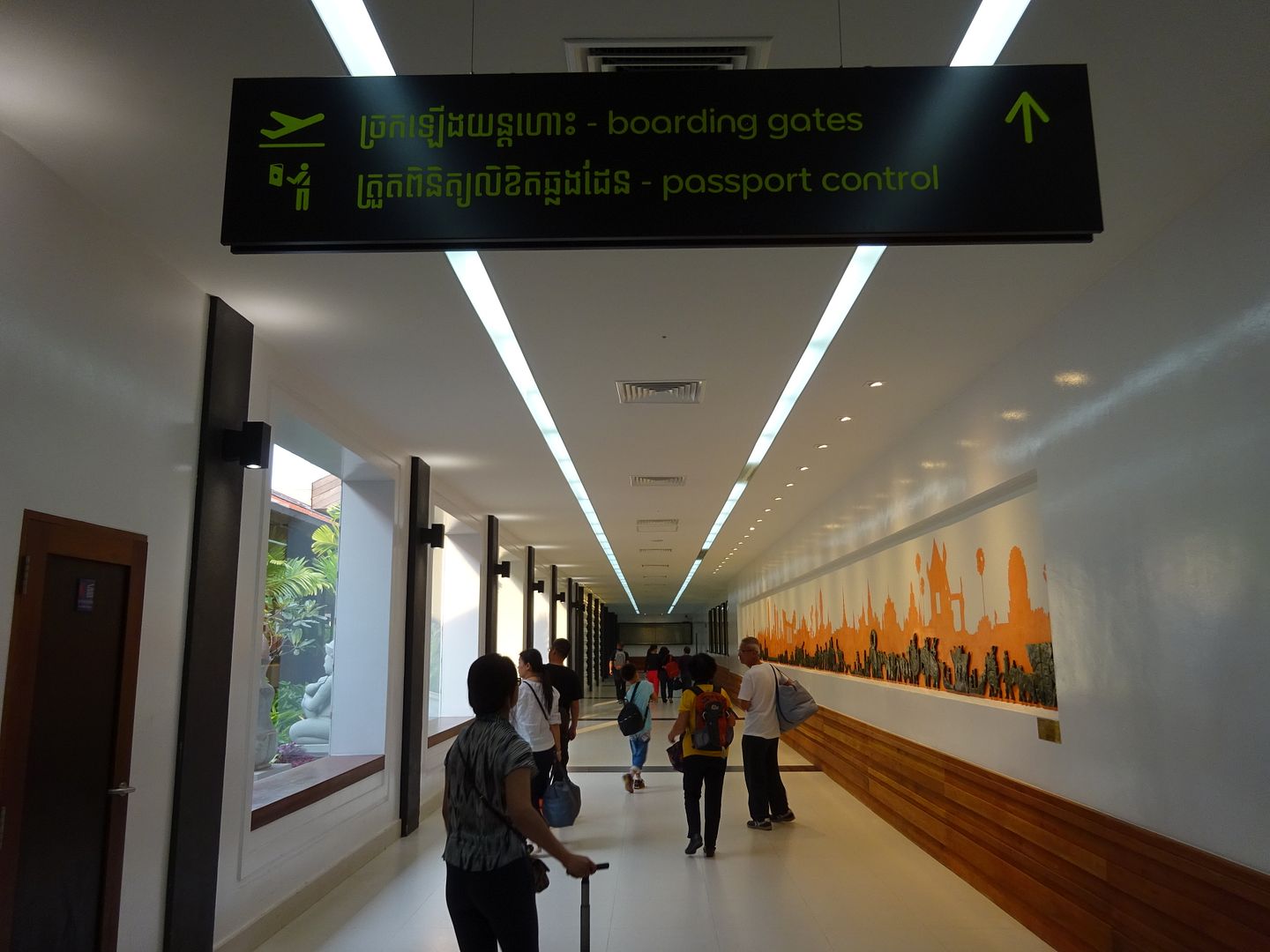 Duty free at REP - the normal affair - overpriced and below par items

SRIA airside is quite good for plane spotting. I was tracking our aircraft from Guangzhou and got to video shoot the landing under the evening sun.
Airside at REP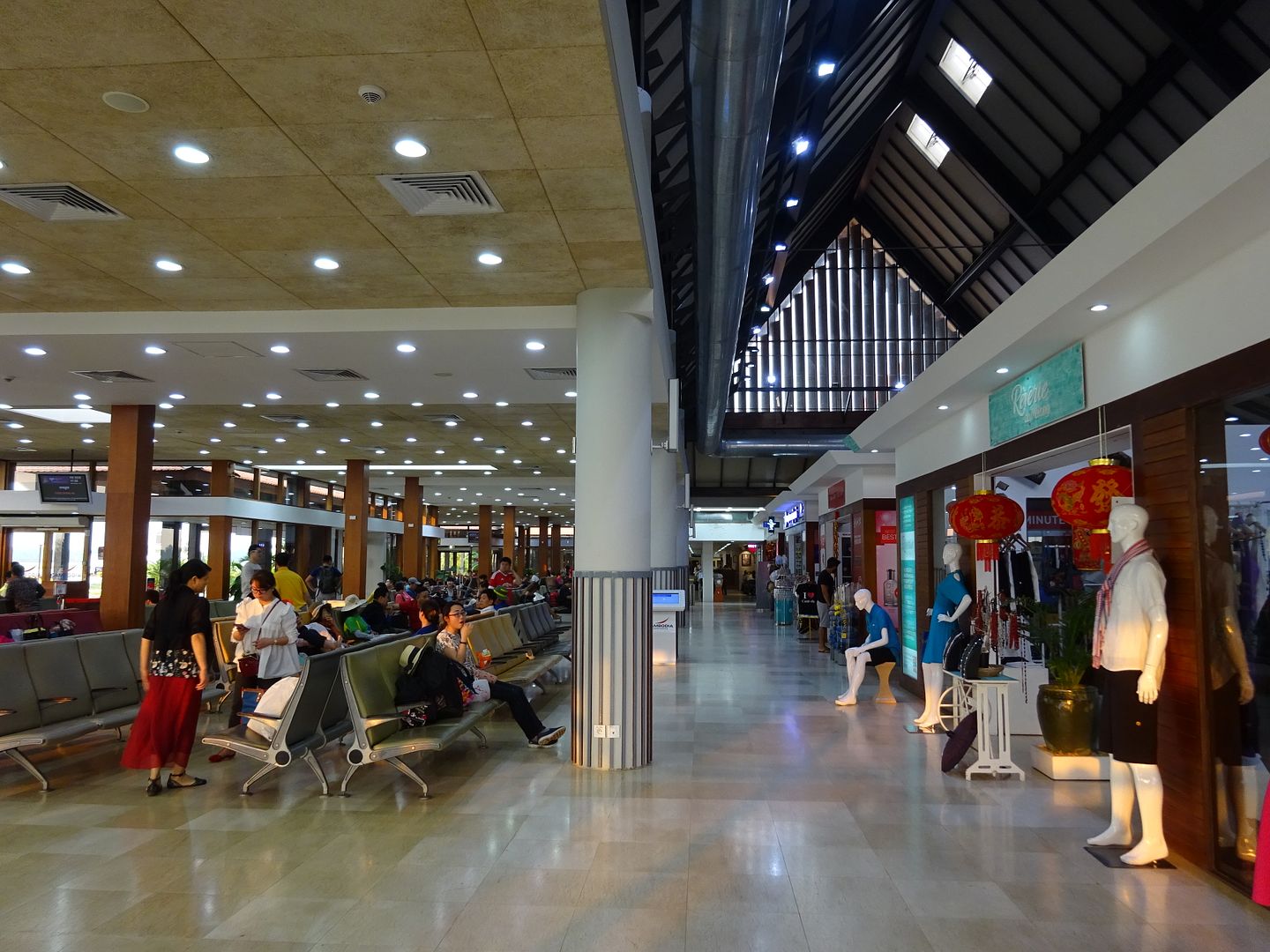 Plane Spotting at REP - A Vietnam Airlines A321
Sky Angkor Hub at REP
Boarding gates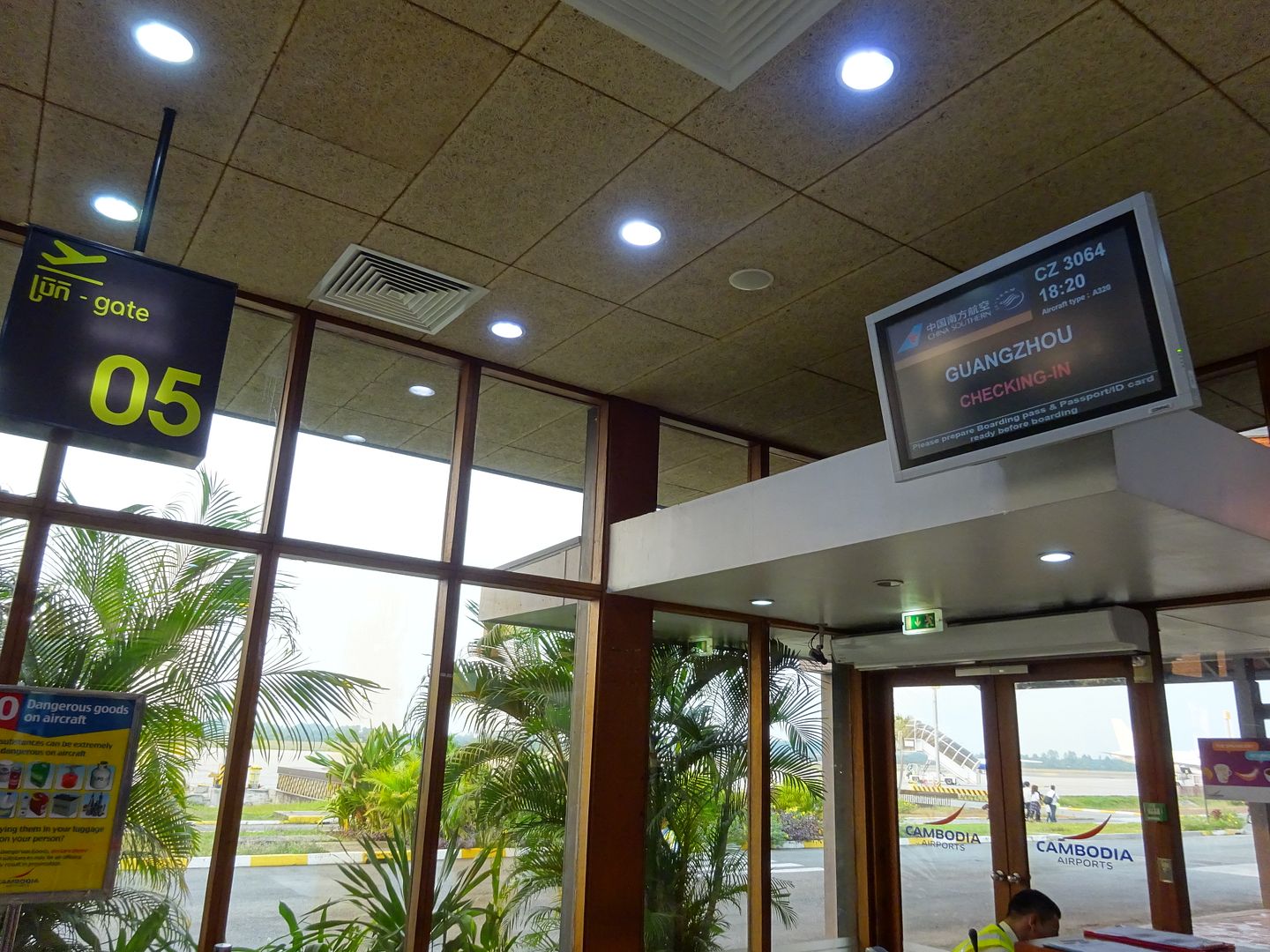 Boarding commenced 30 minutes before departure. And completed at 18 10.
We pushed back at 18 12 and airborne at 18 21! The safety video hadn't even completed before we were zooming down the runway. They aborted the video half way as they had to retract the overhead video screens. Captain was in a hurry.
Our ride to CAN - China Southern A320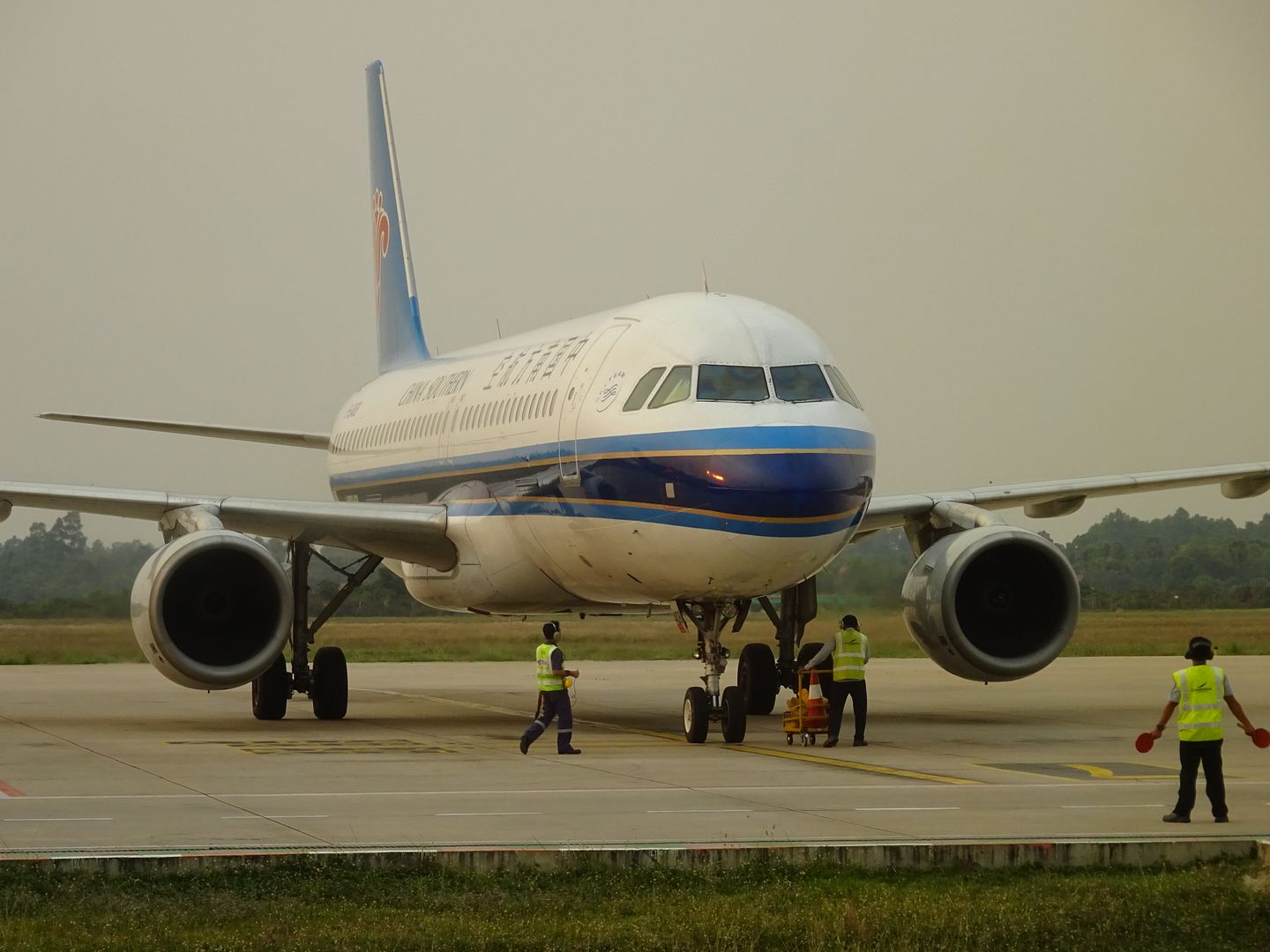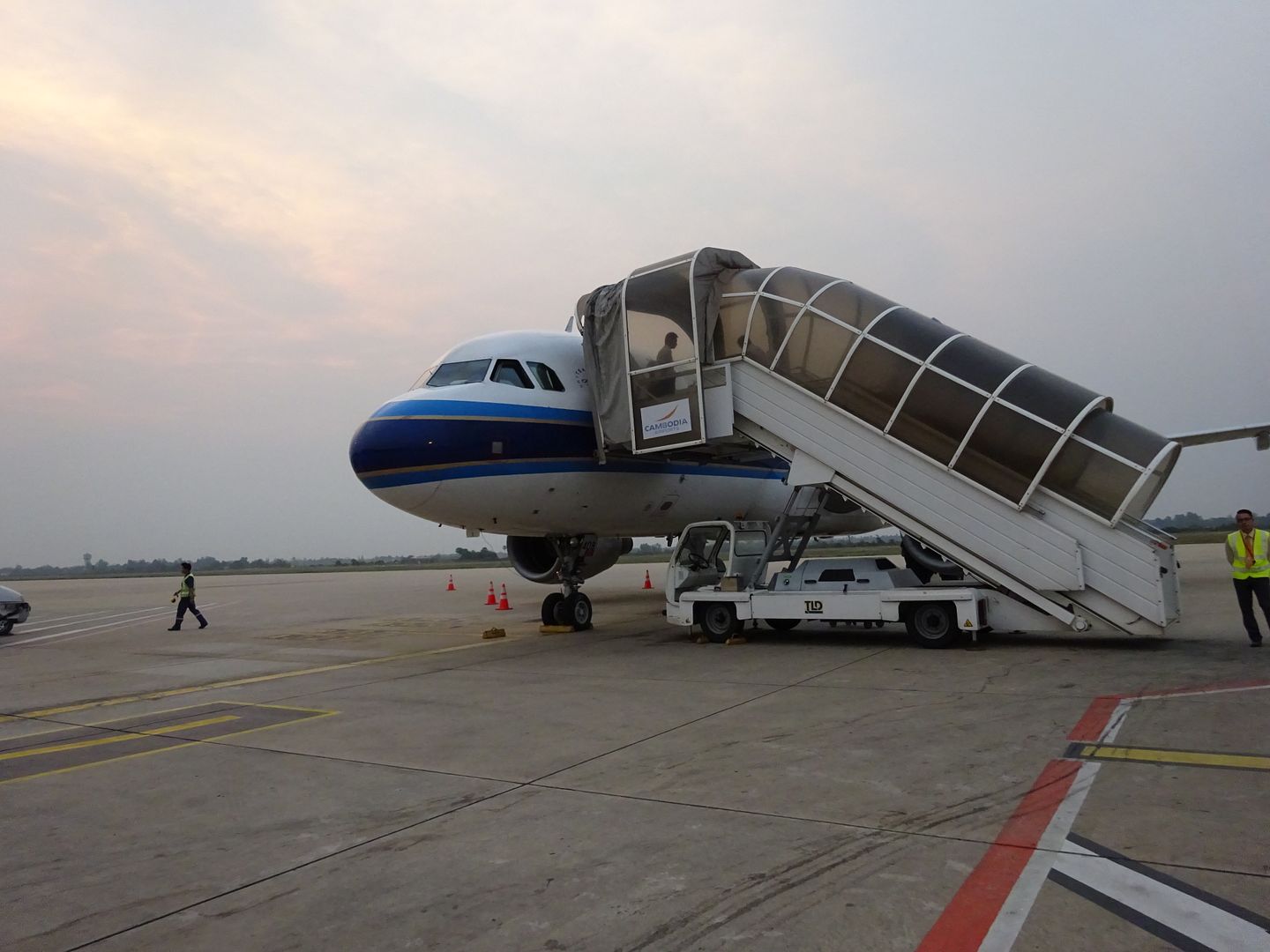 Bye Siem Reap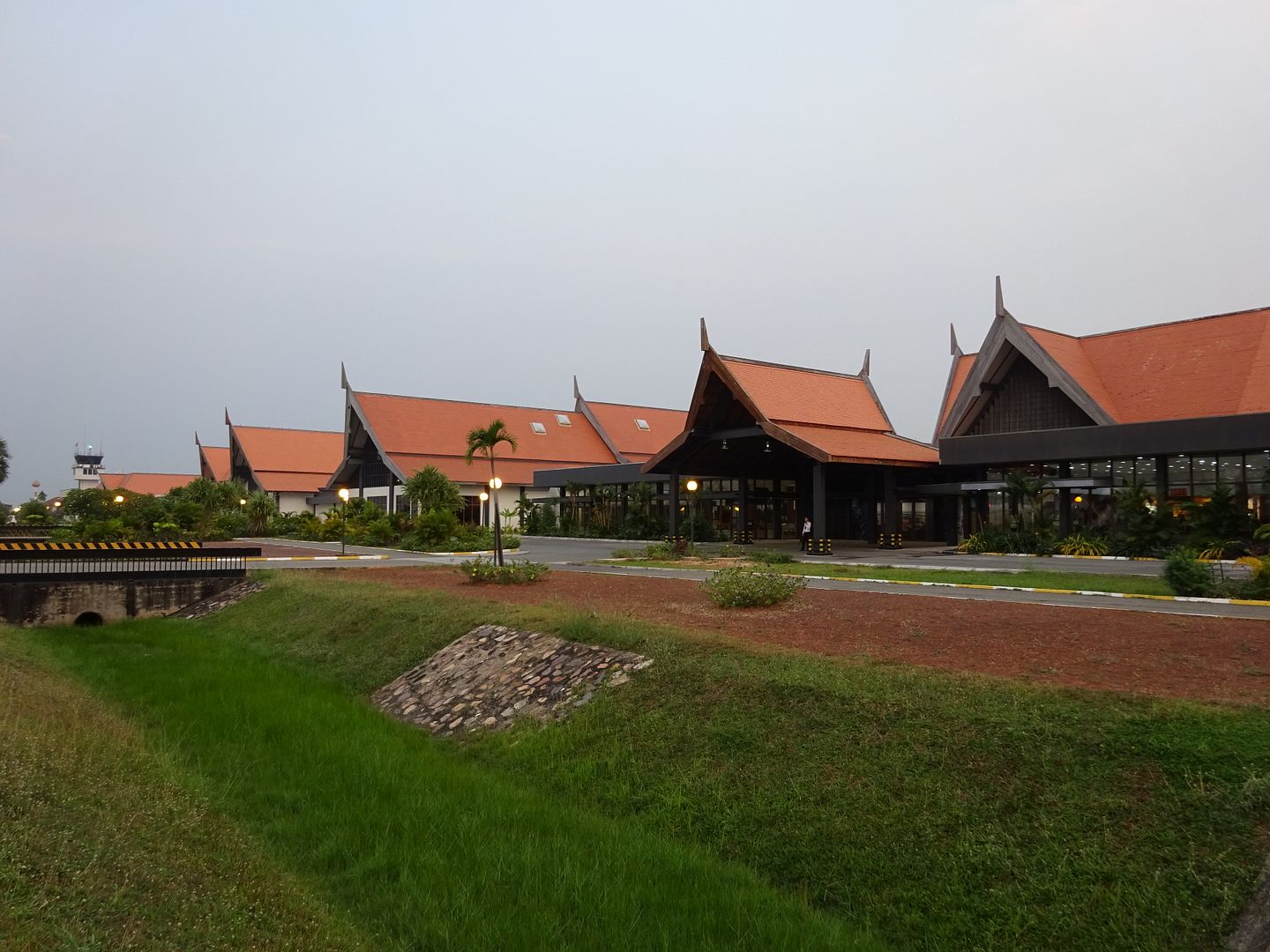 Even the A320 had their seats configured in business, eco plus and economy. We once again managed to inadvertently bag the eco plus seats. Excellent leg room and second time lucky.
The 'W' Cabin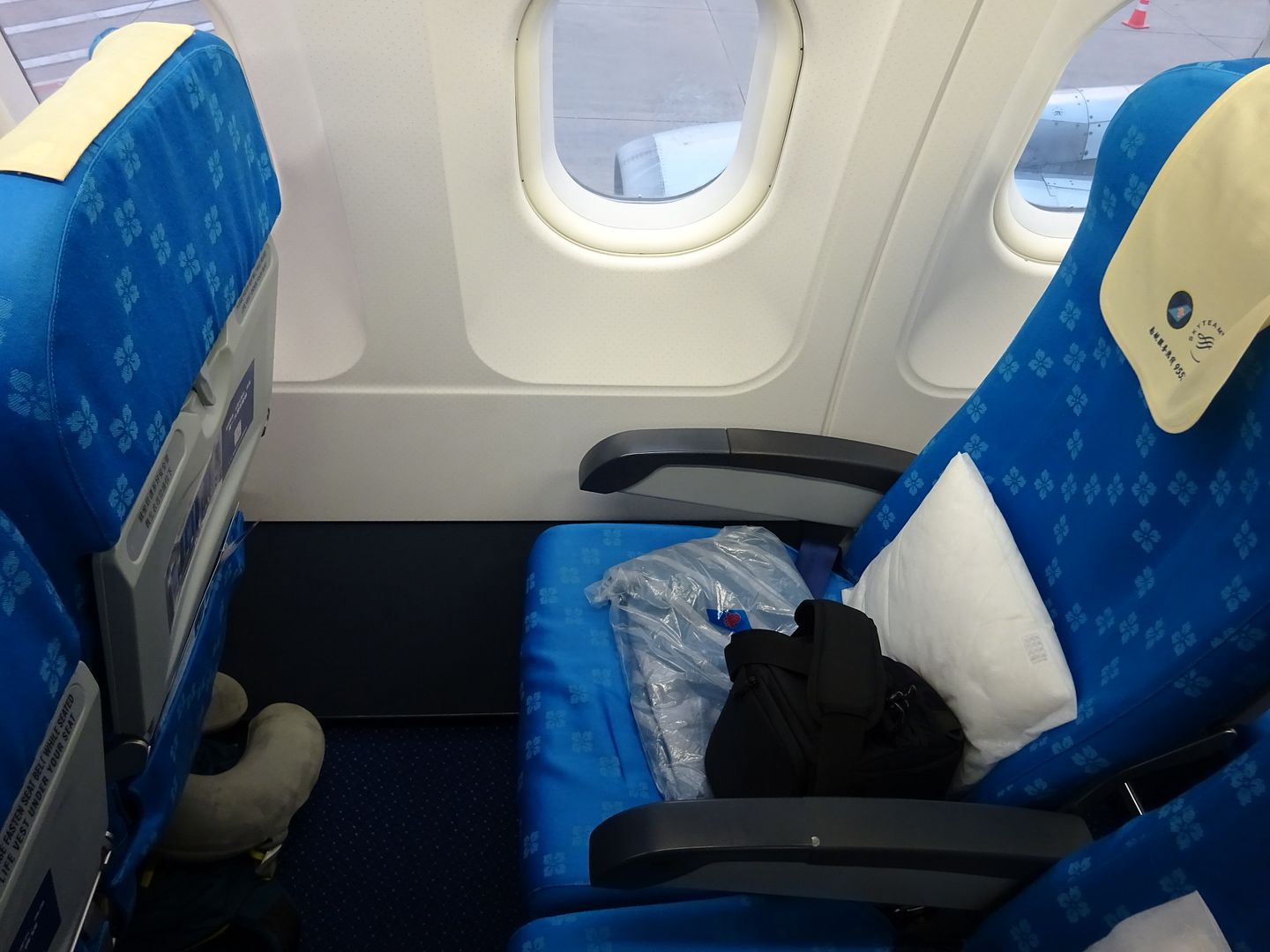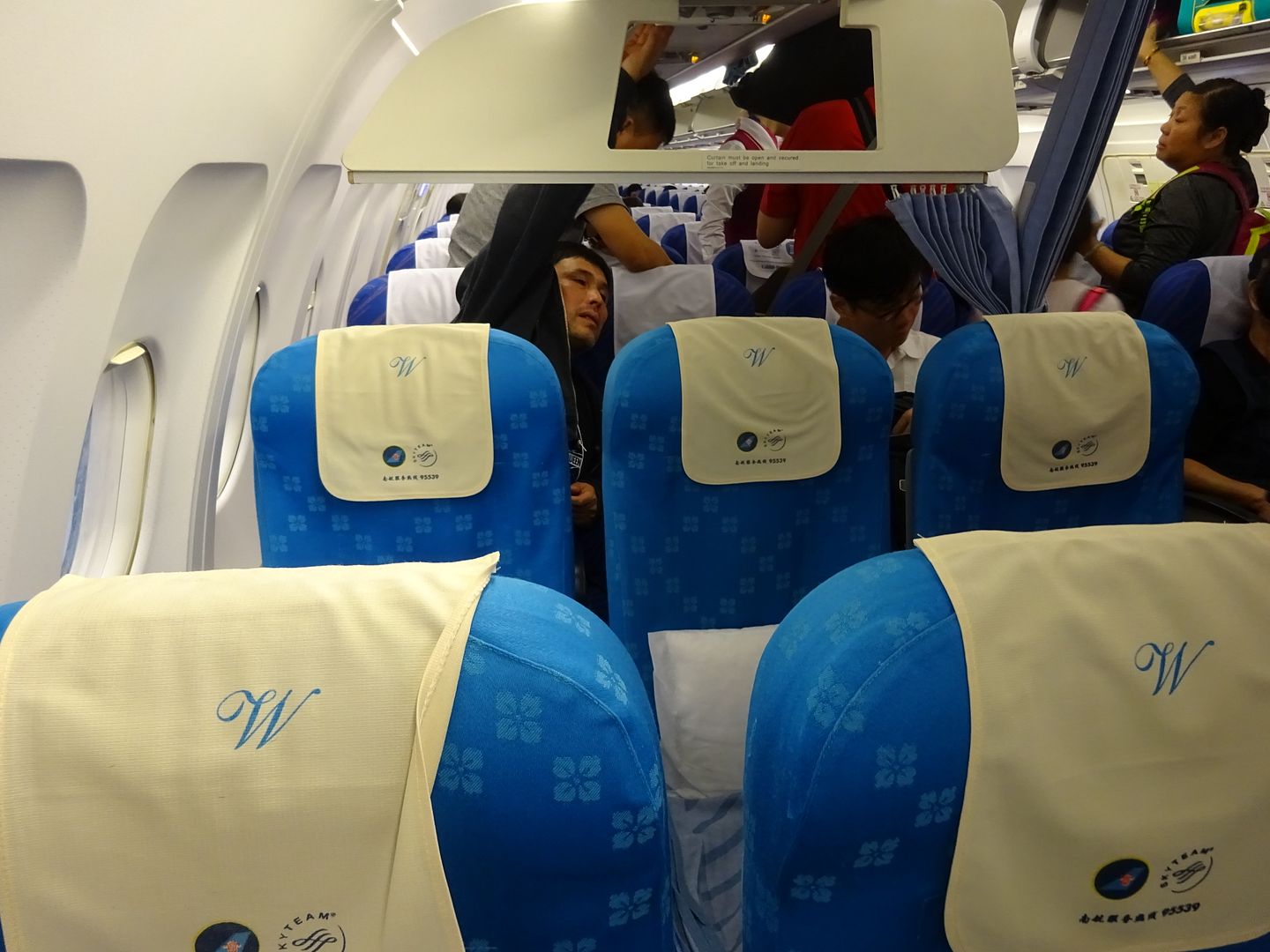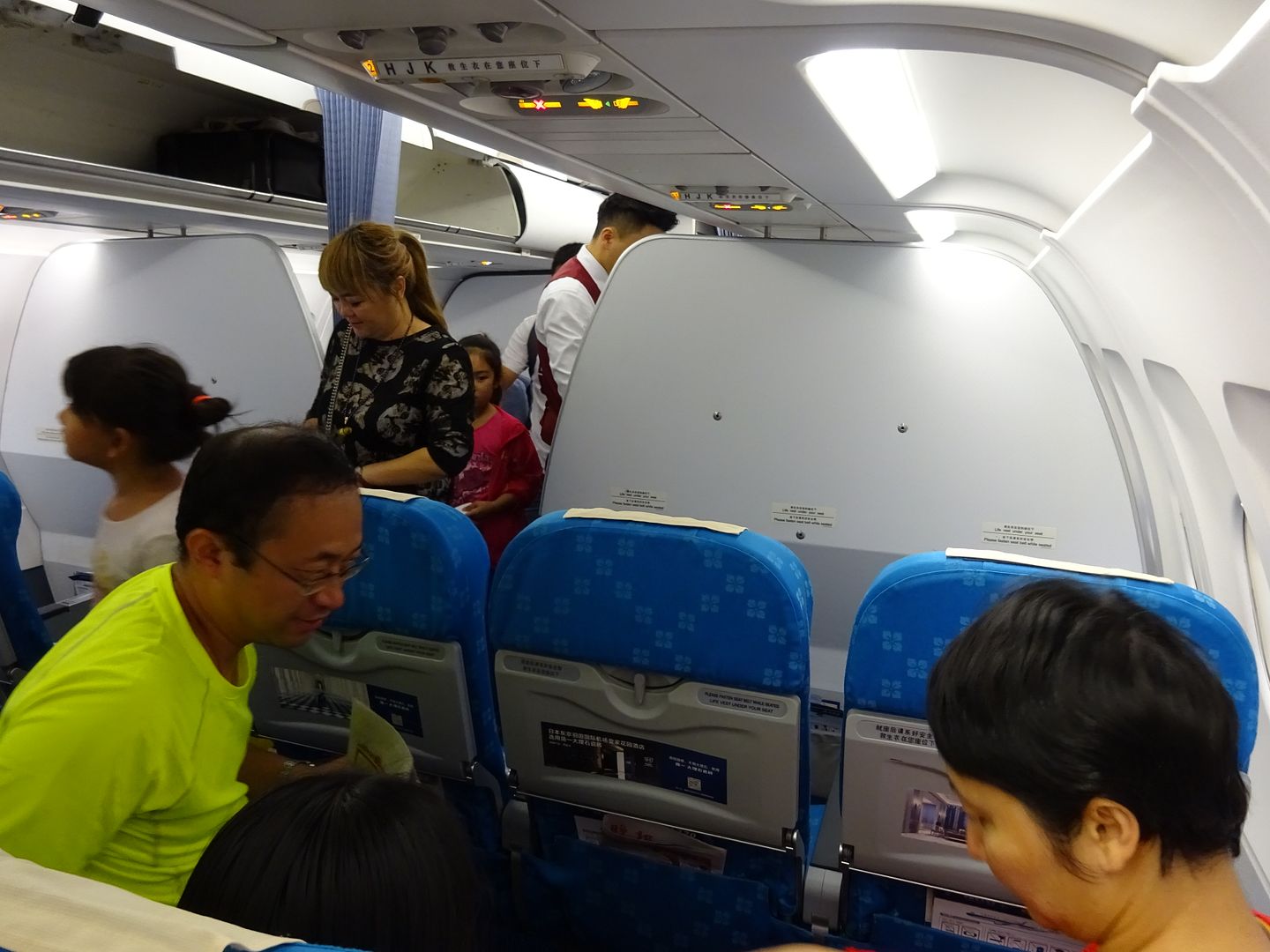 Enormous leg rom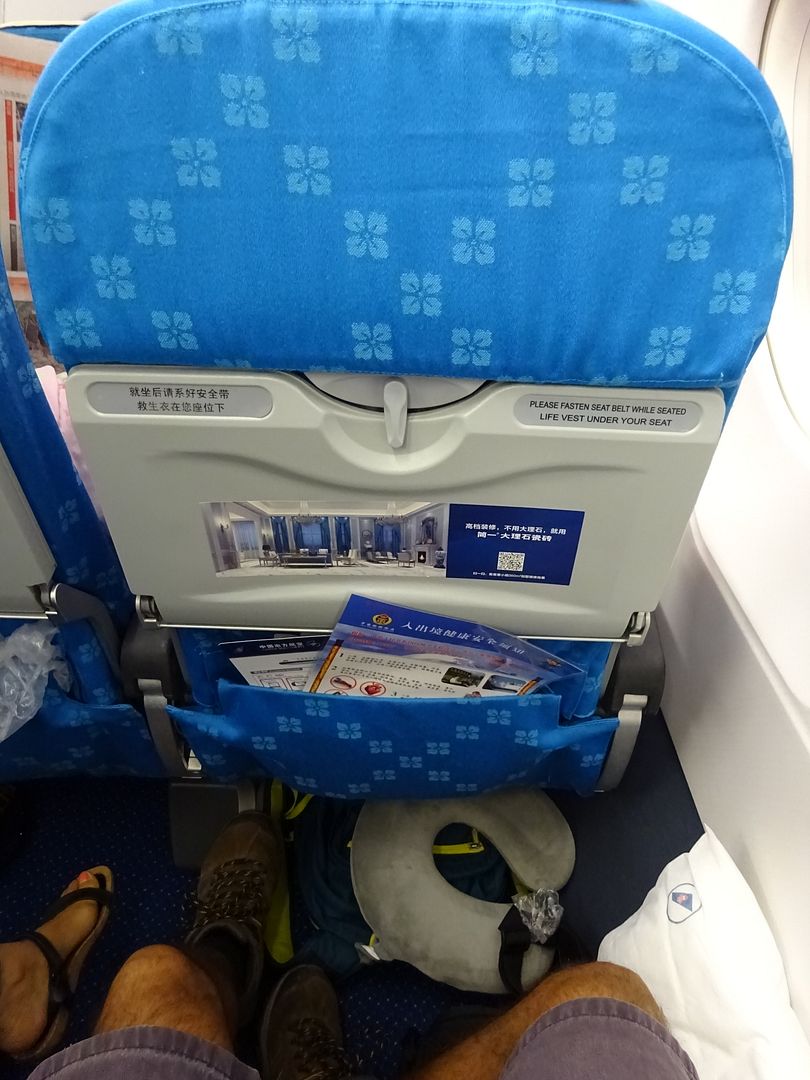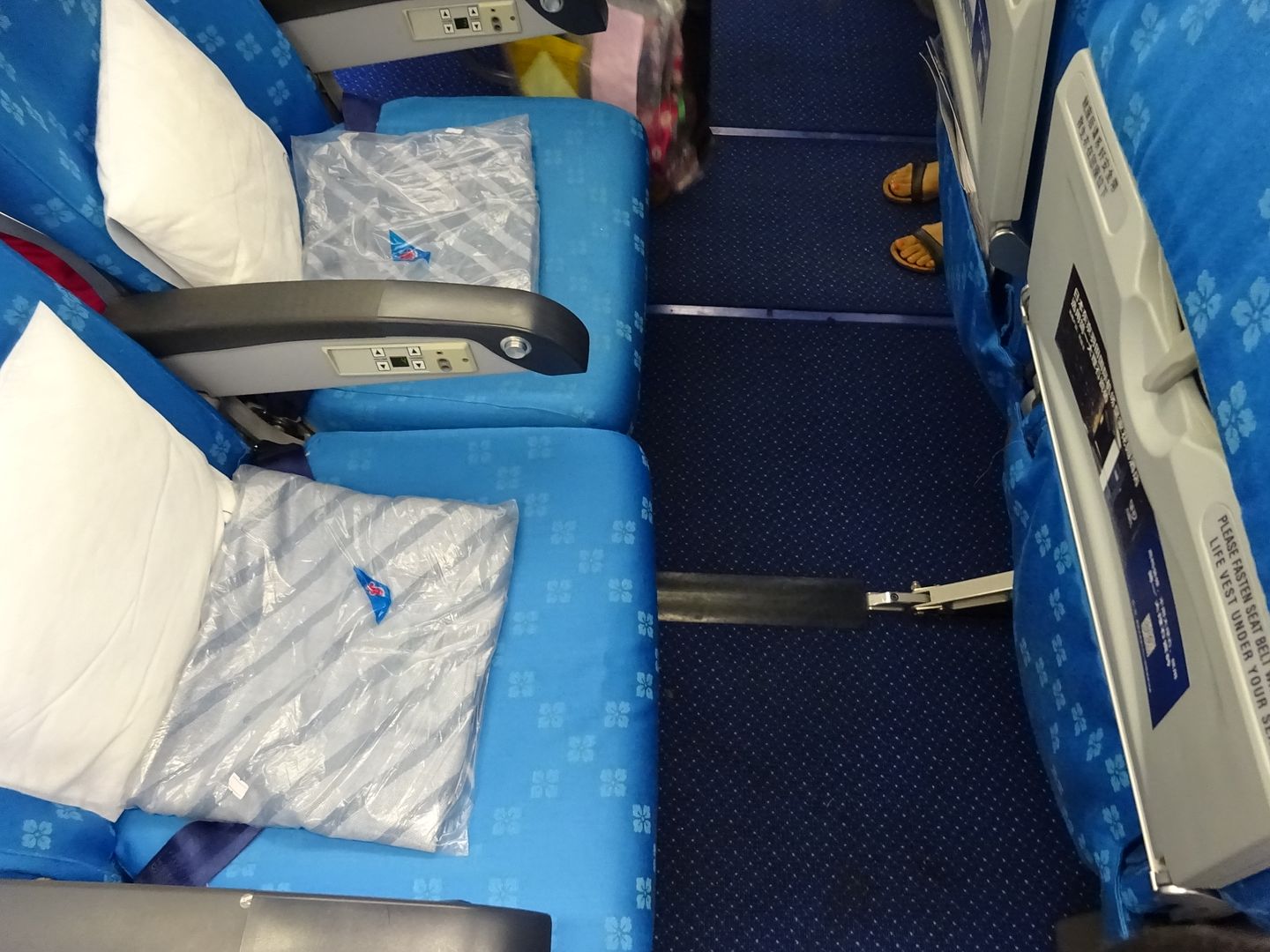 In case you did not know the Aircraft Reg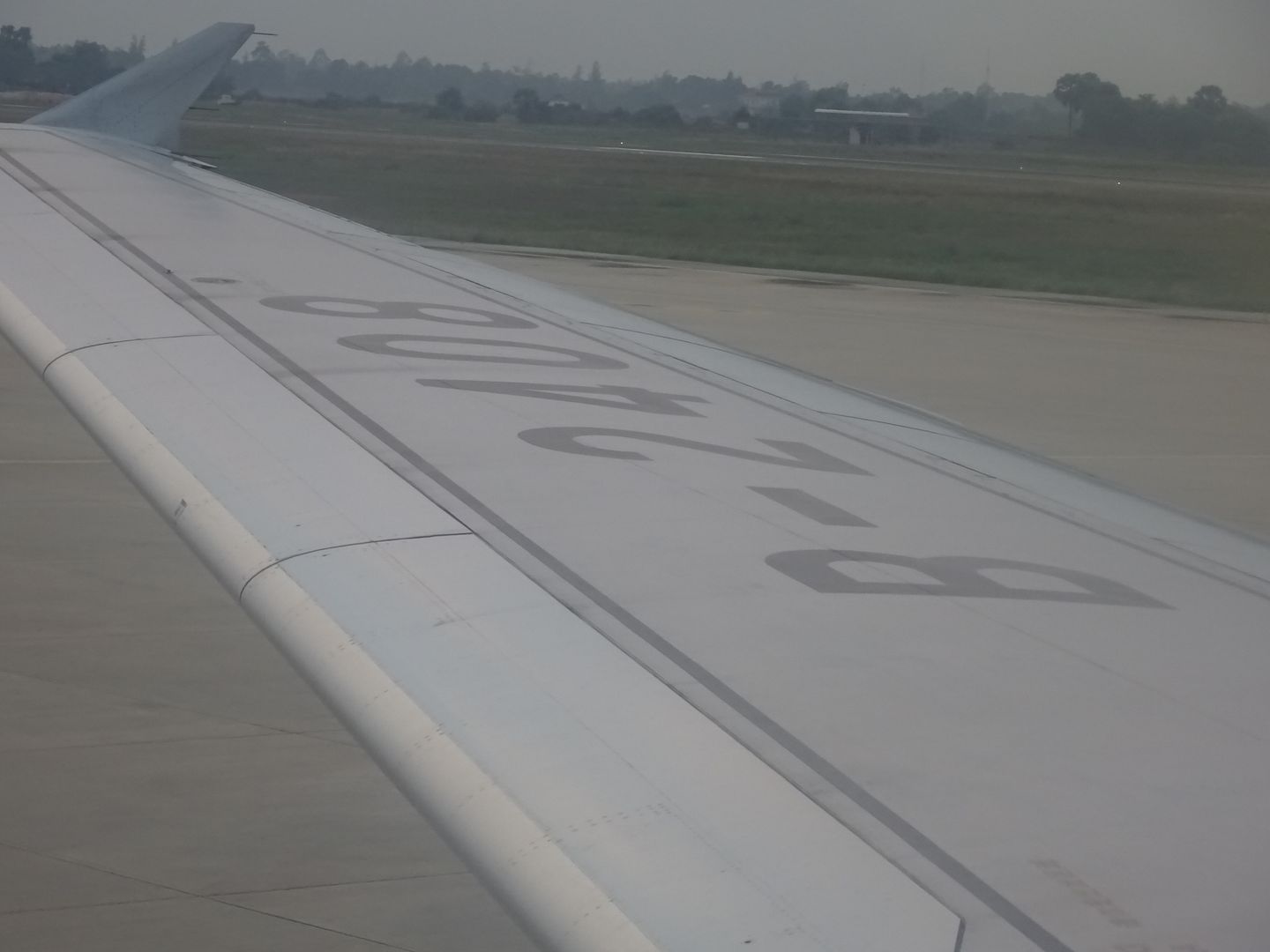 Proper (Well kind of) headsets this time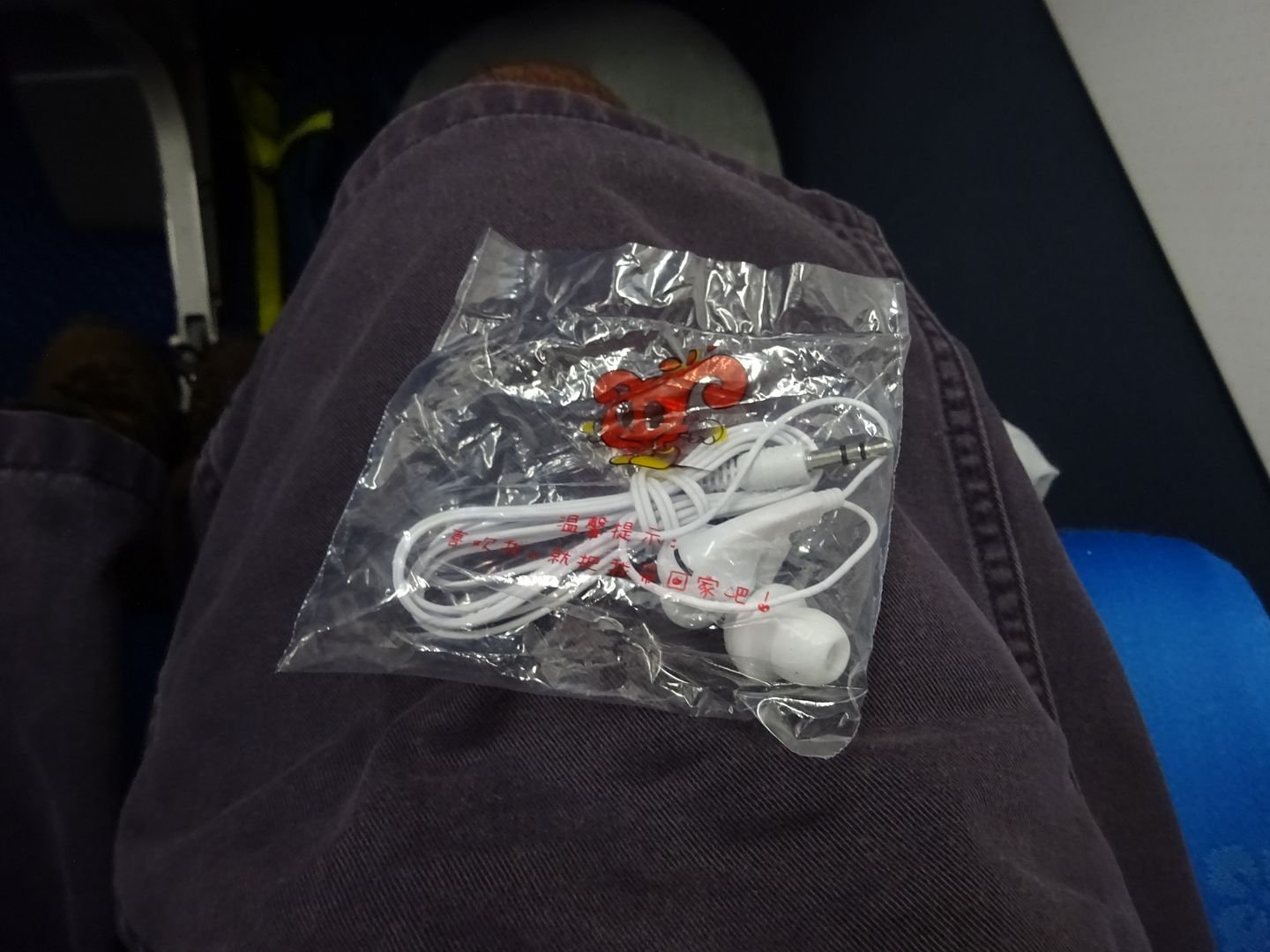 Drinks round commenced 30 minutes after being airborne. I got the tiniest glass of red wine! Albeit it was a good French demi sec.
So far not a single announcement from the cockpit. No idea how long the actual flight would be. Block time says that we should be at Baiyun airport by 2200.
A movie by Tim burton being shown. Something about fantasy. The FA only had the Chinese name of the movie which did not resemble any movie I had known.
Dinner options consisted of fish or chicken with rice. Both the meal option tasted above average and was served with some accompaniment and a fresh orange.
Load was around 90%.
Rest of the flight was uneventful in a very good way. We were scheduled to land way ahead of time which was a good thing.
Drinks for this sector
Meal for this flight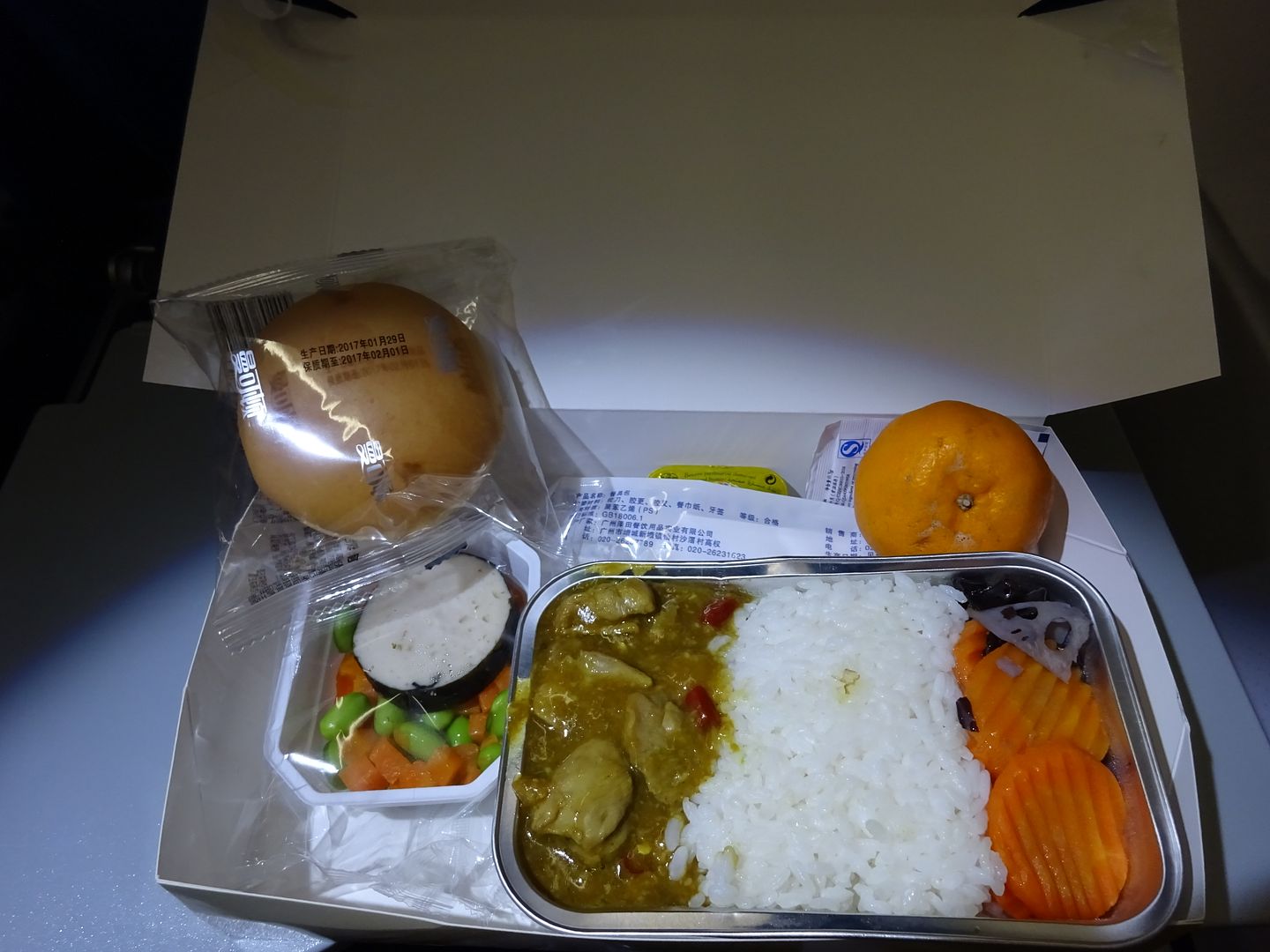 A320 Interiors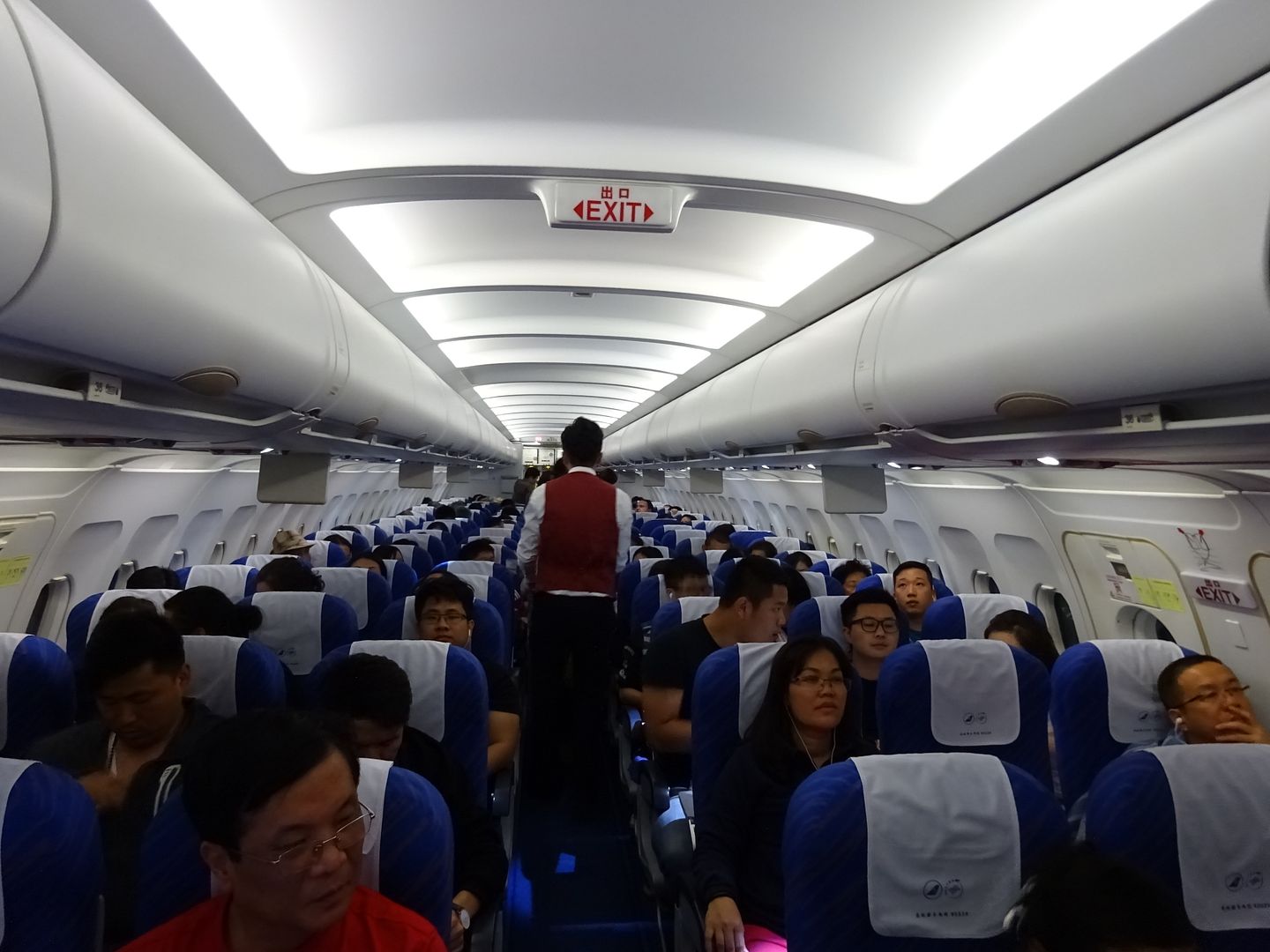 Upon approach got great views of Guangzhou city although it was a bit too dark for my camera to capture anything worthwhile.
Once again a turbulent free sector and very good service on this flight from siem reap.
Touch down at 21 20, 40 minutes ahead of schedule.
Plane spotting in CAN - Air China B787-9
Neighbour at CAN
Baggage collection at CAN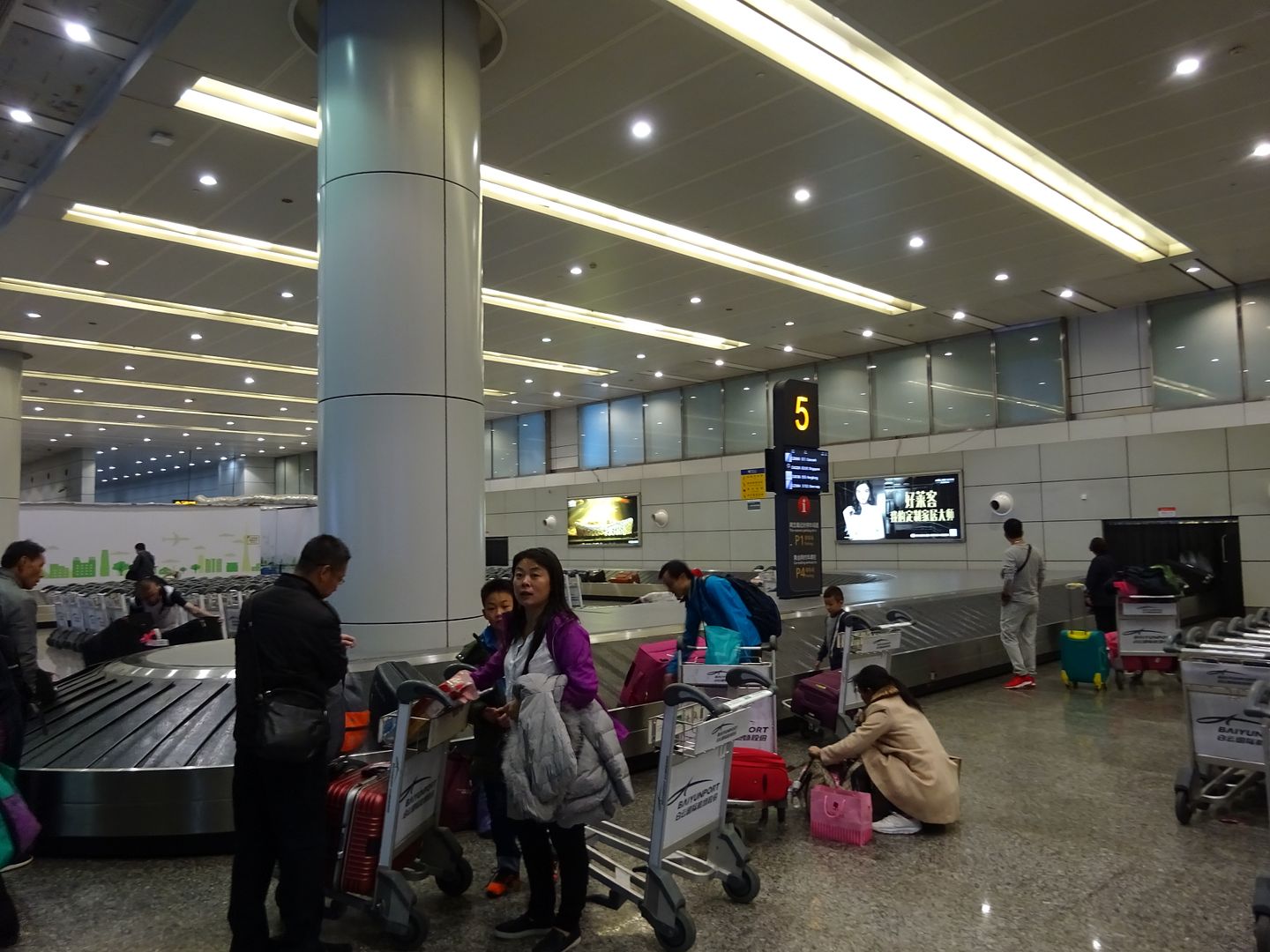 Transit at Guangzhou Baiyun international airport is seamless. But what is not seamless is overnight transit. The positive is they do provide all passengers with free overnight accommodation. The catch is only if you can find it!
There's absolutely no sing posts indicating where you need to go for the accommodation. We eventually got handed a leaflet which kind of explained it, yet not comprehensively.
We had to pass through immigration (you get a temporary visa stamped). At the baggage area we saw our bag on the carousal but we do not have to take it out. If you're a domestic overnight transit passenger then you'd have to take it with you to pass through customs even though if it's through checked in. However this concept was rebutted later on by the hotel accommodation staff. We had our in laws who had an overnight stay for a domestic transfer in the morning. So they did take they luggage with them even though they had it through checked in for their final destination (Shijiazhuang)
After customs we followed the map given to us. We had to ask on our way and even the airport staff were unsure of where the accommodation transfer desks were. Just shows how poorly managed and marked the airport was.
We finally made our way to the desk. An overcrowded area, ironic given how large the airport is. This airport perfectly depicts a lot of other Chinese airports. Huge gargantuan building structures which is completely mismanaged. No sign posts. No information desks.
We were given our hotel ( and a sticker to denote our hotel) and were asked to wait for the coach, which arrived in 5 minutes.
Map to the overnight transfer area
Transferring to the Overnight accommodation transfer desk
Overnight transfer desk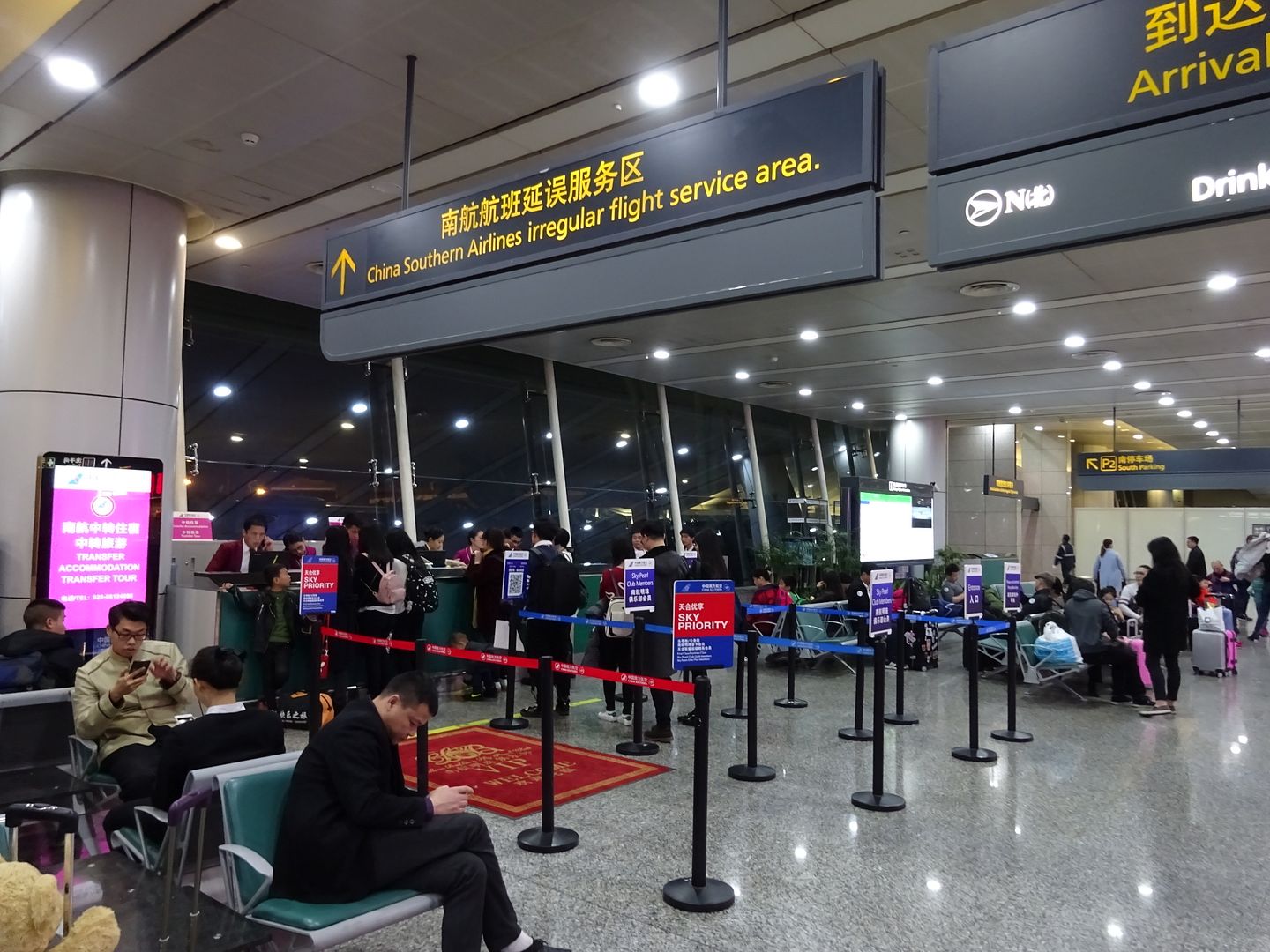 We were then transported to Vienna international airport hotel within 10 minutes. It was a perfectly decent hotel for an overnight halt and a great initiative by China Southern to provide this accommodation.
Vienna International Hotel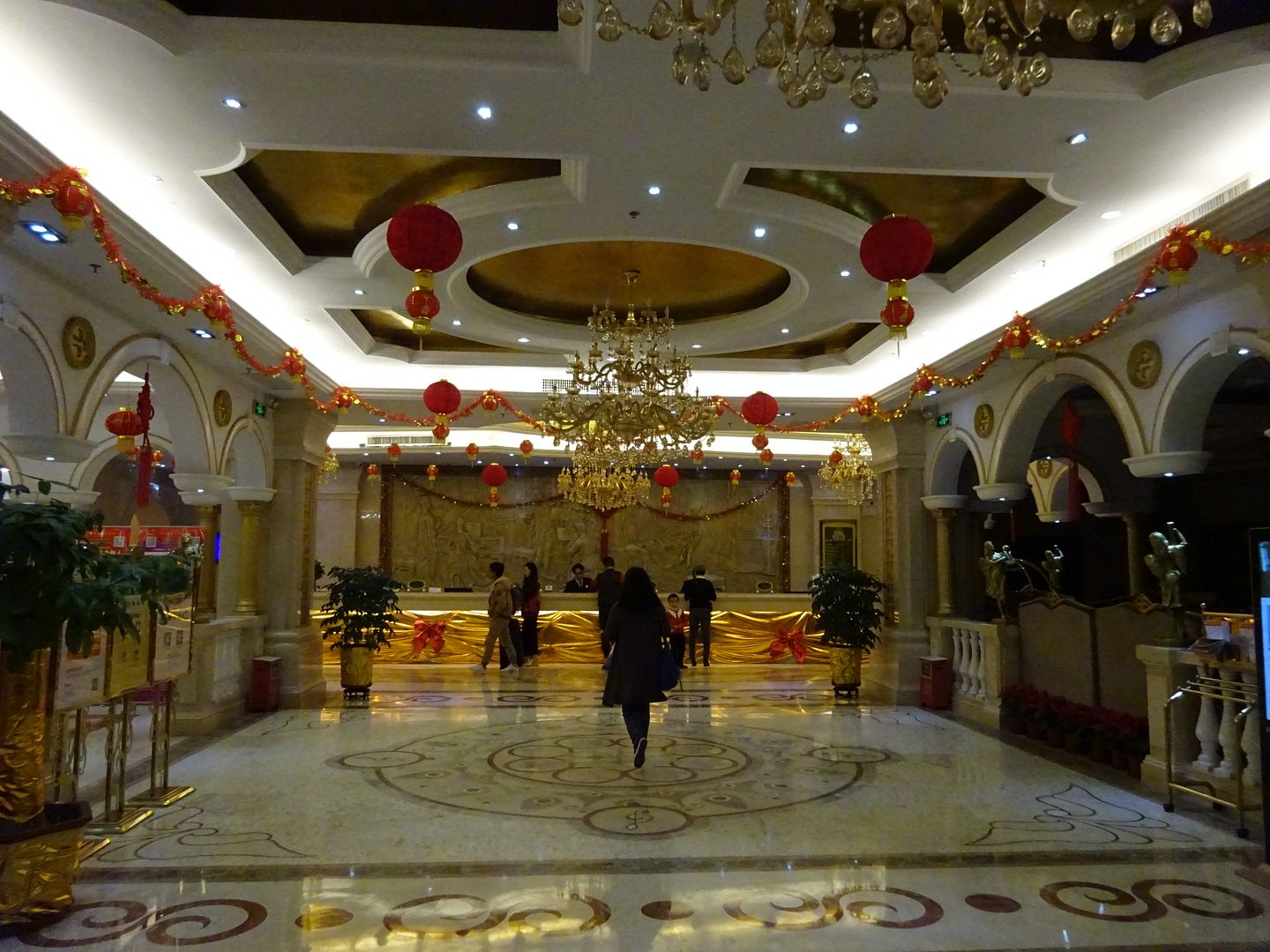 China Southern - CZ303
Route: CAN - LHR
Flight Reg:B-2726; Delivered to China Southern on Dec 2013. Previously flown on Feb 2014, during our trip to Hainan. DREAM(liner)ING Of Hainan - China Southern
Aircraft Type: Boeing 787-8 DreamLiner
Seat: 42B (Later moved to 42D/E/F)
Flight time: 09:30 - 14:30 (09:54 - 14:03)
Actual flight time: 12 Hr 09 Min
Distance: 5911 Miles
Load: 185 passengers.
31st Jan 2017
My Log book: 16th Flight on CZ/ 12th flight on Boeing 787-8 DreamLiner/ 128th Total overall flight
Next day, back at CAN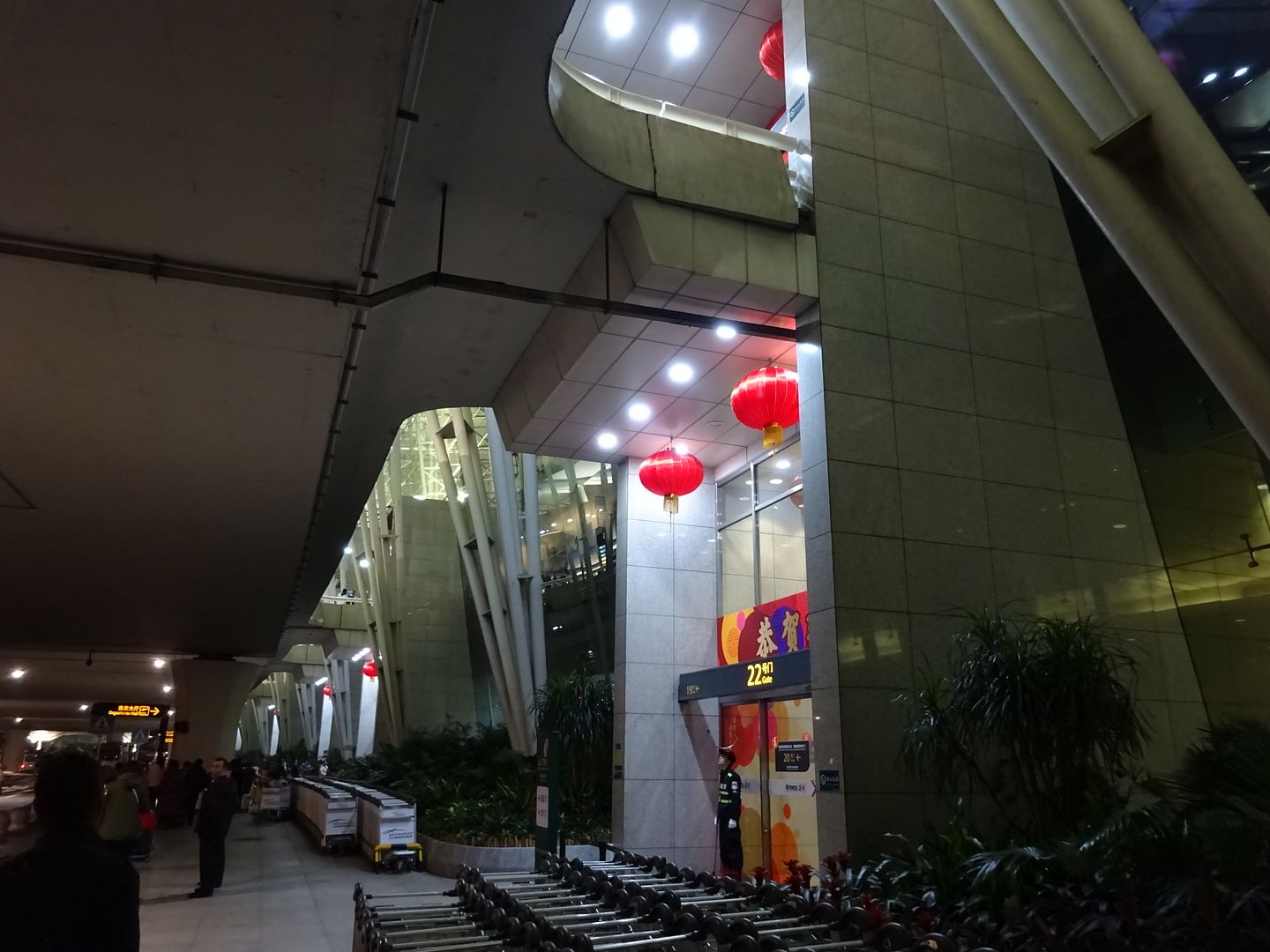 On the day of the flight back to London, we were collected and dropped at the airport at 6 15 am. Once again there was some confusion to where we had to go. We finally figured that we all had to go to the main departure area. They had separate check-in areas for China Southern airlines for domestic and international passengers.
They did have separate counters for through checked in passengers (just one counter) but was not strictly followed.
However we got our in laws bags checked in (once again) and bid them goodbye as they had to go to the B terminal whereas international was from the A terminal.
We then proceeded towards zone F/G to try and amend our seats. To our luck all the last 2 rows side seats were taken. So we instead got the exit row aisle seats. This meant close vicinity to the toilet however unlimited leg space. Have used these seats previously and they were alright.
Domestic Through check in desks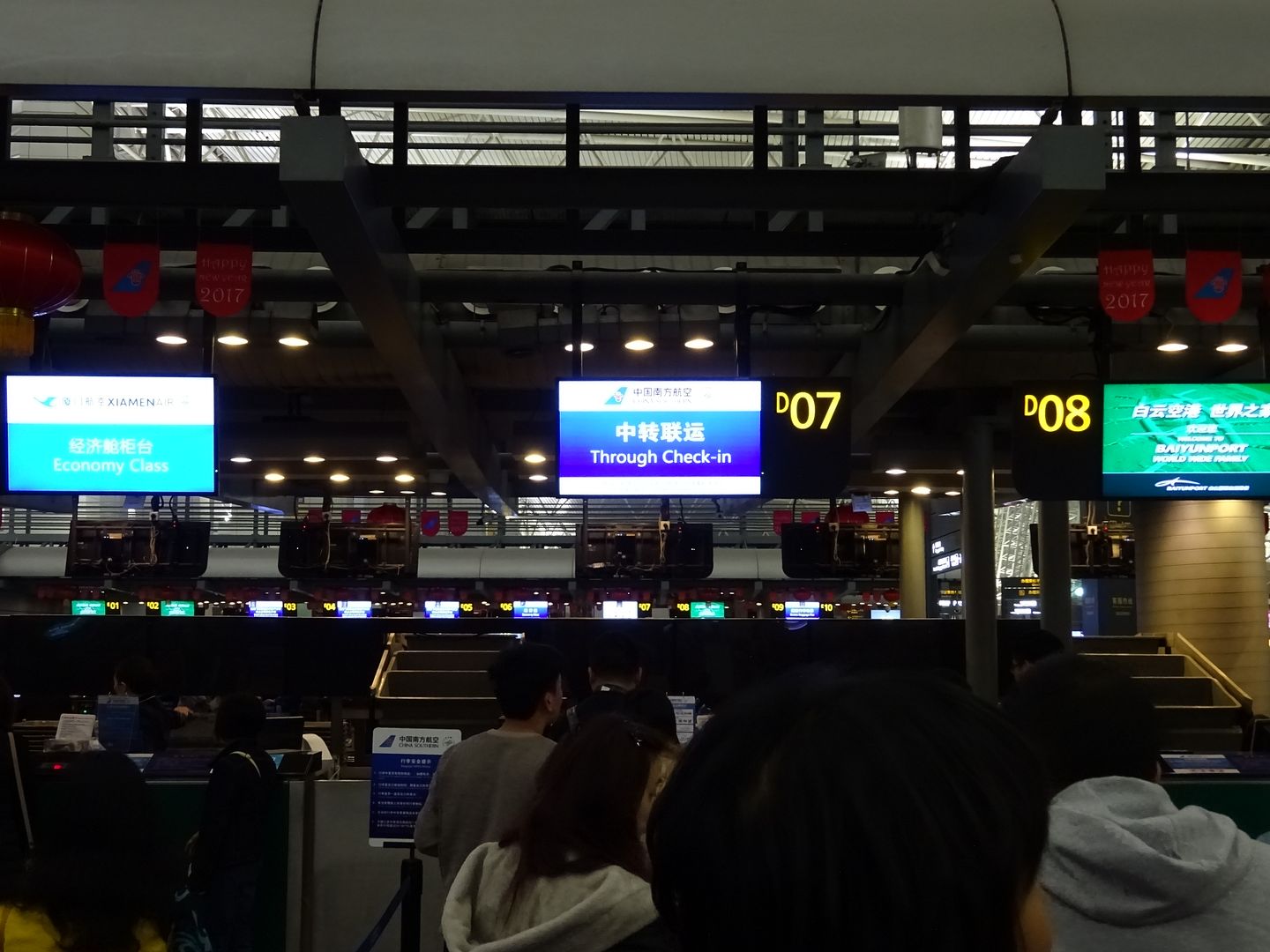 CAN Departure terminal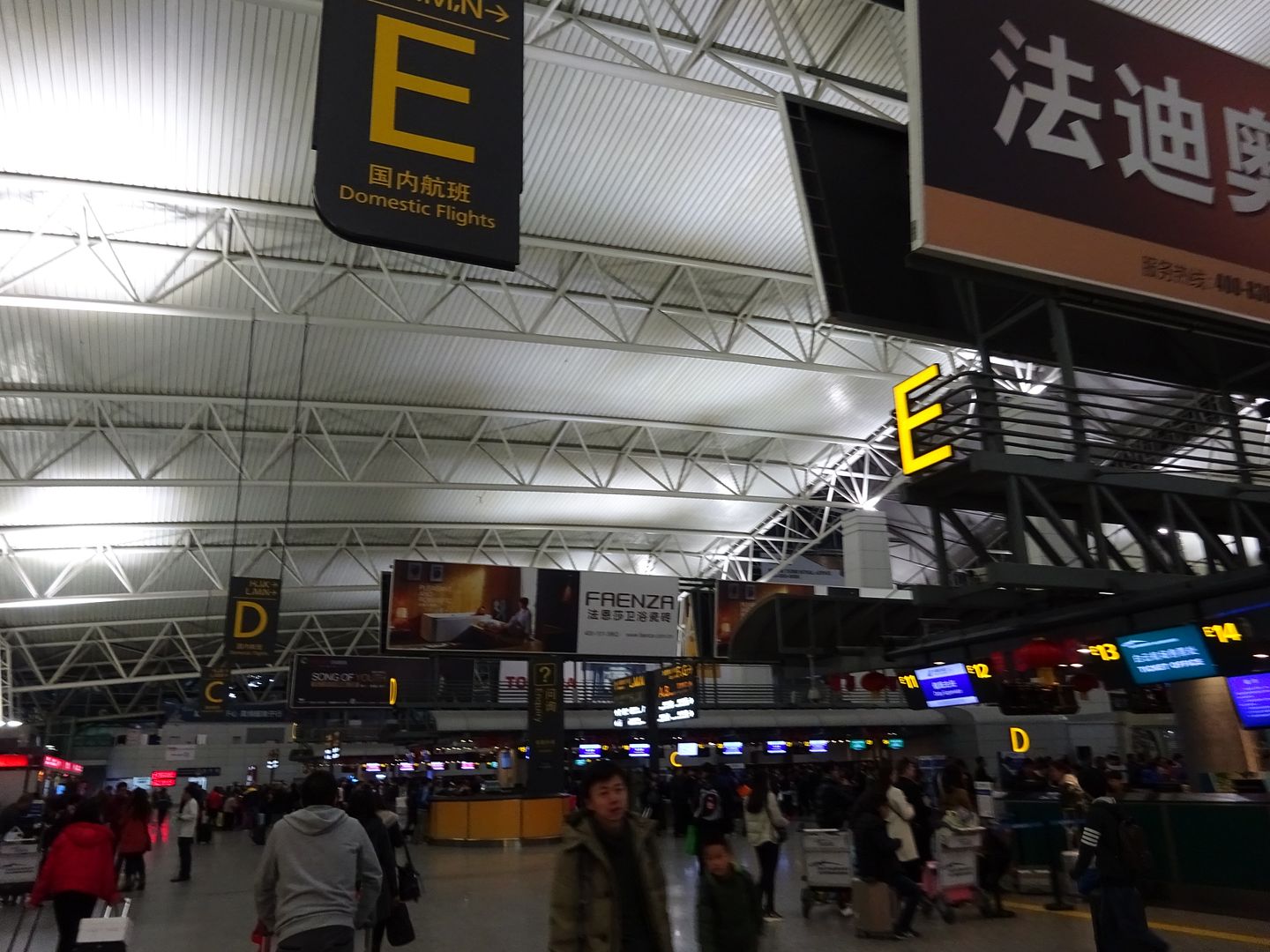 Check in counters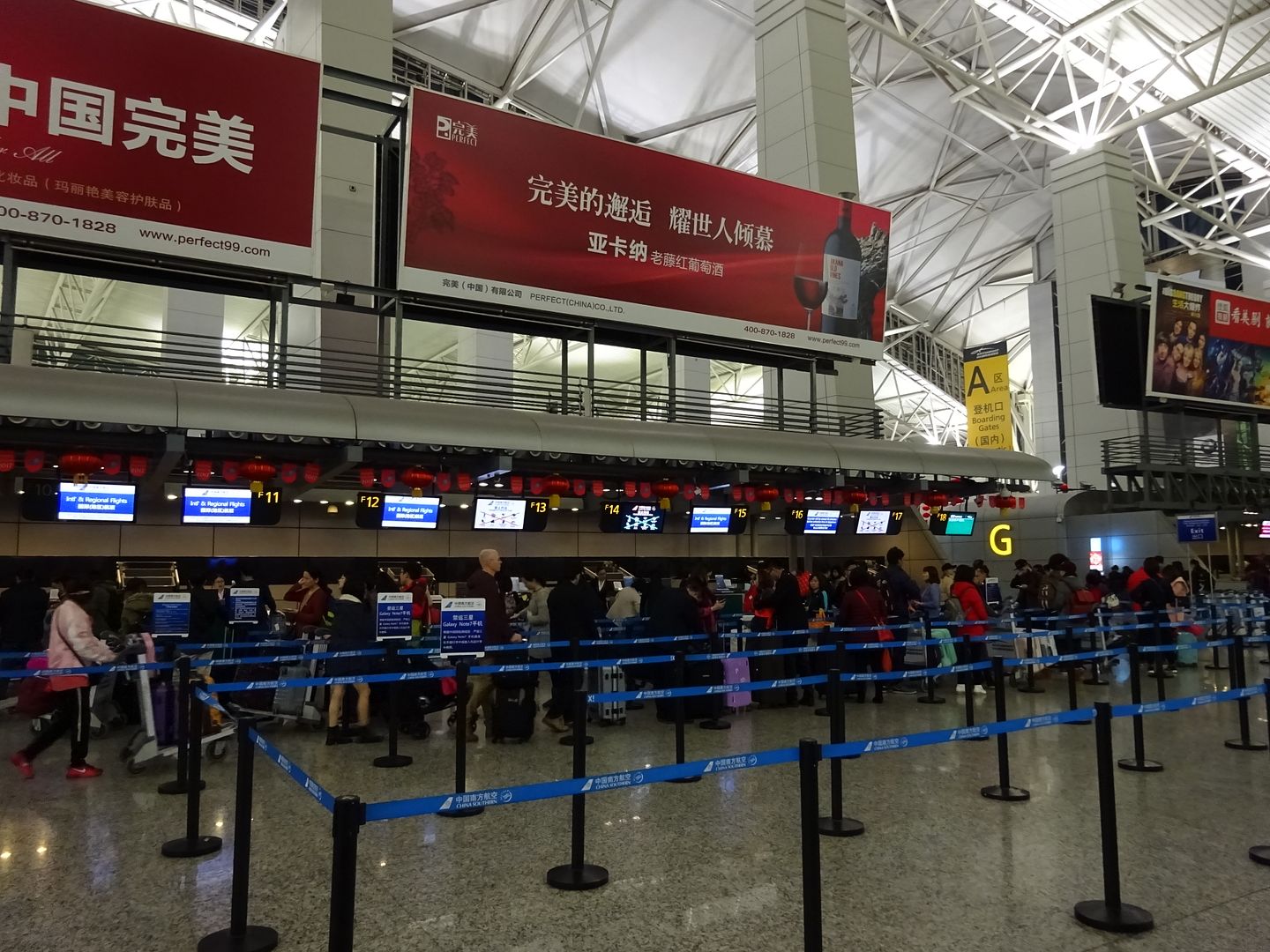 From here security and immigration was fairly quick. We were airside with 90 minutes to spare.
Guangzhou airside is a familiar place for me. Not much to do although decent views of the activity around the airport, not as good as Beijing though.
Airside at CAN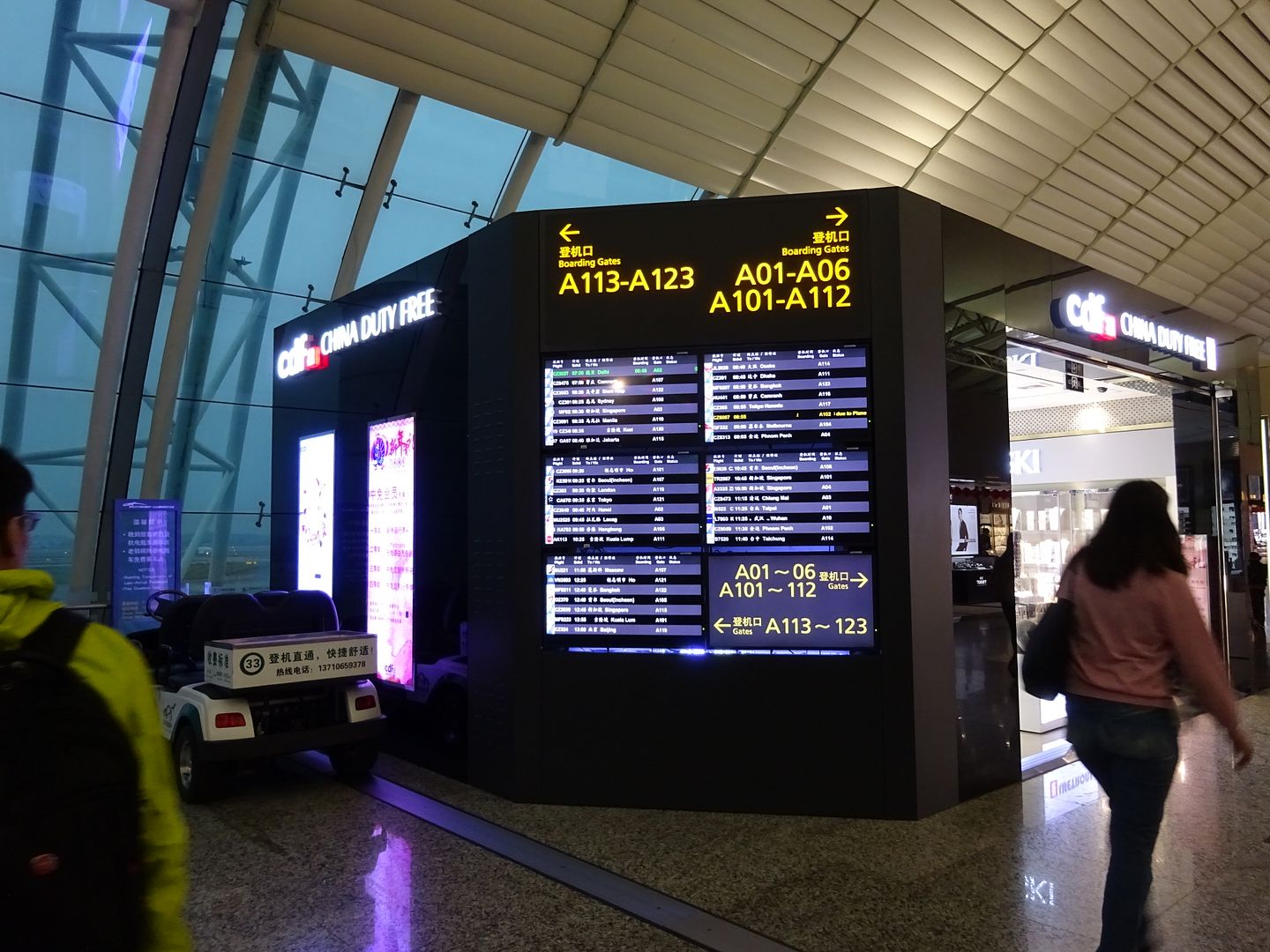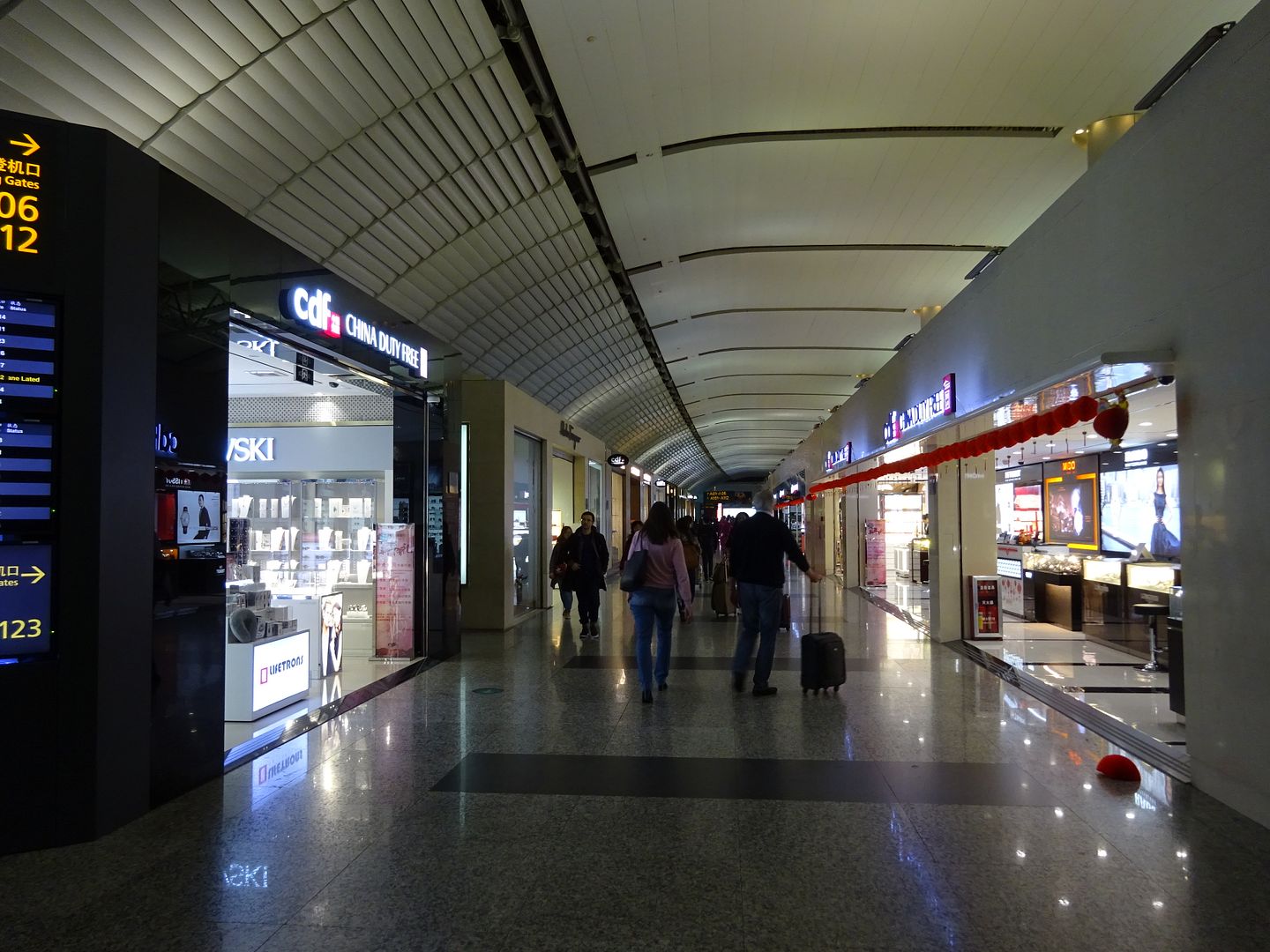 Spent an hour at the boarding gate writing up on some report material.
Our ride to London - been with this aircraft 3 years ago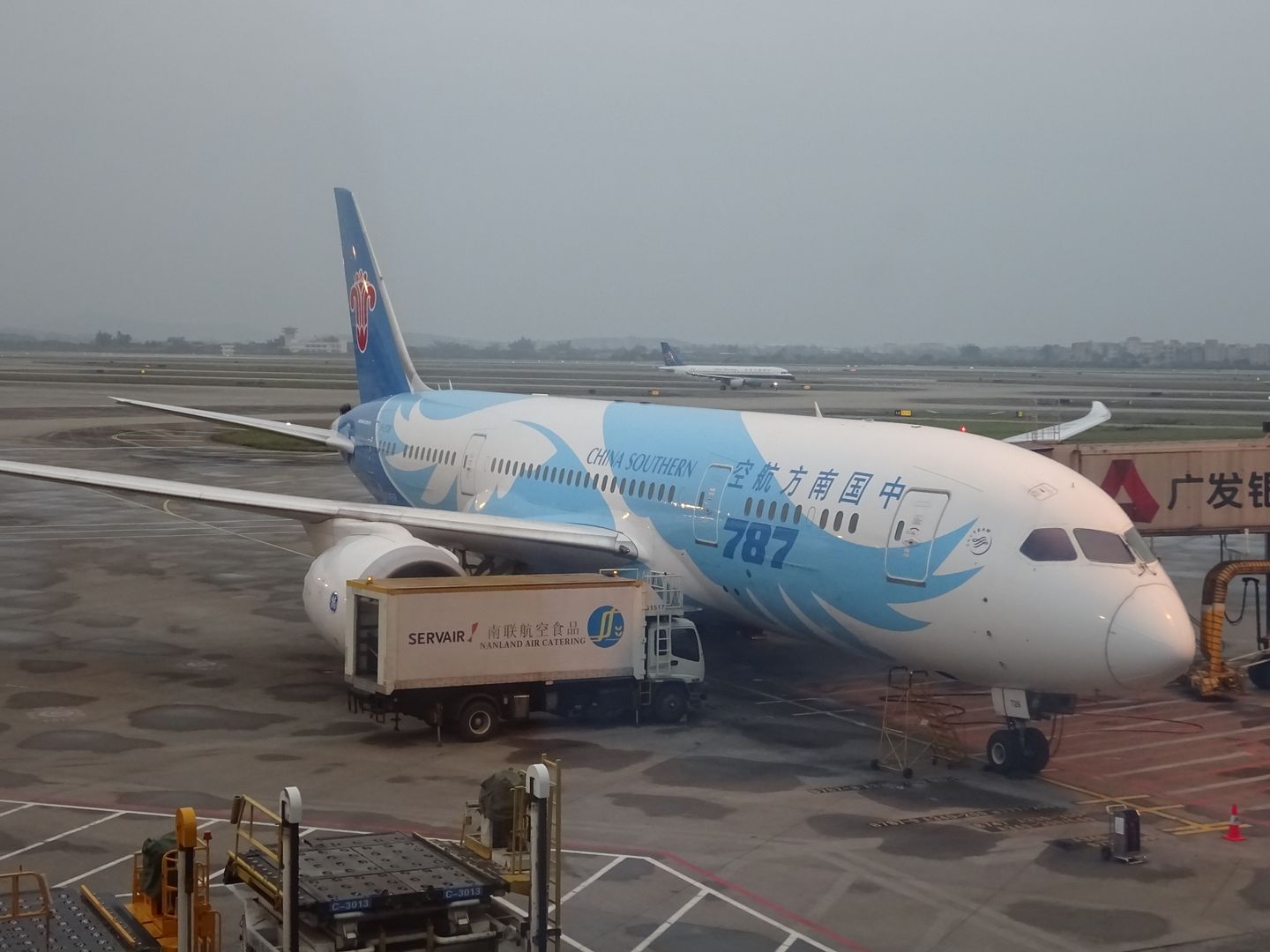 Boarding gates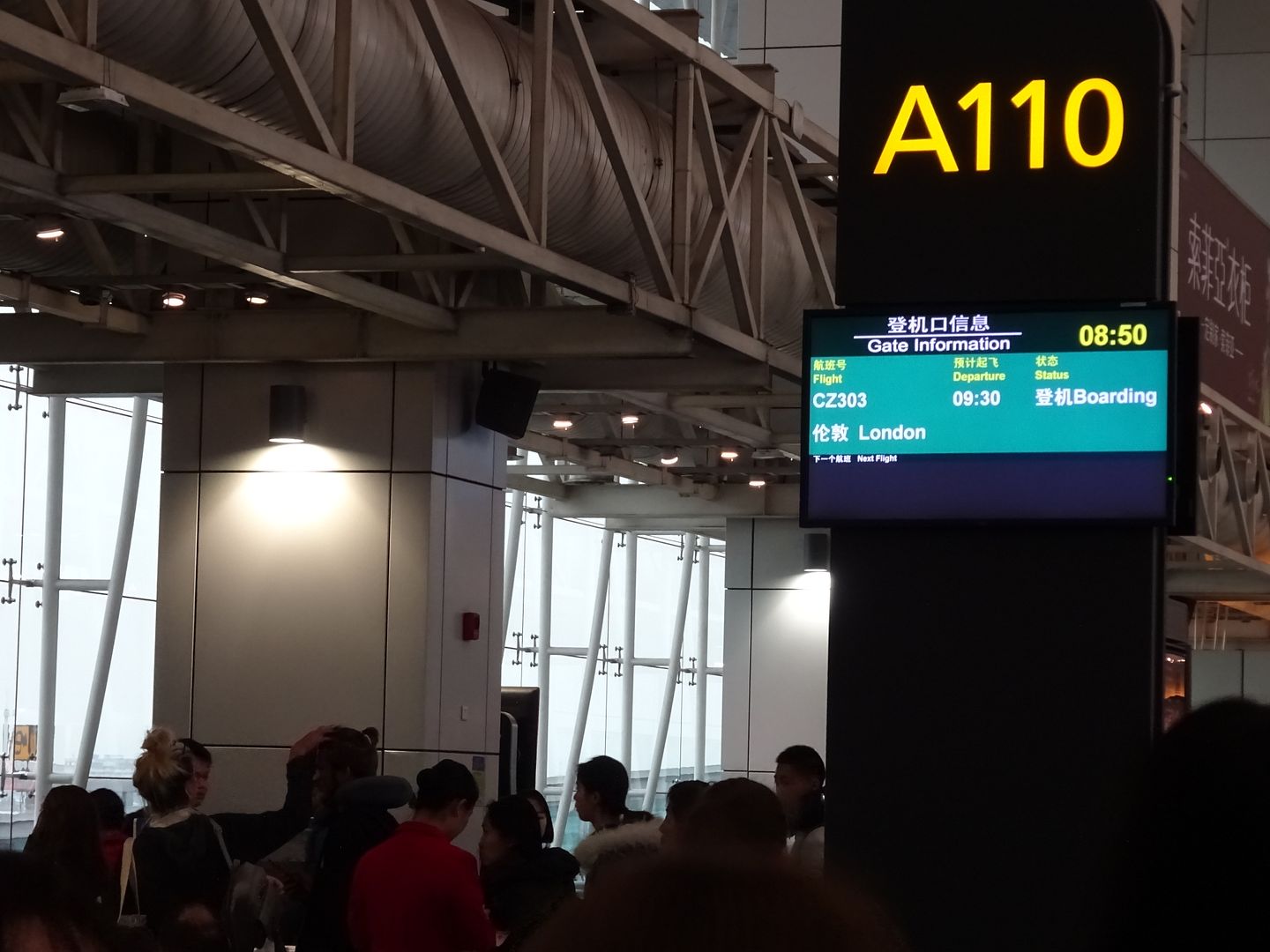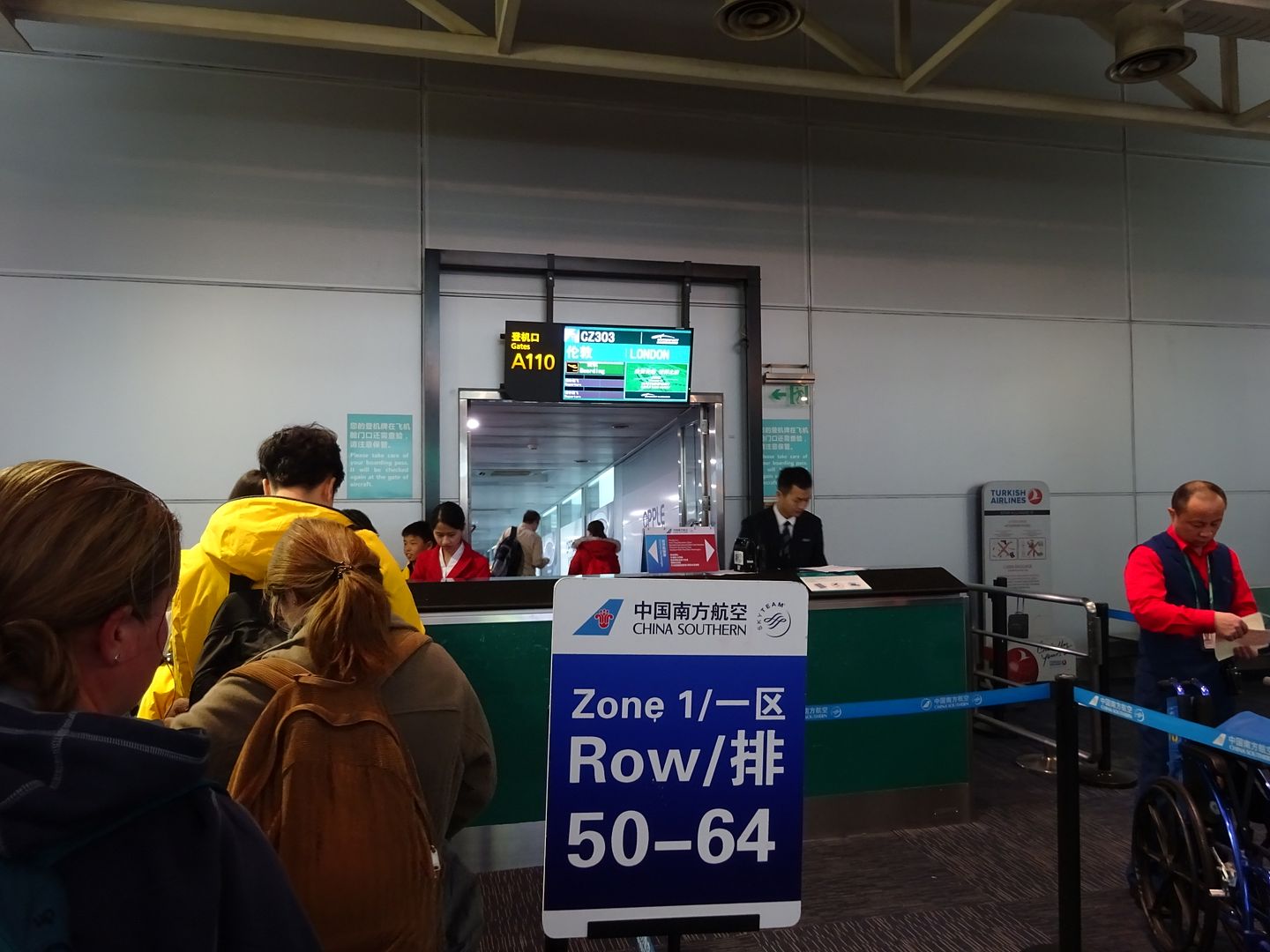 Boarding began on time at 8 50. Complete by 9 10.
Pushed back at 9 37.
Announcements from the cockpit (quite rare for china southern) announcing clear weather en-route and an arrival time into London at 13 45, 45 minutes ahead of schedule.
Silky smooth take off and attained cruising altitude in 30 minutes.
View from our seats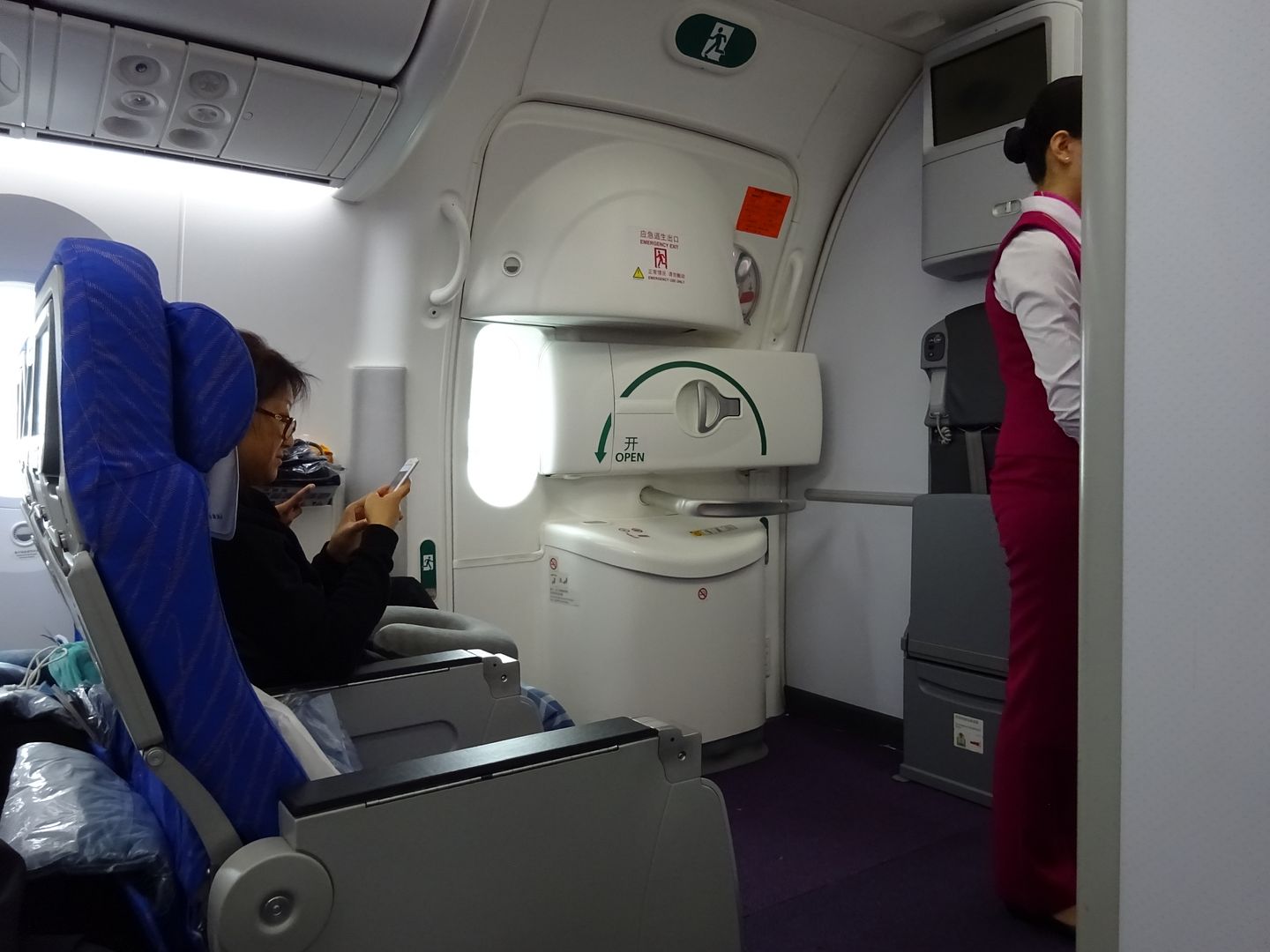 Soon after drinks with breakfast commenced. It consisted of pork noodles or egg with sausage with accompaniments. Once again above average food options by china southern.
We got the exit row seats. But the middle row was empty too. So both my wife and myself moved to the middle first row of the second economy cabin. Got 3 seats for ourselves. These are the bassinet seats. At times, it does get noisy from the toilets, but it has a very good legroom and given that the armrests are moveable (the exit row seats have armrests that cannot be moved), the seat width is decent.
First meal of the flight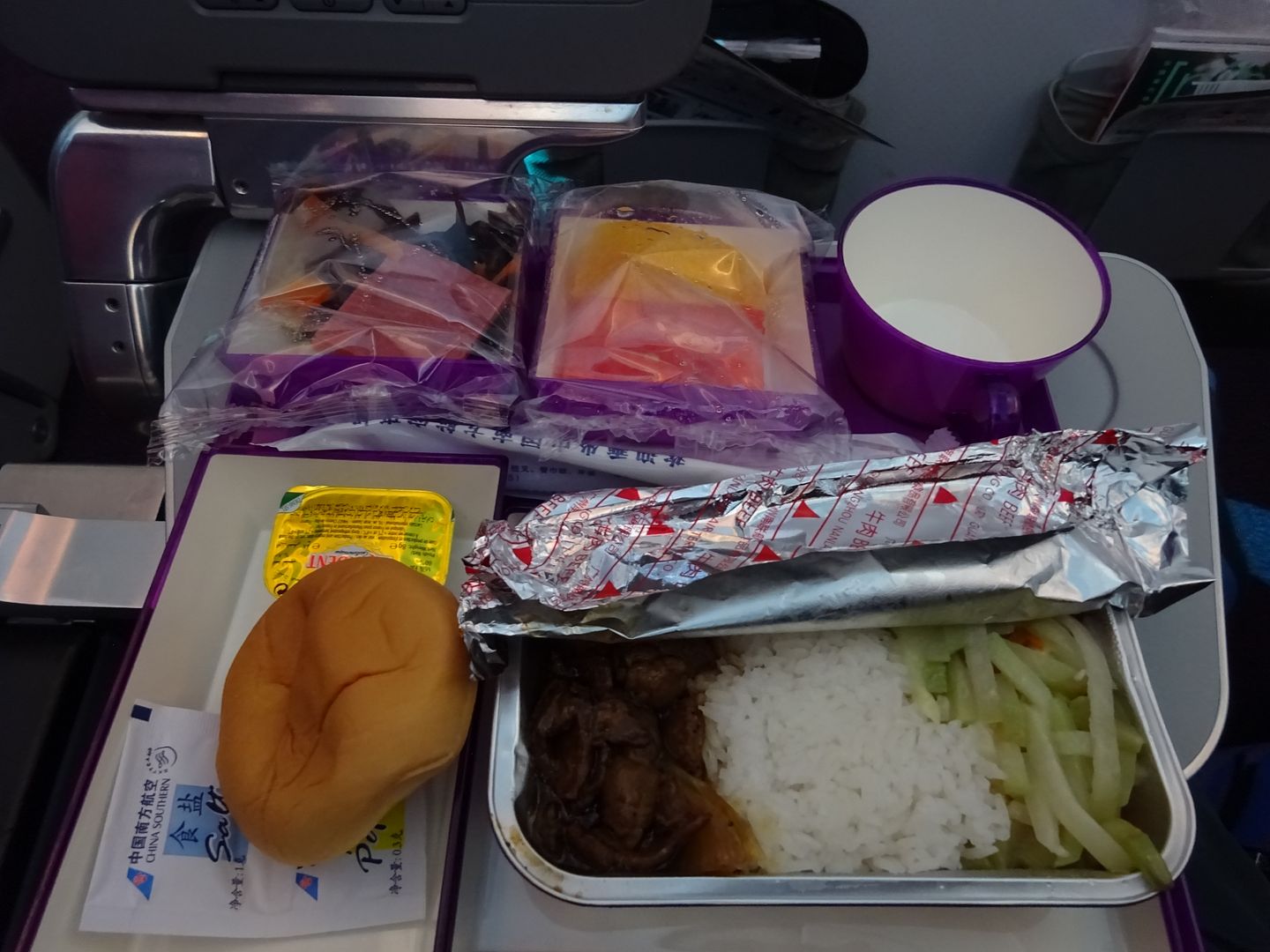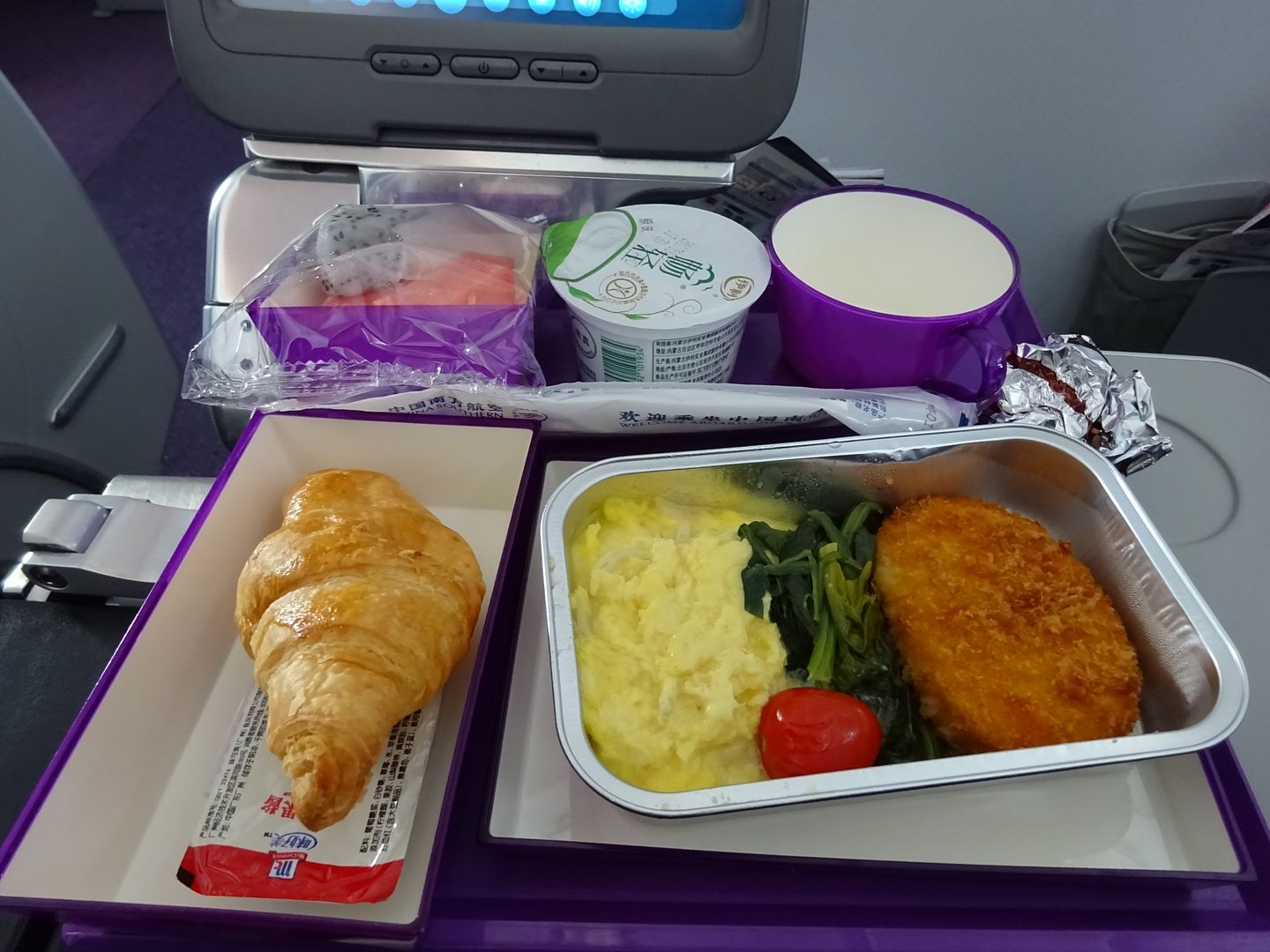 Second meal of the flight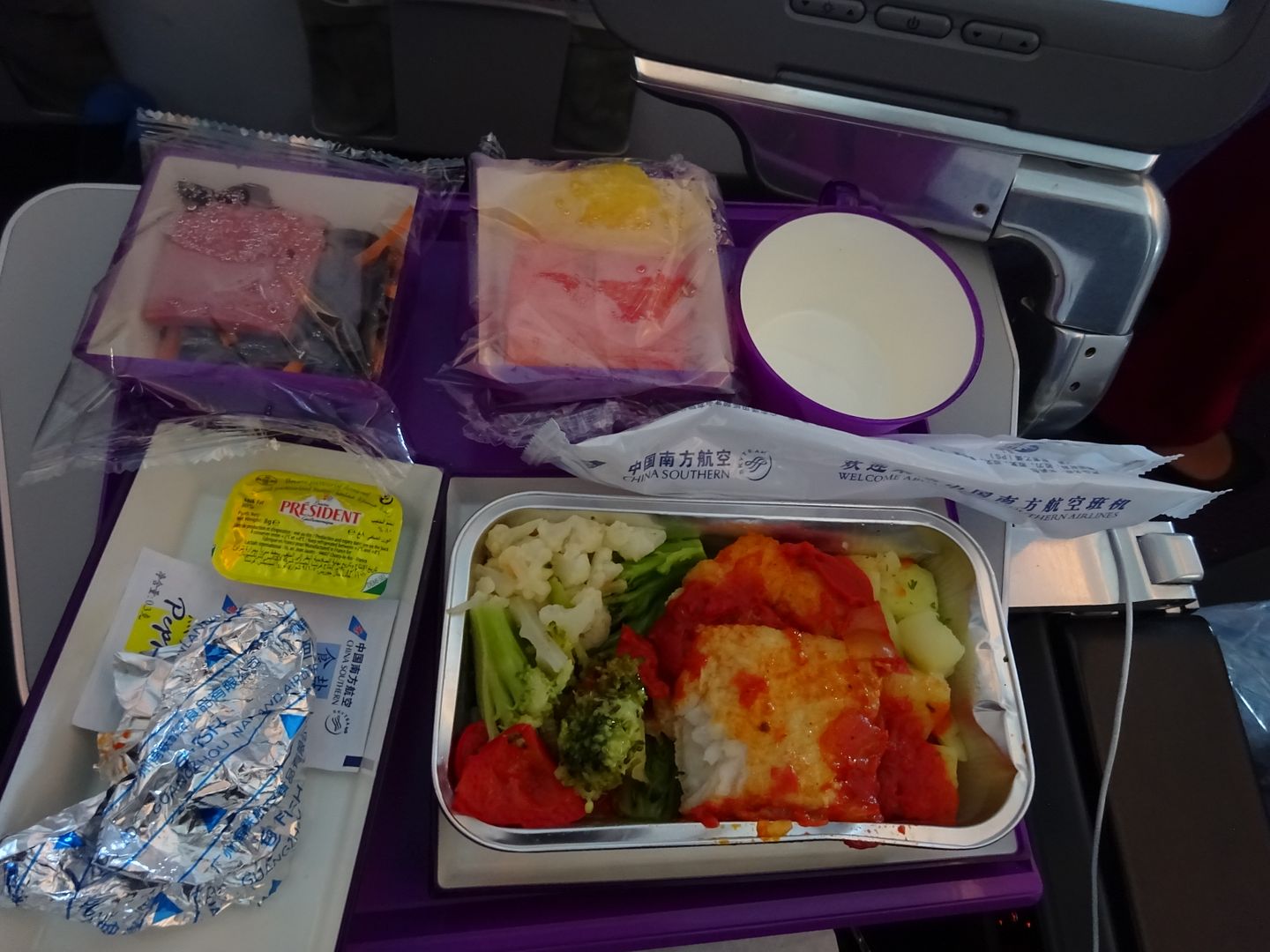 Great service on this sector. Continuous drinks round and constant cleaning of the toilets. There was always someone with some freshener and toilet roll near the toilets. A commendable effort.
Saw 4 movies on this sector. Slept for a bit and the rest of the flight was excellent.
I spoke to one of the FA asking if she was the head purser. She immediately said yes and asked if there was any problem. I said i wanted to complement about her team and she was overwhelmed. Very eagerly gave me a card for feedback and kept thanking me for the comments.
Landed and at our gates by 14:15, 15 minutes ahead of schedule.
A quick 12 hours later, back in London
Baggage collection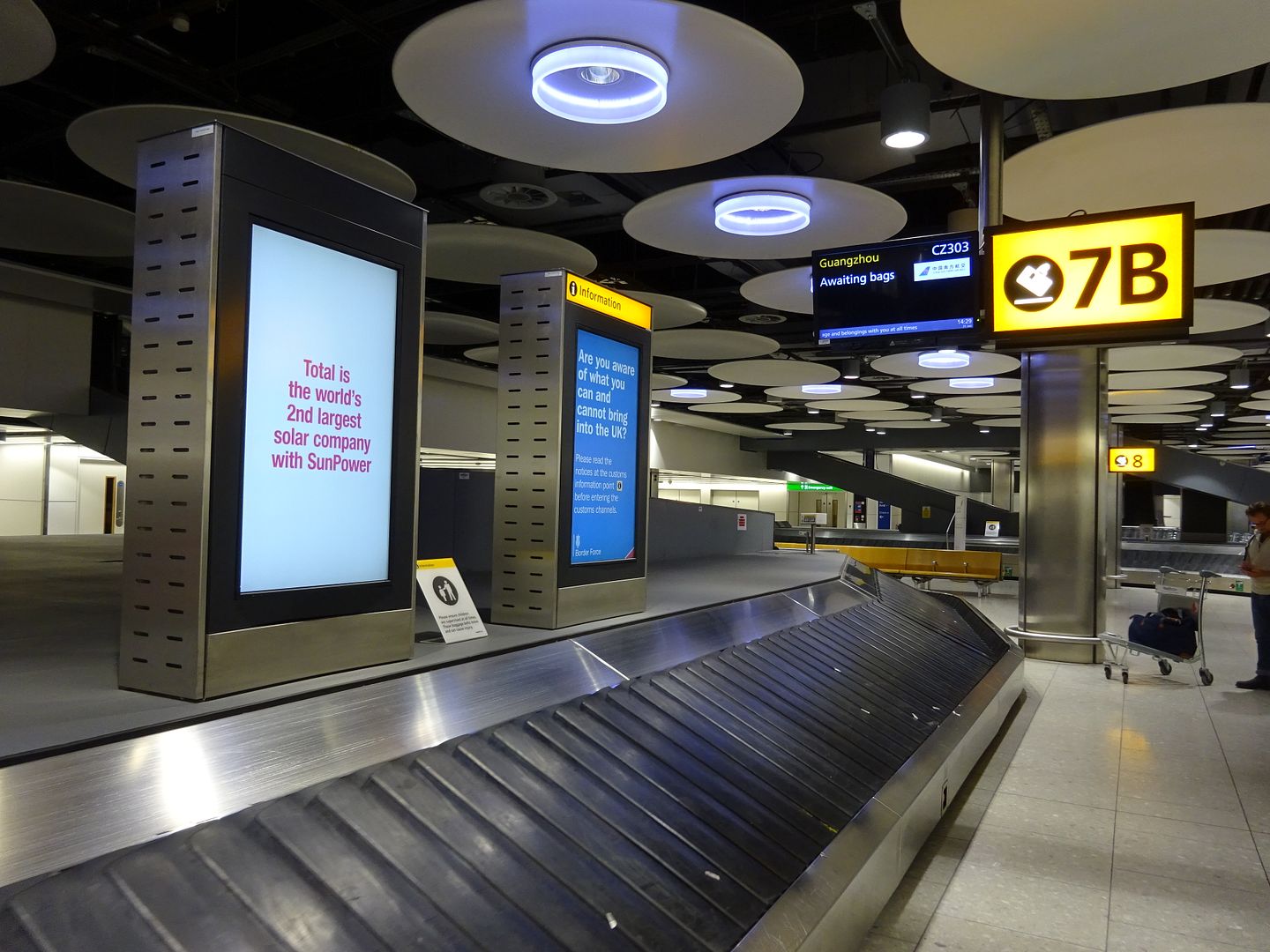 They have started the e-Immigration gates over at T4 and it was breeze to pass through. Bags took a while to arrive, around 15 minutes. Out of the airport within 40 minutes of touch down.
Verdict
Having used China Southern, over 3 years ago, the seemed to have constantly improved. Their hard product is on par with a lot of other legacy carriers and their soft product is earnest at worst and at best are a pleasure to deal with.
My wife feels she sleeps the best on the Dreamliner, irrespective of the narrow and hard seating. She also commented on the food being very good to excellent (better than BA is what she quipped).
Few tips to remember would be, to know where the good seats are and try to bag them. I am sure my report (regarding the hard product) would be a lot different if I were to be squished in the middle of the aircraft.
Guangzhou airport, although it has improved drastically, still needs proper sign posts at the very least.
Overnight hotel accommodation provided by China Southern is excellent and well worth a comment.
As a final note, I would definitely fly China Southern again in the future. Given the right price, time and dates, China Southern have been great so far, and looking forward to flying them again.
Hope you liked this installment of my trip report. Your feedback and comments welcome.
Until next time, happy and safe flying, adios!
Sights around Cambodia
Royal Palace Phnom Penh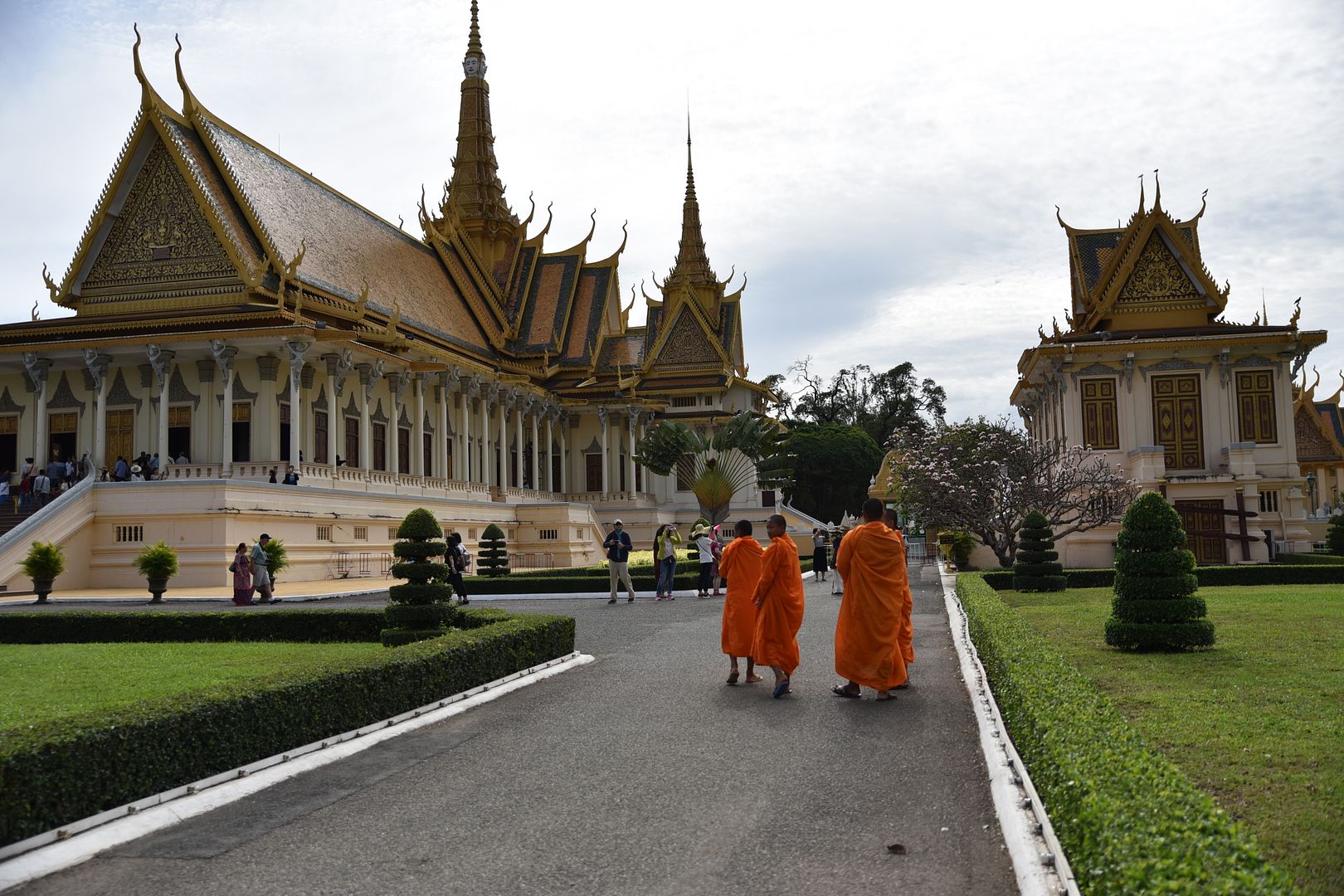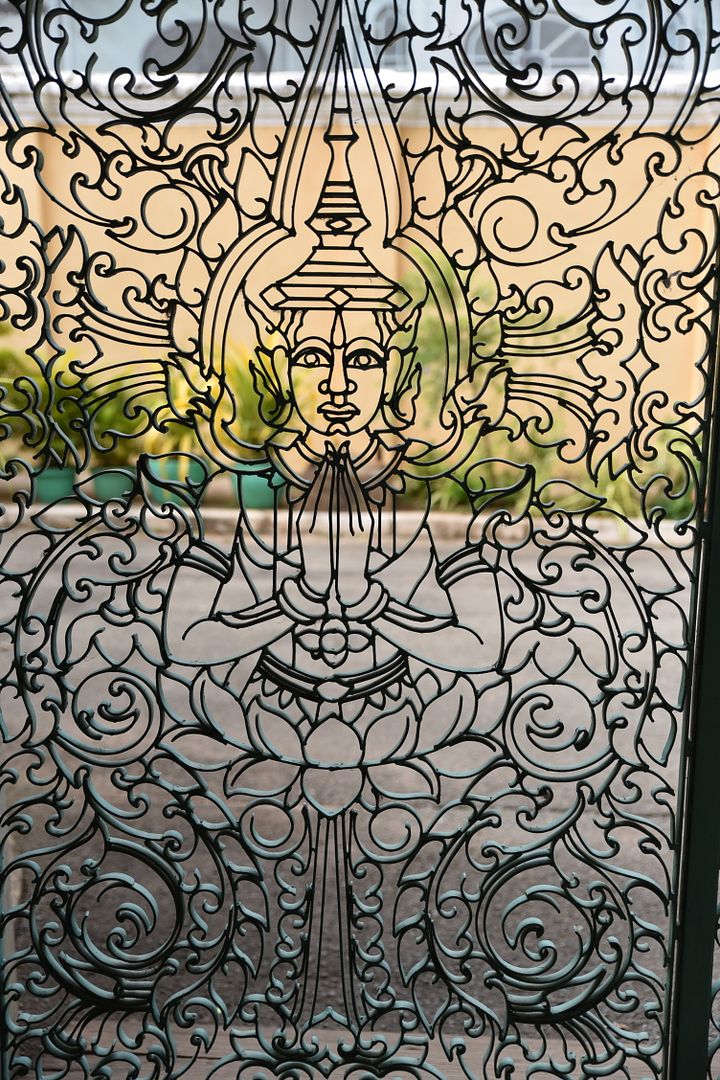 Killing Fields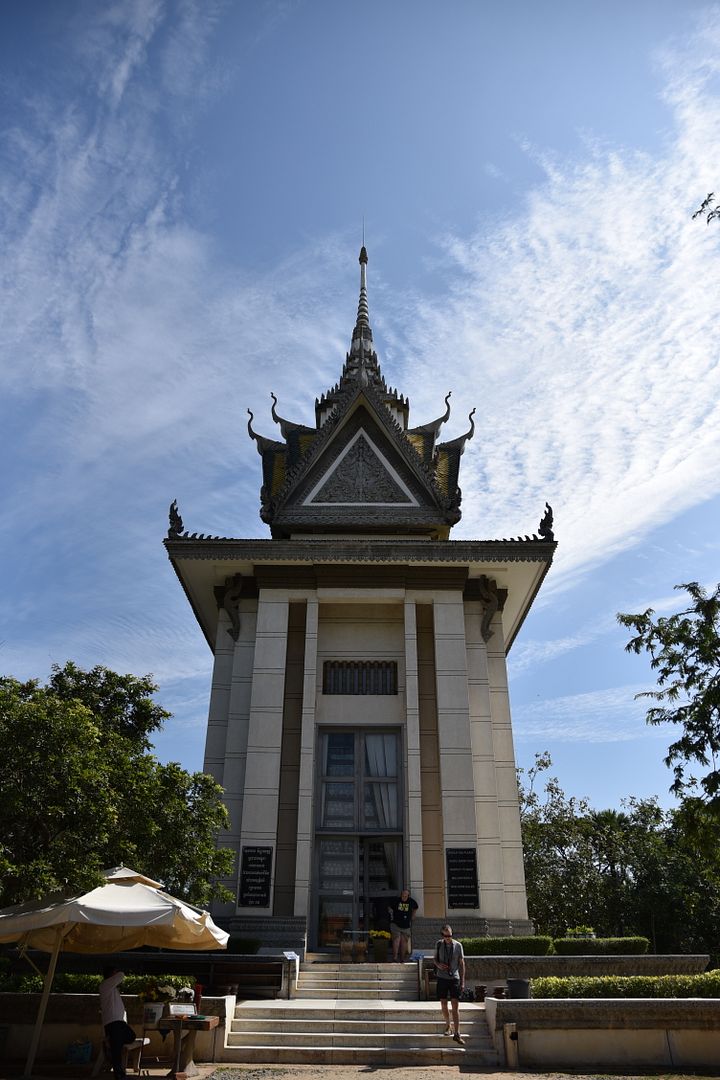 S21 Museum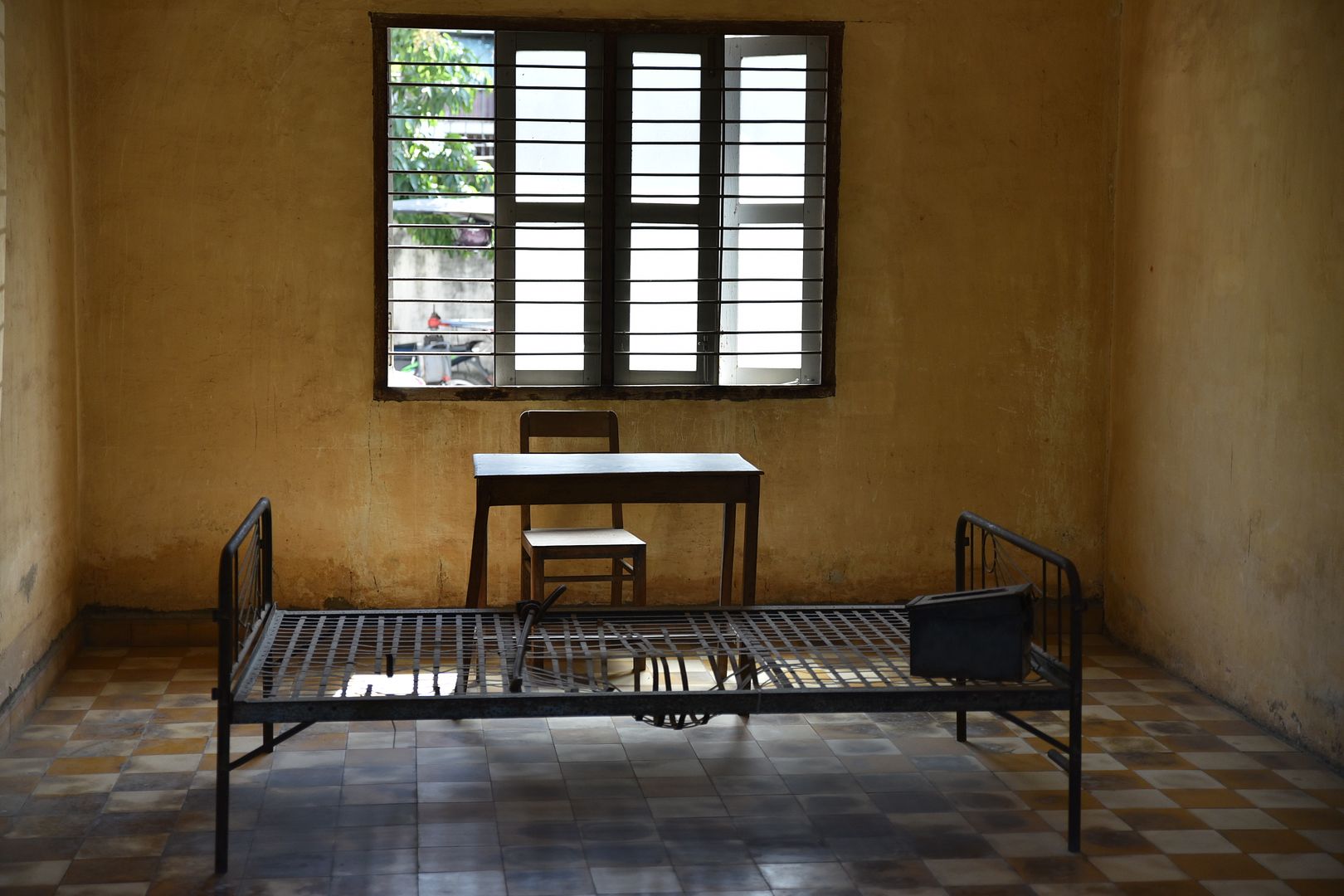 National Museum Phnom Penh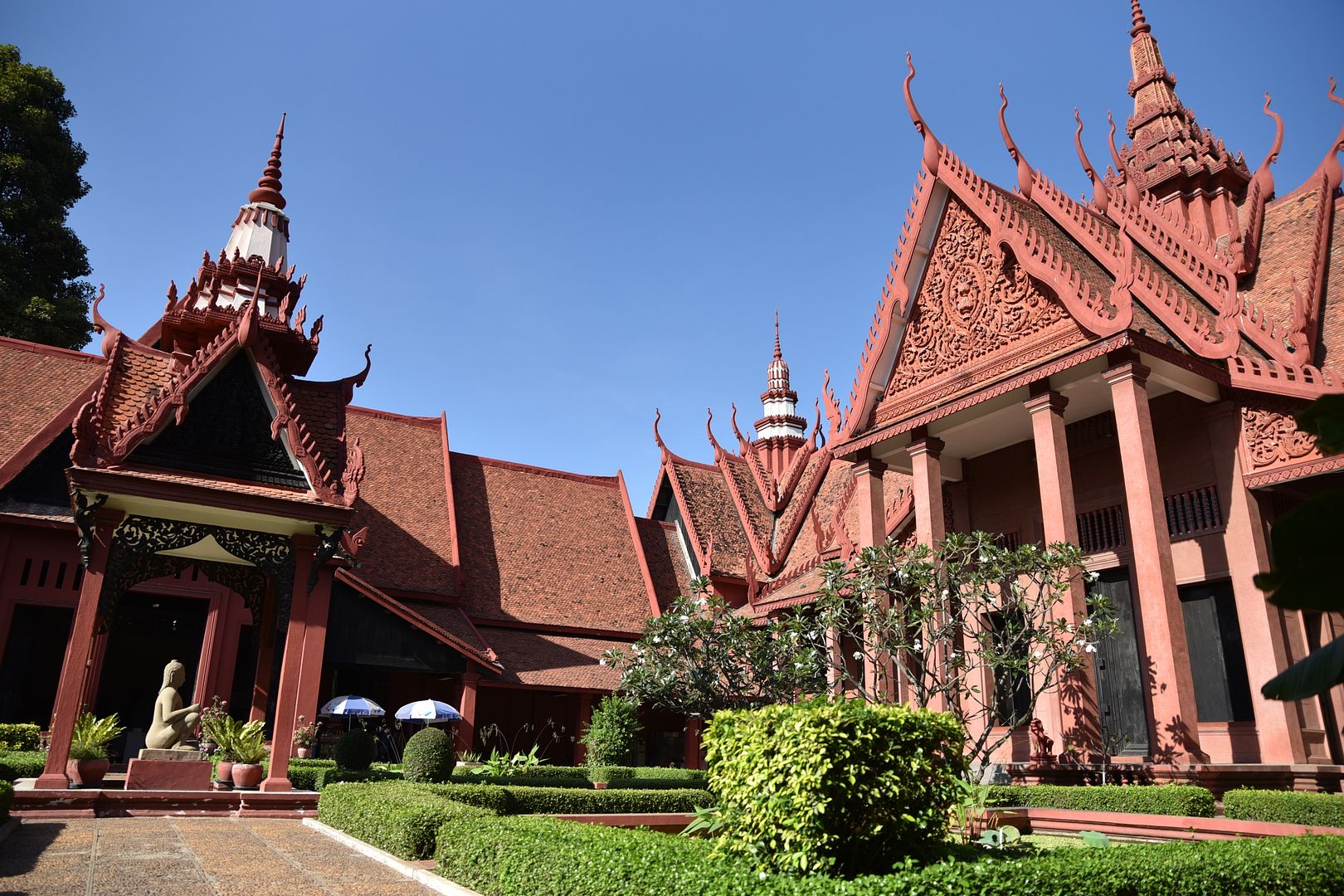 Eating local
Sunrise at Angkor Wat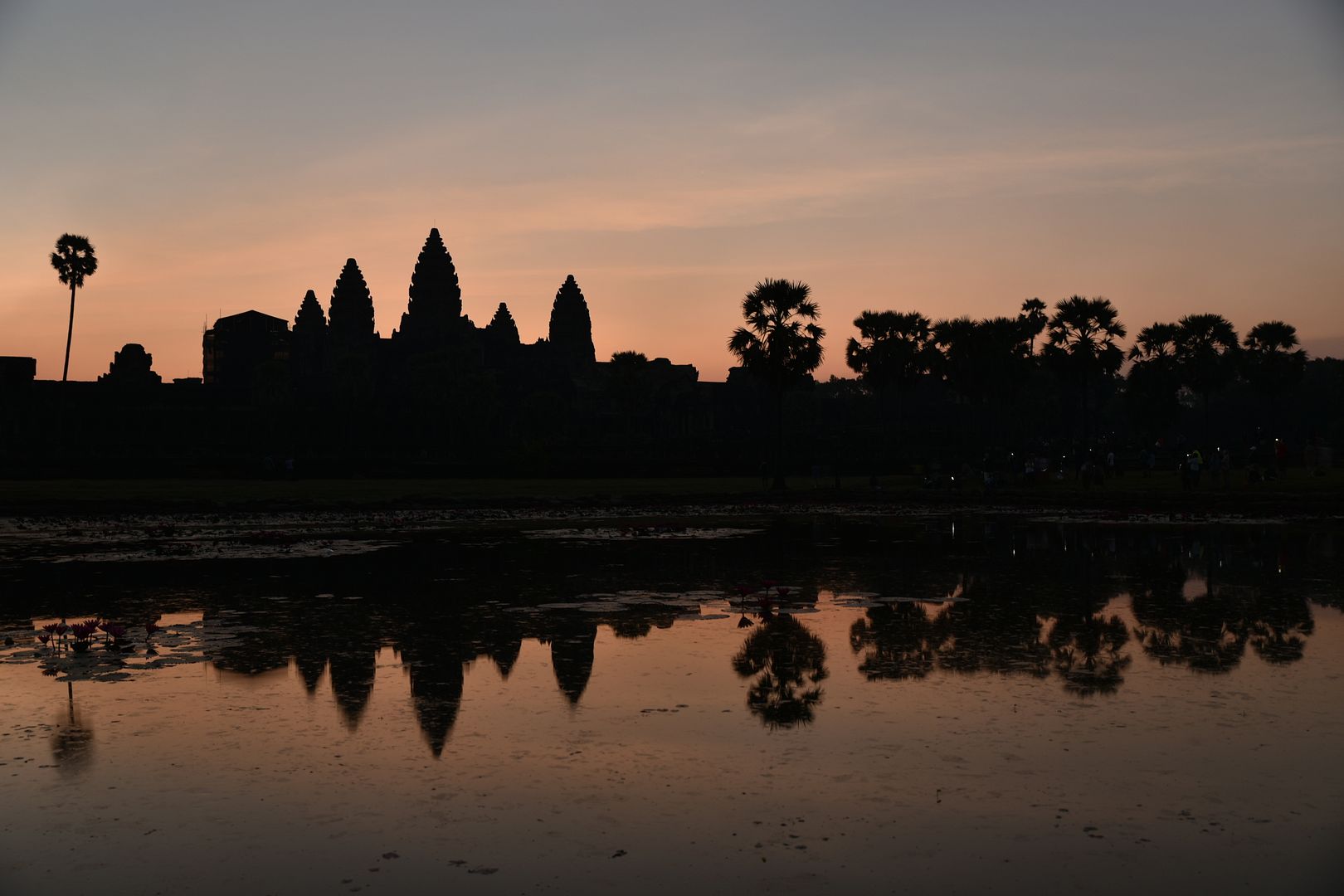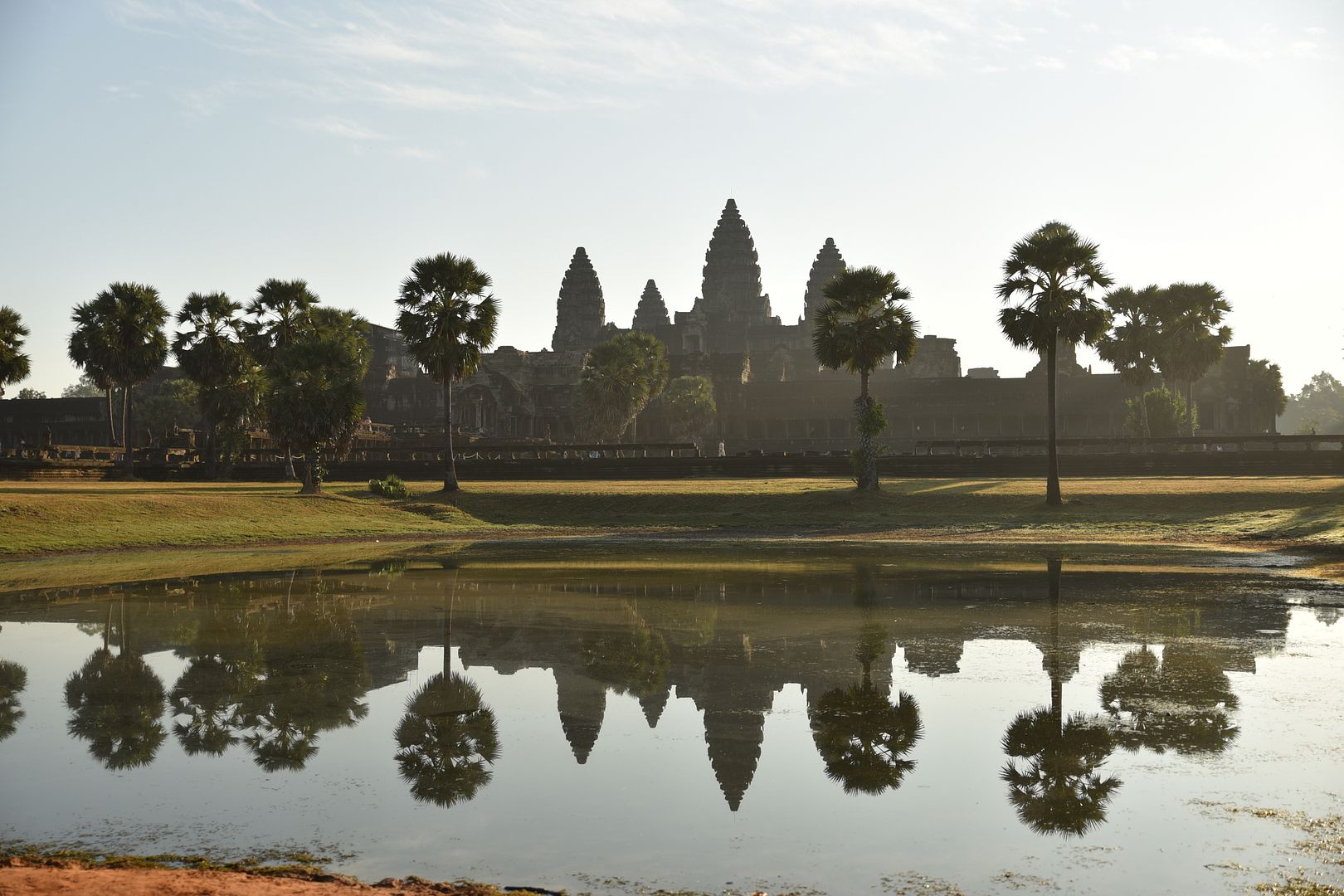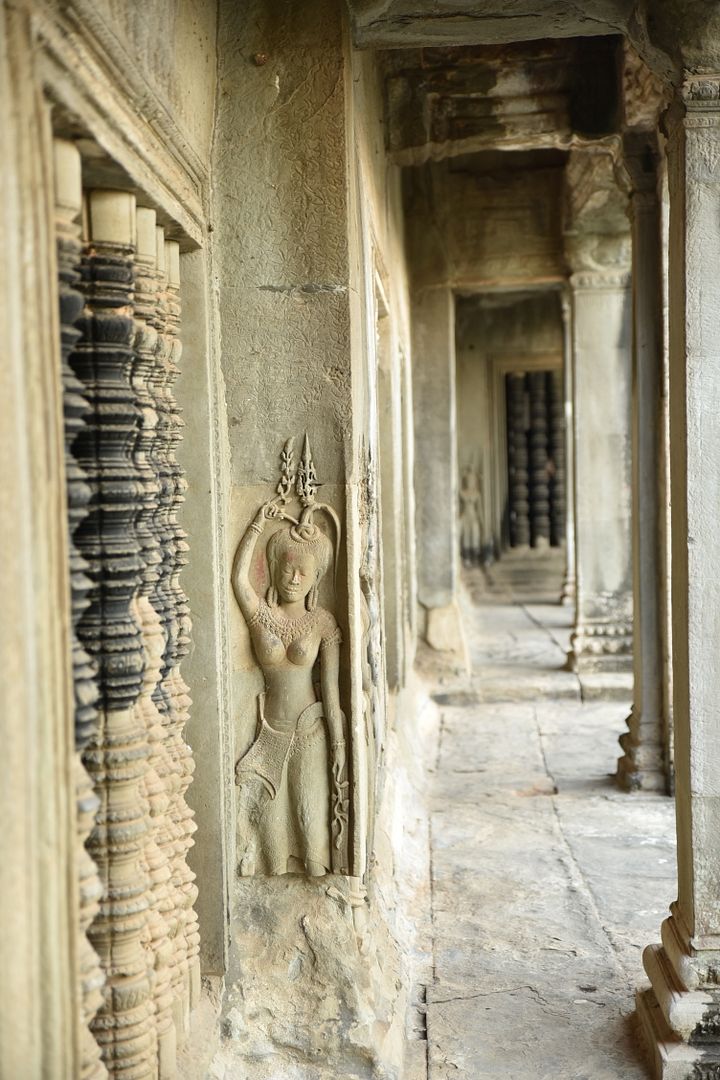 Sunset at Pre Rup
Kompong Phluk Fishing Village
Banteay Srei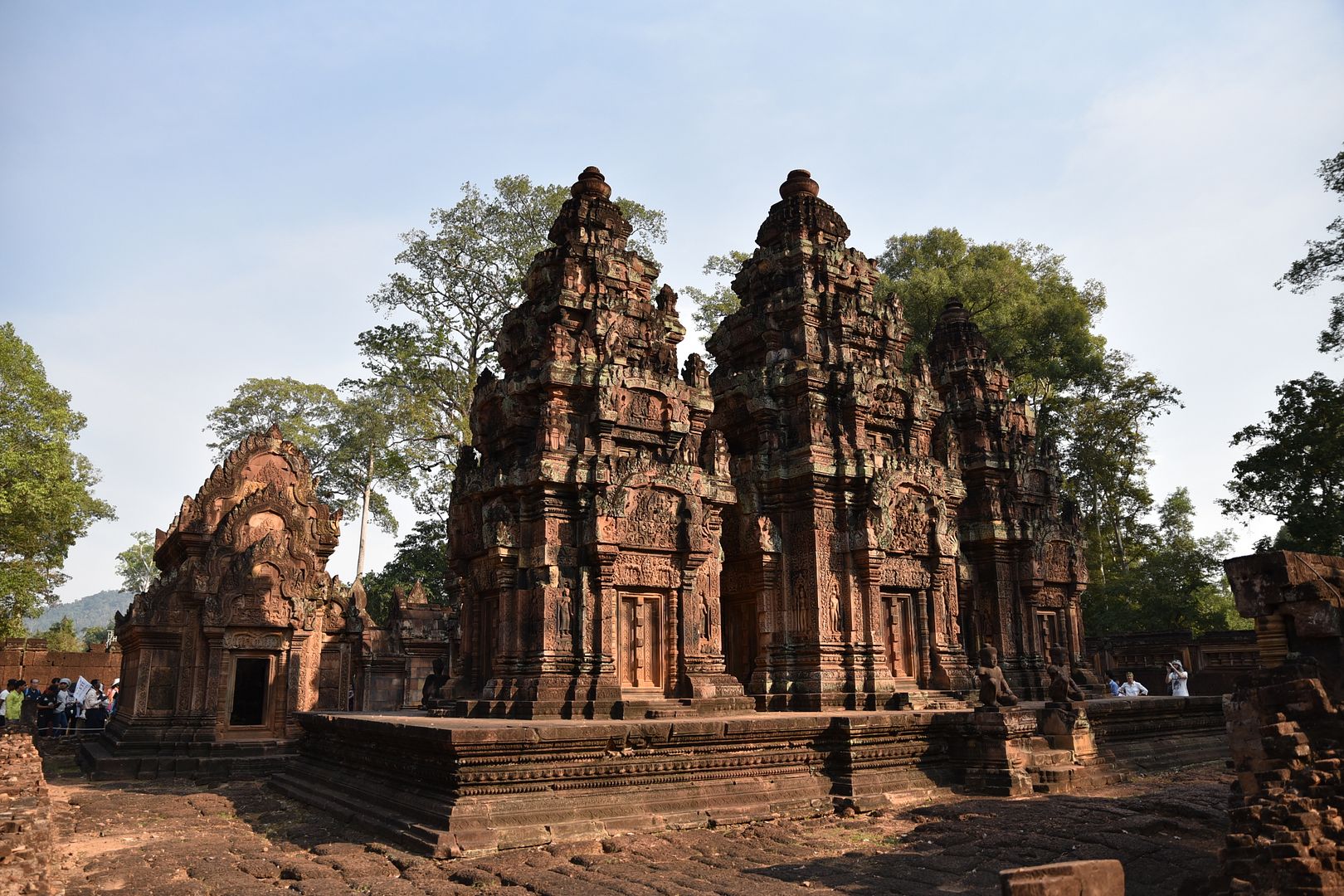 Bayon Temple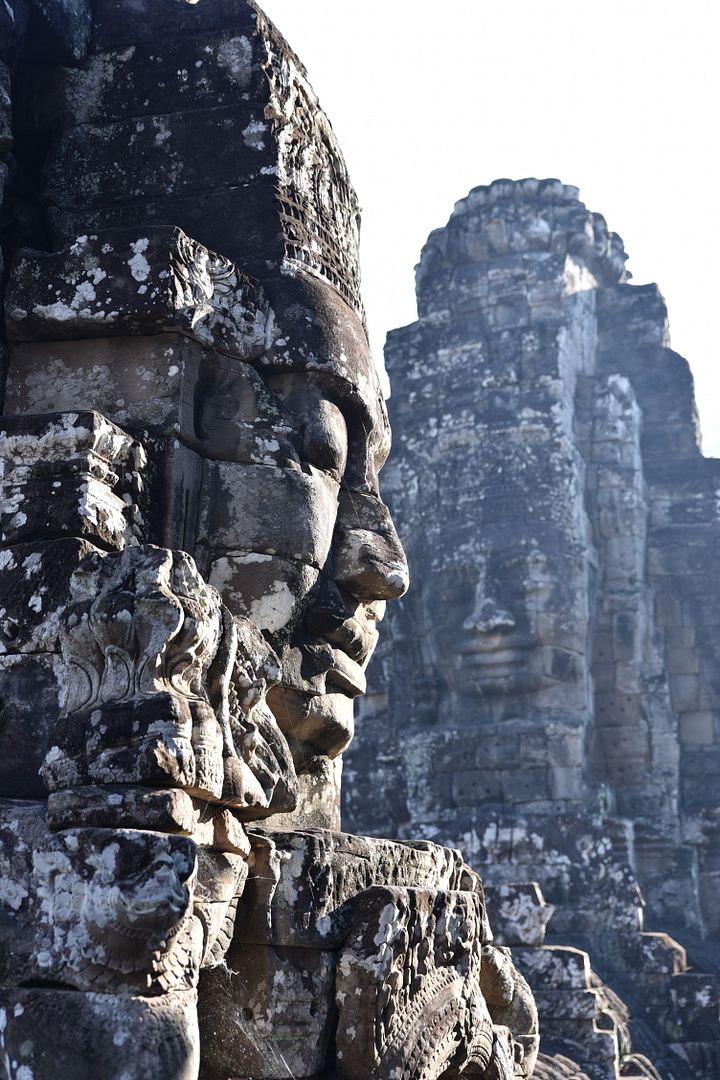 Tomb Raider temple - Ta Promh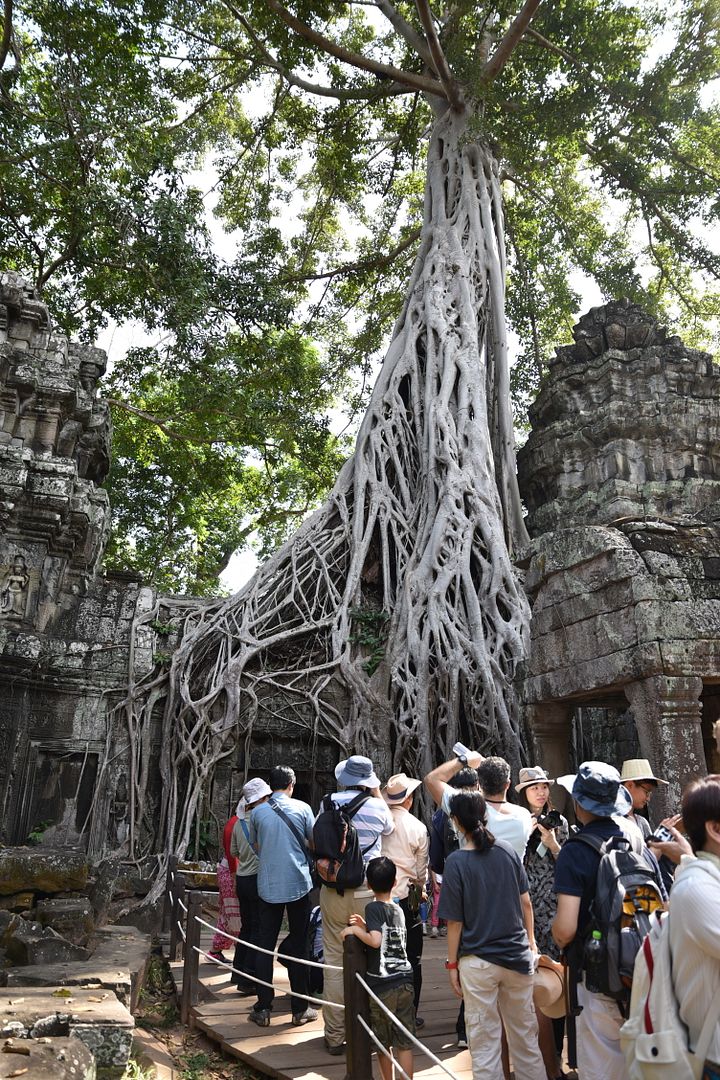 Previous Trip Reports
Domestic Cambodian Escapades - Sky Angkor - KOS-REP - A320
Weekend in Zurich - Swiss and BA (Club Europe) - Airbus 320-200
Weekend at Cinque Terre - BA to Bologna - Airbus 320-200
Journey to the East (Part 5, Final) - BA B747-400 (Club World)
Journey to the East (Part 4) - China Eastern A321-200
Journey to the East (Part 3) - Etihad 5th Freedom Route
Journey to the East (Part 2) - BA, JAL, Etihad, China Eastern
Journey to the East - BA, JAL, Etihad, China Eastern
Norwegian And Air Baltic To ARN And RIX
London To Muscat On Gulf Air - A332 And A320
Part 4:India Domestic-9W, AI, SG On A321,B737,Q400
Part3: Phuket To India - Bangkok Airways -A320-200
Part 2:Thailand Domestic -Nok Air And Thai AirAsia
Part 1:Qatar Airways - Thailand And India
Part 3:BA Club Europe - LCA-LHR - Boeing 767-300
Part 2:Blue Air - Athens-Larnaca - Boeing 737-400
Part 1: Aegean Air - LGW-ATH-JTR - A320-200
Ryanair London(STN) To Lake Como (BGY)
Weekend In Belfast - Aer Lingus A319-100
BA First - PEK To LHR - Mid J B747-400
BA CW - Upper Deck To Beijing - High J B747-400
China Railway (CRH) - Video Report - SJW - Beijing
LAN Dreamliner (J) Experience - MAD FRA
Baltic Escapades - VNO/TLL/RIX On W6,BT And OV
South France - EasyJet A320 BA A319
UK To India - The EK Way - B777-200/300 & A380
India Domestic–Jet Airways And Indigo–A320/ATR 72
BA A320/321 - LHR To Berlin TXL - Christmas Day
China Southern - LHR-CAN-HKT - B787/A321
Aloha! The United Way - B777-200 And B737-900
Mahalo Hawaii, Hello NYC - DL B767-300
Cool Blue To BOS And Got Blue? To LAS - E190 A320
VS Little Red To ABZ And EZY Return
24 Hours On A 787! - Final Leg CZ - AKL-CAN-LHR
Part 5 - BHE-WLG-AKL On NZ Beech1900D And A320
Part 4 - MEL-AKL-ZQN On QA And NZ B738\A320
Part 3 - CNS-MEL On JetStar A321-200
Part 2 - SYD - CNS On Virgin Australia E190
Canton Route Part 1 - LON-SYD - CZ DreamLiner/A332
DREAM(liner)ING Of Hainan - China Southern
Panda Calling - BA LHR To CTU - Club World
China - The Low Cost Way - Spring Airlines - SJW-CTU
China United Airlines (KN) - CTU - SJW - B737-700
Norwegian B737 - LGW-TOS-BGO-LGW
Jet Airways: LHR – COK
Barra Trip – that was not to be
LHR - KWI - BA 747 - Part 1 - Middle East -China
Part 5: PVG-LHR - BA - Economy - B777
Part 2: KWI-DXB - FlyDubai - Economy - B737
Part 4A&B - SHA-SJW-SHA - FM: Eco: B737
Part 3A&B : DXB-HKG-PVG: CX & KA :Eco: A333
Morocco Trip - LGW-RAK-TNG-LHR - EasyJet & Iberia
Dusseldorf Calling - BA & EZY - Club/Eco - A321