I needed to clear out my MH Enrich account as I had no intention to continue with them any longer. I have points accumulating over at QF so I figured it would be better to consolidate all my activity into one account. Being based down under during the last few years, I suppose it was a logical choice.
Thus, I had a slew of options for a one-way JCL ticket in my swansong with Enrich so I began to look at the network to see where should I head to. My plan was to veg out for 2 weeks so I needed a balance of somewhere comfortable and away from the crowd, at the same time not too remote I'd be away from creature comforts.
Langkawi, I haven't been back there since 1999. A few taps and clicks of the mouse on the Enrich website and 5 minutes later, I was all set to go with a 24hr stopover in KL to do what else but eat and catch up with friends.
Changi Airport – Kuala Lumpur Int'l Airport
Malaysia Airlines
MH 604
Boeing 737-8H6 (9M-MXN)
Seat 1A
Business Class
0950 – 1050H
Duration: approx. 1hr
11 Jan 2017
Took an early bus to the airport as I intended to have brekky at the lounge. Although I have checked in and had the boarding pass in my phone, pre-immigration security strangely turned me away and asked me to get a physical one from MH at the counters. Changi, not sure if you've realised the world has moved on?
Physical boarding pass was swiftly issued and off I went in search of the lounge. My bad, I should've done my research. The Golden Lounge at Changi no longer exists. I arrived at the location where I thought the lounge would be and found it all sealed with major construction going on behind. Headed over to information only to be told MH no longer operates a lounge. Instead, I was invited to use the SATS Premium Lounge.
How times have changed! I was so looking forward to some satay at Golden Lounge. Bummer!
There were no announcements at the lounge for boarding to I thought I'd better make my way there soon. It was a long trek to one end of the F concourse finger pier.
Greeting me at the gate today was 9M-MXN, at the time of writing the aircraft was slightly over 4 years of age. Flying Malaysia Airlines in their 737s is akin to Russian roulette, you'll never know when you end up in a leased aircraft with a sub-standard non-MH interior which has seen better days. Ah, the interest in putting myself in such precarious situation gets my blood pumping.
Today, MH has decided to grace me with their "normal" 737 equipped with the whole works.
Don't know why people love to crowd the entrance once boarding announcements have been made, only to be turned away. I was allowed through the heaving mass of people who didn't seem to understand logic.
Welcomed at the door was cordial by Vera and Rosli (who was the IFS). First thing I noticed was how warm the interior was. I wouldn't be too concerned if the aircraft was parked overnight and it would normally cool down once we get airborne. However, this plane just landed from KUL and was doing a turn around. Which could only mean one thing, air conditioning wasn't working.
YCL looked like it was full and JCL had 7 pax.
Pre take off niceties were carried out which consisted of cold towels and drinks. By now, my several passengers were already taking out safety cards from the front pockets. Not that they wanted to find out what to do with oxygen masks, instead we were all in unison physically fanning ourselves to cool down.
Vera went front row to row taking orders for our meals and kudos to her for addressing each and every one of us by our names. We had a choice of:
- Chicken murtabak
- Vegetarian sheperd's pie
The conversation behind me in Row 2 went something like…
"Good morning Mr X? After take-off we are serving a meal. Would you like chicken murtabak – it is an indian pancake, or the vegetarian sheperd's pie?"
"If it's a sheperd's pie – how can it be vegetarian?"
"Err… Hahahah"
That was one of the most awkward conversations I have ever heard. By the time Vera came to me, she just half-sighed and muttered "vegetarian pie". Seriously dude, just chill and don't be a smart ass. The crew was just mouthing off the menu prepared by flight kitchen. I swore I rolled my eyes into another dimension.
Rosli very nicely welcomed the frequent flyers with status individually and thanked them for their patronage, which I thought was a nice touch. Unfortunately, Mr X behind me was one of them. What a dickhead.
With that all done, welcome announcements came on from the IFS followed by the flight crew. Push back was on time while the safety video played on the in front of us. My armrest has a PTV but it remained stowed for this flight, Didn't feel the need to deploy it.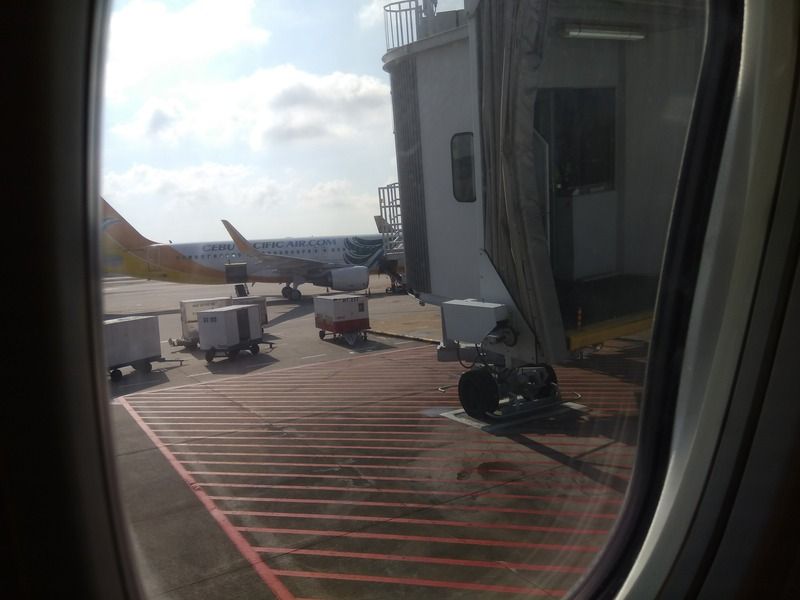 We were right in the midst of Changi's morning departure bank and were soon stuck in a line up for take-off on 02C, which I swore happened 5 months later.
It was a beautiful day for flying, we took off and did a left turn over Johor to fly past Johor Bahru. My face was literally plastered to the window as I was mentally eyeing landmarks on the ground like a psycho.
As the gradual climb continued, the crew were soon released to quickly dish out our meals. Vera was observed to speed past us along the aisle to secure the curtains behind. YCL must not see that a meal is being served up front, the resulting pandemonium would be unimaginable.
Because the upper tiered fliers had to be attended to before everyone else (there seemed to be a lot of them) I was the last to be served being seated in 1A, ironically.
The dish came with a daal (Indian spiced lentils) to dip it with. The entire meal set up looked as if the daal had exploded in the oven leaving messy stains everywhere. Rosli saw what I was presented with and leaned over to apologise…
"Mr Soh, please allow me to get you another one. The sauce, this is just too messy."
"Oh don't worry, I am so hungry I'll eat it off the floor! Seriously, don't worry about it!"
It is little touches like these which separates good and excellent service. The murtabak was actually not too bad despite me not being a fan of daal.
Also, I didn't want to worry about it because as soon as I took the first bite, flight deck came on the blower to announce we were about to descend for KUL. The dish was really hot, like steaming hot. Couple that with the non-functioning air conditioning, my head was understandably shiny from perspiration. Took me less than 10 mins to chomp down the murtabak.
As Vera came by to clear the tray, she took the time to engage in a little convo.
"All done, Mr Soh?"
"Yep, thanks"
"Chocolate? Wanna keep it?"
"Diet, got to watch my figure. Plus, its really warm and I'm melting!"
"Oh my god, me too"
"What happened? Air con not working?"
"Don't know what wrong with this aircraft today"
By now, I looked back and realised all of us had very shiny foreheads. I didn't envy folks behind the curtains. It must be hell being cramped together in this heat! Thankfully this was only SIN-KUL, cannot imagine being stuck any longer in this oven like condition.
We could not have landed any sooner. Thankfully, we didn't have to taxi far and docked at the main terminal building over at B concourse. As soon as the door opened, I think many of us just ran into the aero bridge, the first blast of air-conditioning never felt so good.
Oh my lord, thanks MH! I felt my pants and the back of my shirt, realised it was thoroughly soaked with perspiration. Urgh!