I haven't written a trip report for a while but after flying this little known Japanese regional carrier, Fuji Dream Airlines, I decide to write a short report on this interesting Japanese airline. For non-Japanese speakers, booking a flight on Fuji Dream is difficult because you need Google Translate to give you a hand. Their website has no English translation at all. Fuji Dream Airlines, which is based on Shizuoka and Nagoya (Komaki) Air Field, operates a fleet of Embraer 170s and 175s, all painted in various colors. They are definitely sharp to look at. When the Japanese government opened Shizuoka Airport, which is the closest civil airport to Mount Fuji, Fuji Dream Airlines came with it, and therefore it has "Fuji" in its name. It then built a second hub at Nagoya Air Field, which used to be the old Nagoya International Airport until Chubu International Airport was opened. It basically built a network based on its dual hubs of Shizuoka and Nagoya, and lately, it has been targeting connection traffic between regional cities via its dual hubs. I took advantage of a nice connection fare between Aomori and Izumo via Nagoya Air Field. I was not expecting much, but this experience was much more pleasant than expected.
Full trip report
http://s1213.photobucket.com/user/Carfi ... sMarch2017
March 15, 2017
JH 364 AOJ-NKM Lv1320 Arr1450 (Actual – Lv1326 Arr1434) Embraer 170-100SE JA04FJ "Green"
Connect to
JH 415 NKM-IZO Lv1540 Arr1640 (Actual – Lv1545 Arr1631) Embraer 170-100SE JA04FJ "Green"
Booking:
There is no English booking website, and I solely rely on "Google Translate," reading a little bit of characters, and experiences with previous booking on Japanese domestic flights. It was an okay experience and was able to hold flights like most Japanese airlines, and then also making advance seat assignments. However, it will be nice to have an English booking website, but given its staus as a regional carrier, I don't see it coming unless they decide to operate international flights to nearby South Korea and Japan.
Check-in:
Aomori was fairly quiet in the early afternoon hours and I was a bit early this morning.
Interesting art piece
FDA counters were fairly quiet this afternoon, and despite it was still more than two hours before my flight time, the two agents working the desk checked me in, and my bag was checked all the way to Izumo. The agent spoke limited English and tried very hard to explain that I was entitled to a gift coupon because of taking their "connecting" flights.
Aomori Airport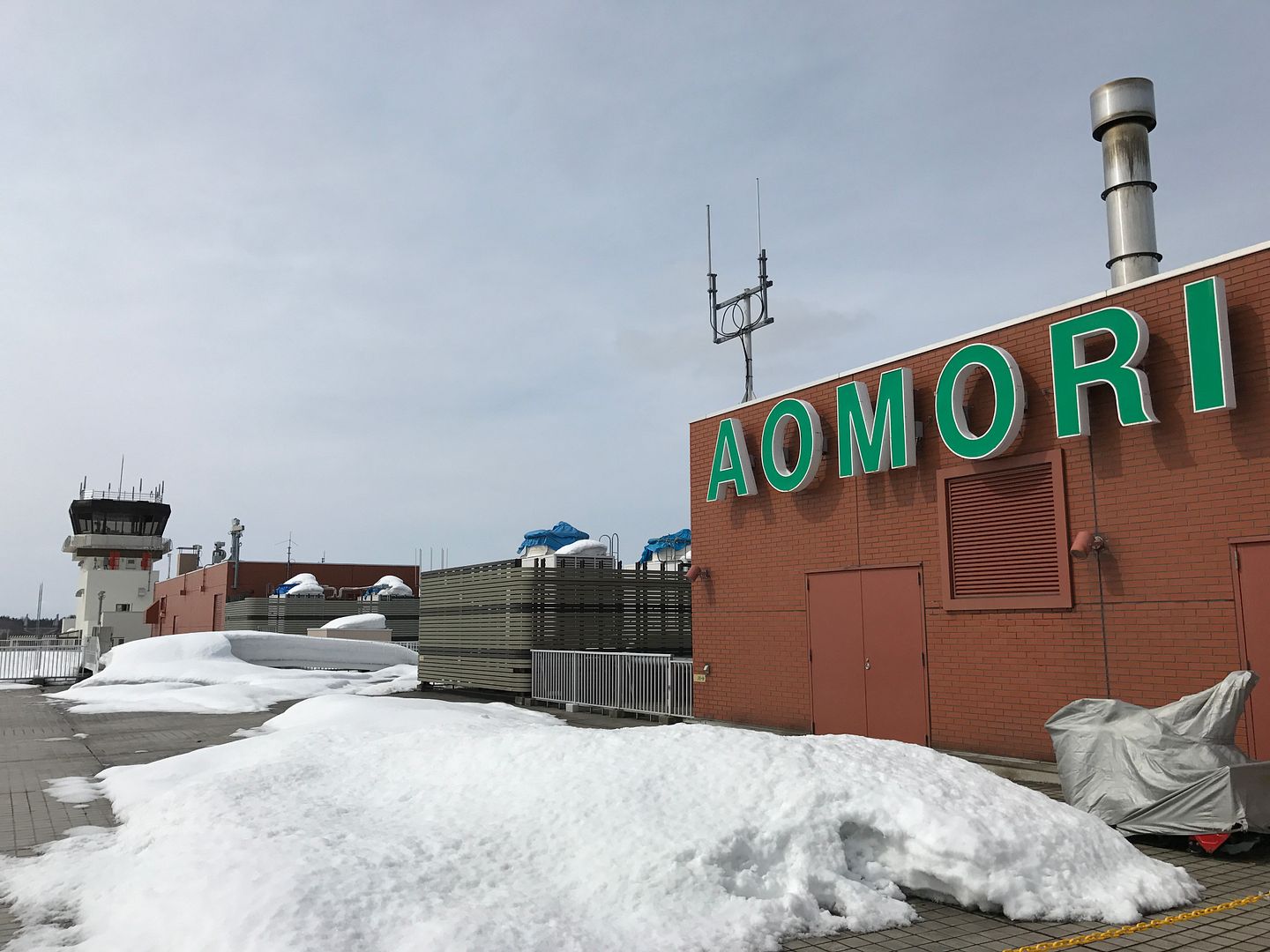 I love Japanese airports, and observation deck was always there.
I spotted the arrival of my aircraft from Nagoya.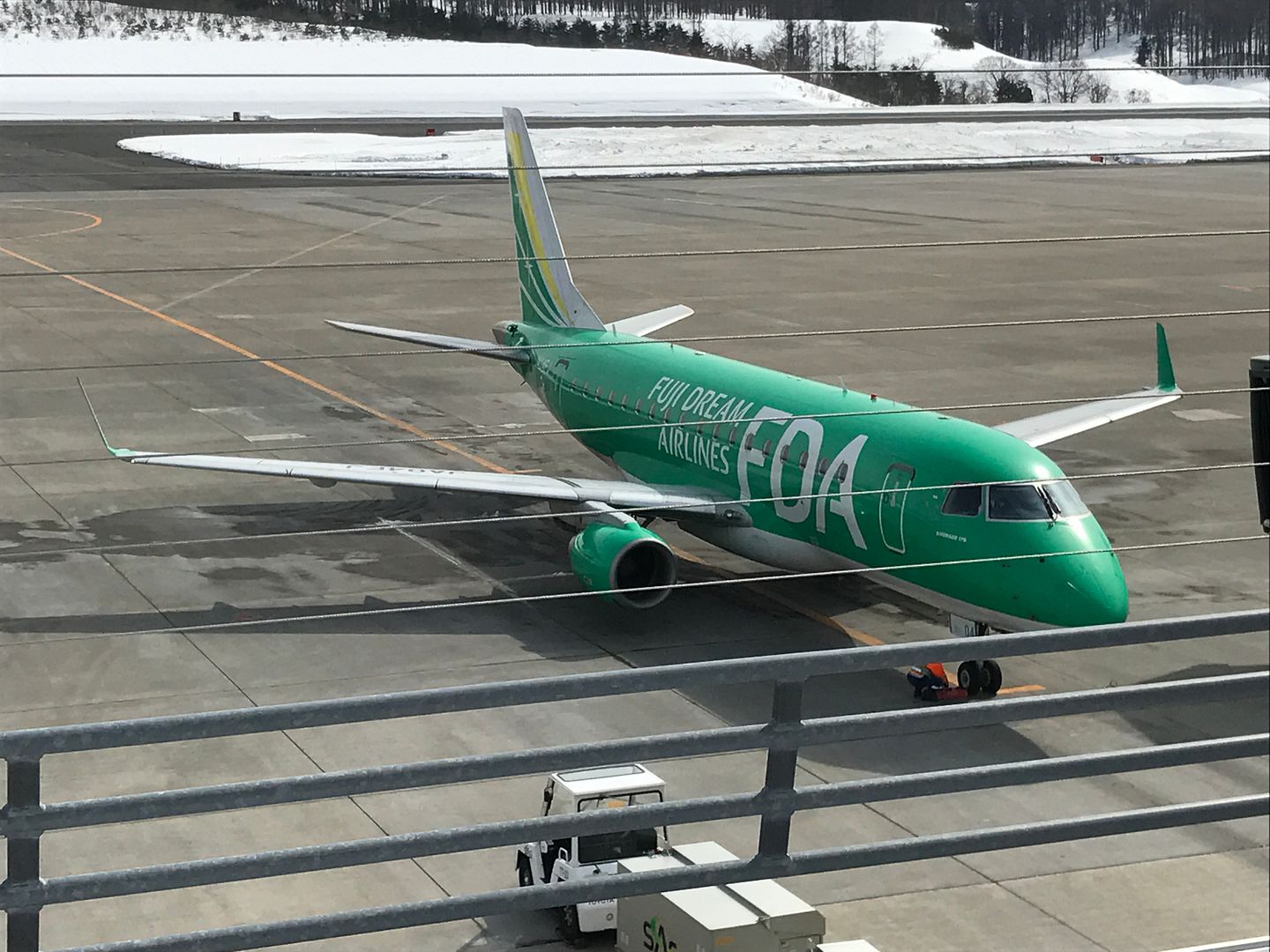 Security was a breeze, despite that there was an international flight operating at this time – a Korean Air flight to Incheon.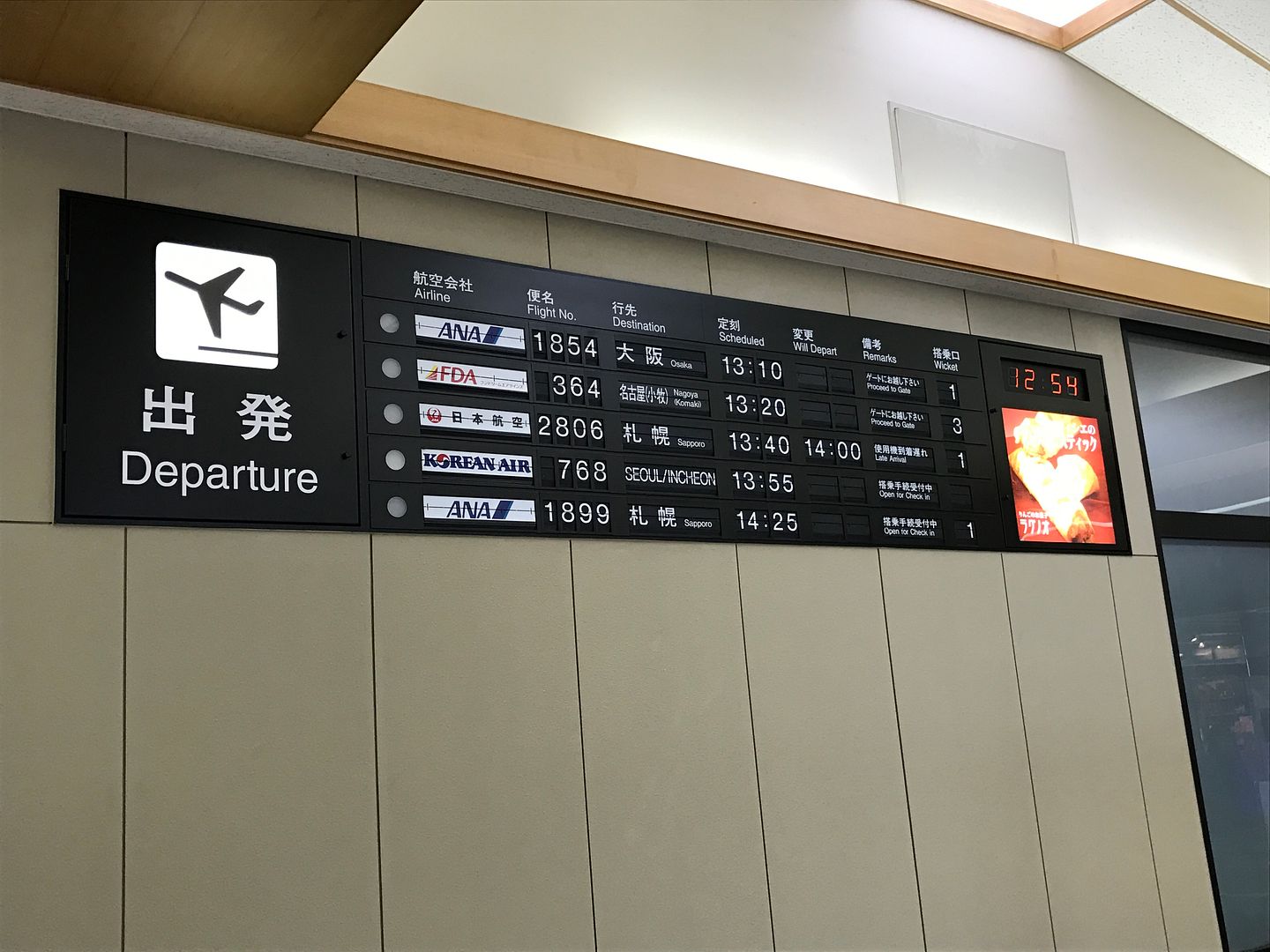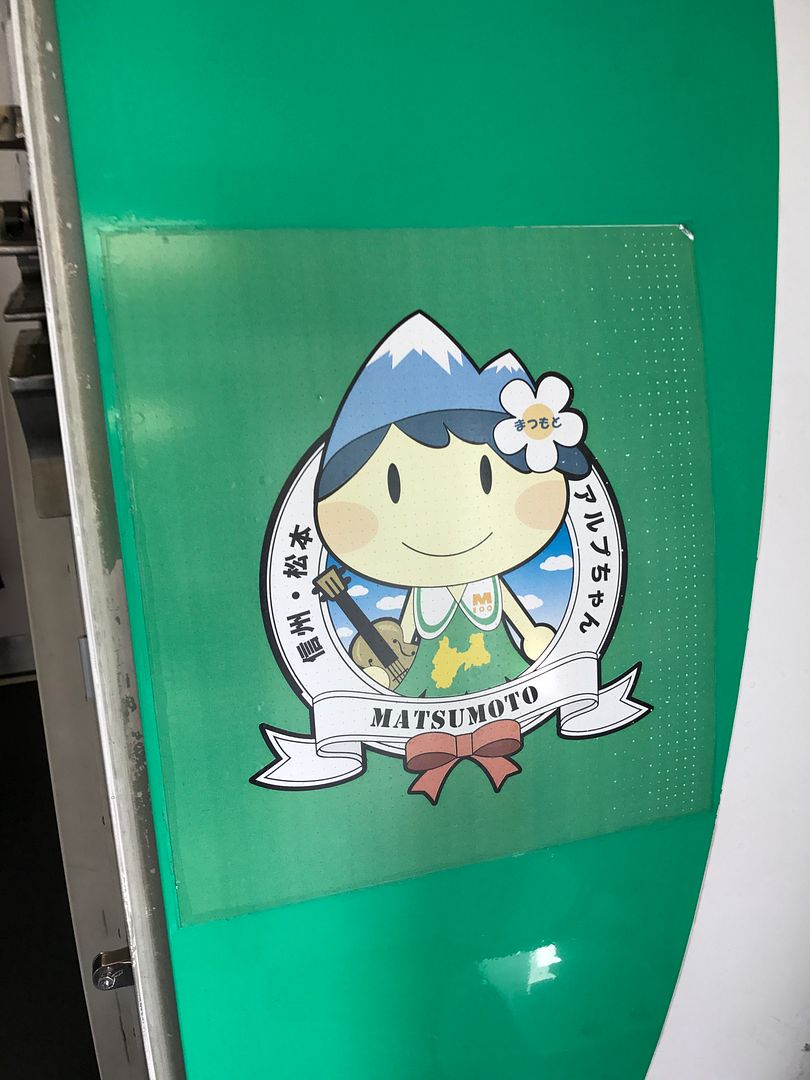 Our flight was running a bit late, as the inbound arrived a bit late this afternoon. However, things were all caught up soon. The load was around 40-45% full and it took literally seven minutes from the moment boarding began to the door being closed. Sometimes, people just need to be civil and be considerate, especially not blocking the aisles and bring a reasonable number of bags. Fuji Dream Airlines includes free baggage allowance so nobody was trying to bring the kitchen sink onboard a regional aircraft.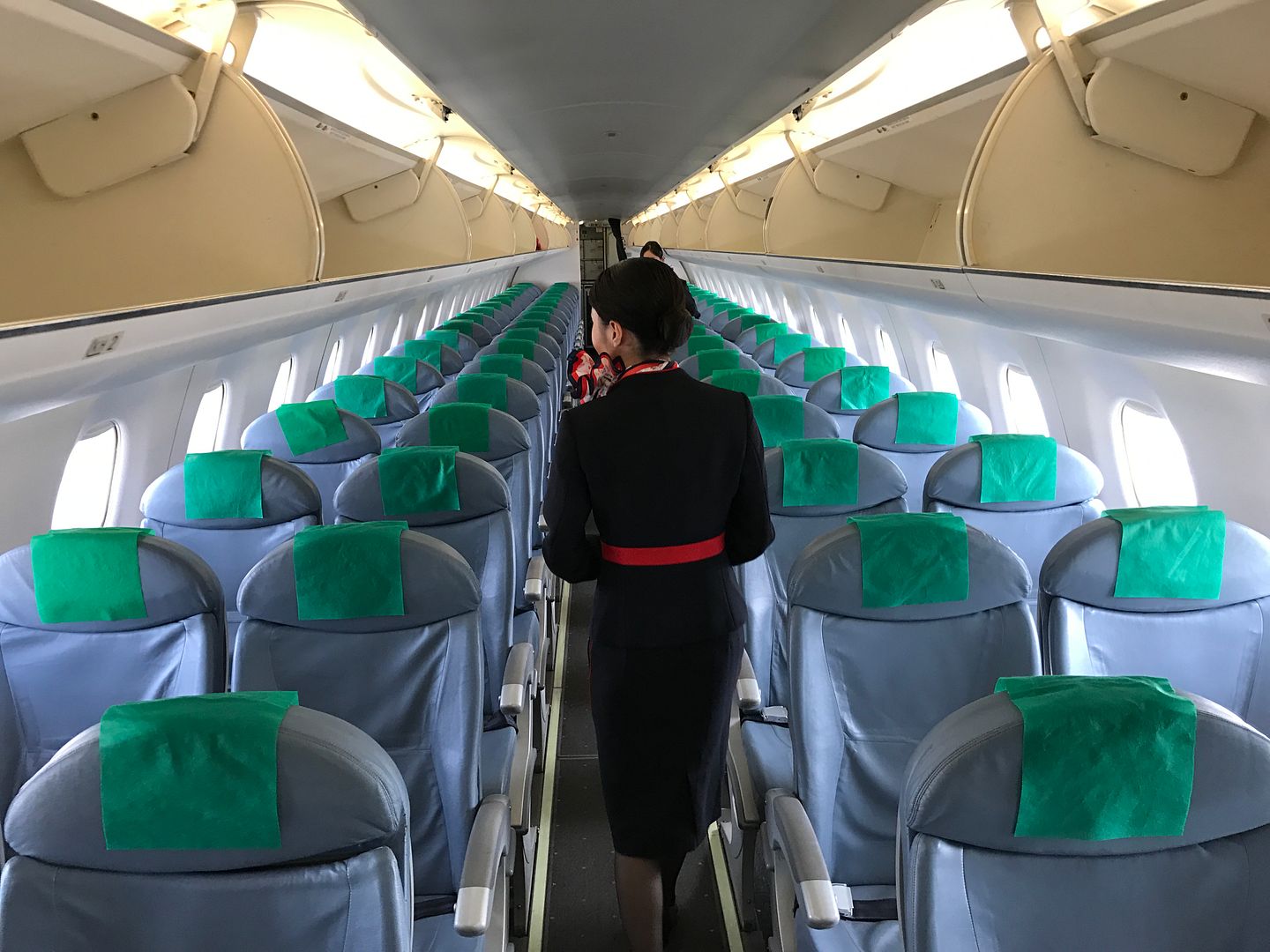 Not very generous for legroom but okay for most of FDA flights, which are around 60 minutes.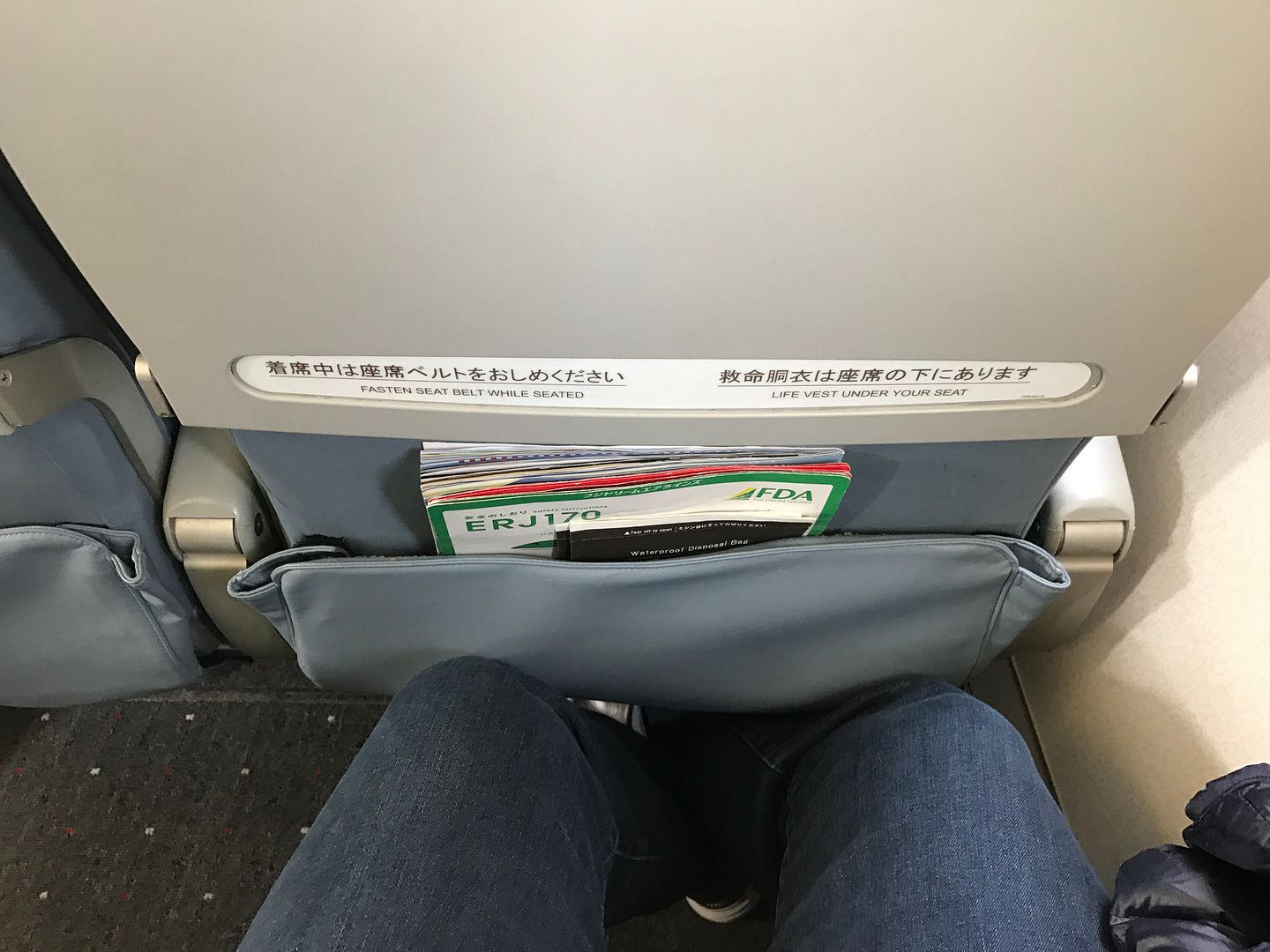 The flight attendants were efficient and polite, and I was shocked to see three F/As on these small EMB-170s.
Entertainment:
There is obviously on entertainment option, except the inflight magazine.
I love how the safety card matches the color of the aircraft!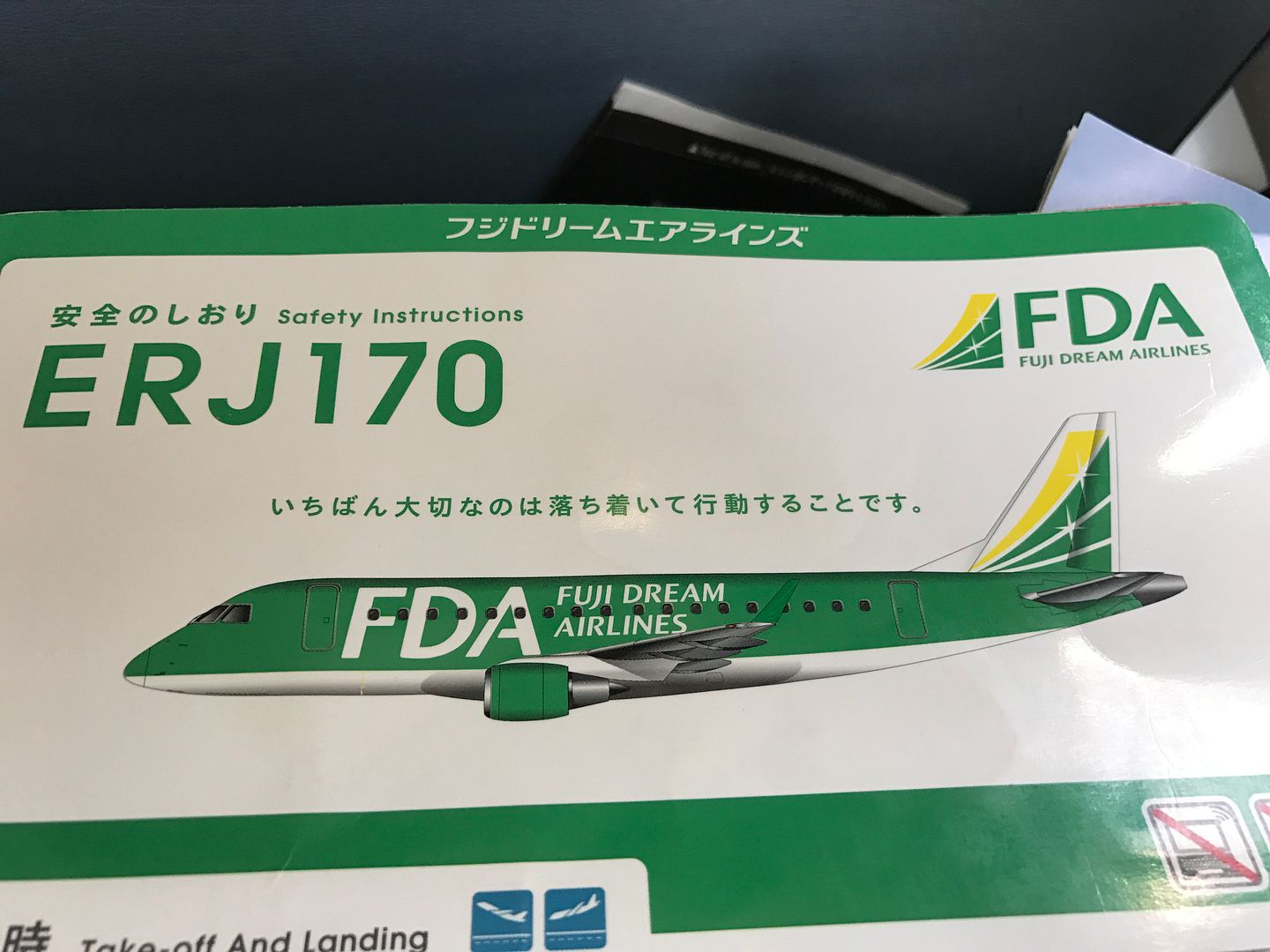 List of Fuji Dream's EMB-170s and 175s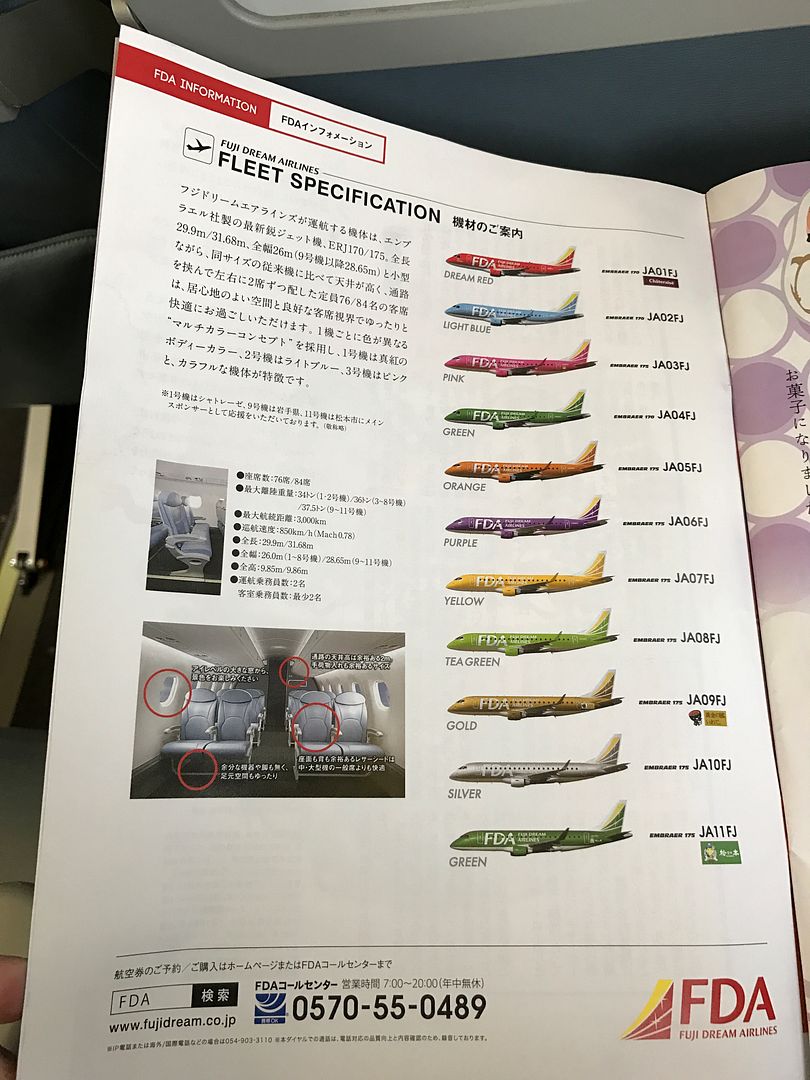 Takeoff from Aomori:
Aomori is a very small regional airport!
Please note the Korean Air Boeing 737-800. KE operates a scheduled service to Aomori, and there was one more international flight to China departing later in the night, but I could not remember which Chinese carrier.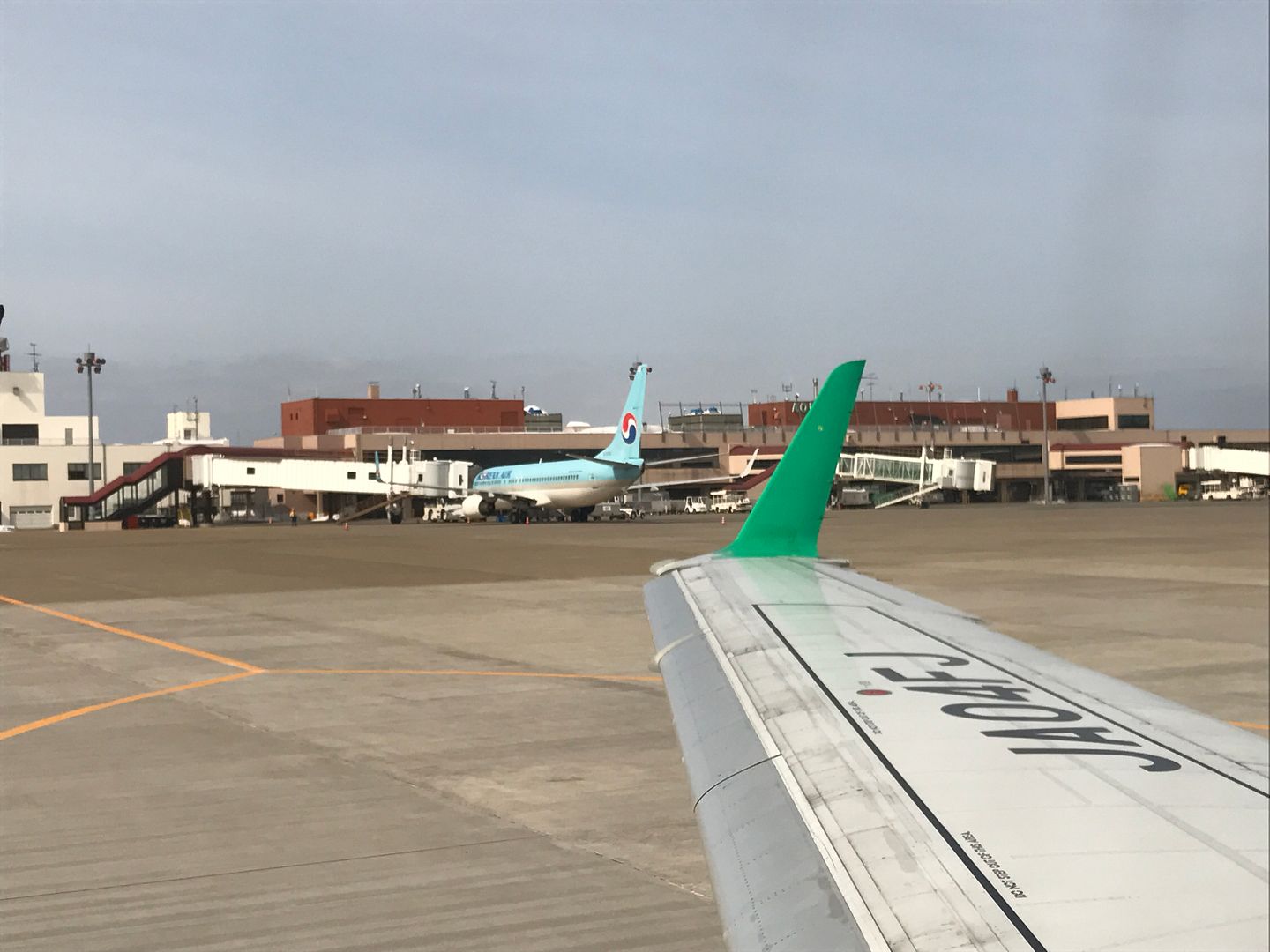 Aomori is a port city, and there was still snow on the ground.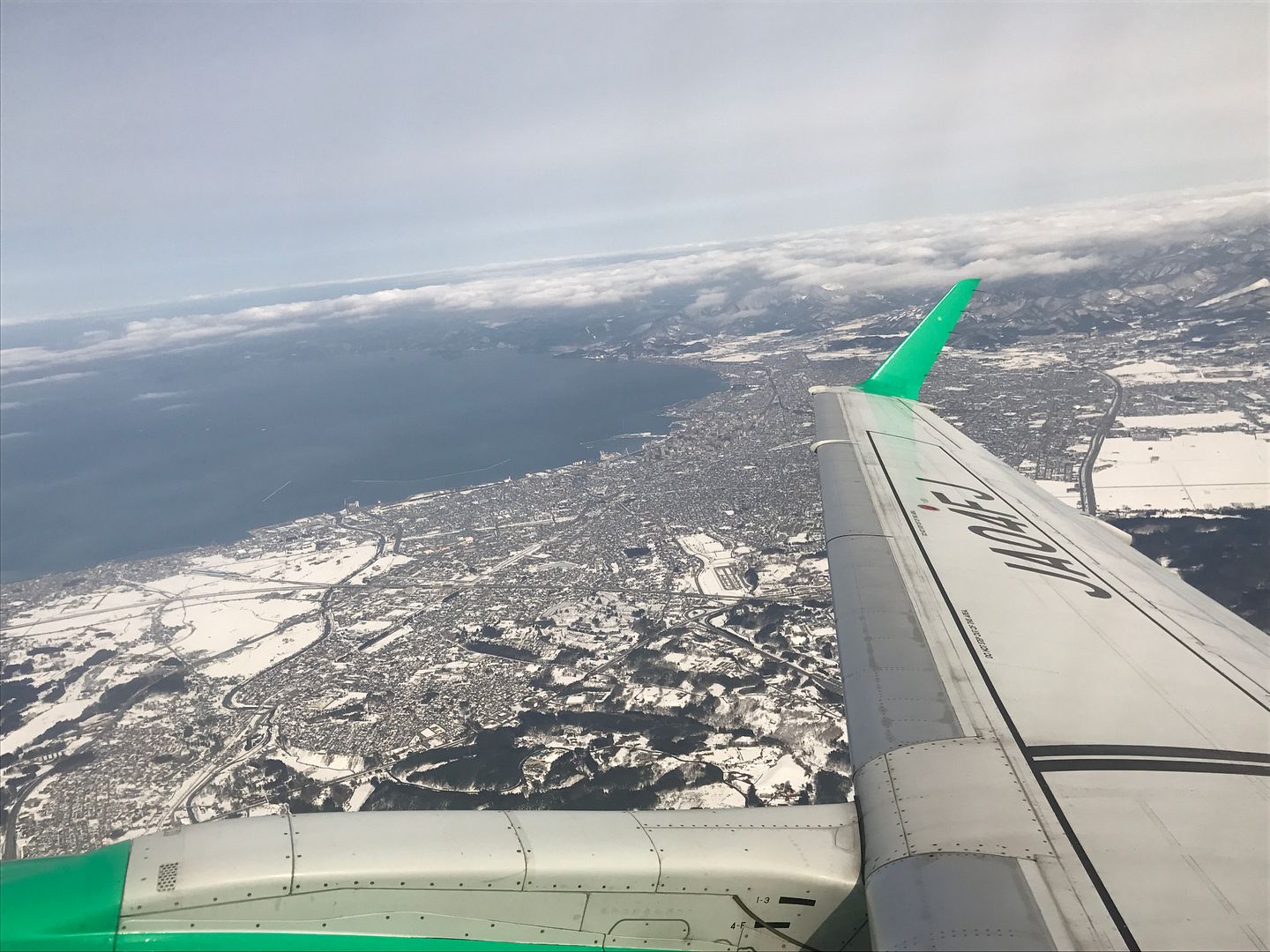 Beautiful winter scenery
Inflight service was typical Japanese domestic with a limited choice of beverages, including hot tea and coffee and apple juice, along with a piece of chocolate, which is apparently a signature Fuji Dream Airlines' item. The choice of chocolate on this segment was a crunchy chocolate.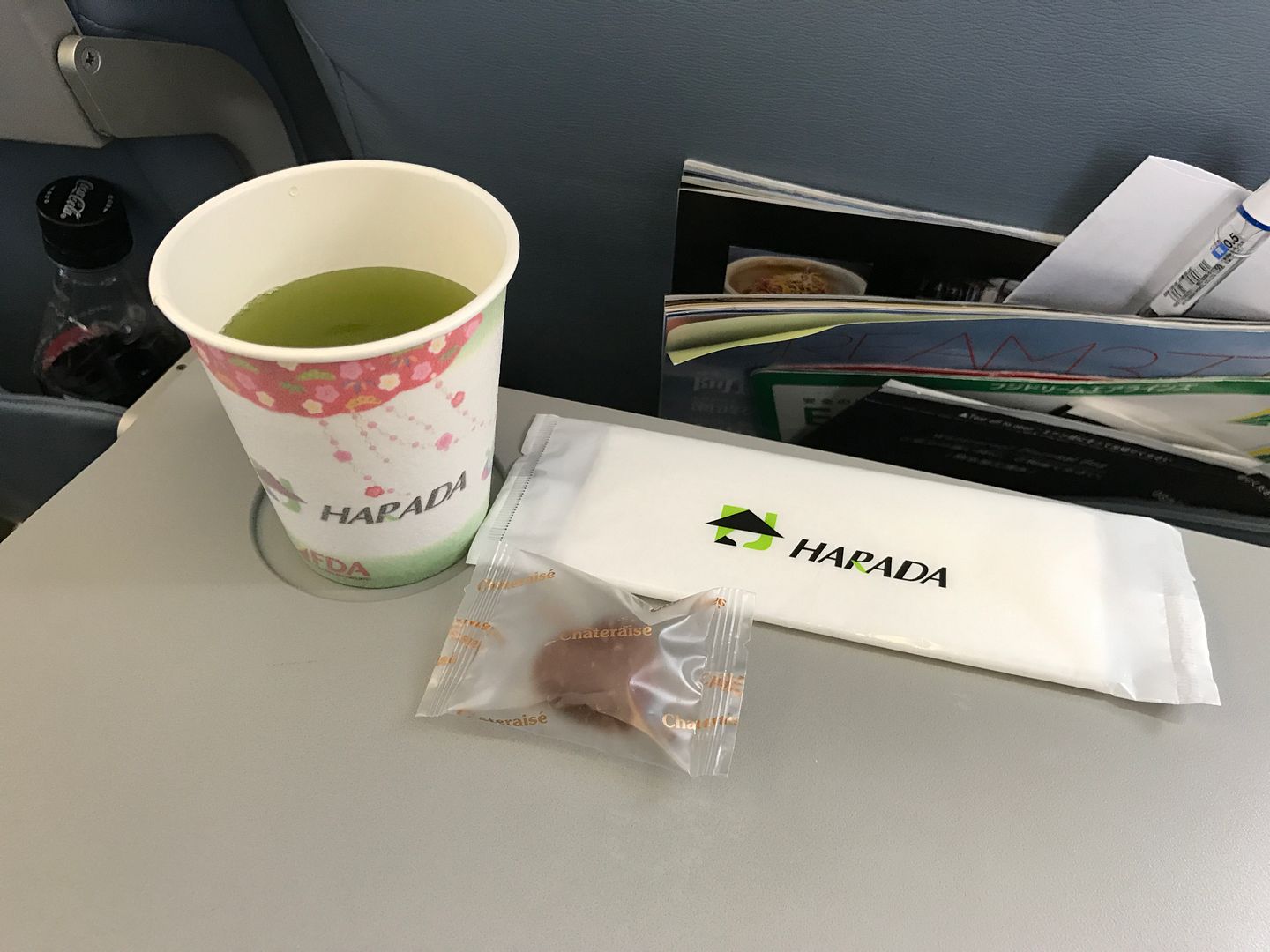 Flying time was a short 68 minutes with cruising altitude of 36,000ft. We landed on R/W34 at 2:34pm and parked at spot 14B three minutes later.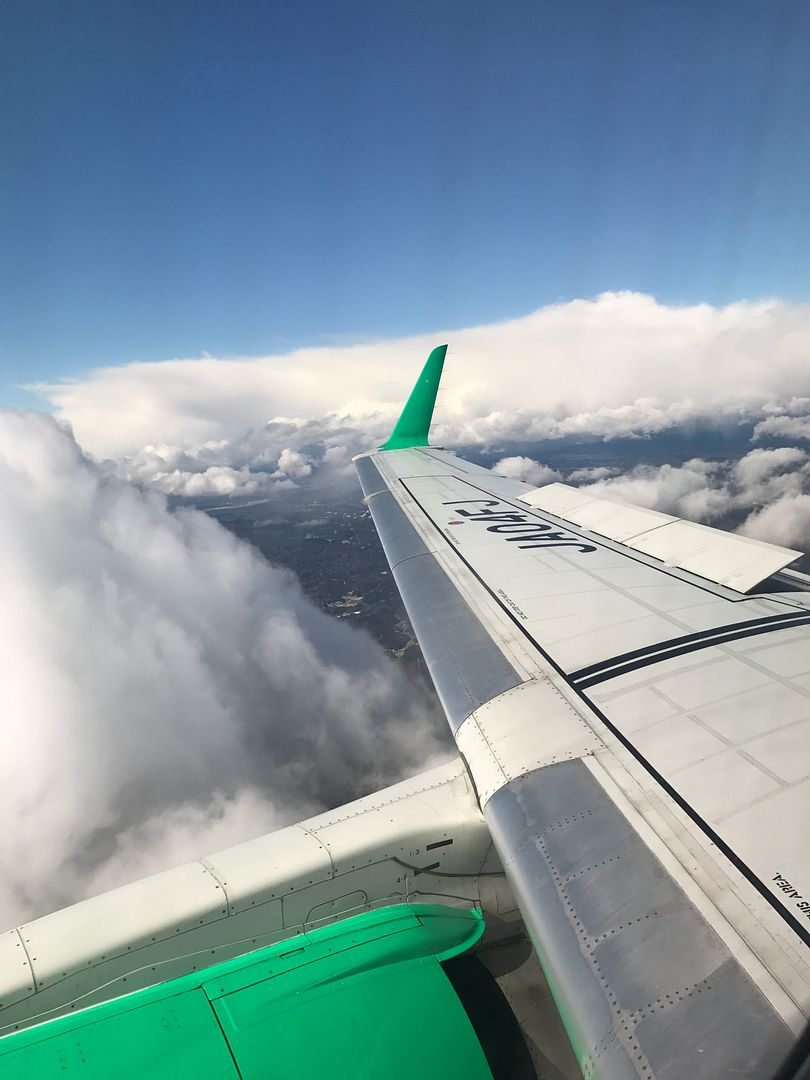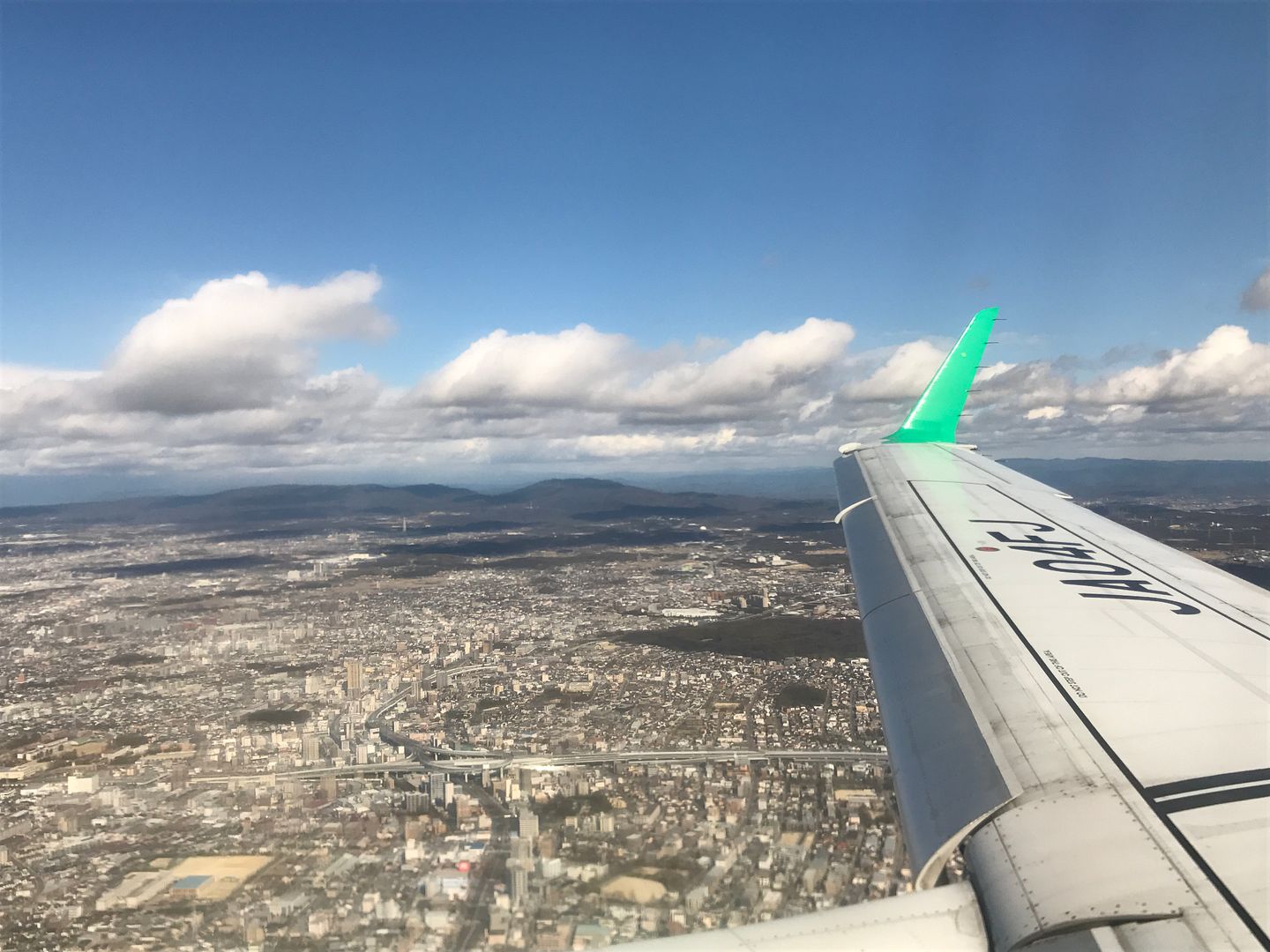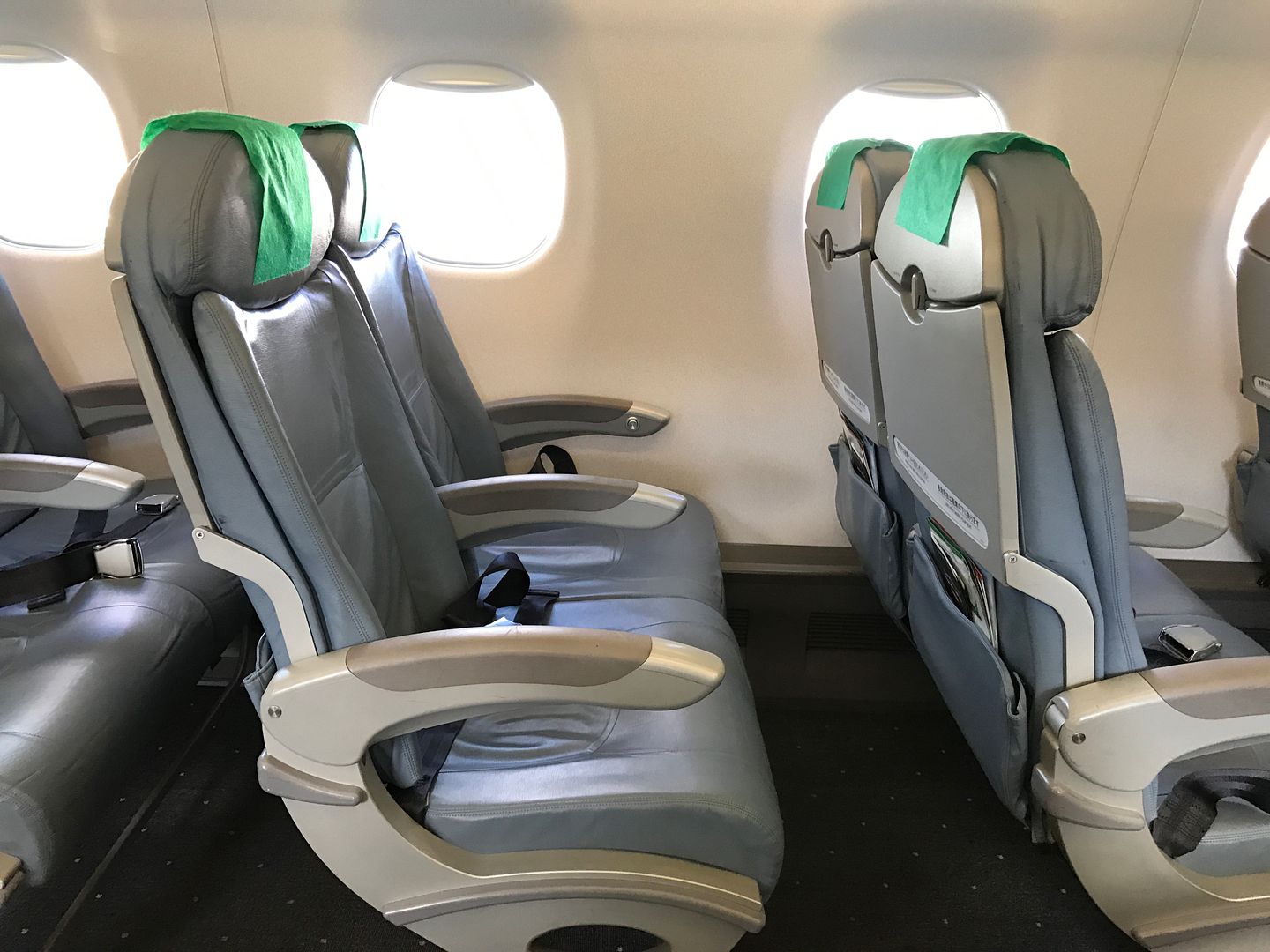 There were no more jet bridges here at NKM, but FDA operates from a single pier with a few gates.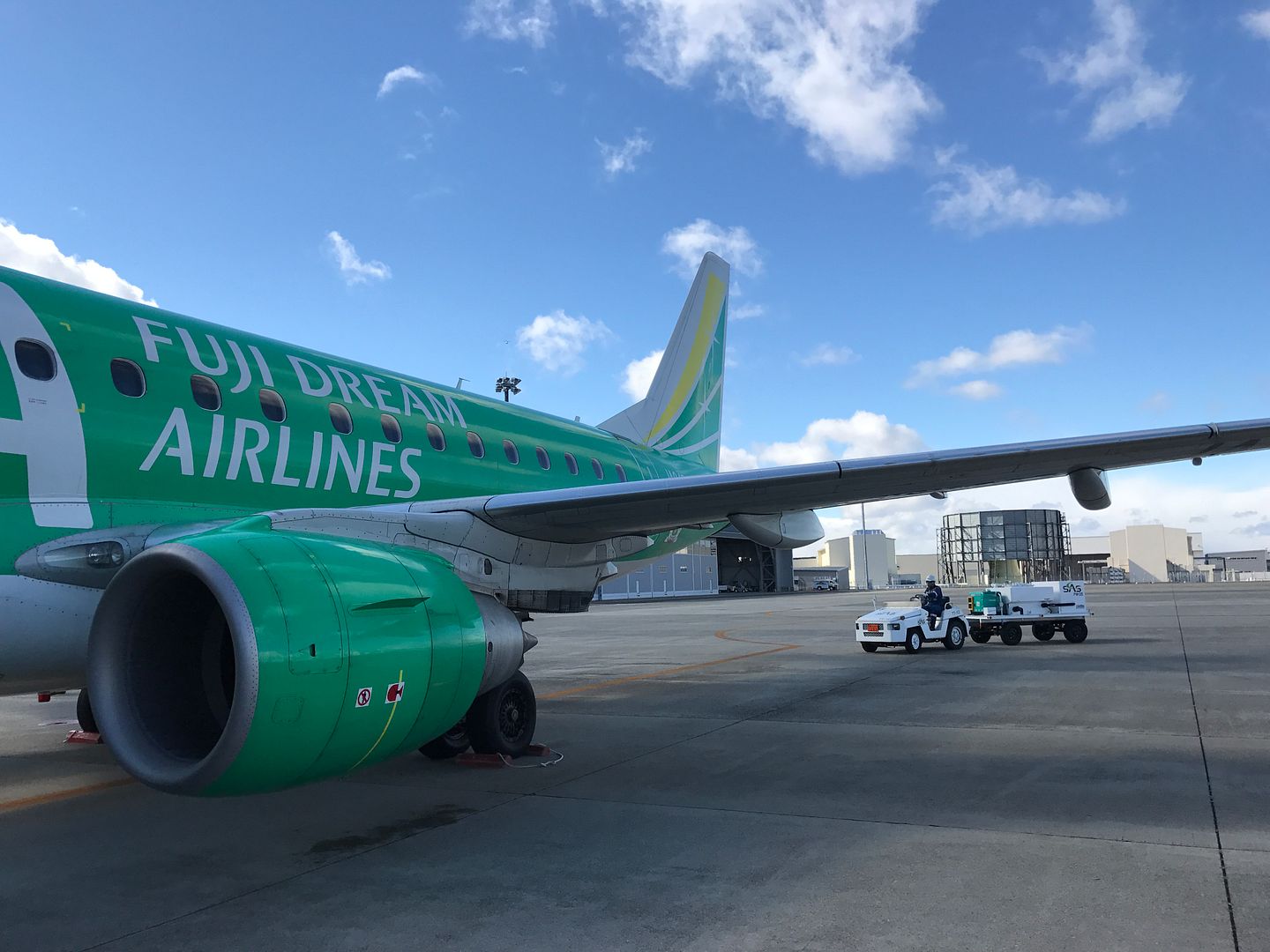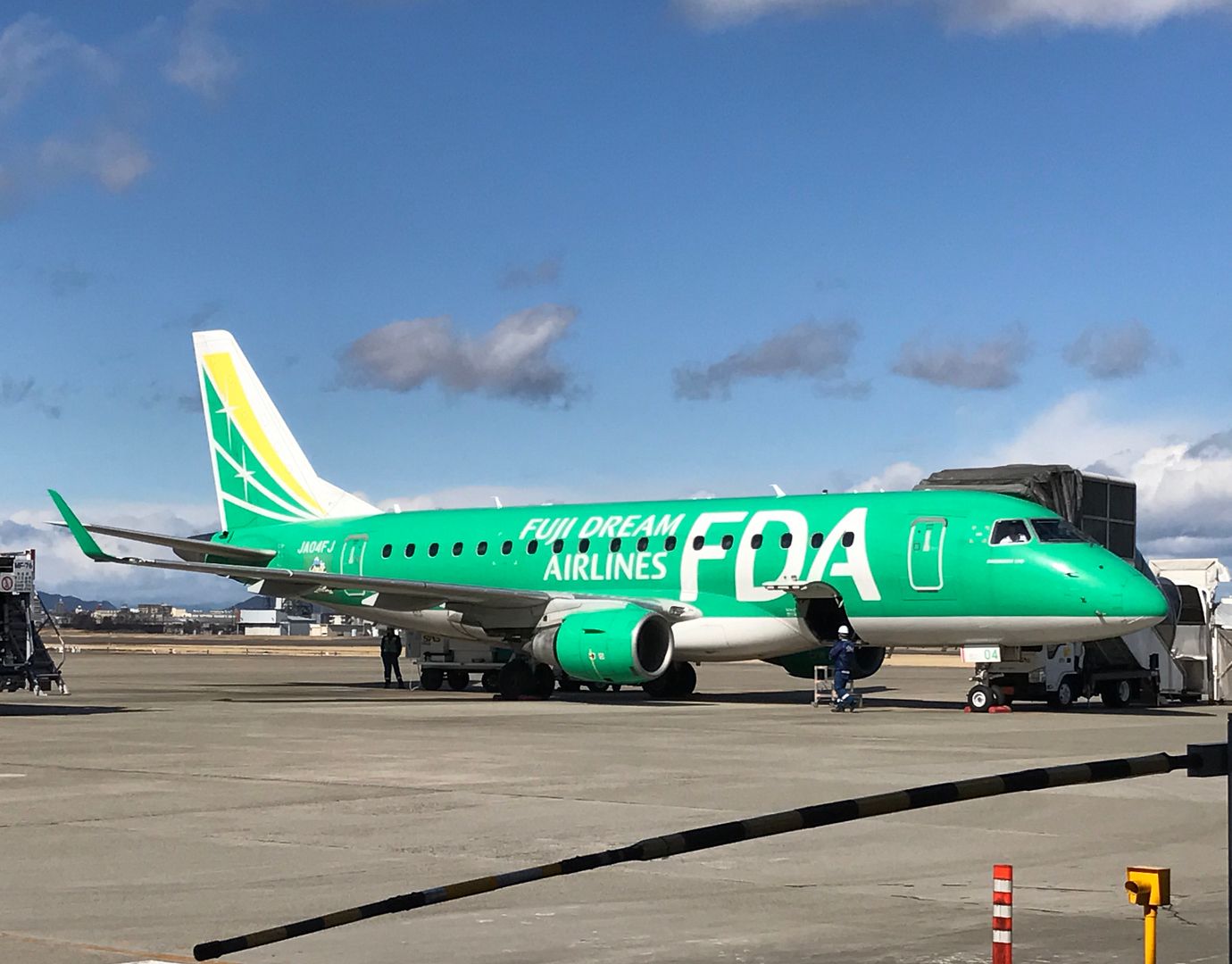 I love using the stairs for deplaning or boarding, and used this opportunity to get a few pictures. No one was yelling at me and everyone was not scared when I took photos of the planes.
Transit at Nagoya Air Field
Despite promising a seamless transit experience, this small airport does not have sterile transit. Of course, going through security at most Japanese carriers is pretty efficient experience. The agents are friendly and actually polite, so it was not much hassle. Since we arrived early, I even got a chance to go to the observation deck.
I was surprised on how busy the observation deck was, and apparently NKM was also a shared airfield with various military aircraft, as well as their coast guards. There were plenty of helicopters. My focus was the other Gold colored FDA E-170s.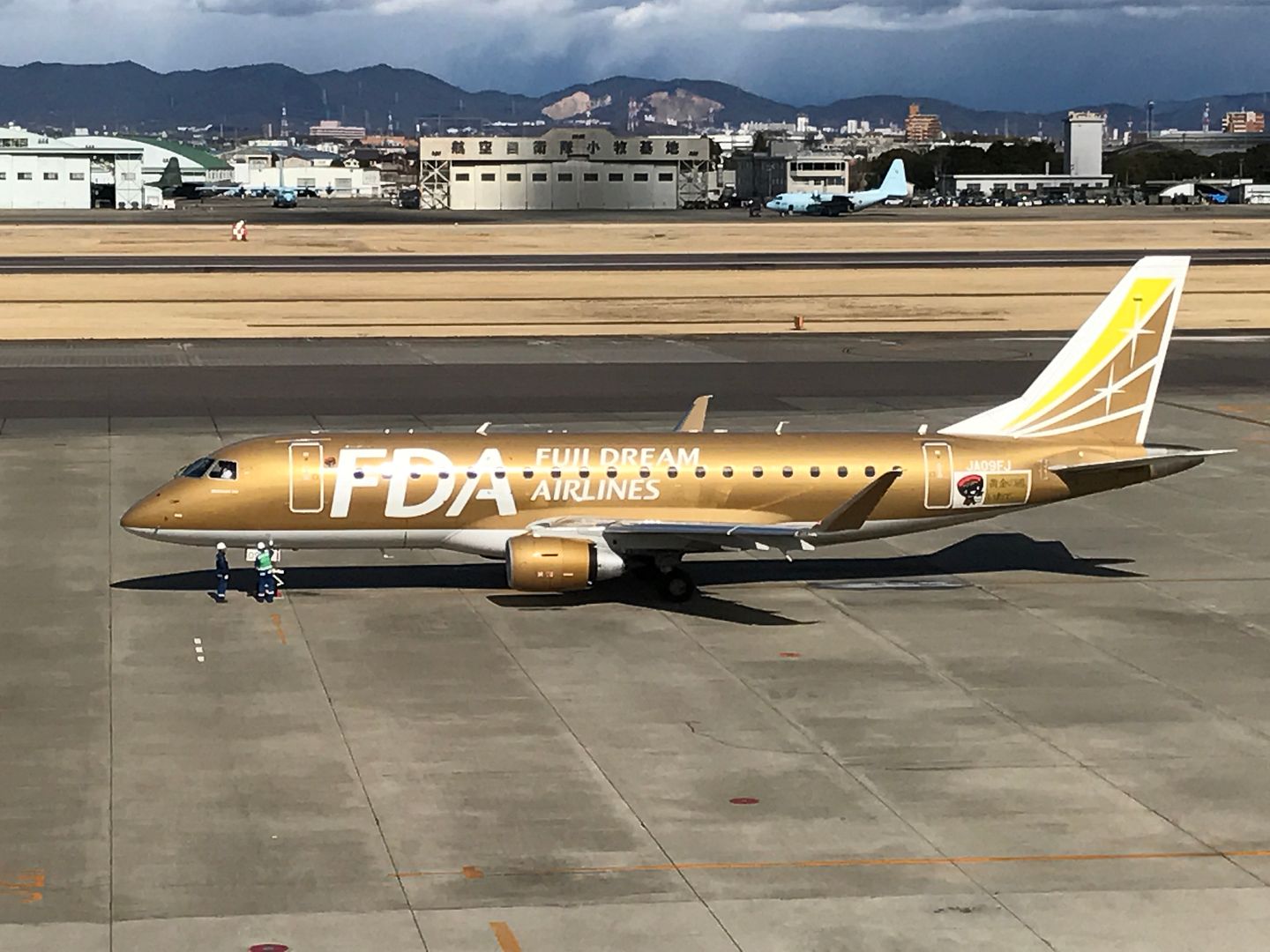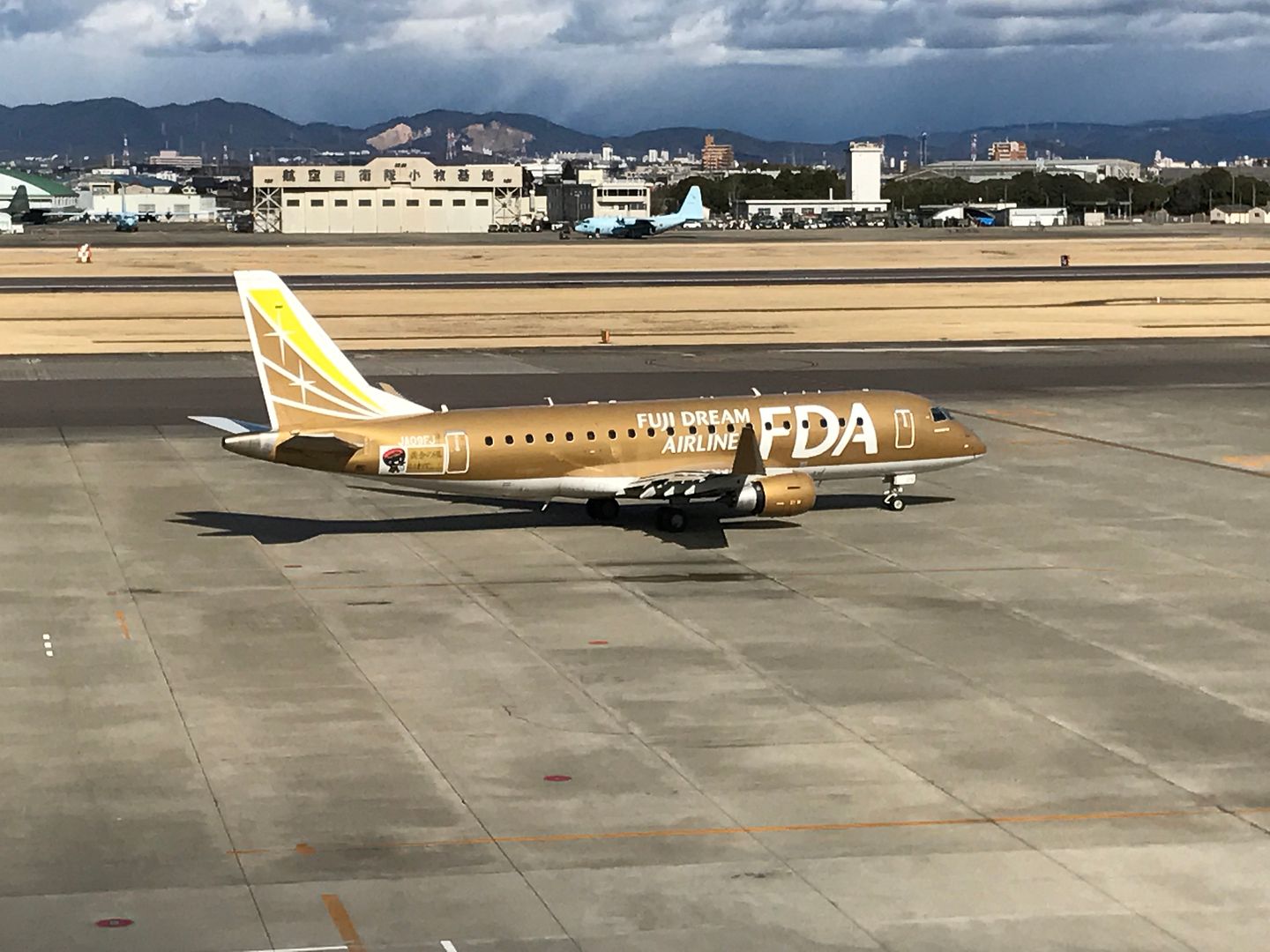 Nagoya Air Field has a really basic operation here.
Here is the FDA main check in counter area.
There is also a coffee shop, a cafeteria (food vending machines), a convenience store, and souvenir shop.
After going through security, there is this giant sitting area with lines of chairs and some conference areas in the side, along with some business stations on the other side. There are basically three gates.
Here is the direction to Gate A, B & C:
Boarding began on time from Gate B, and a few more shots of this green EMB-170.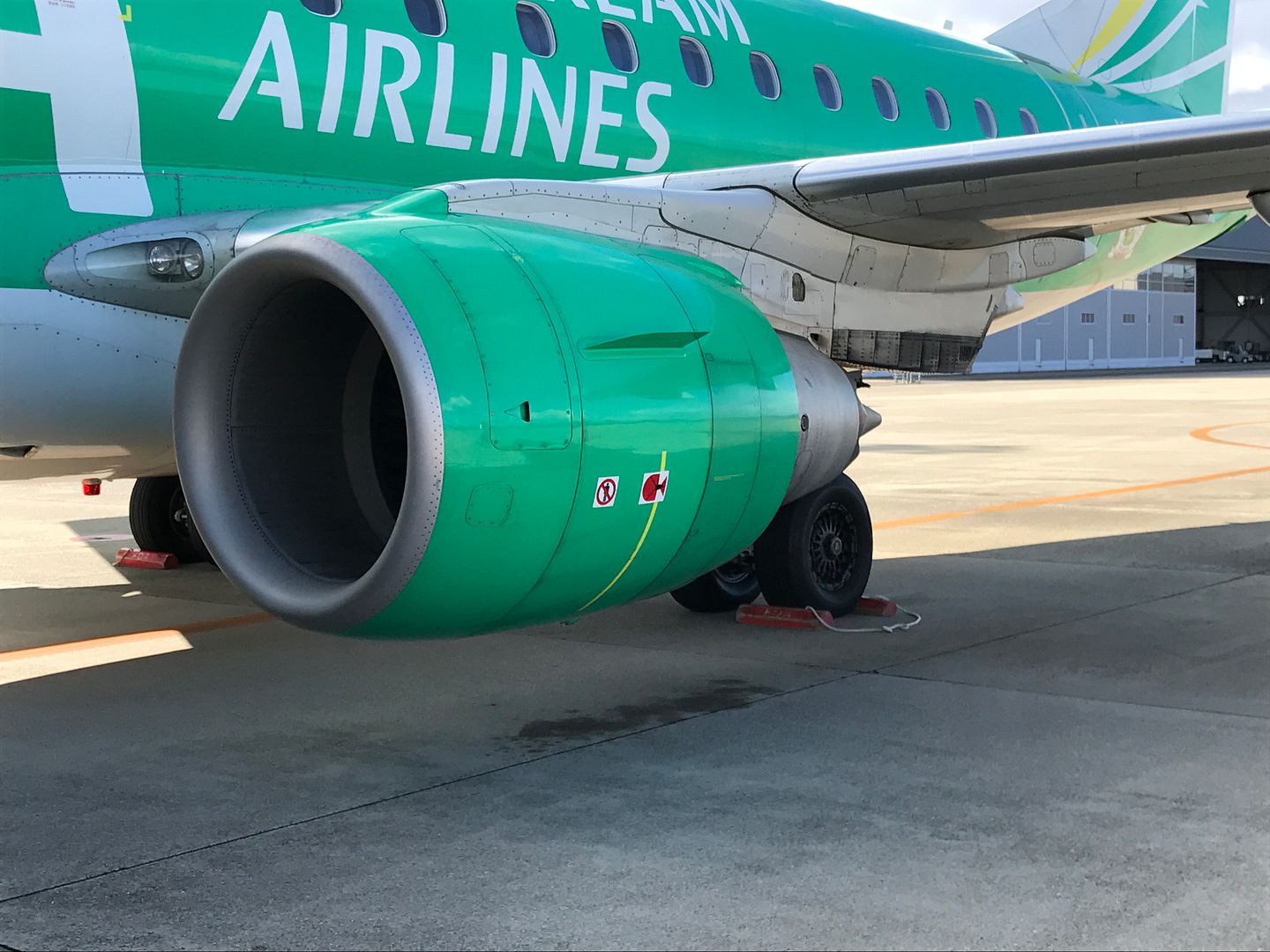 This time I shot some interior shots. The cabin was smart and the gray leather seats were comfortable. The headrest cover reflected the color of the plane.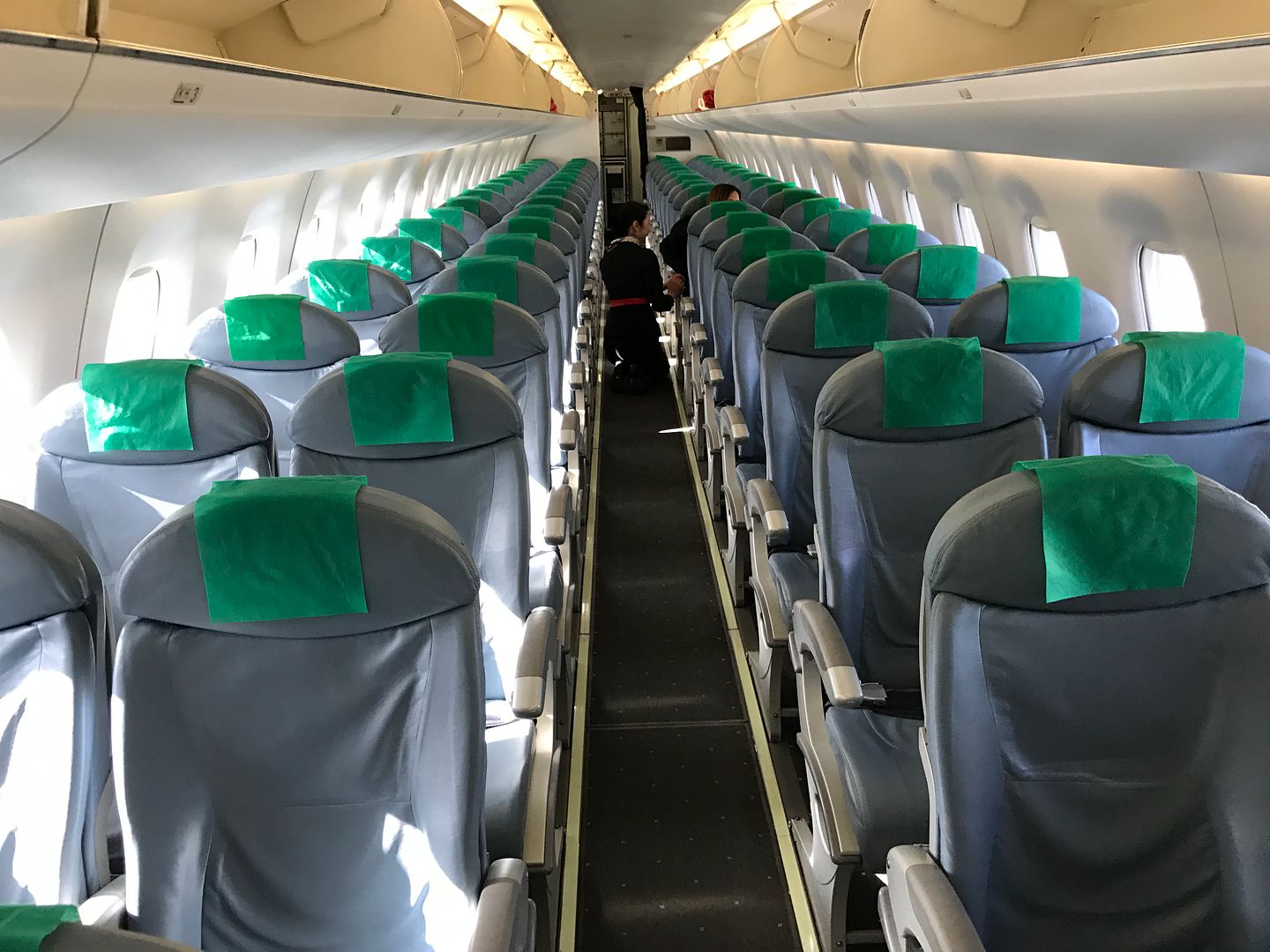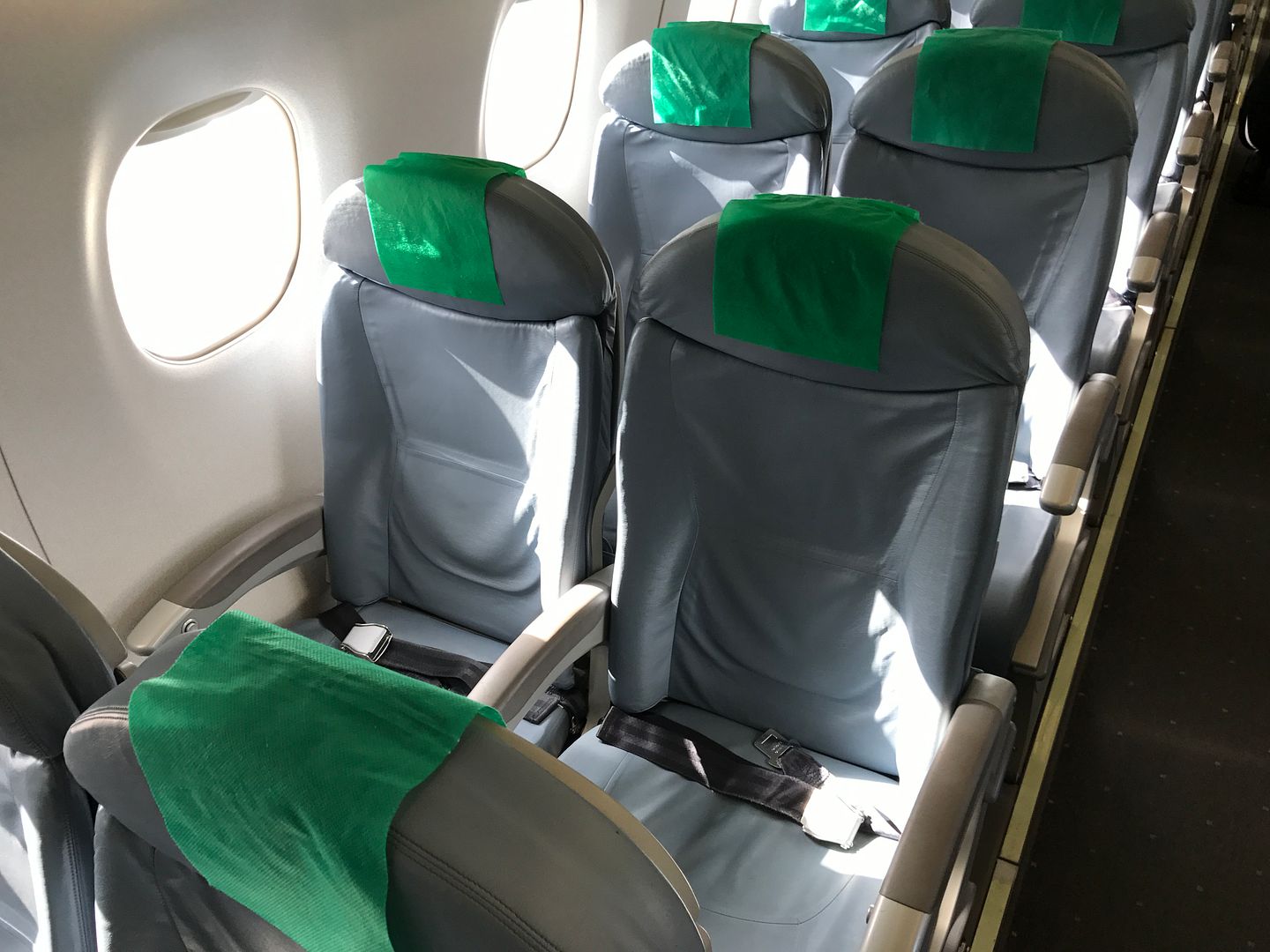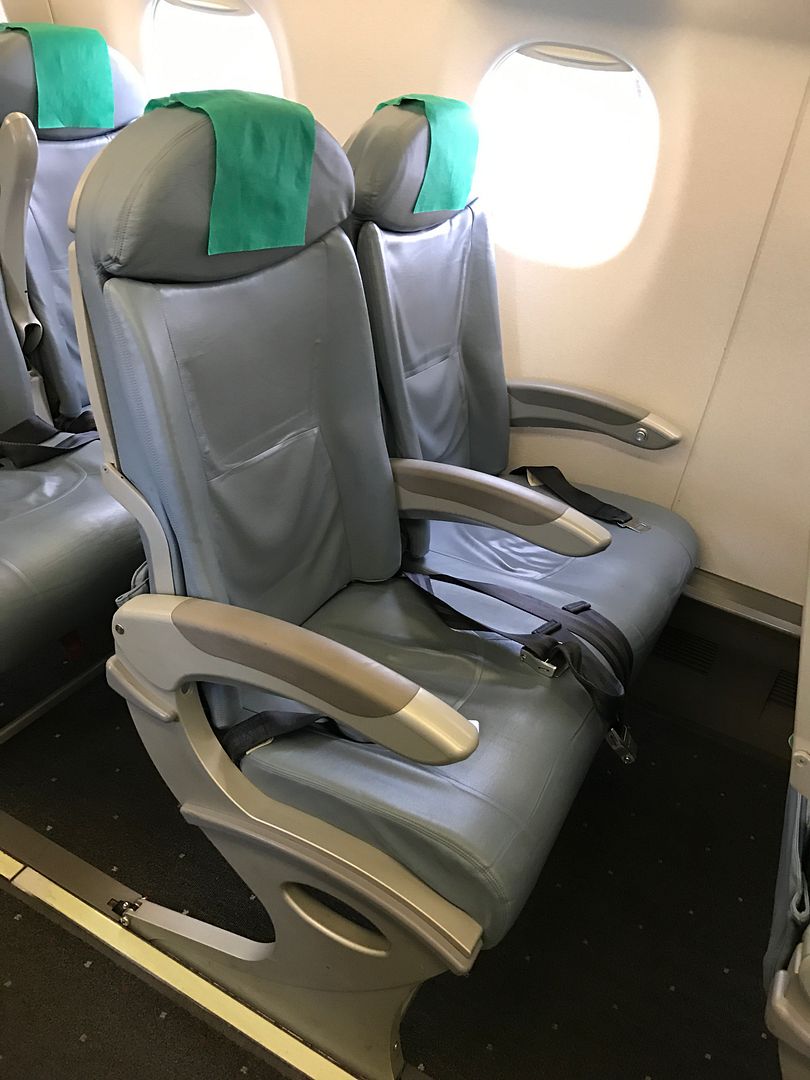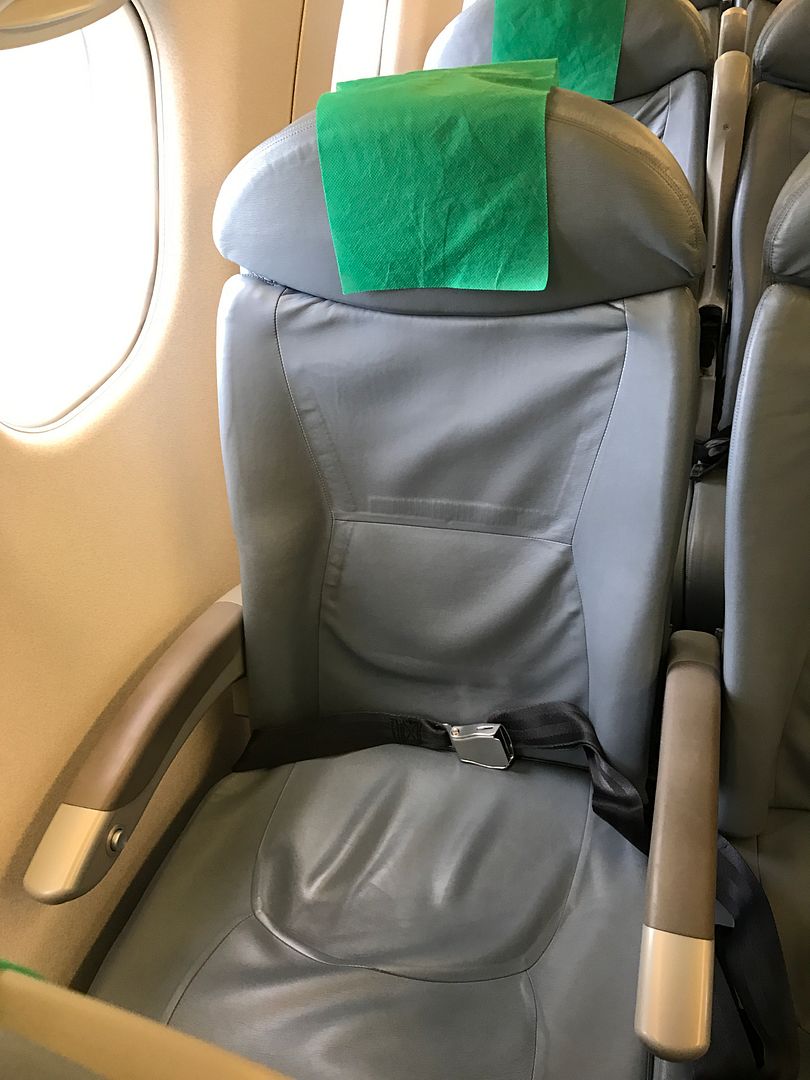 This flight was much fuller on this segment. There were plenty of businessmen returning to Izumo after a day in Nagoya, which is an important industrial city (where Toyota is based). However, boarding only took thirteen minutes.
We pushed back right on the clock, and with no traffic, we took off from R/W34 at 3:45pm for our forty-six minutes' flight to Izumo.
Leaving Nagoya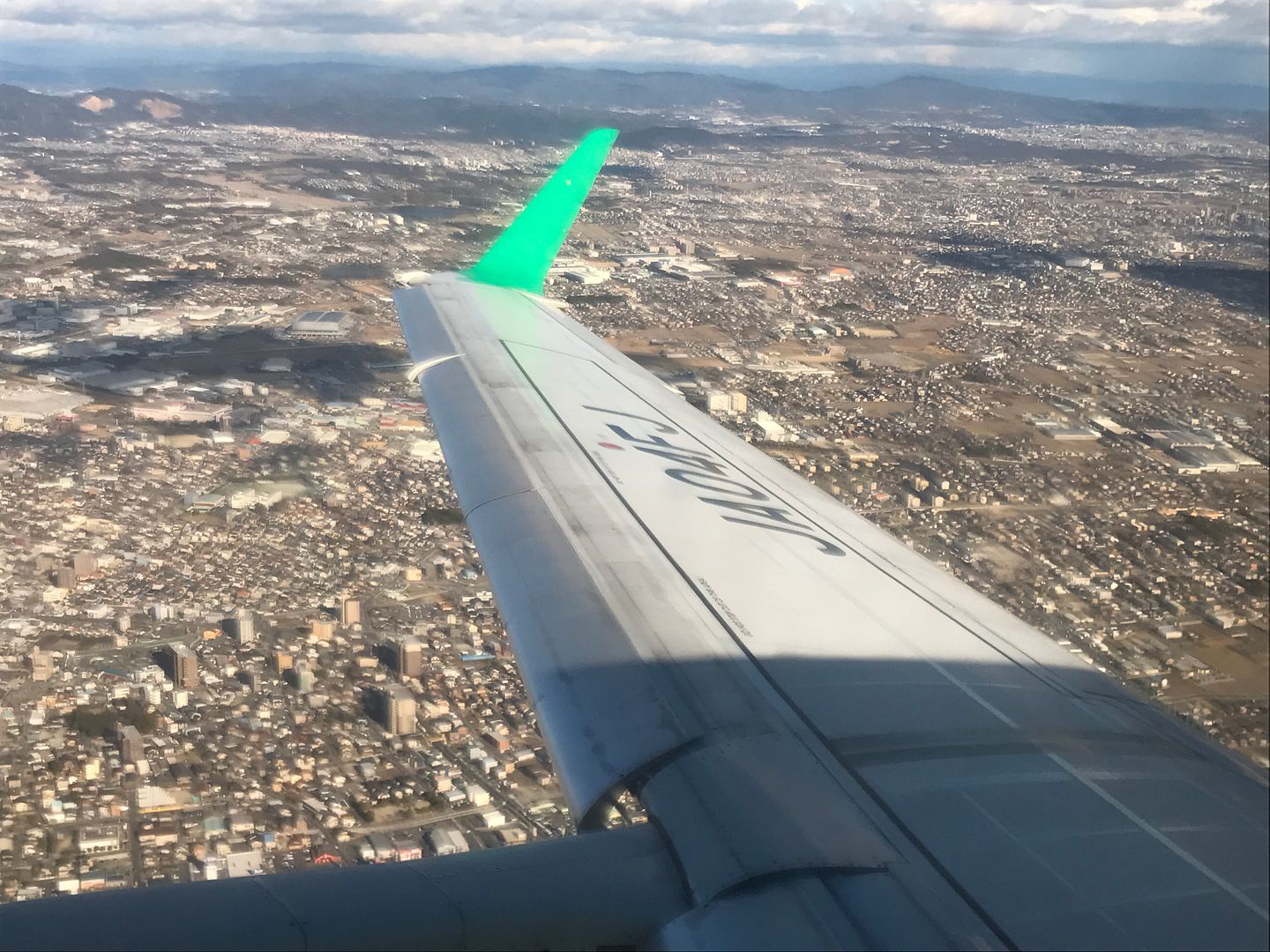 Our routing took us towards Ogaki before reaching 24,000ft, which was our cruising altitude. Then we passed the cities of Wakasa, Maizuru, Tottori and Daisen, before landing on Izumo.
Due to our shorter flying time, the onboard service was a simple "boxed Apple Juice" with refresher towel and chocolate, and this time we got a Strawberry-flavored chocolate.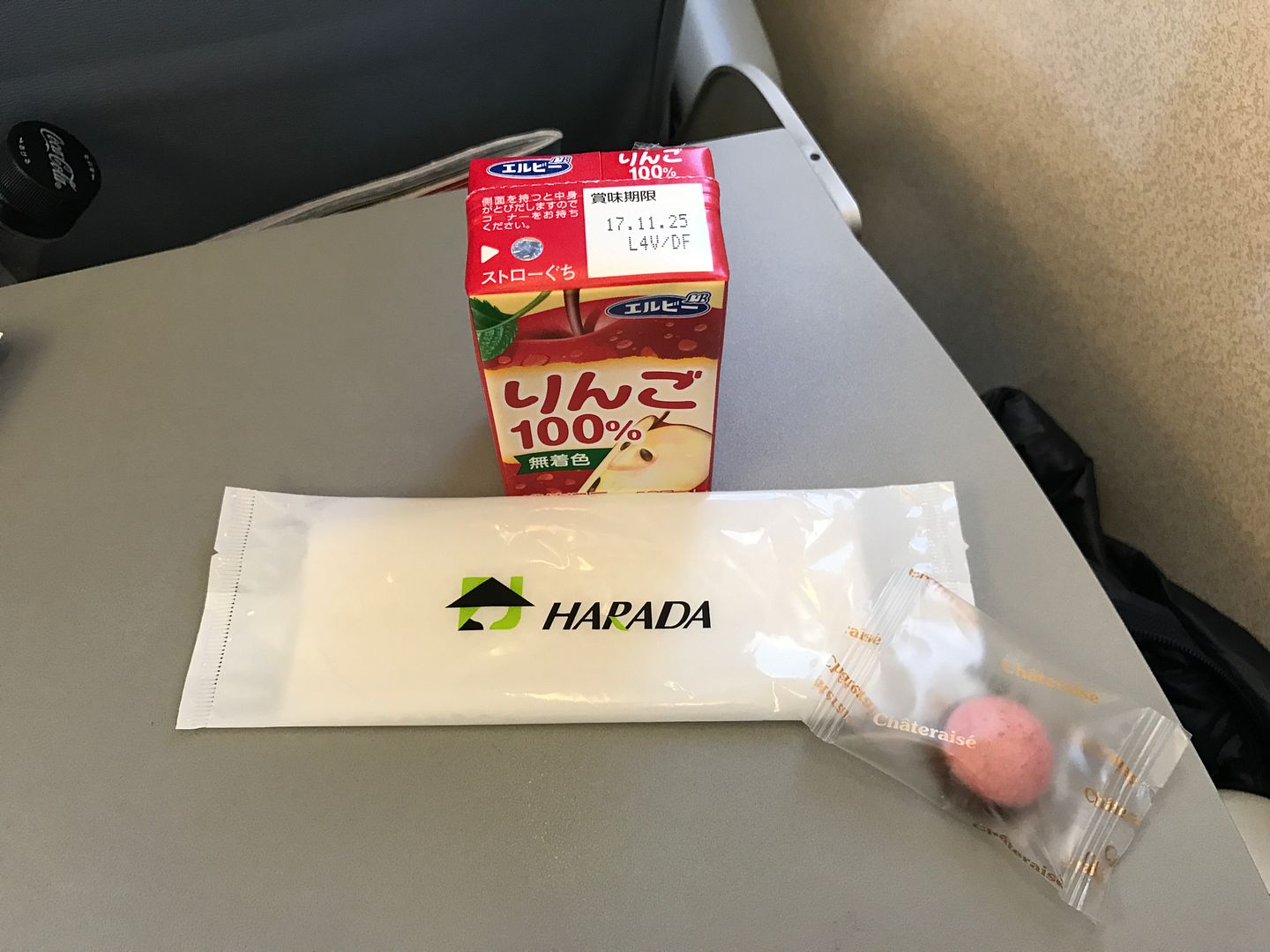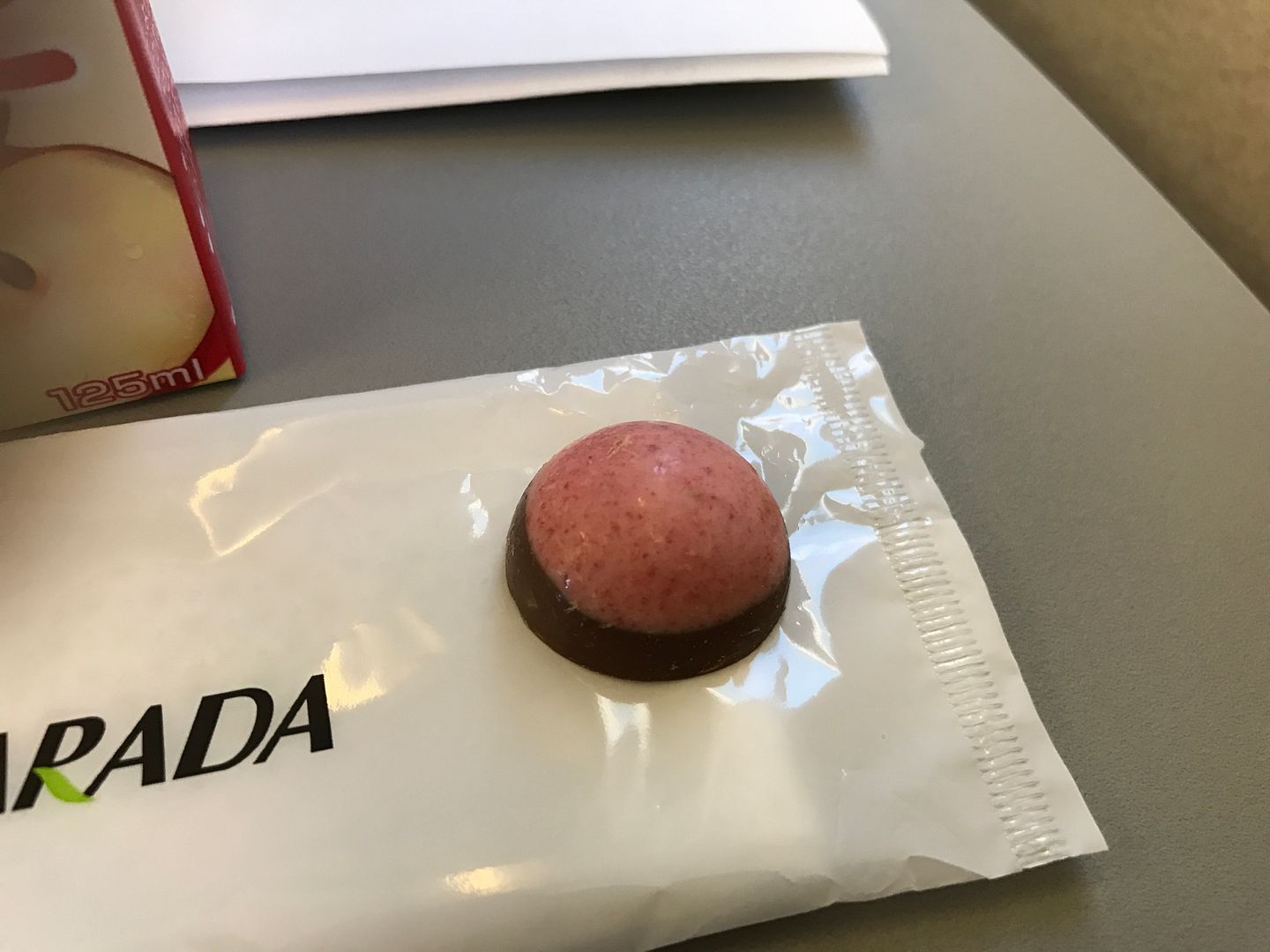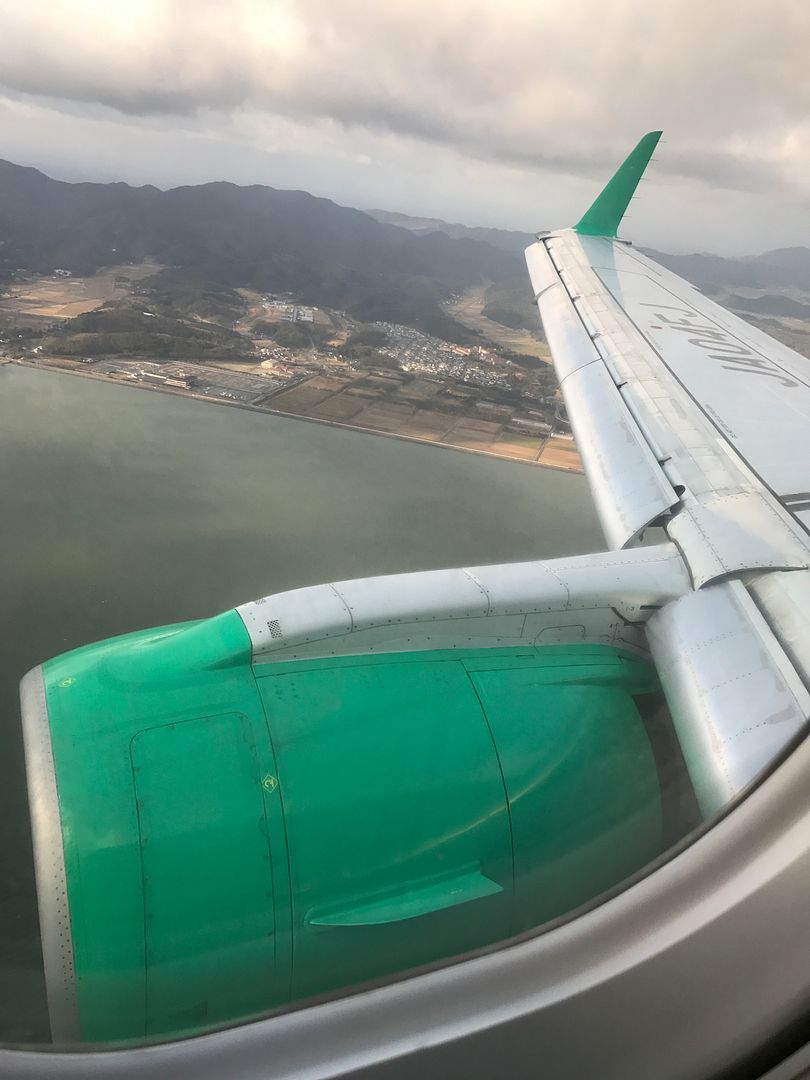 Izumo is even smaller than Aomori and when we landed, there was only a JAL's Boeing 737-800 and JAC's Dash 8-Q400 parked at the tarmac.
Soon I headed back to the observation deck to bid goodbye to FDA's JA04FJ, as it flew back to Nagoya thirty minutes later.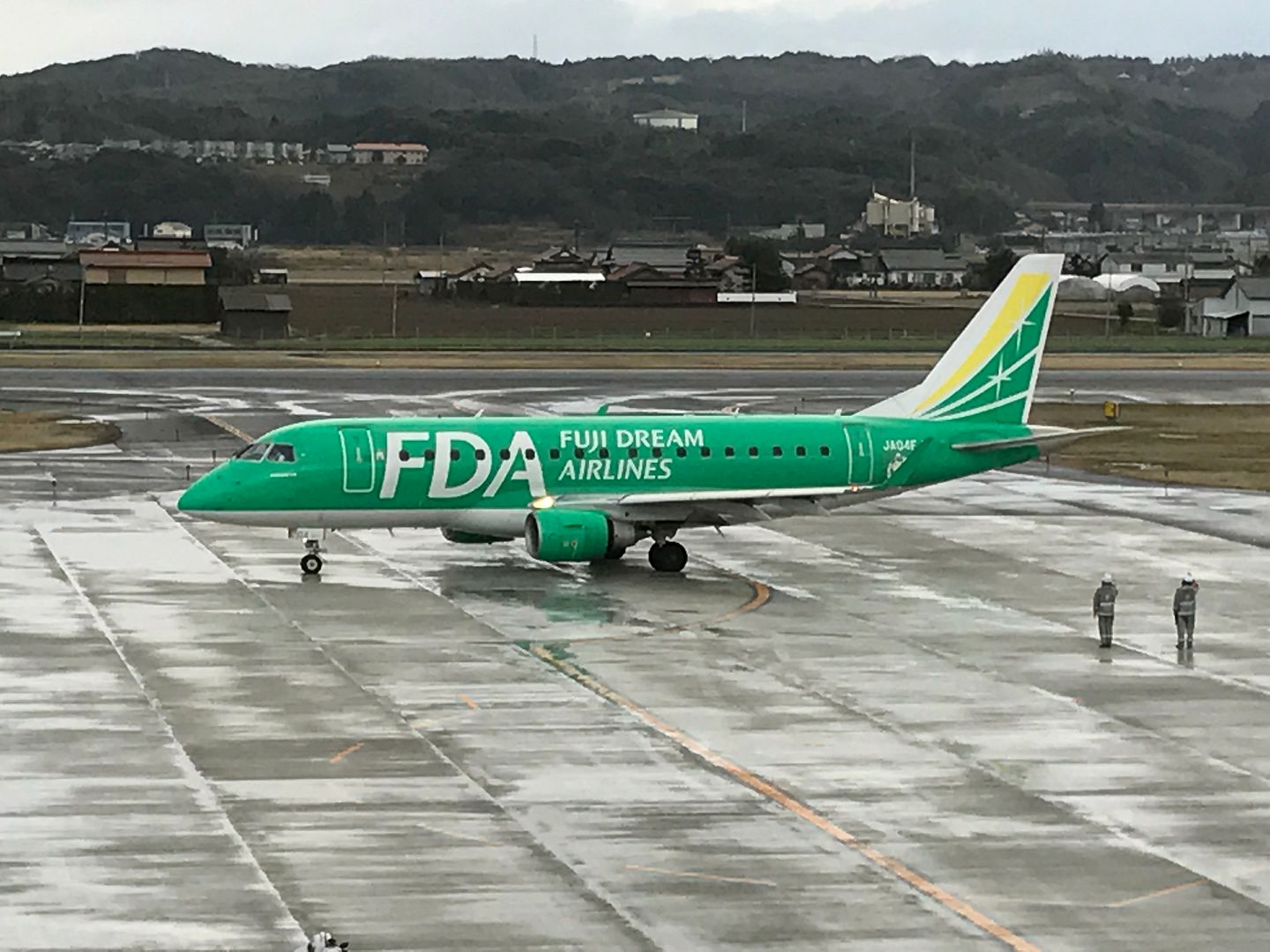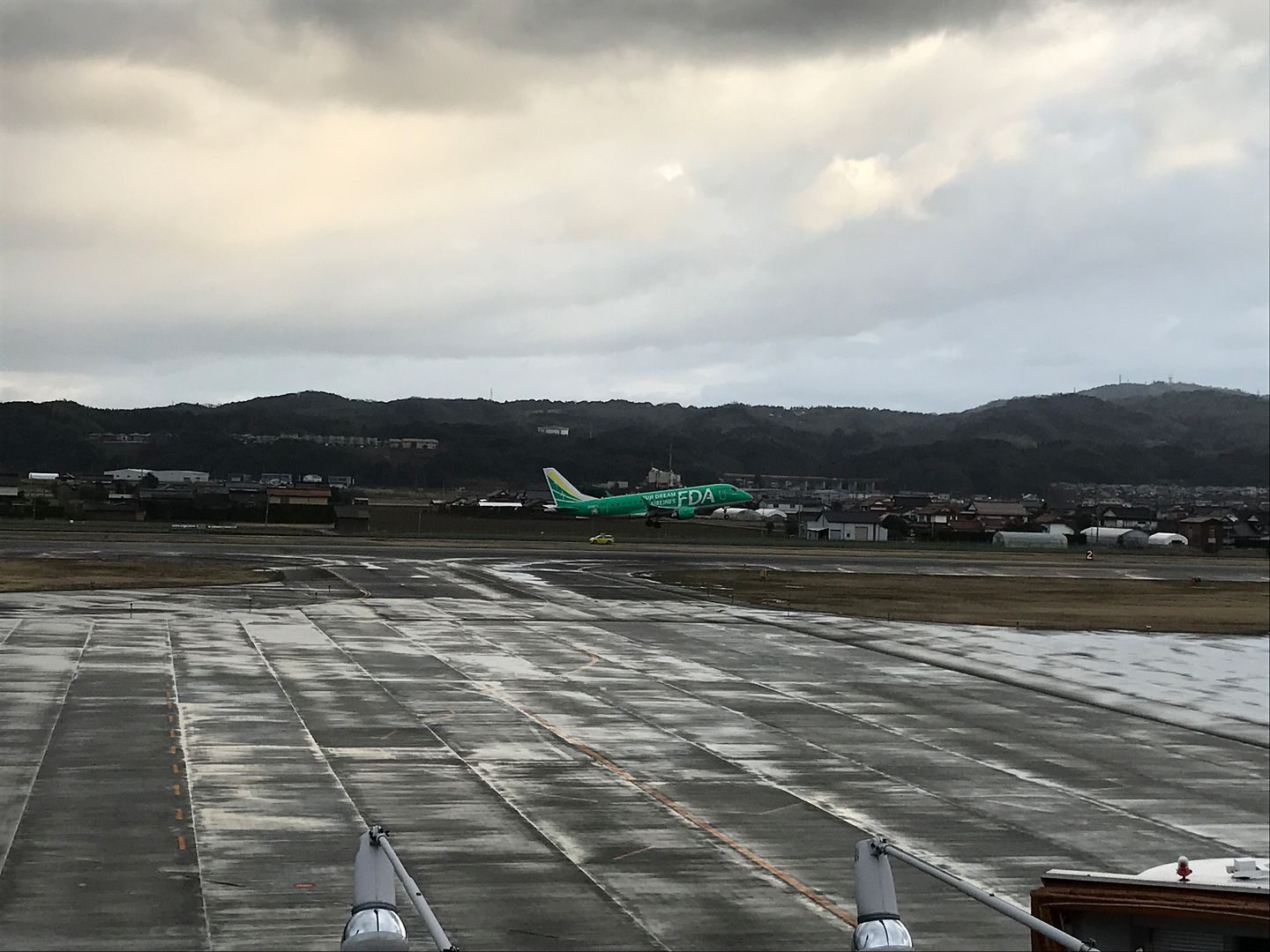 In conclusion, it is a very good experience, and I highly recommend it to any enthusiasts, especially those who are adventurous in flying into and out of these regional airports. I can't wait to try a few more interesting connecting pairs especially after reading its timetable. I hope you enjoy this trip report!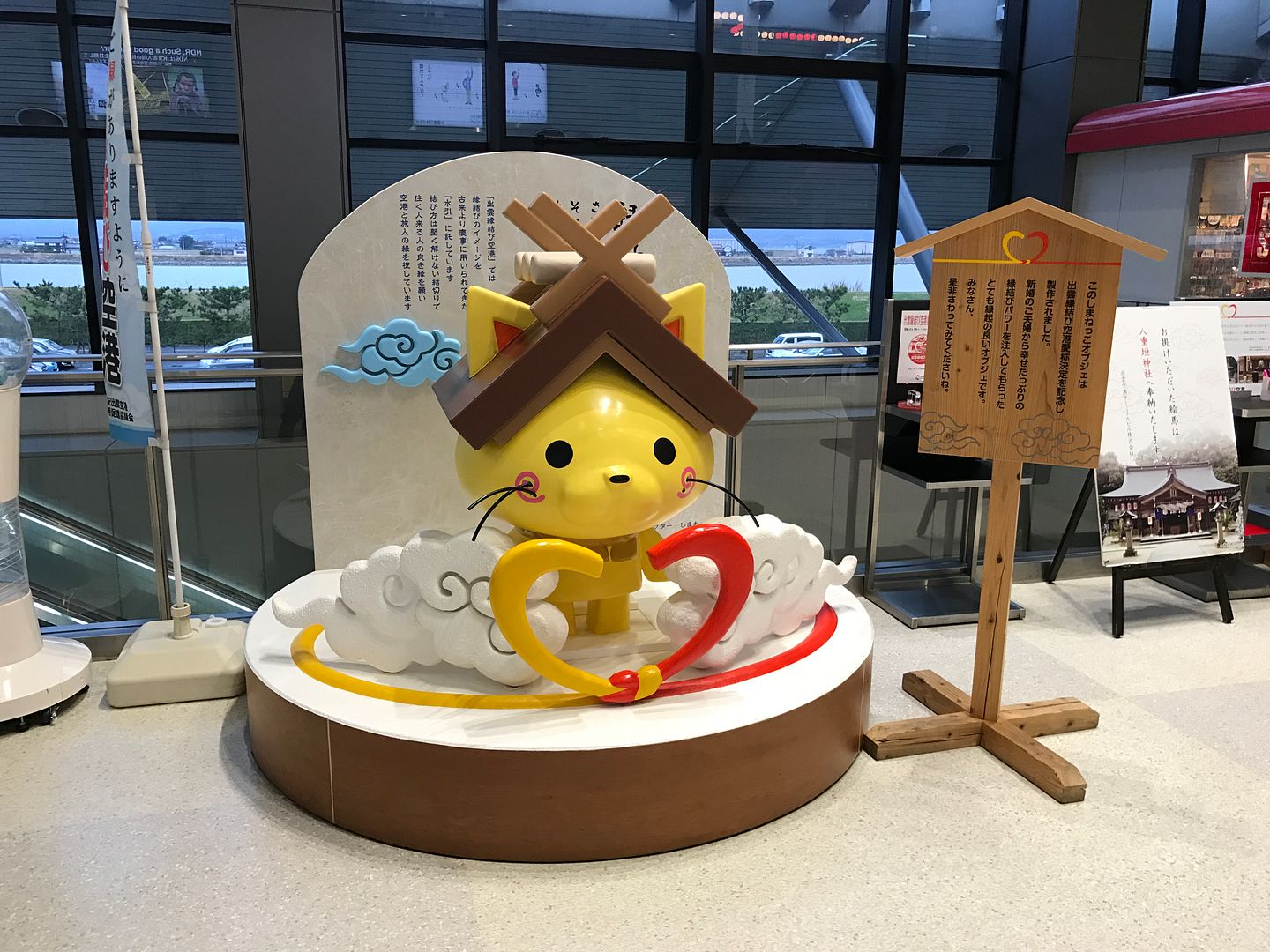 Carfield