Note: If you actively despise video reports, you may have an issue. As I was the only person inside the aircraft, I was too busy flying it to take pictures.
video of my first solo with ATC
Read description if you want to skip to the fun stuff
1st takeoff: 4:15
1st landing: 8:00
2nd takeoff: 13:40
2nd landing: 17:00
3rd takeoff: 23:00
3rd landing: 27:00
For as long as I can remember, I have wanted to be a pilot.When somebody asks me what I want to do when I grow up, the answer to that has never changed: I want to fly airplanes. Currently I am in a
university
that has a flight school where I am pursuing my dreams. After 17.9 hours of dual flight training, it was finally time for me to solo.
5:30 a.m.
I had completed my pre-solo check flight with one of the assistant chief flight instructors at the school the day before. I asked my instructor when he was available and he said he could be ready at 7 a.m. With that in mind, I went to bed early because I knew it would be an early start to the day. I woke up at 5:30, showered and packed my flight bag for the flight. I triple checked that I had my logook, student pilot's certificate, medical certificate, and driver's license. I also put a fresh battery in the bag for my noise cancelling headset. I grabbed a quick breakfast and got in my car to go to the airport.
6:30 a.m.
I arrived at the airport and was treated to a beautiful sunrise.
sunrise
by
zmenz97
, on Flickr
After spending a few seconds marveling at the sunrise, I realized I still had some work to do. I went in to dispatch and was given N461CM, a 2000 model Cessna 172R. I performed the weight and balance calculations and also checked runway length required for takeoff and landing.
preflight
by
zmenz97
, on Flickr
With the lengths being well below 4,206 feet, and the CG being within the limits both with and
without
an instructor, I was good to go. I got the books for the aircraft and headed the upper ramp to preflight the aircraft.
preflight
by
zmenz97
, on Flickr
I took this picture while walking around to check that all the lights were working properly. After that, I turned off the lights to save the battery and walked around to ensure the rest of the aircraft worked as well. I checked things such as the controls, made sure the fuel was the correct color and that the tanks were actually at what they indicated, made sure that there was enough oil, and untied the aircraft. At this point, my instructor showed up, I briefed him on the preflight and he made sure I caught everything. I then got inside the aircraft and he got in on the right side. I started the engine and taxied to the run-up area. I performed the run-up and the 17-year aircraft performed perfectly. After the run-up, I did 3 laps of the pattern. After those 3 laps, my instructor had me taxi to the run-up area and shutdown...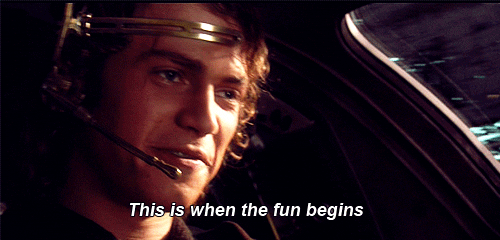 My instructor stepped out, signed the appropriate places in my logbook and offered words of encouragement. I sent a quick text to my parents and after that, I was all alone
endorsements
by
zmenz97
, on Flickr
the fun
by
zmenz97
, on Flickr
Never has a bitmoji sticker fit so well in my life. I turned on my gopro cameras and statred the engine. I taxied to the runway hold line and waved to my instructor in the grass. I briefed myself on the takeoff and announced over CTAF "Skyhaven traffic, Muleflight 461, student pilot solo, taking off runway one-niner, Skyhaven." I then did a last check to make sure nobody was on final, taxied onto the runway, lined up with the centerline, advanced the throttle, added right rudder and appropriate crosswind corrections, and smiled. The Lycoming IO-360-L2A roared to life and I was off to the races. My airspeed came alive at around 20 knots. I reached 50 knots, then 55. At 55 knots, I added back pressure and lifted off the runway. I climbed out at 79 knots to 1500' MSL (700' AGL) at 1500, I turned crosswind and reached pattern altitude at 1800' MSL (1000' AGL) I turned downwind and reduced he throttle to cruise power. As I crossed mid-field, I made sure that my airspeed was below 110 knots and lowered my flaps to 10 degrees. Approaching the end of the runway, I reduced power to 1300 RPM to establish a 75 knot initial descent. As I turned base, I reminded myself,
"Every takeoff is optional, but every landing is mandatory."
Turning base, I established the aircraft in a 70 knot descent and lowered the flaps to 20 degrees. Soon after that, it was time to turn final for my first ever solo landing. I established the aircraft at 65 knots and lowered the flaps to full. I flew the airplane to the numbers, flared and landed. It was a little bouncy, but it was still a landing nonetheless. I taxied the aircraft off the runway and went back to repeat it 2 more times. After my third landing, I taxied off the runway, called flight ops, and went to park on the upper ramp from which I left. I had done it. 3 solo takeoffs and landings and I was still alive along with the airplane. I turned off the engine and then turned off one camera and
turned on
the other. Whoops. Oh well, I as satisfied with the video I got on the other one. Besides. I was focused on flying the airplane, not what was happening with the gopro. I performed my postflight and tied the aircraft back up. My instructor had come over by this time to help me and took a picture of me leaning up against the airplane.
Untitled
by
zmenz97
, on Flickr
it was around this time that I took the camera and took a photo of the aircraft myself.
n461cm
by
zmenz97
, on Flickr
I then gathered my belongings and walked back inside to turn the books back in to dispatch. I then walked up to my instructor's cubicle and got my shirt cut. I filled out my logbook and had a postflight debrief with my instructor.
Untitled
by
zmenz97
, on Flickr
After that, I collected what was left of my shirt, called my family, and went back to campus for the rest of my classes that day.