For all the pictures that go with the report, please click here!
Whenever I checked prices for Qatar Airways Business Class, they were always out of my reach. Sums like €4,500 return are just not within my reach to pay for a flight. Due to this, I never considered them at all when booking travel.
In May 2016, I read an article on an online blog that mentioned Qatar were having a 3 day flash sale. Apparently you could fly to Auckland in business class for only €1,373 return. The only thing was you had to leave from Pisa in Italy and return to Berlin in Germany. Living in Ireland meant this was probably not going to be much of a problem.
I found the money and booked for travel in April 2017, which is now. A few days ago, I finally took my flight from Pisa to Doha and decided to write about it. It really is a really astonishing business class product so I am not at all surprised it is now considered the world's best. Fantastic crew, great meals, a really lovely hard product and a thoughtful process make for something great.
QR134 – Pisa to Doha (PSA-DOH)
12 April 2017
Airbus A320-200 – A7-AHW
Seat: Business Class 1A
Departure: 18:05 Arrival: 01:00+1
The seats are grey or silver on the A320 and are really soft and comfortable.Immediately in front of you are the two PTVs for your seat and the one next to you.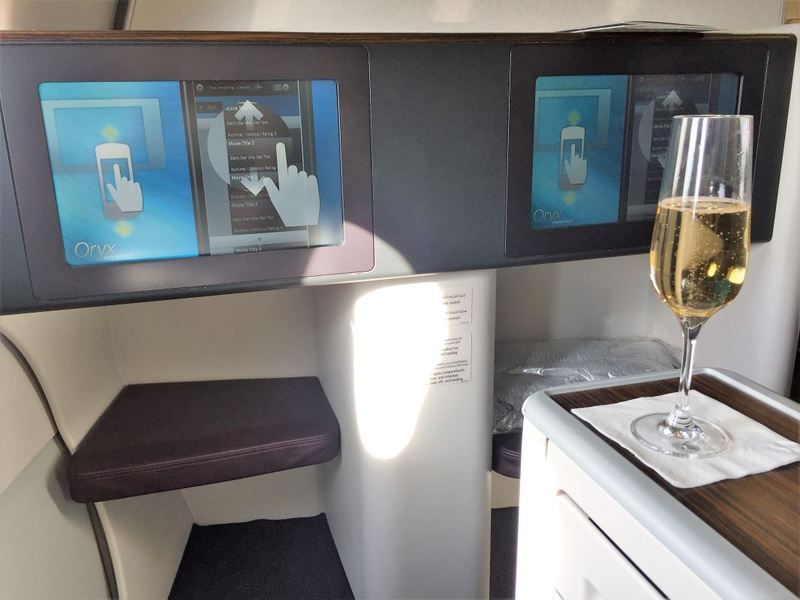 Business class seats on the Qatar Airways A320 are slightly offset which means those against the window can't really see the person sitting beside them without actually looking in that direction. The strip along the overhead compartments features lighting which I really like.
The menus are printed on a really high quality paper with embossed front covers on heavy card stock. They feel weighty and really high quality in your hands.
Meals are served on demand and on this flight I had the Arabic Mezze as my starter. It was very filling.
Oryx One is the Qatar Airways entertainment system on board and it really is one of the most extensive I have ever seen. I watched Rogue One and then Driving Miss Daisy. The selection of current movies is extremely good as is the catalogue of classics. Selecting the entertainment with the controller is very intuitive.
Cocktails are offered and I found the Cuba Libre to be delicious. In a bold move (for me!) I decided to switch to non-alcoholic drinks to give those a try. The So Jennie luxury non-alcoholic bubbly which reminded me of Shloer which is very similar. The Mocktail is also really tasty too!
Towards the end of the flight, some Godiva chocolates are presented and they look and taste just great. Soon enough it was time to land in Doha, where I would be connecting to the longest flight in the world.
Is this the world's best business class? I have flown several airlines in business class and Qatar Airways is easily the best I have ever experienced. The seat is extremely comfortable and well laid out and the inflight entertainment is excellent.
The soft product is where Qatar Airways really excel. The crew are trained to deliver such a wonderful service that the mind boggles. Everything is done in a consistent manner and in the same order. The service has been thoughtfully devised to provide the passenger with a really excellent experience.
I have nothing but praise for the hard working crew who remember everyone's requests, work non-stop and do it all with a smile. Nothing was too difficult and they never forget a thing. I would recommend anyone to fly Qatar business class as it is a real experience that I challenge you to fault.
As I said before, please
click here to see the full report and all the pictures that go with it
.
Thanks for reading and if you have any comments or questions, please leave them below.

My previous Trip Reports -
Crossing The Ditch: A Business Class trip from Auckland to Sydney on the LATAM Boeing 787 Dreamliner
Heading Off To Amsterdam: KLM Cityhopper Business Class on the E175 DUB-AMS
I had the lounge to myself (really!) so I made a video tour with my iPhone! Cathay Pacific LHR T3 First Class Lounge
Today British Airways Introduced Brand New Food In Club Europe! Pictures of the Brunch and Lunch offering are here!
Eating everything in sight when I visited the Cathay Pacific lounge in Paris! Oodles of noodles too!
British Airways Club Europe LHR-DUB - Champagne all the way!
Soaring above the clouds on the upper deck of a British Airways A380 in Club World
Cathay Pacific's Majestic First Class Lounge At Hong Kong - The Pier - The Lounge With It All
Champagne and Being Stepped On - Overnight Adventures on a British Airways 787-9 Dreamliner from BWI-LHR in Club World
Qantas International First Class Lounge Sydney - The Best First Class Lounge In The World?
Three Flights in Qantas Domestic Business Class - Lie-Flat A330 Seats and Boeing 737. SYD-BNE-CNS and BNE-SYD
A Volcanic Eruption in the Toilet - British Airways Club Europe Athens to London Heathrow
Concorde Room: British Airways 777 First LHR-IAD
Concorde Dining: British Airways 380 First IAD-LHR
Oops! I Missed My Flight! American First DFW-BOS
Phoenix Rising? American A321 First Class BOS-PHX
Speedbird From Sweden: British Airways Club Europe
Aer Lingus Business Class Review Part 2 - BOS-DUB
Aer Lingus Business Class Review Part 1 - DUB-BOS
British Airways Club World London City Review
American Airlines First Class - JFK-DCA-JFK A321
Mm Scones! British Airways Club Europe DUB-LHR-DUB
To Sydney On BA WT Plus - QF HKG Lounge And More
The Details About Cathay Pacific's Premium Economy
New Pre-Order Meals On Aer Lingus (DUB-CDG)
Three Flights In First Class On American Airlines
Destination Washington - BA World Traveller Plus
Aer Lingus - DUB-LHR-DUB - Lounges, Food, Flying!
Aer Lingus Business Class - JFK-DUB
Aer Lingus Economy Class - DUB-JFK
Champagne Across The Atlantic - BA 772 Club World
Extremely Disappointing - AA - MCO-MIA-MCO
Perfect Day For Flight - Aer Lingus LGW-DUB
Random Happenings... Easyjet A319 LGW-SXF
A Perfect Flight - Cathay Pacific Business
Aer Lingus: They Upgraded The Lounge At Last
Hello A380! Qantas Premium Economy SYD-LHR
Qantas Premium Economy! Yes! LHR-SYD B744
EI - DUB-SNN-DUB - The Lounges Make Me Cry
Royal Jordanian And Malev Business
Crown Class On Royal Jordanian
Slumming It Down In Economy On BA
1100km/h In A Qantas Skybed?! Wow!
The Midnight A310 To Bangkok!
Flying Royal Jordanian's Baby Zay!
Struck By The Upgrade Fairy! Yes!
Basic Lounges? Welcome To Aer Lingus!
DUB-LHR-JFK / QE2 / LGW-DUB Y/WT+/J
My previous Trip Reports (with airliners.net pictures only) -
I Broke The MD11! - Finnair J - SIN-BKK-HEL-LHR
BA Club Europe - London To Istanbul
AtlasJet - IST-JMK (Istanbul To Mykonos)
My previous Trip Reports (no pictures) -
Two X Economy - Qantas SYD-LAX, Aer Lingus LAX-DUB
Alaska Airlines First Class - YVR-LAX
American Airlines First - LAX - ORD & SFO - JFK
British Airways Club World - LHR To LAX
DUB-LHR On Aer Lingus
British Airways Club Europe - London To Russia
DUB-LHR-DUB - Detailed Report On Aer Lingus
HKG-LHR Qantas Business Class
LHR-KEF-LHR On Icelandair Economy Class
LGW-AMS On British Airways Economy
AMS-HEL-DUB - Finnair Business / Economy
PEK-HKG - Cathay Pacific Business Class
KIX-TPE-HKG-PEK - Cathay Pacific Business Class
HKG - NRT - Cathay Pacific Business Class
SYD - HKG - Qantas Business Class
Qantas Domestic - SYD-BNE-SYD
Qantas Transcontinental - SYD-PER-SYD
Avalon Hell! - Jetstar Experience - SYD-AVV-SYD
SYD - MCY - SYD On East-West Airlines - May 1985