For all the pictures of the very long flight, please click here!
It was with some trepidation that I boarded the flight from Doha to Auckland. How would I go spending the guts of 16 hours in the air? Well, it turns out that it was a pretty amazing experience all round. Qatar Airways really do on board service brilliantly - with dine on demand, the crew are always very busy throughout the flight.
The Boeing 777-200LR in business class features lie flat seating arranged 2 x 2 x 2. The seats are extremely spacious in width and are quite firm. Seat pitch is very generous which adds to the feeling of space.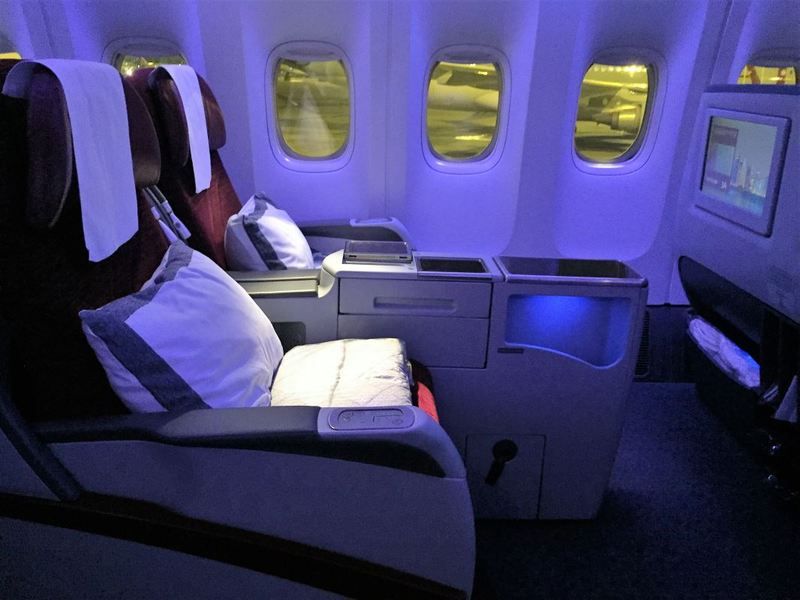 Mood lighting is very important as it makes a person feel a lot better than harsh white light. Oryx One is the Qatar entertainment system and it has a huge amount of options. Many new release films were on offer and I watched Fences on this flight plus the end of Driving Miss Daisy which I didn't quite finish on the previous flight.
When boarding, one of the first things you see is the light up Oryx which looks excellent!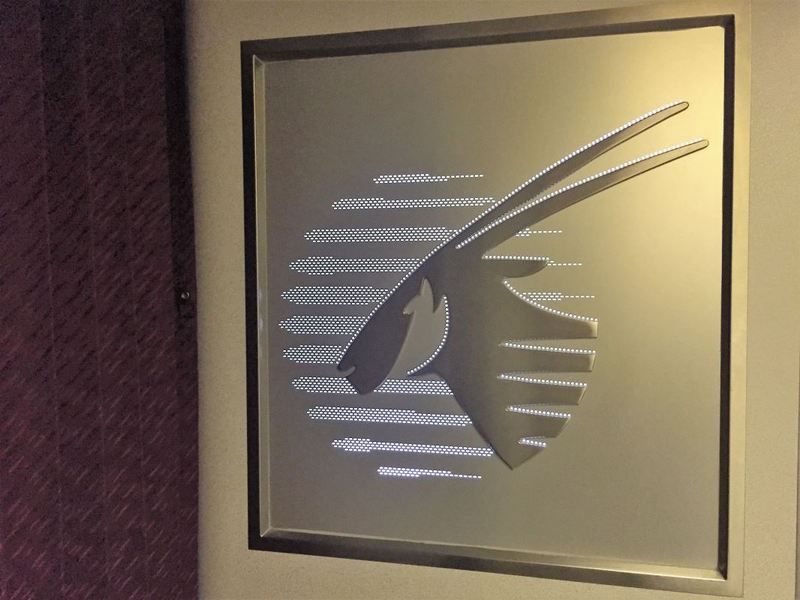 Dining options are extensive. A full breakfast is offered, as well as a selection of light options. In addition, there is a full dinner available as well. I had one of the light options, a salad that was created by famous chef Nobu. I had this once we were in the air, then I napped for a few hours. After that, I decided to have a full breakfast and went back to lay down for a while again. After watching a movie later on, I then had a four course dinner. There is no way you can go hungry. Here is one of the dinner courses.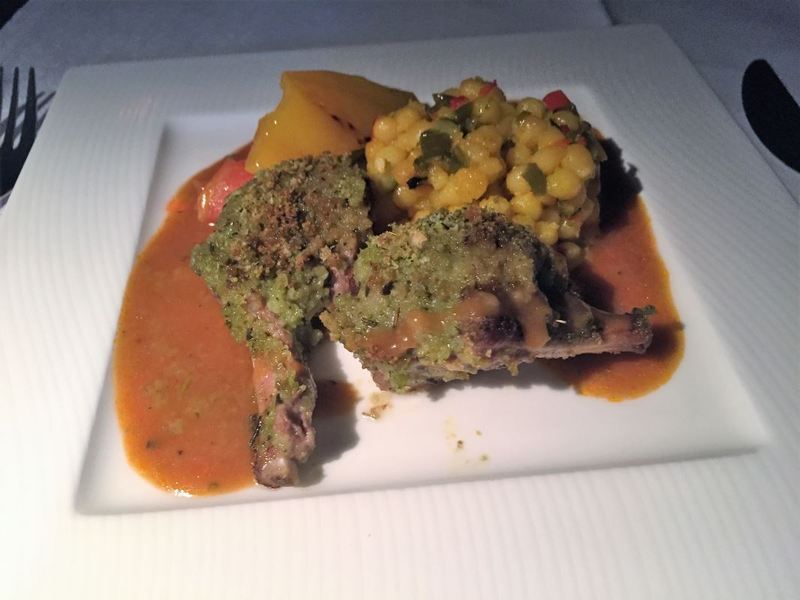 Passengers are provided with slippers, pyjamas and the crew also make the seat up into a bed with a white seat topper. When sleeping there is plenty of room to move around which gives the best chance for sleep.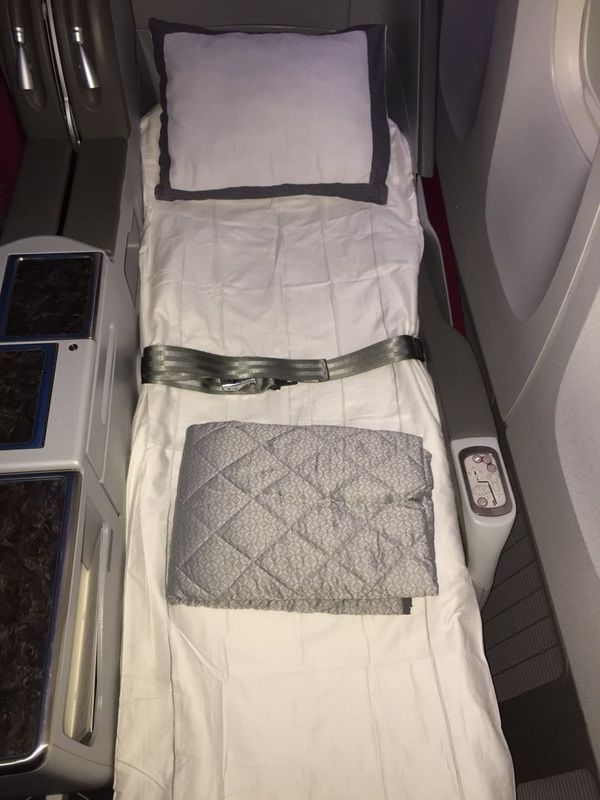 Overall, I found the entire flight to be an exceedingly comfortable experience. If you want to read the full review with all the pictures, please
click here!

Thank you for reading and if you have any comments or questions, please leave them below.

My previous Trip Reports -
Qantas Domestic Business Class on the Wi-Fi enabled 737 (the only one!) - SYD-BNE
First time experience on Qatar Airways - an A320 with new lie flat seats from Pisa to Doha in Business Class
Crossing The Ditch: A Business Class trip from Auckland to Sydney on the LATAM Boeing 787 Dreamliner
Heading Off To Amsterdam: KLM Cityhopper Business Class on the E175 DUB-AMS
I had the lounge to myself (really!) so I made a video tour with my iPhone! Cathay Pacific LHR T3 First Class Lounge
Today British Airways Introduced Brand New Food In Club Europe! Pictures of the Brunch and Lunch offering are here!
Eating everything in sight when I visited the Cathay Pacific lounge in Paris! Oodles of noodles too!
British Airways Club Europe LHR-DUB - Champagne all the way!
Soaring above the clouds on the upper deck of a British Airways A380 in Club World
Cathay Pacific's Majestic First Class Lounge At Hong Kong - The Pier - The Lounge With It All
Champagne and Being Stepped On - Overnight Adventures on a British Airways 787-9 Dreamliner from BWI-LHR in Club World
Qantas International First Class Lounge Sydney - The Best First Class Lounge In The World?
Three Flights in Qantas Domestic Business Class - Lie-Flat A330 Seats and Boeing 737. SYD-BNE-CNS and BNE-SYD
A Volcanic Eruption in the Toilet - British Airways Club Europe Athens to London Heathrow
Concorde Room: British Airways 777 First LHR-IAD
Concorde Dining: British Airways 380 First IAD-LHR
Oops! I Missed My Flight! American First DFW-BOS
Phoenix Rising? American A321 First Class BOS-PHX