Video Report
Westjet WS3411 - Quebec to Toronto - Dash 8 Q400 (C-FIWE)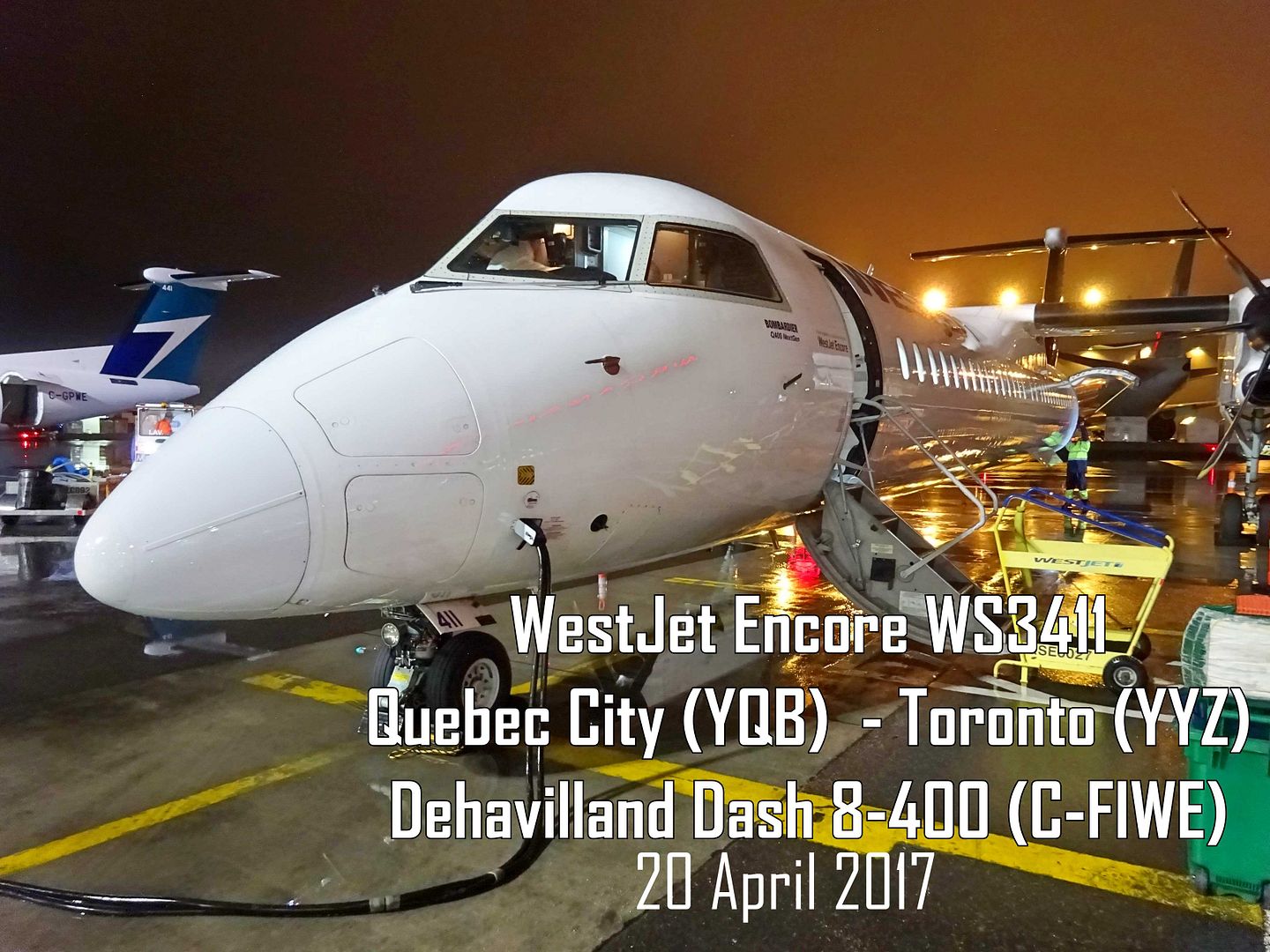 Hello A'Netters. This is the second part of the Canadian escapades series. The first part
is here
We had to make our way from Quebec to Toronto. Our options were Porter Airlines (into Billy Bishop) or WestJet into Toronto Pearson International Airport. Price wise there was not much differentiate the two, but the timing of WestJet was more suitable for us. So ahead we went with the booking.
Booking process was simple and the website easy to use. CAD 236 per head (plus CAD 25 for baggage check in, to be paid at the airport). Expensive, compared to European standards, but I think a good deal for Canadian standards.
Thanks for Gcmaps for the below illustration:
This part of the trip:
Entire trip:
Westjet Encore - WS 3411
Route: YQB - YYZ
Flight Reg:C-FIWE; Delivered to Westjet on April 2014
Aircraft Type: Bombardier Dash 8 Q400
Seat: 12A
Flight time: 18:45 - 20:40 ( 21:54 - 23:42)
Actual flight time: 1 Hr 48 Min
Distance: 456 Miles
Load: around 60% load after few passengers chose to take another flight due to missing connections.
20th April 2017
My Log book: 1st flight on Westjet / 4th flight on Bombardier Dash 8 Q400 / 132nd Total overall flight
Day before the flight, got an email reminder to check in online. Online check in was simple and straightforward. Also got to pay the check-in baggage fees at CAD57.49 for 2 checked in baggage including taxes. (I later realised that Westjet in Alberta only charged us CAD 52.50, this is due to the different taxation in different states in Canada)
I have been tracking this flight over the past 1 week and invariably it seems to be delayed on most days. The answer was evident, On the day of the flight checked into the aircraft details and that's when I realised that WestJet do push their aircrafts. Quite a few rotations for the Dash 8 today before our flight to Toronto.
Reached the airport 2.5 hours before departure and returned the car. Apparently we were the last hire for the vehicle we had. It's now going to head to the auction since it has crossed 50K Km.
External view of Quebec City airport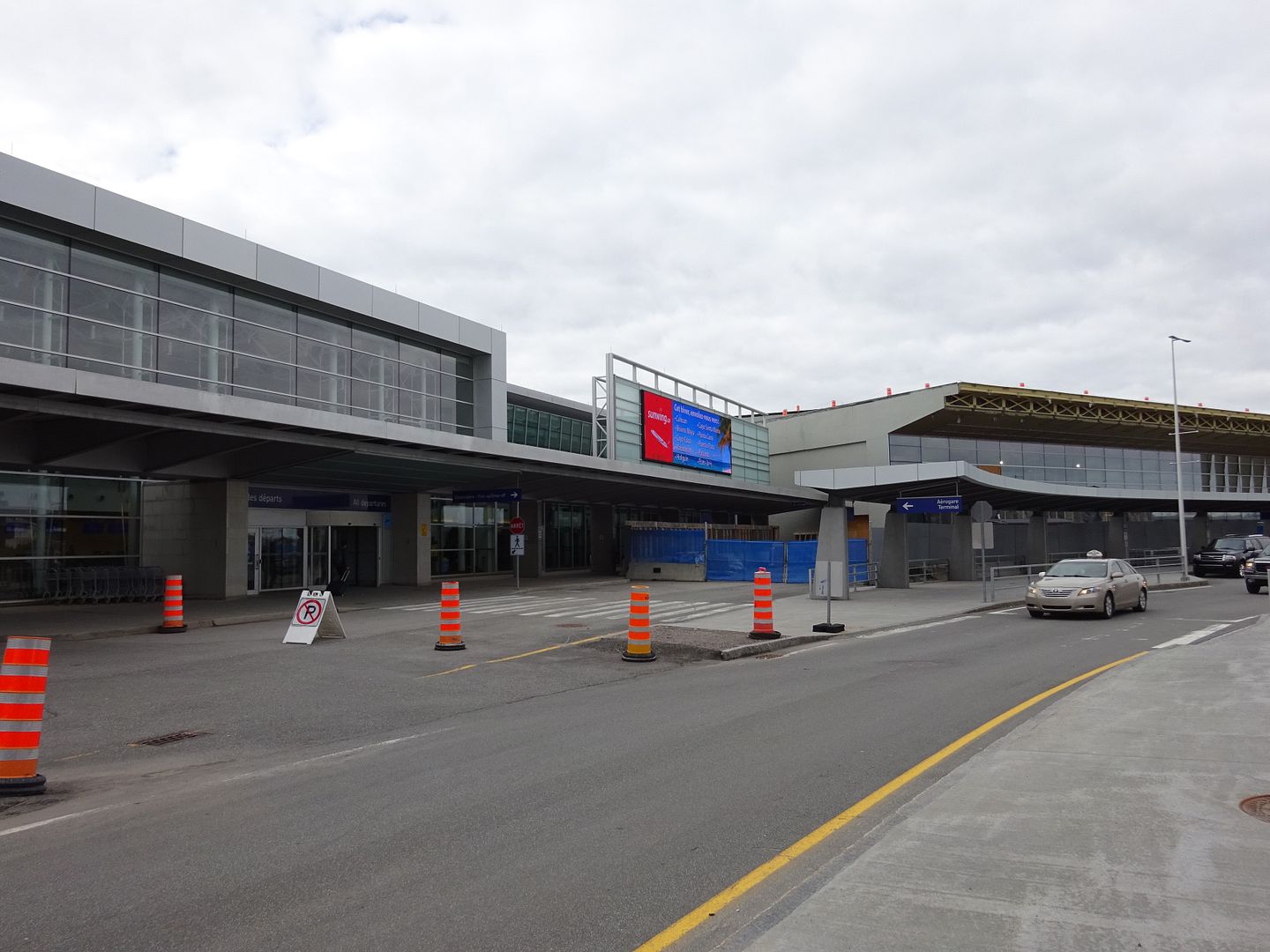 Check in and security was quick. Flight seems to be on time (but was not the case as we later realised).
Check in counters at Quebec City Airport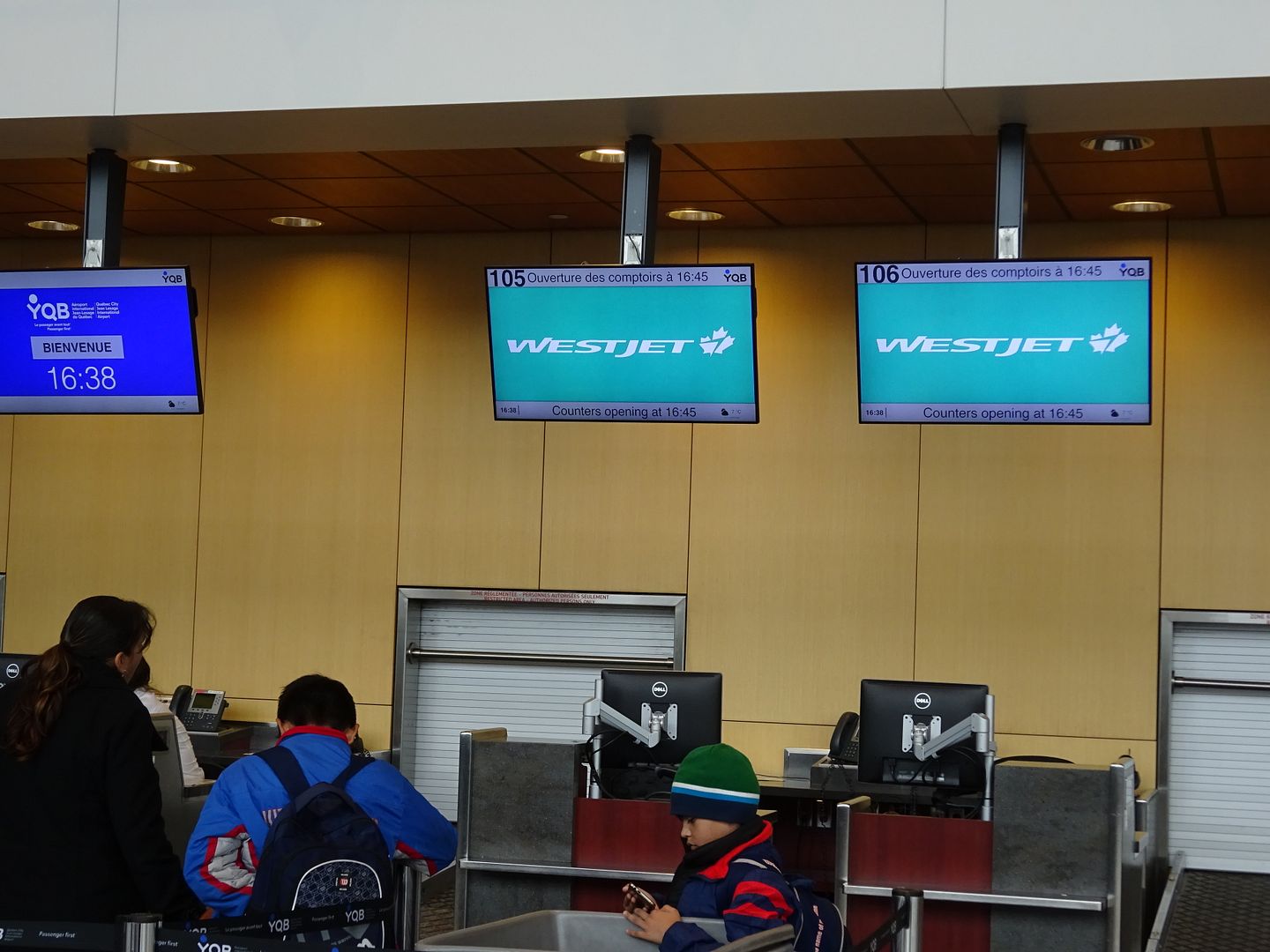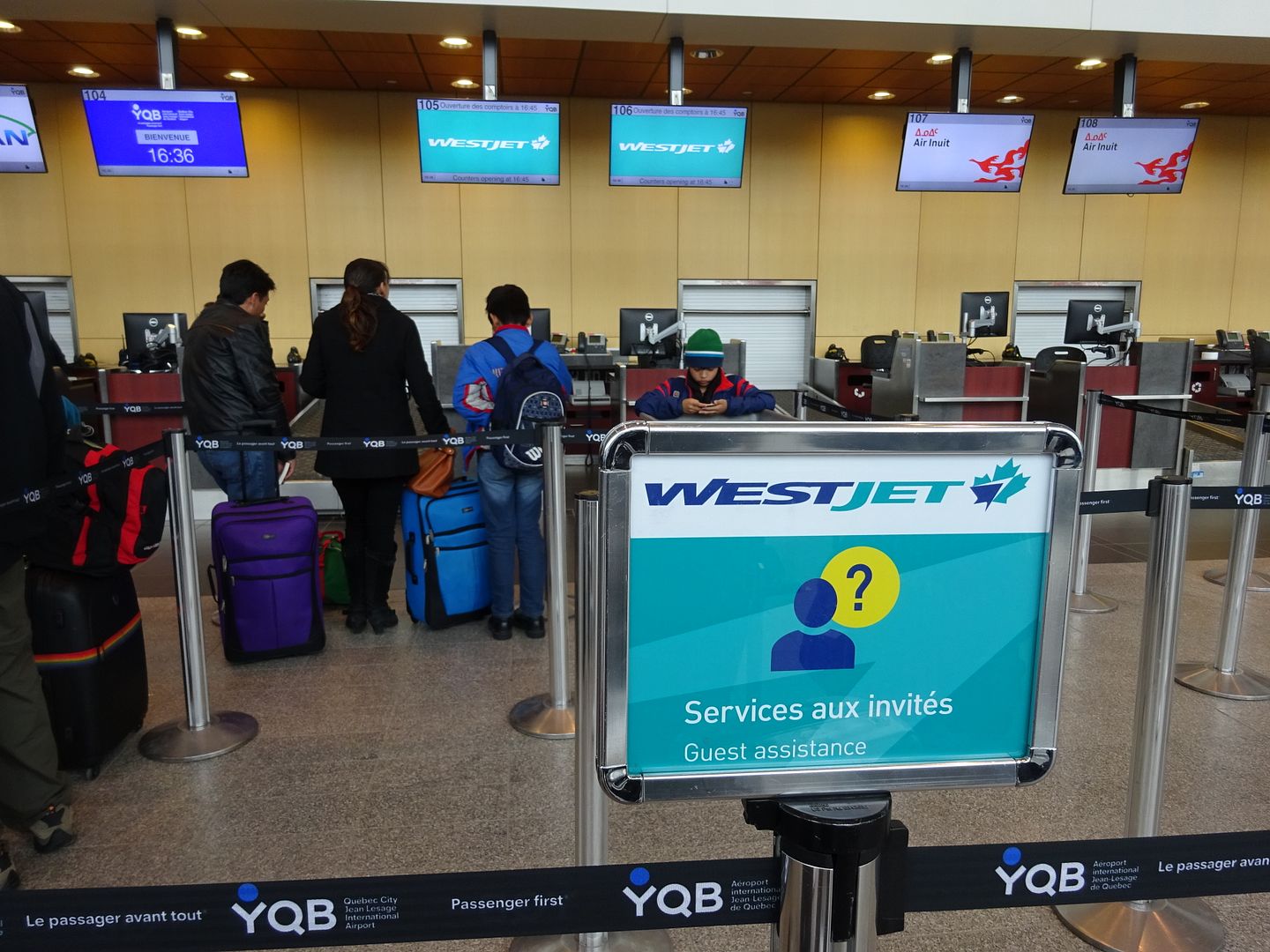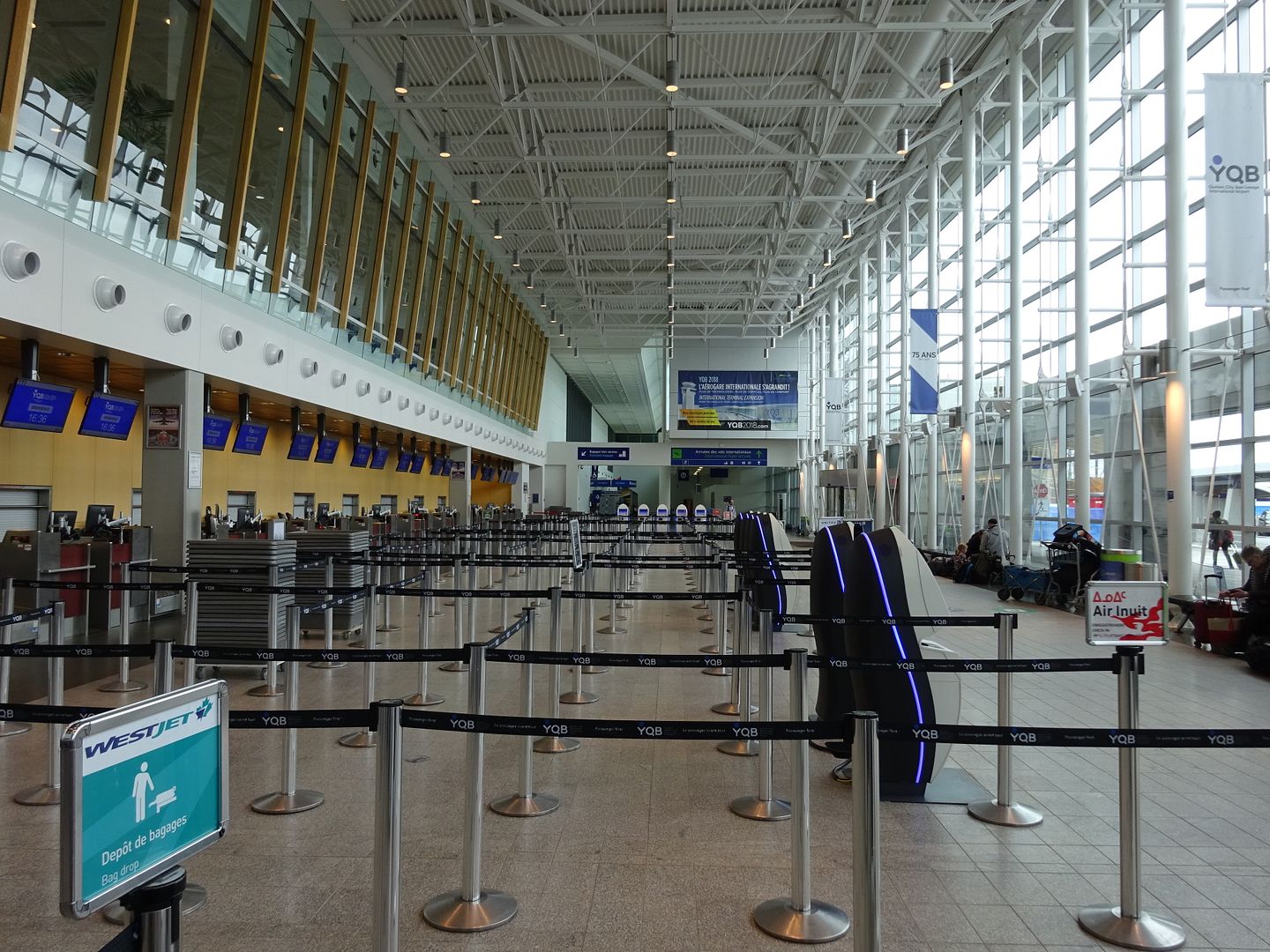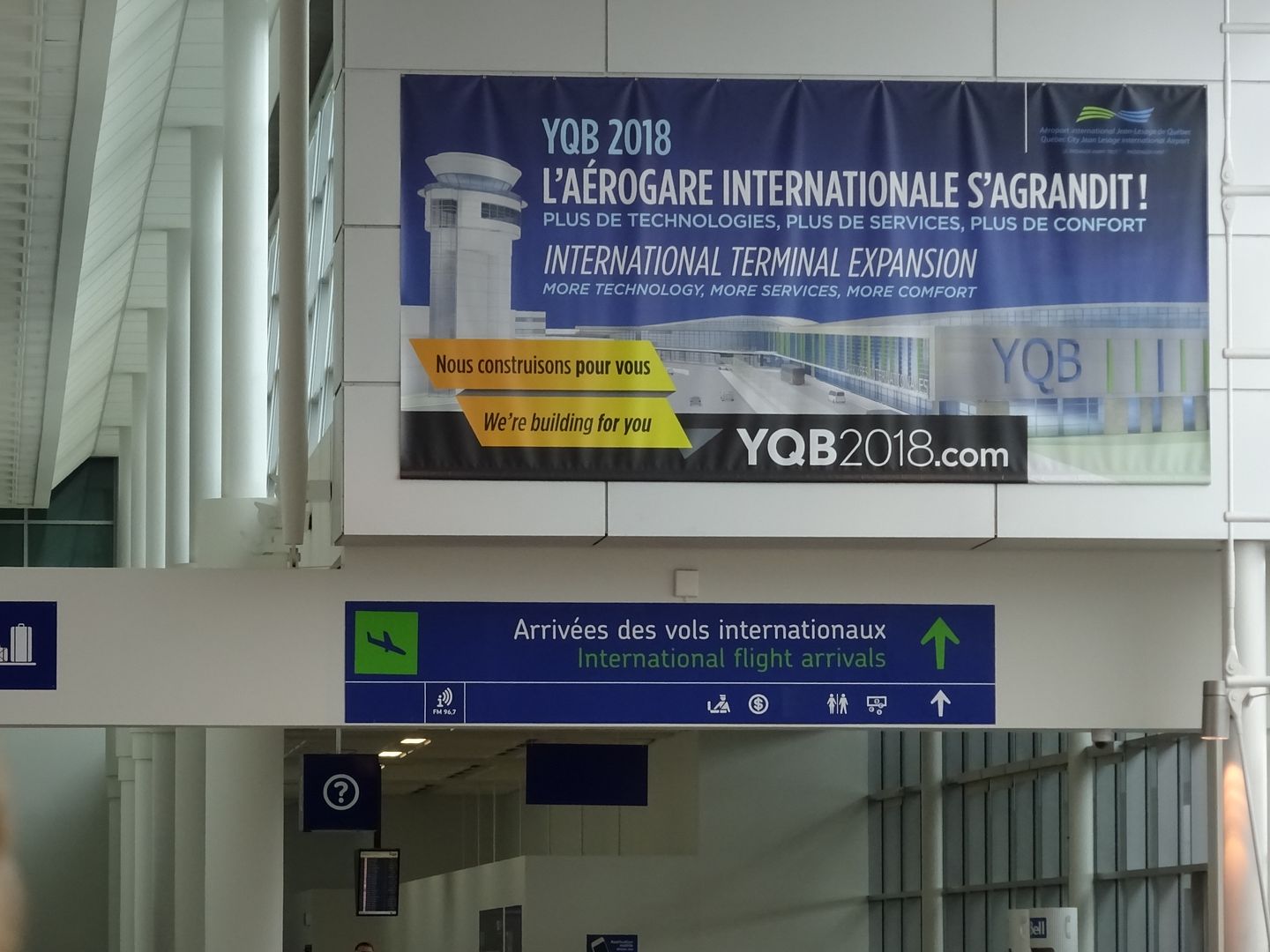 FIDS at Quebec City Airport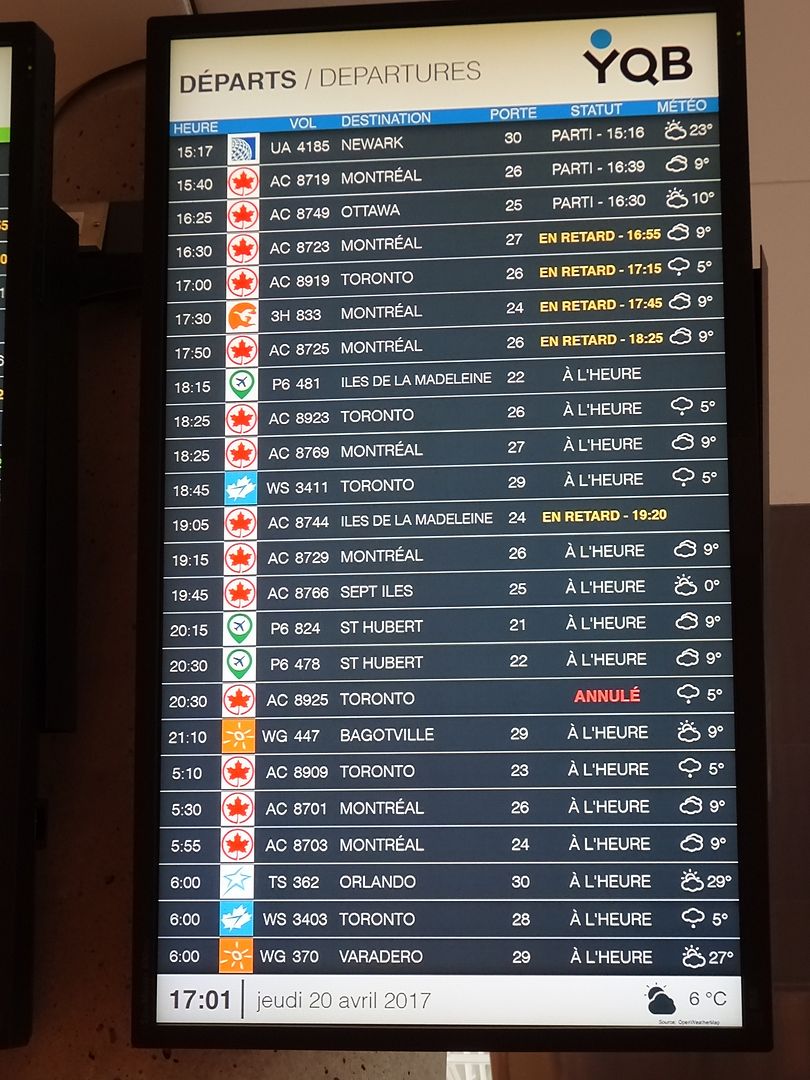 Once airside, I realised that our aircraft was changed from C-FHEN to C-FIWE. Tracking the flight, it seemed to be on time from Toronto.
Heading to security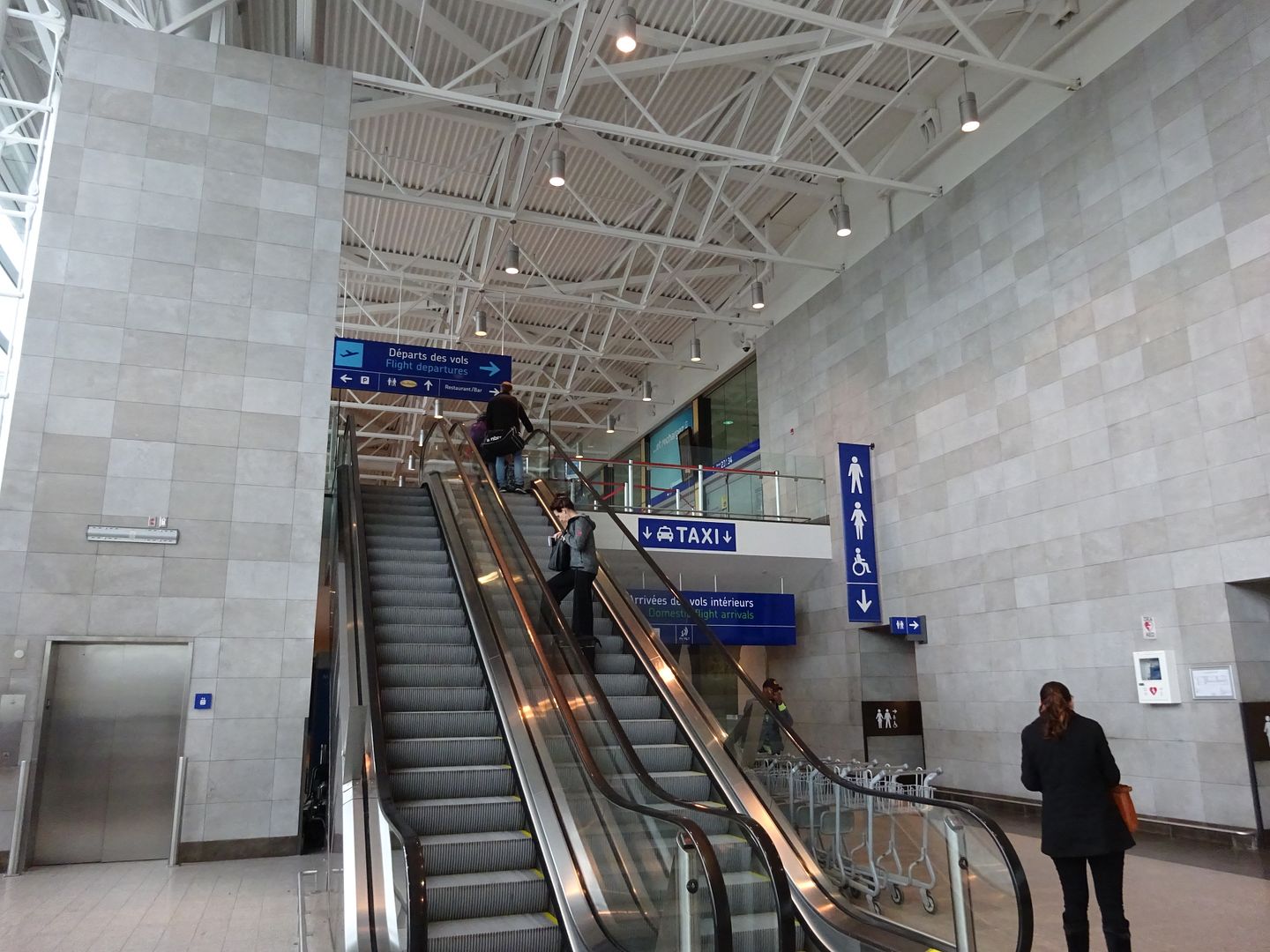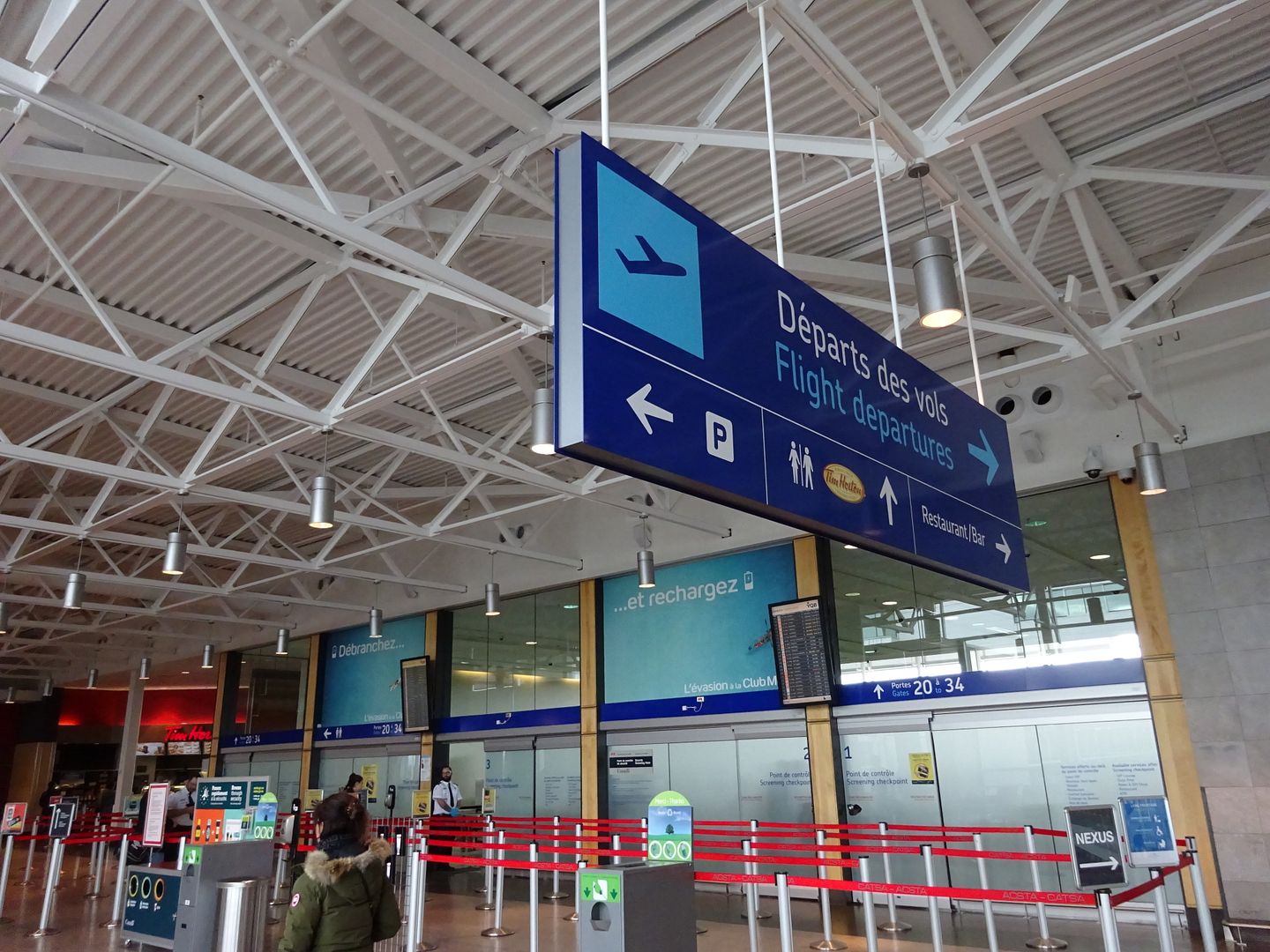 Just past security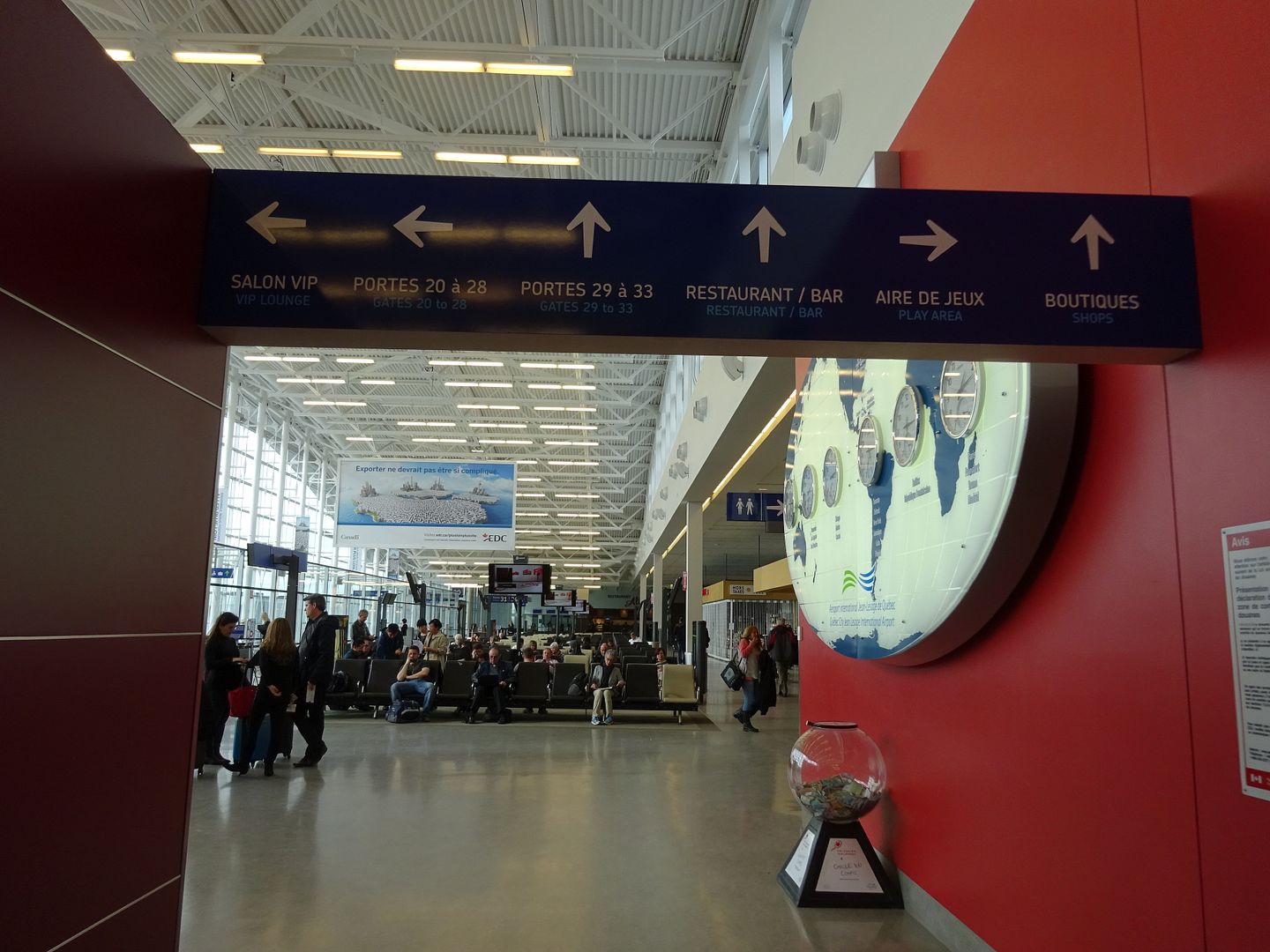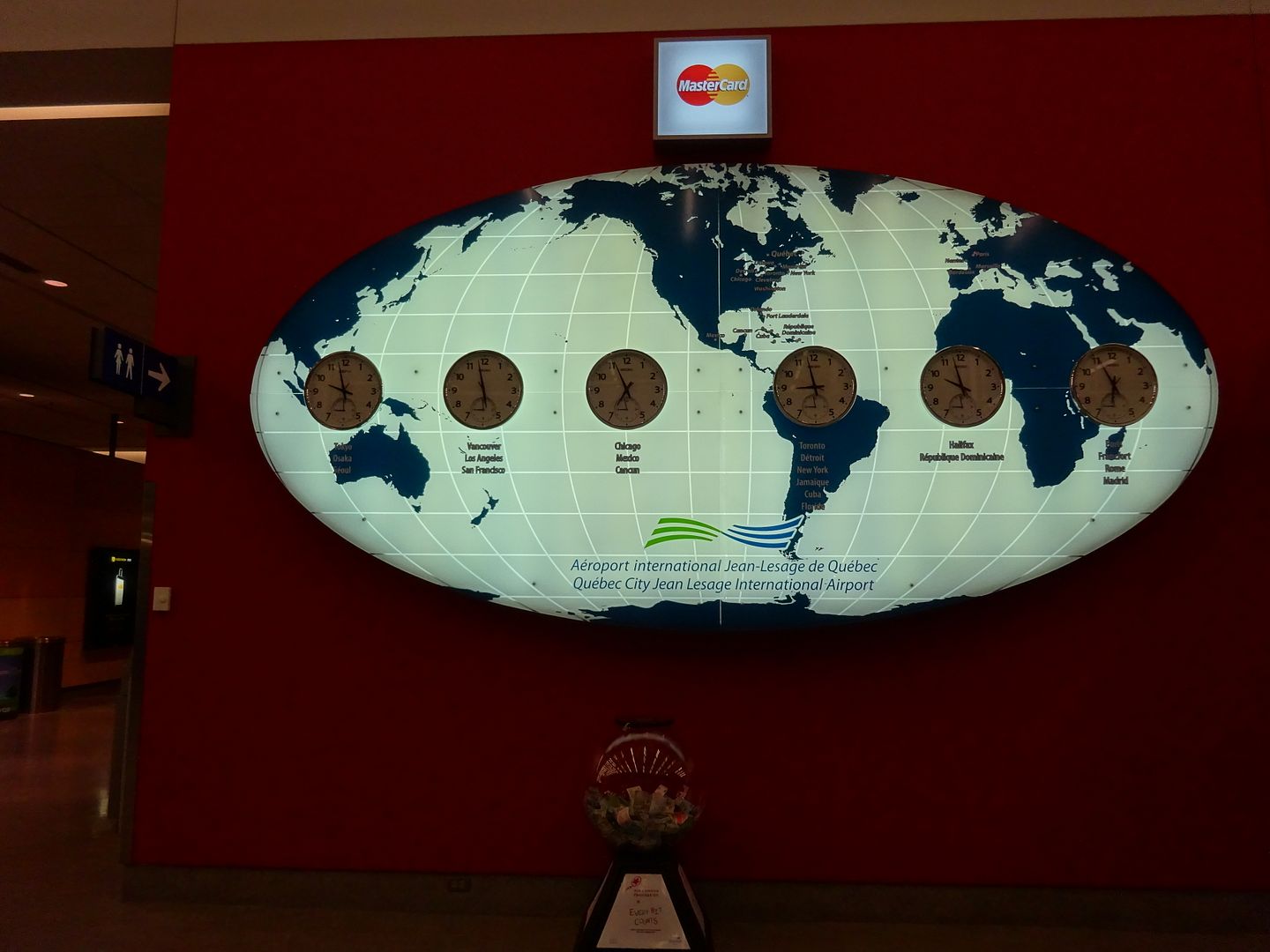 Airside at YQB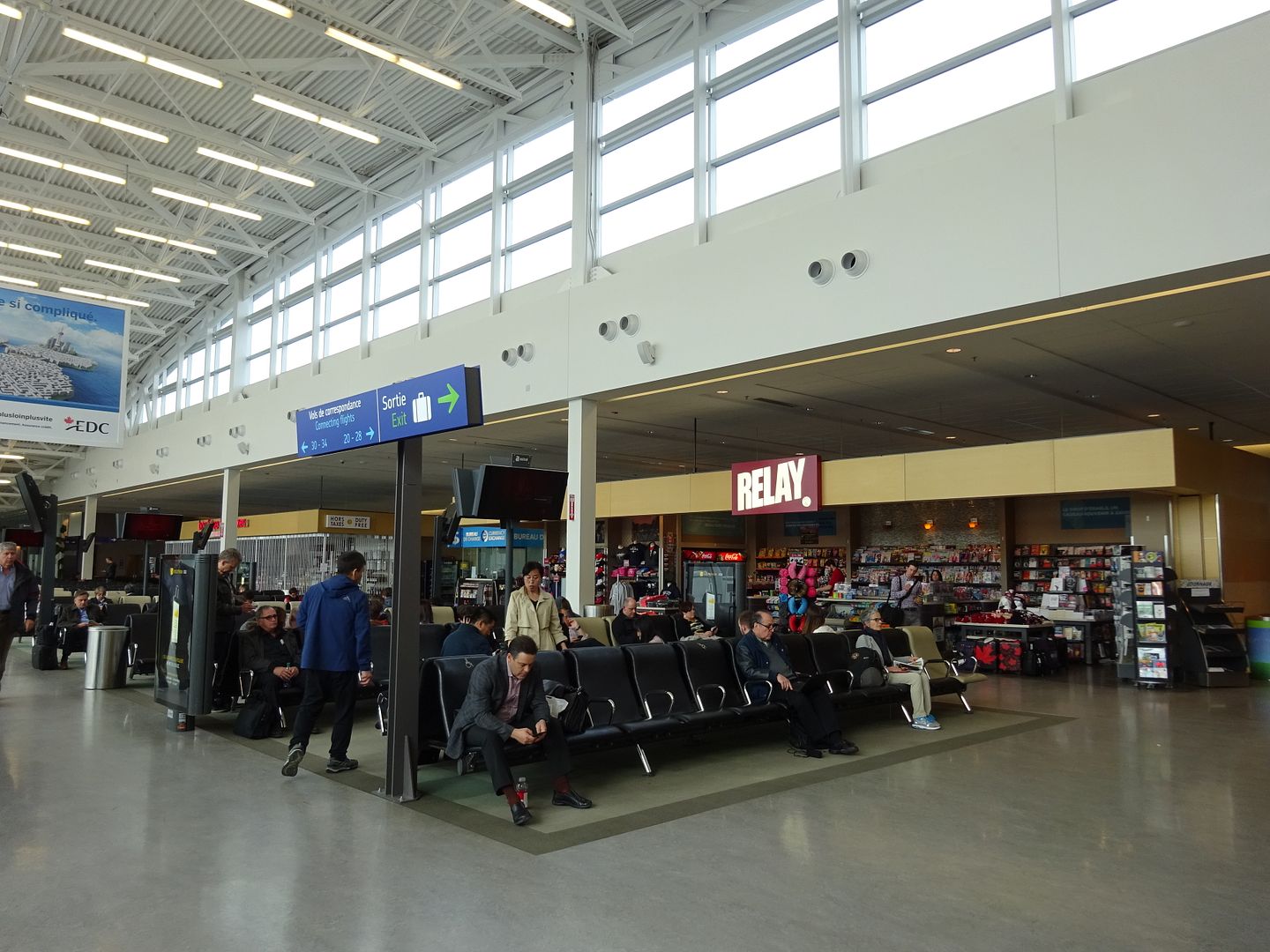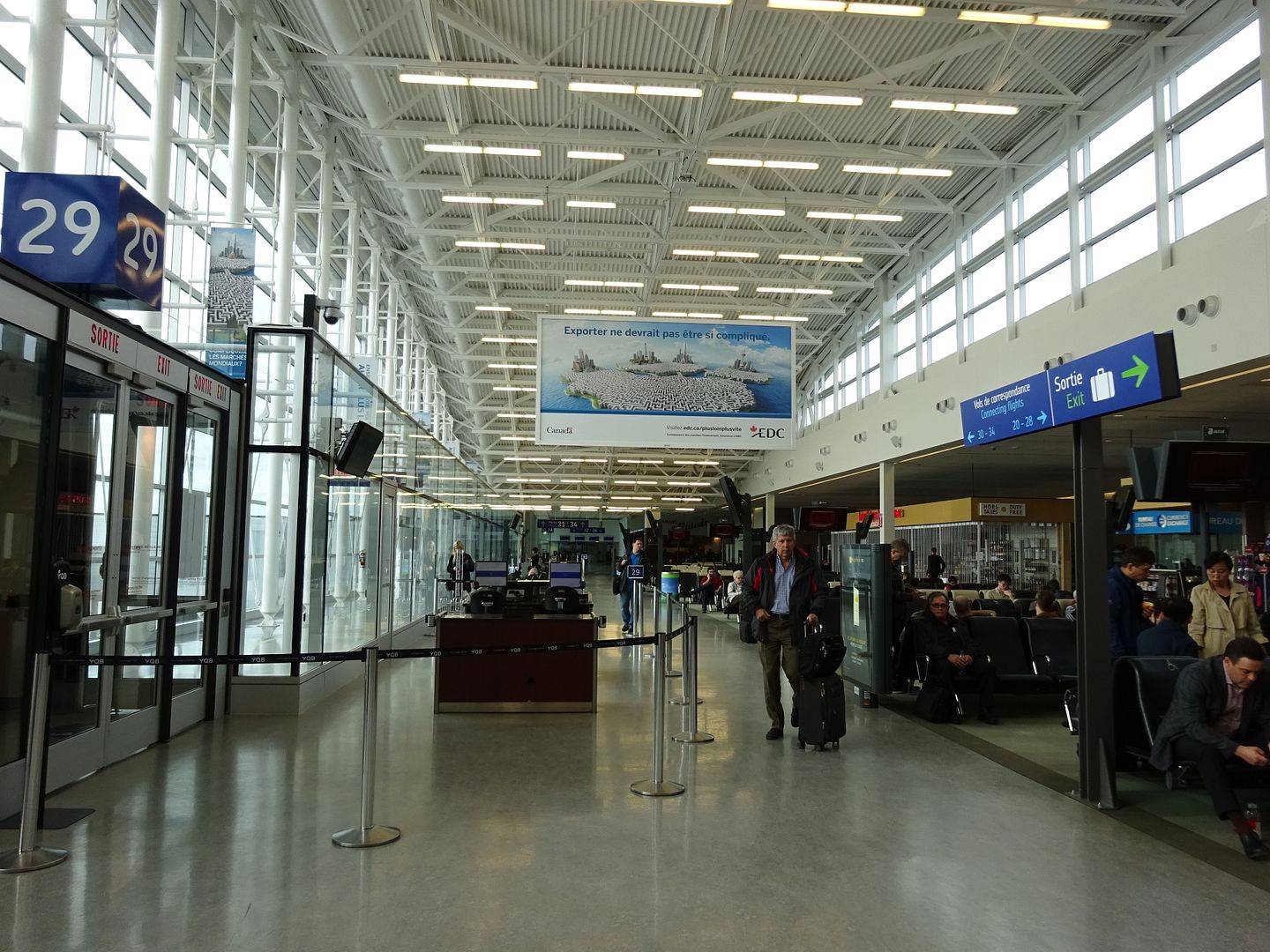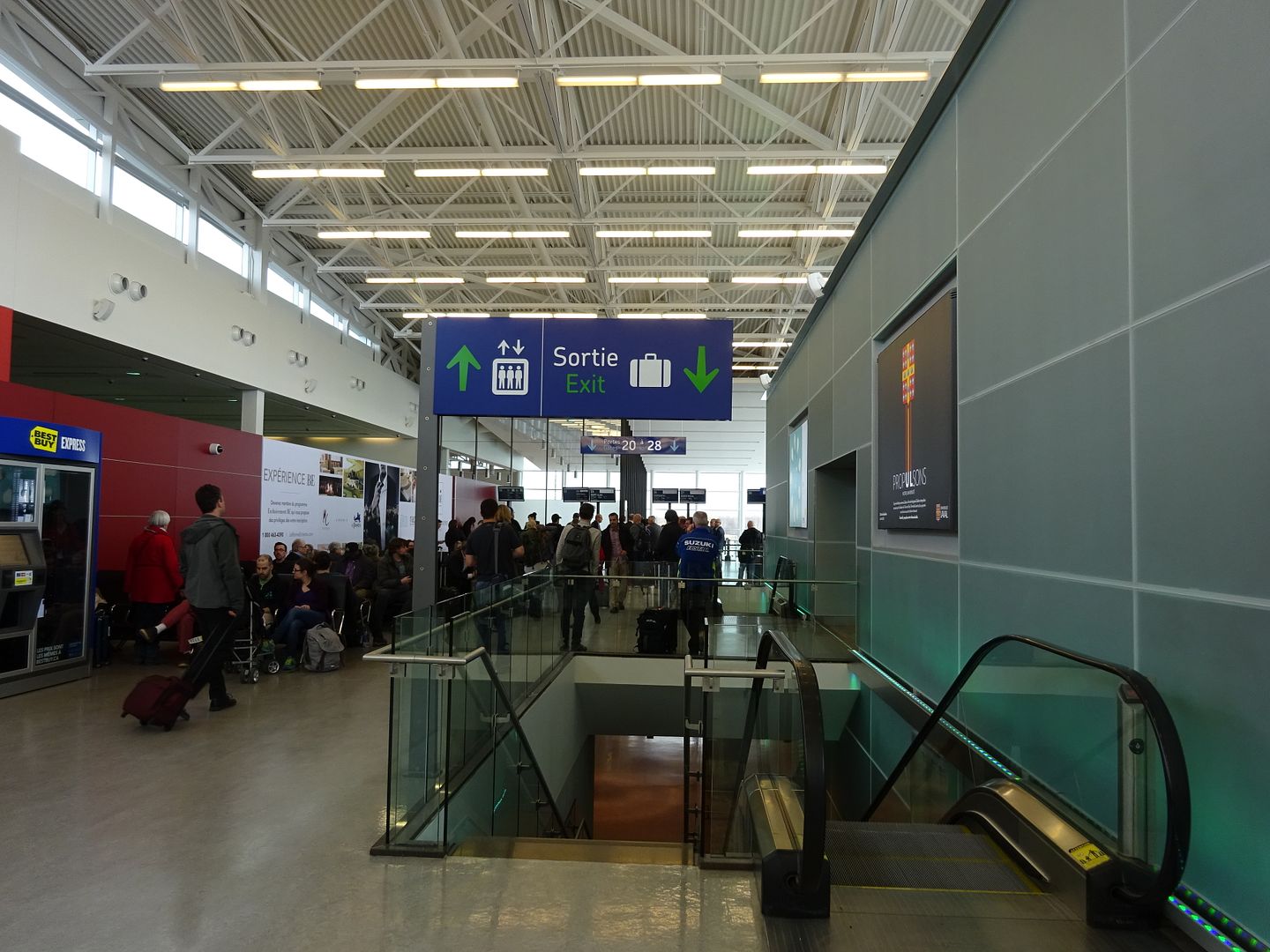 Our gate
20 minutes later, we were told that the flight had been delayed to 20:00 and then further to 20:42. Reason was ATC issues at Toronto. They were staggering all flights into Toronto, due to runway maintenance issues.
Ah well, more time to plane spot

Plane Spotting at Quebec
A rare(ish) Air Transat A310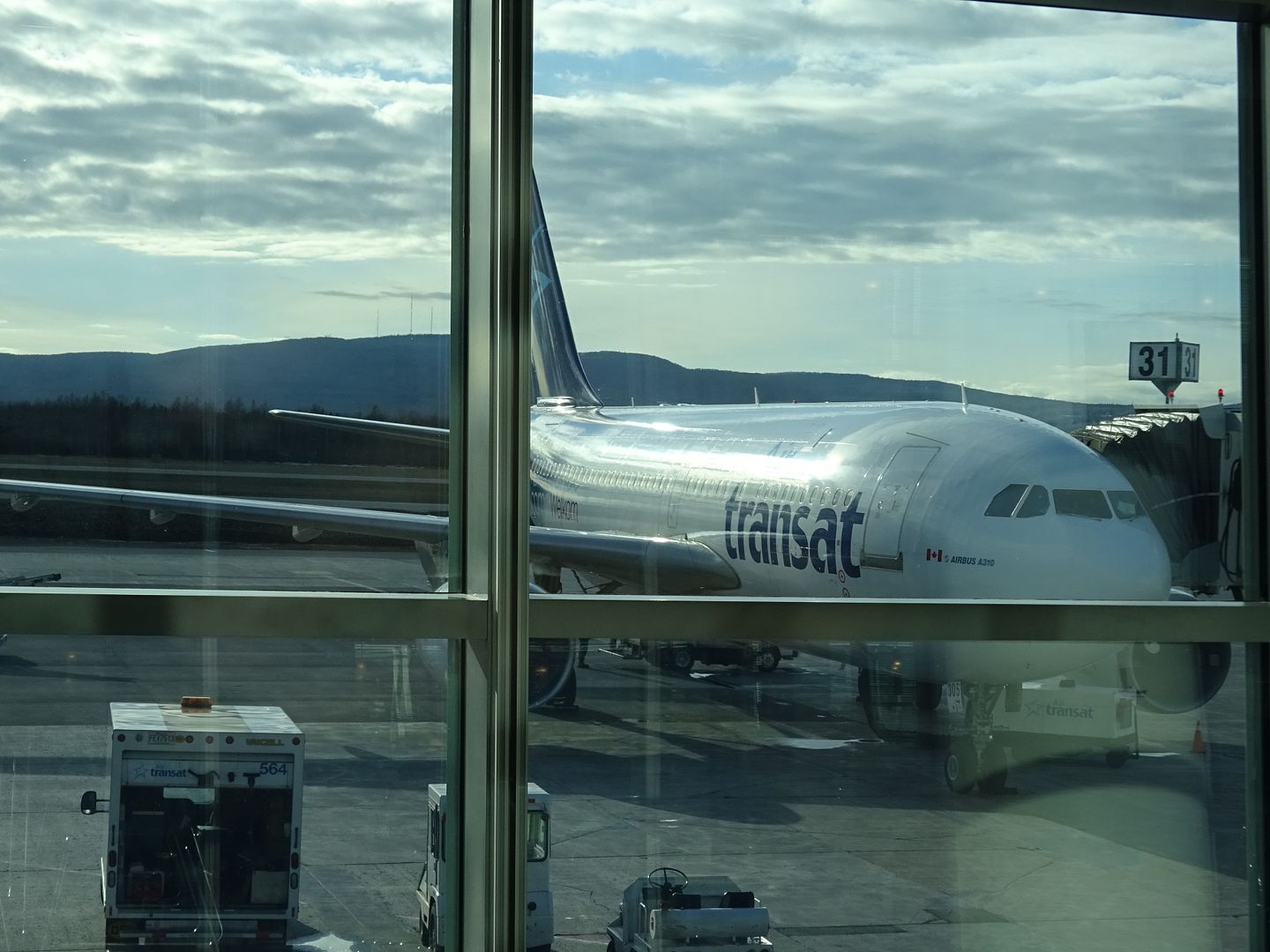 An Air Transat Boeing 737-800 with the new Split Scimitar winglets
Air Canada Dash 8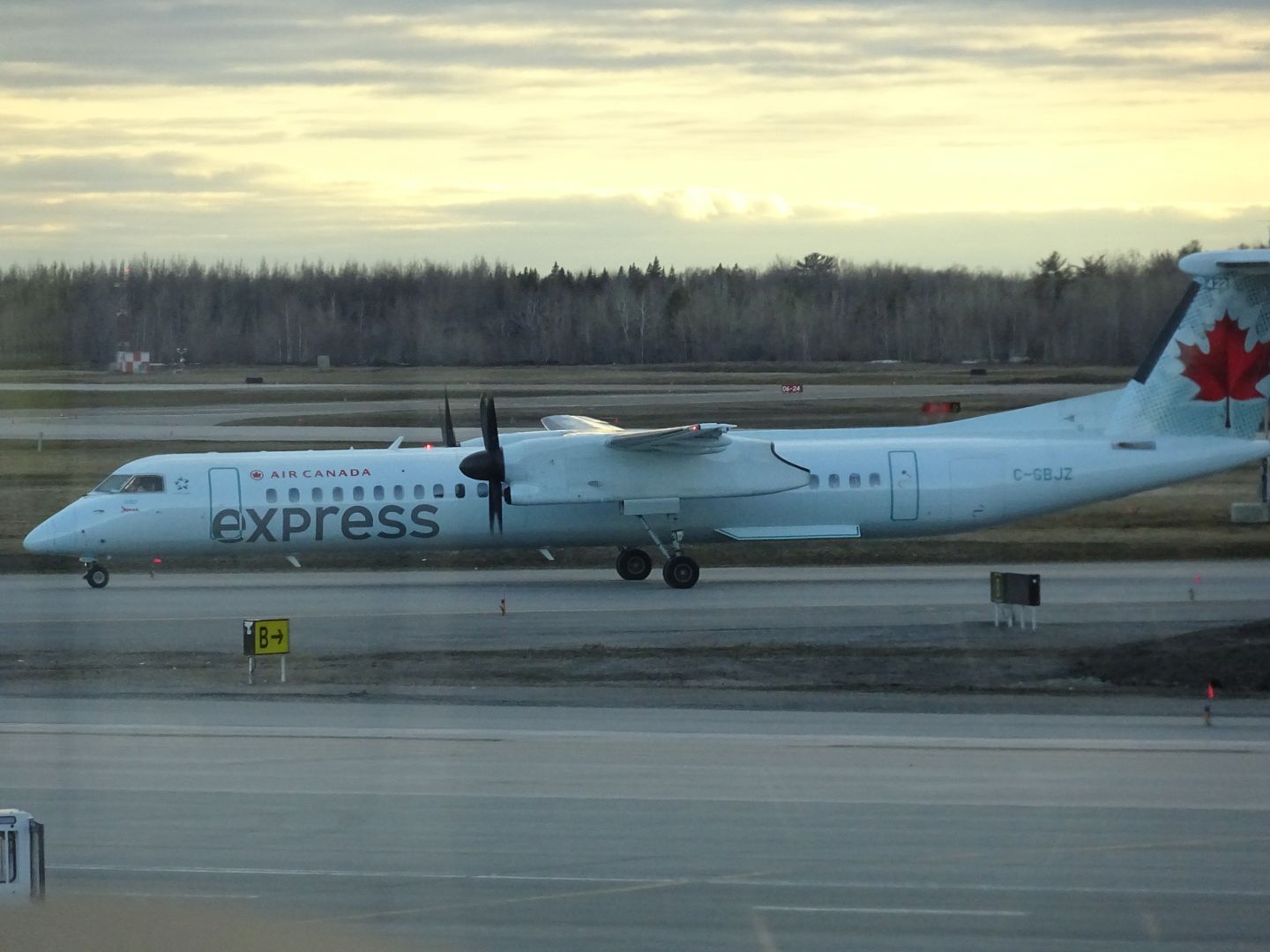 Our ride to Toronto - a 3 year old Bombardier Dash 8 Q400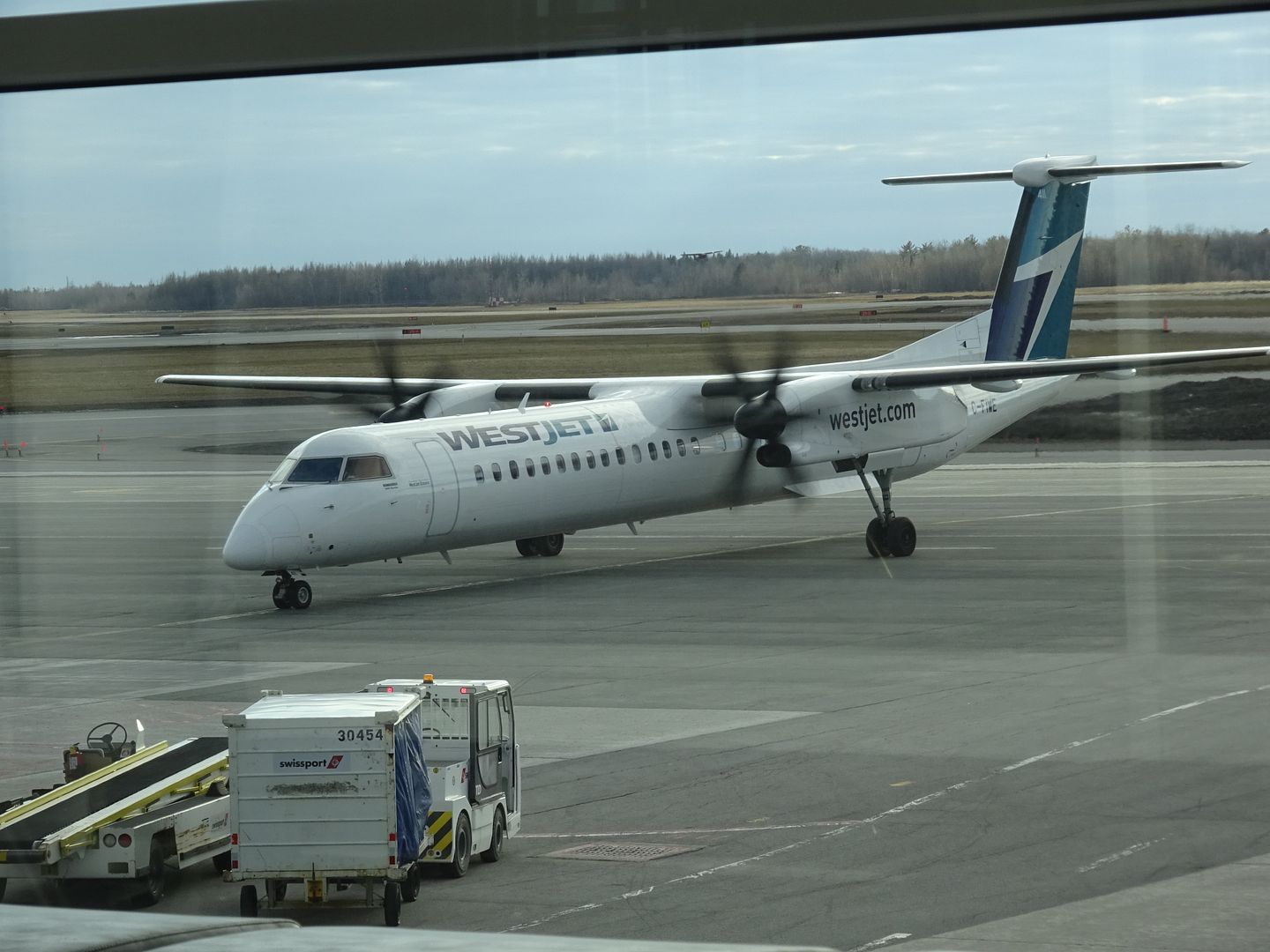 Not a good day at Quebec, since all the evening flights seemed to be delayed. That being said, the WestJet staff handled the situation very well. They were proactively trying to re-book connecting passengers to other flight. The main affected connecting flight seems to be the flight to Calgary.
Not much to do at Quebec airport. The duty free is one shop which charges 3-4 times the price. Real life example, of getting a Asprin from a local service station at CAD 4, whereas here it was CAD11!
The one restaurant here, though, was very good. A large portion of pasta with extra vegetables and a large tea for CAD 16 was well worth it.
Flight further delayed to 22:32!
Flight delayed, Again!
Flight then rescheduled to 21:20, expected to land at Toronto at 23:34.
Today's evening arrival into Toronto is like a traffic signal -> All amber and red (Delayed or cancelled). Come on Toronto airport, sort it out!
Finally boarded at 21 20 for a gate disembarkation at 2134 and airborne ay 2154. Have to give a shout out to all the ground staff of Westjet at Quebec City Airport. They handled the situation extremely well and professionally.
Flight time of an hour and a half announced from the flight deck.
Row 12
View from Row 12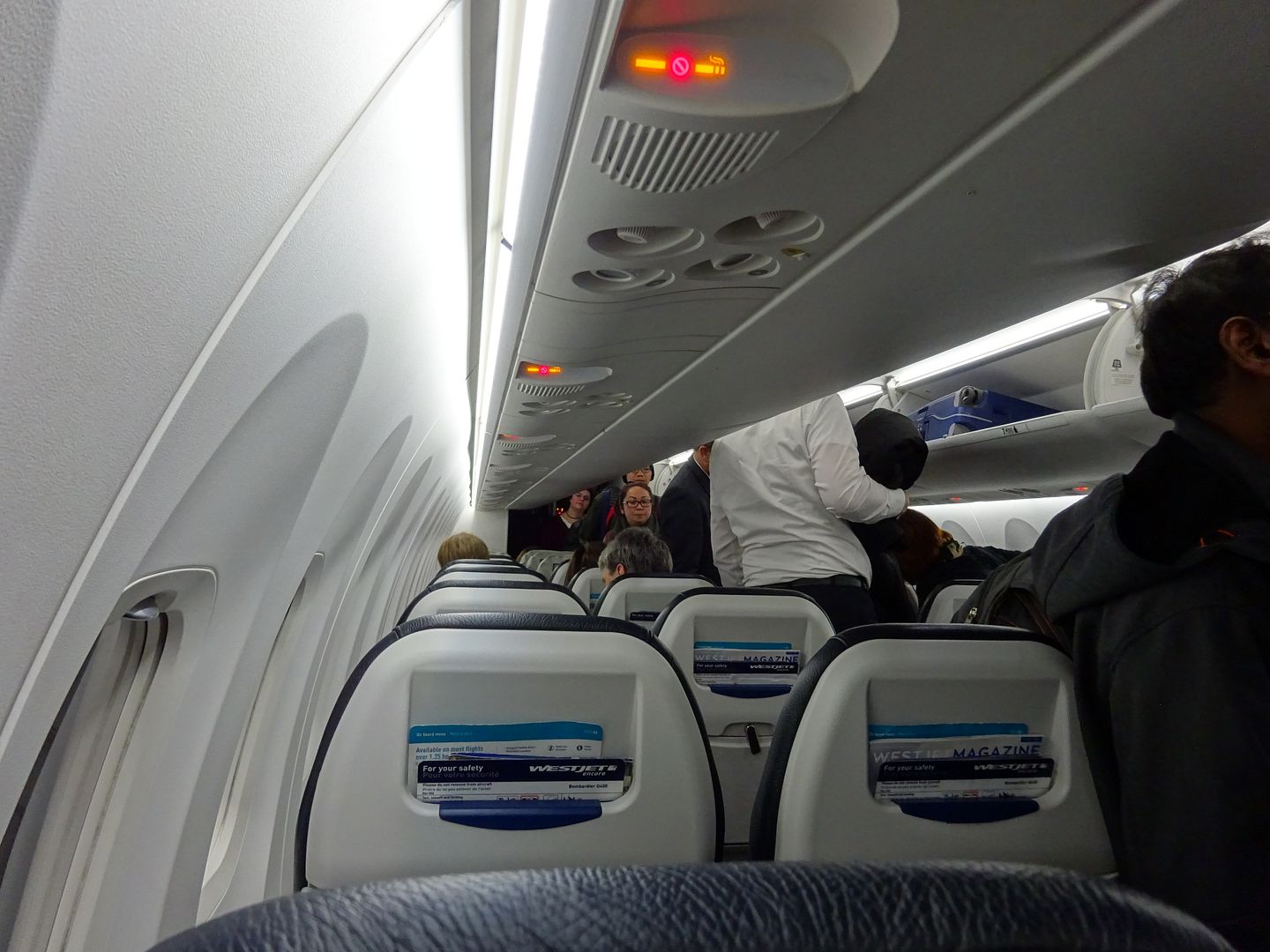 Decent leg space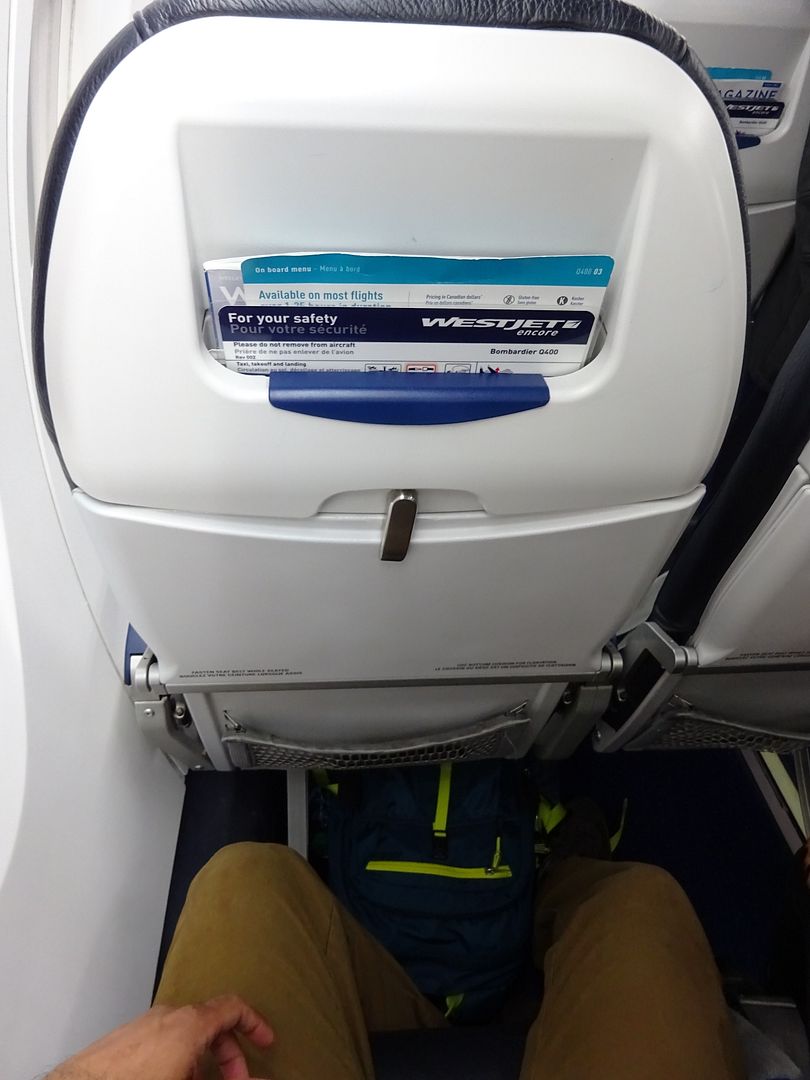 Reading material
Special mention to the crew for an animated display of their safety procedures. Probably one of the best on board. You can view it on my video.
It is at 16 minute and 5 seconds into the video. I recommend you view it.

The Q400 shot out of the runway and quickly gained cruising altitude of 24000 feet.
First impressions of the aircraft was that it was spotlessly clean, smelt fresh and looked good.
Very good leg space although the slim line seats are a bit too hard for my liking. More than acceptable for an hour or so flight.
Complementary beers and wine served on this flight.
Complementary snacks on board
Cabin View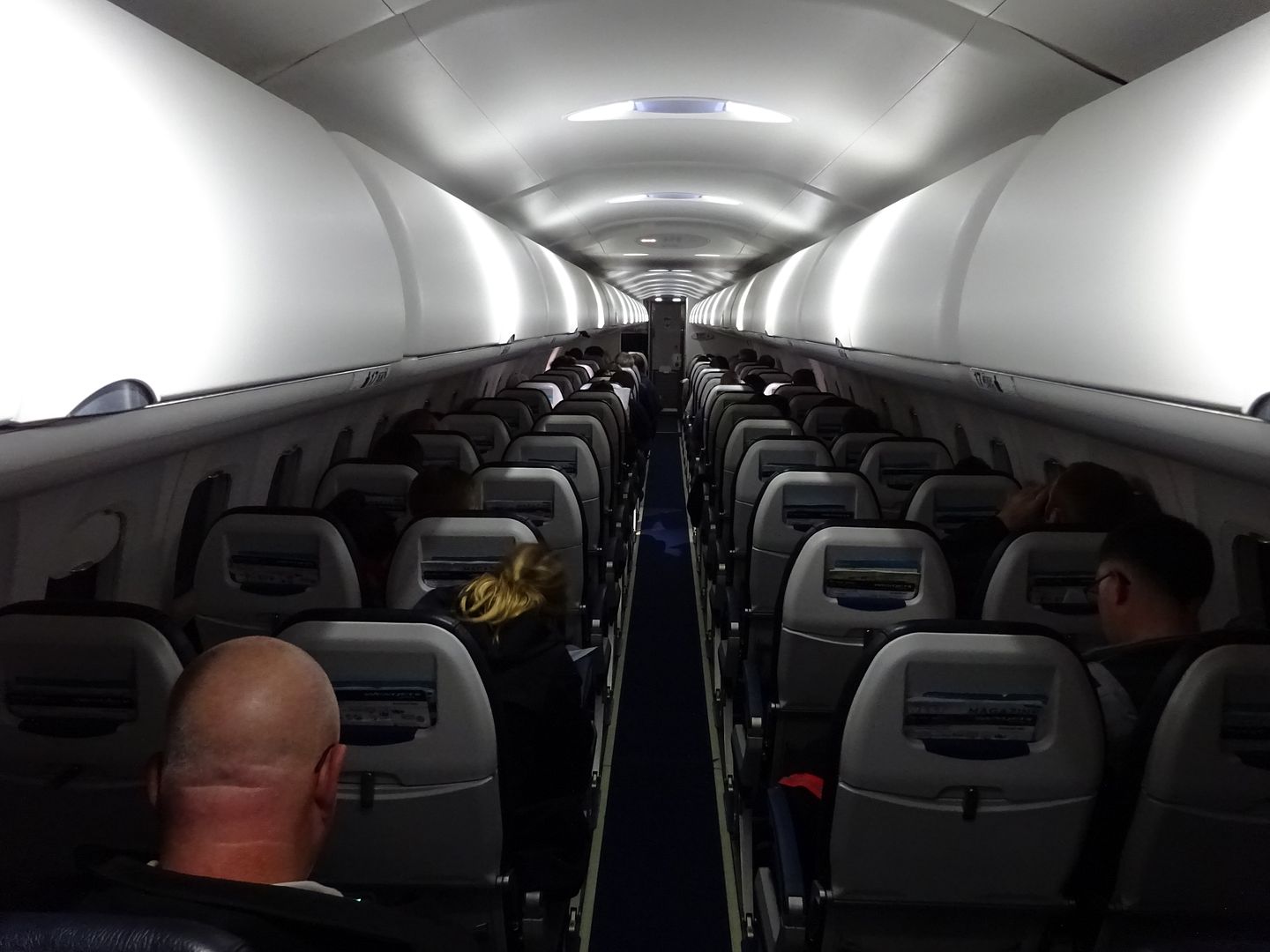 No Water, no problem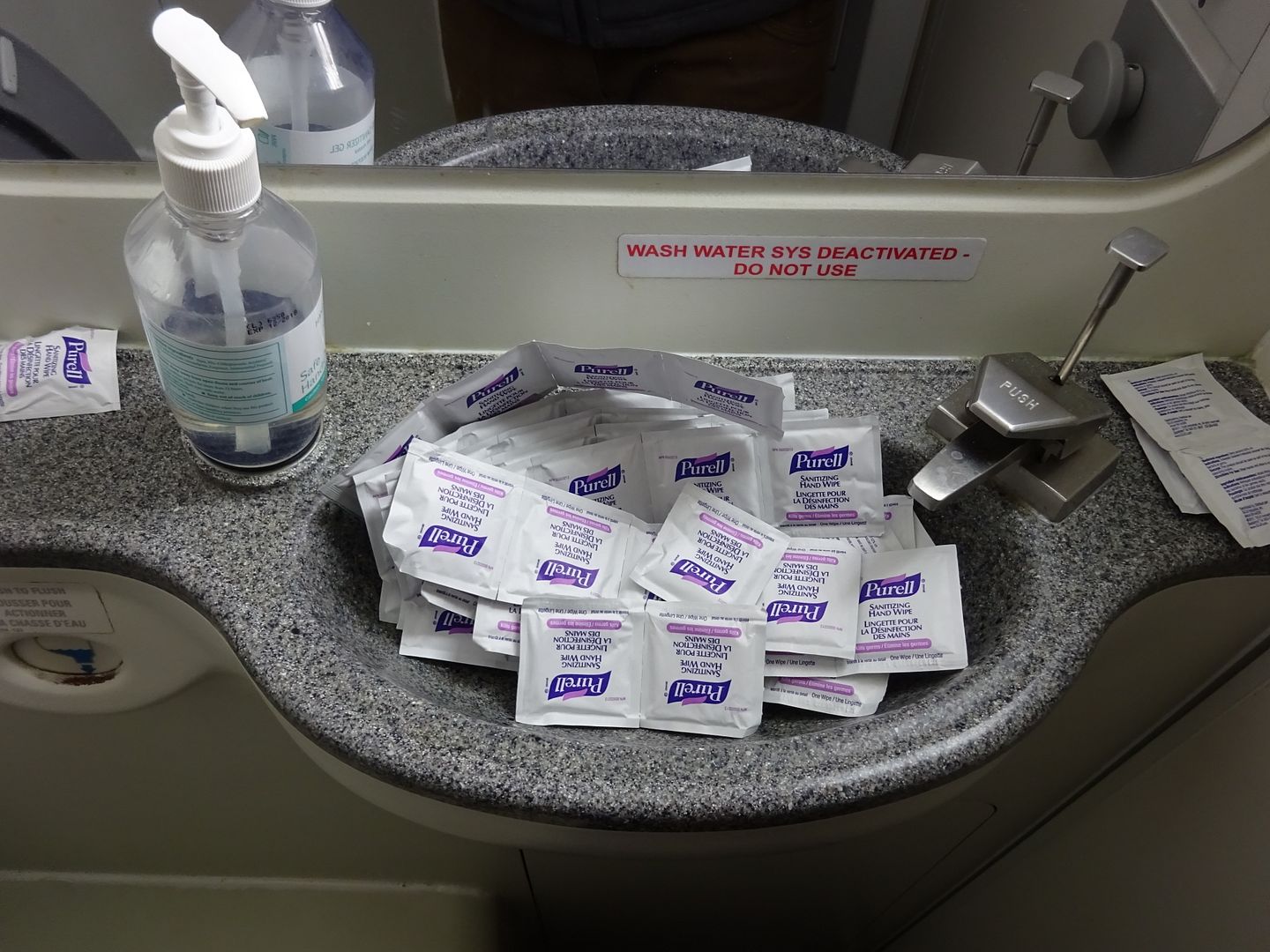 Excellent cabin crew on this flight.
Was a bumpy ride to Toronto. Was expected given the precluded thunder storms and the choppy Dash 8.
Finally landed 3 hours after the scheduled arrival time. Not WestJet's fault and overall I think it was very well handled by WestJet staff at Quebec City Airport.
Close up at Toronto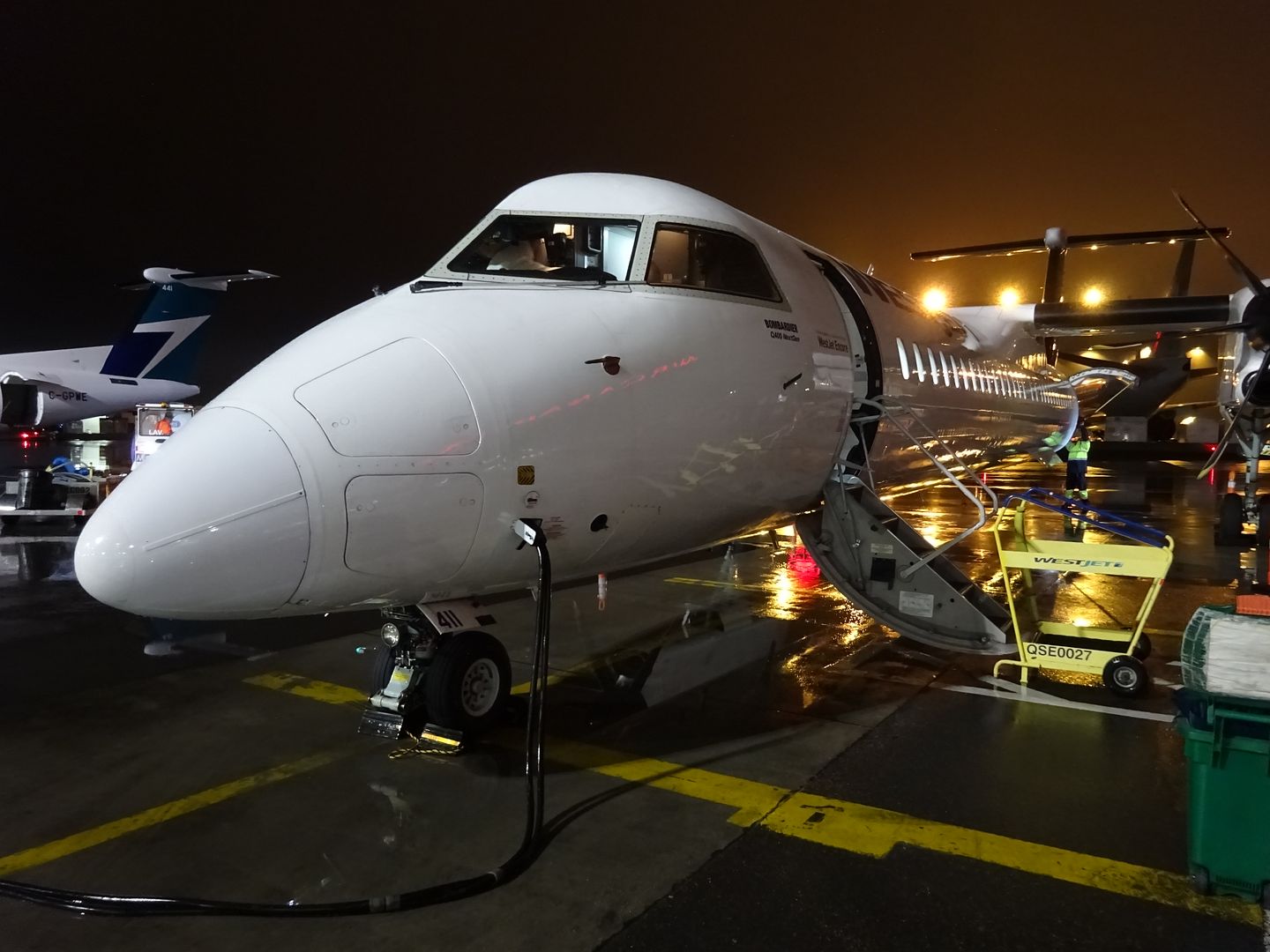 Exiting Terminal 3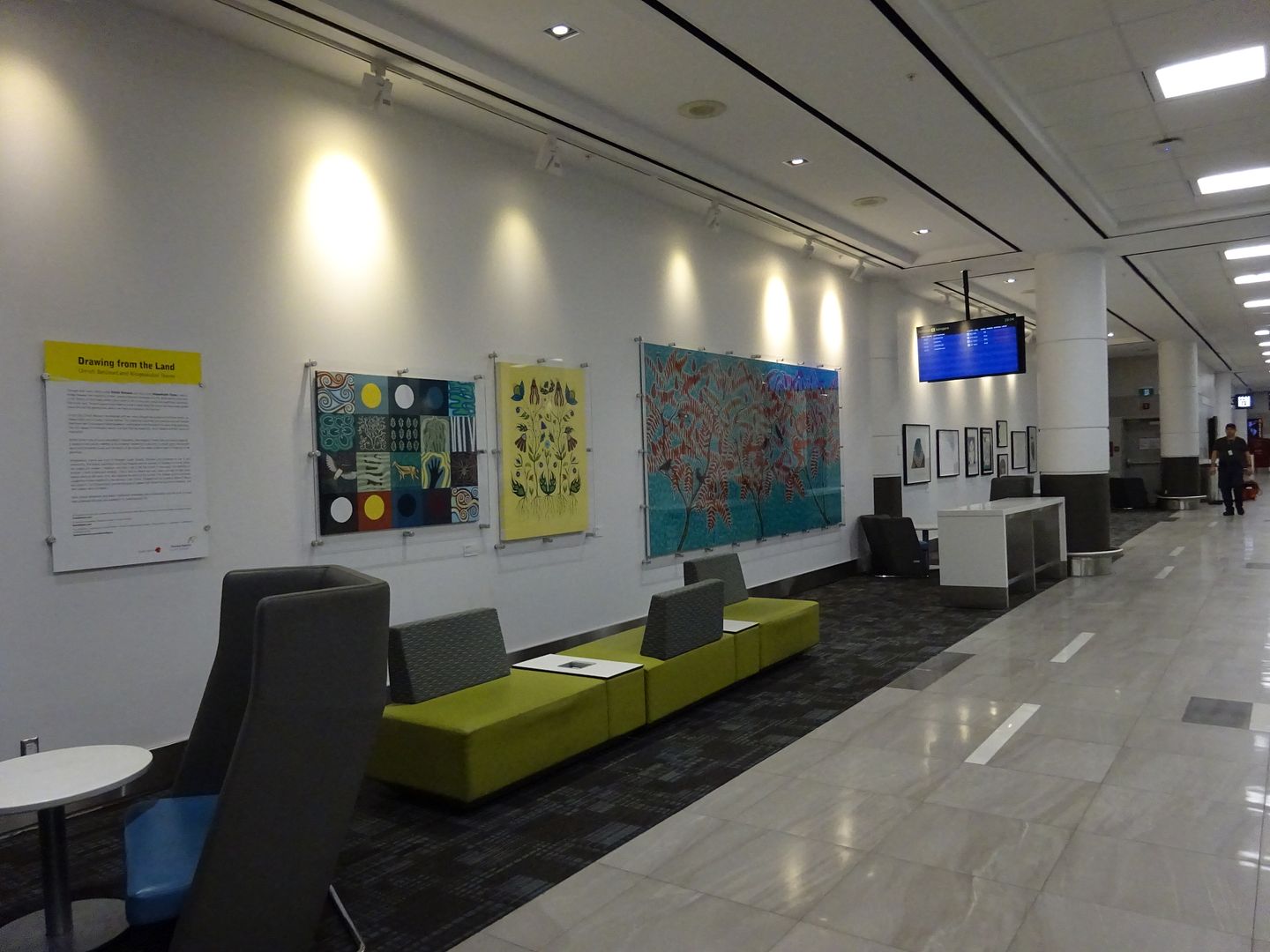 Baggage hall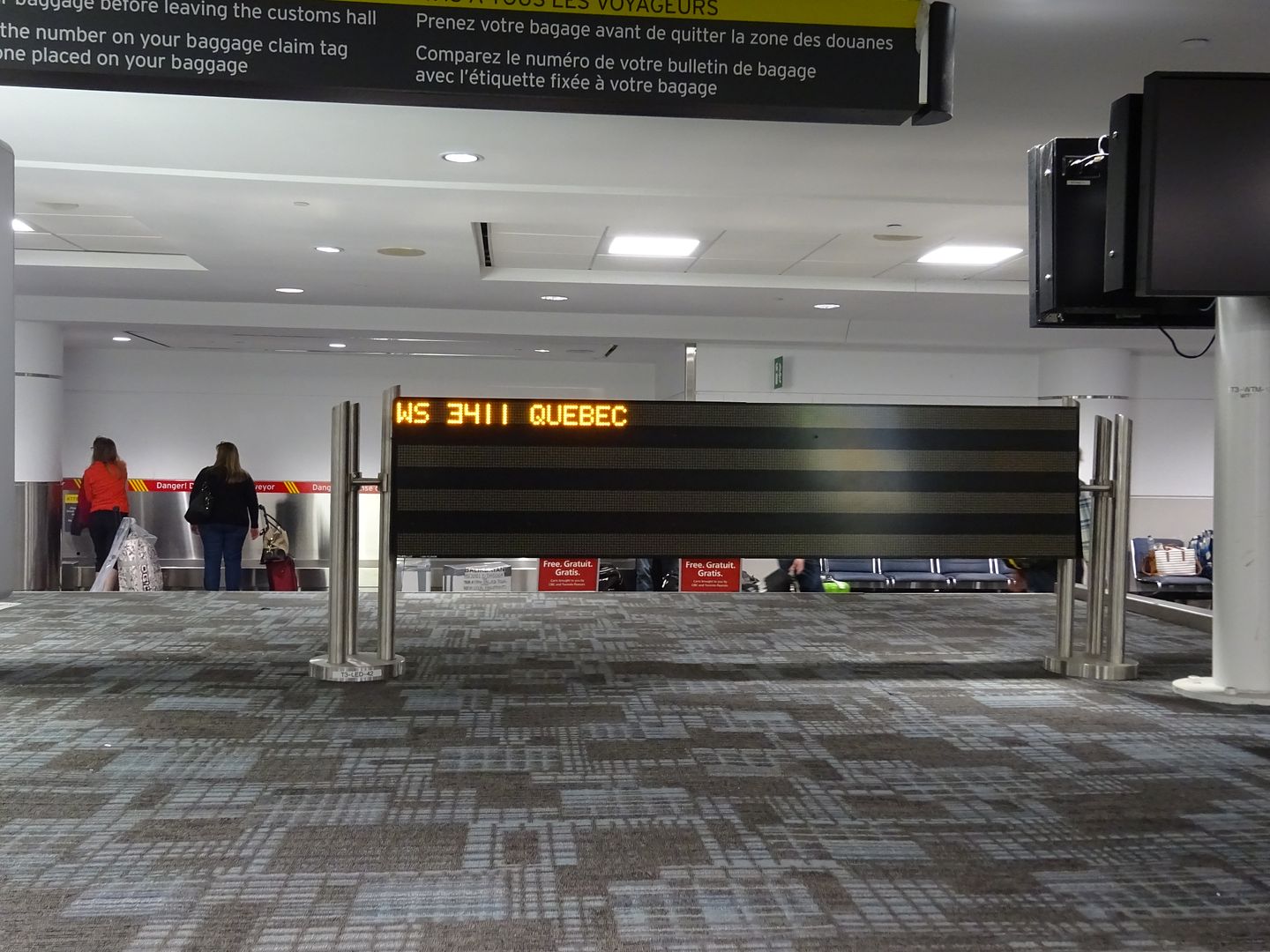 Arrival hall at Toronto T3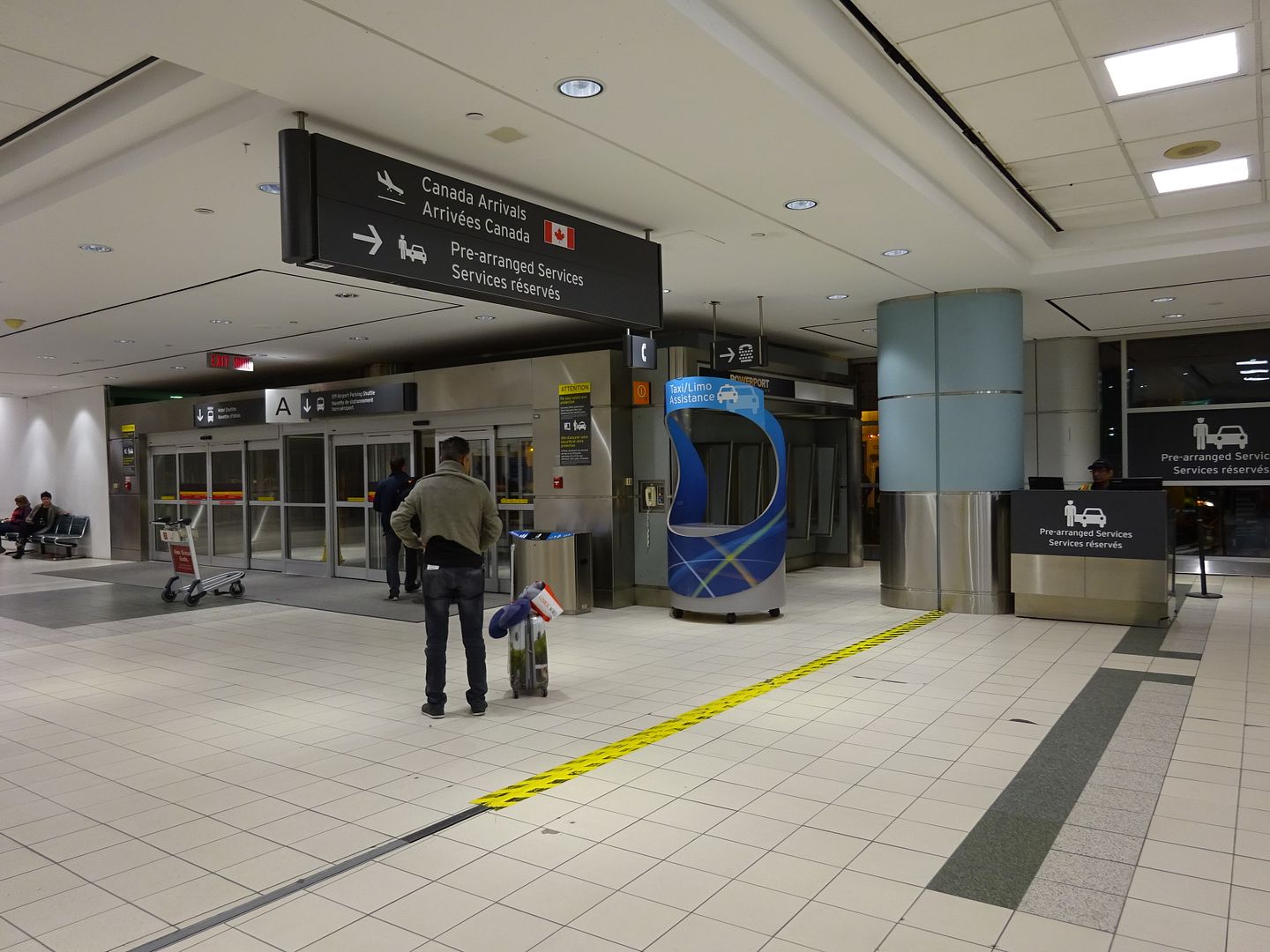 Verdict
First time on Westjet. They seem to be a very decent alternative to Air Canada. They at least seem to provide some sort of snacks on board.
On a tough day, their handling of the situation was ace. Aircrafts were in good condition and their crew was a fun lot.!
Looking forward to our future travels on Westjet, but hoping no more flight delays.
This is the second edition of this series. 3 more to come. Do stay tuned for the rest of the trip reports, due soon.
Until then keep the trip reports coming, and happy and safe flying, Adios!
Sights across Montreal and Saguenay
Montreal from Mont Royal
Omega Parc
Parliament Hill, Ottawa
Old town, Quebec City
En-route to Saguenay
View from our cottage at Saint-rose-du-Nord
Lost in Saguenay
Frozen Lac Saint-Jean