INTRODUCTION - HISTORY OF THE KONNECTION
JetKonnect, Lite, Delight....
Ever since Jet Airways acquired Air Sahara back in 2006, there has always been quite a bit of confusion. JetConfusion.
The first step was incorporating all Air Sahara flights in to Jet Airways's own network. This would be done with a low cost arm called Jetlite. A classy
various-shades-of-blue logo was established.
This never really took off, as most planes were just painted white with the Jetlite titles on it. Like this:
Come October 2008, a few days prior to the festival of Diwali, Jet Airways finally showed off a Jetlite plane with a rather uninspiring light blue livery, with the Jet Airways sun. Jet
lite
was finally born. This was an airline being operated under an Air Sahara permit (flight numbers with S2)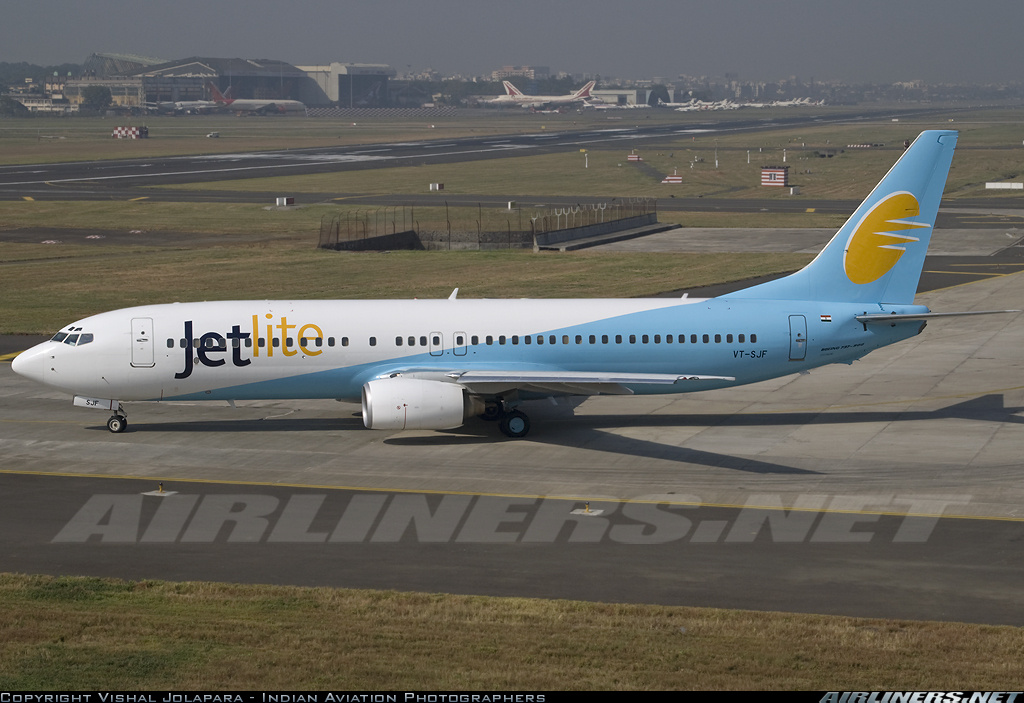 Clear enough - the light blue livery for the low cost carrier (S2), and the traditional dark blue livery for the full service carrier (9W).
Until....March 2009. The global financial crises meant that Jet Airways soft launched yet another brand - Jet Airways Konnect. Operated by Jet Airways (dark blue livery planes), the onboard service would not include the free meal. Buy on board, like A quick fix - stick 'Konnect' under the Jet Airways titles. Something like this: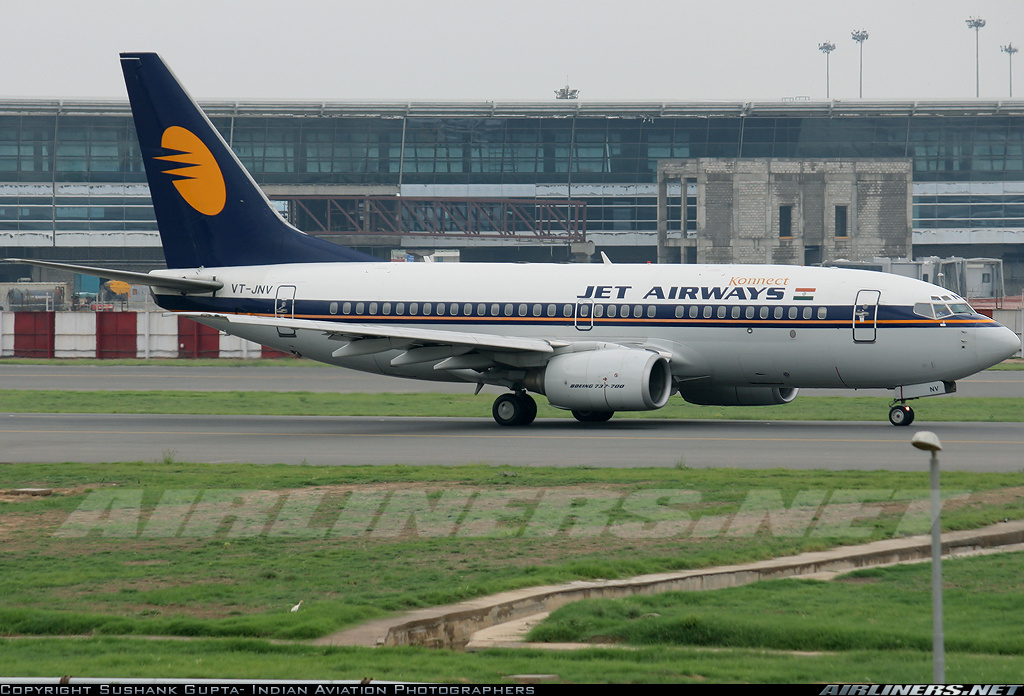 Jet Airways Konnect and Jetlite would have four digit flight numbers.
Jet Airways. Jetlite. Jet Airways Konnect. The confusion was reduced in March 2012 (sort of) when Jet Airways announced JetKonnect - a rebranding of Jetlite, while also operating some former Jet Airways Konnect flights as JetKonnect. All these flights would have four digit flight numbers, while full service Jet Airways would be just three digits. Easy, it would seem. But that wasn't the case. While the ex-Air Sahara/Jetlite planes got the new JetKonnect stickers (with four digit flight numbers), some mainline Jet Airways planes got stickers to confuse people even more - more often than not they'd operate these B737s on flights to Dhaka, Colombo and Kathmandu (three digit flight numbers) giving passengers the indication that they won't be served a meal as it would be buy on board. There was also the flip side, where a Mumbai - Vadodara flight with four digit flight numbers would be operated on a mainline Jet Airways plane. Some might also feel JetKonnect compounded things a bit more.
About 2 and bit years later, following the introduction of Vistara, Jet Airways quickly reacted and came up with 'OneBrand', abolishing Jetconnect's service for good, and all flight would have a complimentary inflight meal. It seemed like the pre-2007 Jet Airways was making a comeback. Good news for the Indian passengers! Alas, JetKonnect never went. Still holding on to Air Sahara's original permit, JetKonnect still operates as a separate airline, but with the same Jet Airways service onboard. The memories of 2009 onwards still haunt passengers, as
the sight of a JetKonnect plane still bring questions in to people's minds.
BACK TO SUMMER 2016
Well, more like fall at this point. But anyway.
Hopefully I have done enough to make this entire Jet Airways story as clear as mud for you. Without further ado, let me present to you my first flight with JetKonnect!
The flights from the trip so far:
Summer '16 trek back home - Part 1: Sun rise onboard the long range CRJ (DL GFK-MSP CRJ-900, May '16)
(video trip report)
Summer '16 trek back home - Part 2: ChicaGO on United's A319! (MSP-ORD, May '16)
(video trip report)
Summer '16 trek back home - Part 3: World's longest jet, Lufthansa's B748i! (ORD-FRA May '16)
(video trip report)
Summer '16 trek back home - Part 4: Nearly First Class - stories of the empty A380! (LH FRA-DEL May '16)
(video trip report)
Summer '16 trek back home - Part 5: Air India's domestic Dream)liner (DEL-CCU May '16)
(video trip report)
Summer '16 trek back home - Part 6: Big delays, cracked windshield, angry passengers (SG CCU-BOM B73J)
(video trip report)
Summer '16 trek back home - Part 7: Efficient IndiGo! (Mumbai to Kolkata, A320, May '16)
(video trip report)
Summer '16 trek back home - Part 8: Vistara's INAUGURAL flight out of Kolkata! (CCU-DEL, Jun '16))
(video trip report)
Summer '16 trek back home - Part 9: Take me home, Vistara! (DEL-CCU, Jul '16)
(video trip report)
And the video trip report which is here:
S24264 trip report video
Since my onward international flights were out of Delhi this time around, I needed to book a domestic flight Delhi. No time for the train, I decided to narrow it down to three (and only three) flights. All happened to be on Jet Airways. I had a bulk of my frequent flier miles expiring soon, so I decided to use these miles. My three options were a 0615am departure on JetKonnect, a 11am departure on JetKonnect, and an evening departure on Jet Airways. I settled for the 11am departure.
This never ending JetKonnect saga is an interesting one. While my ticket was booked on 9W7141, the flight number really was S24264. The average passenger would not know until reading the boarding passes, or at the gate, or on board. Unfortunately, this also meant that I was not able to pre-select my seat because this was not a mainline Jet Airways, it was the ex-JetKonnect/Jetlite/Air Sahara operated (S2) flight. Great confusion.
ROTATION OF THE AIRCRAFT
Flights S24263/4264 were part of a New Delhi - Kolkata - Port Blair rotation (and return), leaving Delhi as early as 0230 hours, and arriving back to base at 1325 hours. It used to be just one of three winglet planes (VT-JLE, VT-JLF and VT-JGJ) that fly the Kolkata - Port Blair - Kolkata sector. So if a non-winglet B737 flies the DEL-CCU sector, a winglet equipped B737 is waiting at Kolkata to fly to Port Blair, with the same flight number (usually after completing the Kolkata - Chennai - Kolkata run). With this in my mind, I was hoping
it would NOT be VT-JLE,
since that is a plane I have been on previously, back in 2011.
The rotation of the aircraft (my flight in
bold
, all times in IST)
S24263 Delhi to Kolkata 0230 - 0440
S24263 Kolkata to Port Blair 0525 - 0740
S24264 Port Blair to Kolkata 0810 - 1015
S24264 Kolkata to Delhi 1100 - 1325
(PS - This is a August 2016 flight report. While the flight route and timings still exist, they are operated by mainline Jet Airways with a four digit flight number. Confusing, right?!)
With the web check in completed, I got seat 14A for me - my favourite - in front of the engine seat on the Jet Airwa…err..JetKonnect B737. I was obviously not very happy to leave. As much as I have managed to pull through two semesters without too much of a 'missing-my-family' breakdown, it's never easy. Add to that, the death of a relative over shadowed the end of my long stay in India. Some people were flying in from the USA and the UK to see their ailing mother: both of them would be flying in on the morning Emirates arrival into Kolkata at 0820 hours. Knowing the AvGeek I am, Dad suggested we leave early so that I could get dropped off and he'd pick up the two sisters.
An avgeek's nightmare came true. A repeat registration.
VT-JLE had flown the Kolkata - Port Blair sector.
I tried catching some sleep, but the thunderstorm on the day of made sure that wasn't going to happen. Final bit of packing complete, my luggage was at 16.1kgs (35.5lbs), 1.1 kgs over the 15kg (33lbs) limit. With this slight concern in my mind of paying for overweight baggage, it was time to head for the airport.
DAY OF DEPARTURE
EK570 had arrived a whole 25 minutes before time. However, long queues at immigration meant that there was still some time before the folk would head out. Traffic wasn't too bad on the way to the airport. I got dropped off at the arrivals section and took the elevator up to the departures level.
I have to admit, I have started to like Kolkata's new terminal more and more. I was waiting in line at 0846 hours to enter the terminal building.
CHECK IN & SECURITY
Baggage security screening was done pretty swiftly. I loved the Independence Day decorations that were still present: the flag, orange white and green balloons and ribbons!
Inside the terminal
However, check-in took forever. I wisely headed for the web check in baggage drop line (when I could've easily headed for the regular economy class line, ugh).
It was 0853 hours when I joined the line in check in island D. It took a good 8-9 minutes to process some other folk's check-in… They were in a largish group. When asked if I could join a different line for check in (since it was empty anyway), I was given a pretty rude 'NO!'. Wow, okay then!
However, once my check in was processed, it was quick: 16.1kgs waived through, boarding pass handed, I was instructed to look for flight S24264 at Gate 20. The boarding pass said 'JetKonnect', flight number 'S24264 CODESHARE WITH 9W7141'.
Security Check was once again very quick. Empty!!
SPOTTING IN THE RAINS!
I headed for the very end of the concourse, towards Gate 16. Gate 16 is a dual gate. It can be used for domestic or international flights, a partition exists to distinguish between the two. This gate is almost always used for the Air India Dream)liner service: the morning flight arrives as a domestic one and departs as an international flight, while the afternoon/evening flight is an international arrival and domestic departure. VT-ANS was the Dream)liner that came in as AI401, and would depart as AI21. Not as confusing as the JetKonnect saga

My boarding pass. Notice the codeshare?

Headed towards Gate 16.
VT-ANS, the Dream)liner to Delhi.
I found a clean window to sit beside, in close proximity to Gate 20.
VT-JGK, a Jet Airways B737-800W was parked. She came in from Mumbai as 9W619, and would head back as 9W626 (and further continuing on to Goa with the same flight number). It got dark, it rained, and a lot of flights came and went. Let the pictures (or the video clips!) do the talking

VT-JGK and an Air India A319 in the background.
GoAir A320
Away she goes!
VT-JNN in the distance. Jet's no-winglet Boeing 737-800s are now history.
VT-JFC coming in from New Delhi as 9W903.
VT-SJI, JetKonnect B737-800 from Bengaluru as S24363, and would continue on to Guwahati and Jorhat with the same flight number.
Not quite sure where this birdie came from, but it would operate to Aizawl as 9W2769. The four digit delight...
Same airline, same aircraft type, different liveries! VT-SCA to Agartala as AI743, VT-SCS headed to Mumbai as AI676).
Off to Dubai goes A6-ENX!
VT-ANS made it two Boeing wide bodies to depart in a row..
Mihin Lanka Airbus A321 4R-MRC from Colombo as MJ331. Yes, Mihin is no longer in existence.
VT-TTG Vistara A320 to New Delhi as UK778.
A downpour happened, followed by some slight drama when VT-SJI operating S24363 (Bengaluru - Kolkata - Guwahati - Jorhat) docked at gate 20, my gate. With S24363 departing for Guwahati at 1035 hours, and S24264 arriving at 1015 hours, I had a small ray of hope that I might just record a new registration in VT-SJI. This hope however, came crashing down. My flight's gate changed from Gate 20 to Gate 18.
'May I have your attention please. This is a gate change announcement for Jet Airways flight S24264 codeshare with.....Jet Airways 9W7141...'.
Again, confusing much?

Druk Air from Paro, A5-JSW is an A319
S24363 continuing on with its flight...
WHAT GOES AROUND, COMES AROUND...
It was looking all well for VT-JLE to make a before time arrival at 1000 hours. Keeping a track of activity on FlightRadar24, I knew when to expect VT-JLE's imminent arrival….or was it?! VT-JLE roared back into the cloudy skies over Kolkata as a go around was executed! I waited. VT-JLE arrived at 1023 hours, a 13 minute delay. This however, was not the end of delays. My plane got stuck behind three planes in the pushback sequence for departure! It was at 1038 hours when VT-JLE finally pulled in to gate 18.
Traffic in JLE's way!
VT-JLE is no stranger to the JetConfusion. Delivered to Jetlite with the mainline Jet Airways livery (as opposed to the crappy light blue one), a shoddy job was done with the titles:
Before finally getting the JetKonnect titles...
And finally, a easy peel-the-sticker-off job to show Jet Airways!
Finally...there is VT-JLE!
An IndiGo A320, before heading to gate 18...
I headed for my gate and waited. It looked like a seemingly full flight judging by the passengers seated in the area.
Well JLE, I guess we do meet again.
Looking reasonably full....
BOARDING
A 10 minute delay was announced for my flight because of the go around and traffic on the apron. The crew boarded at 1052 hours, while boarding was called for all passengers at 1053 hours. A long queue had formed in front of the gate. I joined the line, I was the second last passenger to board the aircraft! I felt that there were barely 100 passengers who boarded at Kolkata…the full flight meant that there were many folks flying to Delhi from Port Blair.
Nosey 737!
Walking down the jet bridge, I was given a very friendly warm welcome by the cabin crew onboard. I was onboard at 1109 hours. JetKonnect uses the old Jet Airways Premiere class seats, almost like walking back into 2000!
12 J class seats
ONBOARD - OF COURSE THAT'S YOUR SEAT
I headed towards my seat - horror of horrors, someone was already seated in my seat 14A! It was an elderly elderly gentleman, and his wife in the middle seat.
'Excuse me sir, but I think you're in my seat..' 'No, this is 14C.'
Bewildered, I pointed up to the sign
'see, 14A is a window, 14C is the aisle seat..'
After some pretty pointless arguing (but luckily without the need to call the crew), I rightfully snagged my seat 14A, the elderly man quite disgruntled because of the prospect of spending just under 2 hours in the middle seat. Har har.
All the rain.... so much rain!
DEPARTURE - PUSHBACK
Doors were armed at 1109 hours. We were welcomed onboard with the usual announcements, a strangely long flying time of 2hr20min was announced. Captain Hemant Prakash was in command, and second in command Gaurav Malik.The JetKonnect/Jet Airways announcement still persisted among the cabin crew as well, they did not know if they were flying on behalf of Jet Airways or JetKonnect lol.
Mihin departs to Colombo...
We were pushed back at 1120 hours, a delay of twenty minutes. The two CFM56-7B24 engines were fired up as we began a long taxi towards Runway 19L. The runway direction had changed.
Start up video
Customary Blue Dart B757-200F parked in the remote bay
TAKE OFF - ROAR OF THE CFM56!
We made the U-turn on the very flooded turn pad, and began our take off roll 40 minutes after STD at 1140 hours, and My God did the CFM56-7B24 engines make some fantastic sounds on take off! Chopping through the gray clouds over Kolkata, it was a bumpy ride.
Take off video
Breaking clear of the clouds
Winglet shot again!
INFLIGHT
Soon, we climbed out of the dark clouds and in to the blue skies, jetting towards 40000 feet. Most passengers had fallen asleep, and I followed suit. The usual announcements and stuff were made. The seat-belt signs were on for a good third of the flight thanks to the turbulence that occurred.
Cabin of the ex-Ryanair bird
Controls
A great day to fly, now that we're avoiding the clouds

Meal carts were rolled up the aisles for the meal service at 1204 hours. I got my meal at 1213 hours. It was the usual option of vegetarian and non-vegetarian meals. The vegetarian meal had samosas and chhole (gram peas), while my non vegetarian option was a paratha (Indian bread) and chicken curry.
Rather empty looking meal tray
Silverware - rare in domestic flights!
As tasty as the meal was, I found the quantity to be a bit inadequate. The now Jet-standard tamarind candy was present, too.
Some information packs with the meal...
Some cloud formations
Seat pan, of sorts
Dessert was handed out at 1230 hours, a tacky butterscotch ice cream. And finally to conclude service, hot tea and coffee was served at 1238 hours. I went for tea, as always. I've found tea to be of top-notch quality on most Indian airlines (and surprisingly,
Air France!
).
A routine Jet Airways flight was not quite the case this time…because it was a JetKonnect flight

Jokes apart, this was a pretty decent flight with Jet, nothing too extraordinary, however. The crew were attentive to the passenger's needs and were in quite a positive attitude all the while, being interactive and having a smile on their faces. It wasn't too long before we'd start descending in to New Delhi.
Interestingly, going on with the JetKonnect and Jet Airways confusion, the safety card was of…JetKonnect.
JetPrivilege ads
MAGAZINE ERRORS?
I flipped through the pages of the comprehensive JetWings magazine, this one covering quite a bit of info about Canada.
Some pretty comical flaws were there, however: still showing the old Mumbai T2 for transfers, still showing the Brussels Airport map despite moving in to Amsterdam, and finally showing some huge engines on the B737-800 aircraft: no, Jet does not have the B737MAX yet

Various route maps
Fleet - with the MAXs

If only Jet's meals looked this good...
And some other stuff...
DESCENT - HELLO (AGAIN) DELHI!
It wasn't until 1300 hours that I realized we were well in to the descent phase of the flight. Clouds being closer than before, and thanks to Snapchat's altitude filter, I knew were edging closer and closer to New Delhi. This included some choppy clouds as the crew prepared for arrival nonetheless. Captain came on the PA system for his announcement - '…welcome onboard JetKonnect on behalf of Jet Airways…' We were 120kms out of Delhi, descending through 22000 feet. To conclude his announcement he said 'Thank you for choosing JetKonnect….' yep.
We were now well below the cloud layers covering Delhi, the crew made their final landing preparations announcements. There was some bit of congestion in Delhi, but we only had to circle for barely 4 or 5 minutes before continuing with our approach pattern.
We lined up with Runway 29, a smooth touchdown was executed at 1325 hours, bang on schedule despite the 40 minute delay in taking off. Not being used to sitting so far up ahead, I wasn't sure if the landing gear was deployed!!! However, that was just me being silly lol. Some pretty hard braking followed.
Landing video
We taxied off of the active runway towards Terminal 3, to park with the other Jet Airways Boeing 737s around.
ARRIVAL
We docked at gate D43 and engines were cut out at 1332 hours. After the usual announcement of the baggage belt number, there were two more interesting announcements: the first one requesting passengers connecting to Lucknow to stay onward (a short flight East of Delhi, roughly half way between Kolkata and Delhi

, this would be operated by VT-JGE that was parked not too far away), and requesting passengers to pull the window shades down to keep the cabin cool for the next passengers to board the flight - yeah, everyone ignored it like a fly flying, sadly.
Just before the window shade was pulled down!
VT-JLE would stick around until 1405 hours when it'd operate S24721 to Guwahati.
Not too long of a walk, thankfully
Arrivals
I waited around at Baggage belt 6 - the number of people who walked away thinking this was a flight from Port Blair only and cursing the crew as a result of their 'mistake' and 'negligence' was hilarious. Standing around there not trying to laugh was tricky

The belt however took forever to start working. It wasn't until 1409 hours when I finally got my luggage and headed home.
I had just under 35 hours in India, the countdown to head back to the USA…
the countdown to Lufthansa's A340-600 had begun….
That's the end of the first of many JetKonnect encounters I would have. I will leave you with a picture of the baggage tag, which absolutely contradicts anything that was ever said about a JetKonnect being born.....
Not being harsh or anything here, just stating what the truth is. I have been a long time Jet Airways customer, and that won't be changing any time soon. Its just that they have put themselves in a predicament that seems to be taking forever to come out of. Barring the official and administrative stuff, and the confusion of titles on ground and onboard, a standard Jet Airways flight again. Decent meal, decent crew, on time, clean aircraft.
My other trip reports:
2016

Summer '16 trek back home - Part 9: Take me home, Vistara! (DEL-CCU, Jul '16)
(video trip report)
Summer '16 trek back home - Part 8: Vistara's INAUGURAL flight out of Kolkata! (CCU-DEL, Jun '16))
(video trip report)
Summer '16 trek back home - Part 7: Efficient IndiGo! (Mumbai to Kolkata, A320, May '16)
(video trip report)
Summer '16 trek back home - Part 6: Big delays, cracked windshield, angry passengers (SG CCU-BOM B73J)
(video trip report)
Summer '16 trek back home - Part 5: Air India's domestic Dream)liner (DEL-CCU May '16)
(video trip report)
Summer '16 trek back home - Part 4: Nearly First Class - stories of the empty A380! (LH FRA-DEL May '16)
(video trip report)
Summer '16 trek back home - Part 3: World's longest jet, Lufthansa's B748i! (ORD-FRA May '16)
(video trip report)
Summer '16 trek back home - Part 2: ChicaGO on United's A319! (MSP-ORD, May '16)
(video trip report)
Summer '16 trek back home - Part 1: Sun rise onboard the long range CRJ (DL GFK-MSP CRJ-900, May '16)
(video trip report)
The pencil jet(s) for spring break! (+ Iron Maiden bonus): Delta MSP-FLL-MSP, March '16
(
DL1608 video trip report
,
DL2027 video trip report

)
De-iced & Delayed, cold onboard a CRJ! (ORD-MSP-GFK on Delta, Jan '16)
(ORD-MSP video report)
(MSP-GFK video report)
Delta's aged B767-300ER across the Atlantic! (CDG-ORD in Y, Jan '16)
(
video report
)
Air France's NEW Economy (B777-200ER, Bengaluru to Paris, Jan '16)
(
video report
)
Delays and despair: stressed out in the middle seat! (Jet Airways B737 Mumbai - Bengaluru, Jan '16)
Air India's hybrid babybus from Kolkata to Mumbai (Jan '16, Y)
(
video report
)
2012
South Africa 3: 12 days in Scintillating South Africa (Kruger, Kulula and Rand Airport, Apr' 12, LONG!)
South Africa 2: Elegant Emirates Economy! (DXB-CPT, B77W, Apr '12)
South Africa 1: My first flight on Emirates, my first flight on the 777 (CMB-DXB, Apr '12)
2011
International transit with Jet Airways (BOM-MAA-CMB, Oct. '11)
Konnecting to Bhubaneswar (9W BOM-BBI-BOM, Jul '11)
Three trips between India and Sri Lanka (9W BOM-CMB-BOM: Jun '11, Jul '11, Oct. 11)
To India's Orange City: Mumbai - Nagpur - Mumbai on Jetlite & Tadoba National Park (May 2011)
My last flight on Kingfisher Airlines (and 2 other Jet flights, May '11)