BACKGROUND
One Friday afternoon as I sat in the university library with little to do but contemplate my almost certain failure in one of my modules (fortunately not one that mattered too much) my mind wondered to ways in which I could spend my Korean Air mileage and I ended up purchasing a one way ticket from Hong Kong to Incheon for the following Tuesday morning, anyway more about in a different report.
So there I was, needing to get to Hong Kong. I had ruled out the possibility of an overnight trip due to the cost of Hong Kong and my lack of time and so I began searching for morning/early afternoon flights to Hong Kong. There are plenty of flights between Incheon and Hong Kong, 67 per week to be precise offered on a variety of full service and low cost airlines including three carriers offering this as a fifth freedom service, Air India, Ethiopian Airlines and Thai Airways. Having flown with the latter last summer and with chances to former two relatively slim living in Korea I gravitated towards flights with these two airlines. As Ethiopian Airlines do not operate the route on a Monday they had to be ruled out and so I was left with Air India although I expected to find a much cheaper deal with the LCCs that plough the route. Unsurprisingly LCCs Eastar Jet and HK Express offered the cheapest fares however Air India's fare was only 30000 KRW more expensive and so I had to book this ticket! Several minutes later after navigating myself through the minefield of Go2Gate's optional extras I had purchased the ticket for just under 130000 KRW and could begin to look forward to the trip!
Whenever I search for tickets between Korea and the UK, Air India always seem to offer cheap fares to both Heathrow and Birmingham however I am always put off by both the long stopovers in Delhi and/or Mumbai and the fact that I am not an avid collector of Star Alliance miles. In fact, I have only flown internationally three times on Star Alliance carriers, those Lufthansa, SAS and Thai Airways. Given that recently I've had quite a few problems with Skyteam carriers these days I'm hoping to fly more often with Star Alliance carriers. Anyway, Air India 317 is a three leg 4300 mile journey that takes the aircraft on an afternoon jaunt from Seoul Incheon down to Hong Kong where it spends an hour and 15 minutes on the ground before departing for an evening trek across China to India's capital New Delhi, after a one hour and forty minute break it departs on its final leg of the journey, a hop southwards to Mumbai where it should arrive at 0115, 14 and a half hours after leaving Seoul.
Online check in for the flight opens 48 hours prior to departure, I did this the day before and despite booking through a travel agency I had no problems doing this and was able to select my seat with ease.
THE JOURNEY
In order to get an idea of whether the flight would be delayed as soon as I woke up I checked FR24, hoping that the aircraft would be well on its way to Hong Kong. After studying the flights on-time performance for a month, I had been fairly hopeful for on time departure. As it turned out, the aircraft departed Mumbai on time, however unusually, the aircraft has been switched in DEL with the flight departing three hours late. FR24 reported the aircraft would leave ICN with a two which seemed to be a realistic estimate given the late running of the service. Given this delay, I decided to catch the train a little later than planned at 1200 which was still rather early assuming our flight would depart two hours late.
It was another clear and bright morning in Seoul and so the decision to walk to Seoul station was a no-brainer. I set off just before 1100 and after walking mostly downhill I arrived at the concourse of the station around thirty minutes later. Despite having thirty minutes until the departure time of the train I intended to take I decided to head straight to the AREX City Air Terminal located in the basement of Seoul Station. After stepping off the escalators and turning left into the AREX station I immediately spotted a line of people waiting to purchase tickets at the counter, which I thought a little odd considering that there were plenty of free ticket machines available. I decided to use one of these and found them simple and easy to use. These machines are available in Chinese, English, Japanese and Korean. The ticket for the non-stop ride to Incheon Airport cost me 8500 KRW which includes a refundable 500 won deposit for returning the plastic card one receives in order to pass through the station barriers. A long paper ticket is also received which features a seat reservation. Considering that I imagine most passengers don't spend a great deal of time at the AREX station the facilities there were impressive with a Korean restaurant, lounge, travel centre, ATMs and of course for those travelling on Asiana, China Southern, Jeju Air or Korean Air, check in desks and an immigration office were available.
The old Seoul Station – now a cultural space
Check in at the City Air Terminal
I headed down to the platform ten minutes before departure which can be reached by several lifts. At the platform a smartly dressed AREX train attendant was on hand to welcome passengers and assist with the loading of luggage onto the train if necessary. I immediately boardedI immediately boarded the train and found it to be clean with large, comfortable and spacious seats. By 1200 the train had become rather crowded although the seat next to be remained free. Most passengers were either Chinese and Japanese with very few Koreans or other foreigners on board. After a welcome announcement in Korean and English our train departed at 1200 on the dot.
Onboard the train
The onboard entertainment for this short journey consists of the same videos shown on the all-stop train and free wi-fi which I found to work well although I did need to reconnect to it a couple of times during the journey. Nine minutes after leaving Seoul station we were out in the open having passed Digital Media City. As we crossed the Han River a Japan Airlines Boeing 787 could be seen climbing out of Gimpo before we headed back into the subterranean world before coming out again after Gimpo Airport, 32km from ICN according to the road sign on the adjacent motorway. At exactly 1243 we arrived at ICN and after using the refund machine to reclaim my 500 won I made my way up to main terminal.
My first port of call was the departure screens which confirmed a new departure time of 1615 and advised me to head to the K check in desks. I arrived here at 1250 and found this was split into two, a busy half checking in Peach passengers to Osaka and Okinawa and an empty half dedicated to Air India. As I had checked in online but not printed out my boarding pass I headed to the web check in desk. Here a friendly agent printed off my colourful Air India boarding pass and asked for my contact number, a requirement that I've only ever seen happen in Korea. The whole process was over within a minute or so and I decided to head straight to security. Surprisingly given how the check in areas didn't seem incredibly busy the security area was absolutely packed. The waiting passengers included tourists, business people and even the gold medal wearing England U20 football team on their way home from the U20 World Cup. All in all it took twenty minutes to pass through security and immigration, most of that time being spent in the security queue, a new slowest record! However I realise that I can hardly complain as I have had to wait much longer at other airports.
Unsurprisingly, airside the airport was relatively busy although as per usual there was ample space to sit down. After strolling around the Asiana wing of the terminal I headed to the satellite terminal bound train. Having skipped breakfast, by this stage I was incredibly hungry and upon arriving at the satellite terminal I decided to head to Quiznos for an incredibly overpriced sandwich and drink. After a long walk I settled down at gate 113 at 1500 just in time for the packed delay meals which consisted of a tuna and ham and cheese sandwich, a tub of water, a small twix, crackers and a cheese triangle. Surprisingly with 30 minutes until boarding was scheduled to commence there was no sign of our aircraft and 'Rio de Janeiro' a KLM 744 combi was unloading at our gate. A quick look at flight radar revealed that our flight was not scheduled to land until 1545 and thus our chances of boarding at 1530 were slim. At the gate the number of passengers was fairly small and comprised of about 50% Indian, 25% from HK and 25% from Korea.
Asiana giant
Asiana classic
An aircraft that would almost certainly beat us to HKG
Heading over to Europe
The winner of the most colourful aircraft award at ICN
An aircraft I had taken from AMS-ICN last November
The delay meal – I've had better, but I've also had far worse
Eventually the KLM Boeing 747 was emptied and tugged to a remote stand where it would rest until its night flight back to Amsterdam. A short while later, a slightly worn looking Boeing 787-8 pulled up to gate 113 and in no time passengers began to disembark. Five minutes later an announcement was made in English and Korean apologising for the boarding delay and claimed this was due to cabin preparation. Outside an army of workers unloaded what seemed like massive amounts of freight and at 1617 the first batch of cargo began to be loaded onto our aircraft, the amount of which was notably less than that that came off the aircraft. No crew were present at the gate and no crew disembarked the aircraft indicating that the crew stopover in Hong Kong rather than Incheon. The aircraft taking me down to Hong Kong would be VT-ANG, the 32nd Boeing 787 to be built. The aircraft was built in 2010 however, like many of Air India's Boeing 787s it remained in storage for a long a time before making its first flight. This first flight came in October 2013 and on the 5th of November that year it was finally delivered to Air India. The aircraft has been involved in one noticeable incident during its lifetime when a low oil pressure indication forced the crew to shut down the engine during a flight from Chennai to Singapore in September 2015. In the week prior to my flight, the aircraft flew over 51000 miles during 23 flights, visiting Amritsar, Calcutta, Cochin, Dubai, Hong Kong, Incheon, London Heathrow, Milan Malpensa, New Delhi, Rome Fiumicino and Vienna.
At 1630 boarding was called and after waiting for a few minutes my colourful boarding pass was torn and I boarded the aircraft. After a short queue on the jet bridge I stepped aboard and received a friendly 'namaste' from the two crew members welcoming passengers at the door before I made my way to 32J. In my opinion the orange and reds of the seats and carpets seem to go quite nicely together and created a good first impression as I made my way to my seat however that didn't last too long. To those who don't know about aircraft I'm sure this Boeing 787 would seem like an aircraft much older than its real age. The signs of wear and tear in the cabin were probably the worst I have seen in an aircraft and were virtually everywhere whether it be peeling stickers, worn buttons or bits of plastic hanging off. However, on the positive side despite the quick turnaround the aircraft seemed to have been well cleaned and I didn't seem to be any rubbish anywhere. Notably as we were boarding a Sharp Aviation K mechanic could be spotted on his hands and knees fixing something near the rear of the aircraft. This didn't bother me as knew the aircraft would not fly with a major problem, however perhaps this a worrying sight for some of the more nervous flyers around.
Nice soothing colours in my opinion
31FED? Really?
Each seat is either covered in red or orange fabric with a repeating star like pattern with an adjustable composite leather headrest. The seats themselves are comfortable and seemed to have plenty of legroom. Each seat features a large remote and USB port. Standard economy blankets and pillows were placed on each seat which was a nice touch, albeit an expected one for a full service airline. Interestingly some of these blankets were wrapped up whilst others were not. The seat pockets contained a sick bag (3 in my case), a copy of the 'shubh yatra' in flight magazine and the Golden Wings entertainment guide as well as the safety card. Standard low quality economy class headphones were also placed in the smaller seat pouch. All in all, the seat was pretty reasonable, in fact were it not for its battered-ness I wouldn't really have any complaints about this.
At least it worked!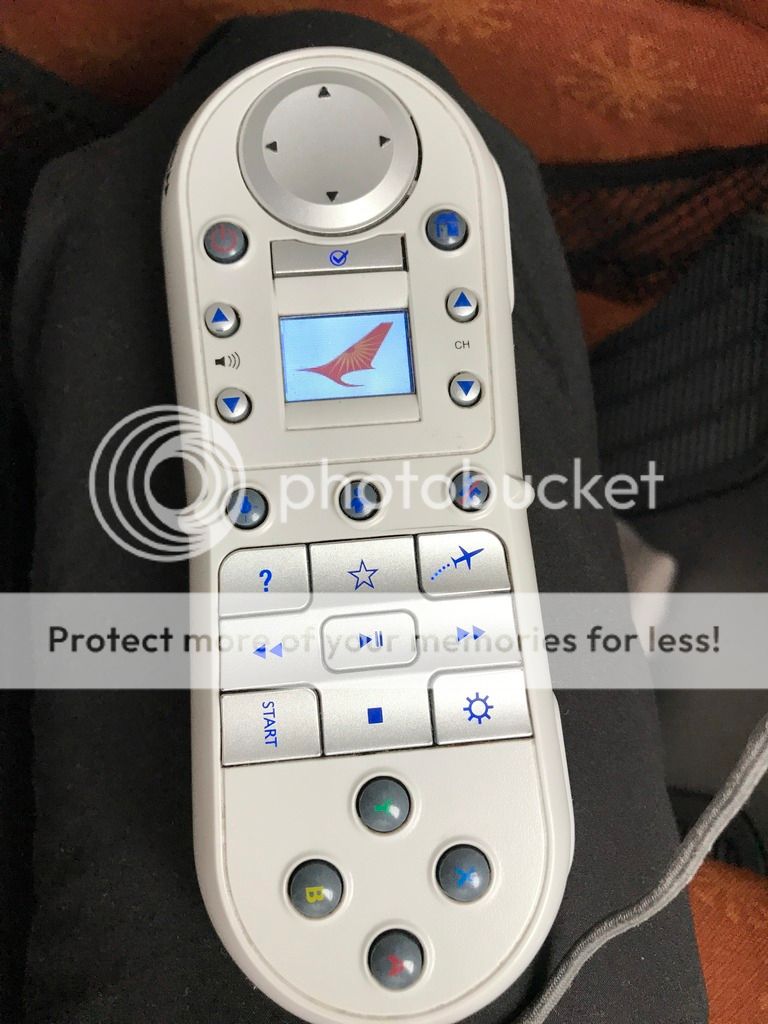 At 1650 the 'all passengers aboard' announcement was made which was music to my ears as I had two empty seats next to me. At that exact point the person in front of me reclined their seat to the max creating a bit of an uncomfortable situation however not a problem as I knew they would get told off soon for doing so during the pre-departure safety check. The load seemed to be a poor 50% at best, 40% at worst, although no complaints from me about this as we all love empty flights, right? A short while later the crew performed a welcome announcement in Hindi and English before the long safety video was played first in Hindi and then in English before a 787 information video featuring things such as how to operate the IFE and window shades was played in Korean. At 1657 we began our pushback, beating the SFO bound 744 to this. Engines were started after we came to a standstill, I can't deny the fact that the 787 is a quiet aircraft however I do believe the A350 to be a significantly quieter aircraft. As our engines were started the passenger's seat in front of me remained firmly in the reclined position and a mother and baby were standing at the front of the rear cabin. After engine start we held for about four minutes before starting our taxi. At this time the crew performed another safety announcement and made an apology for the late running of the flight. They also informed us to log any complaints on the website – a nice touch, sort of encouraging passengers to do this, although probably much nicer for them than having to deal with a bunch of complaining passengers for the next 3-14 hours!
Pushing back
Starting engines
Goodbye KE-land
After a short taxi to runway to runway 33L, with no traffic ahead of us it seemed as if we were going to depart without any cabin safety check however at the very last minute this was called. However this was done in a very lacklustre fashion, the crew didn't seem to check seatbelts nor did they notice the reclined seat of the person in front of me. At 1712 we taxied onto the runway and without pause we went rocketing down the runway and were up in the air after a short take off roll, although in true Incheon style we pitched down seconds later giving a good view of the islands of Sindo, Sido and Modo before we turned westwards, flying parallel with the North Korean border before rising above the clouds. After rising up above the clouds into the clear blue sky the windows were automatically dimmed to a moderate level although these could be overridden. Ten minutes or so after takeoff the seat belt signs were turned off and the crew performed the usual 'keep your seatbelt fastened when seated announcement' as well as advertising membership for Air India's frequent flier program.
Not too hard to notice this in my opinion
Almost away
A (stored?) KE Cargo 744F
Sido and Sindo – two islands connected to each other (but not to the mainland) by bridge
After departure I decided to have a play around with the Thales Top Series i8000 IFE system, which is available in both Hindi and English. As of June 2017 in terms of movies it featured 98 Hindi films, 52 Hollywood films and 9 international ones (from Korea, Germany, Italy, Russia, Japan, France, Spain, China and Egypt as well as 50 regional language films from across India in Bengali, Kannada, Malayalam, Tamil, Telugu, Marathi, Gujarati and Punjabi. It also features 165 TV programmes, 51 CDs, 3 audio books and 20 games. Now, I must say this selection is quite impressive although the IFE isn't without its problems. Firstly, the system isn't touchscreen and everything must be done by using the large, overcomplicated controller. Secondly, Air India has a large, global route network although the IFE is only available in Hindi and English, which for many passengers on my flight was of little use and indeed it seemed that the majority of non-Indian passengers on the flight resorted to their own entertainment instead of using the IFE. Finally, the moving map did not work at all although I accept that that will not be the case for every single AI 788.
Thirty or so minutes into the flight and the drinks service began. This was conducted in a friendly manner and I asked for an orange juice which was served to me in a brand-less plastic cup with a packet of Air India branded salted peanuts. I noticed that some of the crew seemed to be a little generous with flyer sitting opposite me receiving two cans of Heineken and two bags of peanuts after asking for a beer. I'm not sure whether it is because I hadn't eaten peanuts for a while or whether they were high quality nuts however they were delicious! The remnants of this service were cleared away by 1800. At 1815 the meal service began and consisted of an Indian vegetarian meal or fish, I picked the former and was given a paneer curry and vegetable curry with a hot paratha. The tray also featured a salad with a packet of Heinz Italian dressing, a cold bread roll with butter and a dish of gulab jamun for dessert. The plastic pot of Kowloon Dairy brand milk I received reconfirmed the fact that the meals were loaded in Hong Kong. As soon as I tasted the curry it took me back to the supermarket cook-chill curries I would regularly eat when I was younger in the UK, the rice seemed to be a bit too dry which also added to the cook-chill curry taste. However that's not necessarily a bad thing as the curries were certainly edible and the paratha was perfect. The chilled bread roll on the other hand was rather tough to cut into with a plastic knife and the butter a little unspreadable. The gulab jamun on the other hand was absolutely delicious, not too dry and not too sweet. Overall it was a reasonably enjoyable economy meal although not the best I've had. At 1830 the cabin crew came around with tea, water and coffee in that order.
As we flew further southwards any slight view of the ground we once had was completely taken away by the thick clouds beneath us. That combined with the moving map meant the only way to take a rough estimate of our position was to look at the time. Although that didn't really help as I was unsure whether we were taking a Seoul-Jeju-Shanghai-HK or a Seoul-Jeju-Taiwan-HK routing. However in reality we took neither, instead we flew what seems like a very long route. After departure instead of flying south, we continued flying west to mainland China all the way to near Taiyuan passing over the Shandong Peninsula before turning southwards towards Wuhan and Changsha before proceeding to Hong Kong with the majority of the cruise taking place at 40000 feet. On board a few of the passengers took advantage of the many empty seats, laid down, wrapped themselves in blankets and slept however as it seemed that most people were not travelling alone and this was not a long overnight flight many passengers chatted for the journey. Others seemed to be watching films on dramas on their tablets whilst others seemed to be reading a good old fashioned book. A couple of hours into the flight we hit a particularly bumpy patch leading to the re-switching on of the seat belt signs although this didn't seem to last very long at all.
About to hit some turbulence
For the rest of the flight the crew hid away in the galley and the lights were dimmed. The occasional patch of turbulence came and went and I entertained myself by observing the impressive cloud formations outside the window as the sun began to set. This dusk however was one of the more unimpressive ones I've been witness to whilst flying thanks to the high number of clouds. At 1910 HK time the clouds opened and the hilly/mountainous terrain of northern Guangdong as well as the long, winding Beijiang River became visible. A couple of minutes later the crew requested for all passengers to be seated as spray the aircraft. At 1920 the descent announcement was made and the cabin lights were suddenly switched on. Surprisingly there was a refresher video played reminding us of how to interpret the emergency exit signs. Now this certainly isn't a bad idea however it may cause some worrying in nervous flyers! As we descended the occasional cloud would flash up beneath us indicating that it might be a bumpy approach. As we sunk into the clouds my suspicions were confirmed and we were thrown around a little as we headed back to earth. Our course to HK took us down over Guangdong, passing just east of Guangzhou before heading straight over Macau.
Pre-landing safety video
At 1940 one of the pilots announced 'landing in 8 minutes' and so the crew began their final checks. As the crew made the final checks for landing they again walked straight past the fully reclined passenger without saying anything. As we sunk below the clouds dozens of cargo ships waiting to dock could be seen. As we came into land one of the cabin crew was having a friendly chat with one of the front row passengers and recommending places for them to visit in India. Eventually the airport came into sight at our one o clock and we lined ourselves up for landing on runway 07L. At 1949 we flew over the threshold of a rain soaked runway and before I knew it we were came back to earth with an incredible bump, perhaps the largest bump I've felt in an airliner! After some quick deceleration we taxied off the runway and made our way towards gate 40. During this time the crew welcomed us to Hong Kong and advised all passengers travelling to India to remain on board the aircraft and not use the toilets whilst on the ground. After a short taxi we pulled in next to an Air Niugini Boeing 767 and a few minutes later disembarkation began. As I had expected around 60% of the passengers remained onboard the aircraft with the majority of Korean passengers heading for Hong Kong.
As soon as we made our way up the jetbridge our boarding passes and passports were checked in order to make sure we weren't Delhi/Mumbai bound passengers fed up of flying. From the gate it was a reasonably long walk to the train station from were I caught a train to immigration. Unfortunately as we were not given immigration cards on the aircraft we were required to fill these in upon arriving at the immigration hall, although fortunately as there were no queues at immigration the process didn't take long and before I knew it I was on a train bound for Kowloon.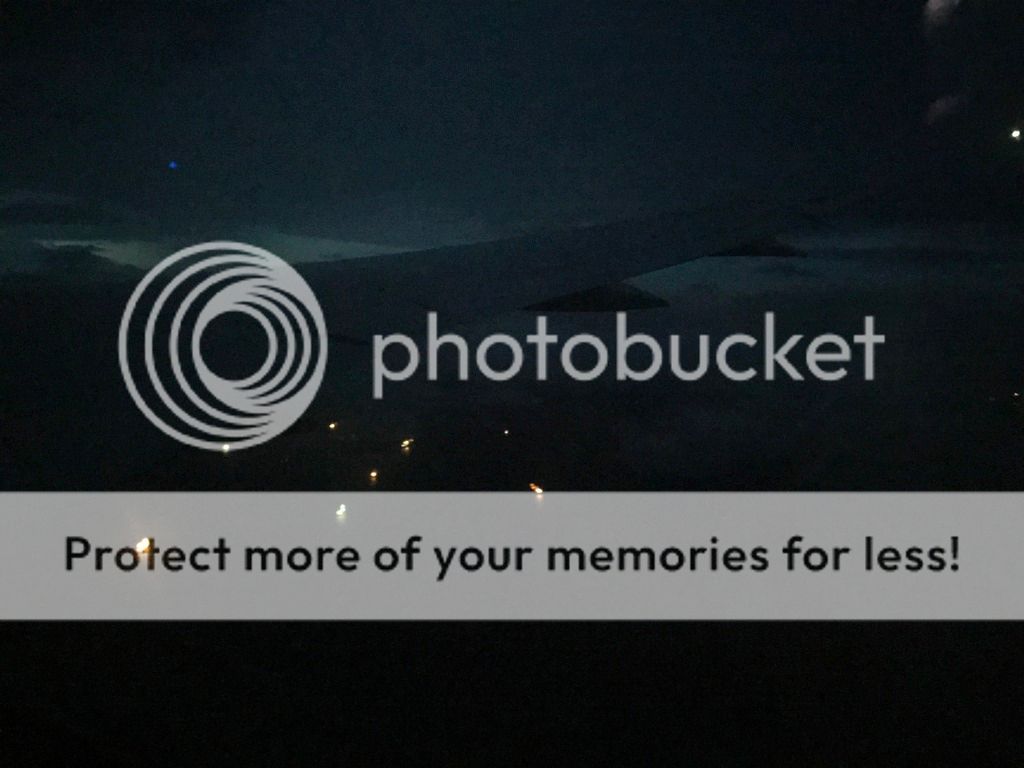 OVERVIEW
Well, my first ride with Air India was over and honestly, it had been a mediocre journey although considering how much I paid for the ticket I could hardly complain. During the flight the crew served the passengers in a professional yet friendly manner which left a good impression although of course on the other hand the delay without reason and the worn looking cabin brought the airline down a little. Would I fly Air India again? On a flight up to four hours – Yes, on a multi-stop itinerary from Korea to the UK – No
Thank you everyone for reading and feel free to leave comments or ask questions!
Other Trip Reports
Korea Domestic
Asiana Boeing 767 Gimpo-Jeju
Air Busan A320 Busan-Jeju
Jeju Air Boeing 737-800 Busan-Jeju
Jin Air Boeing 777-200ER Jeju-Gimpo
Korean Air Airbus A330-300 Jeju to Busan
Korean Air Boeing 747-400 Gimpo to Jeju
Korean Air Boeing 787-9 Gimpo-Jeju
Short Haul
Cityjet Avro RJ85 London City-Cork
Far Eastern Air Transport MD-80 Taipei Songshan-Makung
Thai Airways Boeing 777-300 Bangkok-Phuket
Ukraine International Airlines Boeing 737-800 Kiev-Istanbul
V Air Airbus A320 Taipei-Busan
Medium Haul
China Southern Boeing 777-200 Urumqi-Beijing
Vietjet Airbus A320 Ho Chi Minh City-Taipei
Long Haul
China Southern Airbus A330-200 Istanbul-Urumqi
KLM Cityhopper/KLM Fokker 70 and 747 Combi Humberside-Amsterdam-Seoul Incheon
Korean Air A380 Seoul Incheon-Paris CDG
Oman Air Airbus A330-300 and Boeing 787-8 Heathrow-Muscat-Bangkok
Thai Airways Bangkok-Karachi-Muscat
Vietnam Airlines Airbus A350 and Boeing 787-9 Heathow-Hanoi-Seoul Incheon