Flying aboard classic British / French Jetliners - 1985 & 1987
Hi A-netters. I'm pleased to present another series of short trip reports, this time of my experiences flying on a few classic jetliners in 1985 and 1987.
As a 20-year old USAF Airman I arrived in England for my second duty station in January 1985. Living near the British Rail "East Coast Mainline" enabled fairly easy trips to Heathrow and Gatwick via public transport. What started out as a two-year tour became a three-year tour and I was very pleased to stay in England for all of 1987.
As covered in an earlier trip report, my first day trip after arriving England was the British Midland Viscount roundtrip between Heathrow and Teeside. I documented that trip as part of my recently-uploaded Viscount report at
https://www.airliners.net/forum/viewtopic.php?f=9&t=1366631
The second trip I made was an overnight roundtrip to Manchester so I could fly aboard British Airways Tridents. The Trident 3 was the only version remaining in service at that time and I relished in the thought of getting to fly in them. I made arrangements to stay with the family of a fella I'd been trading airliner slides with the past couple of years.
I made my way to Heathrow by my normal routing of bus, train, tube from Alconbury to Huntingdon to Kings Cross to Heathrow. The trip took about three hours as I recall depending on timings. I always enjoyed my trips on English public transportation...I still have fond memories 30 years on.
The weather that weekend was dreadful and there were flight delays as it turned out.
Trip #1: British Airways Tridents -- 9/10 February 1985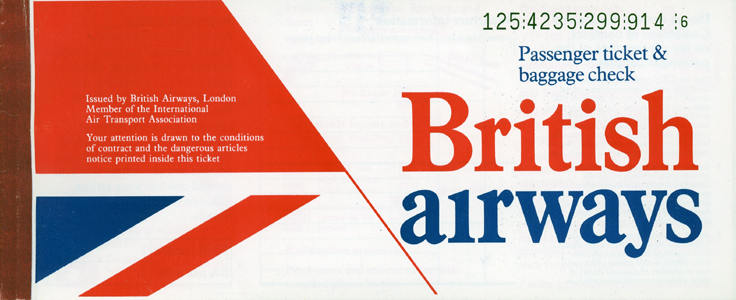 Ticket stock: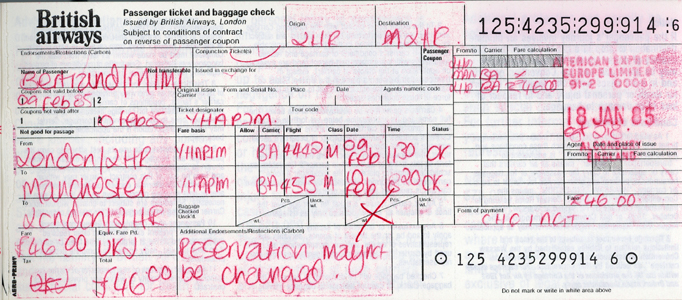 Boarding pass for Manchester: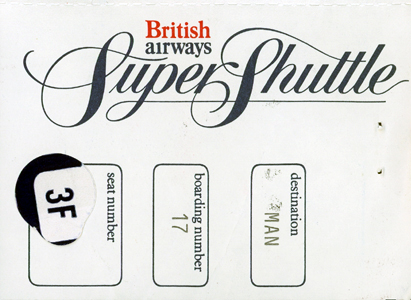 Super Shuttle flight schedule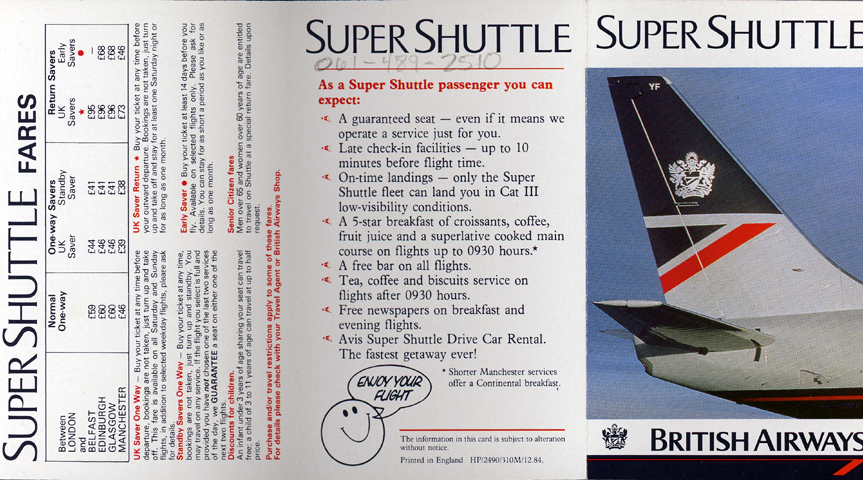 Super Shuttle flight schedule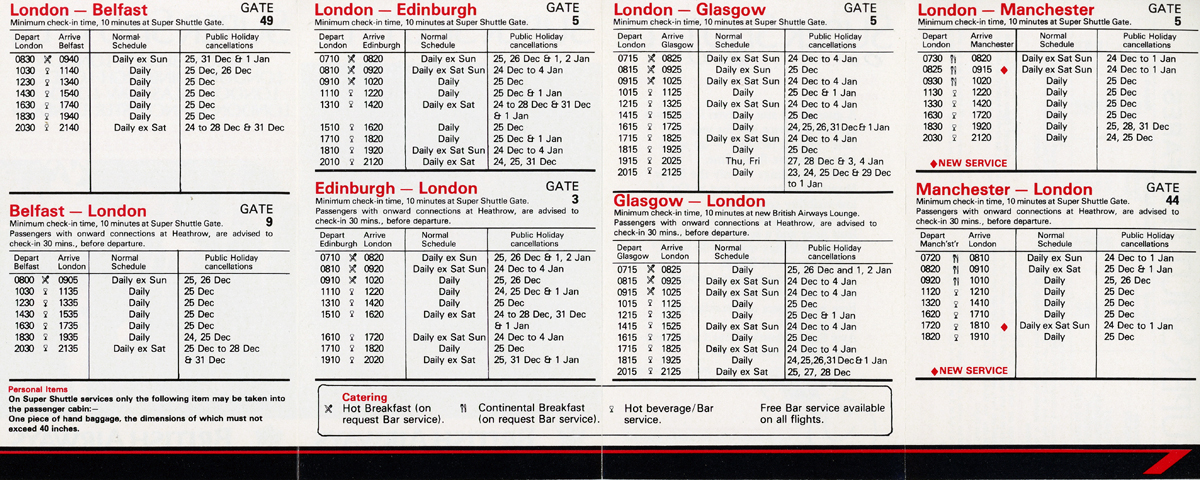 9 February 1985
British Airways #4442
London Heathrow (LHR) - Manchester (MAN)
Trident 3B G-AWZG
Dep: 4:36pm Runway 10R
Arr: 5:05pm Runway 06
Flight time: 29 minutes
Distance: 151 miles
Seat: 3F
Cost: 23.00 Pounds Sterling
Heathrow-Manchester great-circle route: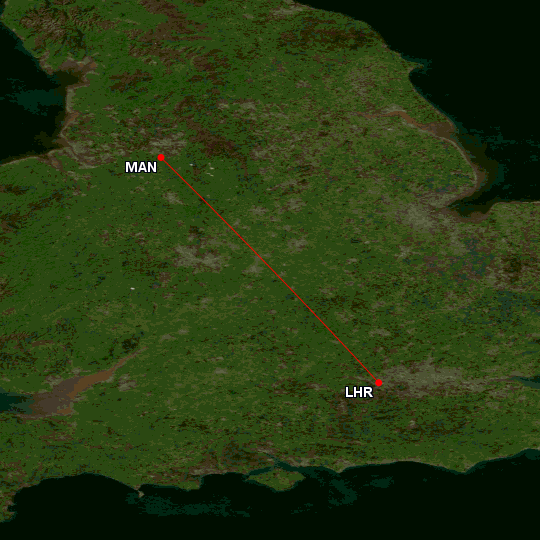 Maps generated by the Great Circle Mapper - copyright © Karl L. Swartz.
Sister Trident 3 G-AWZV being de-iced at LHR: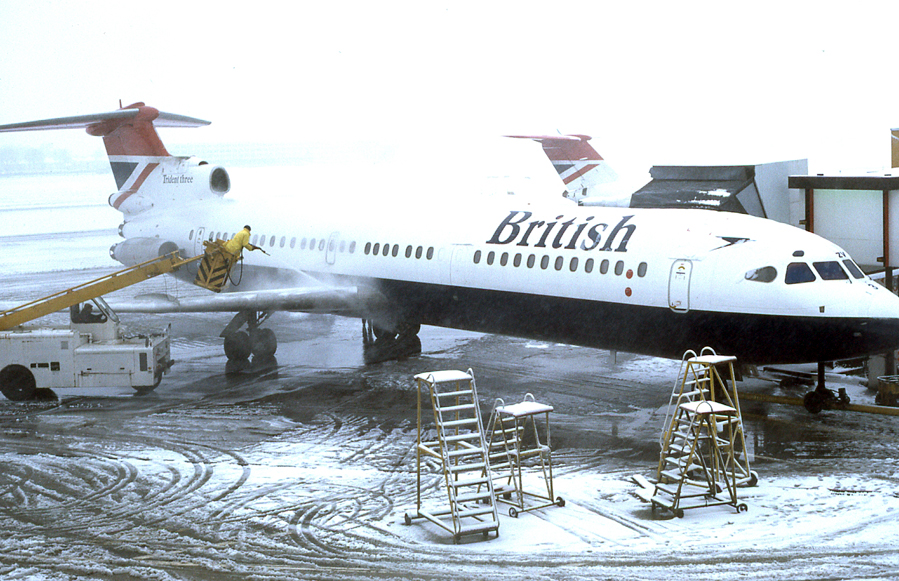 I love boarding via airstairs!!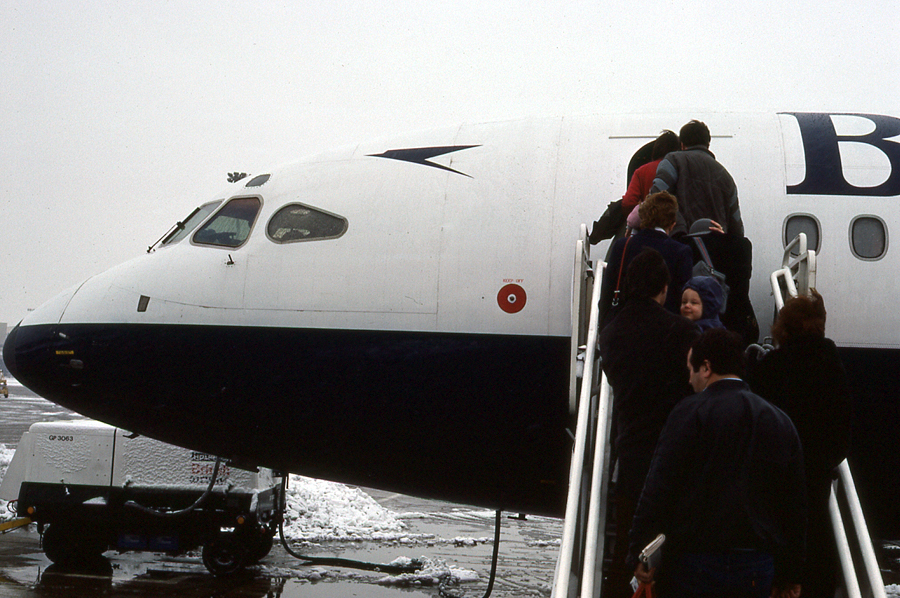 G-AWZG at LHR: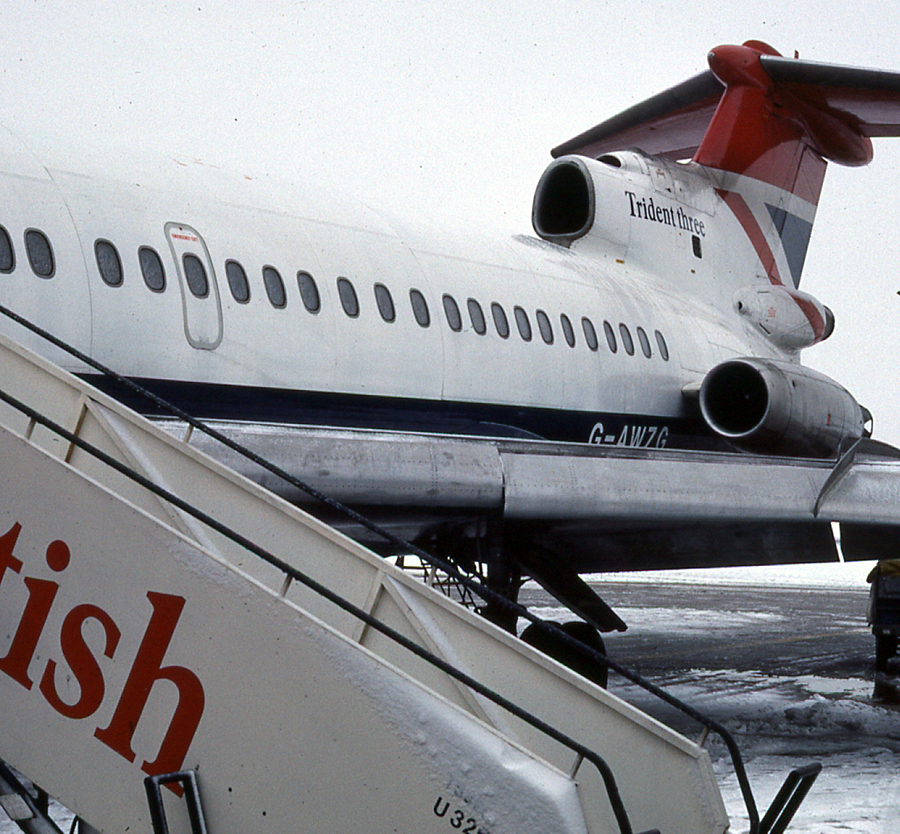 G-AWZG at LHR:
G-AWZG at LHR: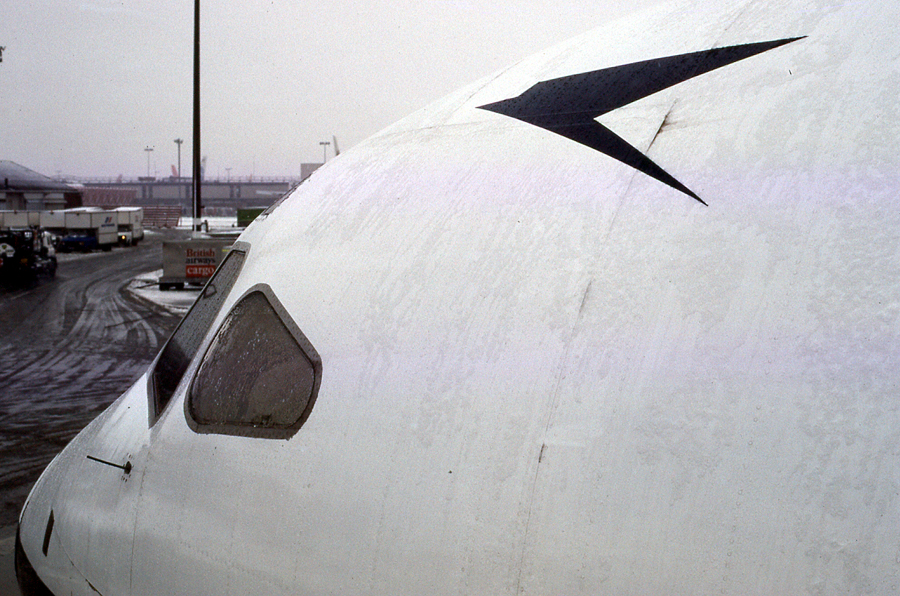 My log notes show we boarded at 1pm and finally departed at 4:36pm. The delay was due to the snow and a lonq queue for de-icing. Really ate into my time at Manchester but at least we all got there safely.
G-AWZG at Manchester after arrival: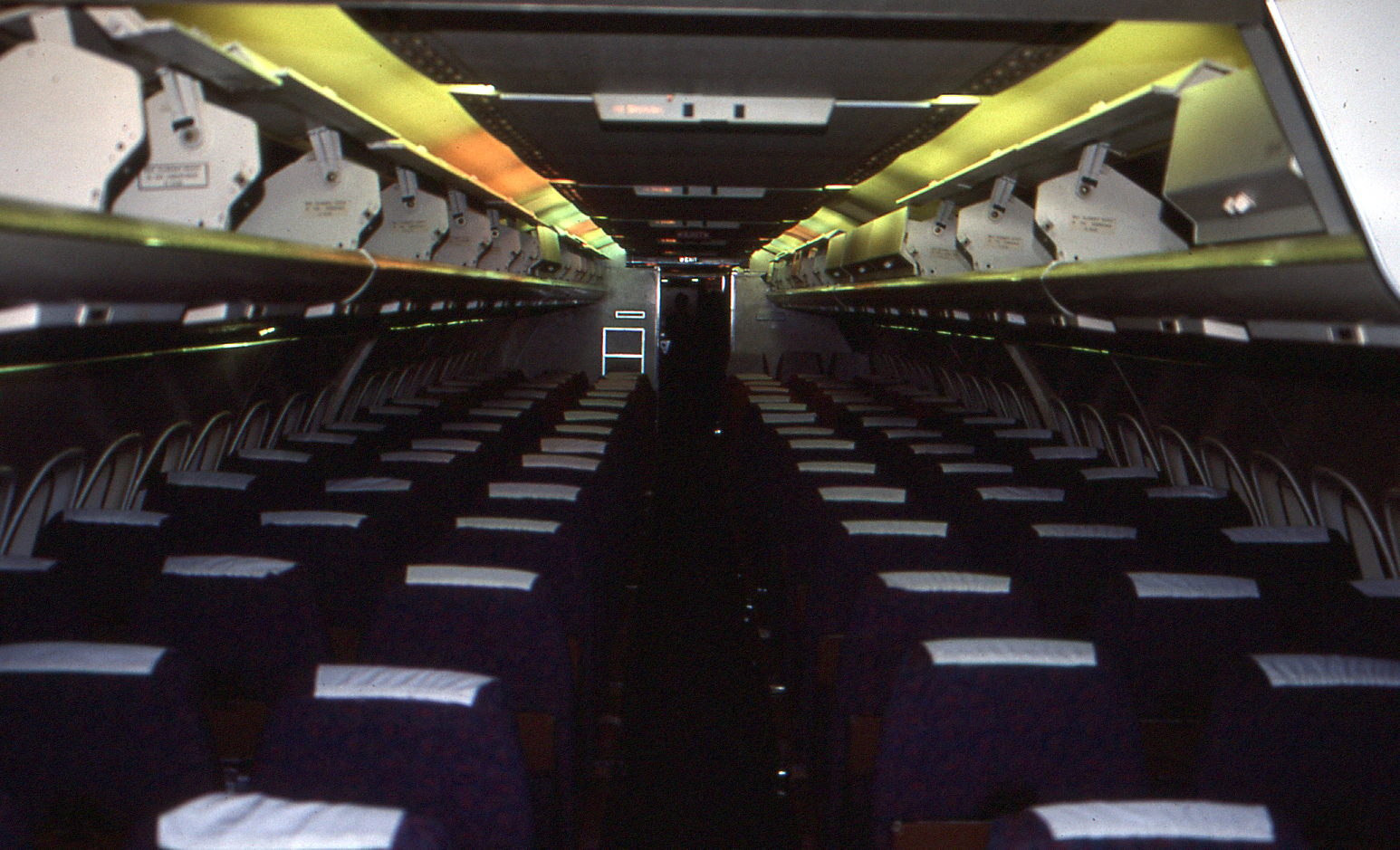 G-AWZG at Manchester after arrival:
G-AWZG at Manchester after deplaning:
While in Manchester I had a very nice time meeting Don and his family. I was treated to my first ever English Trifle dessert...it was simply heavenly.
Come Sunday morning, Don took me by the Leeds/Bradford airport where we did a little spotting. There we saw a British Midland Viscount, an Air UK Herald and two F-27s, a Metropolitan SD3-30 and a Spanish Cessna Citation registered EC-DOH. Prior to dropping me off for the flight back to LHR, Don took me around Manchester airport but with the soggy February weather I only made a few photos.
Boarding pass for LHR:
10 February 1985
British Airways #4513
Manchester (MAN) - London Heathrow (LHR)
Trident 3B G-AWZP
Dep: Runway 06
Arr: Runway 10L
Flight time: 48 minutes
Distance: 151 miles
Seat: 25F
Cost: 23 Pounds Sterling
G-AWZP flight deck: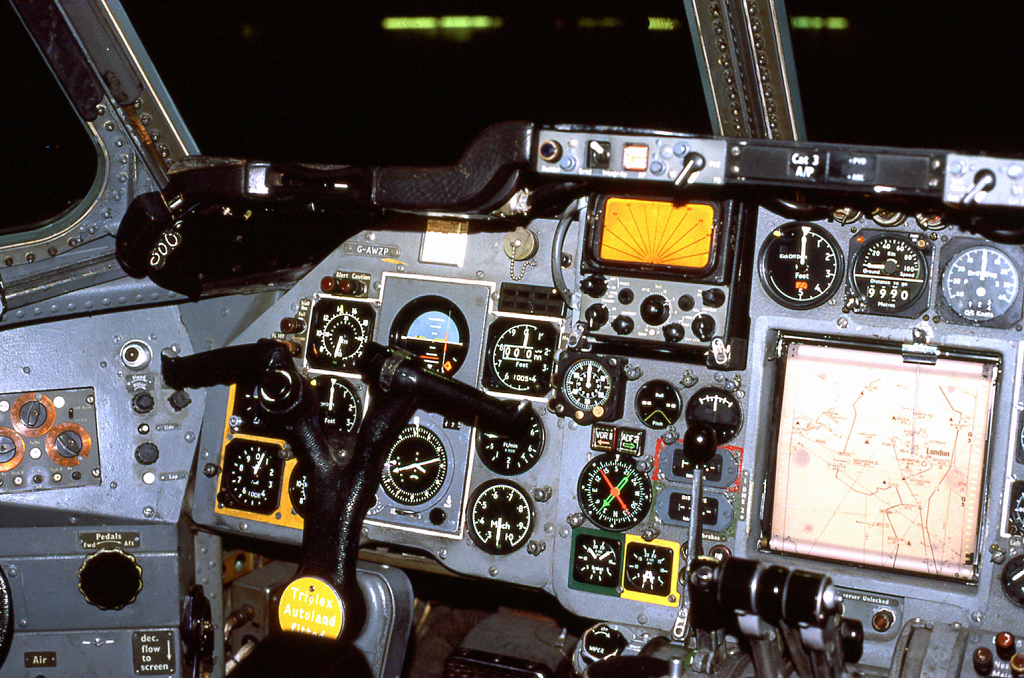 G-AWZP flight deck: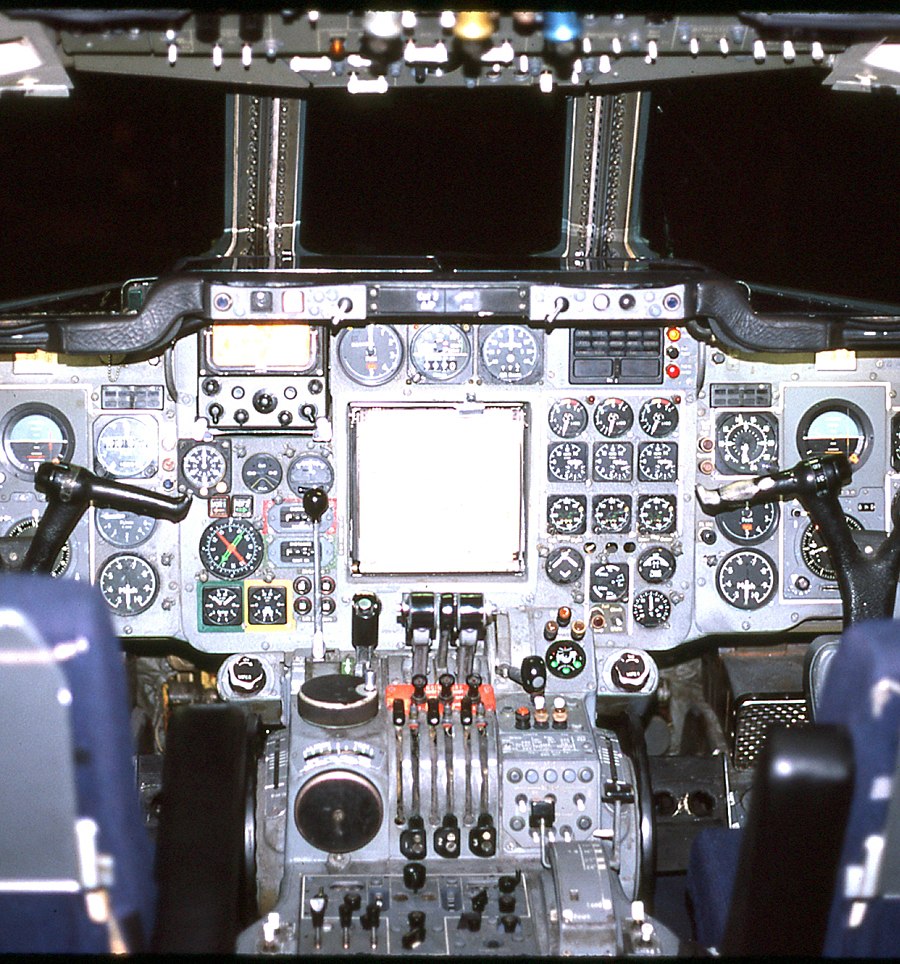 G-AWZP after arriving LHR: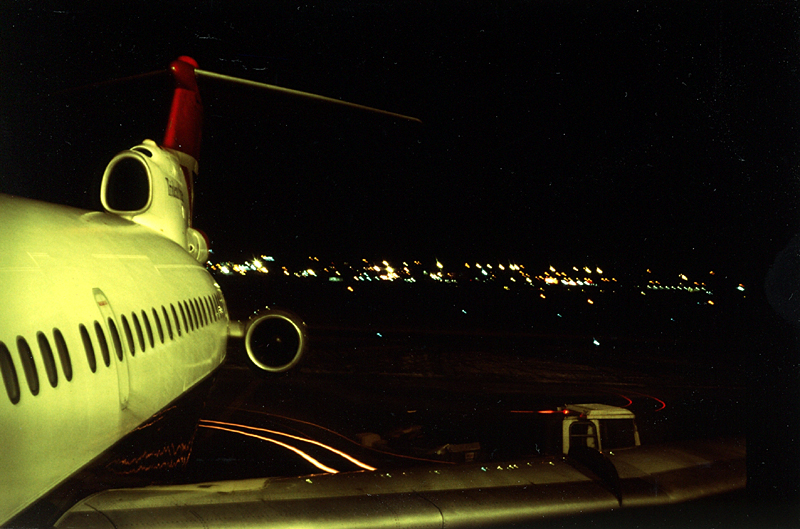 It was sad seeing the Trident 3s being broken up at the British Airways engineering base. Many enthusiasts including myself were elated when a couple of British Airways Tridents were painted up in the Landor scheme. These aircraft never carried any passengers in this scheme but they sure looked nice in person.
G-AWZO and sisters at BA Engineering awaiting the cutters torch: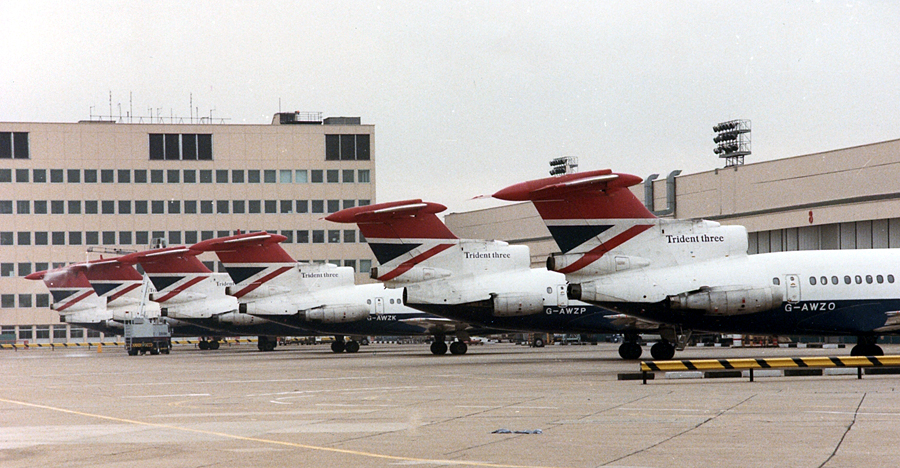 G-AWZI at BA Engineering awaiting the cutters torch: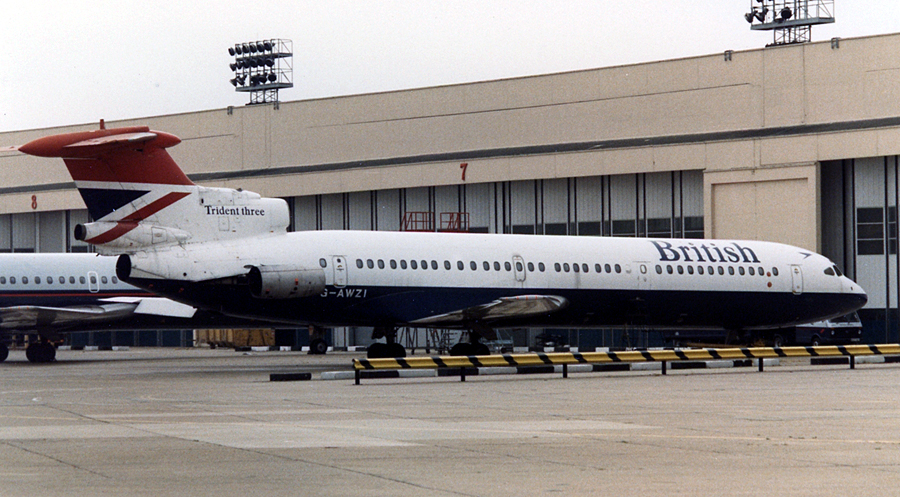 G-AWZL and sisters at BA Engineering during scrapping: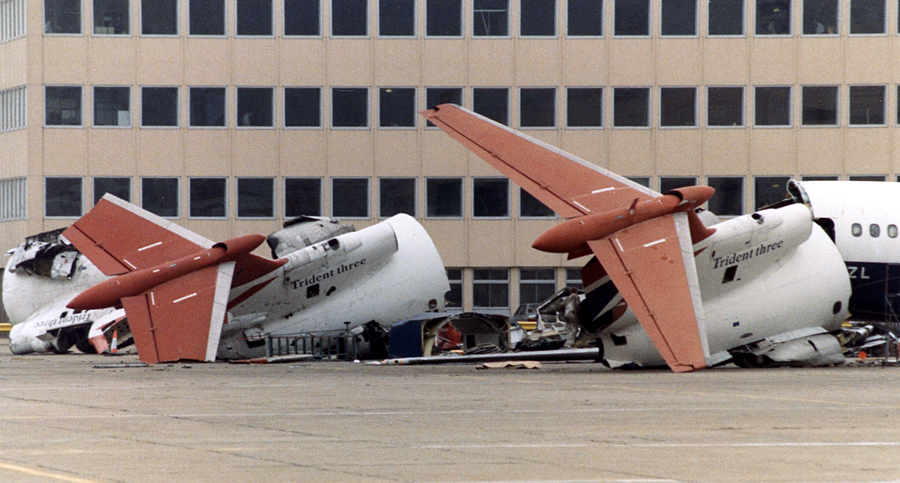 G-AVFG at BA Engineering in Landor colors: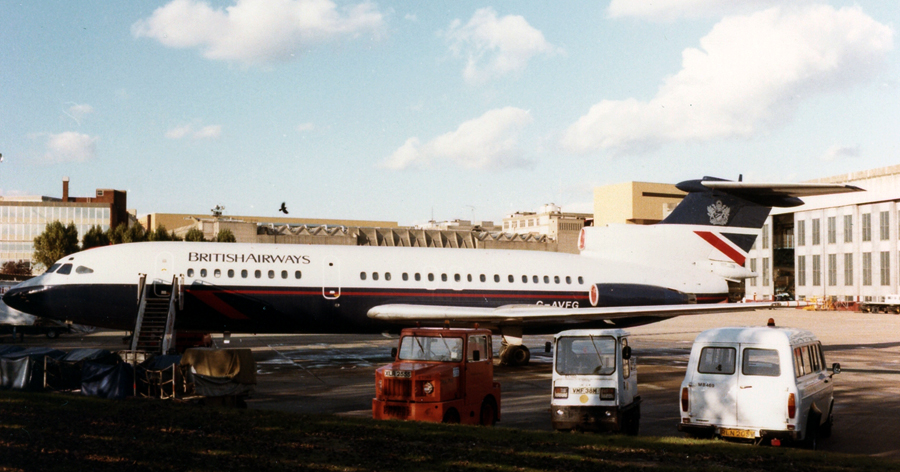 Trident tails at BA Engineering: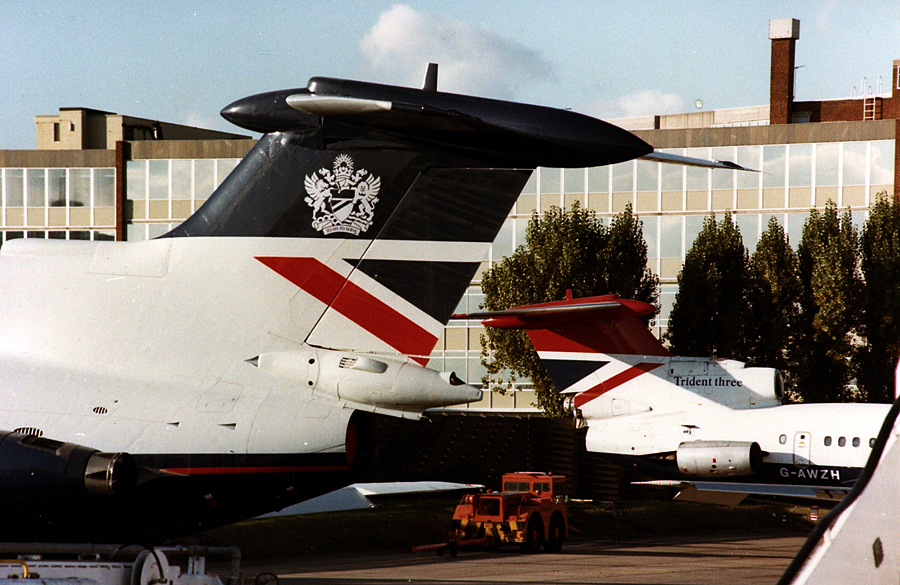 Trip #2: British Airways Concorde -- 24 February 1985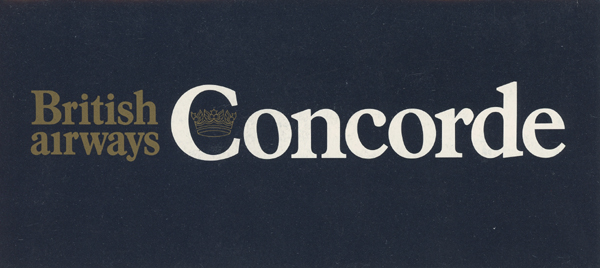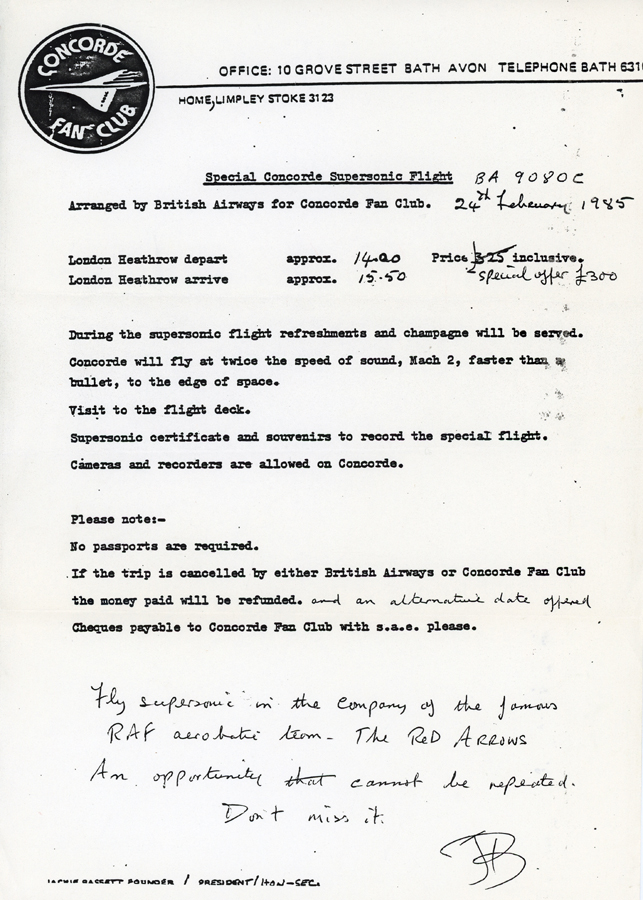 My dormitory room was right next door to the American Express Travel Agency and I made friends with the ladies in there soon after my arrival. Once aware of my enthusiasm for airlines they informed me of an upcoming Concorde Fan Club flight in late February...and I couldn't sign up fast enough. For 300 Pound Sterling it was a supersonic bargin. When I told my American co-workers about this trip and the price they thought I was crazy. "Don't you know an entire family can spend a week in the Mediterranean for that price?" Didn't matter to me much...I was finally going to fly on Concorde! The Dollar-Pound exchange rate was $1.13 so it wasn't terribly expensive I might add.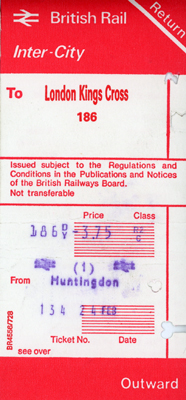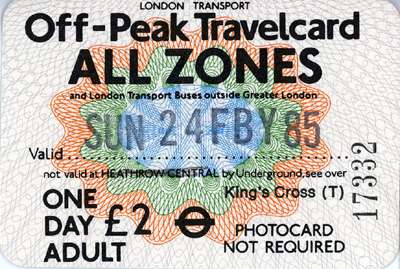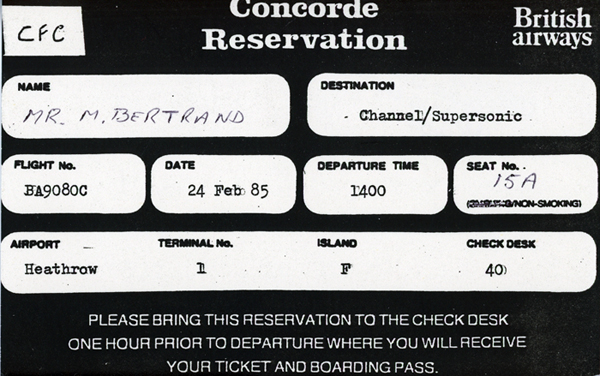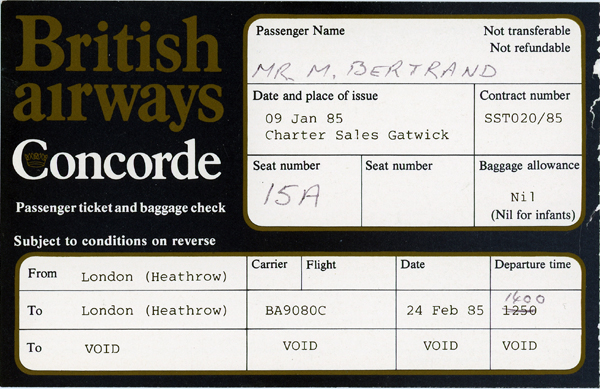 Unlike two weeks prior for the Trident flights, the weather for Concorde was splendid.
24 February 1985
British Airways #9080C
London Heathrow (LHR) - London Heathrow (LHR)
Concorde 102 G-BOAE
Dep: 1420hrs Runway 28L
Arr: 1533hrs Runway 28L
Flight time: 73 minutes
Distance: Unknown
Seat: 15A
Cost: 300 Pounds Sterling
Possible flight path of the trip: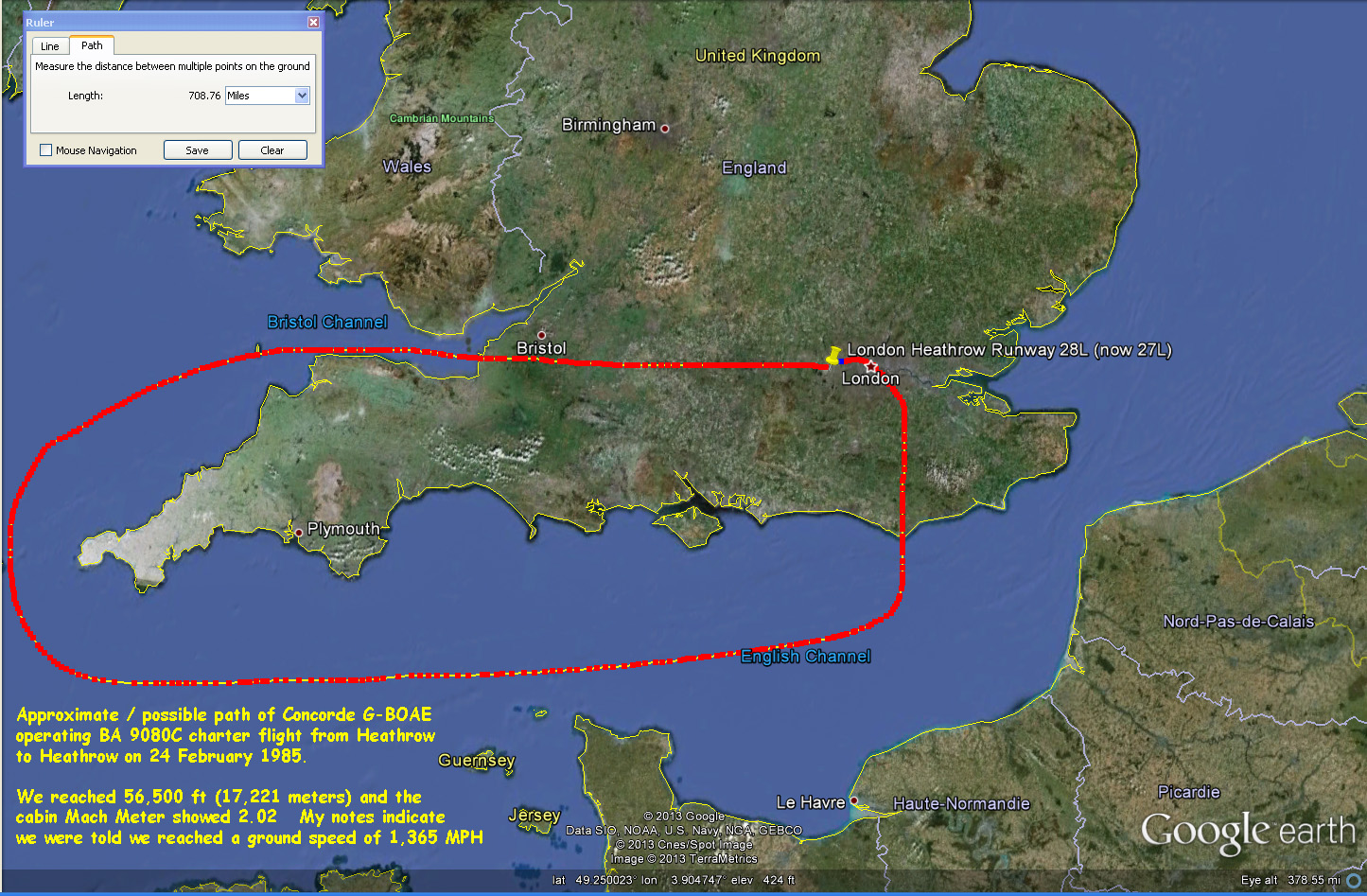 As was becoming the norm for me, I caught the bus from Alconbury to the Huntingdon British Rail station for my train ride down to London Kings Cross. From Kings Cross it was a trip on the London Underground out to Heathrow. At Heathrow, I made my way to Terminal 1, which I had been in two weeks earlier during a round-trip to Manchester on British Airways Tridents.
I don't remember much about the atmosphere in the boarding area prior to the flight. G-BOAE was parked near the gate and at boarding time we used air stairs versus a jet way. Thankfully the weather was quite nice for a February and I was able to take some open-air photos of Concorde as we boarded. I was even allowed out of the boarding queue so I could get a photo of G-BOAE from the opposite side, which was the sun-lit side. Unfortunately, the catering truck was in place and blocked some of the aircraft.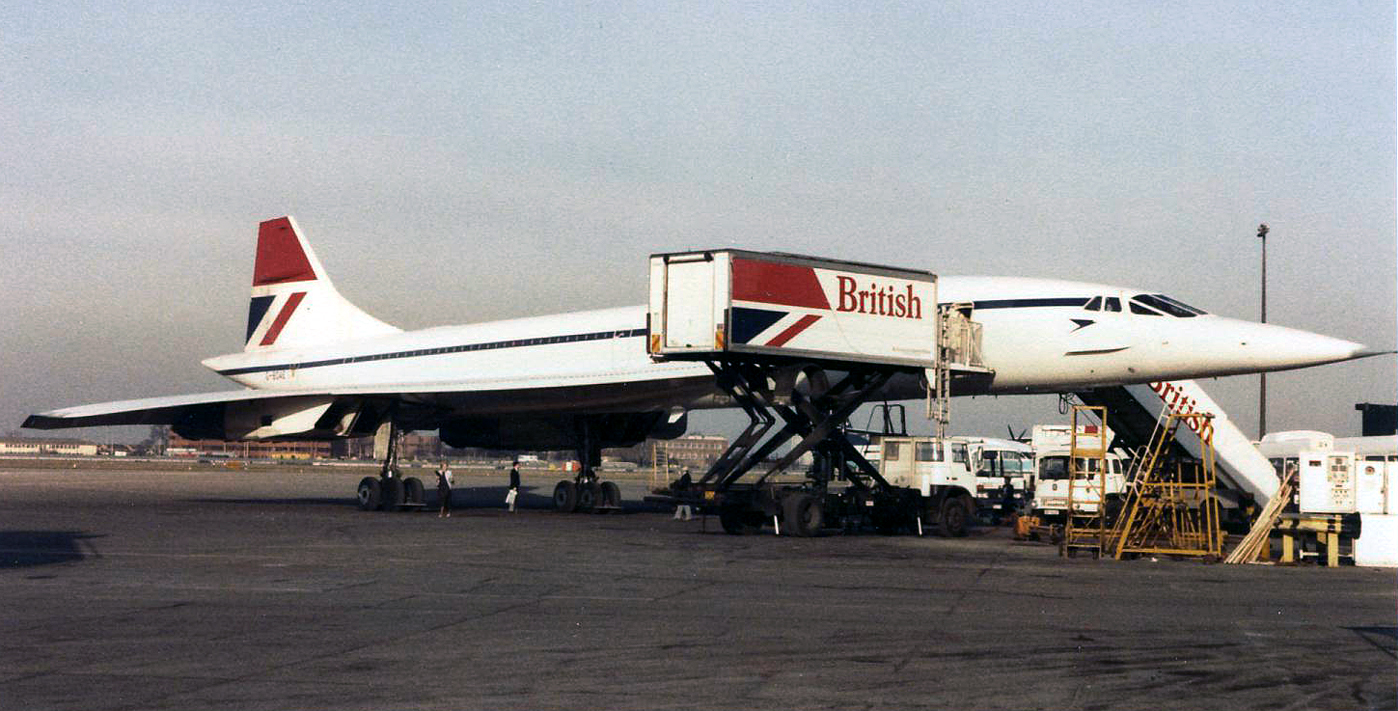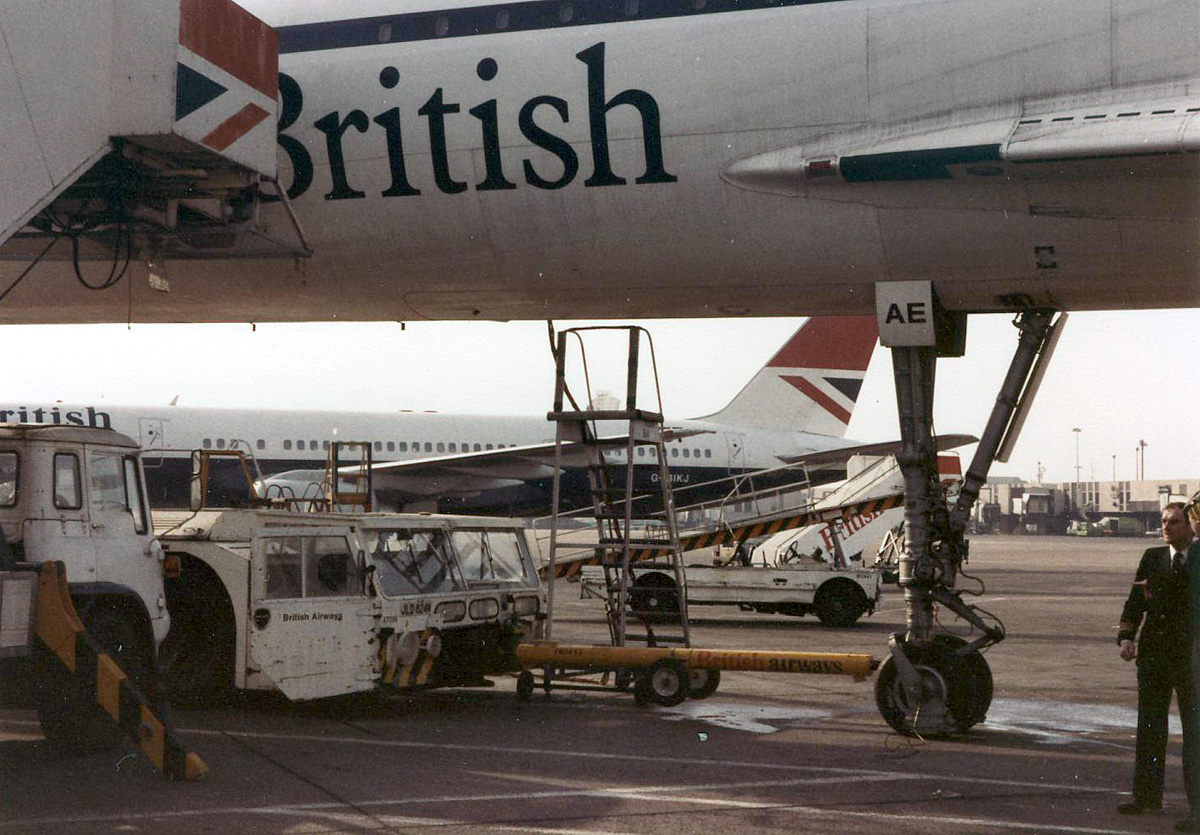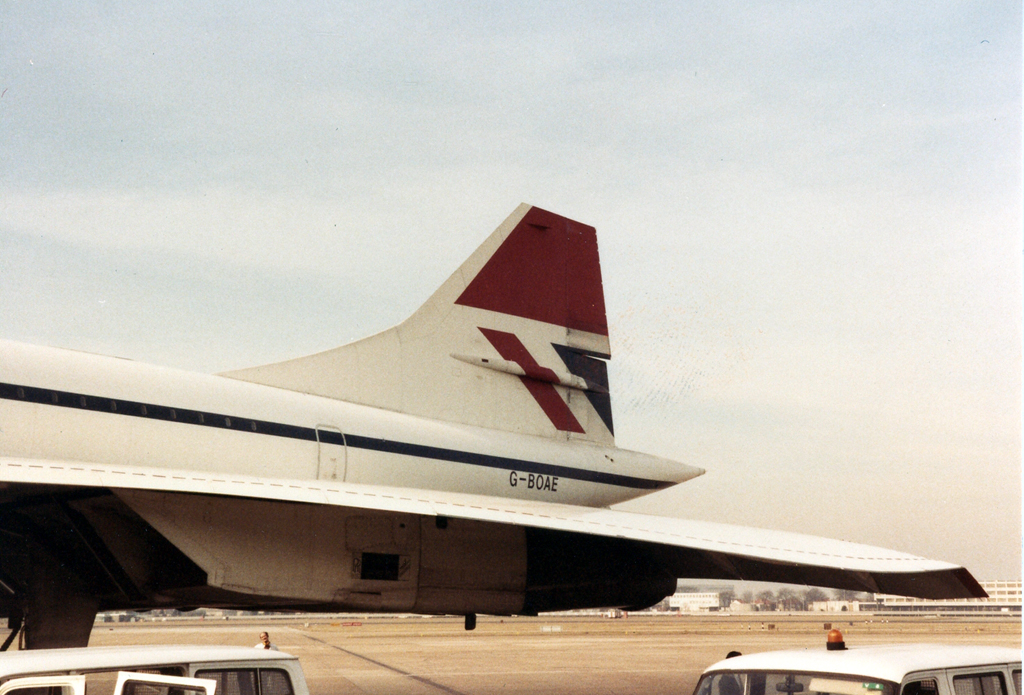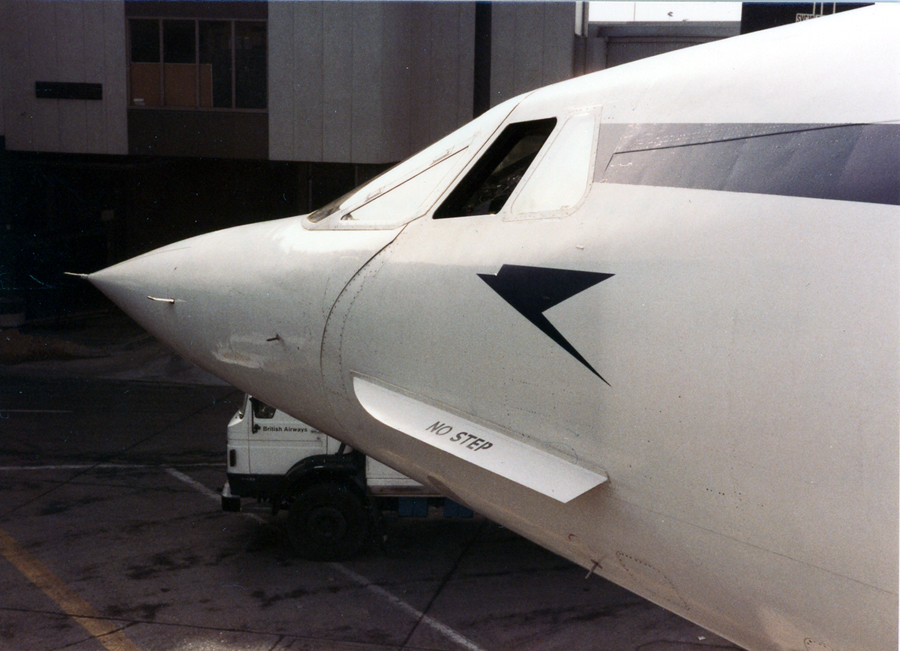 I was probably as excited as I'd ever been as I settled into my assigned window seat. It was supposed to be a full flight - there were 99 other passengers on board with me. Apparently members of the Royal Air Force "Red Arrows" aerobatic team were onboard as well as a lady celebrating her 100th birthday. I was barely 20 years old and probably among the youngest of the passengers.
The flight originated from Runway 28L (since designated 27L) for the westbound departure. When the afterburners lit there was a definite sensation of an extra "kick" as the takeoff progressed. Once airborne I could finally say to myself "I'm flying on Concorde!"
Despite having a window seat there was not much to photograph outside the plane. The windows on Concorde are quite small compared to contemporary sub-sonic airliners. I snapped a few photos of the cabin area from my seat and since I had a clear view of the "Mach Meter" on the cabin bulkhead, I decided I'd keep track of our speed progress. My notes start at Mach .60 at 3:43 into the flight. We hit Mach 1 at 19:20 elapsed time shortly after passing through 28,000 feet. Mach 2 came at 27:05 elapsed time at 50,000 feet. We eventually reached 56,500 feet and a ground speed of 1,365 miles per hour. Pretty damn cool.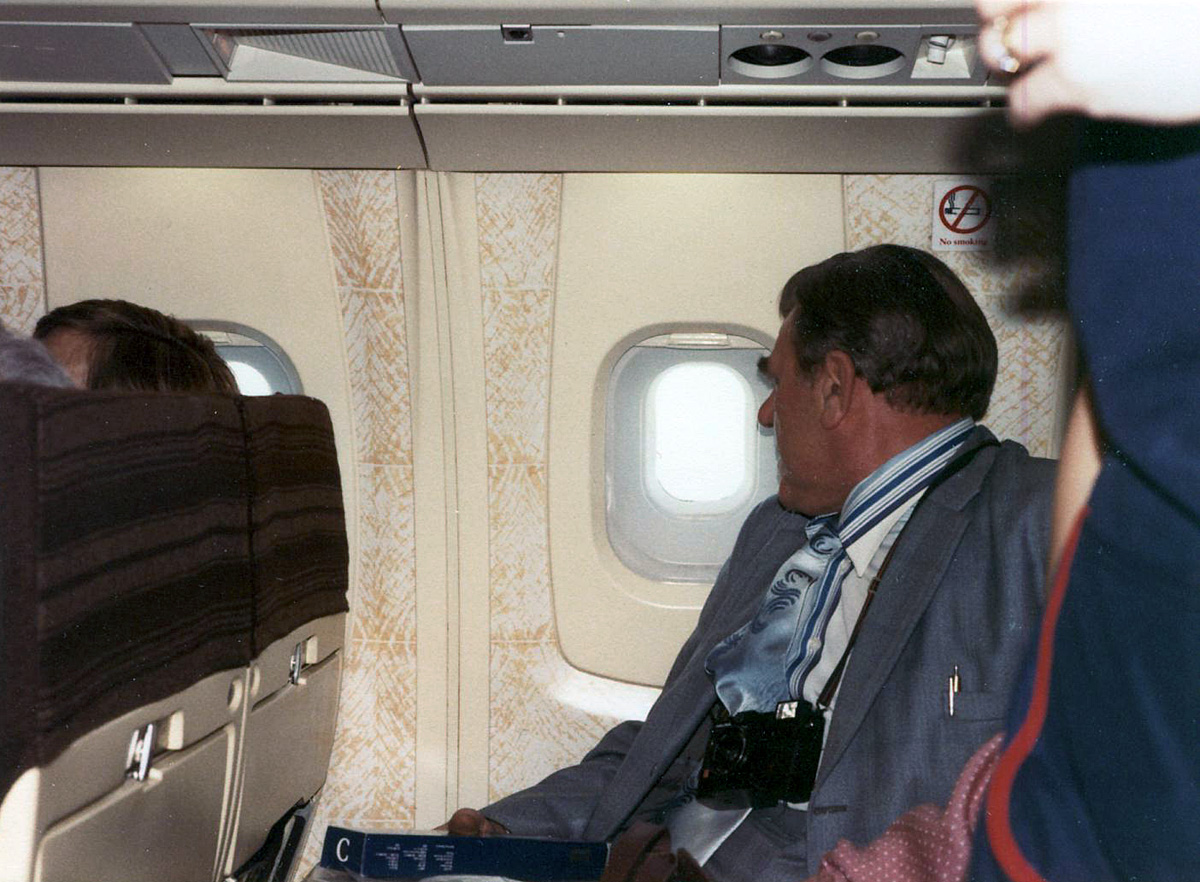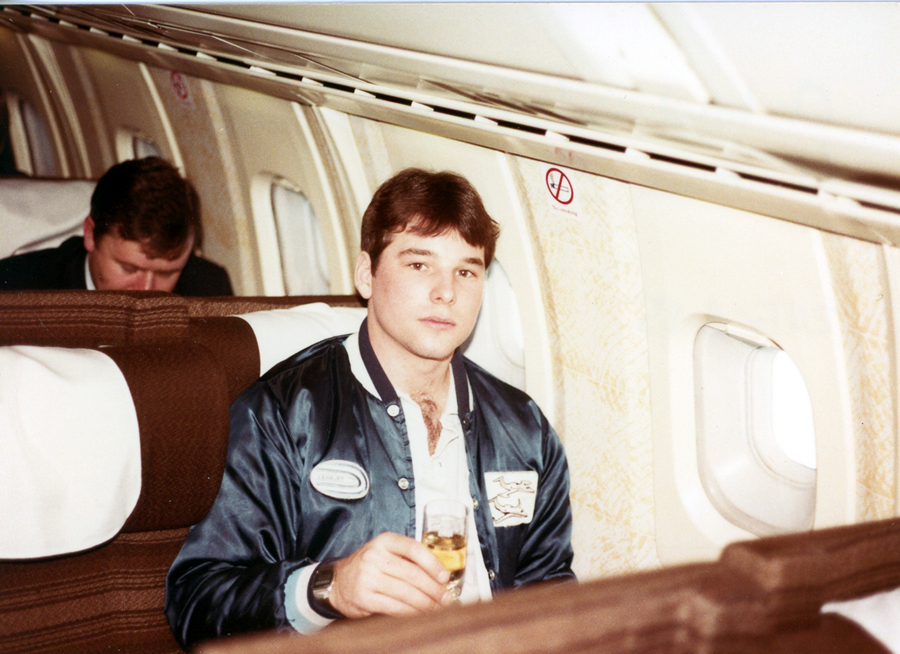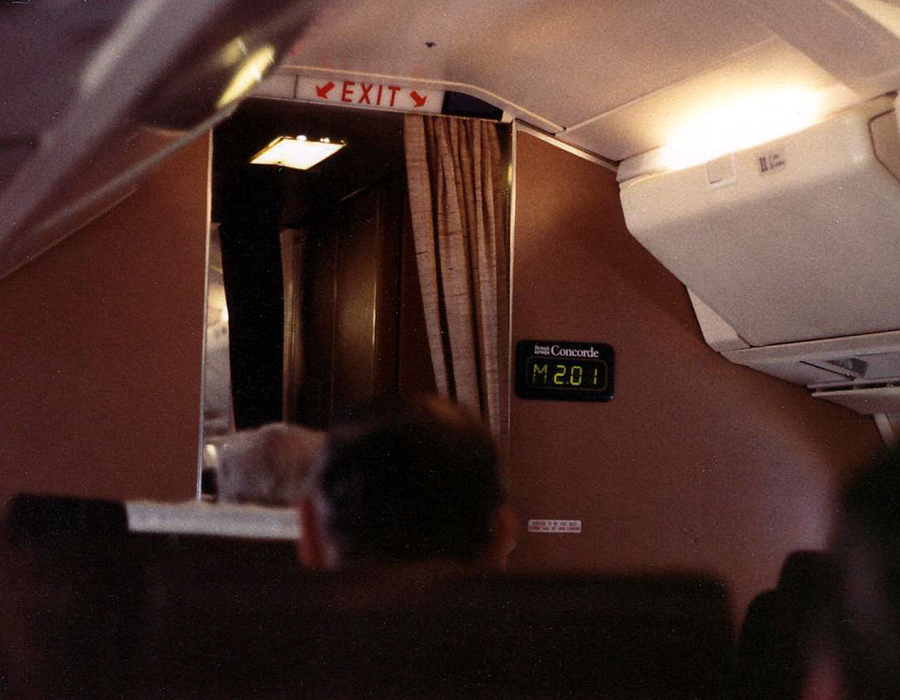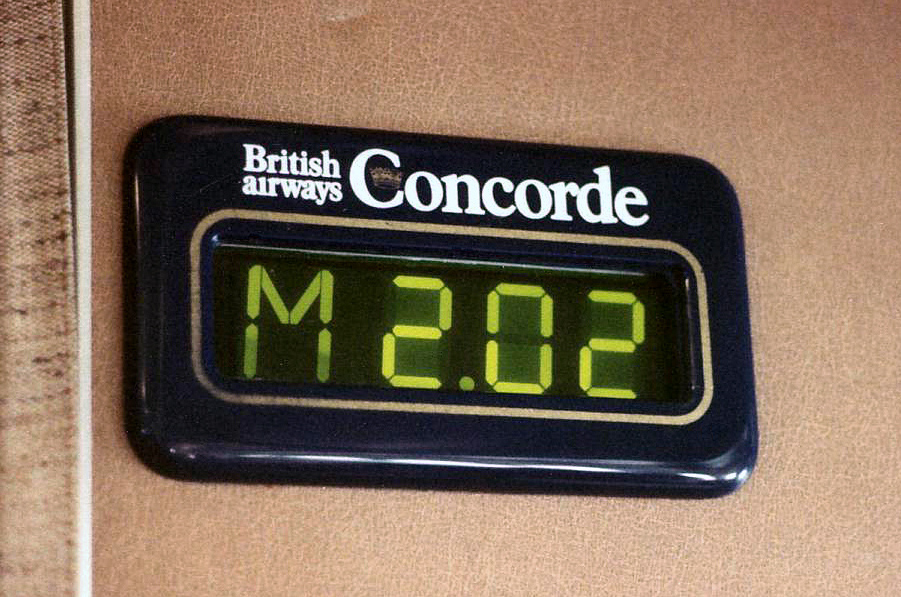 Inflight notes of Mach / Time / Altitude: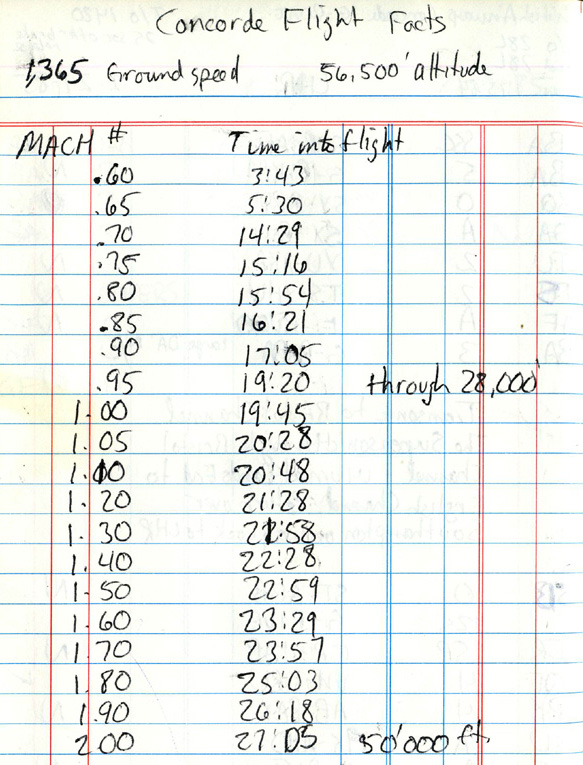 We were served a light snack as well as some champagne. The caviar with the snack was the first time I'd ever eaten caviar and it was ok. We were also offered a visit to the flight deck. Who can resist a visit to a flight deck while inflight? Not me! Of course, the visor was up and the view was limited, but the view is unique to Concorde so I didn't complain one bit.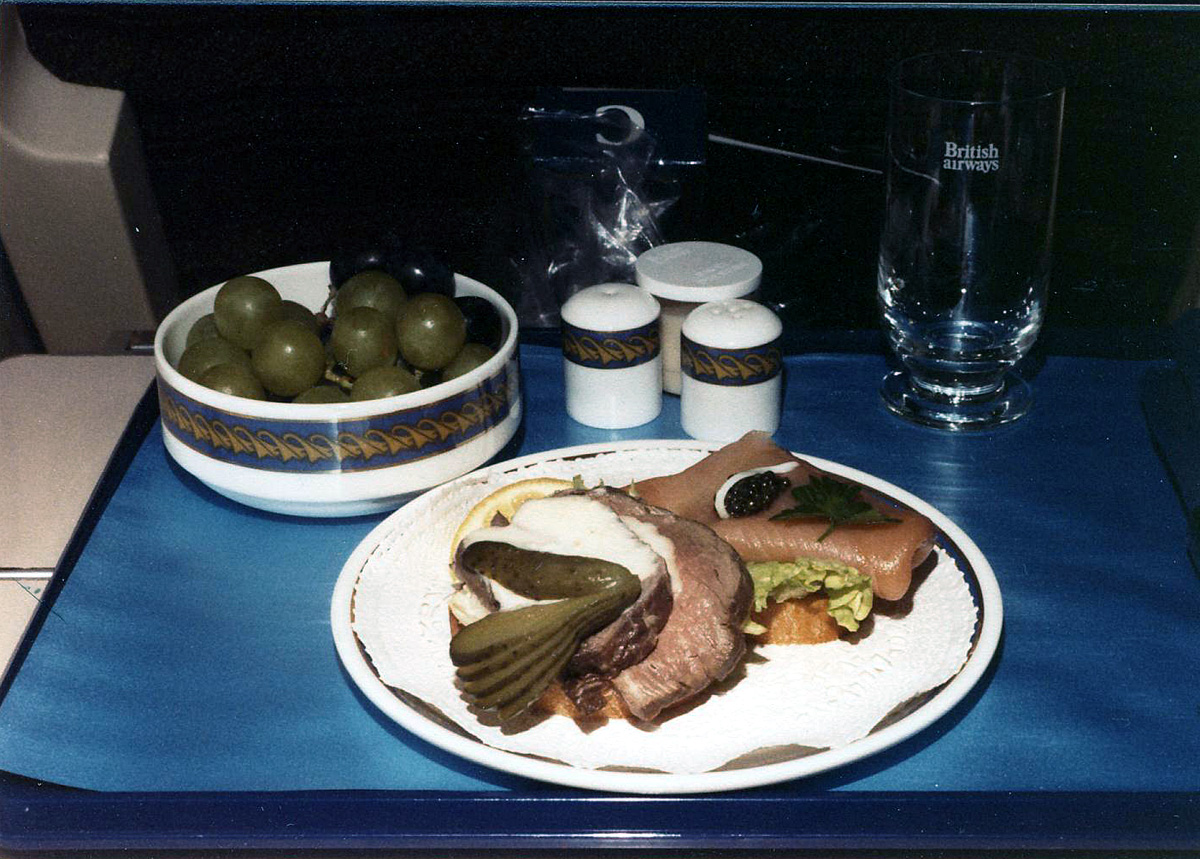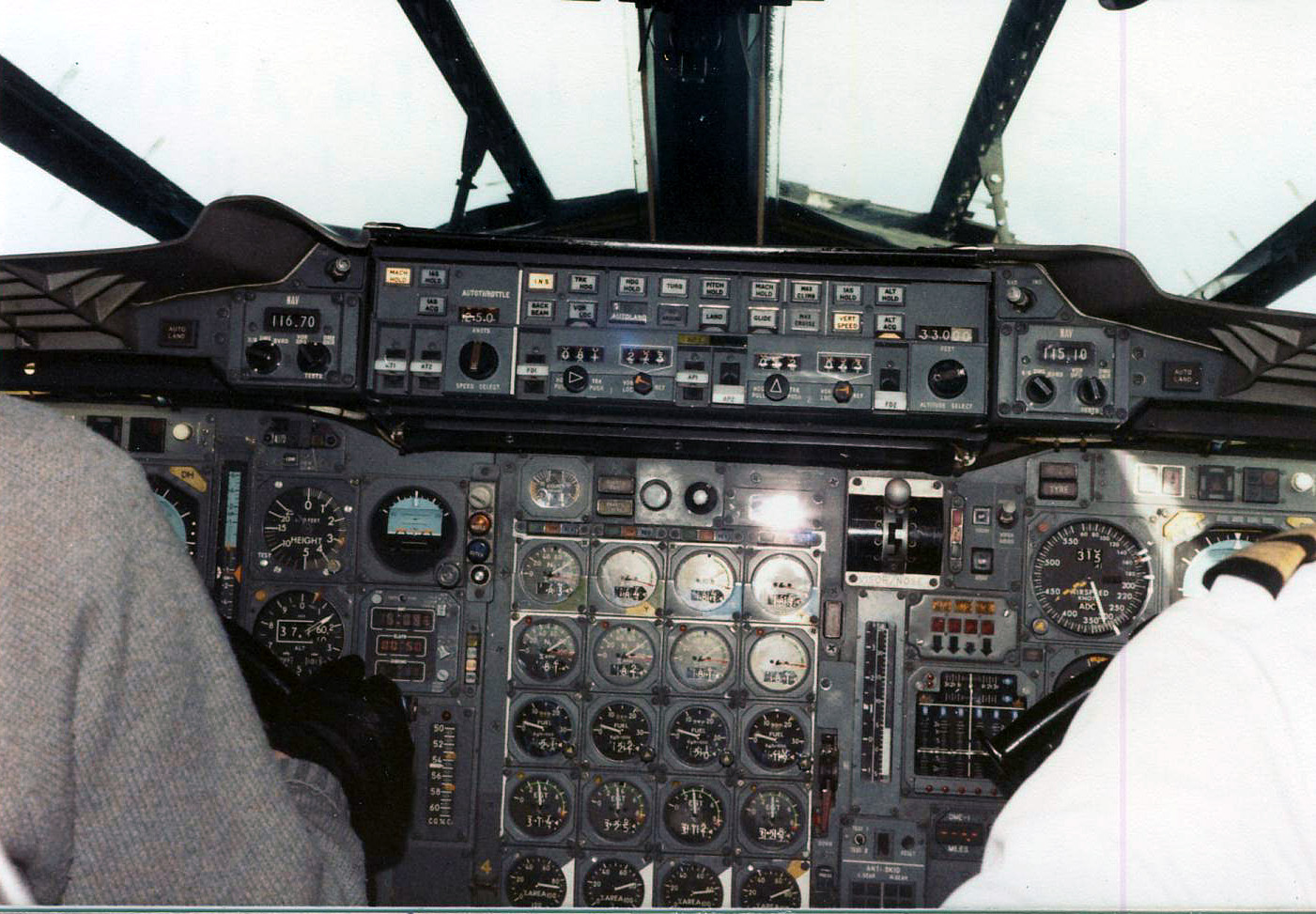 Back in the cabin I sweet-talked a stewardess into letting me take the china place setting with me. In the photo below you can see what souvenirs I managed to bring home from the flight. The 1/200 scale "Wooster" snap-together Concorde display model was a nice little touch and I'd have been happy with just that. As I write this in 2017 I'm not sure how much of the china I still have but I have all the ticket jacket stuff, the model, and the certificate.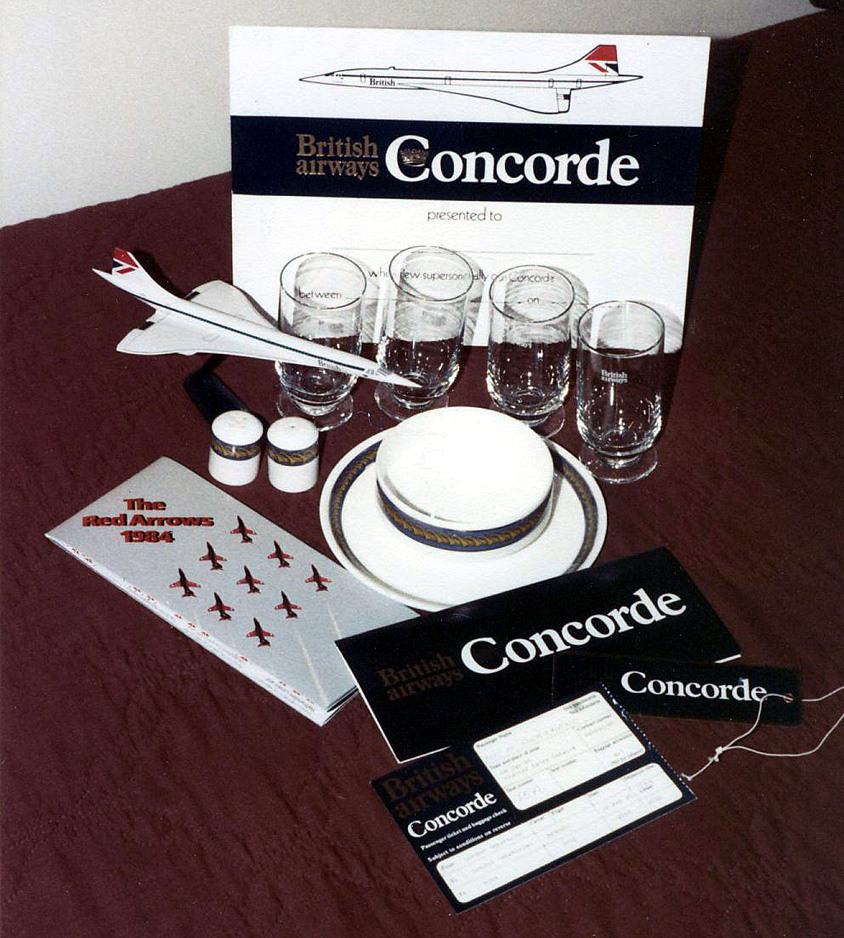 In 2013 I did a photo search on A.net and found two photos of G-BOAE taken at LHR on 24 Feb 1985...photos of the plane I was on! I contacted the photographer Ian Kirby and he kindly responded with some additional photos he'd taken that day. His father was onboard celebrating his 60th birthday and Ian even sent me some photos his father made during the trip.
Photos below courtesy Ian Kirby
Pushback: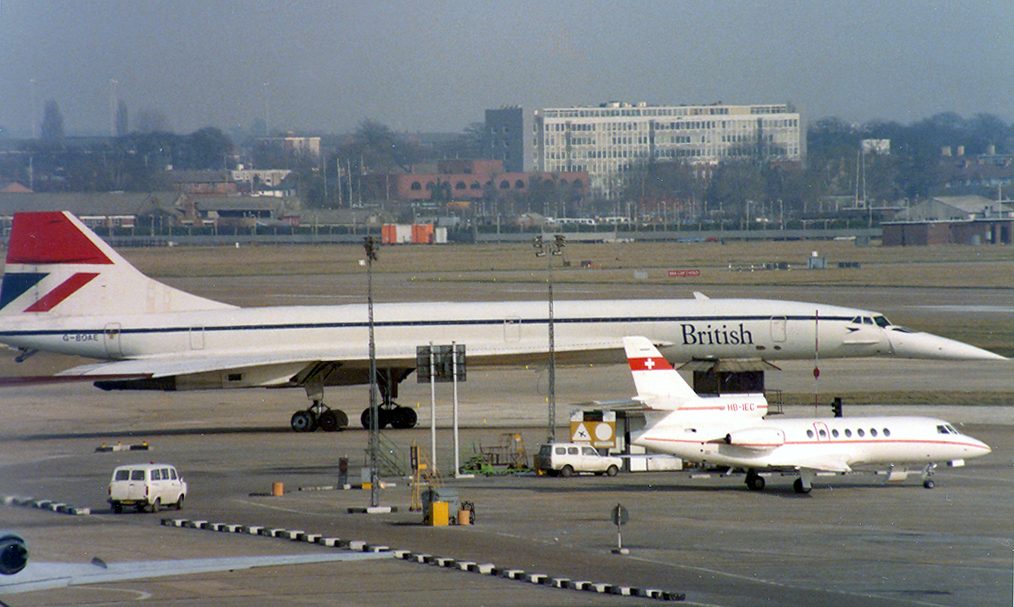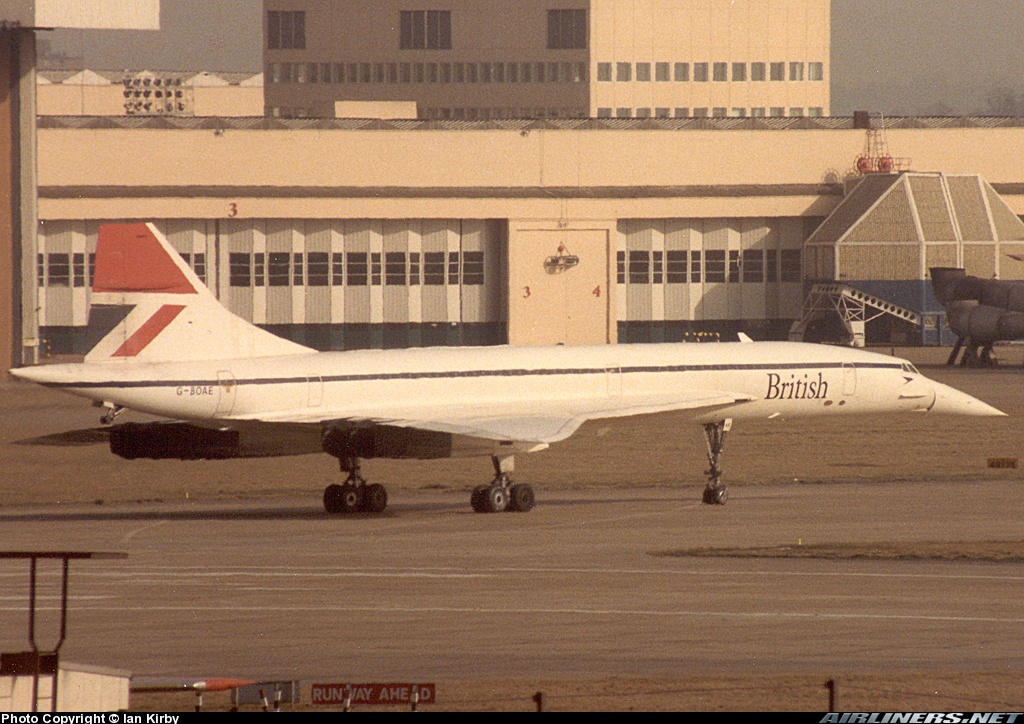 View from Queens Building:
G-BOAE in the takeoff queue: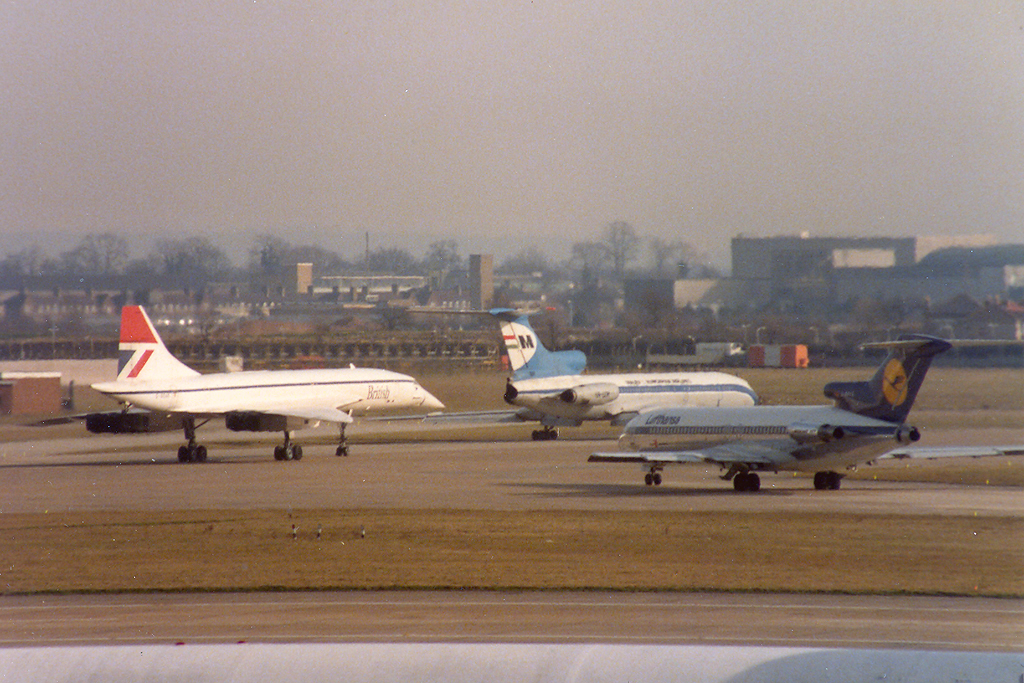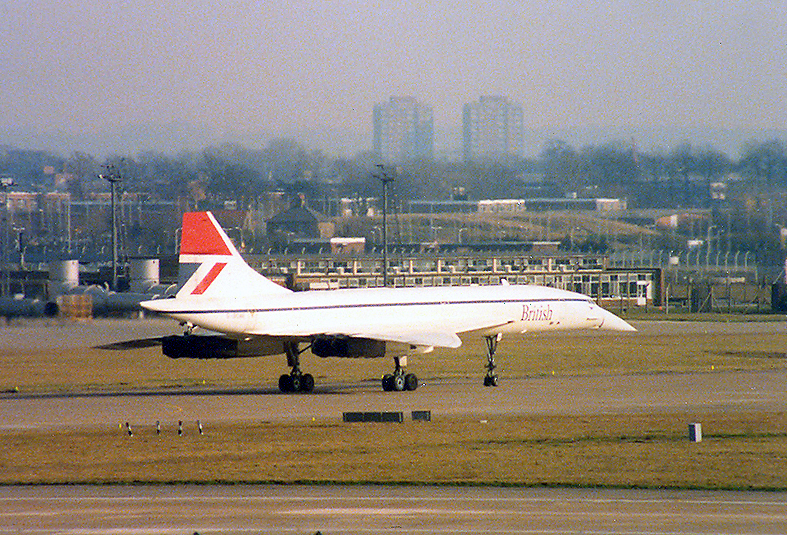 G-BOAE rolling for takeoff: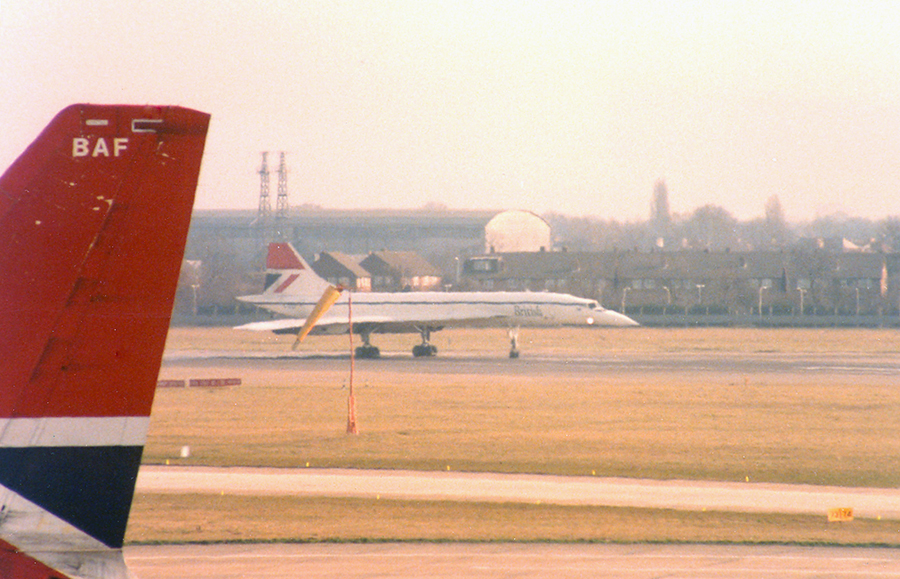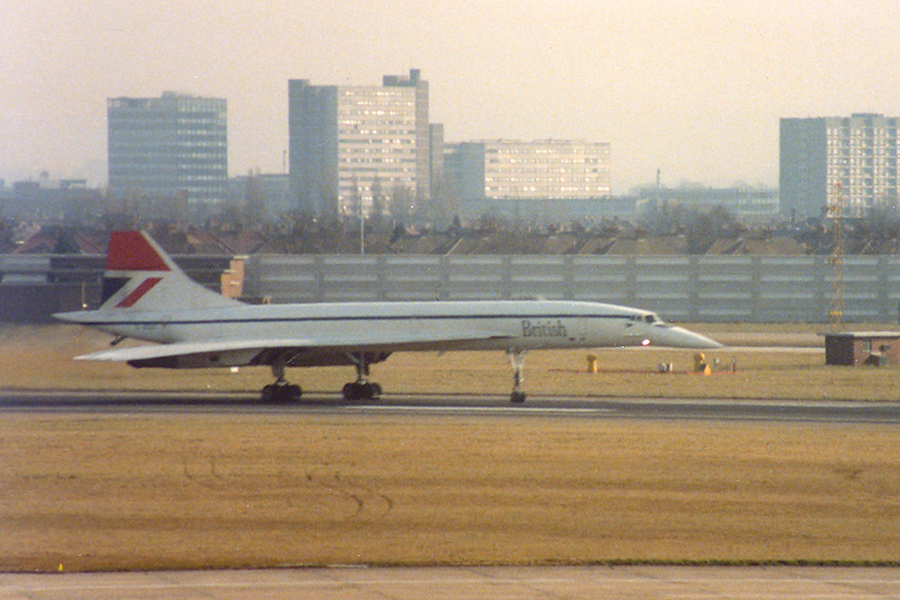 A little "Red Arrows" smoke: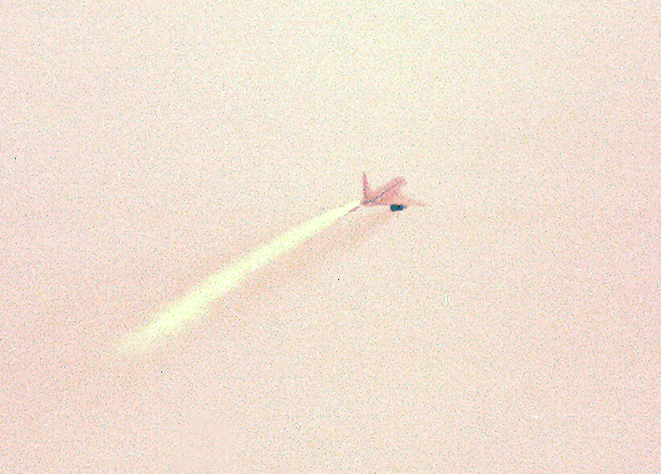 G-BOAE on final approach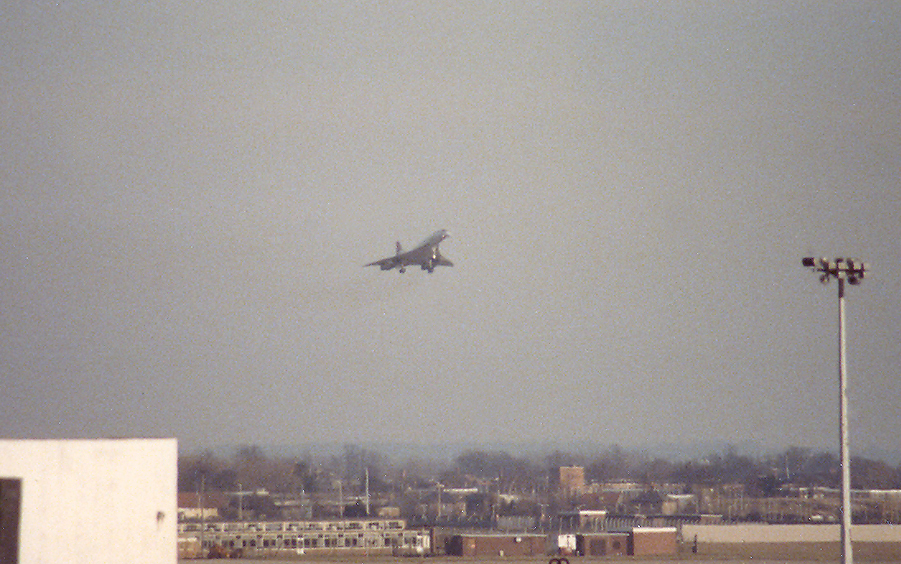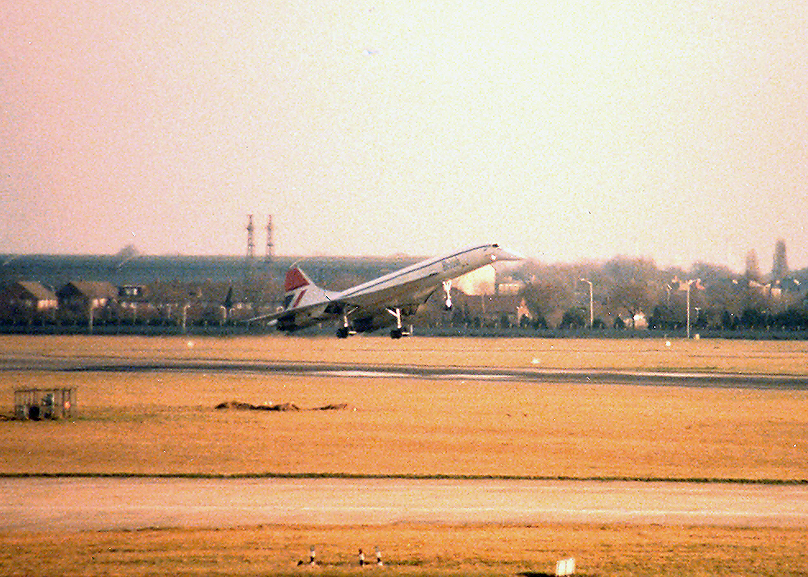 Main wheels down: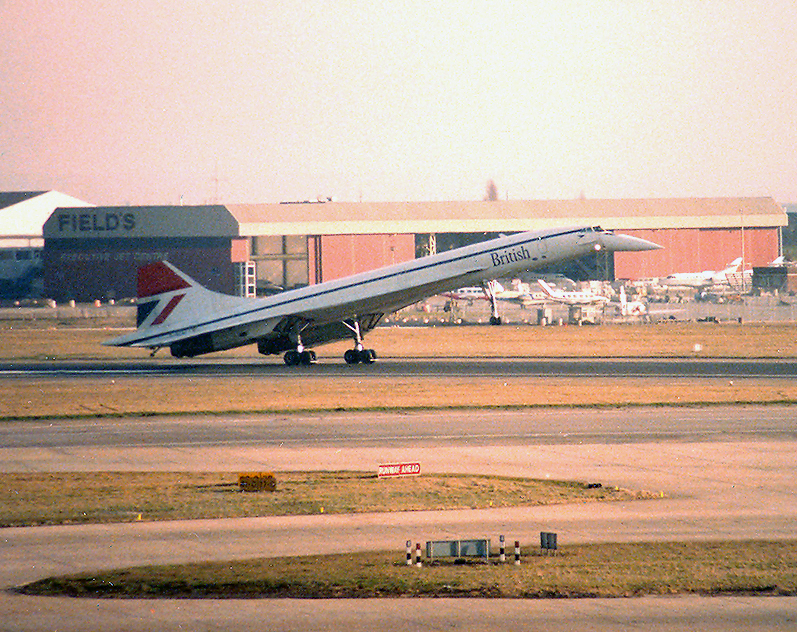 View from the Queen's Building after the flight:
Trip #3: Altair Airways Caravelle 10B -- 30 March 1985
Caravelle flyer: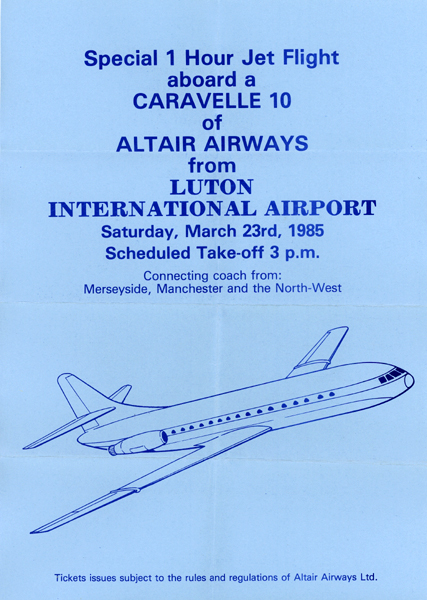 PHOTO: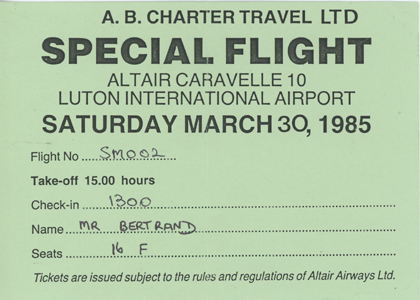 PHOTO: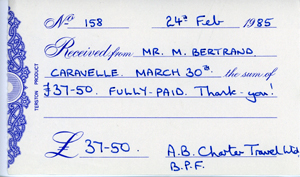 30 March 1985
Altair #002
Luton (LTN) - Luton (LTN)
Caravelle 10B I-GISI (former Finnair OH-LSF)
Dep: Unknown; Runway 26
Arr: Unknown; unknown runway
Flight time: 73 minutes...same as Concorde
Distance: Unknown
Seat: 16F
Cost: 37.50 Pounds Sterling
Airports we flew between: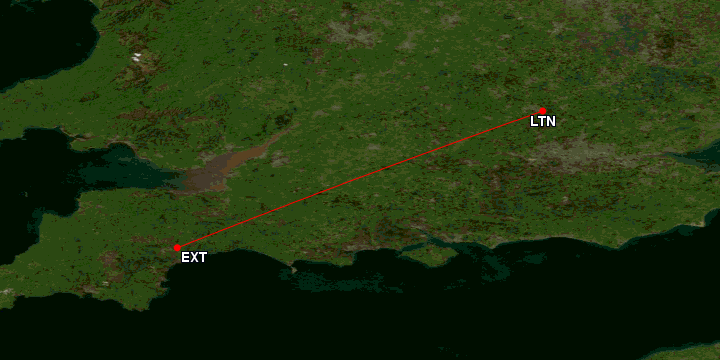 Maps generated by the Great Circle Mapper - copyright © Karl L. Swartz.
Another opportunity I learned about was an enthusiasts flight aboard a Caravelle from Luton Airport. I signed up for it straight away and got a seat on it. I was able to convince a coworker with a car to drive me to and from Luton Airport on flight day so that took care of the ground transportation.
English weather being what it is, flight day was a bit overcast. OK...it sucked. But that didn't really dampen the spirits of the folks assembled at Luton Airport for this unique opportunity. True, there were plenty of Caravelles still in service around Europe in 1985 but to have the opportunity to fly a special charter was most welcome.
We were herded into a bus and taken out near the runway so we could photograph the arrival of I-GISI. At the time there was also an "abandoned" Boeing 720 on the airfield and we got the opportunity to view her up close and personal while waiting for I-GISI.
Boeing 720-025 MSN 18157 formerly Conair OY-DSK. Delivered to Eastern as N8703E.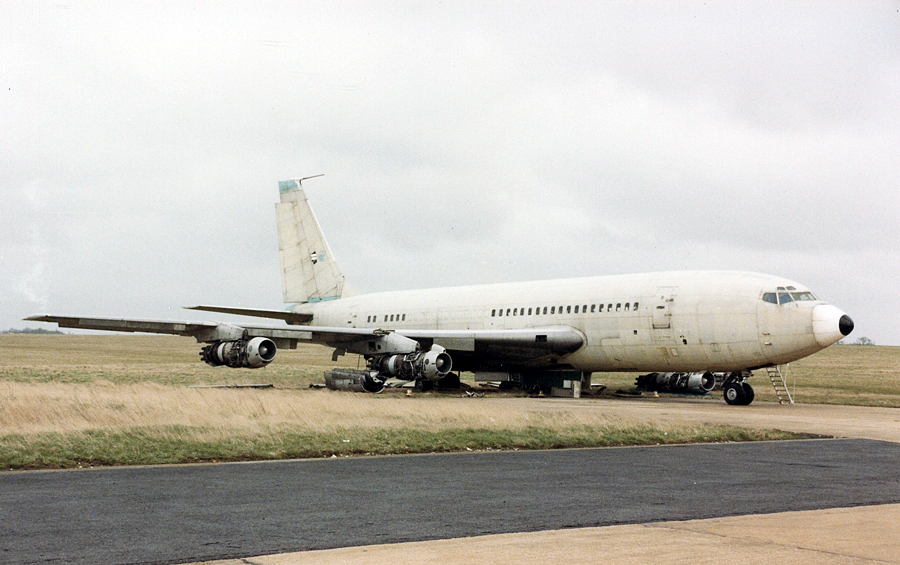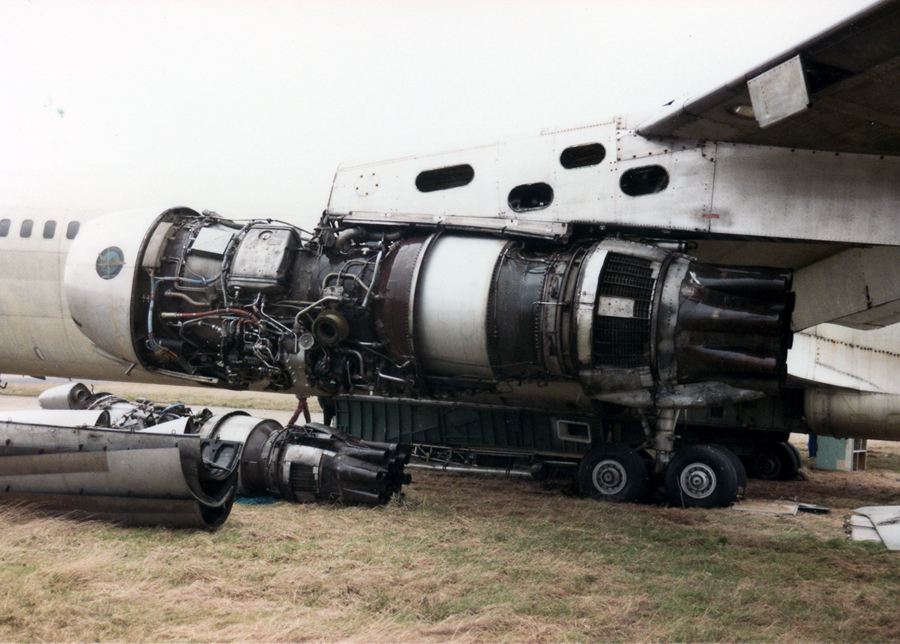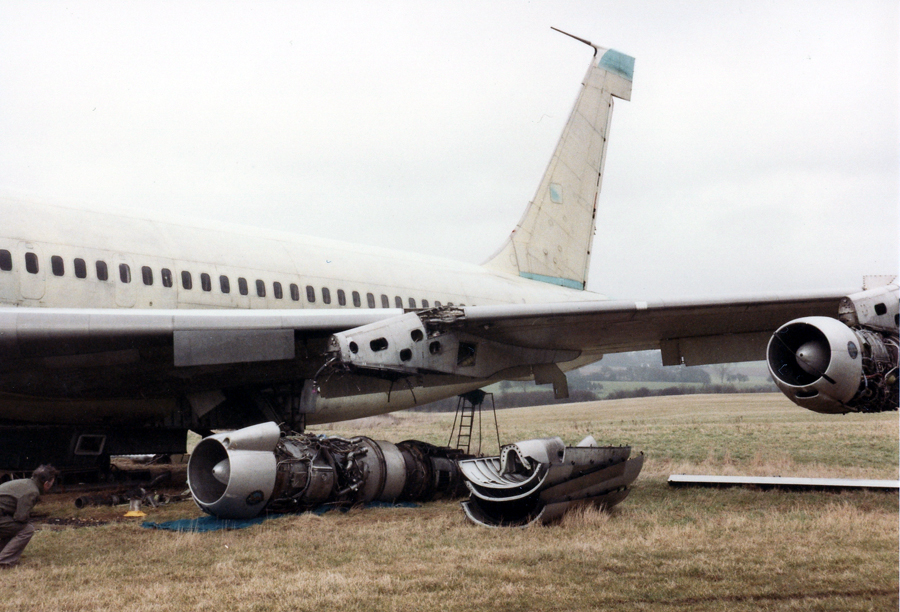 Altair Caravelle I-GISI on final for Luton: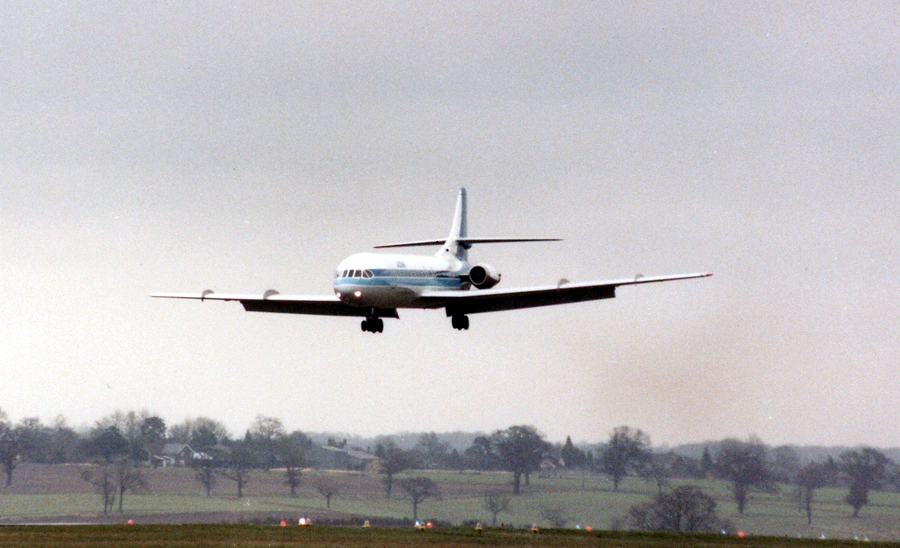 Altair Caravelle I-GISI arriving Luton: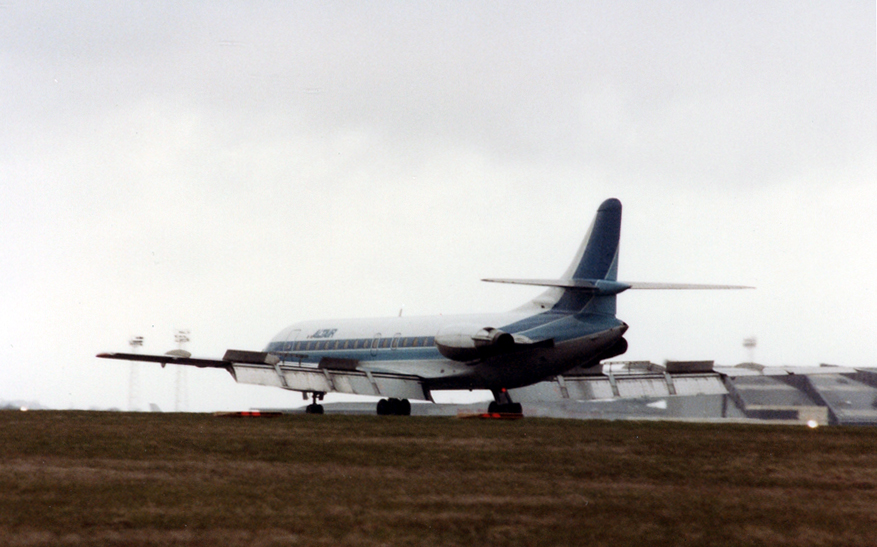 In due course we were ready to board our beautiful Caravelle for an hour flight around the English countryside.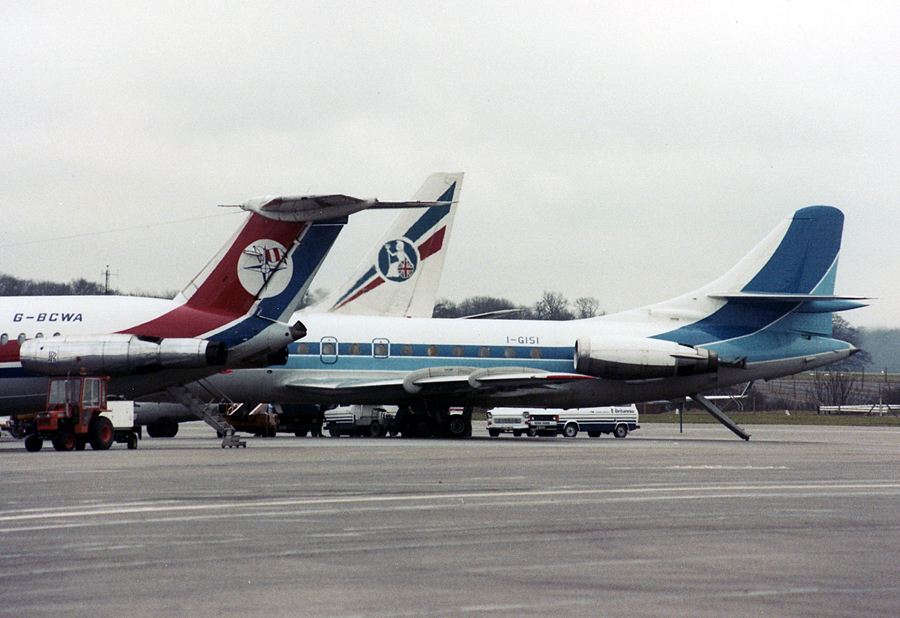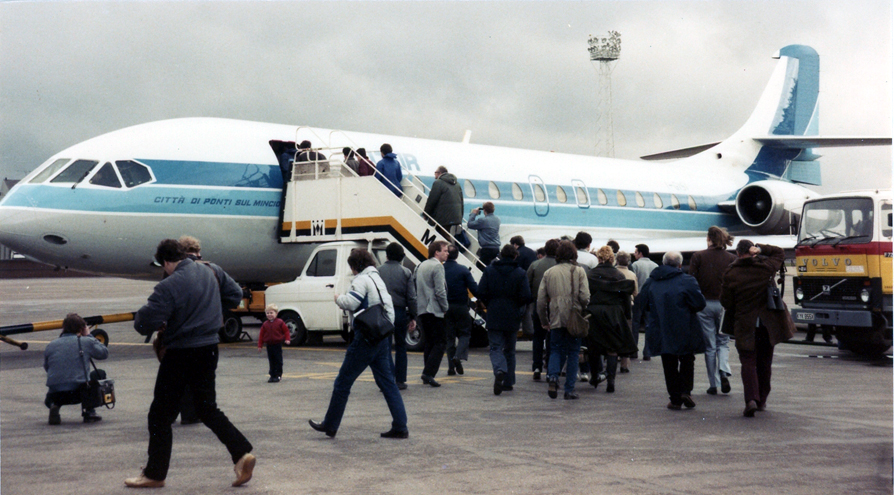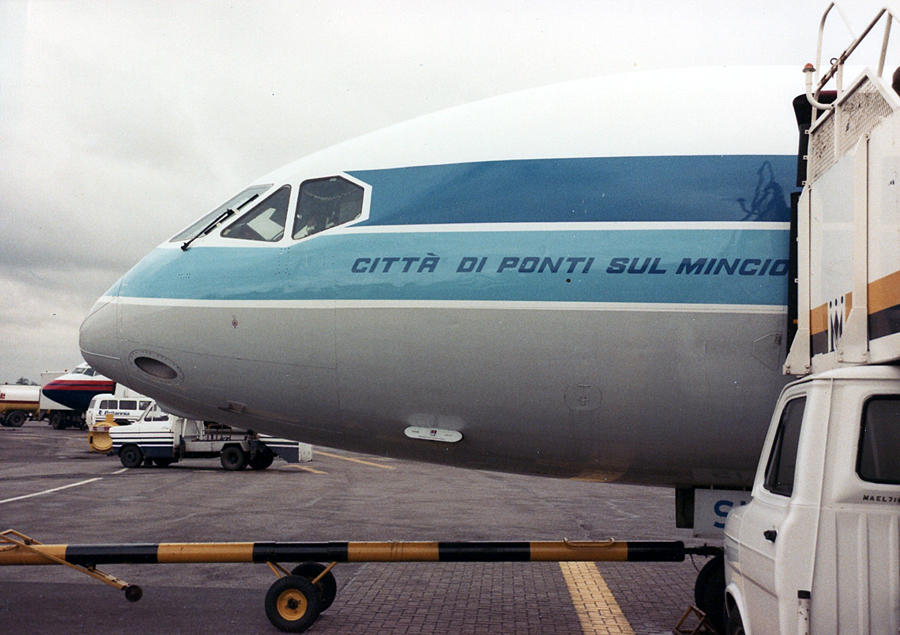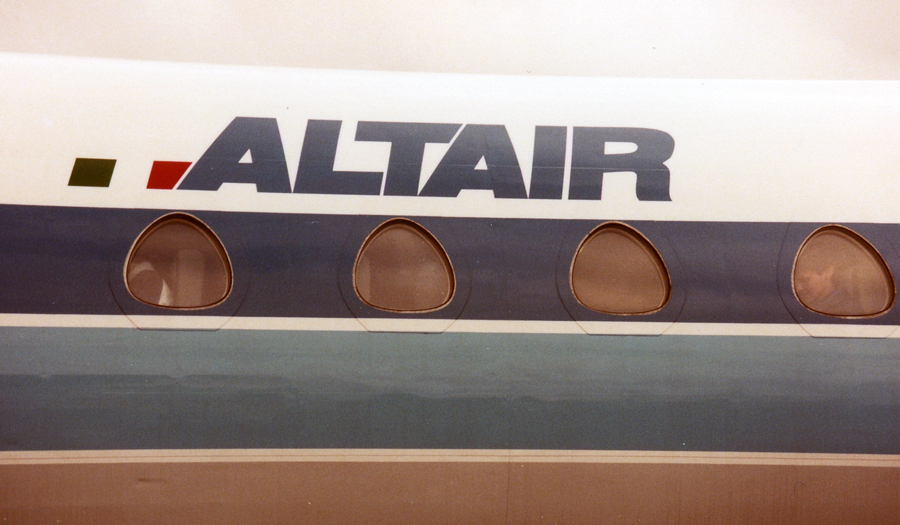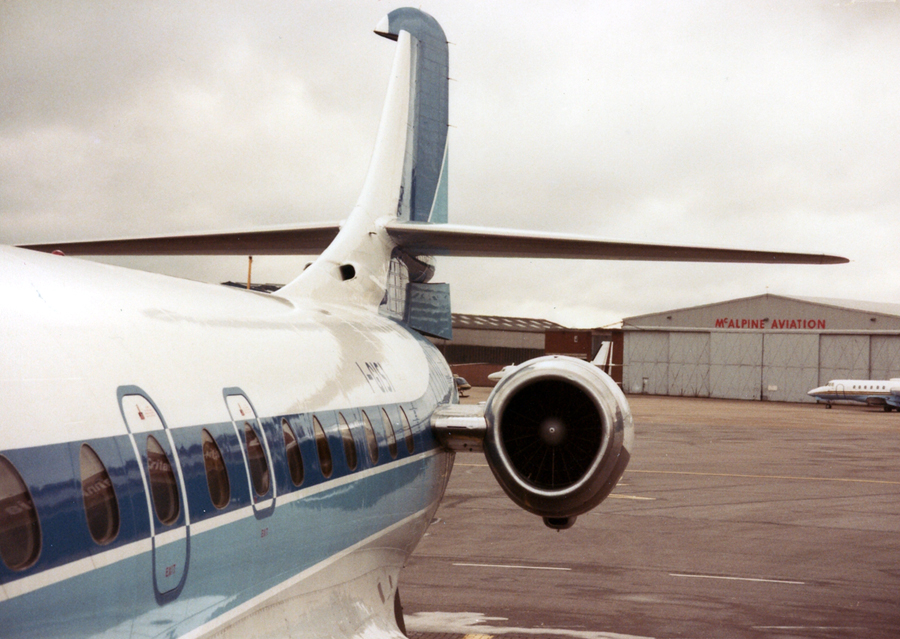 Departing runway 26 and we fly over the Vauxhall plant: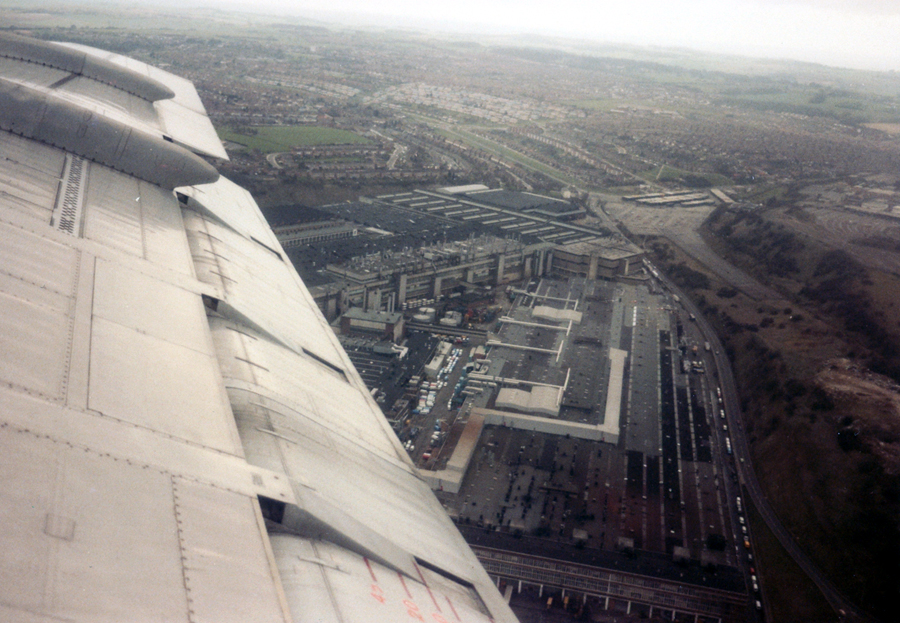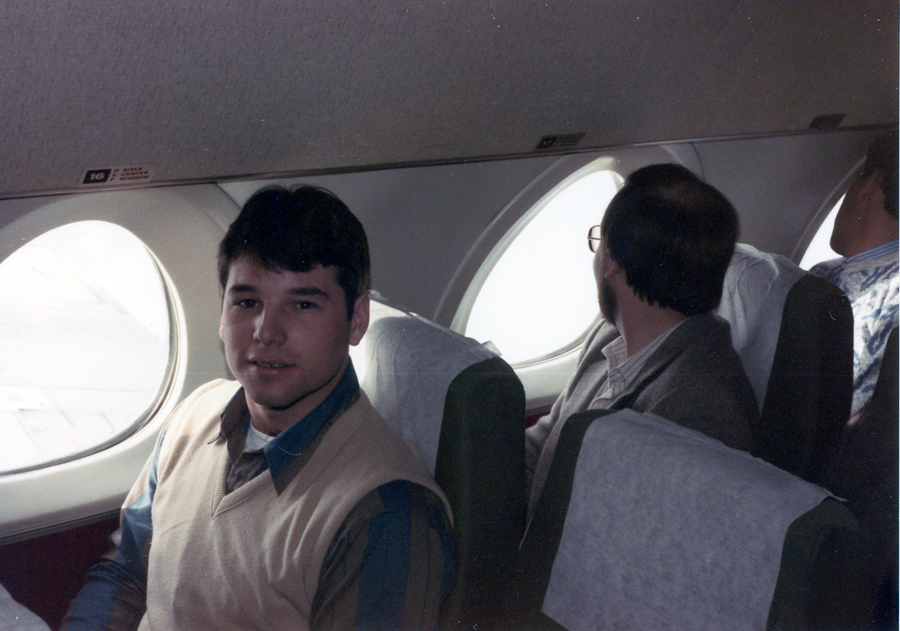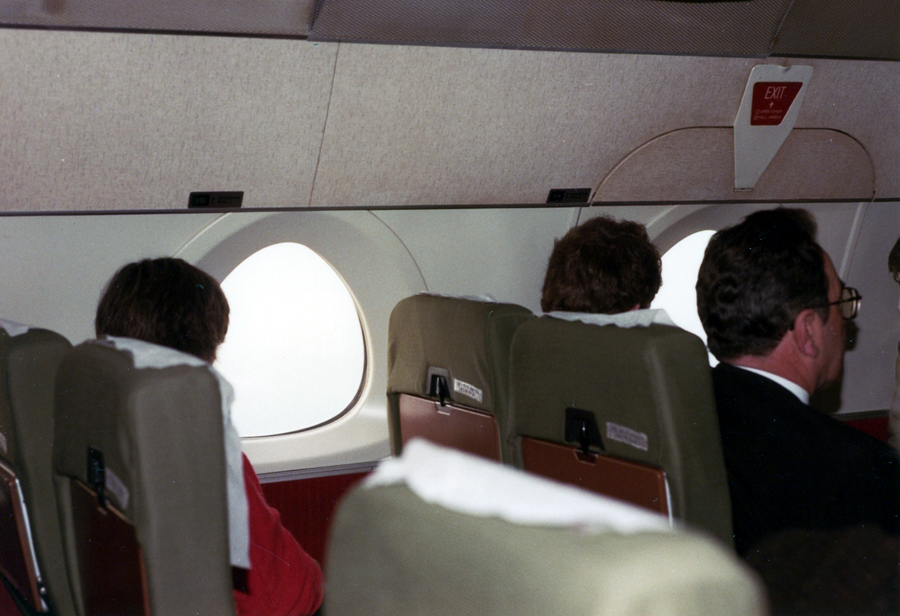 Reasonably nice above the clouds: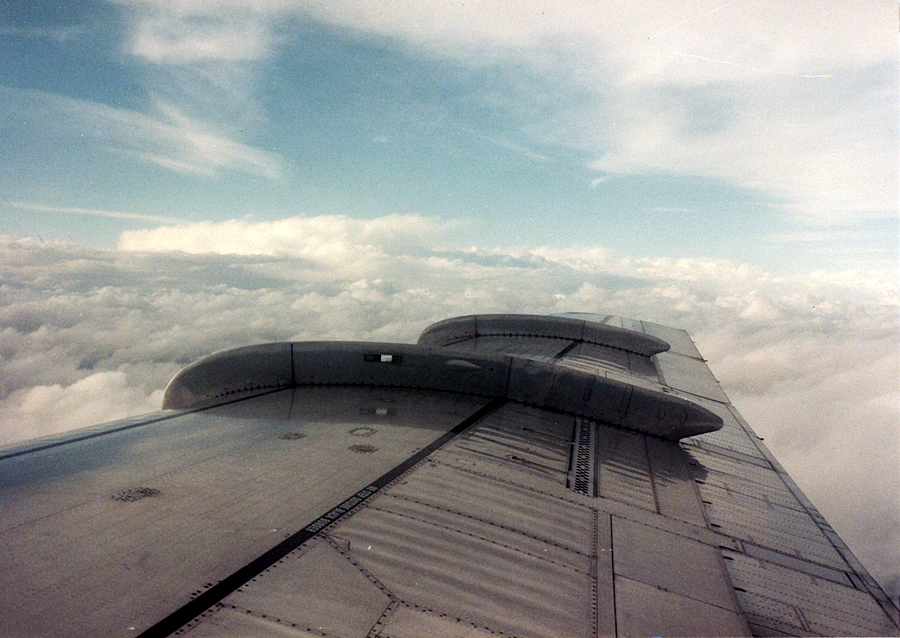 During our flight we were informed we were going to do a bump-and-go at Exeter Airport, so that was an unexpected treat.
Touch-n-go at Exeter: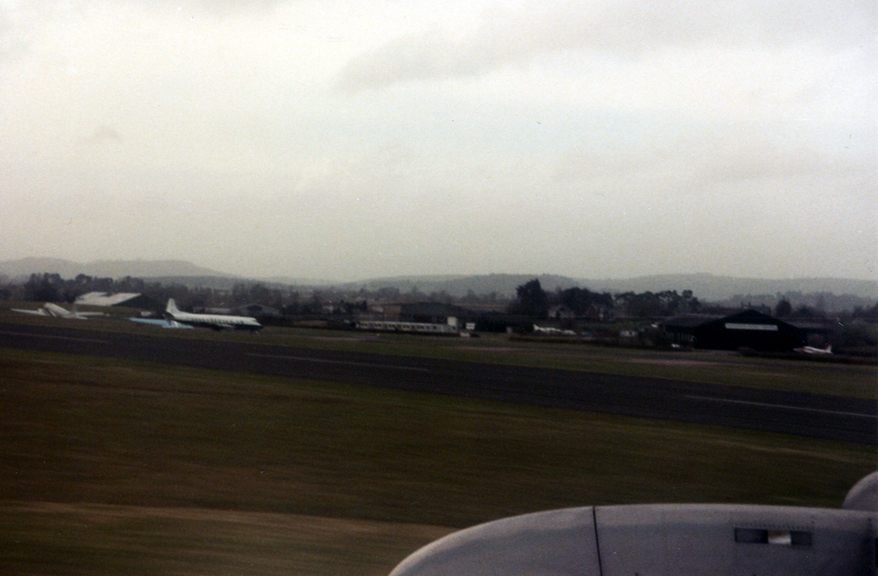 Arriving back at Luton: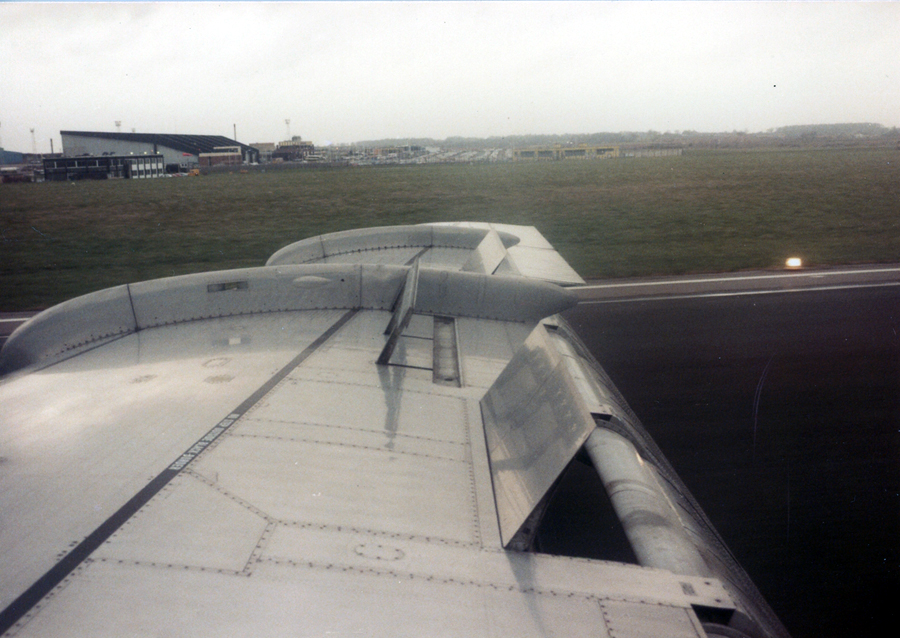 Parting shot of I-GISI following my flight at Luton: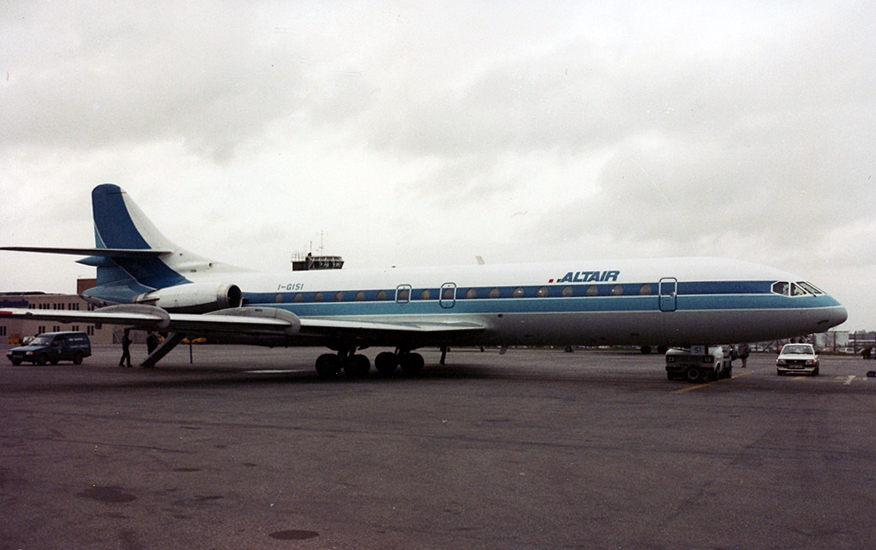 Trip #4: British Caledonian Airways BAC 1-11 501EX -- 17 April 1985
Jersey - London Gatwick great-circle route: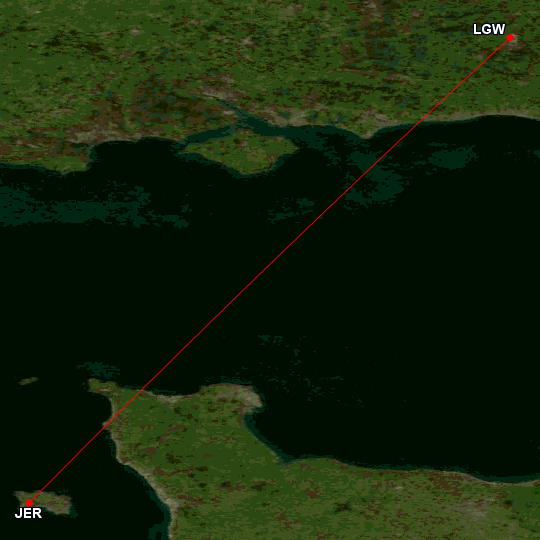 Maps generated by the Great Circle Mapper - copyright © Karl L. Swartz.
I've already covered the Jersey trip on the Viscount page...but I will re-hash the return to Gatwick on the BAC 1-11 here.
17 April 1985
British Caledonian Airways #022
Jersey (JER) - London Gatwick (LGW)
BAC 1-11 501EX G-AWYU
Dep: 1745hrs Runway 09
Arr: 1823hrs Runway 26
Flight time: 38 minutes
Distance: 161 miles
Seat: 1B
Cost: 49 Pounds Sterling
G-AWYU arriving Jersey prior to my flight: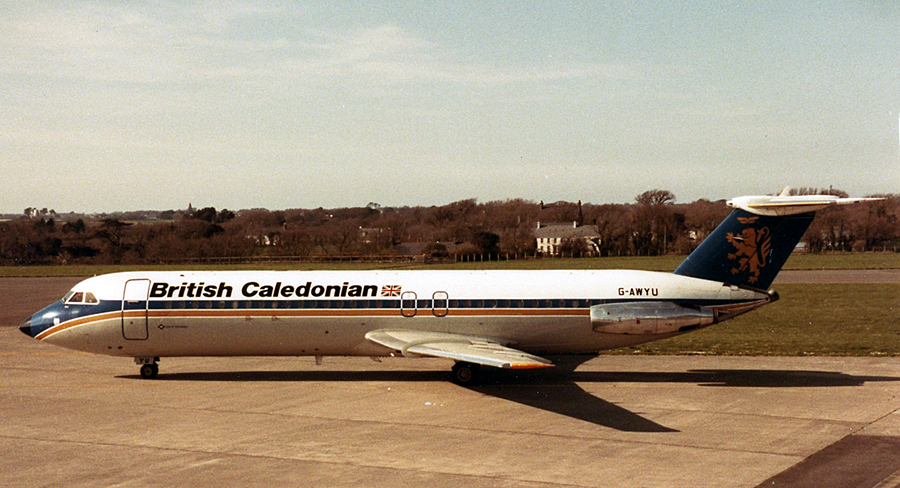 British Caledonian BAC 1-11 G-AWYU: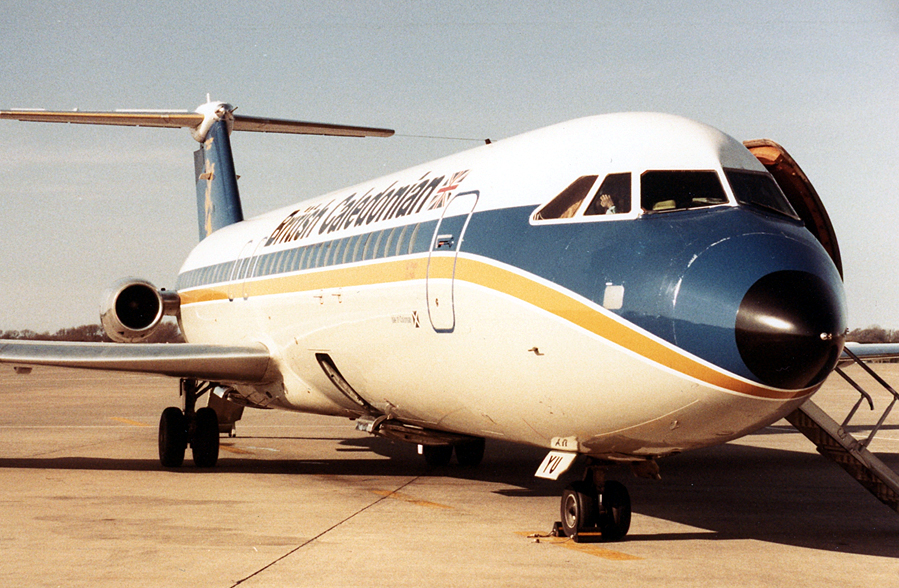 British Caledonian BAC 1-11 G-AWYU Isle of Colonsay: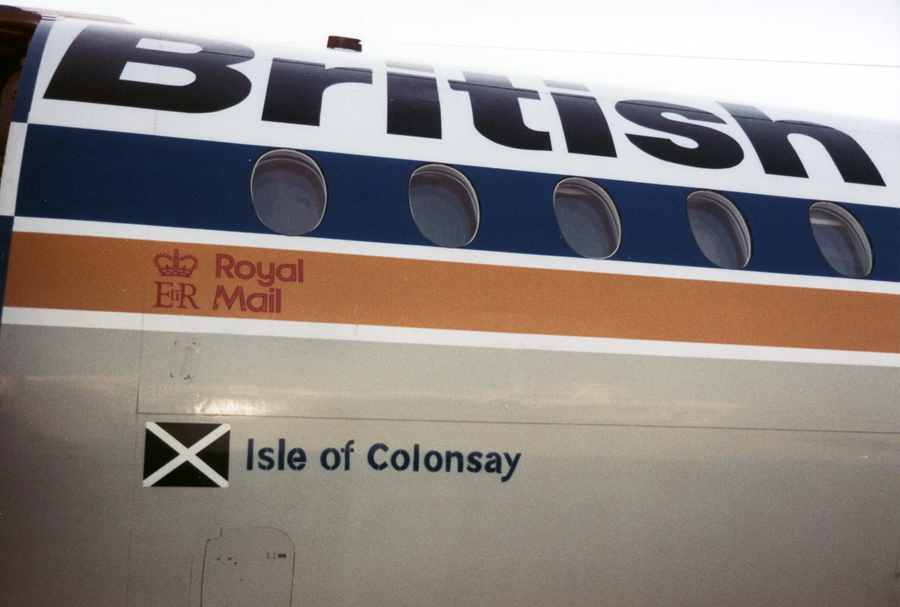 British Caledonian BAC 1-11 interior at Gatwick: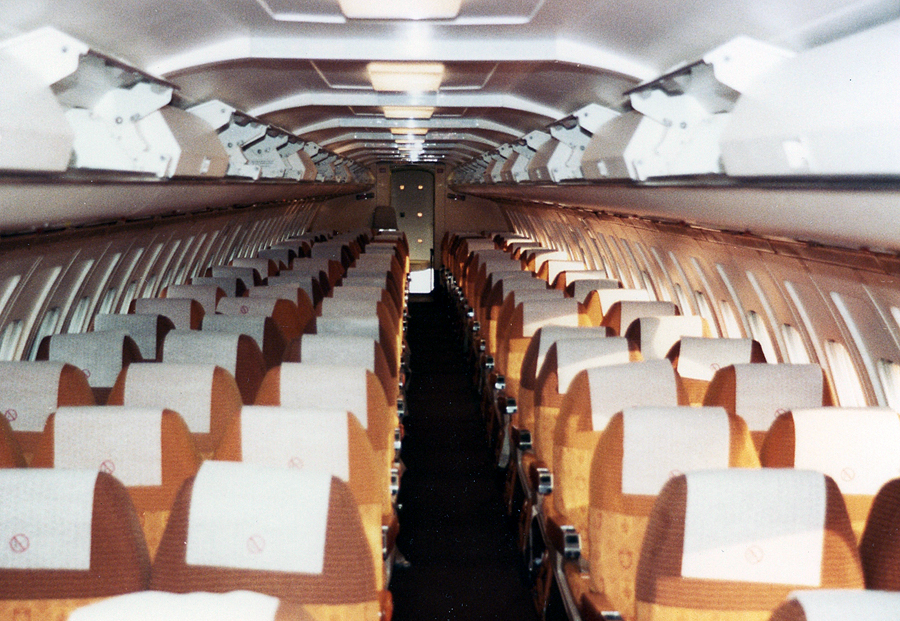 British Caledonian BAC 1-11 flight deck at Gatwick: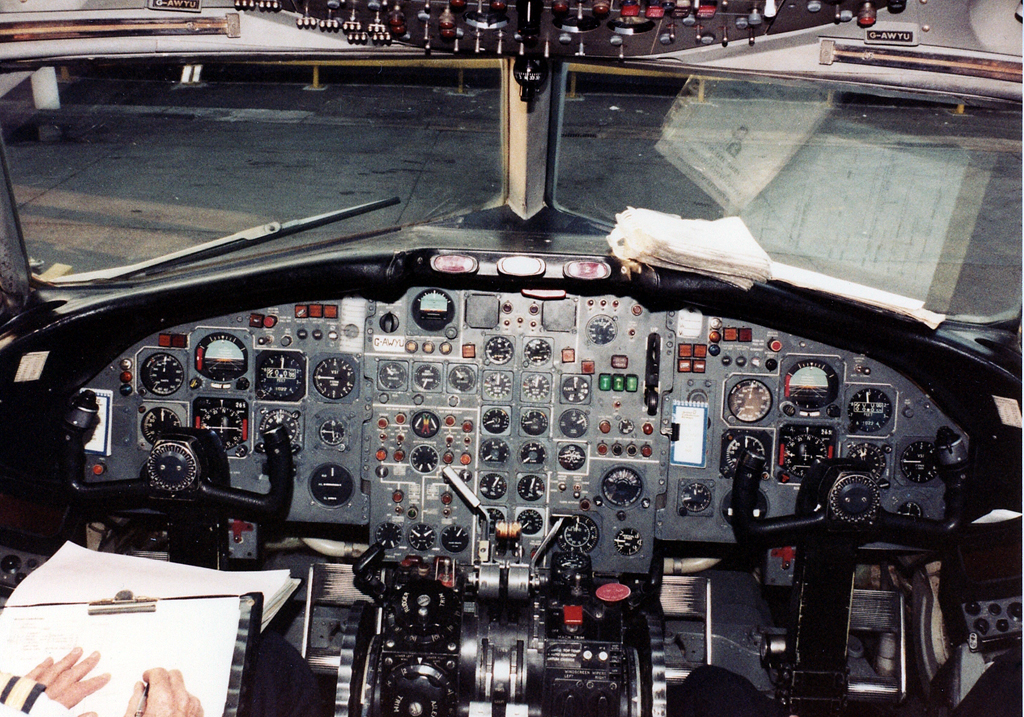 British Caledonian BAC 1-11 G-AWYU at Gatwick after arrival: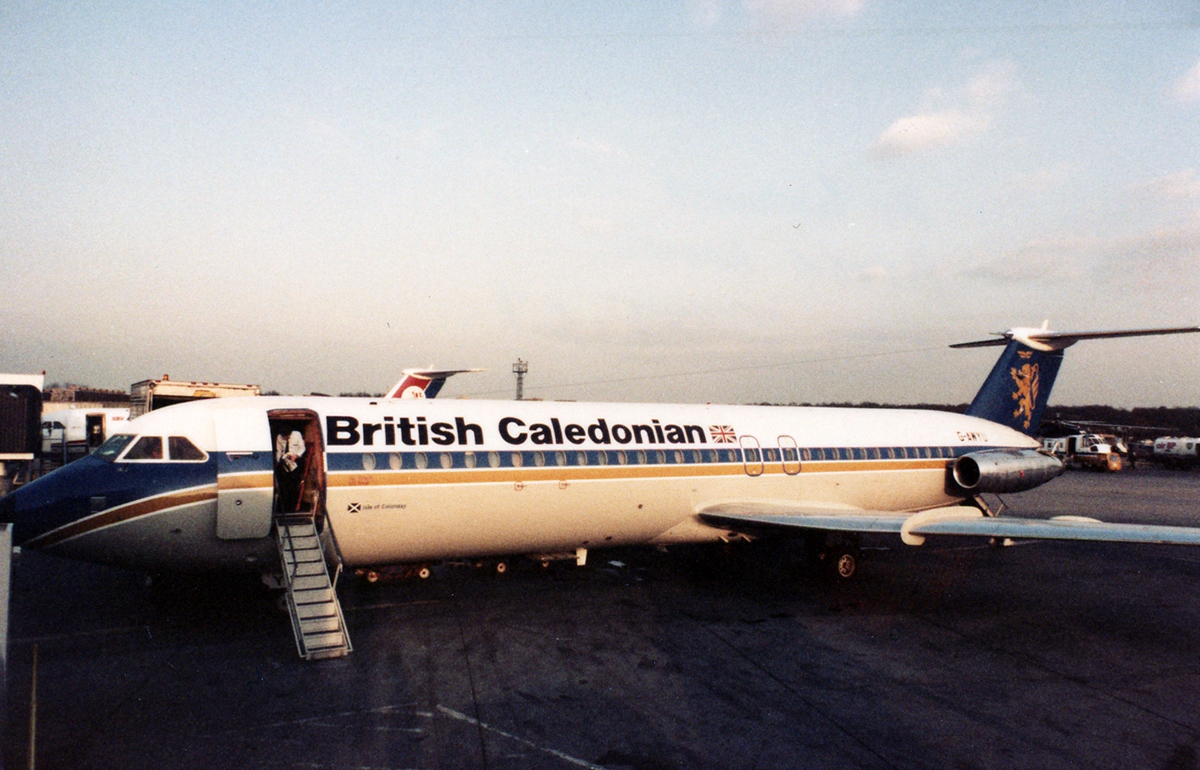 Trip #5: Royal Air Force VC-10C Mk. 1 -- Jan/Feb 1987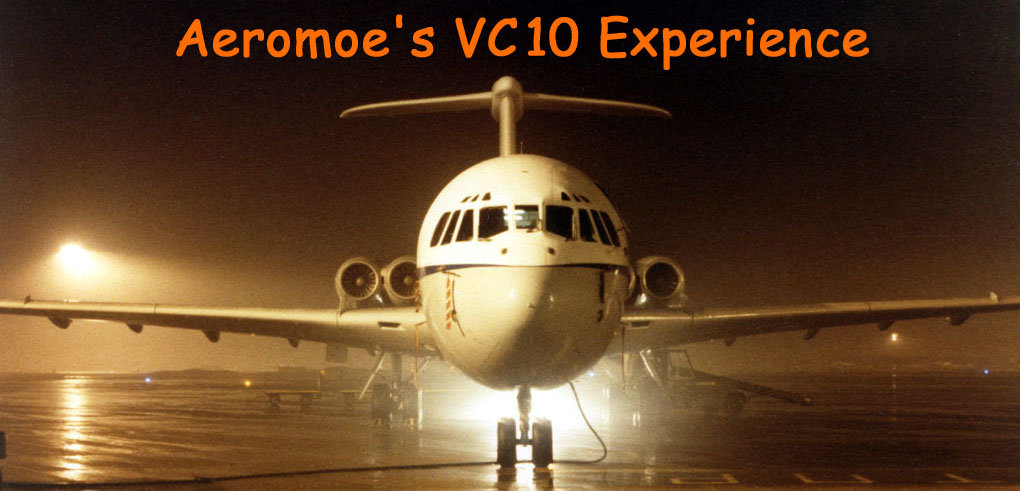 One of my most anticipated trips during my time in England was the rare opportunity to fly Trans-Atlantic aboard Royal Air Force VC-10s assigned to RAF Brize Norton. American
forces personnel were allowed to sign up for space-available travel on the RAF. I was unaware of this until one of my co-workers mentioned it and I definitely wanted to give it a go. The application process was fairly straight forward but you weren't notified until two or three days out if you had a seat or not. In some ways this was/is probably better than the USAF system for "Space-A" which I've never used. I can't explain the differences since I don't know them...doesn't make much sense, I know. Anyway, given the rarity of the VC-10 in 1985 I had to go for it.
Brize Norton - Gander - Dulles great-circle route: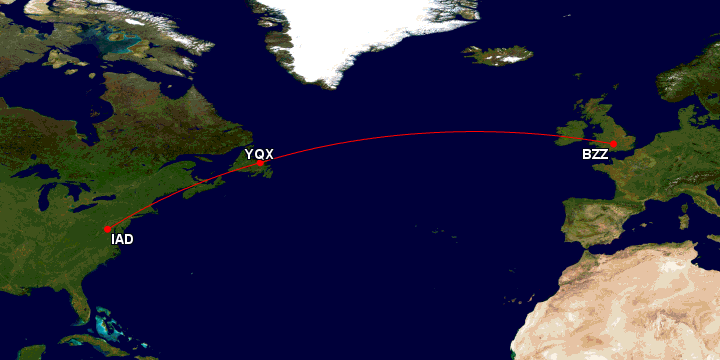 Maps generated by the Great Circle Mapper - copyright © Karl L. Swartz.
21 January 1987
Royal Air Force "Ascot" #9270
VC-10C Mk. 1 XV107
RAF Brize Norton (BZZ) - Gander, Newfoundland (YQX)
Dep: 0544hrs GMT Runway 26
Arr: 1119hrs GMT Runway 31
Flight time: 5hrs 35min
Distance: 1998 miles
Seat: 12F
Cost: 23.00 Pounds Sterling
Boarding pass for the trip to the USA: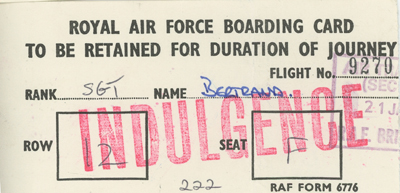 Receipt for travel. 23 Pounds to cross the Atlantic on a VC-10!: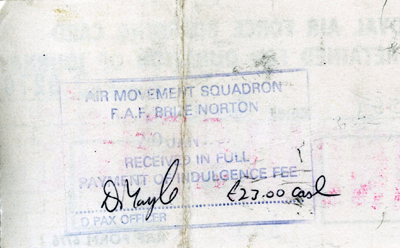 Baggage tag for this sector: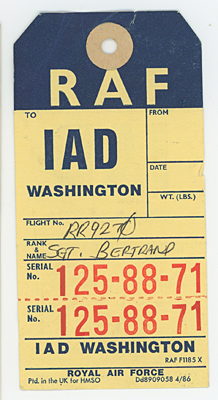 RAF fare schedule: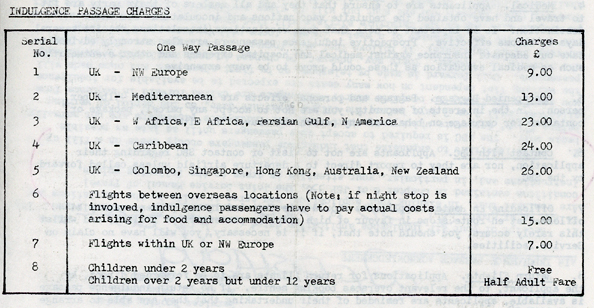 Moe and another USAF Airman onboard XV107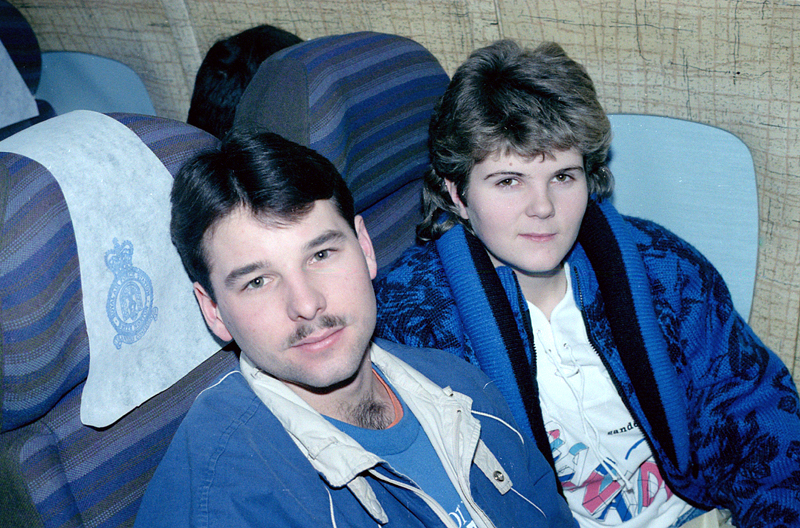 RAF Flight Lieutenant Steve Scott-Skinner with my copy of Martin Headley's monograph: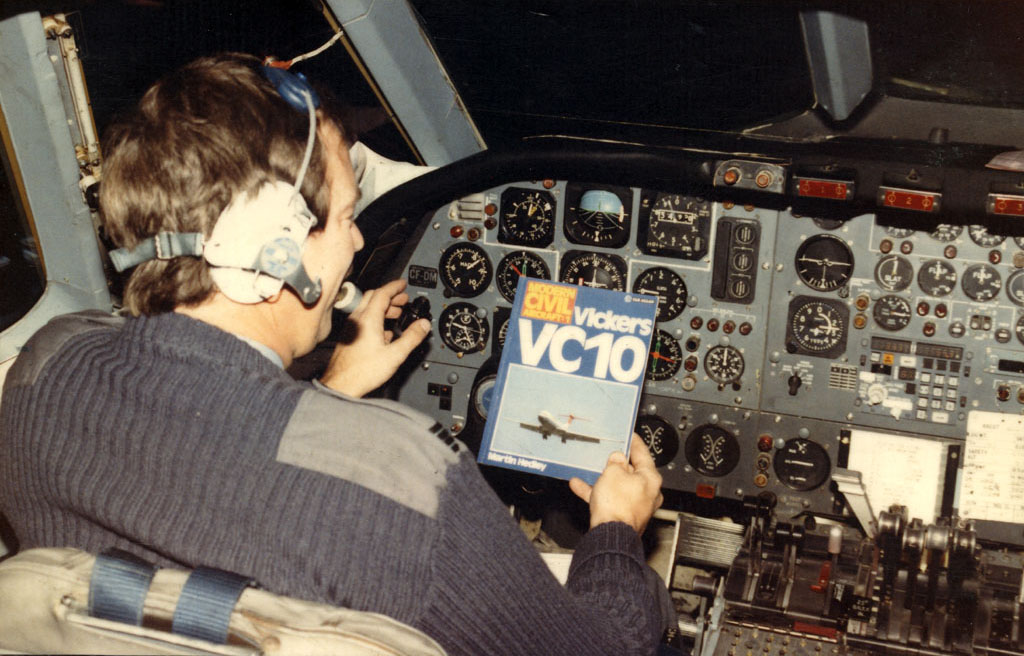 RAF Flight Lieutenant Steve Scott-Skinner at the controls: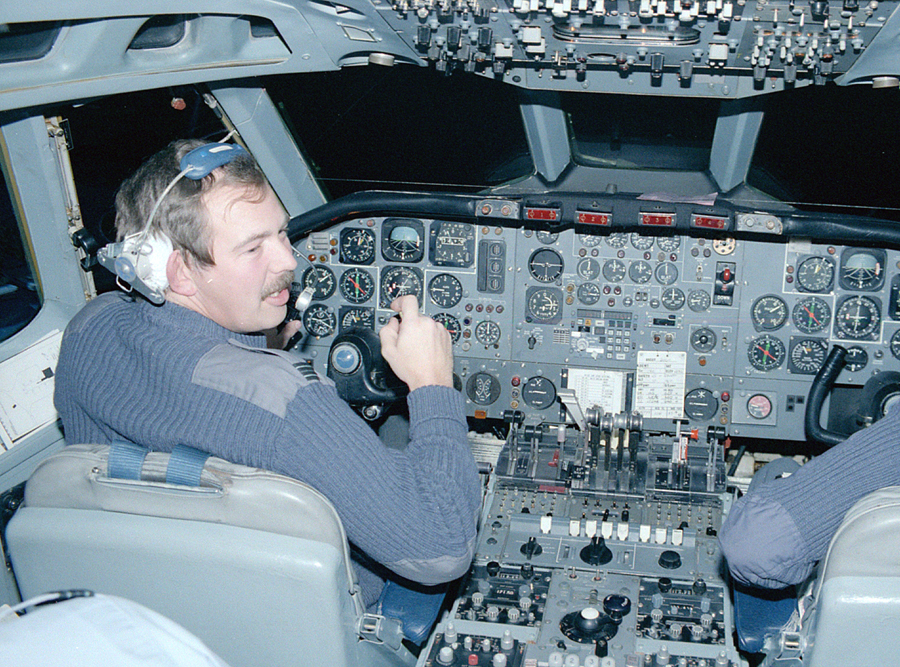 Flight deck photo: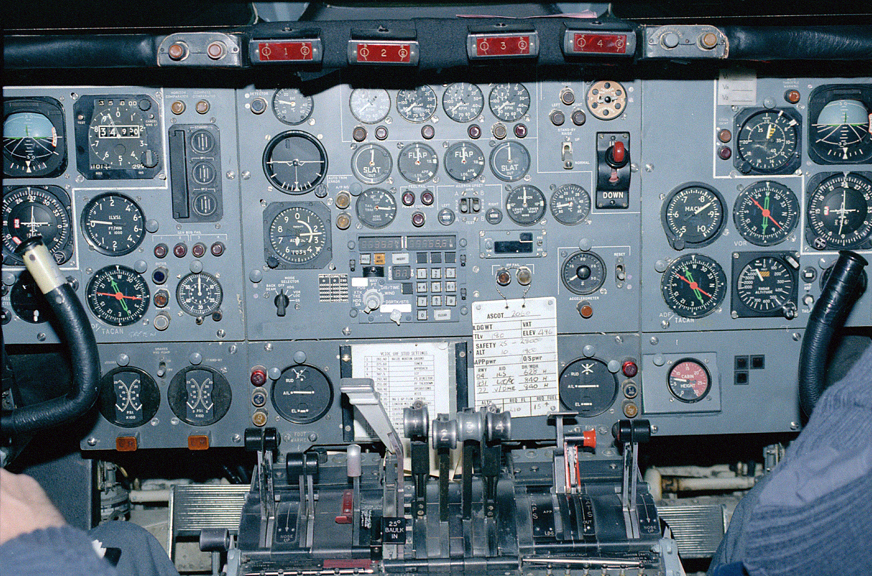 XV107 crew autographs: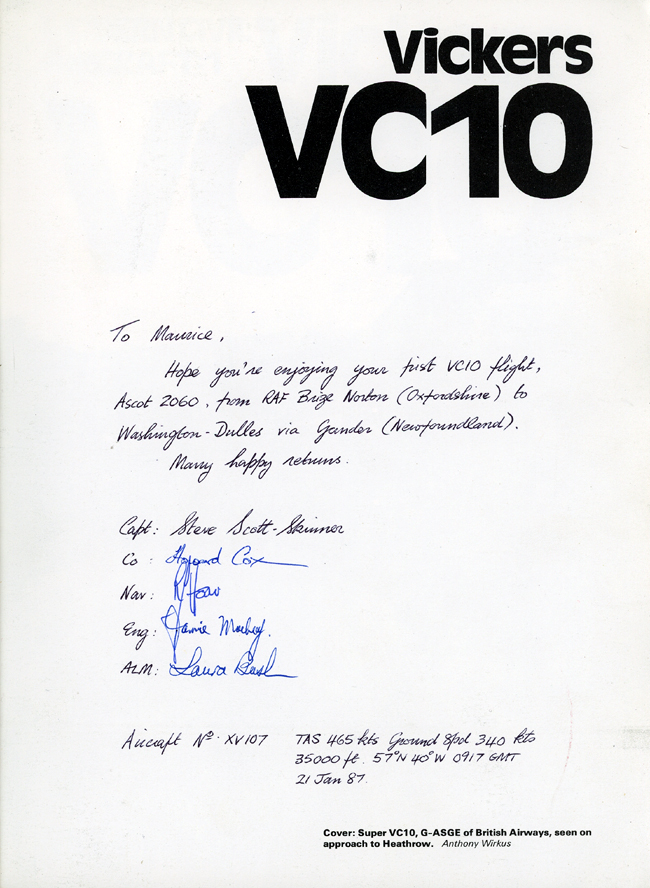 RAF roundel on starboard wing: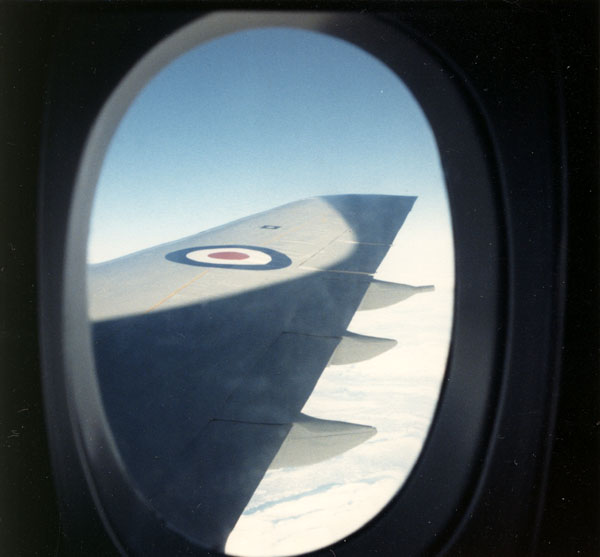 Starboard Conways: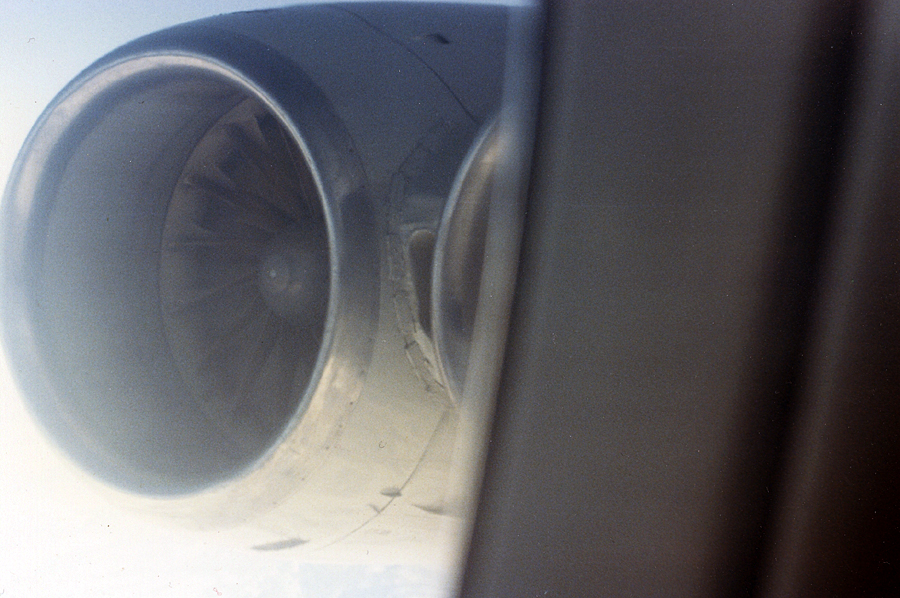 Port engines and wing looking south: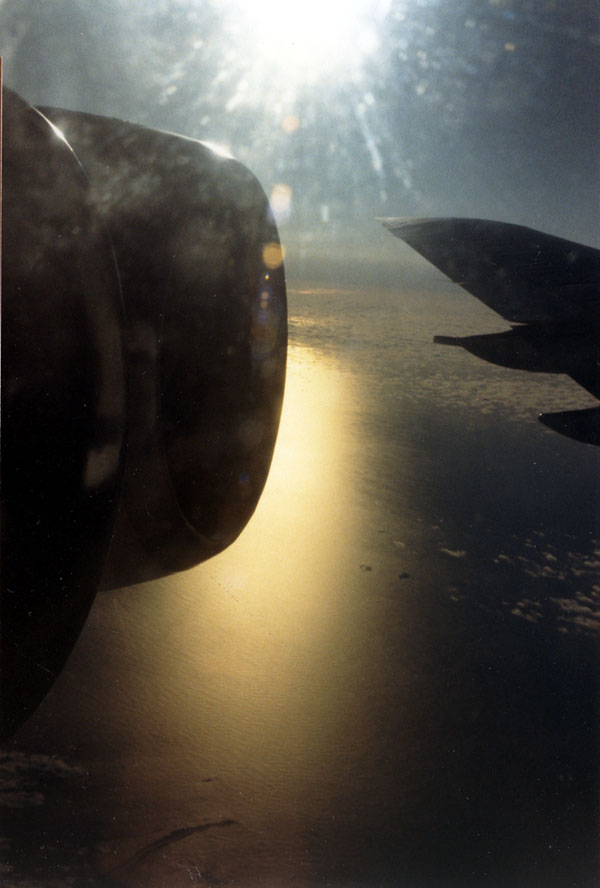 Gander, Newfoundland:
Nordair L-188 C-FNAY: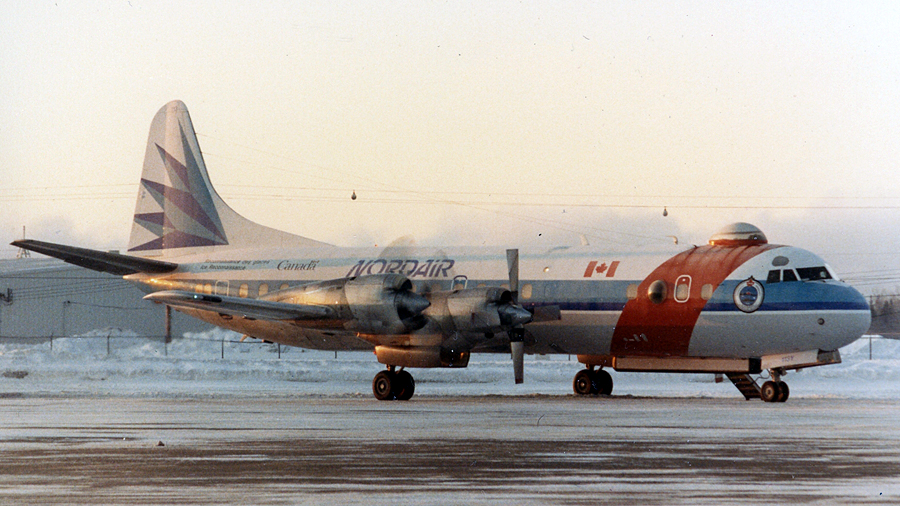 Deplaning from XV107: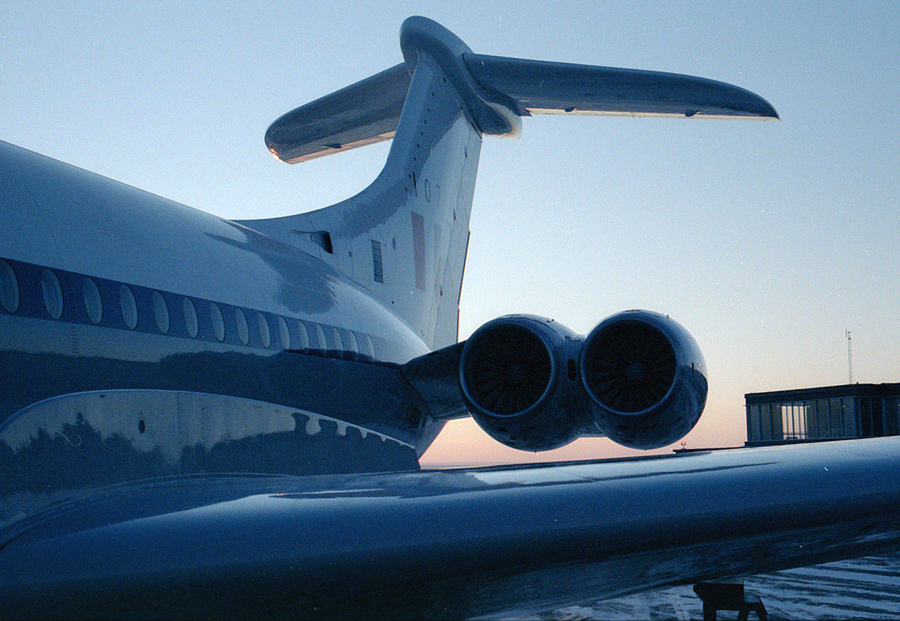 Heading into the terminal for a break: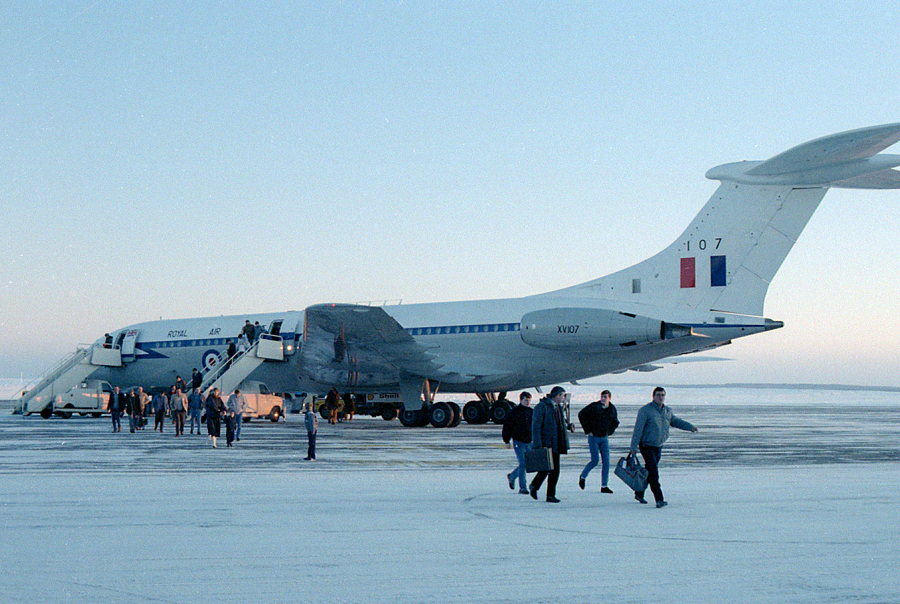 On the ramp at Gander, Newfoundland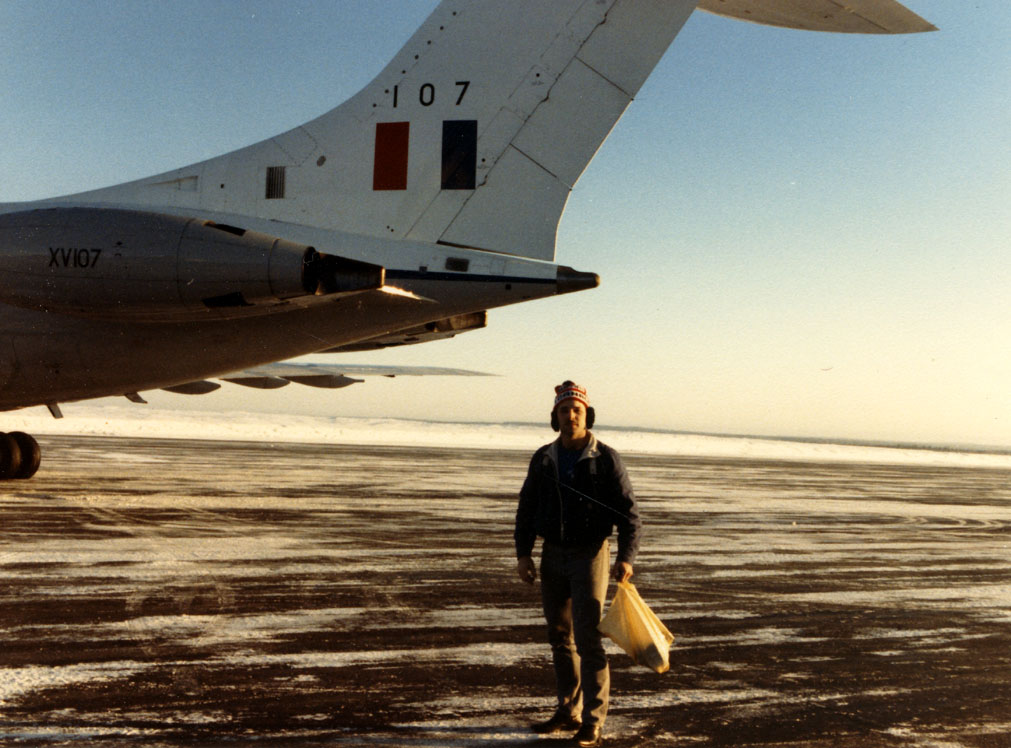 21 January 1987
Royal Air Force "Ascot" #9270
VC-10C Mk. 1 XV107
Gander, Newfoundland (YQX) - Washington Dulles (IAD)
Dep: 1251hrs GMT Runway 22 (since changed to 21)
Arr: 1626hrs GMT Runway 01R
Flight time: 3hrs 35min
Distance: 1152 miles
Seat: 12F
We were somewhat delayed departing Gander due to a maintenance issue. I can't recall exactly what it was but they sorted it out within an hour or so and we were on our way. A few hours later we were descending for Washington Dulles. Little did I know a severe winter storm was brewing for the New England area. I'm not sure if I stuck to the Presidential Airways itinerary as ticketed and I think their staff was reasonably accomodating for itinerary changes. In the end, my first Presidential Airways flight turned out to be a flight to Boston. I was intending to fly to Montreal as I recall (probably from Dulles) but Boston became my destination. As luck would have it, the snowstorm hit Boston pretty hard and flights were being cancelled.
Since my eventual destination was Denver and I'd already purchased a ticket on TWA I was hoping to get home on that. Wouldn't you know it...after we boarded and sat for a while the flight was cancelled. Being a young fella with limited resources I certainly didn't entertain the idea of getting a hotel room. I ended up sleeping with my luggage in an airport chapel and I wasn't the only one in there either.
The day dawned clear but very cold and I was able to reboard the same L-1011 for a flight to St. Louis, eventually connecting to a 727-200 to Denver. I arrived DEN very tired and quite late that evening.
Below are some photos taken at some of the airports I visited during the next couple of weeks I was on holiday and travelling around the states:

I eventually flew in this TWA L-1011 N31029 (the next day) once the storm stopped: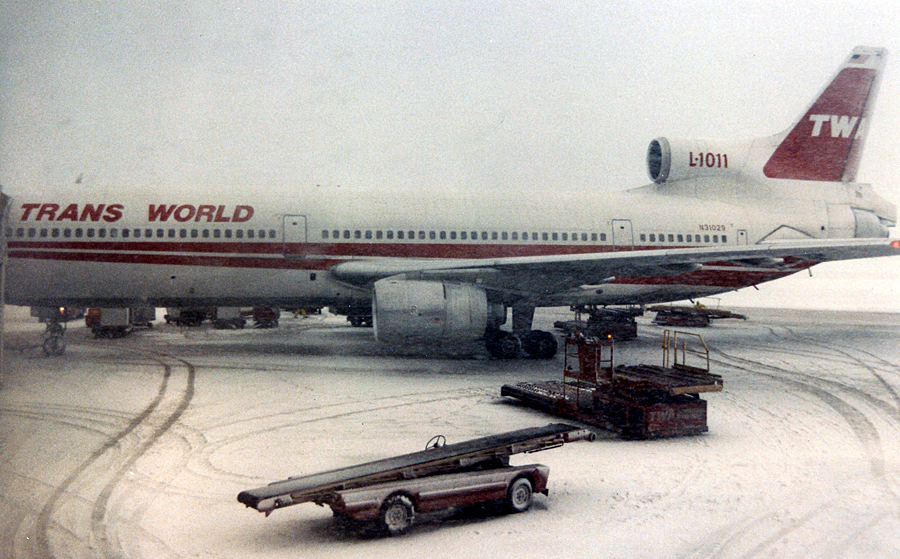 Dawn on January 23...there's hope for a good day!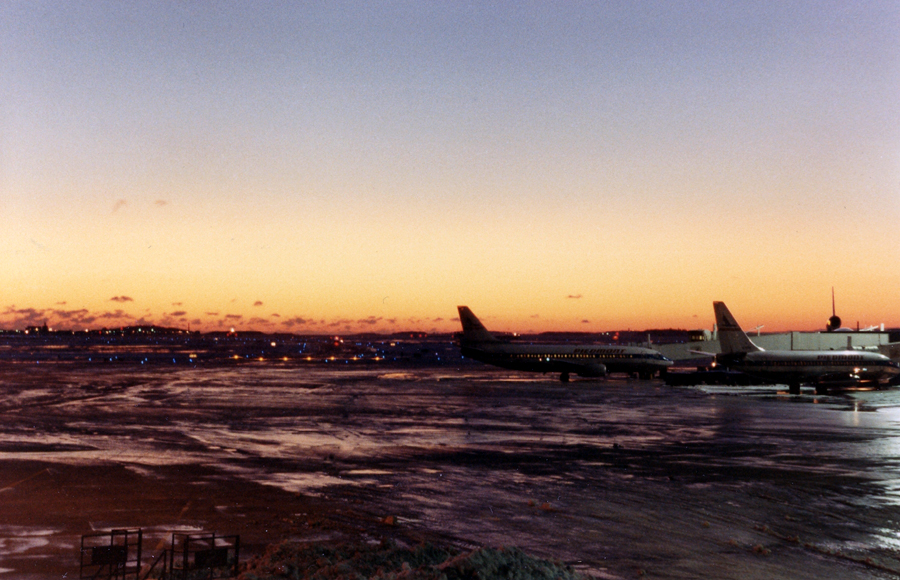 Air Midwest at St. Louis while enroute to Denver: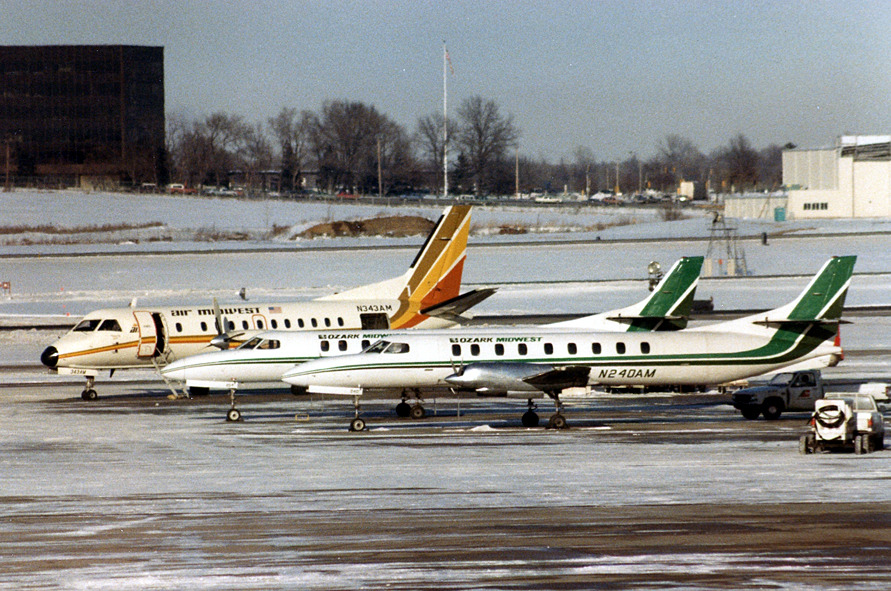 Dual scheme Garuda/Continental DC-10-30 at SFO: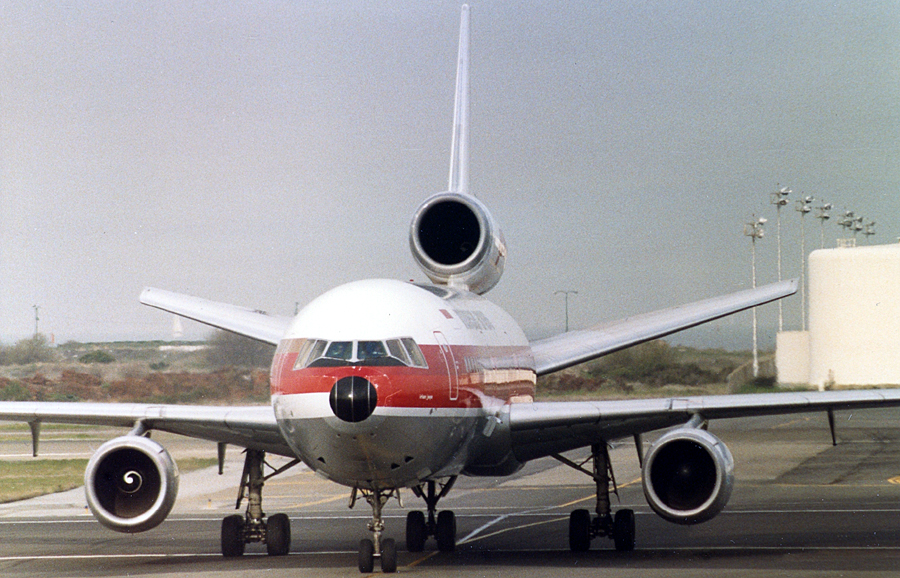 Canadian Pacific at Vancouver, BC: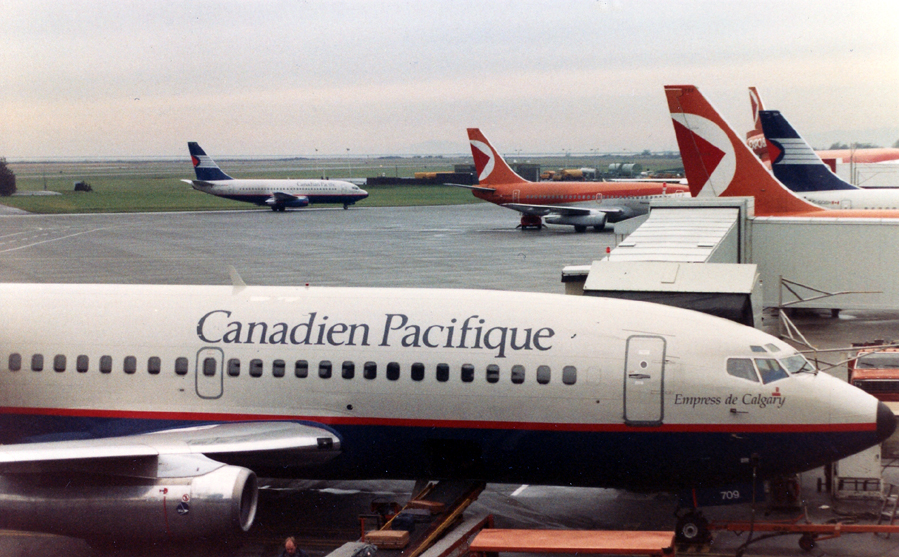 Additional airline routes flown during this holiday: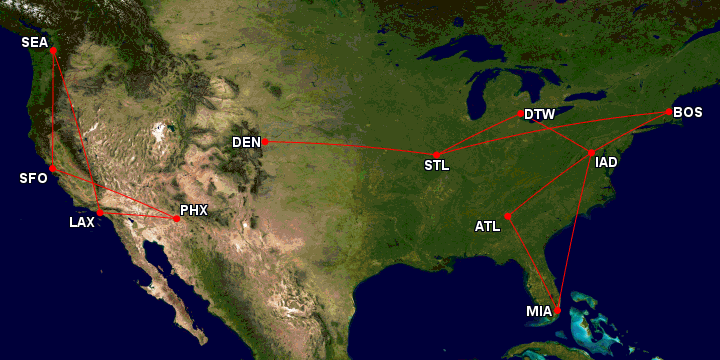 A couple of days before my scheduled departure from the USA back to England I was notified of my positive space aboard the RAF flight from Dulles to Brize Norton. I made my way back to the east coast by way of flying TWA from Denver to St. Louis then Detroit. The STL-DTW leg was made on an Ozark Air Lines DC-9-30 operating with a TWA flight number. This is because the TW / OZ merger had been made but happily I got to finally ride in an Ozark plane. From DTW to IAD I took further advantage of the 10-coupon book I'd purchased on Presidential Airways back in the U.K. I didn't get to use all the coupons due to the storm early in the trip but I did use seven of them I believe.
My Presidential Airways flight coupons: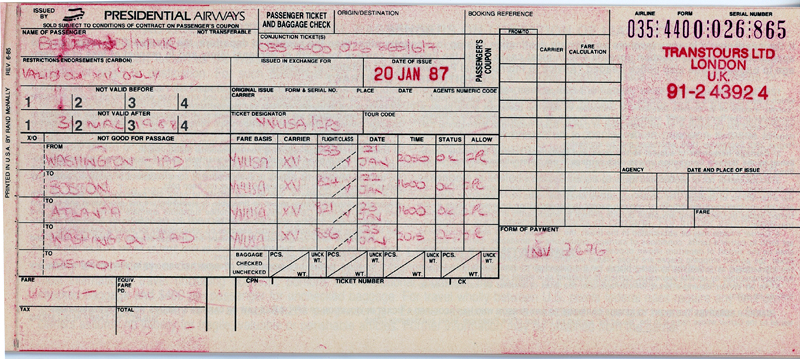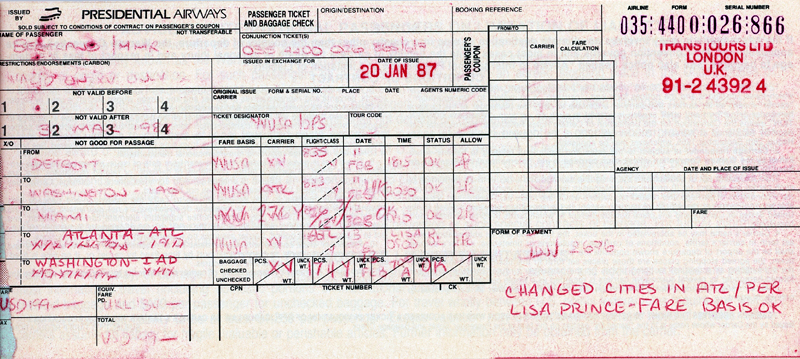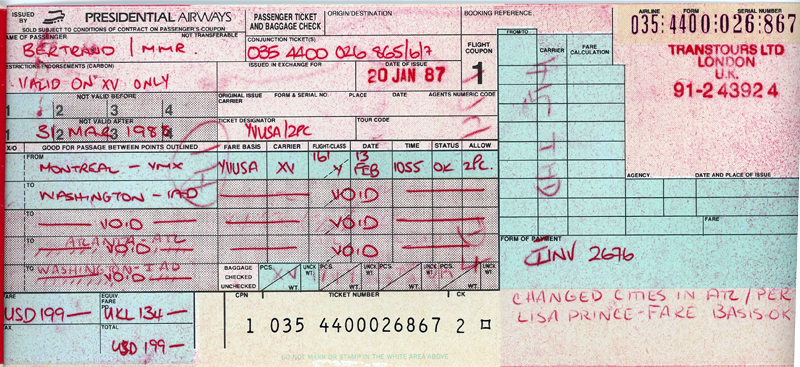 I got to use a few more of the Presidential coupons by doing some flying between IAD, ATL and MIA just to fly the routes. I recall on the MIA-IAD segment there was quite a group of noisy school children waiting in the boarding area and I took advantage of an on-the-spot First Class upgrade for $20. I honestly don't recall what Presidential's F product was but to escape the relative noise in the Y cabin it was $20 well spent. Additionally I believe it was my first ever ride in F class...Concorde being R class.
Flight day arrived and after playing around the eastern seaboard for a couple days I was ready to head back to work at Alconbury. My flight was operating on time and this time we'd enjoy a nonstop overnight Atlantic crossing in the VC-10C Mk. 1 XV105.
13 February 1987 (Friday the 13th!)
Royal Air Force "Ascot" #9201
VC-10C Mk. 1 XV105
Washington Dulles (IAD) - RAF Brize Norton (BZZ)
Dep: 1910hrs EST Runway 01L
Arr: 0640hrs GMT Runway 08
Flight time: 6hrs 30min
Distance: 3150 miles
Seat: 10F
Cost: $33.58
At Dulles I was unable to get any photos of XV105 prior to boarding. It was an evening departure for an overnight crossing.
Dulles - RAF Brize Norton great-circle route: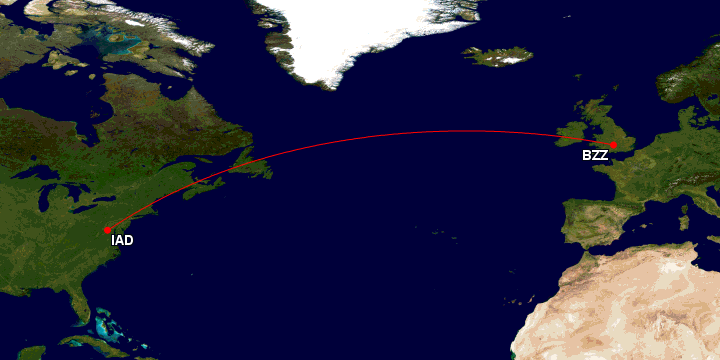 Maps generated by the Great Circle Mapper - copyright © Karl L. Swartz.
Boarding pass for the trip to England: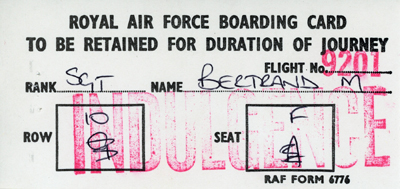 Receipt for travel. $33.58 to cross the Atlantic on a VC-10!: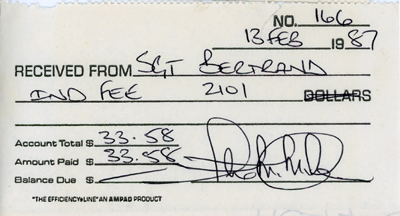 Baggage tag for this sector: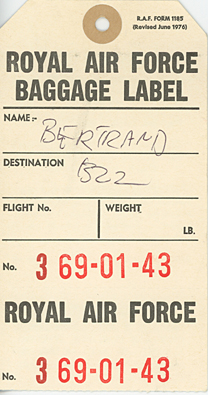 Flight crew autographs from XV105: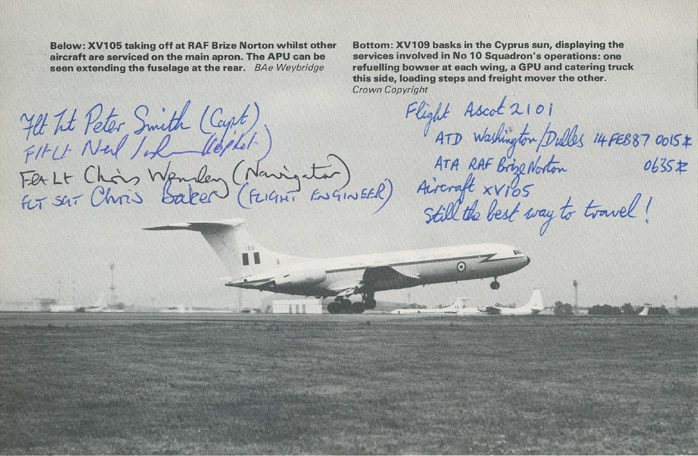 Upon arrival at Brize Norton I was able to secure a ride home with an Englishman who was driving past RAF Alconbury. It was very nice not to have to rely on public transportation for the final leg(s) of this extremely buzy past three weeks. I wasn't able to take any photos upon arrival at Brize Norton but I did manage a photo of XV105 at McChord AFB during my travels this trip:
Royal Air Force VC-10C Mk. 1 XV105 at McChord AFB, Washington, USA a couple weeks before I flew on it IAD-BZZ.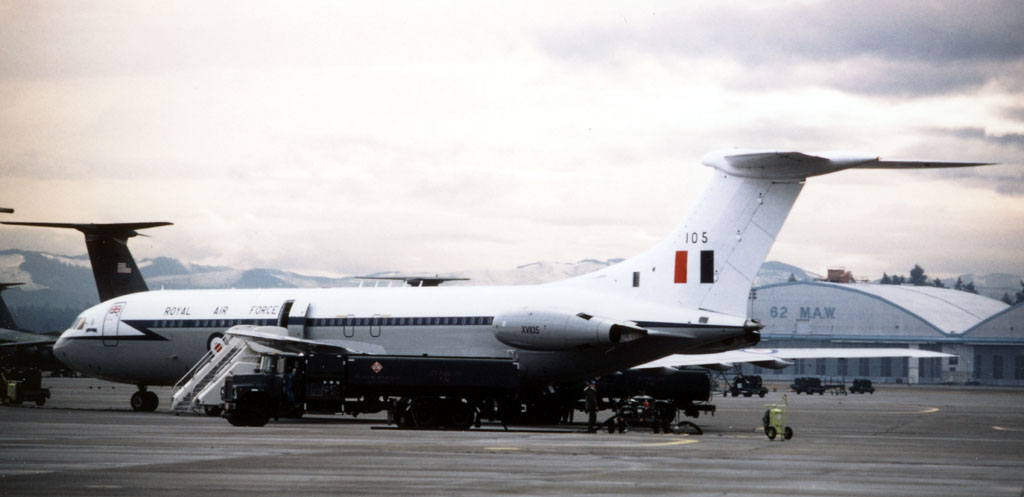 Below are some photos of VC-10 hulks at RAF Brize Norton on July 12, 1985. I'm not sure if these hulks were present in 1987 when I flew in/out of BZZ. I include them
only as historical reference.
G-ARVJ ex-Gulf Air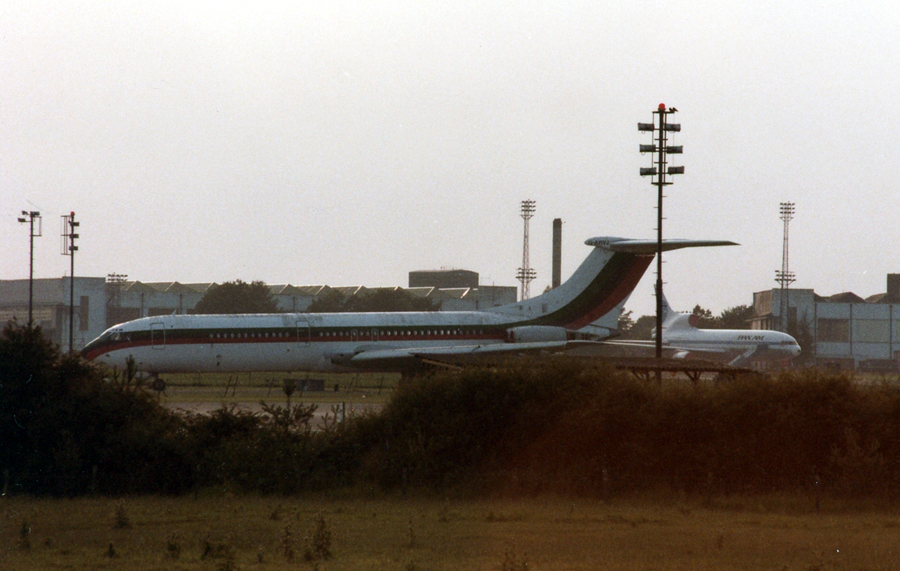 Unidentified hulks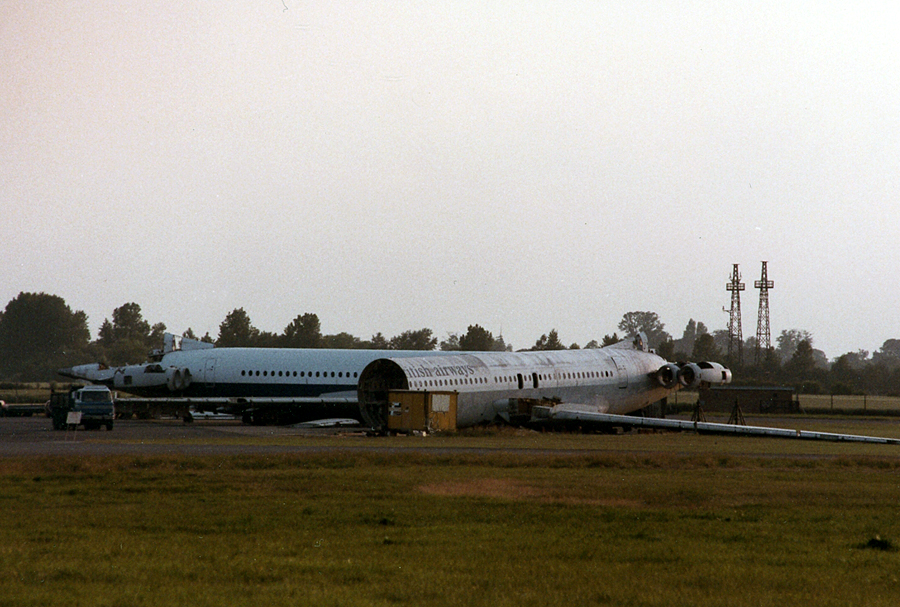 G-ASGD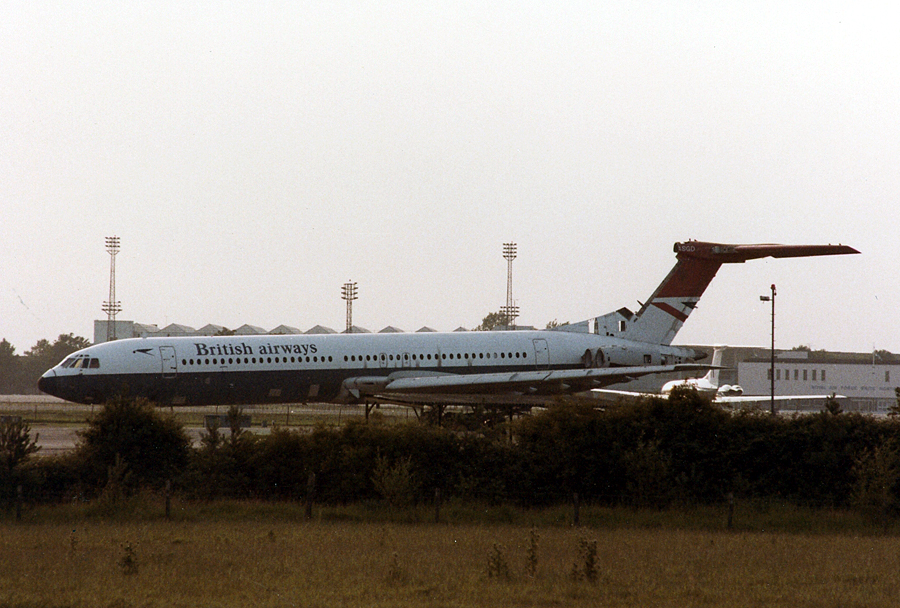 I hope you've enjoyed reading these trip reports and checking out some photos from a few decades ago.
Moe