Video reports of this series
Korean Air KE908 - London to Seoul - A380-800 (Economy)
KTX 115 - Seoul to Singyeongju - First Class
Korean Air KE1005 - Busan-Jeju - Airbus 330-300
Jeju Air - 7C176 - Jeju to Seoul Gimpo - Boeing 737-800
Chinese High Speed train from Shijiazhuang to Beijing
Spring Airlines - 9C8790 - Seoul to Shijiazhuang - Airbus
KLM - Beijing to London via Amsterdam - B787-9 & ERJ190
Background
Done with Korea and China, it was now time to head back home. Hopefully this time on KLM

This series of trip reports will be split into 4 different reports:
1.
Our flight from London to Seoul
2.
Part 2 - Korea Domestic on Korean Air and Jeju Air
3.
Spring airlines to Shijiazhuang
4. Return flight from Beijing to London via Amsterdam
Thanks for GCMAP for the below illustration:
KLM - KL898
Route: PEK - AMS
Flight Reg:PH-BHD; Delivered to KLM on Feb 2016; 3rd Boeing 787-9 Aircraft to enter its fleet; Named: Bougainville / Bougainvillea .
Aircraft Type: Boeing 787-9 DreamLiner
Seat: 32A
Flight time: 10:55 - 15:20 (12:12 - 15:28)
Actual flight time: 9Hr 16min
Distance: 4878 Miles
Load: Full load
19 Sep 2017
My Log book: 1st Flight on KLM/ 1st flight on Boeing 787-9/ 143rdTotal overall flight
Previous day checked in online via my mobile device. It was a seamless experience and got seats 32 A and B. Similar to my last KLM web experience I was told that we would be flying on a 787-9 named Bougainville. It Was the third 787-9 in the KLM fleet. This is all subject to if things go as planned.
Looking forward to my first 787-9 ride.
On the day of the flight we realised that we were flying off from terminal 2 instead of the perceived terminal 3 I thought we were flying from.
Drive to the airport was fairly quick and we were at terminal 2 by 8:30.
It's quite a difference from the opulence of terminal 3. This is just a basic terminal with all the essentials and no more.
Beijing Terminal 2
Check in area - post Customs and Baggage screening
Customs followed by baggage drop. Baggage drop was quick although the check in agent seemed a bit indifferent and tending towards being rude.
Nevertheless it was done quickly and off we went for immigration and security. They had a separate queue for online check in which quickened our baggage drop. Immigration was a breeze but security not so. We had a lady in front of us who had almost bought an entire cosmetic shop with her. Sigh!
Took 15 minutes to pass as security.
Airside of terminal 2 follows the general theme of just being sufficient and no more. Very basic. Few places to eat and a rudimentary duty free shop.
We had an hour before boarding.
Did a bit of plane spotting.
Duty Free
Tiny FIDS
Our ride to Amsterdam - The beautiful Boeing Dreamliner 787-9 in timeless KLM colours
Plane Spotting at PEK
A Xiamen Air B787-8
The rare Air Koryo Tupolev Tu-204-100
Boarding commenced at 1030 with no segregation of zones although our boarding pass mentioned zone 5.
Boarding gates
First impressions of the KLM DreamLiner was it looked brand New, clean and crisp. Warm welcome by the cabin crew. Really like the blue and brown interior colour combination.
Captains announcement was excellent. In Dutch and English.
Apologised for the slight delay and confirmed they're taking In more fuel to
'Go faster to make up for any lost time.'
Class!
Further captains announcements during taxiing letting us know we were 8th in the queue and further 15 minutes delay and apologised. Top marks for announcements thus far.
First Impressions
Our Seats
View from our seat
Final Glimpse
Seat Pitch
During taxing I had a play with the IFE. Very slick and responsive unit. Extremely good selection of movies and television. Much better that those offered on Korean air. They had a cool chat feature too. Leave it to the Dutch to make things fun. Their interactive 3D flight map was superb too.
The pièce de résistance for me has to be the music! A plethora of Dutch DJ compilation. Felt like being at Tomorrowland! Bliss.
A great start to the return flight, this far.
Slick IFE
Reading material on-board
Typical Guy Ritchie movie
Dutch DJ's! Sorted! Raving to Hardwell during taxiing.
Before take off
Seats
It felt quite comfortable for the entire duration of the journey. Leg space was decent and perfectly acceptable for a 10 hour journey. For some reason It felt less camped than The China southern DreamLiner that I've frequently been on. I think it was to do with the seat cushioning which was excellent in this KLM aircraft.
During taxiing they converted our runway (18L) to a landing and taking off runway. Which meant further take off delays. Sigh!
Once airborne drinks round commenced within 40 minutes. Followed by lunch service 30 minutes after drinks.
Hmm? What is this doing here?
Lunch consisted of western style chicken with potato or Asian style beef with rice.
Cabin view after take off
Pre-lunch drink
Over the Gobi Desert
Lunch
The meal was very good albeit slightly small in portions sizes. The chocolate mousse was delicious and I really liked the humour in their cheese and crackers packaging. On The whole it was a well packaged meal.
Had another bottle of wine with the meal. Completed the movie I was watching and slept for probably 3 hours. It was a comfortable 3-4 hour sleep. I probably sleep the best on a Dreamliner and it was no different this time.
An episode of this before going in for a 4 hour nap
Woke up to start watching another movie.
A bit of Bollywood before landing at Amsterdam
Mid-flight snacks
Cabin getting prepared before the second meal
There were some snacks and drinks kept in the galley. There were a couple of drinks round but not as much as Korean air. The service on Korean air was probably a notch better. It was more than adequate on this sector though.
Another light meal was served 60 minutes before arrival. Another very satisfactory meal.
Second meal - A pasta dish. Was pretty good!
Great views of Netherlands during the descent.
Landed 8 minutes behind scheduled and parked at the gate E8, 5 minutes later.
So far, it has been a great flight on KLM on this route.
Before landing at AMS
Neighbours at AMS
Thanks for a great flight - KLM
A brand new 787-9 next to us
Transfer at Schiphol was seamless. The security check took around 15 minutes but no hassle at all.
Transiting at AMS - Heading to Security
At the main Departures area
The coolest clock!
KLM - KL1029 (KLM Cityhopper)
Route: AMS - LHR
Flight Reg:PH-EZY; Delivered to KLM on Nov 2013 .
Aircraft Type: Embraer ERJ-190
Seat: 15A
Flight time: 16:55 - 17:10 ( 17:18 - 16:56)
Actual flight time: 28 min
Distance: 231 Miles
Load: Full load (Again)
19 Sep 2017
My Log book: 2nd Flight on KLM/ 3rd flight on Embraer ERJ-190/ 144th Total overall flight
Our next gate was a 5 minute walk from the security.
Gate D6 is an amalgamation of other gates. Mainly all CityHopper flights under the same gate.
Our boarding gates - D6; mainly meant for all CityHopper flights
Gate D6-K for us today
Solar powered (Chinese) BYD Busses all over Amsterdam Schiphol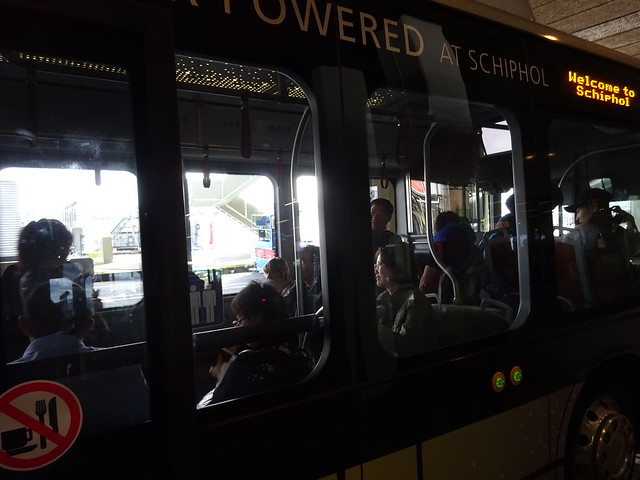 Our ride over the English Channel - A 4 year old ERJ190
Boarding and pushback was on time and expecting to land in London ahead of the scheduled time.
Once again first impressions on this KLM aircraft was that it was neat, tidy and well maintained.
First impressions
View from our seat
Seat pitch
Taxiing
Spotted the Retro KLM B737-800 during taxiing (PH-BXA)
This was a quick hop and we did not have any traffic at Heathrow, luckily, and were able to get a landing slot directly on approach.
After take-off from 36L
FnB on this short hop
30 Minutes later time to land at LHR
Immigration and baggage collection as super quick and we were out within 30 minutes after landing.
Neighbours at LHR
Finally back home!
Baggage collection
Feels good to be back

Verdict
This sector on KLM was excellent. I would gladly fly KLM again. I liked the quirkiness in some of the things they do (Catering packaging, innovative Safety video) and the transfer at Schiphol was a pleasant experience.
Great cabin crew, awesome entertainment (especially the music!), well-kept aircrafts, good food and overall a very memorable and an upmarket experience.
Shame I was not able to fly on their 747 Combi, nevertheless, at the end of the day, it was a favourable outcome.
Looking forward to my next flight on KLM, whenever that maybe. Until then, hope you liked my this series of the report. This is the last and final one and until next time, happy and safe flying.
Keep the Trip reports coming!
Adios!